MOUNT SHASTA FLY FISHING GUIDED TRIPS & NORTHERN CALIFORNIA FLY FISHING GUIDES.
CALL NOW TO SIGN UP OR EMAIL –  530-926-4540  &  INFO@JACKTROUT.COM * GIFT CERTIFICATES AVAILABLE
Lower Sacramento River near Redding, California is heating up, spring bite is on with caddis, stones, mays and midges coming off strong. Great weather right now, around 80 degree average.
Check out our updated Northern California Fly Fishing River Reports at
www.jacktrout.com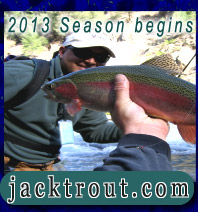 CHILE & ARGENTINA TRIPS GOING GREAT, HOPE TO SEE YOU ON THE SCHEDULE FOR 2014.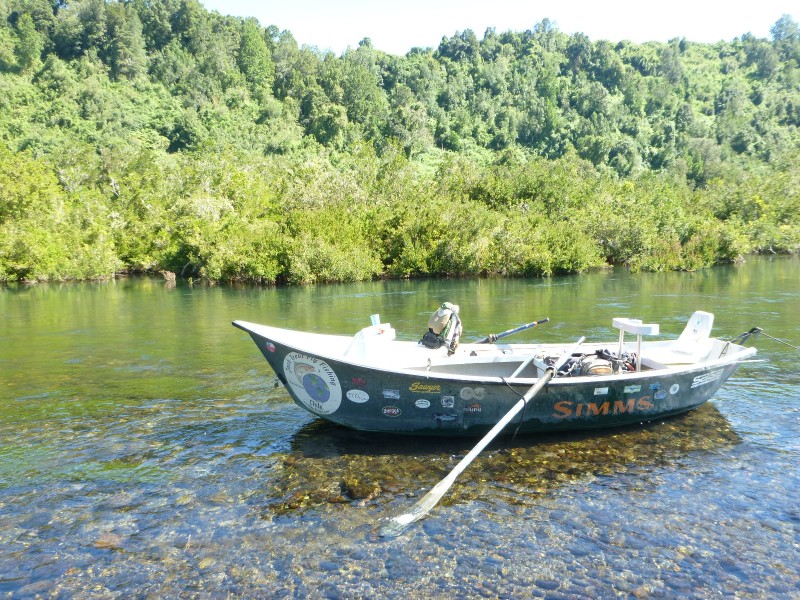 The means by which we travel in Chile, our drift boat gets us to the places we want on all rivers in comfort.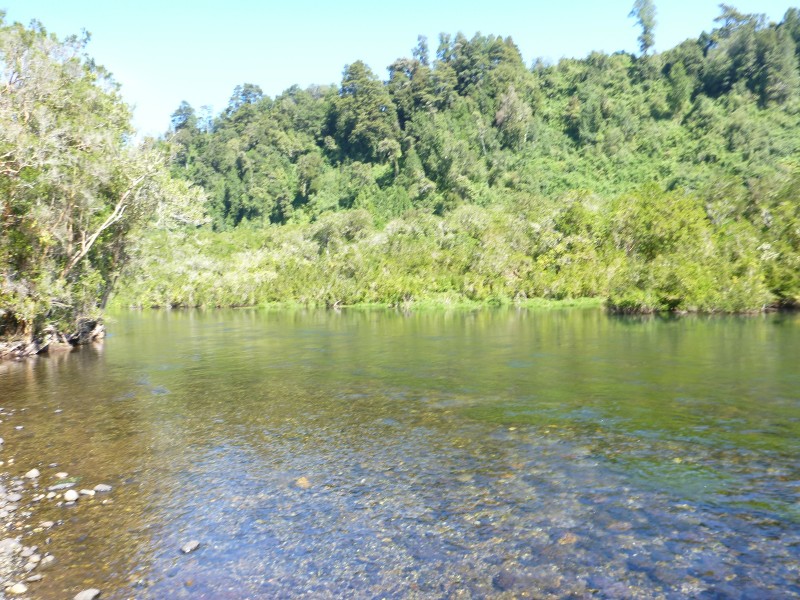 What a great season it's been on the Rio Maullin as the last few weeks comes to end and we head up to Mount Shasta, California we won't soon forget all the fun we had this past season here in Chile and Argentina.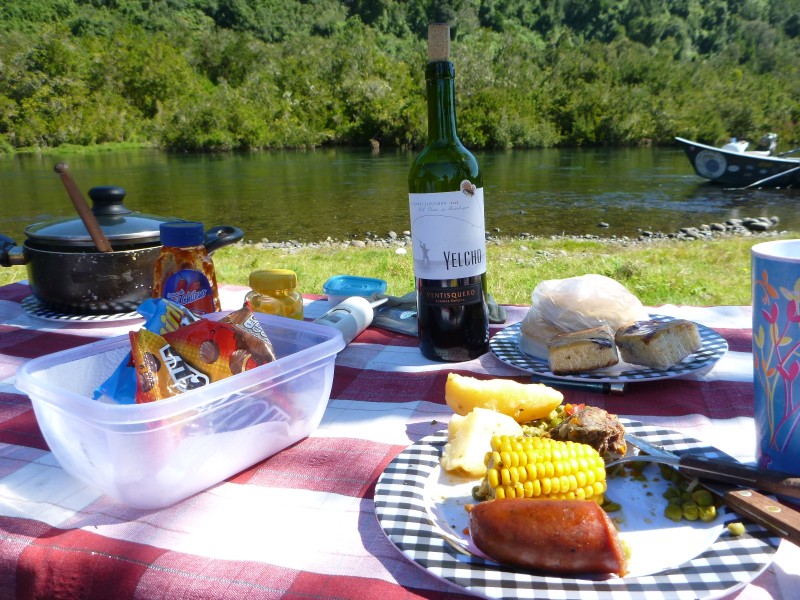 All those great river lunches prepaid by my wife Carola, you know she prepares them with love and a lot of heart is the main ingredient.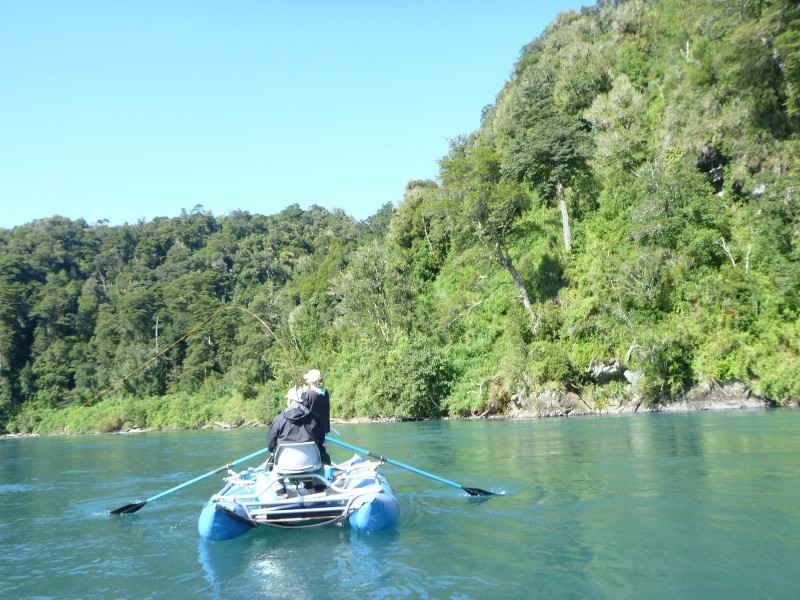 How about the Rio Petrohue in March and April, the fishing has been good and we landed a few whoppers on the fly rod with one of our best clients Andy Swann.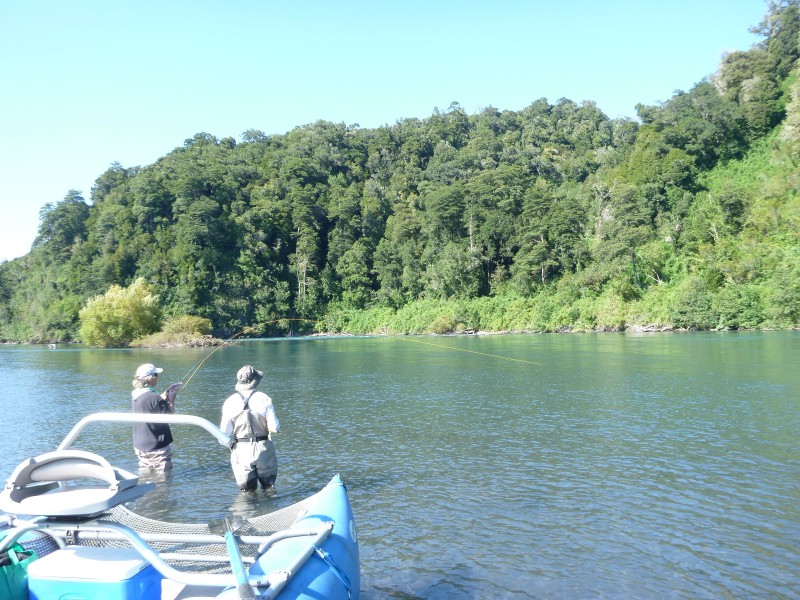 One day we floated a group of four down the river and Chilean guide Edgar and Andy hooked into a huge King Salmon that ate Edgar's fly he tied. After about a half hour Andy landed the beast!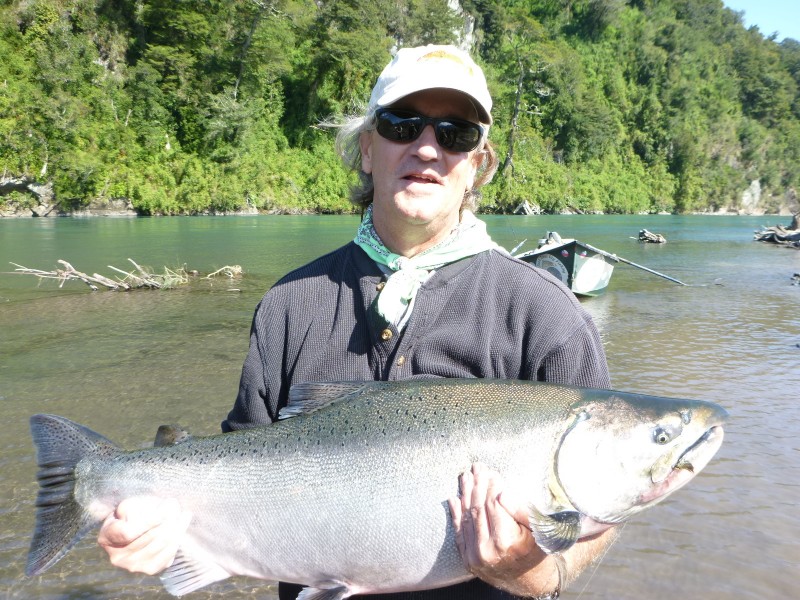 For sure one of the proudest moments for all involved and the pinnacle of anyone's fly fishing career is to land something like this on a fly.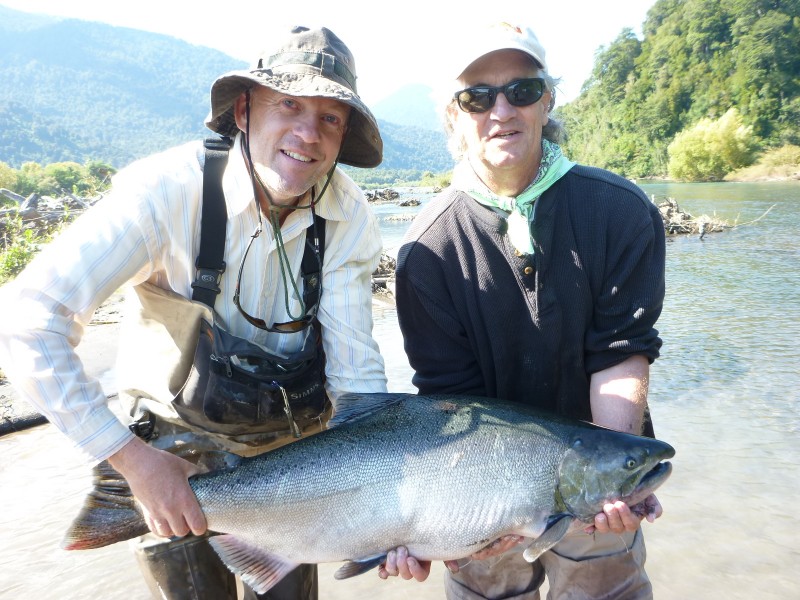 We took him home and ate him, in fact I had a little last night for dinner, what a great tasting fish. We always catch and release trout, but a salmon for dinner is what I'm talking about….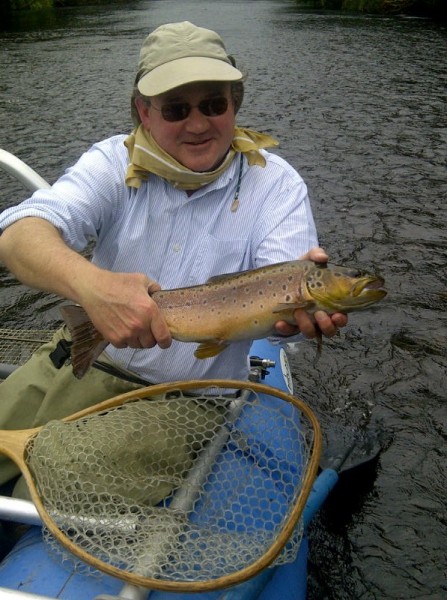 Wilson Griffith, Andy's friend hooked this beautiful brown trout on the Rio Maullin the next day. Big thanks goes out to Steve, Wilson, Andy & Walter, hope to see you next year in San Martin de los Andes.
Thanks again for all the trips this season in Chile from Jack, Edgar & Mattias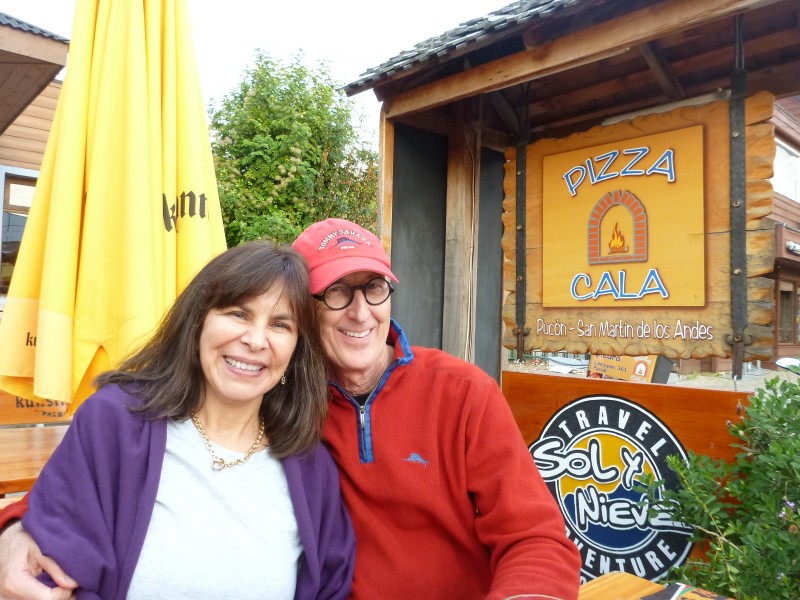 Next for the second time in Chile for a 10 day trip, Davida & Clyde arrived from Tucson, Arizona. This time we decided to do part of it in Chile and most of it in Argentina with my talented guides there. Not before we stopped in Pucon, Chile to go over details about the entire trip and talk about tours as well as fly fishing.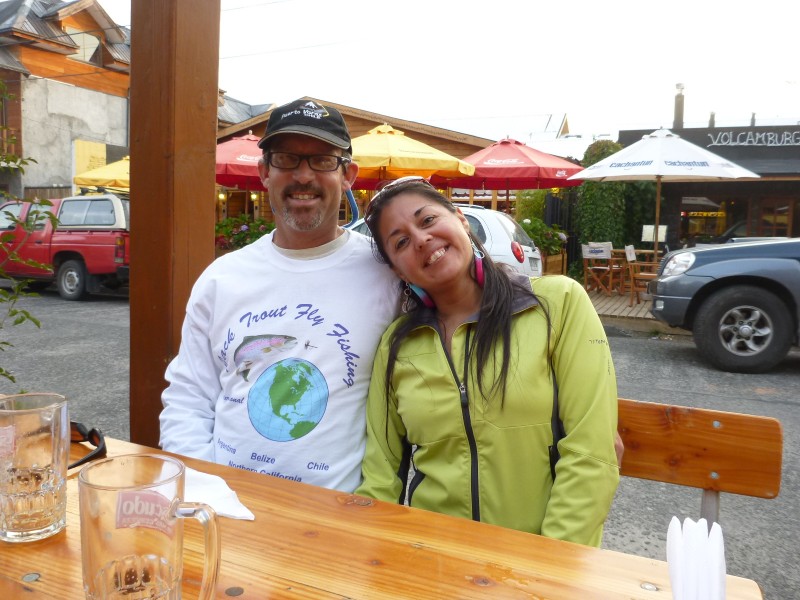 After a few beers with these fun people we were feeling pretty good about ourselves!
The new Jack Trout Fly Fishing International shirts are in, email us to get yours ordered. (Thanks Clyde!)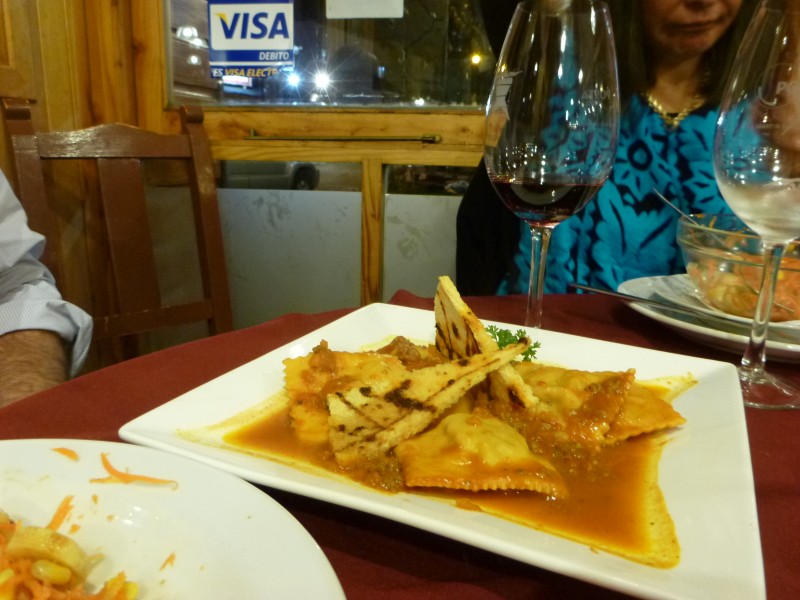 We specialize in spending countless hours and years finding the best places for you to wine and dine on your travels with us.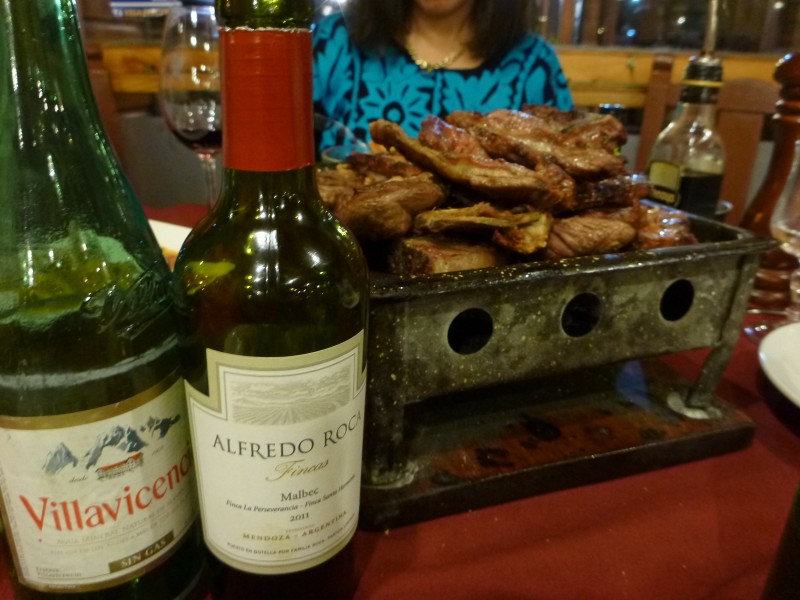 We made it over the Andes to Argentina and had dinner in a wonderful restaurant in San Martin de los Andes, Clyde and Davida loved it!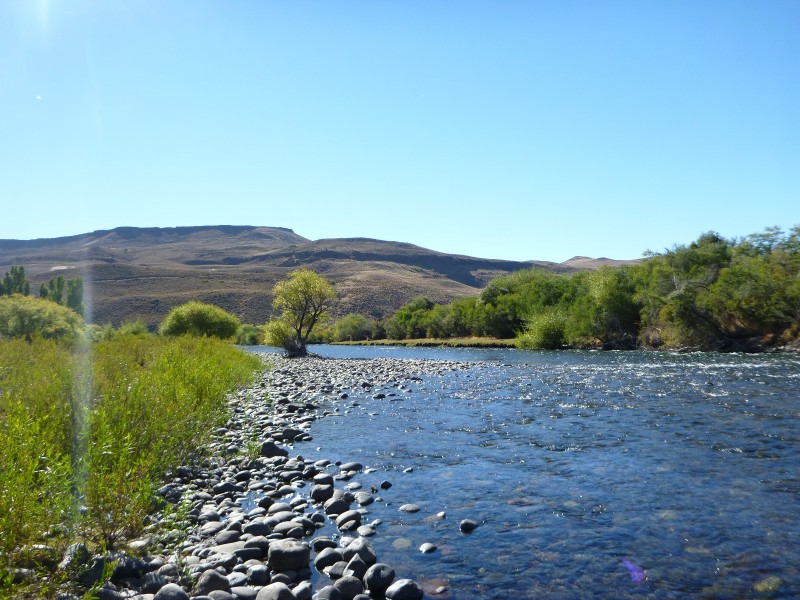 The rivers around Argentina can be incredible, easy to wade and full of trout. On this river you can use a hopper-dropper.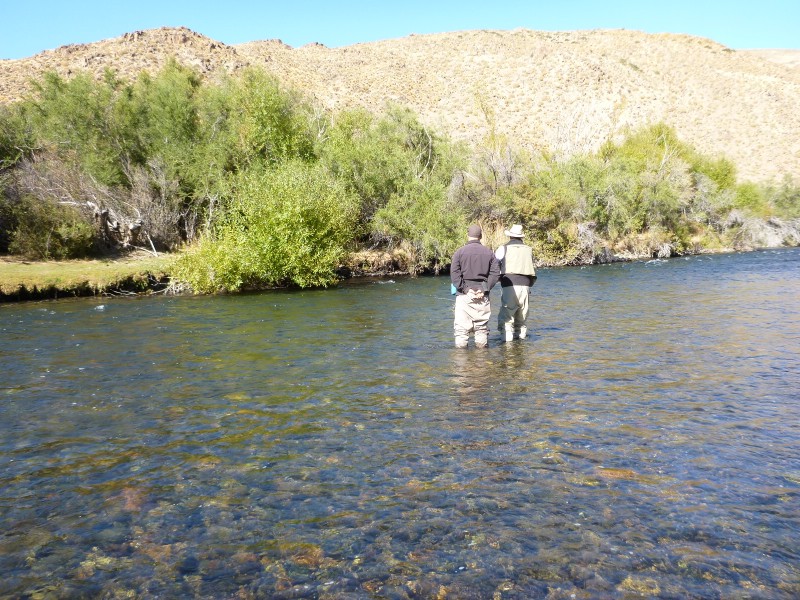 My guide Jorge out with Clyde as Davida elected to go out with Carola on an organized tour around the area.. Shopping!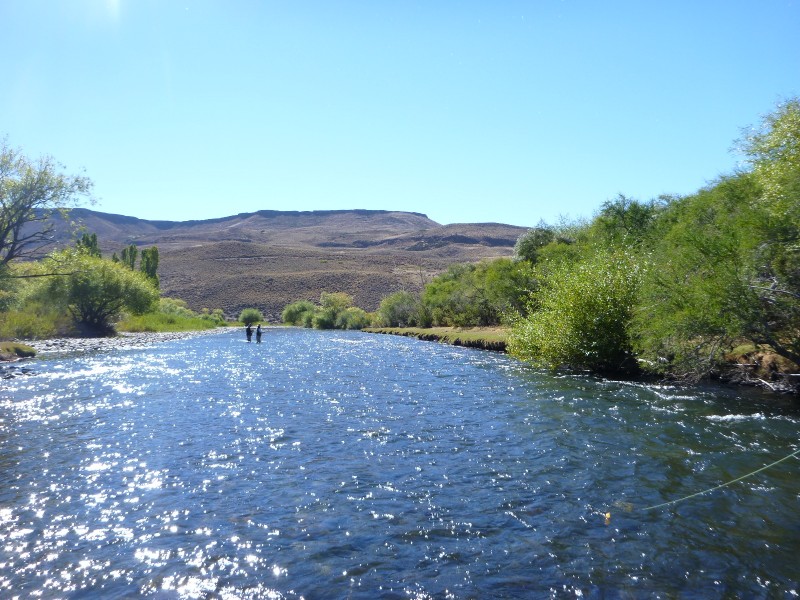 Clyde wanted me to fish, so I fished areas above or below them after they went through before and I caught fish in this very healthy stream a  little low for this time of year.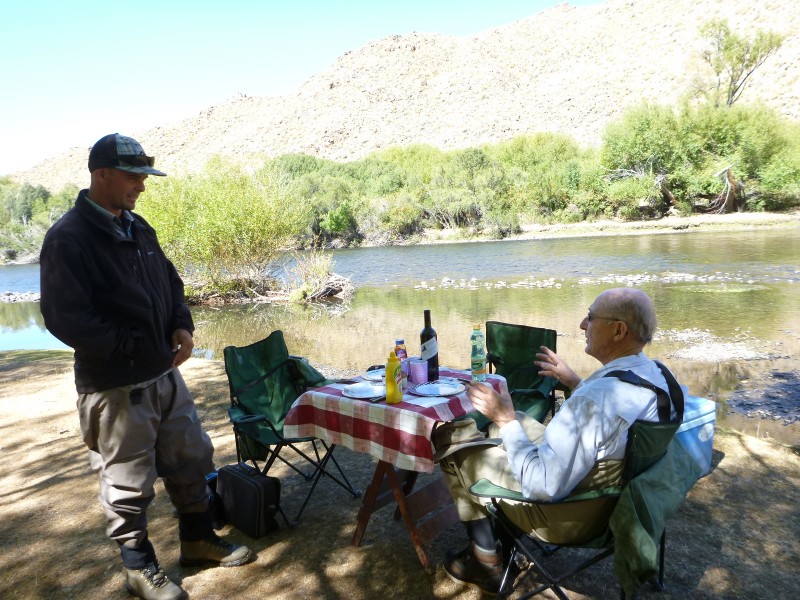 After hooking a few nice trout, Clyde, Jorge and I sat down and had a wonderful lunch my wife prepared for us. It was a nice setting and we saw huge Red Deer they call Ciervo walking along the hillsides off in the distance.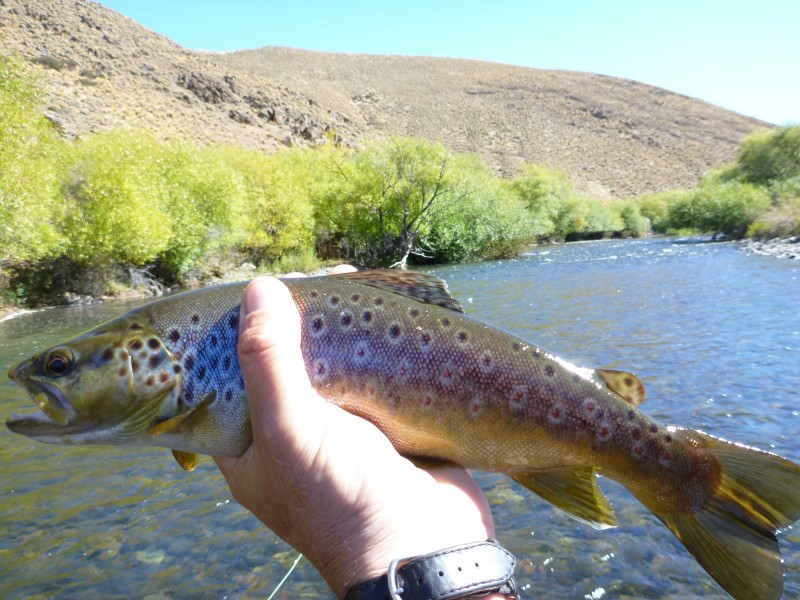 Many nice trout in this river both browns and rainbows exist, come on out and shake a stick folks!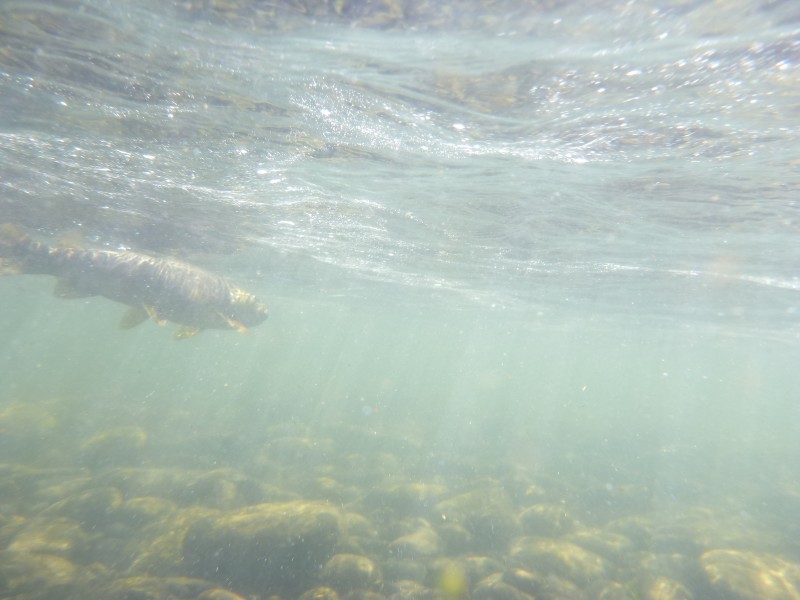 Lots of food in this river as well as hoppers, Pancora crabs and water boatman live here and feed the large populations of trout.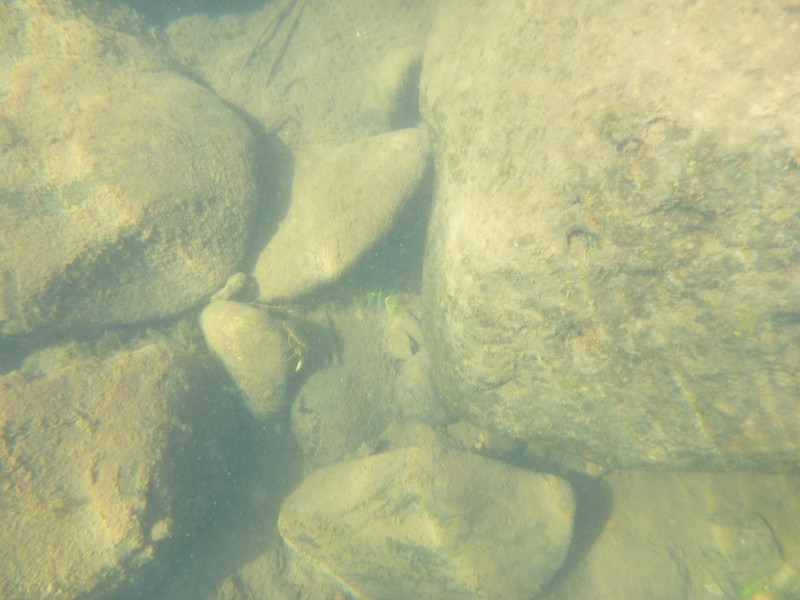 There's a Pancora carb climbing along his apartments and buildings that exist here in crab town.
 That night we made a BBQ and ate like kings, boy the beef, chicken and lamb down here is the best I have ever tasted in my life.
How do they do it here in Argentina?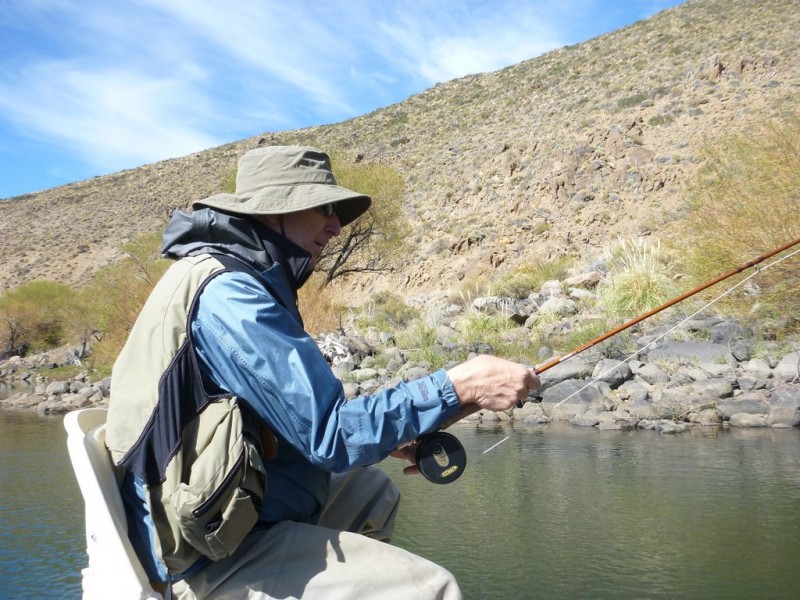 The next day Jorge took Clyde and Davida out on the a local river we grown to love. This river has many big trout and all day Clyde had hook-ups!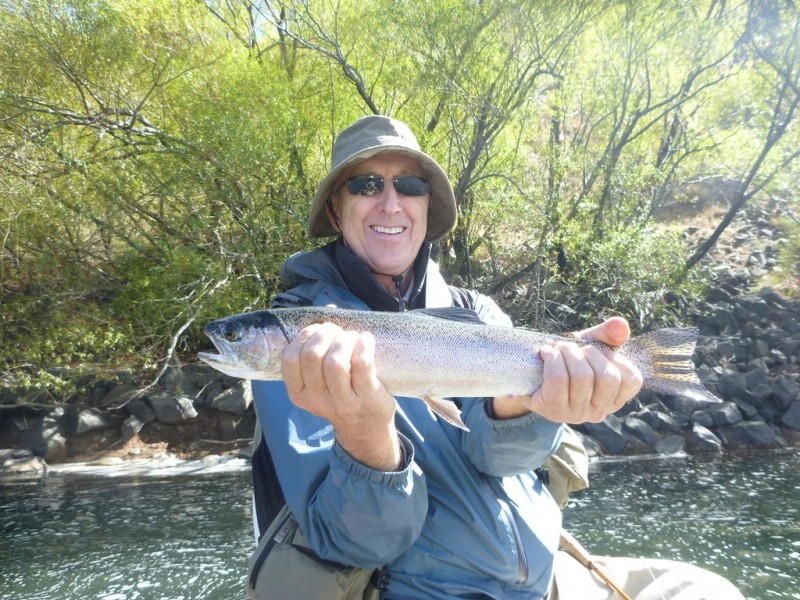 He would throw his fly along the edges of the rocks and nice sized trout would come out and munch! A real happy camper indeed.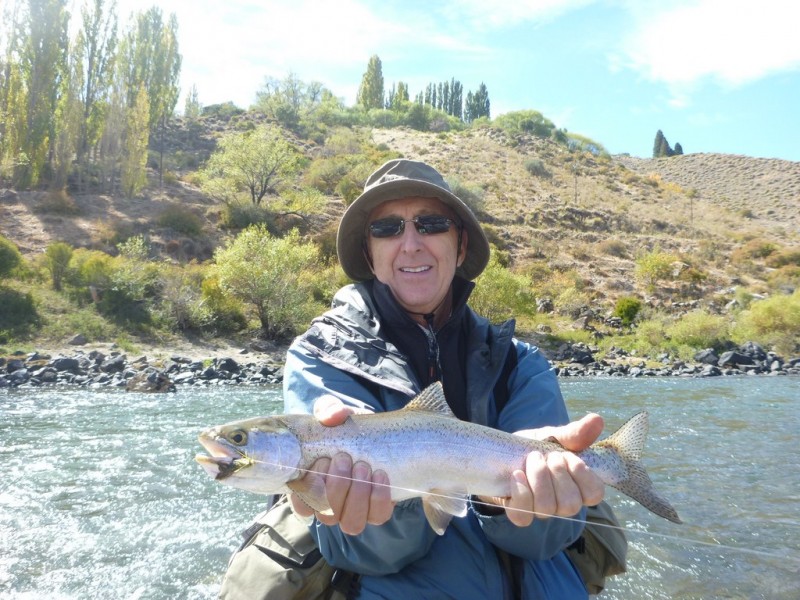 Clyde that day had over 30 hits and landed some where around 20, he really enjoyed fly fishing with Davida and Jorge on this special
section of river in Argentina.
The clients were having so much fun we decided to skip the restaurant that night and have a party together with all the greatest meats from Argentina and awesome Malbec wines.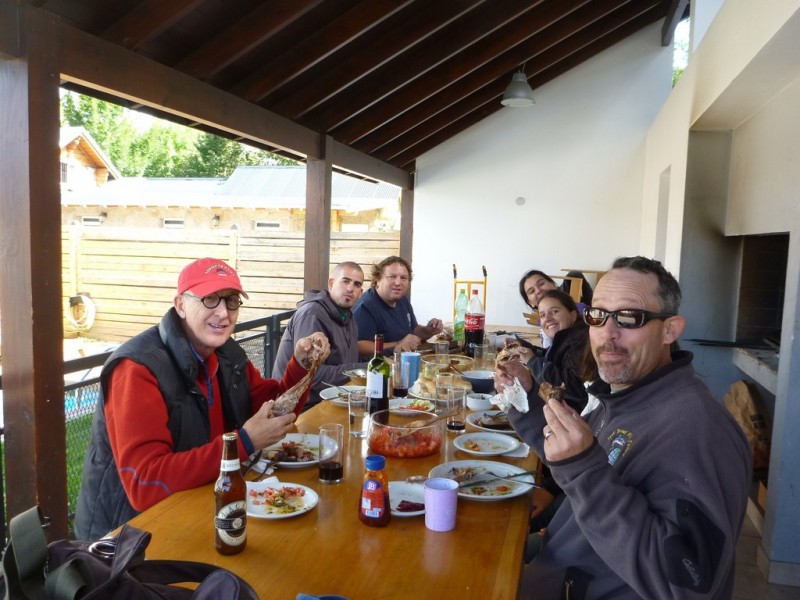 It was a feast people, you have to go down to Argentina sometime if only for the delicious beef and gracious people we enjoy hanging out with! Thanks to Martin & Sabrina! Saludos de Chile, Jack y Carola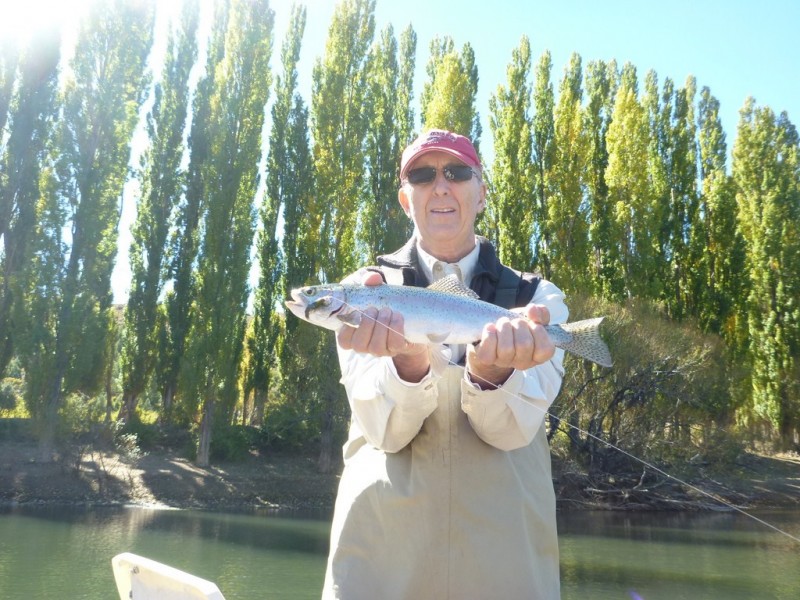 The next day Clyde was at it again loving every minute of it out on the rivers and hooking trout in very good warm weather.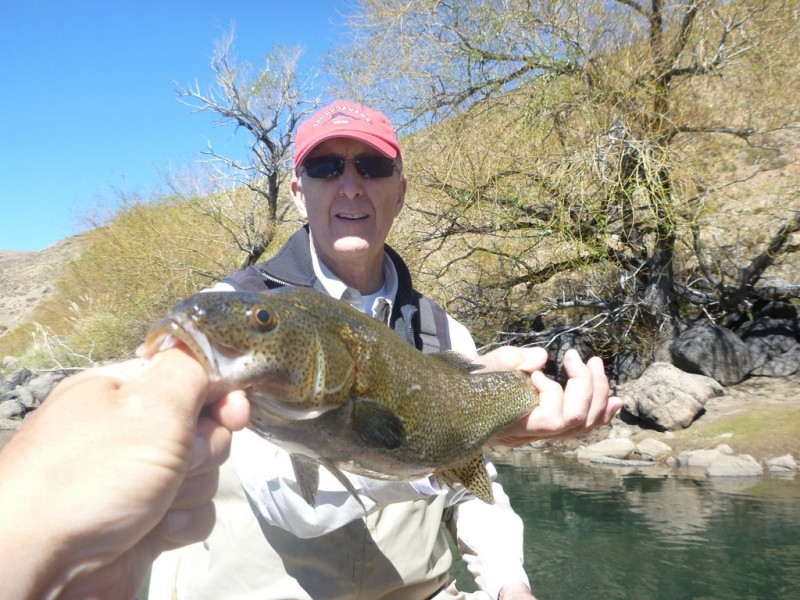 Even hooked a native perch, now that was weird looking. Davida hooked into a few also then decided hang back wth Carola for a day and do tours.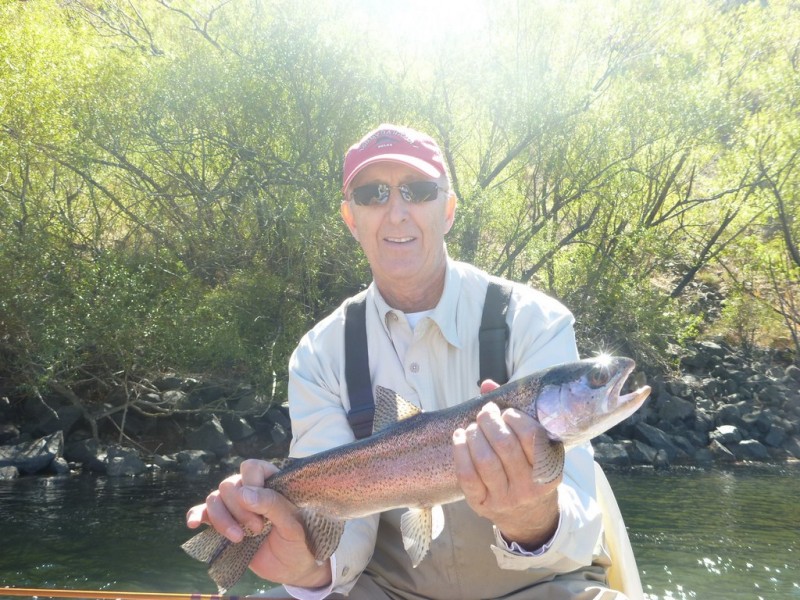 Nice bow Clyde!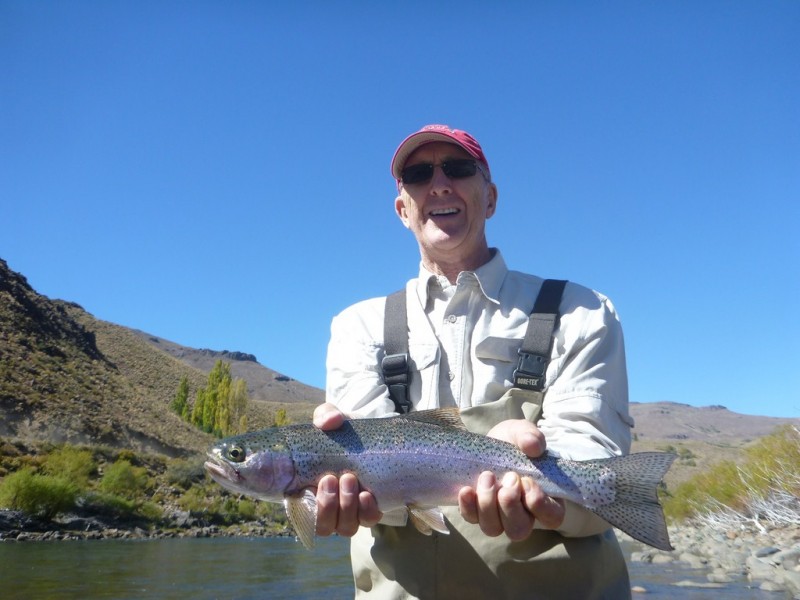 Very healthy trout that were transported here from the McCloud River in Northern California in the early 1900's.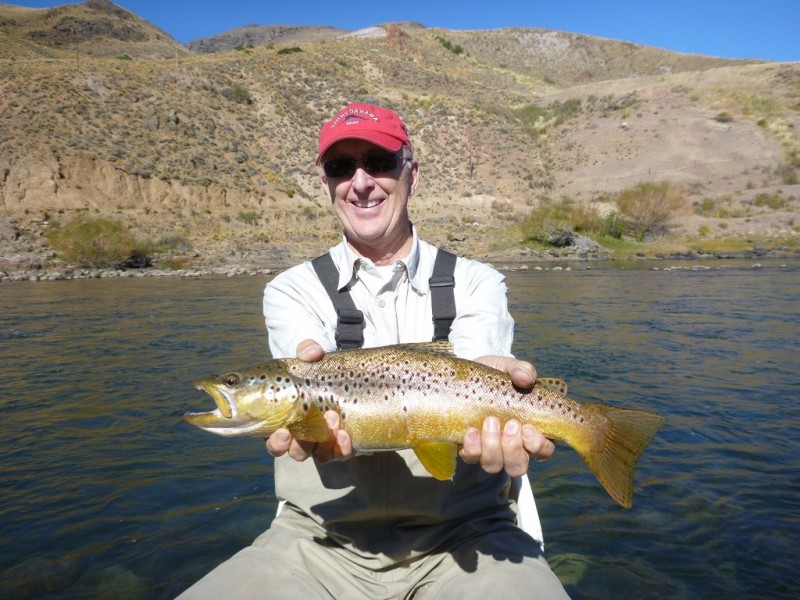 Then he hooked this healthy brown, what fantastic colored trout. Clyde loved this place!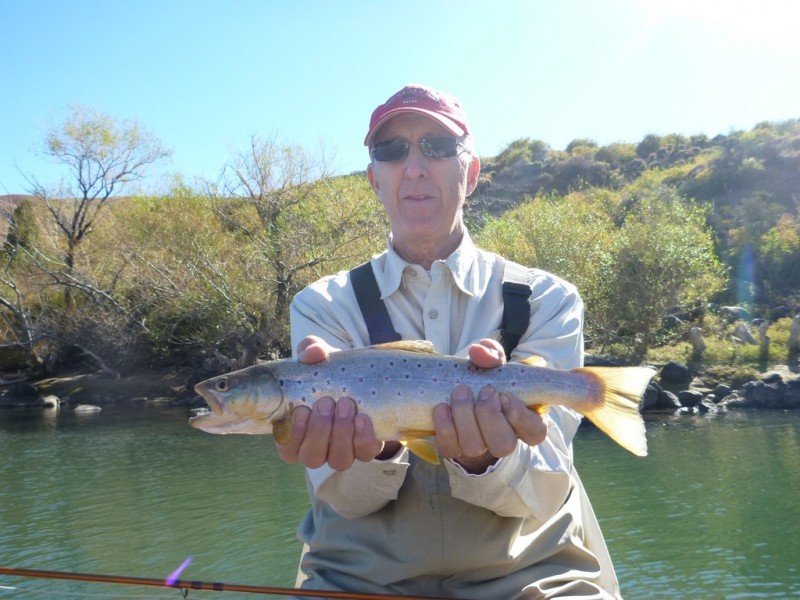 Then another, it was a real hook fest folks!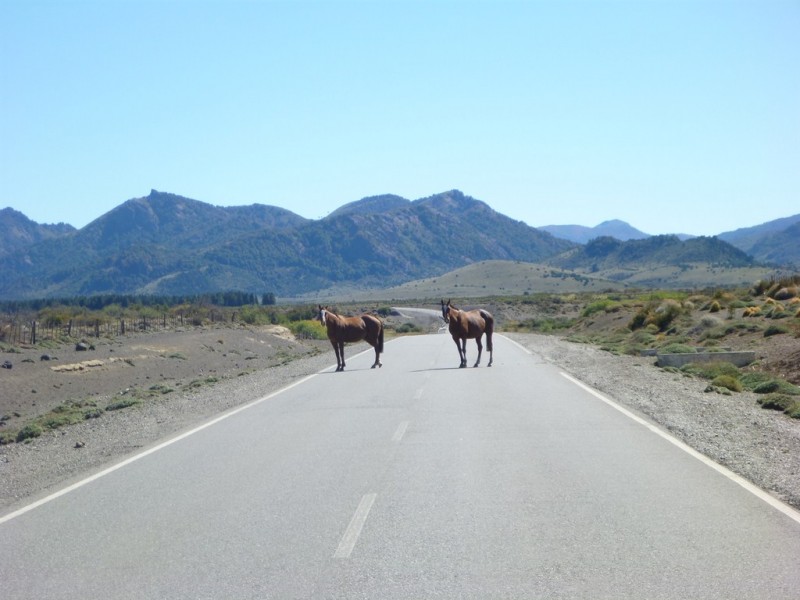 You can see the countryside is much different from Chile. It's like a trip from Portola, California to Reno, one in which I took many times with my father Raymond, I love those memories. One I relive every time I go from Chile to Argentina.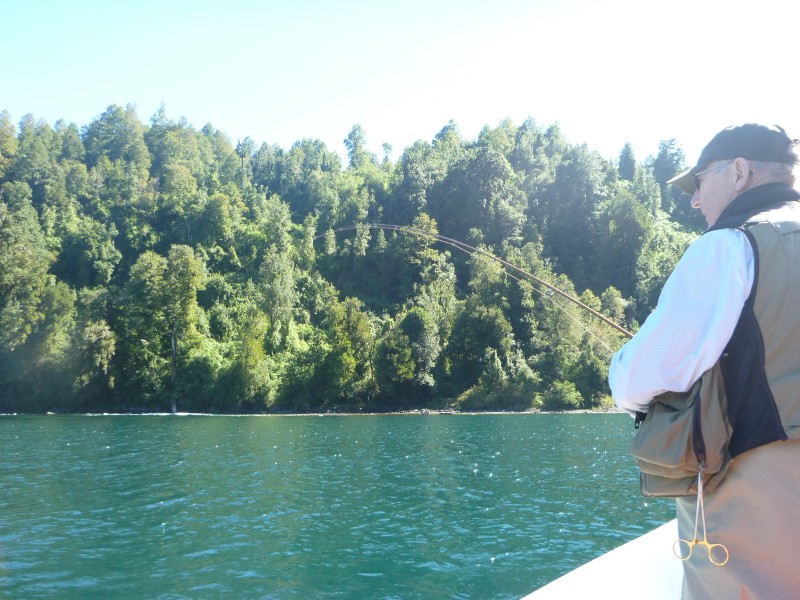 Over in Chile we had a fine day on a private river I have access to guiding on, Clyde hooked a nice trout right away.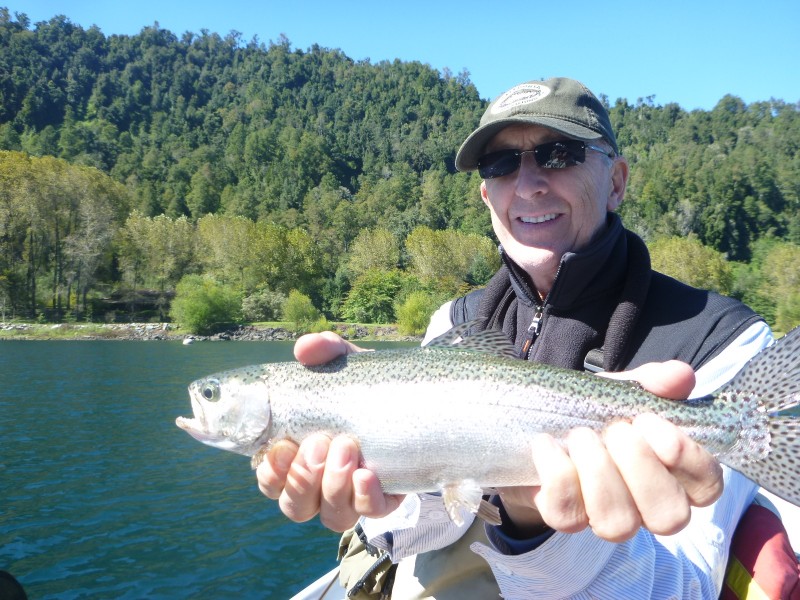 A nice rainbow indeed folks, meanwhile Davida hooked a few of  her own on this river.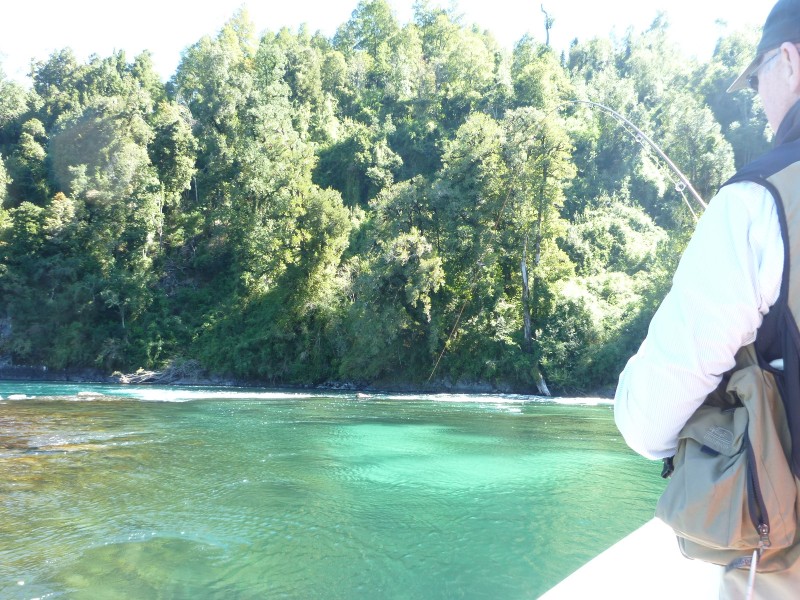 We liked this hook up, the water was so clear and glacial, you could see the trout hit like you would in the ocean bone fishing.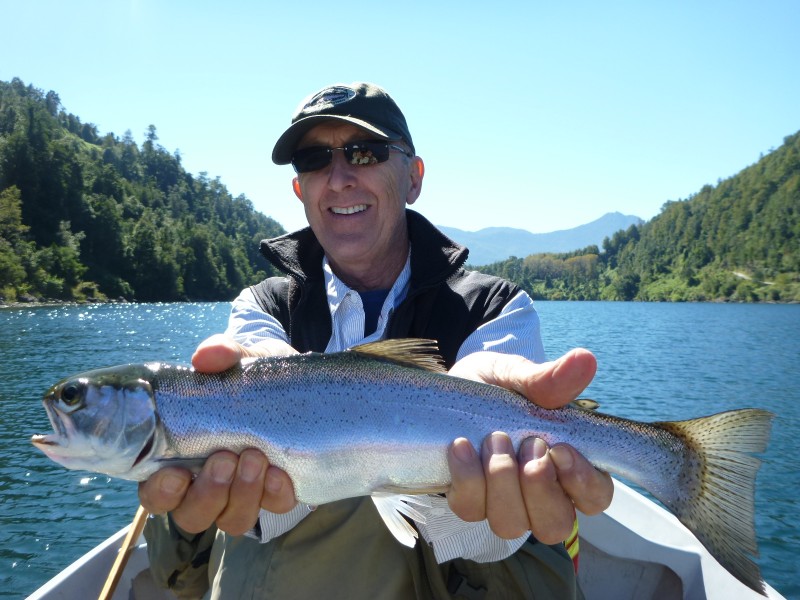 This was trout paradise, the bite was on that day and Clyde's a great angler, he doesn't miss very often when given the opportunity.
 Lunch was great that day as we prepared a mountain of different beefs and sausages from Cecinas Mödinger's of Llanquihue, Chile. Our supplier for our lunches on the rivers here in Chile.
www.cecinasllanquihue.cl/ 
When traveling through Chile, be sure to try these fine meats, you won't go wrong. Jack & Carola Trout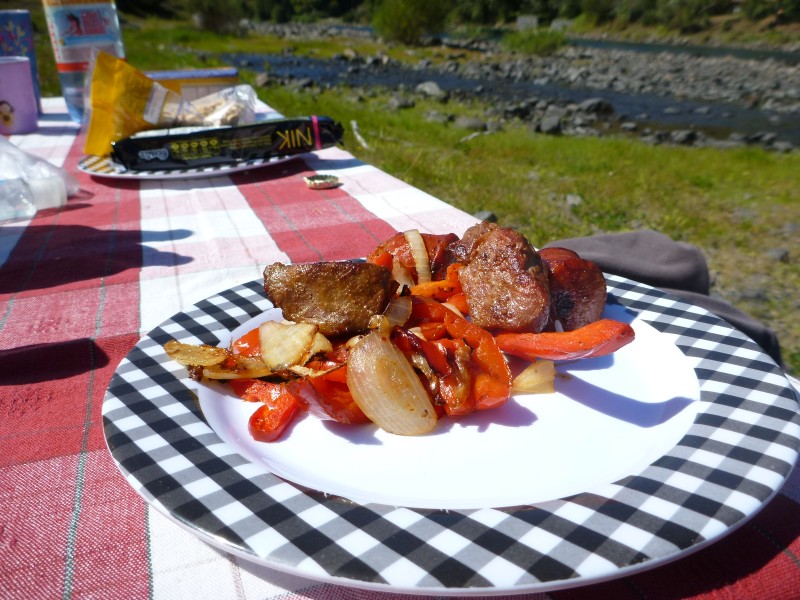 Now that's what we're talking about Ladies and Gentlemen!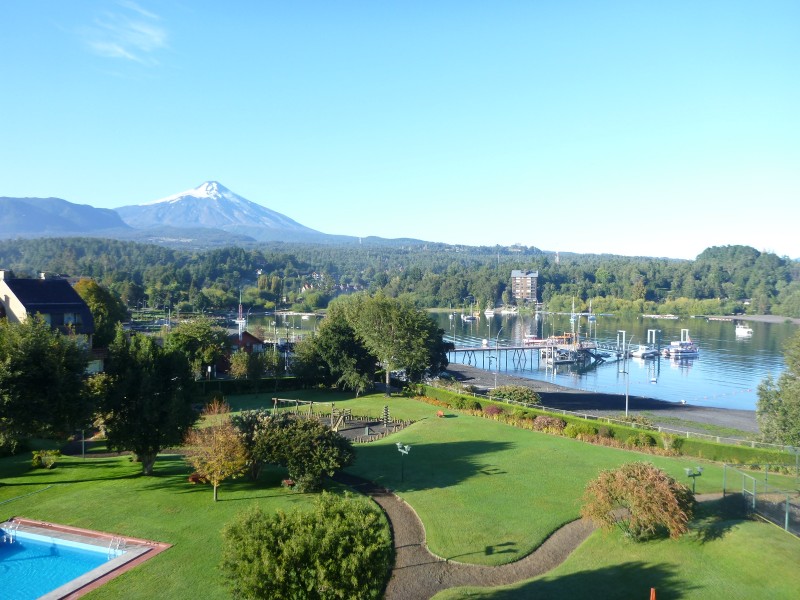 Clyde and Davida had access to Jamie's condo in Pucon for a second season together so they invited us to stay with them for 3 nights in this most awesome place on Earth, we enjoyed the incredible views and cooked for them here and went out with them for dinner a few nighst too. Thanks Jaime, I owe you a free float trip on any river you choose in the future, also thanks for allowing me to store my drift boat when we headed into Argentina for a week. We enjoyed meeting your neighbor Luis, he is a great Ambassador for Chile.
Jaime, you're a Saint! Hug Jack & Carola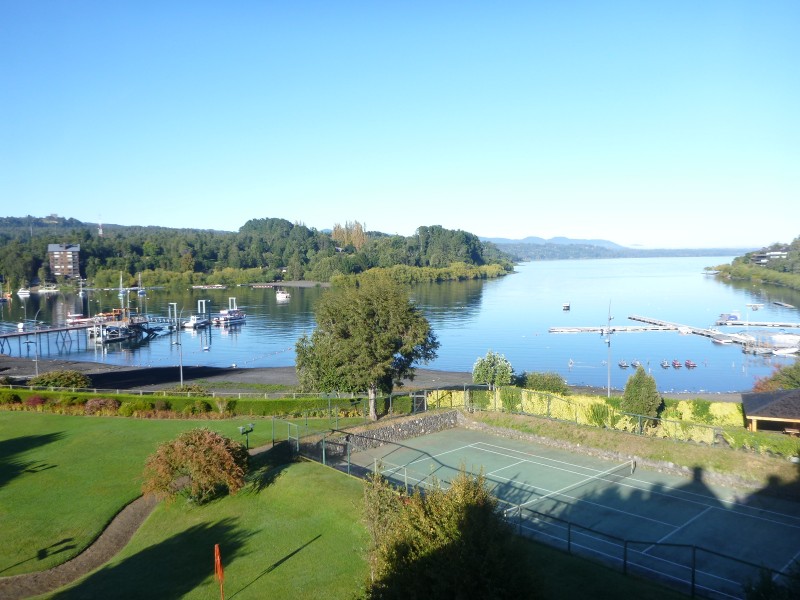 We won't soon forget our stay at this wonderful resort owned by one of Chile's finest and friendliest families.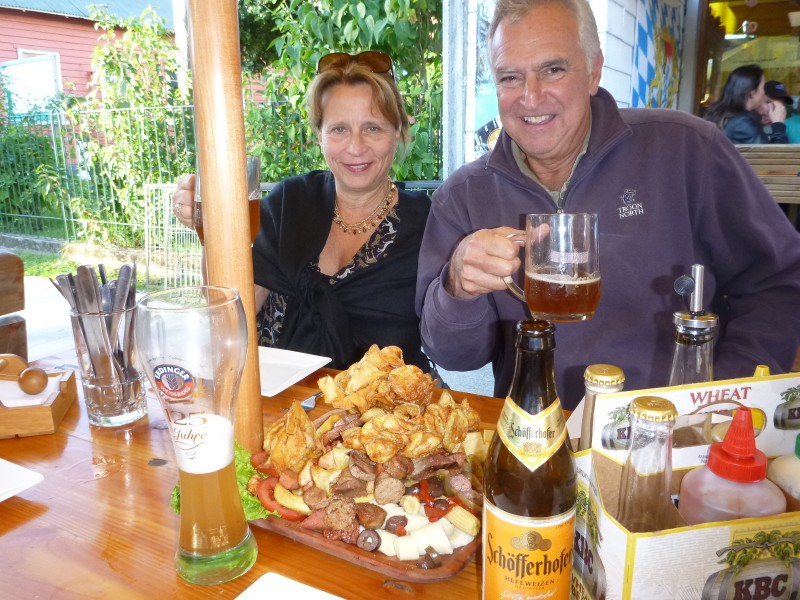 Next Jon & Diane Rappaport showed up for a second season both here in Chile and a first time visit last season in Mount Shasta. This trip though was based on a focus in Argentina but not before us pigging out on some great food at a local German restaurant in Pucon, Chile. We loved the real German beers available at this place.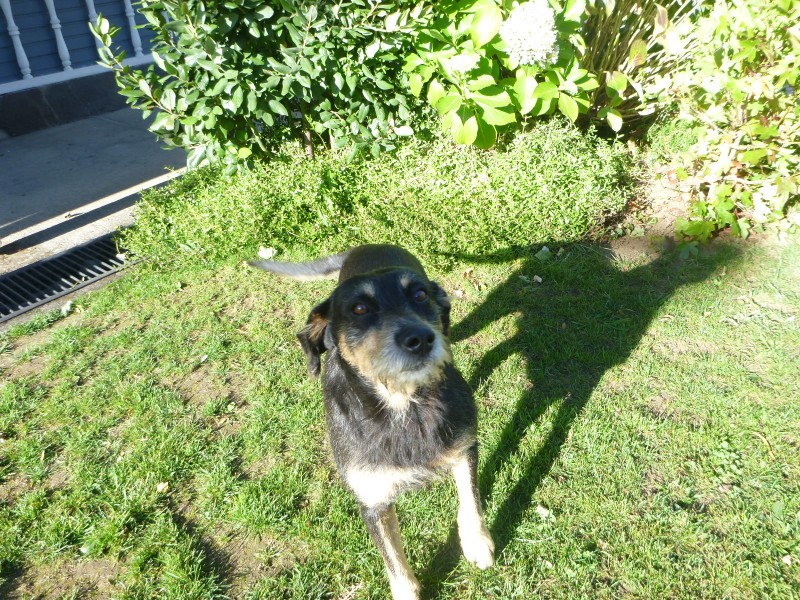 Many dogs are homeless in Chile, they are so friendly and deserve a break from hunger. We always save the left overs from what ever meal we get at the restaurants and go around feeding dogs where ever we see them. Would you consider that too, if you come down here to Chile or Argentina…. We get strange looks at the restaurants, but the servers aren't that hungry so they don't realize the importance of saving the world from dog hunger. (Someone has to do it folks!) 🙂  JT & CT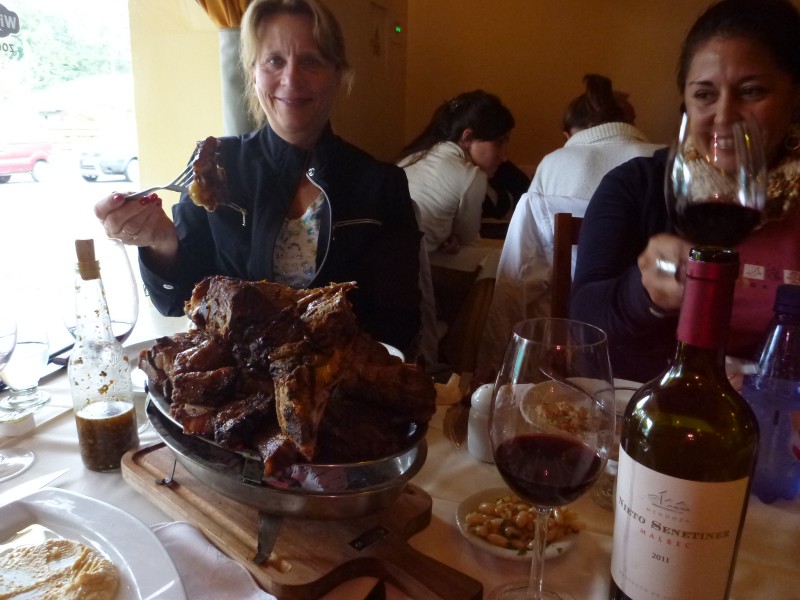 Could you eat all that delicious food, that is the question folks! Diane really wasn't sure…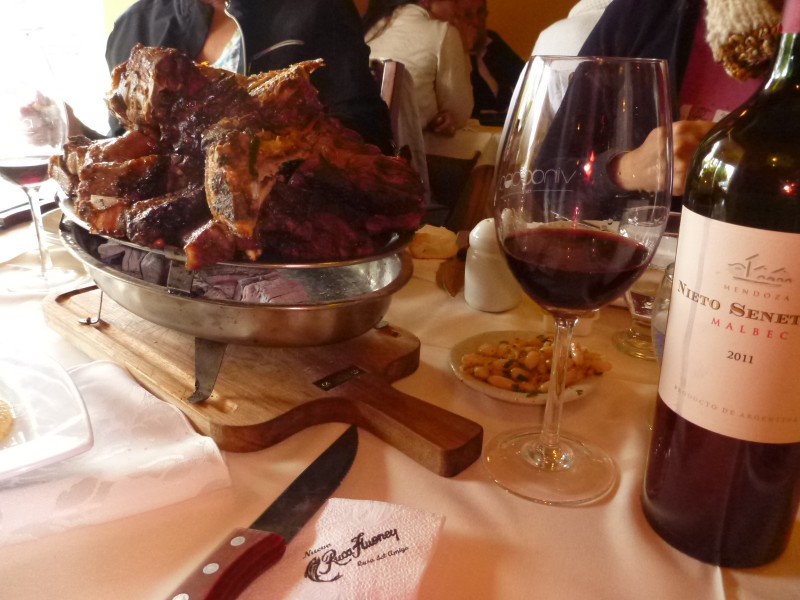 Can you say.. Yummy!
I can honestly say this could be the best meats you've ever tasted in your life, Argentina knows how to do beef people. It was so fun taking two great groups over into Argentina and both having the best times of their lives.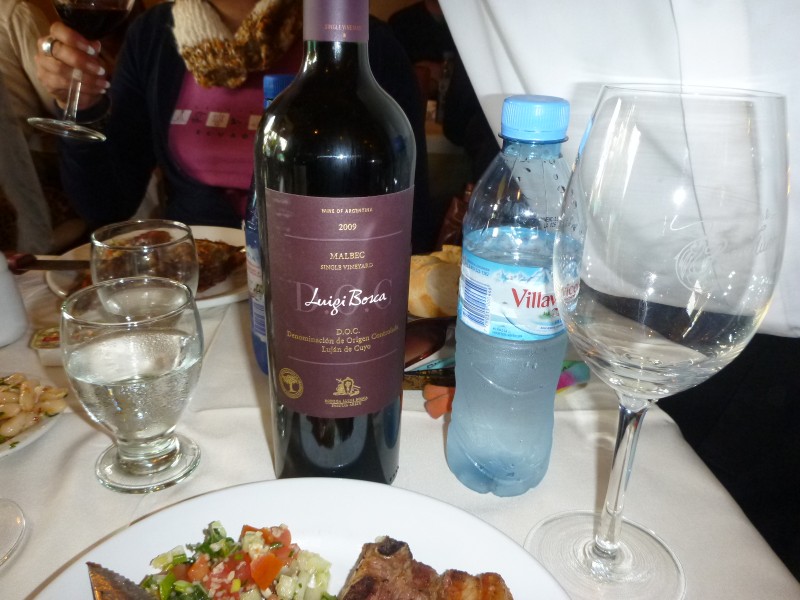 So I asked our waiter, "What is the best Malbec wine you serve?" And he presented me with this lovely creature in a wonderful burgundy dress.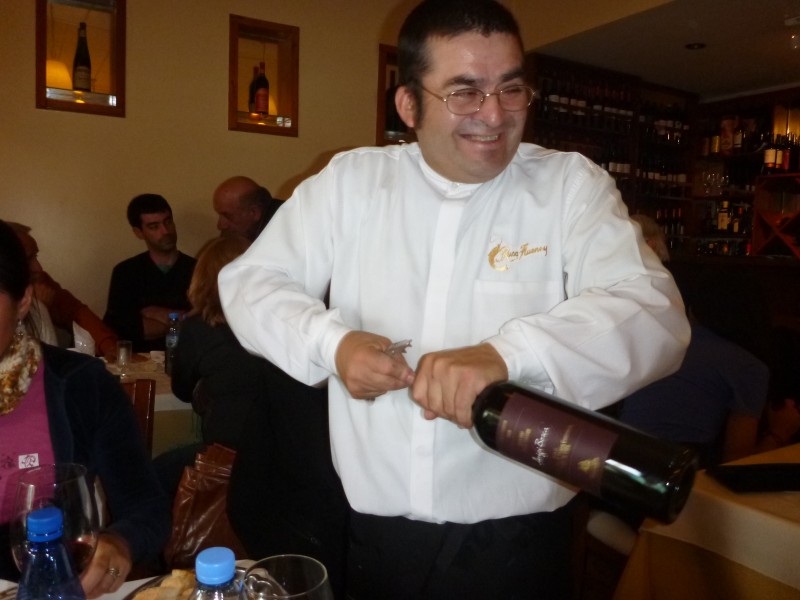 If you're ever in Junin de los Andes, Argentina don't miss trying the Ruca Hueney Restaurant. The atmosphere food and staff are simply the best in the region. This is a true fly fishing restaurant with lots of art and decor to back that up. The food is divine!
http://www.ruca-hueney.com.ar/inicio.html
I think she said something to the effect of "Where's the beef dude?!" If you leave here hungry you need to go to one of those hot dog eating contests and rename yourself Joey.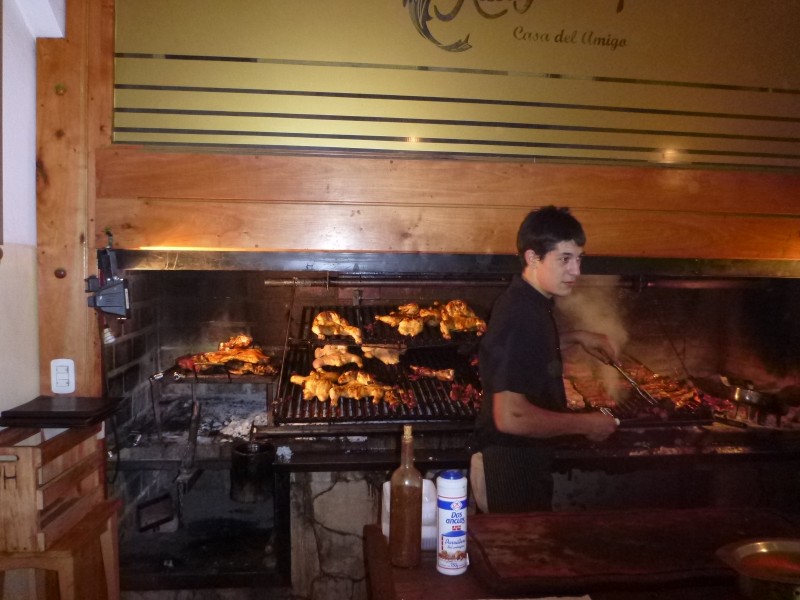 Ok more lamb? I guess we'll need some more Chimichurri then… Che!
John Rappaport of Orono, Minnesota one the nicest people we've ever guided anywhere. He and his wife Diane approach life with grace and education. Fine human beings to spend a few weeks with out on the waters of Chile, Northern California and Argentina.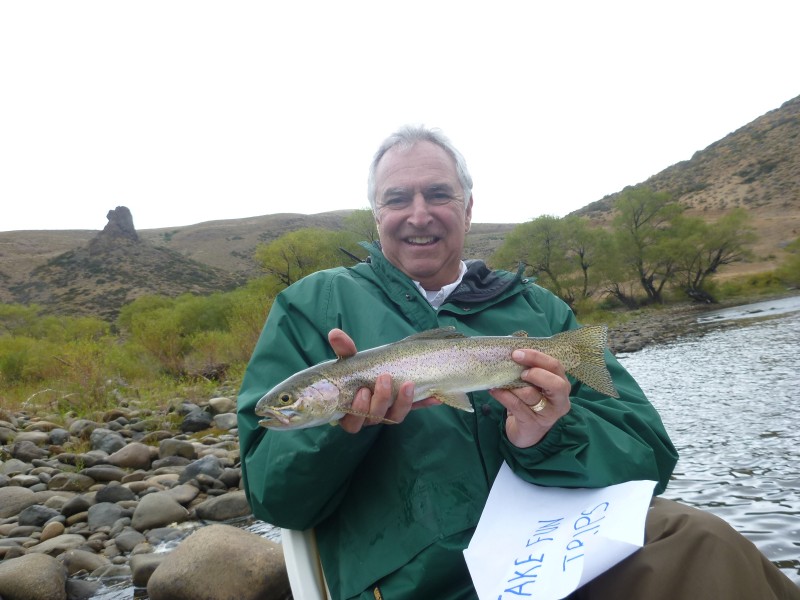 Take fun trips people, That is the secret of  life!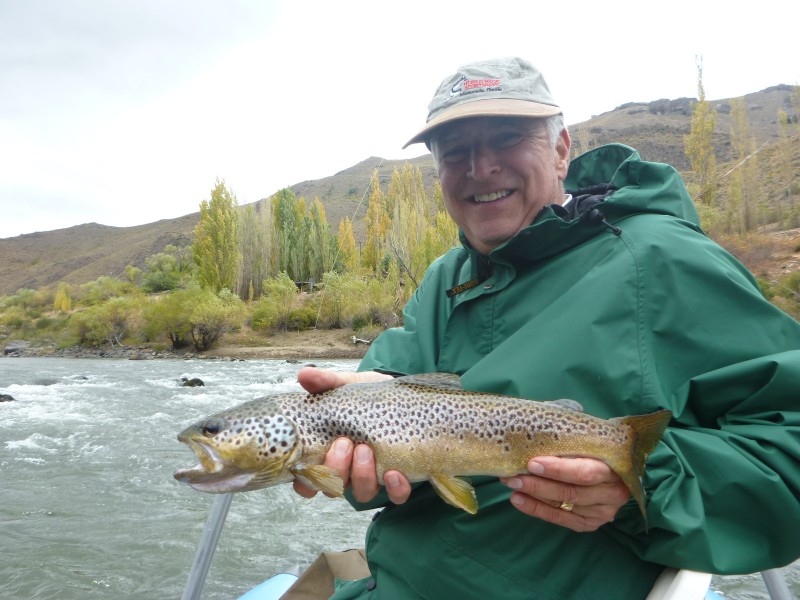 Brownie points Jon!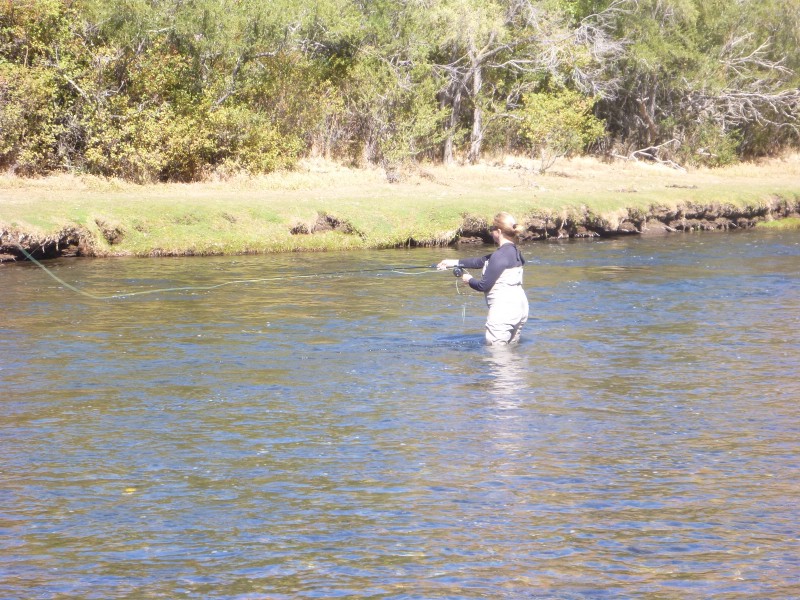 Diane plays along the banks on this magnificent river in Argentina.
Look at those perfect cut back banks, perfect for laying a hopper into…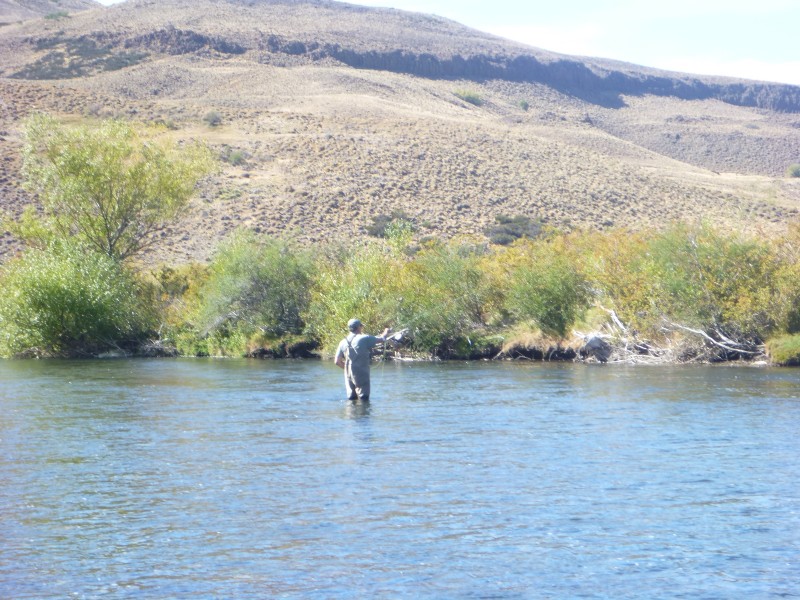 Jon had a few takes but on this day the bite just wasn't on. As guides we have this happen and it is out of our control no matter waht river you're fishing, this happens folks. But Jon said, "Just being here is my reward, the catching is always the icing on the cake!"
Jon & Diane said this lake was one of the most beautiful places they ever fished in their lives.
 An amazing place to visit and fish.
That Diane landed some nice trout and this large mouth perch, Jorge was a great guide to be out on the water with.
 Lots of trout action when you fly fish on just about any river in Argentina. Thanks Jon and Diane for another great trip together, we look forward to seeing again sometime. Hug from Jack & Carola Trout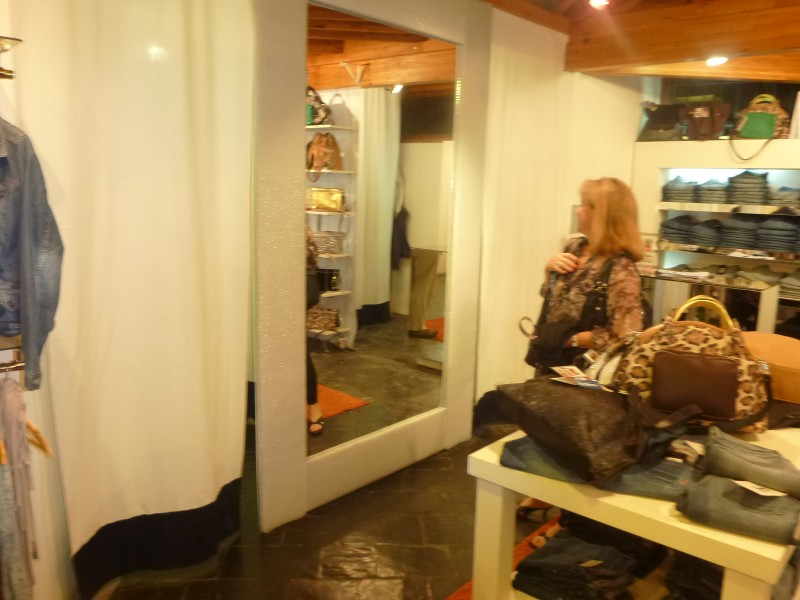 The shopping and values at the many stores around Argentina is what also makes the trips so special especially for the ladies.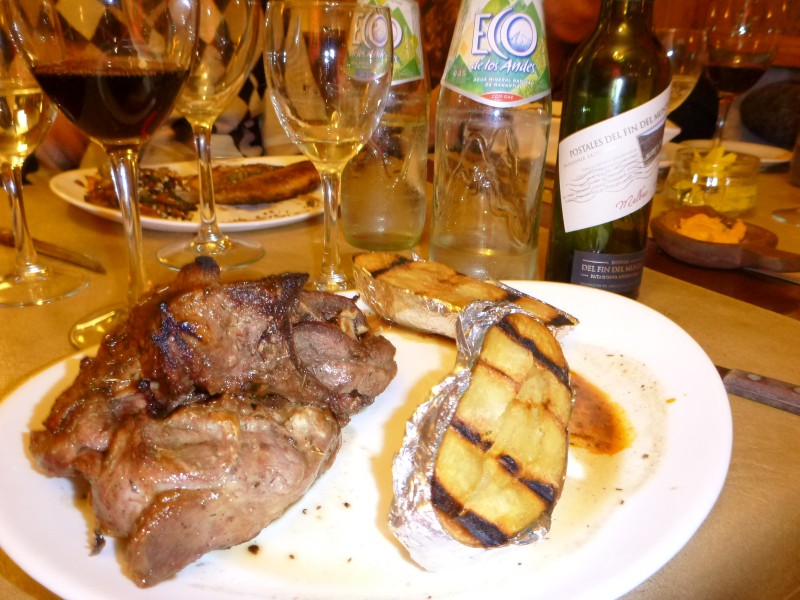 The food though is incredible experience too.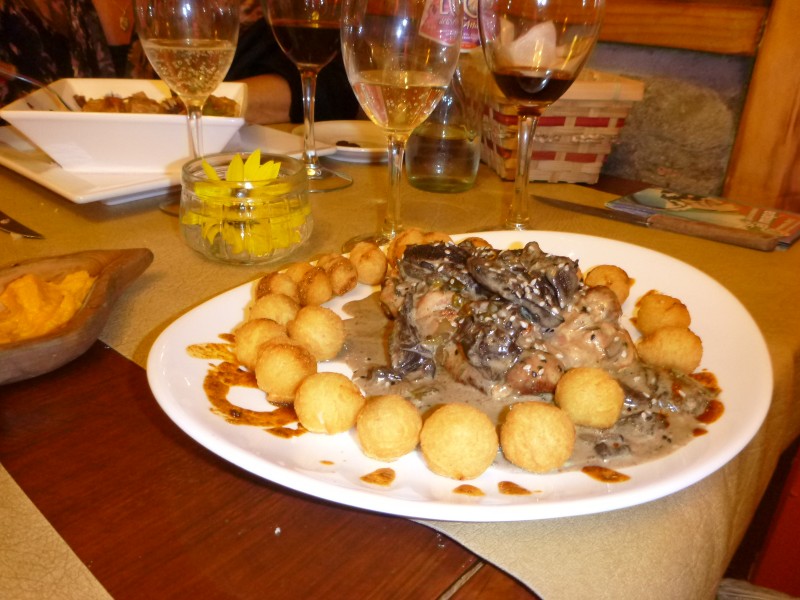 Oh boy!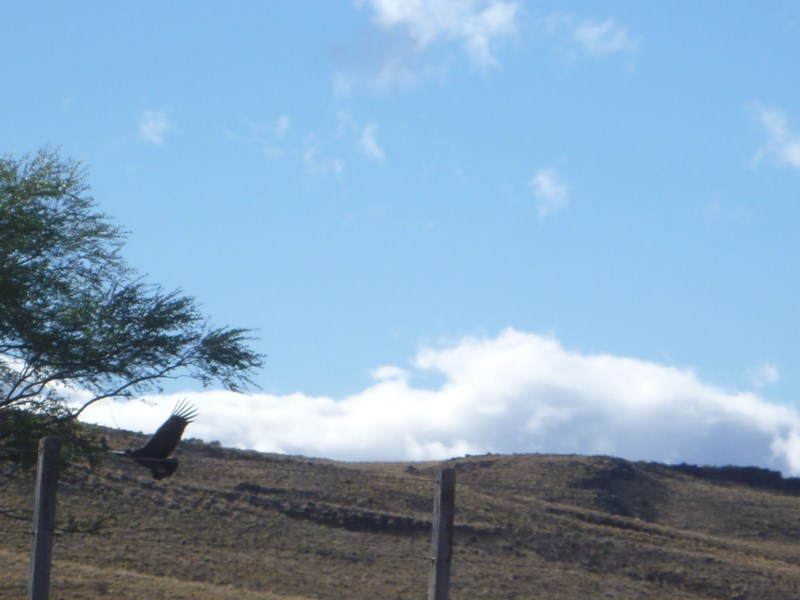 One day we spotted two condors on the ground eating something, Jorge explained that they are huge and fat these birds can't just fly into the air, the wind will knock them back down. So they fly off to avoid people like us land some where close to where they took off from then they have to walk up to the top of the hill and fly off the mountain. When I first saw them, I thought they were the biggest turkeys I'd ever seen in my life times three. Wow, they were both huge! These aren't birds, these are paragliders.. Sounds like some of buddies from the Old G-House in Mount Shasta, way to go Sizzlers!
All these rivers in Argentina are so great to float on this day we floated a section no one else has access to.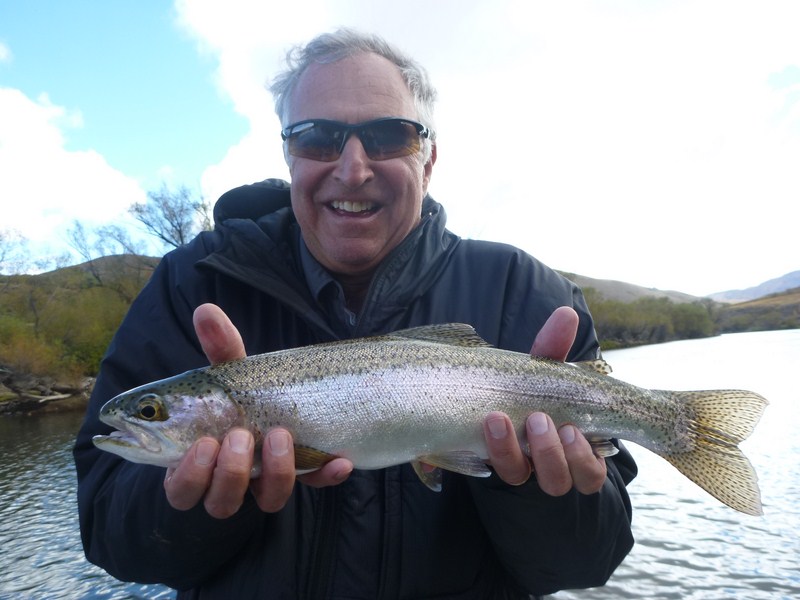 It never was so windy and cold, but Jon being from Minnesota thought it was great and never complained. He said it was just wonderful catching all these spunky trout and we both commented that on most rivers, 40 mile an hour winds you wouldn't catch much

.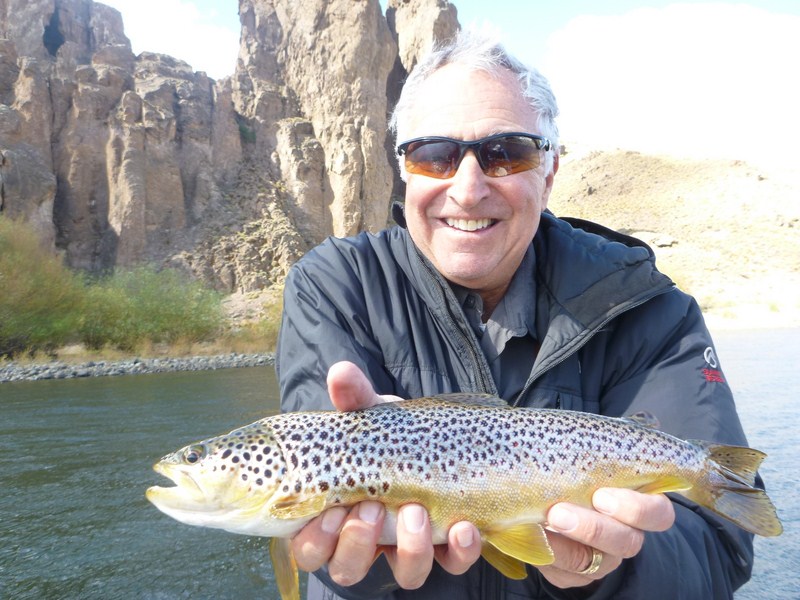 It was a hook fest folks, one in which we won't forget soon and Jorge did a great job in tough conditions but we all made the best of the day as Diane was back at the ranch on a tour with Carola.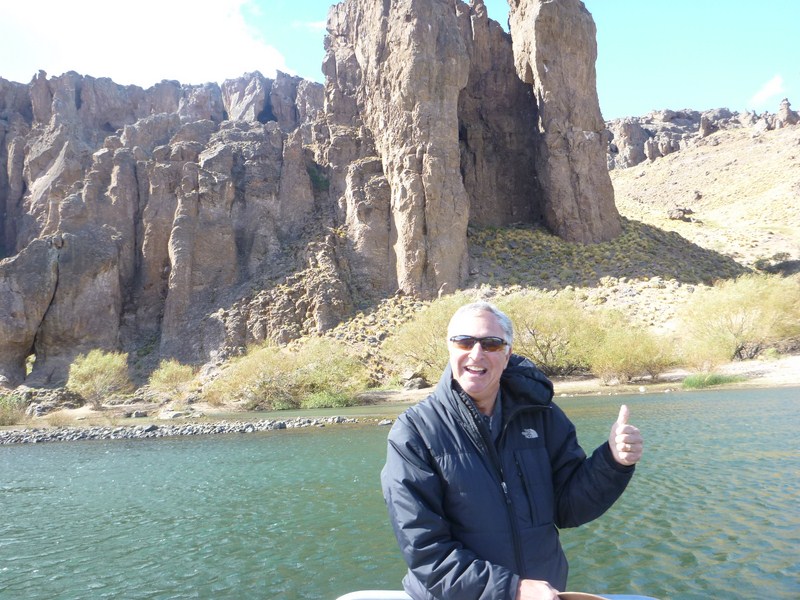 Living Large in Life – Jon Rappaport, you could learn how to live life fully form this guy as he is genuinely happy and wise in his years.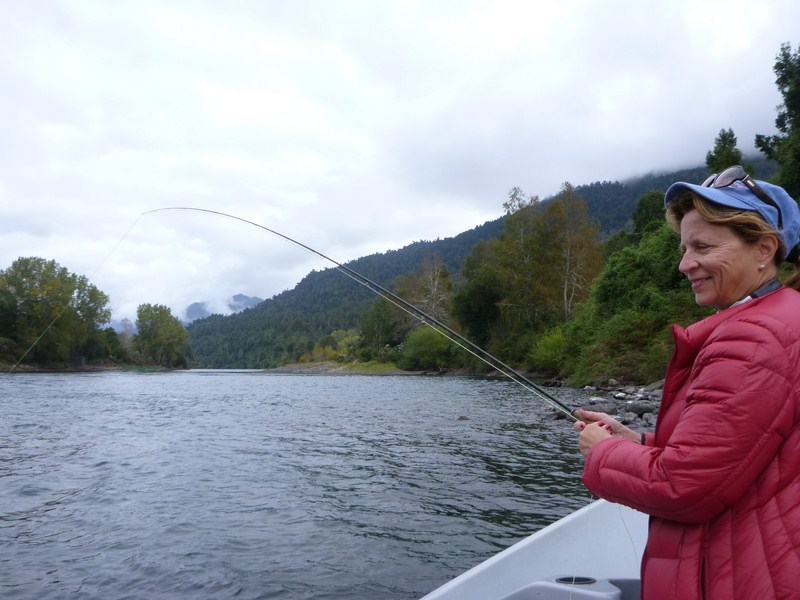 Diane enjoyed her time out on the water and hooking a few nice trout on her own, a great partner out on the rivers with Jon.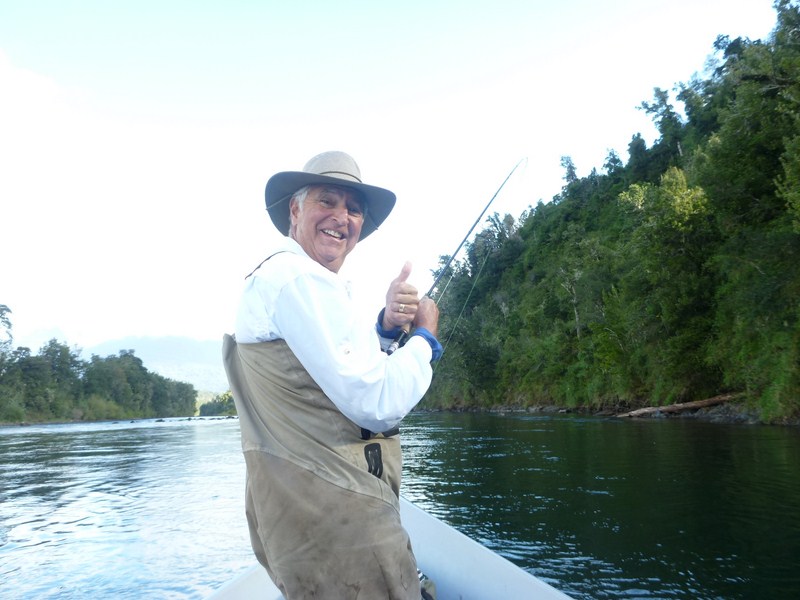 Now that picture says a thousand words folks, Jon thank you!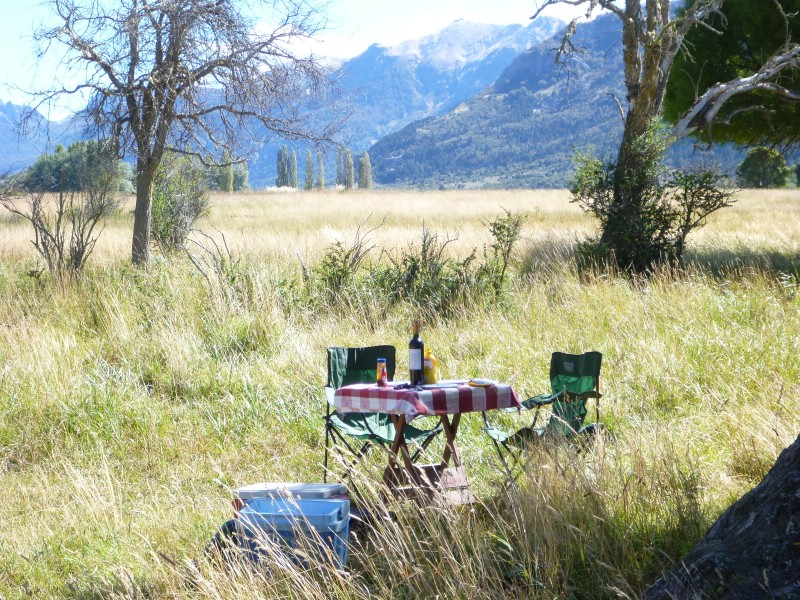 Lunch is served… Good bye Argentina, thanks goes out to guide Jorge & Gabriel great job this season!! jt y ct
********************************************************************************************************
LOWER SACRAMENTO RIVER REPORT –  Northern California Fishing Report
Forrest Brizendine reports excellent fishing on the Lower Sac, call us for a float trip through Redding or Red Bluff, California. Lower Sac is heating up, spring bite is on with caddis, stones, mays and midges coming off strong. Great weather right now, around 80 degree average, lots of hook-ups and action.
Email us info@jacktrout.com  or 530-926-4540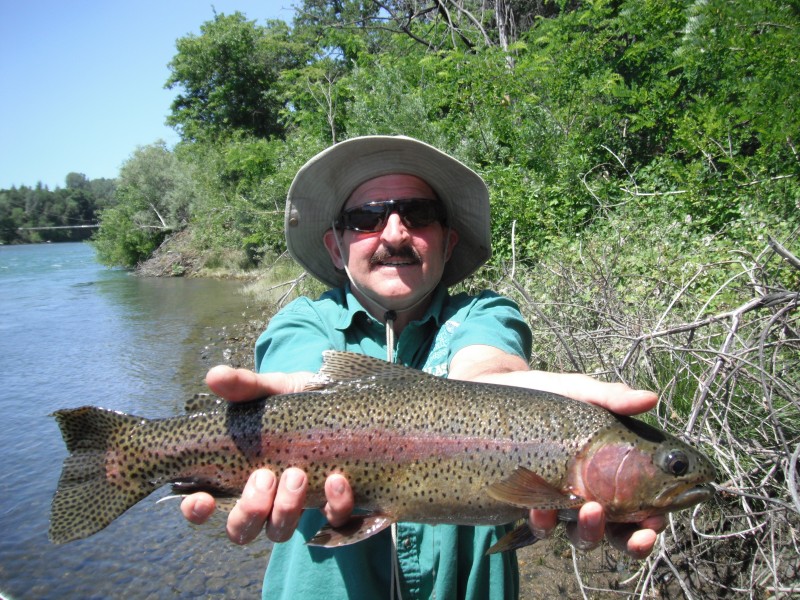 Nice trout, way to go Team Trout!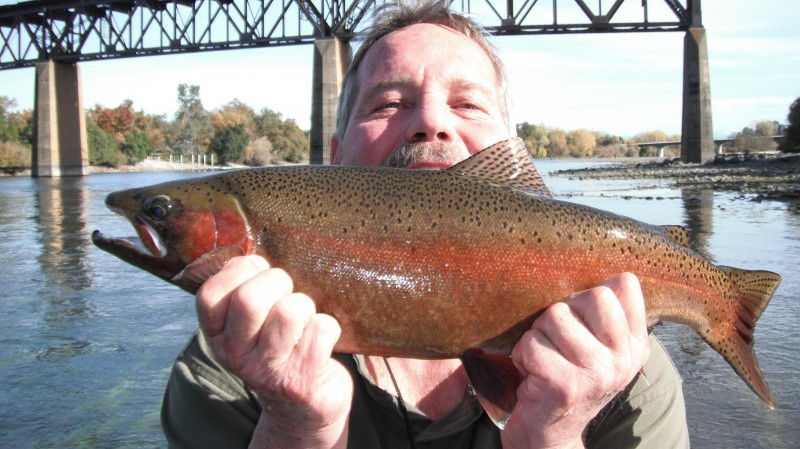 That's what I call the Scarlet Letter!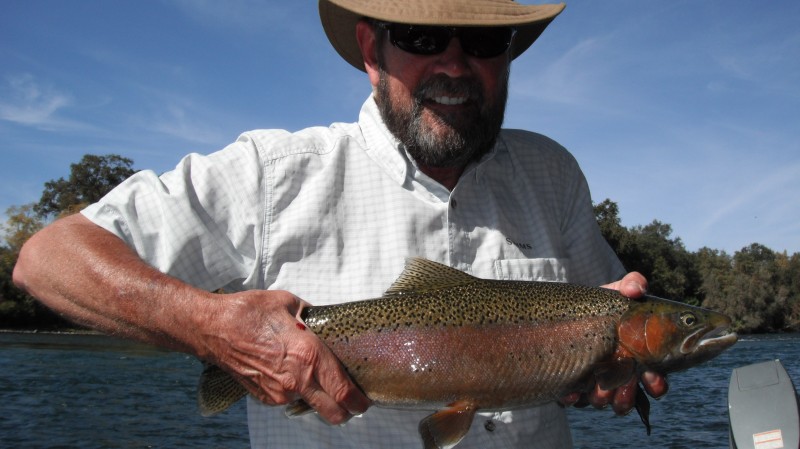 Nice on the eyes, that trout is sexy. Plan your trip to Northern California to fly fish on the Upper or Lower Sacramento Rivers.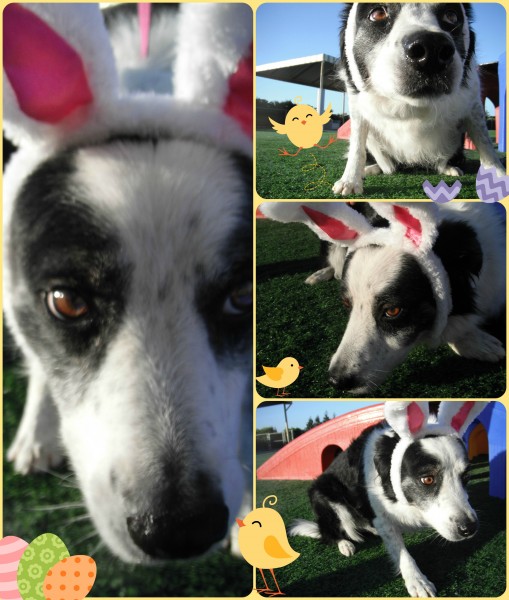 Happy Easter everyone from Kobe Beef Trout, he's looking forward to getting back in his dog house up in Shasta.  http://www.elainespetresorts.com/locations/madera/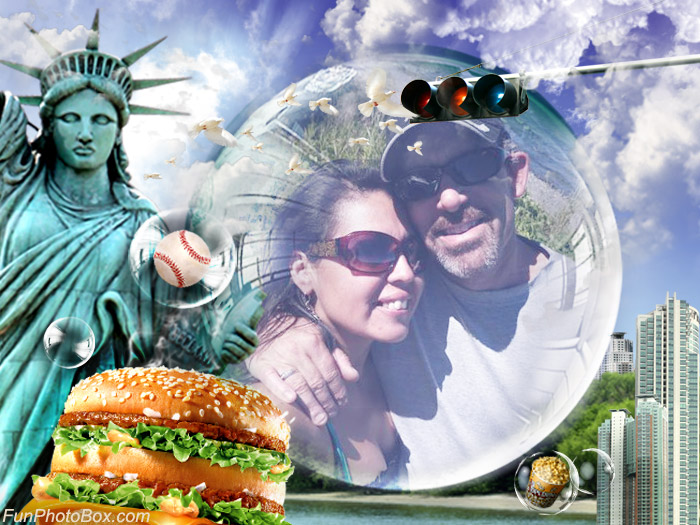 What a wonderful and successful season this year in Chile and Argentina, boy have we grown from the experiences and lessons from
what has to be the best year we've ever had in 22 years of outfitting and guiding. Thanks to all of you that made it a success! Now back in the USA very soon folks to guide you up there.
Best to you, Jack & Carola Trout & Team Trout Guides International
Thanks for watching our adventures! Jack & Carola and the Team Trout International Guides
EMAILS FROM  YOU:
Wow!! This is a total adventure….the food looks soooo darn good!!!!!!!!!!!!!!!
Paul Roberts, DFG Sacramento
*************************