Back In Mount Shasta Trout Guiding on the Upper Sacramento, McCloud, Hat Creek, Lower Sac & Pit Rivers.
Now's the time to book May & June Guide Trips for the Mount Shasta – Dunsmuir area.

It's great to be back in Mount Shasta looks like the rivers are a little high but a nice long season of wonderful fly fishing is instore for all of us!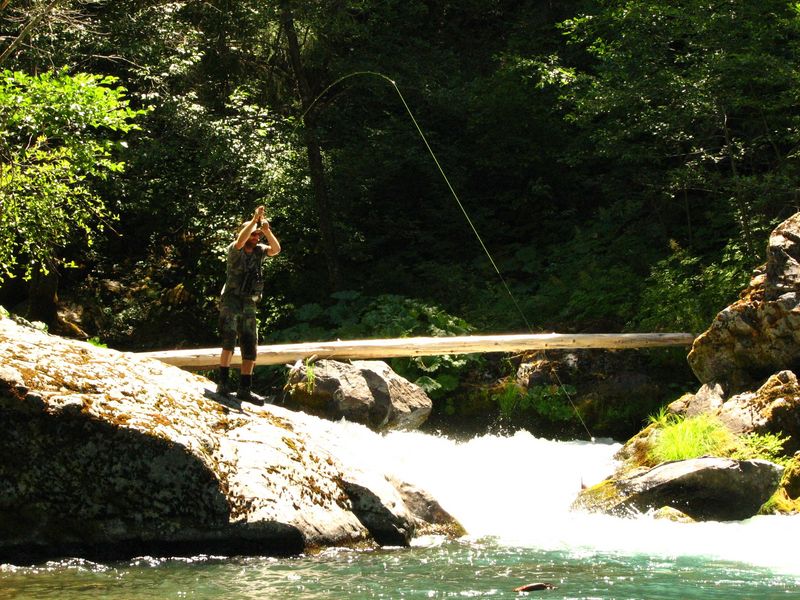 Guide Jason Sinclair fished the Nature Conservancy this past weekend with much success. Mainly nymphing with indicators and special flies he ties…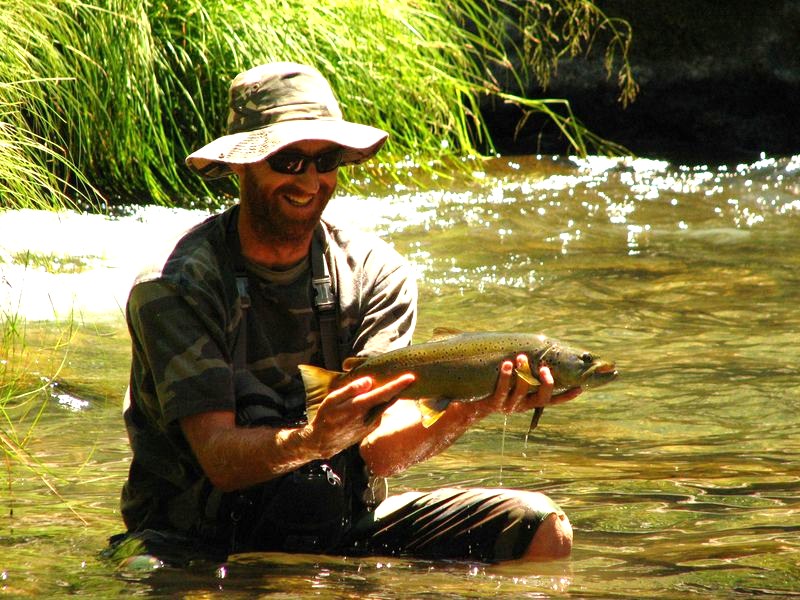 The joy of what a nice big brown from the McCloud River can do for t
he soul.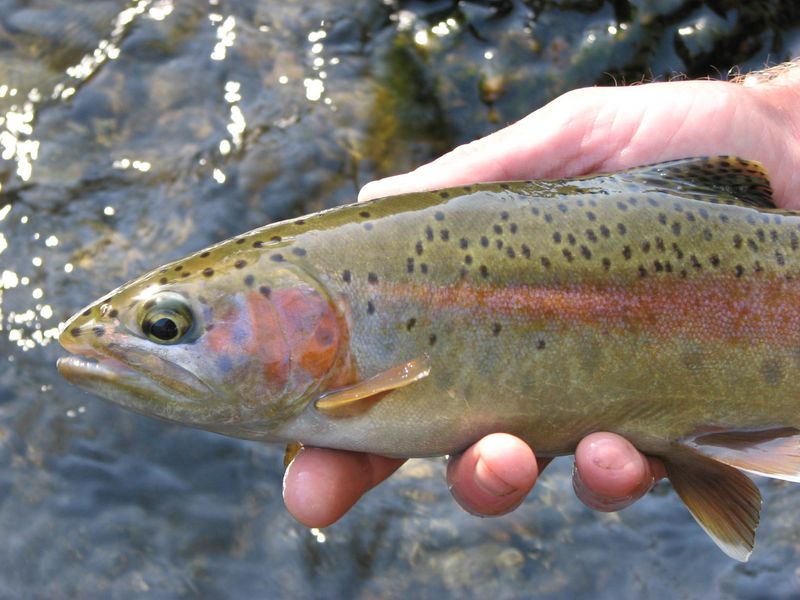 The McCloud River Rainbow, the most widely distributed rainbow trout known in the history of  mankind.
Chile, Argentina, New Zeland, Tazmania, Japan, Hawaii and few other places you might mention….
This is the kind of river I think of as Western Style River.  The more you work up the river 
the better you're going to do.
Also fly fishing skill and time on the river helps.
PG&E A LITTLE MORE WATER PLEASE!  I thought this was ridiculous when I saw how low the McCloud River was for the opener for trout season. PG&E has it so low and spawning season wasn't even considered or the fisherman.. Get with it PG&E you folks are disconnected entirely… 
Kayakers in the Canyon of the Upper Sacramento River this past weekend. Flows are up and the weather is perfect for a ride through the box! Take out is at Cantera parking lot # 2 ..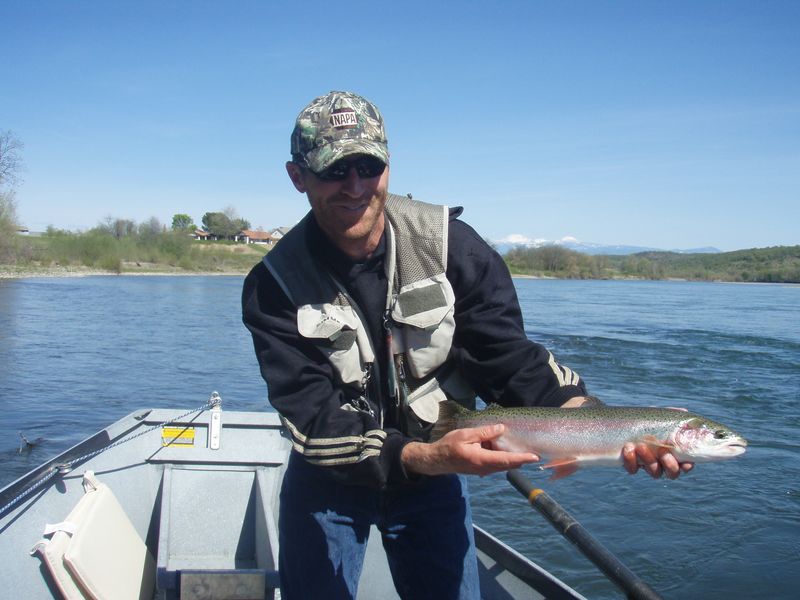 Lower Sacramento has been the best place to fish. Some say it's the best the rivers fished in a few years! Jason or myslef can guide you anytime on the Lower Sac just give a call.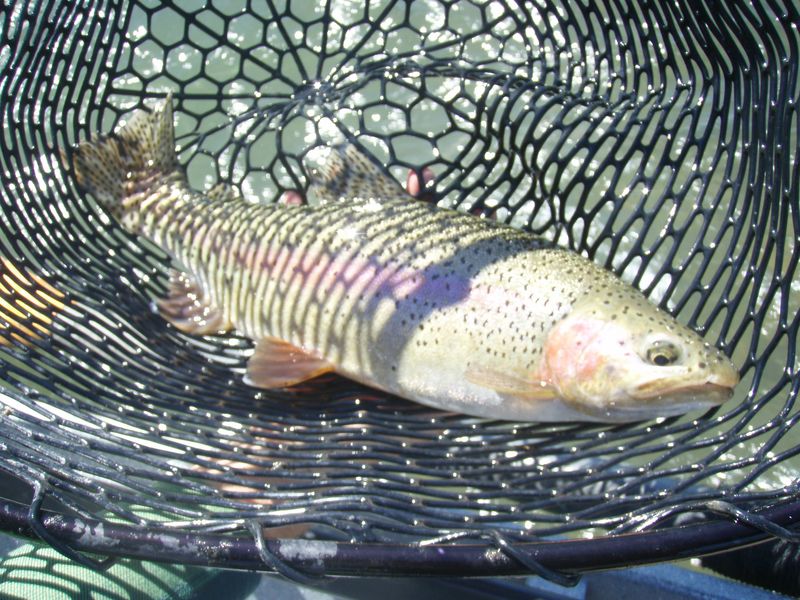 This is a great time to come up and fly fish the Lower Sacramento River , the fishing is red hot and you won't bake your brains in the hot sun of Redding California. 530-926-4540 Guide

Hotline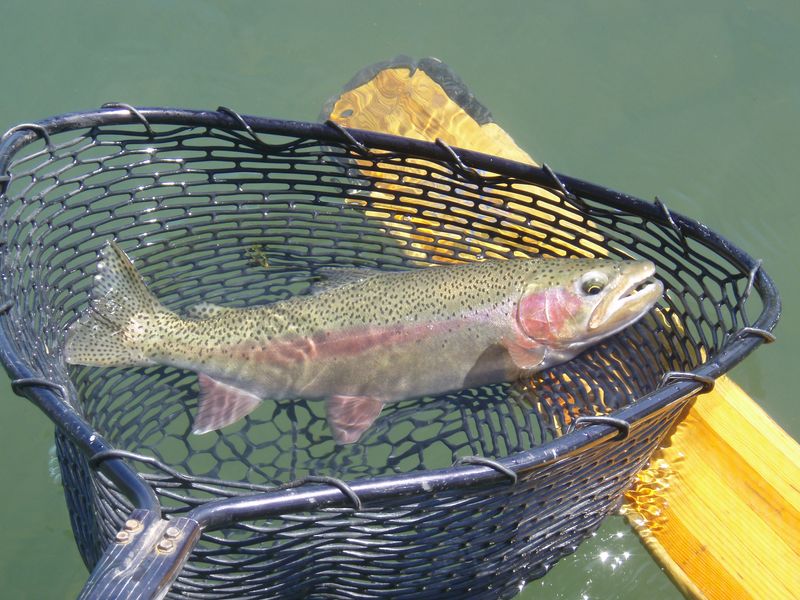 We're hoping you land one like this when we guide your next fly fishing adventure on the Lower Sac.
This story on the Lower Sac was sponsored by.

Come stay with us and enjoy your river side access & views.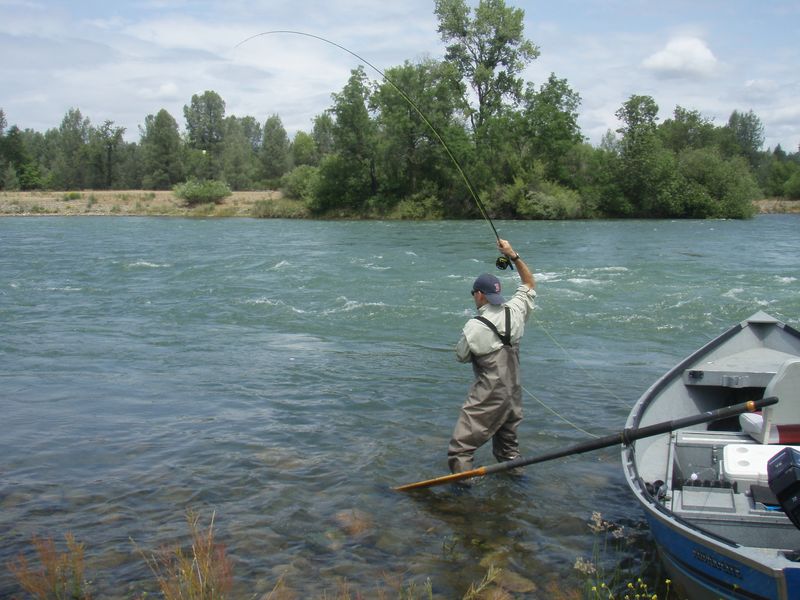 Always fun to jump out and land him near shore.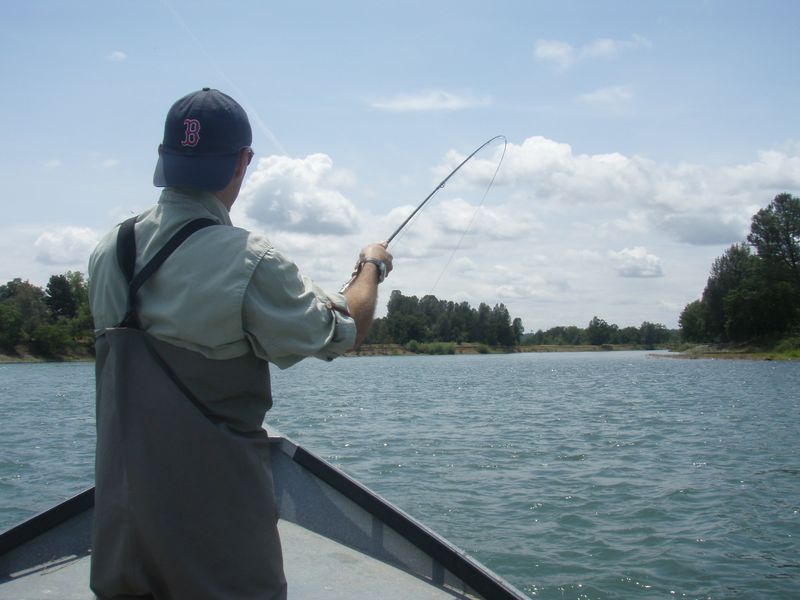 Maybe just go down the river with a nice prize on!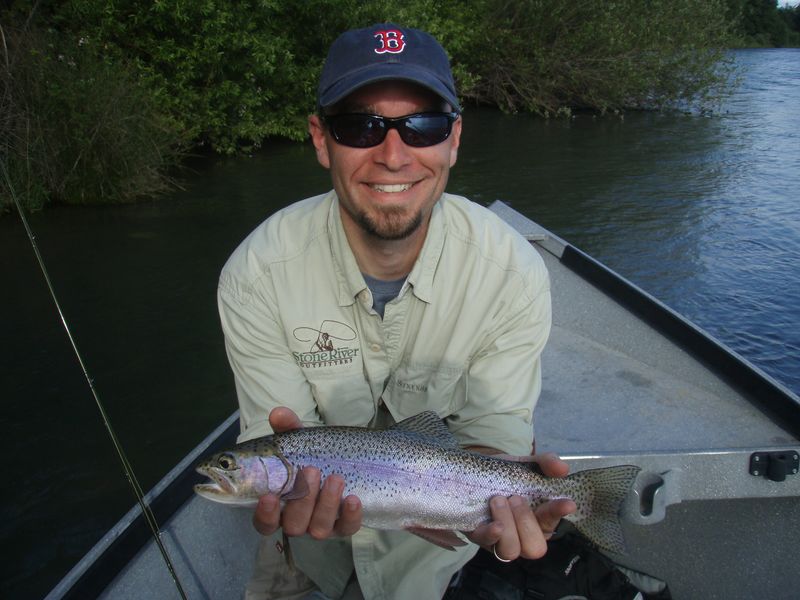 Andrew sure loved his fly fishing trip on the
Lower Sacramento River.
Check out this link to our Lower Sac Hatch Chart
Snow pack on the Castle Lake Road impressive… Looks like w
e'll have  a good water year finally, with lots of snow-pack up high.
Castle Lake snowed and frozen over with a nice dog we met that greeted us to his land..
McCloud Lower Falls running very high for this time of year… Oh good on ya!
McCloud Upper Falls spectacular beauty as always.
Scott & Josh called me for a trip on opening weekend for their first time ever fly fishing on the Upper Sacramento River.
Scott (dad) hooked one right away and then another and the fight was on! Scott loved every minute of his battle with the hard fighting upper sac trout and commented on what a great experience it was for his first fishing with
a fly rod.
CONGRATULATIONS SCOTT CASQUEIRA OF TRINIDAD, CALIFORNIA YOU ARE MY SIZZLER OF THE WEEK AWARD WINNER!!  CONGRATULATIONS SIZZLER! 
Jack & Carola Trout
Enjoy this Youtube video of Scott's hook-up on the Upper Sac.
Soon Josh got in on the action and enjoyed fly fishing also.
Thanks for coming up and enjoying the Mount Shasta, McCloud & Dunsmuir area, it's a great place to learn fly fishing.
*************************************************************************************************************************
Back In Chile before I left, we had are most productive days in April when Smiley came back.
to fish just one more day!
The steelhead, trout and salmon are making their way up the rivers form the ocean so we had a marvelous day catching over 20 + trout, 3 steelhead and one salmon all on our nymphs.
My lovely wife Carol who I miss dearly holding a beautiful steelhead. Even after our marriage we have to wait for U.S. Immigration to Ok Carola into the USA… It's a real bummer because I need her here now to be by my side. We talk every day and I am trying to get all the papers filed as fast as I can. I dream 
of the day when Carola can be in Mount Shasta anytime and we can be together like husband and wife. I hope it's not too much longer…
Here's a nice salmon we hooked right at the end of the season as the runs started. I really like fly fishing Chile in March and April, it can be fantastic.
A small steelhead we hooked and a even more beautiful wife in the background.
A nice place to stop and have lunch if I don't say so myself.
Must be the end of the season, our waders are leaking! Thanks for watching our adventures folks!
Hope to see you again this year.
*************************************************************************
Los Rios Rivers District Chile Fly Fishing and
Lodging
Our home base is in-between Pucon and Puerto Varas, Chile where we provide fly fishing anglers the opportunity to float or wade fish several rivers just east of Valdivia & Osorno Chile. The fly fishing is excellent here from November through April with a variety of rivers that offer dry fly, nymphing and streamers. Any skill level can be accommodated and welcomed! We have gear available and hand tie all our own flies for each of the rivers we guide on in the Patagonia. We pick folks up from Valdivia or Puerto Montt airports. This is our 18th season of outfitting, guiding and lodging in Chile.
Lodge at our Bed & Breakfast on the banks of the Rio San Pedro with spectacular views of the river then we'll drift pastthe lodge fishing. Located near the town of Los Lagos Chile in the Region of the Rivers. Affordable prices, stay one night or multiple nights as we travel to different rivers in the region daily. Fly into Valdivia Chile and we'll pick you up at the airport or help arrange a car rental.
* This place makes sense especially if you plan to visit and fly fish Junin de los Andes and San Martin de los Andes in Argentina, just 3 hours from us.
$99 per night for two includes full breakfast / Separate rooms if desired. Carola's gourmet lunch out on the river!
Many Rivers to You, Jack & Carola Trout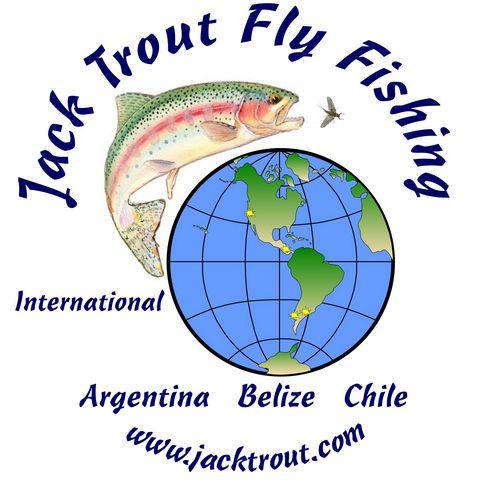 EMAILS FROM YOU:
Jack & Carola,
Now that I have made it back home and have caught up with my work I have the time to send you an E-mail. What a trip, it was more than I expected. I was expecting to fish, which I did for 10 days out of the two weeks I was there.
I wanted something other than the fishing trip where you are picked up at the airport and taken to a lodge and the only time you leave the lodge is when you are fishing. This may be good for a trip to Alaska where you are miles from civilization but not for a trip to Chile. I wanted to see and learn about local culture, to experience the food, to go to the small towns not just the big cities and most of all meet the people. You more than helped me to experience the kind of trip I wanted. Your knowledge of Chile amazed me, not just the culture, your knowledge of the volcanos, the mountains and the rivers was amazing. But I guess having a local as a wife has helped. Speaking of your wife, Carola is a doll. She made staying at your house almost too enjoyable. The meals she prepared for our lunch were great. I have never had a guide set up a table on an island in the middle a river and serve a hot meal with the local wine like you did. I was also not prepared for my bed to be made and my clothes washed like they were. And she was an asset when we would eat in a restaurant since I still wonder what we ordered in Argentina when the waiter started laughing so hard. And I want to thank her personally for helping me pick out the gifts for my wife and daughter they both loved their necklaces and ear rings and I'm sure they are still wondering how I would think of such good gifts. We just will not tell them how reasonably priced they were.
It was your 15 years of guiding in Chile that made the fishing part of the trip fun and easy. I never thought I would be fishing 8 rivers and 2 lakes over the two weeks I was down there. Most fishing trips I have been on you might fish two or three rivers and if the fishing is good on one river the guide would take you back to that river day after day. Nice, but the way you did it I was able to experience so many different types of rivers from the mighty Rio San Pedro (reminded me of the lower Sacramento River in California) which your house over looks to my favorite the Rio Maullin down by Puerto Montt which is more like a jungle. Not only the different rivers the different types of fishing I was able to experience because each river and lake we fished required a variation of fly fishing. I liked how we started with pulling streamers, got into nimps and finished with using dry fly in Argentina. The different types of fish were also a surprise to me. Watching those massive Pacific salmon swimming up the Rio San Pedro was a thrill but catching an Atlantic salmon a few days later was a bigger thrill. Hooking an 18 inch German Brown with a streamer was fun but hooking a 24 inch on a dry fly in Argentina was a thrill of a life time.
I can not wait to fish with you on the upper Sacramento River it has been one of my dream locations but only fishing the lower part has been the extent of my fishing on that river. I have been told by other fishermen the upper Sac is the place for big fish but it takes a good guide since it is not a drift but a rafting adventure. I have been told it can be a little scary with the rapids. After fishing with you I have put the upper Sacramento River back on my list of places to fish. I would feel very safe with you so I plan on getting back with you after your back in California to set up a trip.
Thanks again for the trip (adventure) of a life time.
May life be good and the fishing even better.
Pat Connelly
*******************************************************************************************************************************************
Jack-
We would like to book May 31 & June 1 for the Upper Sac.  Please confirm this works. Thanks, Bob
****************************************************************************************************************
Jack – We want to book a stay with you.  We would definitely want to fish for at least 3 days.  The question is whether we can fit in some additional fishing days.  Currently, we're looking at arriving in Valdivia on 3/16 and flying out of Santiago on 3/26.  What is the driving distance from your place to Santiago and to make it interesting, how many days should we give ourselves to get there?  We have friends in Santiago who we want to try and see before flying home but we want to see some of the countryside on the way up there.  In other words, we want to play tourists for some period of time.  So if we need to get to Santiago early on the 25rd and it's a leisurely 5 day drive to Santiago with stops, that would leave us with 3 days to fish.  Just trying to figure out the specifics.  Any suggestions would help.
Douglas
*********************************************************************************************************************
About 15 years ago, a fly-shop owner told me how much fun it had been to go
on a combined whitewater rafting/fly fishing trip in Chile. If I'm ever to
take such a trip, the December 2010 – February 2011 period is when I will do
it. Do you arange such trips?
I'm open to either river camping or staying in a lodge. As I already live in
western Oregon, I'd prefer a dry location to a wet location. Also, I read
about a terrible horse fly season there in certain places–I'd like to avoid
that. As of this moment I'm on my own, but I might be able to bring someone
else along with me.
If you do arrange such trips, I'll have all the usual questions. Also, has
the recent 8.8 earthquake affected travel and tourists in Chile much?
John (Jack) S.
*************************************************************************************************************