NOW BOOKING CHILE 2004 AND STEELHEAD FISHING N. CAL
---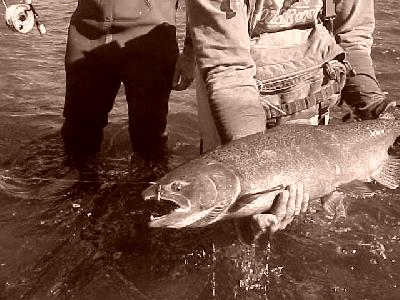 ---
It's always been a mystery whether or not Salmon really eat when their running up to spawn in rivers? Many folks say Salmon are biting out of aggression not out of hunger. I think the latter, Salmon do eat when running up rivers and
I've caught many right in the mouth with stoneflies or caddis nymphs. I truly believe these fish are feeding not protecting, I actually have caught several 7 to 12lb jacks this year on size 14 birds nest!!! I'm gonna prove on this week's gallery of pics salmon do eat in the Klamath and Smith rivers! (Look at the size 6 Stonefly right in the yapper).
---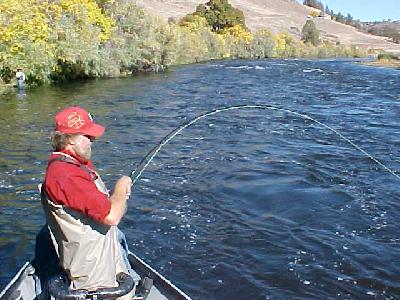 ---
Out again with my ole pal Tom Stienstra and his friend, famous author John Lescroart. This is the guy that wrote best selling novels, "The Oath", "The First Law", "Dead Irish".
Like usual it didn't take Tom long to hook up on a nice 4lb steelhead.
---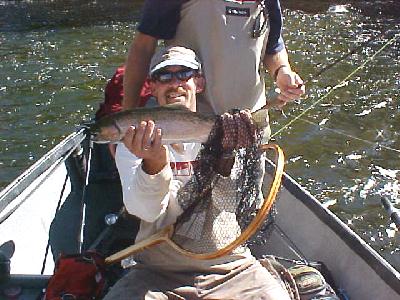 ---
This is Tom and me with Tom's steelhead, I think John should stick to "high stakes thrillers" and not photography. Very nice guy to be out on the river with, good fly fisher and a great sense of humor. Tom 's always fun to be out with and a very good fly fisher, like advanced intermediate. That's great cause all the other writers suck fly fishing, trust me on that one…jt
---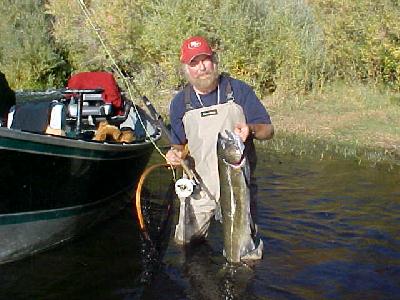 ---
Tom caught this 18lb Salmon on a size 14 birds nest using a 7wt. Sage rod and a Tibor Ted Jurasic reel. 2x tippet floating line nymphing with an indicator, the Salmon had the fly right in his yapper.
---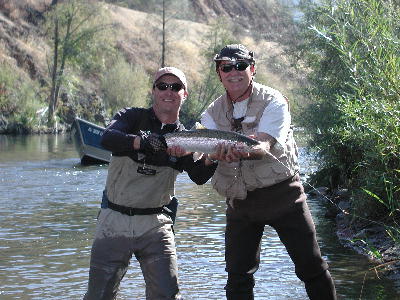 ---
Over on the Trinity guide Mike Hibbard and our happy customer Matt Riesz displays his 7lb. cromer steelhead caught
nymphing various steelhead patterns. Mike has been guiding on the Trinity River for 6 years and is open for December bookings.
---
---
The Trinity River is a beautiful one, perfect for fly fishing for Steelhead Trout. Matt has a nice one on right now!!
---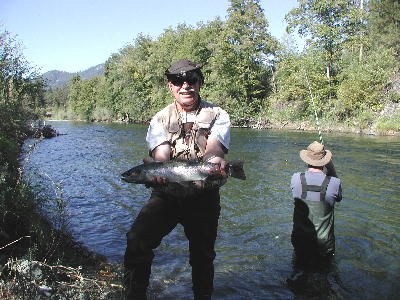 ---
Way to go Matt, your my Sizzler of the Week !! Trinity Lunker!!! Great Guide Job Mike Hibbard, ( He's the Joe Montana of guides!!!)
---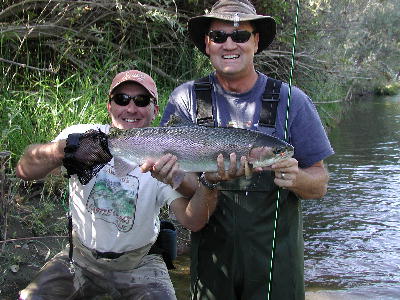 ---
Look at this absolute beauty of a trout! Chris Utz landed this Steelhead with Mike as his coach. More like "Montana to Rice!"
---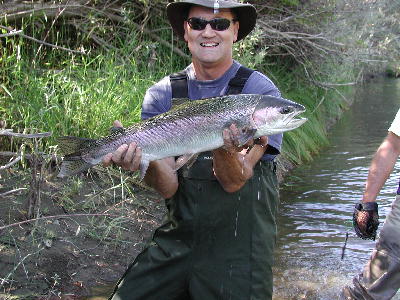 ---
Chris caught an even bigger one weighing in at an estimated
10lbs plus! Wow, what a great river! Sure hope the jug heads in the White House keep enough water in the river so the
habitat can flourish for now and in the future. The Trinity River is too unique to ignore anymore. We all have a responsibility to protect this precious river. Future generations will thank us later and life on earth will be
better. Besides look at the Steelhead fishing alone, it's a special place……
---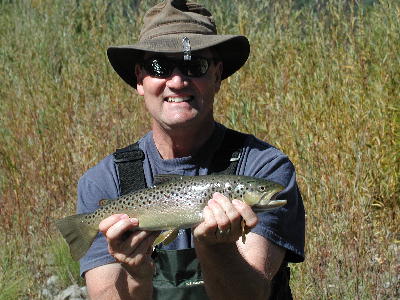 ---
Chris then hooked up on this nice fat Brown trout! What a great day of fishing for two guys from the east coast.
---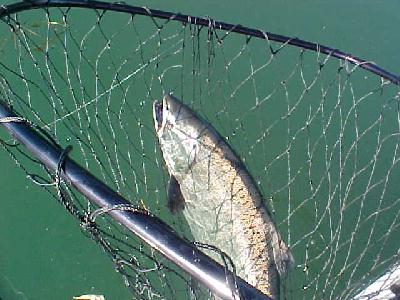 ---
I took some time off this past week and went over to the Smith river with Tom Stienstra to catch some Chinook Salmon on a fly rod. We met legendary fly fishing hall of famer Ed Rice in Brookings Oregon and got our gear set to fish for the incoming Salmon right out the mouth of the Smith River and the Pacific Ocean. Ed Rice is the most amazing guy in fly fishing I've ever met. He has caught over 240 different species of fish on a fly rod. That's more than anyone on the face of the earth. I hooked up this totally fresh cromer Salmon on a orange comet size 12, using an intermediate sink line. You can see the fish in schools and the fight was unbelievable. This is as close as you get to Alaskan fishing right here in Northern Cal!
---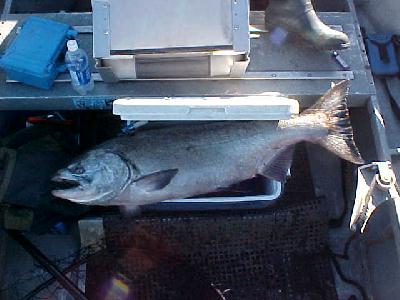 ---
You know me I usually release everything I catch but I must admit this bright enormous fish now resides in my freezer
weighing in at 34 lbs. Absolutely Delicious! as an old girlfriend once said to me….jt I plan to feed my guides this week camping out on the Private McCloud!*****HOPE YOU LIKED THAT STORY STAY TUNE NEXT WEEK AS WE REPORT FROM THE McCLOUD RIVER***** JACK TROUT
---