http://www.jacktrout.com/trinity.html*****
---
---
---
KLAMATH RIVER IS ON FIRE CALL FOR YOUR STEELHEAD TRIP!
---
---
*****November DRY FLY FISHING, PIT AND UPPER SACRAMENTO RIVERS http://www.jacktrout.com/*****
---
---
PATAGONIA CHILE – ARGENTINA TRIPS START DECEMBER 1ST – SEE YOU DOWN THERE!! http://www.jacktrout.com/futa.html
---
---
BELIZE PACKAGES START AT $1950 PER PERSON 8 DAYS, 7 NIGHTS, 6 DAYS FISHING & TOURS. http://www.jacktrout.com/belize/belize.html
---
---
HOLIDAY FLY FISHING GIFT CERTIFICATES
---
---
---
---
---
---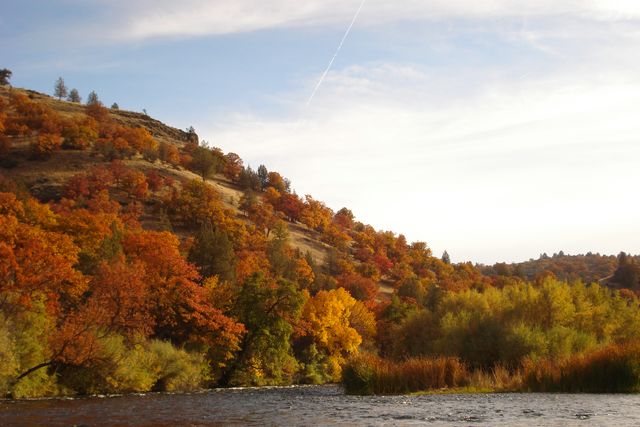 ---
The lovely Klamath River in fall colors, what a great place to escape too! We hope to see you up here for the fall and winter steelhead fishing on the Klamath and Trinity Rivers. Gas has come down and the rains today will most definitely drive more fish up the rivers for your angling enjoyment. I have 13 guides I can call on and enough gear to dress the 800 pound gorilla just sitting here in the room…. Hope to see you soon!!
Jack Trout and the Team Trout Guides – 530-926-4540
---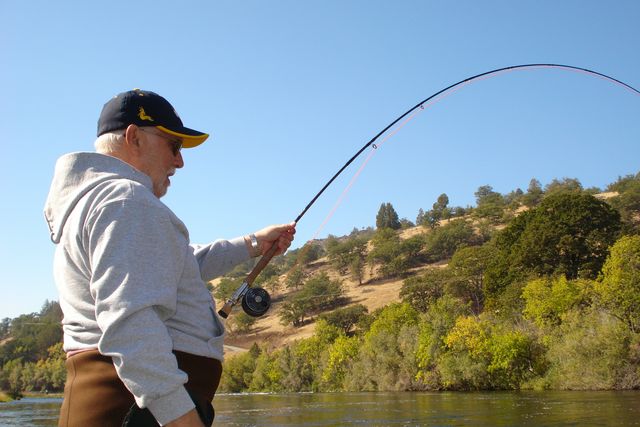 ---
Richard Gebhart up for a good time on the Klamath River.
---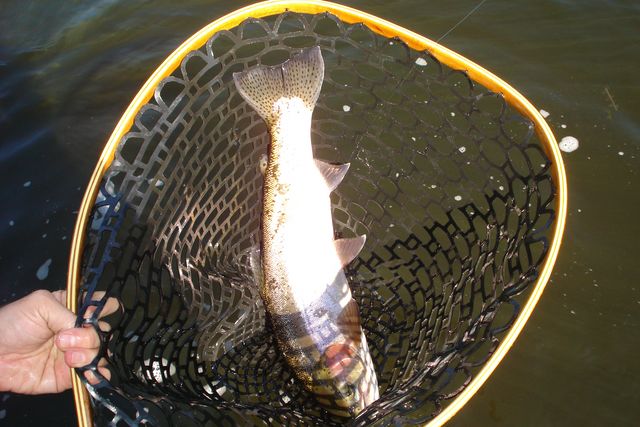 ---
Networking!!
---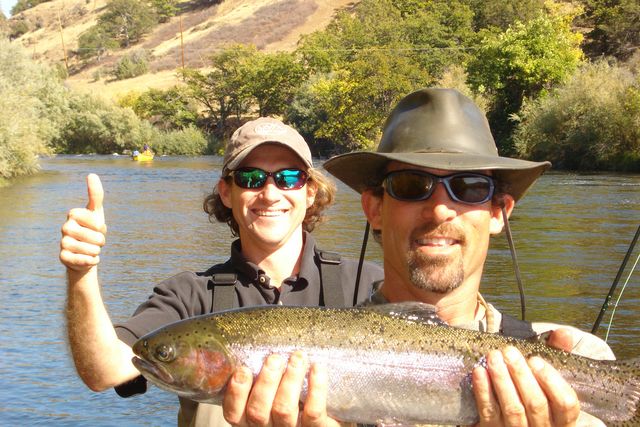 ---
Brandon back for more trout!
---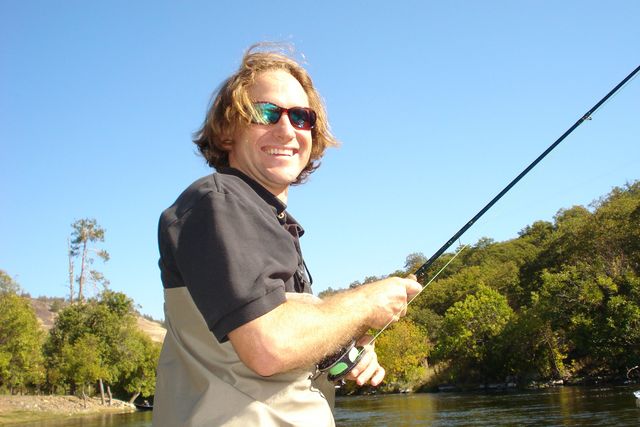 ---
Caught right out in front of civilization.
---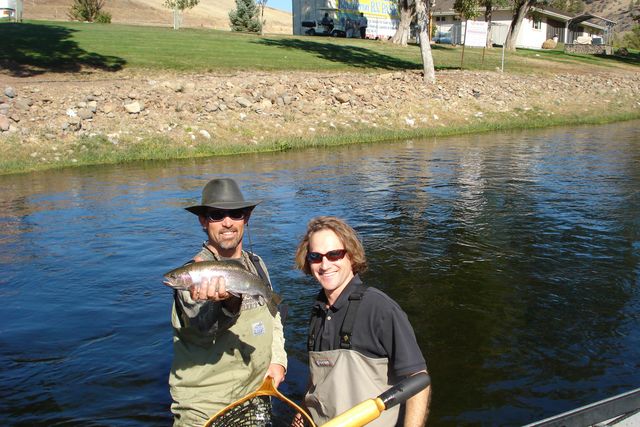 ---
I could get use to this life!
---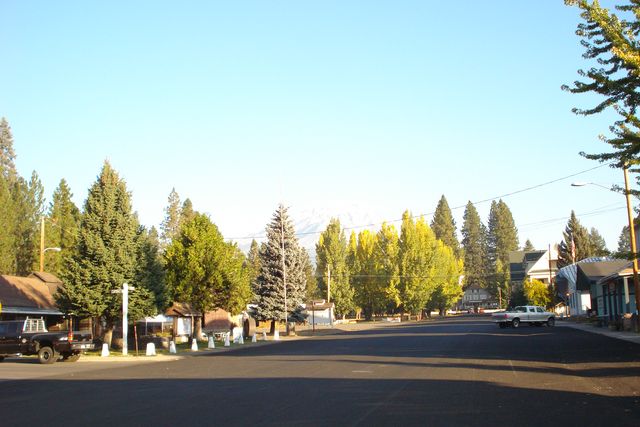 ---
McCloud needs your help! When you come up into the Mt Shasta area please be sure to head down into the town of McCloud and spend some money. You can eat in town at the Soda Shop Cafe or possible buy a nice Filson hat at the Mercantile Clothing Store. The town is really hurting and needs a solution to its economic woes.
I don't think Nestle is the answer, we need a clean solution that won't impact our little highway 89 with big-rig trucks by the hundreds or manufacturing plastic bottles with petroleum that is harmful to our local air quality not to mention the emissions from the hundreds of trucks they planned originally to haul the masses of aqua de Rio McCloud.
(That's what Jerry Brown A.G. threatened to sue them over, then Nestle tore up their original toxic contract from 2003 they tried hard to rush through un-noticed.)
I think McCloud needs to evaluate the down the road potential problems with allowing corporations to infiltrate it's Historic Norman Rockwell style town. Historic towns like McCloud need to be preserved and thrive on tourism as pole position direction.
(If you have to go Corporation go AMERICAN – That's my personal opinion)
I think a private investor should come forward and help McCloud organize a water bottling facility not Nestle Water of Switzerland. Nestle don't care about McCloud like we do, the big picture, where everyone gives up a little and the community benefits a little and the community loses some of its innocence…. A LITTLE.
I have always supported McCloud by sending tourist to stay and lodge there or by taking a bus tour of 40 or more Seniors to spend their tourist dollars at the Sugar Pine Candy Store. I have tried to do my part for the town of McCloud and will continue to do so..
May McCloud join the ranks of success for little special historic towns in America.
Jack Trout
READ THIS RECENT ARTICLE IN THE CALIFORNIA LAWYER!!!
http://www.callawyer.com/story.cfm?eid=897500&evid=1
---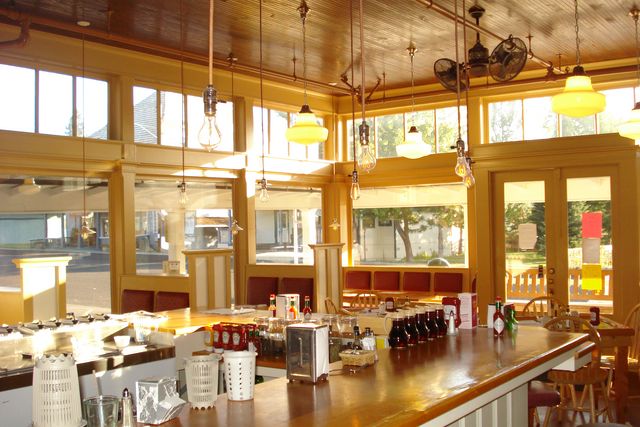 ---
This wonderful landmark of a place is turning into a ghost town? Please go visit McCloud and buy something the next time you visit.
Thank you from the Town of McCloud and Jack Trout.
---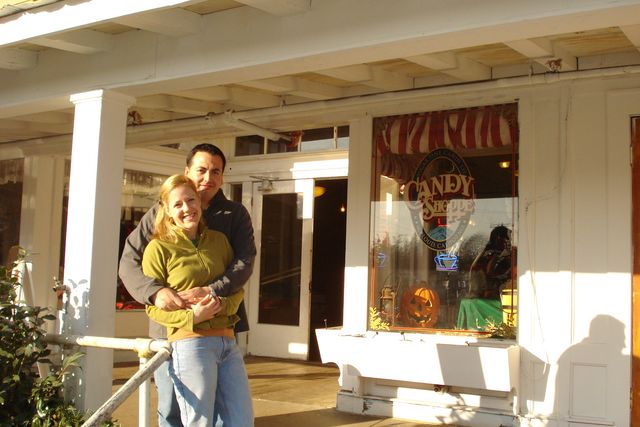 ---
Cesar and Willow Parga from Virginia stayed at the McCloud River Mercantile Hotel. They were ready for a great day on the Klamath River.
**Check out their amazing historic rooms!!**
http://www.mccloudmercantile.com/
---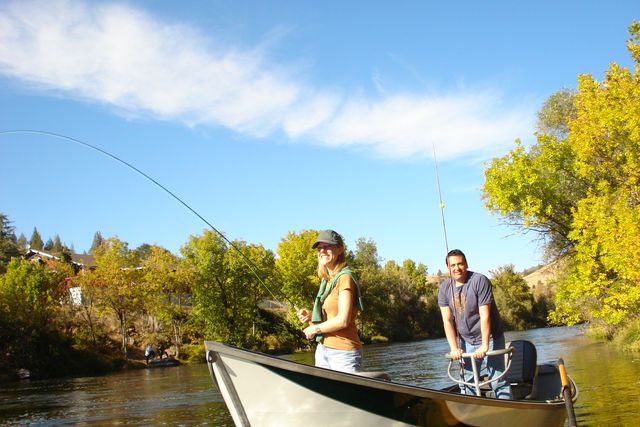 ---
Willow, coming from a family fly fishers hooked up first!
---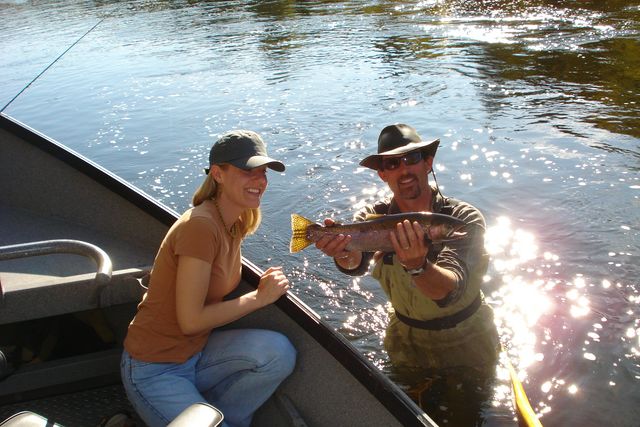 ---
Great catch Willow!
---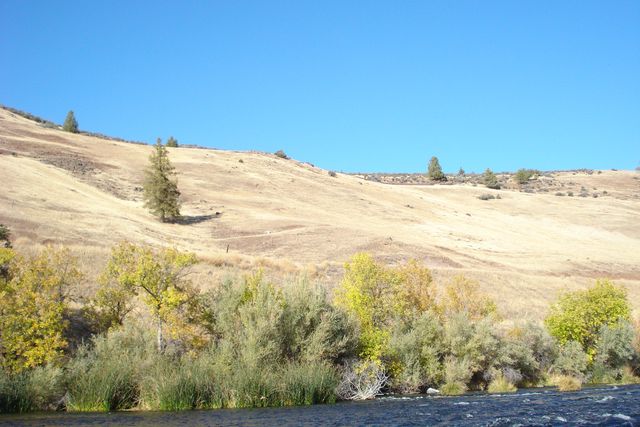 ---
(Read With an Old Pioneer Accent)
"Yancy, get the horses tied up, this countryside here is special and unique. I sure appreciate the gracious wealth of beauty my eyes laid witness too in these here parts called yee Klamath.
---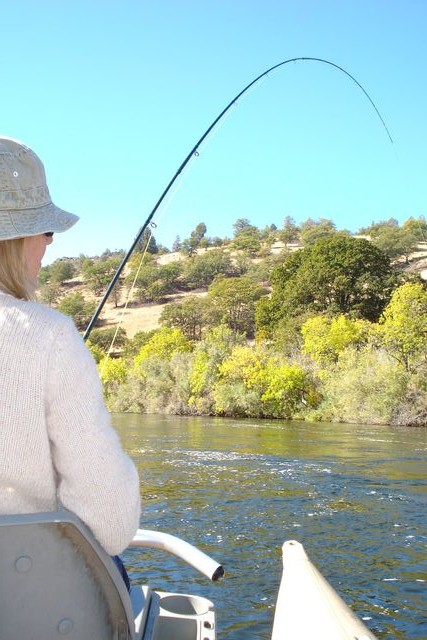 ---
Fish on Willow – in the Cataraft!
---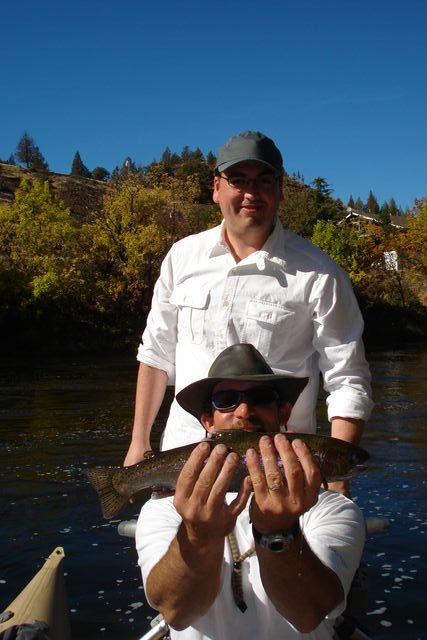 ---
The Cesar hooked up!
---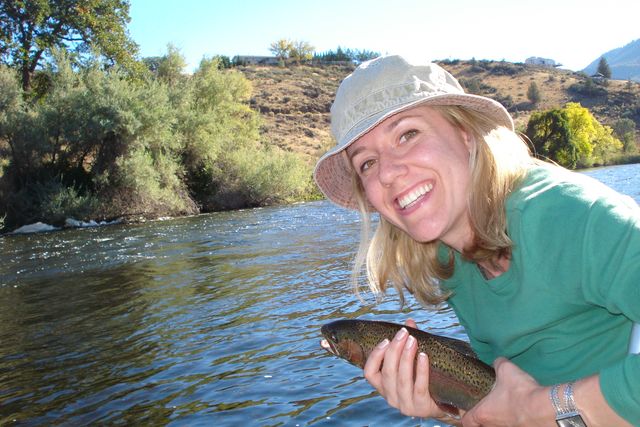 ---
I like fishing and guiding on the Klamath River, the fishing is always productive, a perfect place for the novice or expert.
---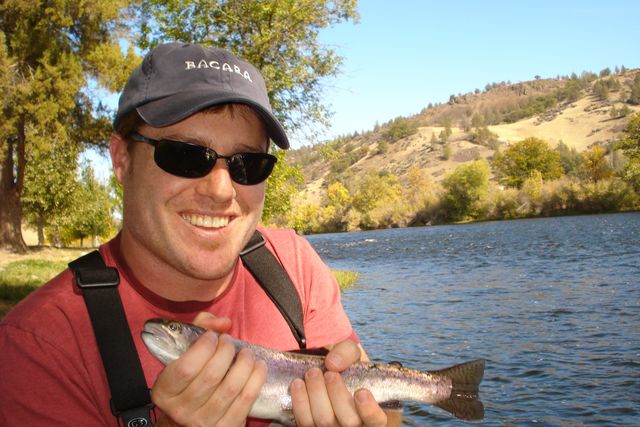 ---
Jon Wolfe, with one his first catches ever on a fly rod.
---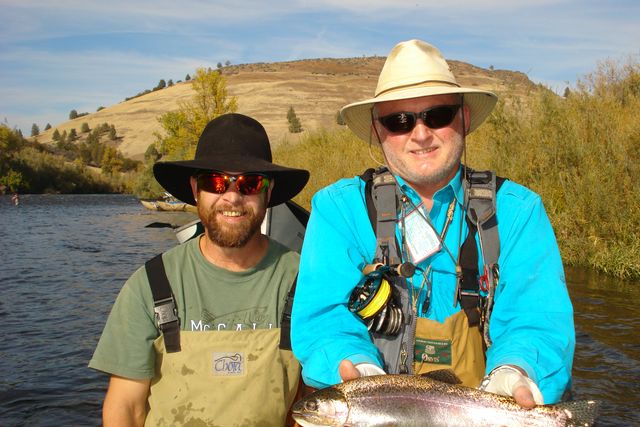 ---
Guide Daryl Gingrich with vauled customer Rod Barnhart, must of caught over 20 nice trout and steelhead that day with Daryl!
Thanks Rod and his wife for coming up, hope to see you in Chile this winter.
---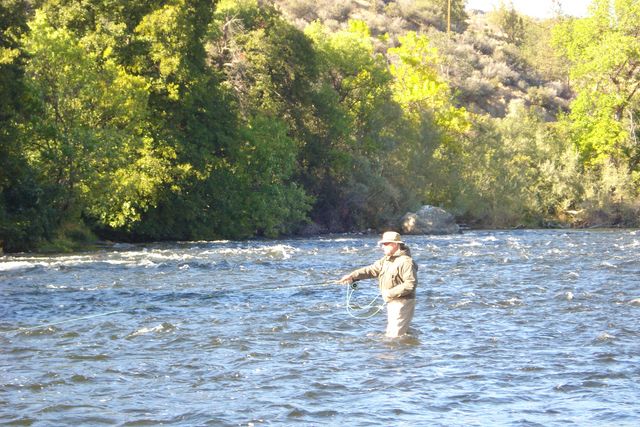 ---
We would like to thank John Walker for coming up and fly fishing the Klamath River and staying in Mt Shasta.
– Producer Pixar animated Films –
We all love films like; Cars, Incredibles, Ratatouille and more!
John –
Good luck on all your future endeavors that help us all in these hard times escape to your dream lands in animation and classic heartfelt entertainment. (When you going to make something for the kids? ha-ha!) jt and the team trout guides.
Possible the George Lucas of Animation Films!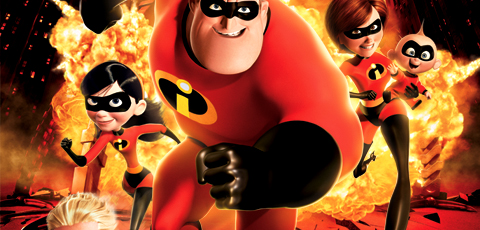 You bet, Jack. I had a great time, and I'll be sure and make it back
up as soon as I can.
JW
http://www.pixar.com/featurefilms/incredibles/
---
---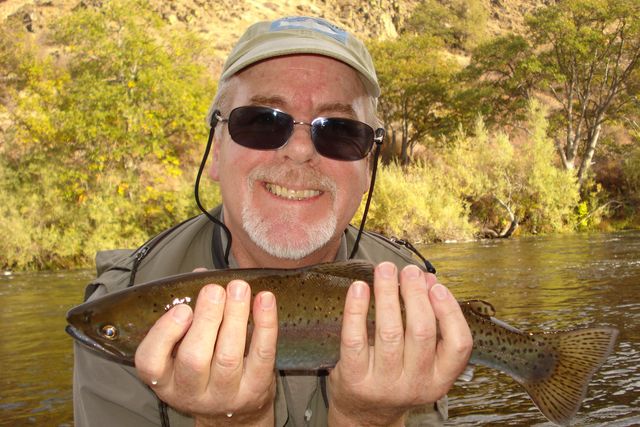 ---
Pat Wolfe of the Diablo Valley Fly Casters!!
http://www.diablovalleyflyfish.org/
"Hello Jack,
Can you please email me our pictures from our Klamath River float trip
on Oct 17th? I want to share them with Jon and the DVFF club. I will
put in a good word for you at our next meeting and I look forward to
using your services again."
Sincerely,
Pat Wolfe
---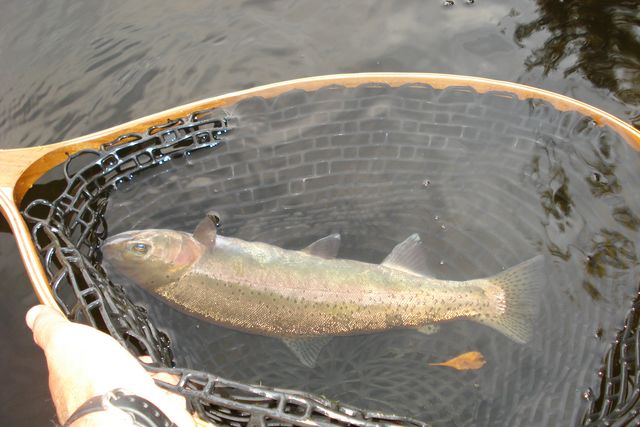 ---
Suspended animation…
---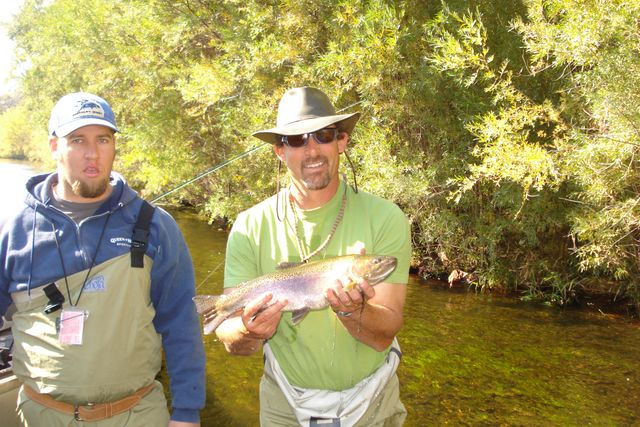 ---
Matt and Trout' that's what it's about!
---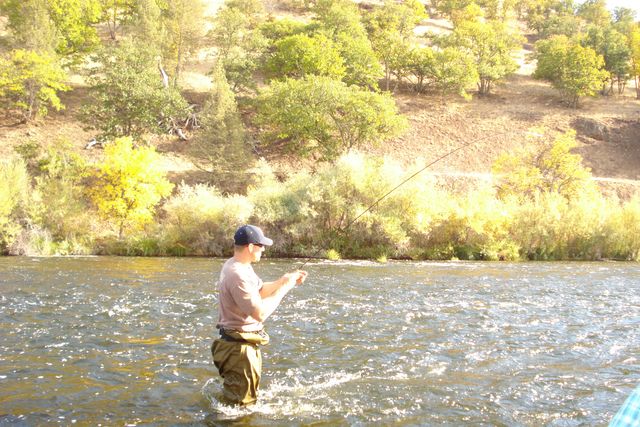 ---
Jason fishing in Zen.
---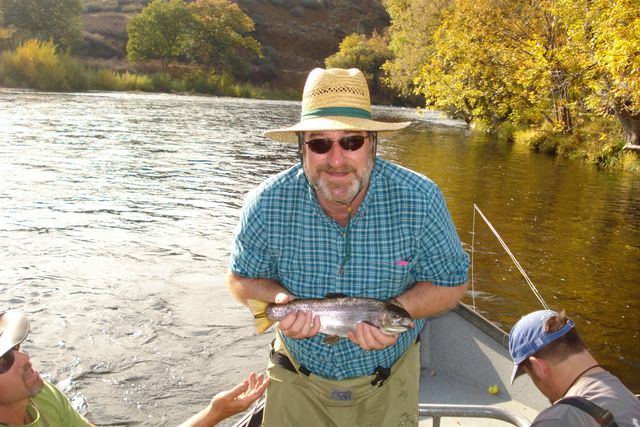 ---
Chuck man! Thanks for coming up, look forward to seeing you and the boys in the future months.
---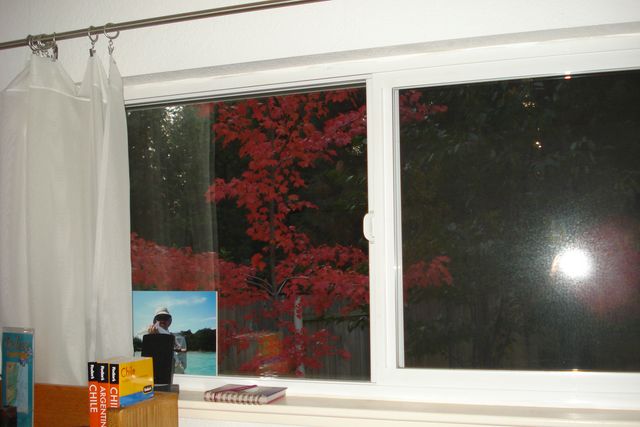 ---
Back at home, my trees in my backyard are starting to change to the deep red colors. I love this time of year!
---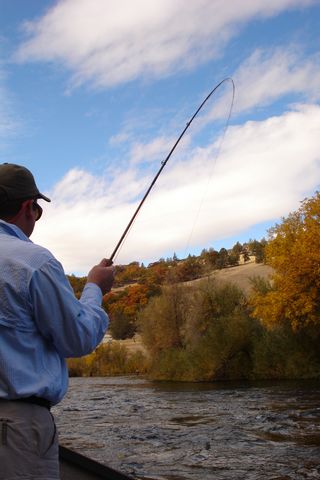 ---
David Yandell new resident of Medford called me to get acquainted with fly fishing our area coming out here from Missouri!
---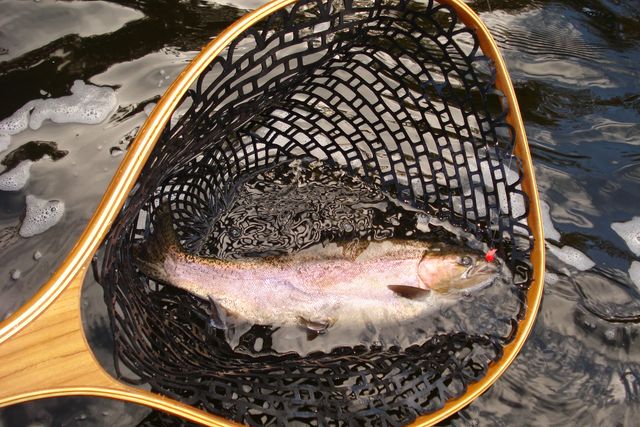 ---
I think he's here to stay folks! He caught this one on his first drift.
---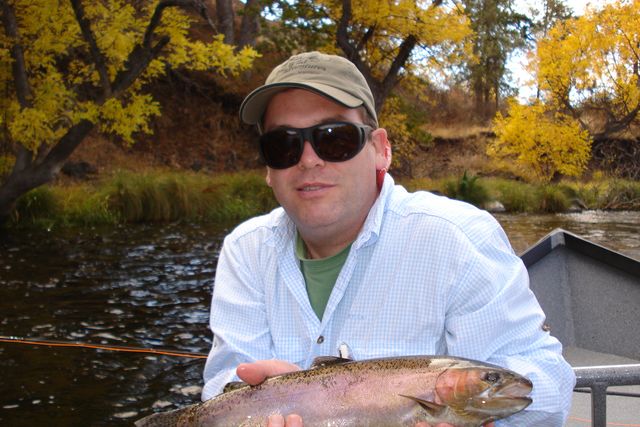 ---
Nice prize, welcome to the area David!
---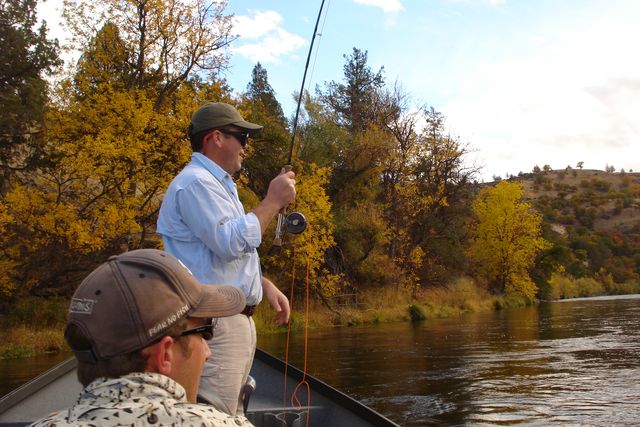 ---
With one angler this was the perfect day to continue training with Anthony. That day he rowed David into many nice catches with me as
the back seat driver! I liked it, this way I could train Anthony and help tie rigs fast. David got two guides that day!
---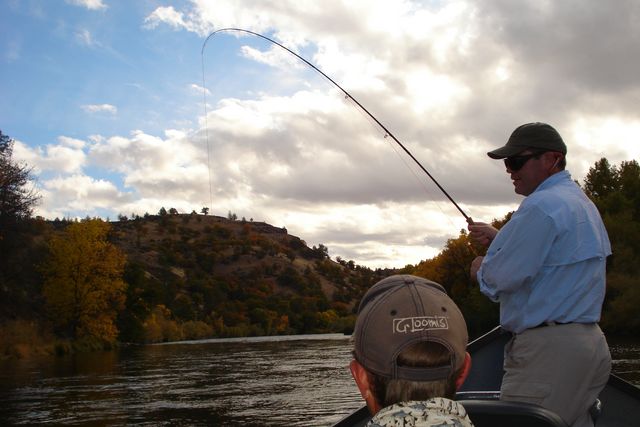 ---
We fish all day until dark, it was a real hoot.
---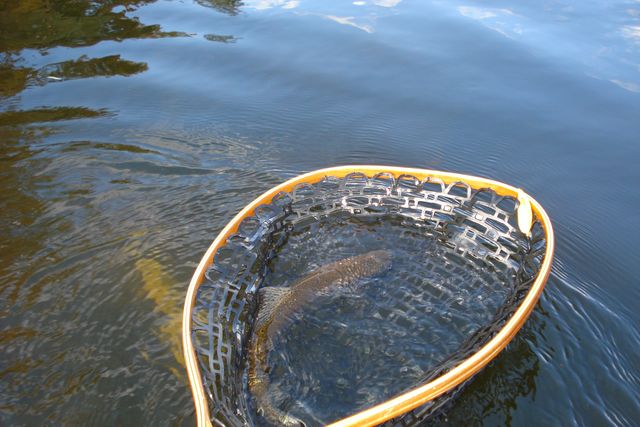 ---
The fish were plentiful and hard fighting.
---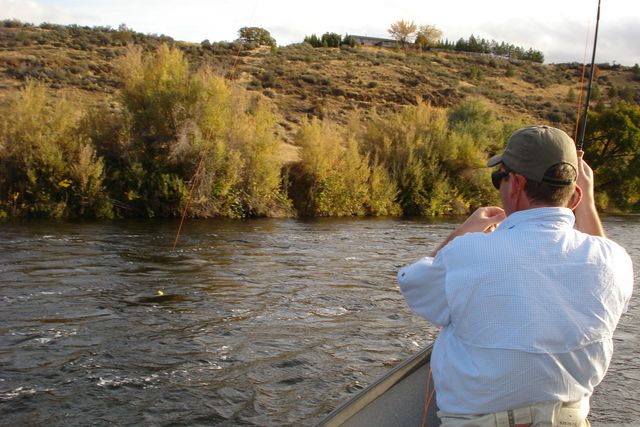 ---
David thanks again for calling on Jack Trout Fly Fishing, we look forward to seeing you again soon. Steelhead fishing continues until March.
---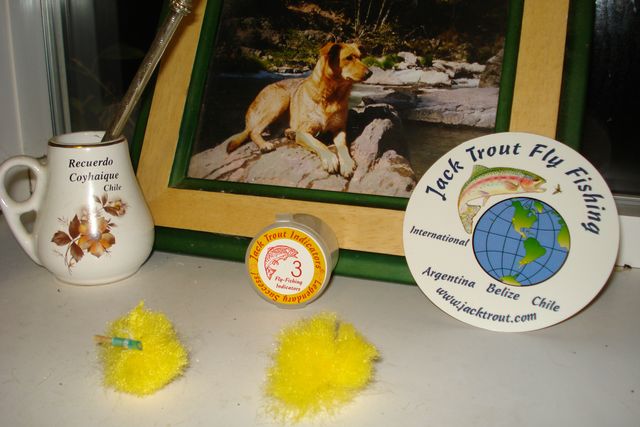 ---
I have had many folks ask me about my Indicators. I am now selling my indicators with a free Jack Trout Sticker or refrigerator magnet.
One box for $10 – 3 Indicators guaranteed Jack Trout Lucky!!
---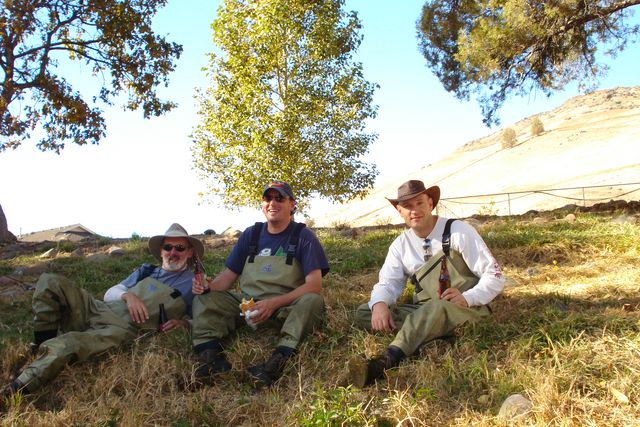 ---
Fishing with the Jones!
---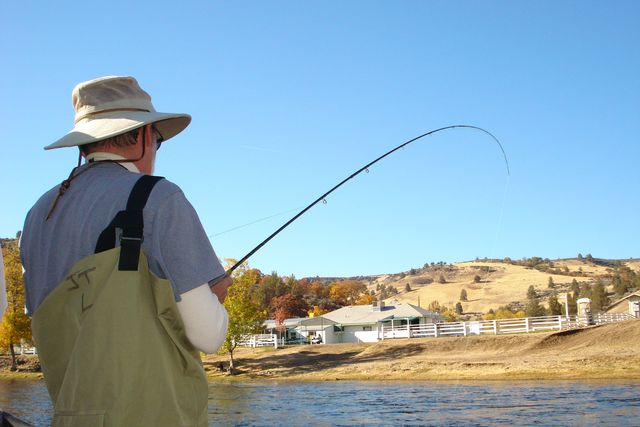 ---
Pops Jones was ready for another great day out with his boys…
---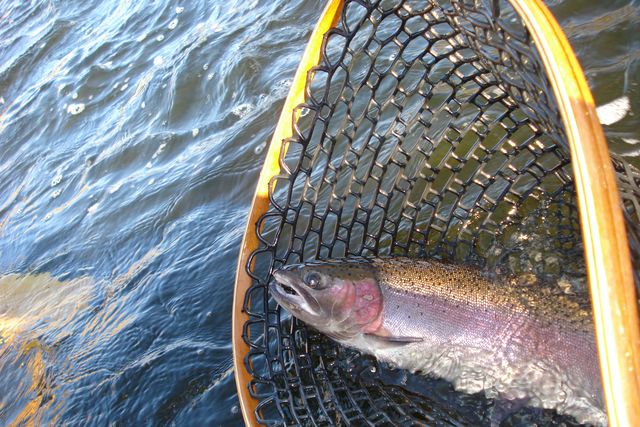 ---
About half way down Gregg hooked a lunker!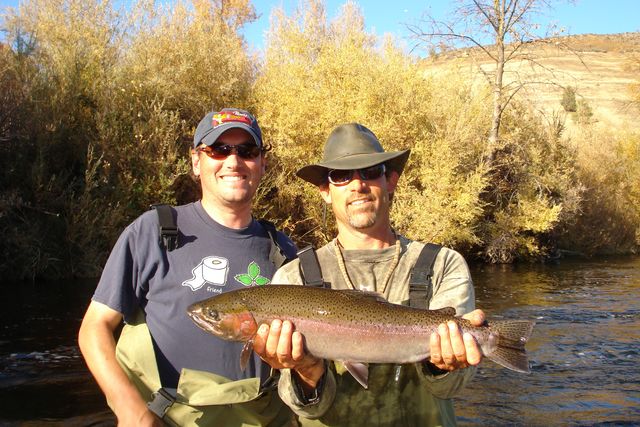 ---
GREGG JONES – YOU'RE MY SIZZLER OF THE WEEK AWARD WINNER!! CONGRATULATIONS SIZZLER!! NOW GO OUT AND BALANCE OUR BUDGET AT ROCK CONCERTS AND PARTIES WITH INTERESTED FRIENDS AND FAMILY!
CONGRATULATIONS GREGG JONES!!
---
---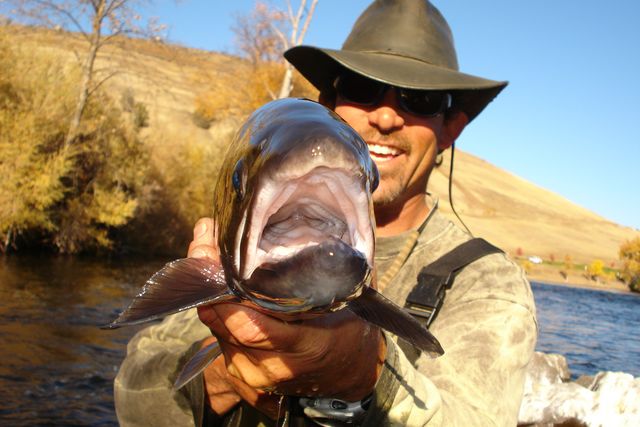 ---
HAPPY HALLOWEEN SIZZLERS!!
---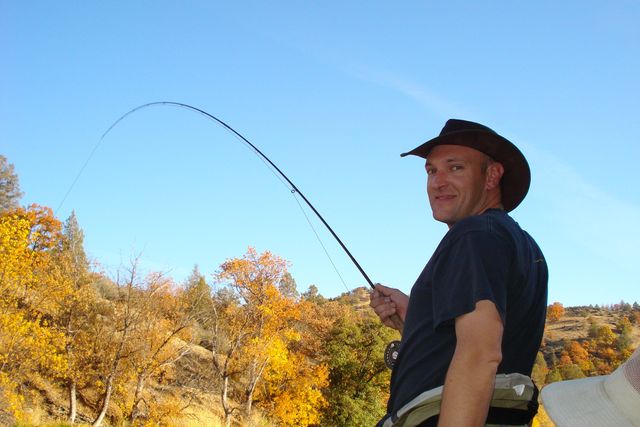 ---
Steve Jones of SF ready for steelhead action!
---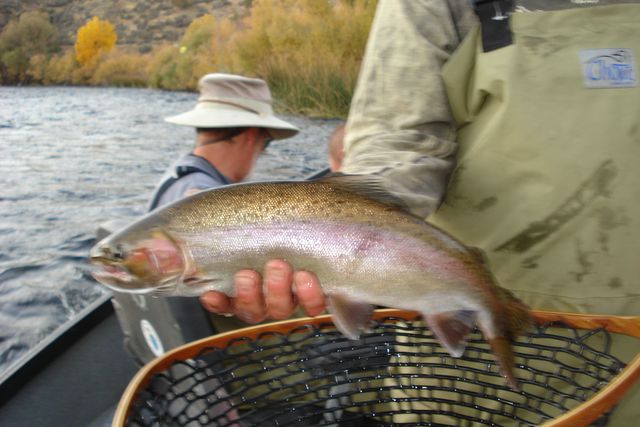 ---
Quick shot back in the water Steve!
---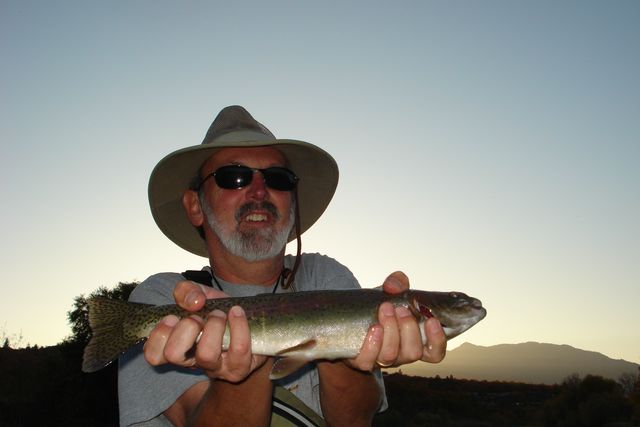 ---
Pops Jones – what a great day! Thanks for coming up and bringing the boys! See you later on..jt
---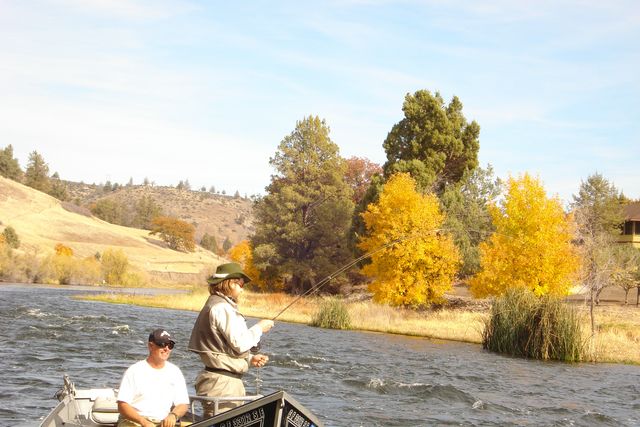 ---
When Kevin Moison and the gang showed up, the trout stood up at attention and saluted! Out with guide Billy Jespersen on his home Klamath River water.
---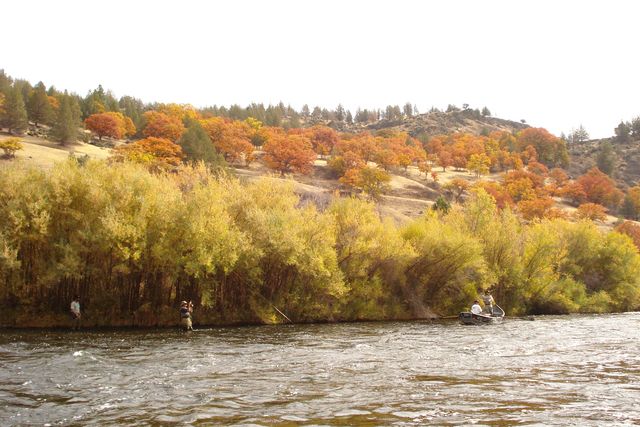 ---
Across the way, John Pringle hooked up often with guide Daryl Gingrich.
---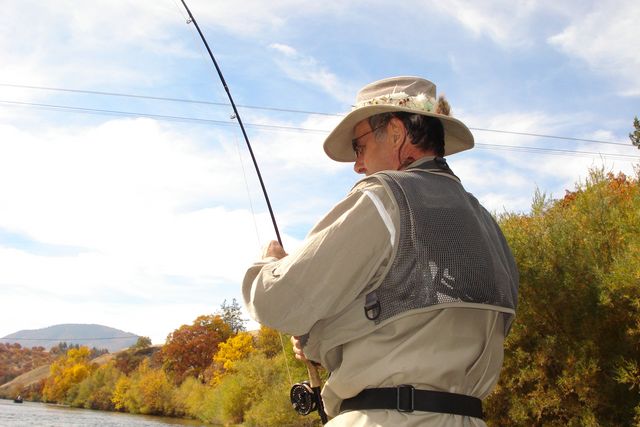 ---
Fish on Stanley!
---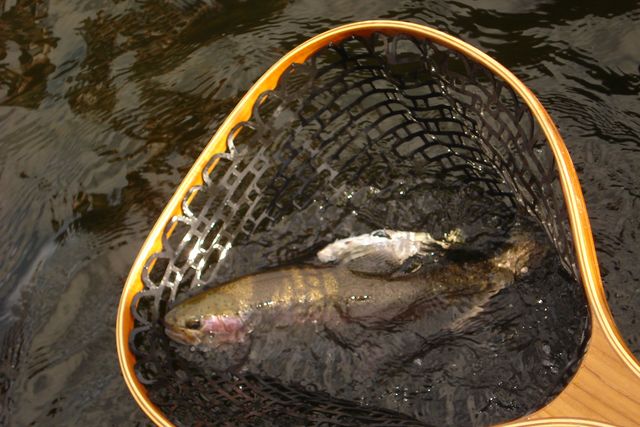 ---
What the heck? The fish hiccupped a small fish..? I have never seen this before? That seems to me as a huge portion of food for the size of the fish we caught?
---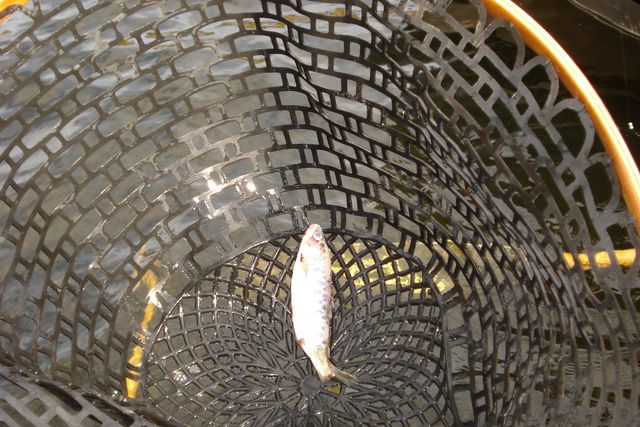 ---
There it is!! The fish hiccup carnage….Trippy…
This fish might consider smaller portions or Jenny Craig….?
---
---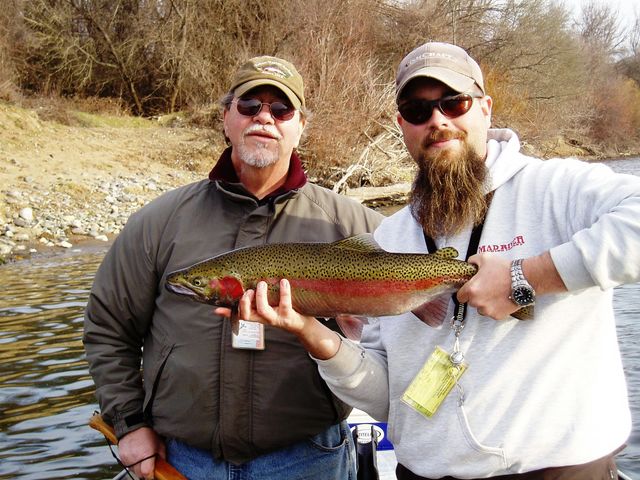 ---
Guide Ron Stone guiding his favorite customer on the Lower Sac!
Nice colors – Wow!
We have great fishing right now on the Lower Sac.
---
---
The fishing is still slow on the Trinity River. maybe these rains will drive fish up the system. But for now, 25 boats in a single run, catching 1 steelhead or none all day does not sound productive to me….?
Klamath is our best place for now….jt
---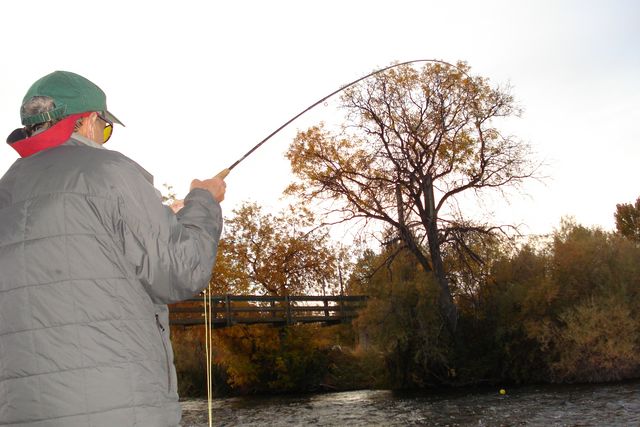 ---
Bill Moison is one very likeable character!
---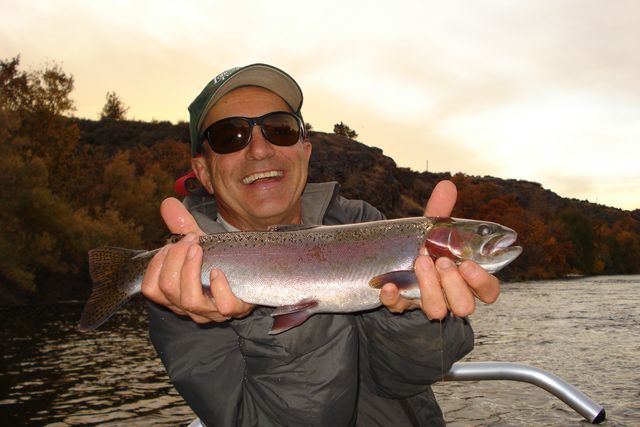 ---
Thanks for coming up to see the Klamath River!
---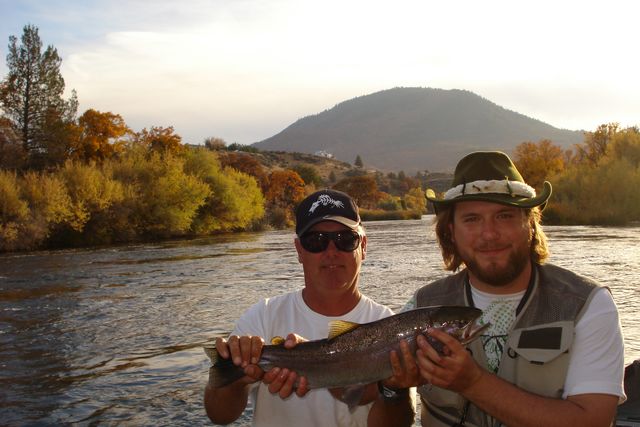 ---
Kevin and Billy hooked quality fish all day on his first real fly fishing adventure out with his dad and his uncles. They wanted get Kevin hooked on fly fishing so they gave him his own guide and boat!
---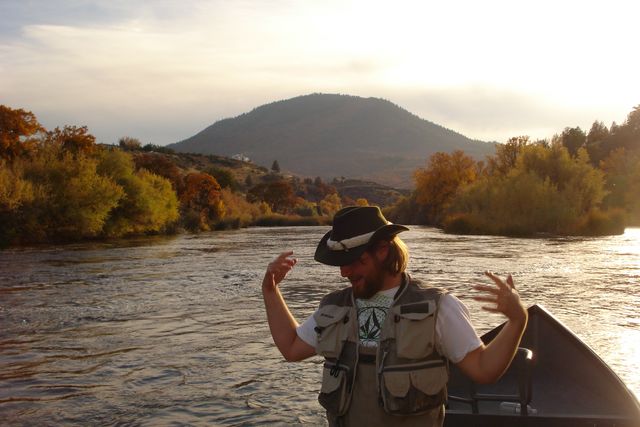 ---
After the release, we saw Kevin becoming almost giddy. We all stopped to watch him and here's what he said;
"Oh my gosh, I don't know what's come over me? I have this terrific feeling. A feeling that if I needed a place to escape too with my fly rod in hand, I could always find a river, a place where no one could touch me except a hard fighting trout or steelhead. A new sport that I can experience with my Dad and his friends or family. I just have this compelling feeling that is engulfing my whole body and and….
---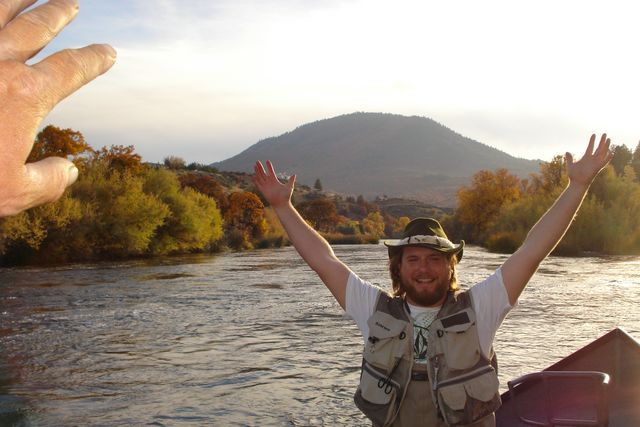 ---
"I feel so good I'll just raise my hands and let it all out man!!!
YAHOOO – I am fly fisherman – MEN!!
I am listed in the phone book for fly fishing people!!"
---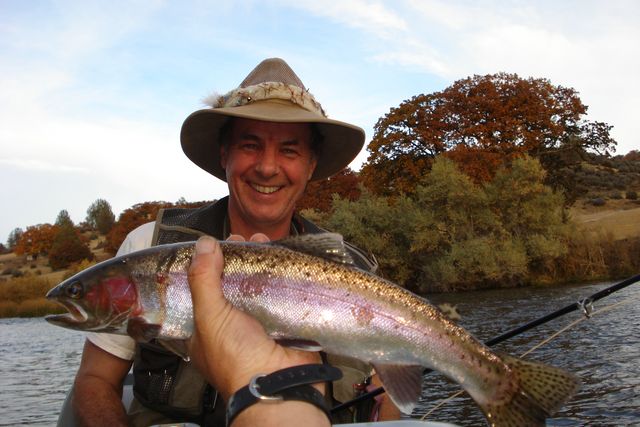 ---
Stan, so good to see you again! Take care and thanks for all the guide trips, all the guides appreciate it!
Jack Trout and the Team Trout Guides.
---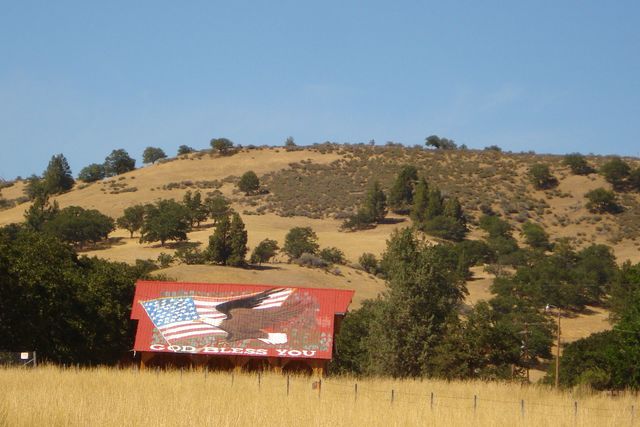 ---
We are all Americans, we are all the people. Be strong and may all of us do our part to make these future days better than the last.
It don't matter how you vote, all of our blood bleeds red and the skies are blue. These two things will never change.
Red, blue or green we are all Americans that share a country with opinions, views and concerns. We are lucky we can express ourselves like we do.
I do know one thing – The interest we have in this years elections is incredible and I think that's great! I feel so lucky to live in such a great country like the United States even more than ever. I know our economy will turn around eventually, it seems to be getting better now everyday since THE WORST.
CAST YOUR VOTE ON NOVEMBER 4TH FOR WHO EVER YOU THINK IS BEST! IT'S YOUR RIGHT AND PRIVILEGE AS A CITIZEN OF THE UNITED STATES
GOD BLESS THE UNITED STATES AND THE REST OF THE COUNTRIES ON EARTH – WE ARE BETTER THAN WE'VE BEEN, WE'LL BE BACK FOR SURE!!
– WITH HONOR AND PRIDE –
JACK TROUT
U.S. CITIZEN AND PROUD AMERICAN VOTER ON NOVEMBER 4TH 2008.
---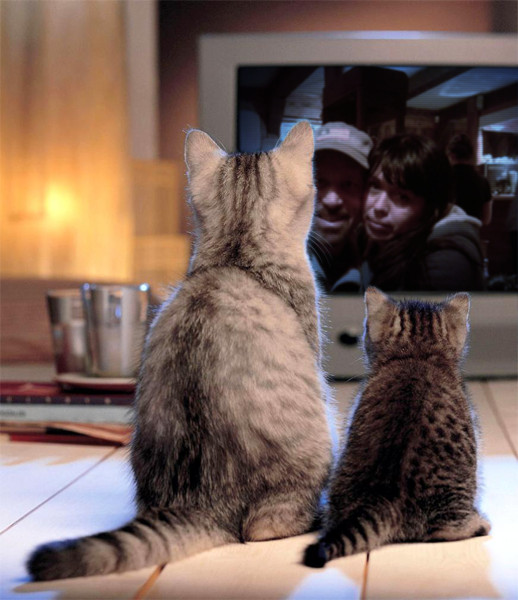 ---
A force of love, We can outfit you in Chile.
We hope to see you down in Chile for 2009
---
---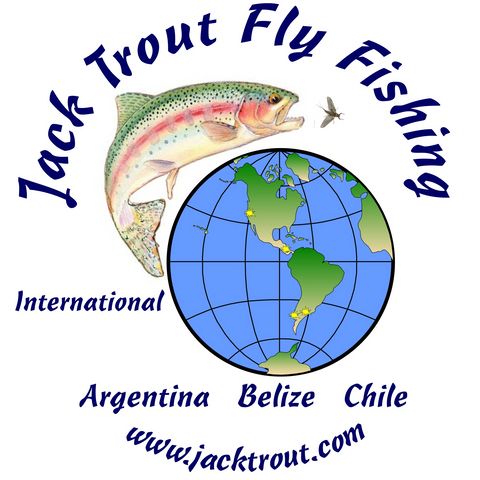 ---
EMAILS FROM YOU:
Jack:
Really enjoyed the trip! Your reputation as a quality guide is justified, jack. Having my son Kevin on this trip was very special to me. Billy was a very patient guide and Kevin really liked him. The fact that he caught many fish, and in particular the biggest steely of the trip, certainly added to his good time. You will see us again soon I promise!
Can you forward me the pictures you took of Kevin and "the fish¡Ö please.
Jerry Moison
---
Hi,
I'm travelling to Chile in a few weeks and I have from 16 to 19 Nov free to fish. I'll be arriving to and departing from Santiago. Do you have any recommendations on where I should go or who I should ask about a guide? An English speaking guide is not necessary. But I have to admit I'm a novice. Your week-long tour sounds like a dream come true but I can¡Ùt get that much time off.
I appreciate your help and good luck fishing,
Matt Heim
---
Good for you to make a pitch on supporting McCloud businesses in the latest website mailing. Nice job, and I urge you to keep it up.
Demonstrating your concern about the economics of a depressed community goes a long way towards defusing local complaints about "outsiders campaigning against Nestle's," as appeared recently in the Dunsmuir News "Letters" section.
Bob Powers
Dunsmuir
MY REPLY:
Bob
Thanks so much for that, I am really torn when I go into that town and see how depressed it is. I want something to happen good, even Nestle if we knew it would turn out right. I'm just going to write and the McCloud residents have no choice but to hear yours and my voice, I have to take tourist on highway 89 and I'm tired of following trucks. 400 to 600 trucks like they originally proposed would of be a catastrophic disaster for our area.
So you can believe I will continue to report, support and nurture the town of McCloud by any means available.
I love McCloud and the residents don't always see you get more with honey than you do with salt, when you buy a house in McCloud it comes with a title and entitlement.
Together we can all prove successful for McCloud's future, it effects us all in one or another in the region and the State of California.
Take care
Many Rivers, Jack Trout
---
Jack, I really enjoyed your recent Klamath River adventures. I have
a question, Were you able to save the
"hiccup" fish and release the little guy, or did he not make it?
Best regards. See you next spring. Warren
---
By Tony D'Souza
Mount Shasta Area Newspapers
Wed Sep 24, 2008, 08:48 AM PDT
——————————————————————————–
McCloud, Calif. –
Any hope for change in the discourse of the past five years between Nestle bottling plant supporters and detractors in McCloud was quickly dispelled Monday evening at the first McCloud Community Services District board meeting to address the Nestle issue since Nestle Œstepped out≠ of its contract with the district on Aug. 5.
As television and print media looked on, a full house of community members and other interested parties packed Scout Hall as the MCSD board embarked on a two hour long meeting punctuated by two contentious, angry, tearful, and repetitive public comment sessions √ both of which focused on Nestle √ overshadowing any of the board≠s other operations, as the Nestle issue has since 2003.
At stake again is the proposed construction of a Nestle water bottling plant, once slated to be the largest in North America at 1,000,000 square feet, but reduced by 60% in May to 350,000 square feet, which Nestle attributed to, ≥…supply increases [in other regions], coupled with the rising cost of transportation and fuel, mean that a plant of the size we first proposed in McCloud no longer makes economic sense…≈ But even the scaled down version of the proposed plant will employ 100 people, according to Nestle, providing much needed jobs and tax revenue to the economically distressed former logging community.
Nestle opponents contend, however, that the Switzerland based multinational will take so much water from the Squaw Valley Creek watershed that it will harm the environment, and that the jobs the proposed plant would create will not pay ≥living wages,≈ among other objections.
The anti-Nestle camp received a strong showing of support in July when the California Attorney General sent a letter to Siskiyou County≠s Interim Planning Director which called Nestle≠s draft environmental impact report on the project, ≥…fundamentally and basically inadequate.≈
Following the Œstepping out≠ of the contract by Nestle in August, in letters to the editor and other public forums, project opponents seemed to celebrate a victory over Nestle, while project supporters voiced disappointment and confusion with the company≠s actions.
But Monday night, Nestle≠s Natural Resource Manager and point-person in McCloud, Dave Palais, indicated without reservation that Nestle fully intends to build the proposed bottling plant, once a two-to-three year comprehensive environmental impact study is completed, and a new contract negotiated between the company and the MCSD board.
In two points of action regarding Nestle Monday, the MCSD board voted 4-1 to allow the company to simulate ≥low flow≈ conditions on the Squaw Valley Creek for 4 to 8 weeks by diverting water into Mud Creek, and 4-1 to table action on correspondence from Nestle until its December meeting, when incoming board member Brian Stewart will replace the outgoing Cathy Young.
In supporting the diversion request from Nestle, the board signaled its intention to allow Nestle to immediately take action to study the effect of its proposed bottling operation on the Squaw Valley Creek as it progresses toward satisfying California Environmental Quality Act and National Environmental Policy Act reviews necessary to the permitting of the plant.
If the board had voted against the diversion, which many, including Curtis Knight of Cal Trout, asked that it do during the public comment period, Nestle≠s proposed plant √ already delayed by two to three more years √ would have been stalled by yet another.
The optimal time to study low-flows occurs in the late summer/early fall, Palais countered in his rebuttal to Knight≠s and other≠s objections. Because the past two years have been particularly dry, doing the low flow study now will allow Nestle to study the Squaw Valley Creek when water levels are at their lowest, thereby answering critics≠ concerns over what the estimated 600 gallons per minute consumed by the proposed plant will do to the creek during a drought.
Services District general manager Beth Steele assured the board that she had no operational objections to the diversion, which would see much less water than the 1450 gallons per minute the district itself has diverted in the past in the course of making repairs to its water system. She added, ≥This diversion is to facilitate information that everyone is looking for.≈
When questioned by audience members, Palais conceded that a second diversion will definitely have to be conducted in 2009 in the course of the environmental study, which Nestle has hired North State Resources to conduct ≥…in coordination with hydrologists and biologists from the University of California Davis and Berkeley.≈
In explaining his dissenting vote on the diversion issue, board member Al Schoenstein √ who had run for office in support of a water bottling plant √ read a parable about a ≥marriage gone sour≈ he had written to explain his evolved attitude toward Nestle.
The vote on the motion to table any action regarding Nestle≠s correspondence to the board until the newly composed board convenes in December did signal that the board is now exercising patience in regards to its dealings with Nestle.
Though the meeting offered numerous calls for respect and unity, all of which met with loud and near universal applause, the poisonous atmosphere of dissent and anger overwhelmed the attempts at peace-making.
Nearly 80% of the public comments were vigorously critical of Nestle, with accusations also leveled at Beth Steele and the board of backroom deals and bribe-taking. The contentious atmosphere began almost immediately, with board president Tim Dickinson prefacing the meeting by saying, ≥We have a pretty emotional meeting tonight, as I know you know I≠m sure,≈ closely followed by an audience member shouting out of order, ≥I have a real problem with him [speaking], he≠s not in our district,≈ as Nestle≠s Palais approached the podium. Dickinson responded sternly, ≥Calm down or you will have to leave.≈ Later, he repeatedly banged his gavel to restore order in the hall.
But Nestle was not without its supporters at the meeting. After fly-fishing guide Jack Trout again refused to leave the podium as he voiced his lengthy concerns about the bottling plant≠s potential to negatively affect the streams where he makes his livelihood, a pro-Nestle supporter quipped, ≥Some people don≠t like that you catch trout.≈ Kelly Claro said that she spoke for, ≥…lots of people who are very quiet but do want to see the project come through.≈
At the end of the meeting, tensions were somewhat eased as the community refurbishment of the town Fire Hall was recognized and applauded.
Asked after the meeting if he was disappointed that the board had voted to table any action on Nestle≠s correspondence until December, Dave Palais said, ≥In a two year process, a few months of delay is not a setback.≈
As announced by Palais during the meeting, Nestle will host a first public forum discussion on the bottling plant Oct. 22 at the McCloud High School.
Article Courtesy of:
MT SHASTA"S HOME TOWN PAPER!!
---
Yo Dude,
I'm planning on driving wednesday and maybe fishing fowlers thursday. theres some chance if fowlers sucks that I'll jet up to kangaroo lake near callahan. If that happens I'll want to meet you near
Yreka instead of at the shop so I dont have to backtrack.
is there a place/time you can clearly describe where I can meet you up there?
do you know if either of those places are prone to stay clear enough to fish in the rain?
also I've got no problem fishing in the rain but want to reschedule if the river gets blown out and makes our chances of quality fishing slim ok?
thanks
dave earl
---
Jack, I really enjoyed your recent Klamath River adventures. I have
a question, Were you able to save the
"hiccup" fish and release the little guy, or did he not make it?
Best regards. See you next spring. Warren
---
We will fish again. We need the economy to pick up so I can pay for these great trips.
Tell Shasta no pepper cheese for Holloween.
Have a good off season.
Alan
---
Thanks Jack. I always buy kindling at the Opportunity Center but I did not know they sell wood other than kindling. I am afraid oak many be difficult for guests to get a fire going. Also, since I don't have a truck and I have limited time when I am there, i hope I can find someone who can deliver (and maybe stack it). But I may try them when I am there.
Although it is usually slow this time of year, this is the worst it's been in the 9 1/2 years we have had The Chalet.
Our last reservation was weekend of Oct. 16, but no current reservations until December holidays. I have had a few inquiries about Thanksgiving but no reservation yet.
Jack
---
Hi Jack,
This is the test email.
Thanks for giving me all the information and options on the phone. I look forward to working with you.
Thanks again,
Jenny Avon
---
Thanks Jack, we are very much looking forward to the trip. We'll get you a check for the balance right away. Are you still planning on making our airline reservation from Santiago to Puerto Monte? We arrive in Santiago at 8:40 AM on January 1, 2009, Delta Airlines flight 147.
Thanks, Dave and Scott
---
Hi,
I≠m travelling to Chile in a few weeks and I have from 16 to 19 Nov free to fish. I≠ll be arriving to and departing from Santiago. Do you have any recommendations on where I should go or who I should ask about a guide? An English speaking guide is not necessary. But I have to admit I≠m a novice. Your week-long tour sounds like a dream come true but I can≠t get that much time off.
I appreciate your help and good luck fishing,
Matt Heim
---
Hello Jack Trout,
I found your craigslist posting about your home for rent in Mount Shasta.
I must say, your situation seems to be the perfect fit for what I'm looking for.
I'd like to talk with you more about what you're looking for in a renter, and to see if we can make a fit.
I assume the $2000 deposit would be refundable.
My situation is as follows:
I want to find a rental situation right during the period that you stated your place as available.
I'm looking to stay in Mount Shasta proper. My plan is to come there, stay for a few months and enjoy the winter solitude as a personal writing retreat.
I would be honored to take care of your cats for you. I would look after your house as if my own.
I have an upscale 5 bedroom house in the Seattle area, so I'm very responsible and mature with managing a property, and caring for a home.
Your place looks perfect for the writing I wish to complete.
I will call you soon, and would also love to hear back from you through e-mail if/and when you read this… assuming that you haven't found a renter yet.
I'm crossing my fingers.
I could probably pay you advance rent for the 4 months you're away.
Thank you!
-Zachary Clark
---
Jack,
Thanks for a great trip! Just a reminder to email the pics from your camera (hi-res if possible). How did your trip go on Saturday with three in the boat? Hopefully not to crazy!
Thanks again for a great trip (and for the free night at Cold Creek Inn)!
Frank
---
---
Jack —
I'm about to head to Grant Park to talk to everyone gathered there, but I wanted to write to you first.
We just made history.
And I don't want you to forget how we did it.
You made history every single day during this campaign — every day you knocked on doors, made a donation, or talked to your family, friends, and neighbors about why you believe it's time for change.
I want to thank all of you who gave your time, talent, and passion to this campaign.
We have a lot of work to do to get our country back on track, and I'll be in touch soon about what comes next.
But I want to be very clear about one thing…
All of this happened because of you.
Thank you,
Barack Obama
---
CARACAS.- The Venezuelan president Hugo Chávez expressed its desire that United States "do a turn humanist, of respect to the world", upon commenting for the first time the election as the president of Barack Obama.
"United States can be a great country if is remodeled inside itself first. If it remodels its vision of respect to the sovereignty of the remainder of the world, it will once again be recognized as a great country and a power for good", said Chávez.
"I hope that the new government will assume to the height of what demands the world demands of its own towns that occupied first of the matters U.S.", added the Venezuelan proxy, who has raised as one of its main ideas force that of the fight against the "imperialism" that accuses the American country.
Chávez practically cut all kinds of relations with the government of the outgoing president George W. Bush, to whom came call "the devil" in an international assembly, for, on, to do of the allusions to Bush and to United States one of the central axes of his speech.
---