NORTHERN CALIFORNIA FLY FISHING GUIDES & INFORMATION * Stream Side Gourmet Lunches *
530-926-4540  *  info@jacktrout.com * Jack Trout Fly Fishing International Guides & Reports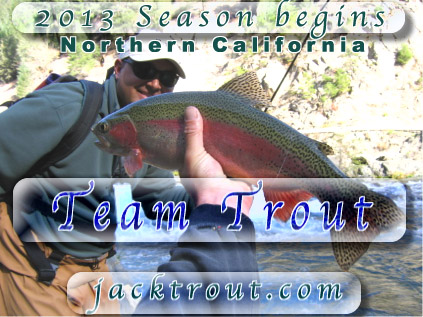 COME ON UP TO MOUNT SHASTA, McCLOUD OR DUNSMUIR AREAS TO THE BEST LOCATIONS FOR FLY FISHING AND TOURS.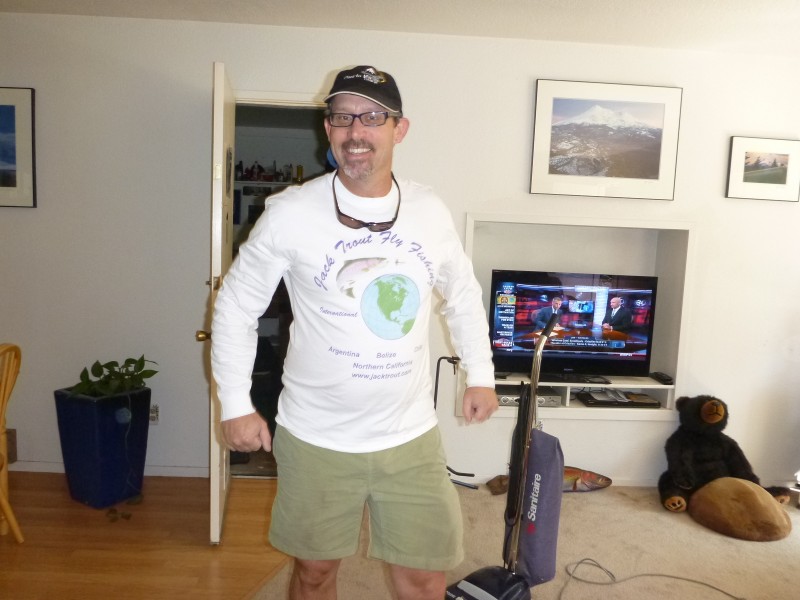 Back ready for action and ready to guide all the great people who come up to the Shasta area this 2013 season, so far the fishing has been fantastic! Was a little of an adventure getting back with our plane downed in Santiago they re-routed us through Mexico City, then back to Dallas, then no luggage and 60 hours later we made it to Sacramento Airport and nothing to change into. But the airline did give us a free hotel room as we waited a day for our luggage to finally show. All was good but I sure was tired when finally hit Mt Shasta. We left southern Chile on a Tuesday and made it home by Friday. I was never in my life so happy to be back in California in our home. 6 months was a long time away for me and it was so great thinking about all the places we all love and know up around the North State of California!!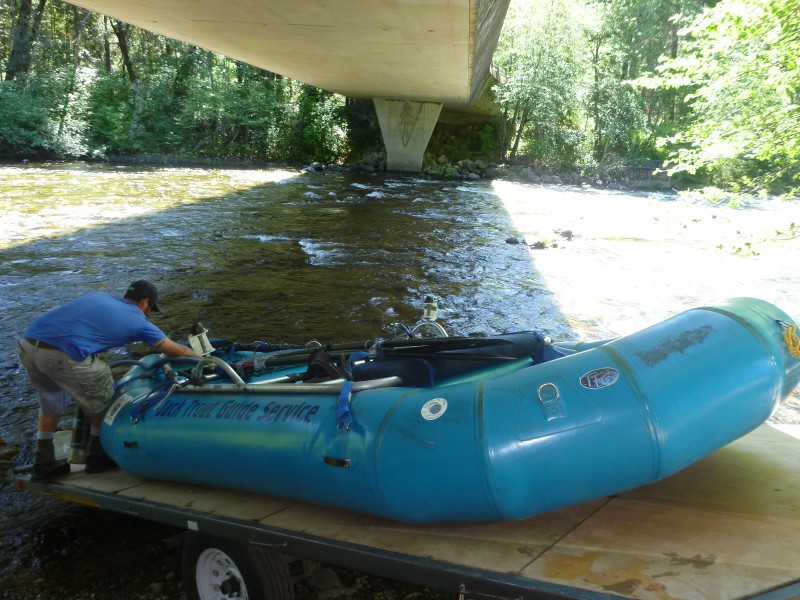 WOW!, Water is low folks, I suggest you get up here to fish this season before July 15th, the rivers are in great shape now.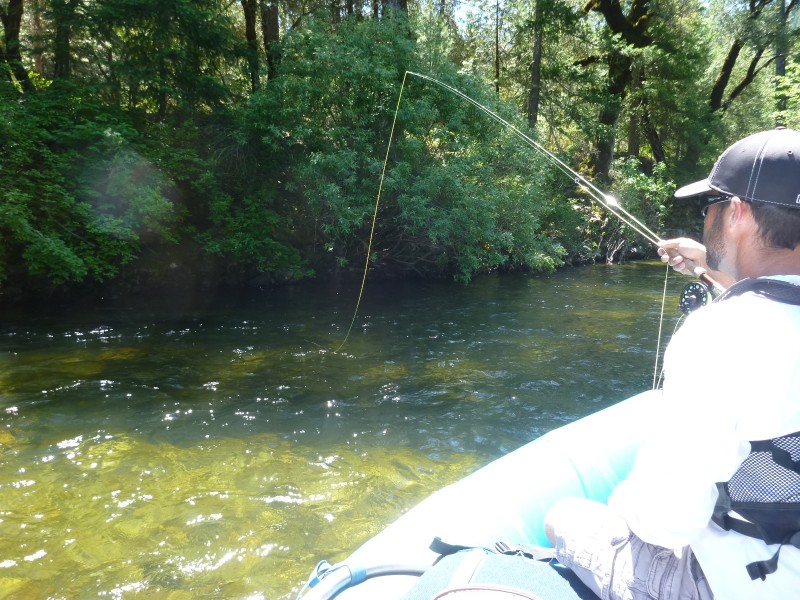 Forrest and I went out last week to do a trial run to see how the river was fishing, and possible if there was any hazards like any tress that might be down in the river.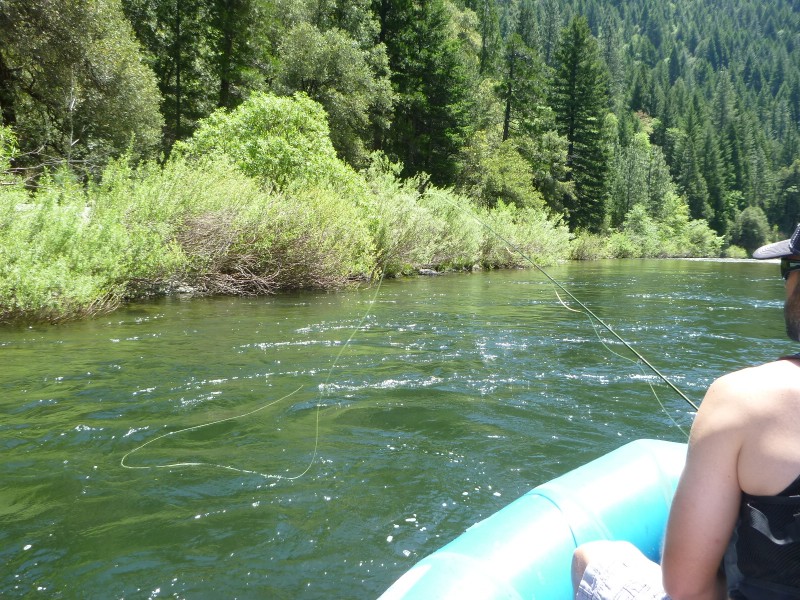 It was so great to be back in California, all the sunshine and fresh smells of spring, in addition to the sounds of happy orioles and sparrows singing their songs as well as the soothing sounds of rapids up ahead in the distance made us smile more.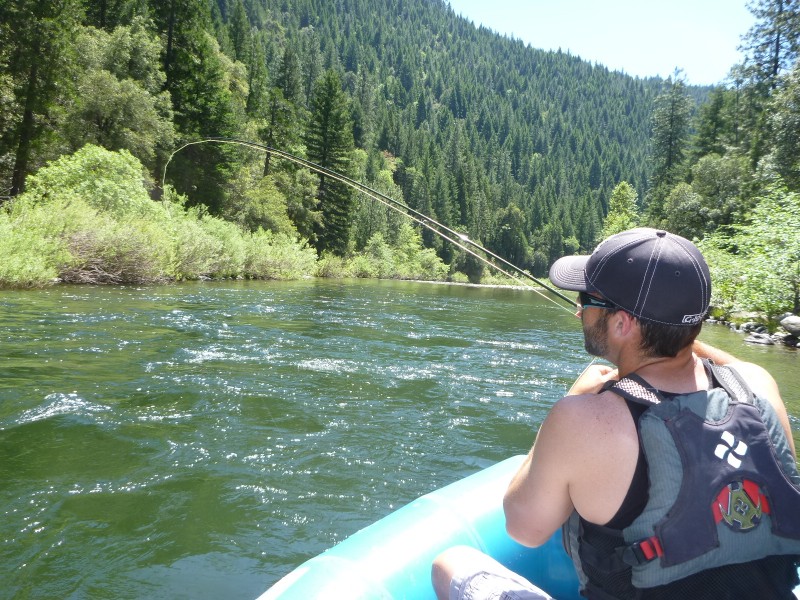 Fish on bro! It sure didn't take very long to get that trout on the line…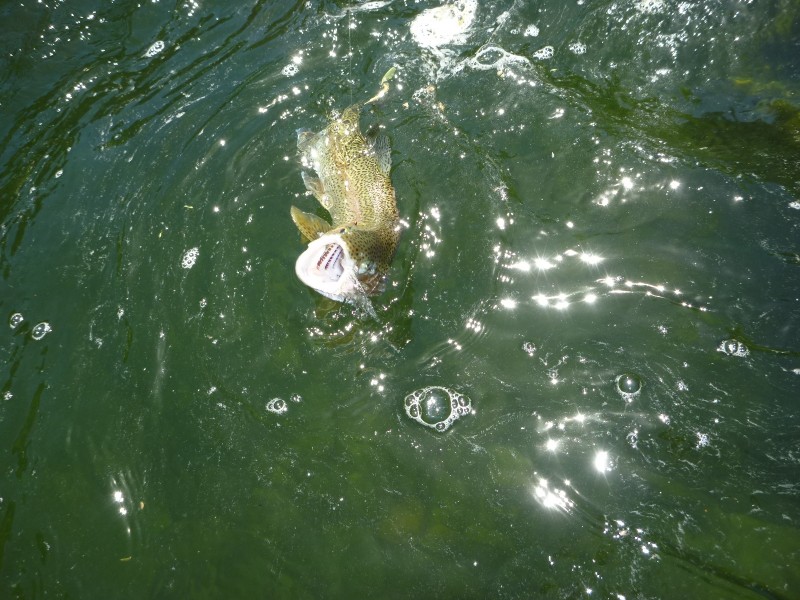 Nice dentures cutie! So many great trout this season, all the low flows must be perfect for this seasons trout spawn.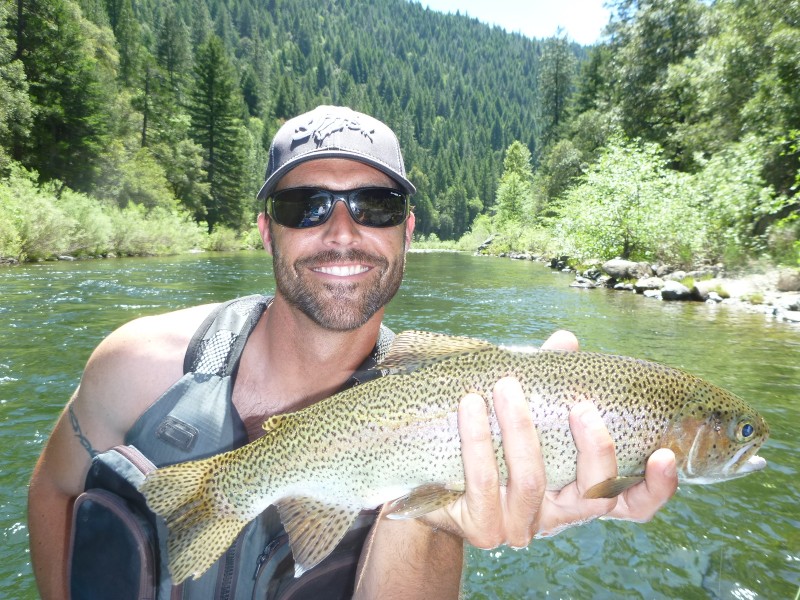 Now that's one sexy trout if I don't say so myself. Look at all those freckles and big browns eyes, she should be on a cover girl commerical… Way to go Forrest!!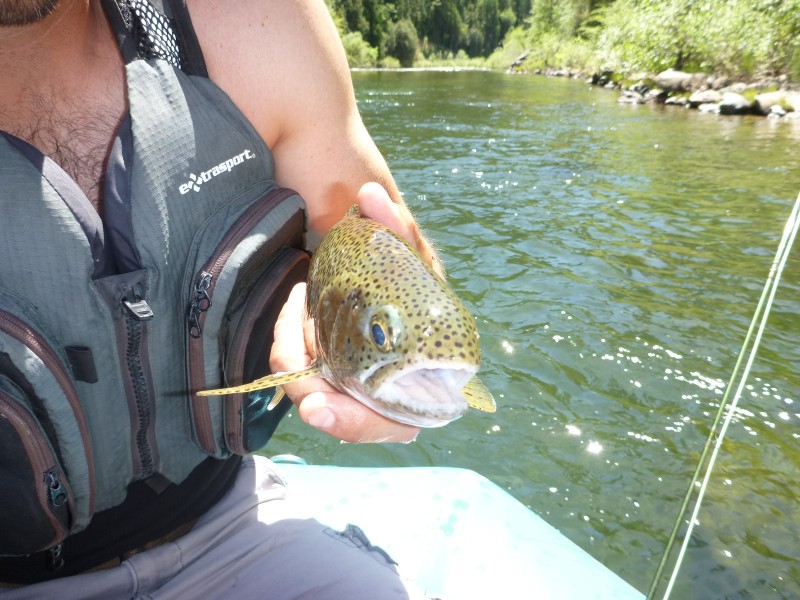 I think it's time to get up to Shasta and hook into one of these beauties!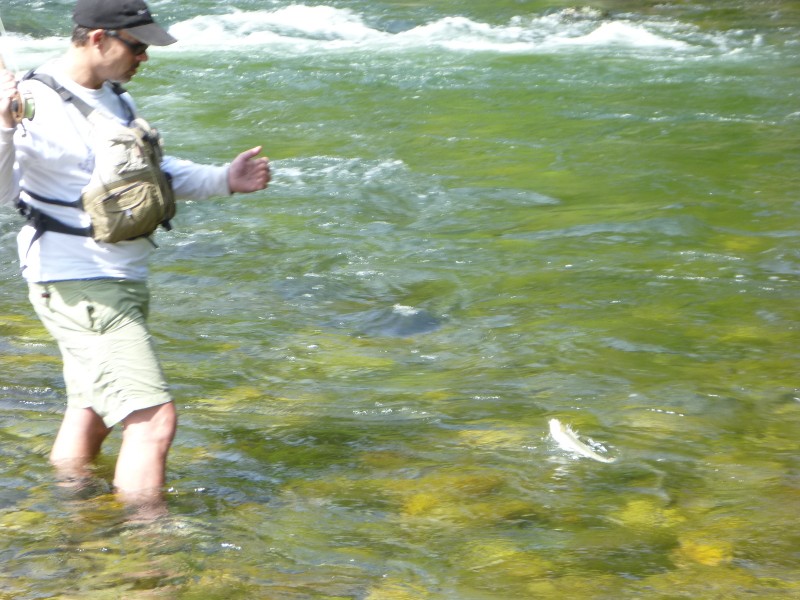 Then I went out and hooked into 4 trout in one spot, it was a great way to start my fishing season here in California.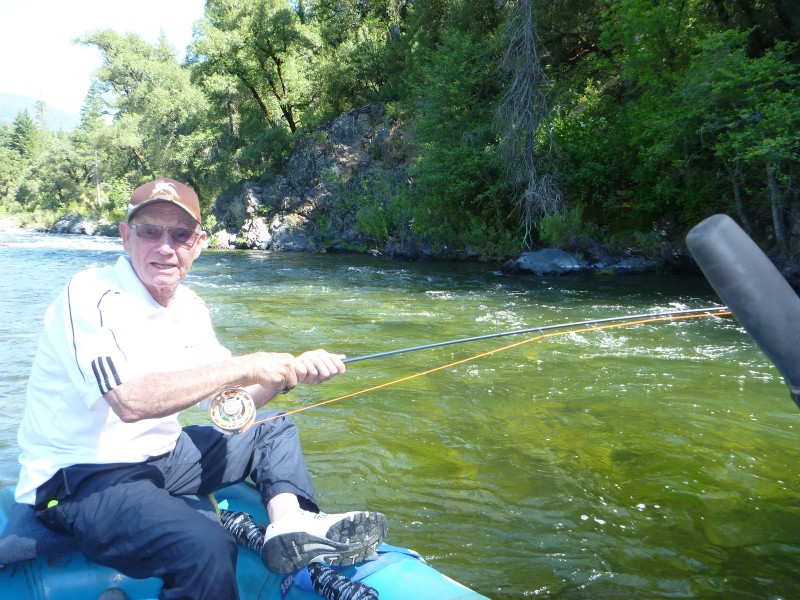 Robert Louis Stephens  is a North State legend from the Chico area, he's guided on the Lower Sac for years and even built rods and worked for Walton Powell, I was really honored to have both Frank Duarte and Bobby on my fly fishing raft on a wonderful weather day.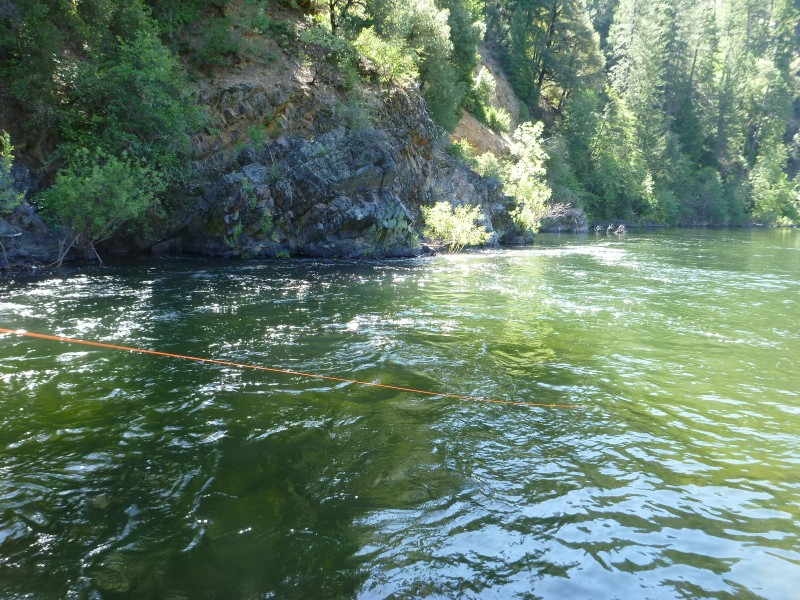 On the first drift we got a nice hook up and it really never got slow the entire day, both of them really commented on the scenic beauty and how they used to have to do practically a death march in order to access the best spots on the river.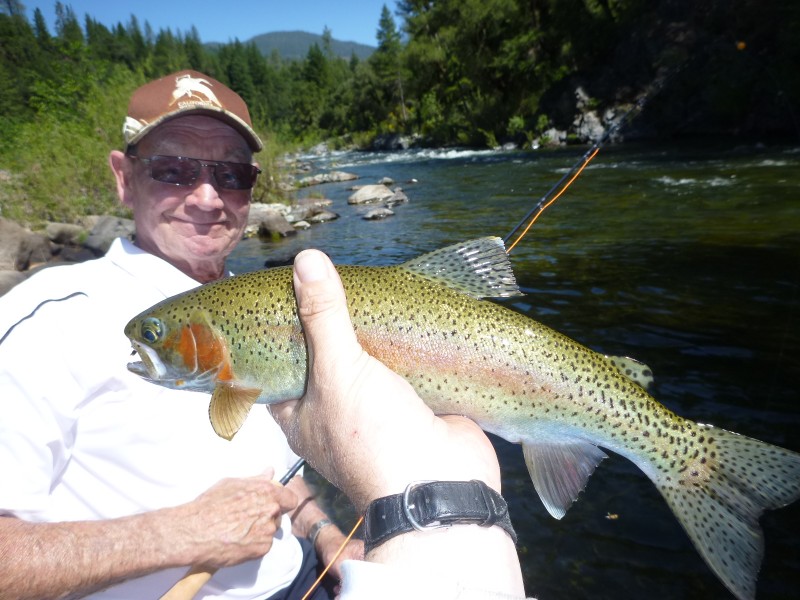 Kind of nice to be on the receiving end and not having to guide anyone, Bobby commented.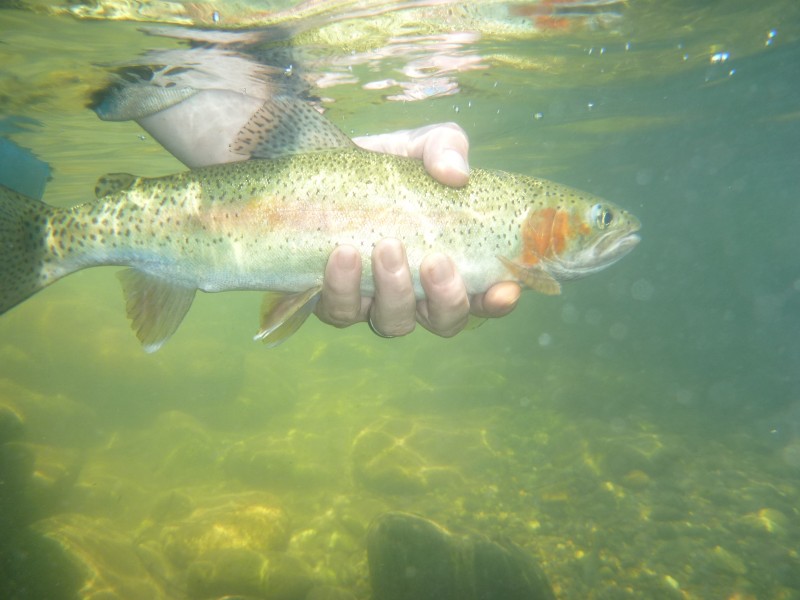 Those colors don't tread folks! I just love the beautiful trout we have in both the Upper Sacramento and McCloud Rivers, wouldn't you agree.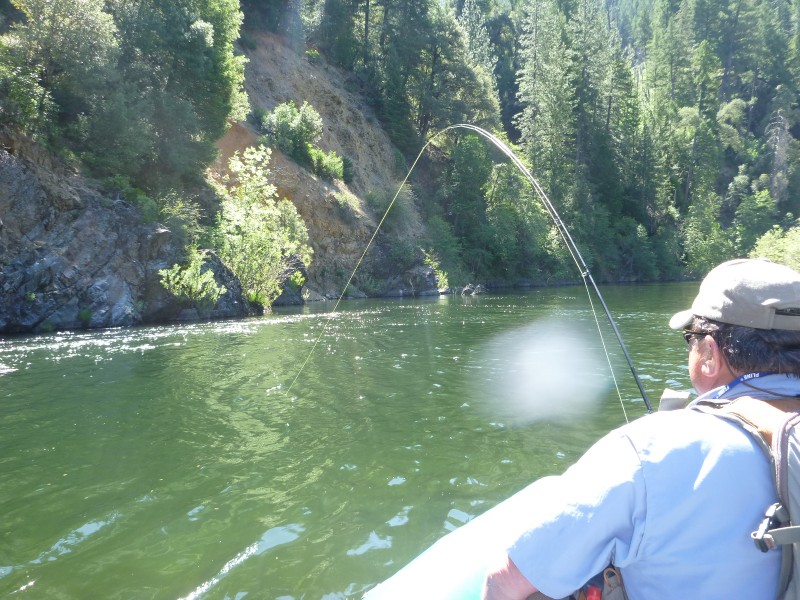 Then Frank got a hook up and kept everything even if anyone was counting. Like Bobby, Frank is a real nice character who's got more connections then a Monday morning pretzel maker. Highly respected by his clientele, the DFG and thousands of would be anglers who call him constantly to gain information and insight on the North State rivers he guides on. But for today, Frank was the client sitting on his duff and enjoying hooking trout and laughing with Bobby like teenagers in a pick-up truck speeding near the Sutter Buttes. We were having real hoot folks!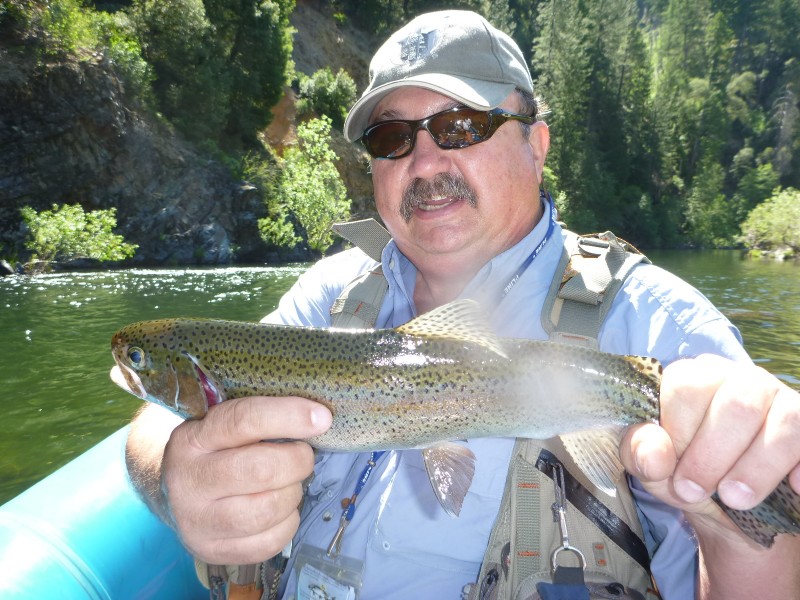 We caught trout like this most of the day on small nymphs like size 18 & 20.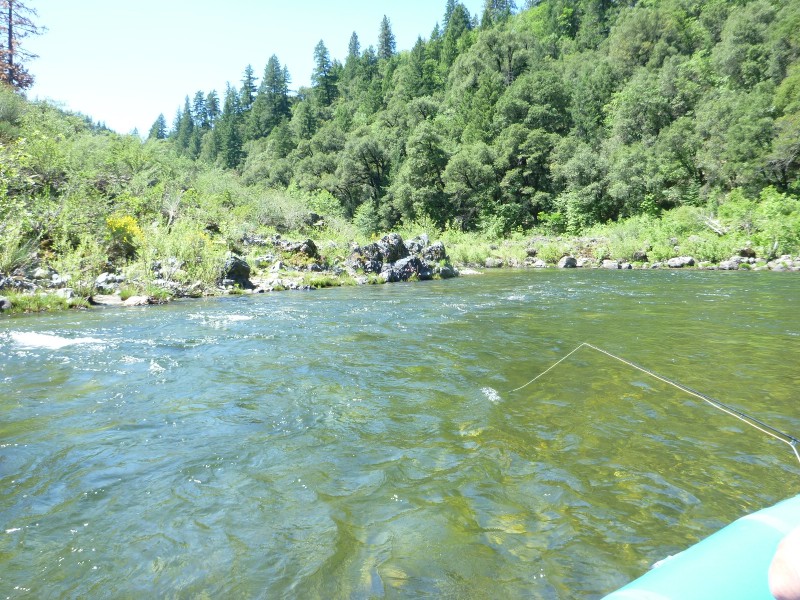 It's really easy to get perfect drifts from my raft, you float and drift your indicator at the same speed as the current. Many folks just high stick a lot or you can just mend upstream when needed.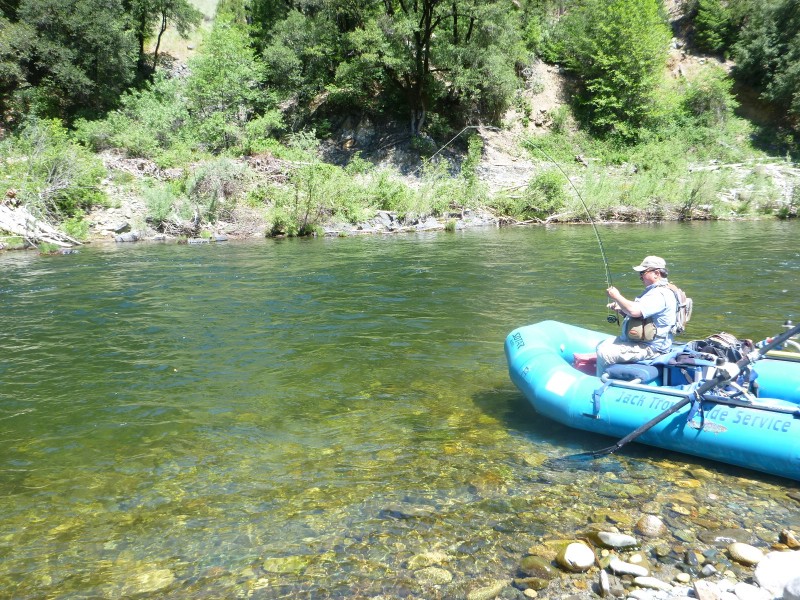 On this corner down by Pollard, California we hooked into this beauty, Frank enjoyed this catch.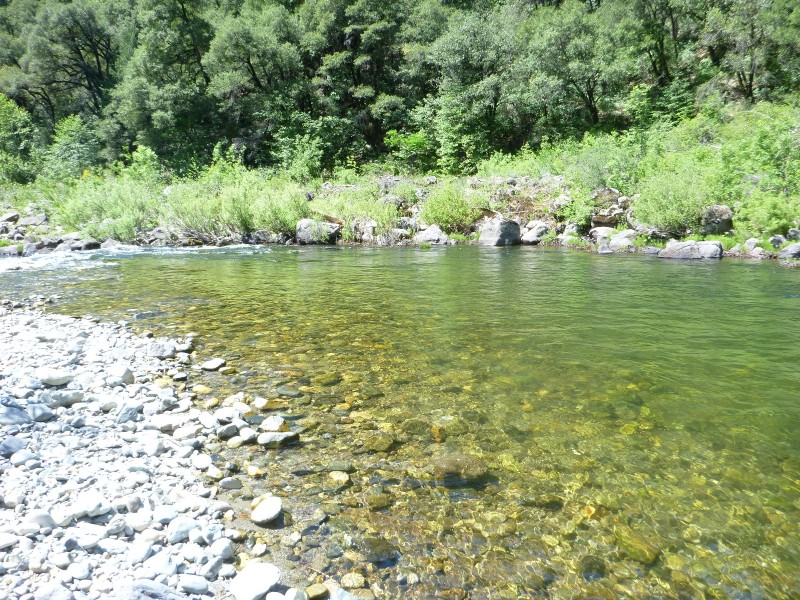 Perfect trout waters calling you home…..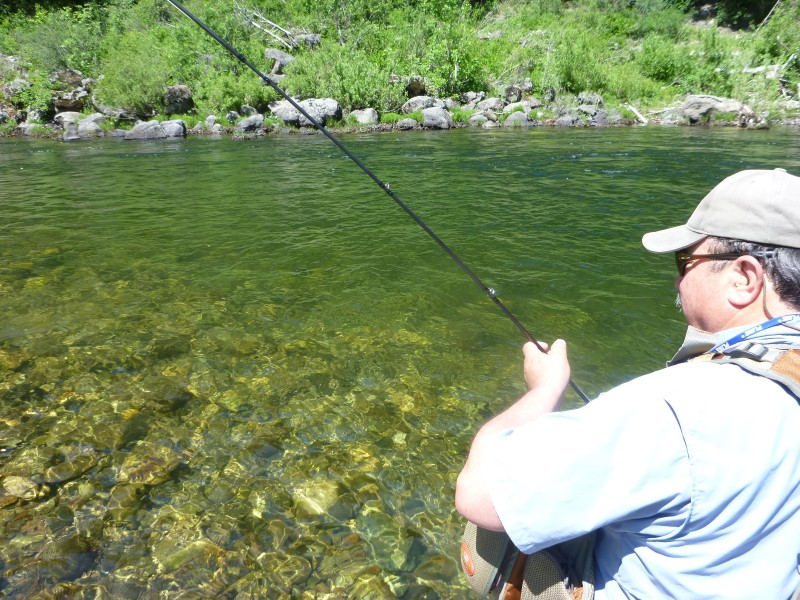 Down a little further Frank hooked into this lovely thing.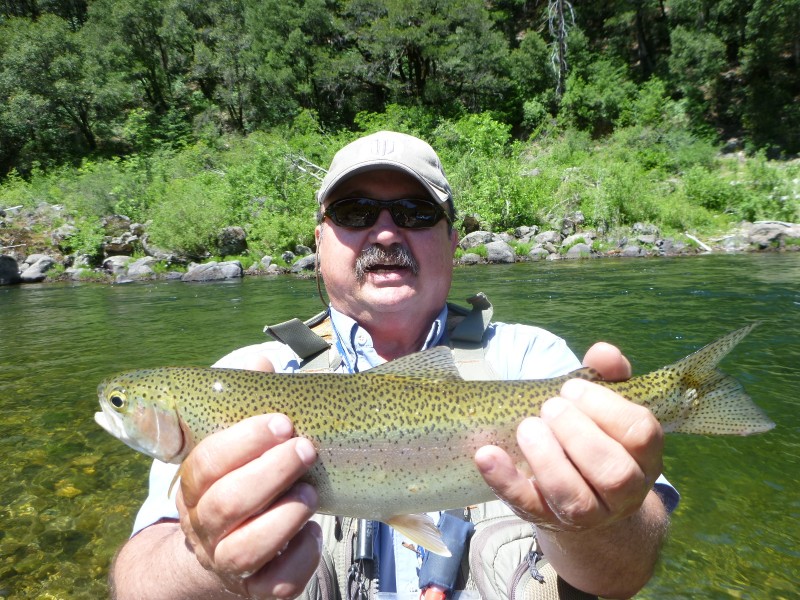 It's so great to see this river back 100%. There are so many of these healthy, beautiful, lively and hard fighting trout. Put's a tear in my eye folks, it's been a nice journey back to normal. Also the general regulations on the river right now is working perfect! Way to go DFG.
 A little further down… More action!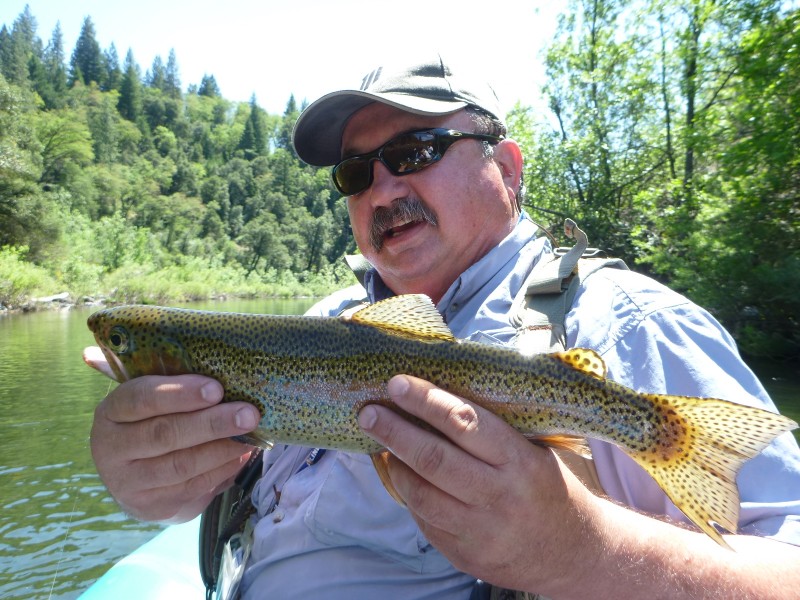 She….!! as sweet as Tupelo honey… She's an angel!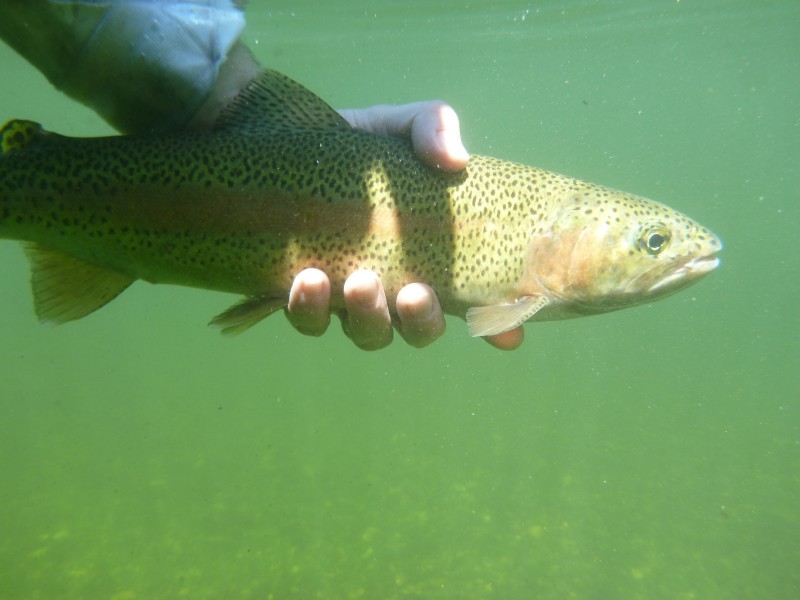 Those are really racing stripes!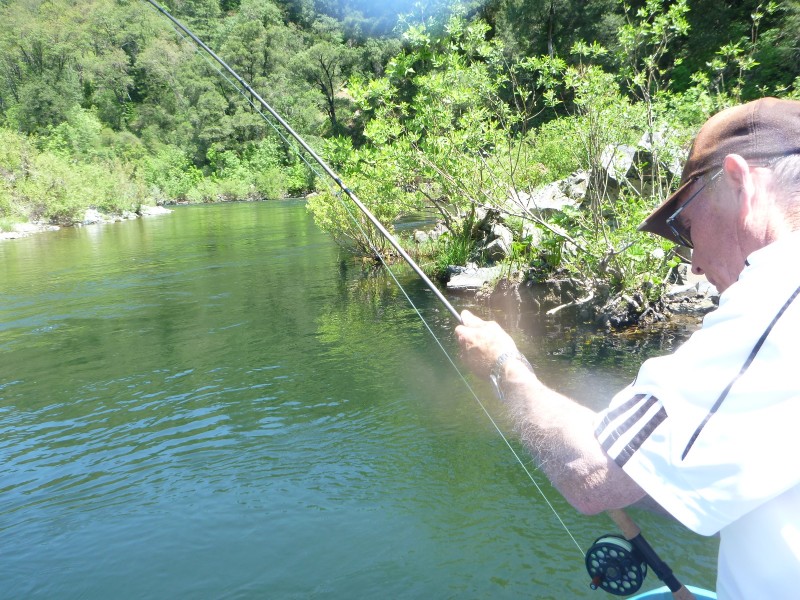 Bobby down by La Moine with a nice hook up, lock and load – lock and load- Bobby!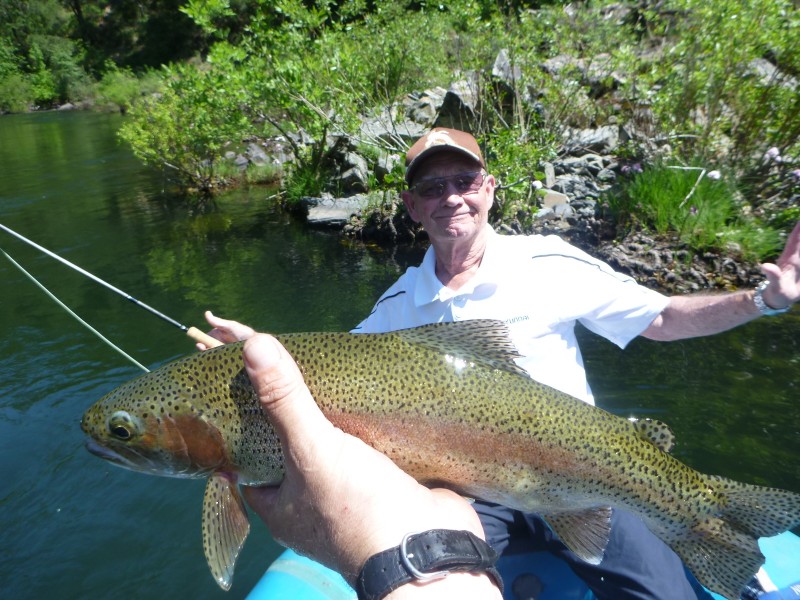 Robert Louis Stephens is our Sizzler of the Week Award Winner Ladies & Gentlemen. Congratulations Bobby! Thanks to you and Frank for coming up and hiring me to guide you two, it was a blast.

 Next Ryan and Robert Cassidy came up to float and fly fish the Upper Sac in my raft, that day was amazing too, the fishing was off the charts.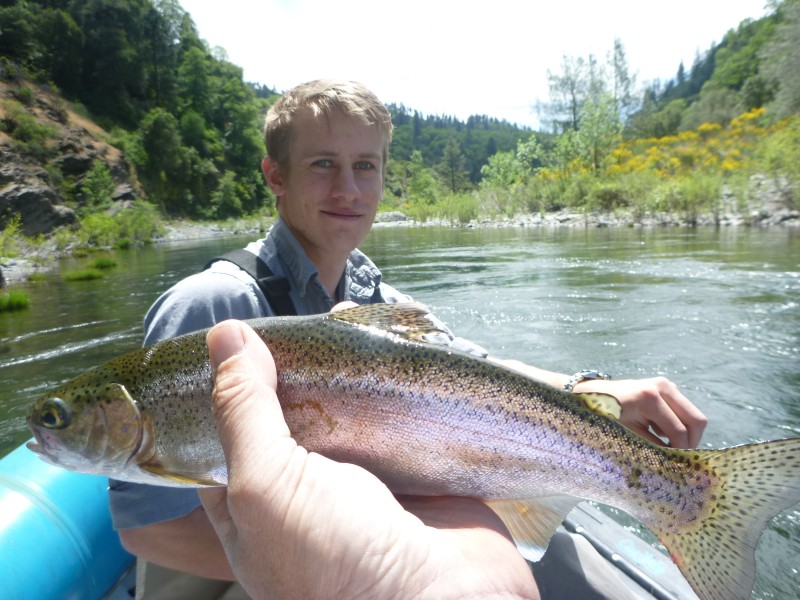 Nice trout Ryan, now lets see what dad can catch.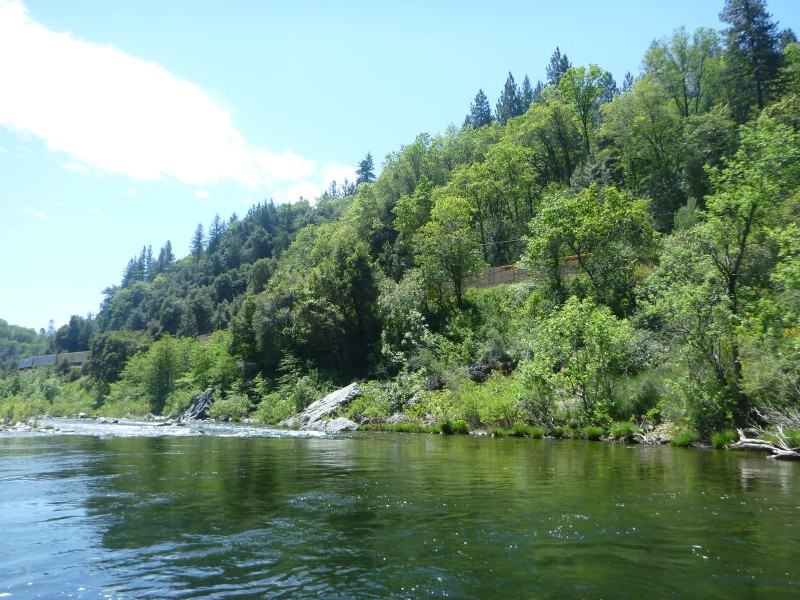 Nice spot indeed to hook a wild native trout.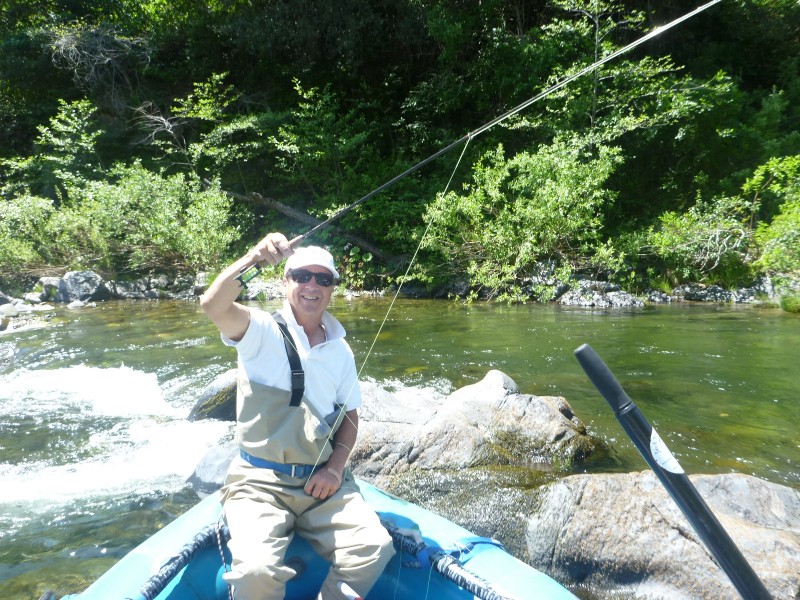 Bob had a nice trout soon after in the pocket water and I knew it was going to be another great day out on the Upper Sacramento River.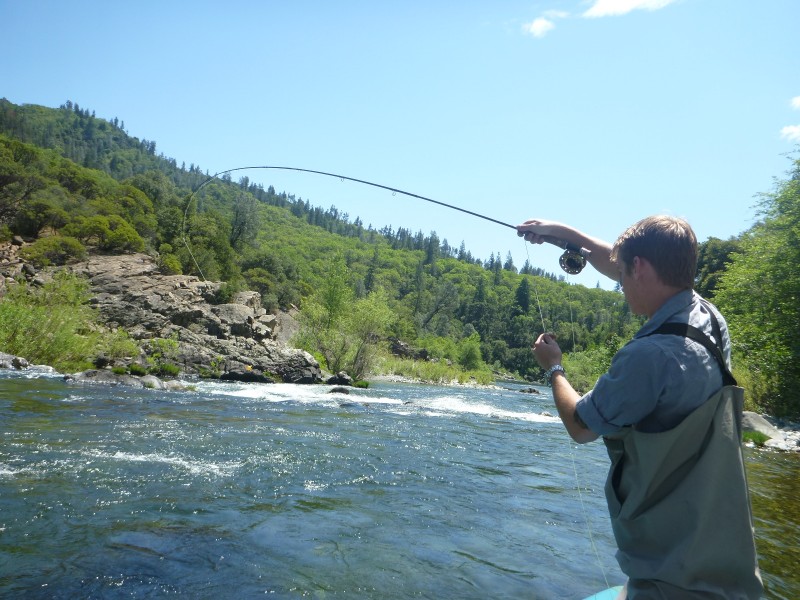 Ryan hooked another trout here, it was a great day for him to learn more about nymphing on rivers in Northern California. Flows on the Upper Sac.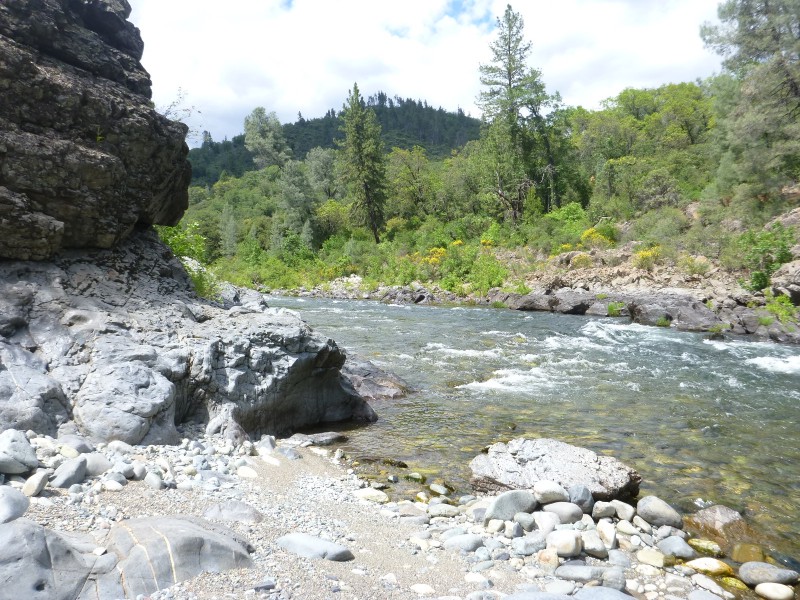 Upper Sac and North State Fly fishing reports page.  < click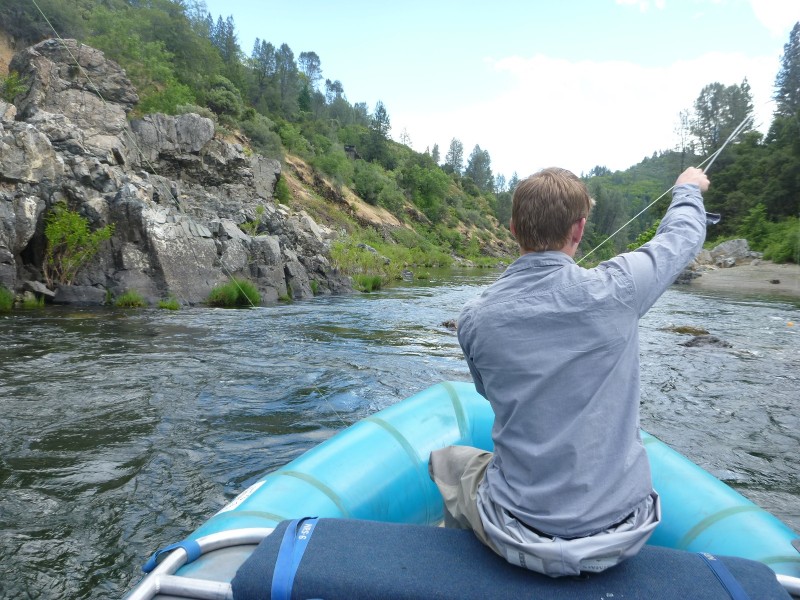 Ryan with another trout on!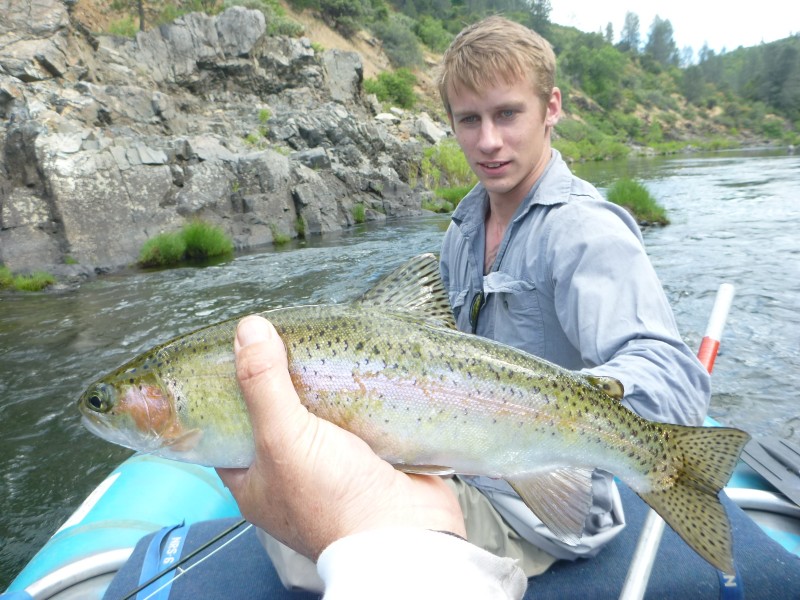 Trout magic, go ahead and hook another.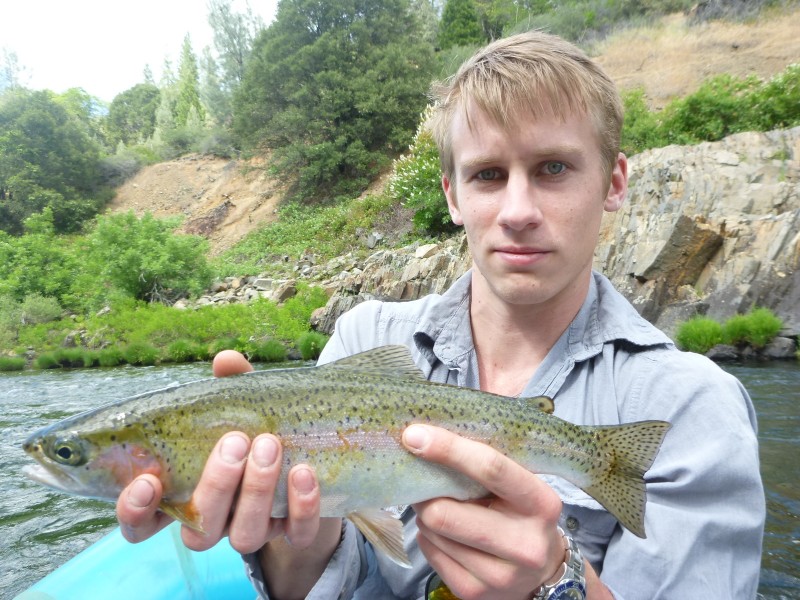 Well alrighty now!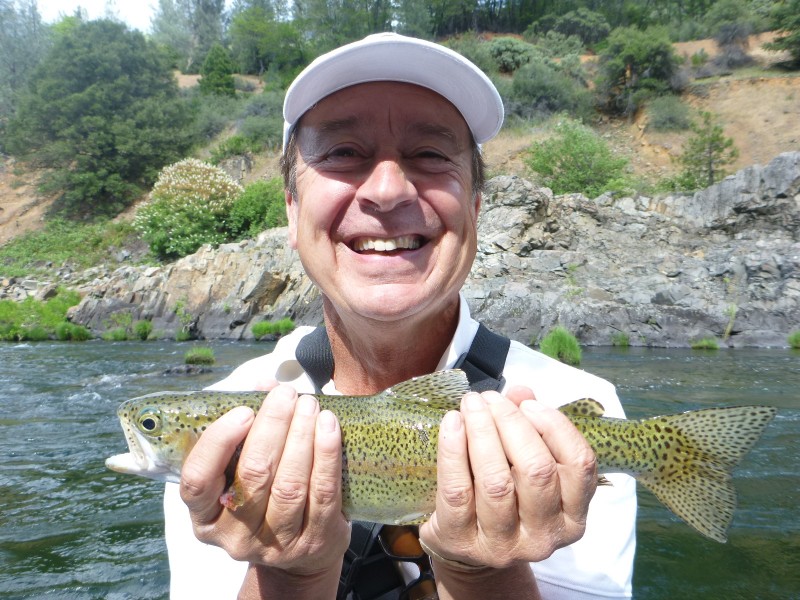 Then Bob got into the action and hooked this native pond star…
Right now we are seeing a lot of nice trout heading up from Shasta Lake, to escape the low H2O levels and warm temps.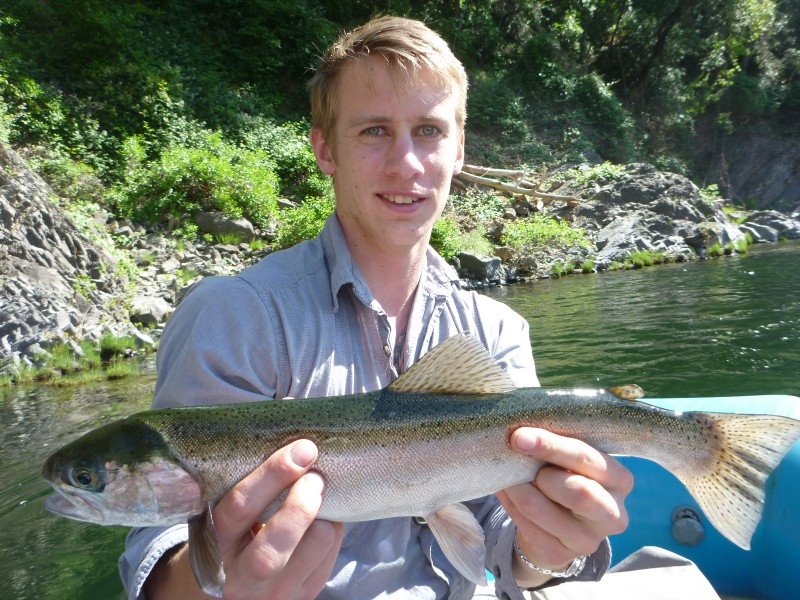 Then he hooked this Kamloop trout from Shasta lake as long as snake.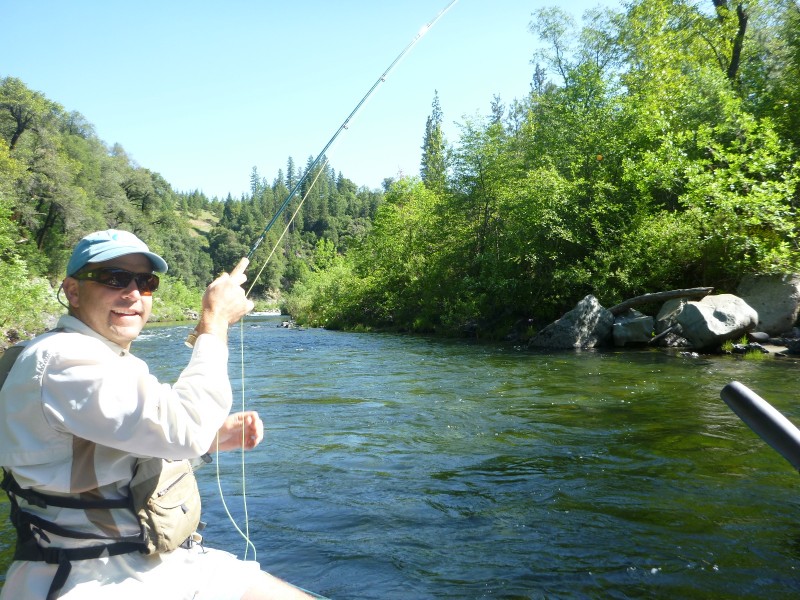 Then the biologist Henry Lomeli from the wild life division of the Department of Fish and Game came up with his father Rene to check out my trip on the

Upper Sac

.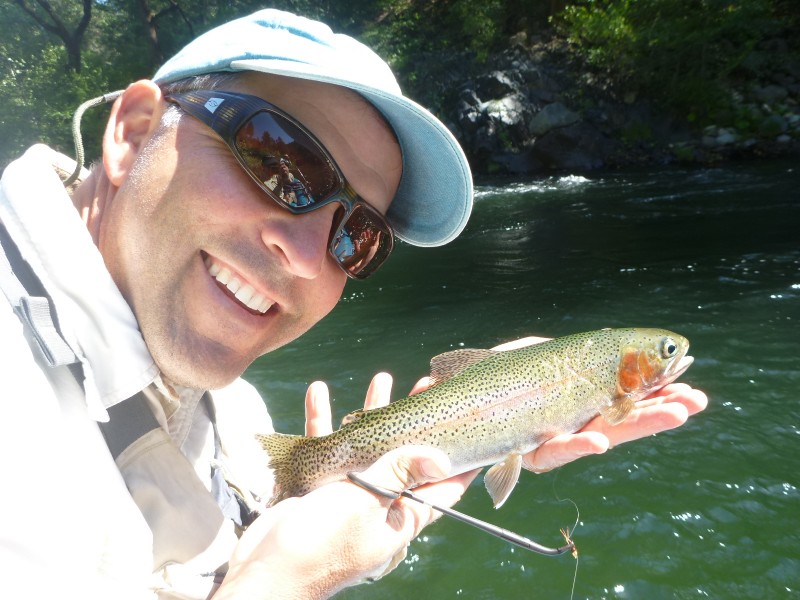 Little trout, medium trout and large trout all co-exist together in the waters that start their decent from the creeks at the base of the peaks of Mount Shasta.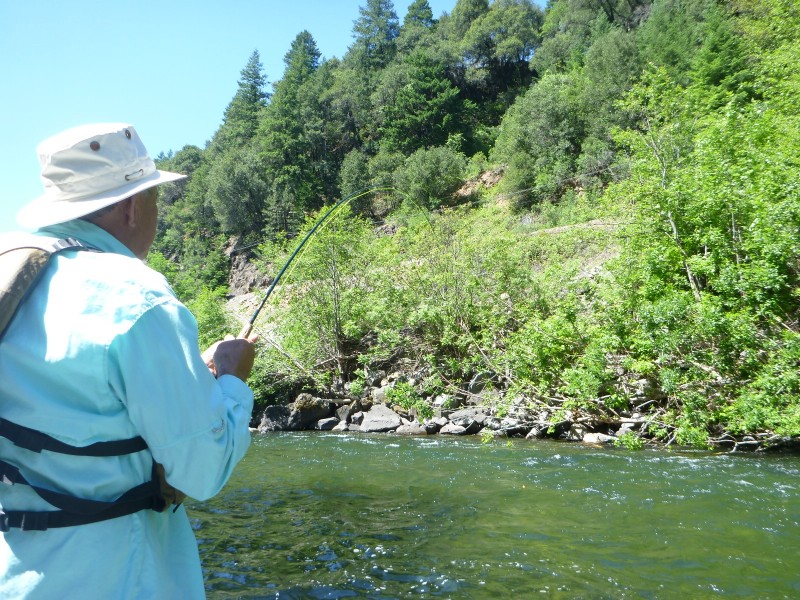 A  river living, breathing and flowing and feeding the state of California. I like to think about that when I'm out there with all of you.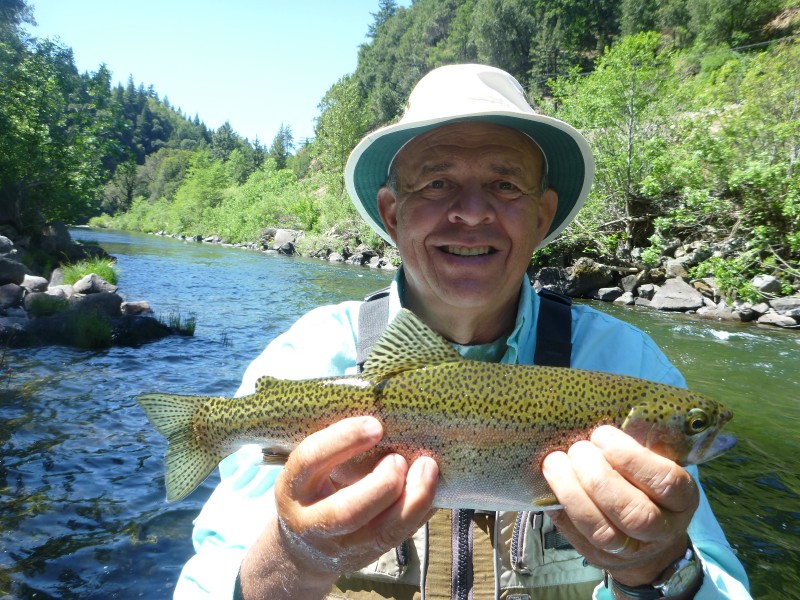 Rene Lomeli with a very healthy trout, they just don't get any better looking then this folks, some of the most beautiful trout in the world live right here in Siskiyou and Shasta Counties.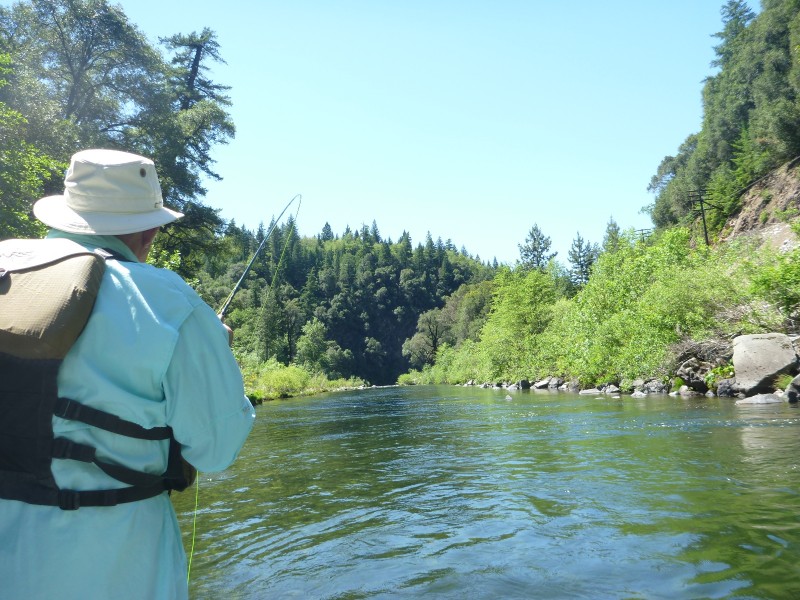 Soon after pops had on another nice trout, then it was three nice trout in a row.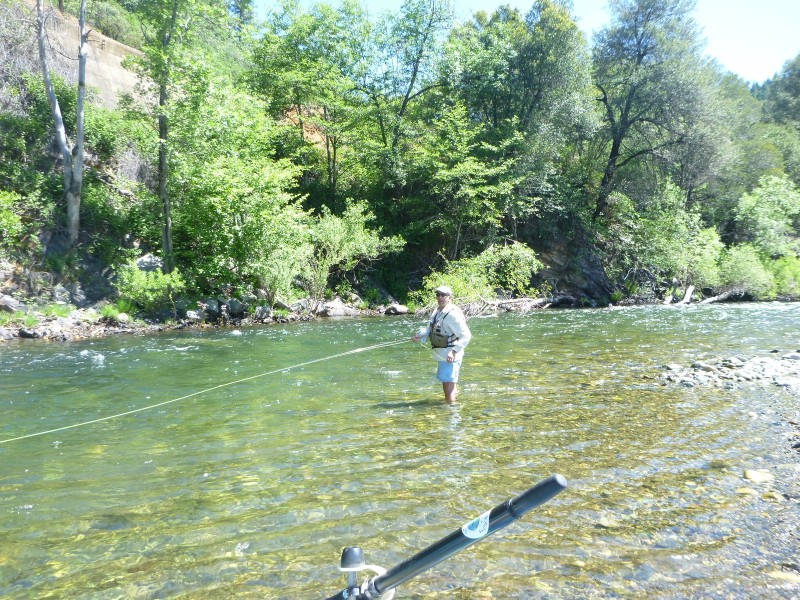 Then we pulled off here to see if we could wade up a trout from shore.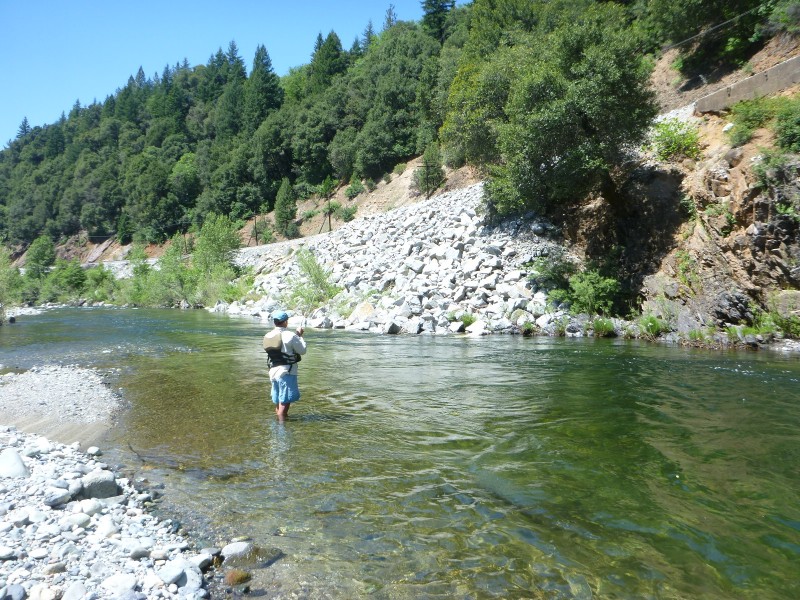 Then he hooked one towards the back of the run and it took him for a ride down stream.
Run Forest Run!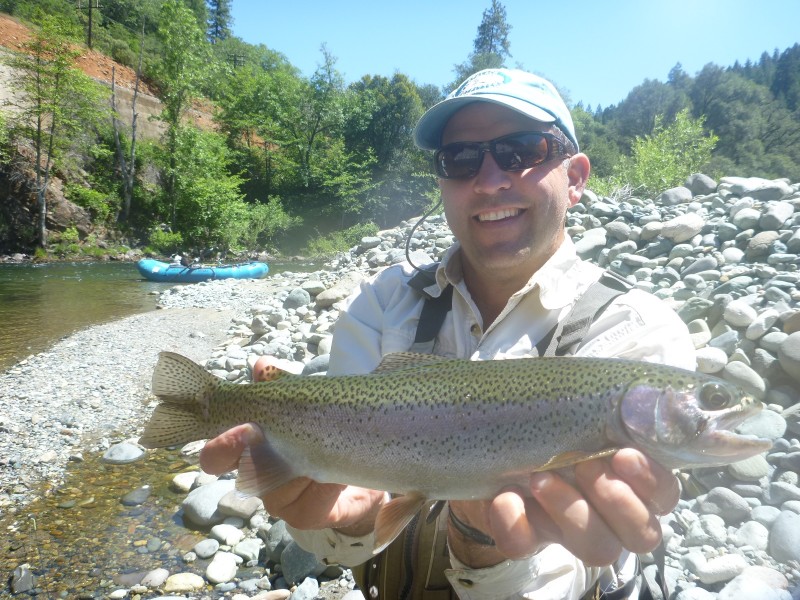 Great fish on a great day with your pops!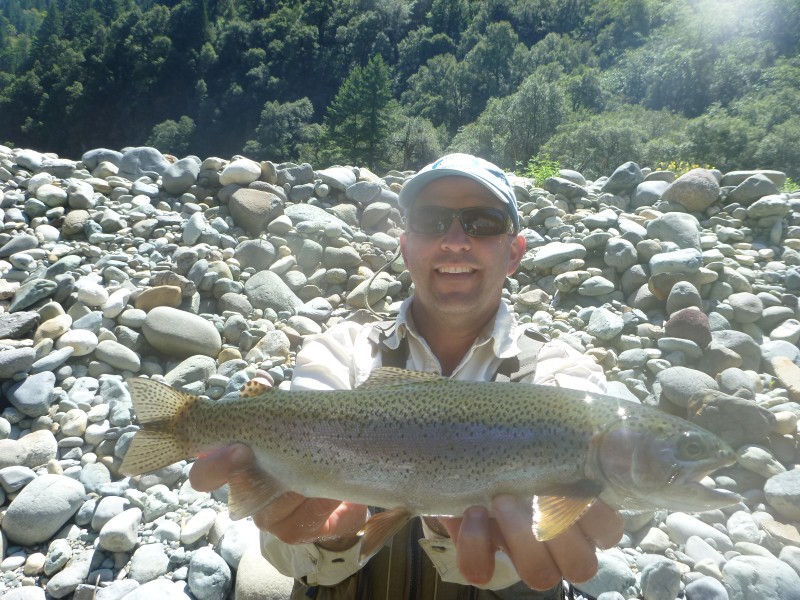 Now that's a lunker for sure….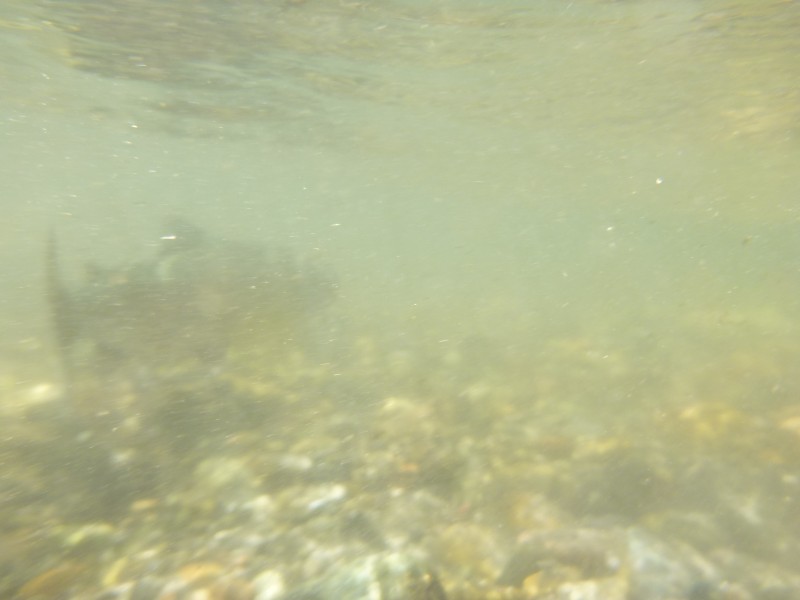 After we revive him softly, there he goes!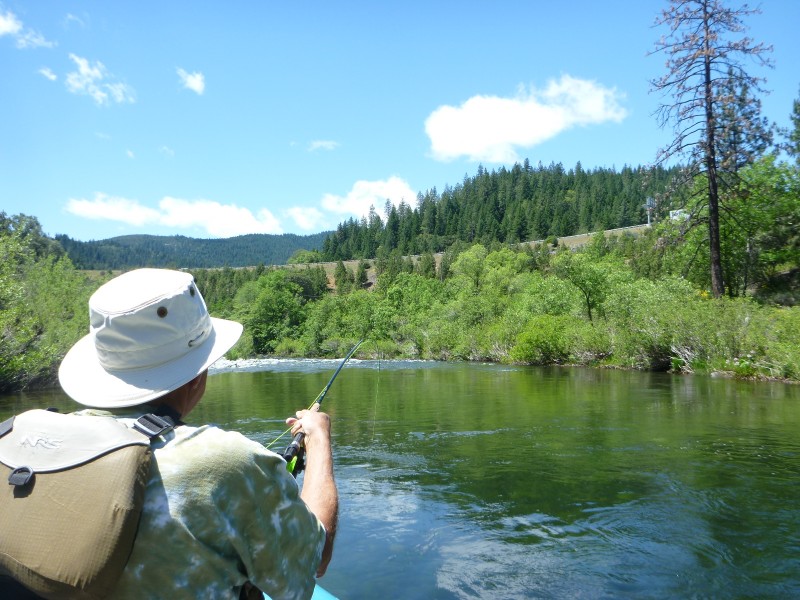 Then Rene hook into a nice trout on a deep hole you wouldn't fish from shore.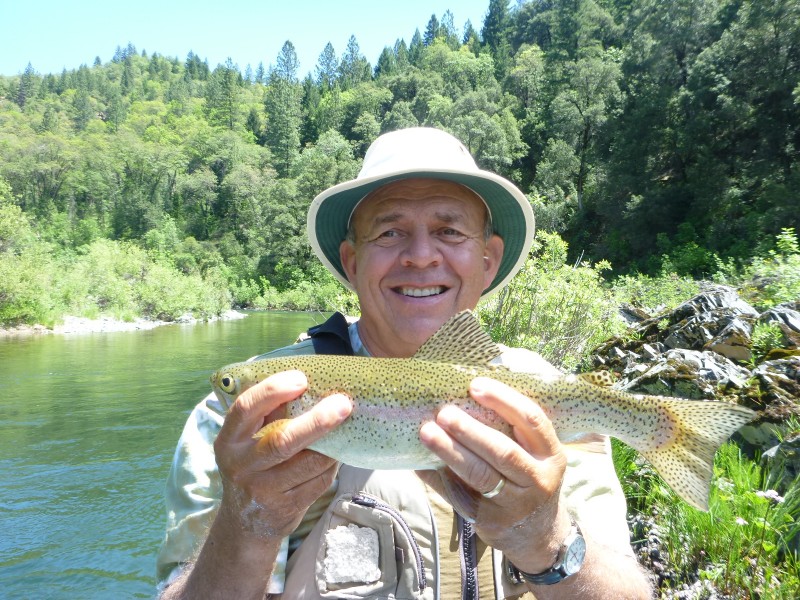 This is what makes

fly fishing in California

so fantastic, you can regularly catch trout like this.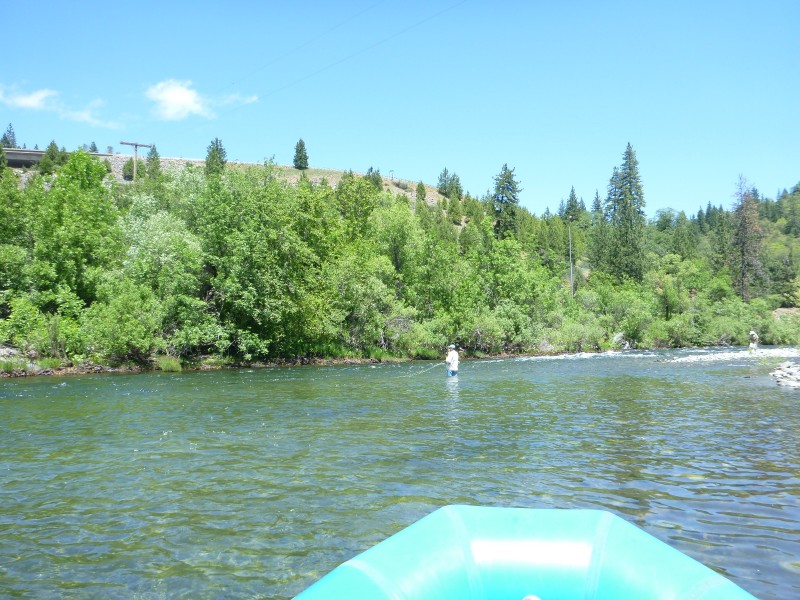 Then at lunch we have this terrific spot for you to wade in and catch some trout while I prepare your hot meal.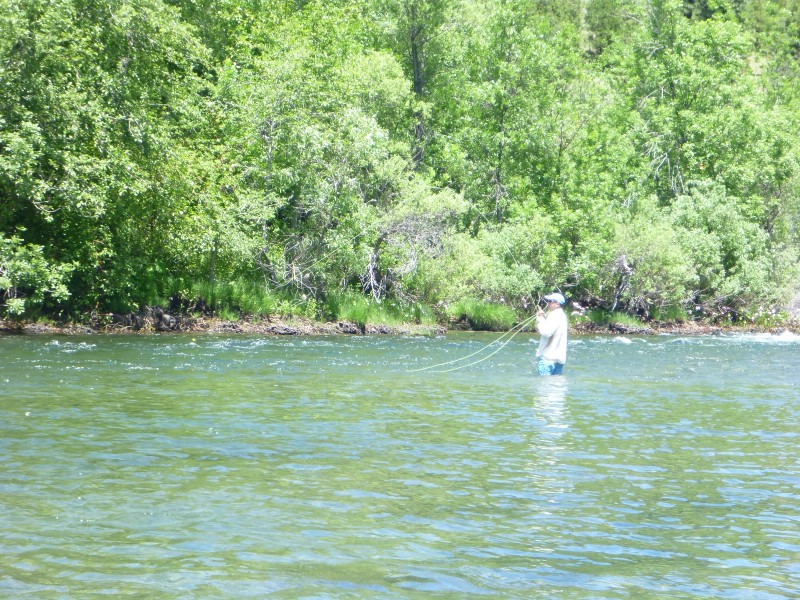 Fish on Henry!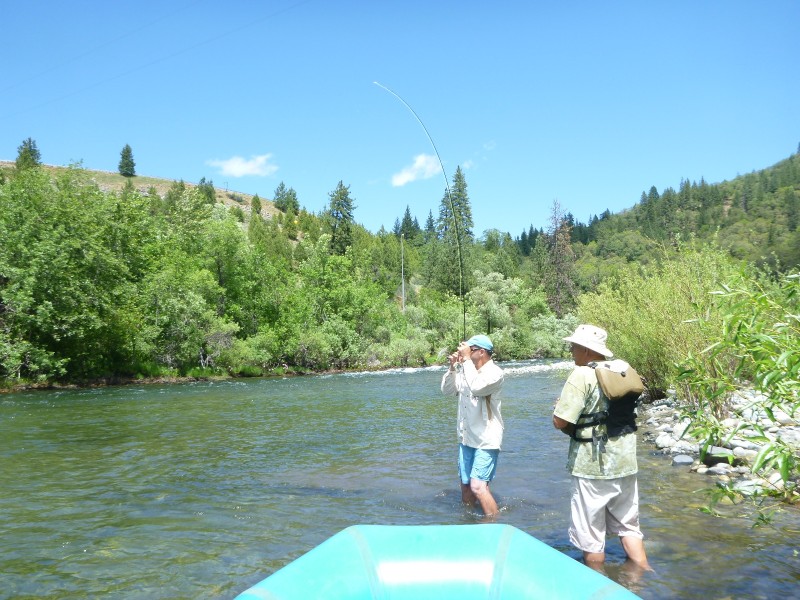 Another fine trip with a father and son, maybe you might be interested in a Father's Day Fly Fishing Gift Certificate, it the gift that keeps giving.
 *********************************************************************************************************
CHILE CHILE CHILE CHILE CHILE CHILE CHILE CHILE CHILE CHILE CHILE CHILE CHILE CHILE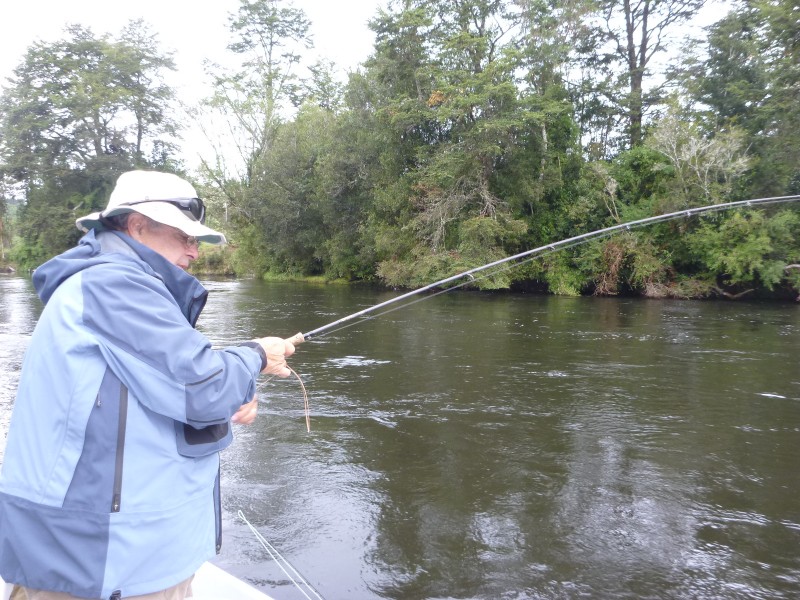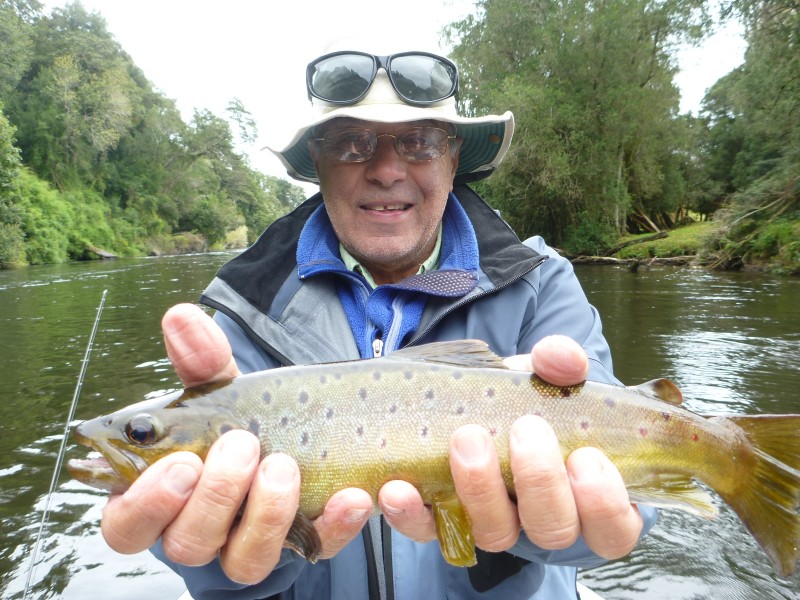 Nice colorful brown trout made us all smile that day.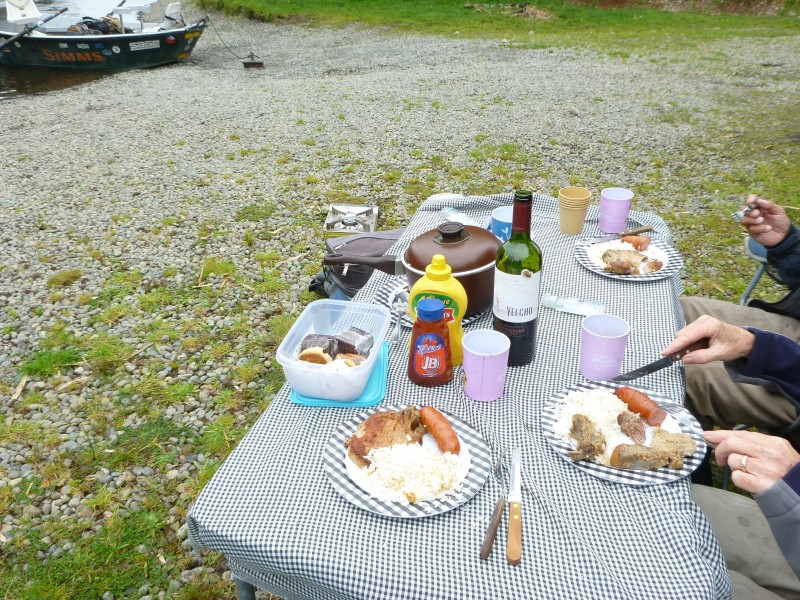 Lunch was great as always, Carola knows how to cook up something special on every outing.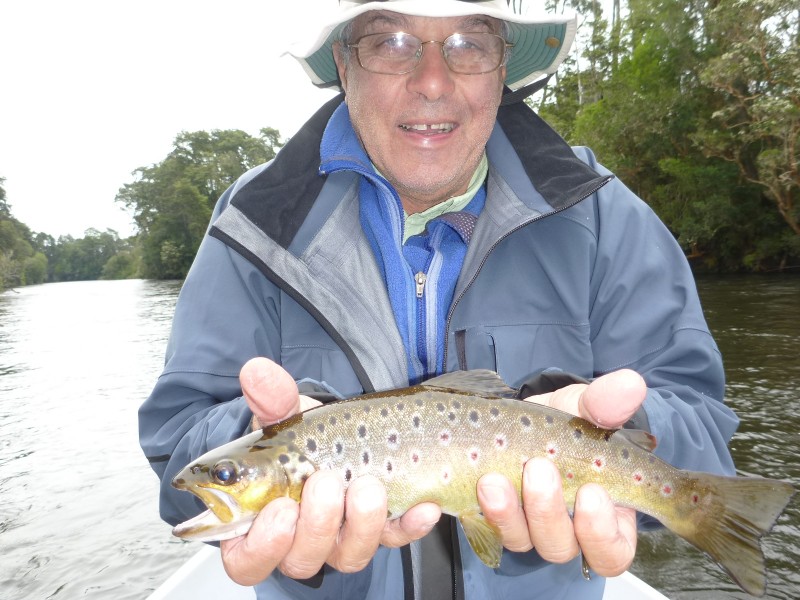 A lot of trout the same size that day, but when you're catching browns who's complaining….?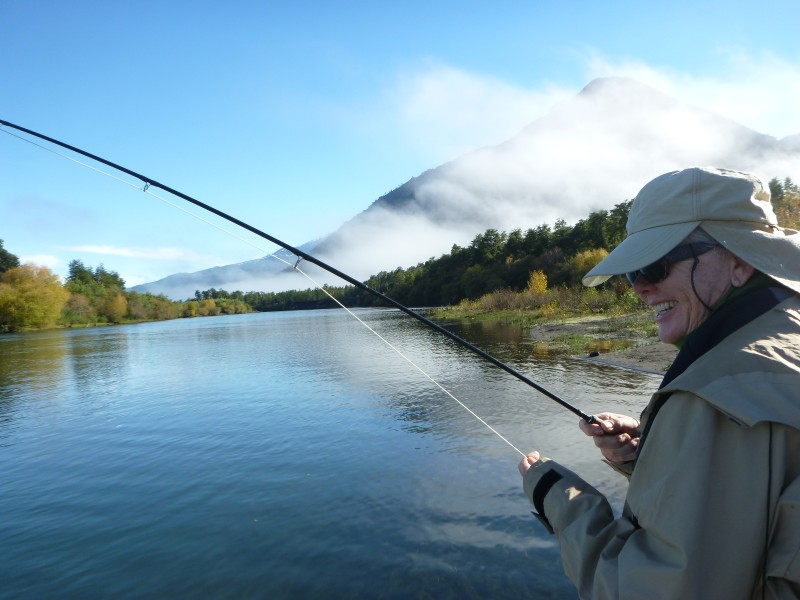 Brenda over on the Rio Petrohue was the first one to hook up on a nice trout, it was the first time she caught a fish on a fly rod.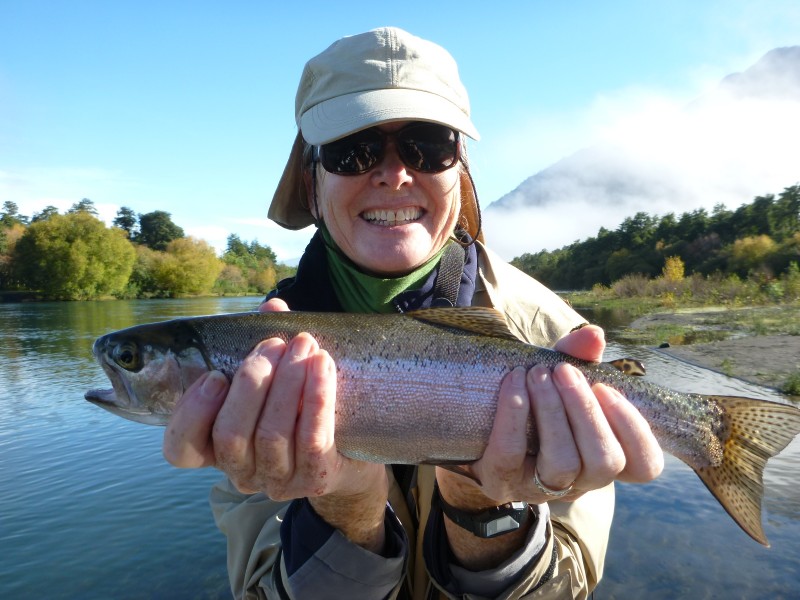 Way to go Brenda, see you and Bill back in Chile in Feb 2014, should be a great season can't wait.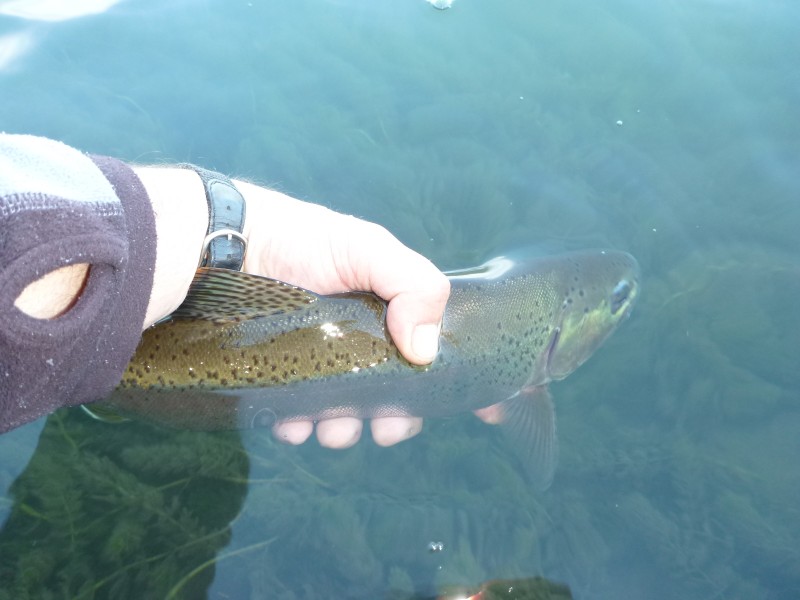 Swim free and multiple my friend!

The countryside of Chile is spectacular with snow capped peaks of basalt and granite and a breathtaking views in every direction.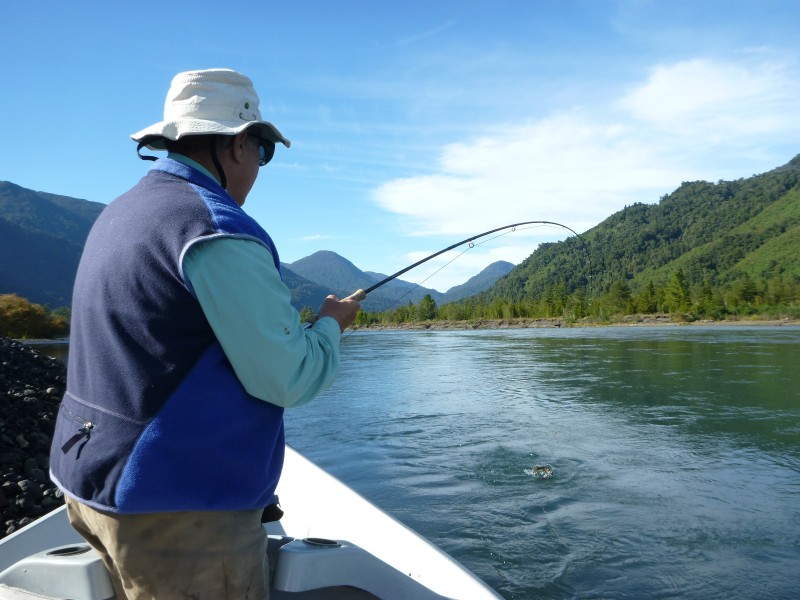 Then Bill hooked into a huge salmon that took his fly reel for a scream and broke his hook like nothing?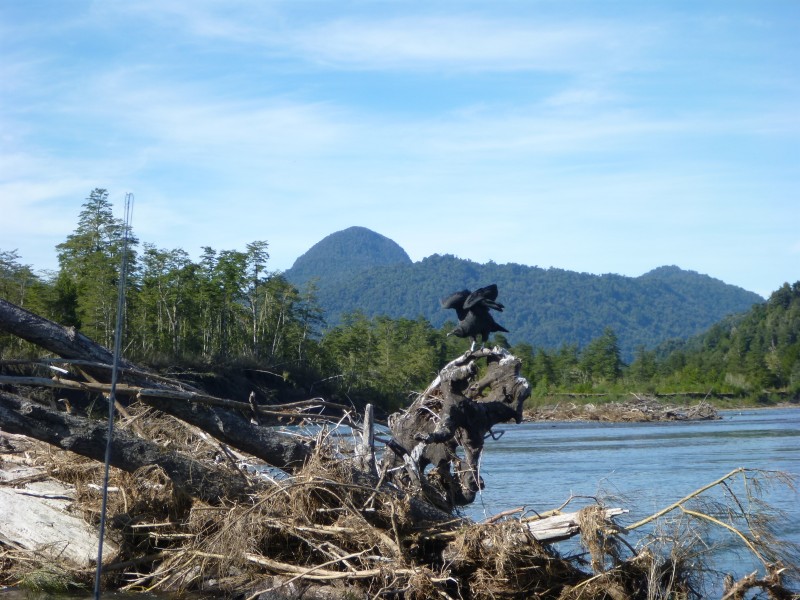 Vultures line the river banks as the salmon run produces opportunities for the fortune hunters of prey.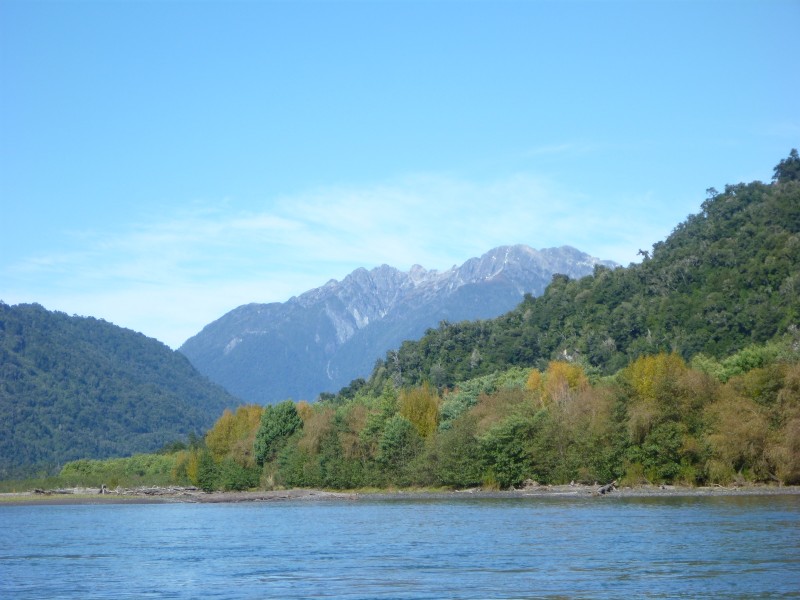 Just over those granite peaks is the fjords and the Pacific Ocean where the river drops into and many fish access the entry into the Rio Petrohue in the Reloncavi Drainage near Puerto Montt, Chile.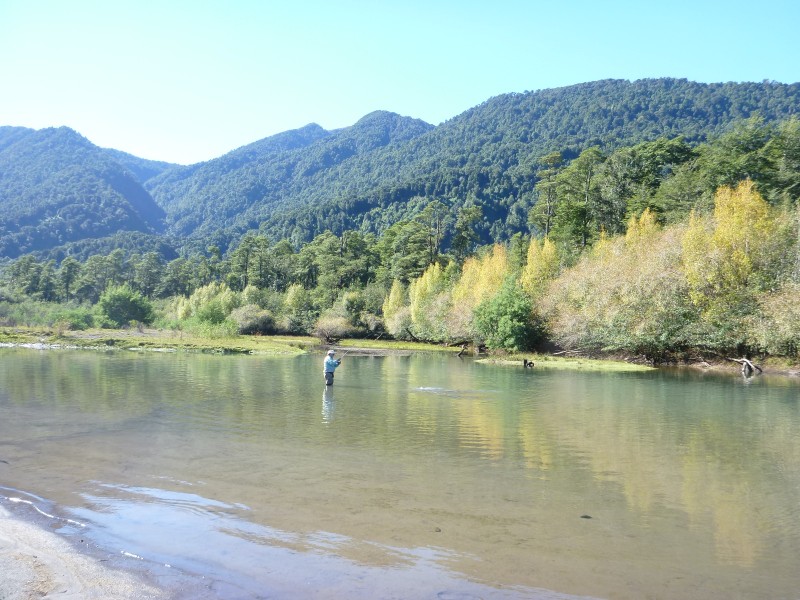 This is where my client Bill caught 8 trout in a row in this one spot at lunch.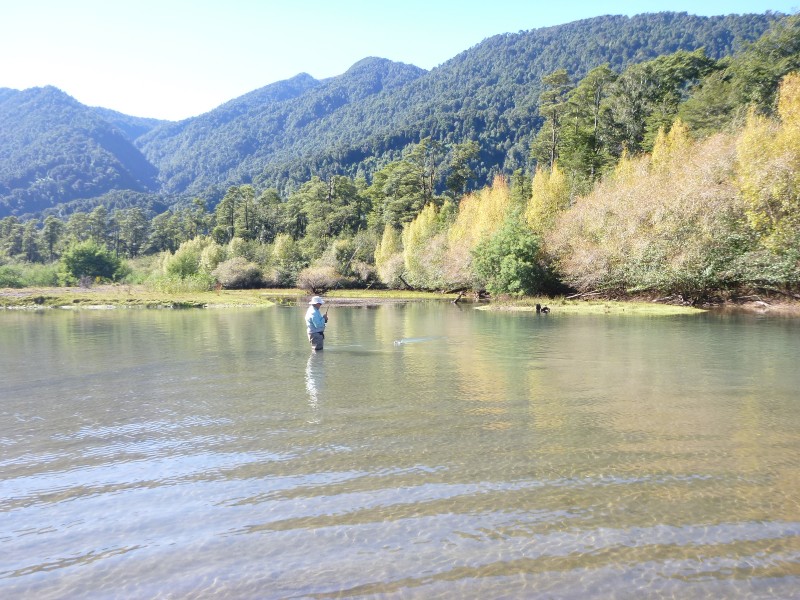 It was pretty slow day until we arrived here for a nice lunch then this hole treated us like honey.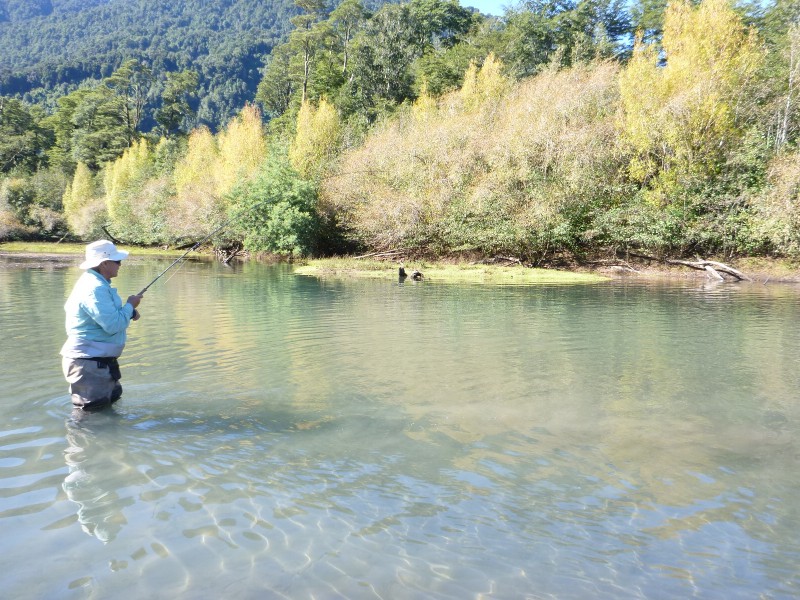 It was a great place to have a lot of action.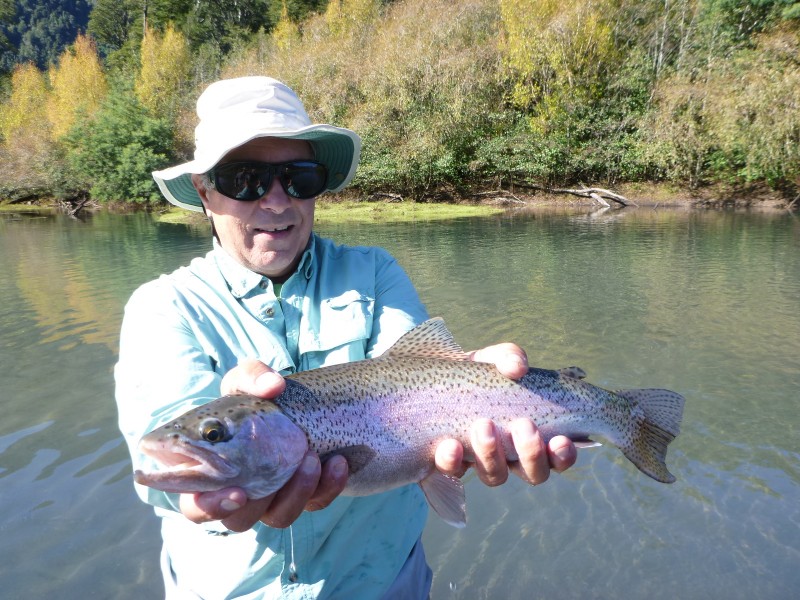 We caught a lot in this size range here as the bite was on. Thanks Bill & Brenda, see you next year in Chile or Belize You choose.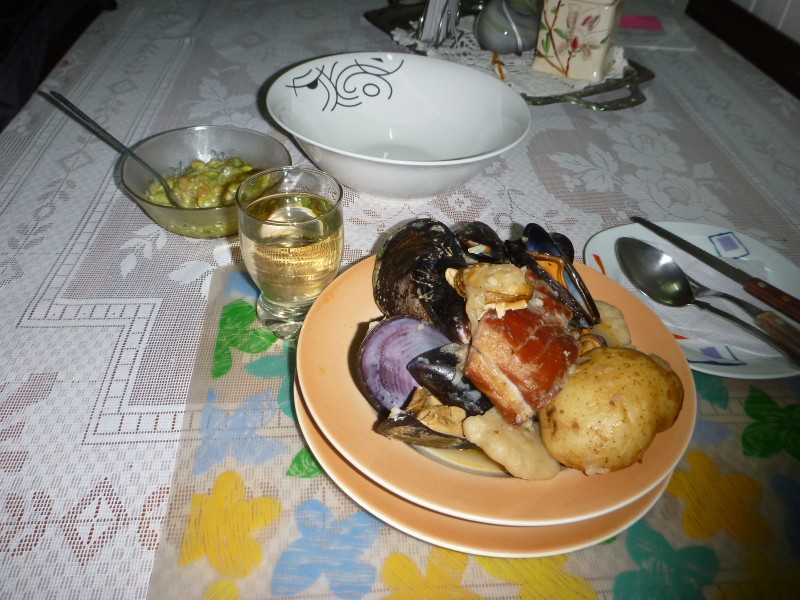 This is one of my favorite Chilean dishes it's called Curanto, it's made of fresh steamed oysters, with smoked ribss, sausage and potato pancakes in a wonderful broth. Carola's mom makes the best Chilean Curanto ever with ribs and sausages from Modinger's of Llanquihue.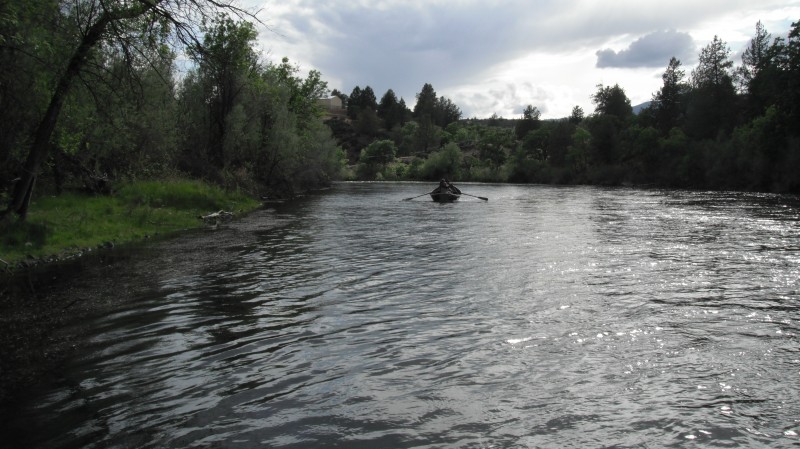 Klamath river a little on the slow side right now, we're waiting for warmer days, less wind and the stone fly hatch. This usually accurs after the first week of June throughout the month into the first week of July.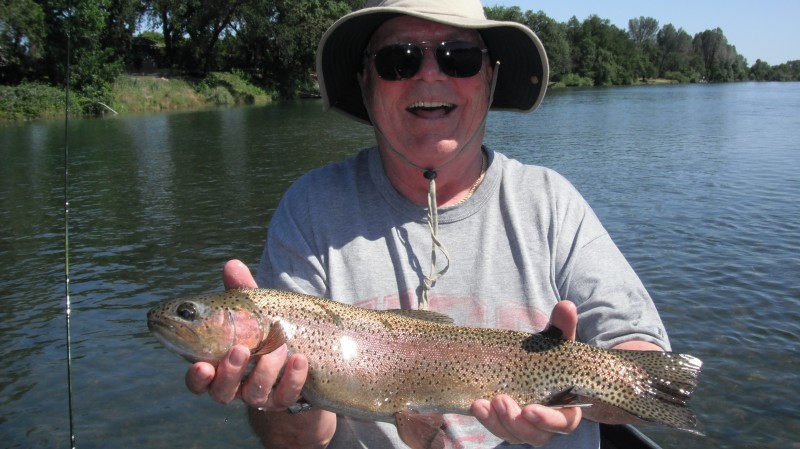 Lower Sacramento River Fly Fishing Report – 
The Caddis bite has started on the Lower Sac, and still PMDS and PEDS as well. Throwing # 14 Cinnamon Caddis puppas or Birds Nest is the best bet. Flows increased to 13,000 CFS Tue May 21st. Still finding Good numbers of fish and size.
The Trinity is going to be 1300 CFS by May 31st and ready to fish. With the flows in good shape so early in the year, its going to be Springer King Salmon heaven.
Forrest Brizendine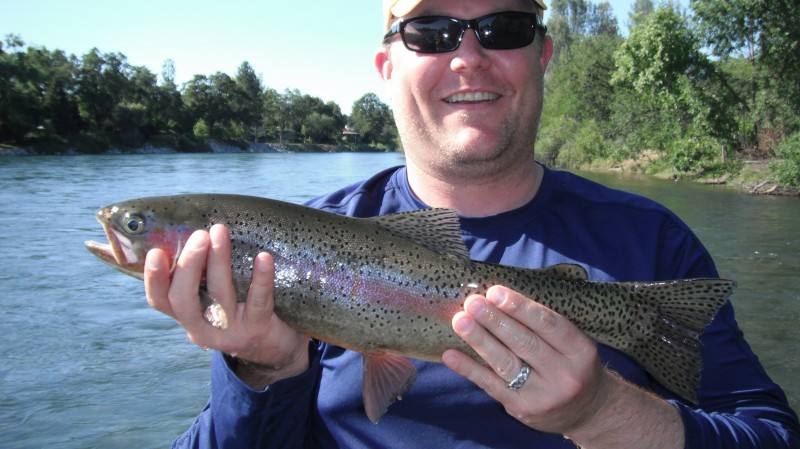 The Lower Sacramento is a great choice now before it gets too hot in the mid summer heat. Give

Team Trout

a call!
Thanks for watching our adventures! Jack & Carola Trout & Team Trout Guides International