Middle Fork Feather River Fly Fishing
Fly Fishing Guides Graeagle, Portola, Quincy, Chester, Greenville, Sierra City, Downieville, Camptonville, California.
Fly Fish Our Private Access Stretch Of The Middle Fork Feather River Off USFS Forest Lands. We Have A Private Road That Takes You Right To Our Property On The Middle Fork Of The Feather River Between The Towns Of Quincy & Portola.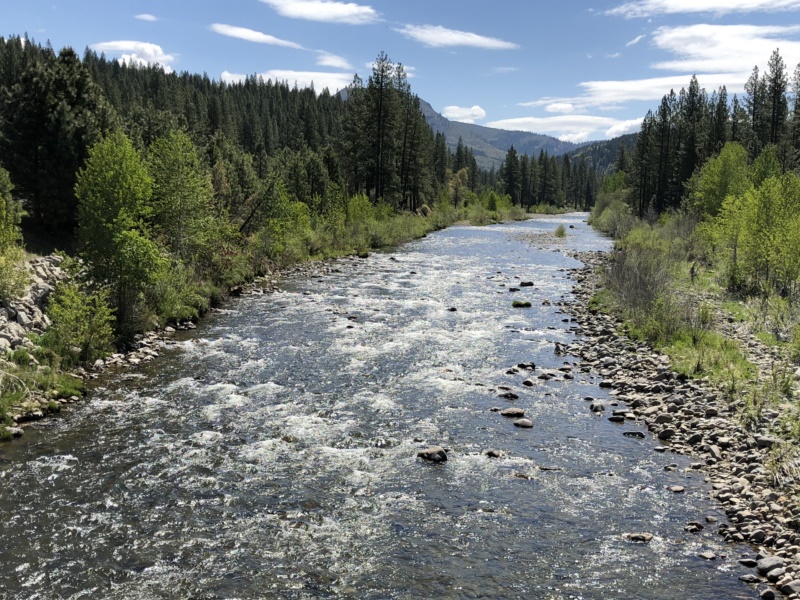 MF Feather River Between Portola & Quincy, California Offer Some Of The Best Fly Fishing In The State.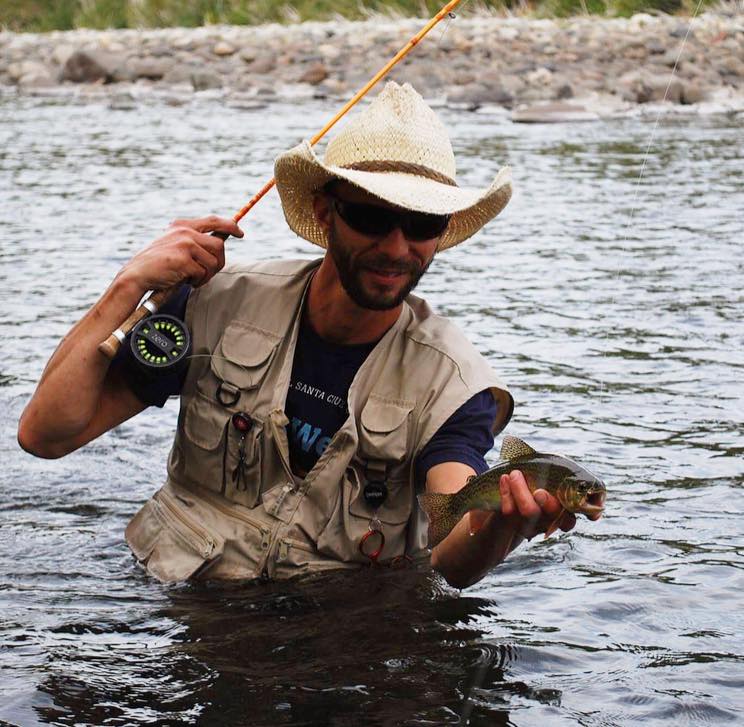 Let Zachariah Stone Silver & Jack Trout Guide You On The Best Location The MF Feather Has To Offer. We are ex
perts in fly fishing the Middle Fork Feather in our special location off our private lands. Licensed California Fly Fishing Guides By The Department Of Fish & Wildlife.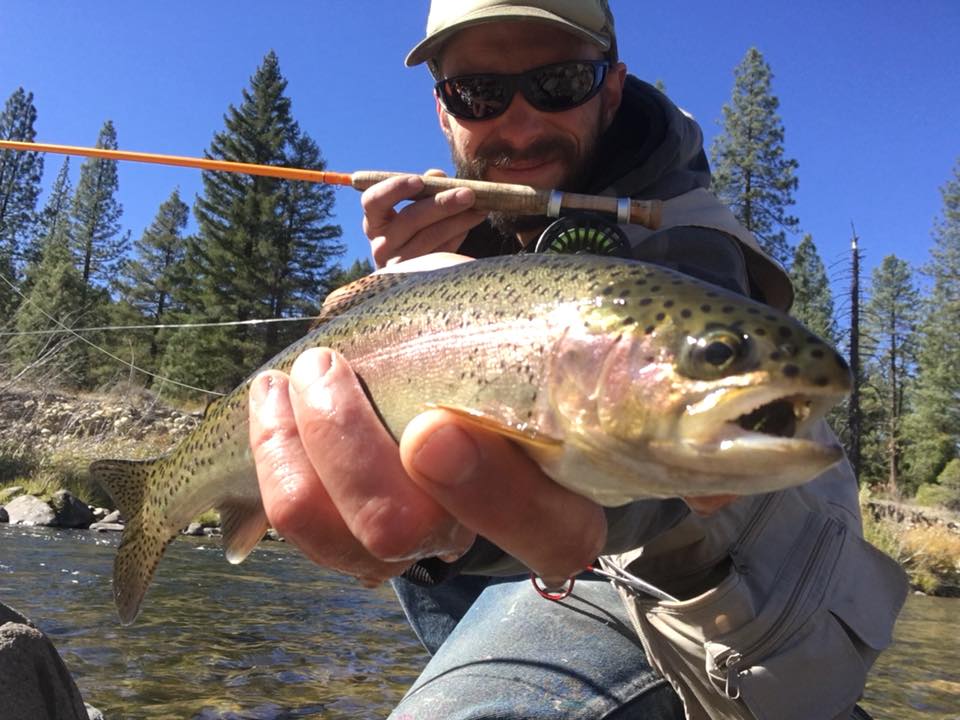 Zach Silver In His Element, Not Far From From Fishing And His Dogs By His House, He Literally Steps Off The  Banks Of is Property Into The Middle Fork Feather River & Why Not Share It With All Of You. Priceless!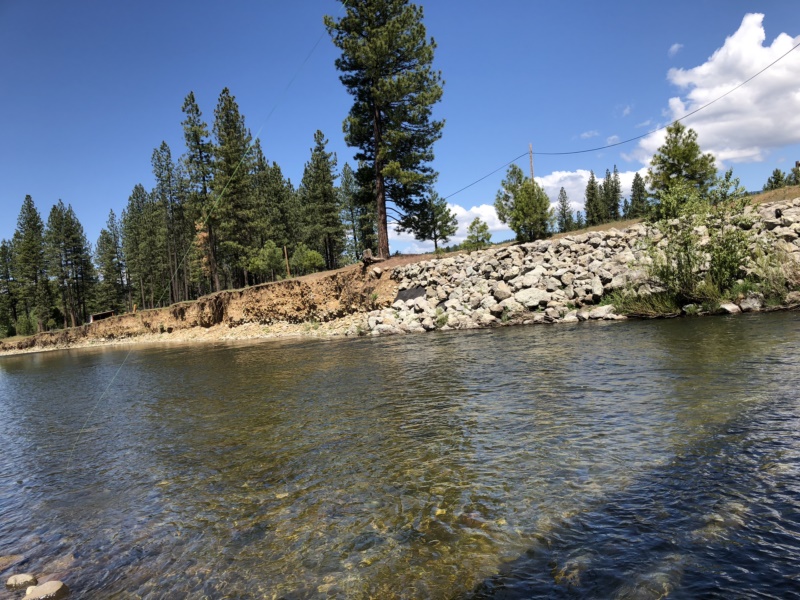 Always Larger Toads Lurking Near The Bank.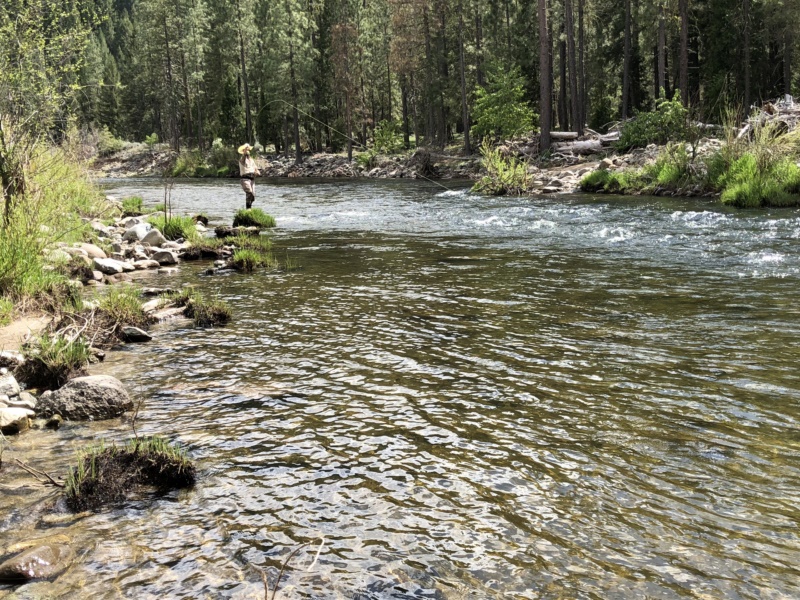 We Can Fish You From The Last Saturday In April Until November 15th.
Jack Trout & Beef Dog Out Enjoying Our Private Stretch Of Middle Fork Feather River.
Jack Trout Was Born And a Graduate Of Portola High School, Grew Up Fishing On The Feather River.
"I Love The Feather River Country More Than Anywhere, This Is My Home."  Jack Trout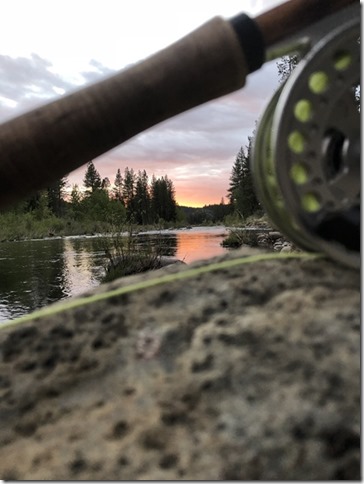 One Of My Favorite Places On Earth Is Spent On Fiery Evenings Where You Can Catch Trout On The Feather Until The Of Dark Light, Like A Fire Fly.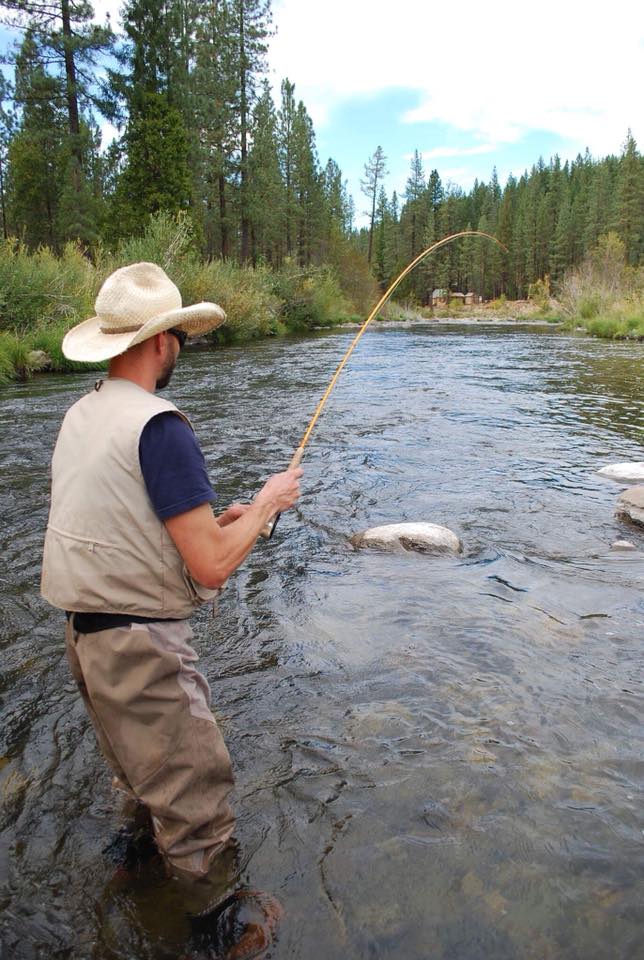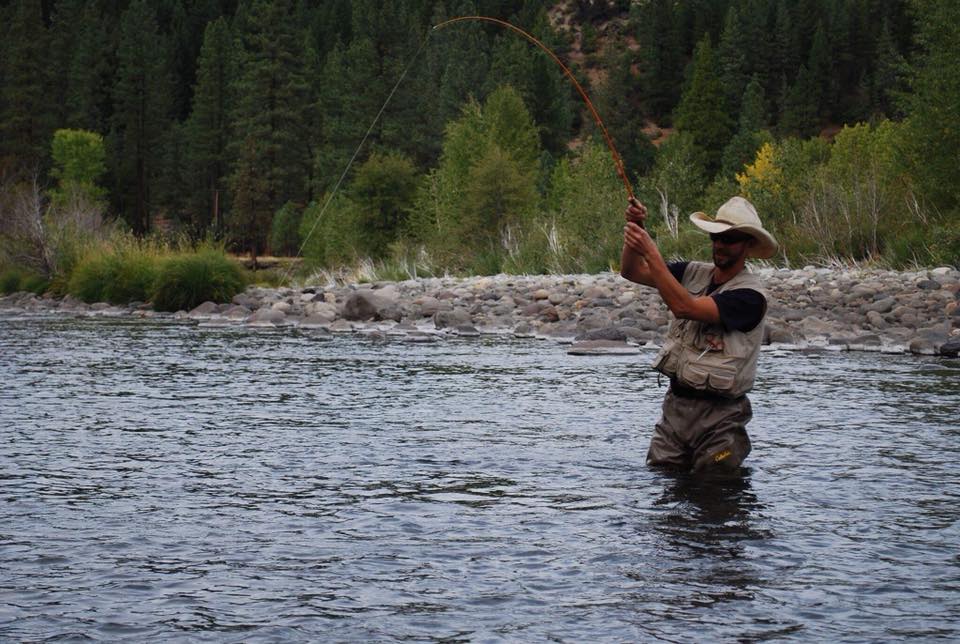 Full Day Guide Trip – $375 Includes All Gear + Flies & Lunch For Two Anglers 
Half Day – $275 All Gear Included & Flies For Two Anglers (No Lunch)
Middle Fork Feather River, North Fork Yuba River, Packer Lake, Sardine Lake.
All Lunches Provided By The Graeagle Store Since 1918, The Areas Finest Meats.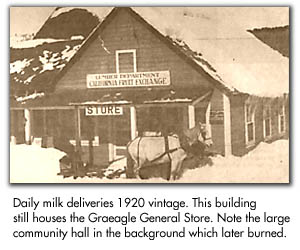 ASK US ABOUT FISHING TWO RIVERS IN ONE DAY!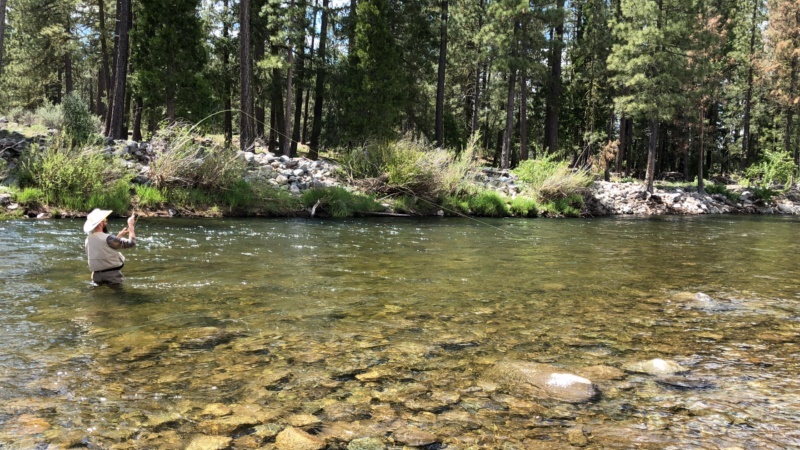 LOWEST AREA PRICES – DON'T PAY MORVIS FOR YOUR FLY FISHING TRIP, ALL GEAR INCLUDED & STREAM LUNCH

Graeagle Fishing Trip
Reviewed August 28, 2016
Zachariah Stone Silver was an amazing fly fishing guide down in Graeagle!!! We met at the general store and then headed out for four hours of FUN and EXCITEMENT. My husband caught his first trout on a fly! Z did a super job making sure all people were having a good time and learning. He is very knowledgeable and funny. Wonderful experience…..book with this company if you are looking for an awesome experience!!
Lodging Fly Fishing Eastern Plumas County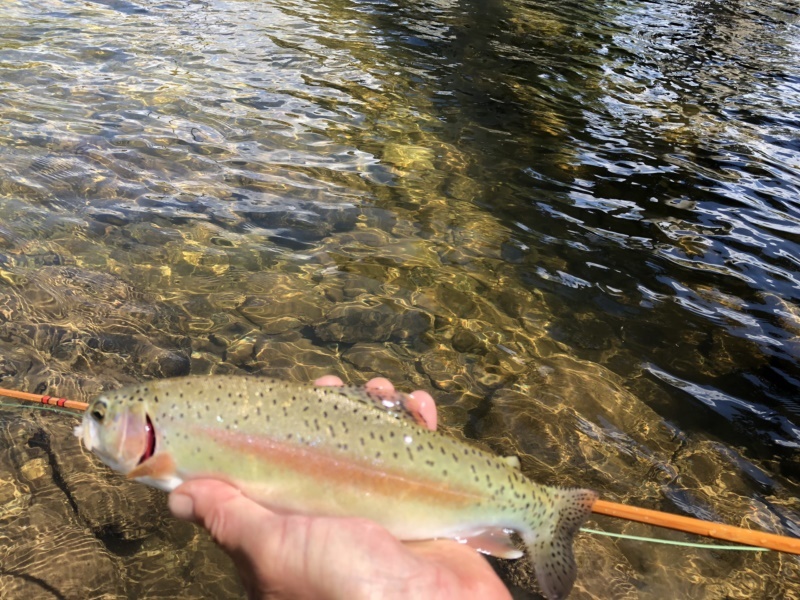 The Native Trout In The Feather River Are Some Of The Strongest & Beautiful Trout For Their Size. 
We Suggest Using  – 3, 4 or 5 weight rod when fly fishing the Feather River.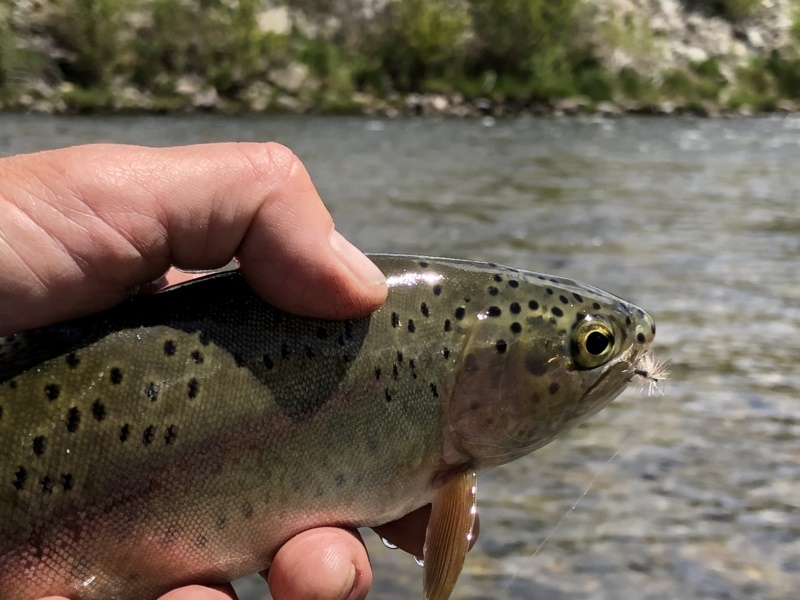 Wonderful dry fly fishing the entire season, we look forward to showing you how.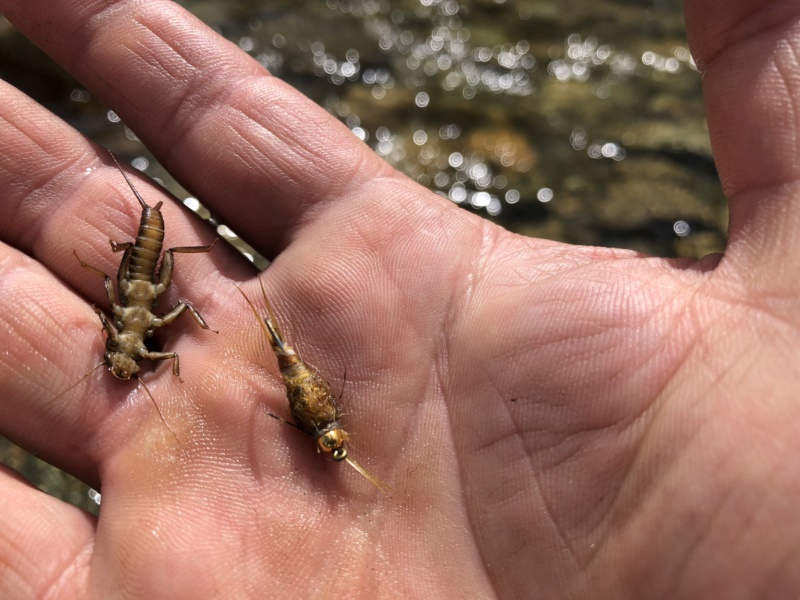 We catch trout on both dries, nymphs and streamers, we look forward to your adventures.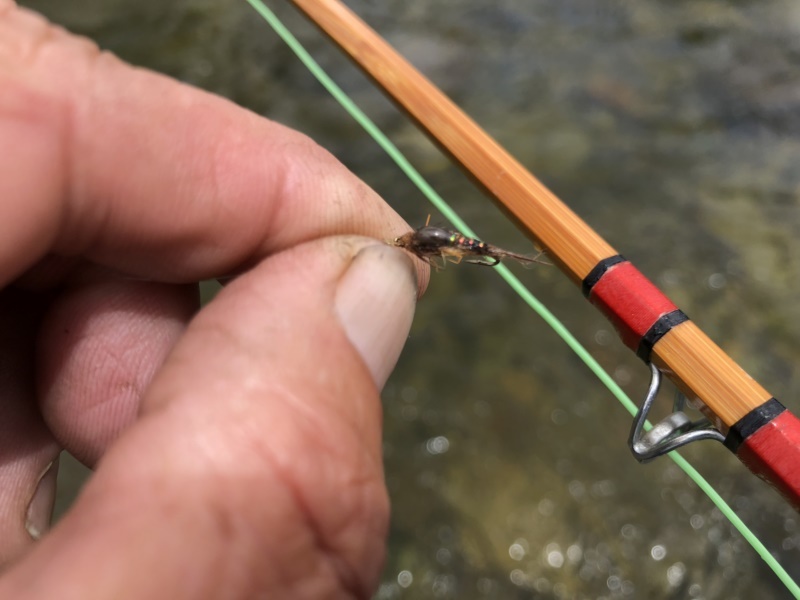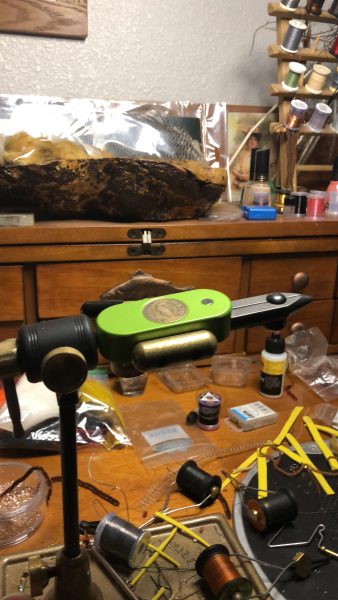 Ask Us About Our Free Summer Fly Tying Classes And Casting Seminars Out Of Graeagle, California.
We have some of the best accessible water in all of the Middle Fork Feather River, we want to share it with you.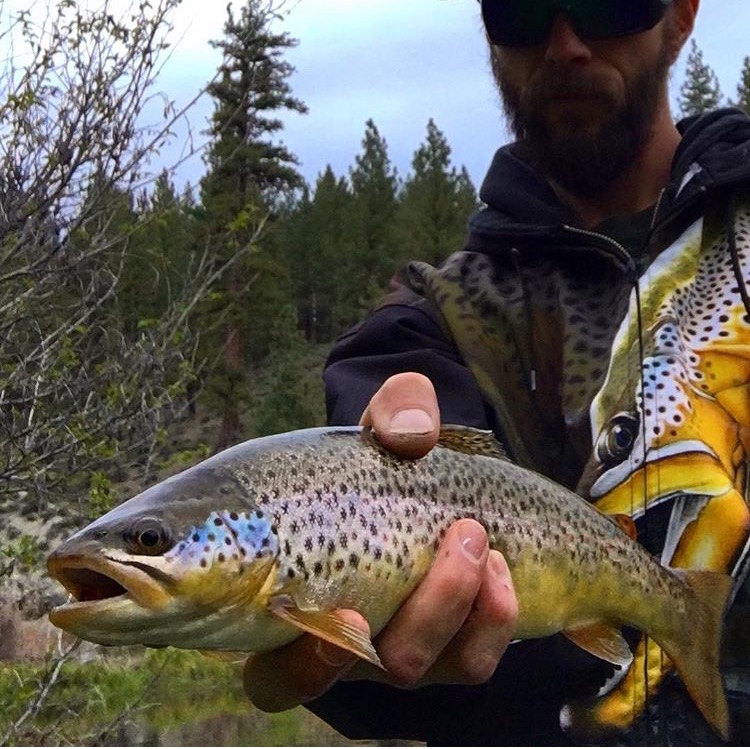 We Catch Nice Brown Trout Too, But Be Sure To Wear Your Brown Trout Jacket For Good Luck.
Fish On! See You Soon, Jack Trout & Zachariah Stone Silver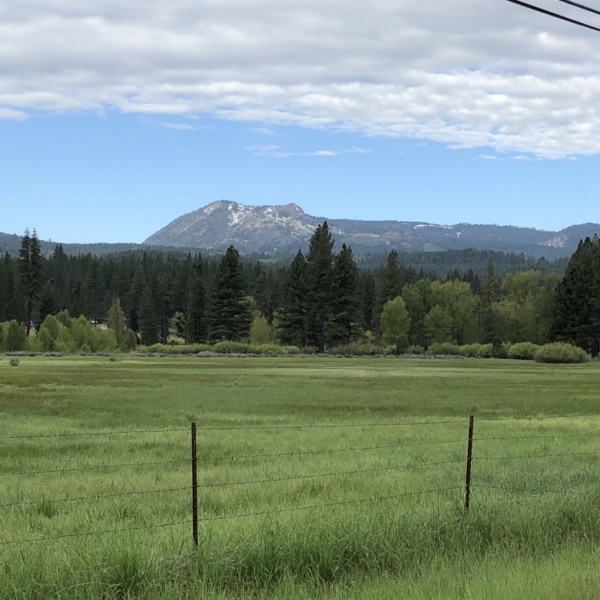 Chief Graeagle Resting On His Bed Of Gold, On Eureka Peak Near Johnsville, California.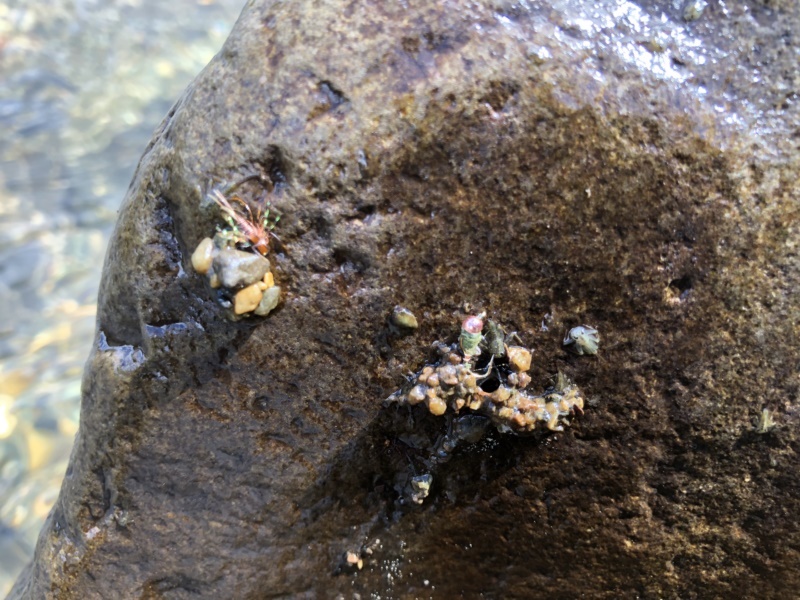 WE DO NOT GUIDE ON UNITED STATES FOREST SERVICE LANDS, BUT ACCESS THE MIDDLE FORK FEATHER RIVER FROM OUR LANDS & OTHER LOCAL'S PRIVATE LANDS.
Lower Feather River Steelhead
The Lower Feather River begins after the Oroville Dam, the tallest dam in the United States. Unfortunately this has halted steelhead and salmon form making it up the Feather River Canyon and to re-propagate near the natural springs where these fish used to annually visit for millions of years. The fish have somewhat adjusted, even though populations have drastically declined in the last 160 years since the gold rush period as 18 of the historic 21 annual salmon runs are now extinct. Of course the declines of salmon are solely affected because of the dam and its impact these days combined with the drought years. Aside from the struggle these fish have faced over the last 160 years, the Feather still manages to see good returns of wild steelhead at times.
We fish for steelhead in the Lower Feather River and we have found that Fall/Winter is when most of the larger fish can be caught. The river can see higher pressure during these months, however Spring and Summer can be very productive and under the radar of many anglers. The river can be pretty void of crowds during this time, with the nearby Yuba and Sac turning on, and the trout season opener. Fisherman will also head to the more well-known steelhead fisheries such as the Trinity and Upper Klamath. Located ten minutes from the river our guide is extremely knowledgeable about the fishery and he knows where to go depending on where the schools of fish are staging. Let us be your guide to some wonderful steelhead fly fishing on the Lower Feather River when the steelhead return on their annual migration up the Sacramento and it's tributaries like the Feather River.
LIST OF FLIES FOR FLY FISHING LOWER FEATHER RIVER STEELHEAD
DRY FLY
Elk Hair Caddis – 14 & 16

CDC Caddis 14 & 16

Stimulator 8-12

Parachute Adams 16

Adams 16

Para Extended Body-PMD 16

Blue Wing Olive 18
STREAMERS
Bead Bugger (Black, Brown, Olive) 10 & 8

Mohair Leech (Black, Brown, Olive) 10 & 8

BH Hailbop Leech (Black, Brown, Olive, Wine) 10

Pale Alevin 12 & 6

Central Valley Alevin 12 & 6

Soft Hackles (Tan, Brown, Olive) 14 & 16)

General Baitfish Imitations Grey/White 8 & 10
NYMPHING
Fox Pupah Olive & Tan 14

Z Wing Caddis Green 14

Hotwire Caddis Olive & Tan 14

G6 Caddis Pupa Olive & Tan 14

Bird Nest Olive & Hares Ear 16 & 18

Micro Mayfly 16 & 14

Lances X-May Olive 16

Hogan's Little Amigo Brown & Olive 16

Pheasant Tail 14 & 16

WD-40 (Olive, Black, Grey, Brown) 16 & 18

Glo Bug (Pink, Peach, & Orange) 6

Microspawn (Pink, Cheese, Cheese/Flame, Steelhead Orange)

Pettis's Unreal Egg (Dark Roe, Light Roe, Bright Orange, Peachy King, Pink Champagne) 12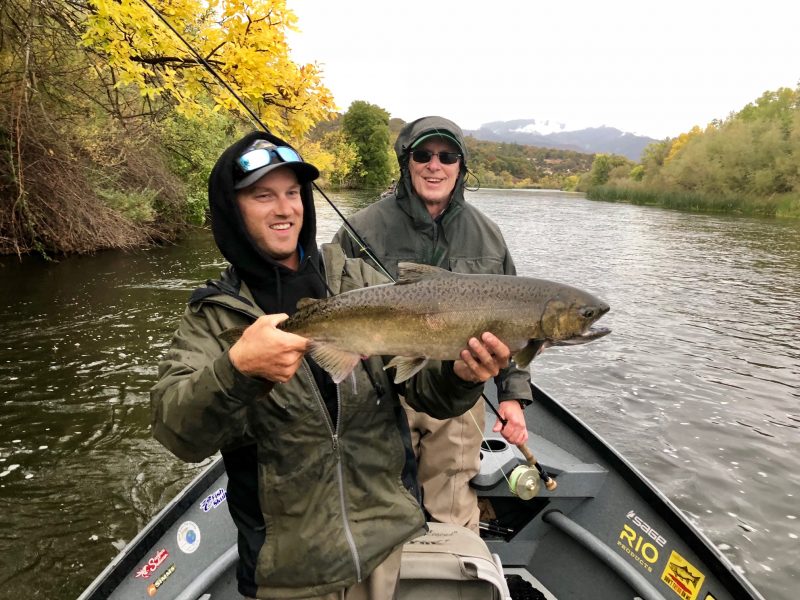 The steelhead and salmon are in on all sections of the Klamath River and we guide it all!!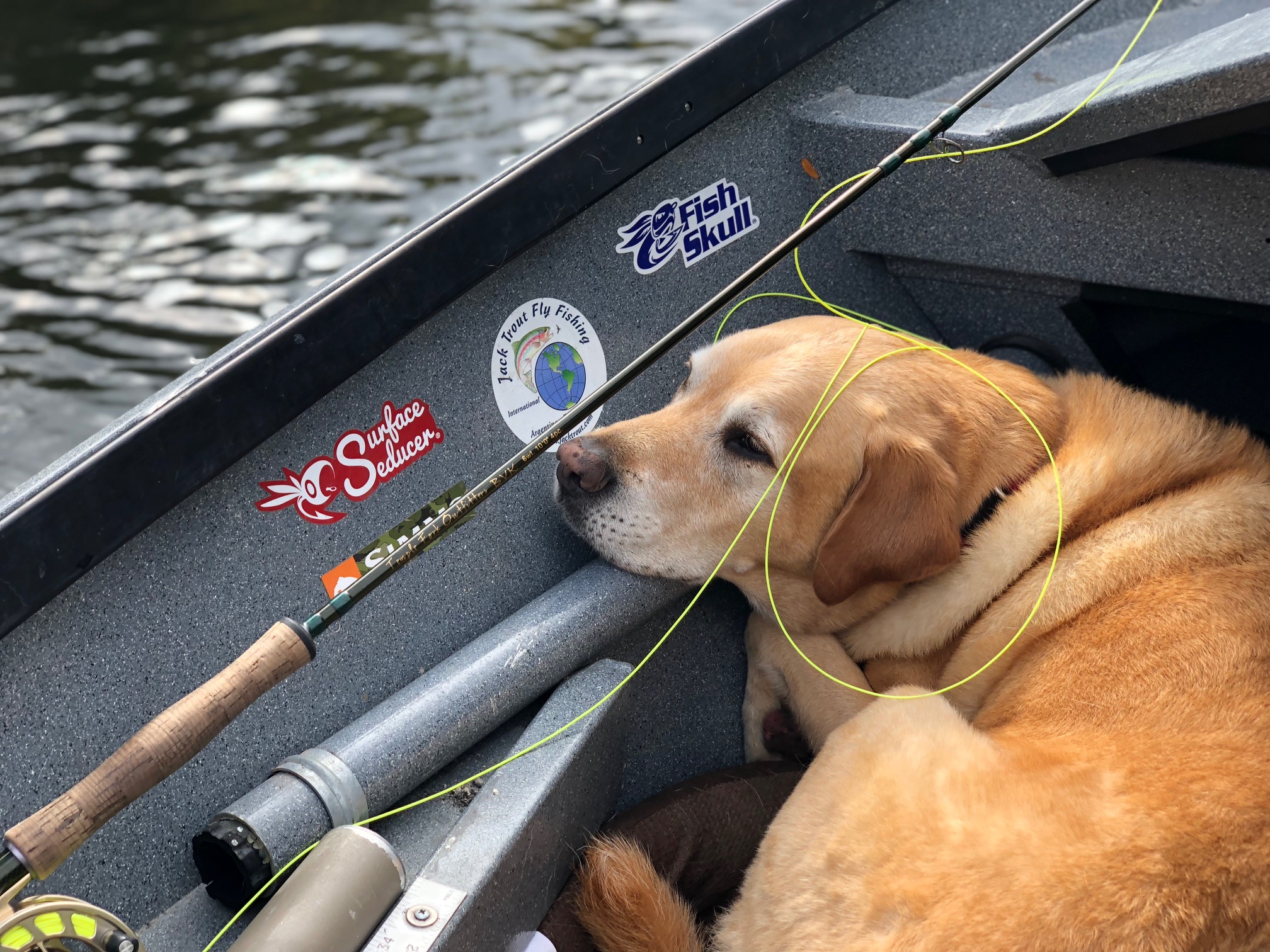 People are really excited about this, while others act like they have been there before and take a relaxed approach.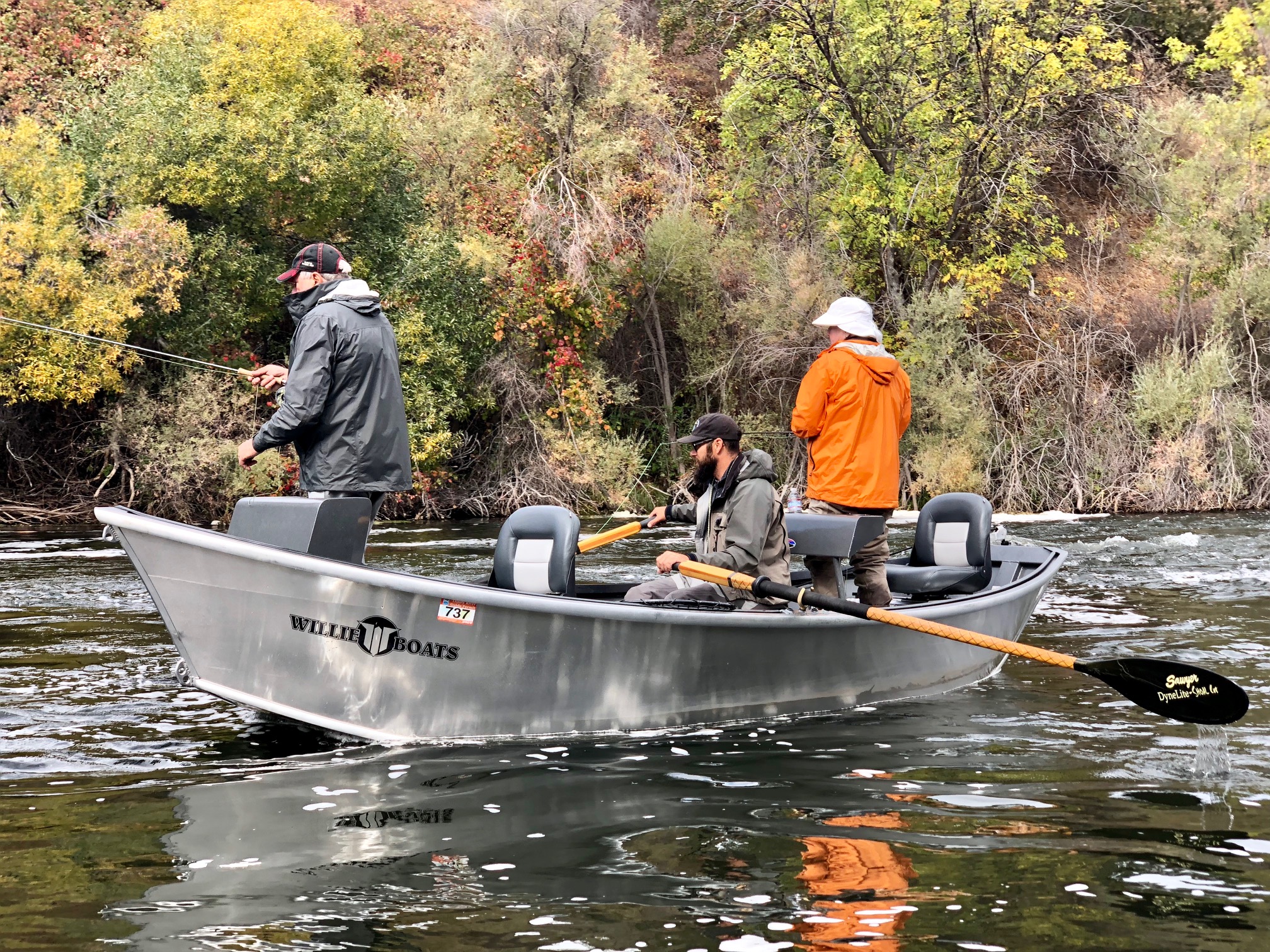 It's superstar guides that make it happen like Travis Ortiz in his new boat, make of pure plutonium.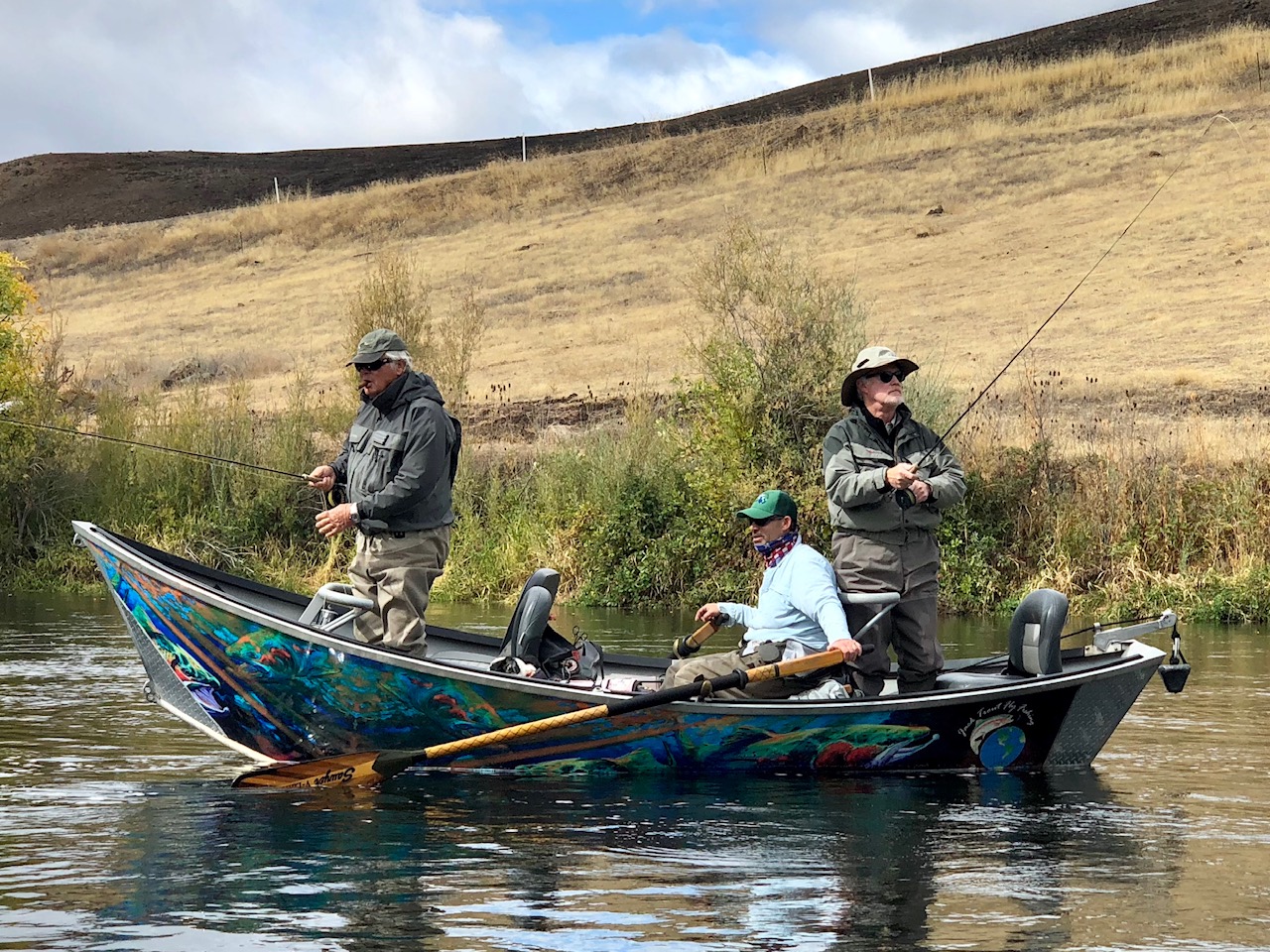 Then there's me out there trying to solve mysteries without any clues in my 24th season.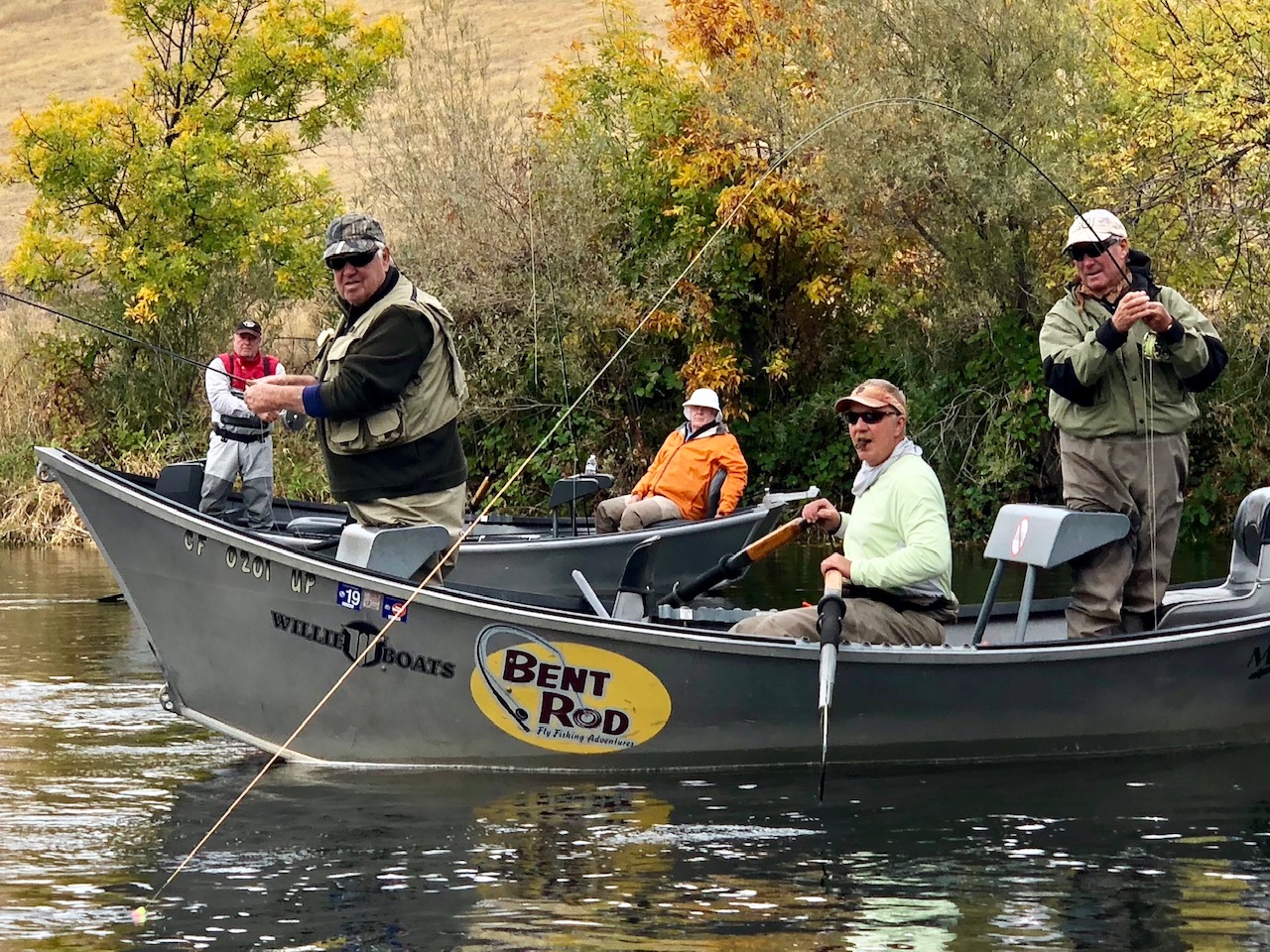 Chris Gearhart is a fun guide to be out on a company trip, we were guiding friends and family from Clover Milk Farms, you know, the ones with the "Happy Cows."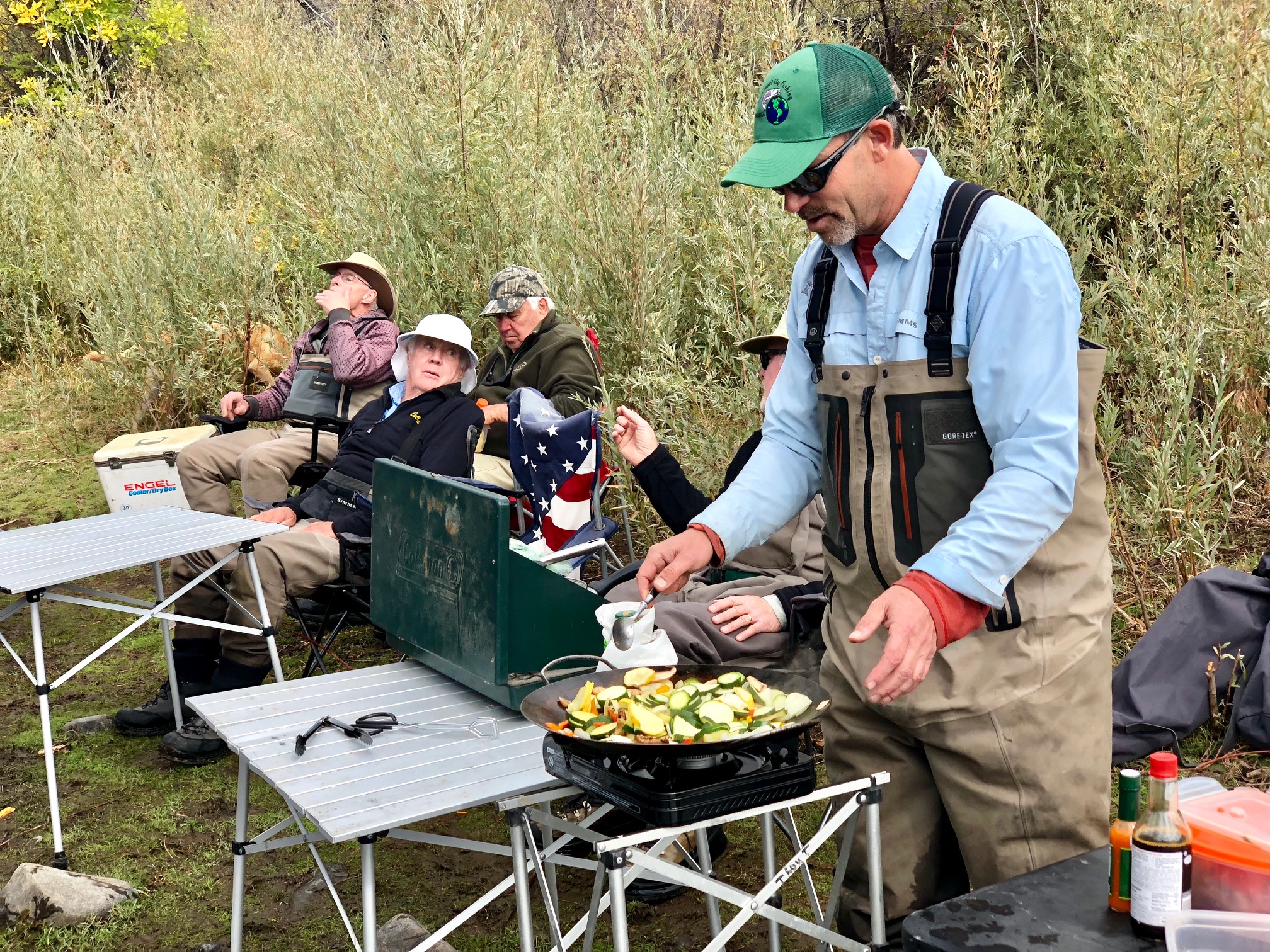 So on this company or family outings, I like to cook up some sirloin steaks Chilean/Argentine style.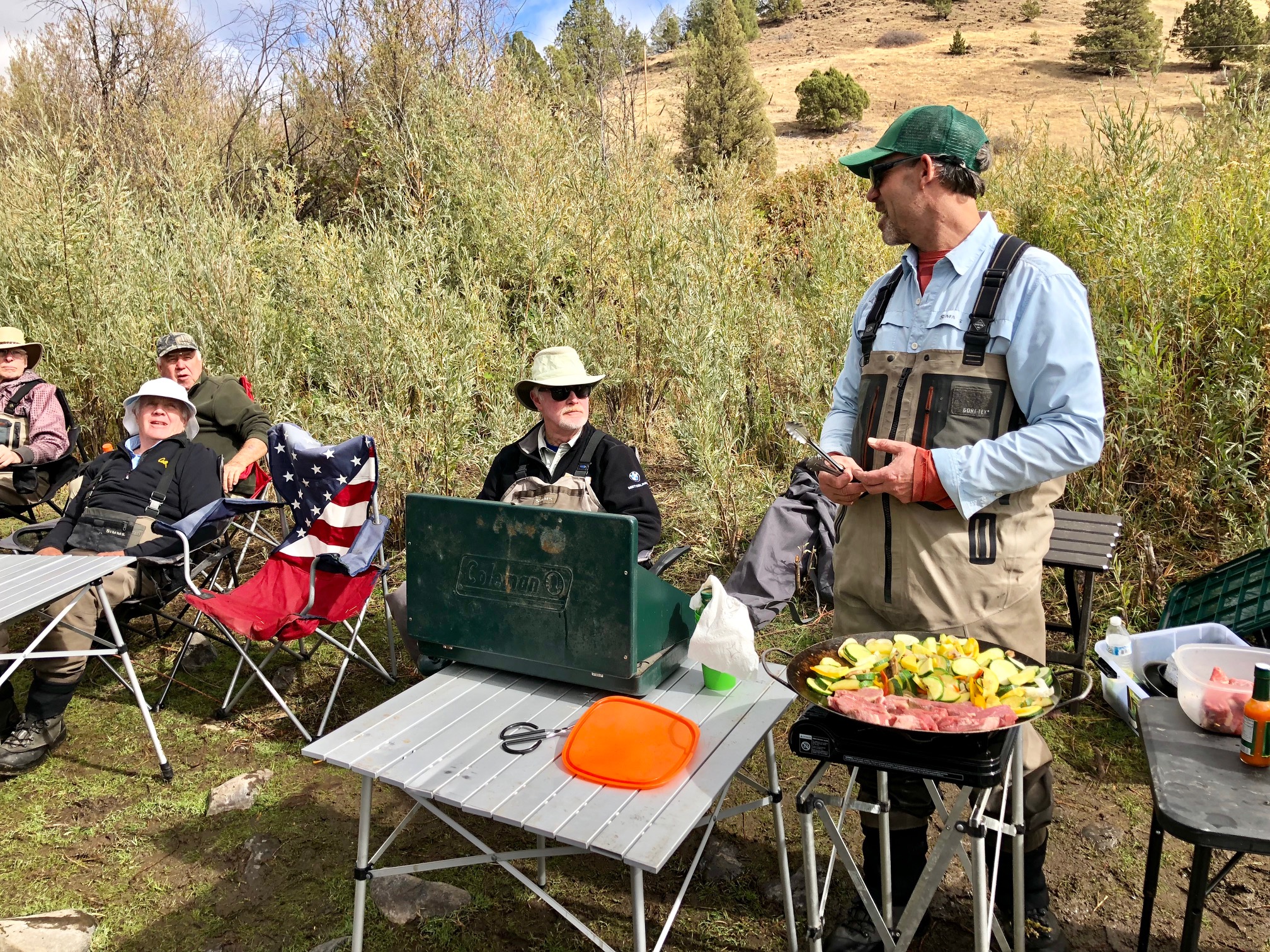 Everyone was so happy catching adult steelhead, a memorable streamside lunch was also in order.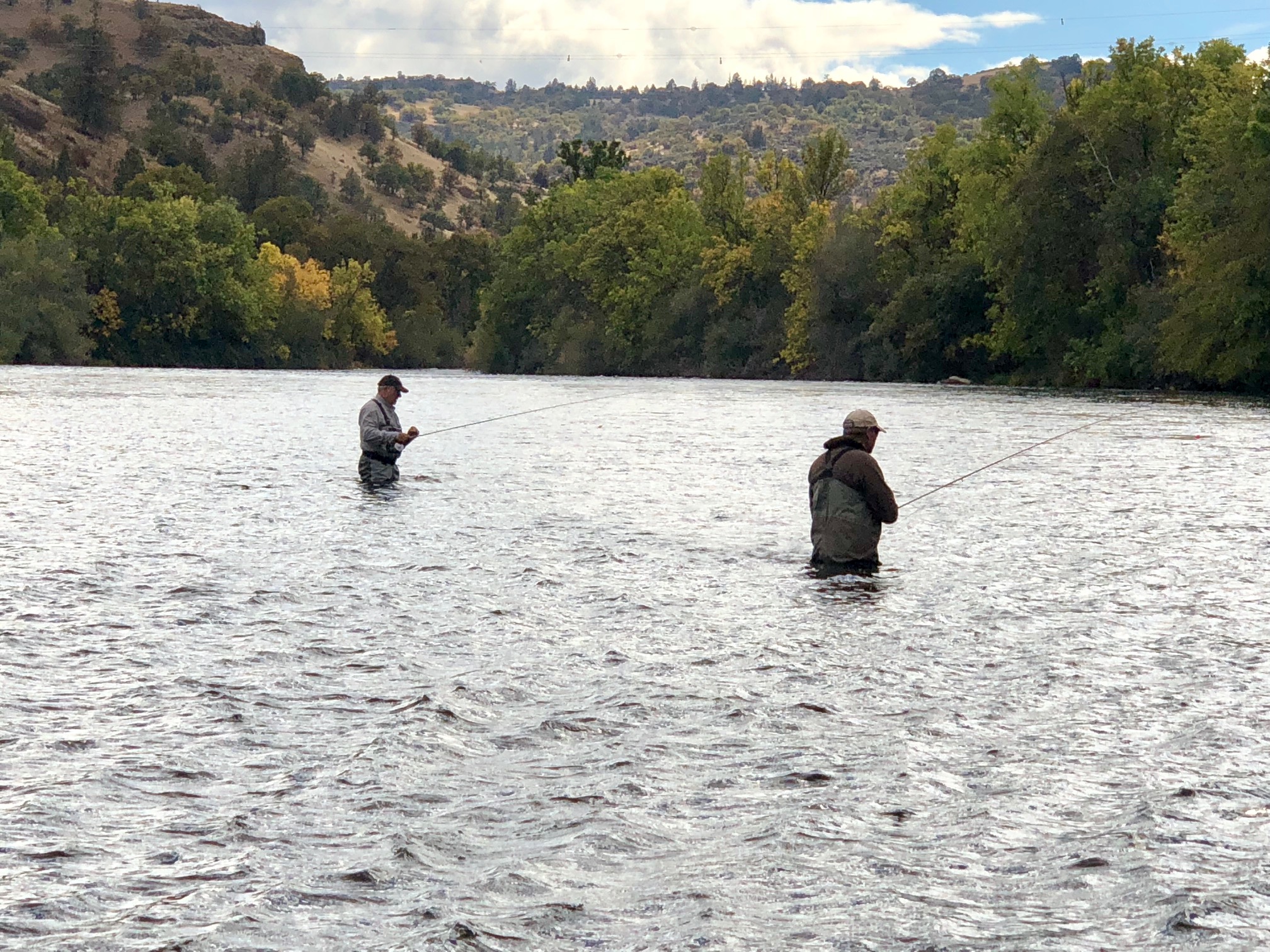 You can go out and catch a few more while we get everything ready onshore and yes they did, it's that kind of great steelhead season folks.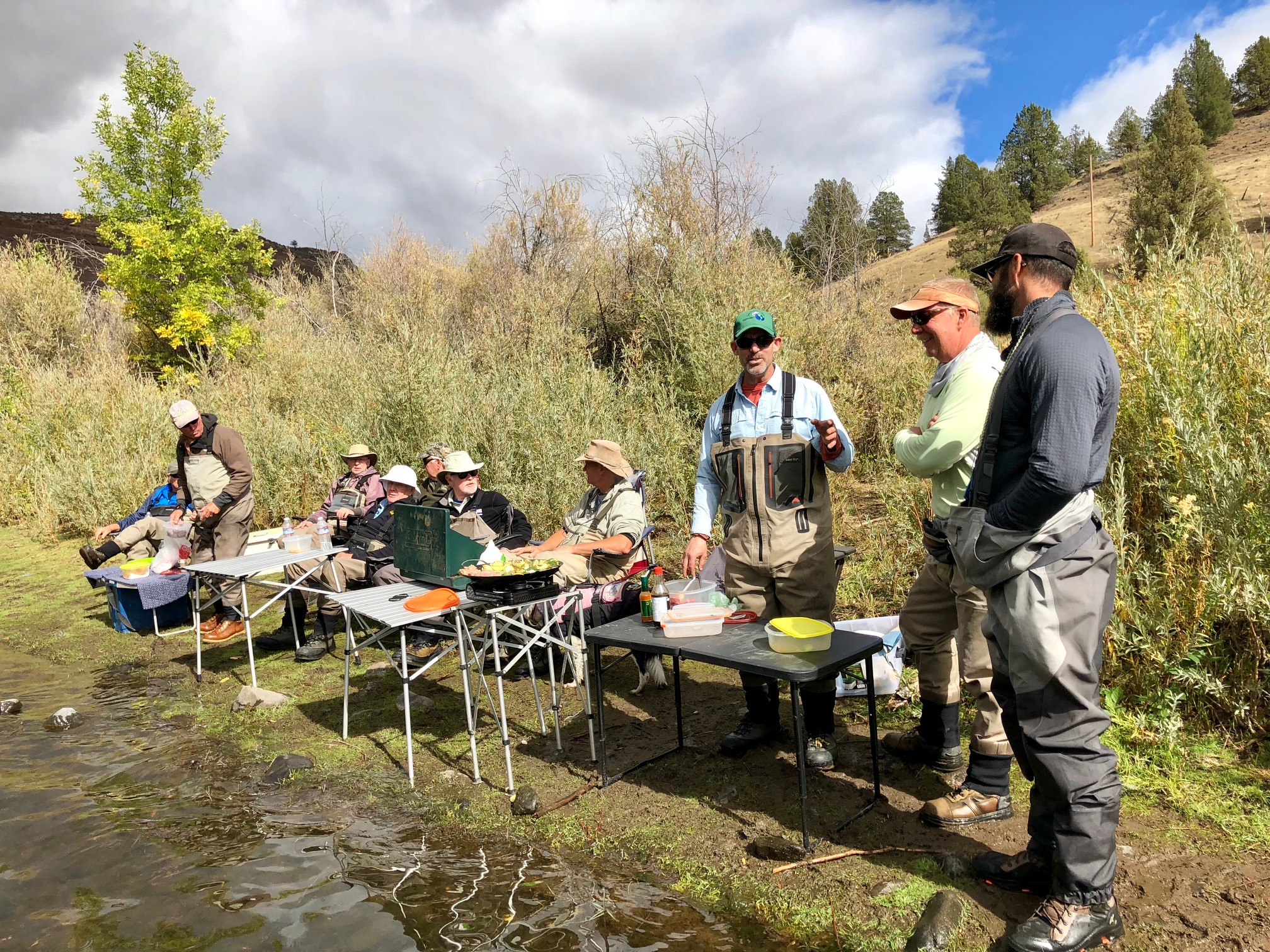 Typical, my B.S is flying, and the guides as well as the clients know better, but it adds to a festive atmosphere as hunger gnawes at your gibblets.   IT'S TIMES LIKE THESE YOU LEARN TO LIVE AGAIN.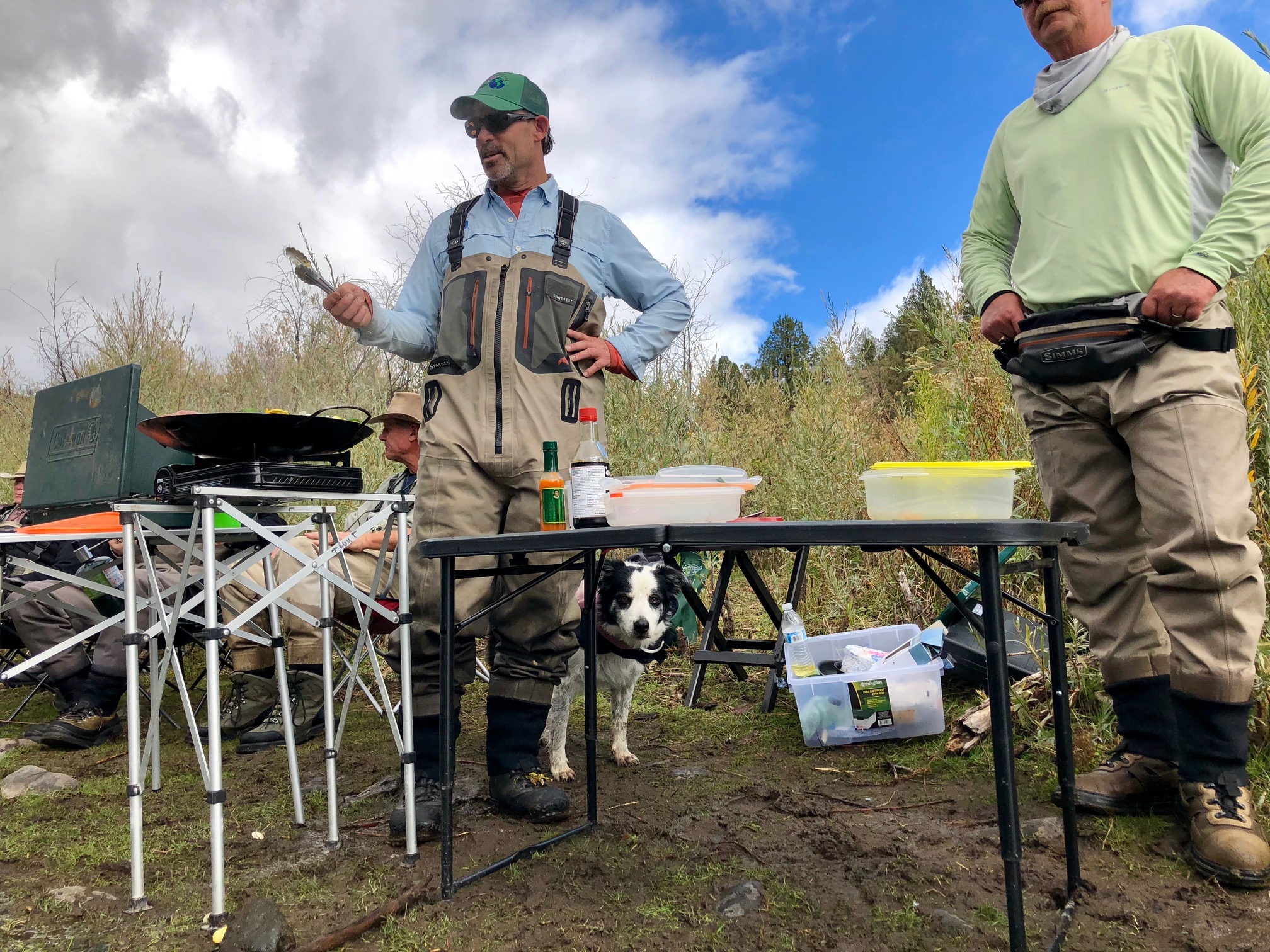 This is fun stuff for me out there seeing everyone really enjoying themselves.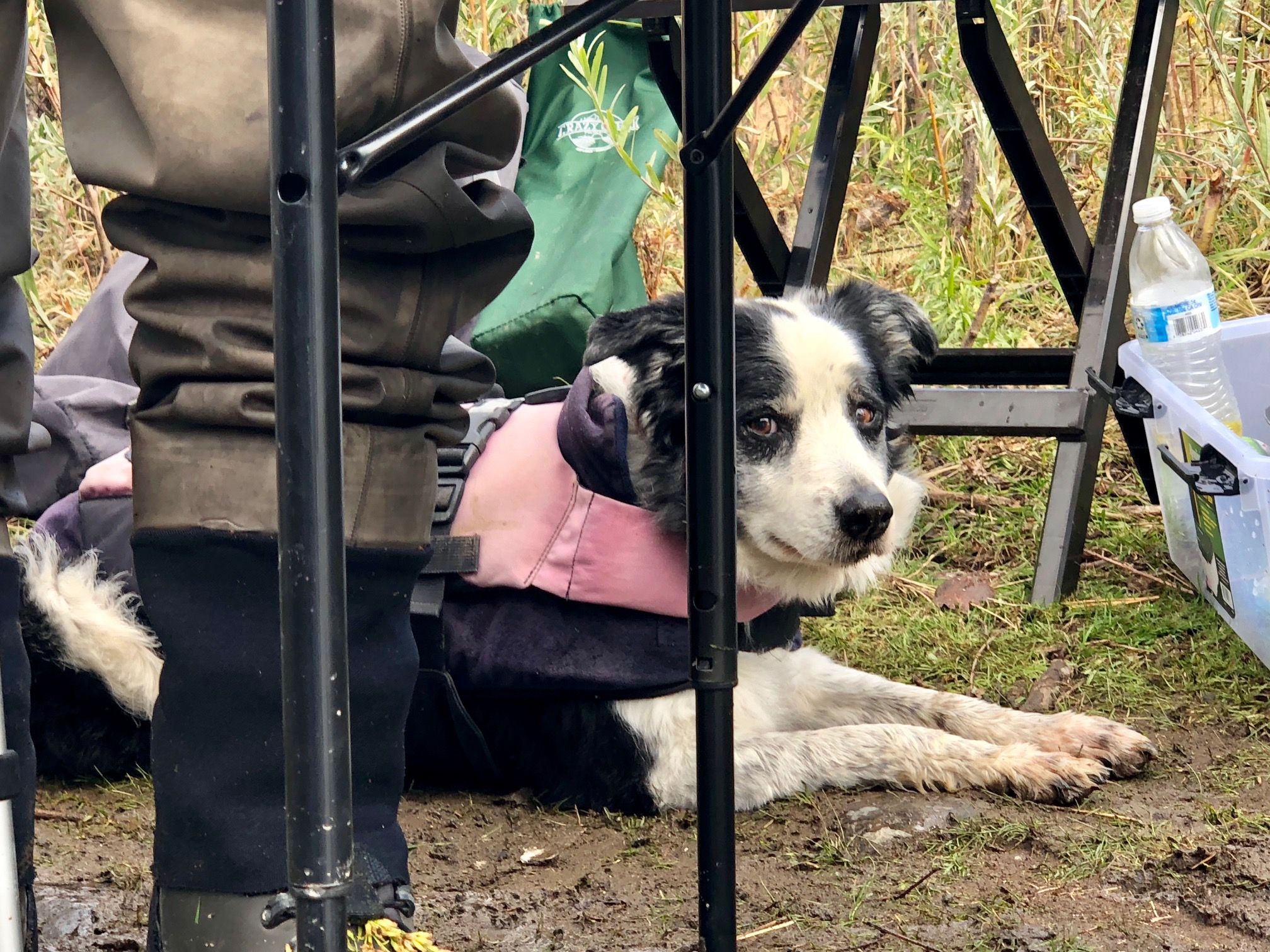 Beef Bomb! What a great and loyal partner.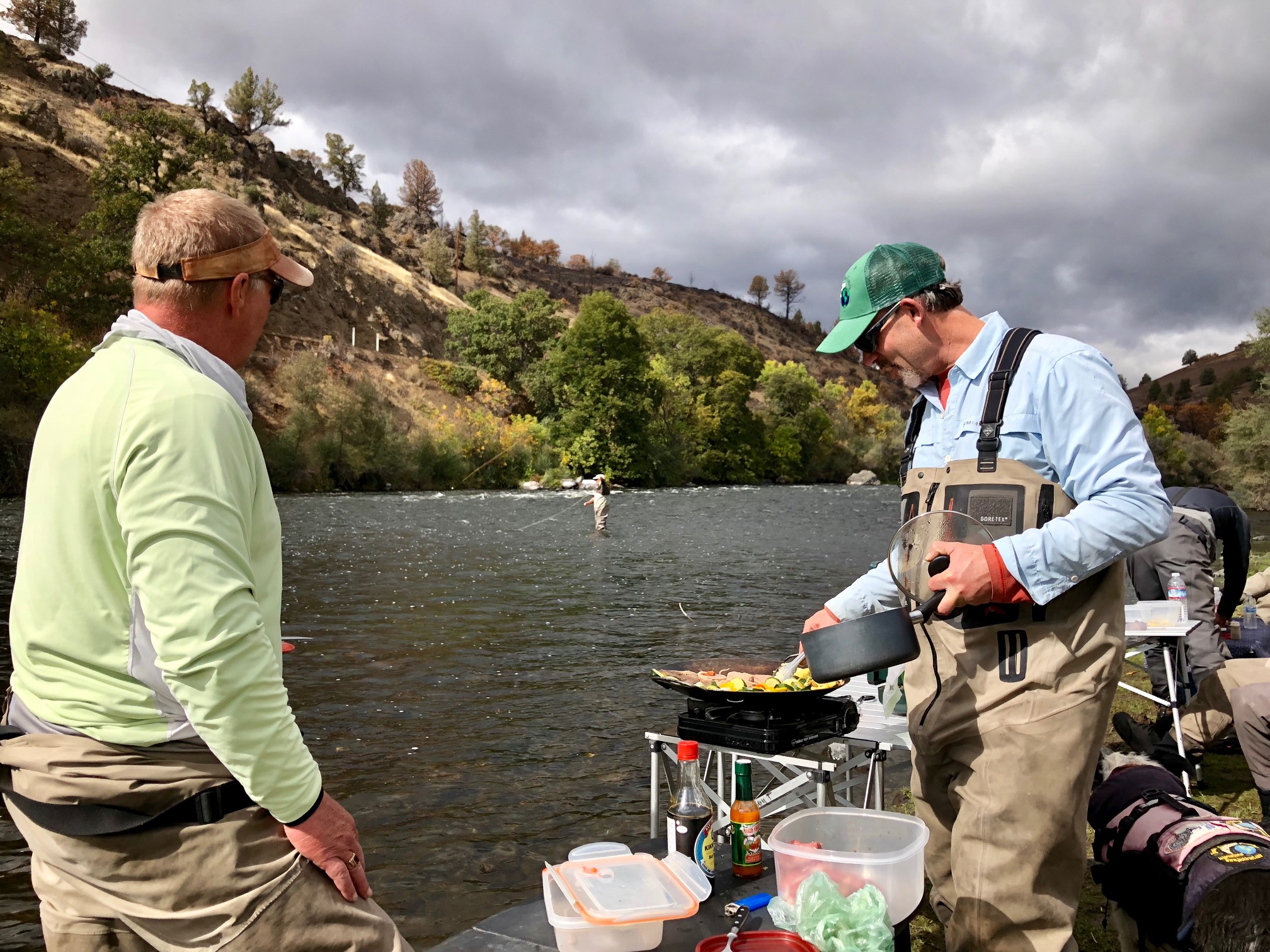 Op, another hook-up, let me stir this jubilee of veggies mixed in this chimichuri and Travis seasonings, it's guide effort.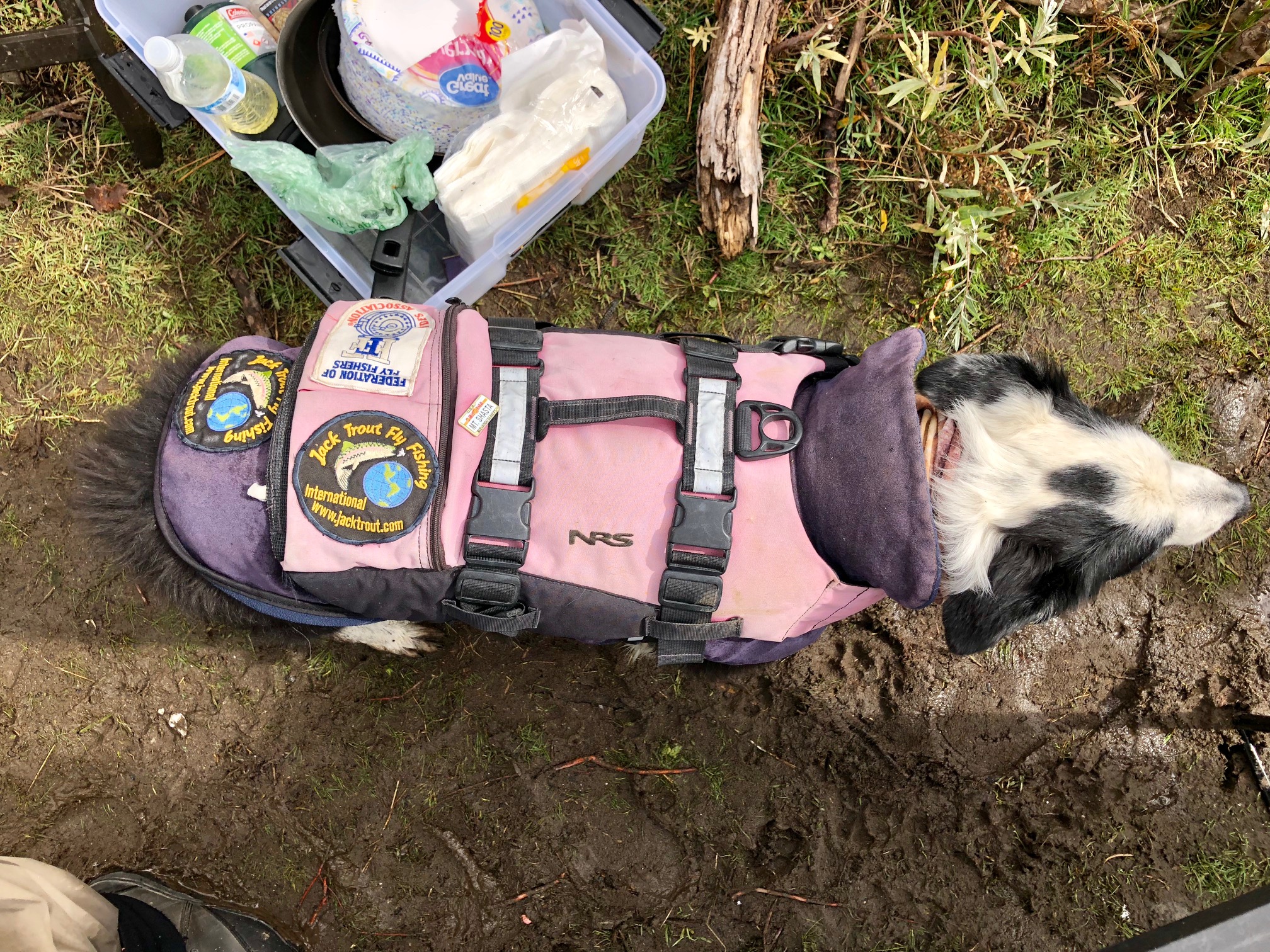 Beef is insulated, Beef Dog is safe, he wears those colors proud, ranked #1 Fly Fishing Guide Guide Worldwide by me. 🙂 Love him.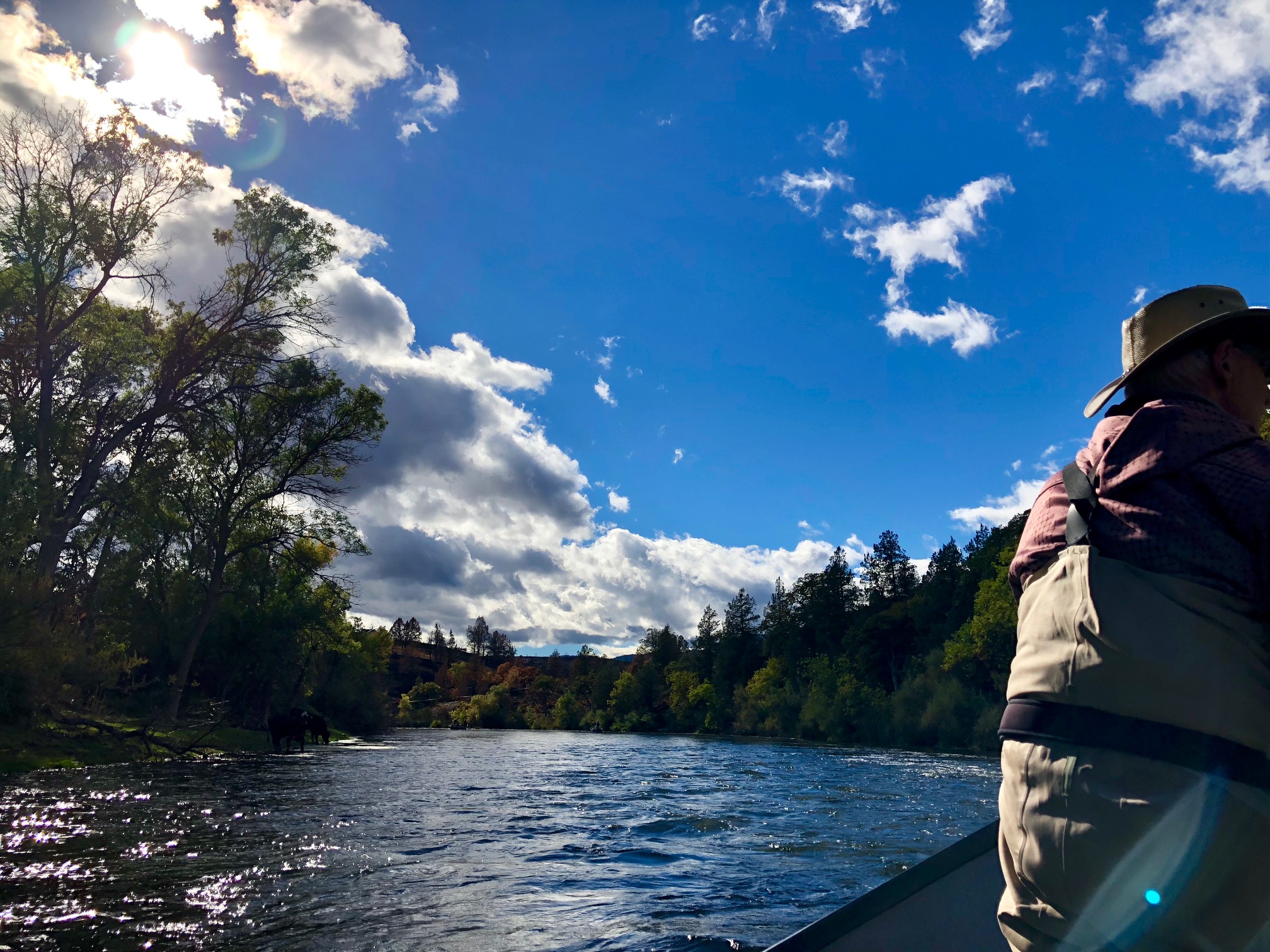 This are special times folks, if you were ever going to go out and catch a steelhead, this is the year.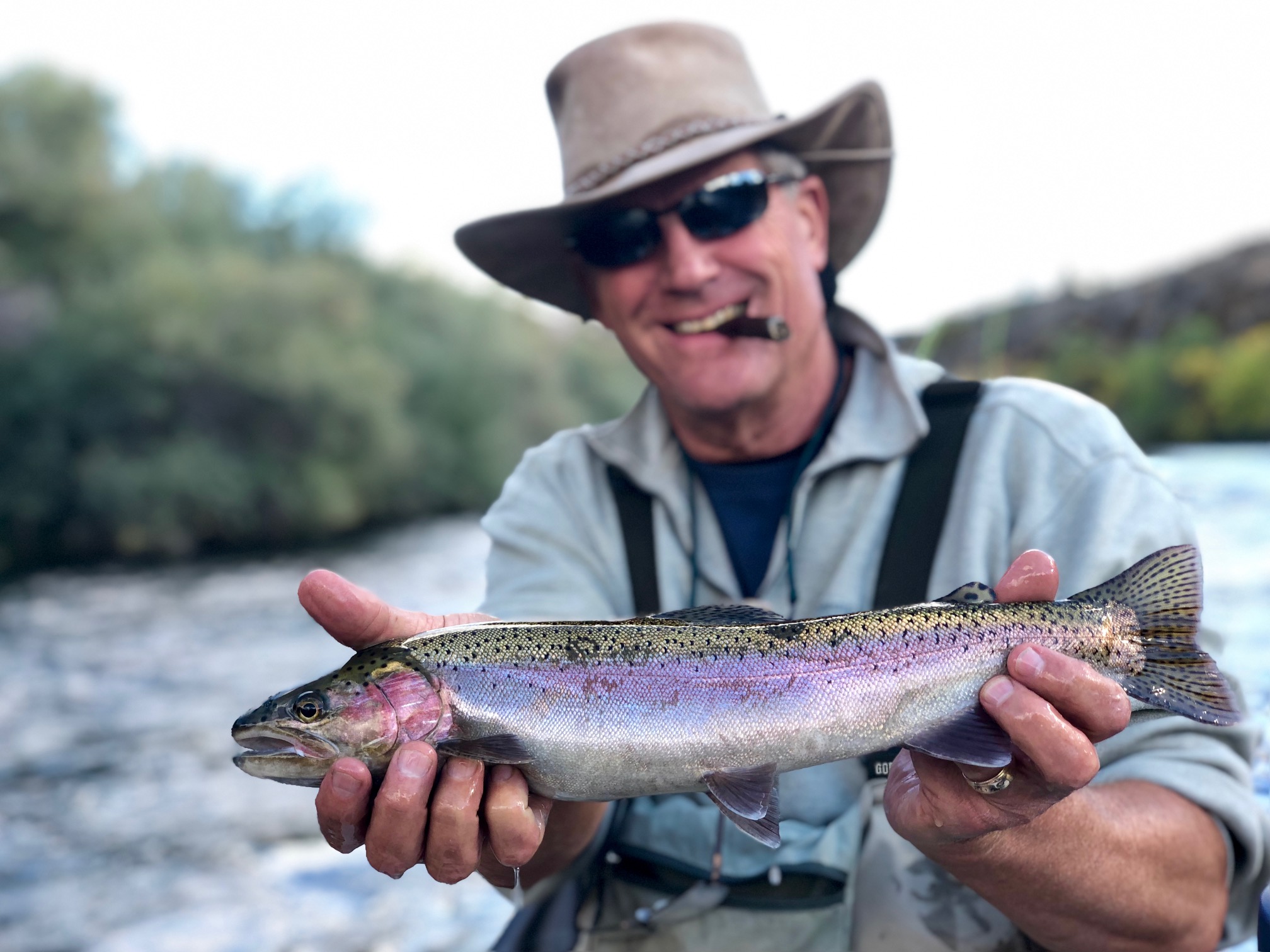 I always said, a good cigar is good luck out on the river.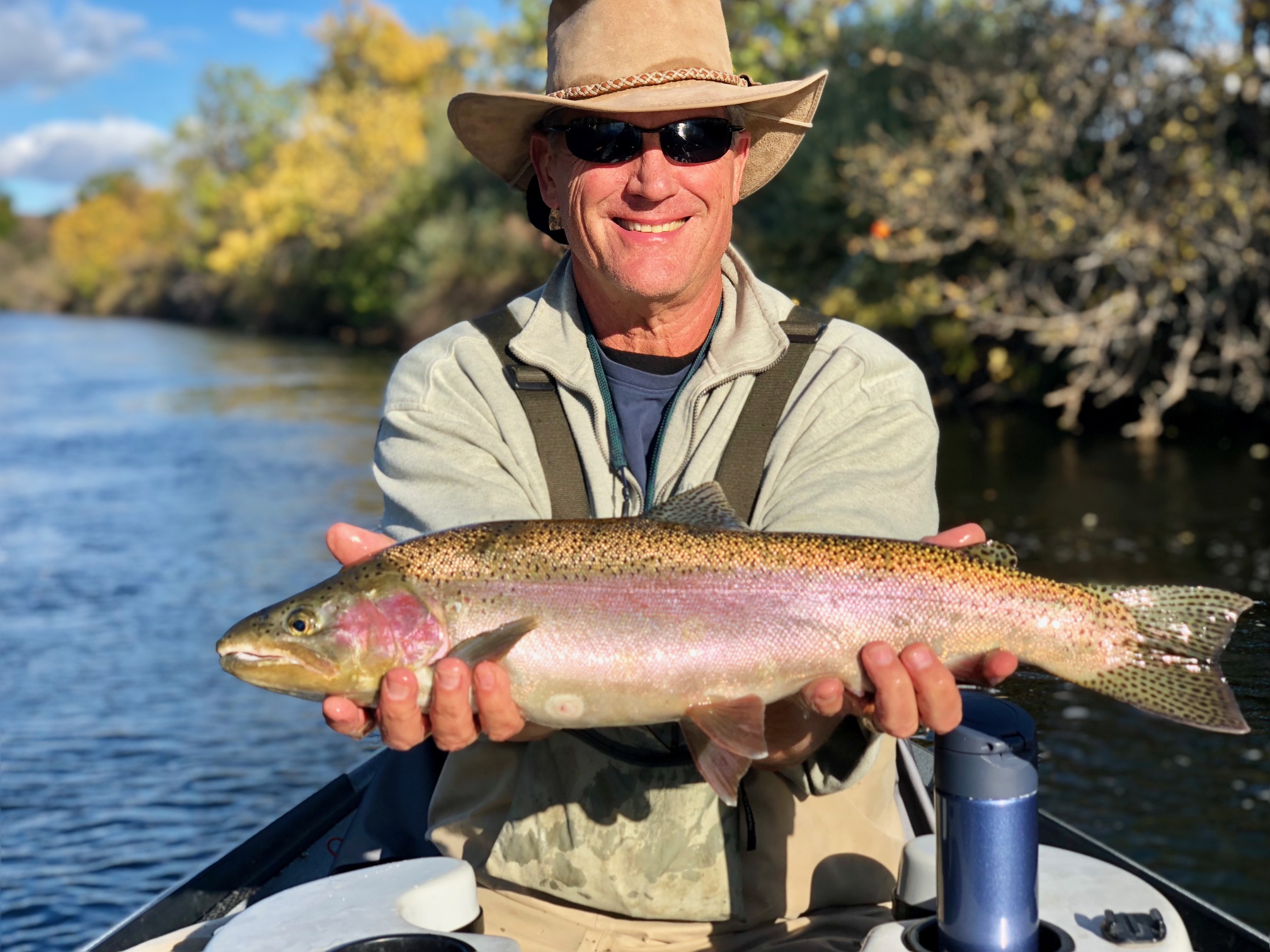 A lot of lunkers being caught out there on all sections, I haven't see it like this since the 90's. That's a big deal.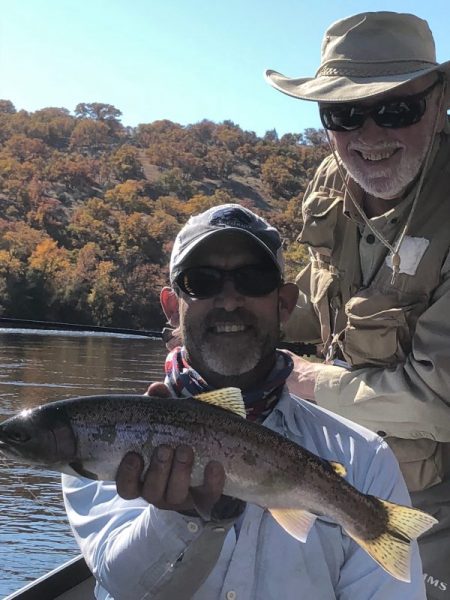 I've been a happy camper and the clients all have been having these CalAlaska type trips!!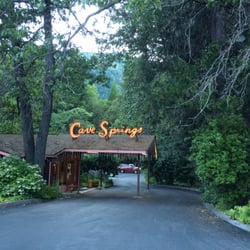 www.cavespringsresort.com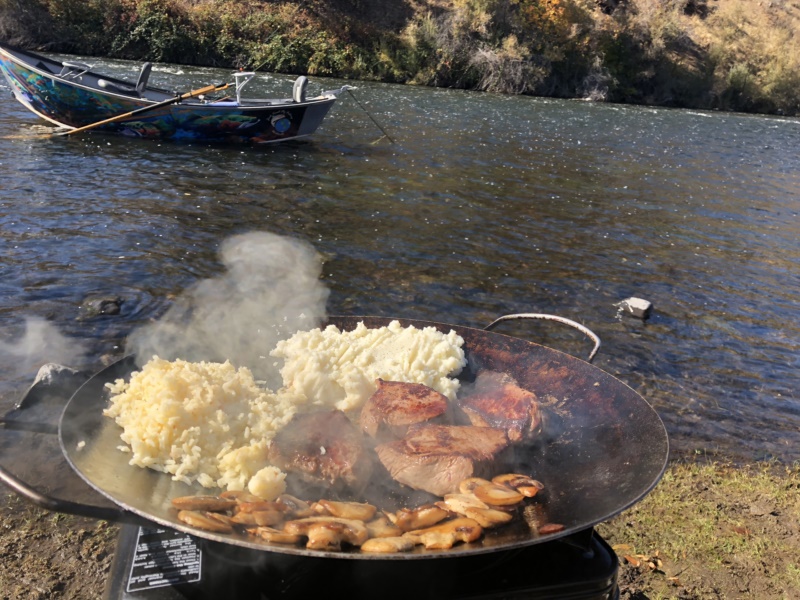 Steak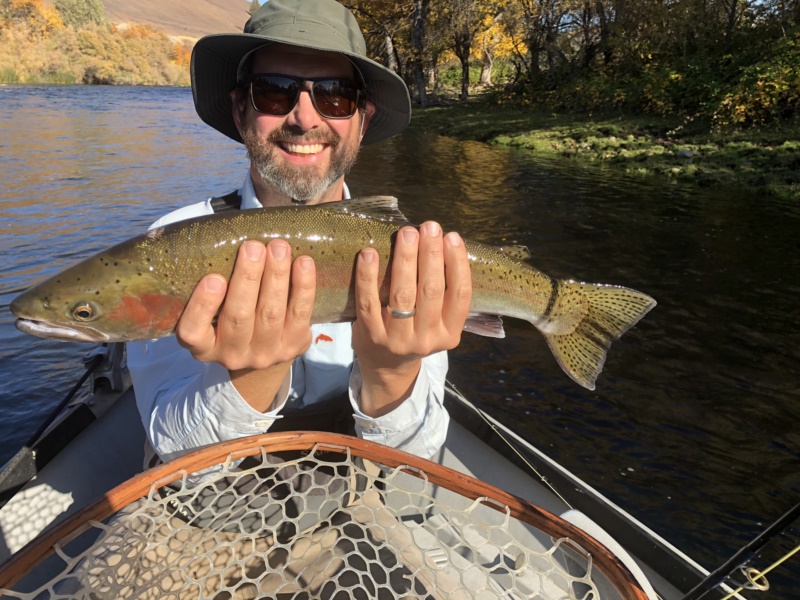 Trout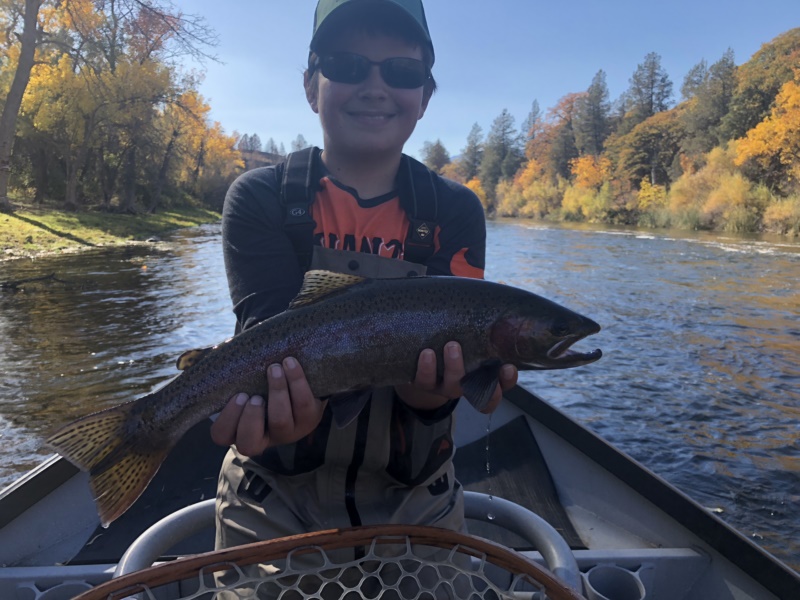 Whoohooo !! Rookie of the Year Award Winner and SF Giants MVP.
https://rrpark.com/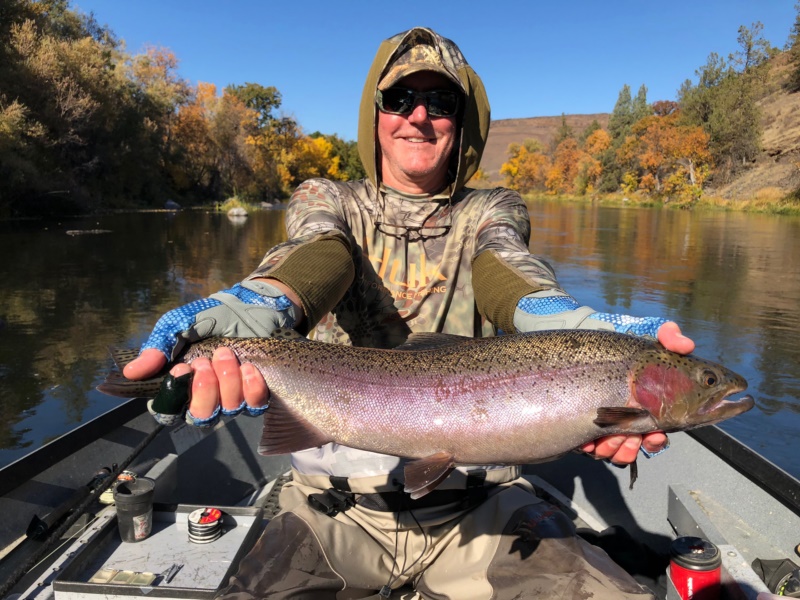 Moose Size also being caught out there on both the Trinity & Klamath Rivers.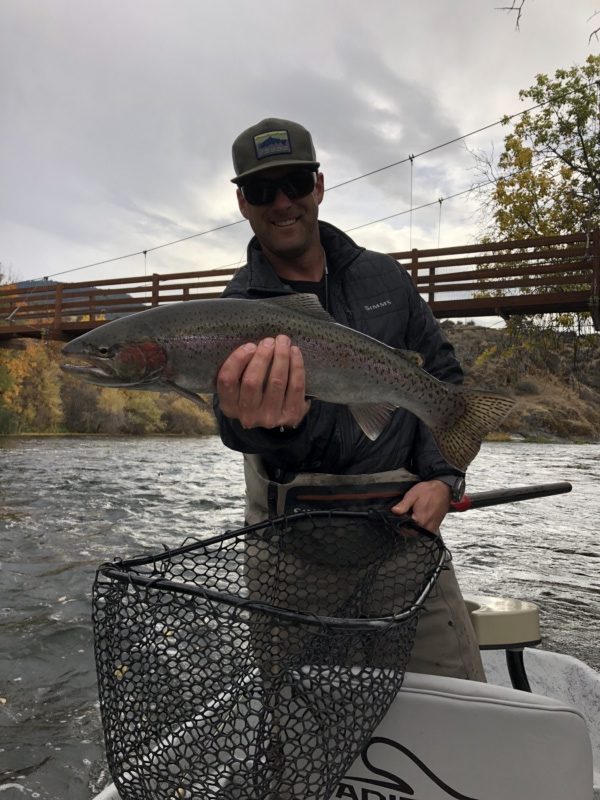 Carry a big net is what we're saying, it's that kind of year.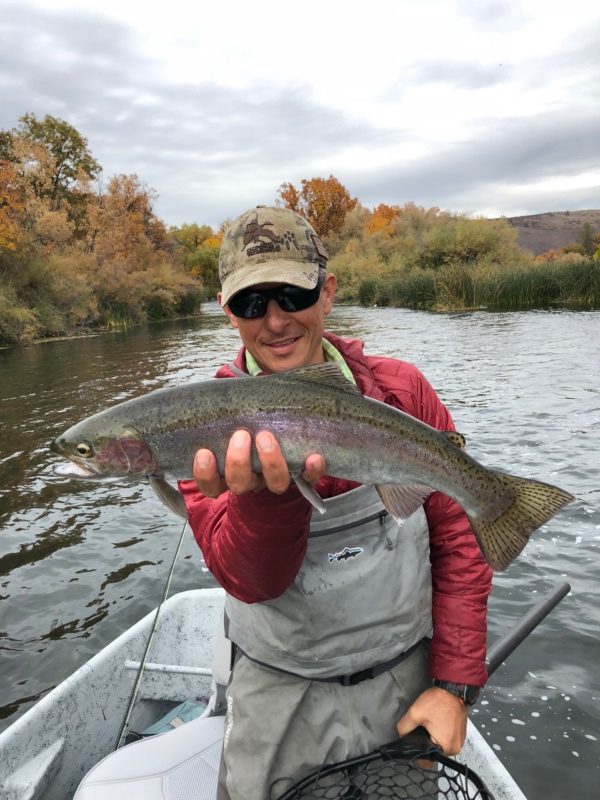 Designer steelhead and the average size has been a real treat, it started so early this year.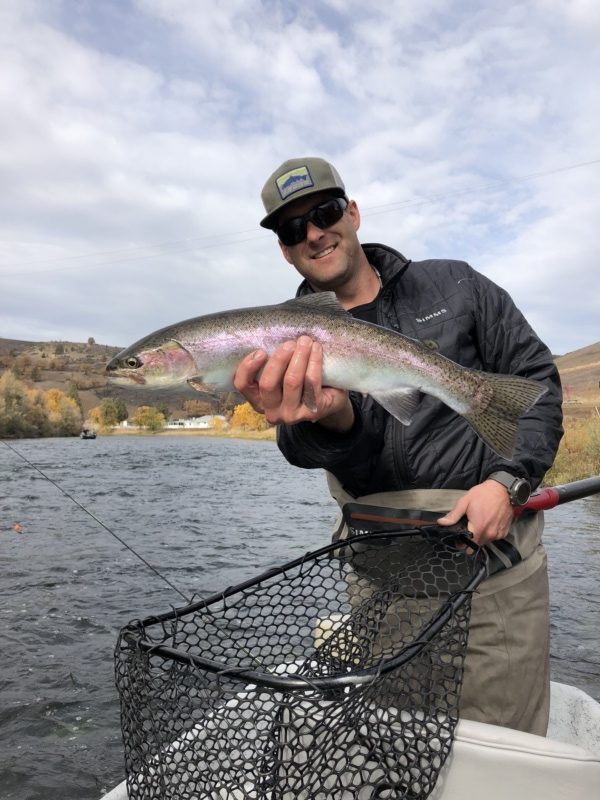 Way to go Nick!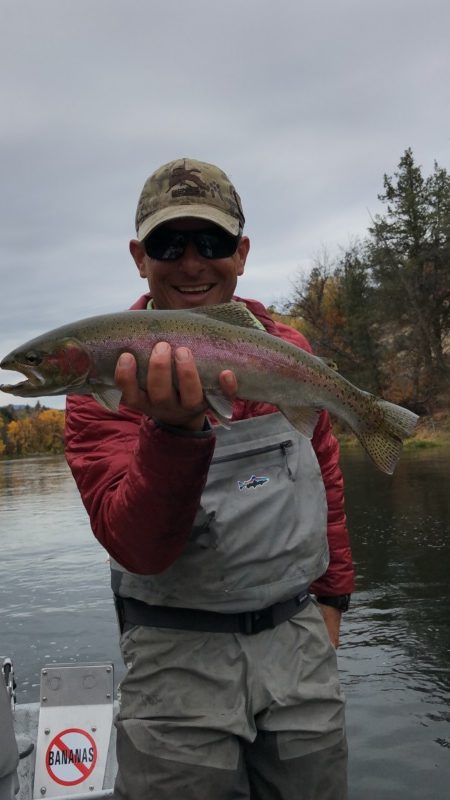 Happy Camp Middle Klamath River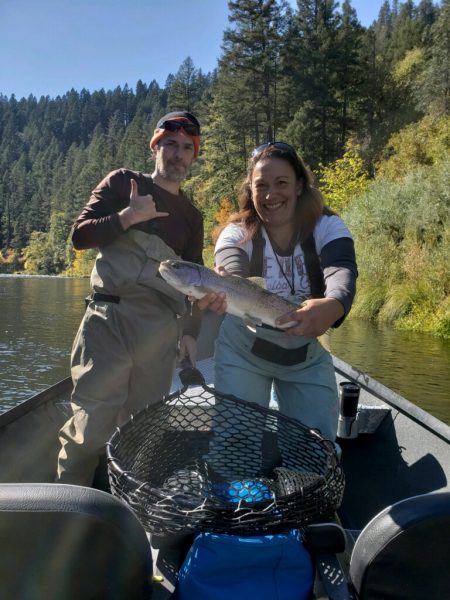 You know late night when you are watching ABC, you can thank Shaun Dow for programming.
Coastal Klamath Mouth – Fly Fishing For Exotica On The Spey Swinging Away.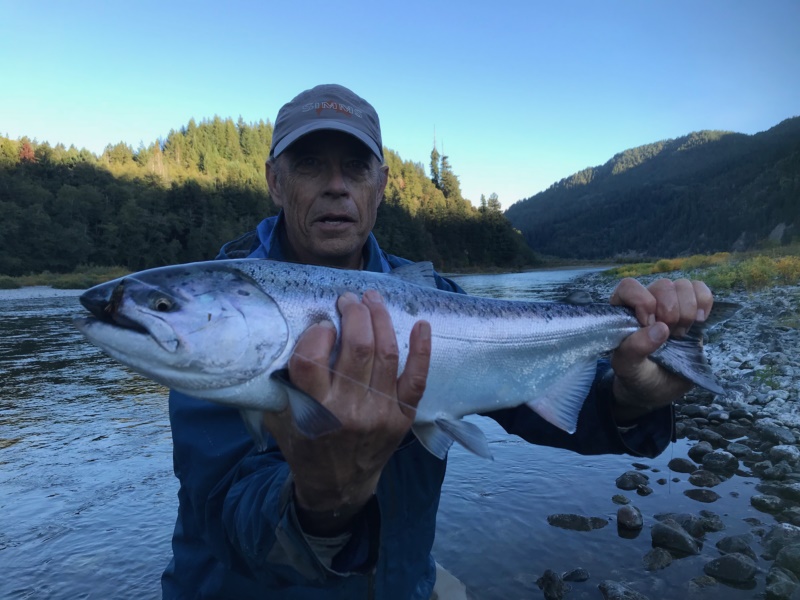 Get into the swing of things on the Northern California Coast, lots of salmon being caught on flies as well steelies.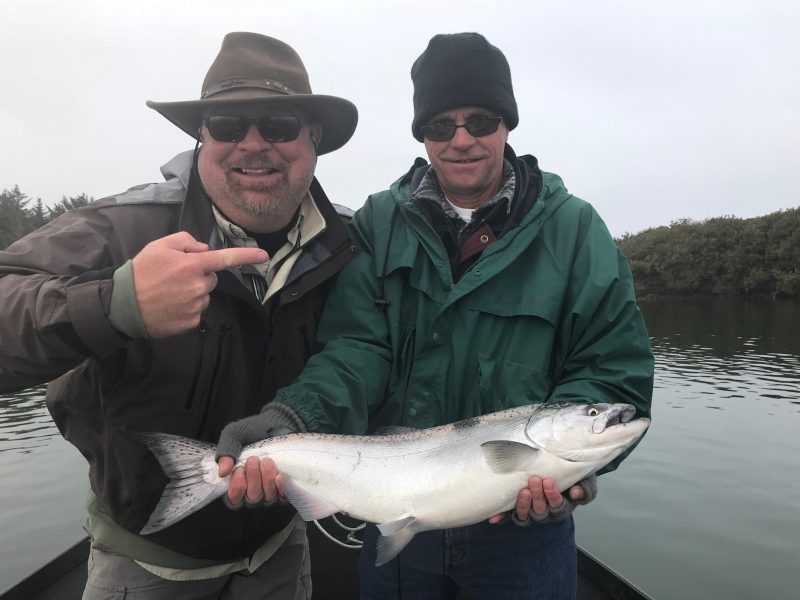 That's a great coho you caught there, I see white gums, what a beauty. We guide winter trips on the Smith, Lower Klmath, Upper Smith, Chetco, Elk & Sixes. Most people stay in Brookings Oregon at the Ocean Suites.
Cool a Jack Salmon Chinook, see those black gums, that's Sand Flat on the Smith River, a great place to throw streamers.
Trinity River Fly Fishing For Steelhead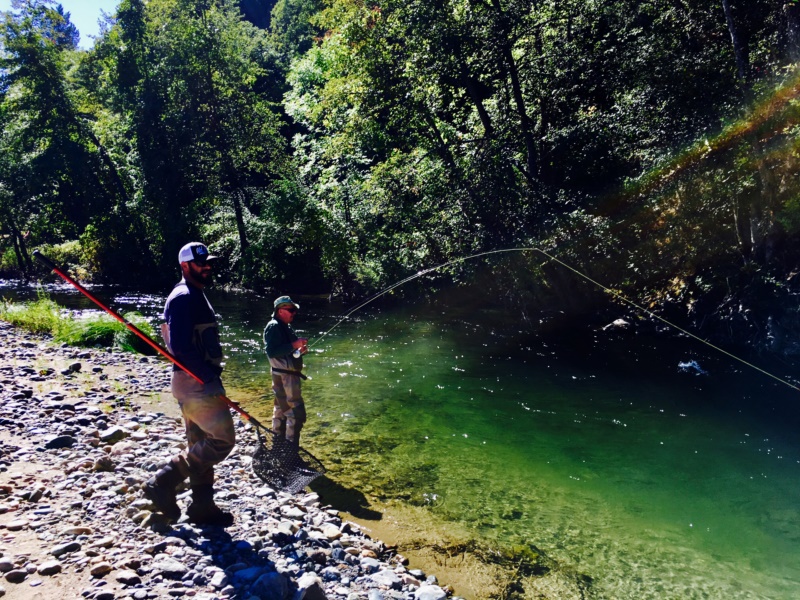 Our guide Travis Ortiz is an expert on the Trinity River, he has the knowledge to get you on steelhead and trout and the personality to make another successful trip. Look no further, Jack Trout Fly Fishing  won't let you down on your next steelhead trip in Northern California.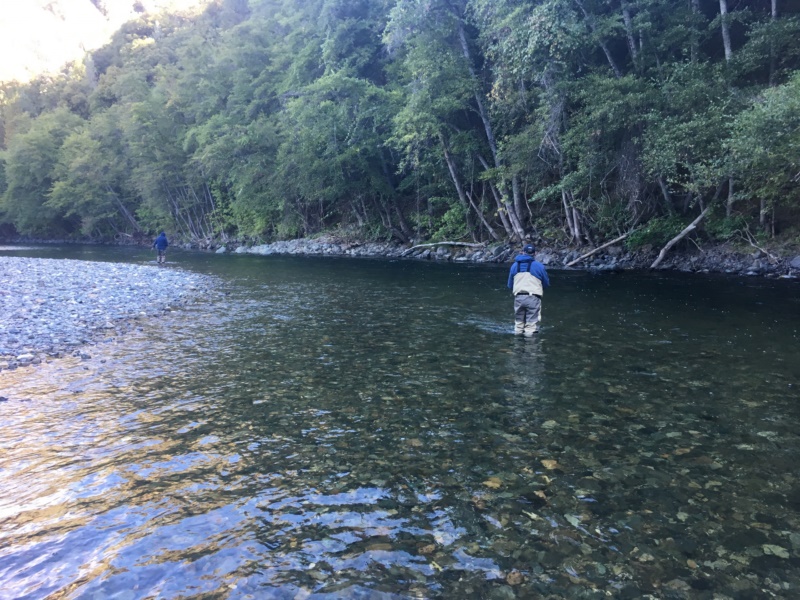 The Trinity is an advanced fly fishing fishery, having the right guides is key and we want to help you with your line management skills, choosing the right flies, where to fish and how to land them.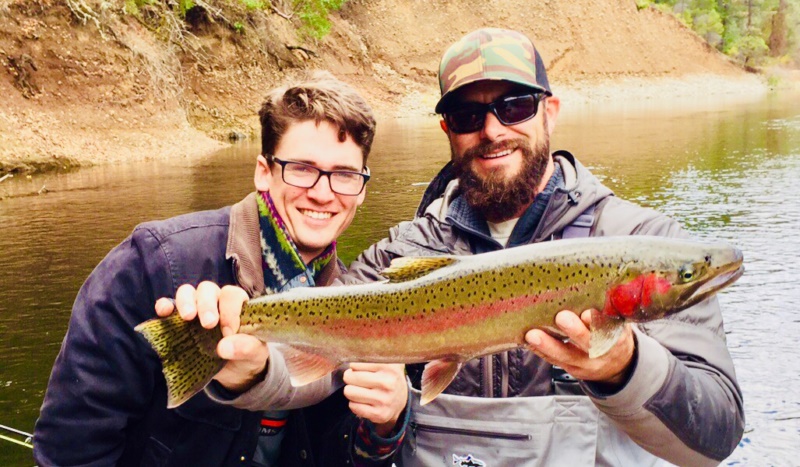 Let us show you how on the Trinity River in 2018/2019, the best steelhead runs in 12 years. You know me, I never polish turds, I tell it like it is and it gets me in trouble often and sometimes clients don't even book until it's right.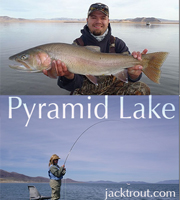 It's that time of year and when we head out towards Reno for more than to just lose all our money.
Time For Pyramid!! Those Huge Jurassic Trout & Pyramid Opened On October 1st. Pack Your Bags & Head To The Biggest Little City In The World, All The Way To Reno.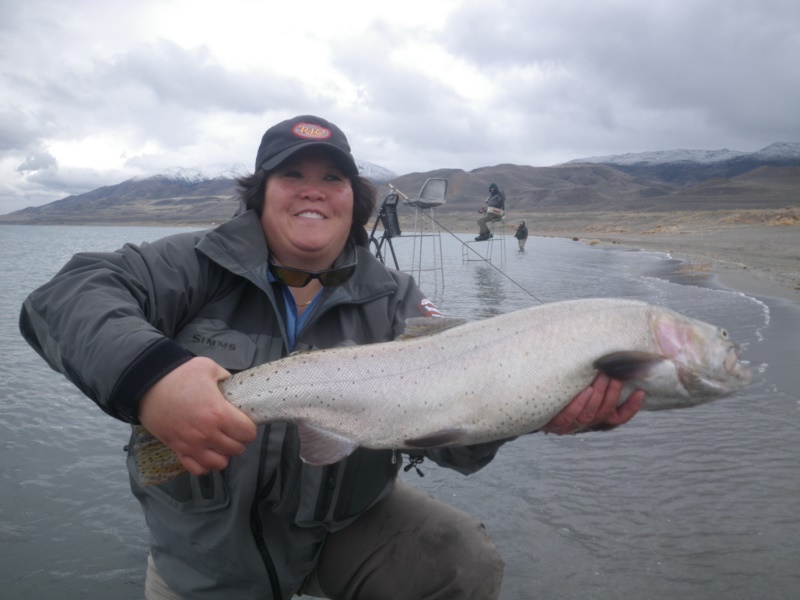 Some of us are smarter than that, so we chose fly fishing Pyramid Lake and we win almost every time, I like those odds.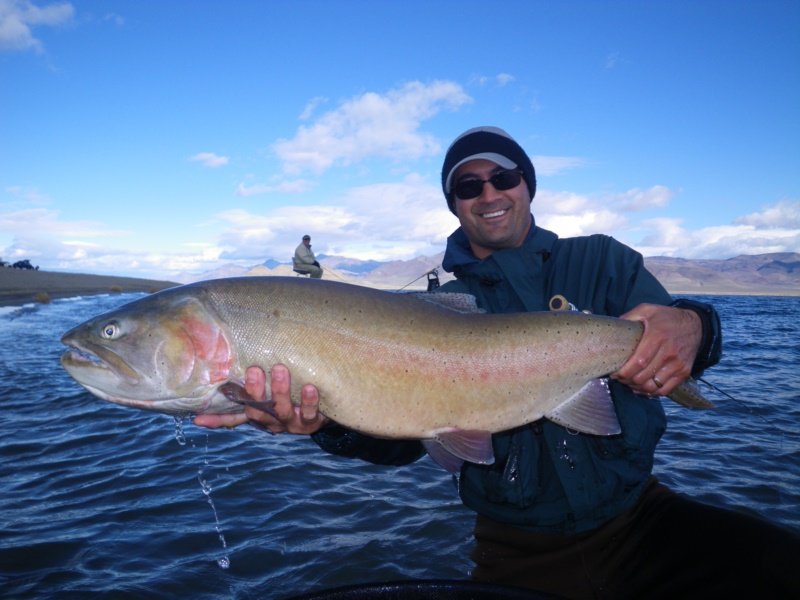 Plus when you take into account the history of the area and the great men and women who roamed this area in search what we all got today! Wow, I'm in and what's left of ancient Lake Lahotan is a mystery and fascinating.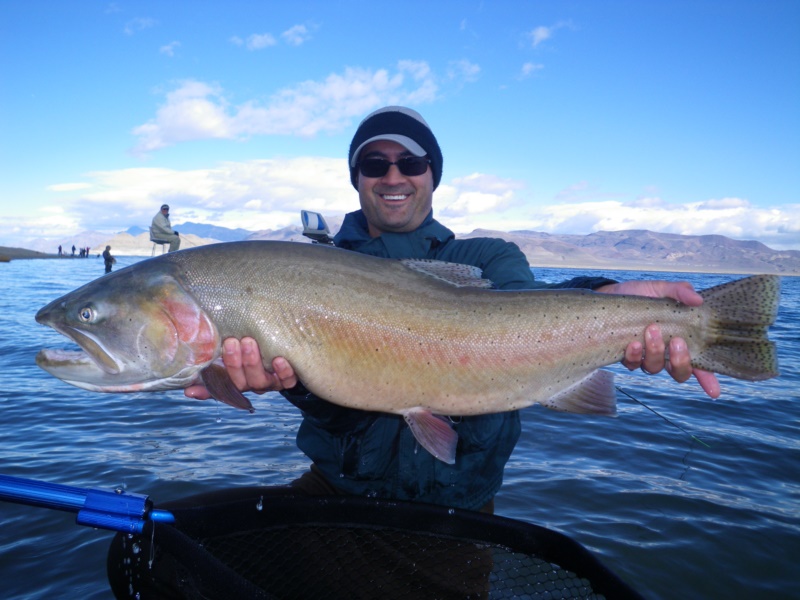 This is the part where you get really excited and start acting like a 13 year old, jumping up and down even though it's 41 degrees, it's ok.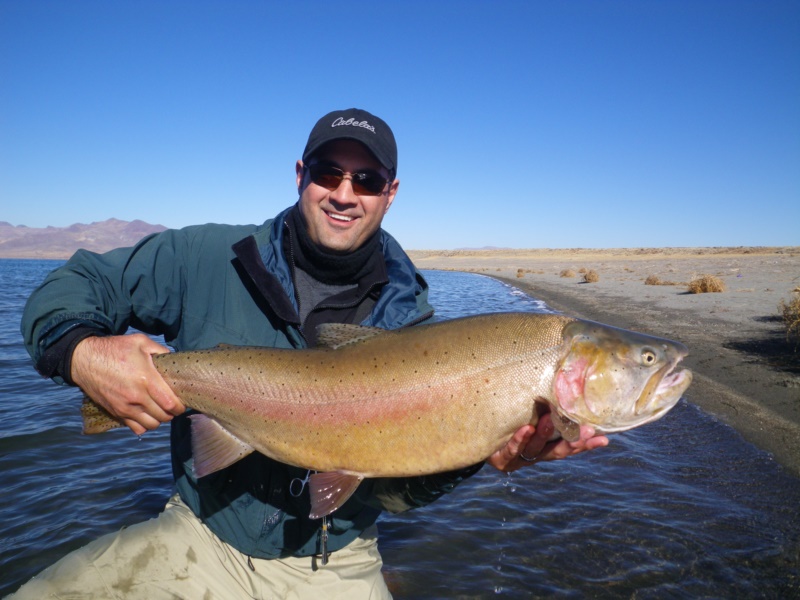 Hello Dolly!
Lake Crowley Hog!
Chris Wharton Has a Treat For You.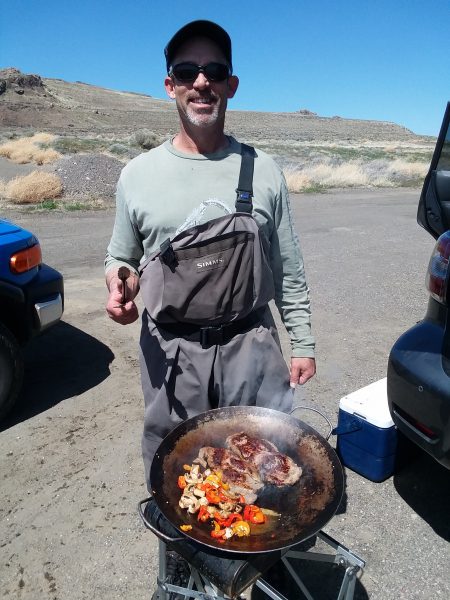 I've Got Steaks!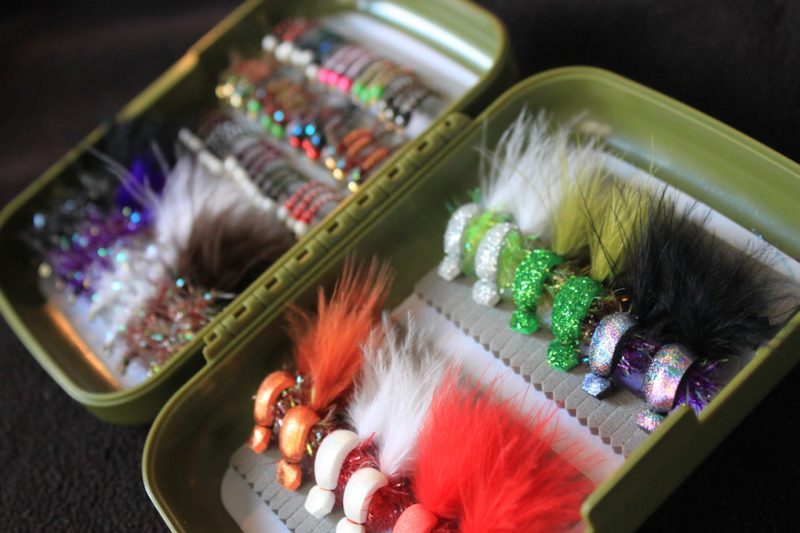 Give Us A Call To Schedule Your Pyramid Lake Trip.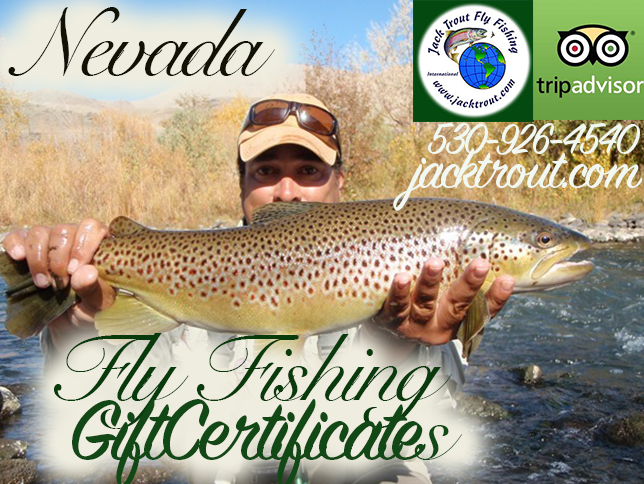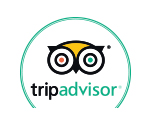 We were planning a camping trip in the Mount Shasta area. I called two local guide companies with Jack being one of them. The first guide company called me back first. I told him I just wanted to go out fishing for a couple hours so my 13 year old son could catch a couple fish. The guide said he would have to charge us the half-day rate which was $400. Way outside what I was interested in paying. Later that day, Jack called me back. Jack was more interested in making sure my son got out on the river and caught some fish than he was the price tag. I explained to Jack what my budget was and he was glad to accept it. Jack was patient and very kind to my son. We highly recommend him as a guide and we will see him again.
Lower Sacramento River Redding, Anderson, Red Bluff, California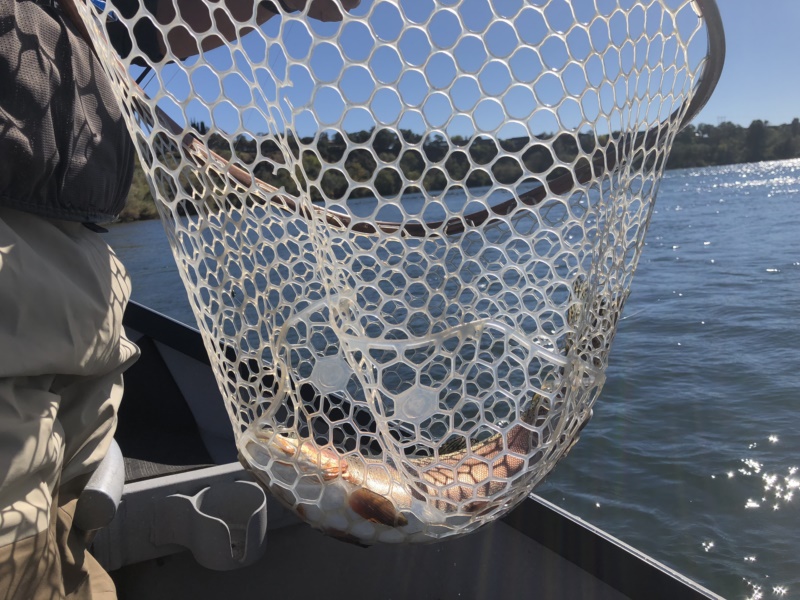 Big trout being caught on the Lower Sac as the Egg Bite is on!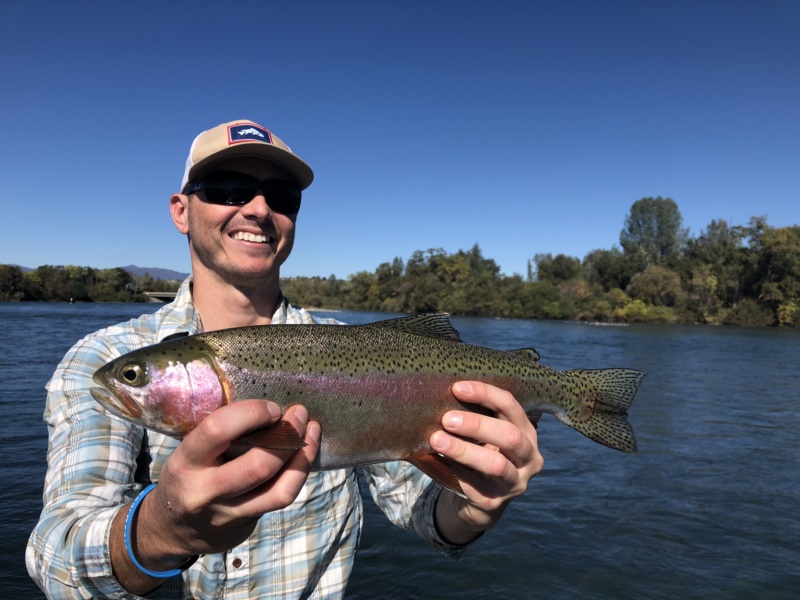 Honking darn sized trout being caught regularly, give us a call, we're fly fishing experts that can show you how.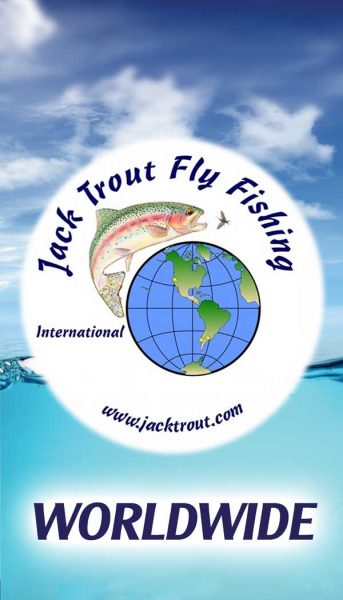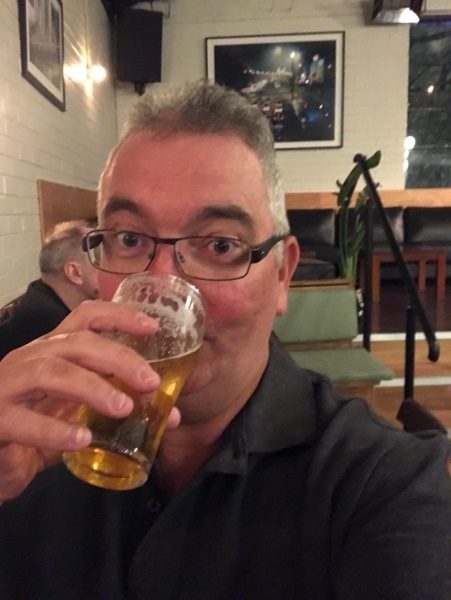 I have this partner in Australia & New Zealand, his name is Gavin Hurley and he is a lot of fun. I trust someone who likes a good beer, probably means they can spin large fish tales too, all the better!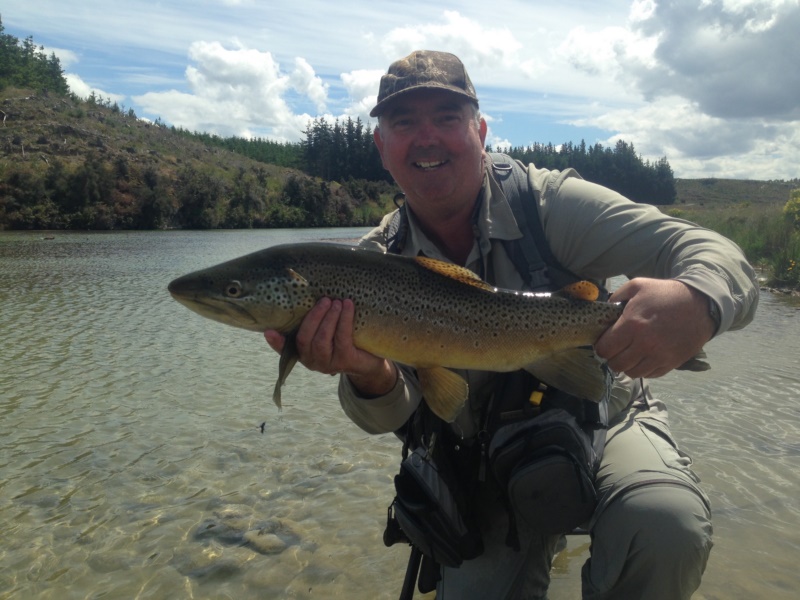 When I get folks that want to go to the South Pacific and do it right, I rely on Gavin Hurley in both countries. We're a team, whether you want a day trip with all the gear provided, or a week long trip with a childhood buddy, we got you covered and you always know the price is right.
https://jacktrout.com/index.php/destinations/new-zealand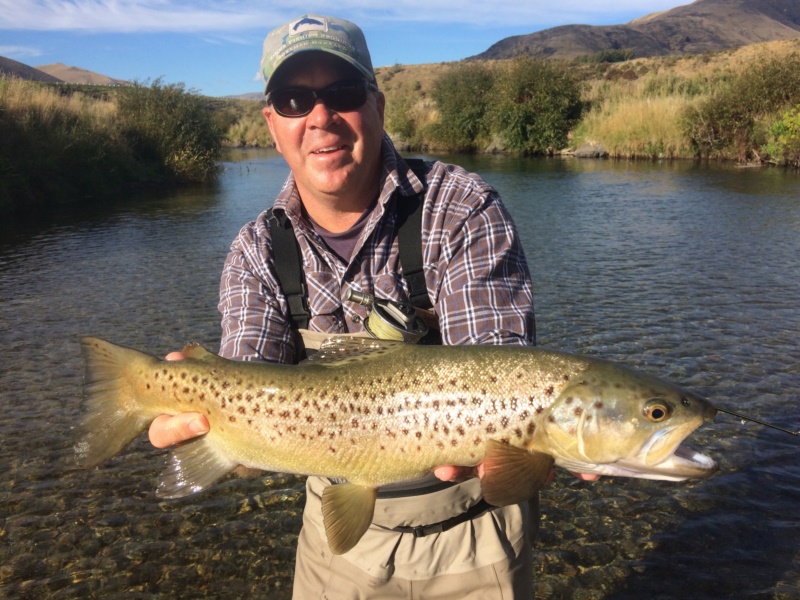 We got some lunker browns with your name on them.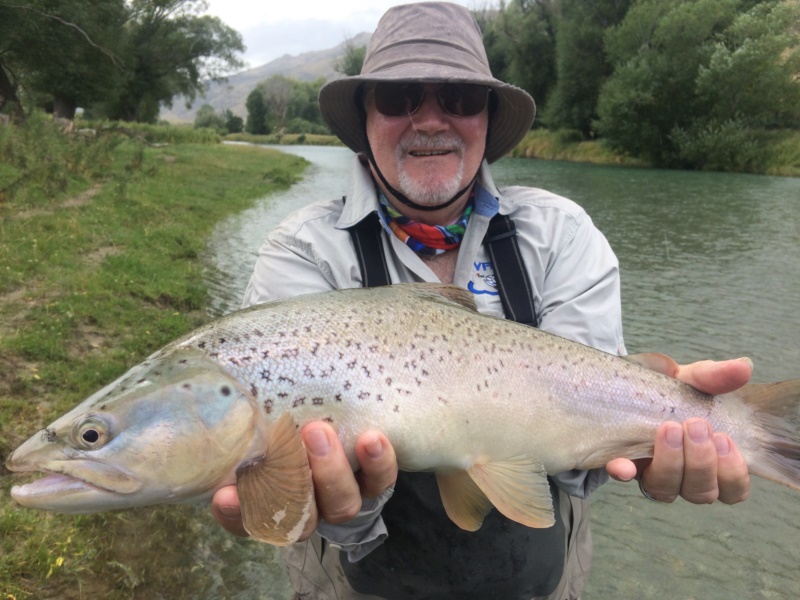 Amazing colored brown trout that you swear must of been in the ocean at one time.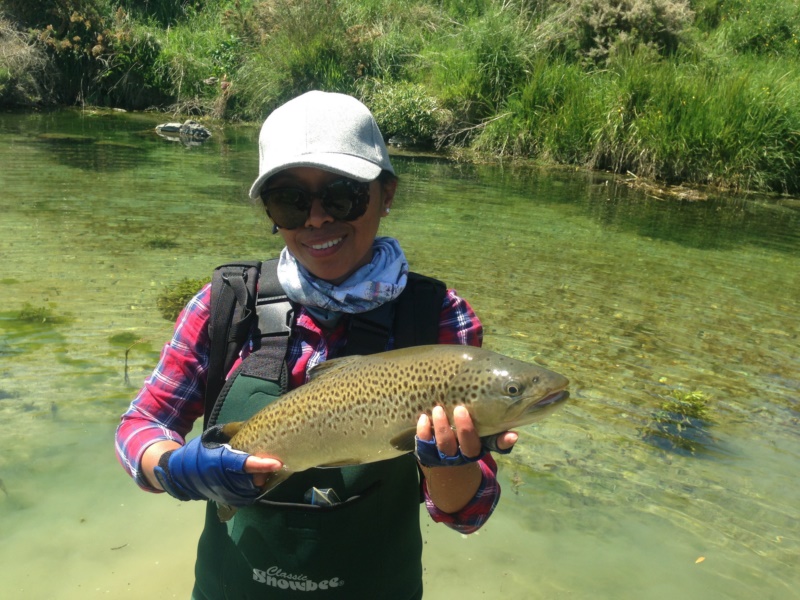 If you like large brown trout, then fly fishing New Zealand is for you.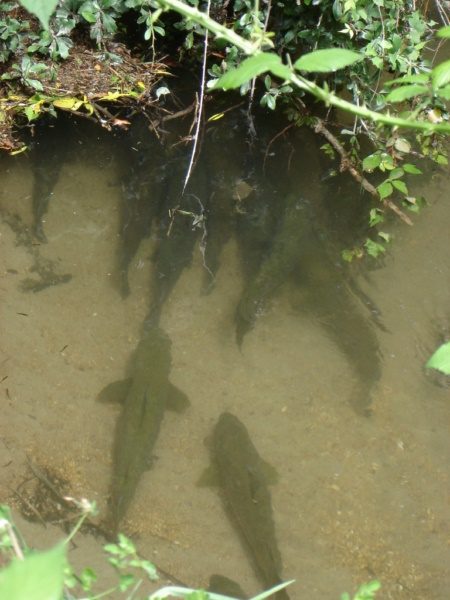 The herd of cattle.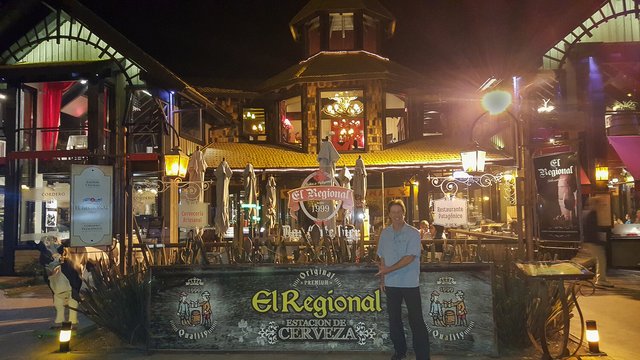 Argentina – Bariloche, San Martin & Junin de los Andes, Esquel. We do customized trips that are very personalized and affordable. Why eat in a lodge when you can be in town every night, then floating the rivers in the day. We know Argentina and how to save you money on your trips, we have great guides, equipment and a seasoned record on Tripadvisor.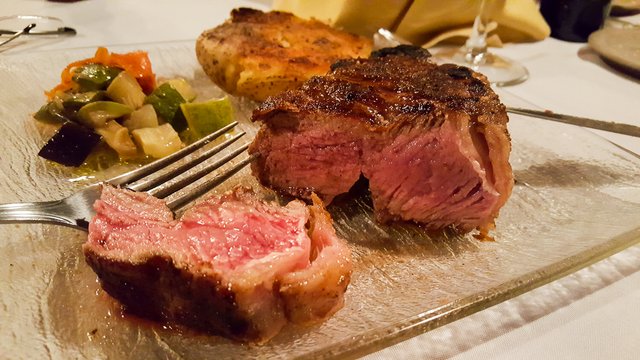 And oh those meats in Argentina…
Fantastic rivers with plenty of action all day long, most folks just have to try to keep up on multiple days fly fishing and sampling wines.
My Partner Tuqui Vicarro and our posse of guides in Argentina are some of the industries best and most experienced.
We know where to go!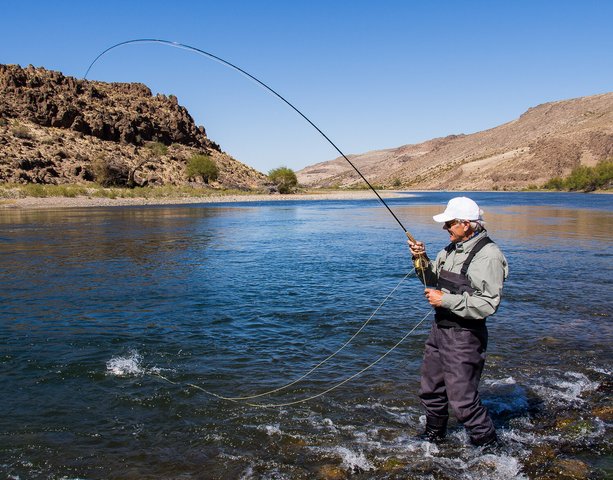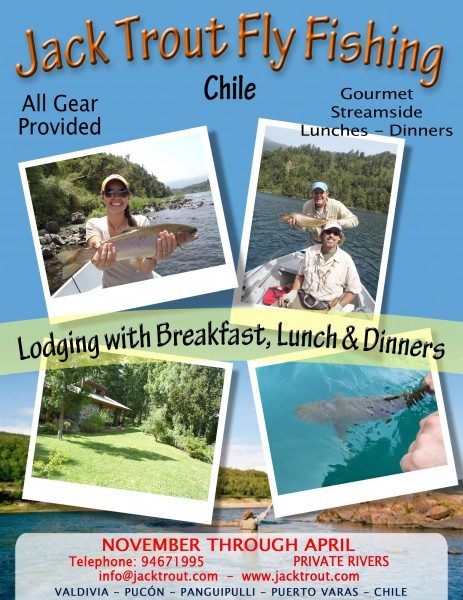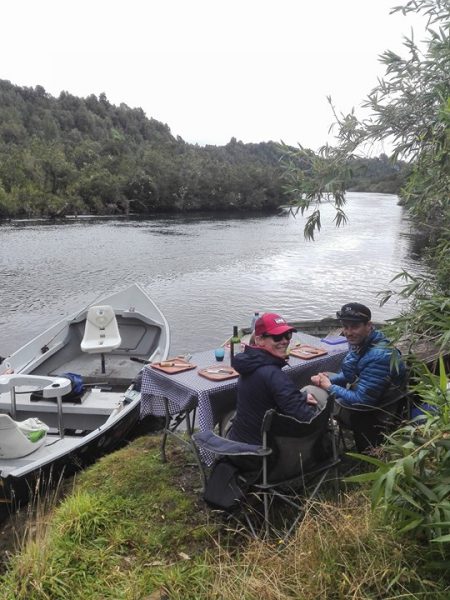 Chile 2018/2019 Season Begins, we can't wait.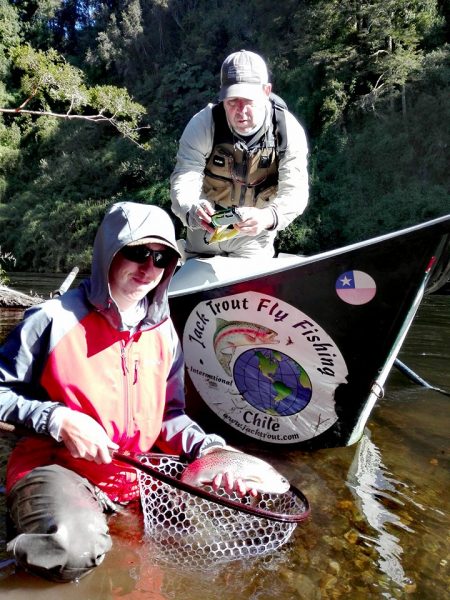 These trout are ferocious, they took a bite out my logo on my boat…
Sweet locations are a must on your trip too.
The Rio Maullin, we have a private ranch we access for cruise ship trips, only 20 minutes away, easy.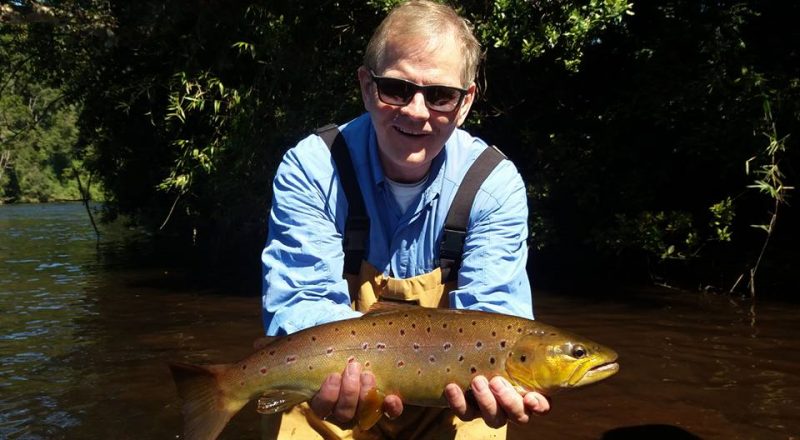 We guide some of the most interesting people.
It's just marvelous in Chile, one country with tremendous natural resources including water flowing in every direction.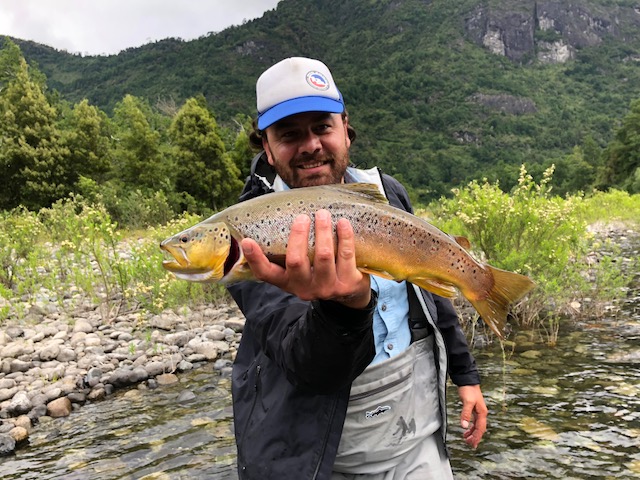 Gustavo is a great guide, he and his wife are expecting their first child and we wanted to wish them a happy delivery.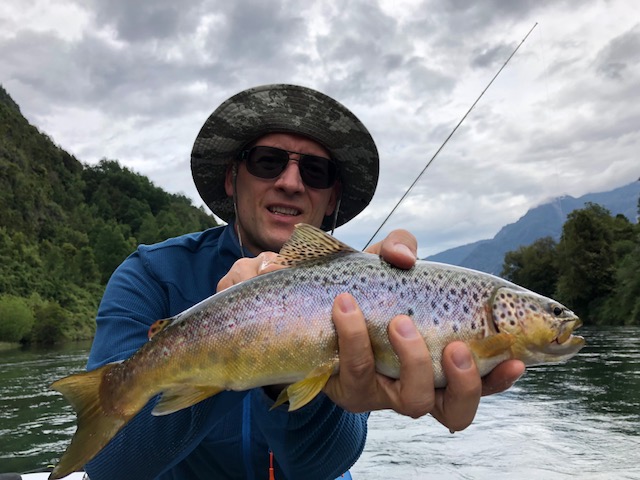 Felix, one of favorite clients of 2017 from Switzerland, a real fun guy and memorable fly fishing adventures.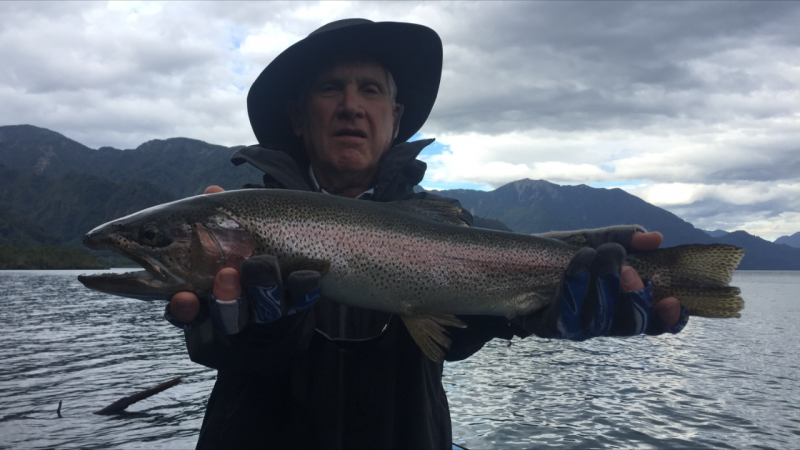 Charles Cirar, over all worldly legend kind of good guy, who caught some lunks with our guides last season.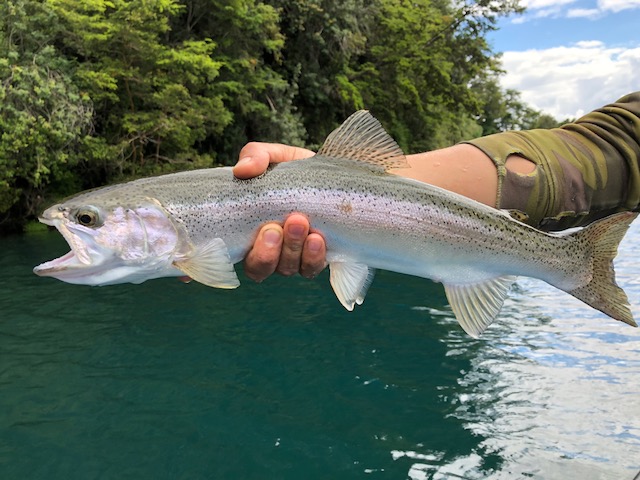 COYHAIQUE FLY FISHING GUIDES FOR ONE DAY WITH GEAR
~~~~~~~~~~~~~~~~~~~~~~~~~~~~~~~~~~~~~~~~~~~~~~~
EVERY LOCATION IN BELIZE WE HAVE AN EXPERIENCED FLY FISHING GUIDE WITH ALL GEAR INCLUDED FOR TWO W/ LUNCH $475 USD, THE LOWEST PRICES IN ALL OF BELIZE. THIS IS FOR A FULL DAY TRIP. WE ALSO OFFER THE BEST EQUIPMENT, RODS & SKIFFS. Don't Pay Morvis For Your Guides.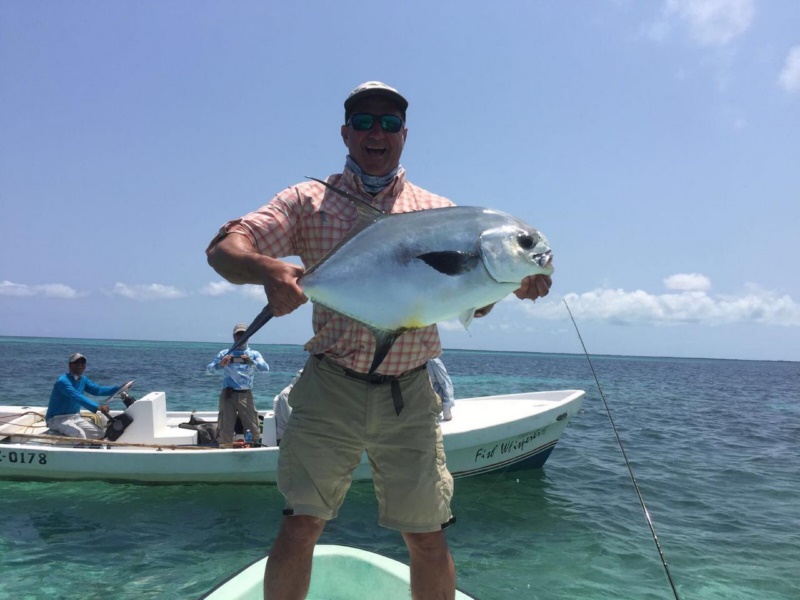 We are the leaders for one day trips fly fishing with all gear included & lunch. Always $475 per day for two anglers on a skiff for full day.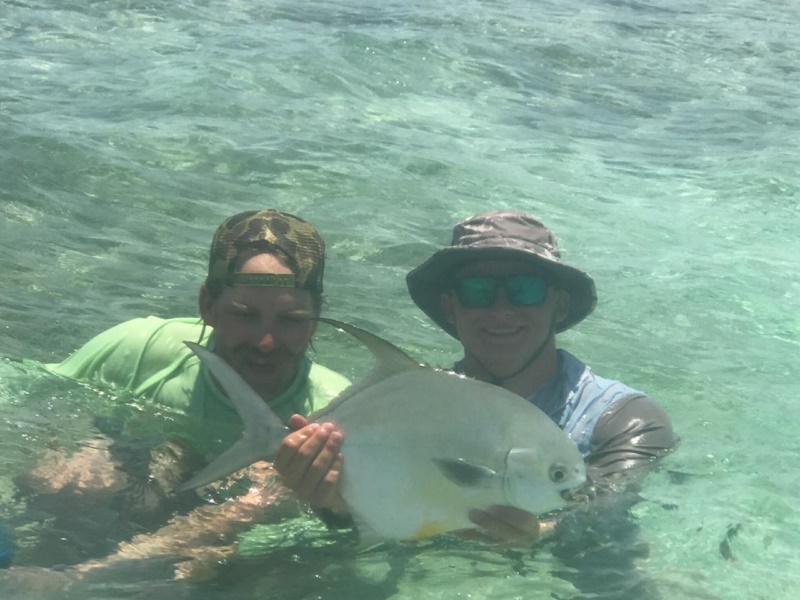 We've been catching permit on flies, it's a hoot and not easy, but our guides are train for jumping permit.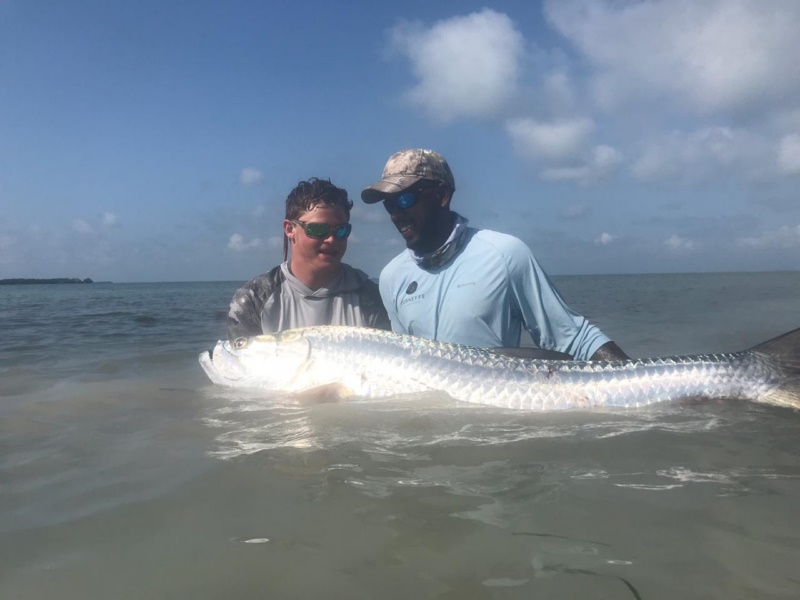 Tarpon too, we know where to take you to get tarpon. We make fly fishing worldwide easy. Yes we have the 11 & 12 weights, yes we have the flies, yes we have an affordable price. We'll never let you down, ever.
Jack Trout Fly Fishing International & Tours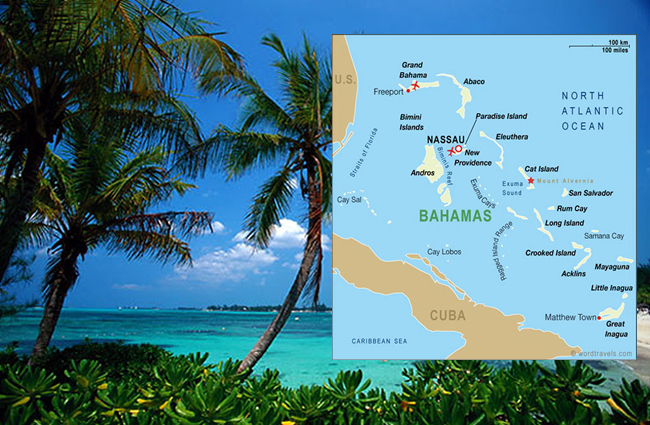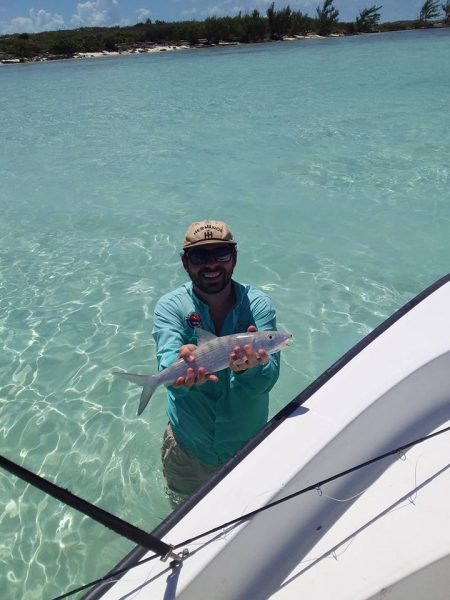 Day trips and Half Day Trips Out Of Andros, Nassau, Abaco & Grand Bahamas, All Fly Fishing Gear Provided.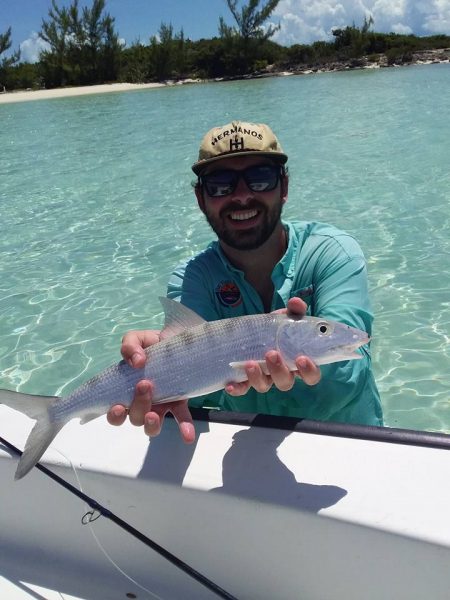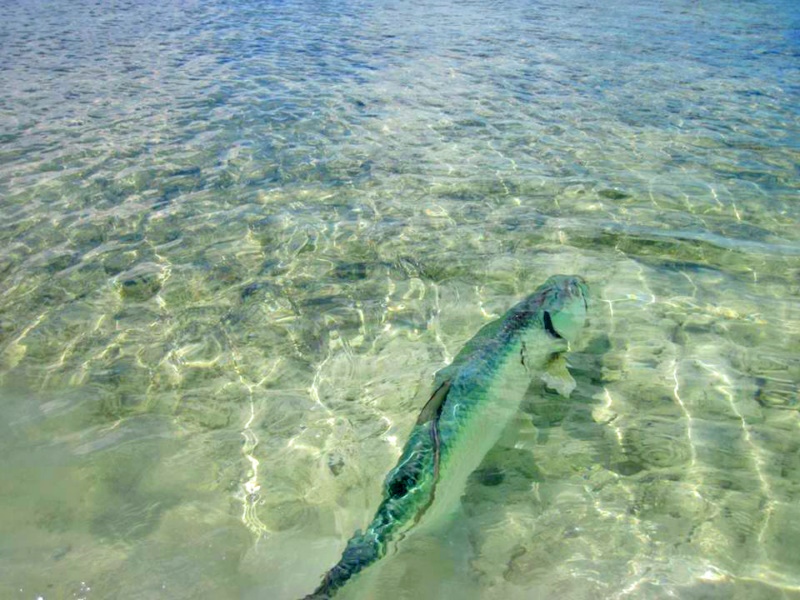 We Get Tarpon Too, So Le Us Know What You Like To Target!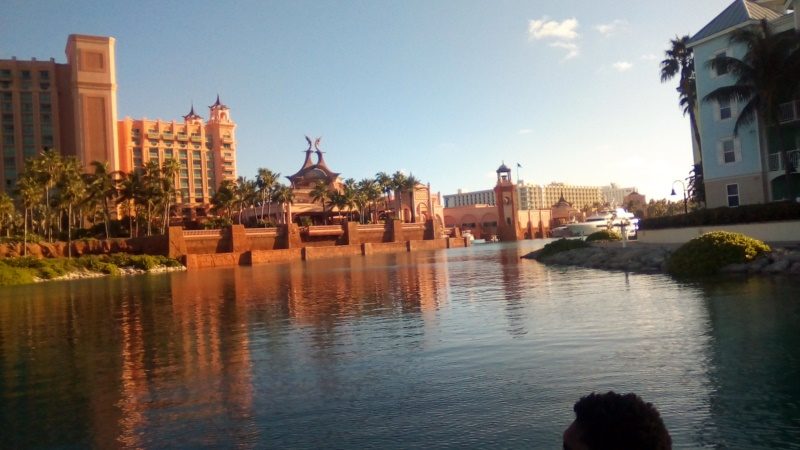 Here's The Atlantis Hotel in Nassau Bahamas.
Lots of happy clients from Bahamas.
Things are really getting fun again in Tortola, British Virgin Islands.
We have a great day trip for you, let us know when you go or if you need any information our friends Liz & Ian will take great care of you on Nanny Caye and the prices are so reasonable. They have fast water shuttles to various locations on the island, you're in for a real treat. Ask us about our family trips.