Fly Fishing Chile – Guided Adventures in the Lake
District of Chile.
Thanks so much for watching our adventures
Come down and visit us, we know how to make your
vacation dreams the best.
How's things? Life here on the Rio San Pedro in Chile is pretty relaxed. The weather has been great
and fishing has been too. Unlike other areas of Chile all rivers around these parts are in good shape.
When I look out from the backyard of the our property, it makes want to go fishing!
Come on down and let's head out, We still have room for February and March!
Saludos de Chile, Carola & Jack Trout
Now that we are guiding in all of the regions of the Lakes District of Chile, it makes it easy for us to travel around and
find the best fly fishing for you. 
The biggest trout always hang low, feeding near the bottom of the rivers.
So when Santiago showed up with his father Felipe from Sao Paulo, Brasil/Brazil
It was one great day of learning how to fly fish for both the son and pops!
Santiago was one of my youngest students at 7 years old and loved singing Rolling Stones songs, U2 and his personal
favorite, the Beatles. This kid didn't speak a word of English being that they speak Portuguese in Brasil, but yet
he
knew the words to many songs we all love to hear. Maybe this is another way for
kids
to learn a different language having fun through music that connects generations of people from all over the
world at one level or another. John Lennon sure would be happy about Santiago singing his songs…… Imagine That!
Felipe had a great time fly fishing with dry flies with trout rising all around him on the Rio Maullin.
Thanks to Felipe and Santiago for coming out and fly fishing with us, we think Santiago has a huge fly fishing and music
career ahead of him.  JT & CT
Ron & Paul Howes showed up next and we all went for dinner at Alessandro's Italian Restaurante in Puerto Varas, Chile.
Carola sure enjoyed her Pasta with plenty of parmesan cheese!
Paul Howes loved his pizza and brews….
The next day we floated the Rio Maullin near Puerto Montt Chile. We enjoyed catching both brown trout and rainbows
on the fly rod.
Then Paul hooked into something really nice that pulled us fast down river!!
A nice brown trout in a great river in the Lakes District of Chile.
But this photo was my favorite! Congratulations Paul Howes of England, you're my SIZZLER
 OF THE WEEK AWARD WINNER!!
WAY TO GO SIZZLER!!  Jack & Carola Trout
Now enjoy this video of Paul's catch, with special guest star POPS!
 A moment we all love to have out on any river, but when it's with your Pops, all the better mates!
They hooked others not as big but fun when your not at home….
 Later we found ourselves at home at a typical Chilean Restaurant that serves many of the national dishes you should try
when you arrive Chile.
 One of our very favorites that is a "don't miss" when in Chile is called Pichangas. Be sure to ask if they use Cecinas Modinger's Sausages, the best available in Chile.
We love their products here in Chile.
The troops were all ready that day for action on the river!
I like this photo and love my drift boat here in Chile!
Pops hooked up first that day! 
Carola's lunch was awesome!
Pops hooked another trout that took him for a big ride on the rain…. 
 But then the rainbow came out right by our home on the hill….
Then we had an asado bbq out on the property and my best friend Marcos showed up for the toast!
Cheers everyone…
 Back out learning how to nymph with indicators everyone was cathing on fine…
Way to go Paul!
 Carola's gnocchi's for lunch makes us all happy! Thanks to Ron and Paul Howes from England, look forward to seeing
you in Mount Shasta, California!!
Thanks for coming down and hanging out at the house, we had a great time with you folks.
Saludos de Chile, Jack & Carola Trout
Our next client was a big surprise especially to me. His name is Miguelito and little did I know this guy was a very famous
 person in Chile and Peru. Miguelito has appeared on many TV shows here and was performing at a club here in Los
 Lagos, when a good friend ask us if we could house him in our private home/ hosteria and take him on a tour of the area
the next day.
We said; "why not?"
 We drove him to his show and his fans loved him! This guy is a halarious comedian and in fact has his first movie coming out in Chile in November.
 He must have like 49 girl friends…..
Even mine loved his sense of humor as he took us in like two freinds from grade school. (This guy is 23 years old and a whopping 3 feet tall with a heart and a sense of humor bigger than Texas)
 Girls just love this guy and I soon became a Miguelito fan myself as I realized this guy was a full blown entertainer that was becoming more famous with every show and every event he appeared in..
I was amazed that his fate led him to our house in Los Lagos, Chile…… But over the years I have learned that you never know where a Jack Trout Adventure might lead one…
It was a really great night out for us and Carola looked stunningly beautiful, what a lucky man I am!!
I love her folks!
Enjoy this Miguelito Video doing Michael Jackson Thriller Video from
the 80″s
 The next day we woke up late and took Miguelito on a tour of the area.
Lago Panguipulli was beautiful like always.
 And within minutes we were flocked on like Paparazzi with many people asking for photos with the boy wonder.
You  might say he is the Danny Devito of Chile. I drank a beer and laughed…
Then it got a little too crazy and we all knew we had to get out of there!!
Then we saw this great church and decided to check it out! Panguipulli is a must see when traveling to Chile, a very clean and fun town to visit with great people who live and tour there

.
It was like a scene out of Ferris Bueller as we skipped school and went to see some really great places

.
 A very good place to be on Earth.
and as fast as it started the time with Miguelito ended, but not before a great asado bbq lamb dinner and a game of soccer.
Carola and I had so much fun with this guy as well as our good friends, Marcos, Viviana and Juan Carlos.
Saludos to Miguelito for staying at our home in Los Lagos Chile.
 Black or White Video Comedy
Miguelito with a small part in this halarious video from Chile!
 A great time indeed folks!
When you come down and stay in our home and fly fish or tour with us, this is what you'll see.
Oh yea, got to take that tree down this week…
 Breakfast is included and lodging is $25 per night per person with a view of the river from
your seat. (We always have Peets Coffee!!)
Even a better view this week of the river when I cut down the hedges a little….
Rooms are comfortable and so are the beds..
We have bedrooms available for you and your friends or love ones.
Let's head out today a favorite lake and take our new puppy Rayen for her first swim. Carola is a Native Chilean Mapuche and she told me this name means flower.
 I think Carola means flower in my native tongue…
The next day on the river flows from this lake we caught many McCloud River Rainbow Trout in a solid rains.
Where's your wading belt man???
 Nice hookup babe!
 hold on little buddy we'll let you go now…
Little Rayen on her first drift boat journey, I think she's a natural… We saved her off the streets of Los Lagos
a worth while mission….
Now one more dog saved and guranteed a better life with me out on the rivers of Chile.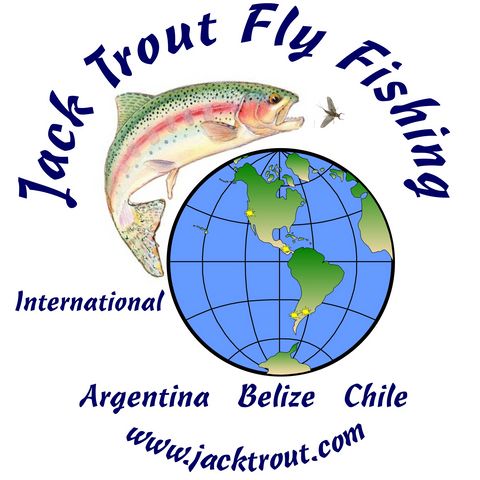 Thanks for watching our adventures folks! Saludos de Chile, Jack & Carola Trout
Emails from you:
Jack Trout Fly Fishing: Traveler Reviews
Show Attraction Details
Hide Attraction Details
Attraction type: Tour
Address:
1004 SO. Mt Shasta Blvd.,
Mount Shasta

,

CA
Tel: 530-926-4540
Reviews you can trust
"Great Guy and Fun Trip!"
We have found a friend for life in Jack Trout, and his lovely fiance, Carola! We spent 2 days fishing the San Pedro river with Jack in Chile. He completely outfitted our family, secured additional boats and guides to ensure we were all easily accomodated, and prepared a lavish lamb roast to end the day. It was a trip that we won't forget soon.
The weather was not perfect (a little rainy and mild), but everyone got their share of hits, even the novices who Jack personally escorted and tutored. My 12 year old daughter landed a nice rainbow, and the older boys both had good fights with larger fish. We had the river to ourselves and enjoyed a variety of fishing situations, as well as a nice lunch on the river banks. The boats and gear were great. In addition, Jack is a warm and engaging guide who wants you to have fun and catch fish, but without the pressure or slickness you find in other operations.
Make no mistake – this is not your average fishing guide operation. The "lodge" where we were housed is one of Jack and Carola's homes, but is clean, comfortable and they are extremely good hosts (remind them to turn on the hot water before you shower!). Their previous operation in Chaitan was wiped out by a volcano eruption in 2007, so this can be described as somewhat fledgling. But there is nothing fledgling about it once you get in the water and are hammering the fish. And the value is great!
We understand Jack guides trips in Mt. Shasta during the No. American summer, and we would definately sign up for one of those trips. As for fishing in Chile, we would highly recommend it and look forward to enjoying Jack and Carola's company in the future.
This review is the subjective opinion of a TripAdvisor member and not of TripAdvisor LLC.
Was this review helpful?
Yes
[ Date ] [ Rating ]
 Patrick & Cynthia Shea
*******************************************************************
Sr. Trucha:
Greetings from Downieville.
I am, at my wife's request, going to Santiago next Jan.  I'd like to go south and catch some fish.  If we stay in town, can you provide guide service for floating and/or wading?  Which is the best month to be there?
See our site  www.siaerrastreamsidecabins.com
Cheers!
Jim Johnston
Did you go to H.S. in Portola?
---
Please sign me up for one day, Saturday, June 5th on the Upper Sac in your raft.
Jim Collins
****************************************
Jack:
Sorry for the delay.
I am still waiting on some decisions from my business clients regarding my trip – things are still in flux. . But it looks like I will be able to fish sometime in the interval from Feb 15 to 23rd.  I would be OK with as little as 3 days or as much as 6 days of fishing.  I will be alone, and as I may have mentioned am an experienced fly fisherman: trout, saltwater , steelhead — and I speak 'kitchen' Spanish.
Given this can you suggest some specific possibilities.  I will also let you know more when I know more.
Peter
Peter J. Kolesar, Ph.D
***************************************************
Jack,
Here's the latest.  I want to go with someone and I was waiting for my fishing buddy to say yes, he'd go.  A few days ago he told me he didn't want to endure the 25 hours it would take to get to Puerto Montt, by his estimate. (He used Orbitz to plan the trip).
As I may have told you, this was to be the ultimate destination for a trip in my Cessna from Palo Alto, Ca.  My partner in the Cessna says he wants to go but he isn't a huge fishing fan.
As you can imagine it's a long way in a small plane (Andy, my partner estinmates 50 hours of flying time).  I'm naturally up for it and I have blocked out the month of March so we could take about 2 weeks going down there, then fish a week and hurry home.
So, maybe I need to just take a day trip of two, if that's possible, once we get there.  What do you think of this hair-brained plan?
Brian
****************************************************************
Hi Jack,
Do you know if your office has already mailed the fly fishing gift certificate? If so, I did not get it today so hopefully it will
be here first of the week. Rob's Birthday is next Thursday and I was hoping to have it by then.
Thanks,
Debbie Ostrander
********************************************
Jack and carola,
We are in esquel, the weather turned amazing and we had a great day of wading!
Next 3 days: futa, arroyo pescado, rivadavia, then lago strobel 3 days! After that to round it off, jumping jack trout! Please send me a number in chile where we can reach you.
Cheers,
Johann and phil
A1 präsentiert BlackBerry® von Vodafone
***********************************************************
********************************************************
Customer Reviews
Franks Fuel & Heating 1
Frank's Fuel Dunsmuir California
Watch'em they will try to charge you a extra service fee of $85
if you need fast service, even if unauthorized. Office has a bad attitude in a small community.
After I had already ordered service for the following week because Kathy said her driver wasn't going to be in the area, I asked them to wait because I didn't want the extra fees, they charged my credit card with an extra fee unauthorized and they threatened to go back out and pump all fuel if I didn't pay extra fee after I called them asking them why, they said their driving was in the neighborhood the next day.
Holiday Spirit Dec 22nd.
Use Cross Petroleum or someone else is my advice. Jack Trout
December 22, 2009 by Jack Trout in Mount Shasta, CA
Fuel or Kerosene for Mount Shasta, Dunsmuir, McCloud, Weed – California
Write a review for Franks Fuel & Heating