Wednesday, August 15th, 2001


Castle Crags is referred by locals as our version of Yosemite. Castle Crags is a much older range of volcanic activity than Mt Shasta and the Cascade range. Thought to be it's own mountain range, they've never been able to tie it's activity to anything else
in our area. It remains to be the oldest volcanic activity in our region and it's distictive crags was written about often by the first fir trappers who frequented the Siskiyou Trail in the 1820's.


Shasta the Trout Dog on guide patrol here with our delightful customer Tom Cervantez. Shasta has been guiding with me for 7 years, and did over 200 guide trips last year. She has been honored for treeing a bear once on the McCloud River, alerting myself and a
customer to a Rattle Snake ahead of us on the trail, and has more than once got me out of a jam when I couldn't find the trail. Shasta
goes on all my North American trips and is loved by all of our customers. Tom was happy that this fishing trip with Shasta was pretty uneventful other than all the trout we caught. Shasta the Trout Dog is my "Sizzler of the Week"! Congradulations Shasta….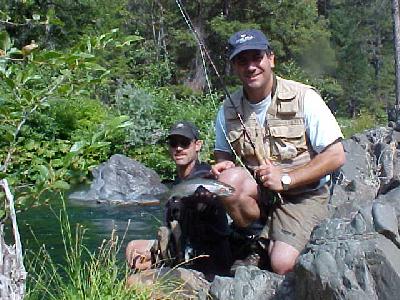 The McCloud River is a great place to be right now with it's awesome water temps for swimming and all it's scenic beauty. The fishing remains excellent and everyone has been so happy just to be there. Fall is right around the corner so get ready for all those great Fall colors!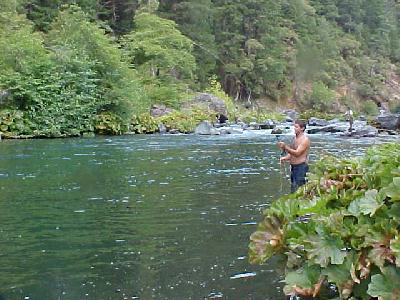 Get your family together or friends and head out now the weather is perfect!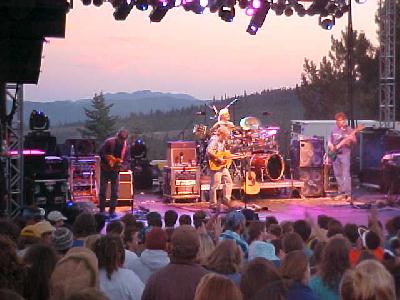 String Cheese fans and locals flooded Mt Shasta Ski Park last week for a great performance. This is String Cheeses second year and what a great show they put on! A very talented band, it was nice to see so many of my friends that thought I fell off the face of the earth cause I've been guiding so much. I usually don't miss String Cheese, and the many great hits and music they offer. Next at the Ski Park is their Fall Brew Fest. I don't miss that one either, how about you?……….. Jack Trout over and out!!!