*****MERRY FISHMAS AND A HAPPY NEW GEAR~!!!~~TRINITY AND KLAMATH STEELHEAD ~~ UPPER SAC MID-DAY DRY FLY!! ~~ CHILE SIGN-UPS FOR FEB & MARCH*****
---
---
HOLIDAY FLY FISHING GIFT CERTIFICATES ~ 530-926-4540 EXPRESS MAIL SERVICE LAST 2 DAYS!
UPPER SACRAMENTO RAFTING FLOAT TRIPS~TRINITY & KLAMATH STEELHEAD TRIPS~SCENIC TOURS*****
---
---
GIFT CERTIFICATE PURCHASES THANK YOU LIST: TOM SHADDOX 2~DAY FLOAT GIFT CERTIFCATE FOR AN EMPLOYEE. GEORGE PROTSMAN 4~PACK FLOAT TRIP FOR A NEPHEW. HALLIE GROSSMAN 2~DAY
FLOAT GIFT CERTIFICATE FOR HUSBAND. JEN ALTMAN $150 GIFT CERT FOR HUSBAND. SUZANNE SAYSETTE
$100 GIFT CERT FOR DAD. CORI SAYSETTE $100 GIFT FOR DAD. JODY SMITH 1~DAY FLOAT GIFT CERT FOR HER HUSBAND. CLAIRE DONNENWIRTH 1~DAY FLOAT FOR HER HUSBAND. ALEXIS FRIEDHABER 1~DAY FLOAT FOR HER GRANDSON & HUSBAND. ELAINE HARTIN 1~DAY UPPER SAC RAFT FLY FISH TRIP FOR HUSBAND HAROLD.
---
THANKS SO MUCH, 2007 WILL BE THE BEST ADVENTURES EVER, JACK TROUT!
---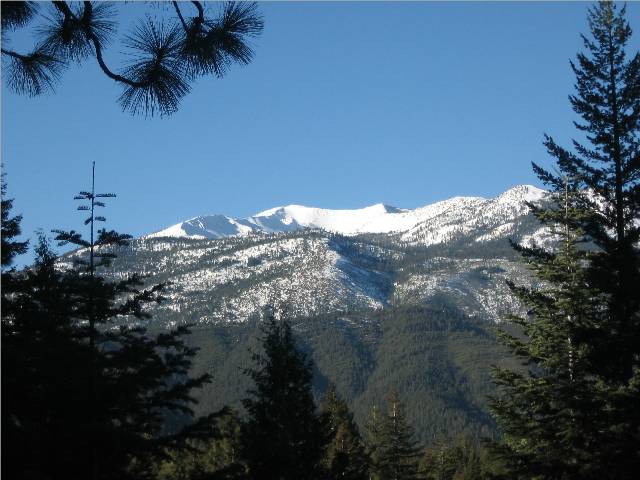 ---
Mt Eddy on Monday, December 18th, 2006. On the back side of the Eddies, Trinity Creek makes its way down the mountains to where it joins Coffee Creek which descends from the Trinity Alps and there is where the Trinity River is born. We are now starting into the snow season in all areas up here and it can be an exciting time of the year. Are you prepared to drive up to the mountains in adverse weather conditions? Always carry chains if you don't have 4 wheel drive and snow tires. Buy chains and fit them before you come up (every year stores sell-out up here). One time, I drove down to the Bay Area for a show, and on the way home I was stopped in traffic heading up to Mt Shasta on Interstate 5 just above Redding. The road was closed due to snow, all the hotels were sold-out in Redding and families I saw including myself, were faced to sleep in their vehicles overnight. I was lucky, I had blankets, pillows and a sleeping bag. Food, water and even a shovel just in case. You should always carry a shovel in your car in the winter. Many roads without snow are muddy from being wet previously. You should also carry a mirror for being detected from air. Cotton socks are no good up here after November. You should have thick pairs of poly-pro, wool or capilene. Later that night I gave a family some blankets and some Mt Shasta Beef Jerky, then headed off to my truck for a well prepared night's rest. Consider bringing a tent if you have a family. Snow shoes not tennis shoes on the drive up.
---
Be prepared when heading into the snow country, call OR VISIT the UNITED STATES FOREST SERVICE FOR THE AREA YOU'LL BE HEADING INTO,
(Mt Shasta Dist. 530-926-4511)
GET CONDITIONS & INFO. 1-800-427-ROAD. CAL TRANS ROAD INFO. CHECK YOUR TIRE PRESSURE AS IT CONTRACTS IN COLD WEATHER. PLEASE DON'T TAKE CHANCES THIS WINTER, CONSIDER THE FOLKS THAT HAVE TO COME OUT AND LOOK FOR YOU….DON'T JUST JOY DRIVE MOUNTAIN ROADS WITH SNOW ON THEM, IF YOU ARE NOT FAMILAR WITH THE AREA, GO BY THE FOREST SERVICE AND DEFINE A SAFE ROUTE FOR YOU OR YOUR FAMILY, THEN ADVENTURE OUT. THE FOREST SERVICE PROVIDES FANATSTIC WINTER INFORMATION ON ANYTHING AND EVERYTHING REGARDING THE MOUNTAINS & MOUNTAIN ROADS.
---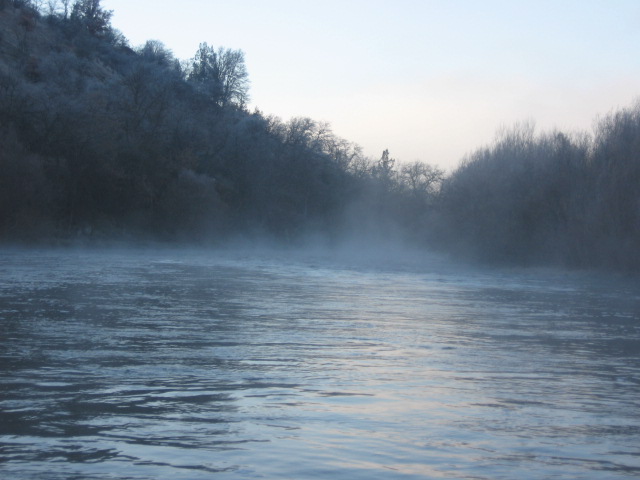 ---
The mornings are cold but rewarding! We have heat in our boats!
---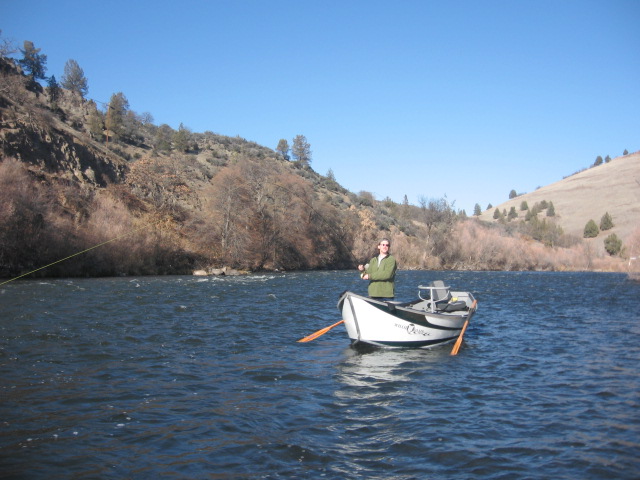 ---
I've learned that when your cold, so are the fish. The best fishing right now is 11am to 4pm. We still meet at 6 am cause it just wouldn't be steelhead fishing now would it! Reed, a medical doctor from Redding agreed, everything got better after things warmed up. I like guiding this time of year cause you start seeing less and less folks out, but the fishing is awesome! Some of the largest trout are caught in late Dec and the entire months of January and February. I have learned if you REALLY layer up and wear lots of warm thermal clothes in waders you can be quite comfortable out fishing in winter. Some days are so nice, you elect to shed layers!
---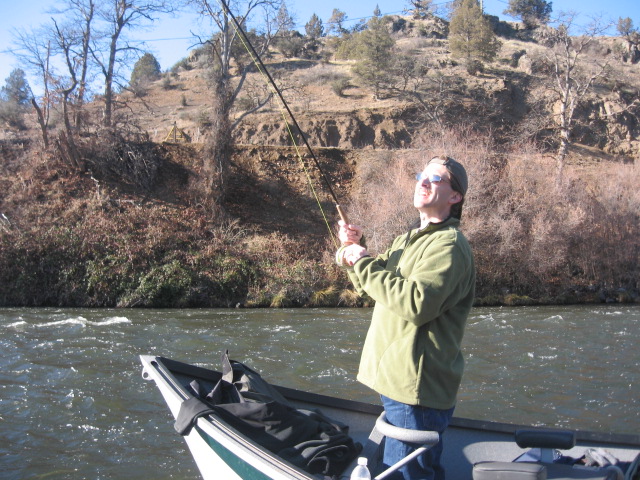 ---
Reed's first trout was a quit memorable fight! (Wow! these fly rods can really bend)
---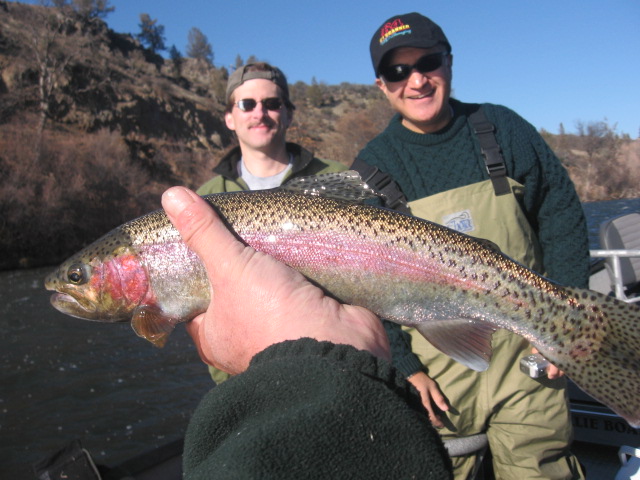 ---
Amjad and Reed, two medical doctors from Redding on their 1st fly fishing trip!
---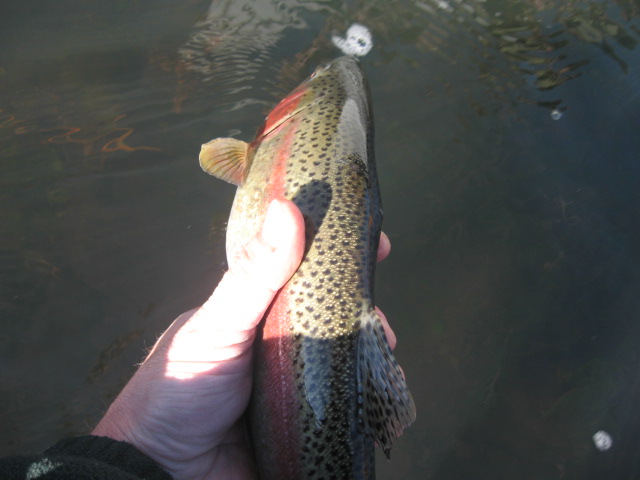 ---
Check out Ray Charles in this classic video!
http://www.youtube.com/watch?v=1KnXBXMTU2w
Ray Charles – Georgia On My Mind ~~ watch it and come back
---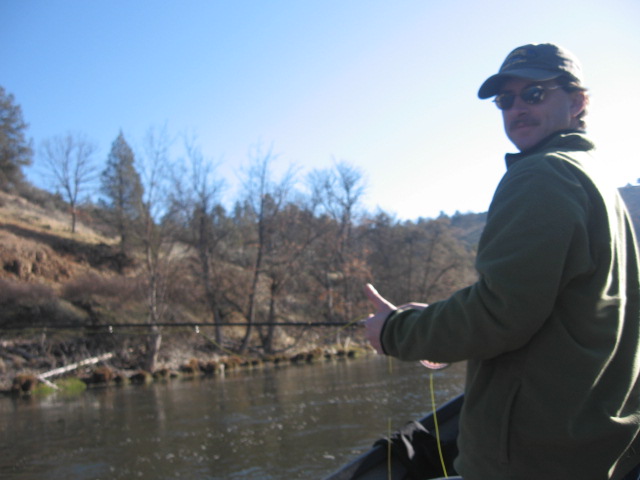 ---
Reed gave me the thumbs-up on the trip! !
---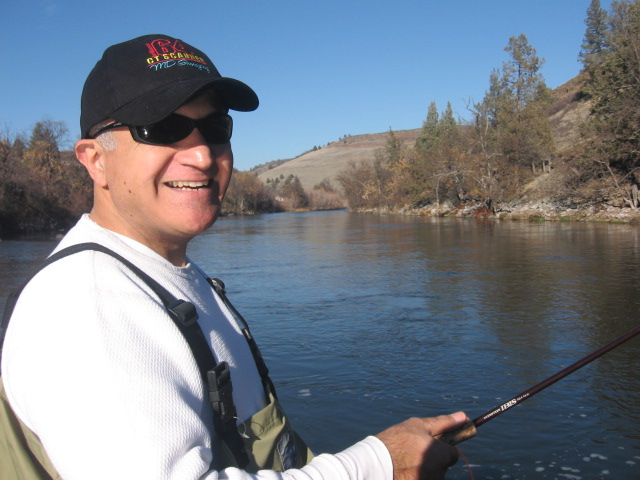 ---
Amjad, had so much fun that day!
---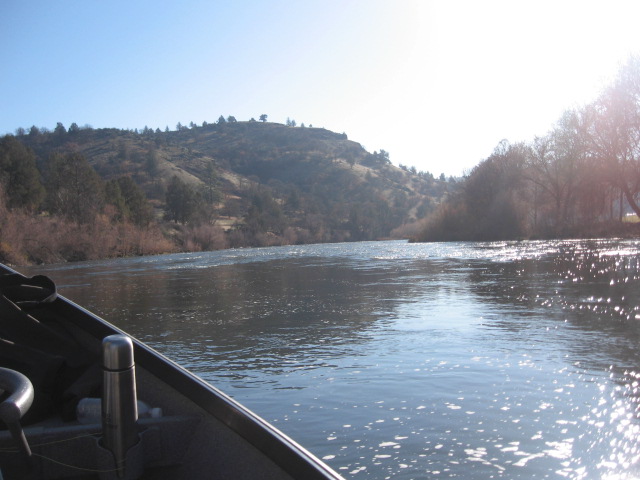 ---
What a great view, I love guiding on the Klamath River, you have to know it to do good.
Listen to, Thin Lizzy COWBOY SONG.
One of my all-time favorite bands from the 70's.jt
http://www.youtube.com/watch?v=bG_r62_R83k LISTEN & COME BACK
---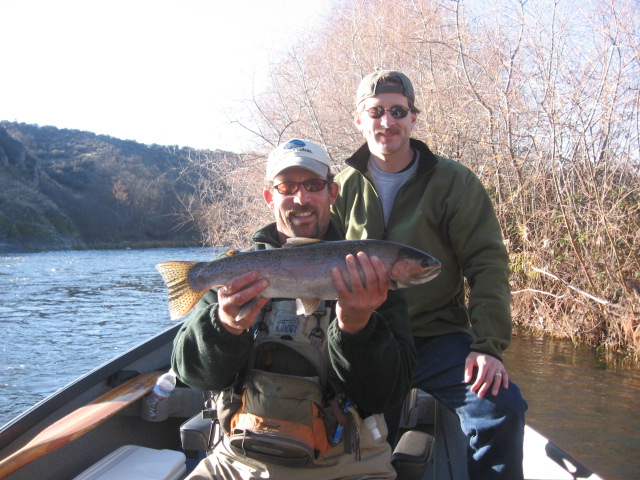 ---
Then Reed really pulled one out of his hat with this wild steelhead!
---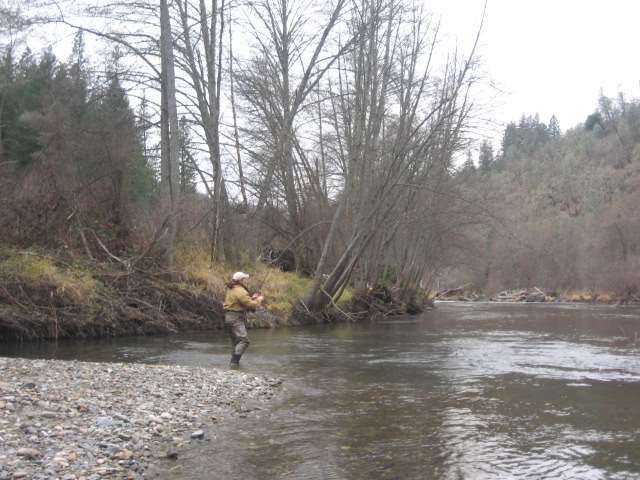 ---
It must have been doctor's week, cause then I took my doctor and his wife out on the Trinity and what a great day we had!
---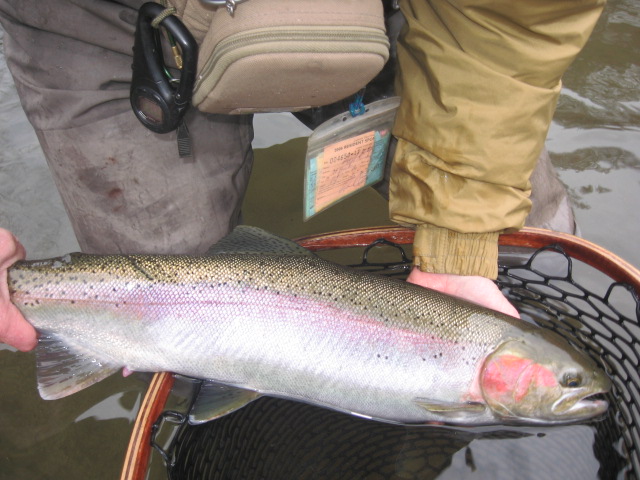 ---
Way to go Dave!
---
---
Doc, can't even get a day off out on the river. One day he's delivering babies, the next he's reviving trout!. We are so fortunate. What a great asset to have in our Mt Shasta community, Dave Holst, ladies and gentlemen. (crowd applauds)!
---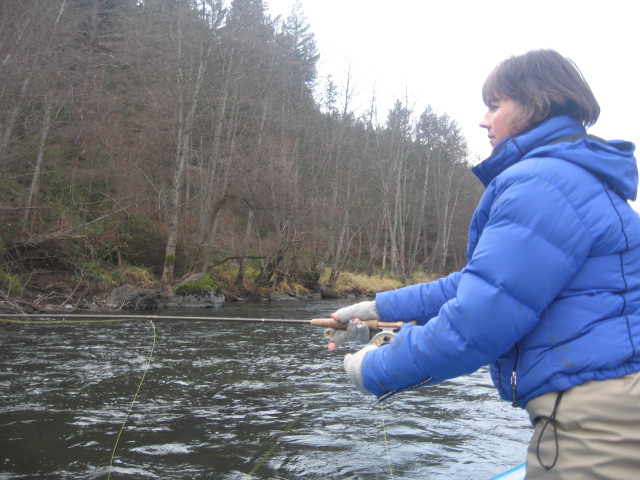 ---
Lori Holst enjoyed her day out fly fishing with her husband on the Trinity.
---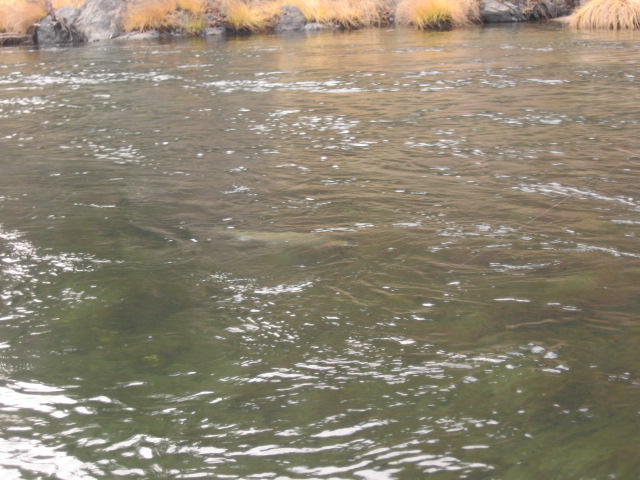 ---
I like this window of opportunity!
---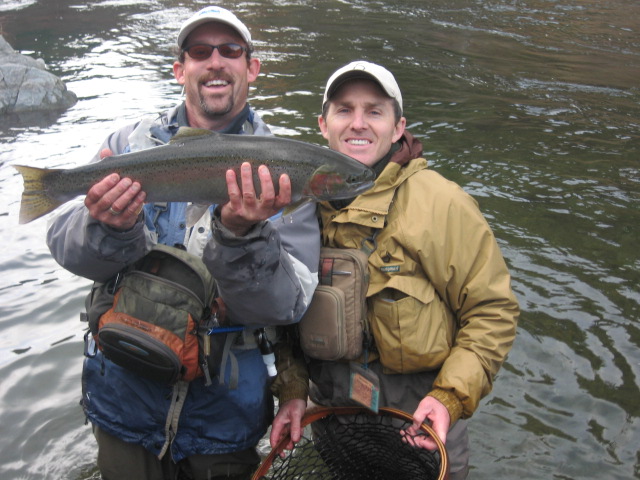 ---
Dave Holst lands another folks!
---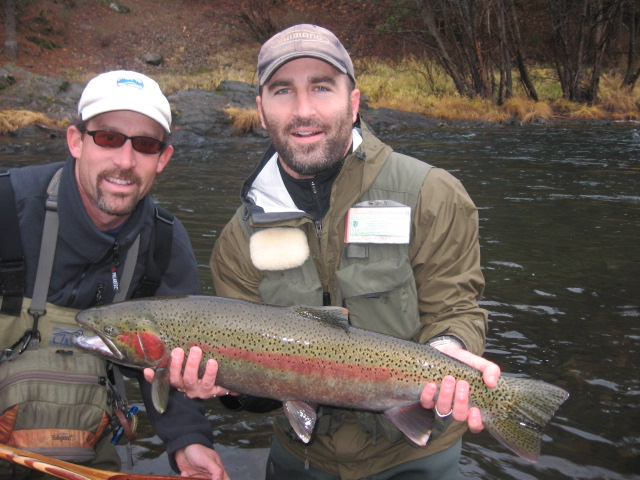 ---
Cameron Baxter,(Camloop) a well known bass guy was brought up to be converted for his first ever fly fishing trip. It was not an easy endeavor, for the Trinity River can be as difficult-a-task as any on a first-time outing. But Chris Welch, Cameron's friend, felt that this would be a great trip if he could just hook one… He hooked three folks, but none better than the 28 minute fight this steely put on Camloop Baxter!
---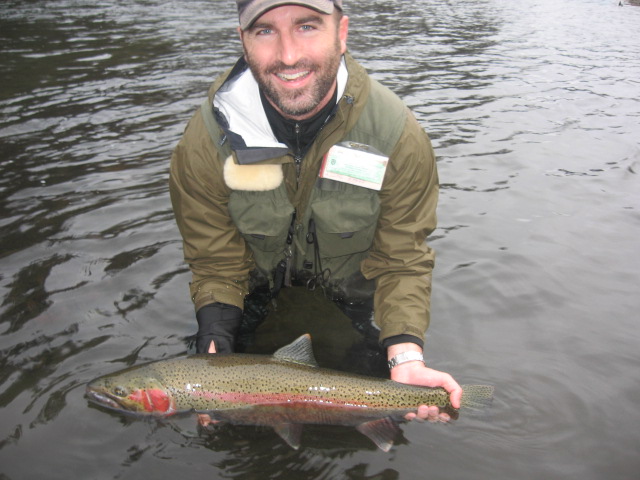 ---
Enormous proportions on a fly rod has convinced Camloop Baxter, to consider the possibilities of putting down the spin rods for a while and bringing brother up for fly fishing in January. Wow! What a change of events that could influence the Dow Jones! I love this sport, every year more and more take it up as a hobby and then a passion! (That's when you're a sick-puppy, you need HELP! All you think about is steelhead, get a life)! Or just call me and we can go fishing……jt
---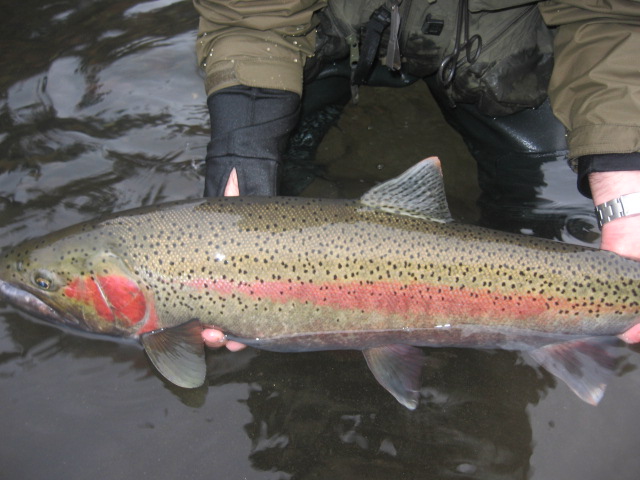 ---
Camloop Baxter!! YOU'RE MY SIZZLER OF THE WEEK AWARD WINNER!!!! CONGRATULATIONS SIZZLER AS THOUSANDS APPLAUD IN AWE!!!
---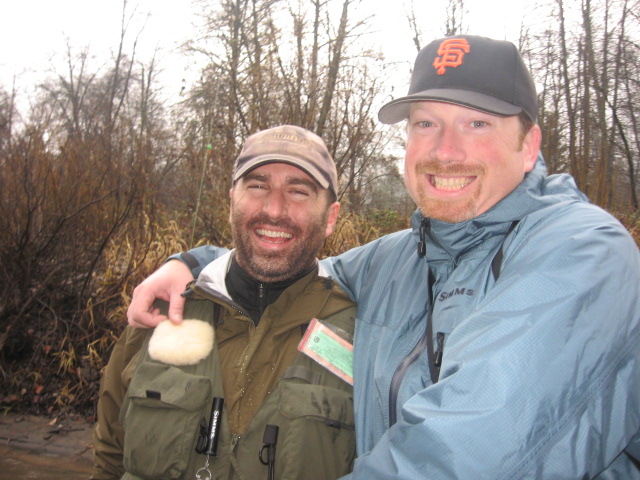 ---
Here's two buddies cheering each other on! That is called happiness people!! That was the hardest fighting fish I've ever seen steelheading.
---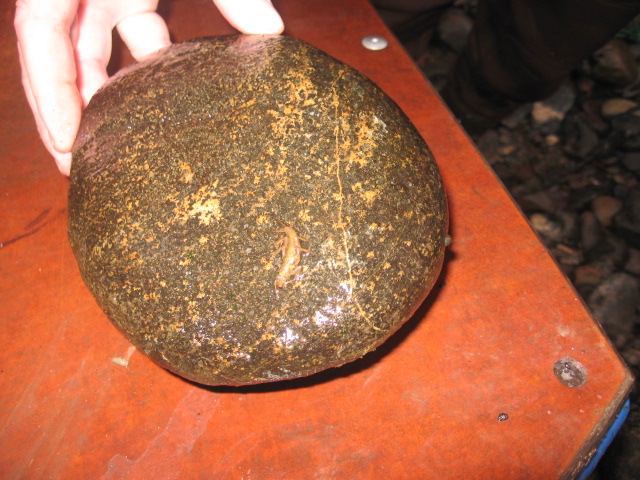 ---
Golden Stones on the rocks….. hmmmmmmmmmmmmmmmm!
---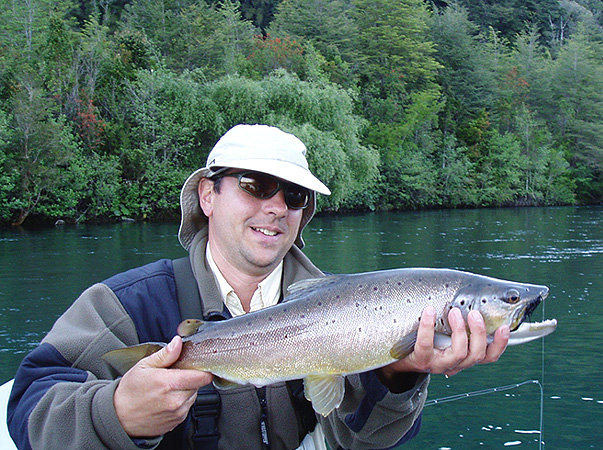 ---
My partner in Chile, Pancho says, hello to all of you out there! We are looking forward to a great season this year in Chile. We have openings in February and March 2007. We need two more groups of 2 or 4, one in February and one more group in March. Will give a great deal for a group of four!!! Call now, operators are waiting… yeah right! jt
---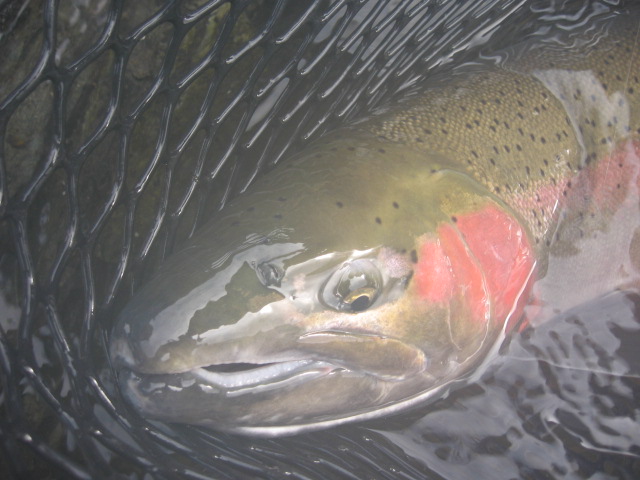 ---
This steelhead is as fine as Rachel Nichols, from ESPN! What a hottie and she likes sports.
---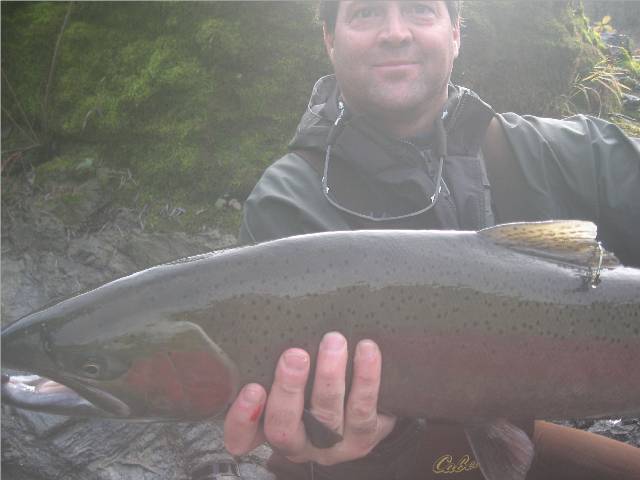 ---
Drake Ferarri, just the name says: "I land big fish"! I'm thinking 12 lbs!!
---
---
We had a great day, with 7 total steelhead that day to the boat.
---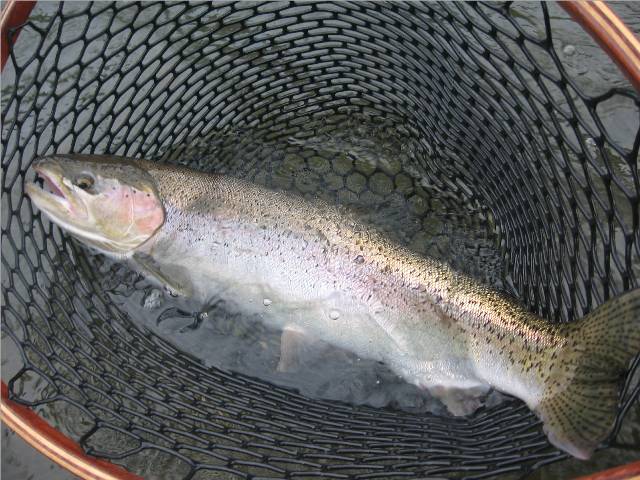 ---
Watch this video by Bruce Springsteen: Human Touch
http://www.youtube.com/watch?v=-kStdwGR4n0
Watch it and come back!
---
THANKS FOR WATCHING MINE AND YOUR ADVENTURES! I STILL HAVE DATES OPEN FOR LATE DECEMBER AND GREAT DATES FOR JANUARY STEELHEAD FISHING ON THE TRINITY AND KLAMATH RIVERS. MANY RIVERS TO YOU, JACK TROUT 530-926-4540
---
---
http://www.jacktrout.com/futa.html
---
http://www.jacktrout.com/trinity.html
---
http://www.jacktrout.com/klamath.html
---
http://www.jacktrout.com/lowersac.html
---
EMAILS FROM YOU:
Thanks Jack… I'm excited about this gift. Jud is not a "things" person so he is hard to buy for… There is nothing he likes better than fishing so he will be thrilled with your tour.. Jody Smith
---
Hi Jack…
How you've been? I'm in Puerto Varas right now, doing all the final stuffs for our trip to Futaleufu on December 28th…
I have to be there early 'cause my internship…
I was looking to buy somethings in Cabela's but at the end I realize that they don't ship to foreign countries…only Canada
I only need 2 fly lines, 1 reel (cheap) with its extra spool, and an extra spool for the treasure you gave me (thanks again for the Ross reel)
I'm going to be waiting for your e-mail
Thanks
Anything you need you know
The best for you and the one you love!
Happy Christmas!!!!!!!!!
Your friend and Guide
Nico G.
---
Hello,
I am Andrew lownie from UK,I Came to hear about your Fishing Charter,I love fishing,Fortunately I am coming with my Group,So i will want to use the medium to go fishing with my Friends.
I will like to know if there is any Vacancy for fishing on the 20Th to 27Th of February 2007,kindly confirm any 4 vacant days during that date space,
Please get back to me if there is vacancy so that I will pay immediately with my credit cards for the days to be blocked.
I await your email.
Best Regards,
Andrew lownie. England
---
All right you got it. I need some of that Steelhead action. How long is your season and what dates do you have available? This will be for two because Rick will want to come along.
Robert Mankin
---
Hi Jack, Just left a message on your phone listed here. I have four to fish the Trinity 1/30,31 and 2/1. Al Heitz.
---
Hello,
Sorry I didnt see your previous email.We shall be Fishing for 4 DAYS based on HALF DAY on each day.That will commence on the 21st and 24TH FEB,2007.
Number of Anglers=4 Adults
Starting date:21st FEB,2007
Ending date:24TH FEB,2007
Payment Mode:100% deposit via Credit card
Please give us your rates,for the entire period, and get back to me with the grand total for the period of time I requested.
Your prompt response will be appreciated.
Thanks for your co-operation.
Regards,
Andrew lownie. England
---
Good Morning,
I'd like to buy a gift certificate for my husband for Christmas. Do you have them available? If so, can we do something via fax with hard copy of the certificate to come in the mail?
Let me know,
Claire Donnenwirth
---
One last question,
For a single handed rod for steelhead fishing would you recommend a 10′ or 11′ rod. I just sold my spey rod and want to get a single handed rod. Also, my friend Kris wants to do a 2 day steelhead trip. If we flew into Redding, could you pick us up or do we need a car. What is the cost for 2 people for 2 full days and what dates/rivers do you have or recommend for bigger fish.
Thank you,
Mark
---
Look forward to reading about your adventures and hopefully sharing some with you next year. Happy holidays!
Warmest regards,
Seth
PS I see Jim snuck out on the Trinity with you.
---
Jack,
I am interested in buying a rafting and floating trip down the Sacramento River for my husband for Christmas. I know this is a little last minute but I know he would love it. Please feel free to call me at my number listed below to set this up at your earliest convenience.
Thanks and I look forward to hearing from you.
Sincerely,
Elaine Hartin
---
Hello Jack! Just wanted to wish you a Merry Christmas! From my family to yoursΣHave a Happy and Safe New Year too! Keep in touch on dates available, see you soon. lsf
---
Dear friends:
Trespiedras Fly Fishing Team want to say you…. happy Christmas holidays! Also we wish you a year 2007 full with success, good times and good fishing.
Our sincere wishes,
Francisco Castaño
---