Friday, November 22th, 2002 *****4 A MT SHASTA PET 926-6562*****


Howdy out there! Another great week out in the Klamath neck of the woods. Here's Aron Lucas of Mt Shasta on his first of many fly fishing expeditions. He has on his very first catch at 5 years old,
He loved it and Dad did too! Way to go Aron and you never got bored,
what a great kid.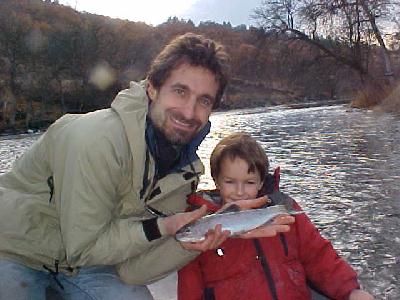 Dad and son out together can become a lifetime memory, traditions start from within and grow like every generation before us. Why is it the outdoor memories are the ones that are remembered the most? Yet the legacy has only begun, our long lived tales are where were from. Richard and Aron Lucas of Mt Shasta,
Mt Shasta's Father of the Year! Way to go Sizzler!!! jt


Here's Ken Brose back again for the third trip this Fall, fishing has gotten better each trip.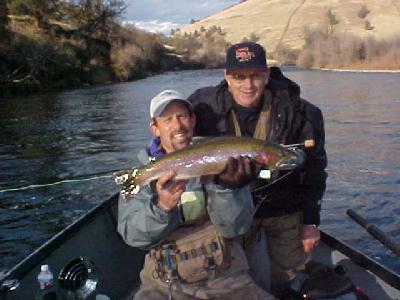 Ken hooked in to this 28″ Steelhead on one of my secret Klamath Patterns I call the "Bead Headed Toe Jam!" It's a great fly for the Klamath! I think it must of been the 49ers hat too……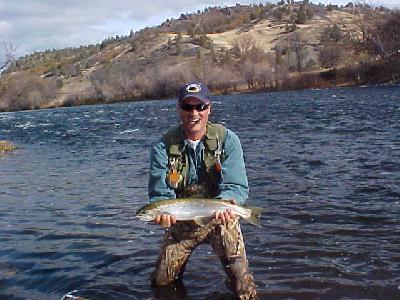 Then there's Greg Johnson's big catch, this 27 "er and a fine Cuban
to go. Can you be a little happier??????????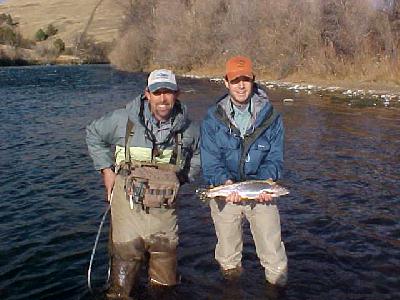 Or what about Sean Maher's 1st real Steelhead Trip or for that fact
his 1st Steelhead on a a smooth Streamline Reel, my favorite reel of all-time, Hardy reel plays the best music!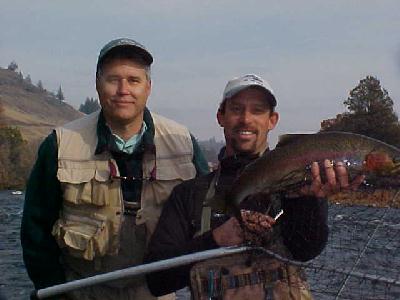 My old pal Mark and a healthy rainbow, Mark and his wife Teresa have gone to Patagonia on one of my Chile Fly Fishing Trips, it's great to be back out with them again! jt


I think Mark's wife Teresa summed it up by saying, "This is country club fishing!" Do they allow dogs at country clubs? They better at this one! Shasta really enjoys Teresa and likes to hang,
especially at lunch.


Nice fish Teresa! As long as people keep putting back these lovely
trout and steelhead we'll have terrific fishing. Remember the past or were doomed to repeat it, the Klamath went dead for over 20 years due to over havesting it's finally making it's way back. You are required to catch and release all wild trout and steelhead on this river and we do!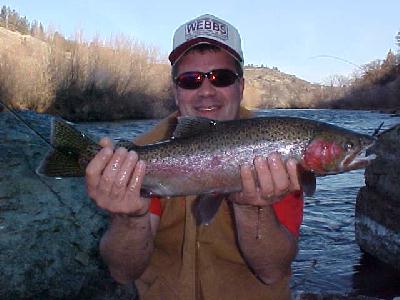 Wow, Nice fish! Craig Seastrom with a beauty. I just realize what a busy week I've had. It's like June out guiding everyday. I feel lucky and blessed to have all my great customers, a resource like the Klamath and be able to share my knowledge of it. *****TAKE CARE
HAVE GREAT TURKEY DAY!!!!!!***** JACK TROUT