CHILE AND ARGENTINA TRIPS COME TO A CLOSE FOR THE 2013 SEASON.
ONE SLOT LEFT FROM MID APRIL TO FIRST WEEK OF MAY. INFO@JACKTROUT.COM  * 530-926-4540 * SKYPE: JACKTROUT24
http://www.jacktrout.com/chile.html                               http://www.jacktrout.com/argentina.html
                  * Mount Shasta Dunsmuir Area Fly Fishing *
LOWER & UPPER SACRAMENTO RIVER FLY FISHING TRIPS 2013 BEGIN !
Northern California Fly Fishing Guides – Mcloud River Guides * Klamath River Stone Fly Hatch * Pit River &  Hat Creek * Fall River 
Float trips in drift boats, rafts & prams always outfitted comfortable for traditional fly fish angling, guiding & instruction w/stream-side memorable lunches.
 http://www.jacktrout.com                                    http://www.jacktrout.com/teamtrout.html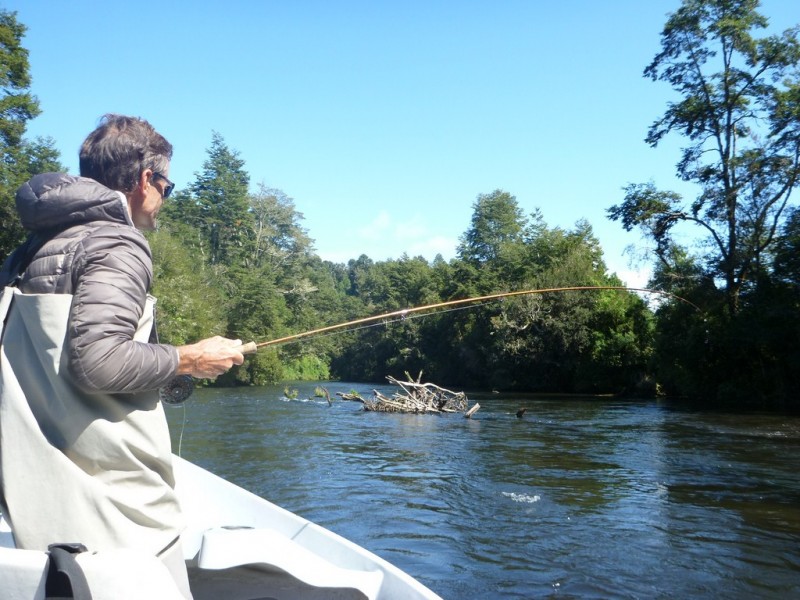 As fall arrives here in Chile and Argentina the fly fishing picks up as the mornings get cooler and the trout bite becomes more aggressive. Just like back at home in the United States fall is always the best fishing for catching trout and for size.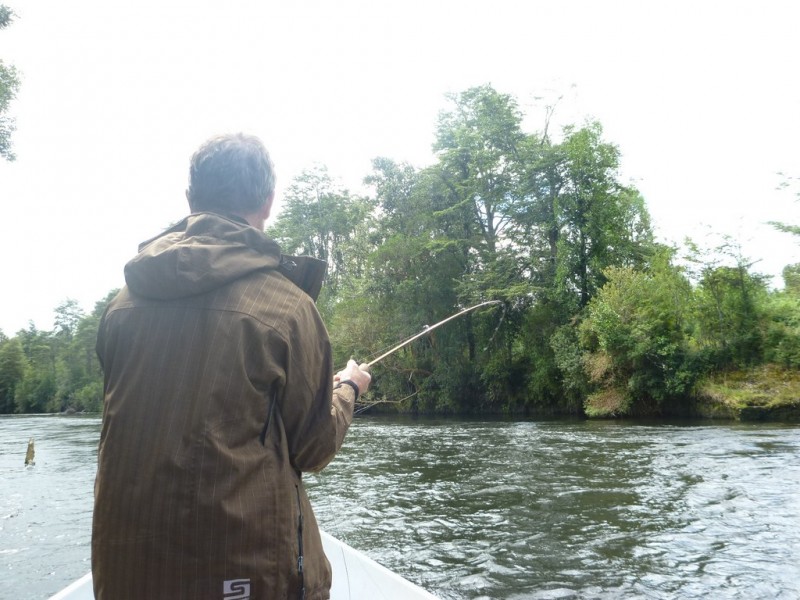 Timothy Cooper from Australia brought his girlfriend Kylie for a float on the Rio Maullin and a little trout catching.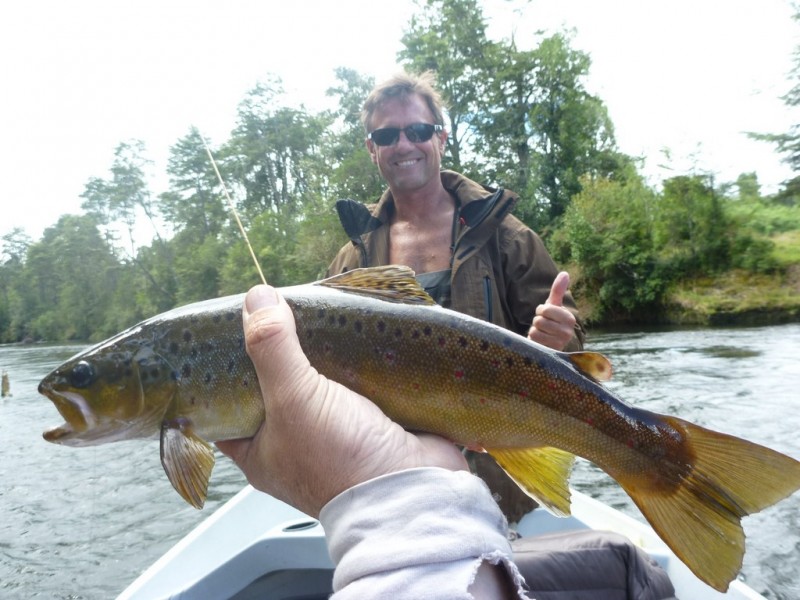 Way to go down under mate!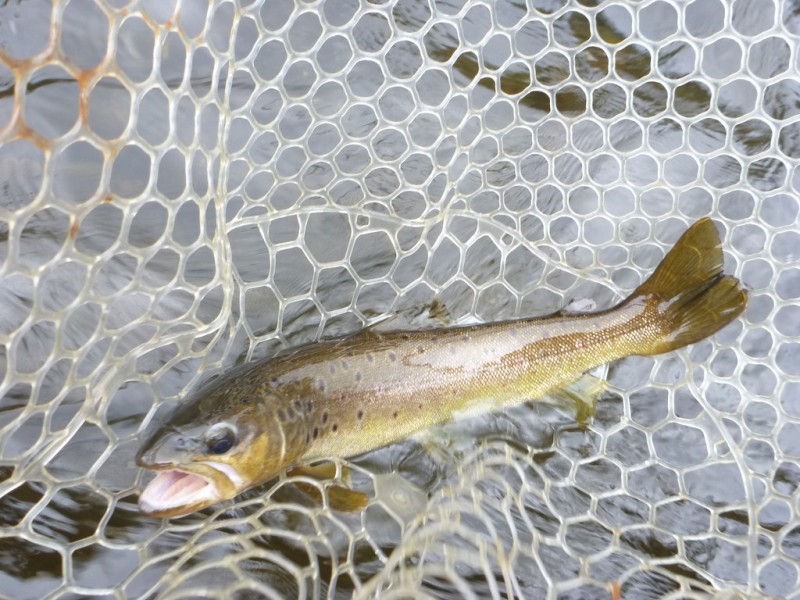 Catching brown trout is a good way to go when visiting Chile & Argentina, now's the time of year when we see the biggest!
 We set up all of Tim and Kylie's lodging in Puerto Varas and Pucon, Chile, let us do the same for you on your travels and you won't need to think about anything but where you're going to dinner that evening. (We can help you with that too!) We take the guess work out of your Chilean & Argentine travels, let us plan your next adventure for 2014 in Chile & Argentina.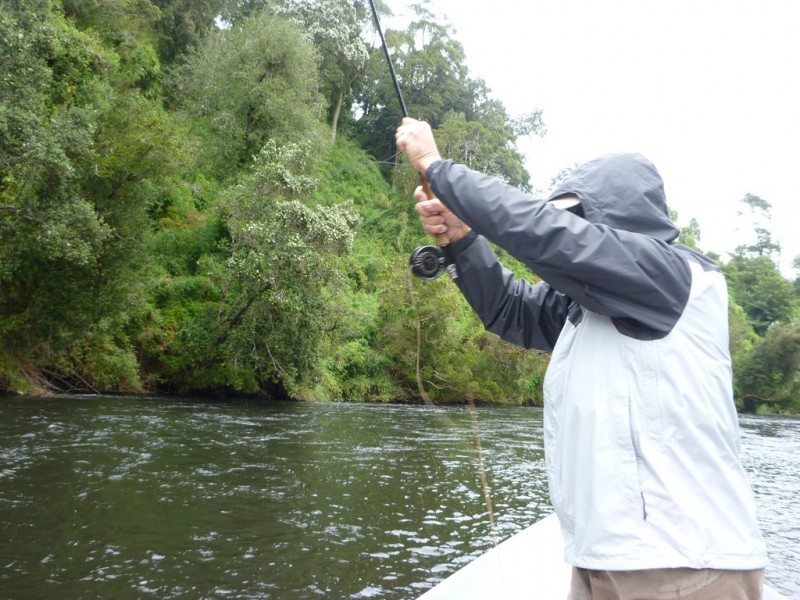 Out on a recent trip Dave Dufour came with his best buddy Bob Gufason from San Diego and enjoyed thoroughly their trip with me out on the Rios in Chile.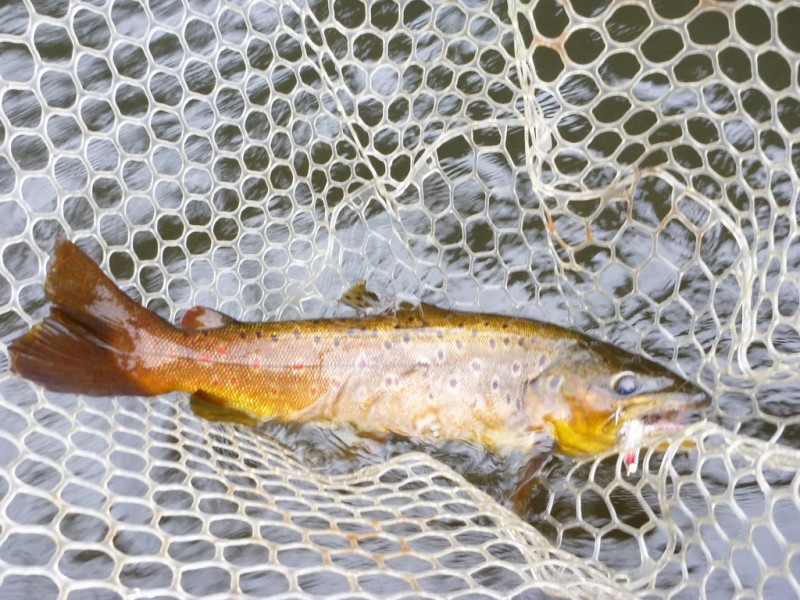 Dave caught this wonderfully rare colored brown trout in about 2 inches of water, that we saw hit his streamer as it landed on the surface!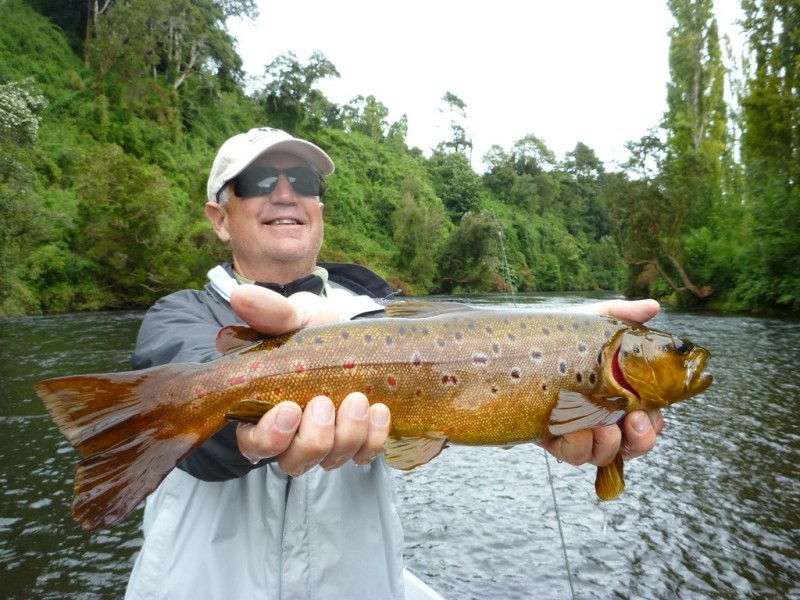 What a nice brown trout, incredible colors with  brilliant florescent red spots on his side near his tail. This trout was a gold bar from Fort Knox.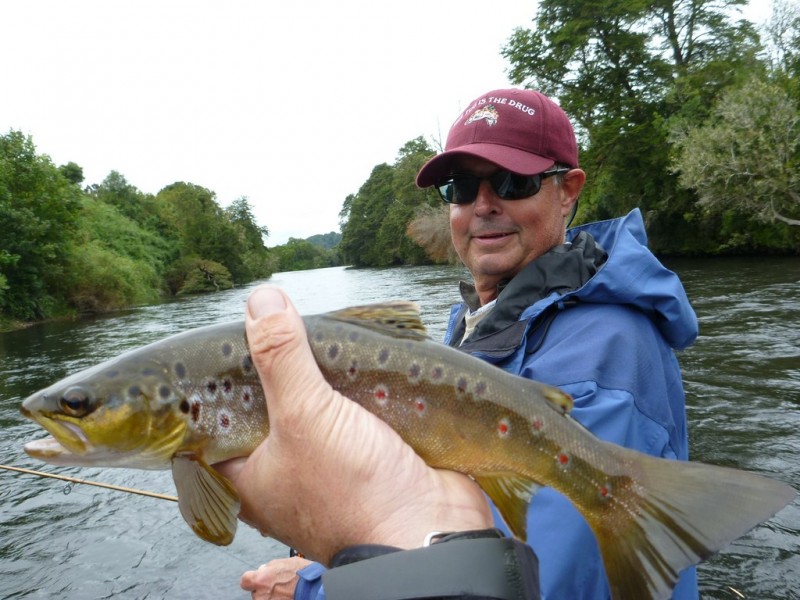 Bob Gufason with his nice brown trout catch, talked about possible coming back with Dave to be guided on one of our 12 day trips through Chile over into Argentina.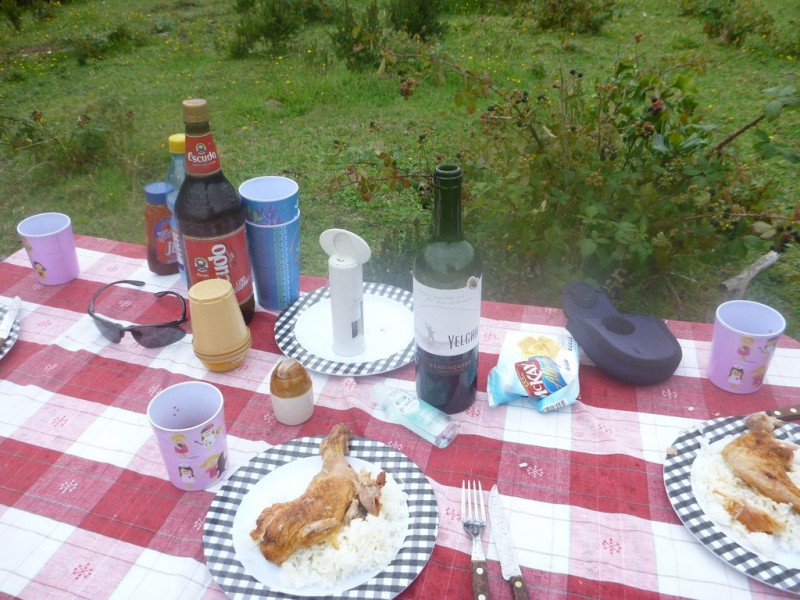 Lunch is served!
******************************************************************************************
STEELHEAD FISHING STILL GOING STRONG IN NORTHERN CALIFORNIA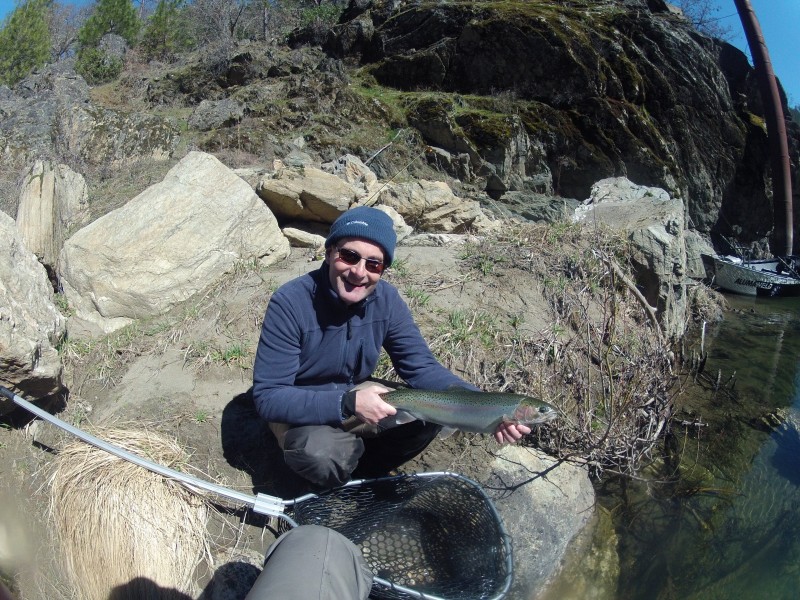 Our client from England caught some nice steelhead trout this past week on the Trinity River in Northern California, our guide Forrest has room to guide you now, give us a shout.                 info@jacktrout.com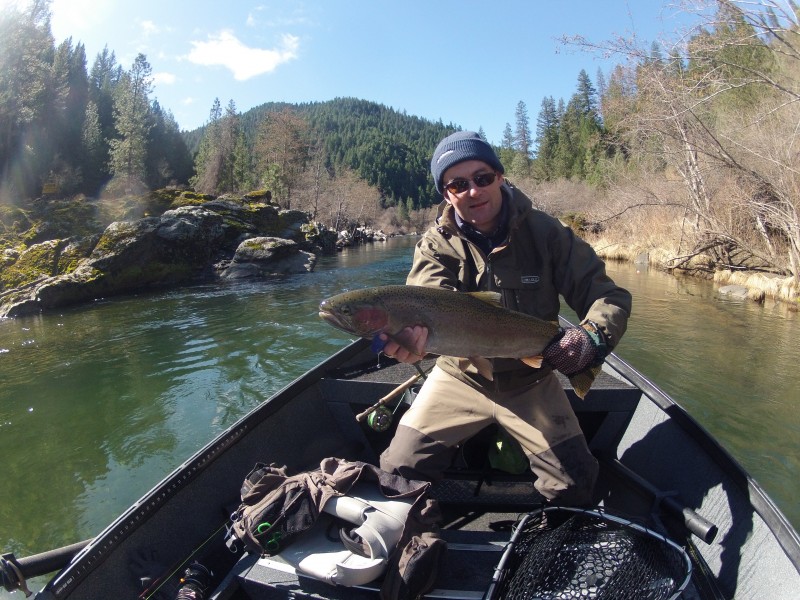 A lot of wild steelhead this season on the Trinity River, pick up a last minute trip from us and you'll be glad you did.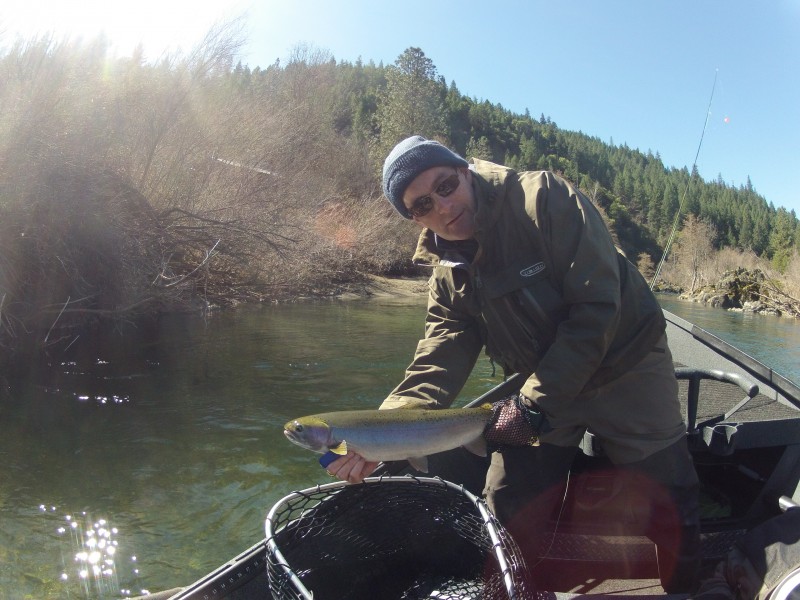 Phil Cobhamp with a nice steely on a nice weather day on the Trinity River.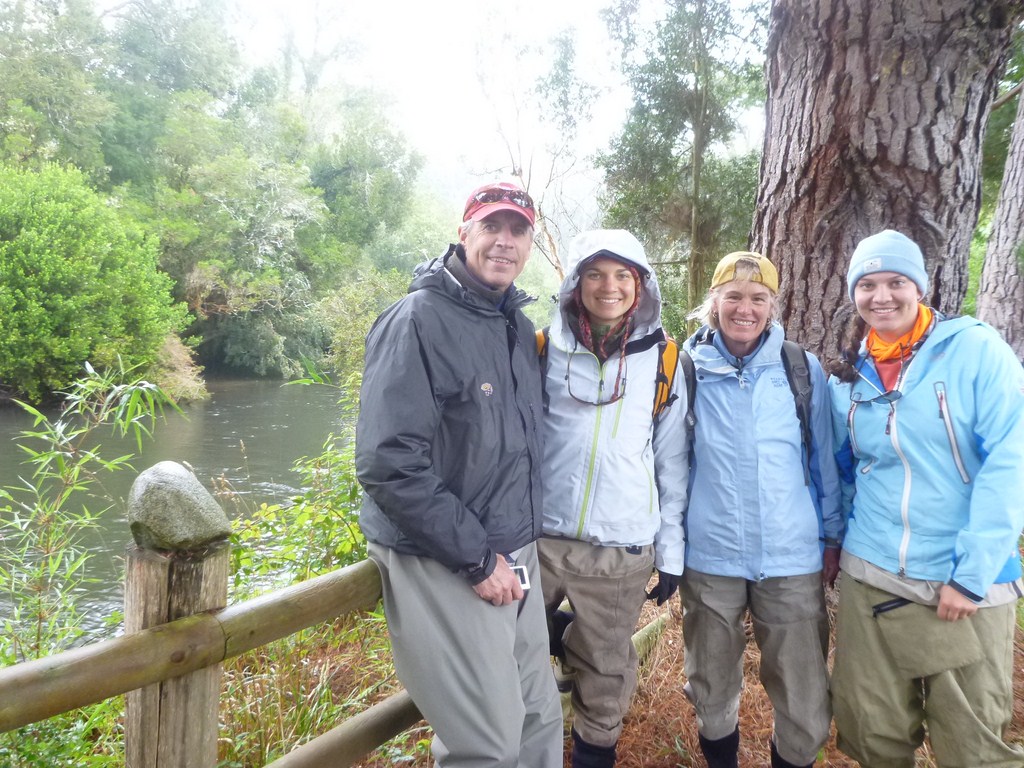 Next we outfitted Brian & Eugenie Noyes and his entire family at our private ranch river access on the Rio Maullin for a  nice day of fly fishing and his daughters first time fly fishing

.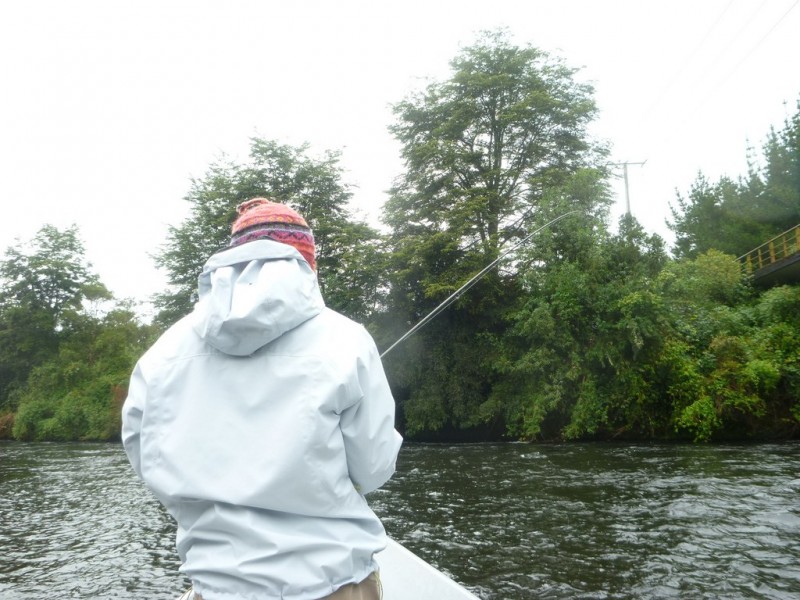 First thing Alexandra caught his nice brown trout on a streamer right by the put in, it always makes the guide happy when we have instant success!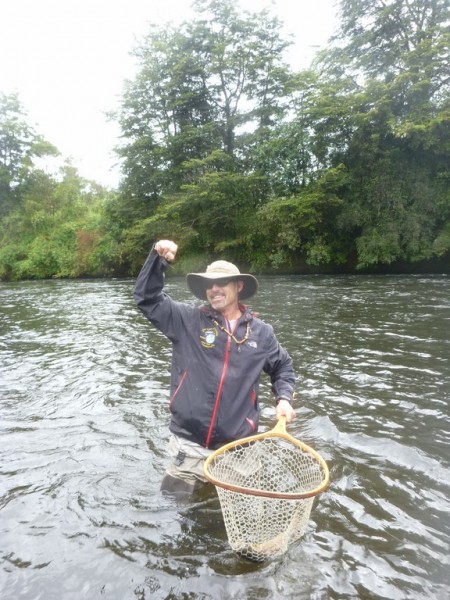 Now that's a slab folks, caught on one of my home tied flies I tie to immitate the Pancora crabs int he river.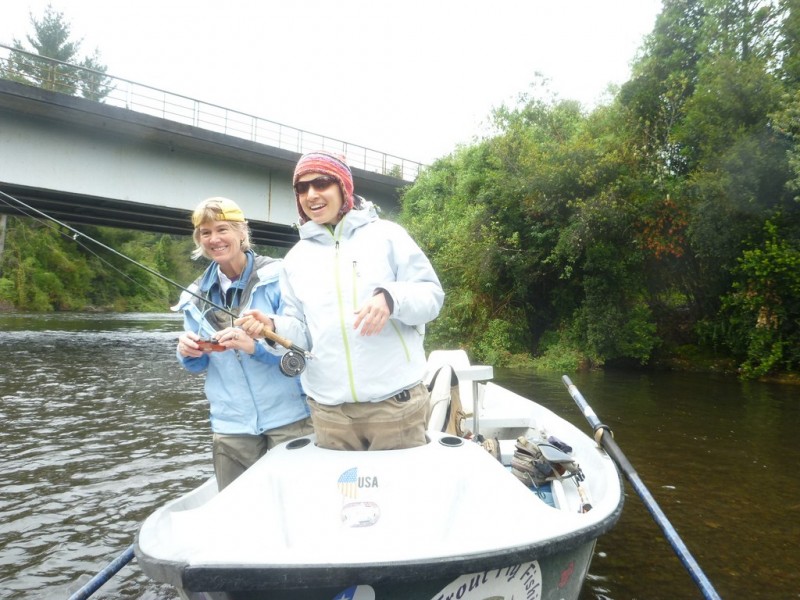 This is one fly fishing family, Alex brought her trout in like a pro, I guess you could say she had it in her blood.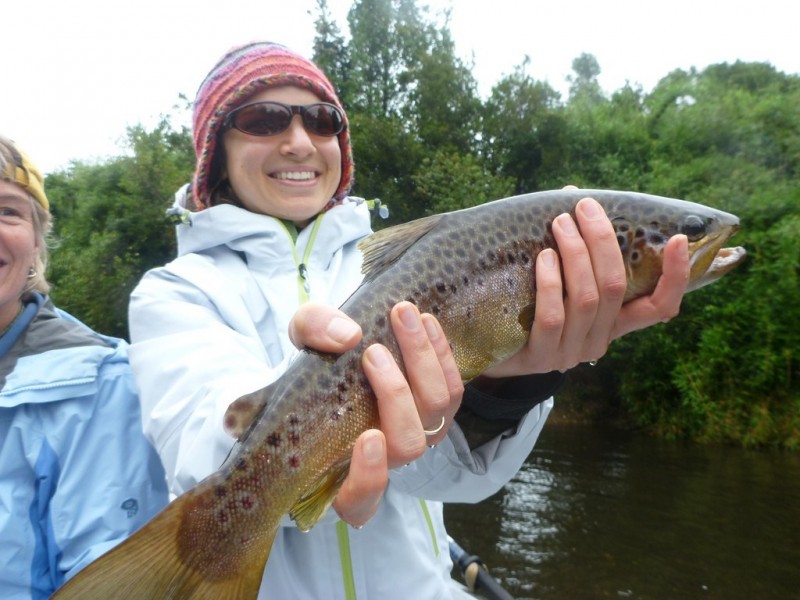 That's a nice first trout in any river on Earth, what a great brown trout catch.

Under water the trout looks happy to me, probably will go off now and make more off-spring and will make sure they get an education.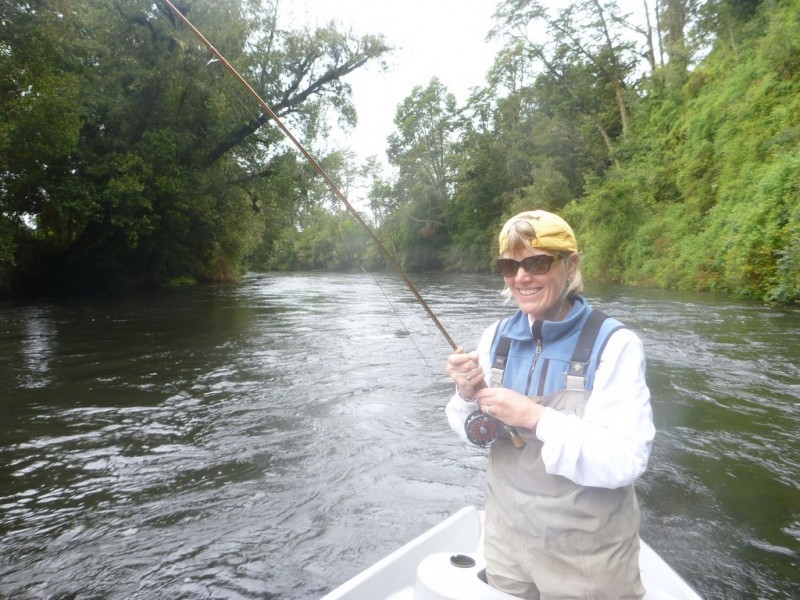 Eugenie with a nice hook-up of her own, one of the best fly fishing gals I've seen maybe ever.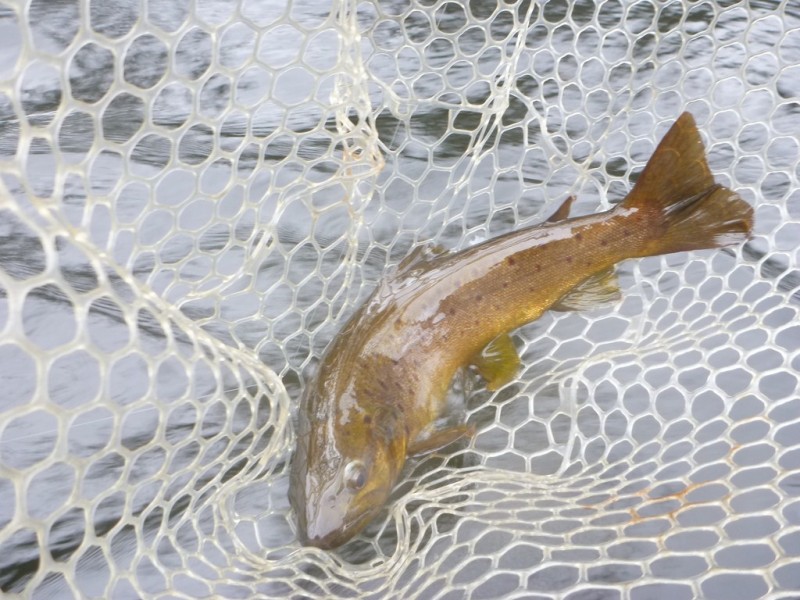 A fine German brown indeed folks.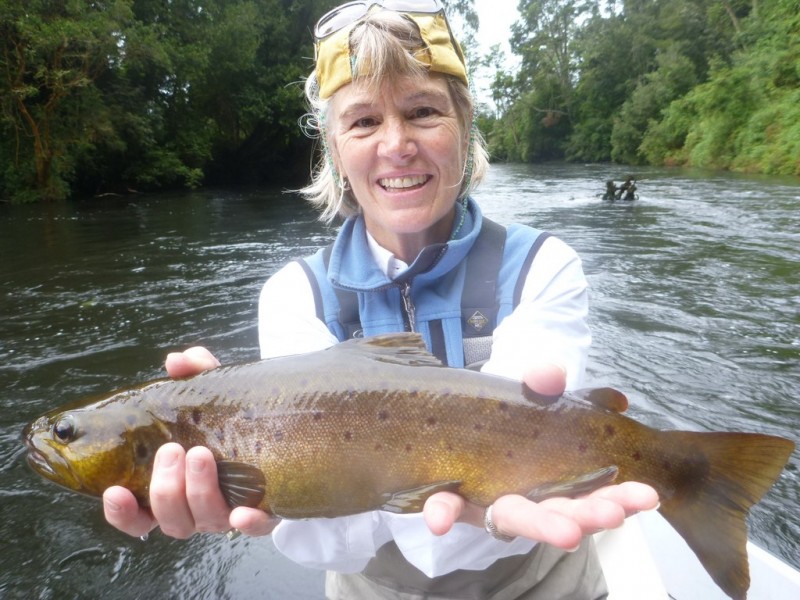 Now she's on board with a nice trout to the drift boat, way to go Eugenie!
Soon after Alex is got another one on and ready for more action as she really beginning to like this fly fishing.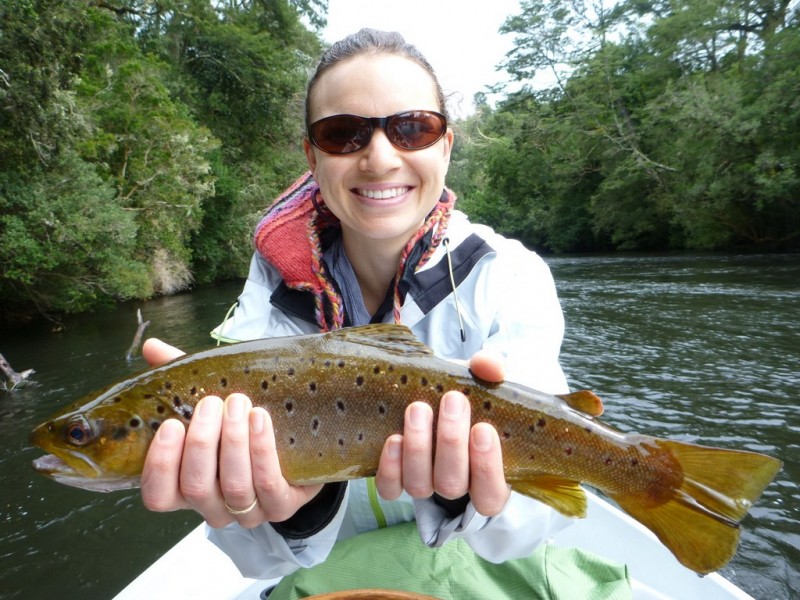 Way to go Alex, glad you had a great day out fly fishing for your first time.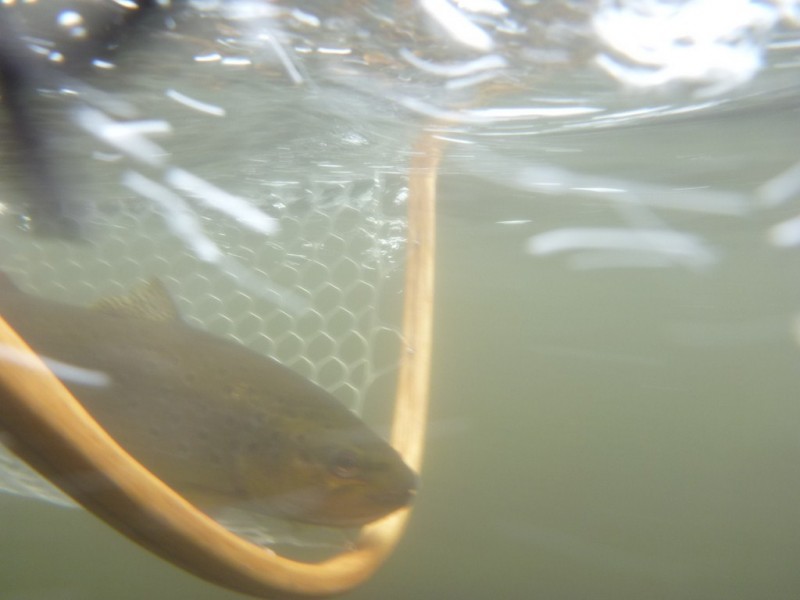 Nothing but net, ladies and gentlemen!
 Perch on a streamer, a first time for me on this river.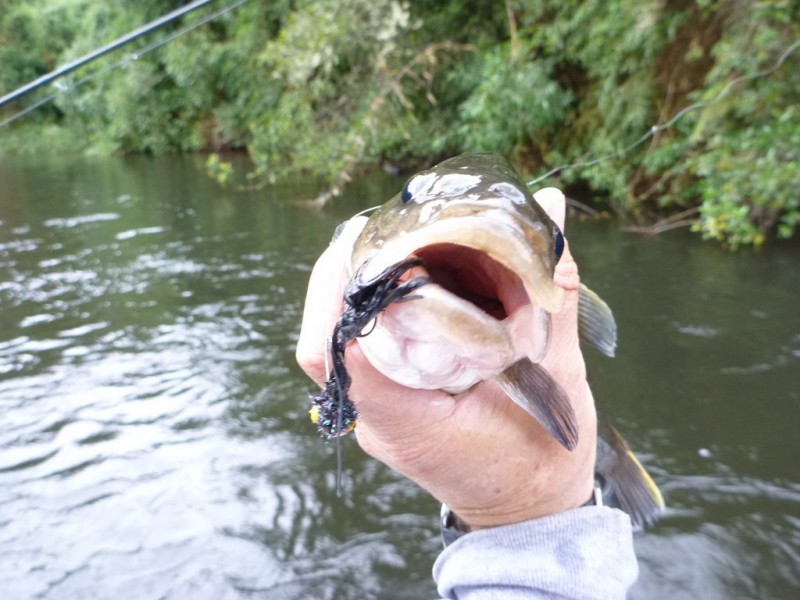 Mike Foster tied this great fly I have caught so many trout, salmon and perch on, thanks Mike hope to see you in the spring.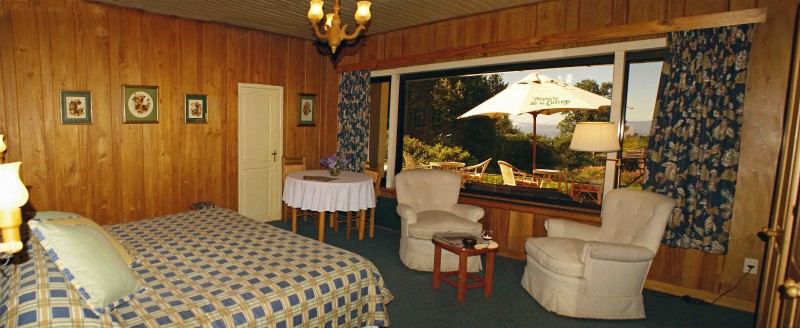 Here's one of the fine places we lodge folks while staying in Chile, this was voted one of the top ten places to stay in Chile.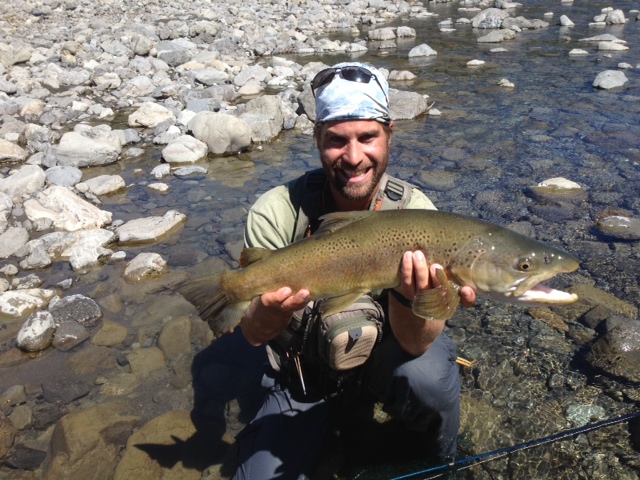 One of our clients Jan from Switzerland with a nice brown he landed on his trout around the world fly fishing for one year.
ARGENTINA FLY FISHING PICKS UP IN MARCH & APRIL, LOOK FOR OUR UPCOMING STORIES & ADVENTURES!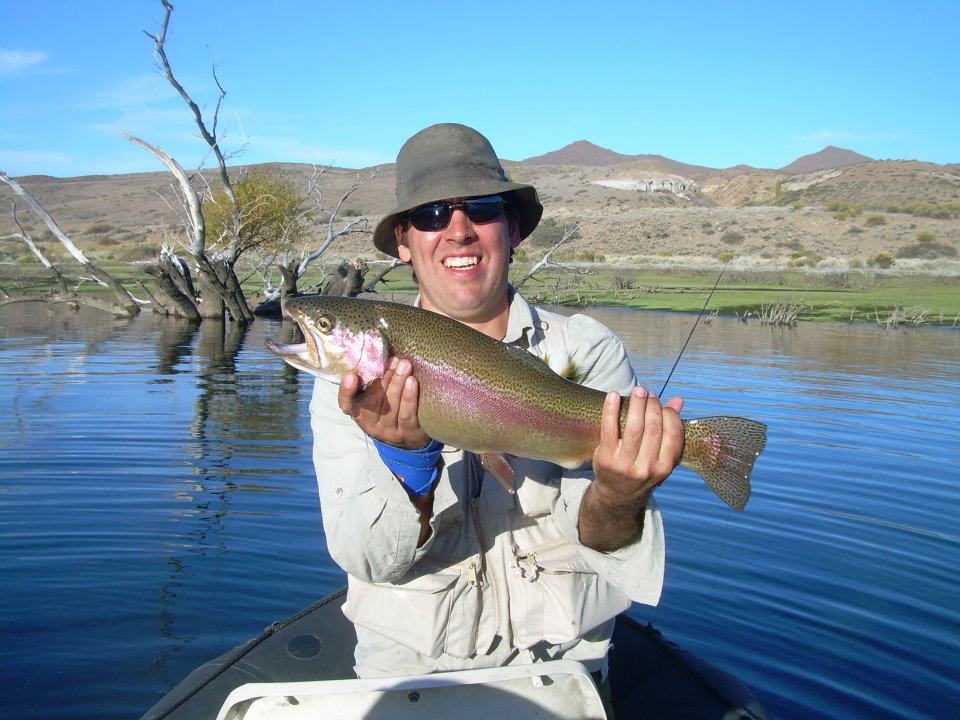 fly fishing for huge rainbows in the trunks around lakes with dry flies and huge tippets in Argentina.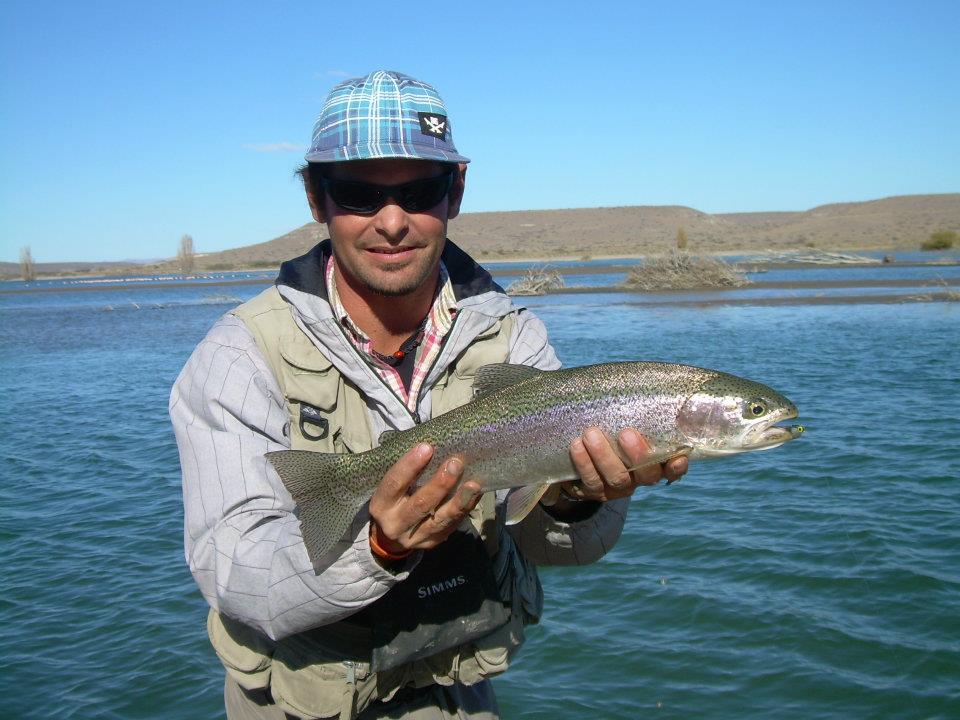 Our experienced and friendly English speaking Argentine guide Jorge knows just where to go!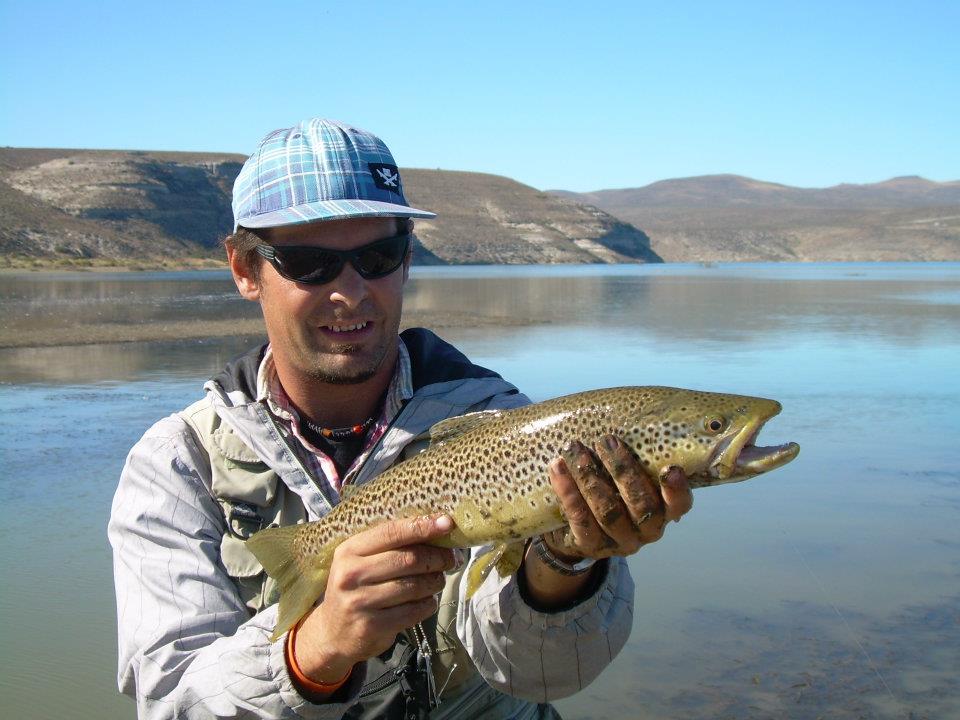 Our recent clients have really like everything about Jorge and his skills out on the Argentina pampa. Whether it's on a river or on a lake let Jack Trout Fly Fishing International Argentina outfit your next adventure.
The really big browns come out in late March and all of April, hope to see you then folks!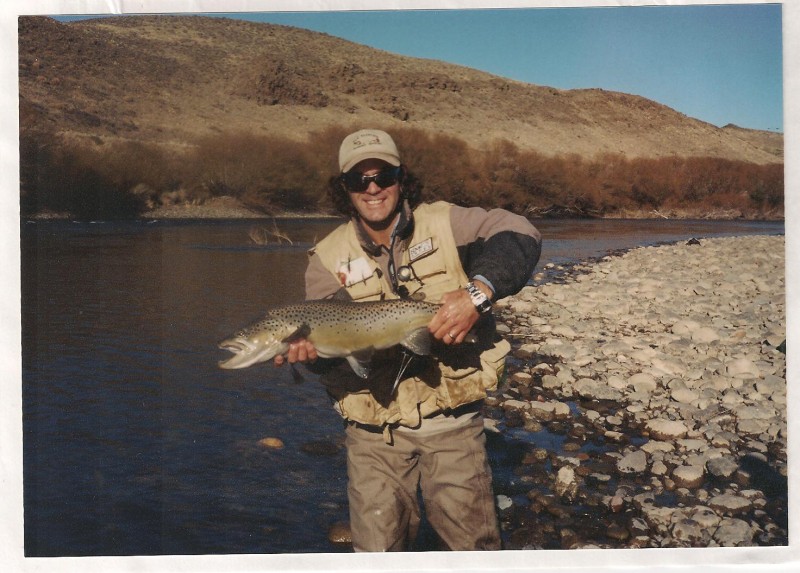 Now that's a hand full folks on a 5 wt fly rod!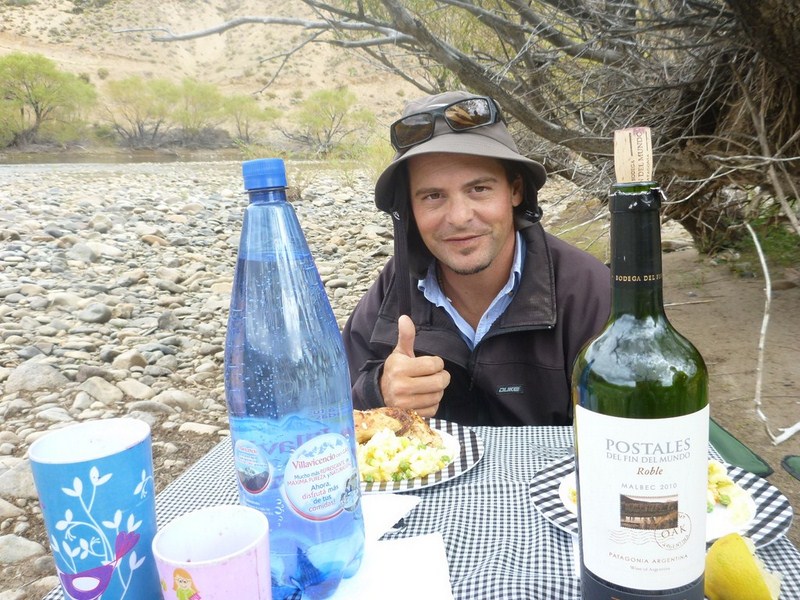 Whether it's Chile, Argentina, Belize or Northern California, we have you covered on a great stream side lunches on the river.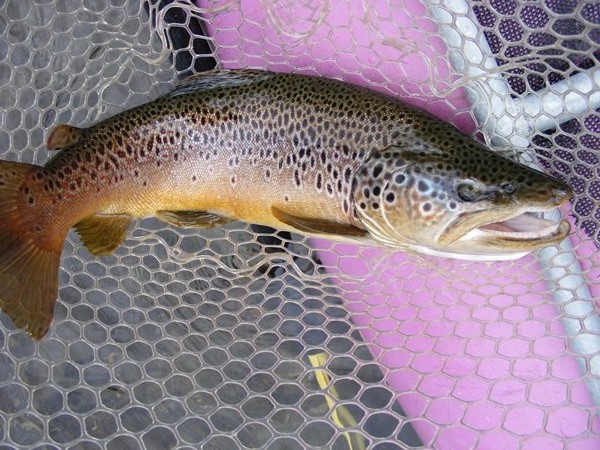 Back in Chile our local rivers are starting to produce large brown trout that can fill up the net.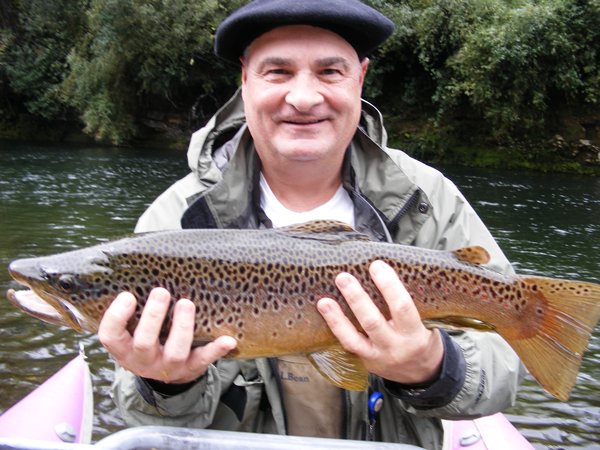 Edgar's clients are always happy because this guy is one of the best guides in all of Chile.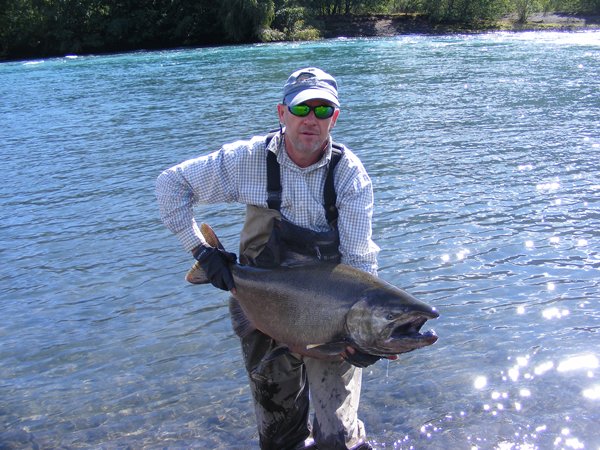 After over 10 years, we are happy to be working with one of the most successful fly fishing guides in South America. This guy is the real package, over 23 years guiding experience in all areas of Chile, ties his own flies that are extremely effective and one of the nicest guides you'll ever meet in your life. Thanks again to Edgar for his superstar contributions to Jack Trout Fly Fishing International and Team Trout in 2013, we love you, the clients love you and so does the fly fishing industry, you just don't get any better than this guide. jt& ct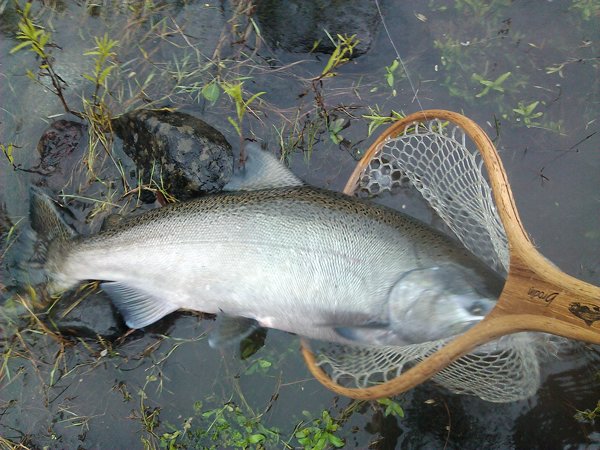 Now that's a problem we can live with… It doesn't fit in the net!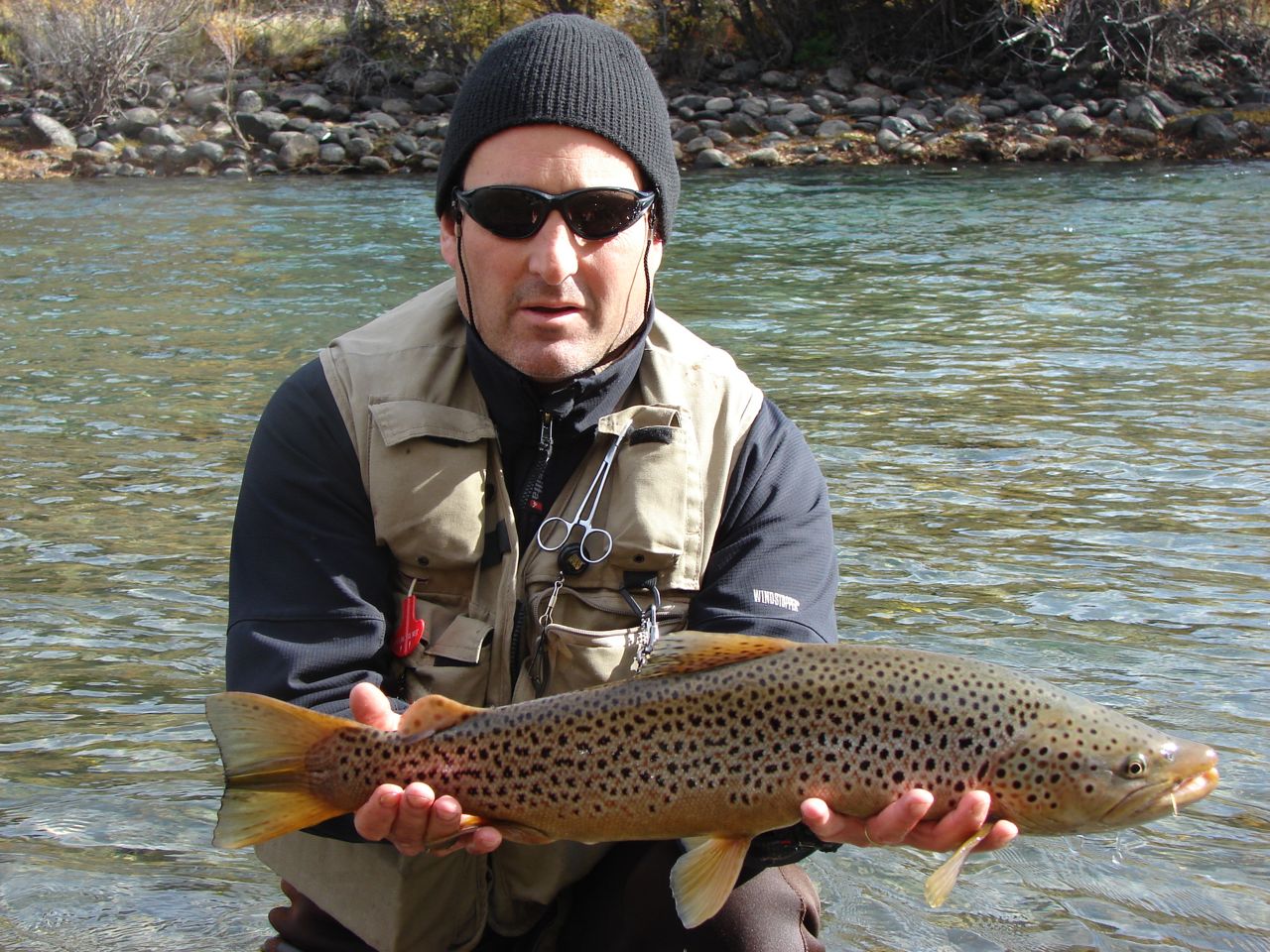 Pope Cafe, now if you ask me, this would of been my choice for the new Pope.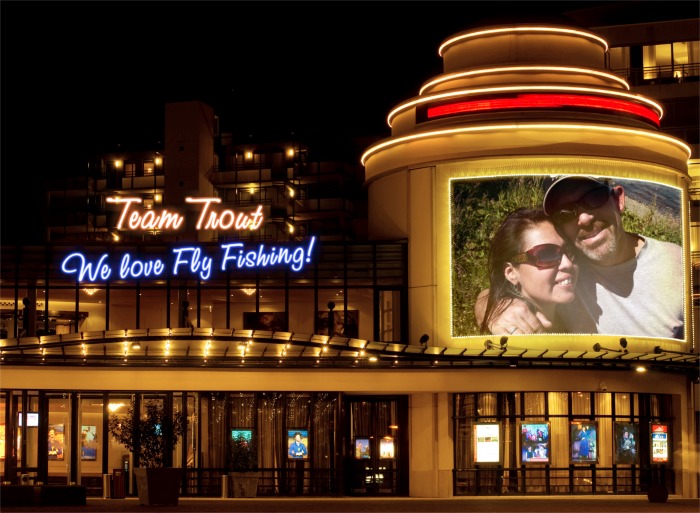 Thanks for watching our adventures all over the world, do something great for someone else this month and take them out by a river and do what ever your heart desires.
Best to you, Jack & Carola Trout & Team Trout Guides International
EMAILS FROM YOU:
Hi Jack,
We just arrived back in the States. We had a good day of fishing and perfect weather to start our stay in Belize. Lloyd pointed out a sport fishing boat he said brought in some fly fisherman from Guatemala so there was a lot of pressure on the flats. We saw three permit on the morning tide and I had a big one on. Later we caught a few bonefish. We had a great day, Lloyd and his son were great.
**************************************************
Hi Jack and Carola,
We are having an incredible experience in Ecuador and now in Peru! We're in Arequipa right now and heading to Cusco on Monday. From there we fly to Santiago on April 9. Right now we are working out the logistics of what we can do between April 9 and the 12th, when we finally get to meet you two. Questions:
1. Where should we meet you?
2. What time are you expecting us?
Right now we are thinking of staying in Santiago 9 – 11 and taking a bus early on April 12 to meet you.
Brenda
******************************************************
Hola Jack,
No worries. Mi Casa Es Su Casa anytime. I'll send info as soon as my website is complete and put you on as a link as well. Thanks very much, the lake is working out pretty well so far. The fish are growing about an inch a month and are looking good, strong too. Average fish is 14″. Caught one of the native fish a few days ago, nice 22″ w/ deep red marking. I'm hiking into the back country next week for the big boys, up to 10 lbs., we'll see, I've seen photos. I actually had a client today from Central Ca. who knew all about you, said you were a real asshole…just kidding…said nothing but good things. Have a good time with Will, he's a cool kid and say hello for me. One day I'll make it down there.
Cheers , James
*********************************************************
Jack
After 5/14 (Pat out of country), doubt any opportunity to float the upper Sac? My recollection is that the water gets pretty low for floating. To float later probably means the lower Sac or Klamouth. According to you, the Klamath would be hard to predict in June or later? What do you suggest?
Gary