* CHILE & ARGENTINA FLY FISHING TRIPS ARE UNDERWAY NOW *
                                                     STILL HAVE SPACE IN FEBRUARY  MARCH & APRIL 2015
530-918-8879 OUR INTERNATIONAL PHONE THAT RINGS ME ANY WHERE OR EMAIL AT INFO@JACKTROUT.COM
Need an up to the minute update? Check out our Facebook Page & Videos –   JACK TROUT FLY FISHING FACEBOOK PAGE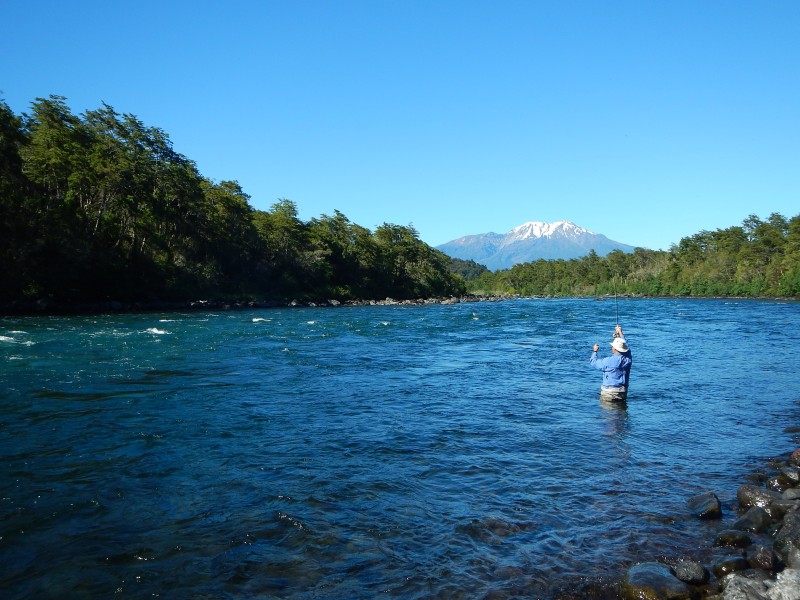 What a great way to spend time with your son in college, on the off season bring him down to Chile or Argentina and we can take the both of you fly fishing on your special family holiday. We have the gear, we have the rivers and all the places you will love to experience.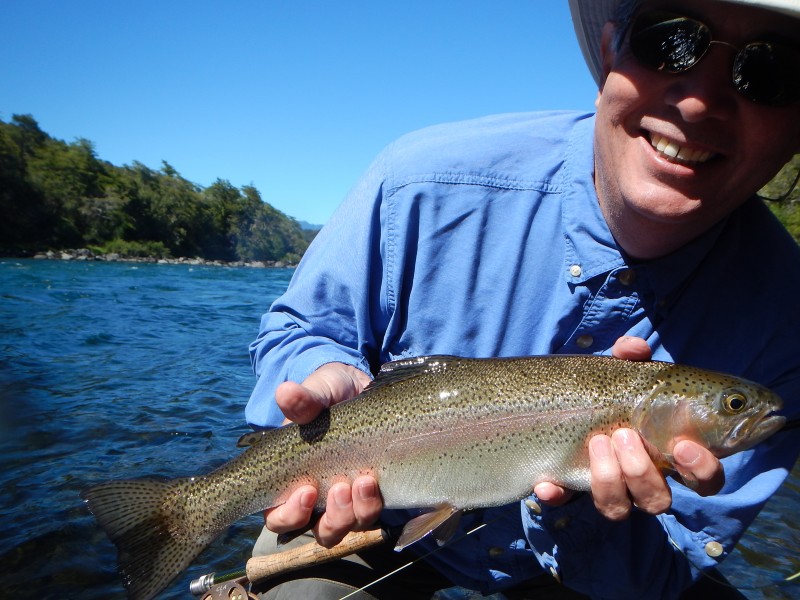 Steve & Louis Garcia did that very thing and they loved their first fly fishing adventure together fishing with me then flying down to Punta Arenas for a hiking exploratory trip in Southern Patagonia and Tierra del Fuego in which we help set up all the lodging and airfare. That sure makes life a lot easier when you have folks like us helping you make all the necessary reservations, you don't have to worry or think as much on your vacation abroad.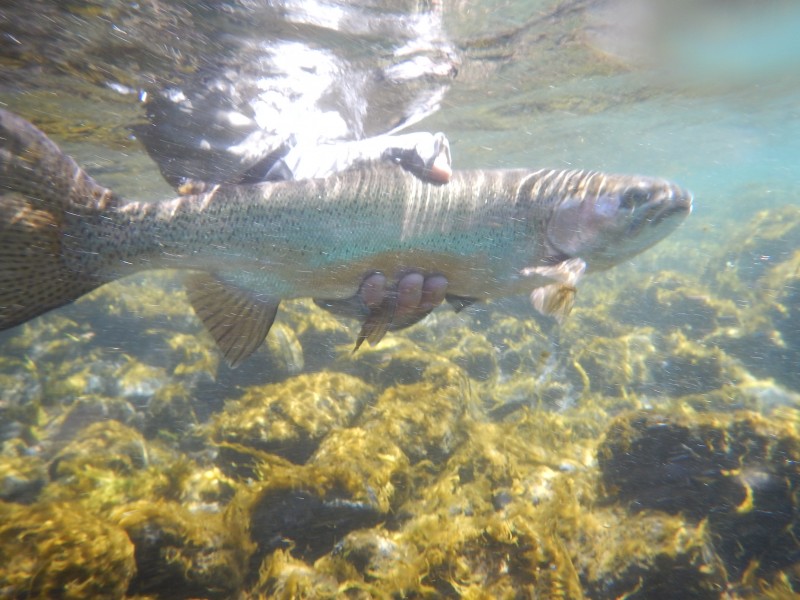 Under water life is good if you're a trout just wanting to get back home to your family. Do a little resuscitation and away he goes for another day and for future generations to come.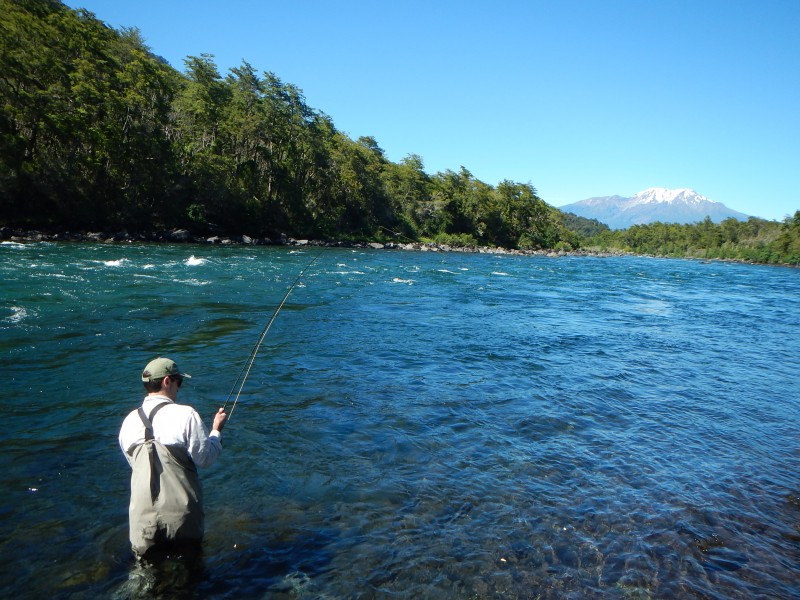 This was Louis's first time ever fly fishing and he had a great time with his pops out on the waters of Chile. Louis just wanted to do trekking but pops insisted he try fly fishing and before long he had some trout under his belt and a great experience to remember with his father to boot!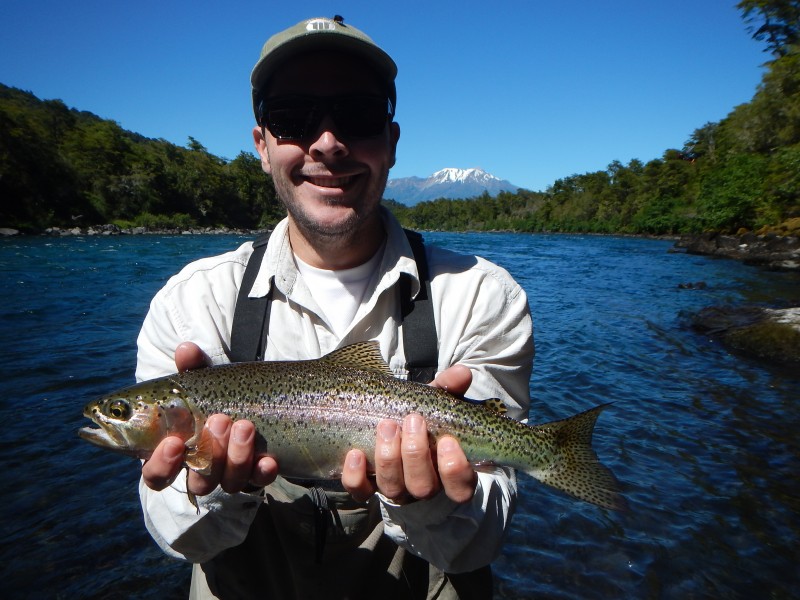 Now that's what I'm talking about, nothing but net folks for Louis Garcia of the American Team.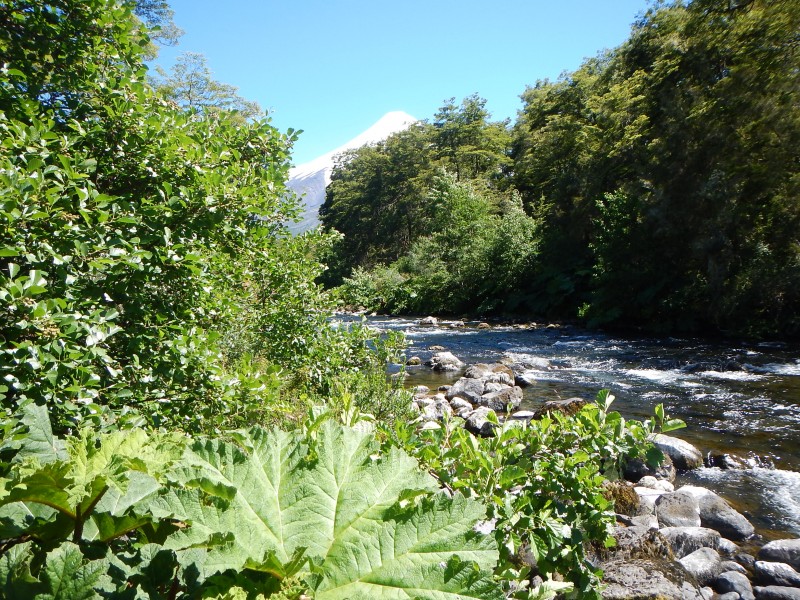 The scenes here in Chile, simply divine folks…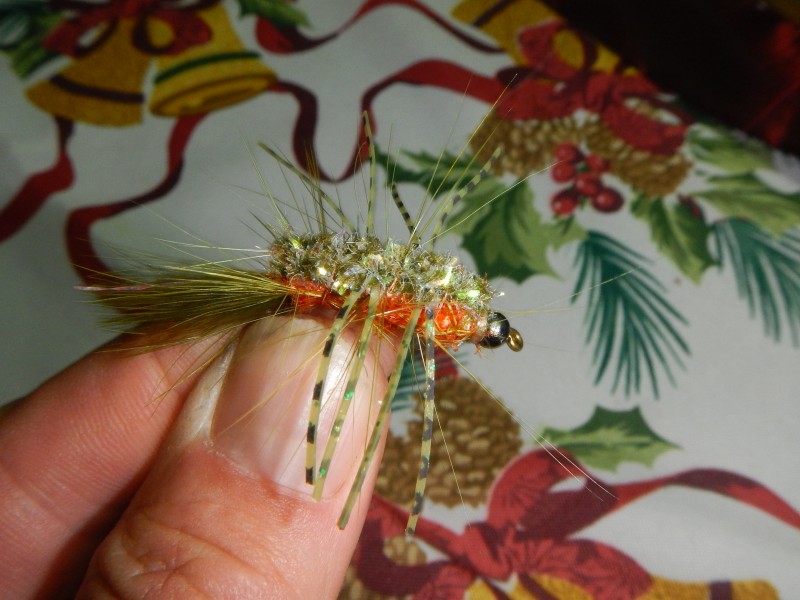 The Pancora Crab is a pattern we use down here in Chile and Argentina, we are tying some up for your trip too!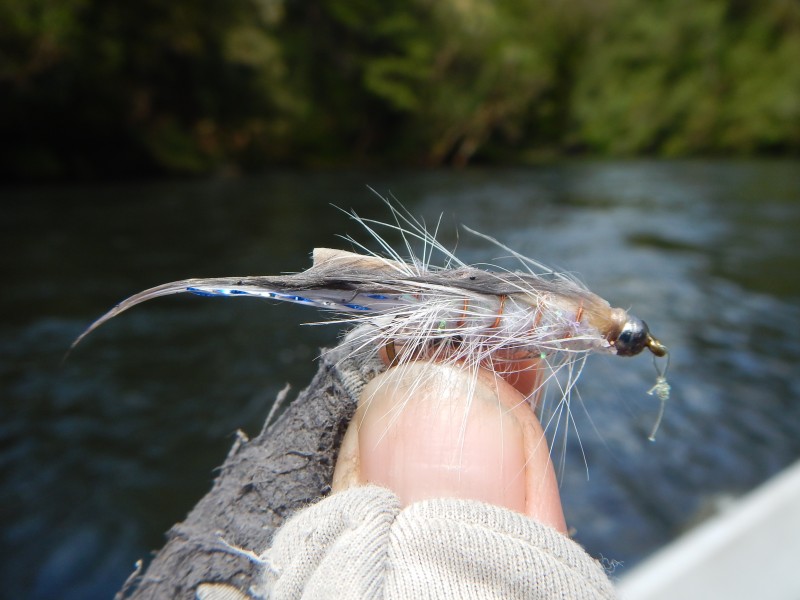 Many trout like to eat minnows, we use minnow patterns to catch trout down here in Chile and Argentina, of course an open loop knot on any streamer is always more productive for hook-ups as it gives it more action & jig.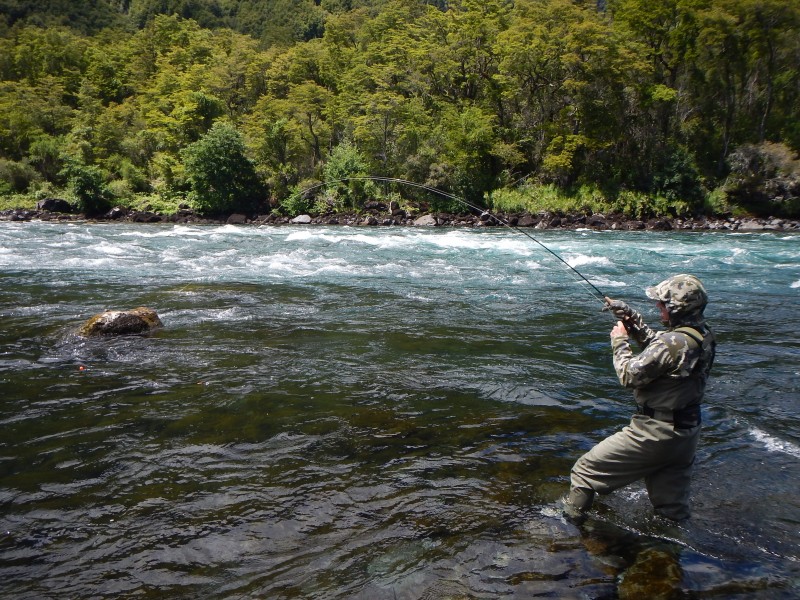 Hooking up on trout is the name of the game here in Chile and Argentina, but do you think Camo can help? We think so….lol.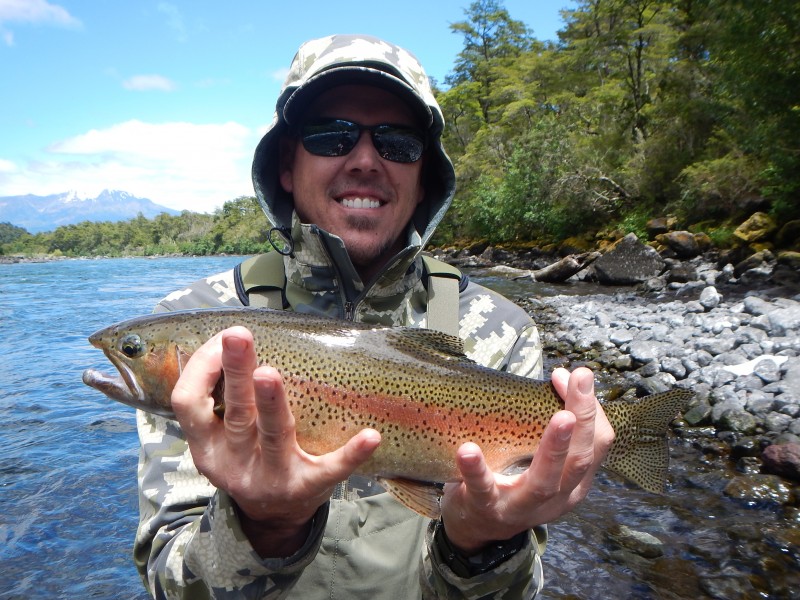 Nice racing stripes on that little Philly, she's like a 1967 Mustang convertible ready for action folks.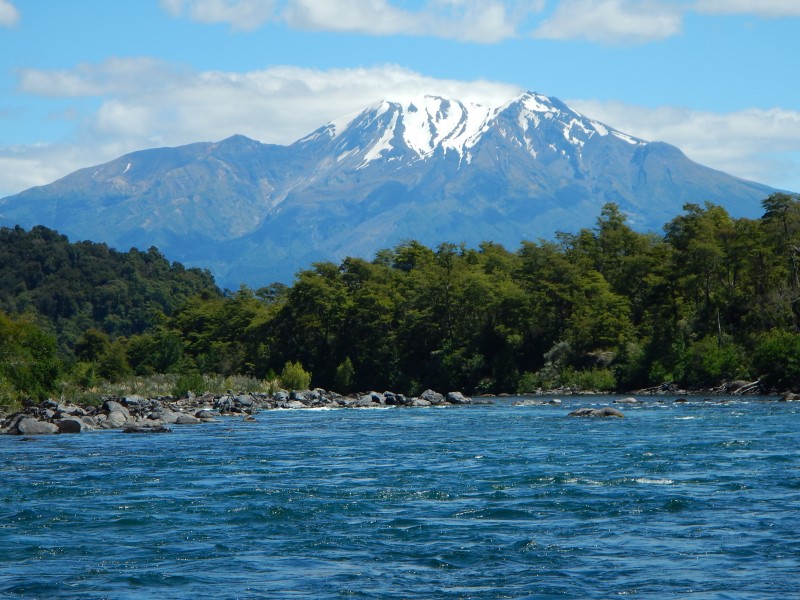 These rivers in Chile are incredible, but the scenery is even more dramatic as you have a backdrop in the background always like out of a movie in Hollywood.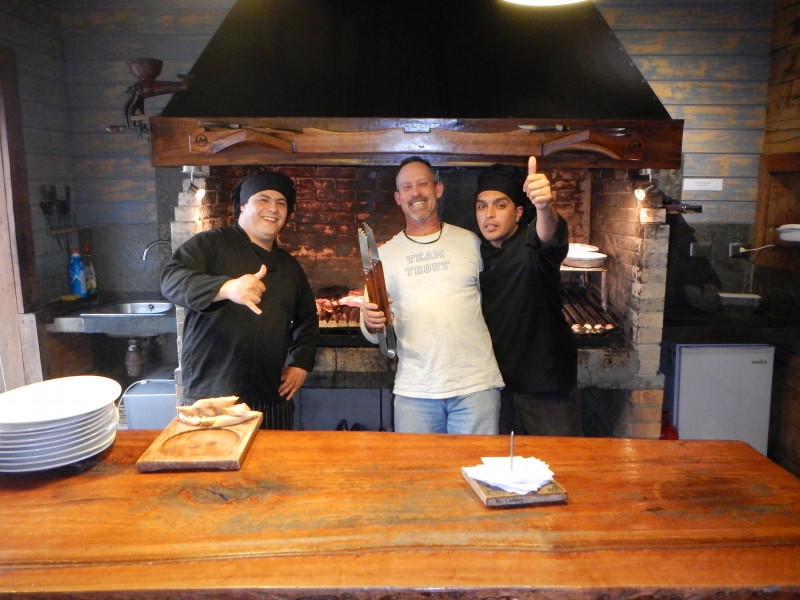 Out for dinner at the Marca Restaurant in Puerto Varas, Chile with my two friends Marcelo y Seba. I used to like my steaks medium rare but now I like them medium with a nice bottle of Chilean wine.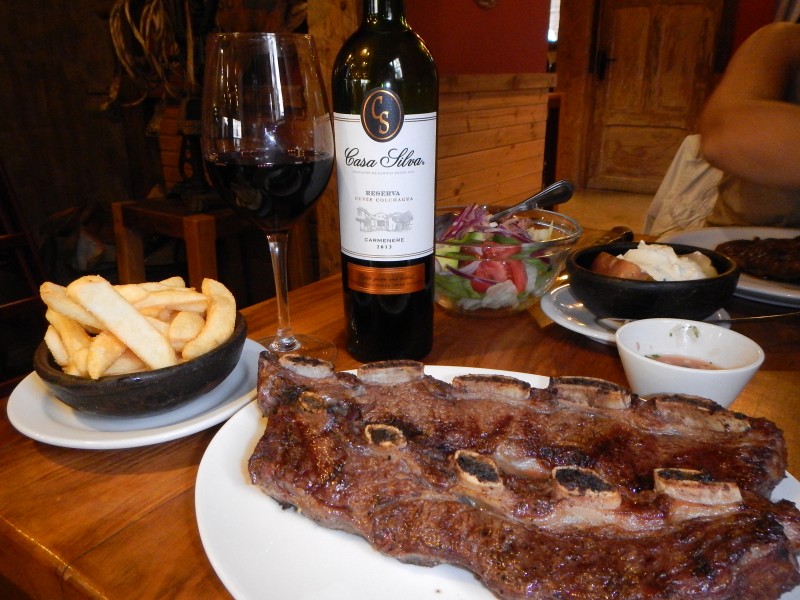 How can you go wrong folks, Chile is just one of the last incredible vacation experiences on the planet and the food and wine, are off the charts people.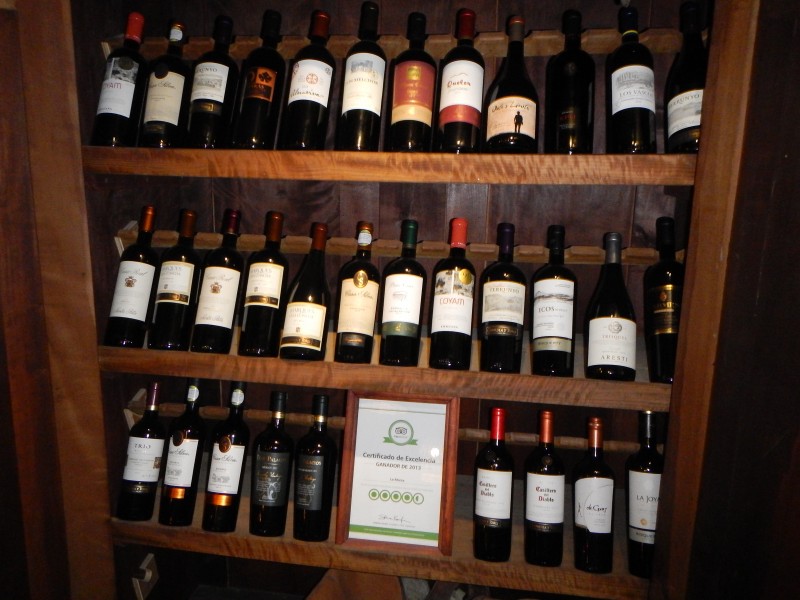 Wine me about it folks and Chilean Carmenere is where it's at!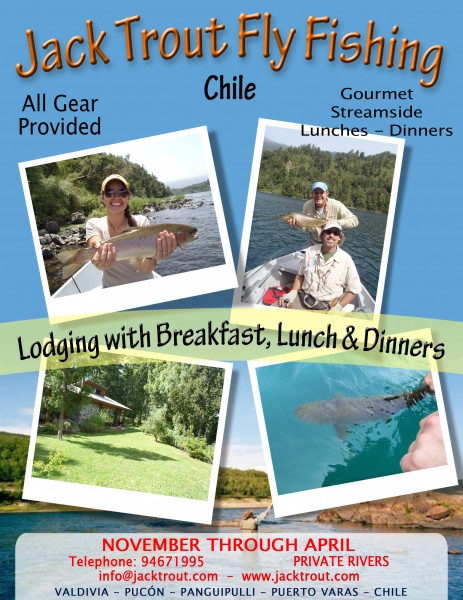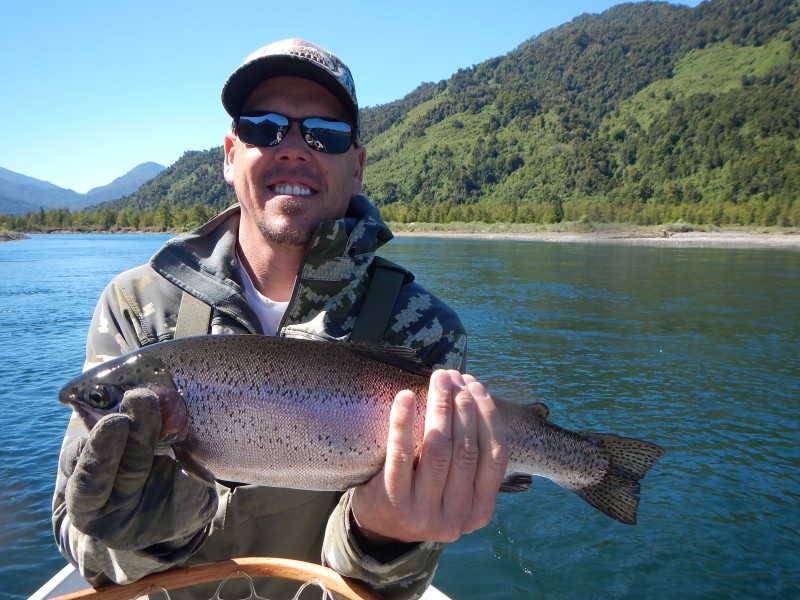 David Wolfele, of Reno, Nevada was one happy compadre out on the Rio Petrohue on a private section I have access to.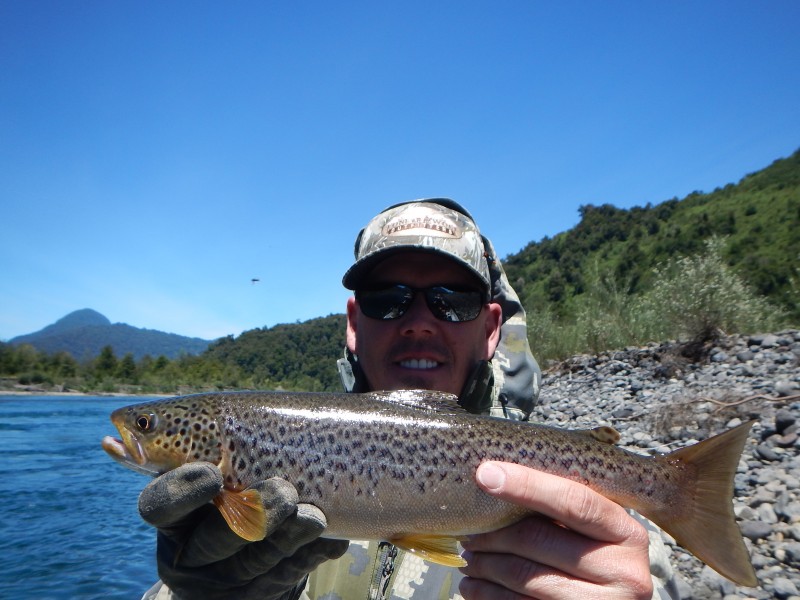 Brown Trout makes life better in the end and I think David would agree!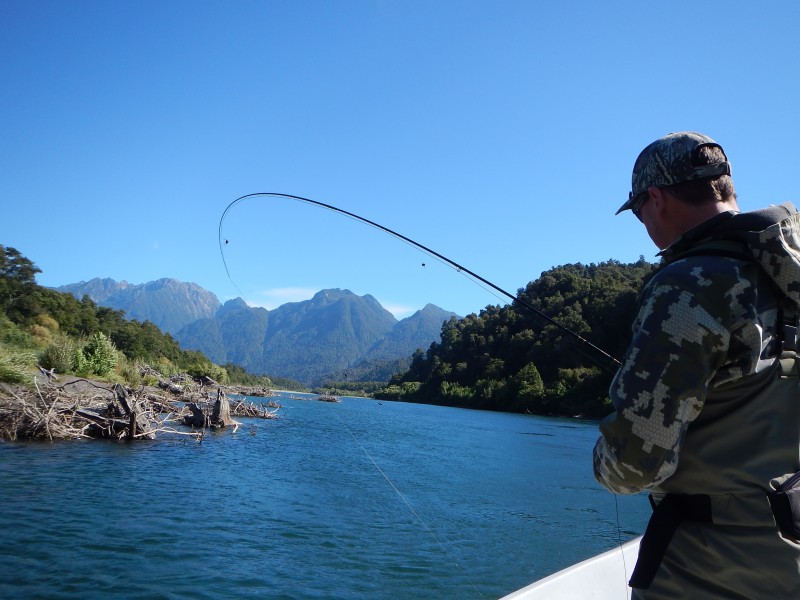 Great trout fishing and awesome mountain scenes is what we're all about here in Chile. Look at those awesome log jams, perfect structure to hold awaiting and hungry trout.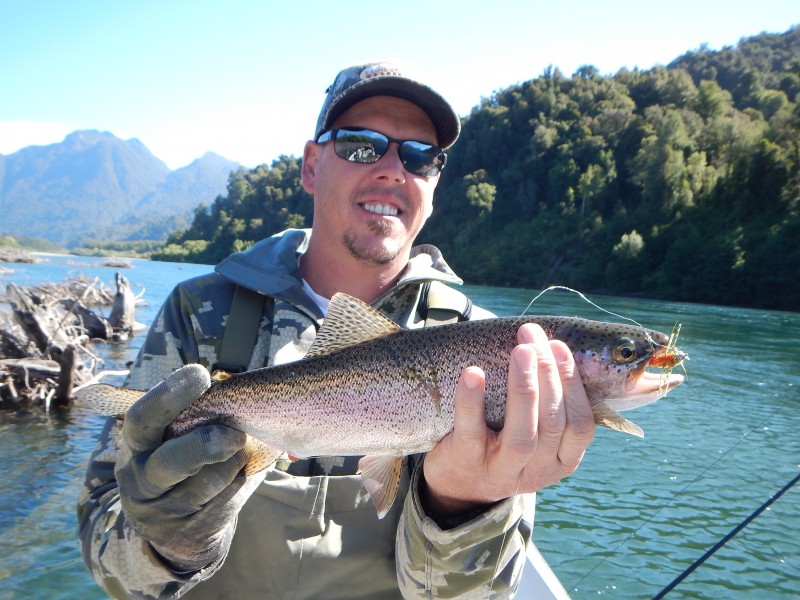 That's a bet I'll make every time folks as trout think like I do, I guess that's why my is Jack Trout.
"Fly Fishing Chile"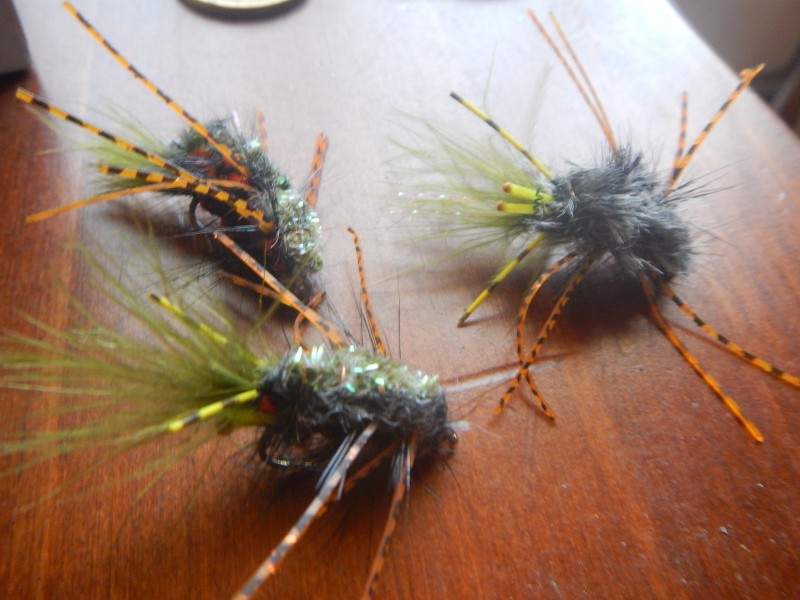 Tying up some more Pancora Crabs for the rivers here in Chile.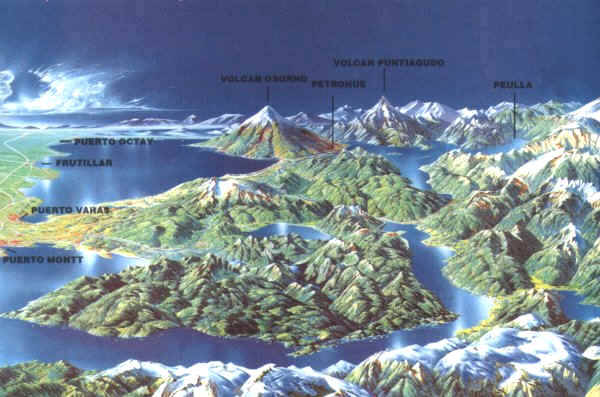 Map of our region here in Chile and Argentina, we call the Lakes District Chile and Patagonia Argentina.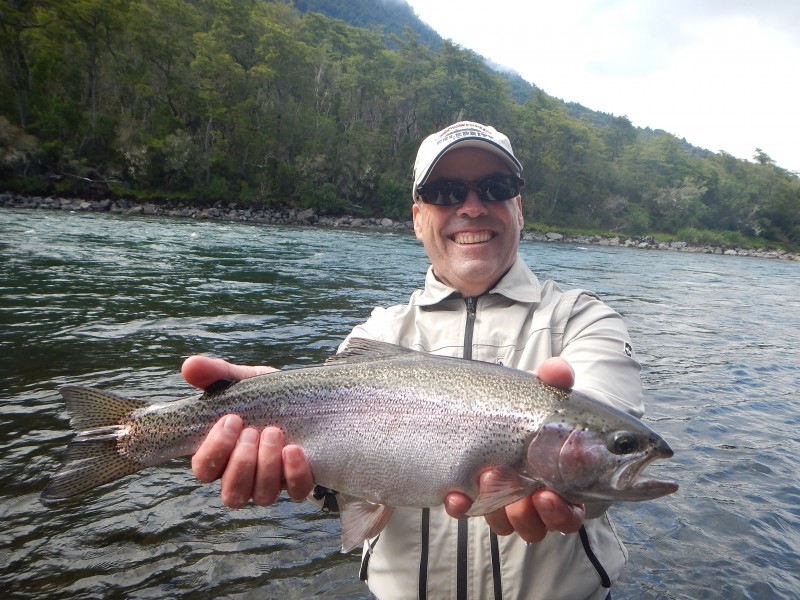 Then Syvain Blancette arrived from Quebec, Canada off the cruise ship in Puerto Montt, Chile and landed this absolute lunker that took almost 20 minutes to land.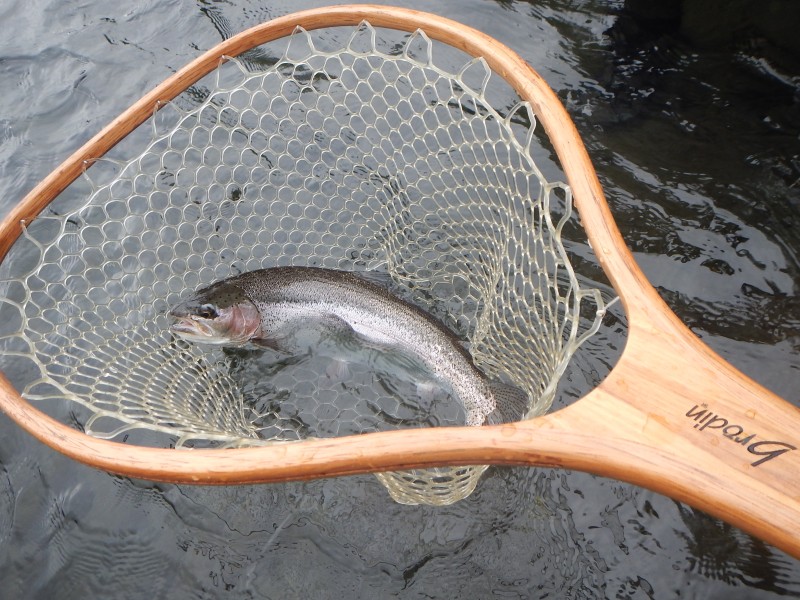 Check out his video folks, Brodin makes the best landing nets on the planet!
But yet another landed here in Chile in huge proportions, I might add. Way to go Syvain with your first real day of fly fishing!
Je reviens d'une croisière de 22 jours en Amérique du sud ( de Buenos Aires , Argentine à Santiago Chili en passant par le Cap Horn ) avant mon départ de Montréal, j'ai réservé une journée de pêche à la mouche avec Jack à Puerto Varas au Chili. Nous avions une escale à Puerto Montt et Jack est venu m'accueillir au port et m'a fait vivre une journée extraordinaire de pêche à la mouche sur la Rio Petro Hue au pied des volcans aux cimes enneigées et dont les eaux sont si cristallines, que nous voyons les poissons nager à nos pieds. Les truites sont de tailles très appréciables, sont en nombre considérables et combatives comme pas une.
Jack avec ses connaissances techniques et son entregent vous fera vivre toute une expérience, je vous le garantis. Parole de guide.
Le tout s'est terminé par une bouffe exceptionnelle sur la rive de cette magnifique rivière et ses rapides splendides.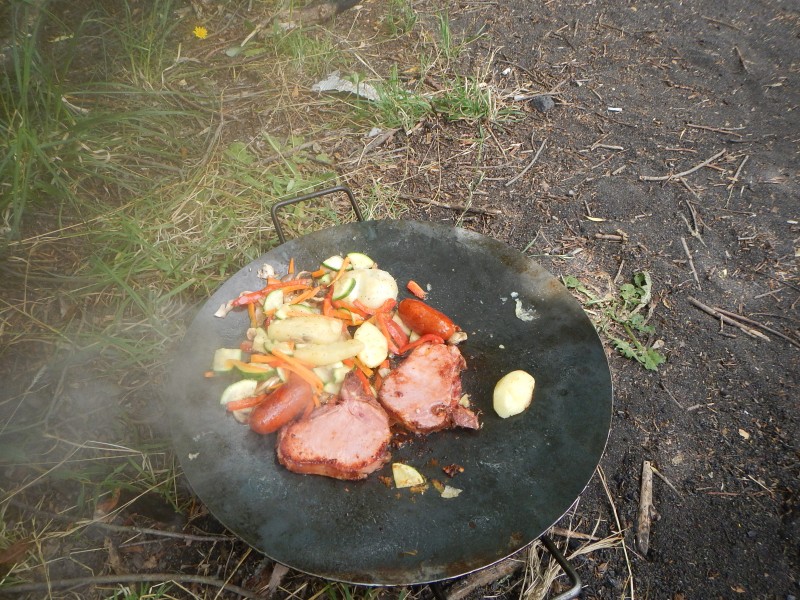 Lunch of course is always an event in itself here at Jack Trout Fly Fishing International, we guarantee you will love it!
"Fly Fishing Chile"
I made a call to Jack Trout and immediately felt like he was someone I have known for years. My 3 boys were traveling throughout Chile for a couple weeks and I wanted to connect them with Jack once they arrived in Puerto Montt. Jack offered to pick the boys up from the ferry, called hotels in the area at midnight for them and was terrific in communicating with me.
Jack picked the guys up bright and early, had a fabulous day of fishing, enjoyed a hearty lunch and then Jack dropped them off at the airport. This week we received some great photos that Jack took on the river.
If you are looking for someone to take care of your needs on and off the river, Jack Trout is your guide to discover Chile.
http://www.tripadvisor.com/ShowUserReviews-g32755-d1641287-r251923918-Jack_Trout_Fly_Fishing-Mount_Shasta_California.html#REVIEWS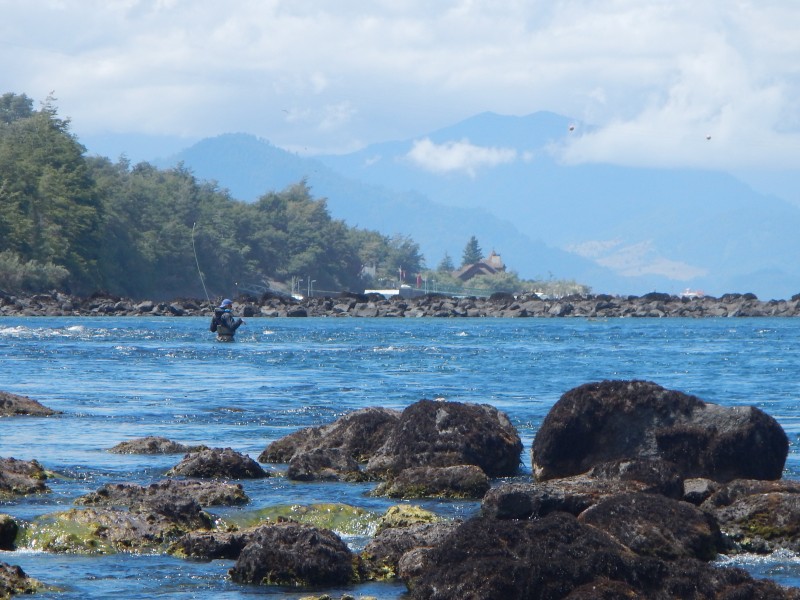 Nothing better then seeing the upcoming superstar youth out in the great outdoors of Chile. Hey folks check out this article on Ben and Will Weyer of Montana University, my clients in Chile for fly fishing. The one brother Ben will be the center hiking the ball to his QB brother the quarter back at Montana University this season. Truly a family affair story that I think makes every one smile who loves the good things in life. http://missoulian.com/sports/college/montana/football/bozeman-qb-weyer-commits-to-montana/article_32ff7334-d7ce-11e2-92c6-001a4bcf887a.html  They are in practice daily now and lifting weights, running hills and getting ready for North Dakota. I honestly think these guys will make the pros one day, they were huge guys, full of life and smart. I am now a fan of the Weyer Brothers and their mom Liz. How about you! I'll be following them this season online. Go Will and Ben, make your mom and all of us proud! Isn't life great, this is just another great story about growing up.  jt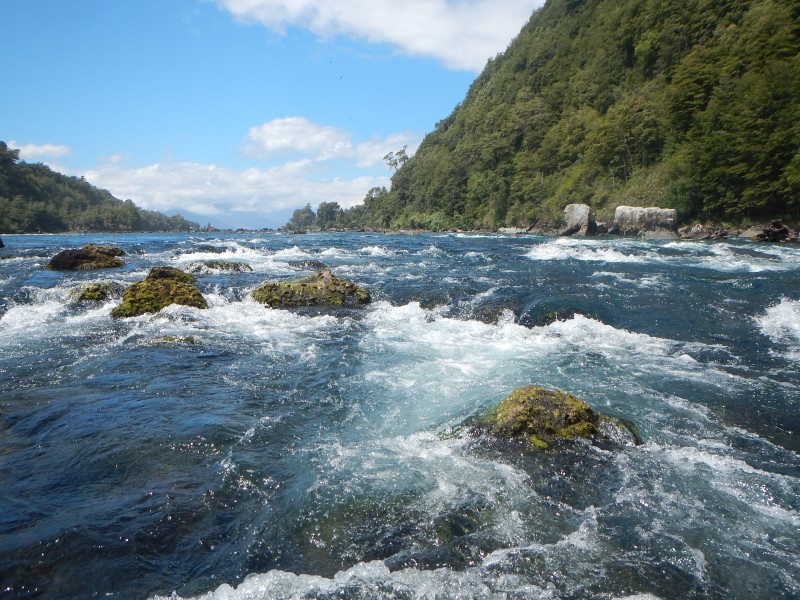 Water the secret to life flowing from the mountains out to the sea, thus creating rains and the whole process replenishes life on our Mother Earth.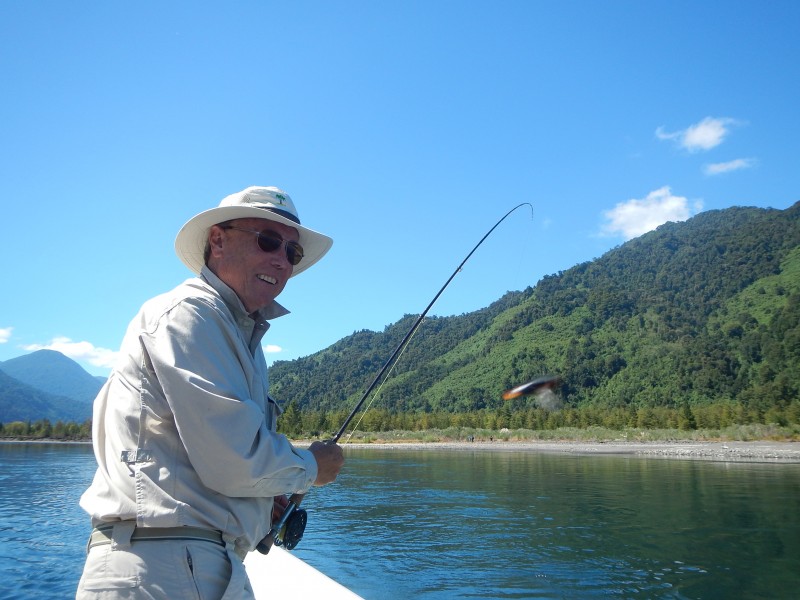 Folks this is a sad story gone good unless it was your $12,000 lost and then you have to pay me on top of it. I received a call from a Barry Hall, who told me he was in a hotel in Puerto Montt, Chile because an outfitter who the group of 4 had paid through a bank wife of $12,000 USD did not set up a person to meet them at the airport. As they waited there for 6 hours and kept asking the personal at the information desk to help them use her personal cell phone to call The Alto Puelo Lodge and the contact number for a second flight, the 2nd air flight staff there had no idea what they were talking about? The whole ordeal was a mess and you could imagine how the clients felt being alone in a foreign country in a place they had never been before and no one spoke Chilean Spanish, the hardest Spanish to understand on Earth. I couldn't believe what I was hearing? If someone paid us $12,000 USD, I would lay out a red carpet for them at the Puerto Montt Airport. I would have a sign made by John Ascuaga's Nugget, as big as casino lights so these folks in there 60's and 70's would of had a yellow brick road to my lodge at the top of the Rio Alto Puelo. My Chilean wife Carola and I took this very personally as the Chilean reputation for outfitters is one we hold as a priviledge and doing what ever we can always to make our clients trip the best is a goal we strive for every time. No one's perfect, mistakes can happen, we've had a couple of ding-bat couples come through over the years that made our lives miserable with there condescending attitudes and lack of gratefulness for mine and Carola efforts, but this story with the Barry Hall group of four and the outfitter not setting up a person to meet them in Puerto Montt or coordinating the flights is absolutely the worst story I have ever heard down here or any where in 24 years of outfitting. So I moved them over to the tourist town of Puerto Varas after my wife called every hotel that was booked throughout the town, we luckily found them one place to stay. Then by an act of the Sky Pilot, I was able to guide these wonderful folks for 5 days and my wife set up tours for the wives and we saved their trip. The outfitter never responded to emails or calls for 24 hours, it was like he forgot or was scared? I hate to report on this, but when I saw the outfitters email, that was absolute horse-shit, that it was the clients fault and they were obligated to get to his lodge, like it was a concert venue or Woodstock, I about fell over in disgust. He told them, he only offered a credit in the future, it was their mistake. That was so bad on his part, he totally insulted the group and they didn't want anything to do with him anymore, they wanted their money back and rightly so. So I say once again Kent & Eric Schoenauer give them back their $12,000 USD today, they paid me to guide them and save their trip! Folks use credit cards to pay for trips unless you really know the outfitter. If a company in South America doesn't accept credit cards as a form of payment, they probably have issues with there operations of their business or a credit problem. The kind of people you and I don't want to do business with.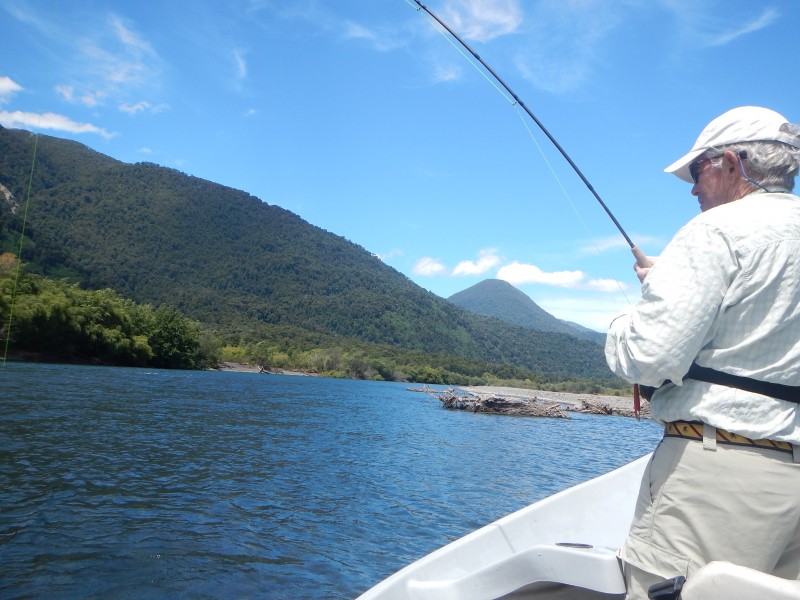 So I took Barry Hall out and I learn a few more tricks, this guy really knows his stuff as he wanted to try a Muddler Minnow on the surface with his floating line on the Rio Petrohue and it worked! he caught fish all day long.. I am never too proud to shut up and let a client try something new or show me a few things or two. I call it "Toilet Seat Respect" he's been on the toilet a few more times than me, that's wisdom folks! I really liked this group, they were some of sweetest people my wife and I had worked with in a few seasons, very generous and appreciative in every aspect.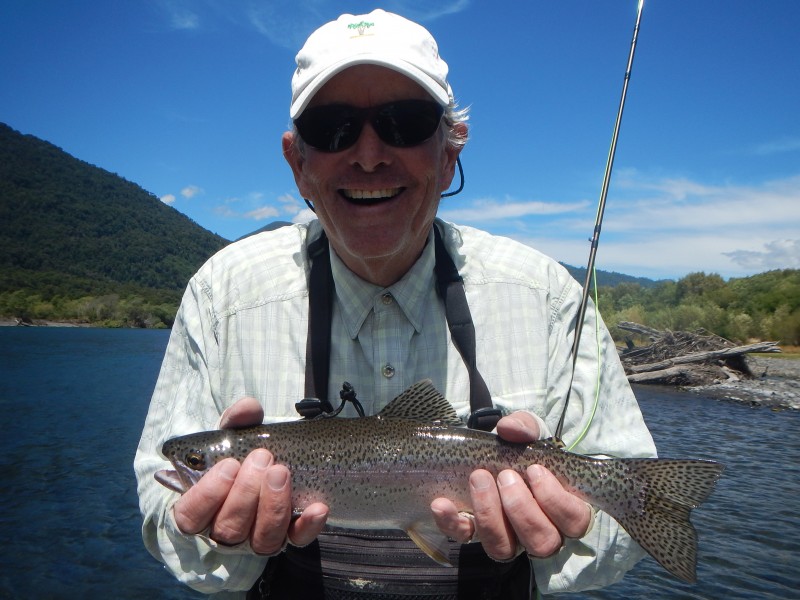 Barry with a nice trout about every 10 minutes, this guy was a fly fishing dead ringer folks! All his years out on the water combined with my knowledge of where the trout were, made for a great team.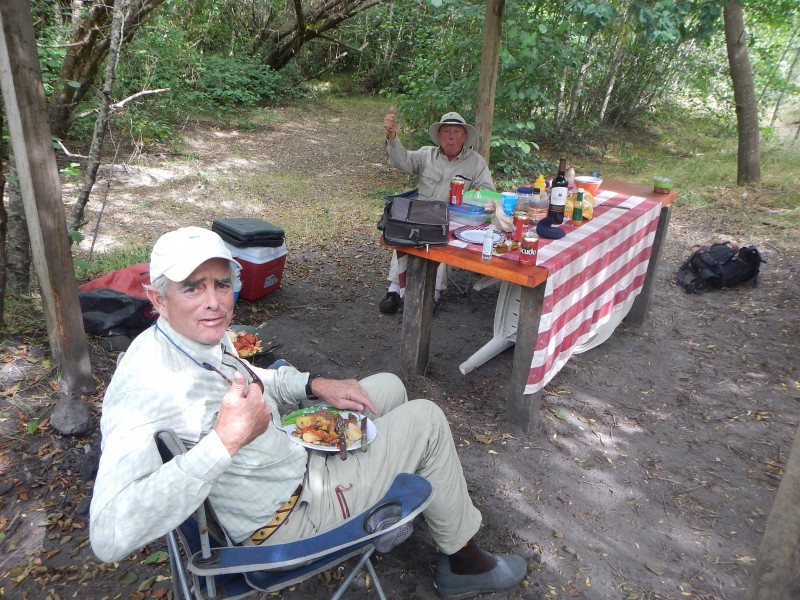 We fed them well and before long the Alto Puelo Lodge was forgotten about, yet only for the moment. I think David Testa was embarrassed the group had been taken advantage of…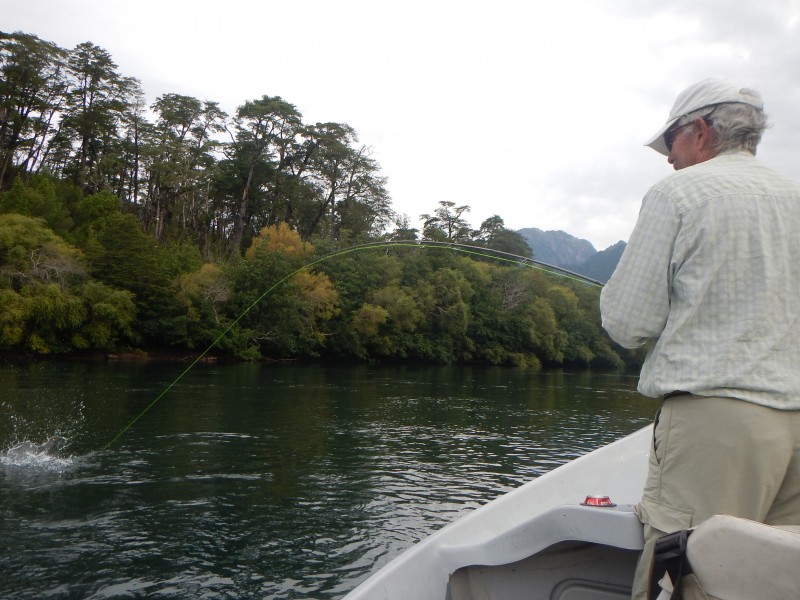 10 minutes later pro fly fishermen Barry Hall hooks another trout.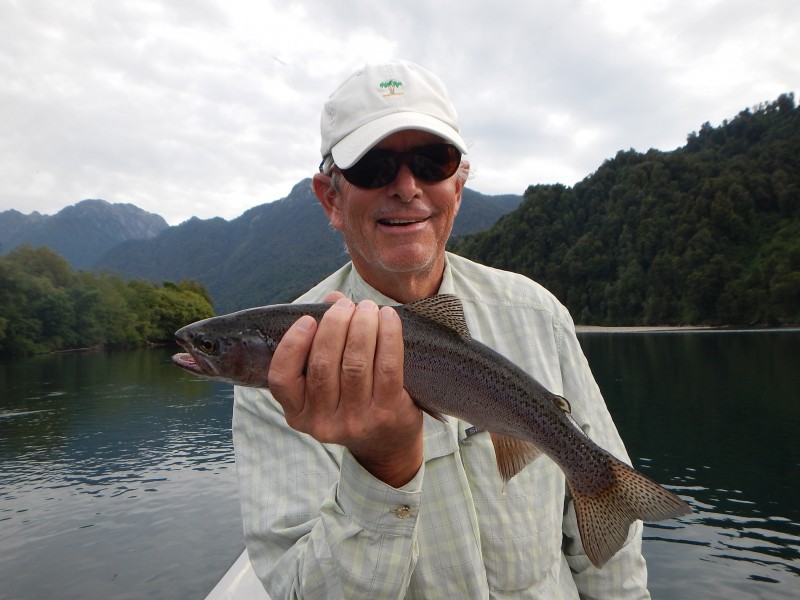 Nice form Barry, one handed lift is always preferred by outfitters who shoot photos.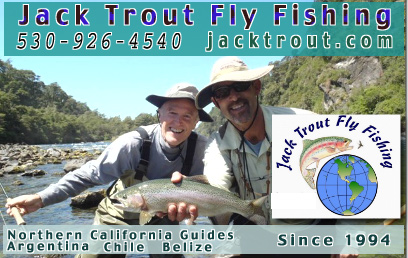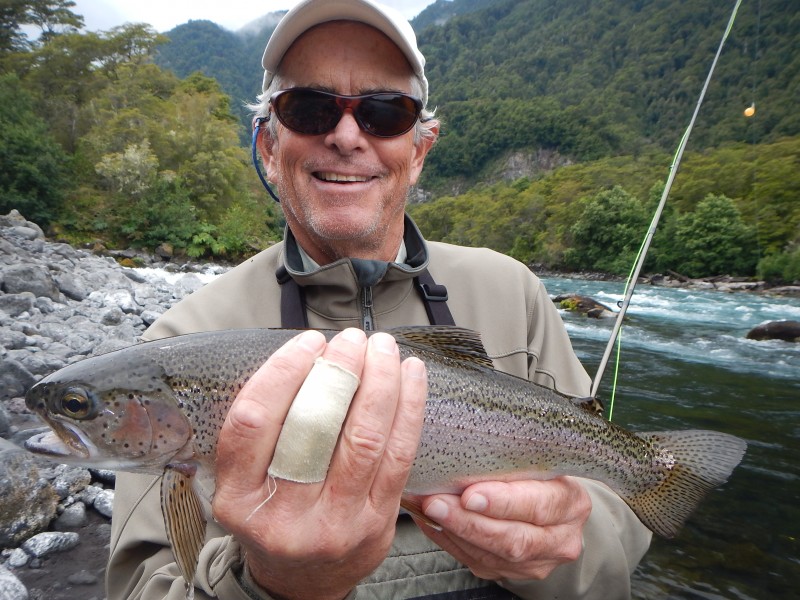 Then on another day we went wading and Barry hooked this lovely trout and many more where that came from folks.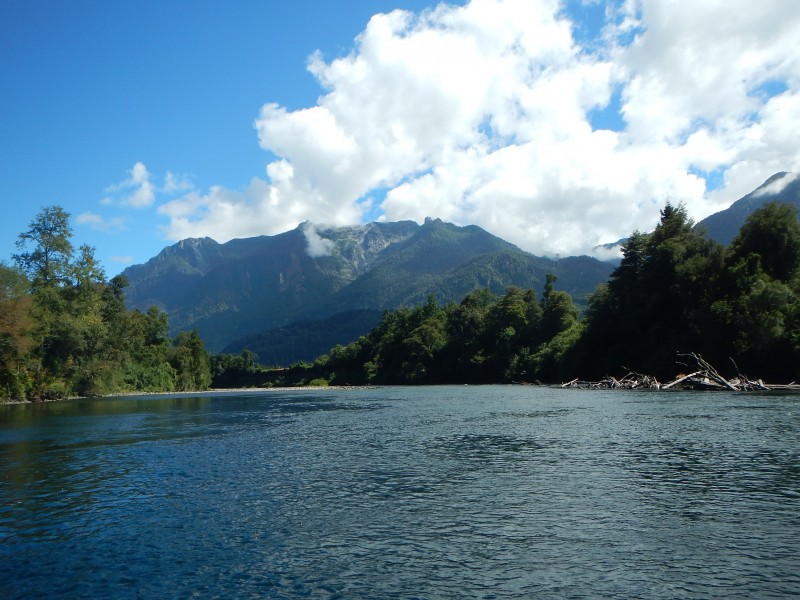 The Rio Dios in Chile is one of my all time favorite rivers, check out this video of David Testa hooking a lunker that took him into his backing on the first burst out of the blocks!
Now that's a reason to come to Chile fly fishing! Way to go David, what a great catch.
Then it was Barry's turn again and we had a marvelous day out on the waters and they loved the river. I was glad I could save their trip and help their wives plan tours in and around Puerto Varas.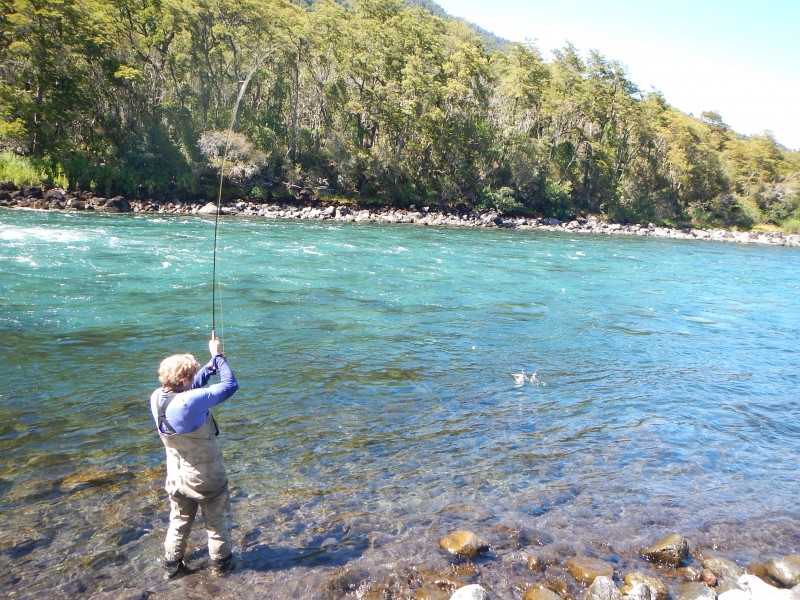 Then off the cruise ship in Puerto Montt two newbies came a calling, one in particular was Kathy O'Donoghue caught trout and made it look easy folks.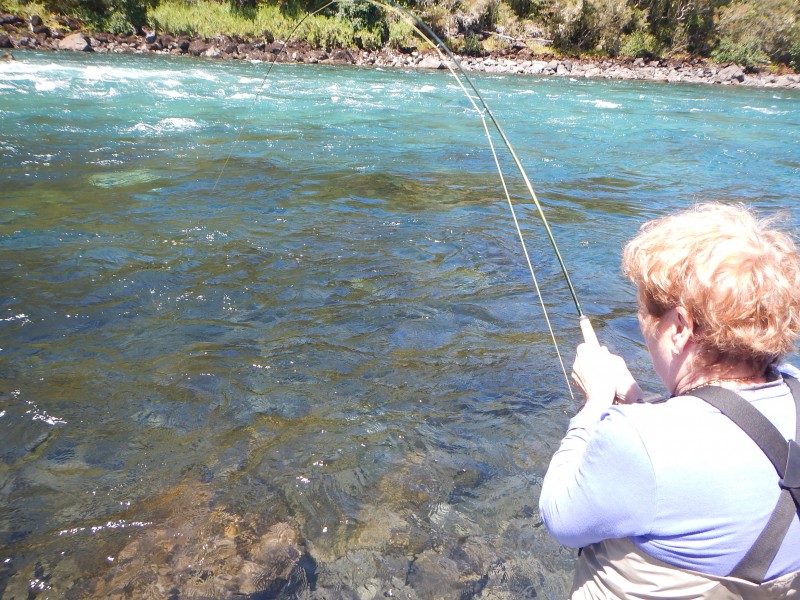 Hard fighting trout on shore that made floating on the cruise a distant memory if only for a few hours on land.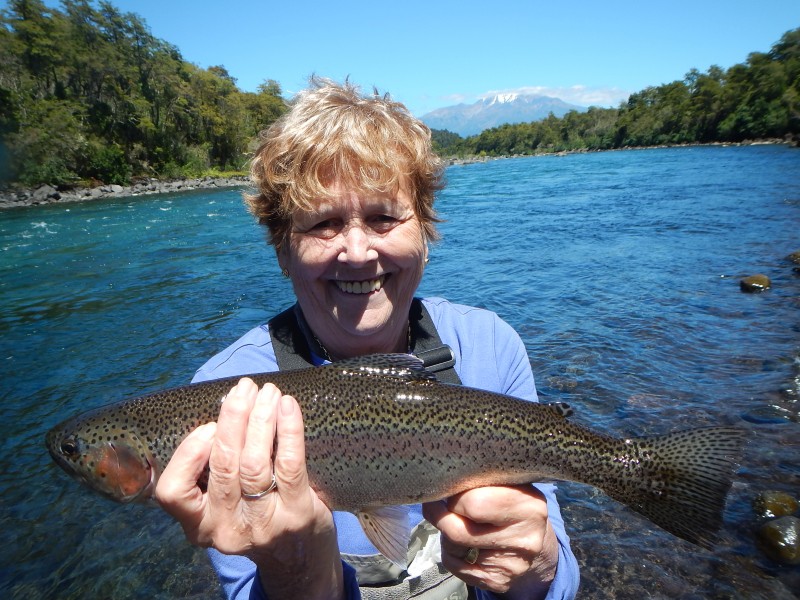 Way to go Kathy, now that's a great trout any place for any beginner!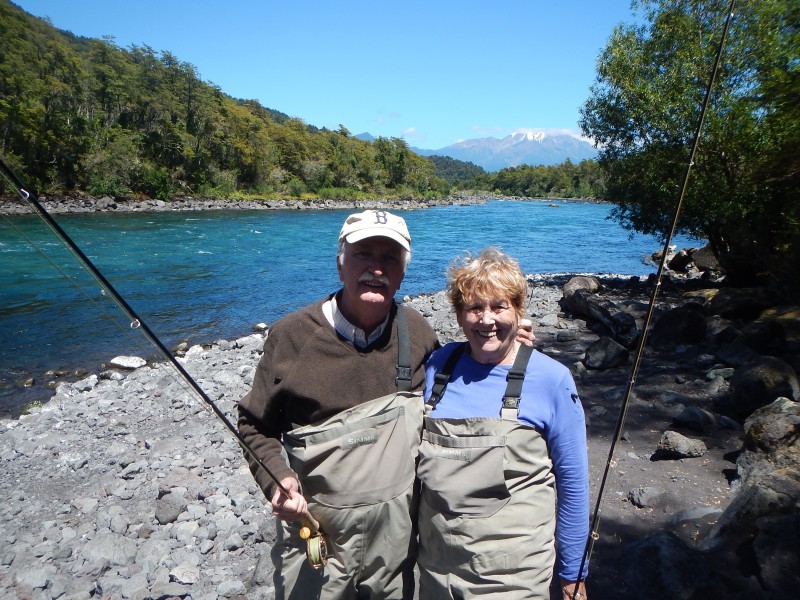 Thanks for coming down and fishing with me, it was a great pleasure!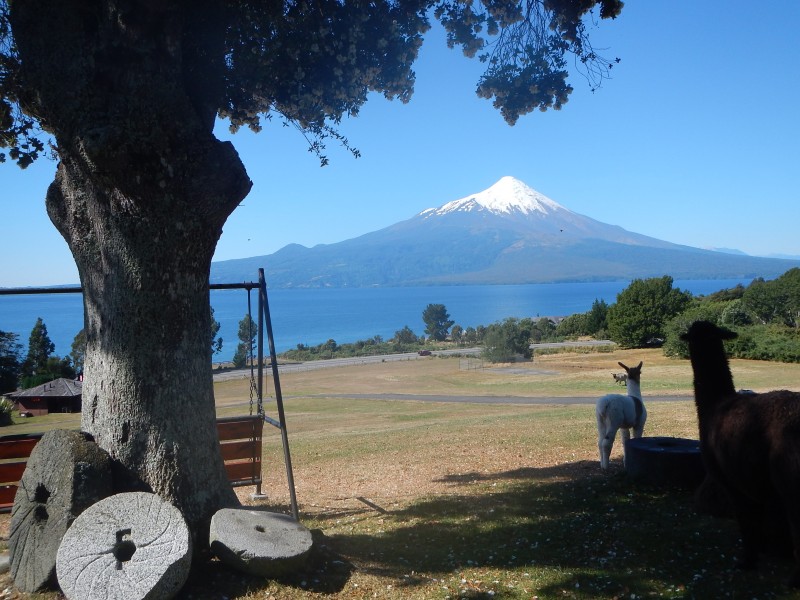 Down here in Chile, we worship volcanoes and the sun on a daily basis…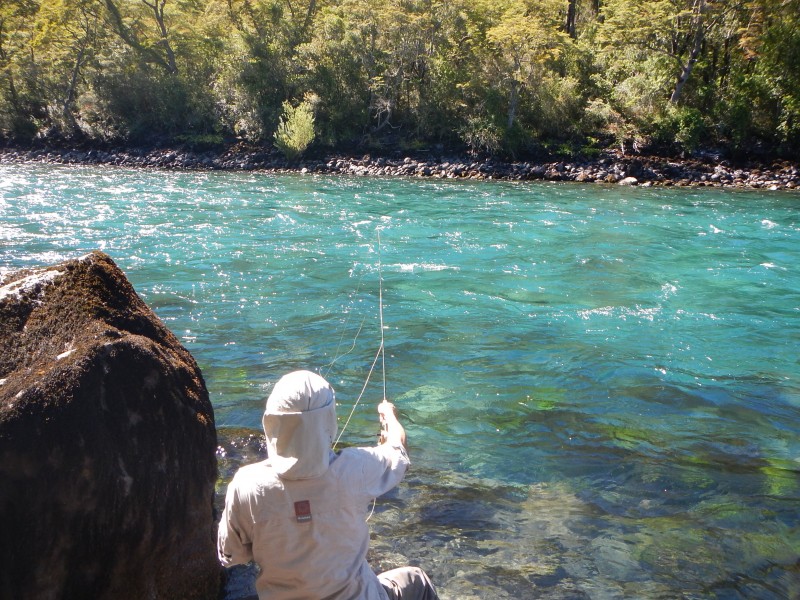 Then on February 1st I guided William Watson from the San Jose Fly Casters, while my guide Mattias guided Patrick Elliott and his wife off the same ship.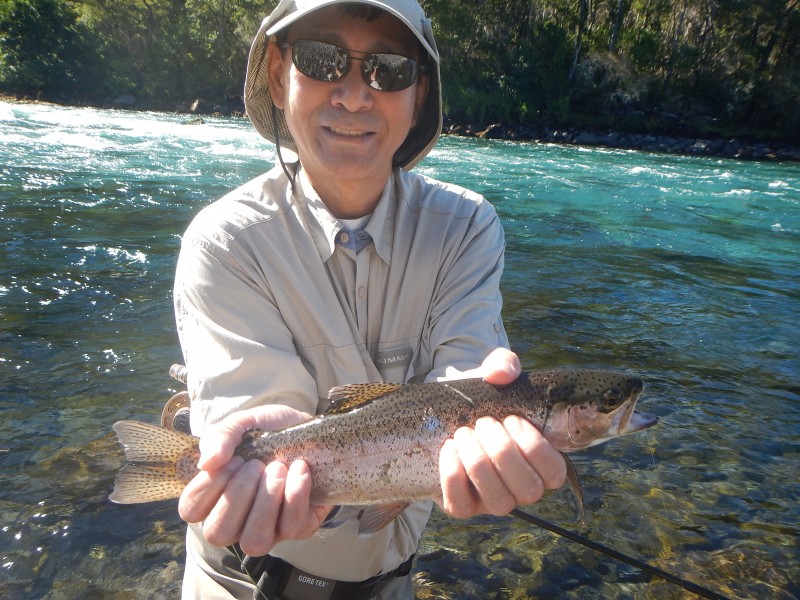 Thanks Bill, see you back in California in the spring! jt
Mattias with Patrick Elliott and his wife with a nice brown trout.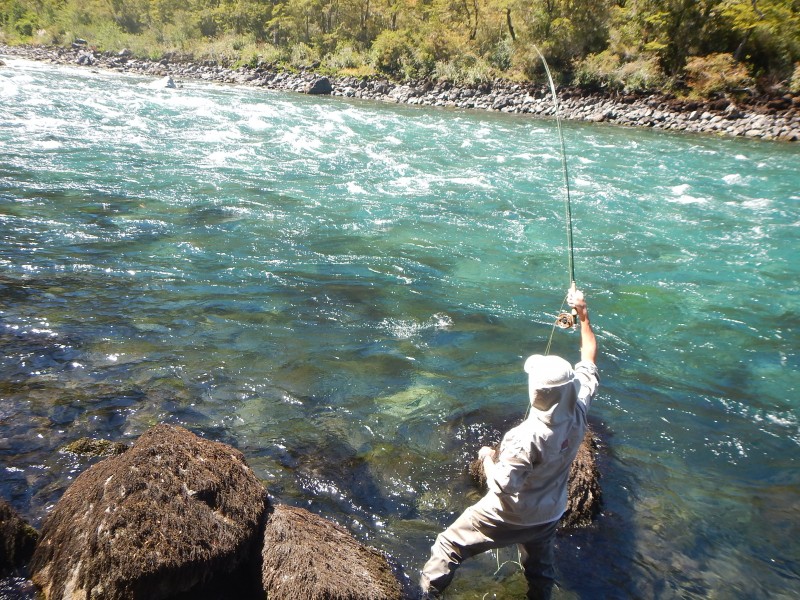 William hooked some nice trout that day in some lovely waters I might add.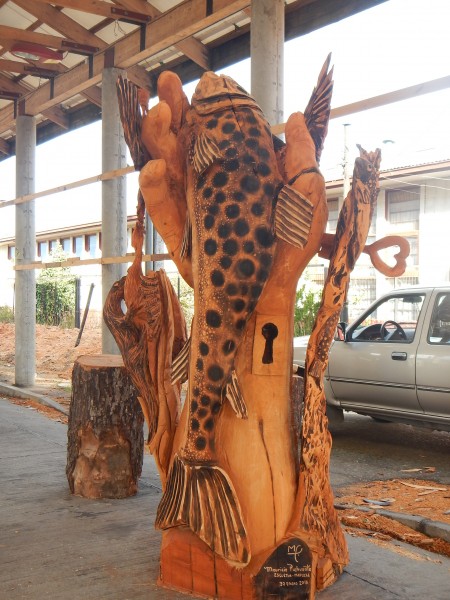 Amazing the things that they carve down here in Chile…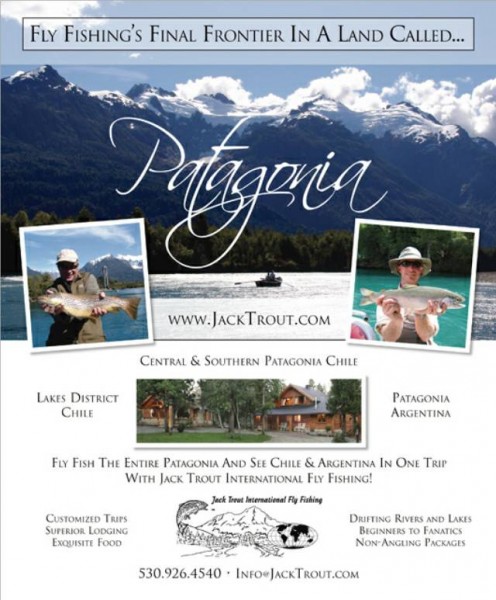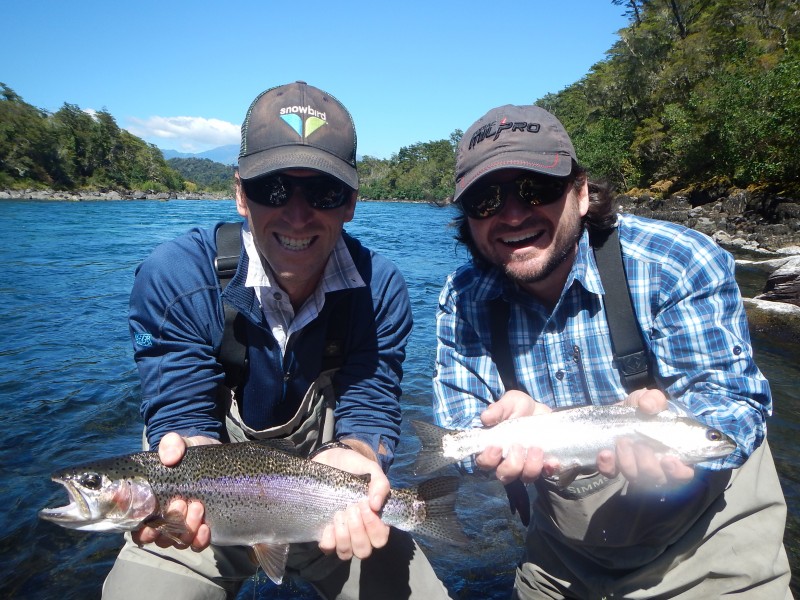 Then off the cruise ship Seabourne Expeditions, two employees hired me for the day to take them fishing. Matt Dolan & Rory Martin.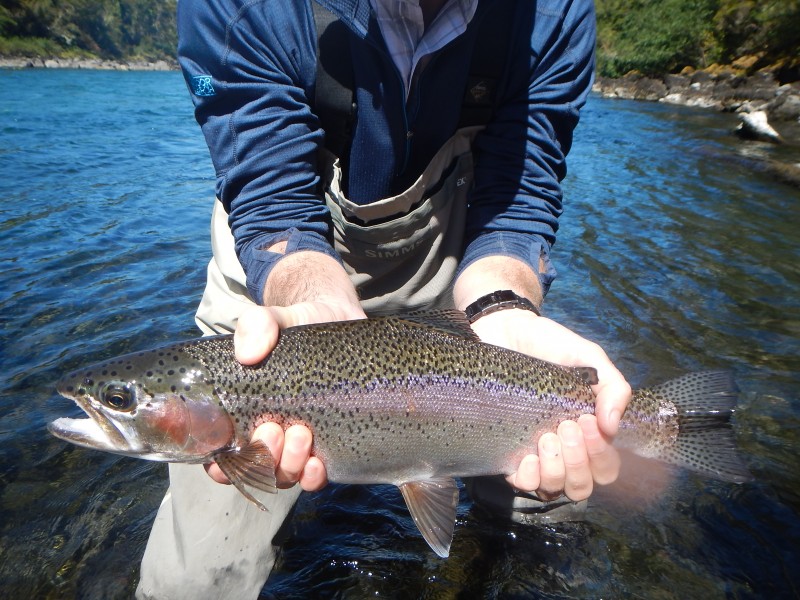 A real nice trout indeed for their first time fly fishing..I get so many beginners down here, this is the place to come if you're a beginner and I'm your guide.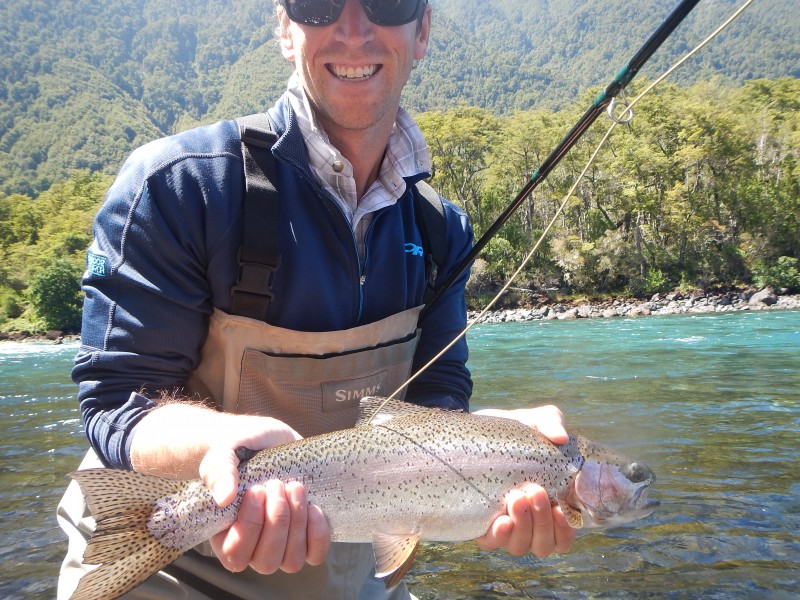 One more for the road as we head for a nice sit down lunch stream side and then we'll move to a new location.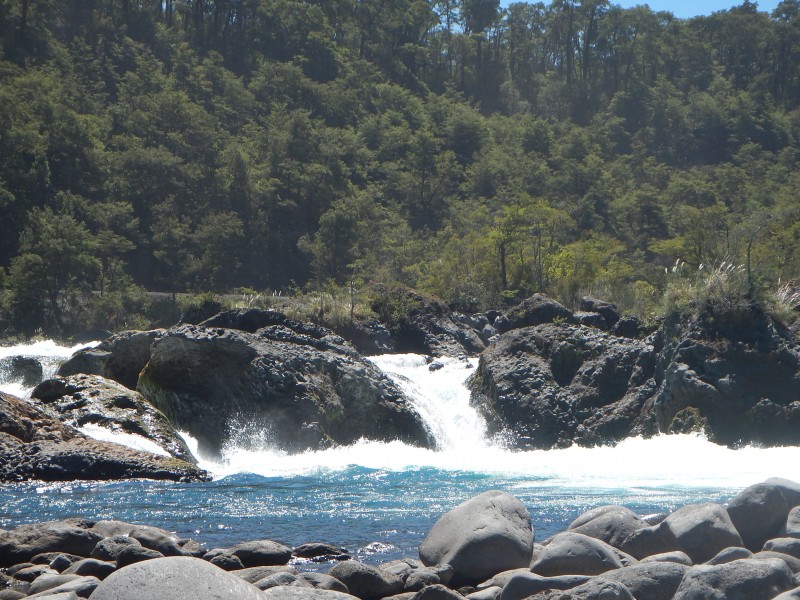 Falls around couldn't be more beautiful, so much water every where on a low water year, Chile still has more pure water than any other place on the planet.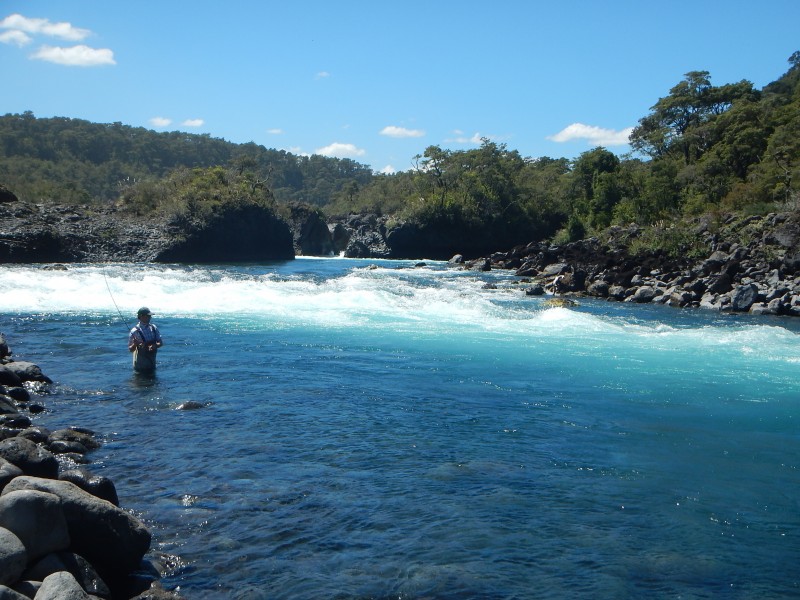 In a new location now, Matt hooks into a real lunker that takes him for a spin! Check out his video we made.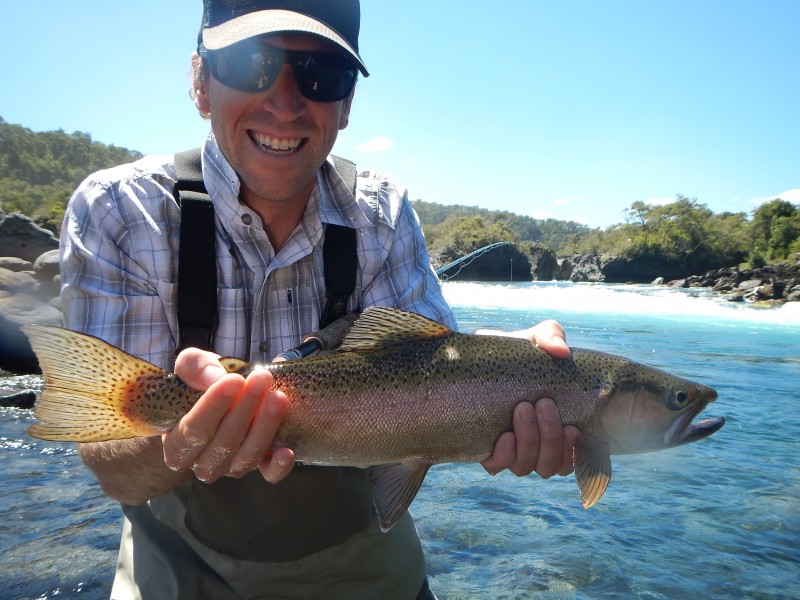 I wouldn't kick her out of her beds for eating kippers for breakfast, mommy dear, mommy dear. They got have them in Texas, cause everyone's a millionaire…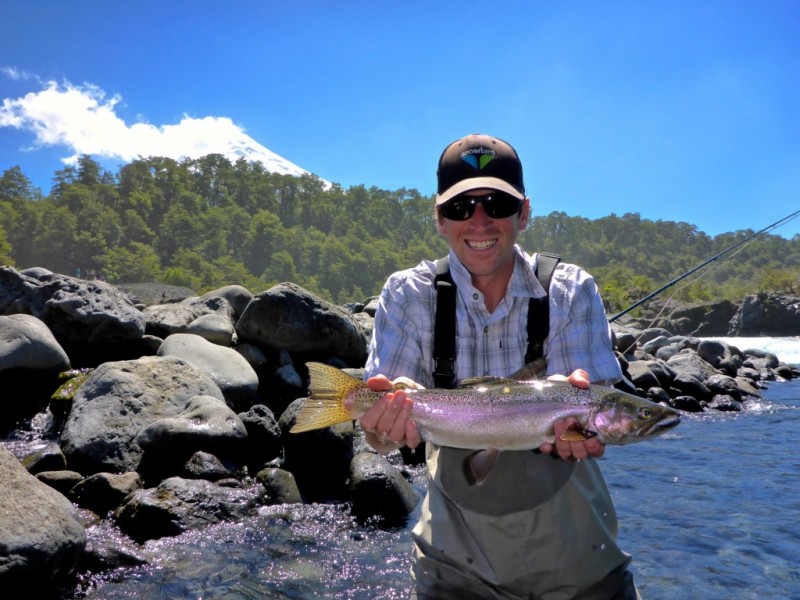 Gone Hollywood, Matt Dolan with a real prize, ladies & gentlemen.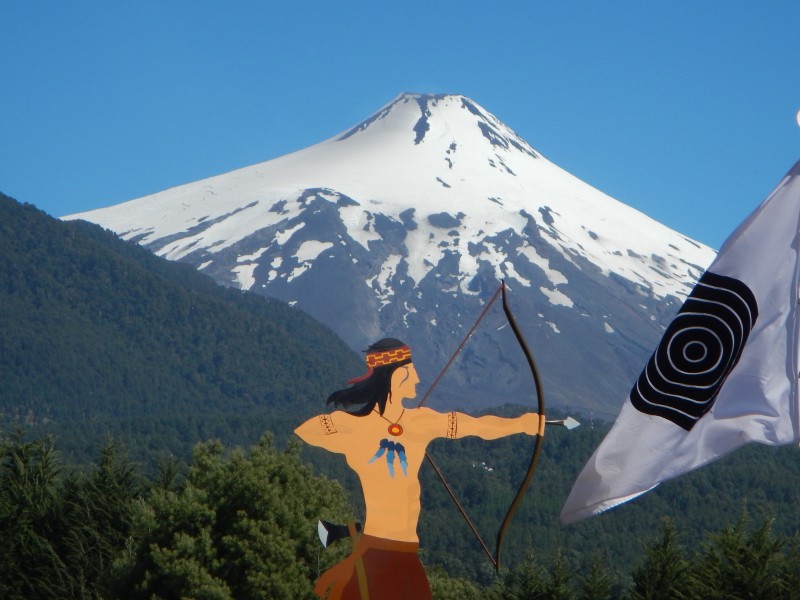 We are setting our sites on more clients coming, hope to guide you in 2015 & 2016 season in Chile & Argentina – info@jacktrout.com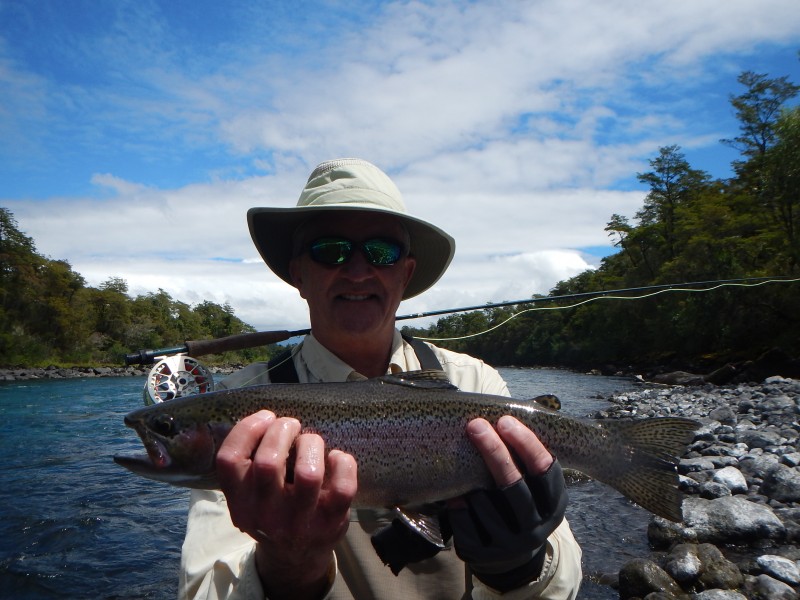 I fished with Tom Wennogle last year and now he's back again for a an round.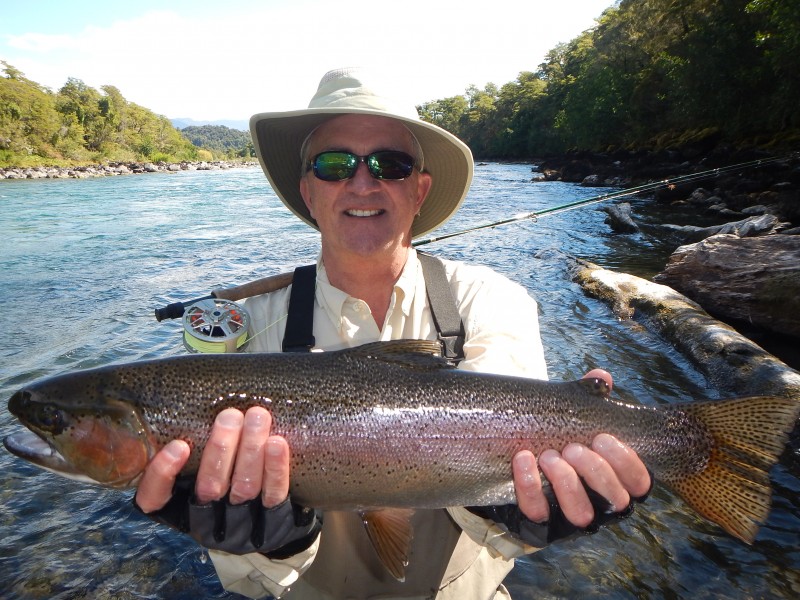 He lands the biggest rainbow trout of the season folks! He has fished all over the world and says this was his biggest trout ever. He caught this on a hopper dropper and we saw the trout as he took his fly! It was incredible folks!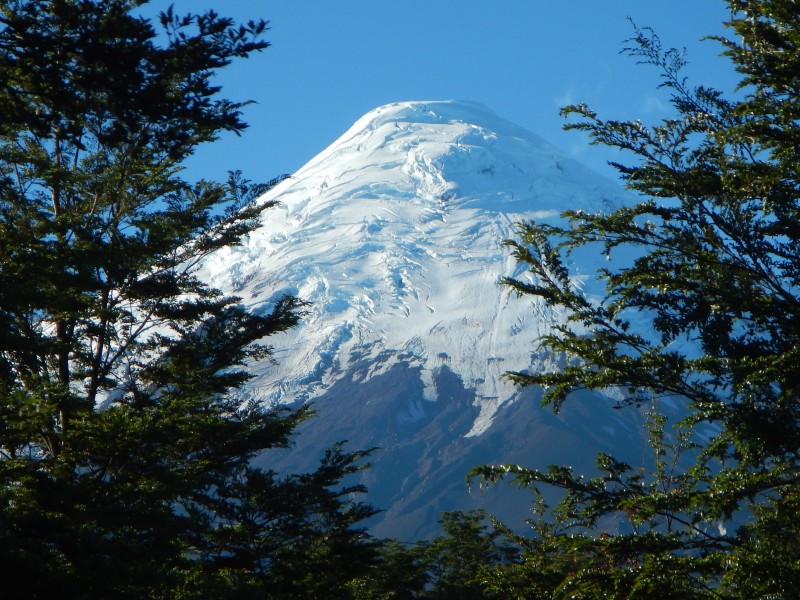 What a great place to live for half the year, it just doesn't get any better.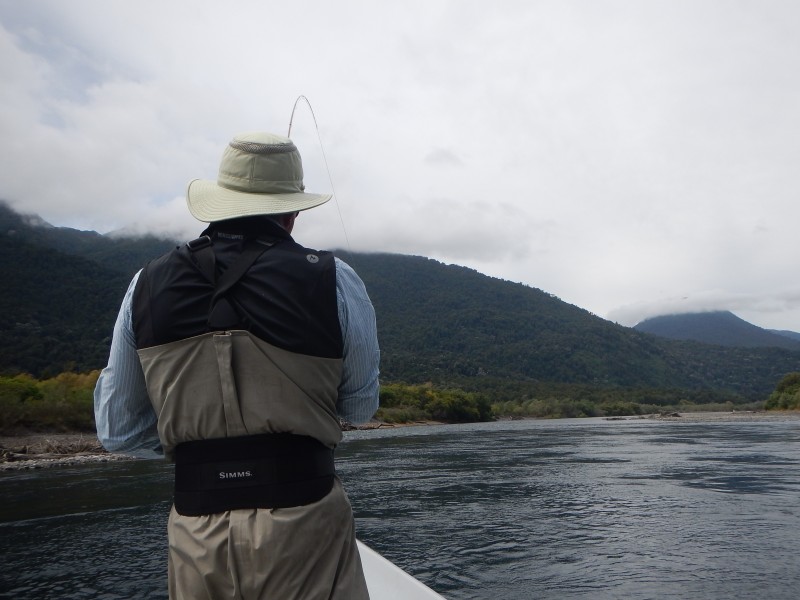 Out in the boat things got off to a slow start as usual down here and then the fish turned on. A slow pace and lots of conversation makes up for this and just wait them out because after 1 pm, things usually get going nicely.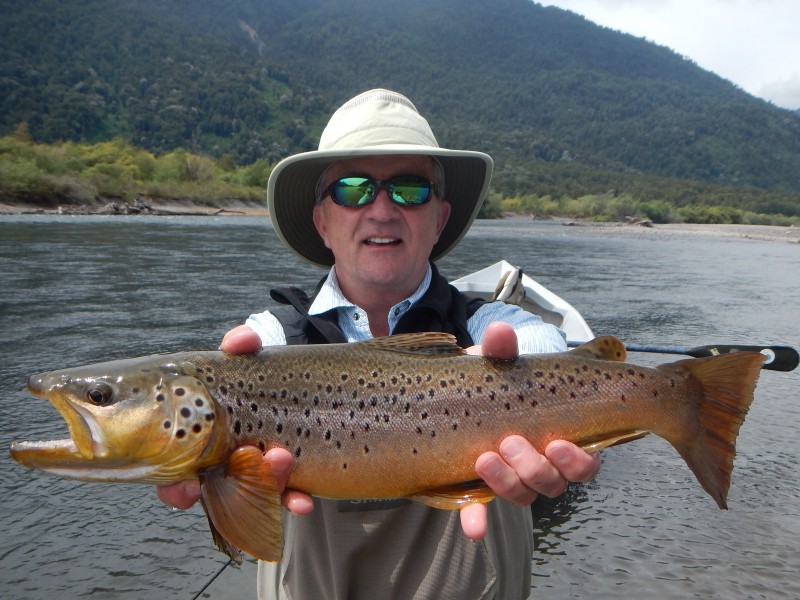 Tom Wennogle with the biggest brown trout of the season also! Way to go Tom.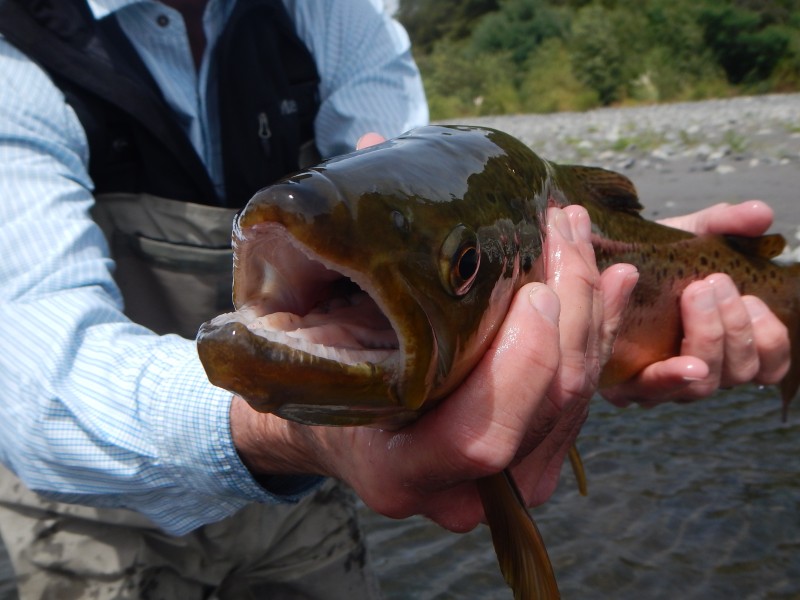 A face only a mother could love… Looks like this trout has been flossing, that's good news for his dentist.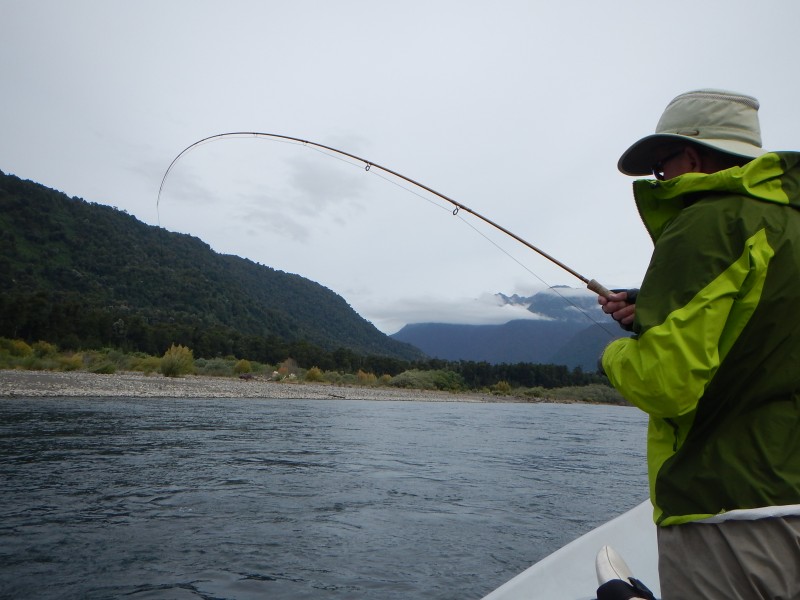 Thanks Tom for a great time again out on the waters of Chile, hope to see you in Argentina next year.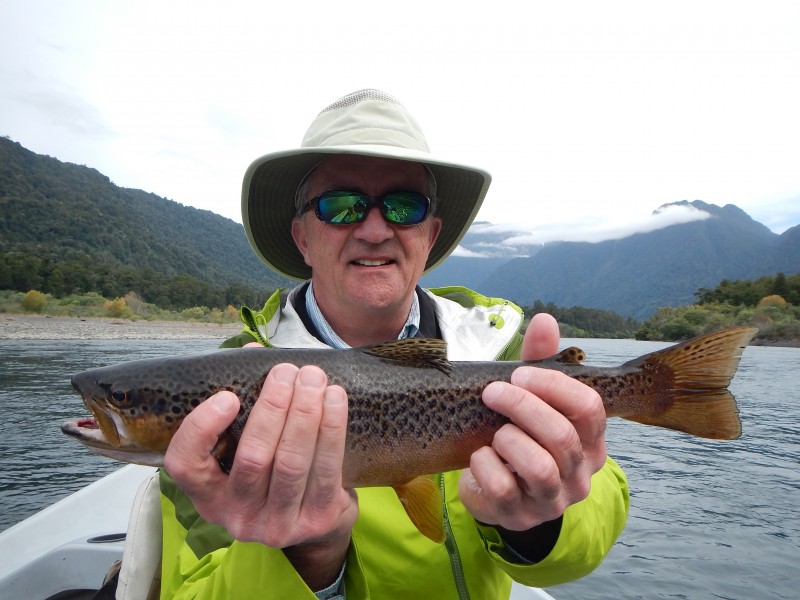 One more brown trout for the road..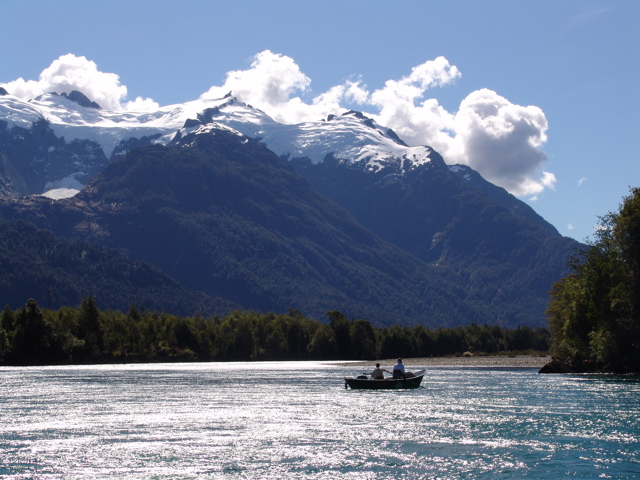 Thanks for watching our adventures here in Chile.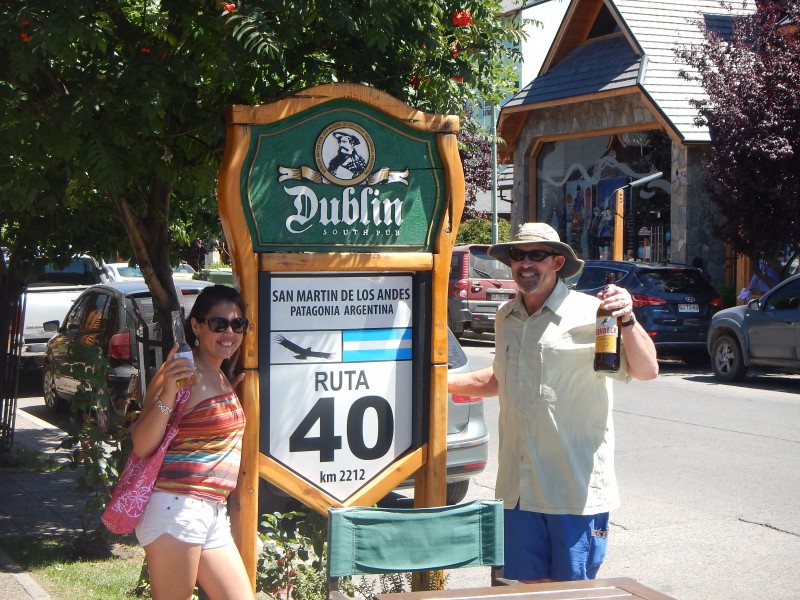 All the best to all of you around the world and we hope to guide or outfit you sometime in Chile & Argentina.
Many Rivers To You, Jack & Carola Trout  530-918-8879 * 530-926-4540 * info@jacktrout.com 
****************************************************************************************************************
Hopkins Belize, Central America
May 1st to May 24th, we'll be hosting week long trips in Belize – call us for details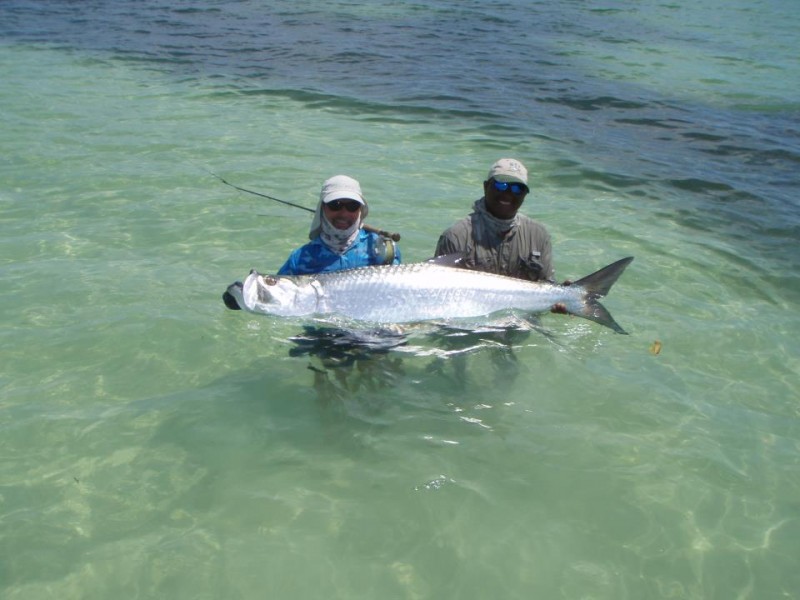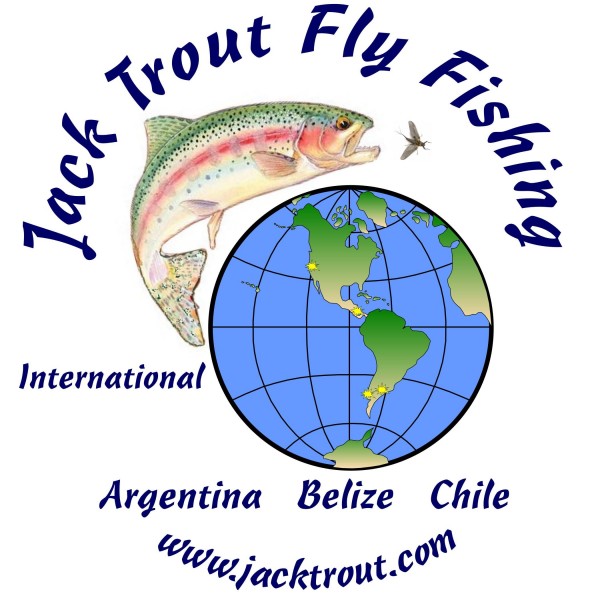 Emails from YOU!
Hi Jack!
Hello from Pook's Hill Jungle Resort, Belize
Don't forget the jungle if anyone wants to have a break from the ocean…………
With best wishes,
Vicki