FLY FISHING DRIFT TRIPS IN CHILE & ARGENTINA START NOW! WE LOOK FORWARD TO OUR 20th SEASON IN SOUTH AMERICA & NORTHERN CALIFORNIA.
Send your email to get back on our mailing list – Didn't back up the computer.. Oops!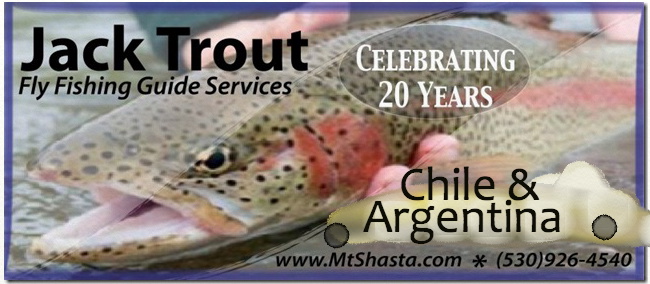 We would like to thank all the people who we've guided over these two decades!
We thought it would be nice to take you on a tour of the countryside of the Chilean Lake's District, this is a tour we offer here in Chile.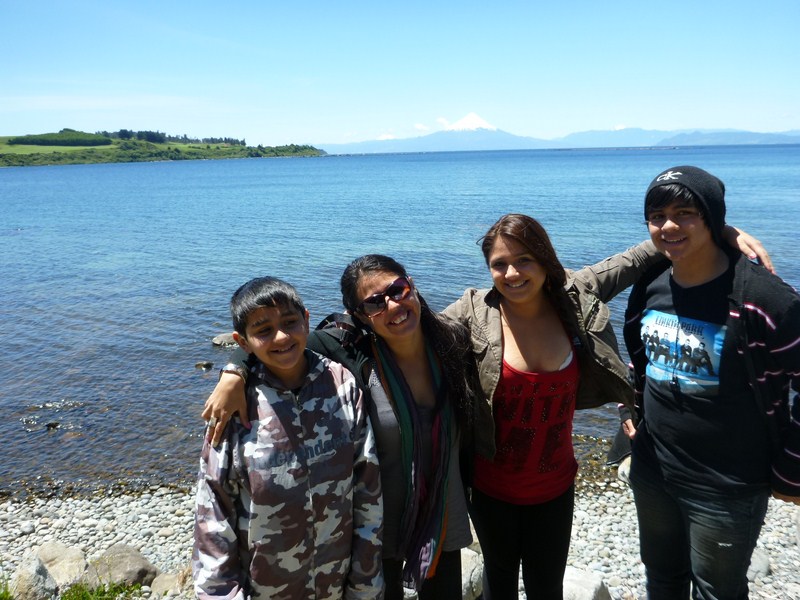 This is Carola's Niece and Nephews, Ivo, Alexandra (J-Lo) & Sebastian, we'll bring them along too as they are the future for Jack Trout's tours and fly fishing guiding here in Chile.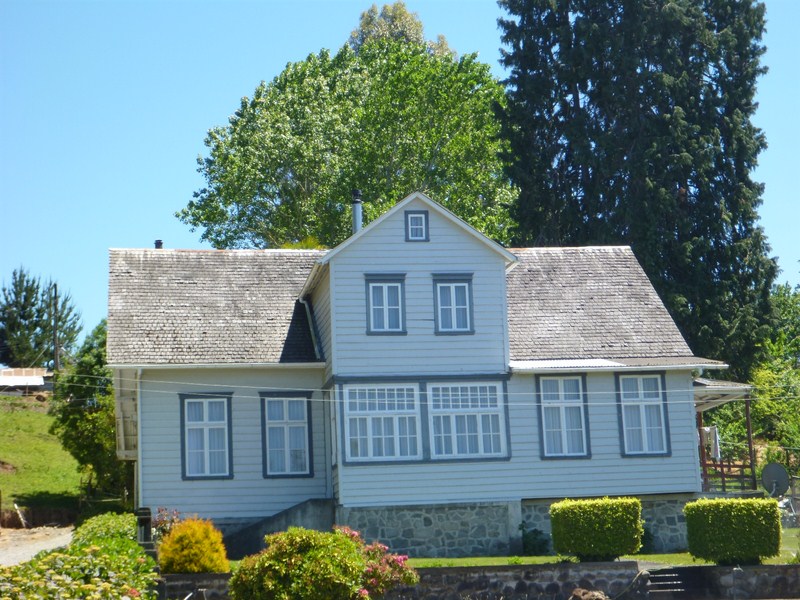 The Germans started settling here after 1900 when the Chilean Government gave them land incentives to immigrate here. I'm sure they felt right at home as this area of Chile looks like Germany, Austria & Switzerland.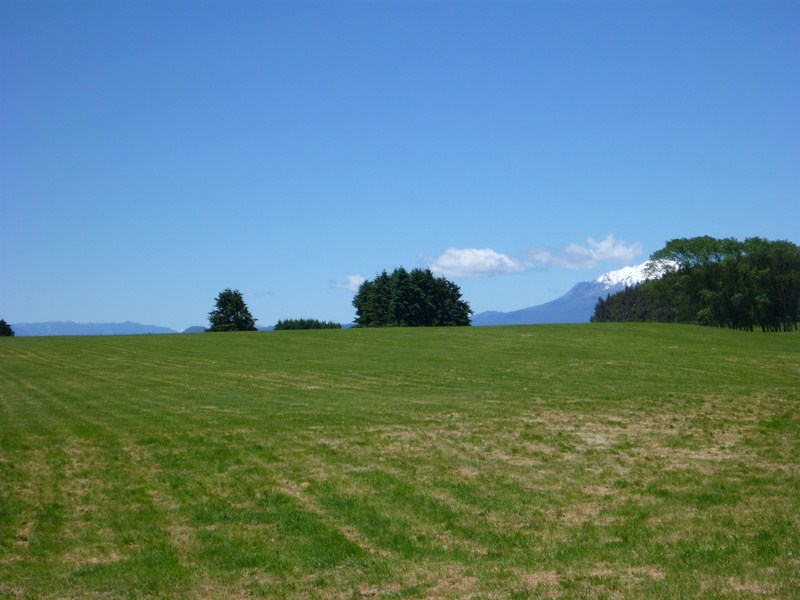 It's spring here now in Chile so everything is really green and lush from a long wet winter.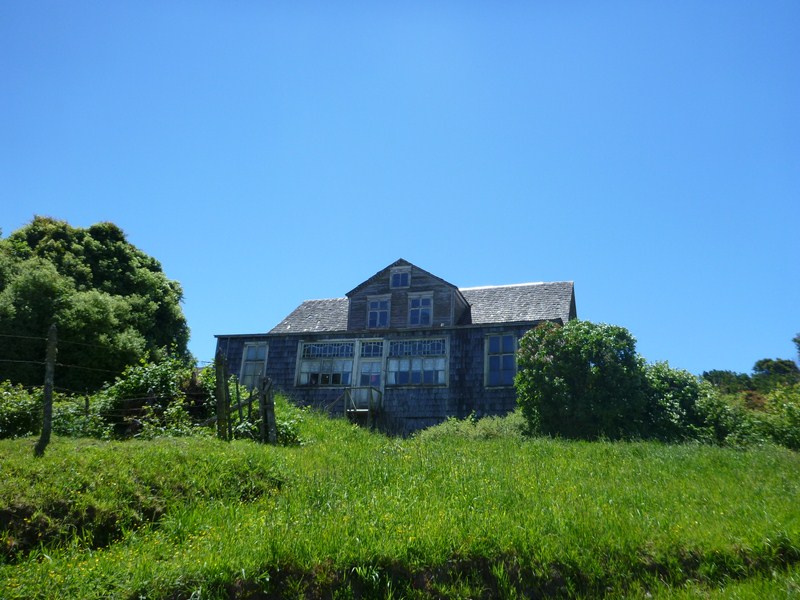 These old German houses are so full of history and the architecture is very identifiable, these folks literally helped tamned the 10th & 11th regions of Chile.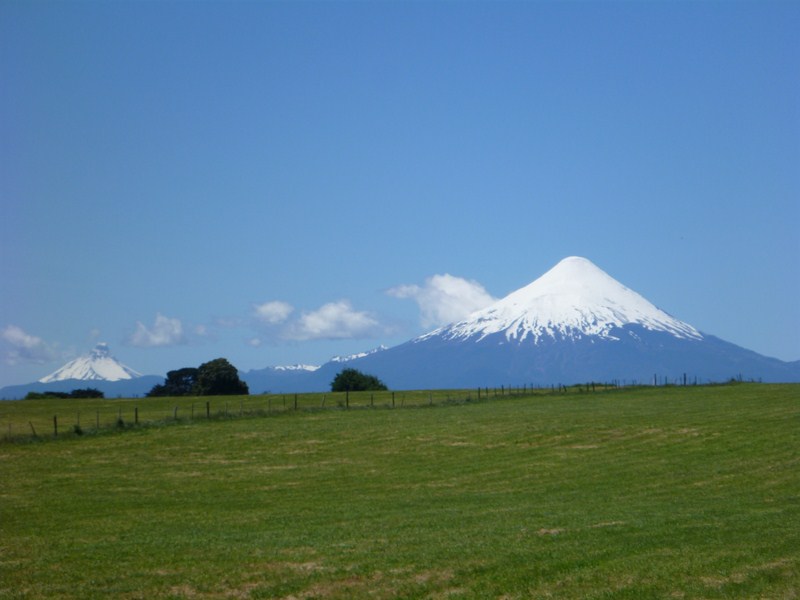 Chile has 2006 volcanoes this is called Osorno and over to the left is the incredible and our favorite Volcano Puntiagudo.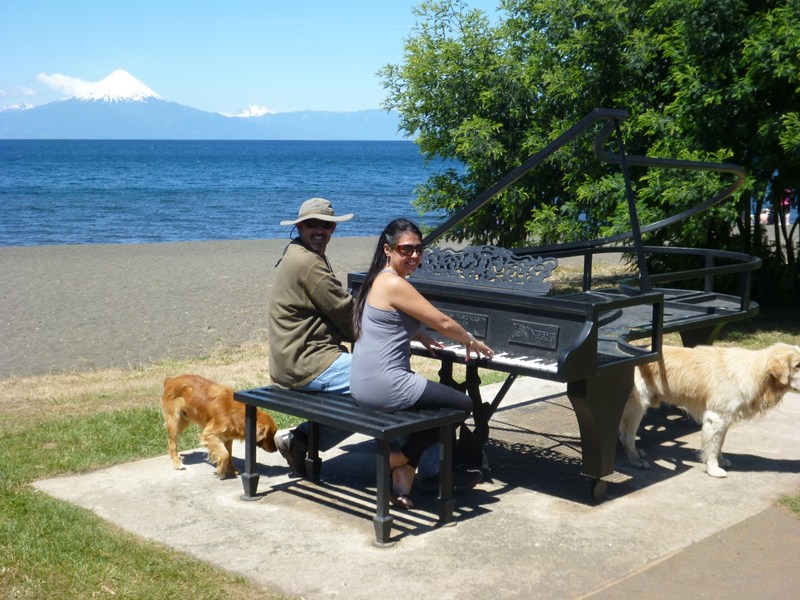 What a place, the German town of Frutillar, the Lake Tahoe, California of Chile. The only difference is you can fit 2 Lake Tahoes in Lago Llanquihue as it is Chile's 2nd largest lake.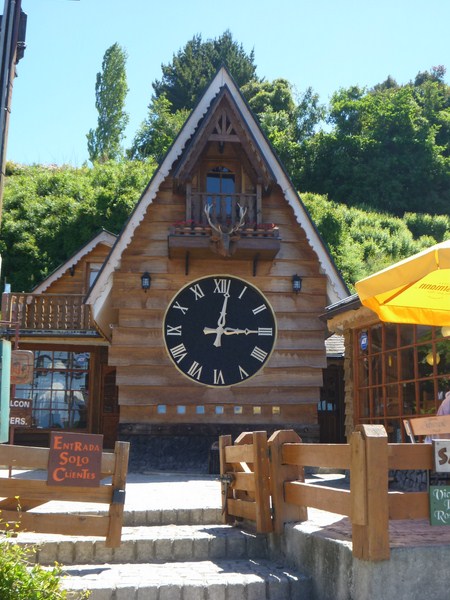 A fun place we highly suggest you visit when touring Chile, or we can take you there.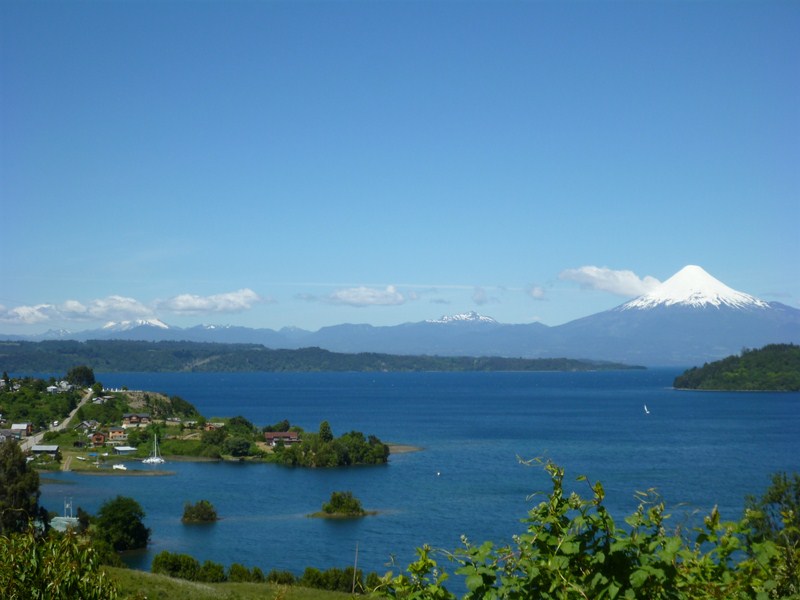 Puerto Octay, Chile used to be a bustling town with a brisk tourist business ferrying passengers across Lago Llanquihue until the Pan American 5 highway was built after the 1960 earthquake that registered as the largest earthquake ever 10 magnitude. But the scenic beauty is worth a visit, we highly suggest.
(Stay at the Haase House fantastic museum like hotel with a rich history where the owners German daughter fell in love with a Chilean man but her parents refused to approve the relationship and she died never being married. Ah duh! Sounds like Dirty Dancing to me! They have one room totally dedicated with photos and antique treasures from the 1920's 30's & 40's. Rick from Pawn Stars would like this place.) www.hotelhaase.cl
 This is a very old volcano called Calbuco, it erupted last in 1961, it has had 16 historical eruptions.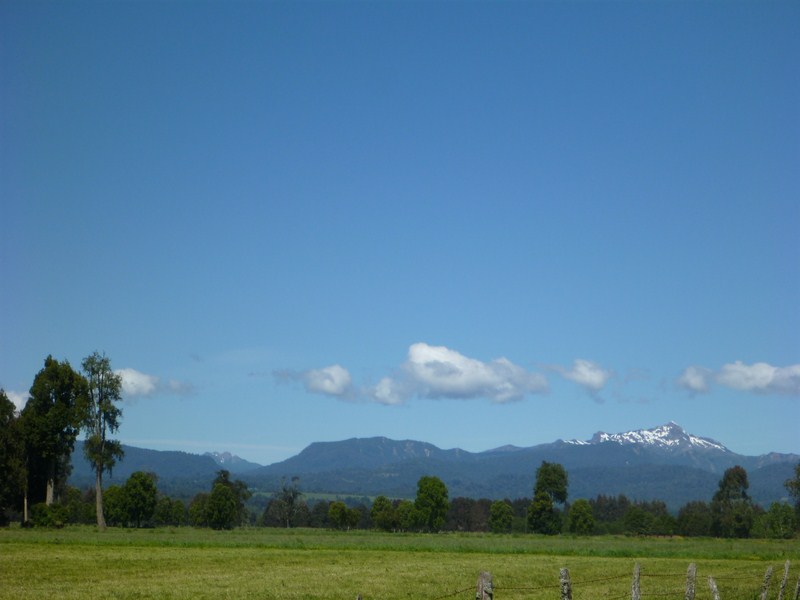 This is the countryside looking towards Volcano Puyehue, the last volcano to erupt in Chile. It has calmed down and things are getting back to normal on this very important passage into Villa Angostura, Argentina from Osorno Chile, the main route to Bariloche, Argentina.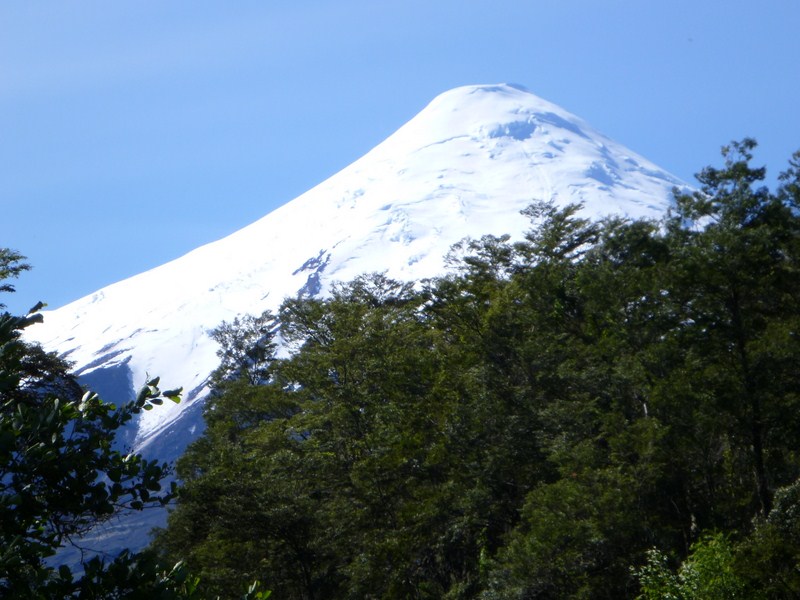 Volcano Osorno last erupted in 1868 and divided Lago Llanquihue into two lakes and formed a new lake called Todo los Santos.
Chile means water, the water will become more and more valuable in the future, how Chile protects this water will determined the countries resourceful future. 
Let us hope those who make such decisions make healthy ones and are not influenced by nearby countries that have much less water and rich natural resources.
Underwater the trout are flourishing and the water is as pure as the snow from the Osorno Volcano.
 I just bought the waterproof Lumix camera, what a great purchase.
 The Rio Petrohue is one of Chile's finest rivers, one of my favorite rivers in the world.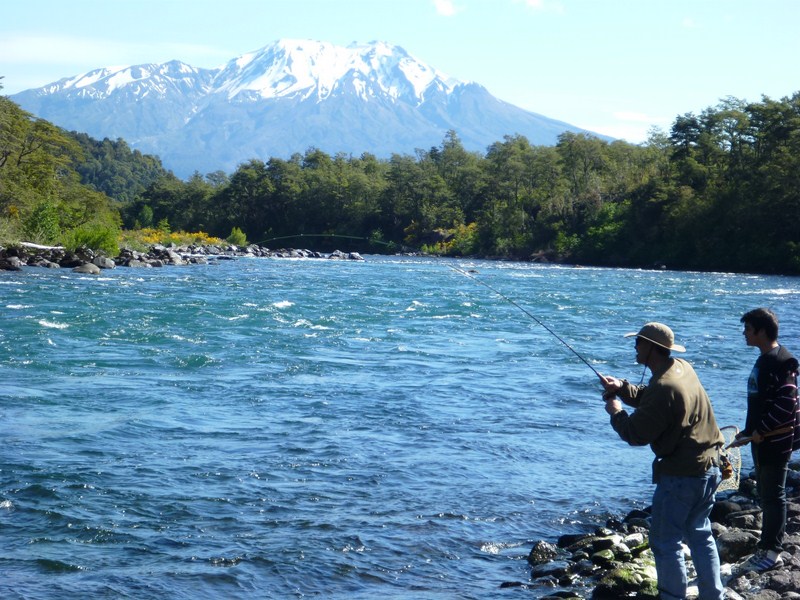 So I tagged along a fly rod on our tour around Lago Llanquihue and on my 5th cast from shore in my jeans and tennis shoes i hooked a very respectful trout.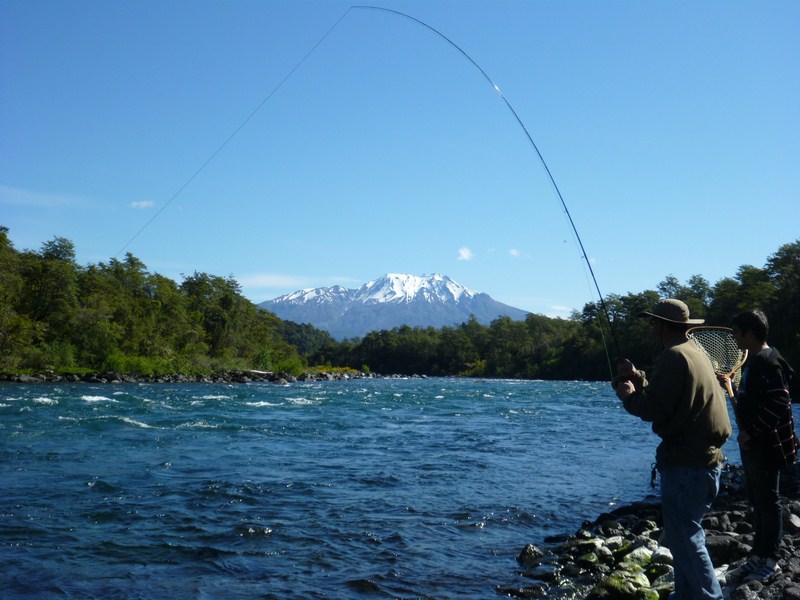 Sebastian was there to help his Uncle Jack land the trout. I'm really proud of these kids, everyday their English is better. He loves Eddie Vedder from Pearl Jam and always seems to be humming some great rock tune on his ipod. If my friend JERRY could call Eddie Vedder and get us some tickets for the Pearl Jam concert in Santiago Chile in April we'd really be indebted….(You did write an awesome song for him 🙂
Now that's a capital C folks!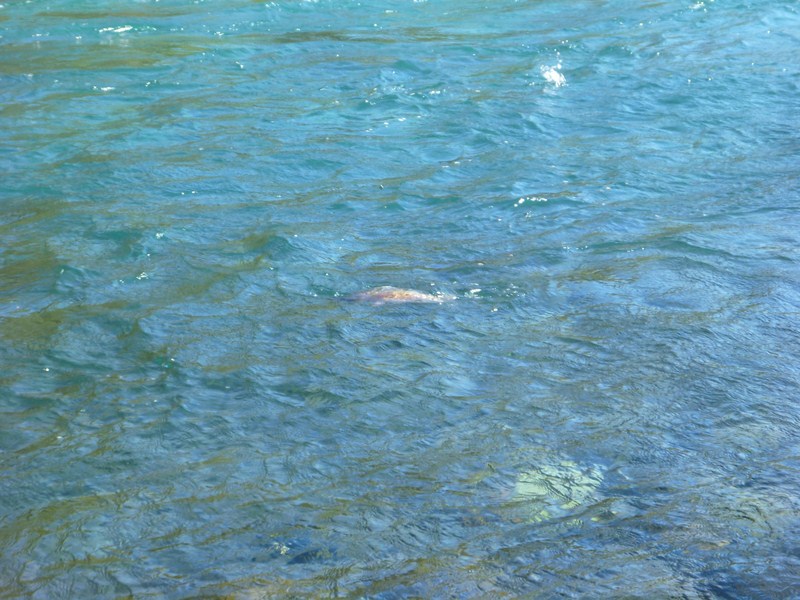 McCloud Rainbow for sure in Chile!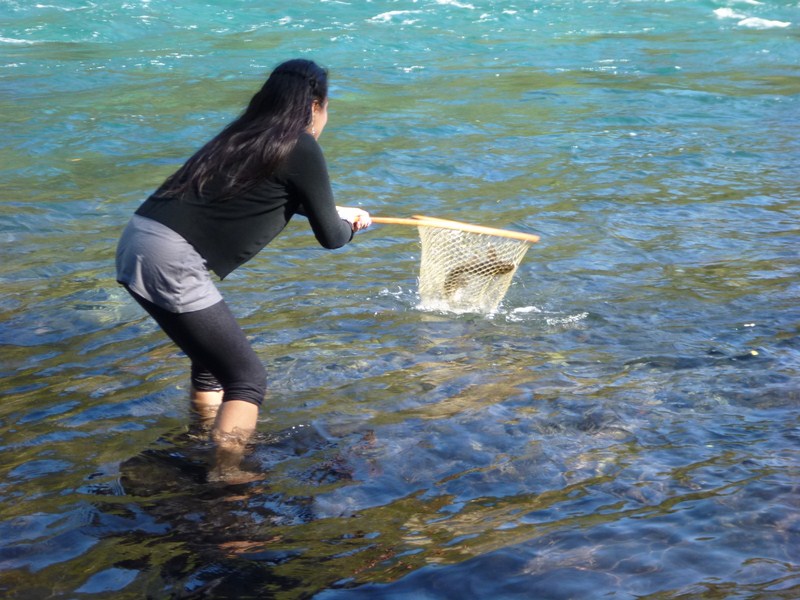 Nice babe, nothing but net!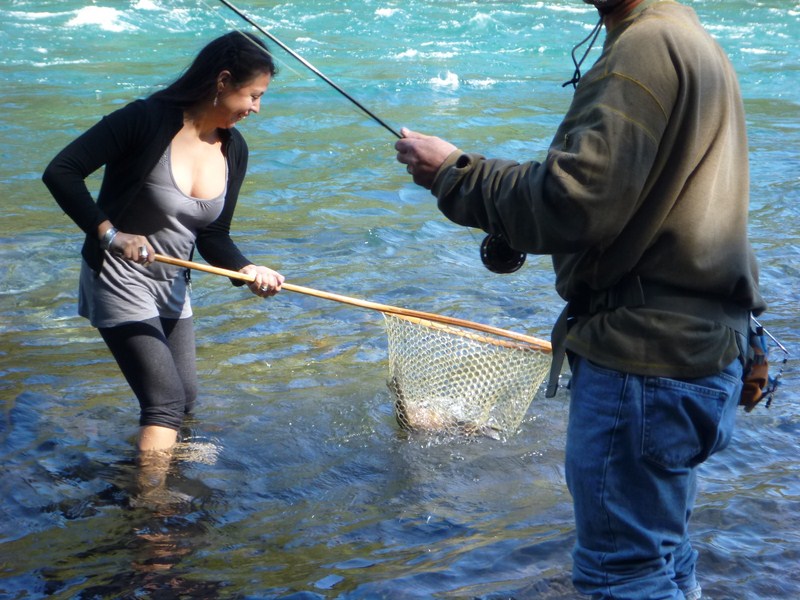 That's a great trout in any country. Sure is great they made this a catch & release river the trout are getting huge!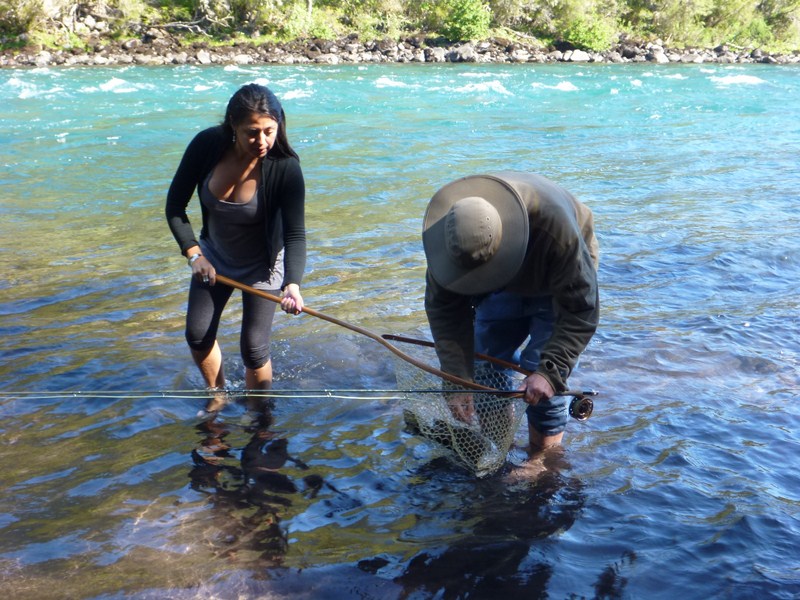 Come here and let me take a look at you, I can get that fly out fast.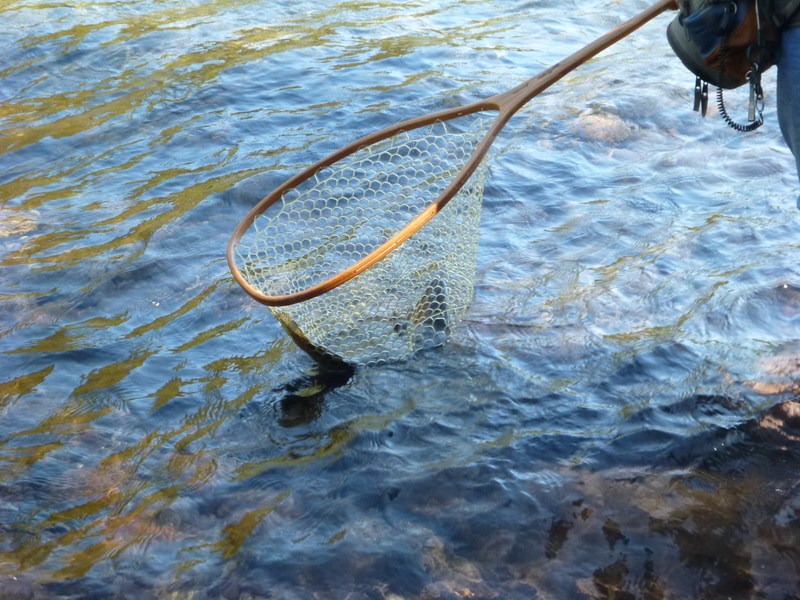 Ok that was smooth, one picture and we'll get you released.
Nice trout indeed.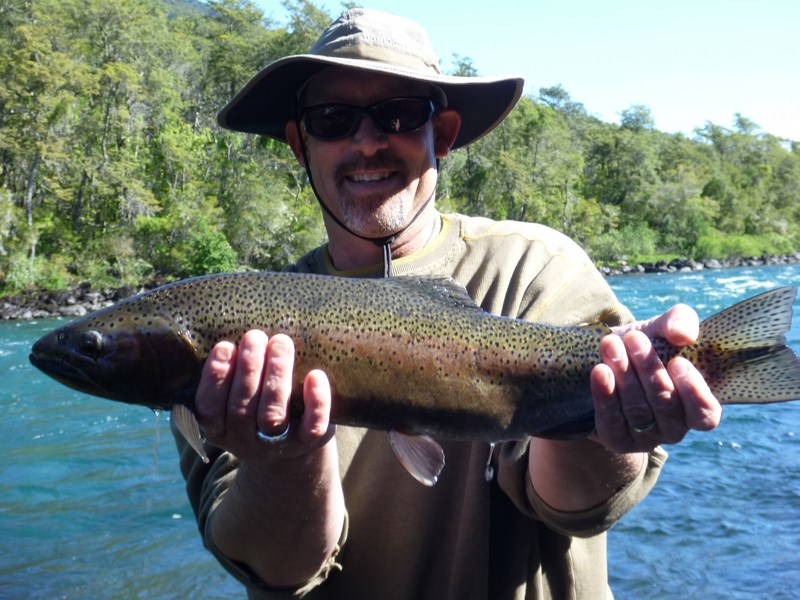 Now that's an old lady!
Nice dentures if I don't say so..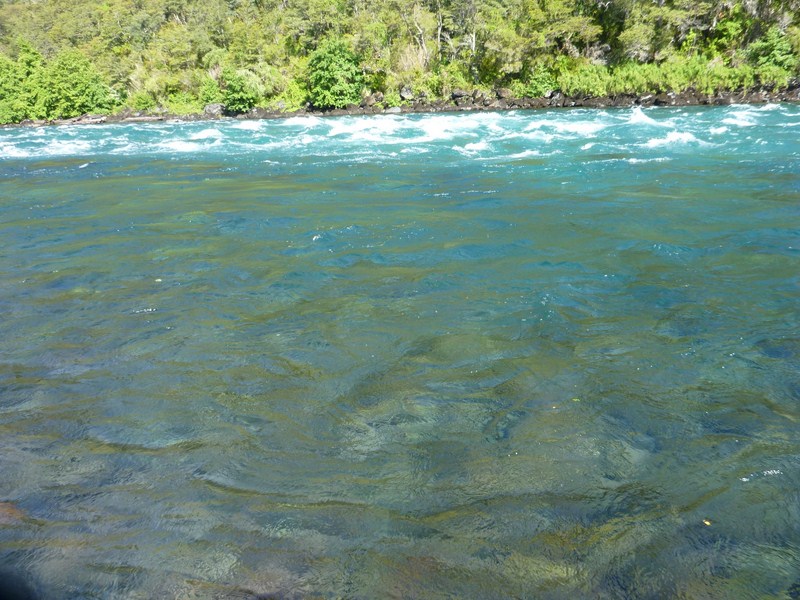 Some of most pristine and pure waters left in the world, time to batten the hatches Chile.
One of our favorite places to eat at in Puerto Varas when touring clientele is to take them to Alessandro's Italian Restaurante.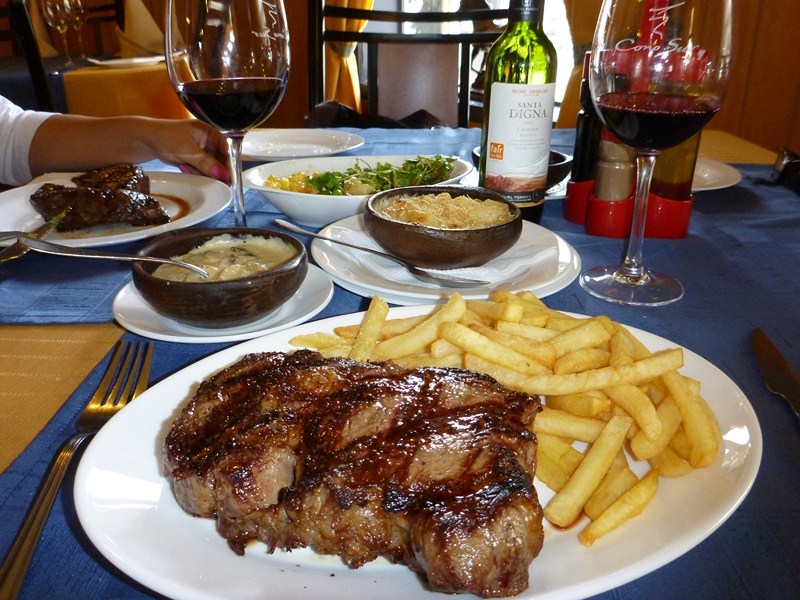 For steaks our favorite restaurant is in the town of Osorno, Chile called La Parilla de Peppe – The best $15 dollar steak you've ever tasted.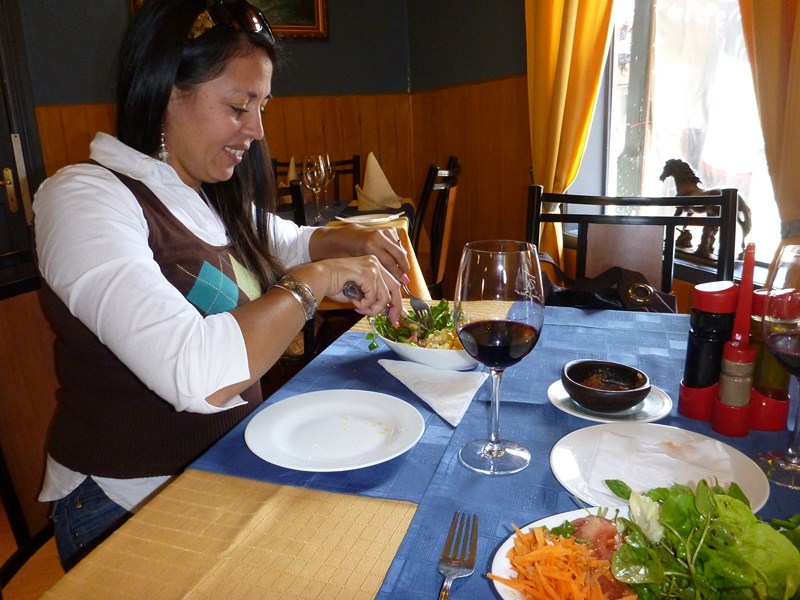 Carola is always impressed by their salads and greens.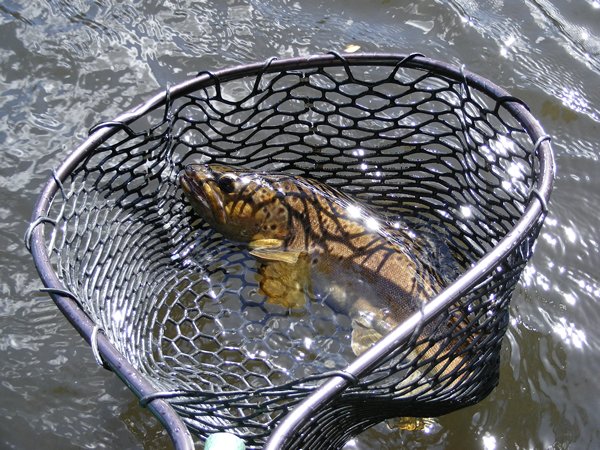 Many huge browns being caught by clients and my guides. I like fly fishing Chile & Argentina in November, December & March & April.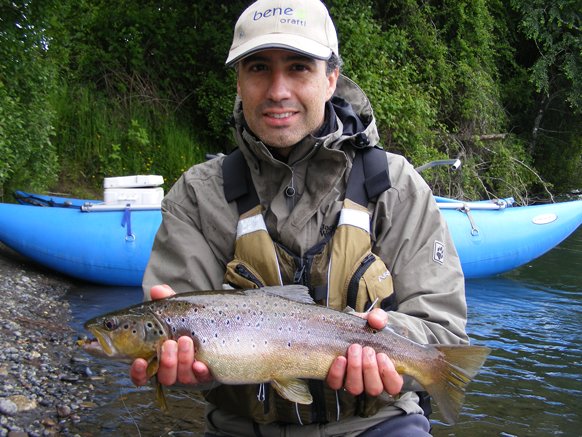 Nice brown always makes my day!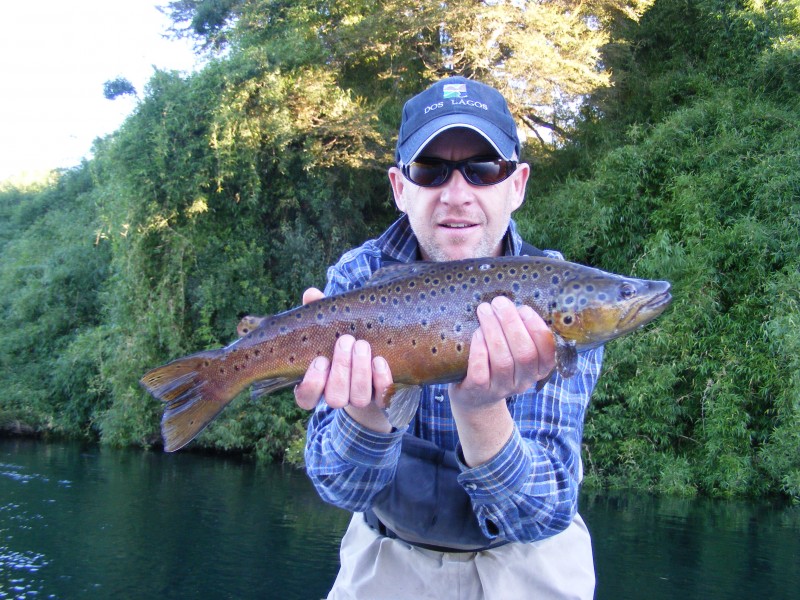 My head guide Edgar in Chile has been landing some really huge lunkers! Edgar has been guiding Chile for 23 years and knows every section, region and river between Temuco and the Rio Baker in region 11. Wow! He's as well traveled as the McCloud River Rainbow.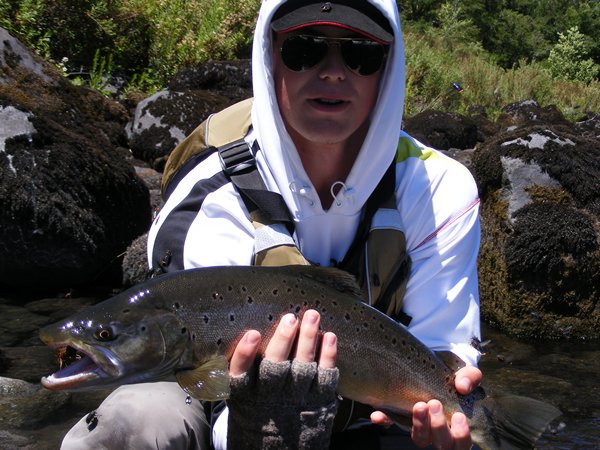 Sea run trout are being caught more often in the Lakes District of Chile, why anyone would ever go down to the extremely cold windy barren area around Punta Arenas & Terra del Fuego baffles us all up here. It's so much more beautiful up here, more for non anglers to enjoy and you're closer to Patagonia Argentina. There's a few lunkers here too, especially in March and April when the big sea going fish arrive, but they can be caught here on any day just like in any region of Chile south of region 9.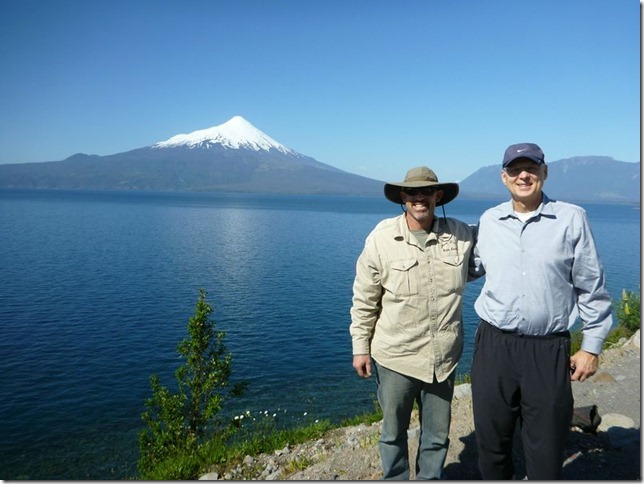 Our first client of the season was Mike Hawkins of Cincinnati Ohio. Mike told us that Cincinnati has the second largest October Festival in the world, large German population there too! We really enjoyed his good vibes and soft spoken tall mid western words, high integrity, the kind of guy you would want on your team. 
(Becoming more and more rare these days.)
 Kind of sad to see this Scottish Broom take over like it has on the Upper Sacramento River in Northern California, but just like  everything here, living things are always subject to drastic changes, Mother Nature rules in the end.
 Such an amazing piece of water, you can see down so far because of the glacial silts that coat the bottom of this lake. We love to take people on tours around the total circumference of the lake, it takes about 5 to 6 hours but many high lights along it's path of course.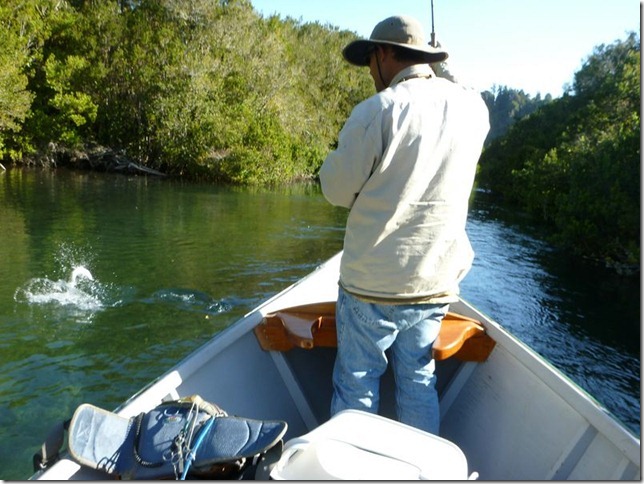 In this one spot Mike caught 8 Atlantic Salmon about 15 to 18 inches, then he wanted both Me and my guide Mattias to hook into one!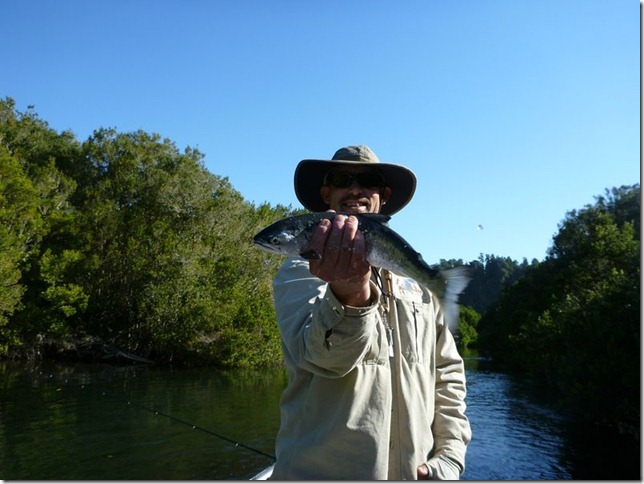 Fun stuff, we like to share with you on this private float we have here in the Lakes District of Chile.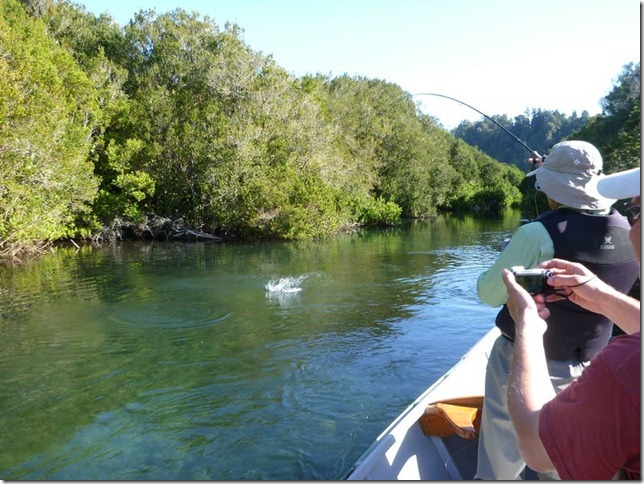 Then Mike went on hooking more and more of them. They run in schools and I remember in 2009 our clients Dave and Scott hooked and released 22 with 13 double-hook-ups! That's a record that may never be broken.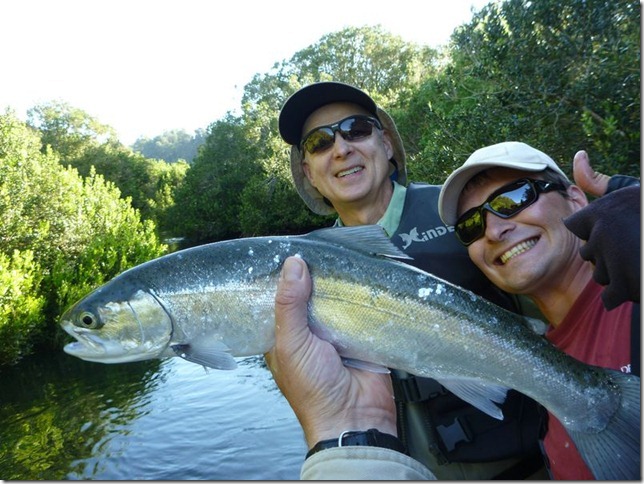 Way to go Mike & Mattias, just doesn't get any better than that. Here's what Mike wrote up on Tripadvisor.
Reviewed November 16, 2012
1 person found this review helpful
I recently traveled to Santiago for a legal conference with ALFA international The Global Legal Network. I decided to go a few days early to fish in the Lake District. An easy flight from Santiago to Puerto Montt and there was Jack Trout and his wonderful wife Carola to meet me for a wonderful 3 day fishing adventure. Carola grew up in the area and was a wealth of knowledge about culture and the area. From tween they picked me up until they dropped me off for my flight back to Santiago every aspect was the best and was executed without a glitch. The fishing with Mattias, one of Jacks local guide, and Jack were of high quality from the fishing, to terrific lunch grilled on the riverbank, hints on fishing technique and landing a variety of fish. They were all great people to hang out with and dinner every night at their favorite restaurants was a very welcoming touch. I am ready now to go fishing with Jack Trout next year in California. I have already given his contact info to several fishing friends. Thanks Jack, Carola and Mattias and his father Carlos who shuttled the boat. Highly recommend for a terrific experience.. Mike Hawkins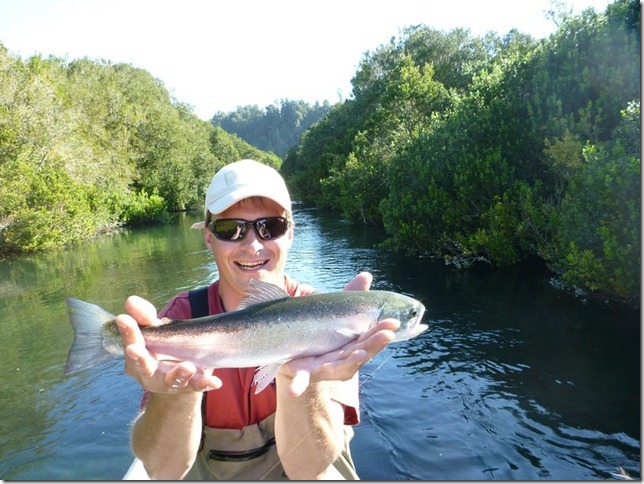 Mattias is an excellent local guide who grew up here in the Lakes District, I have been training him for 3 years now and he is a top rate guide here in Chile. I am proud he is apart of Team Trout International Fly Fishing & Tour Guides.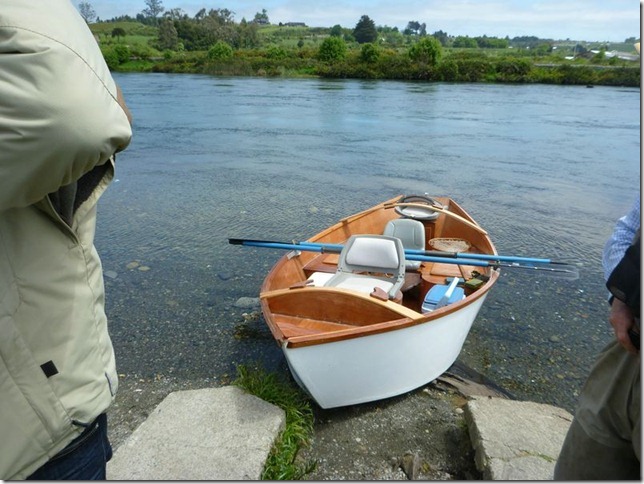 This past winter Edgar built a drift boat in his garage, want a wonderful project. Our 2nd clients showed up Jon &  Joel Mastacelli
They also had a wonderful time and one night Jon, Joel, Mike, Edgar, Carola and me all went out to dinner, it was fantastic!
Here's what they had to say on Tripadvisor –
Reviewed November 15, 2012
2 people found this review helpful
I hired Jack for Southern Chile Puerto Varas area. Flew down with my dad and we had an unforgettable trip with a very knowledgable guide (Edgar) with good equipment on beautiful rivers. Jack and Carola really went out of their way to make sure we had a good times and delicious local food in our bellies. I would definitely recommend.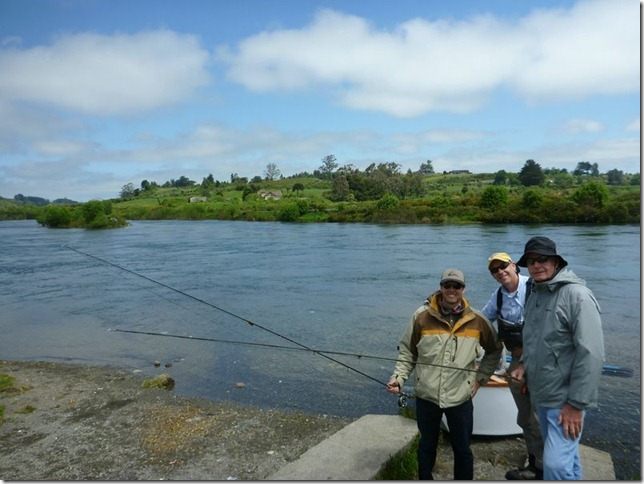 All the best people are coming down to have us guide them this year, we'd like to add you to the list!
Thanks again Jon & Joel for coming down and hanging out with us, you folks are tops!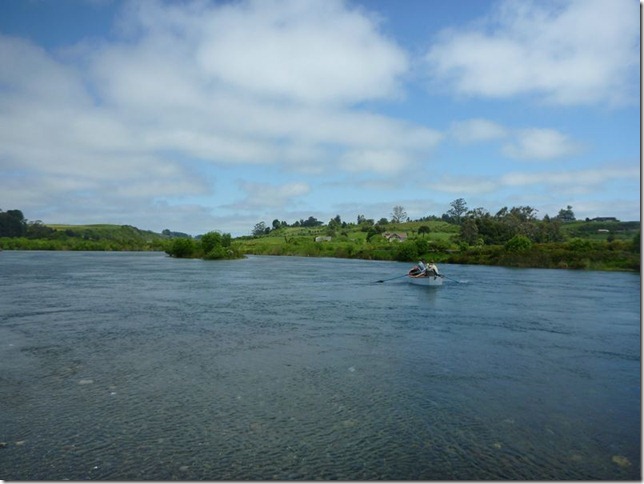 Have fun!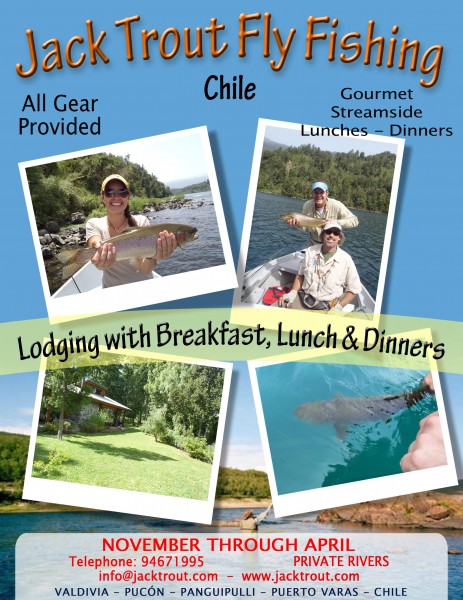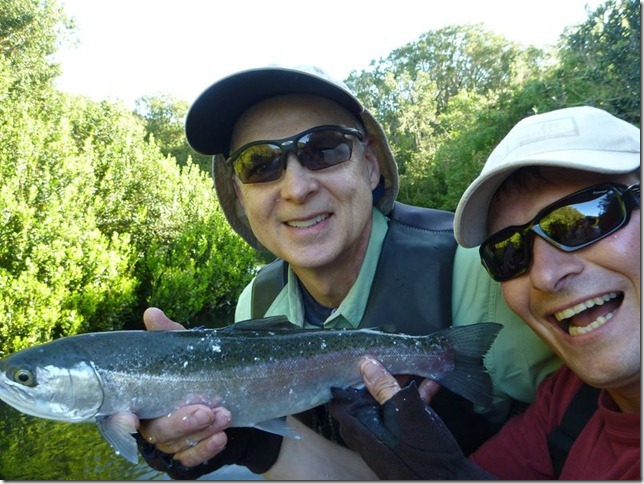 On the same day Mike hooks more Atlantic Salmon with Mattias!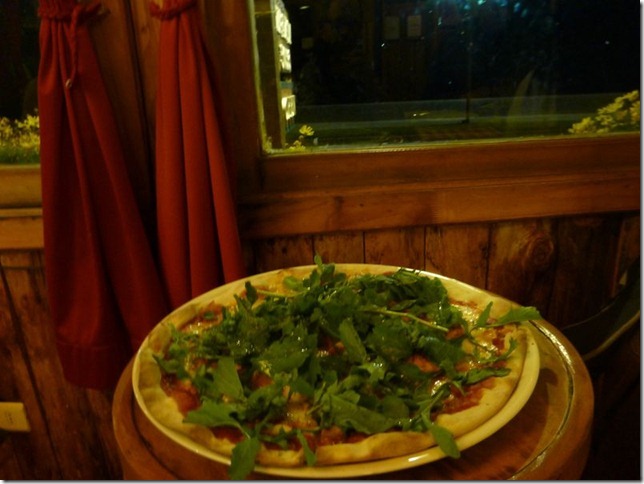 Later that night pizza at Alessandro's was divine.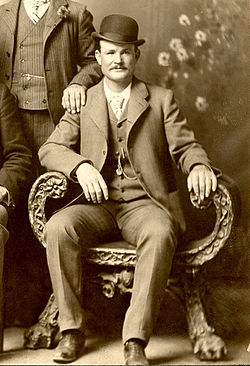 Butch Cassidy 1901 – flees the United States and heads to
 South America. Argentina * Chile * Bolivia *
Robert Leroy Parker –  (Butch Cassidy)
(April 13, 1866 – November 6, 1908 or possible lived until 1938?), better known as Butch Cassidy, where he got his nick name for being a butcher for a few years in Wyoming, was a notorious American train robber, bank robber, and leader of the Wild Bunch Gang in the American Old West. After a lifetime career of crime in the United States, as well as the thoughts of being apprehended, especially by the Pinkton Detective Agency, forced him to flee with an accomplice, Harry Alonzo Longabaugh, known as the Sundance Kid, and Longabaugh's girlfriend, Etta Ethel Place, first to Argentina, then around Puerto Varas, Chile (Lakes District of Chile & Argentina) and then to Bolivia, where he and Longabaugh were allegedly killed in a shootout in November 1908. (Unconfirmed though)
Here's a little bit of the history –
After robbing the First National Bank of Winnemucca, Nevada of $32,640 and a long lived reputation of being a wanted criminal. Parker and Longabaugh (Butch Cassidy & the Sundance Kid) then fled east to New York city, and on February 20, 1901, with Ethel Place, Longabaugh's female companion, where they escaped the United States to Buenos Aires, Argentina, aboard the British steamer Herminius, (Which at the same time was transporting many McCloud River trout minnows to South America in metal thermoses, none of eggs survived the trip, but the minnows did.) Parker posing as James Ryan, Place's fictional brother. There he settled with Longabaugh and Place in a four-room log cabin on a 15,000-acre ranch that they purchased on the east bank of the Rio Blanco near Cholila, Chubut province in west-central Argentina, near the Andes. (Now a great catch & release dry fly river to fly fish full of McCloud River Rainbows!)
On February 14, 1905, two English-speaking bandits, who may have been Parker and Longabaugh, held up the Banco de Tarapacá y Argentino in Rio Gallegos, 700 miles south of Cholila, near the Straight of Magellan. Escaping with a sum that would be worth at least US $100,000 today, the pair vanished north across the bleak Patagonian steppes. ( I've traveled through there, very barren like Nevada, they must of felt at home.)
On May 1, the trio sold the Cholila ranch because the law was beginning to catch up with them. The Pinkerton Agency had known their location for some time, but the rainy season had prevented their assigned agent, Frank Dimaio, from traveling there and making an arrest. Governor Julio Lezana had then issued an arrest warrant, but before it could be executed Sheriff Edward Humphreys, a Welsh Argentine who was friendly with Parker and a longtime admirer of Etta Place, tipped them off.  (He was obviously bribed too.)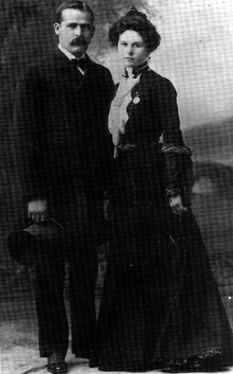 Etta Ethel Place & Sundance Kid, the most wanted women in the world at that time.
The trio fled north to San Carlos de Bariloche where they embarked on the steamer Condor across Nahuel Huapi Lake and into Chile near Puerto Varas. (This is location where the first McCloud River Rainbows were dumped into the Rio Limay, outside of Bariloche, Argentina.) By the end of that year Butch & Sundance left Chile and were back in Argentina to rob again, on December 19, 1905, Parker, Longabaugh, Place and an unknown male (possibly Harvey Logan) took part in the robbery of the Banco de la Nacion in Villa Mercedes, 400 miles west of Buenos Aires, taking 12,000 pesos. Pursued by armed lawmen, they crossed the Pampas and the Andes and again reached the safety of Chile near present day Pucon. (All  the places Carola and I tour people & fly fish folks! Also back then Argentina was one of richest, if not the richest country in the world that's why they kept returning, the banks were full of money.)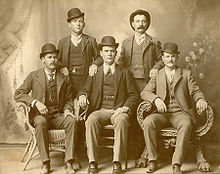 (Far left is Sundance Kid, far right is Butch Cassidy)
On June 30, 1906, Etta Ethel Place decided that she had had enough of life on the run and was escorted back to San Francisco by Longabaugh where she was never from again and is as much a mystery. Parker, under the alias James "Santiago" Maxwell, obtained work at the Concordia Tin Mine in the Santa Vera Cruz range of the central Bolivian Andes, where he was joined by Longabaugh upon his return. Ironically, their main duties included guarding the company payroll. Still wanting to settle down as a respectable rancher, Parker, late in 1907, made an excursion with Longabaugh to Santa Cruz, a frontier town in Bolivia's eastern savannah. No complete verification was ever made that Butch & Sundance were ever really killed near the southern boarder of  Bolivia and Chile and many family members, doctors and friends say that Butch Cassidy returned from South American in the 1920's and worked and died in Johnnie, Nevada until his supposed death around 1936 or 38?
Carola and I plan to visit a restaurant near Bariloche that claims Butch Cassidy and the Sundance Kid stayed there before leaving for Chile right on Lago Nahuel Haupi –  Though we'd rather be remembered for being goodwill ambassadors in both North &  South American as fly fishing &  tour guides and law abiding citizens, this is a very fascinating unsolved American history story.
More about this later folks, Jack & Carola Trout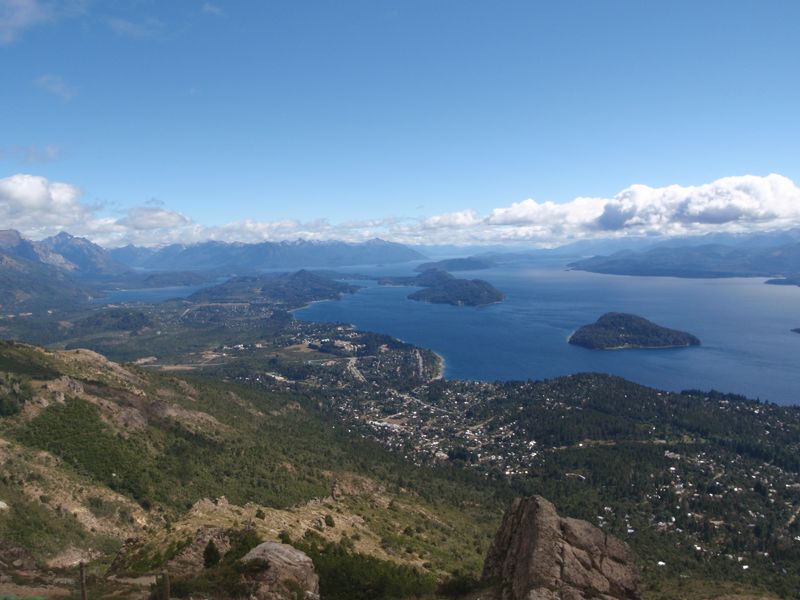 Lago Nahuel Huapi – The lake Butch Cassidy & the Sundance Kid with Etta Ethel Place crossed over into Chile in the 1900's to avoid being arrested. The river that dumps out of this lake is where the first McCloud River Rainbows were transplanted in South America. Like Alaska, Argentina and Chile are attached by lakes and rivers so it wasn't hard once they were transplanted to migrate from river to lake, then lake to river and eventually the oceans. The McCloud River Rainbow is a survivor by nature and it soon learned even how to adapt by leaving rivers connected to the oceans and quickly enter another fresh water system to survive. I have seen it with the many volcano eruptions down here, the river is toast and full of volcanic ash, yet a few years later large trout are back in the river that was previously destroyed and the only explanation is they turned their gills for the ocean voyage and survived the journey.We all have the ability to turn on the survivor instinct in us and the McCloud River Rainbow is the most well traveled, heartiest trout ever invented, they tried other trout from other rivers but none survived like the ones from far Northern California. No trout were indigenous to South America, the Rainbows came from Northern California and the Brown Trout came from Germany & Scotland, the U.S. Government sold them to the wealthy Argentines.
When I think back to those early 1900 days when Buenos Aires, Argentina was the capital in the world for theater, music, art and wealth. 50 % of the Latin America's GDP  and 7 % of the worlds total trade with it's incredible export of beef & wheat as thousands of European immigrants entering the country with that same dream of security and prosperity. The incredible culture they brought with them and the ties to Italy, Germany & Spain and those immigrants who brought that all with them in hopes of a better life, it really fascinates me, sometimes I go back in my mind and relive it. If you were wondering why did Butch & Sundance head to Aregtina as well as the McCloud River Rainbow now you know why. 
It's that time of year again, get them the gift that keeps on giving!
info@jacktrout.com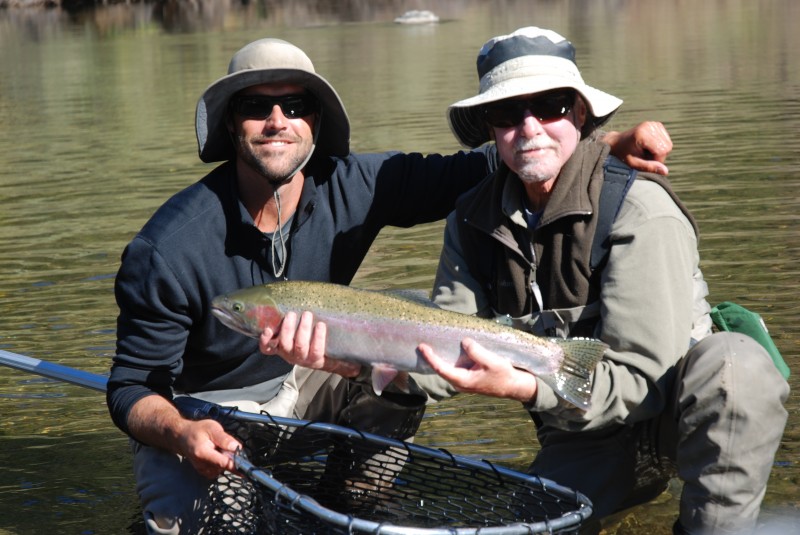 Forrest is at it again! Turning our clients on to his well kept secrets about catching huge steelhead on the Trinity River in Northern California.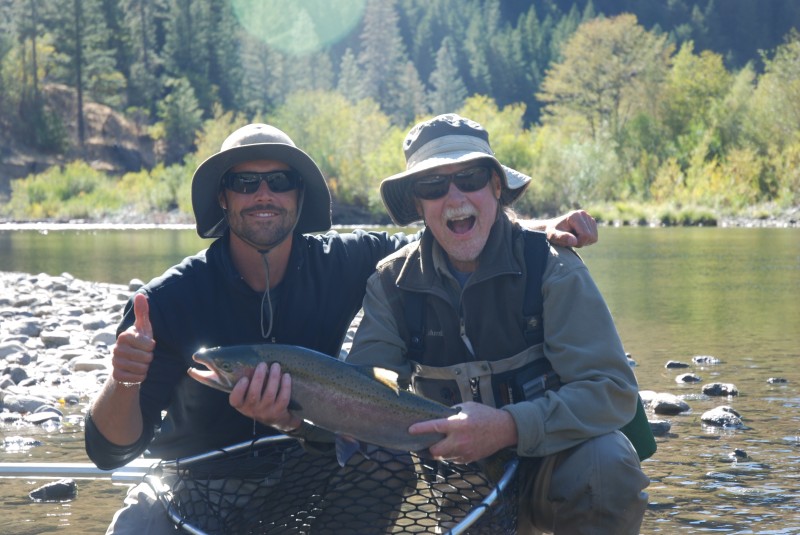 I first guided our client Ken Archuleta in 1996! Sure pays off now all those years of taking special care of people who just want to get away from it all and relax, maybe catch a few fish. Thanks to Forrest and all the Team Trout Guides the legacy lives on!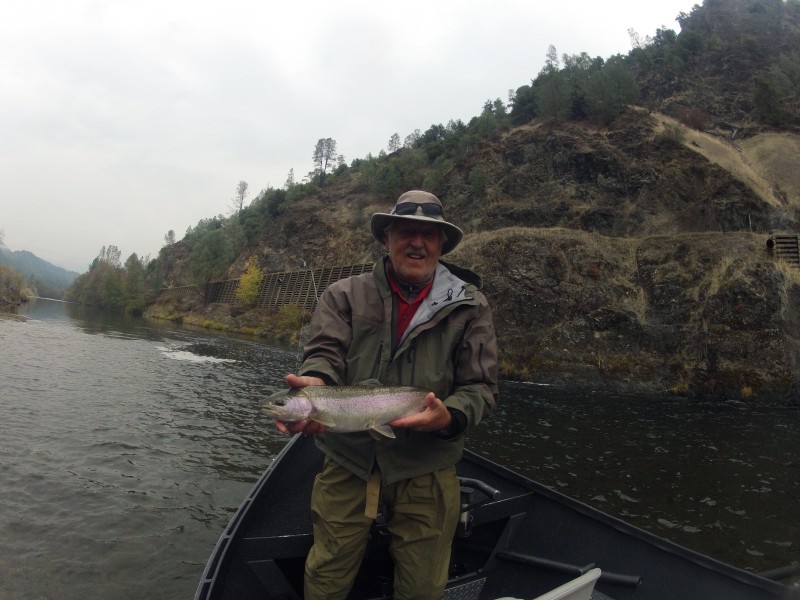 More and more steelhead being caught now on the Trinity River, give us a call for your holiday float trip.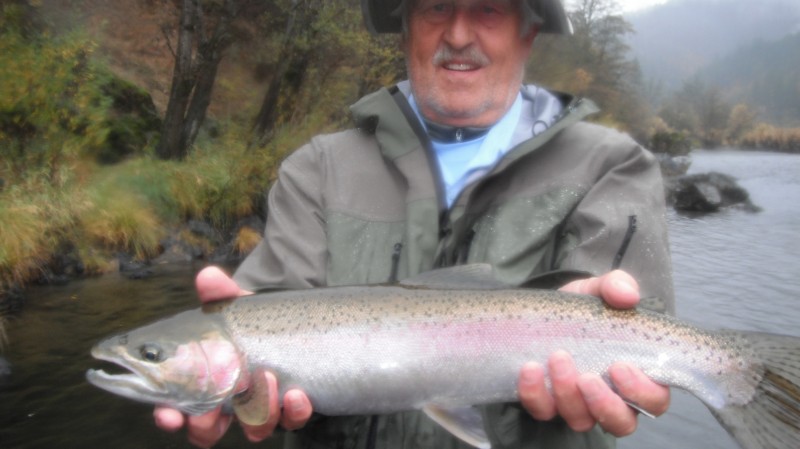 Lot more wild trout being caught this season, that makes life more interesting. (Catch and release all steelhead please.)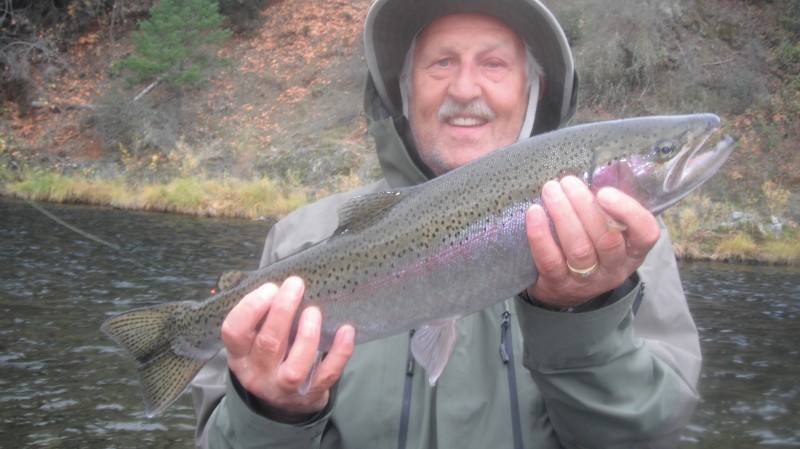 Sweet Georgia pea, now that's a beauty wild steelhead!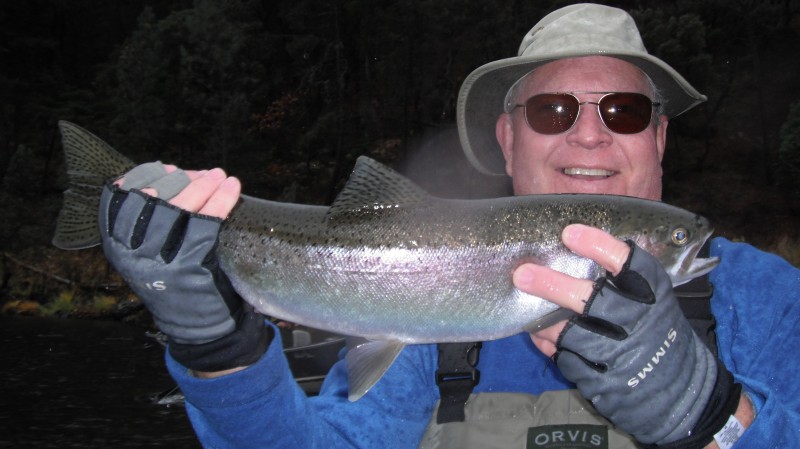 That's like a fist full of mint condition silver dollars!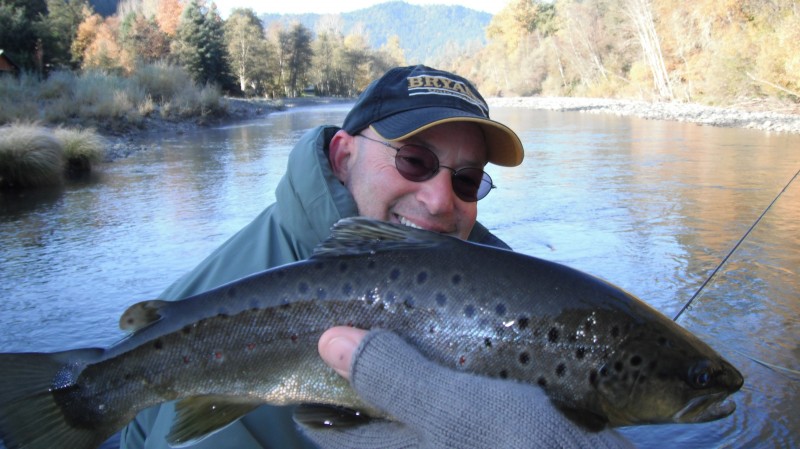 We would like to thank Bryant & Deborah Mendelson for all the trips and we look forward to thier 2 week trip in 2013 in Chile & Argentina.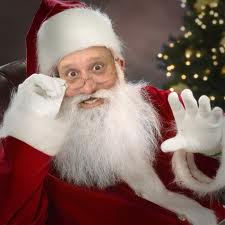 HO HO HO – MERRY CHRISTMAS FOLKS!
Thanks for watching our adventures!  Jack & Carola Trout