******SUMMER TOURS ARE HERE!*******

---
---
Lets meet the group from the Aviation Country Club out of Santa Barbara. This was a delightful group that enjoyed their tour immensely and we enjoyed touring them to all the great locations Siskiyou County has to offer! Thanks again, JT
---
---
Did you know that back in the late 1800′s & early 1900′s, there was a resort near Dunsmuir called the Shasta Springs Resort. This was an amazing place where people came from all over the U.S. to stay here
and enjoy luxury lodging as well as world class meals. People came to fish the Upper Sacramento River, that then held trophy salmon, steelhead and of course our famous rainbow trout. Mossbrae Falls was an easy walk from the resort. They had a sulphur spring that shot high into the air and many folks drank this water
to cure sickness, aging and dandruff. I guess they didn't have Head and Shoulders shampoo then?
---
---
Here's the famous Chairlift to the upper grounds of the Shasta Springs Resort. Heck, we don't have anything that compares to this now. I started collecting these old post cards of the Mt Shasta area
and thought you would like to have me share them with you. I think this was a facinating time in Mt Shasta-Dunsmuir history and many more pictures can be seen at the River Center in Dunsmuir.
---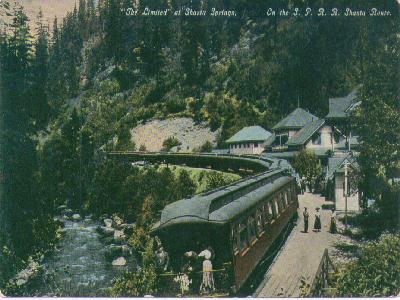 ---
The Southern Pacific Rail Road brought the passengers up the steep canyon and many people stopped here before heading into Oregon and Washington. The Resort flurished at the turn of the century and slowly faded as the completion of highway 99 in 1915 made travel north much faster and personalized for individual families. Though
in my eyes nothing will ever be like the Shasta Springs Resort in our area, I hope someday to return in my dreams!(Hope to see you there!)JT
---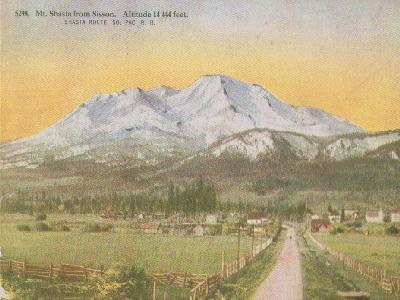 ---
Mt Shasta wasn't always called Mount Shasta. The first name was Berryvale, then Strawberry Valley, later changed cause everyone's mail was getting messed up cause there was 2 other places in California named Strawberry Valley. By the late 1800′s the name was changed to Sisson after a lodge keeper named Justin Sisson who owned a resort where Mt Shasta City is now. He entertained his guests
that rode up the canyon on train or stage coach and was famous for his hospitality. Mt Shasta was the final name given to our town in 1924.
---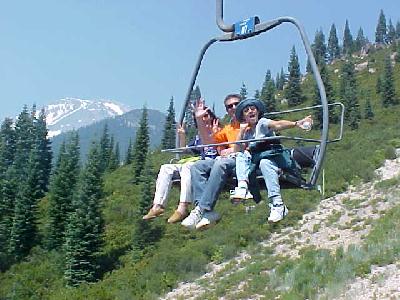 ---
Back at the Mt Shasta Ski Park you can ride a wonderful chairlift here that gives you wonderful views of Mt Shasta and Lassen Peak!
These folks I found out later were from Chile! We get people here from all over the world.
---
---
Well many of you wonder is Trout ever gonna find that girl? Well folks I did! This is Ana Maria from Chile and she's the love of my life. Stay tuned for that story, as well be doing Wine Tours & Fly Fishing Adventures, together this Winter in Chile, what a great thing we have!!!!!!!!!!!!!!!!!
*******WELL FOLKS HOPE YOU LIKED THAT HISTORY LESSON, STAY TUNE AS WE RETURN TO THE McCLOUD RIVER NEXT STORY** JACK TROUT
---