---
After fishing the hopper river Mark, Pat, Nicolaus and I decided to head to the Simpson and do a drift. Wow, what a great day! Mark hooked up right from the start and as we drifted down this gorgeous coastal river we saw views that were unsurpassed. The fishing was good and Mark learned more and more about fly fishing as we drifted down river. Isn¥t it an awesome looking piece of water, wait til you get a chance to fish it yourself. The hatches are prolific, the
insects that you'll see are mayflies, caddis and stones.
---
---
This tree is called a Coigue, (pronounced Coyway) it is an awesome sight to see and this tree lines the river as you float. We saw a
flock of voltures as many as 20 in one tree as we made our way to the take out. What I like best about this river besides the terrific fishing, is things like bamboos next to coastal trees and wild flowers next to huge elephant ears as big as V.W.¥s!
---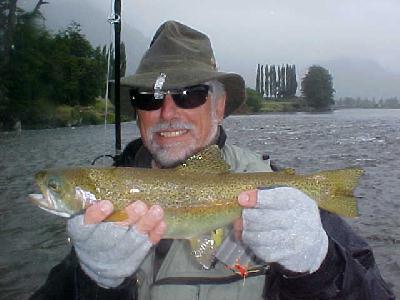 ---
We drifted down river and after lunch the fishing slowed up, the hatch was gone and I decided to change to nymphs. I told Mark to cast into this slot that looked like it hold a trout and sure enough it held true to form, Mark had on his lunker! Wow, what a fight it put up. After several runs out of the boat I told Mark to jump out and try to reel it in from a shallow run that I knew would give him the advantage. after 15 minutes we netted the rainbow and the rest is history. Way to go Mark!
---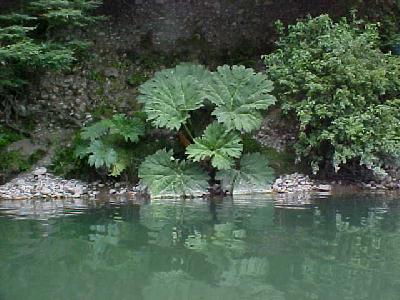 ---
Look at the size of these elephant ears! this is one of the most beautiful rivers I¥ve ever seen in the world! And the plants that inhabit this river are tops! JT
---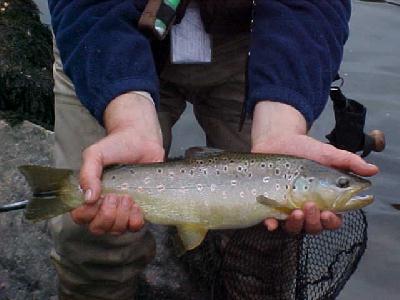 ---
The next day we waded the river and Pat caught this lovely brown trout. look at the design and markings on this trout it¥s one to remember.
---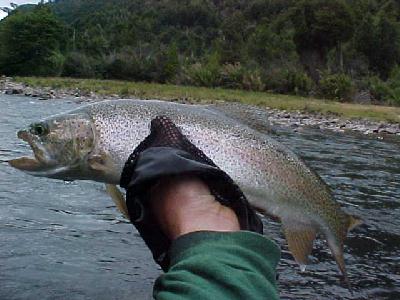 ---
Guide Nicolaus Gonzales led us to this spot on the river and we proceeded to catch fish all day long on dry flies. This was my catch
on a humpy size 12! this is a McCloud river rainbow down here in patagonia. This place is like Wlliy Wonka for adults. Stay tuned Sizzlers for more stories from Chile! keep up the emails " I LOVE YOU MAN!" Trout over and out!!!!!!!!!
---