***STEELHEAD~KLAMATH~WE GOT RAIN~ WE GOT RAIN~TRINITY***
---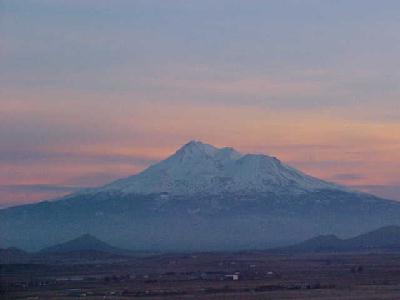 ---
Good morning Sizzlers! This picture was taken this past week
as we were blessed with wonderful warm January weather. Driving home from the Klamath River after a fine day of steelhead fishing is a reward in itself when your view is like this one. That's what I call a nice commute home from work! This is the time of year when we get a lot of beautiful sunsets on the mountain. Come on up and check it out first hand, you might even see an awesome lenticular cloud dropping off little Lemurian people….? I know a few Dunsmuirians…? Some say I'm from another planet? It's a fun planet!
---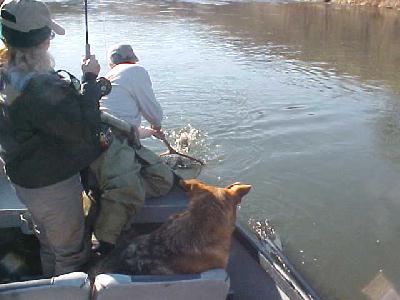 ---
After I spoke at the Russian River Fly Caster Club in Santa Rosa this past week, I did a slide show on Northern Cal and Chile.
Cy and Sylvia Le Gre called a few days later to come up and burn some memories into a new silver disc, that we thought we'd share with all of you. Sylvia had never caught a steelhead before and before long, I was netting her first!
---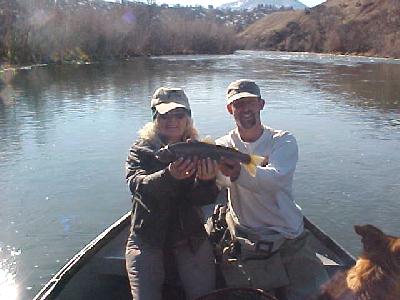 ---
Ladies and Gentlemen Sylvia's first steelhead! She had a terrific day with several hook-ups and she learned a ton.
Enough to have Cy take her on more fly fishing vacations, here and abroad! (Sorry Cy she put me up to it) Actually, I think this trip was just what the doctor ordered! Dr. Trout says, recent heavy rains was just what the north state needed. Rivers like the Trinity, Klamath, Smith and all other north coast rivers will benefit from its flows. Time to steelhead fish people! "In search of jurassic trout!"
---
---
Cy got into the action with this catch, and later commented on how strong these fish were for their size. I had a great day on the Klamath River with Cy and Sylvia Le Gre,and thanks to the Russian River Fly Casters Club, a great bunch of folks to hang out with. A lot better than hanging out with the Russian Bay Fur Trappers!
---
---
Here's my new boat from Willie Boats. Shasta really likes it, I couldn't get her to jump back out. This boat is much easier to row than my old Alumaweld drift boat, and it's very comfortable and clean. Ol' Berkstresser, friends of John Walsh at Cal Trans Marysville named it, "Jack's Willie!"
---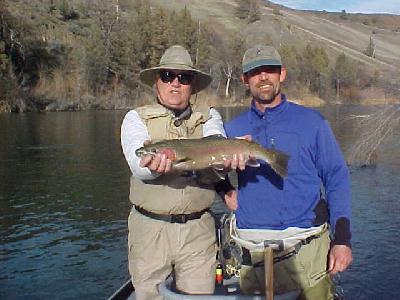 ---
Past customers Rich Artusy and Brad Best came up to visit this past week and landed this fine philly. That was one of Rich's biggest ever on the Klamath.
---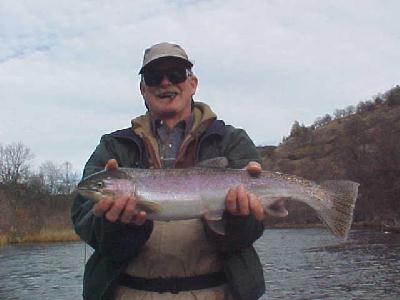 ---
But! Not to be denied Brad pulls the rabbit out of his hat and hooks this premo-lunka with the silver shim-shim! great
fish Bradly! What a nice ….-eating grin on his face!
---
---
Here's Gene, he works at the Cal Trans office in Marysville with John Walsh. (Not the one your thinking of) Gene brought his son Jeff who is a graduate of Fresno State. I like Fresno State because of their football coach Pat Hill. That guy is a winner to take such a small school and turn it into
such a bigtime national program. No other school in their right minds wants to play Fresno State Bulldogs, they are the upsetters of the new millennium. Speaking of up setters, this fish Gene had on was a total lunker and wouldn't move for the longest time and before long the 3rd little piggy went to the market, and he was gone… In coaching words, the fish just wouldn't atriculate itself up the river!
---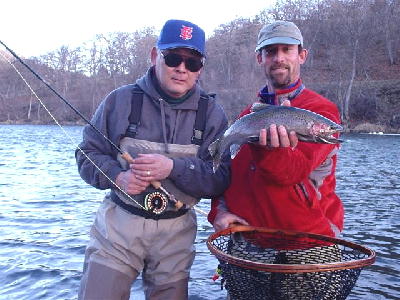 '
---
Gene landed this betty, and smiles ran high as he thought
about what everyones else was doing back at the Cal Trans Marysville Station.
---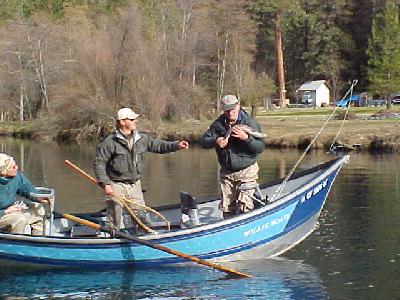 ---
Mike and I did a two day trip this week on the Trinity River.
We floated two different sections with the Henry Hossfeld clan.
Henry with a little buttersworth after a heavy night of drinking with the boys! Weaverville can do that to ya!
---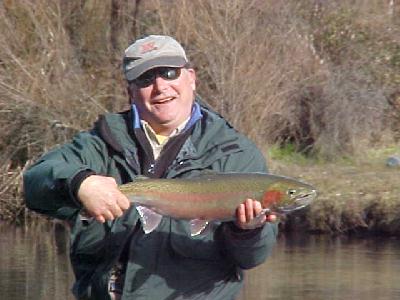 ---
Now that's more like it! Nice fish Henry, you're one funny guy to be out with, maybe the funniest! I honored to announce you're the SIZZLER OF THE WEEK AWARD WINNER!! CONGRATULATIONS SIZZLER!
(If these guys didn't get the shakes in the morning, they wouldn't get any exercise!) Thanks for all the trips in the past two years, Mike and I apperciate the guiding. Hossfeld trips are legendary!
CHILE~CHILE~CHILE~CHILE
---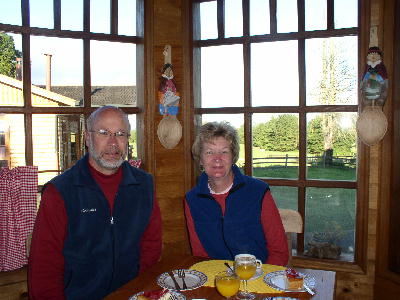 ---
Back in Chile Tres and Janet enjoyed a wonderful breakfast in the lodge.


These are the cabins the customers stay in with a great views of the green hillsides and Lago LLanquihue.
---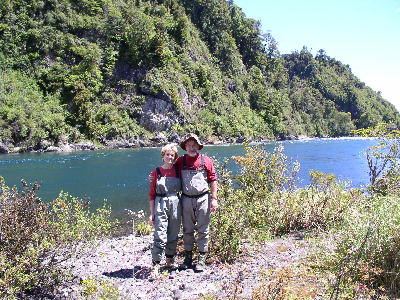 ---
Tres and Janet it was so great to share your adventures with everyone! Through your eyes and lens many of us could witness and enjoy the fun adventures you had down in fly fishing's final frontier, Chile! Thank you again, take care and hope to see you this year in Mt Shasta. JT
*****HOPE YOU ENJOYED THOSE ADVENTURES, STAY TUNE FOR MORE ADVENTURES AS I HEAD DOWN TO CHILE TO HOST
THE NEXT GROUPS COMING DOWN. MANY RIVERS TO YOU, JACK TROUT
**PS.
MIKE, CHUCK, JIM, JOHN AND SHASTA, WILL STILL BE GUIDING ON THE KLAMATH, TRINITY, LOWER SAC AND UPPER SAC WHILE I'M GONE.
MANY RIVERS TO YOU, JACK TROUT
---