Howdy everyone! We have great adventures in far out and remote places around
the world, so kick back and enjoy because Jack Trout International Fly Fishing &
Tours has you covered. 
 

             

Click here for complete Belize Gear & Fly fishing List < MORE FLY FISHING INFORMATION ON BELIZE

BELIZE FLY LIST FOR FLY FISHING FLATS & REEFS
FLIES FOR ALL AREAS OF BELIZE – BELIZE CITY – HOPKINS VILLAGE – DANGRIGA –
TURNEFFE ATOLL – AMBERGRIS CAYES – SAN PEDRO – GLOVER'S REEF –
TOBACCO KEYES – SOUTH WATER CAYES – PLACENCIA
BONE FISH ~ COLOR ~ SIZE
CRAZY CHARLIES – WHITE, PINK, TAN & BROWN 8
MINI PUFFS – PINK 6
SKINNY WATER CLOUSER'S MINNOW- CHAR/WHITE 6
(WEEDLESS) TAN/WHITE 6
BLACK EYED SHRIMP, PALMER'S – PEARL 4
BONE FISH SCAMPI – PINK / TAN 8
CHILI PEPPER'S – GOLD 6
POXY BACK GOLDEN STONES – (BABY LOBSTER) 4
CLOUSER'S DEEP WATER MINNOW (GLOVER'S REEF USED WITH INTERMEDIATE LINE) – CHARTEUSE/ WHITE 6
PERMIT
BAUER'S FLATS CRAB – LIGHT OLIVE/TAN 4
CAPTAIN CRABBY, VEVERKA'S – TAN 4
CHERNOBYL CRAB, BORSKI'S – TAN 2
BONE FISH CRITTER – CRAB – 4
McCRAB, ANDERSON'S – CRAB – 2
PERMIT CRAB, DEL BROWN'S – TAN/BROWN 4
SAN PEDRO CRAB, AUSTIN'S – OLIVE / TAN 6/8
SALT CRAB, WHITLOCK'S – CRAB 4
TURNIFF CRAB, MATHEWS – OLIVE / CREAM 8, 6 4
SWIMMING CRAB, BRANHAM'S – TAN 6
TARPON
TARPON BUNNY, WYATT'S – OLIVE, BLACK, YELLOW SMALL
COCKROACH – GREY SMALL
BLACK DEATH – BLACK SMALL
BIG EYE TARPON – FURNANCE/SQUIRREL SMALL
ORANGE BUTT TARPON, BORSKI'S – GREEN SMALL
LAID-UP TARPON, RUOFF'S – CHARTREUSE – TAN SMALL
TARPON SNAKE, LEMAY'S – BLACK LARGE
– ALL PURPOSE BELIZE FLIES –
JACKS – KINGS, SNOOK & FISH FEEDING NEAR THE SURFACE!!
(USUALLY SPOTTED WHEN BIRDS ARE SEEN DIVING ON BAIT FISH OR FLY FISHING FOR SNOOK IN BELIZEAN RIVERS)
HOT FLASH MINNOW, BURKE'S – MACEREL / SHAD 4 / 2
LEFTY'S BIG FISH DECEIVER, KREH'S – BLUE / WHITE 3/0
GUMMY SAND EEL, CHOCKLETT'S – SILVER 1
HALF AND HALF, CLOUSER'S/KREH CHARTREUSE 1/0
FLASHFIRE, SKOK'S – GRAY / WHITE – OLIVE/WHITE 2/0
GLADES MINNOW. CONNER'S – OLIVE/GREY 4
E-Z ZONKER, SKOK'S – TAN/PEARL 4
CLOUSER'S DEEP MINNOW – CHARTREUSE/YELLOW 6
ALL FLIES CAN BE FOUND at http://www.umpqua.com
********************************************************
Equipment Checklist – Belize
Clothing
Flat boots
Hat(s) (long billed, wide brimmed, etc.)
Scarf/bandannas
Protective gloves
Lightweight shirts
Lightweight shorts
Lightweight pants
Sandals
Tennis shoes
Rain jacket
Tools
Hook home
Knot-tying tools
Waterproof camera
Large leatherman/long-nosed pliers
Swiss Army knife
Small waterproof flashlight
Waterproof matches
Miscellaneous
Fanny pack
Water purification tablets
Water bottles
Aqua-seal (knot coatings)
Medications/Lotions
Prescription medications
First-aid kit
Suncreen
Deet/insect repellent
Skin/hand lotion/moisturizer
Call us at 530-926-4540 for more information on tides, guides & flies.
Enjoy Superb Fly Fishing with Jack Trout Fly Fishing International. We can help you with all your travel needs, including couples, families and group itineraries for free. Let us take the hassle out of international fly fishing, lodging and tour reservations.
FISHING, DIVING, SCENIC TOURS, LODGING RESERVATIONS. WE HAVE OVER 20 YEARS EXPERIENCE IN SUCCESSFUL BELIZEAN TRAVEL.
CALL US FOR A LIST OF PAST CUSTOMER RECOMMENDATIONS.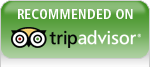 < Click here to see reviews on Jack Trout International Fly Fishing Belize
Many Rivers & Oceans, Jack Trout >~>>})>)(:>
Jack Trout International Fly Fishing & Scenic Tours ~ Argentina * Belize * Chile * Nor Cal ~ 1004 SO. Mt Shasta Blvd. Mt Shasta, California 96067 www.jacktrout.com www.mtshasta.com Web log 530-926-4540 email: info@jacktrout.com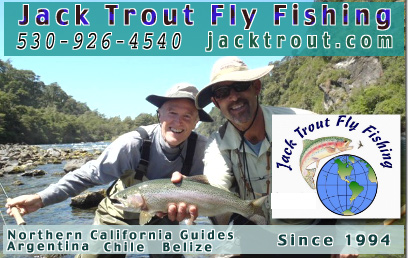 CHILE *
CHILE * CHILE * CHILE * CHILE * CHILE * CHILE * CHILE *

CHILE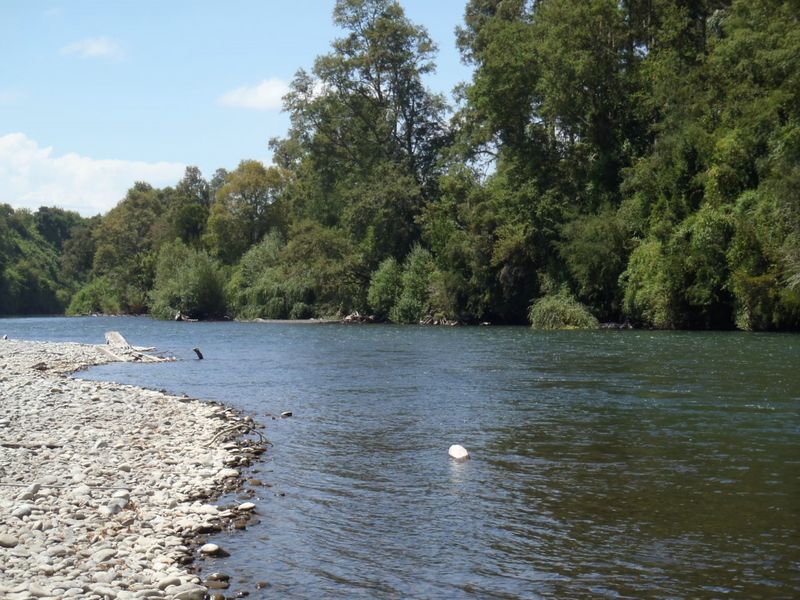 First let's start in one of my fondest places in the world, the Lakes District of Chile. I guess you could say any riffle like this in the world would be a good place to throw a fly and catch a trout.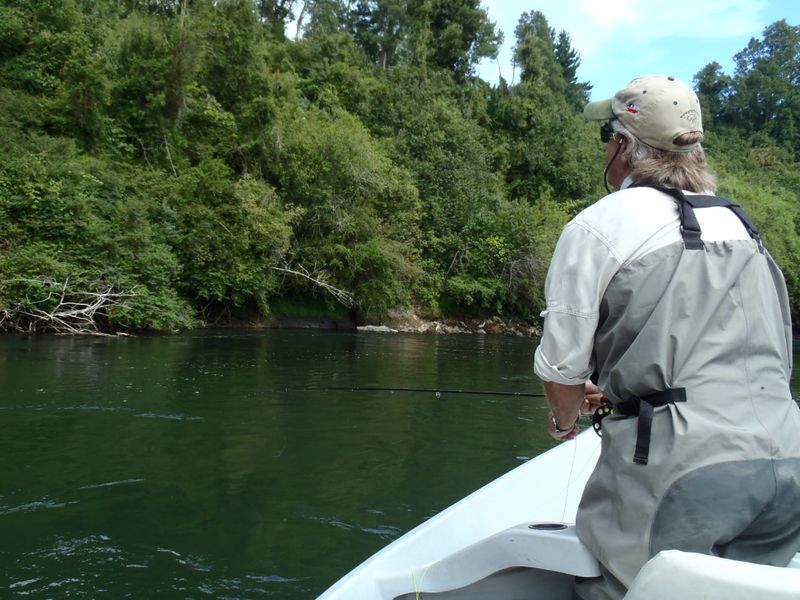 Andy is a client of mine who lives here in Chile, he loved bass fishing as a kid with his father in the rivers and lakes around Texas, but now is learning how to fly fish on these beautiful rivers around Chile.
He told me his dad still loves to fly fish, so now it's my time to be more like my pops and enjoy the art!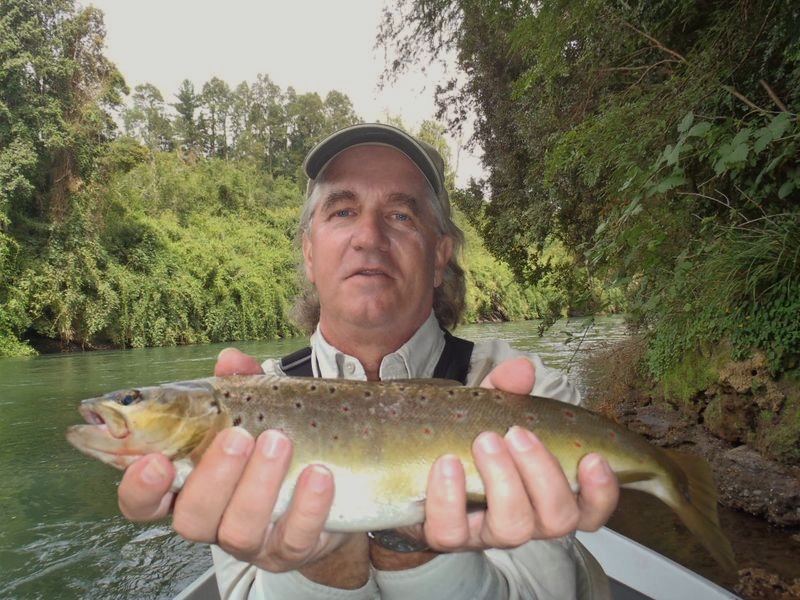 Well I hope pops is watching now from East Texas because he'd be proud of his son as he hooks another brown trout.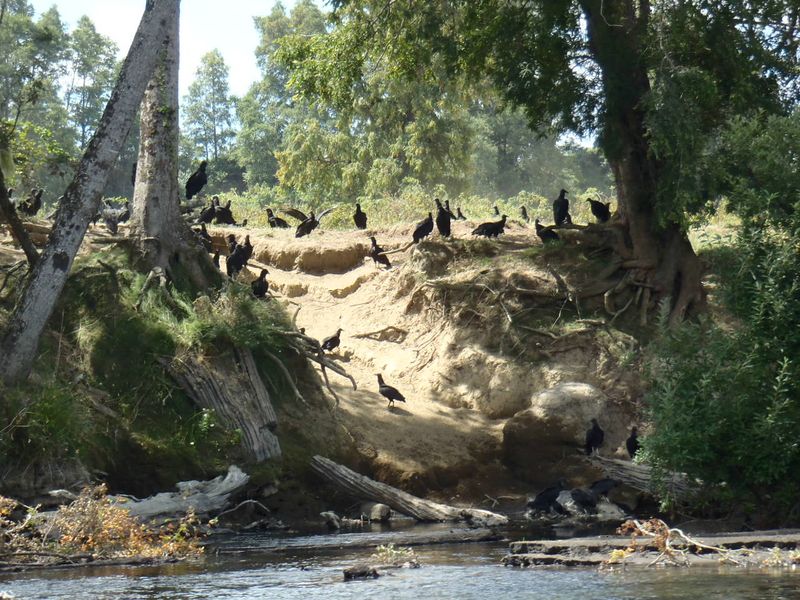 Looks like some vultures have hooked something on their own, not really going to stop to find out folks…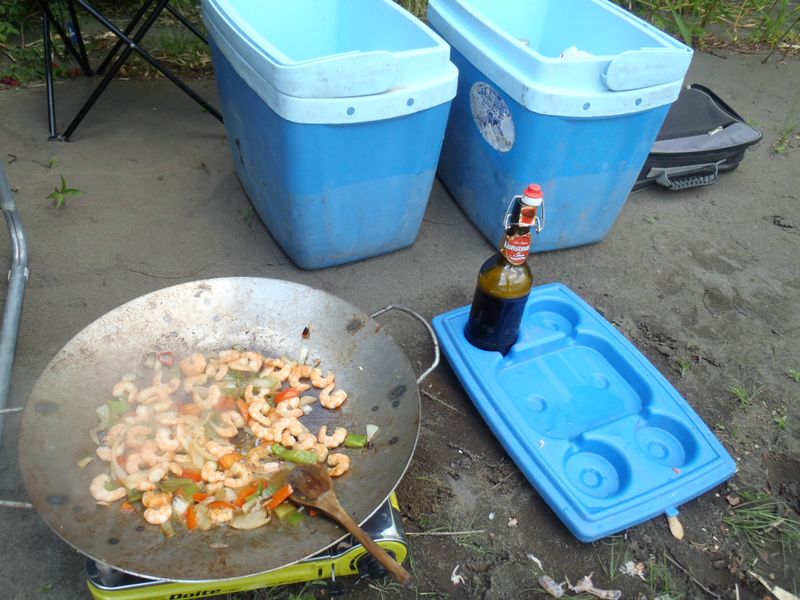 A little shrimp on the disc, sure smells good to me! Andy doesn't do meat, so I thought this would be just fine.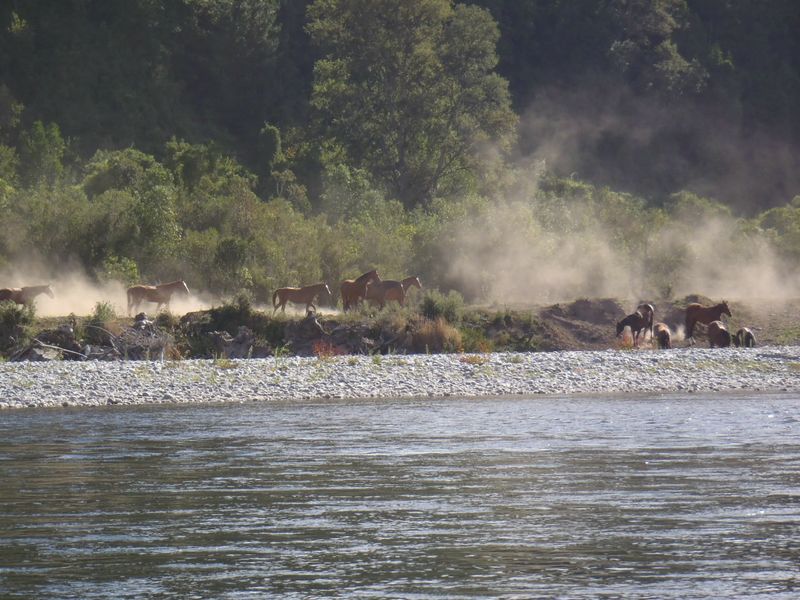 On a hot day in Chile, the horses run down to the rivers edge to get a cold drink of water..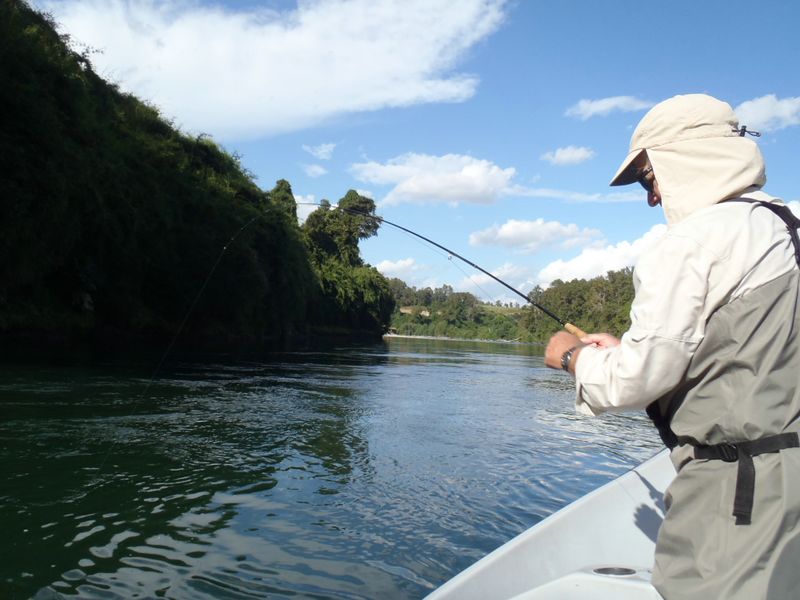 That's a major take down folks!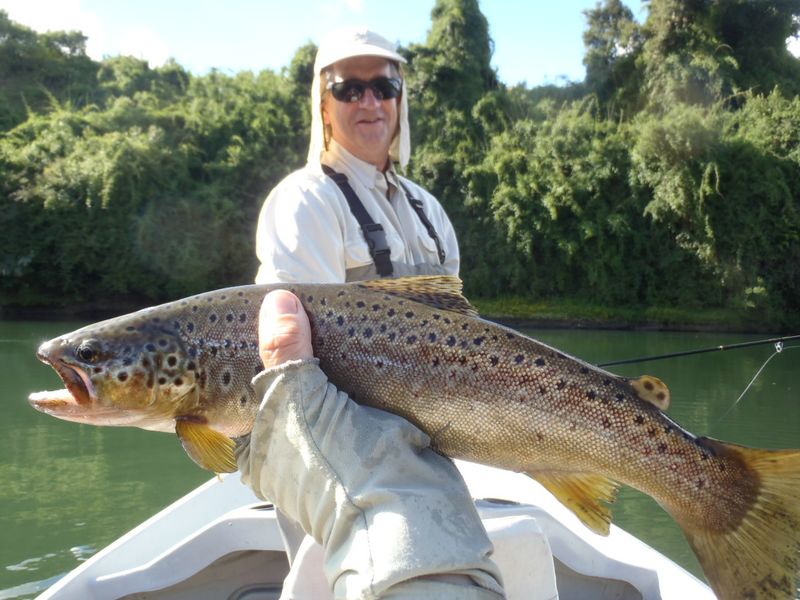 A fine moment in the chronicles of fly fishing instruction. A beginner now becomes a intermediate and grasps a firm hold on the confidence side of casting, hooking and a landing a hard fighting trout. The audience cheers!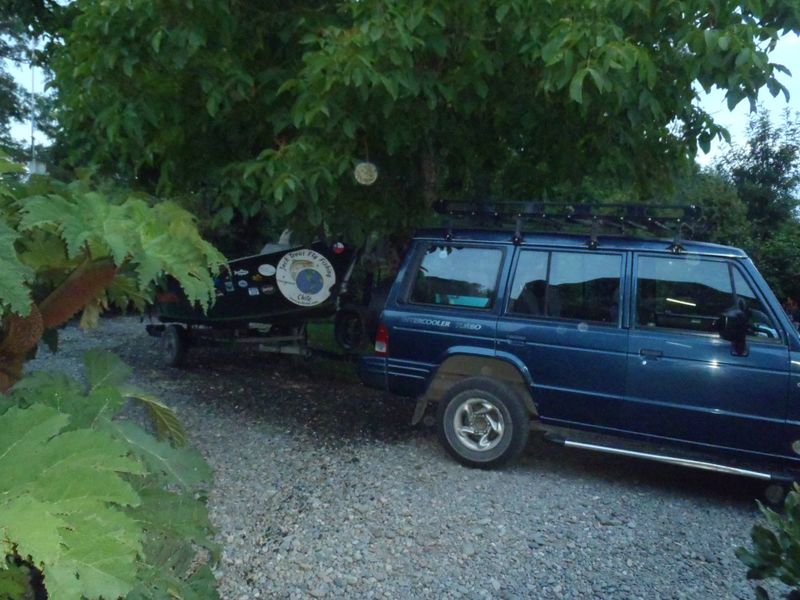 The mode by which we travel by, we have room for you too.
Howard,
Totally awesome, give Kobe beefster a big hugga!  Thanks, Jack & Carola Trout
Elaines Pet Resort – Fresno, California
Will do trouts…….catch a big brown for me and then have a nice glass of wine to celebrate……photos are awesome this year….fish look bigger for some reason…..stay in touch…. Howard Nestell
Jorge de la Torre out having  fun time on his vacation days off from work in Chile. Who does he call? Jack Trout Fly Fishing International.
He must of caught 15 to 20 trout that day on the Rio Dios in Chile

.
My lovely Chilean wife Carola caught a few of her own..
Next a past client named Bob Barker called and said he wanted to fly fish Chile. All I could think to say was Bob, "Come on down, you're the next contestant!"
The release of a wild trout… Not over rated folks!
I brought my other guide Mattias along to show him some other water he didn't know and boy did we hook some trout that day!
Out here the air, the sounds of the river, the smell of the Chilean forest is what makes it all even better. I love being a guide here and you can catch me here just about every year my friends, hope to guide you some time in the future. JT
Now that's a nice prize for anyone!
The volcanoes in Chile are spectacular, a real spectacle of natural scenic beauty.
Bob Barker back at it again, it's like he's going to make the Show case Showdown!
Bob, what a great day we're having. With this being our 12th trout and numerous hook -ups in between this for sure is our best day out together.
Congratulations Bob Barker, Not of the Price is right!
You're my SIZZLER OF THE WEEK AWARD WINNER!! CONGRATULATIONS SIZZLER!!  🙂
What a great river this Rio Petrohue, when it's low you can easily wade it, but not a week later the rains came and it became triple it's size you see here. You never know in Chile, having no dams on these rivers better call an experienced guide who knows where to be.
Time for a new net from Brodin!  Another nice trout landed by Bob and thanks for what you wrote on Tripadvisor.
Bob, hope to see you back in California with Rich Creeggan and David, sure had a wonderful day of hooking quality trout with you in Chile. JT
BELIZE *
BELIZE *
BELIZE * BELIZE * BELIZE * BELIZE * BELIZE *

BELIZE *
Voted as Belize's #1 Resort in 2010 !!
We are proud to offer lodging, meals and fly fishing packages for affordable prices and have the best fly
fishing guides as well as tour guides available to make your trip the most memorable and safest it could be
while visiting Central America. We take the confusion and guess work out of your international travel so you
and 
your family can concentrate on the most important part of your holiday vacation.
I'm an expert in putting these trips together with over 15 years experience and with my partner Lloyd Nunez along with his family and our list of guides as well as tour operators, we can get you into fly fishing areas others are still trying to find.
My partner Lloyd Nunez has been fly fishing guiding these waters and providing a meal for his family for 2 generations, he knows where to take you for a little fly fishing and possible something to eat at the restaurant for dinner that night.
Over the years my success with fly fishing travel has been popular with my clients, this is what we do here at Jack Trout fly fishing International & Tours.
Belize has the second largest barrier reef in the world and there are many places to scuba dive as well as snorkel, we can help you organize these activities as we know all the experts in the area.
We offer 2 packages, one that is our Elite Belize Package with 4 to 5 star lodging accommodations and another that offers 3 star,. The prices reflects this, so call us and let us know what you have in mind. We have beach front cabanas and houses as well as places that are private and secluded on islands around the mainland of Belize. We aim to please and are great listeners, let us plan your honeymoon, fly fishing adventure or family dream vacation. We are experts at what we do and our experience is what makes the difference!
Dining is always a pleasure here in Belize and you will love all the fresh seafood the award winning chefs prepare in their numerous sauces and styles they dream up as their delightful cuisine. I promise you'll love the views and the atmosphere as well as all the food here is just divine. 
Not everyone is into fly fishing everyday, so we have you covered in Belize for pool side lounge days as well as tours into Guatemala. Just let us know what your interests are, we are all ears

.
We do this one tour where you go back into a cave almost 2 miles on inner tubes with headlamps on a river that runs through it. People really love this trip adventure because way back in the cave is a Mayan ceremonial loft where 
we climb up 60 feet above the river, where they used to preform Mayan sacrifices. We'll tell you the whole story, you'll be amazed!
Yea, my partner Lloyd and I will take good care of you when you're in Belize, we might even go Atoll bar hopping in between fly fishing! (A real crowd pleaser, popular amongst our guest)
NORTHERN CALIFORNIA FLY FISHING GUIDES

*

NOR – CAL FLY FISHING

* 
                                            TEAM TROUT

U

S

A

 – 

CALIFORNIA
Over on the Trinity River in Northern California guide Forrest and his client are hauling in another lunker.
Hooking up on a brown trout is always a fun endeavor when out on one of California's emerald pristine jewels.
Sweet painted lady! It always amazes me how small these flies are that they are catching these huge trout on. I have fond memories of guiding on the Trinity River, but now spending my California winter days in Central and South America is a great memory too.
Good on ya Yank! My dad used to say this to me often.
Isaac reports that the Lower Sac has been fly fishing great in 2012 and encourages anyone to come up or down and he'll float you in 2 locations.
Now that's a quality trout my friends! The temps have been mild this year so far and some hatches have been present during the day making this a good fishery to visit soon. This time of year after the Super Bowl is over and there's not really any sports going on until April 1st 
when baseball season starts. Taking a float in Northern California could be just the ticket for a little cabin fever.
 info@jacktrout.com Cabin Fever HOTLINE
Now that's a Sunday Ticket I could buy into folks! Isaac sure could use the guide trips right now and the Lower Sacramento is fishing well, why not give us a call and make a fast trip up from the Bay Area, I promise he'll make it worth your while.
This guy was a close second for SIZZLER OF THE WEEK!! Keep trying bud and I know you had a terrific day out with Isaac Roman on the Lower Sacramento River near Redding California.
Wow! You have to fish it to know it and my guide Isaac certainly does. Why not make your plans now or for spring. The Mothers Day Caddis Hatch is just around the corner!  
530-926-4540 We also sell gift certificates for your mother…
********************* CAROLA'S CHILEAN  CULTURE TOURS *********************

 My wife offers Beer tours here in Chile as well as numerous other tours to water falls, National Parks and horse back riding.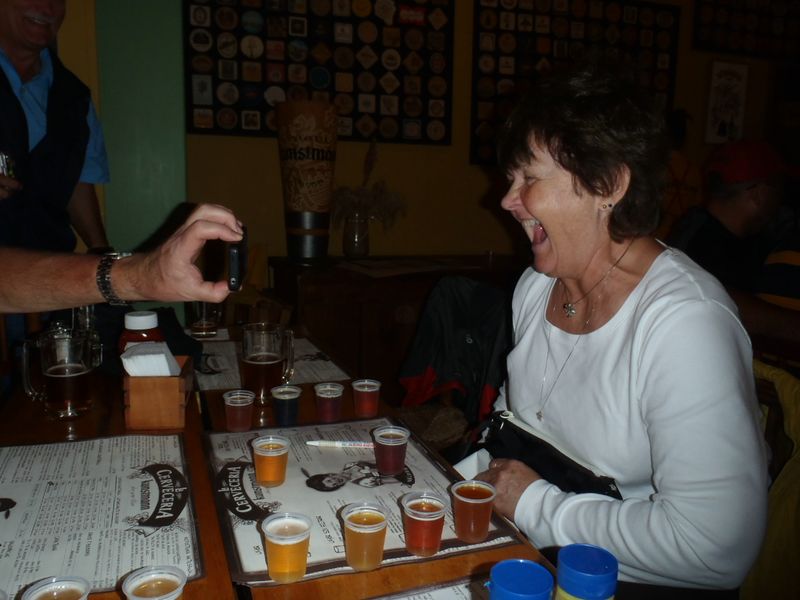 Some people can't help themselves, they have so much fun they just can't keep it inside anymore.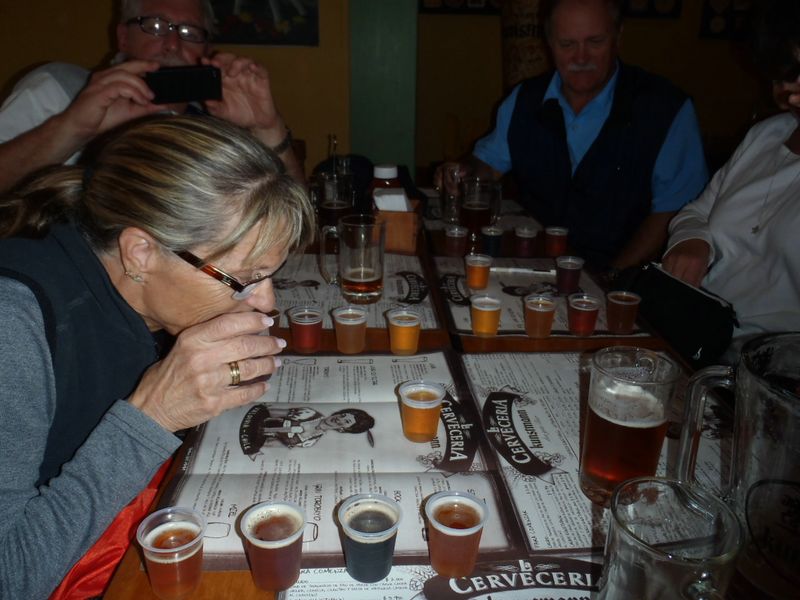 Trying all these great German beers is tough work folks, but someone has to do it… Maybe you too!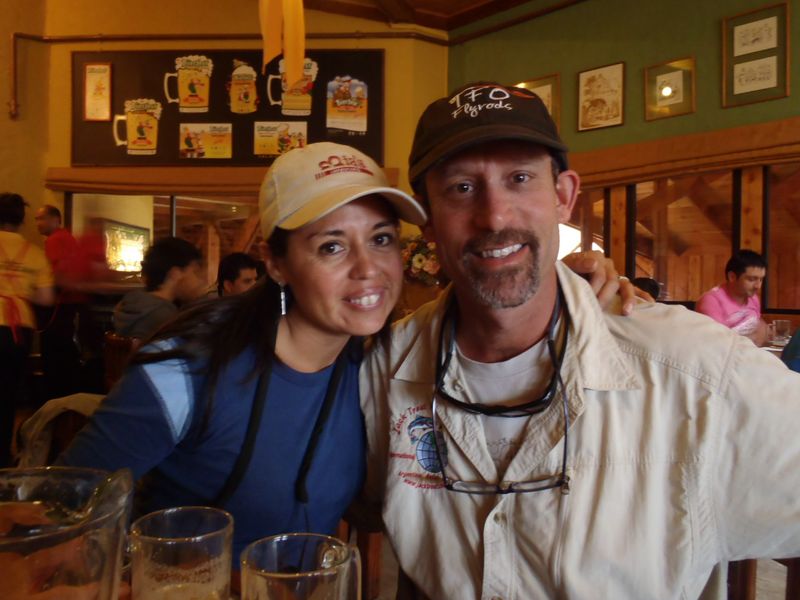 We hope to see you down here sometime and would like to thank all the people we have guided this season, you make it all happen and for that we are grateful

.

See you back in Northern California in late April.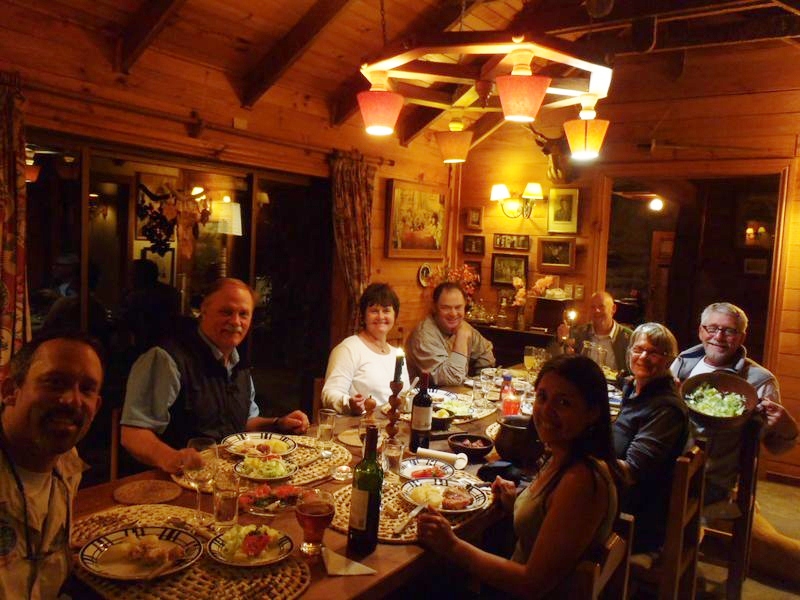 We have great places to entertain just about any size group and can plan your special vacation to Chile and our food Carola prepares is special, you can count on that!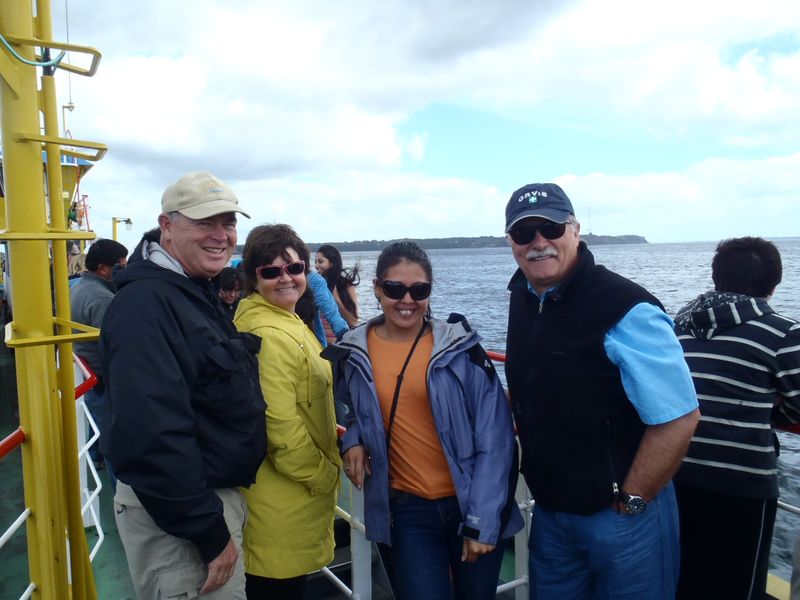 One day Carola took these folks on a tour to the Isla de Chiloe to take a boat ride, see the Pacific Ocean here in Chile and visit the penguins 
who come to area each year to hangout,  mate and then go back to Peru and Antarctica where they swim from.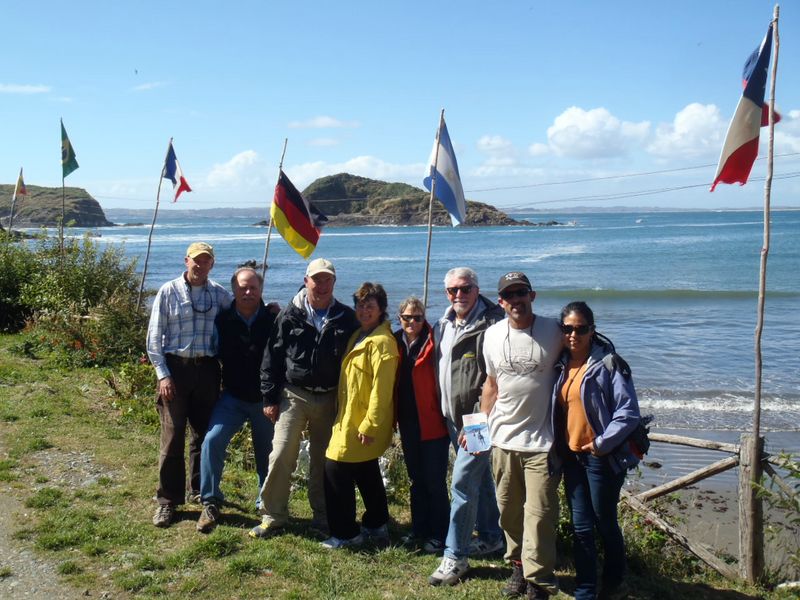 The group loved the fresh seafood meal that the local restaurant prepares and the weather couldn't of been better.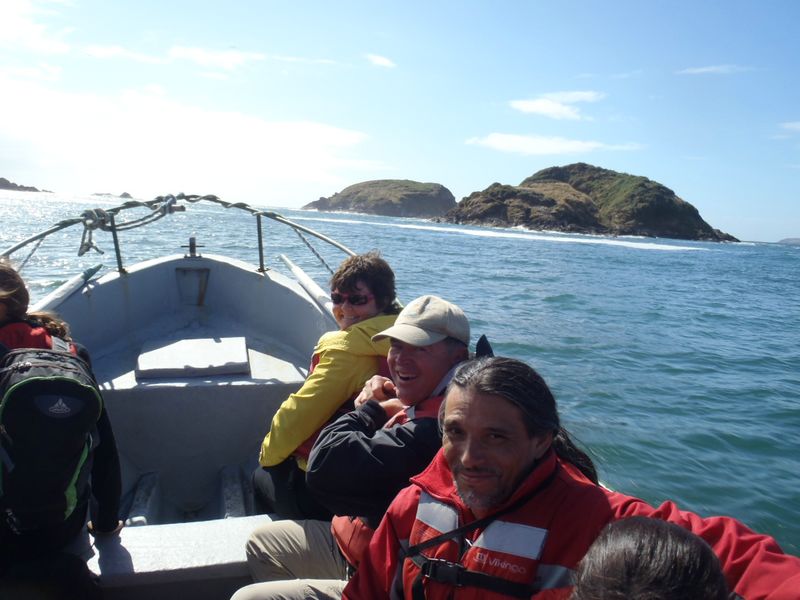 Jim & Deb Kent enjoyed the boat ride out to the little islands where the penguins shagged, played and did the wang chung tonight and every night while visiting .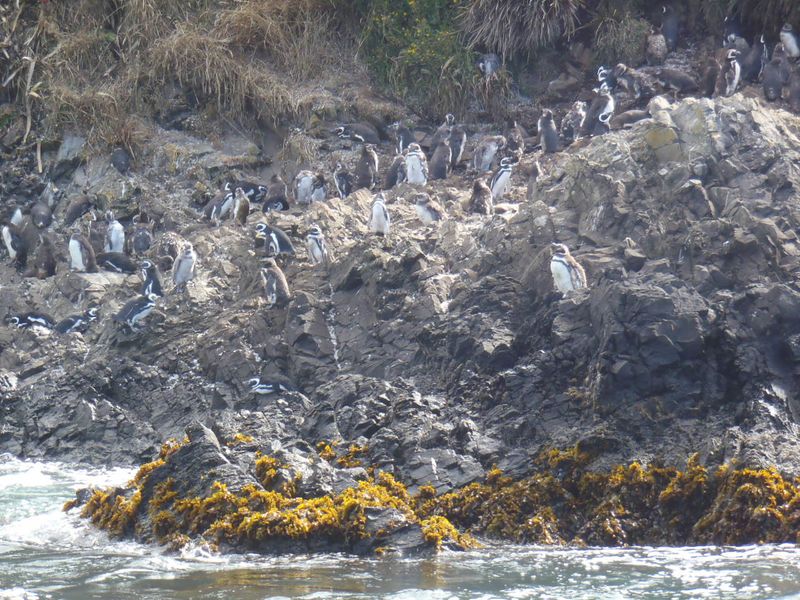 Cool! We all could use a little more love shack…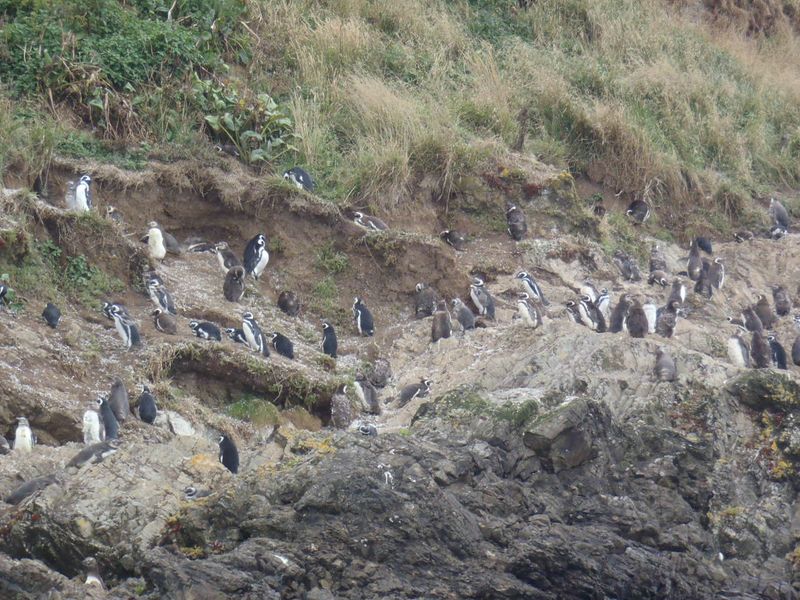 The morning after I think they are all just trying to exchange email address's and I know those penguin twitters are just flying in the airways folks.
There are two types of penguins here. Humbolt penguins from Peru and Magellanics from Antarctica.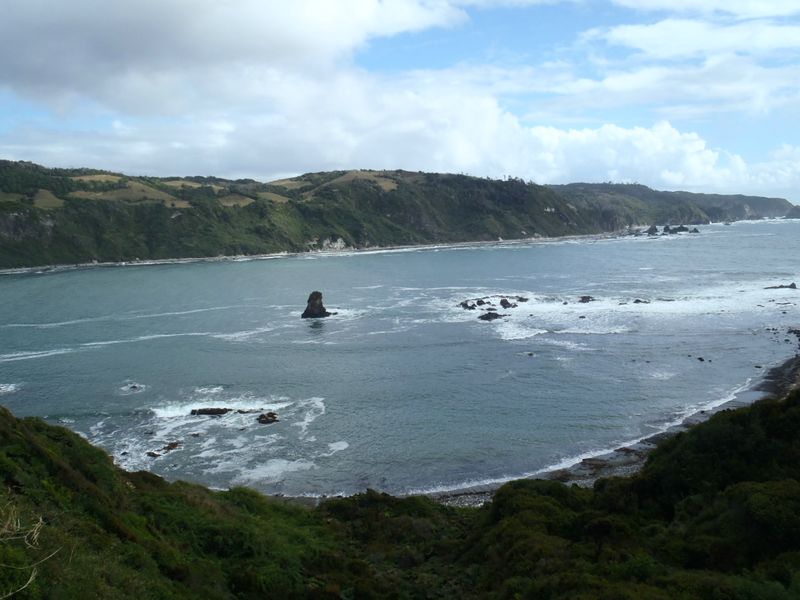 The views on the Isla de Chiloe are fantastic and incredible!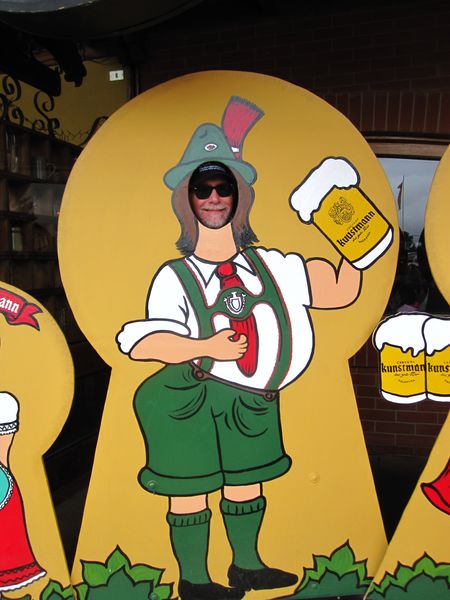 Meanwhile, Tom wants to back to the Knuntsmann Brewery for his second wind.. Look for Tom & Dan's fly fishing adventures in the next post. I had too many pictures and decided to go with Carola's tours this time.
Jack Trout Guide Service provides Cerveza/Beer Tours in Valdivia, Chile. Just give us a call 011-56-9-94671995 or email us at info@jacktrout.com in the USA (530) 926-4540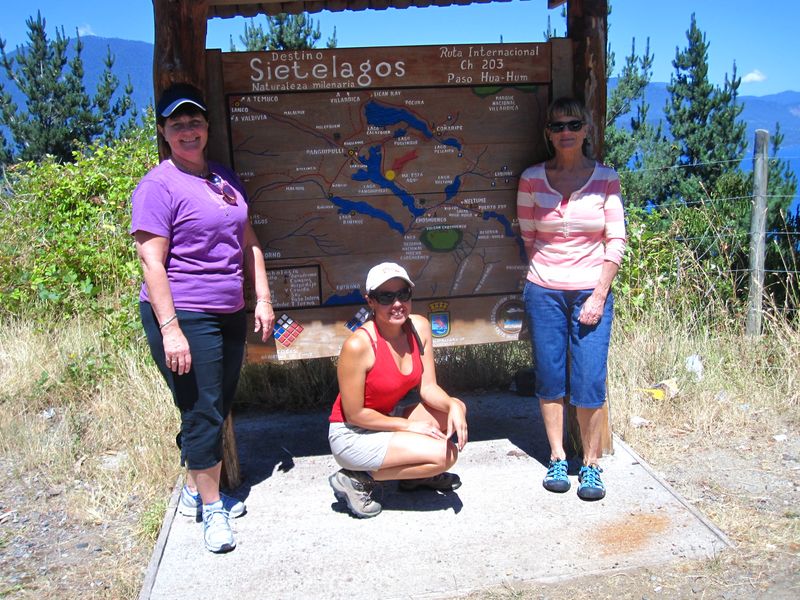 Carola is spicing up another one of her award winning tours in Chile, let's see what they are up to now.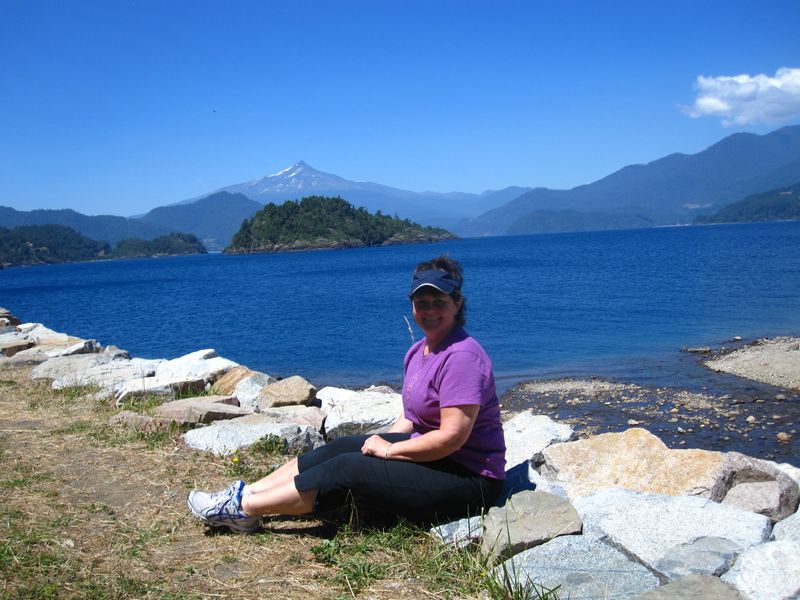 Deb says, I think I'll just kick back here and relax to the nice Chilean summer sun and spectacular views!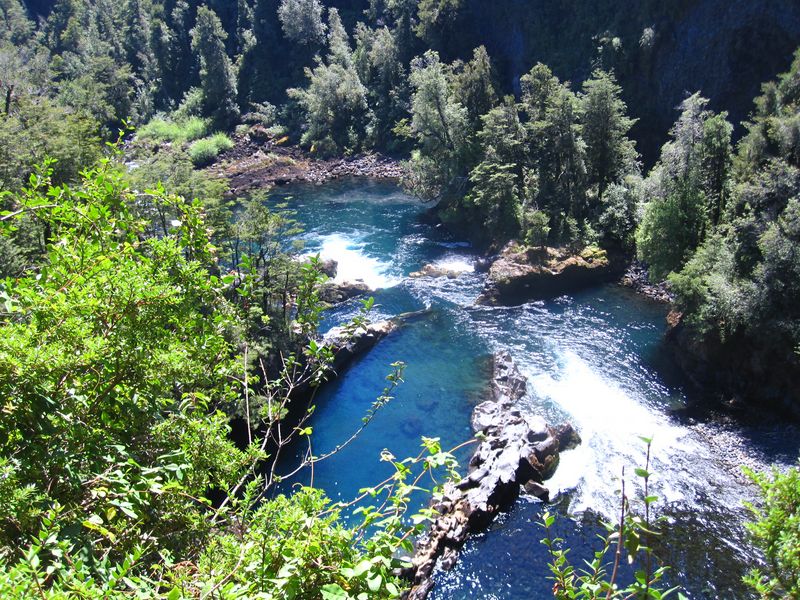 The river so pristine, pure and natural on a warm sunny day, the reflections are merely segments etched in memory banks of time.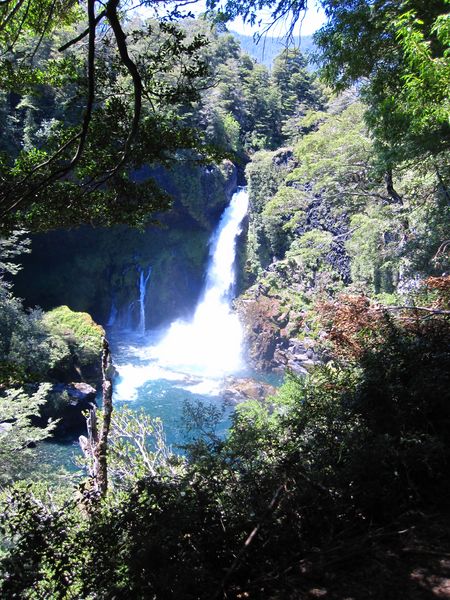 Often I ask myself, why does man stare at water falling and the embers of a camp fire? Maybe because since the dawn of mankind, those have always been our two most important needs. Maybe because it fascinates us subliminally.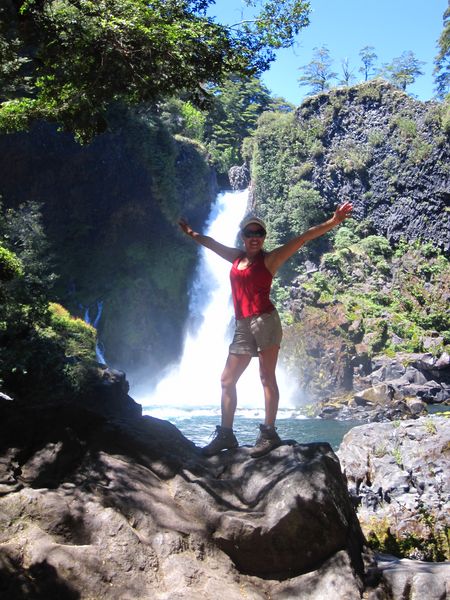 This woman always has fascinated me!!!! That's why I married her 🙂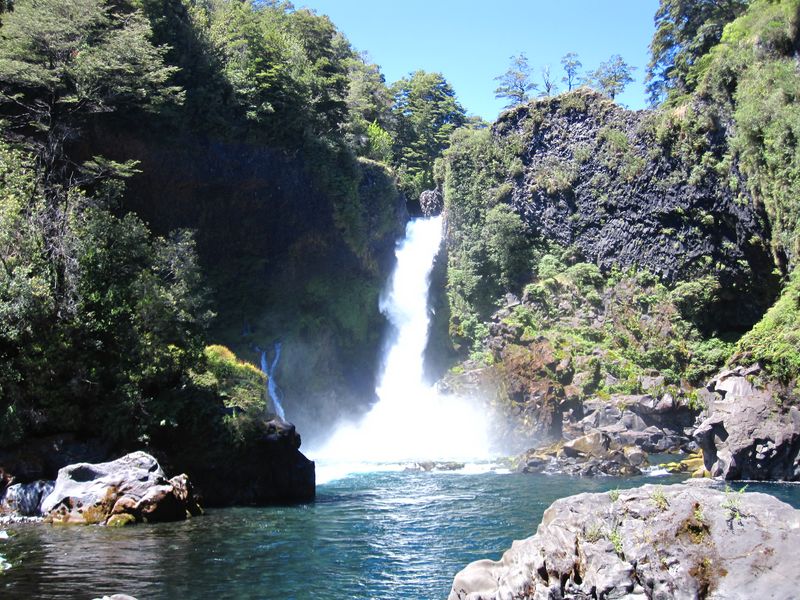 ************************************   – WATER –  by:  Jack Trout   *************************************************
Water comes from the skies above. Water can carve itself through stone and when trapped water will make a new path.
Hills, mountains or divides will only curve its route for water longs for the sea, its final destination it calls home.
Water is powerful, but when held and controlled, ultimately water will over come and be your demise, for water yearns always to be free just like you and me.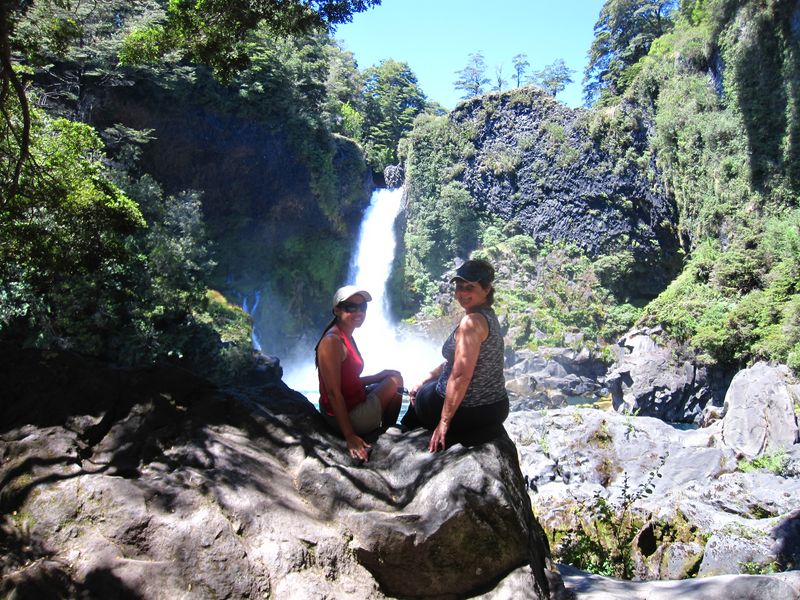 "What a day for day dream…" I love that song, I also love, "What a wonderful world." Sing it Louis!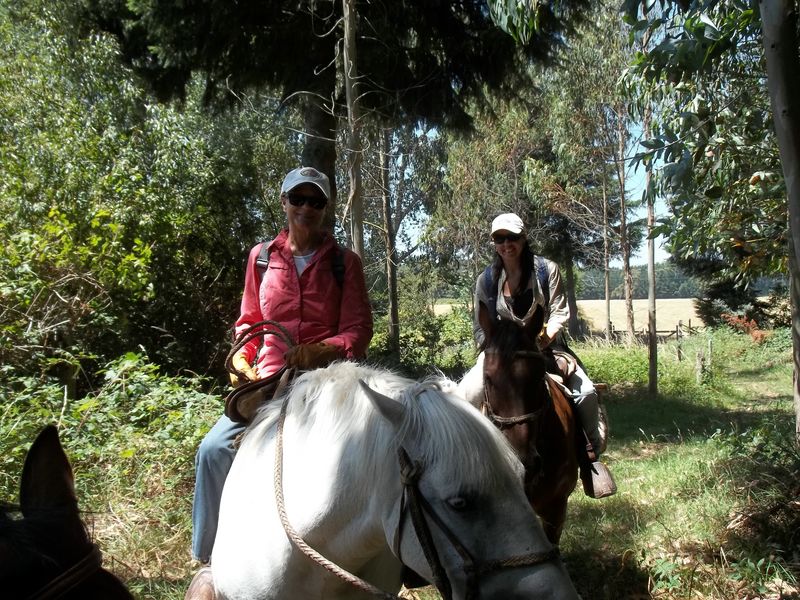 A little horse back riding anyone? Carola can take you out on the 1300 acre ranch for a tour down to the rivers bank, it's an awesome journey through corn fields and riding trails. You'll see native plants, trees and and ride along an old ancient river bed that now is extinct and makes the valley you ride through so interesting and historic.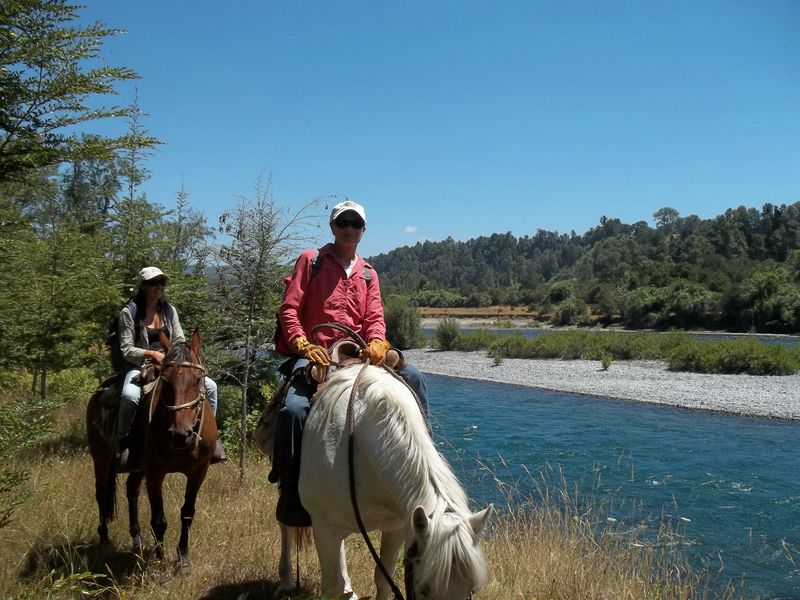 Now it's time for a little lunch by the stream side! Carola and Jack would like to thank, Jim and Debbie Kent, Pam & Tom Hemingway and Dan Alsaker for a wonderful week in Chile!! We love you folks and soon won't forget our grand week together.
Best to you all in 2012, Jack & Carola Trout (Part 2 to this adventure next post)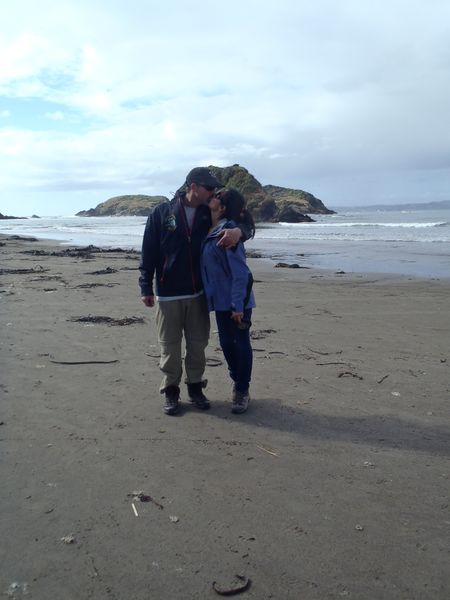 EMAILS FROM YOU: