---
*****PATAGONIA CHILE – ARGENTINA TRIPS START DECEMBER 10TH – SEE YOU DOWN THERE!! http://www.jacktrout.com/futa.html
HAVE OPEN GUIDE DAYS IN DECEMBER AND JANUARY IN CHILE, LETS HOOK-UP!!*****
*****UPDATE!! SCOTT MILLER & DAVID HARKER CAUGHT 28 ATALANTIC SALMON YESTERDAY ON DOUBLE BUNNIES UP TO 5 LBS!! 5 DOUBLE-HOOK-UPS IN ONE SPOT!!! 7 LB TROUT RIGHT OUT THE BOAT LAUNCH ON OUR BIG SPRING CREEK THAT DUMPS INTO THE PACIFIC OCEAN- STAY TUNED SIZZLERS
REPORTED ON – JANUARY 3RD, 2009. JACK TROUT*****
http://www.jacktrout.com/chilelake.html
---
---
BELIZE PACKAGES START AT $1950 PER PERSON 8 DAYS, 7 NIGHTS, 6 DAYS FISHING & TOURS. http://www.jacktrout.com/belize/belize.html
---
---
HOLIDAY GIFT CERTIFICATES NORTHERN CALIFORNIA FLY FISHING & DRIFT BOAT TRIPS – JACK TROUT HOLIDAY GIFT CERTIFICATES.
---
Jack Trout 4 Pack $1000 for 4 Trips @ $250 Each 2 Anglers Good Any Year. "It's the gift that keeps giving, this Holiday Season!"
*****All float trips are now $300 on any river, due to the lower gas prices!!!!!*****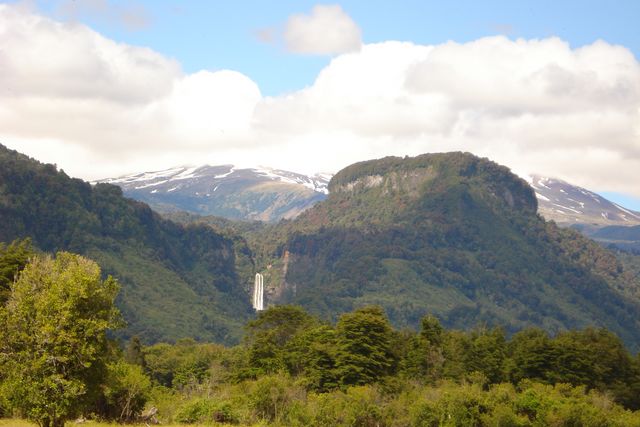 ---
I made it to Patagonia Chile, where the waterfalls spill in threes
and the flora and fauna grows high, finding their direction magnetically, climbing ever so high towards the Southern Cross their final goal.
Jack Trout
---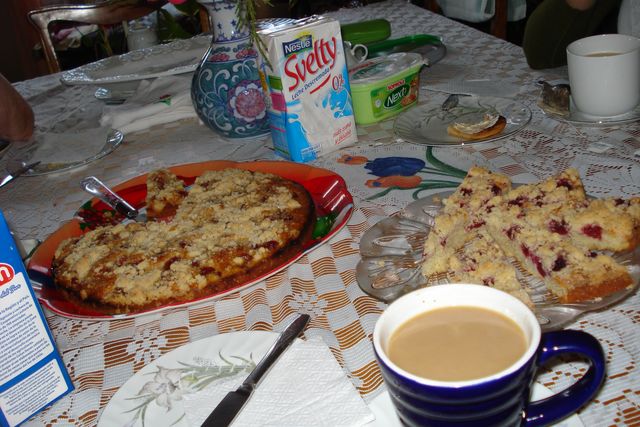 ---
At Grandma's house the kitchen always smells daily of fresh baked Kuchen, cakes and tortas. It's always a sweet place to be and right now the fruits are in season.
---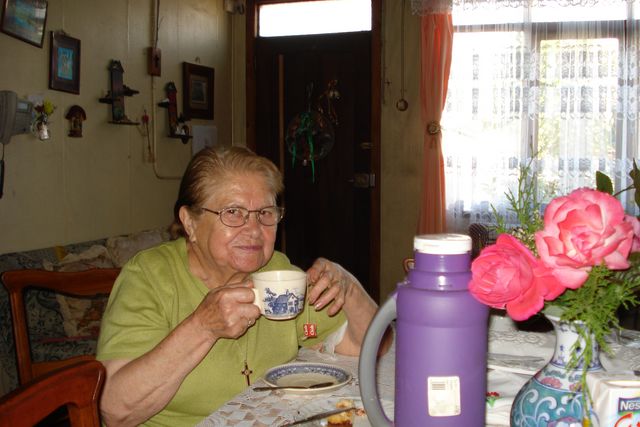 ---
Carola's grandma is a warm spirited lady, full of life and love.
I was too young to know either one of my Grand Mothers, maybe this
was destiny in many more ways than I once thought.
Saludos Grandma, and thanks for all you do for us!
Love, jack & carola
---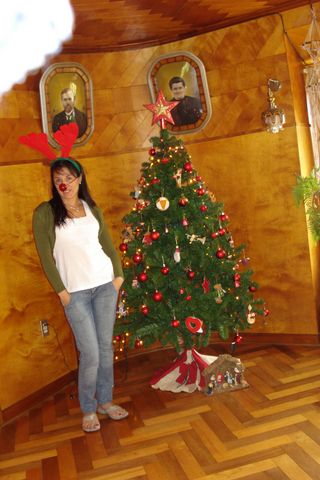 ---
My first Christmas away from home was wonderful! Chileans celebrate Christmas at midnight on December 24th. The best part was seeing this fine reindeer……
---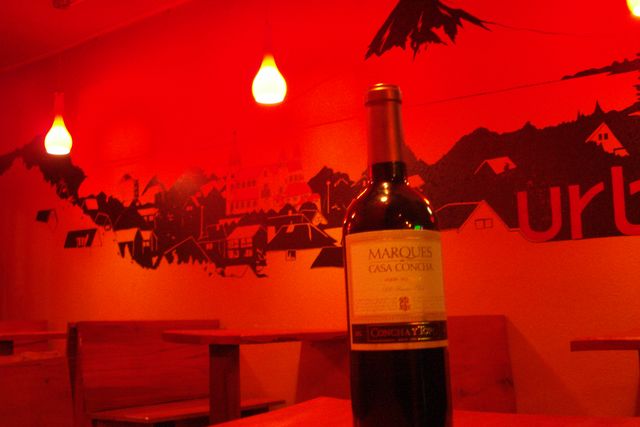 ---
Another fine wine is available at the Urbano pub in Puerto Varas.
---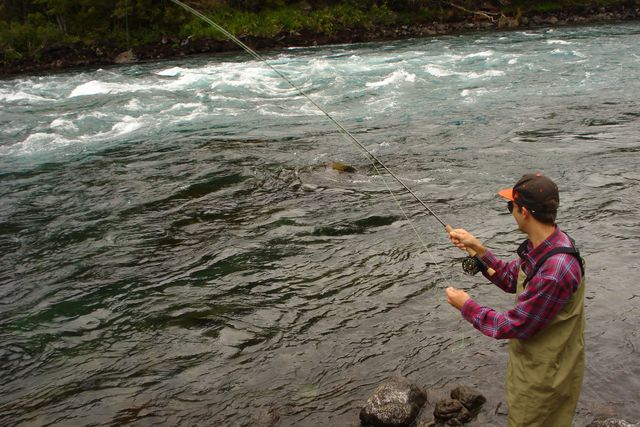 ---
My first guide trip of the season was a call I received from a person I met on the plane the first time I came to Chile some 16 years ago. His name was Foster Reed and he brought his son Hugh from San Francisco to learn a little more about fly fishing.
---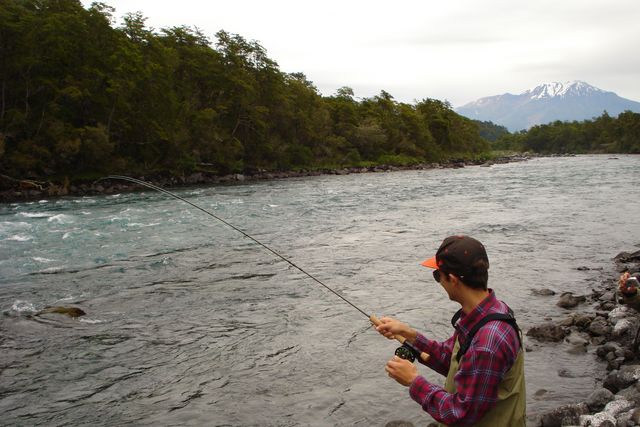 ---
On his first cast he caught a trout!
---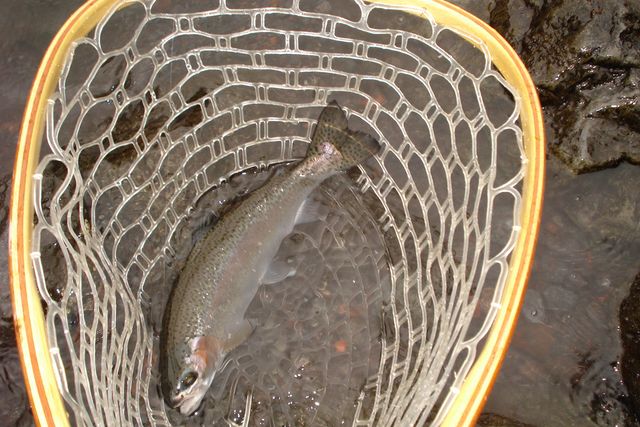 ---
It fought hard running into the crystal blue green waters and I instructed Hughey on how to land him.
Foster was still getting ready when he looked up and said with a smile, "Did he catch that on his first cast?".
---
---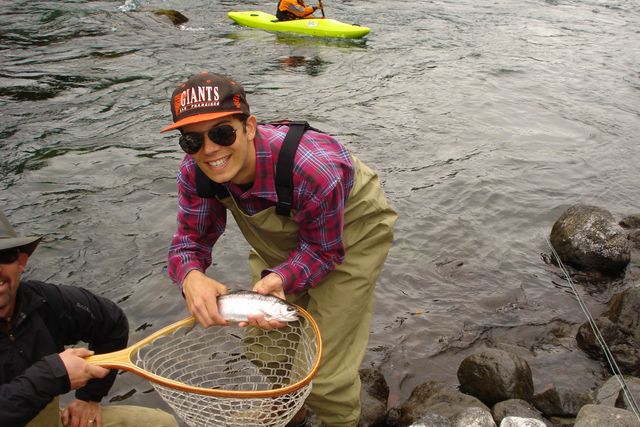 ---
One of the greatest pleasures as a guide is to witness a novice land his first fish. It wasn't the first time Hughey landed a trout, but it was a great day for him to turn the corner and really embrace the sport his father honored for so many years.
It always amazes me how a river and a fly rod can bond a father and son, for its these things we have at our finger tips that are passed on to future generations, and some day Hughey will do the same
for his boy or girl.
---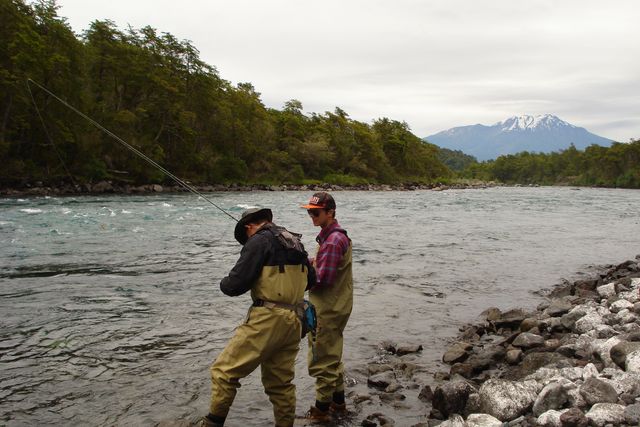 ---
Job-Security……
---
---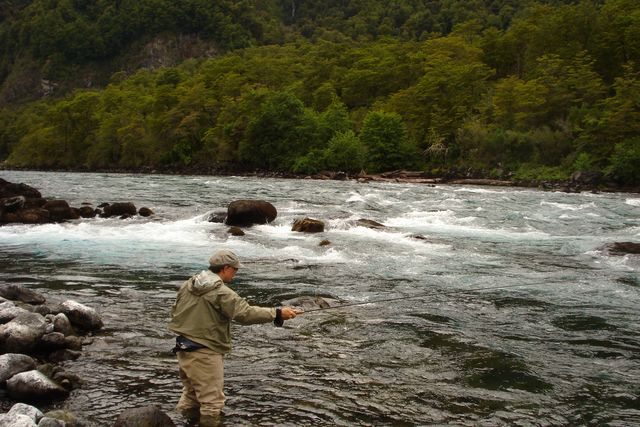 ---
Soon after that Foster hooked up on two trout!
---
---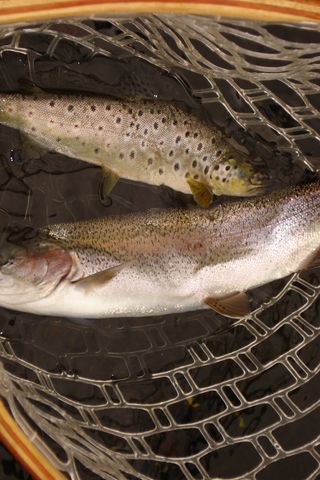 ---
Two trout on the same line! I have never seen this before, and it's a brown and a rainbow to boot. These fish are starving from the long Patagonian winter.
---
---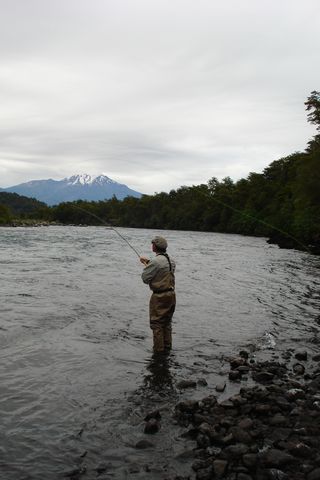 ---
Next, Foster broke out his spey rod and casted literally half way across the river. He got a big bump on his third strip……
---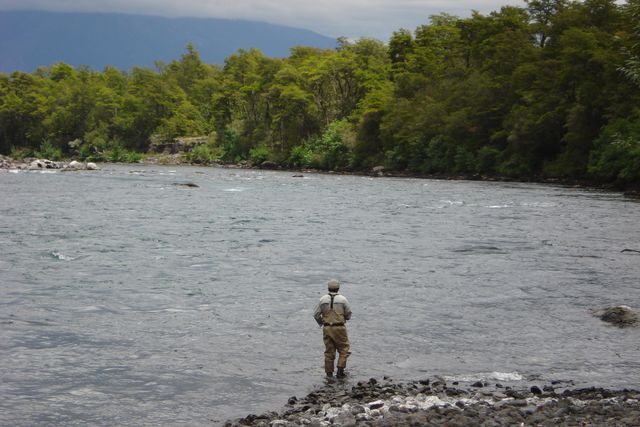 ---
This guy sure could cast his spey rod a mile, the perfect place to swing flies is here!
---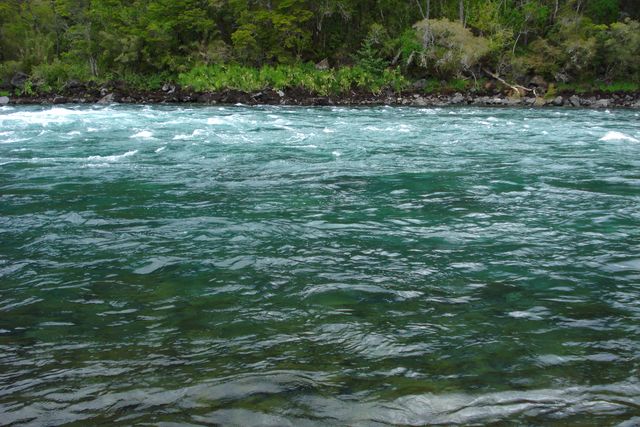 ---
Glacier blue green beauty…
---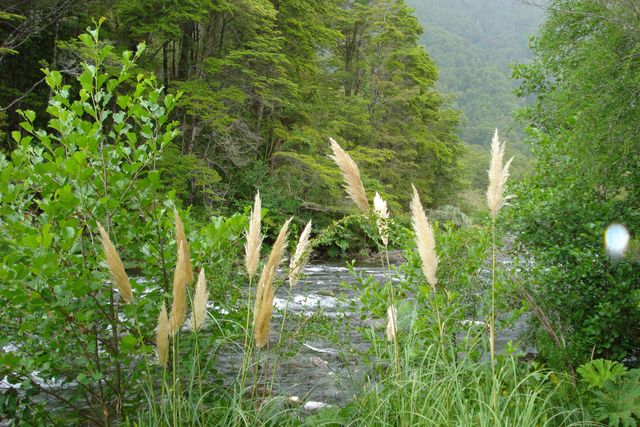 ---
The zorro looking so good and healthy.
---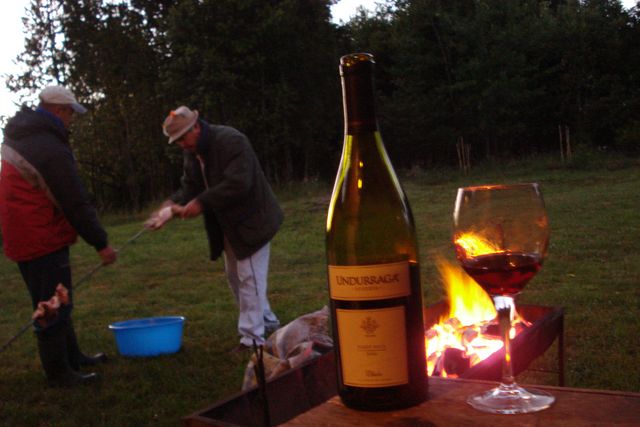 ---
We then headed over to Carola's cousins ranch to have a holiday asado, enjoy family and eat wonderful food.
---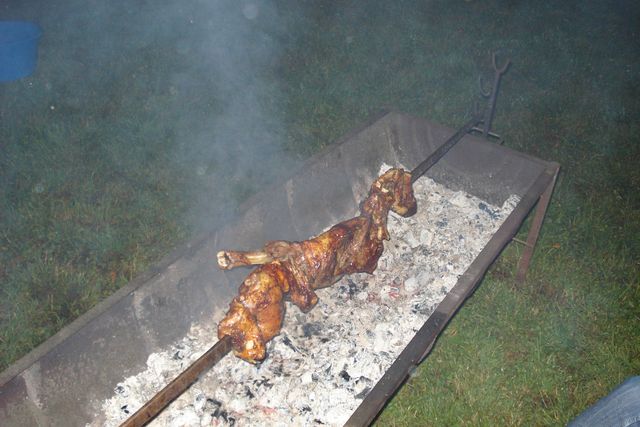 ---
The lamb in Chile is always divine!
---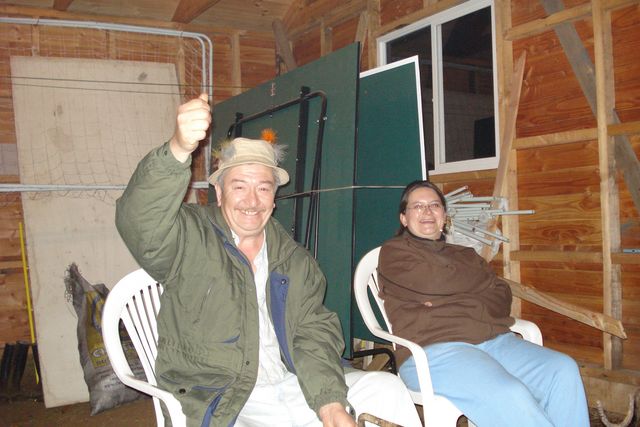 ---
Juan Carlos was getting me excited about the fishing we had planned for the next day in his favorite setting position.
---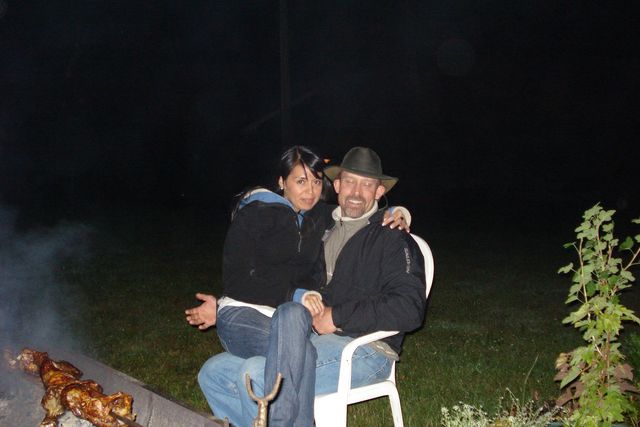 ---
I sat dreaming about what the river would bring me tomorrow.
---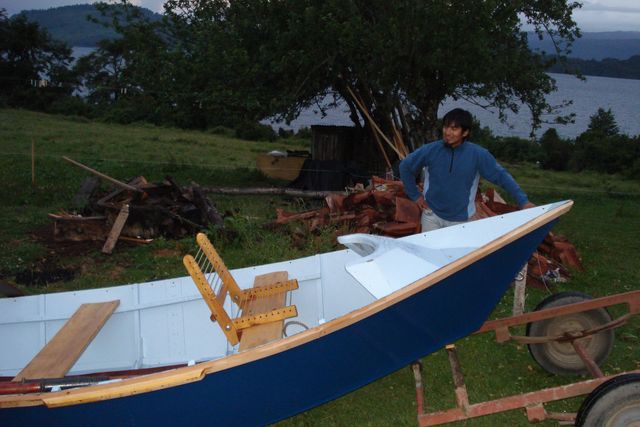 ---
The drift boat was homemade and looked brand spanking new. The corded seats looked wrong but I was mistaken as they were perfect in every way. It was a very comfortable ride from the start to the finish…
You'll see why!
---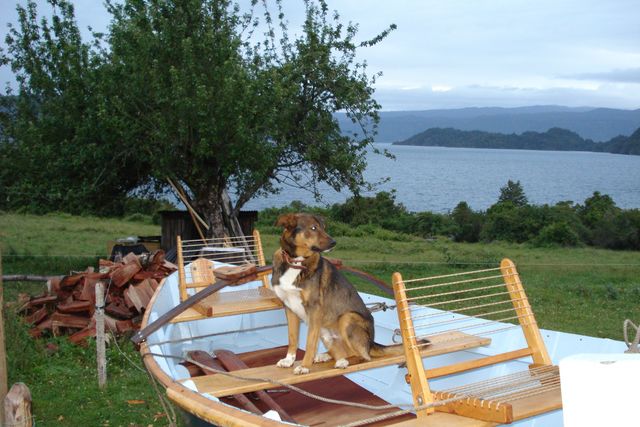 ---
Commander Cody was ready to come along, maybe on another day he could possible row the boat or just point us in the right direction.
---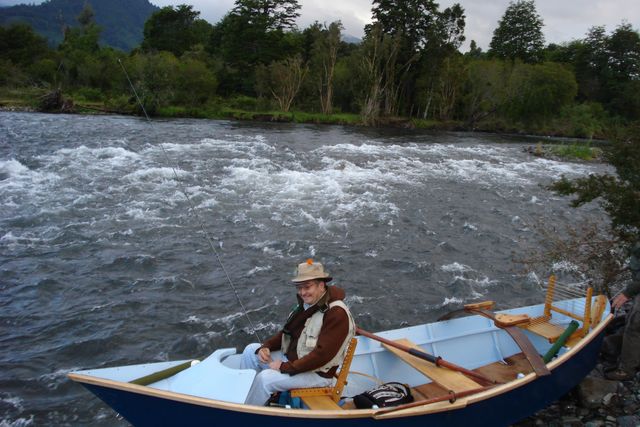 ---
Juan took the front and I always love the back, the drift was ever so near now.
---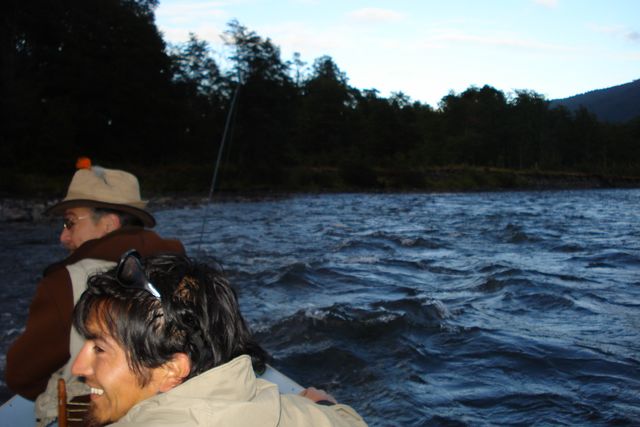 ---
The top was raw and freestone with lots of riffles and structure as the bottom near where it spills was flat and calm.
---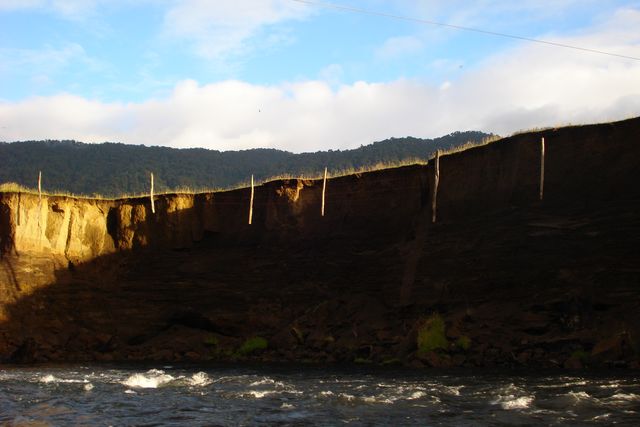 ---
The cut bank and a fence that lost its role in life, hanging and praying for more life on Earth.
---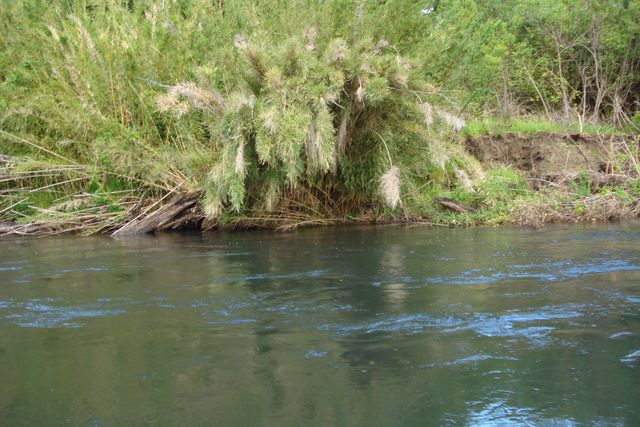 ---
A structure hotel for browns, rainbows, coho and chinook. This felt like one of those days, if you know what I mean……
---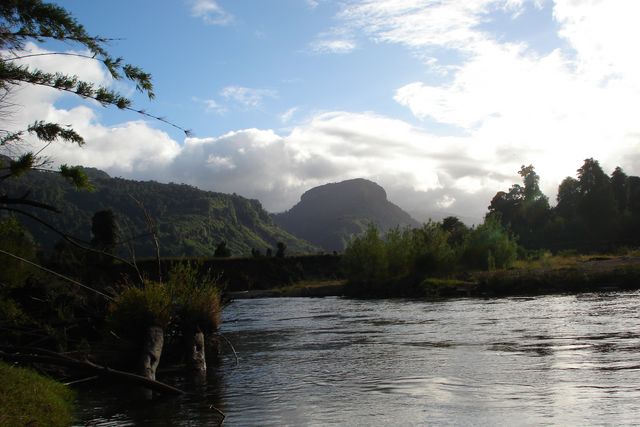 ---
Views like from another planet with little grass haired men who stood looking at us from the left hand side of this picture laughed and stared as they welcomed and wished us good fishing that day.
---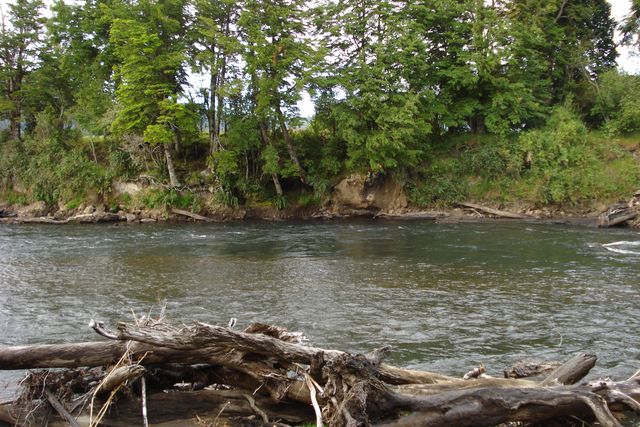 ---
So many great places to stick a fly and unbelievable beauty everywhere I looked.
---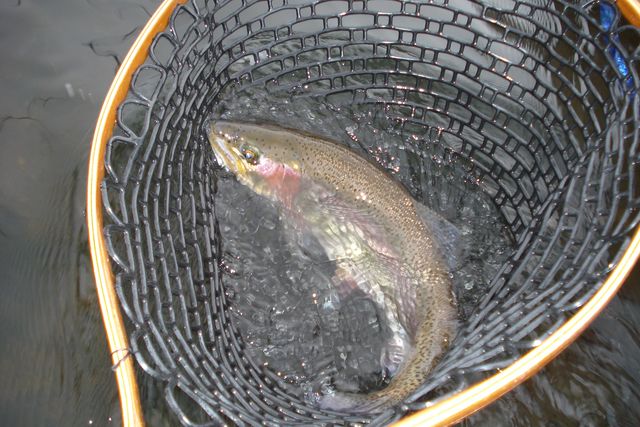 ---
A nice rainbow was landed.
---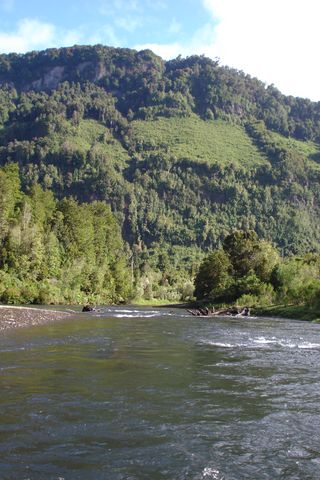 ---
Striking and stunning, a place to be now.
---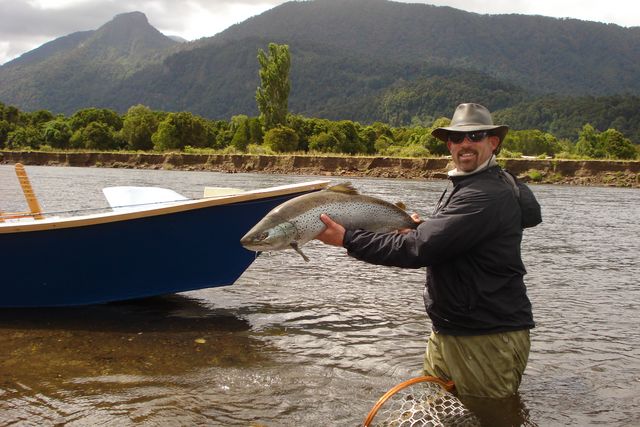 ---
Then closer to where the rio spills its pride, a massive calculating sea-run brown took my articulating fly and I was only left to land the beast!
---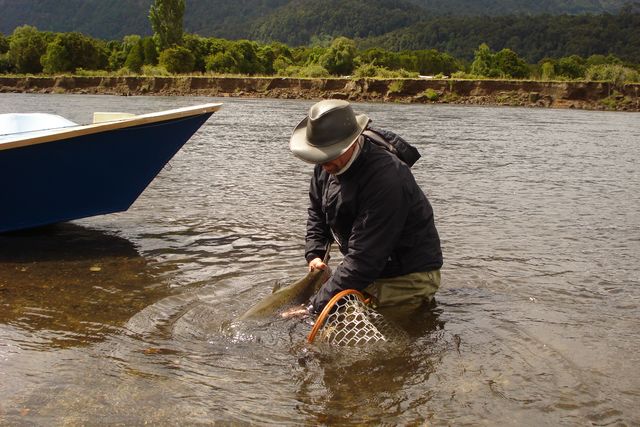 ---
So I respected him and watered him correctly as though to worship his take of my fly.
---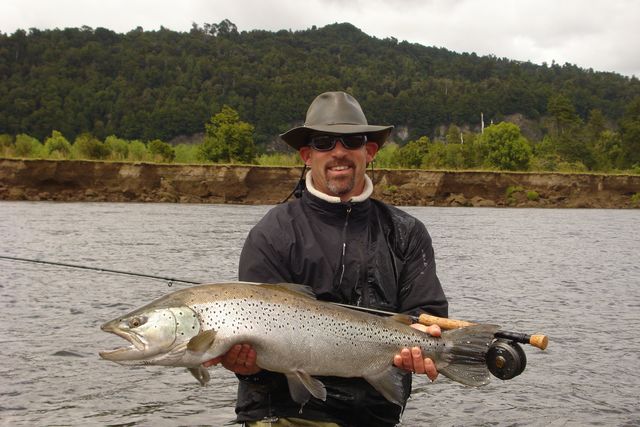 ---
(In a Morgan Freeman Voice)
And there I stood in the Patagonia of my dreams, only to know so little about how this all came about. For it was written in the stars above formed millions of years ago as volcanic eruptions and receding glaciers carved paths for riverbeds and lakes that fed into oceans and then came all of its inhabitants, with an instinct
to run rivers, reproduce and survive.
Jack Trout
---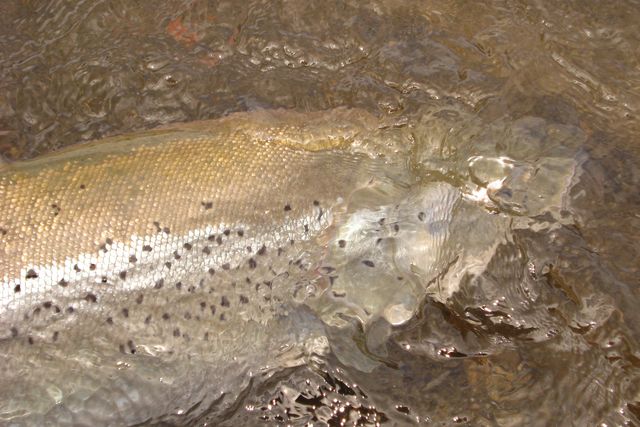 ---
I am haunted by the waters of the Patagonia. They lay flowing in order in which I've found them throughout my years and I will join them one day forever as they have claimed my soul, my heart, my life.
---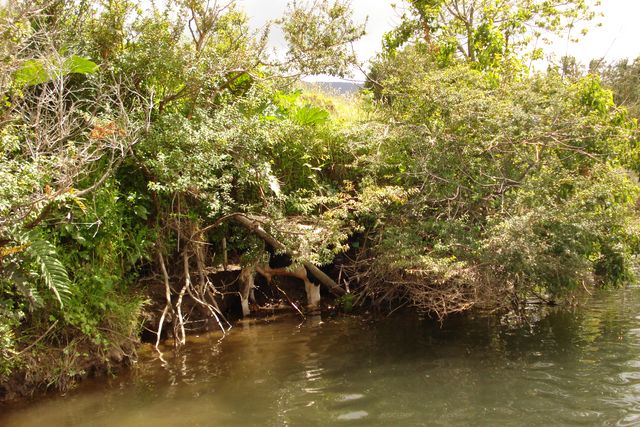 ---
Down a little further, something didn't look right? It was a calf that had fallen off a small cliff and for sure was faced with death
if not found by us or another within days…..
---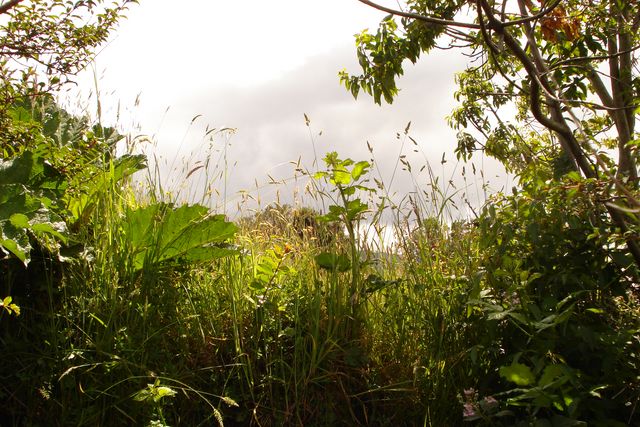 ---
I looked up to see hopelessness and it stared us both in the eyes.
---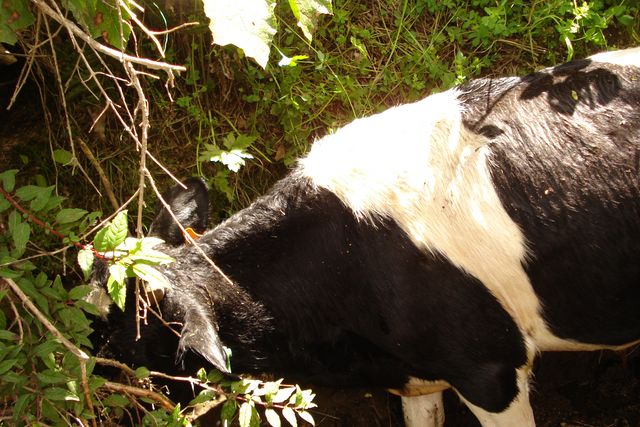 ---
It was good day to ride a calf up the river, something I had never practiced for. The calf seemed to be desperate enough and offered no advice nor resistance as I led him to freedom.
---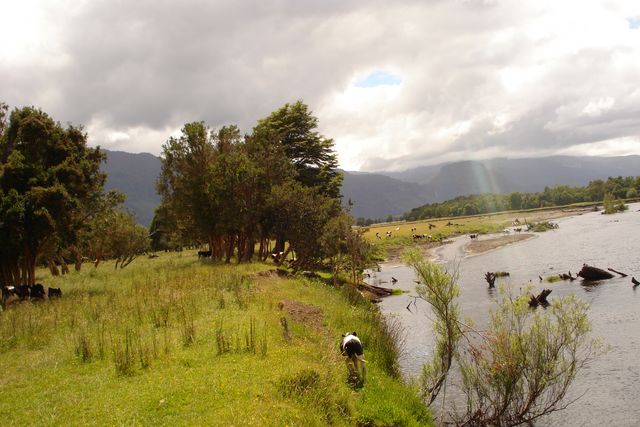 ---
Cow Freedom! It felt good to save his life and watch him head towards the light of his family and friends, will he remember this?
Please watch this amazing video to find out, if this don't make you tear up something is wrong my friend >
http://mfrost.typepad.com/cute_overload/2008/07/eat-your-heart.html
---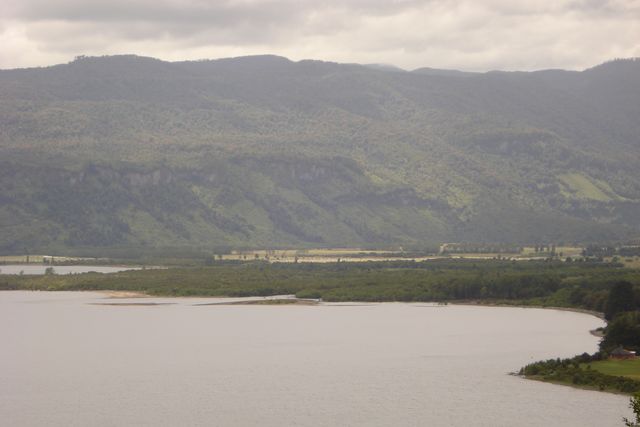 ---
I saluted the river that yielded me my finest hours, only to witness its ever so flowing ways into the sea. Journeys in which mankind can embark, cherish and remember. For it is these times you only get one shot at so make it your best and show up on time, the clock is ticking……
---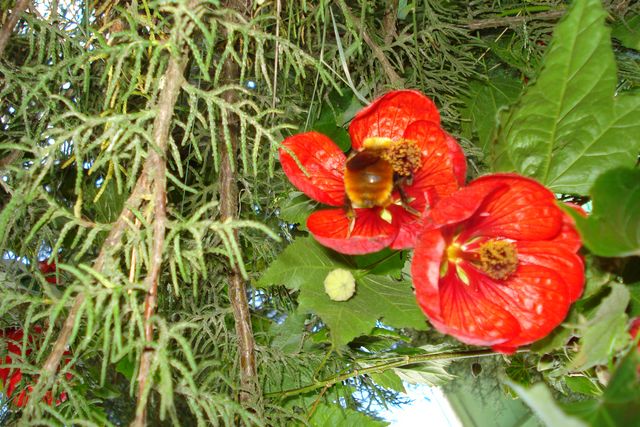 ---
Bees lay pollen on their boots to feed a hungry colony of friends and family braced in a world of continuous color and scent.
---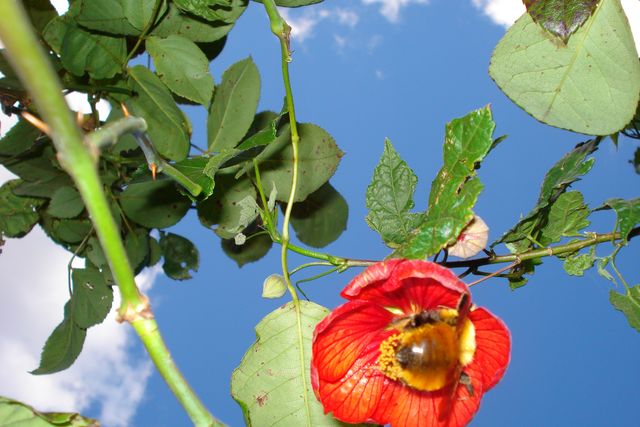 ---
With the sky as their back-drop, they honor the one who rules back at home.
---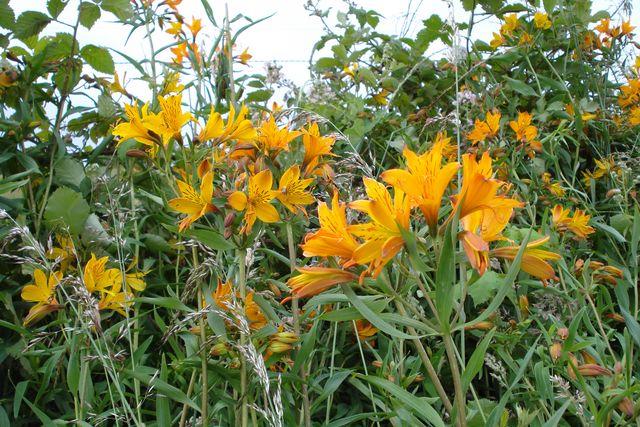 ---
The bloom is on in Chile and Argentina as summer draws ever so near
another flower blooms now.
---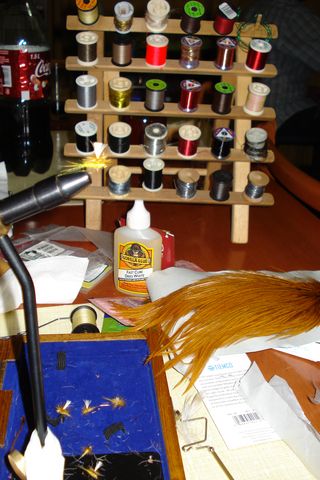 ---
Time to tie dries for a very special spring creek that goes off every afternoon like clock-work…
---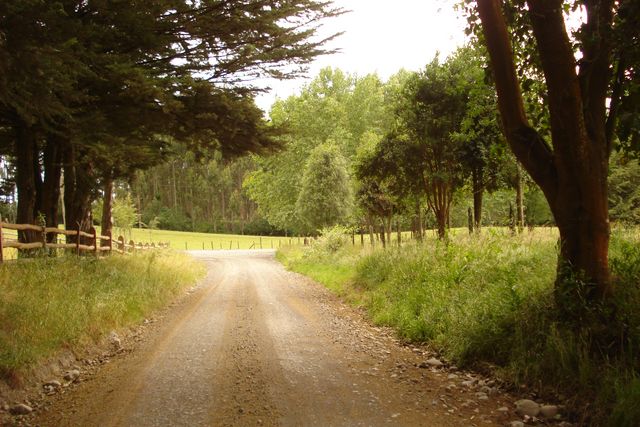 ---
The Chilean country road, a place to share a ride with a love one.
---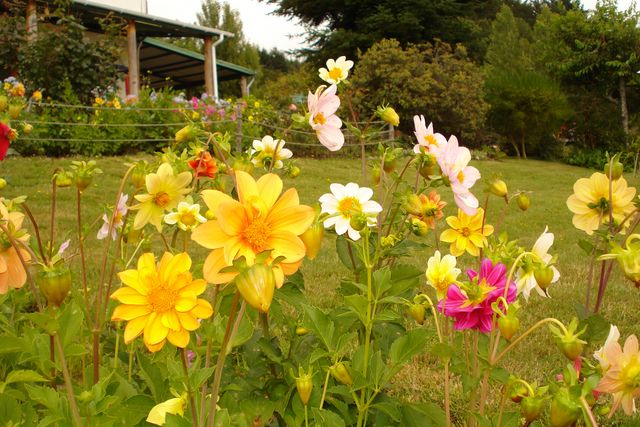 ---
Fields of colors and flowers making this a fine garden summer in the Patagonia sunshine.
---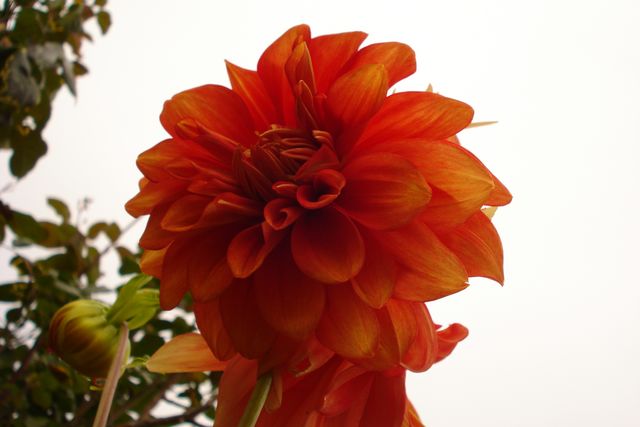 ---
With one very special flower waiting here for you.
---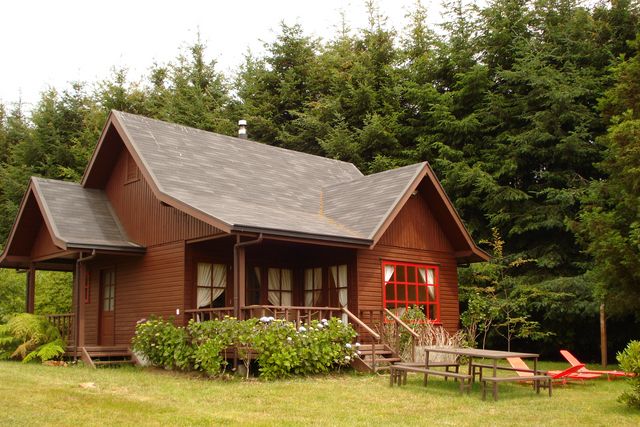 ---
Lodging is always good here, with comfort found in every way possible.
---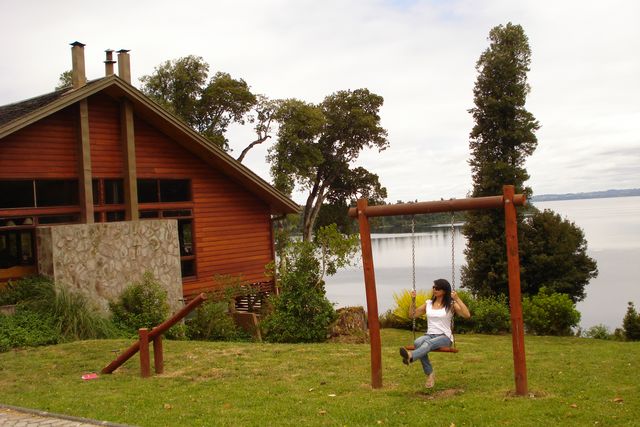 ---
Carola swings like a little girl, so happy we're finally together as we have found out today the Chilean Government is giving us $$ to buy a new home.
---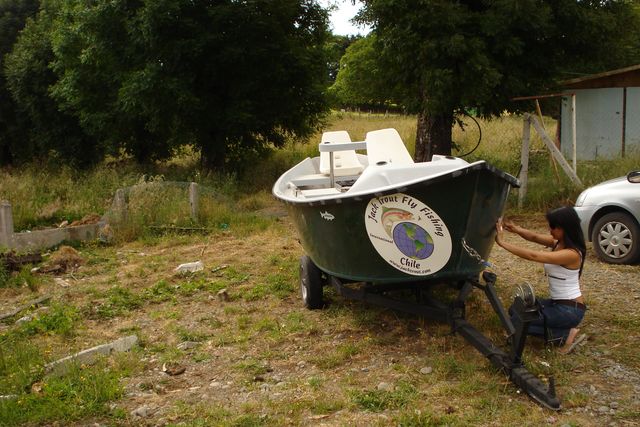 ---
A new chance to rebuild and move on, forgetting the problems of the past and are never ending battle against a volcano that took us for everything.
Together, nothing can beat us. Love knows no boundaries, along side of me is where she always belongs.
---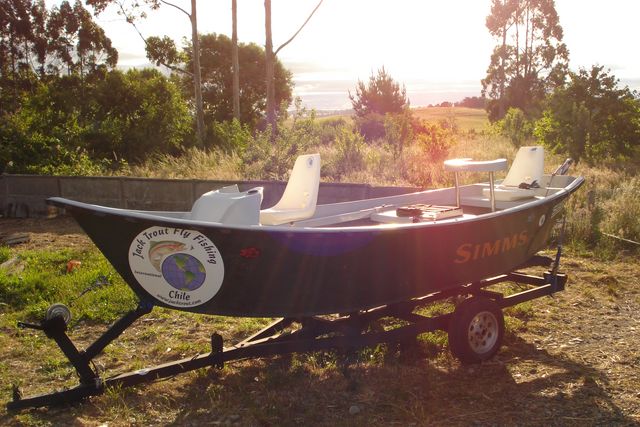 ---
Come float with me in the Patagonia and forget 2008!!
Jack Trout in Chile – Cell 011-99467-1995
---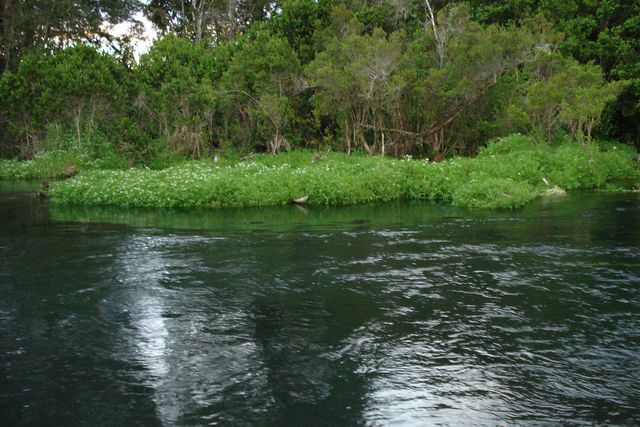 ---
Remember those mayflies I tied? Caught 12 in 40 minutes on this very special spring creek right outside my back yard!!
Hope to see you down here my friends!
Next, stay tuned as Scott Miller and Dave Harker from Idaho Falls
come down for their 10 day adventure!!
---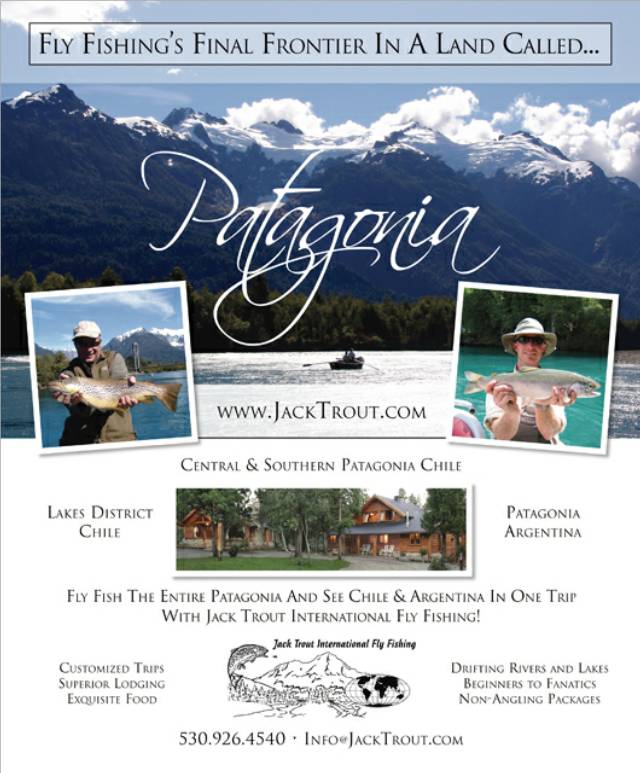 ---
Thanks for watching our adventures!
Saludos, Jack & Carola
---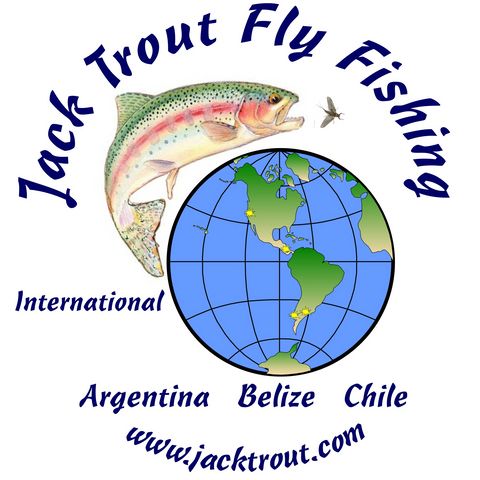 ---
http://www.jacktrout.com/futa.html
http://www.jacktrout.com/chile.html
http://www.jacktrout.com/chilelake.html
http://www.jacktrout.com/argentina.html
http://www.jacktrout.com/belize/belize.htmlhr>
---
EMAILS FROM YOU:
Looking forward to seeing you next week. We leave for Santiago tomorrow. I plan to have email and am I will have access to cell phone on the ship.
Joe Donckers
---
VENGAN A COMPARTIR CON NOSOTROS FRENTE EL LAGO LLANQUIHUE EN LA NOCHE MAS IMPORTANTE DEL AÑO MIRANDO LOS FUEGOS ARTIFICIALES Y BRINDANDO CON UNA COPA DE CHAMPAÑA
LA
FIESTA DE FIN DE AÑO 2009
EN
DA ALESSANDRO PIZZA & PASTA
DE PUERTO VARAS
MENU
COCTAIL
PISCO SOUR O AMARETTO SOUR O JEREZ SOUR
O VINO BLANCO CHARDONNAY
ACOMPAÑADO DE UN PICOTEO DE MINI PIZZAS Y CESTA DE PANES
ENTRADA
(ELEGIR UNA ALTERNATIVA)
ENSALADA PARMA
(mix de lechugas orgánicas, tomate fresco, jamón crudo, queso fresco, aceite de oliva extra virgen, aceto balsámico)
O
MELANZANE ALLA PARMIGGIANA
(berenjenas asadas, salsa de tomate, queso mozzarella gratinado, albahaca, aceite de oliva y parmesano)
PLATOS DE FONDO
(ELEGIR UNA ALTERNATIVA)
GNOCCHI IN SALSA RUSTICA
(masa de papa y harina en salsa de pesto, tomate y crema)
O
RAVIOLI DI SALMONE IN SALSA DI GAMBERI
(Masa al curry rellena con salmón en salsa de camarones salteados en coñac y crema)
O
ARROSTO PANATO ALLA PALERMITANA
(Lomo liso apanado a la plancha estilo palermitano acompañado con papas salteadas y ensalada)
POSTRES
(ELEGIR UNA ALTERNATIVA)
TIRAMISU
(Postre con base de galletas champaña, café y crema zabaione)
O
PANNA COTTA
(Natillas de crema en salsa de frutilla)
CAFÉ O INFUSIÓN
Incluye: Durante la cena
Vino Blanco o vino tinto
Bebidas o jugo natural
Para recibir el año nuevo
Champaña, lentejas y uva
VALOR P/P $ 32.000
(usd $ 54)
Niños: Jugo Natural o bebida
Mini Pizza
Spaguetti Alfredo o bolognesa
Copa de helado
VALOR P/NIÑO $ 13.000
( usd $ 22)
RESERVAS AL FONO
310583
AV. VICENTE Puerto Varas – Chile
---
Had a great Christmas–looking forward to getting down there. Our beers of preference are whatever you have thats cold! No dietary concerns–as for sight seeing in National Parks, not sure????
Scott Miller
Principal
Hillcrest High School
Idaho Falls
---
Cris went down to the house this morning to check on the kitties, they're fine. The kids did get the monitor up and running, he said the house looks clean and it's warm inside. It's pouring down rain now and wiping out our snow. What kind of temps do you have in Chile?
Happy New Year,
Linda
---
Jack
I hear you are in Chile and would like to meet with you if you can spare the
time. My name is Paul Kinney and I own the Paloma River Lodge on the Paloma
River in Coyhaique. I also am the GM for Southern Chile Expeditions and run
the Yan Kee Way and El Patagon lodges. I would like to invite you for lunch
at Yan Kee Way o we can talk about opportunities that may be advantageous to
us both.
Regards
Paul
---
MERRY CHRISTMAS AND A HAPPY NEW YEAR. MAY ALL YOUR DREAMS AND HOPES COME THROUGH IN THE YEAR 2009. REMEMBER YOU'RE SO SPECIAL .
TAKE CARE!
CHEERS, FRANZ NUNEZ – Belize
---
mate, we alredy passed trough pucon (beautiful,my first time there).we've been there just a couple of days ,and now we are in bariloche for another couple of days… but we are thinking rent a house in pucon for the next march-april….(a house with and extra room…you see….some friends may come…..)and climb the villlarrica vulcano,some rafting and maybe some friend can teach me how fly fishing goes…
but now we have all our energy put on chaiten . we look fowards to arrive there and see…
so by the end of this week we should be in chaiten . i'll write you again from bariloche before we leave .
lots ,but lots of love.
---
salad. (cesar)
---
http://theflyfishingrabbi.blogspot.com/2008/01/fly-fishing-in-argentina–
in-december-my.html
Thought you might enjoy this read. This is an interesting website. Hope
you and your sweet lady have some happy holidays. I'll talk to you in
the Spring and we'll set up some more awesome trips.
Rick Schoen
---
Jack, some freinds and I will be heading to Tierra Del Fuego in a couple of
weeks and are hoping to fish for sea run browns in the Rio Grande. I
understand the lower portion is public access and some estancias open to the
public on saturdays. I havent been able to find out who to cantact about
fishing on private land without paying a lot of money. Do you have any
suggestions about where to fish or who to get in touch with about access
specifics? Also are there areas to camp near the lower river or is that in
the town of Rio Grande.
Thanks for your help,
Nick
---
There are 3 of us traveling 3 adults including 1 flyfisherman. Are there any
tours during Christmas week? Snowshoeing? Hiking or viewing sites?
Alison
---
Hi Jack,
Hope all is well in Chile. We just got the new ghost bags for the Excalibur this week and
I just sent them to you. I think you will like it.
They told me at the post office that it would take about 2 to 3 weeks to deliver to Chile from my offices in Coasta Rica.
You owe me $28 for shipping.
Best,
Chris Brodin http//www.brodin.com
---
Hey Jack,
I've been cruising your website and have got to say your operation
down there looks awesome. I am going to be backpacking around
Puerto Montt, the Lakes District, and Parque Pumalin for the first 3
months of '09 and had some questions.
Where are you based out of and do you do 1 day guided trips?
Can you suggest a couple rivers in Parque Nacional Puyehue or Parque
Pumalin where one might go for some quality fly fishing?
Thanks for any input!
James
---
Hey Jack,
That sea run sure looks like one of the leprechauns I am searching for – they ride around
the world inside the anadromous travelers, and when you get one you have to say – ok you
bastard ! I've got you now !
And if you are lucky it will offer to grant you any wish if you will only let it go.
And so you wish for the chance to catch another one, then let it go.
Thanks for the day. Let me know if you want help with a letter for referrences for past Chile clients!!
Best regards to Carola – Foster
---
Jack, prospero ano nuevo to you and Carola. I mailed a check today for a four pack deal. With the holidays it might take a few days to get there, but it is on its way to Mt. Shasta. I've got some flies ready to mail too. I'll send them to the Chile address. Hopefully they will get some fish like that monster you got!!! WOW! I'm jealous. We can just do a one day thing in April for the other day we have. We'll figure that out when you get back here.
Hope the New Year will hold many good things for you. Mike
---