BACK HOME NOW ON THE UPPER SAC RAFTING & FLY FISHING AND THE FISH ARE ON THE SURFACE!
CHECK OUT SOME OUR GREAT FLY FISHING ADVENTURES FROM LAST SEASON!
---

http://www.jacktrout.com/chile.html
http://www.jacktrout.com/chilelake.html
http://www.jacktrout.com/belize/belize.html
http://www.jacktrout.com/argentina.html
---
---
PATAGONIA CHILE – NOVEMBER THROUGH MAY, WE LEAD FLY FISHING & TOURS IN CHILE AND ARGENTINA
---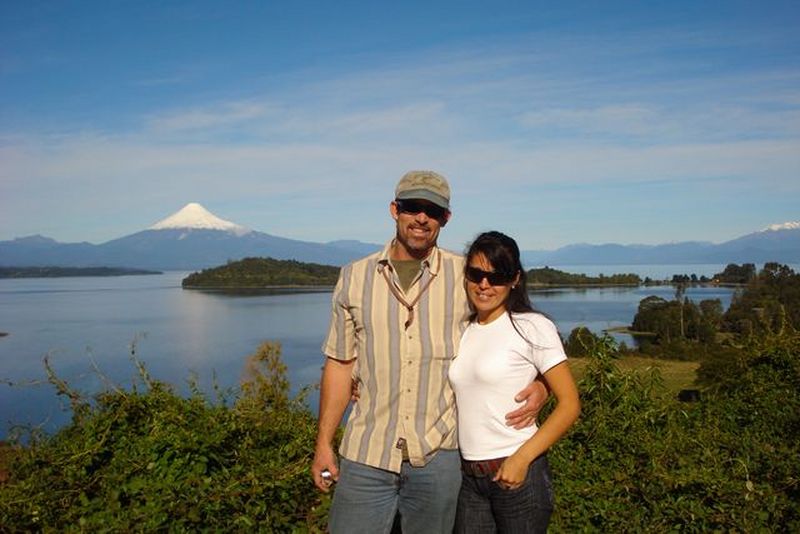 ---
Another great season with my gal by my side! Carola and I would like to thank the folks who visited Chile, Belize and Argentina this past year and used our services to outfit their vacation travels.
This is our 16th year of outfitting internationally and we are pleased by the numbers of you who contact us regularly for information on fly fishing, tours and lodging.
We would also like to share with you that we are committed to finding the best places for you to fly fish and vacation at affordable prices and of course always the best food.
As we enter into this new era, we want to earn your repeat and referral business and we know by providing the best experience
at a great price, one client at a time, we will continue to earn your trust.
Thank you for considering Jack Trout International Fly Fishing & Tours. We hope to see you this year in Northern California or Northern Patagonia, in either direction, we're here to serve your highest expectations.
Many Rivers to You, Jack & Carola Trout
---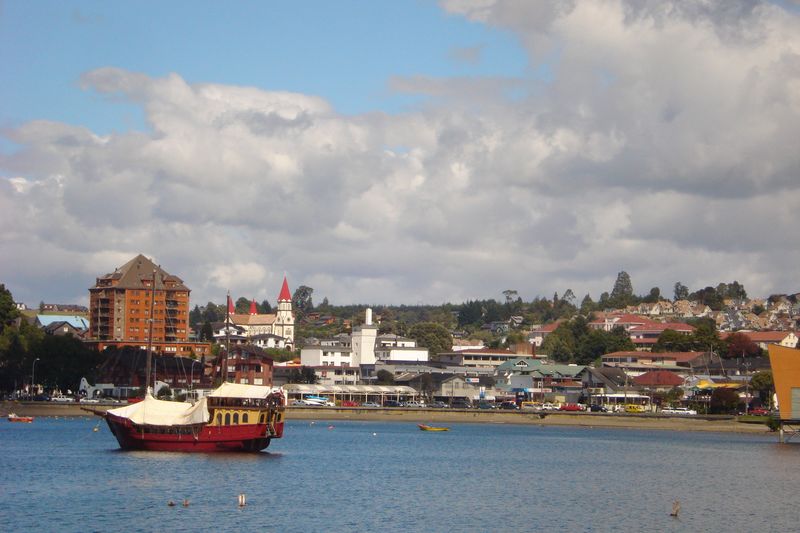 ---
Puerto Varas, Chile our new second home! Thanks to Puerto Varas and all the hotels, shops and restaurants that refer clients our way!
It's a great town with a lot of glamour, beautiful views and a tourist flare. It was so fun guiding people as far away as, Iceland, Norway, Germany, Austria and Salt Lake City, Utah!
Surrounded by great rivers, lakes and amazing volcanoes, Puerto Varas
is a truly unique place on the planet and I am happy to say that about 5 to 6 months a year, I live here now with my Chilean soon to be bride Carola! jt
---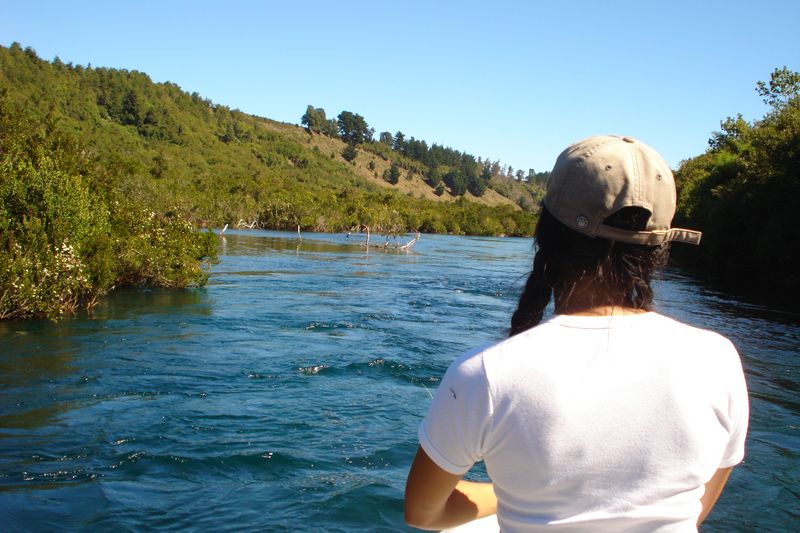 ---
We decided one Sunday to head out on the Rio Maullin and try our luck!
Any day out with Carola is lucky for me. To finally share all this magic with someone else is like a prize for me…
---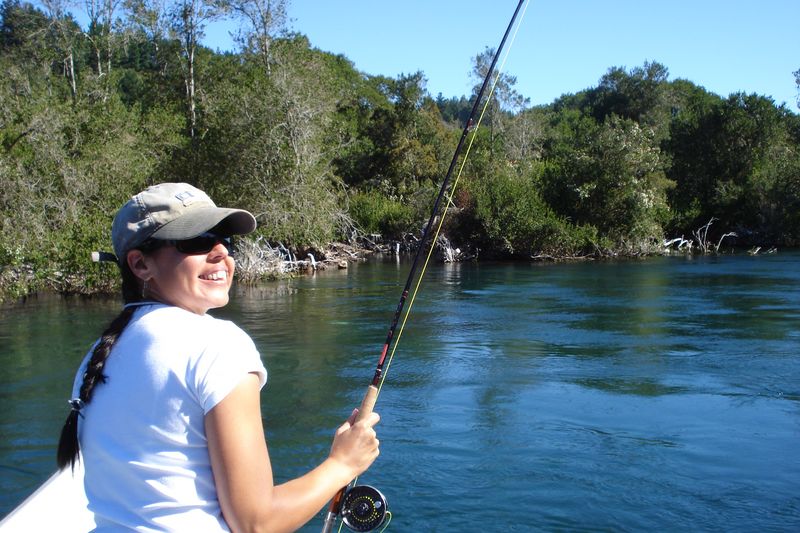 ---
On our days off from guiding we love to head back out on the water and fish n float!
---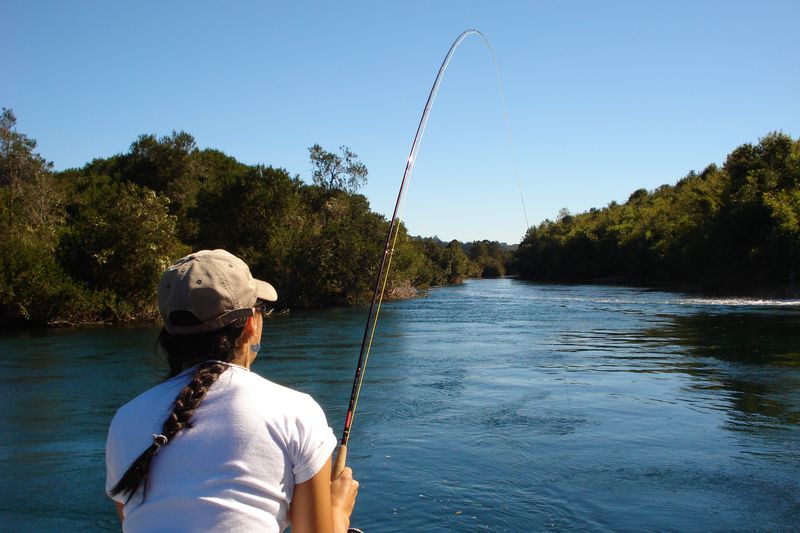 ---
Right then a trout bites and Carola is off to the races!!
---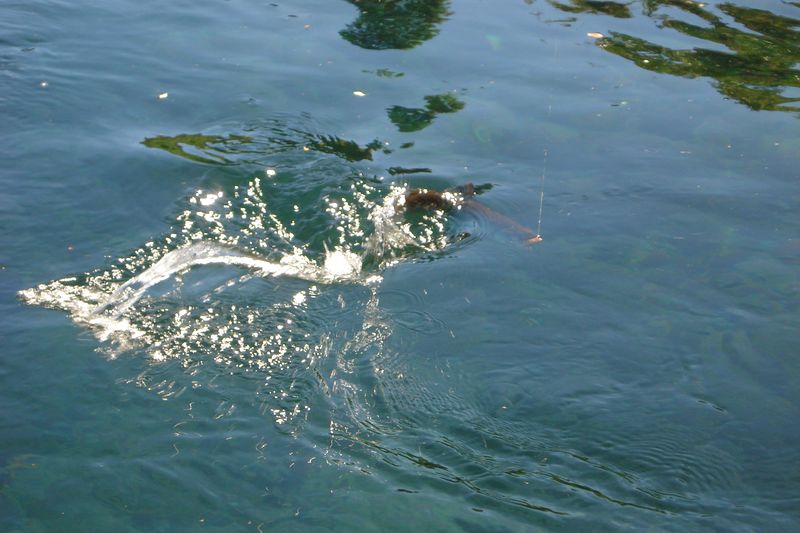 ---
A great battle indeed, a nice medium sized Atlantic Salmon wild here in the crystal waters of the Rio Maullin.
---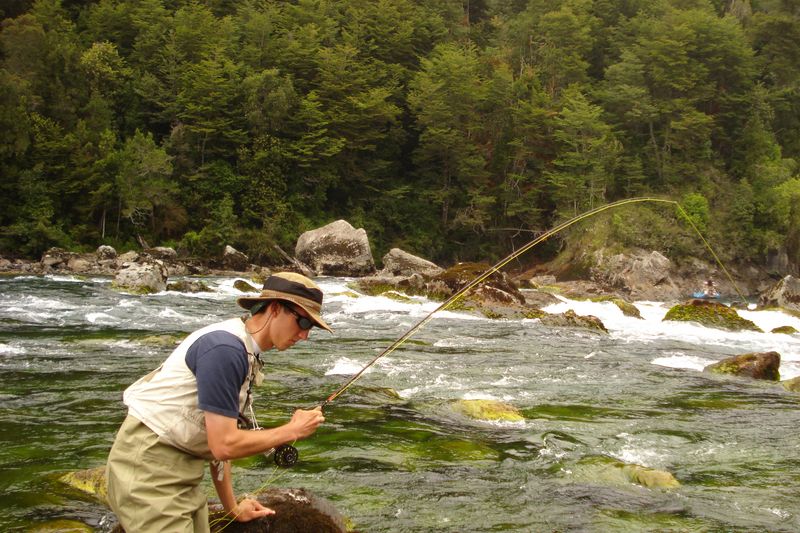 ---
Brendan came and was on a mission that day to catch a few trout while dad tried his luck up stream.
We waded the pocket water in one section and it wasn't too long before a nice rainbow appeared engulfing Brendan's fly and taking him on a long ride down river.
---
---
A nice catch for a deserving North American guy! Your first trout caught in Chile fly fishing, tell me how does that feel?!?!
---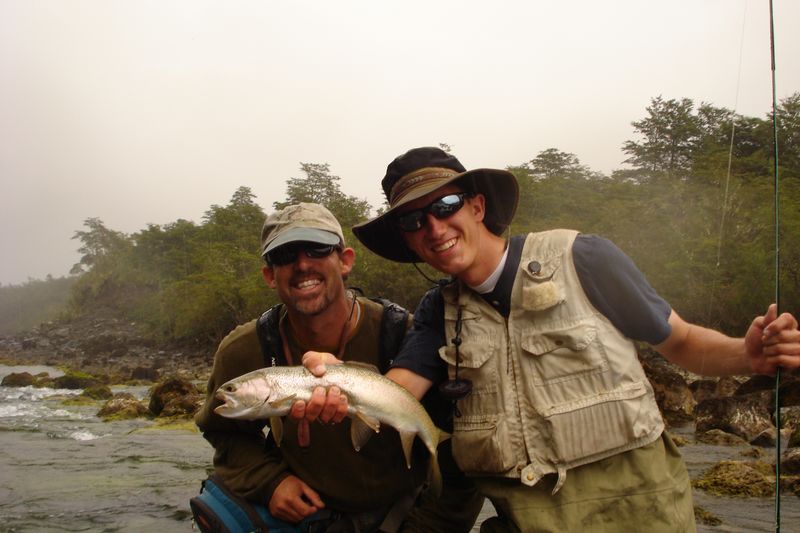 ---
Sweet!
BRENDAN ASHTON OF SALT LAKE CITY UTAH, YOU'RE MY SIZZLER OF THE WEEK AWARD WINNER!!
CONGRATULATIONS SIZZLER!!!
---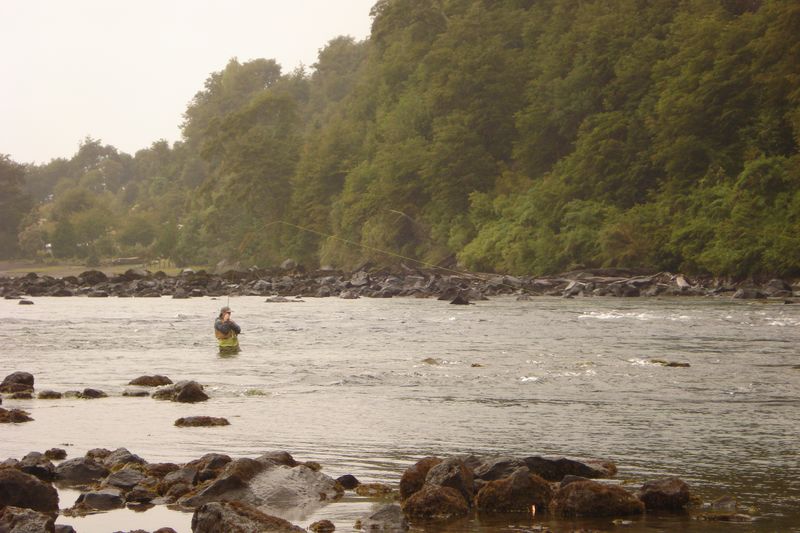 ---
Dad's turn! Dad's name is Cort, what a great time Cort had fighting these hard fighting trout!
---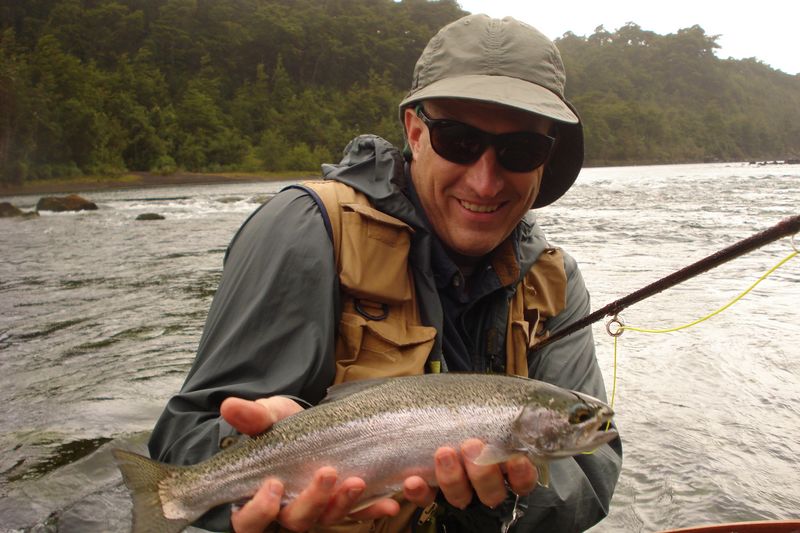 ---
Way to go, another trout on small flies. "What a fun river this is", Cort said.
---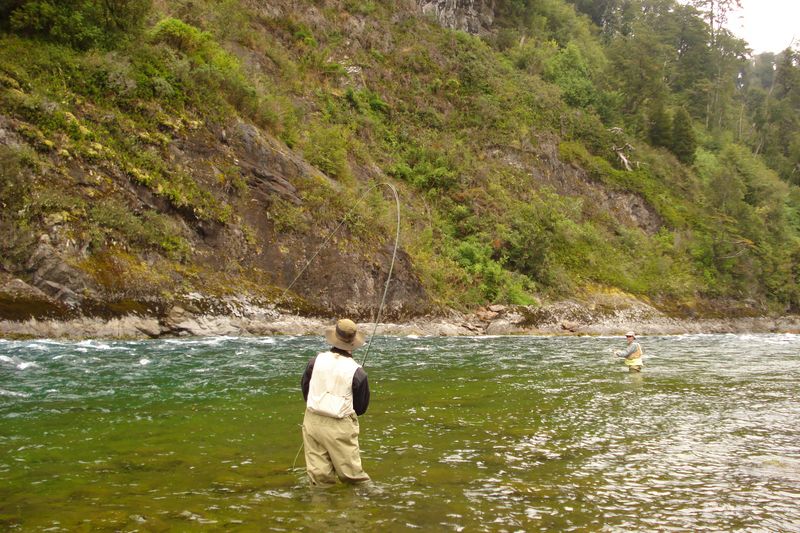 ---
In another location more trout were caught, and Brendan seized the moment by landing almost all that were hooked.
---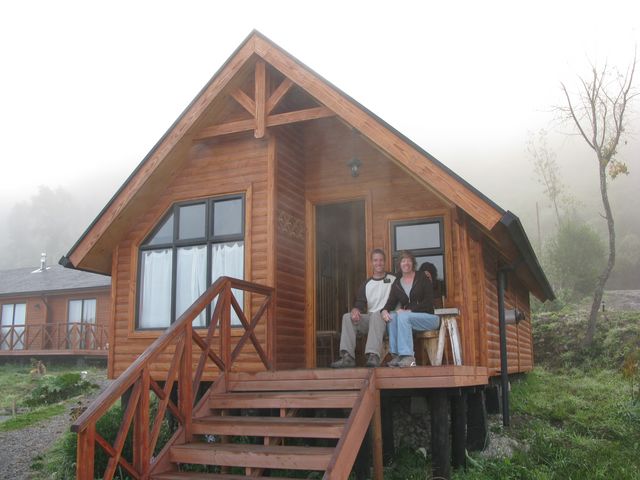 ---
This is our cabin we offer on the banks of the Rio Maullin, every night trout rise like clock work right out in front. It's a real charmer for those of you who like catching trout on dries and enjoy views that are nice on the eyes.
---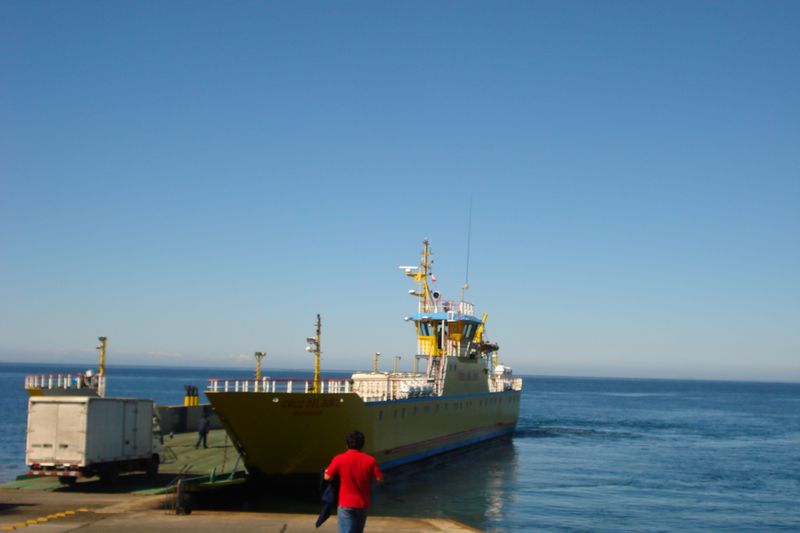 ---
Lets catch the ferry barge across to the Isle de Chiloe!
Is that Mr. Bo jangles I see…?
Mr. Bo jangles > http://www.youtube.com/watch?v=TkUxW-nnvKA
---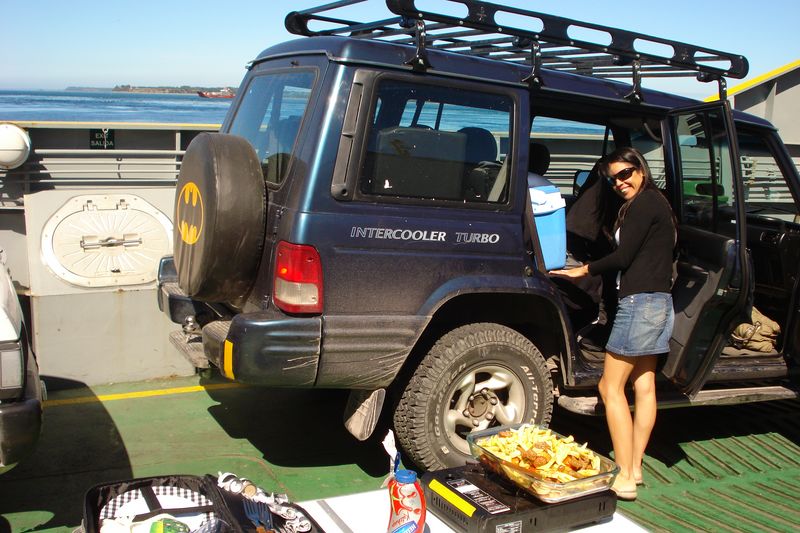 ---
The trick on the barge is you only have 35 minutes to prepare lunch, eat, and put everything away. On this day, everything was packed into one guide day, we needed to eat on the run, as one would say…
So we before-hand prepared this typical Chilean dish called Pichangas.
(Chile modismo/ slang-word meaning: HEART STOPPER)
It is made with french fries, 3 different types of sausages, and cheese.
Everyone loved it and we ate up as the vessel made its way across the small canal that separated the main island of Chile from the 300 so odd miles of the Isle de Chiloe. A marvelous place I've been to over and over and now share with our tourist folks visiting Chile and
don't necessarily want to fish every day.
---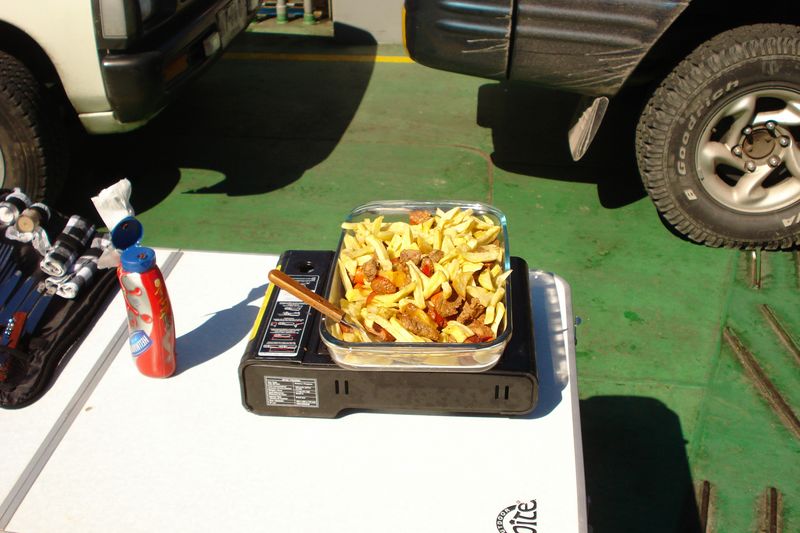 ---
Yummy!! Don't forget the ketchup man!
---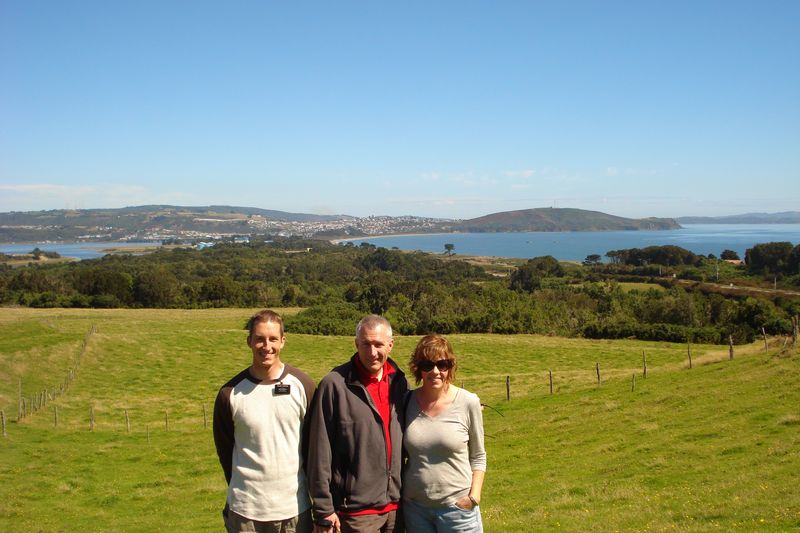 ---
Once over on the Island, the trip becomes magical as the island is unique in so many ways and unbelievable scenic beauty is in every direction. Yea you could say I would highly recommend visiting the Isle de Chiloe when coming to Southern Chile.
---
---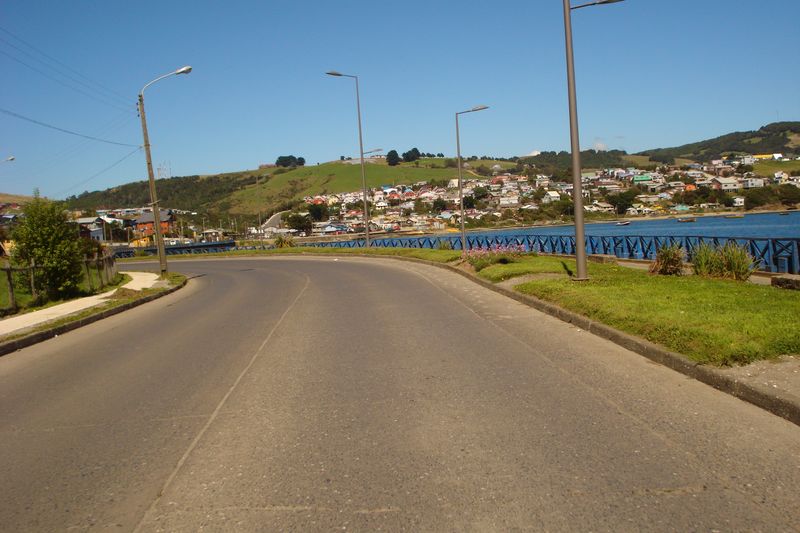 ---
The towns are fantastic, everyone is really into painting their houses in wild colors as to stand out and be proud that one is from the Isle de Chiloe. Houses painted in purple with green trim, or bright pink and trimmed in blue. It's a colorful place with a pride that extends back as far the 1500's when the first Spanish Conquistadors landed here and were fought off with that same kind of pride found painted on the exteriors of these native style homes found dotting the coastline and rolling green hills throughout the island.
---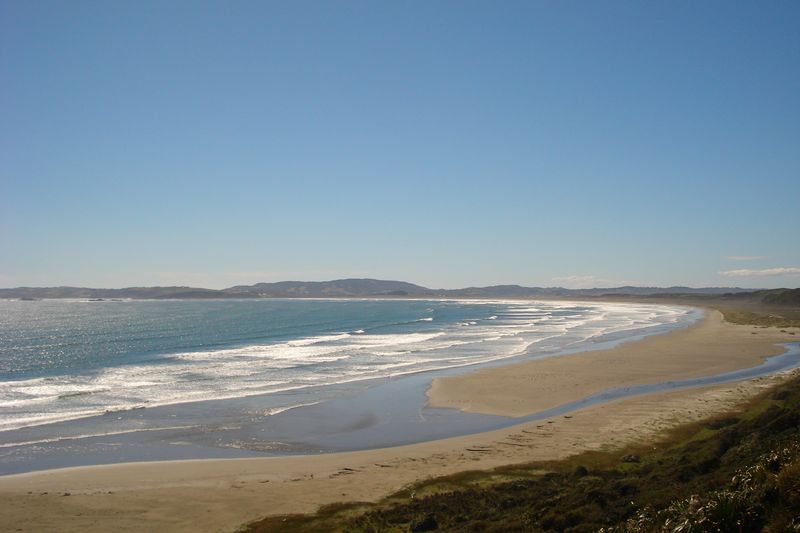 ---
Because life is so brief and time is a thief when you're undecided.
And like a fistful of sand, it can slip right through your hands.
Young hearts be free tonight!
Check out this same story at Destination Fish Magazine:
http://destinationfish.travel/articles/fish-tales/jack-trout-international-fly-fishing-guide-service.html
---
---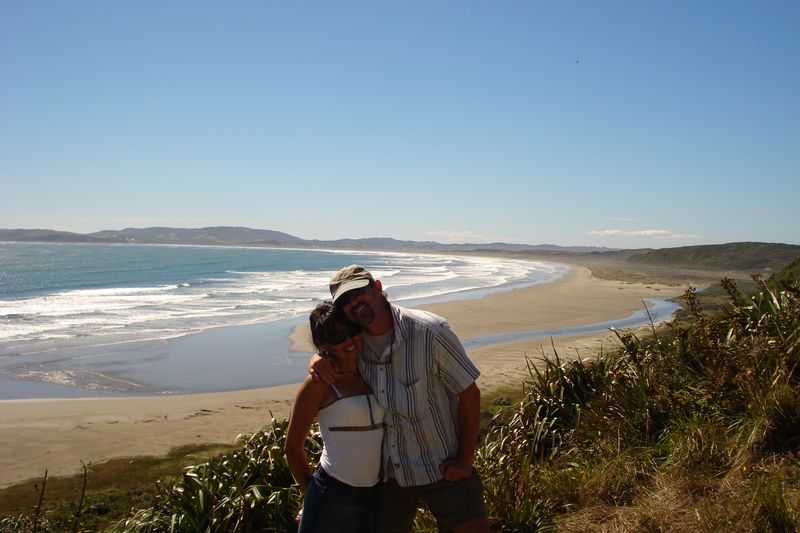 ---
What a romantic place to be with a loved one!
---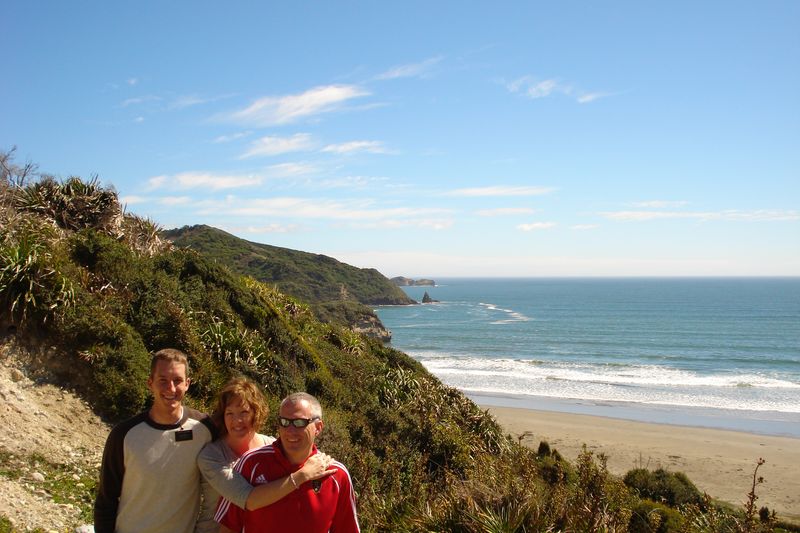 ---
The Ashton's loved it so much, they just kept commenting on what a wonderful day they were having!
---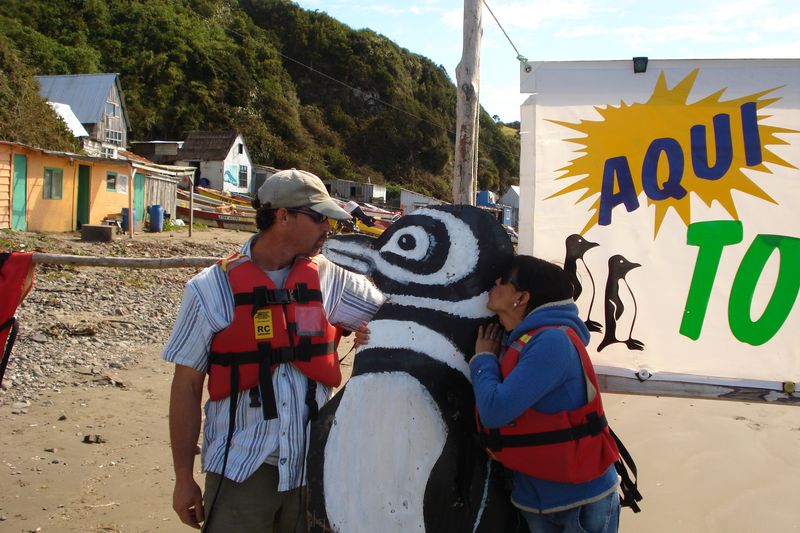 ---
Then we made it to the penguin beach and got to kiss a penguin!
---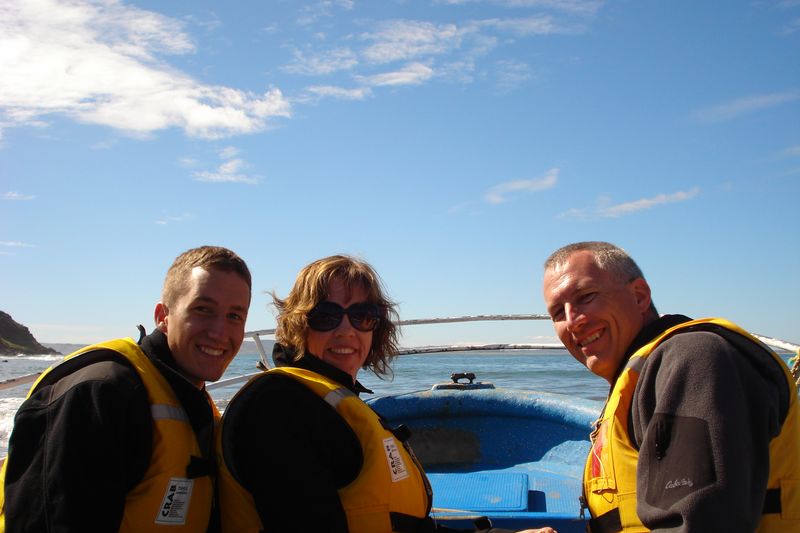 ---
Before long we were off on a small boat that would take us out to where the little penguin guys laid out and drank A&W Root beer by the gallons! That's why they walk around like they do and have a full belly, all full of A&W Root beer….
---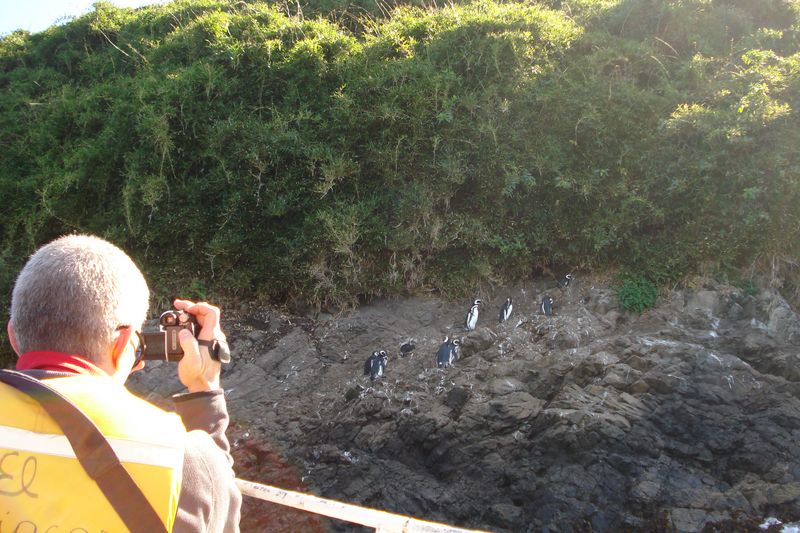 ---
There they were, some of the penguins from Antarctica and others were from Peru, up and down the southern coastline for their root beer floats.
---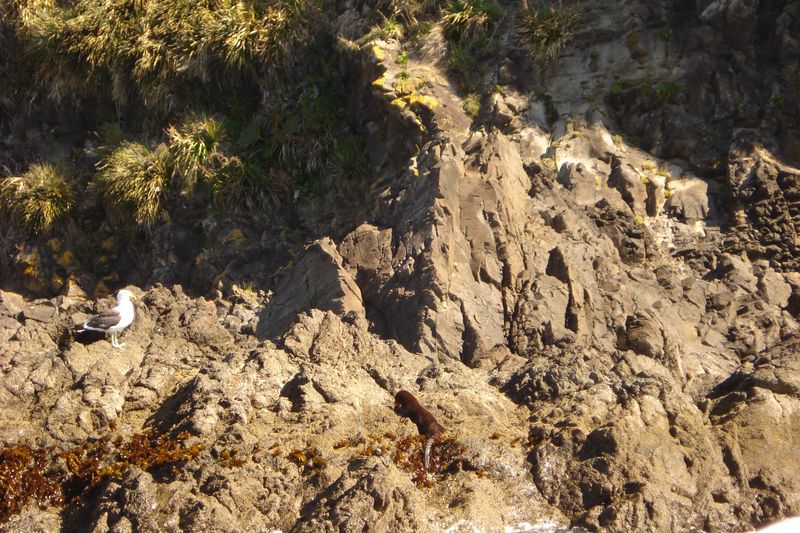 ---
A sea-otter eating a delicious crab sprawled out on a rock…
---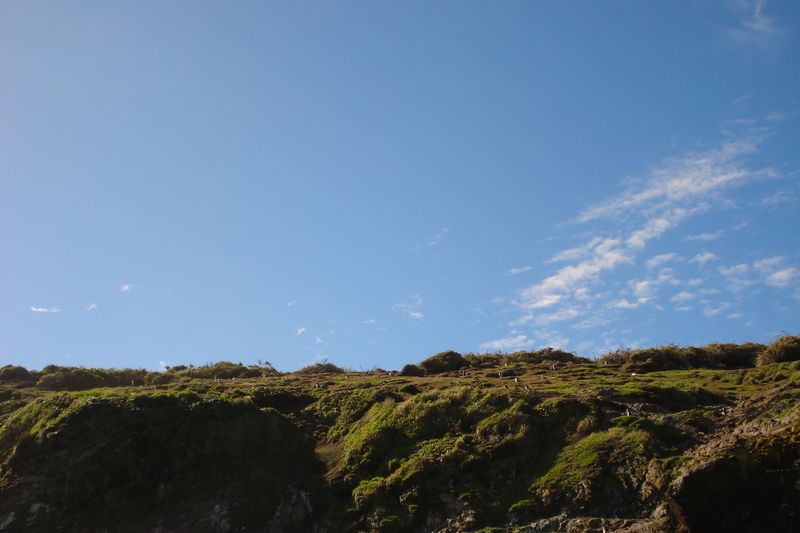 ---
What a Wonderful World – Louis Armstrong

---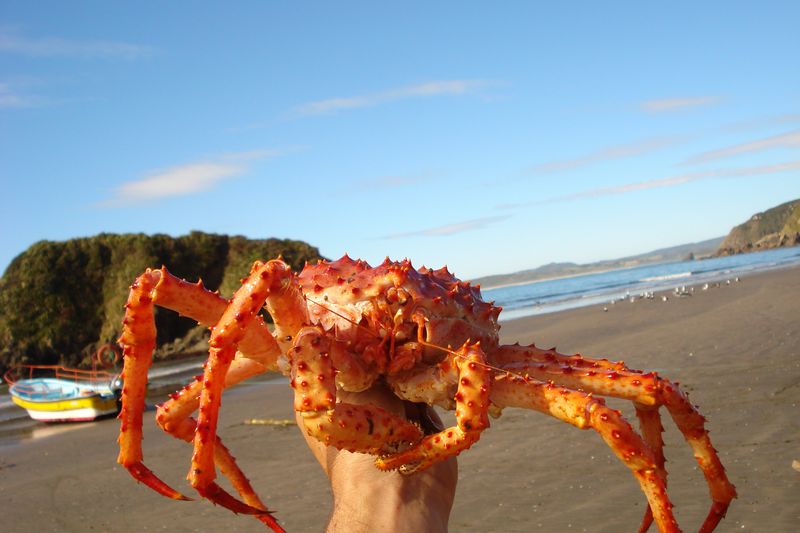 ---
Then when we got back a small boat of fishermen had caught all these king crabs and were selling them on the beach!
---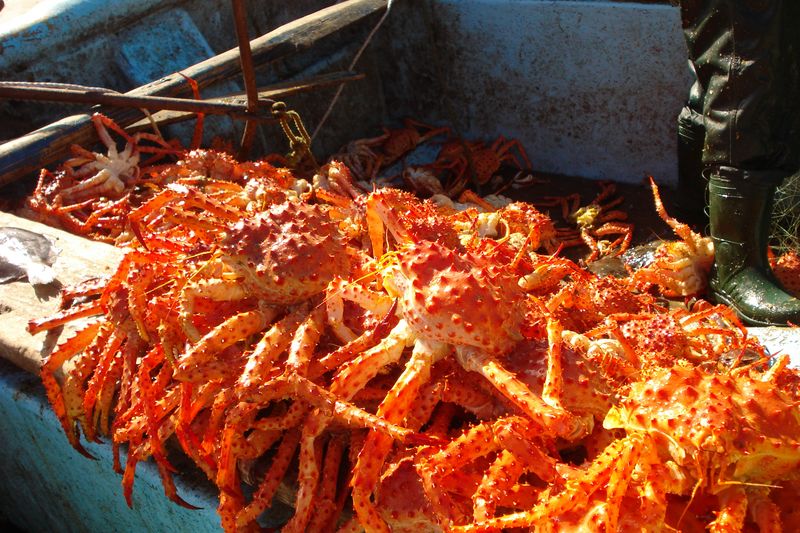 ---
I bought a cooler full of king crab for around $15 USD, enough to eat king crab every night for 3 nights straight. It was a so delicious and rich!! I think I could eat king crab almost any night of my life and boy were they so good. All we did is just boil them, they had a natural butter flavor and a lot of meat in each leg.
---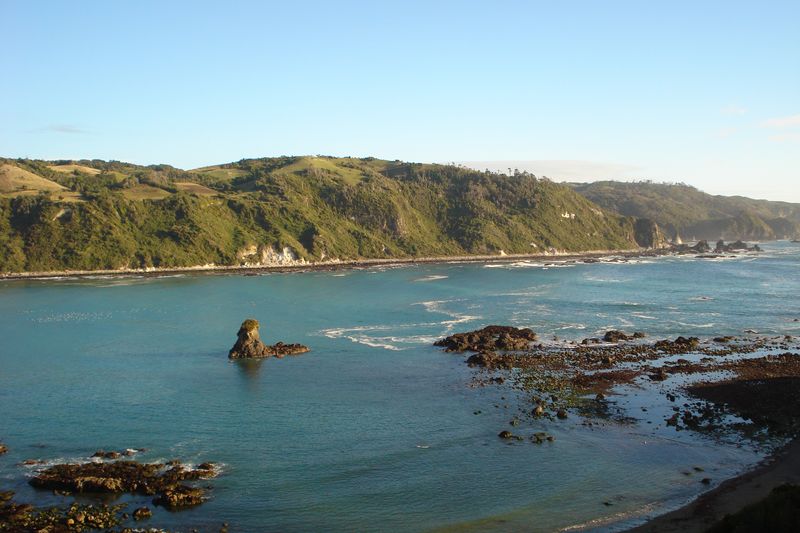 ---
The views never stop! The island is mysterious and mystic, green and rolling. Accessible and small, yet so many areas seemed to feel newly discovered because of the lack of other tourist at places that seemed to be so special and unique in the world. jt
---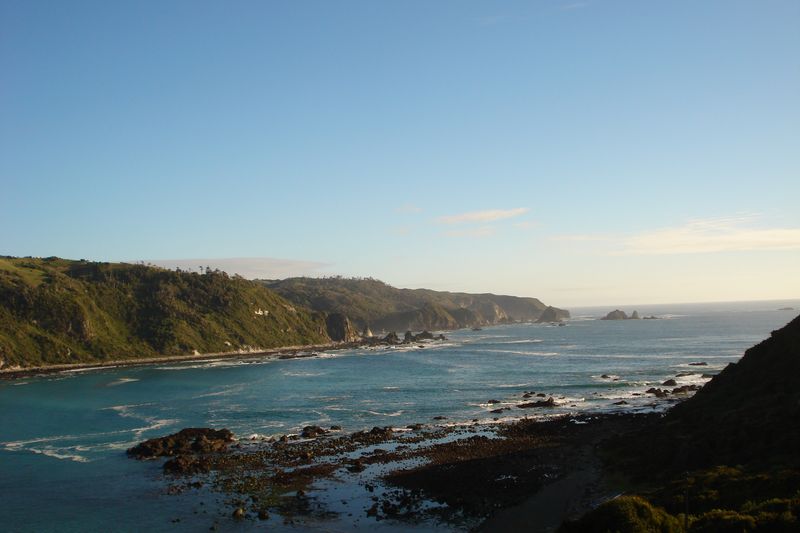 ---
Crimson and clover, over and over…
---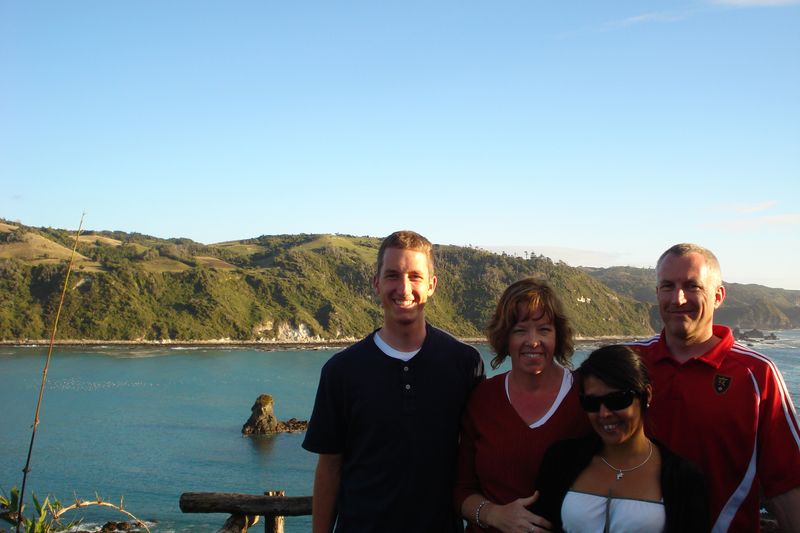 ---
---
Jack,
Thank you so much for the excellent trip we had in the South of Chile.
It was apparent from the first phone call that we were in good hands.
Your subsequent emails and phone calls helped removed some of the mystery regarding fly fishing in Chile.
You and Carola are excellent hosts. We appreciated your genuine concern for us and how you went out of your way to help us with every detail of
our trip. I especially appreciated you recognizing the needs of my
"non-fishing" spouse, and arranging for Carola to help her with a shopping day in Puerto Montt. Our guided adventure into the island of Chiloe was amazing. I only wished we had more time to continue to explore that beautiful place you are fortunate to call your part time home.
Thanks for everything.
If you have some pics of our time you could forward, that would be great. (I need proof of the steelhead for my jealous fishing buddies).
Cort
Cortlund Ashton
Vice President
Cottonwood Title Insurance Agency, Inc.
1996 East 6400 South, Suite 120
Salt Lake City, UT 84121
---
---
2009 PRIVATE UPPER SACRAMENTO FLY FISHING – RAFTING TRIP!!
---
---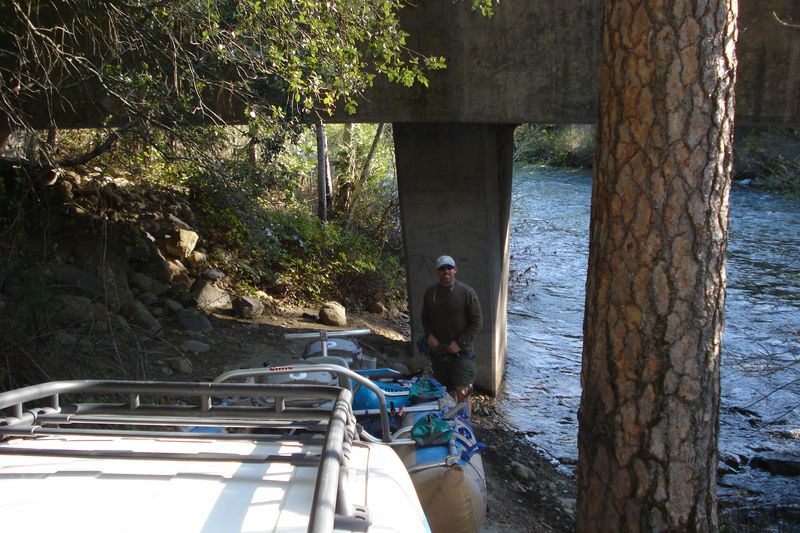 ---
Well we're back in Mt Shasta now and running the Upper Sac Fly Fishing – Raft Trip!! Hope to see you out here in the fly fishing water crafts.
---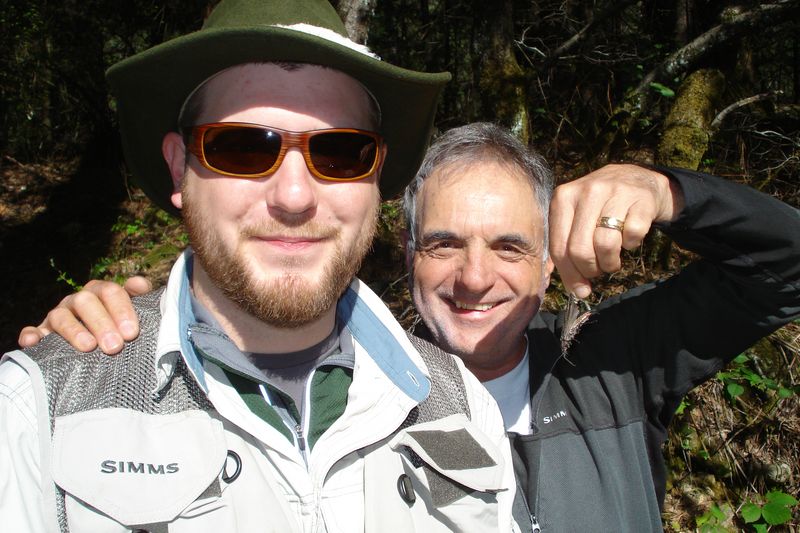 ---
Right off the bat we saw huge Stone Flies! Jerry and Kevin Moison were ready for a great day.It's always great when a father and son can get out and share a day to remember together.
---
---
We had two rafts that day and we headed down the Upper Sac whose waters flowed perfect that day.
---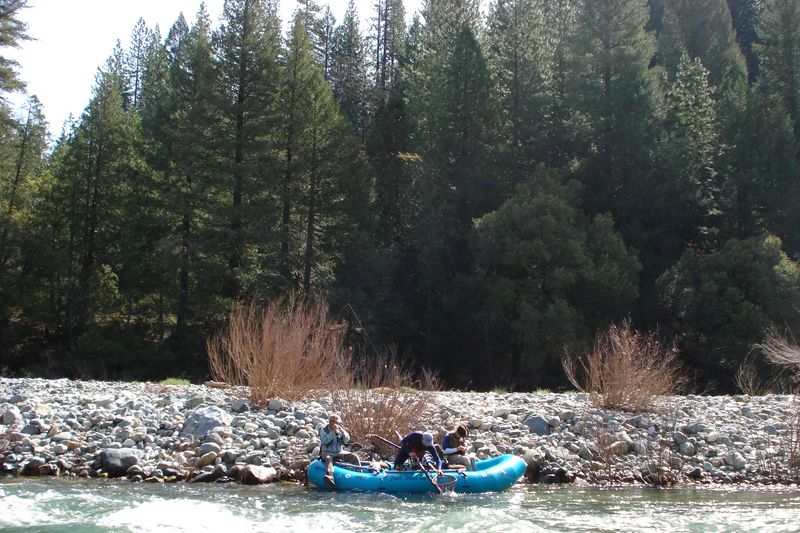 ---
The other boat hooked and landed a trout and all were happy.
---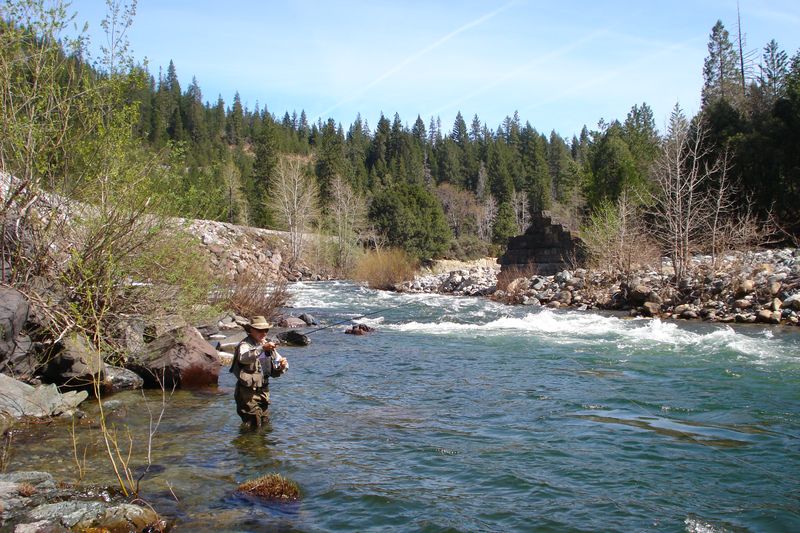 ---
Jerry got out and waded a little on this nice edge.
---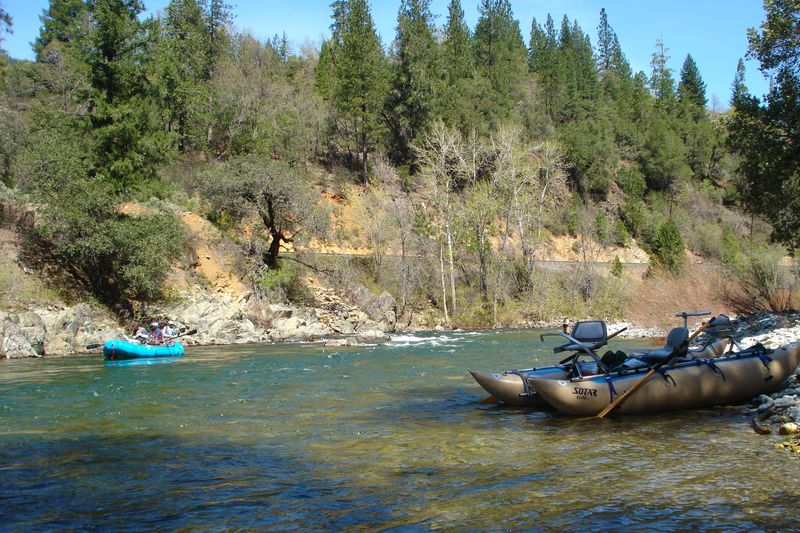 ---
We stopped down a little further down and waded some more but the fishing in the morning was kind of slow. Maybe because it was the first day of warm weather in a long time, the fish were waiting for the mid day sun and hatches to appear.
---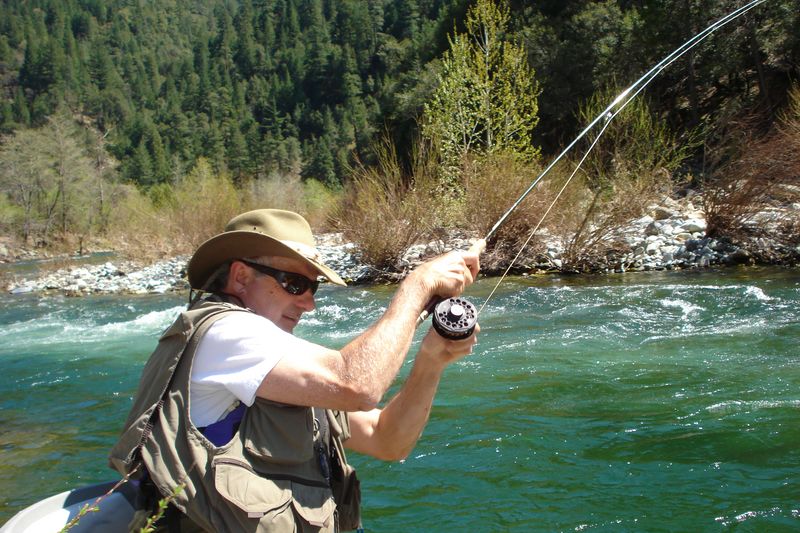 ---
Sure enough as it warmed up the hatches appeared and the fish were more active.
---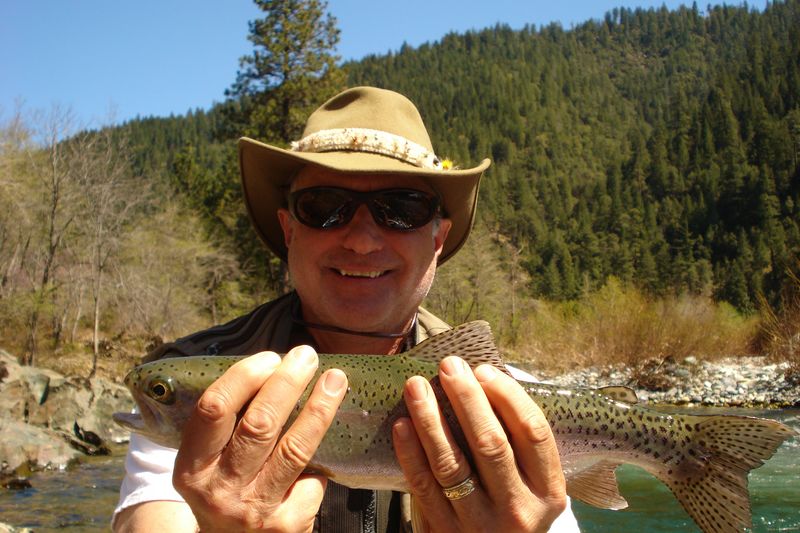 ---
Jerry Moison with his first Upper Sac hook-up of the season.
---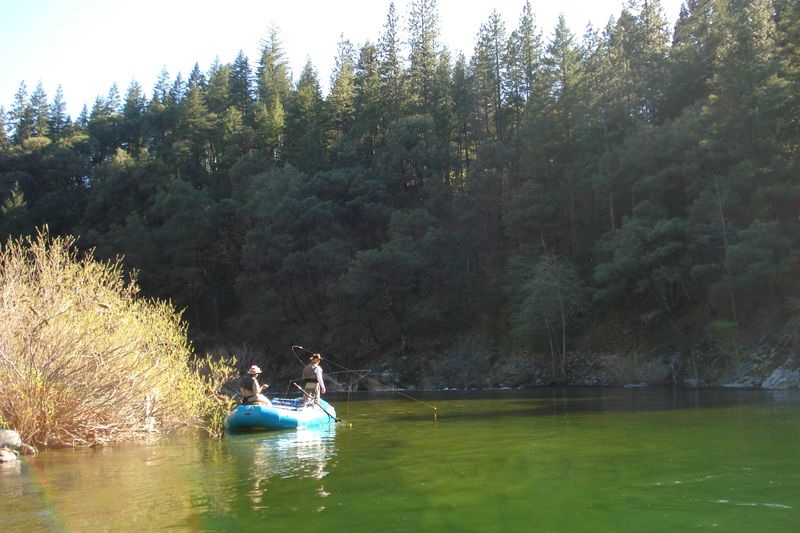 ---
The boat with Stan Poitras and John hooked up soon after…
---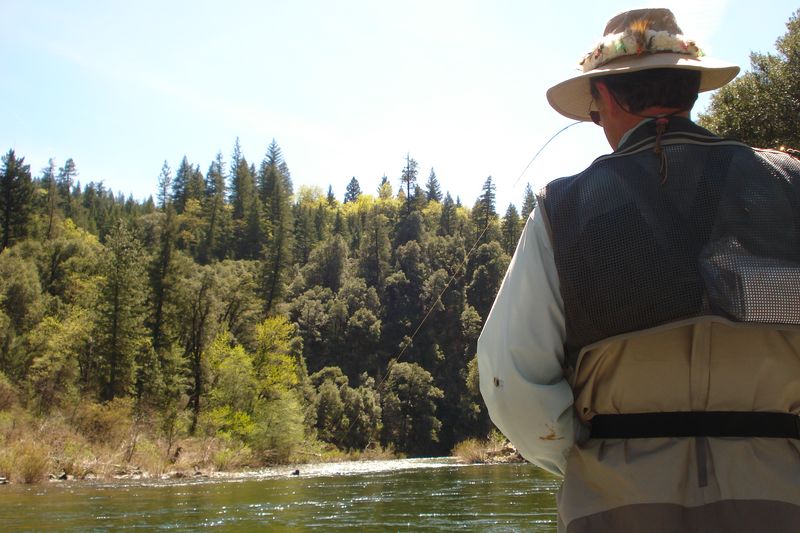 ---
Stanley hook a trout using a huge salmon fly on the surface and managed to land this fine trout!
---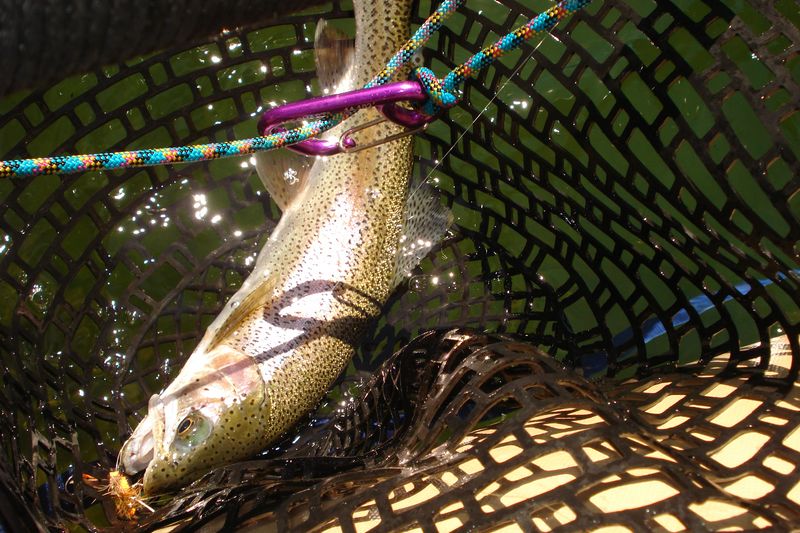 ---
Nice indeedy! The big dry fly right in the yapper..
---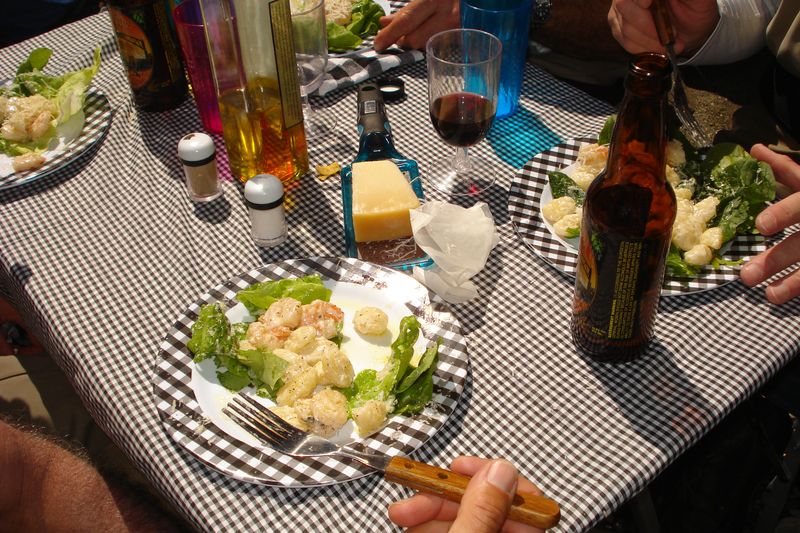 ---
Lunch was served! A wonderful meal if I don't say so myself. Gnocchi served with shrimp in a pesto – alfredo sauce on top of butter lettuce and fresh parmesan cheese. Clients thought it was awesome.
---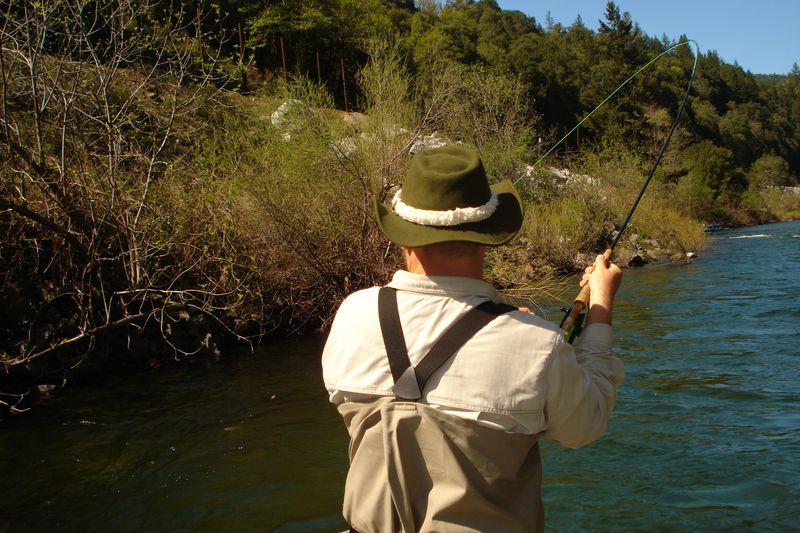 ---
After that it was Kevin's turn to hook a beauty!
---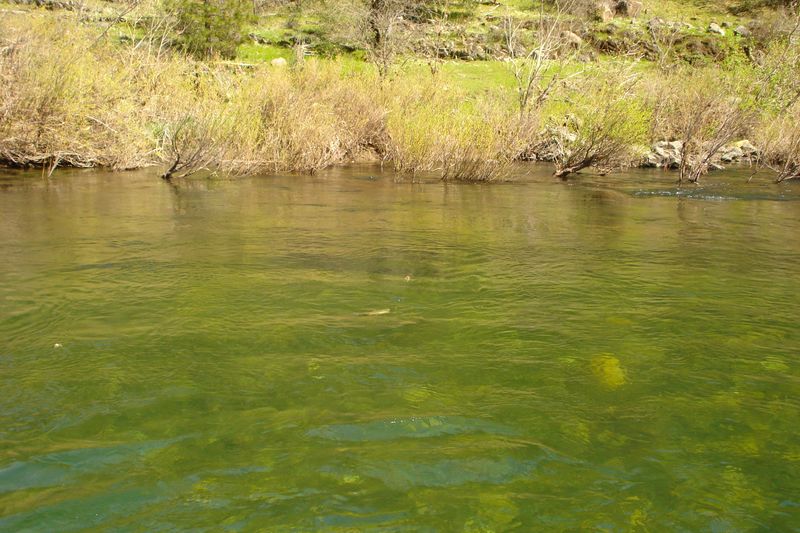 ---
There it was, out floating on near the surface as Kevin made a reel turn, it ran again!!
---
---
A nice Upper Sacramento River Trout, guided by Jack Trout Guide Service. Maybe we can find one of these for you!
---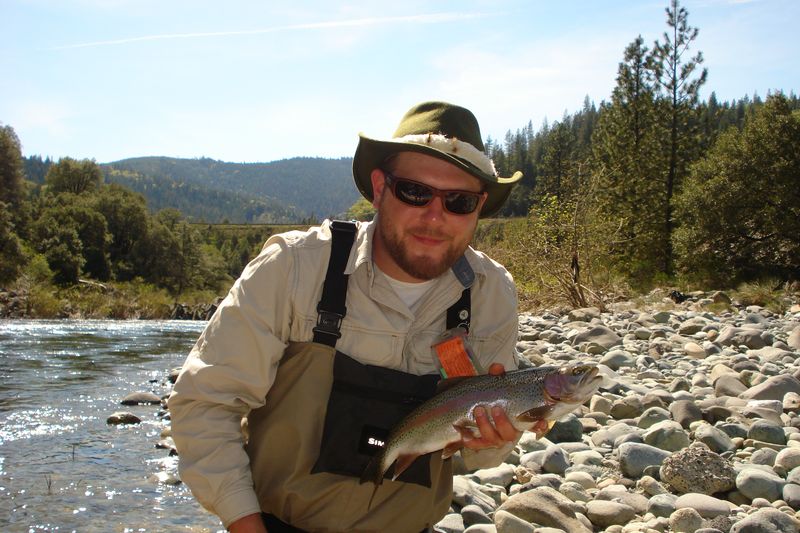 ---
Kevin Sizzler, way to go! Look at that fine red line, like racing colors…
---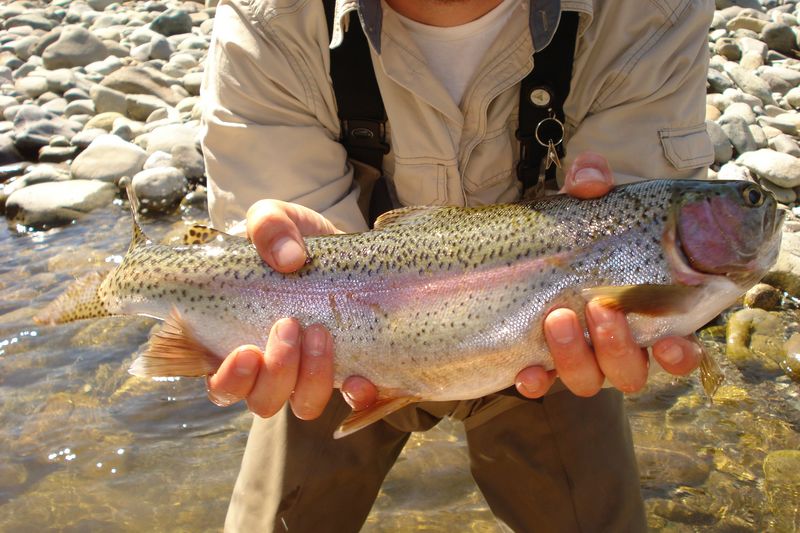 ---
Now that's what I'm talking about! Another great season on the Upper Sac out in my rafts, maybe it's you my friend… I hope to see you out here!
Many Rivers to You, Jack & Carola Trout
(530) 926-4540
---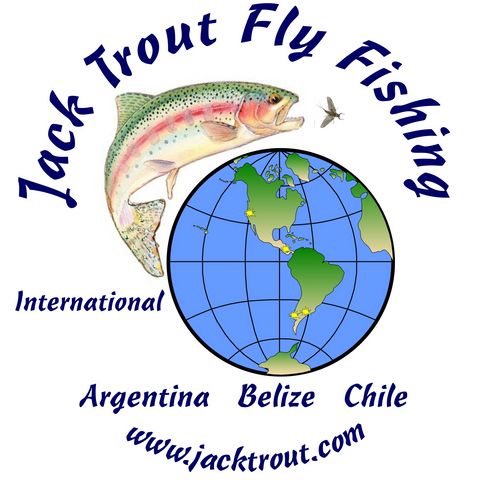 ---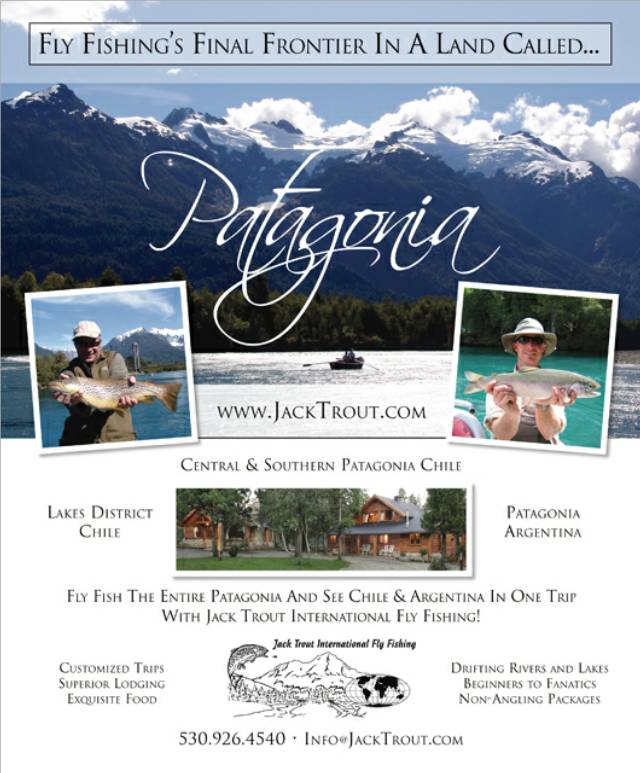 ---
EMAILS FROM YOU:
Hi Jack:
Thanks for your phone message we just got back to Lake Almanor.
Madeleine and I would like to fish with you in May.
We are looking at May 6th 7th. or May 13th. 14 th. or a combination of those dates. Maybe two days in a row if u can put up with us?
Please advise what works for you best.
Many Thanks
George Protsman
---
Jack there is 2 of us on the 23rd and 3 on the 24th, if i wanted to do 4 on fri id there another boat available?
Chris Clark
---
Jack˘
Dave Fuette and I would like to do a one-day float with you on Saturday, June 6th. Please confirm and I will send a deposit. What is the amount? Thanks. Looking forward to it!
Jim Collins
---
Hi Jack. Got your phone message also. Would like to book Tue, May 19, one day, one raft, for my wife and myself. We both have all the gear we need. Looking forward to it.
Curt Ries
---
Hi jack
Can i just go to San Martin de los Andes? This sounds like what im looking for. Just talked to someone and they said its better fishing in that area of Argentina. Do flights go there?
Let me know
Jim Kiefer
---
I am leaving for BA and then to Chile this week. Fly out of Sac April
9th fly back into BA from Bariloche , April 21. I love your pictures
from down there. I cannot wait to hook up on some big browns. We are
not sure as to what our itineraries are but was wondering on hooking up for a cheap trip.
John Miller
---
Jackson,
I,m seeing a warmer window of 70+ April 21, 22. I'll watch for a couple of days. Hope you two have a pleasant Easter.
Best, Jim
---
My wife and I are celebrating our 30th wedding anniversary and arriving in Belize 3/26 on Carnival Legend …………….. Belize time 6am to 3pm and would like to know if it is available and what the cost would be for the two of us to take a 1/2 day fishing trip with you for Tarpon.
Keith
---
Hi Jack,
We will for sure book two boats, arriving on Friday the 17th around dinner time, fish Saturday and Sunday, let me know what you need from me and consider it a done deal.
Stan Poitras
---
Hi Jack. Boy, where did that year go? I have a partner and we are
ready! Tell me when the prime days are expected and we will nail
down a date.
Best regards, Warren Heiman
---
Payment sought for Shasta lands
The Sacramento Bee ˙ã 4/20/09
By Cathy Locke
Dancers in native dress filed into a small amphitheater and circled a ceremonial fire, shells and beads jingling out a gentle rhythm as they walked.
The Sunday evening ceremonies at Sacramento's Camp Pollock near the American River opened what the Redding-based Winnemem Wintu Indians billed as a H'up Chonas, or war dance.
But spiritual leader Caleen Sisk-Franco said the intent was to enlist the Creator's help before petitioning the federal government for redress of grievances dating from 1941 congressional action authorizing the acquisition of tribal lands for the construction of Shasta Dam.
Members of the tribe and their supporters will walk from Old Sacramento to the state Capitol at 10 a.m. today to formally announce the filing of a lawsuit in federal court.
Mark Franco, Sisk-Franco's husband and the tribe's head man, said the suit calls on the federal government to fulfill its obligation to replace tribal lands flooded when the dam was built and to provide funds to rebuild the infrastructure.
"There just comes a time when you can't lose any more of your things," he said.
When legislation for Shasta Dam was approved by Congress, it contained a promise to acquire property for the Winnemem to replace the 4,480 acres of tribal and allotment lands that would be flooded.
That promise has not been kept, Mark Franco said, and the government continues to appropriate areas that the tribe considers sacred. The tribe's permit to gather wood from a manzanita grove for ceremonial fires has been rescinded and the grove turned into a campground, he said.
In addition, he said, the Bureau of Land Management has refused to allow continued use of a tribal cemetery.
"So when we bury someone, we are in danger of being arrested," Franco said.
The lawsuit names several federal agencies, including the Department of the Interior, Department of Agriculture, Bureau of Reclamation, Bureau of Indian Affairs, Bureau of Land Management and the U.S. Forest Service.
About 70 members of the tribe and their supporters participated in Sunday's ceremony.
Wounded Knee De Ocampo of Vallejo said he came to support the Winnemem in their bid to protect sacred sites, adding that tribes statewide continue to suffer desecration of their lands at the hands of developers and bureaucrats.
He also backs the tribe's efforts to block plans to raise Shasta Dam, which he said would endanger salmon fisheries.
In 2005, the Winnemem Wintu tribe joined environmental groups in a lawsuit alleging that plans to change the operation of California reservoirs could harm Delta fish and migrating salmon.
In April 2008, Judge Oliver Wanger of Fresno found that the U.S. Bureau of Reclamation and National Marine Fisheries Service had ignored their own evidence that fish would be harmed as they looked to increase water exports from the Sacramento-San Joaquin Delta.
Wanger ruled that the agencies violated the Endangered Species Act in approving rules to guide these new operations, called a biological opinion.
The judge ordered the opinion rewritten.
Barry Nelson, senior policy analyst with the Natural Resources Defense Council, which partnered with the tribe in the 2005 lawsuit, said the revised opinion is to be released in a couple of months.
Nelson said he gained considerable respect for the Winnemem through the earlier legal actions and was on hand Sunday to support them in their latest quest.
---
Hi Jack, I'll say welcome home and hope you made it back to Mt. Shasta safe and healthy. Todd and I are looking forward to hitting the water with you next weekend. Looks like the weather is not going to be the best, but that's what rain gear is for. Where do we meet and what time? What flies should I be tying? See you Saturday. Keep your tip up.
Mike Foster
---
Siiiiick!!
B REES
---
Jack, here are some photos we took, let me know if you get then, there are eight. Yes you are right about Robbie, what a delightful kid! We absolutely loved Hopkins, Belize except for the infiltration from the corporate south. I hope all the new fancy developments doesn't change the great local color, what nice people! I loved the way Lloyd docked the boat, just stand clear. It was an exciting trip out to Glovers, the big waves breaking over the bow, nobody had a dry spot on them, and Lloyd standing up hanging on to the motor throttle, Classic! It was a two hour trip, glad the motor was faithful! Saw flying fish and Dolphins, Eagle Rays and all the exotic fish. I would have liked to have gotten in a bit more fishing in but it was the overall experience that counted. Have you ever ate at the place across from Lloyds and got entertained by Rosie, what a hoot and great food.
Cheers, Glen & Jacquie
---
I am looking to book a trip the weekend of May 23-24 or May 30-31.
any openings.
It would be me, a dad with some experience and two quiet 11 year old
boys with no experience
Please call my cell
Steve Mitrovich
---
Happy Earth Day!!!!
This from Rafael…
If We Do Not Speak
If we do not speak to praise the Earth,
it is best we keep silent.
Praise air
that fills the bellow of the lung
& feeds our heart's blood;
that carries light,
the smell of flowers & the seas,
the songs of birds & the wind's howl;
that conspires with distance
to make the mountains blue.
Praise fire
that lights the day & warms the night,
cooks our food & gives motion to our wills;
that is the heart of Earth, this fragment of a star
that burns & purifies for good or ill.
Praise water
that makes the rivers & the seas;
that gives substance to the clouds and us;
that makes green the forests & the fields;
that swells the fruit & wombs our birth.
Praise earth
that is the ground, the mountain, & the stones;
that holds the forests & is the desert sand;
that builds our bones & salts the seas, the blood;
that is our home & place.
If we do not speak in praise of the Earth,
if we do not sing in celebration of life,
it is best we keep silence.
© Rafael Jesús González 2009
---
Jack √ I love checking out your latest adventures and pictures! Makes me jealous and anxious too. Cant wait for my next trip. Thanks again for the fun time I had √ cant believe its been almost 2 years now! Gotta get back up there with Jim. Hopefully see you soon!
Mike
Mike Metz ¦ Vice President, Sales ¦ BOWNE
---
I like using 2 nymphs and their sisters!!! JG
---
Jack,
let me know when you have grants pics.
we plan to be at shasta the 3rd and 4th week of july.
thanks
robert miller
---
Hi Jack,
We were fishing for two day, we cough many fish and We spent a great time here!
He has the pictures os then he will send. Actually the weather is terrible, we going to get some snow tonight.
Did you make the wire for the rest?
We keeping in touch.
thanks,
Alejandro,
Guia Argentina
---
I need to book something ! Call me.
Steven C. Weber
Transamerica
---
Hi Jack,
Welcome back, your bride is beautiful. We are coming up to Mt. Shasta the week of July 19th and would like your services one of those days. But this year we do not want to spend most of our time with you on the road to the Klamath and then catch one fish as we did last year.
Regards,
Bill Trautman
---