http://www.jacktrout.com/trinity.html*****
---
---
---
KLAMATH RIVER IS ON FIRE CALL FOR YOUR STEELHEAD TRIP!
---
---
*****OCTOBER DRY FLY FISHING ON THE McCLOUD, PIT AND UPPER SACRAMENTO RIVERS http://www.jacktrout.com/*****
---
---
PATAGONIA CHILE – ARGENTINA TRIPS START DECEMBER 1ST – SEE YOU DOWN THERE!! http://www.jacktrout.com/futa.html
---
---
BELIZE PACKAGES START AT $1950 PER PERSON 8 DAYS, 7 NIGHTS, 6 DAYS FISHING & TOURS. http://www.jacktrout.com/belize/belize.html
---
NESTLE WATER OPEN PUBLIC MEETING IN McCLOUD OCTOBER 22ND
McCloud High School Gym – 6 PM
---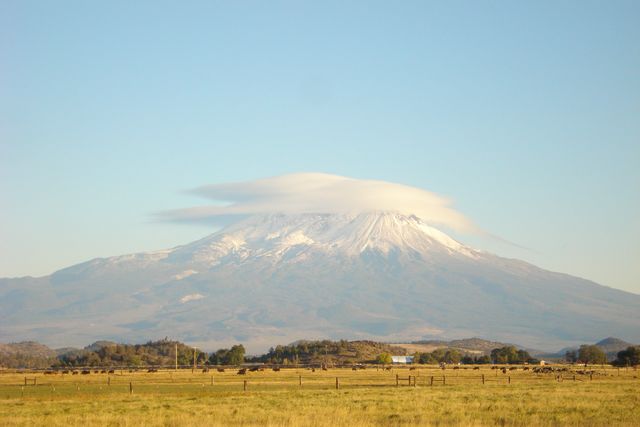 ---
Fantastic weather has been a fall high-light from Mt Shasta to the Klamath River, every day is spent in warm sun rays and views of leaves making their final turn as we head towards the inevitable
change of seasons and temps. The fly fishing on the Klamath River has been very productive this season with nice runs of steelhead, salmon and trout, all seemingly happy to see all of us.
(They are so happy a lot of them jump!)
---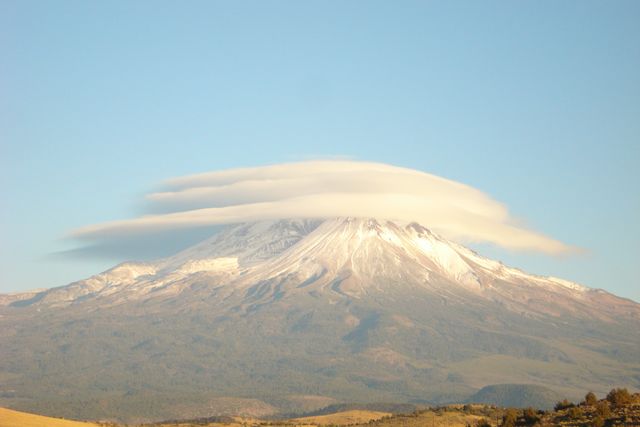 ---
Lenticulars forming as Mother Shasta mixes her fall weather brews
of alpine nectar with her century old recipes of the Pacific Northwest.
---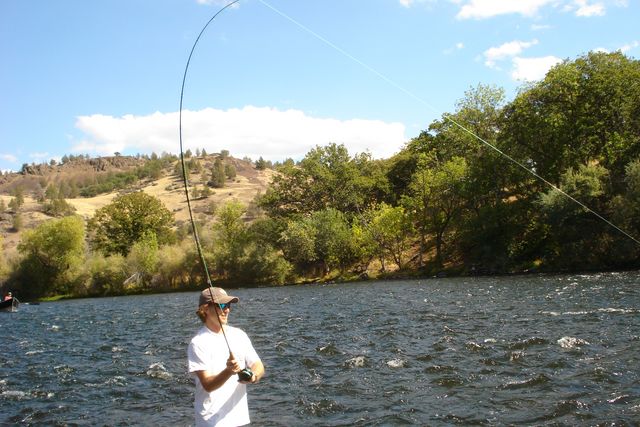 ---
Brandon ready for action!
---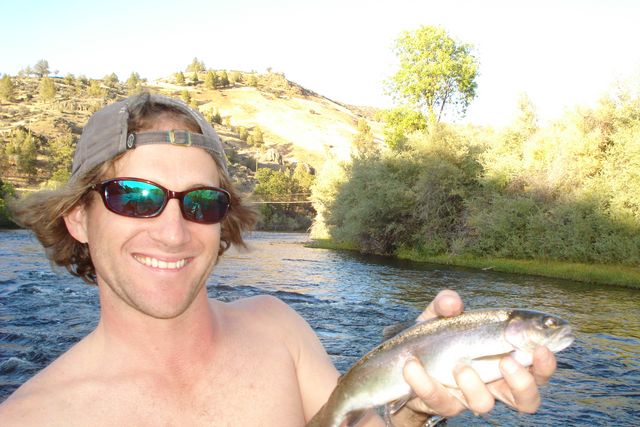 ---
One of his first times ever fishing fresh water for steelhead and trout.
(Young Sean Penn look a like).
---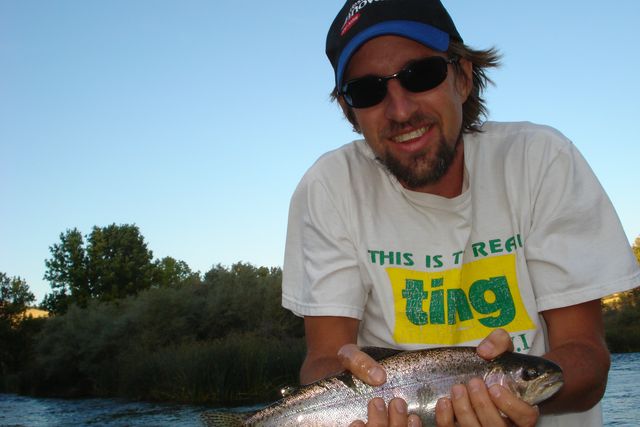 ---
Our friend Travis local vet, on his Klamath adventure! It is the real TING.
---
---
Shirts off getting ready for his trip next week with my guide Lloyd Nunez in Belize, Central America. Have a great trip Travis!! jt
---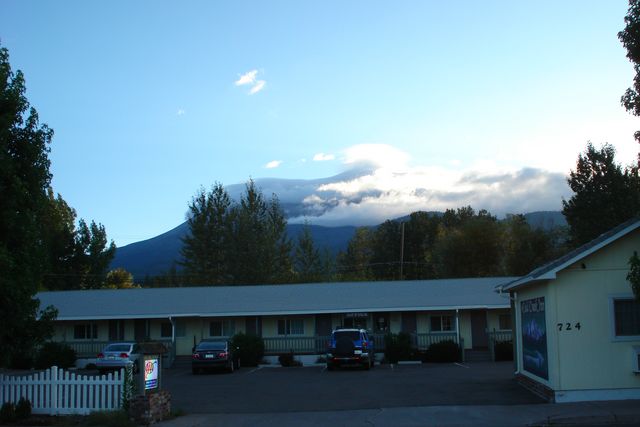 ---
The Cold Creek Inn is a great place to stay in Mt Shasta.
Cold Creek Inn & Suites is located at 724 N. Mt. Shasta Boulevard, in downtown Mt. Shasta City, and within walking distance of fine dining, unique downtown shopping, and only 20 minutes from the Mt. Shasta Board and Ski Park.
---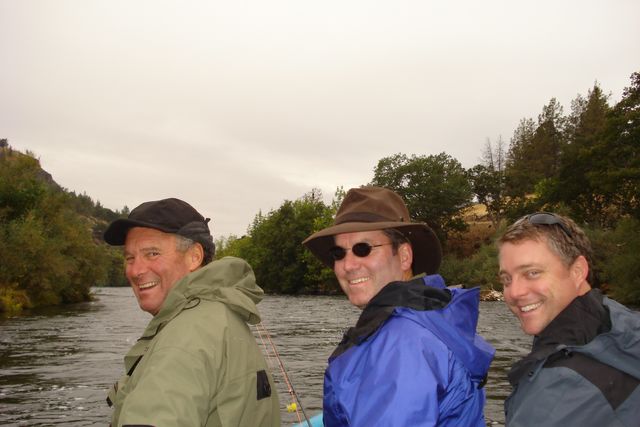 ---
Father Dan Benedtti, and his two son in laws- Steve and Brant.
Dan Benedetti set up a fly fishing trip as the last initiation into the Benedetti Families, "Circle of Family Trust?"
Don't be on the outside of the cirlcle of trust man….
Better learn to fly fish and at least catch one…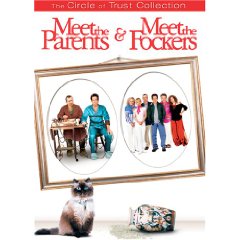 ---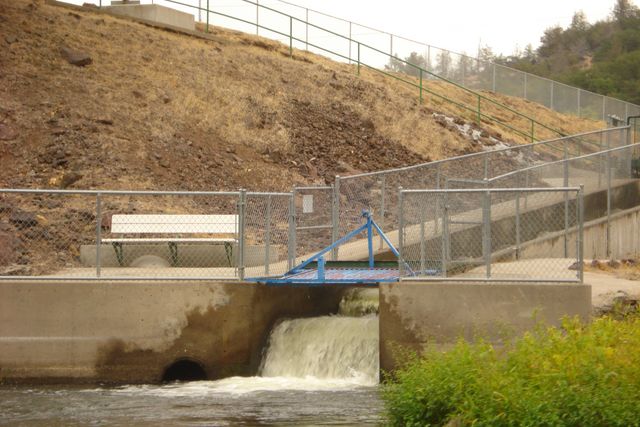 ---
The fish had just jumped up the fish ladder.
---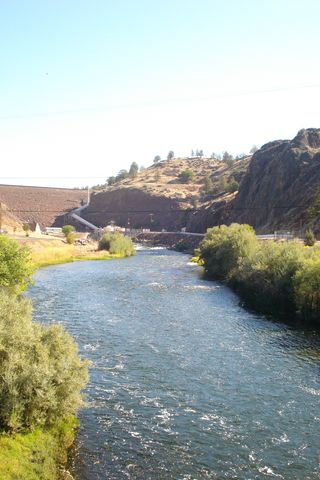 ---
THIS IS IRON GATE DAM – THERE ARE NO MORE EXCUSES – THE DAM NEEDS TO BE REMOVED –
I SAY TO WARREN BUFFETT & PACIFIC CORP – "TAKE DOWN THAT WALL!!"
JACK TROUT – KLAMATH RIVER GUIDE –
Oregon's Sandy River successfully reinvents itself after dam removal Scientists are impressed how fast the river is digesting Marmot Dam sediment
Wednesday, July 30, 2008 MICHAEL MILSTEIN
The Oregonian Staff
SANDY — As dams go, Marmot Dam on the Sandy River wasn't huge. But now that it's gone, its impact is turning out to be enormous.
The removal of the nearly 50-foot-high dam by Portland General Electric in October gave scientists perhaps their best chance to watch as a river digested a vast amount of rocks, sand and gravel collected over many decades in a reservoir.
Some had worried that sediment piled behind the dam would suffocate salmon and block tributaries downstream. It did nothing of the sort. In fact, the river has since digested the equivalent of about 150 Olympic-size swimming pools full of sediment — without a hiccup.
"Never has this much sediment been released at once into such an active and hungry river," said Gordon Grant, a research hydrologist with the U.S. Forest Service's Pacific Northwest Research Station. He has studied the dam removal and given presentations on the results at conferences from Sacramento to Venice, Italy.
He was just invited to give his Marmot Dam talk in China.
"There's a global interest right now in river restoration," Grant said. "Marmot is certainly one of the best-documented and most spectacular examples of dam removal in the sense that the river was allowed to process the material itself."
The river has so far removed about half the material backed up behind the dam. It's difficult to tell that a dam once blocked the popular salmon stream. The river shoves and piles gravel and cuts into the shore the way a healthy river should.
Scientists were especially impressed with how rapidly the river scoured the sediment away. Some models predicted the river would need two to five years to carry off half the sediment pile, but it did so in months.
Though some officials had worried that the sediment would linger and pose an obstacle to fish, federally protected coho salmon were swimming upriver the day after the dam crumbled. Salmon spawned in the river as they always have.
"This was a grand experiment that came out just like people hoped it would," said John Esler, project manager in PGE's hydropower licensing division.
---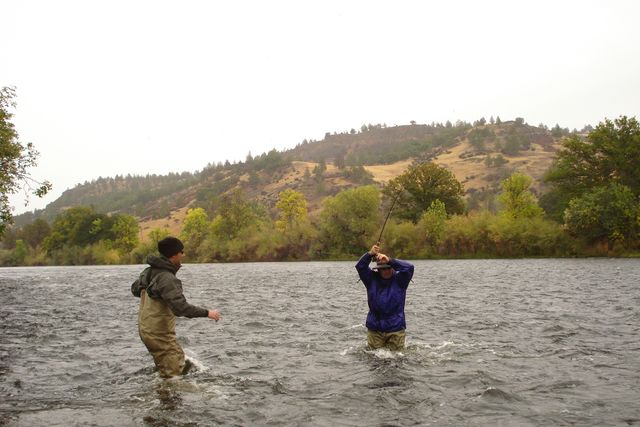 ---
Steve fish on brother!! Big boy too… Steve this helps keeps you inside the "circle of trust"
---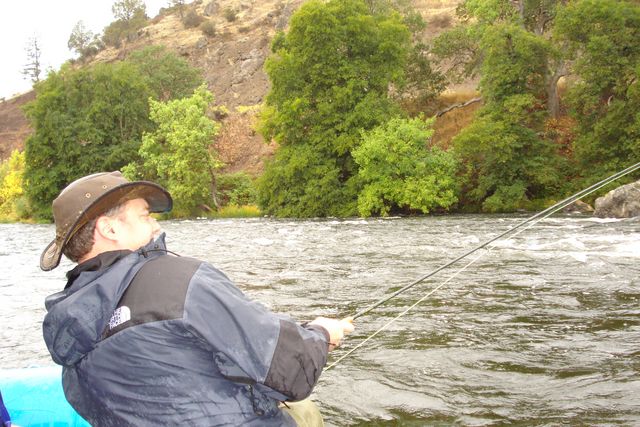 ---
Brant way to go, you hooked up right next to Dan, That also helps with the "circle of trust"
---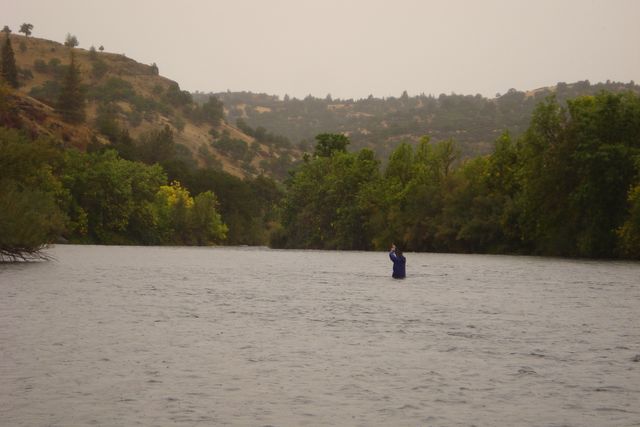 ---
Some where down there I hear a lot of hooting and yelpin!!
---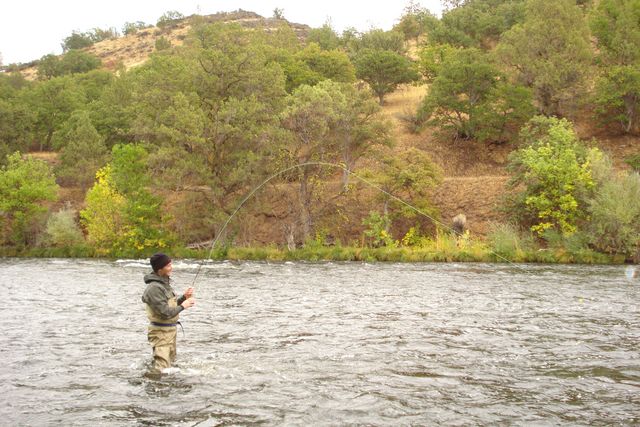 ---
The hook up – AHHH !!
---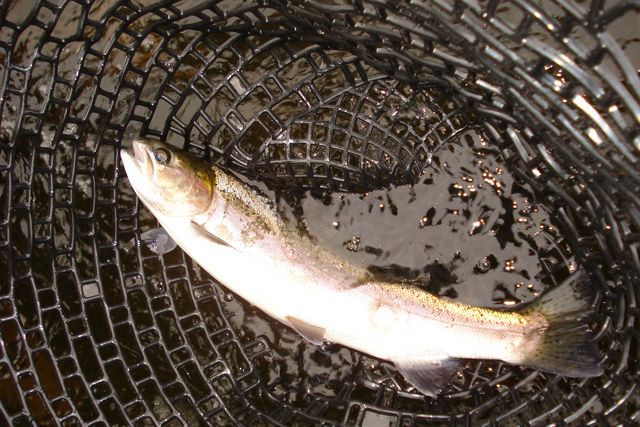 ---
Your net worth is what now?
---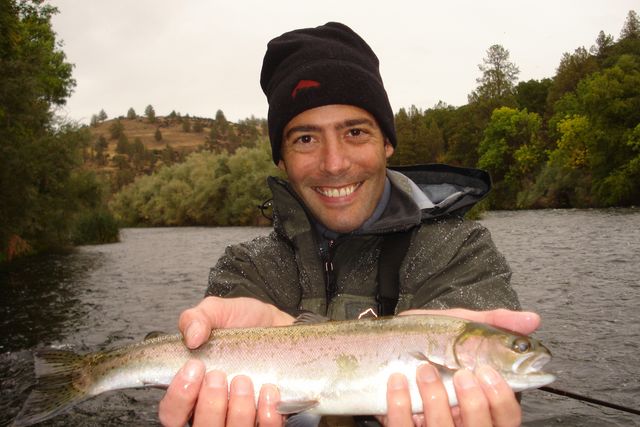 ---
Nice Marcus!! Thank you Benedetti Family and Clover Milk Farms
for coming and fishing with Jack Trout Guide Service!!
Clover Stornetta Farms installed solar panels at its fleet maintenance shop in Petaluma, CA, taking the "fleet maintenance shop to net zero metering from PG&E's grid". The solar energy also apparently emissions of 61,392 pounds of CO2/year. It's a 32 kW system.
Watch this great web site on why you should choose Clover Milk.
---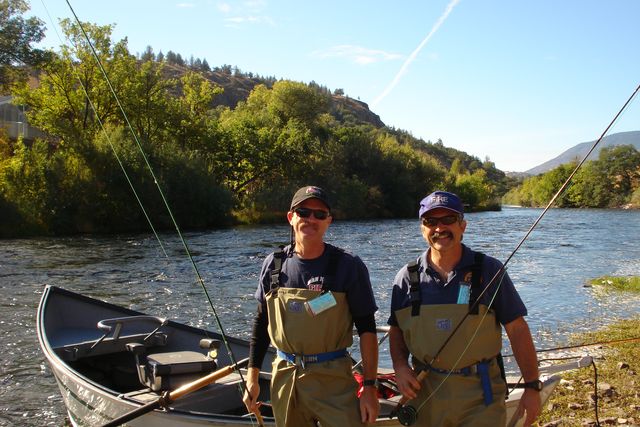 ---
Pat Titus and Steve Dias two great guys from Mt Shasta, who both work for USFS.
Pat's wife Julie bought him a gift certificate for fly fishing…
---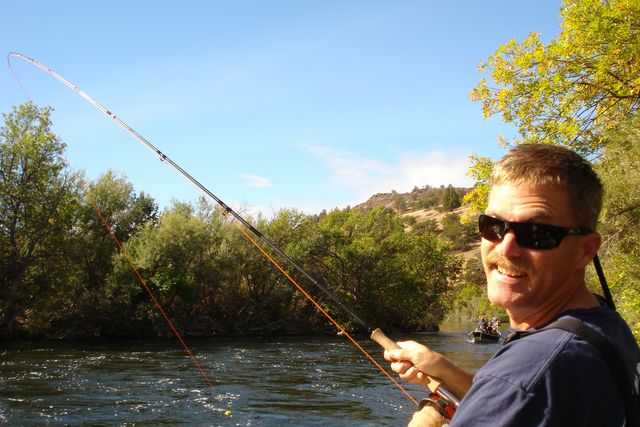 ---
Happy Camper Pat!
---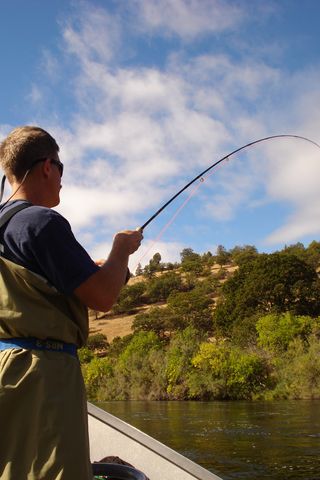 ---
For Pat, it's great to work so close to such a special river and come on out and catch a nice fish on his first drift.
---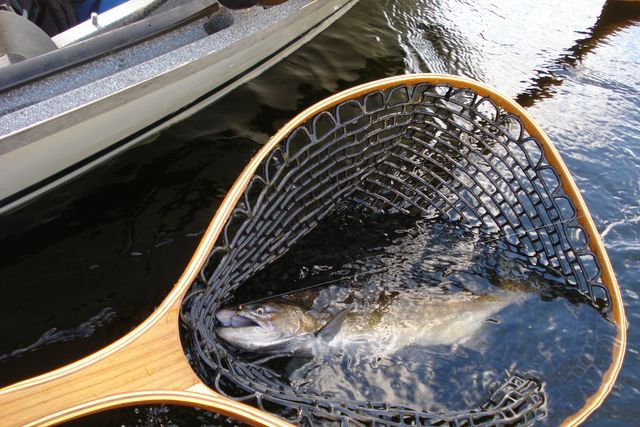 ---
Our Freak of Nature! Look at that eye Sizzlers, right out of Creature Features!
---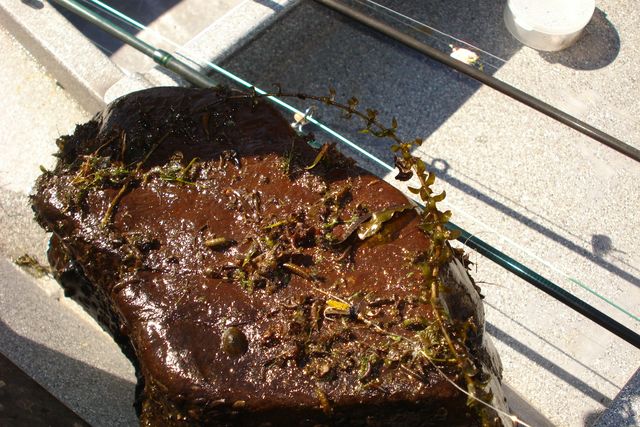 ---
Green Caddis Days at Macy's
---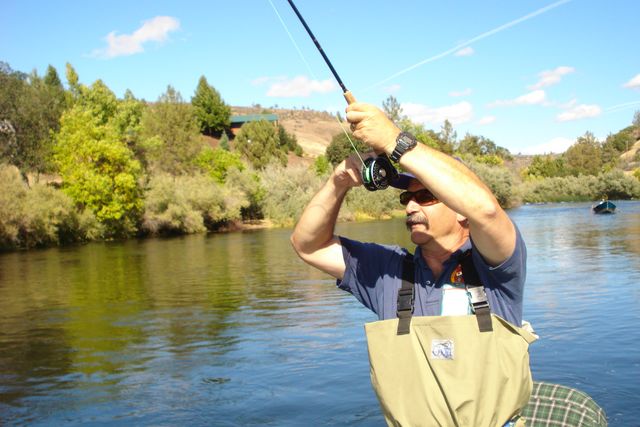 ---
Steve Dias ready for action. These two guys are the nicest and most deserving characters on the water that day…
---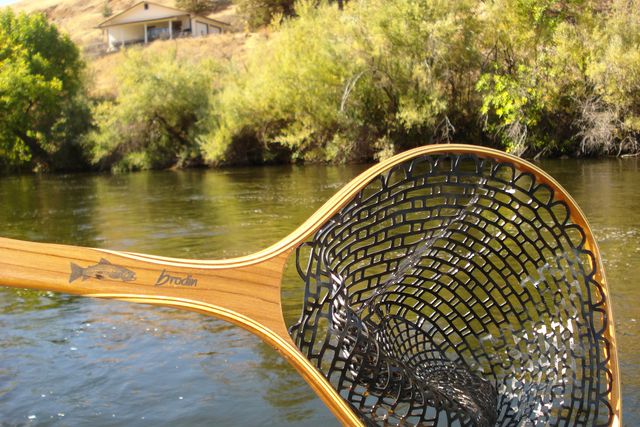 ---
Brodin Nets are best net are Earth! The rubber netting helps protect the fish and makes getting hooks out of the netting material a sinch.
Brodin is the way to go > http://www.brodin.com
---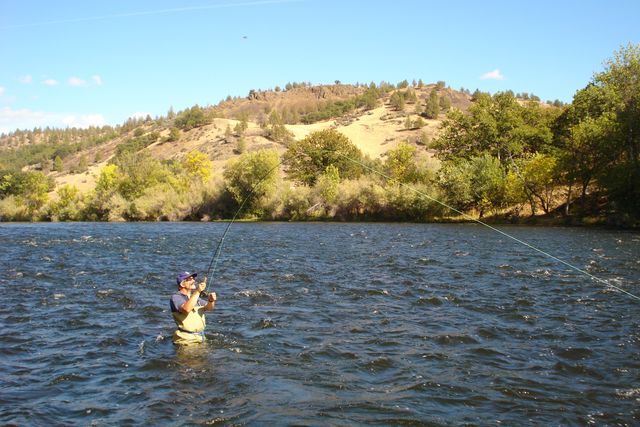 ---
Wading days are always a highlight.
---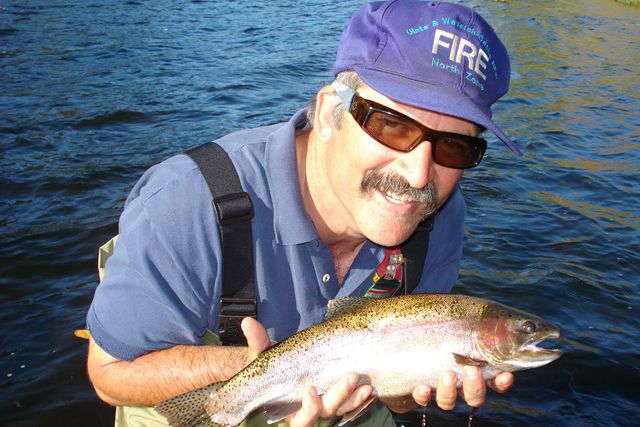 ---
Nice form Steve.
---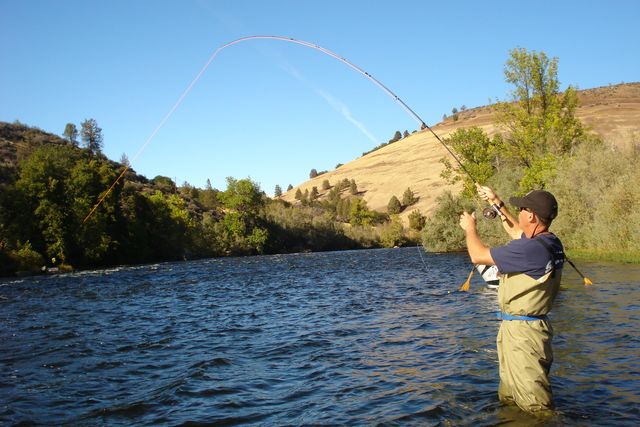 ---
Pat's turn…
---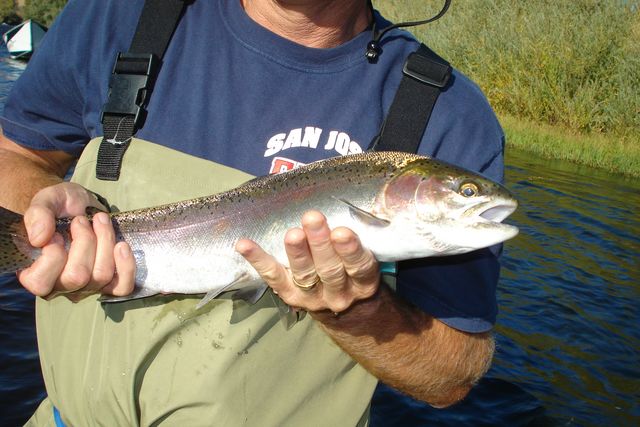 ---
Sweet as wine man.
Pat Titus – YOU'RE MY SIZZLER OF THE WEEK AWARD WINNER!!!
CONGRATULATIONS SIZZLER!! JACK TROUT
---
---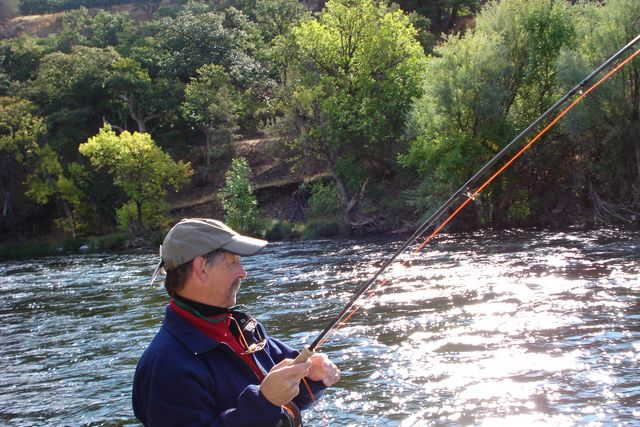 ---
Raymond, it's time to fish!!
---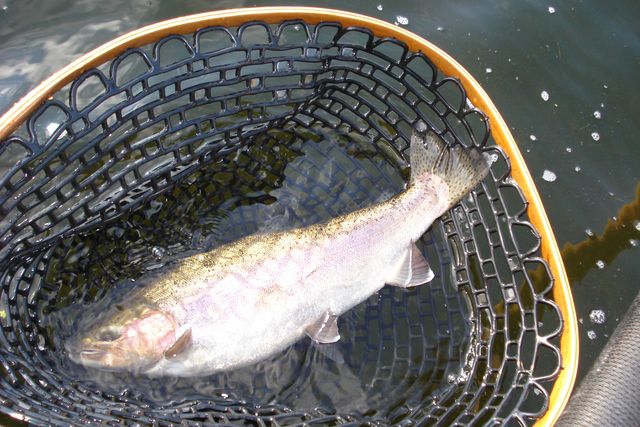 ---
This is the kind of obesity that John McCann was talking about. This steelhead needs to be placed on a diet and should be ashamed of itself…..
---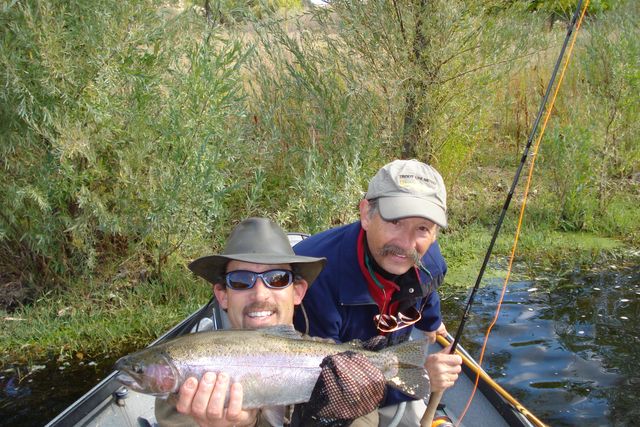 ---
What a fun day in the sun!
---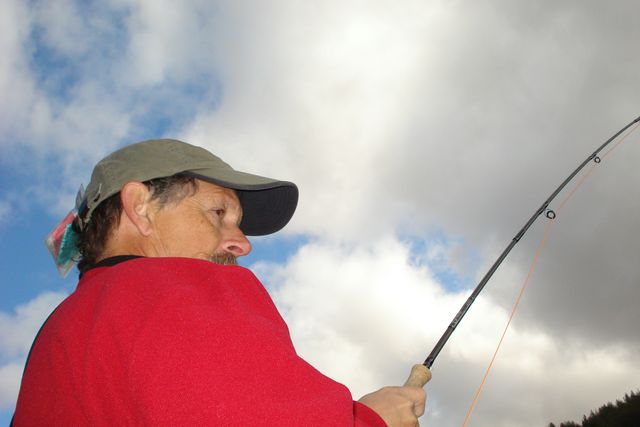 ---
Wow! I never thought the fishing would be this good….I'm glad I wore my red shirt for this trip….
---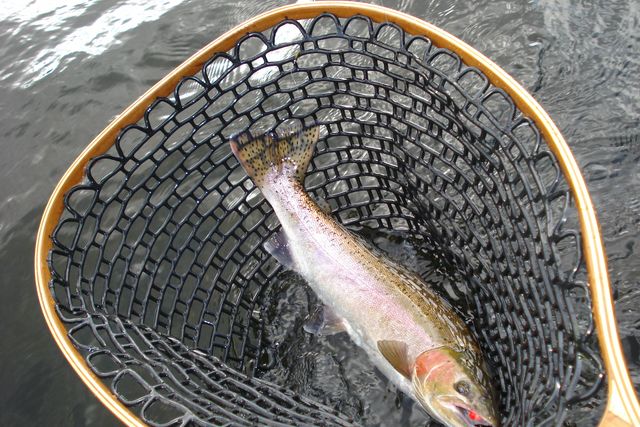 ---
What a beauty any where in the world..
---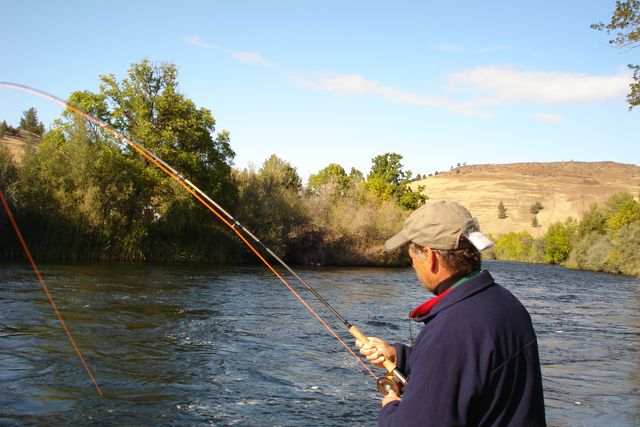 ---
It was certainly Ray's day!
---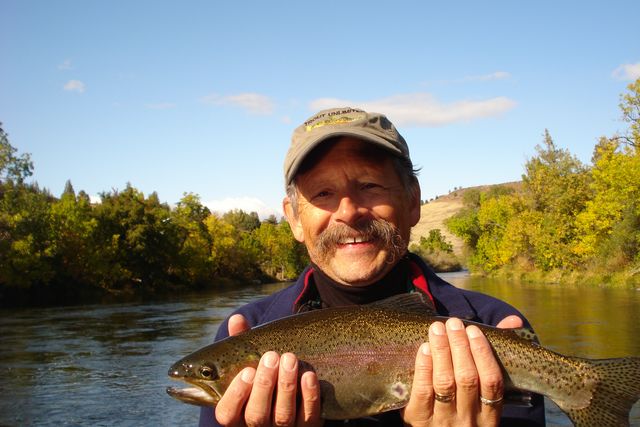 ---
Nice trout Ray, looks like you had some kind of Kolbert or Cassano sucking on this fish while swimming with some stocked friends.
Joe Cassano and William Kobert of AIG – The new common name for two disgusting Lamprey Eels sucking on everyone as they came along unknownly, when they were knownly.
---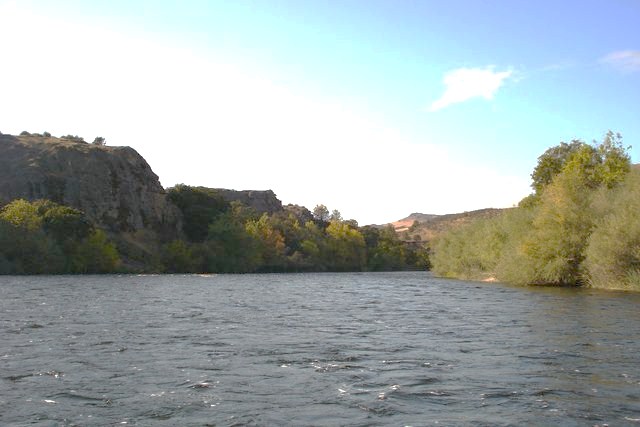 ---
The glory of the Klamath River, may its health reign in rivers length flowing undamed and unyielding to the Pacific Ocean. This river must always live on and be one step ahead of mankind not behind.
Bless our beloved Klamath River – Jack Trout 2008
---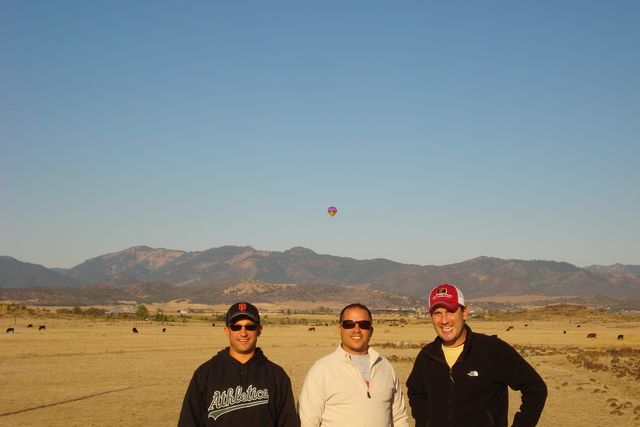 ---
Jeff with the Mark and Brian Show! In the wonderful Shasta Valley!!
---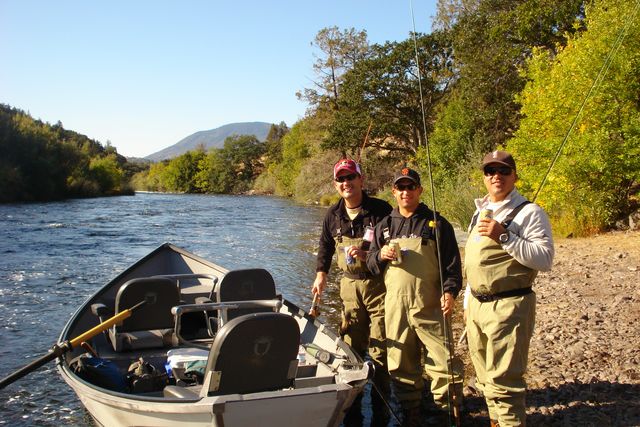 ---
Armed with beers and fly rods, ready for a successful day.
This job gets better every year!
---
---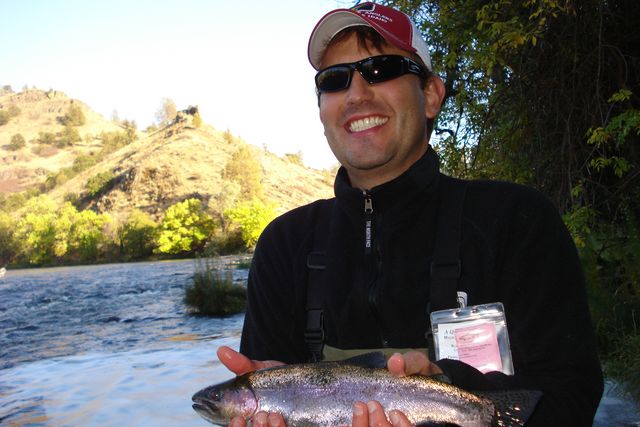 ---
Jeff said, Thank you very much!
I sure like my Colgate fluoride tooth paste, with Caribbean Cool Sparkeling White Tartar Control.
---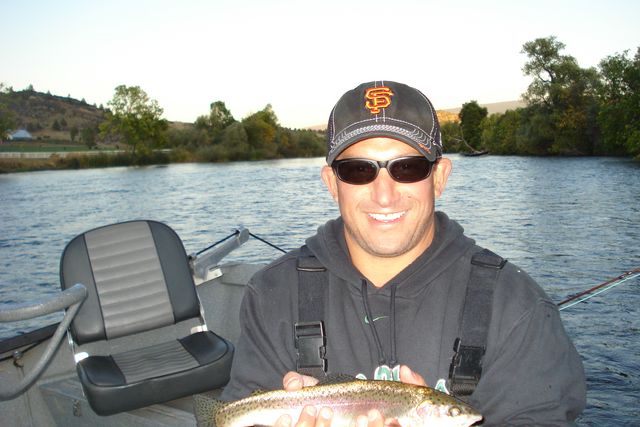 ---
Go Giants, A's, SJ Sharks, Warriors, Cal Bears, Stanford and KTVU NEWS!!!
---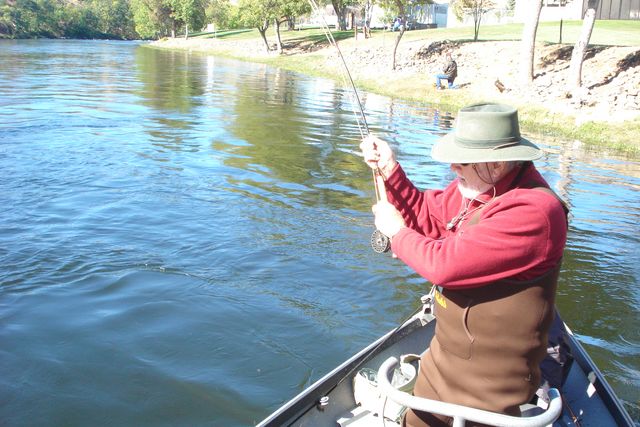 ---
All Hail, Mike Foster- Father of fly fishing!!
---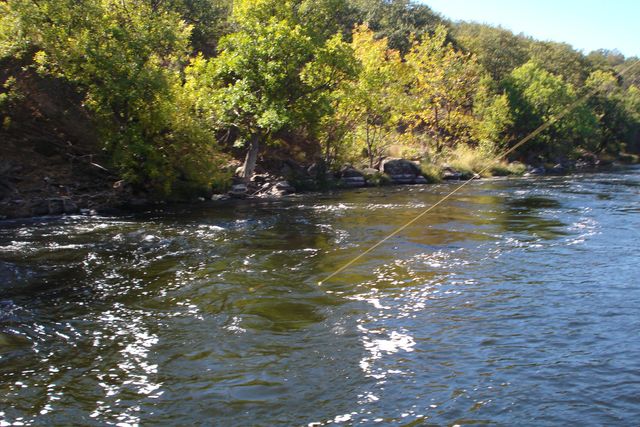 ---
POWERMONGER!
Richard Fuld – Leman Brothers CEO is down there somewhere underneath…
(Bottom Feeder)
---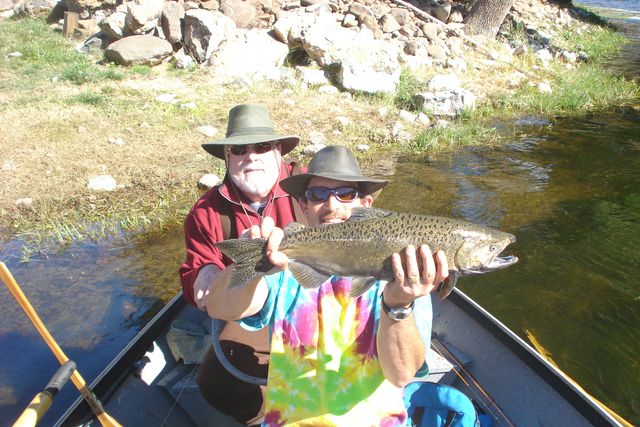 ---
Nice salmon for sure!! Way to go Legend Mike Foster – Father of Fly Fishing.
You can see the 12 lb steelhead Mike Foster caught on the Klamath River on display at Grazella's Restaurant in Williams, California.
---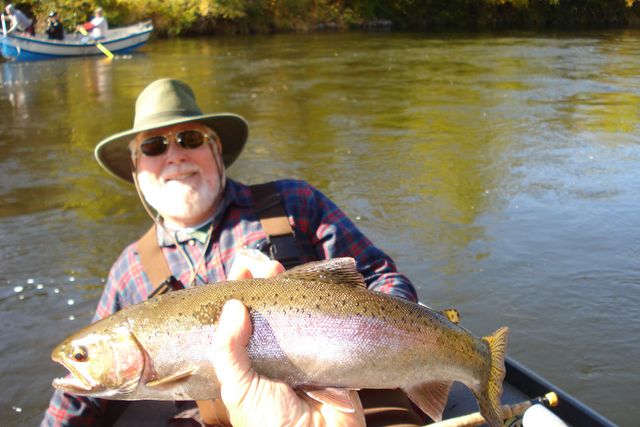 ---
And another!
---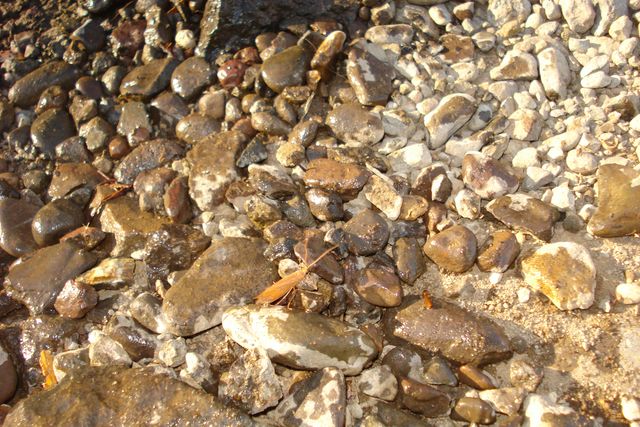 ---
I know my contact lense is around here some where……?
---
SNL VIDEO SARAH PALIN 🙂 http://www.youtube.com/watch?v=tjZW4z9zqqY
---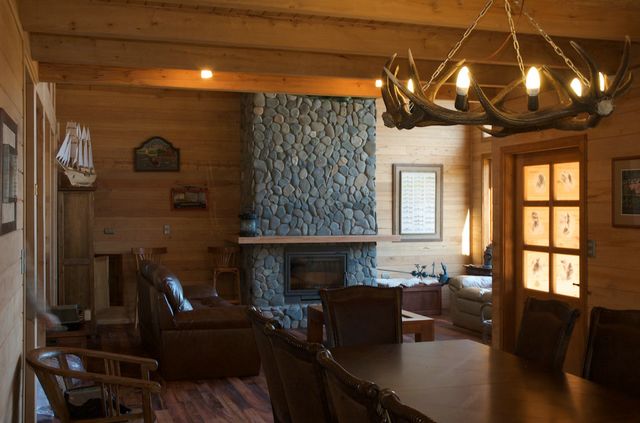 ---
We will be running trips all over Patagonia Chile for our 17th season. From Coyhaique in the south to Puyehue in the middle. We will be offering trips on several rivers and locations like I do in California fishing the best areas as the season goes on.
---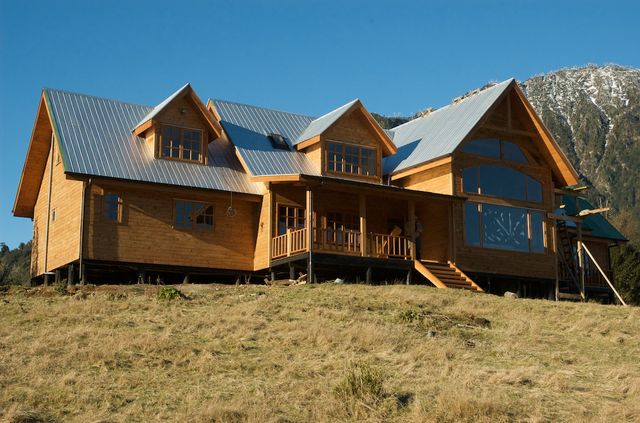 ---
We are booking trips for a new lodge in a very remote region of Chile
near the Rio Rosselott and Rio Palena. We are offering this trip at $3250 per week per person, call for more information.
---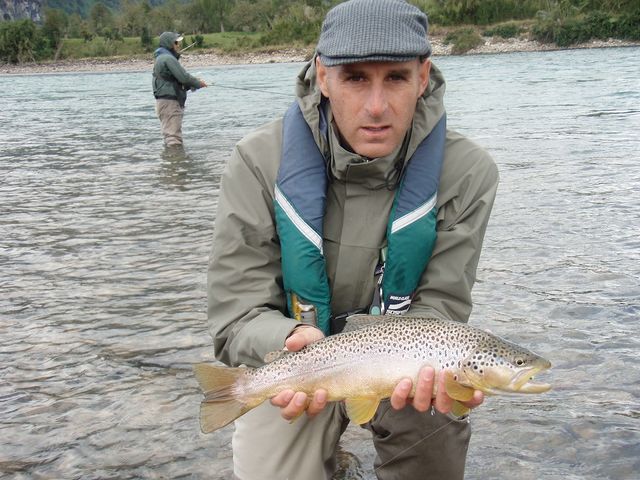 ---
Rio Rosselott is a wonderful place to fish in the Chilean summer months.
---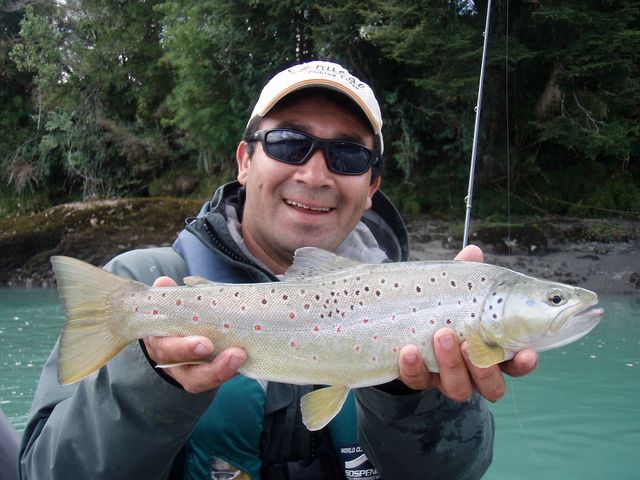 ---
The Palena is a large version of the McCloud River, with its torqouise waters and huge browns, I hope to guide you there this winter. All the Rainbow Trout are from the McCloud River!!
I am offering a deal right now 4 anglers for January 15th to January 22nd – 8 days 7 nights 6 days fly fishing for $2950 per person.
**Must book it this week and you will receive $200 more off this price per person.

---
The most beautiful girl in the world! I love my Carola nd can't wait to come and marry you this winter and bring back you back to our home in Mt Shasta.
HAPPY BIRTHDAY TO MY MOM, NILDA – SHE IS 60 YEARS YOUNG TODAY!!
Come to our wedding Chile in April 2009!!! Jack & Carola Trout
---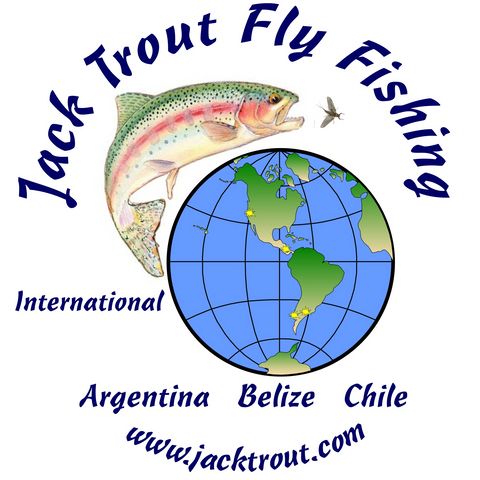 ---
EMAILS FROM YOU:
Dear Friends,
There is a lot going on in the water world this week. Below you¡Ùll
find information on the upcoming Nestle Community Meeting, the film
Flow, and the local theater production H20 Manifesto.
Nestle Community Meeting
As you know, in August Nestle canceled their contract with the McCloud
Community Services District. Two weeks later Nestle sent a letter
requesting the start of new contract negotiations. The Services District
Board decided to table a response to Nestl¨˛¡Ùs request until their new
board is seated in December. In the mean time, Nestle hired Kearns and
West, a public involvement firm, to facilitate a series of public
meetings regarding Nestl¨˛¡Ùs new project proposal. This is a perfect
opportunity for all perspectives to give their input into a new process.
To encourage attendance, and in an effort to bring McCloud residents
together, the McCloud Watershed Council is hosting a FREE ¡∫Pre-Nestle
Meeting¡Ö Dinner. If you don¡Ùt have time to cook and also make it to
the meeting, then please come to the free pizza dinner at 5pm in the
courtyard on Main Street next to the McCloud Hotel.
What: Community Meeting About Nestl¨˛¡Ùs Proposed Water Bottling
Plant in McCloud
When: Wednesday, October 22nd, 2008 at 6:00 p.m.
Where: McCloud High School Gymnasium, 133 Campus Way, McCloud
Why: Everyone who has a stake in the future of the McCloud community,
economy and the McCloud River watershed deserves to have their voice
heard.
From the Kearns & West flyer: ¡∫A Facilitated Dialogue About Nestle
Waters North America¡Ùs Proposed Project¡Ö ¡∫This is a
fresh-start-opportunity to discuss an ongoing process for public
involvement and to gather input regarding the focus and purpose of
future meetings,¡Ö The first of a series of meetings facilitated by
Kearns and West. Wednesday, October 22nd, 2008 from 6 pm to 8 pm at the
McCloud High School Gymnasium 133 Campus Way in McCloud. For more
information contact Bill Pistor at Kearns & West (415) 391-7900
bpistor@kearnswest.com ¡∫specify McCloud Community Meeting.¡Ö
Flow
Flow: For Love of Water is showing at the Mount Shasta Cinemas 118
Morgan Way, Mount Shasta October 17th ¡Ì 23rd.
Irena Salina's award-winning documentary is an investigation into what
experts label the most important political and environmental issue of
the 21st Century – The World Water Crisis.
FLOW is only showing for seven days, so if you¡Ùd like to see this
powerful film about water, set aside time soon to see it! Show Times Are
Below or Call; 530-926-1116.
Show Times:
Fri (10/17): (4:00) 6:10, 8:40 Sat (10/18): (1:50, 4:00) 6:10, 8:40
Sun (10/19): (1:50, 4:00) 6:10, 8:40 Mon (10/20): (4:00) 6:10, 8:40
Tue (10/21): (4:00) 6:10, 8:40 Wed (10/22): (4:00) 6:10, 8:40
Thu (10/23): (4:00) 6:10, 8:40
H20 Manifesto
H20 Manifesto is an original piece by Krista Miller with music by Grammy
Nominee Gentle Thunder, live music by David Schanaker and vocals by
Broadway singer Wendy James. The show is getting great reviews.
Following each performance is a professionally facilitated discussion
about the show and water issues.
H20 Manifesto runs a second weekend from October 23rd- 26th at the
Sisson Museum in Mount Shasta. Tickets are available at Village Books in
Mount Shasta, or by calling Beth Black at (530) 926-4790.
The latest article about Krista Miller and H20 Manifesto:
http://www.mtshastanews.com/entertainment/x1261524860
Please spread the word about these events.
Sincerely,
Meadow Barr for Protect Our Waters Coalition
---
Jack,
Hope all is well with you and the family. Where are you going to be
mid november? I want to take my father fishing on a little father son
trip for his 70th bday and thought I would see what you are up to and
if you had any ideas for putting together a 3 day trip. All is well
here in florida…been catching some decent redfish and snook the last
month and the weather is still plenty hot.
Jordan
---
Eric,
The current plan is launching on Friday afternoon 11/7, fishing with Mr. Jack Trout Saturday 11/8, returning home Saturday afternoon/ evening after our arms get to tired from hauling in log size mossbacks.
cb
---
Dude…hard times. We hooked nothing but pounders and 1 adult. We floated above Weithpec 1st day (same float i took you), hooked one adult and below wpc on the second day. Last week was good on lower K but was dead on sunday. very little adults left around and few pounders. the trin is very slow too. after sun i feel best options are mid K right now.
They had a good time, enjoyed seeing the lower river. So no pics of fish 🙁 .
Aaron
---
Hi Jack-
I was just taking a look at your update, and I noticed your pic of bare Mt. Shasta. We (POW Coalition)had intended to get good pictures of the mountain looking so naked before it snowed, but we never got the chance. We would like to be able to use any good pictures of bare Mt. Shasta to supply to media that contacts us, etc. We have a specific request for this from a group that is considering doing a TV spot on the issues in McCloud. Would you be willing to let us use any good pics of yours (with credit going to you, of course)?
Let me know what you think- you can reach by phone at   530-964-2502   530-964-2502 if you'd like to chat about it.
Thanks!
Robin Singler, McCloud Watershed Council,
for the Protect Our Waters Coalition
---
You bet, Jack. I had a great time, and I'll be sure and make it back
up as soon as I can.
John Walker
---
Hey Bro;
So far we have catch some fish we have Bones and Tarpon but no permit.This is there last day 2 day so maybe next time Travis will hook 1.
The weather is kind off bad rite now but we still went out and give it a try.
U know how it goes.
Capt. Lloyd Nunez – Jack Trout Fly Fishing International Belize.
---
Hi Jack… Thanks for your email… While I haven't talked with my
brother Jack M., his son Dr. Dan M., nor my son Kevin, there's no
question but that we will fish wherever you suggest and on whatever
rivers you choose. This is your territory and we'd be foolish to
ignore your advice and expertise.
Assuming that the plane is on time, we (Jack, Dan and I) should get
away from SFO by 2 PM, hopefully somewhat earlier, on Sunday, Nov. 16,
which means we should be in the Redding area between 5 and 6 PM.
Kevin and possibly one or two of his daughters – they all live in
Chico – will meet us in the Red Bluff – Redding area. However, if you
suggest that we approach the Klamath from the West, we'll have to make
other arrangements.
We'll need to pick up fishing licenses for those who need them
somewhere along the way.
See you in 5 weeks.
Bill M.
On Oct 9, 2008, at 11:47 AM, Jack Trout wrote:
Hey troops
We could do 2 days on the Klamath in the beginning and then over to the Trinity the last day.
As of now the Trinity is not the same as last year, there isn't as
many fish they have switched this year to the Klamath River. 1/2 the steelhead counted over the weir in Willow Creek as apposed to this time last year. (But 1/2 were wild as apposed to 3 years of huge hatchery runs)
(So far)
I opt to leave things open, due to rooms being very easy to find
with the economy in such a state and I can set up two rooms in
either area in a dimes notice.
I know this group like to have things locked down, but steelhead
fishing on a year like this can be optimized by monitoring the
rivers, weather and runs and planning accordingly a couple of weeks
a head of time based on the absolute best scenario.
I've done it this way often for 17 years and it always serves me and my valued customers well.
Boy, I promise, I know what's at stake here, I know what the cost
must be (High) Bill and I will start planning rooms etc. last week of Oct.
But I suggest 2 days on the Klamath this year.
Let me know your thoughts friends.
Many Rivers & Vistas, Jack & Carola Trout >~>>})>)(:>
Jack Trout International Fly Fishing & Scenic Tours ~ Argentina *
Belize * Chile * Nor Cal
1004 SO. Mt Shasta Blvd. Mt Shasta, California 96067 www.jacktrout.com
www.mtshasta.com 530-926-4540 email: info@jacktrout.com
---
Mr. Trout:
My wife and I recently moved to Medford, Oregon. I am a novice, though very enthusiastic, fly-fishermen. I have been to a 3 day clinic, and fly-fished about 20-25 times so far.
I would like to spend a couple of days with a guide, not only learning the areas which can be accessed and wade-fished in the areas near me, but aslo learn more about the sport. I specifically want to get a better handle on rigging up my gear and reading water a bit. I would like to be able to go out on my own, even though I know I will never catch fish the same way I would if I were with a guide.
I don't start work at my new job until the end of October, and so I have time between now and then if you do. I know this is sort of the busy guide season, so maybe you are already booked up.
Thanks,
David Yandell
---
Hey it's been a while but Travis already have some picture of some bones.There having fun and enjoying their stay.
Capt. Lloyd Nunez – Jack Trout Fly Fishing International Belize.
---
If the fish are in the Klamath, lets do the Klamath. If the fish are in
British Columbia, lets do British Columbia. I would love at least 2 days on
the Klamath, if not three if the fishing is good.
Thanks Jack. You are a prince.
Dan
---