http://www.jacktrout.com/trinity.html*****
---
---
---
HAD A CANCELLATION FOR OCTOBER 4TH & 5TH
---
---
*****OCTOBER DRY FLY FISHING ON THE McCLOUD, PIT AND UPPER SACRAMENTO RIVERS http://www.jacktrout.com/*****
---
---
PATAGONIA CHILE – ARGENTINA TRIPS START DECEMBER 1ST – SEE YOU DOWN THERE!! http://www.jacktrout.com/futa.html
---
---
BELIZE PACKAGES START AT $1950 PER PERSON 8 DAYS, 7 NIGHTS, 6 DAYS FISHING & TOURS. http://www.jacktrout.com/belize/belize.html
---
NESTLE WATER OPEN PUBLIC MEETING IN McCLOUD OCTOBER 22ND
---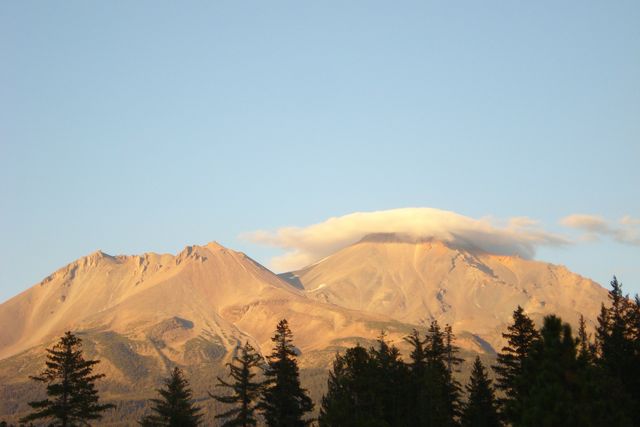 ---
Mt Shasta with the classic legendary lenticular cloud. I have talked to locals that tell me in 83 years they haven't seen the mountain so bare of snow. I wonder if this is the least amount of snow in recorded history? After getting back from Chile and 34 hours of traveling from Patagonia taking planes, trains and automobiles to finally arrive back in good ole Mt Shasta. This was my first look at Mother Shasta, as I made my exit home off Abrams Lake Road.
---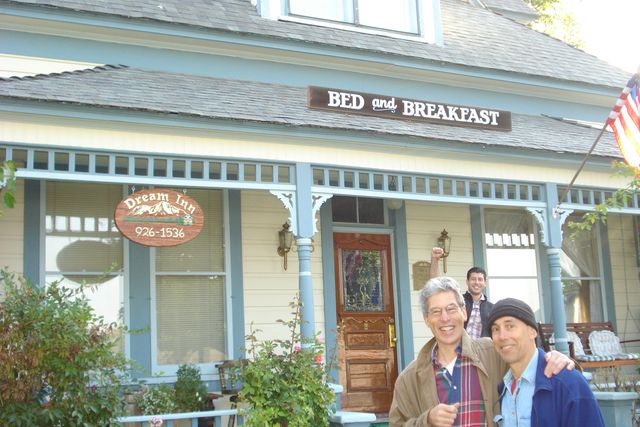 ---
Dream Inn – http://www.dreaminnmtshastacity.com/
I met my customers at the Dream Inn in Mt Shasta! Ready and excited for a great day of fly fishing. I love beginners!
---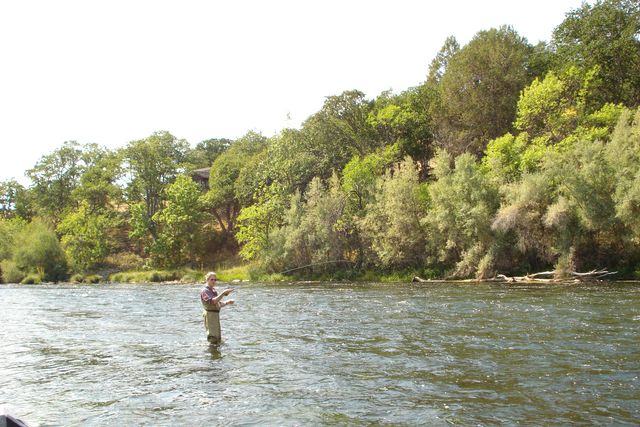 ---
Wading for steelhead is always fun.
---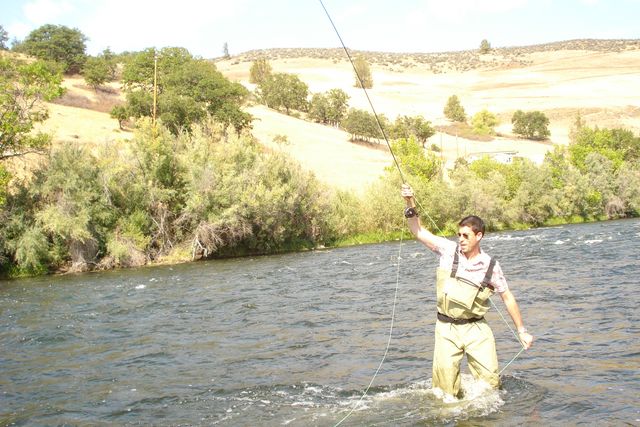 ---
Ben was ready for action!
---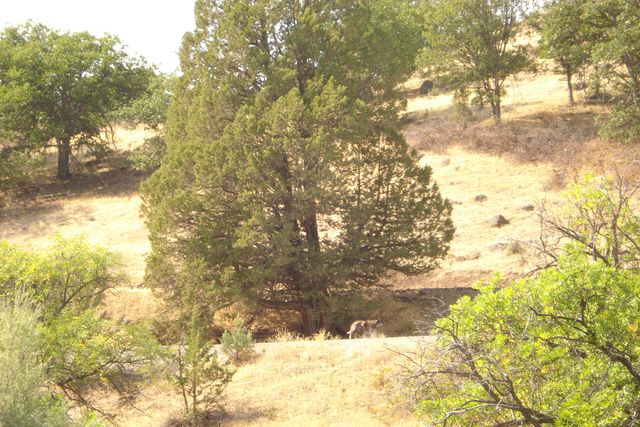 ---
Wolf on Copco road, he's probably very happy about the salmon runs up the Klamath River….
---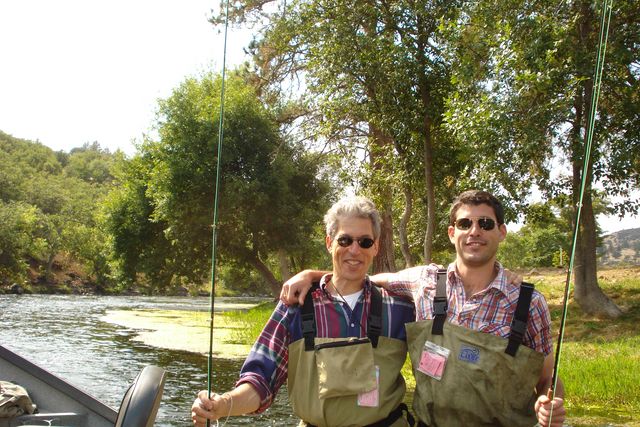 ---
Like father – Like son. Some of the best times are shared with family.
Nothing is better than getting out on a river and forgetting your problems.
---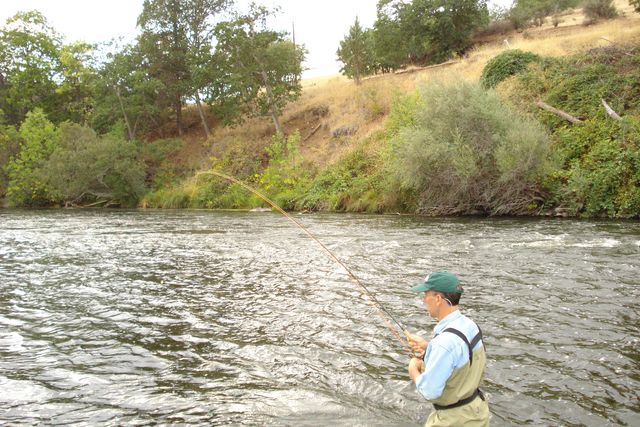 ---
It's that time of year again when we have to run down rivers chasing a large steelhead on a fly rod. The trick is to land the beast and stay dry…
---

---
This is a great home to rent, sleeps 7 comfortable and close vicinity to the Upper Klamath and Ashland Oregon.
http://landingsiskiyou.com/len_and_nina
---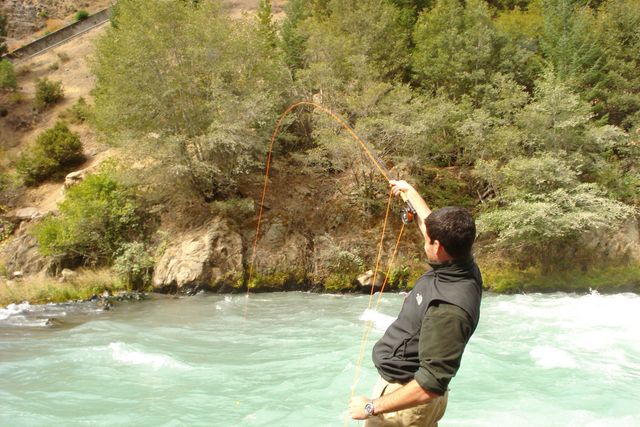 ---
Ben with a lunker on at 600 CFS flows on the McCloud River! The river fishes good at that level and many trout come up from Shasta Lake because of the higher flows.
---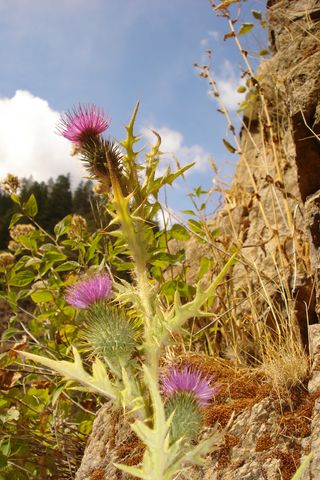 ---
Non-Native Bull Thistle. Pretty …..
---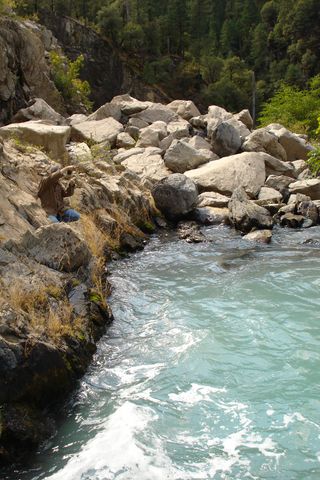 ---
Dries can be great in the foam lines now on the McCloud River.
---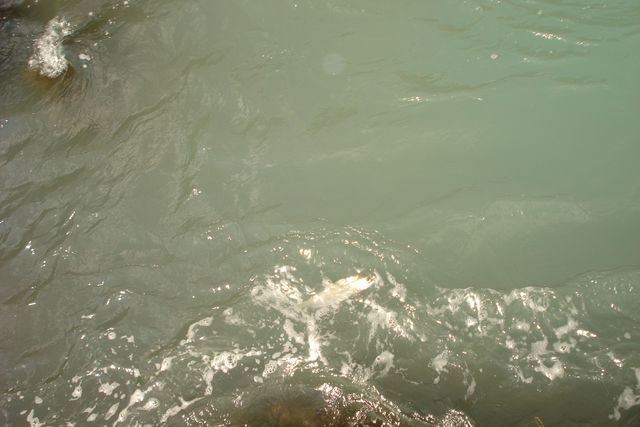 ---
Dry – On the rocks please!
---
---
Strong to the bone man!
---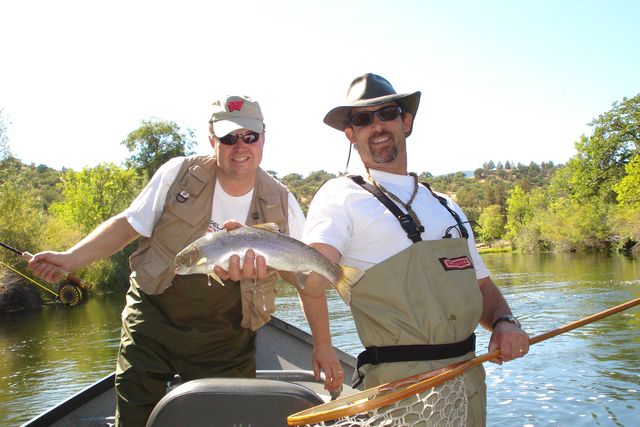 ---
Respectable for sure.
---
---
Nice steelhead in the brand new Brodin Ghost Net.
Chris – Could use an Excalibur for the Trinity trips coming up soon. Thanks, JT
---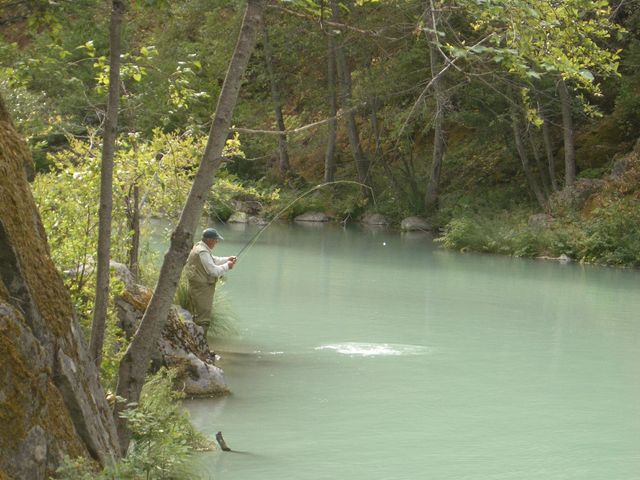 ---
Mr. Halpren on the McCloud River catching a nice trout!
---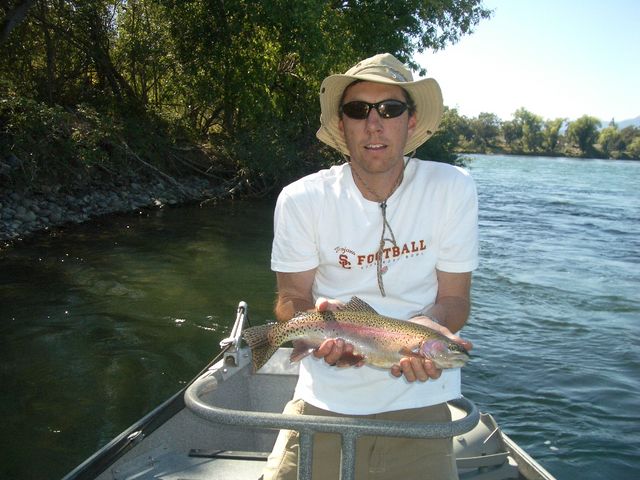 ---
Out with guide Ron Stone, on the Lower Sac this week proved productive for Brian Halpren and his father. They plan to come back
up for steelhead fishing later on in the fall.
---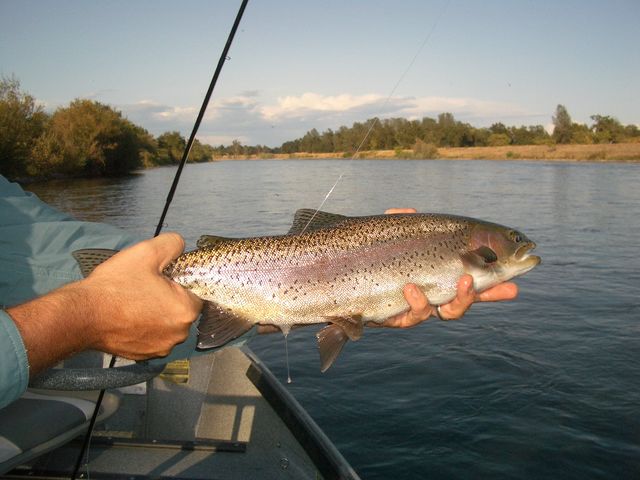 ---
I love those thoughtful photos, we all want to see as much we can in a photo….It's not like a logo, you can't ever make a photo or a painting too busy!
---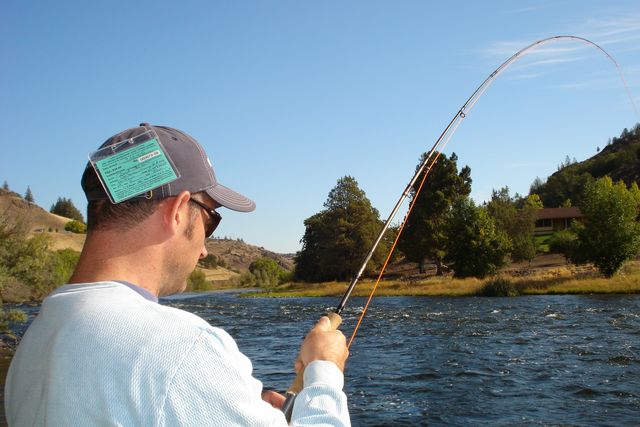 ---
Todd, having a ball on his first day out ever fly fishing for steelhead.
---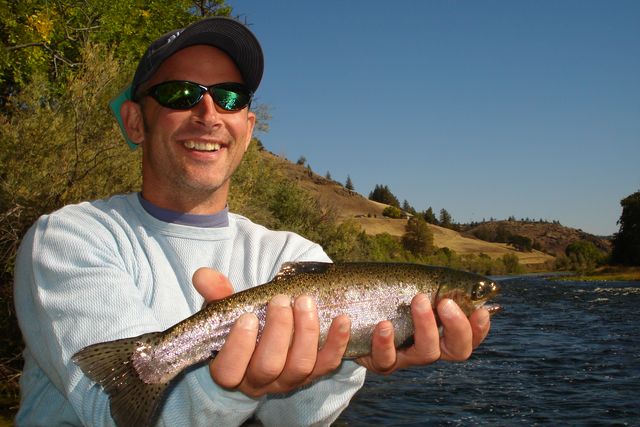 ---
Nice catch man…
---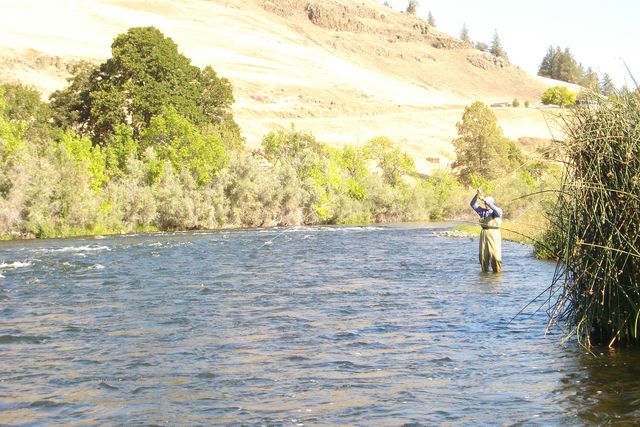 ---
Little later Chris Clark got into the action!
---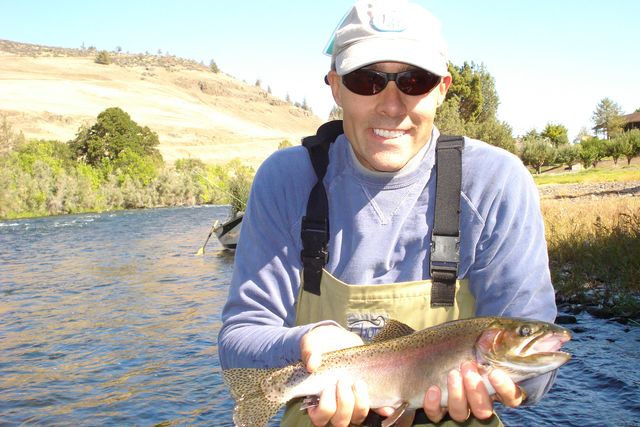 ---
Nice one, the steelhead season has officially started for 2008 / 2009 season.
---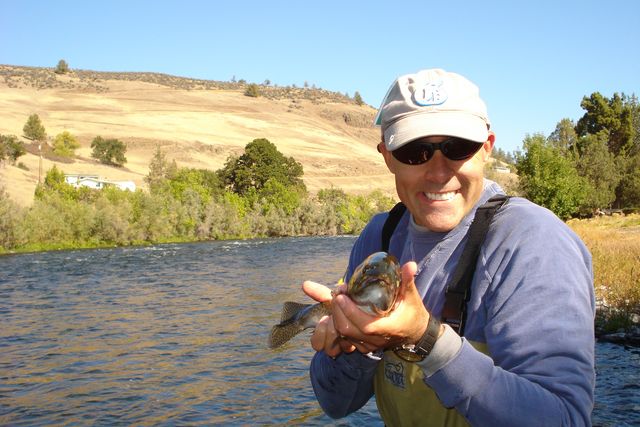 ---
Oh yea! It's steelhead time Sizzlers!!
---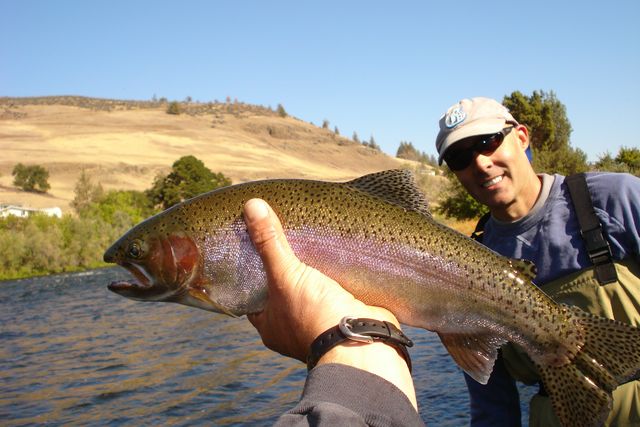 ---
Nice form for sure Chris! Sent you some indicators in the mail…jt
---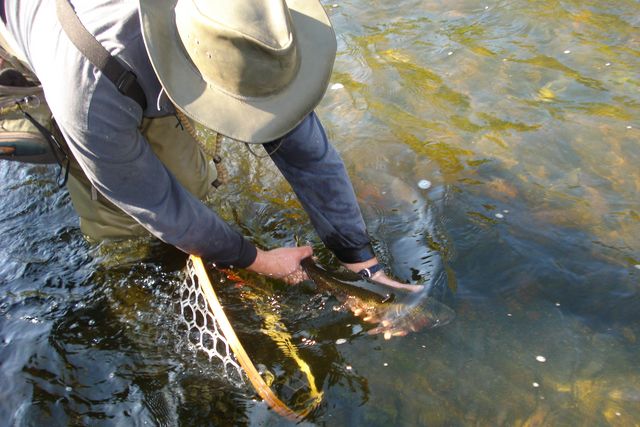 ---
Revived to live another day. It is law – You must catch and release wild steelhead.
---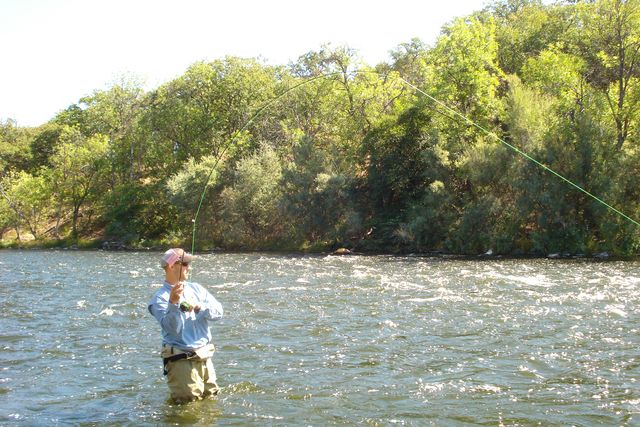 ---
Brady got into the action with his hook-up.
---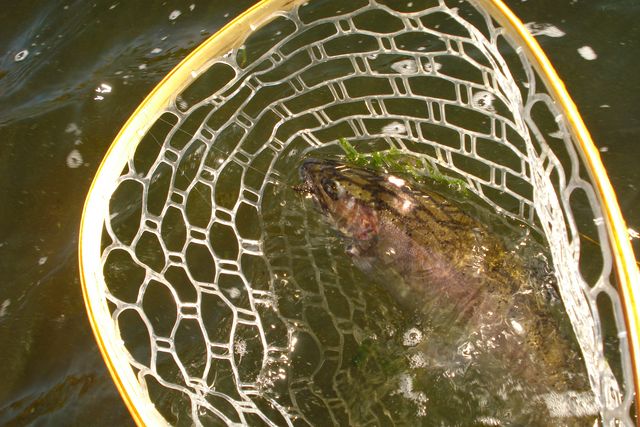 ---
Sweet Loven Spoonful!! That's a beauty!!
---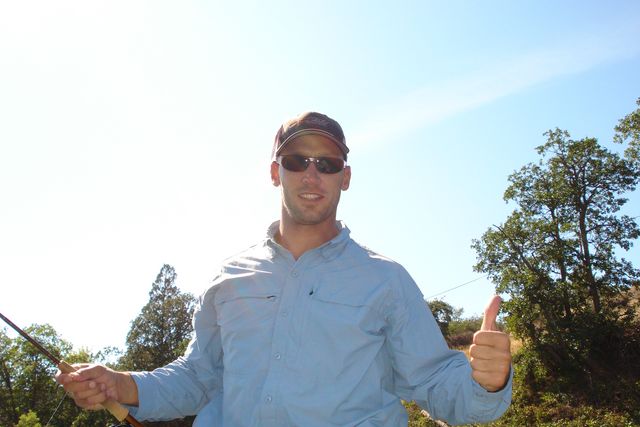 ---
Brady Clark – It was pleasure to fish with the 11 year Major League Baseball player and famous lead-off hitter. Thanks for coming to our area! Jack Trout
---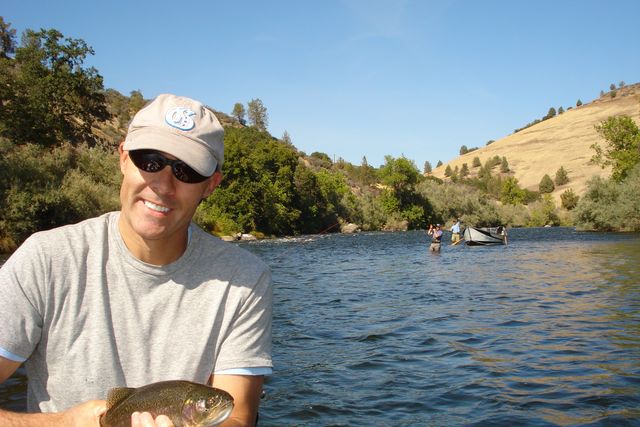 ---
Fish on Chris, One on in back !! We love double and triple hook-ups, it leads to annual family reunions….
---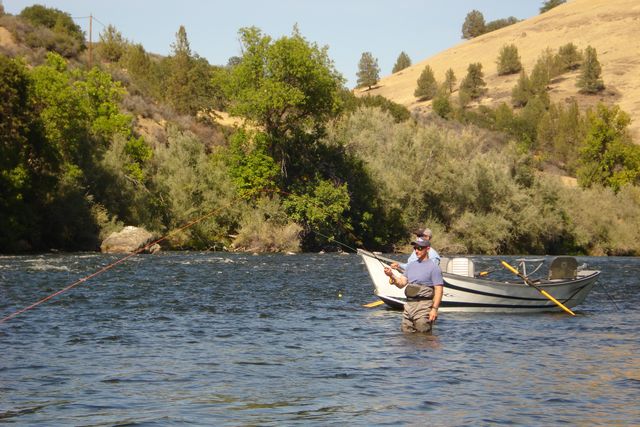 ---
This is one fish loven riffle, I think I'll name it "Fish Loven Riffle!"..
---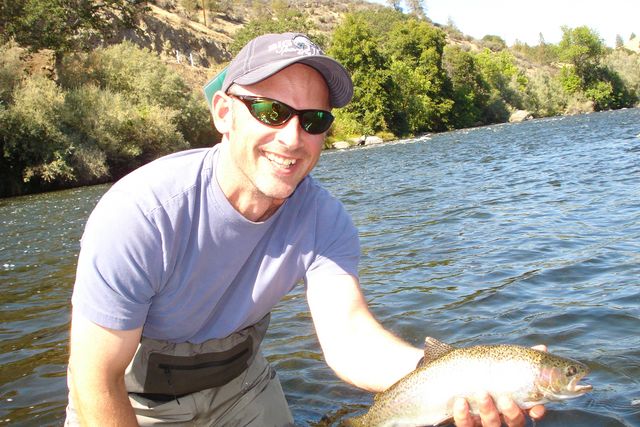 ---
Every week the fishing gets better from here on out! It's like a big peach tree that is just turning ripe!
---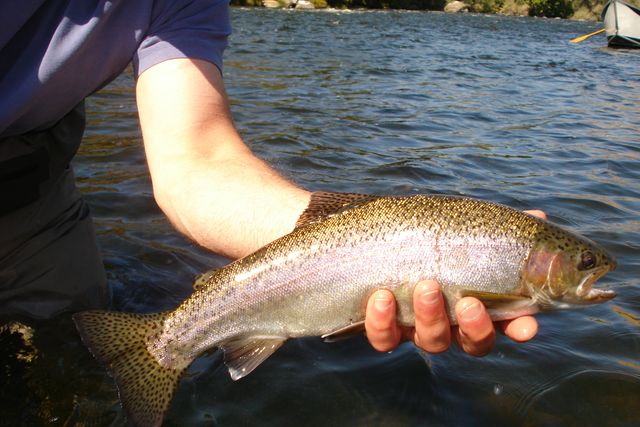 ---
I'm fruity for this steelhead stuff, I have 6 guides that are as nutty as me!! Call for your steelhead adventure, we catch and have the most fun out on the river!!! Jack Trout 530-926-4540
---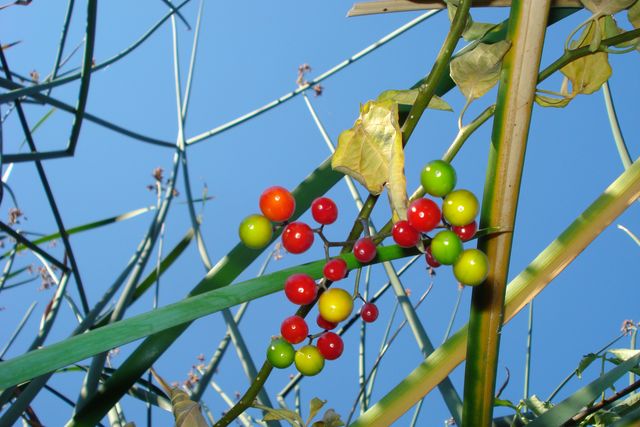 ---
Jack: Thank you so much for the response. That would be very kind of you to give me a plug….If you wish to put a link to my web site and let your clients know that I may offer commissions to have their "trophies" or favorite fishing spots painted in oils, I would be so grateful. Perhaps with your permission, I could paint from your photos and even do one of the Andes' for you……all my best in your endeavors, also…….p.s. I recently moved here to Tucson, Az, from Redding, California, and had my work in McCloud…..I loved painting that river….Geri
---
---
Let's bring him down here if we can…
---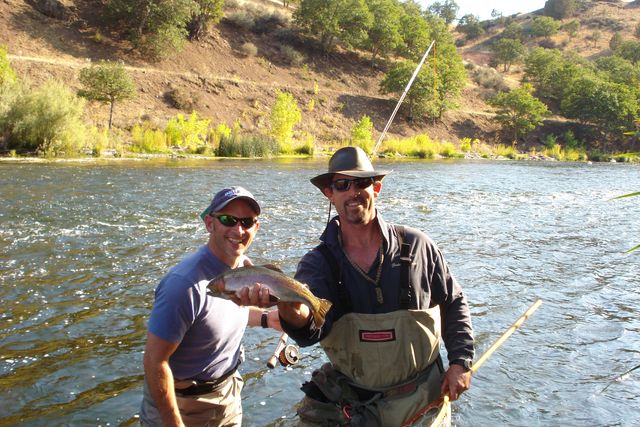 ---
Todd with another ESPN fly fishing highlight!
http://sports.espn.go.com/outdoors/fishing/index
---
---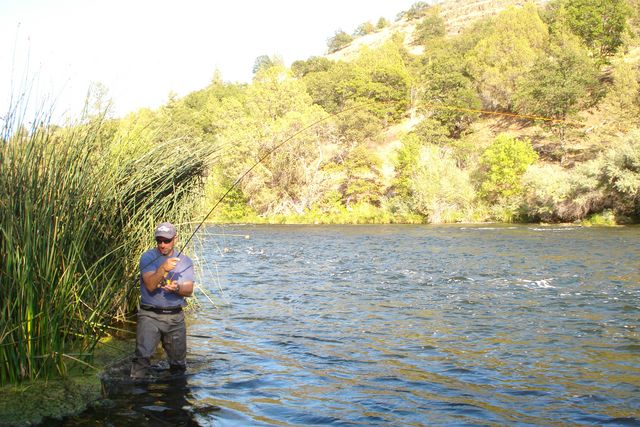 ---
Wow! That's like 3 steelhead in the same area!
---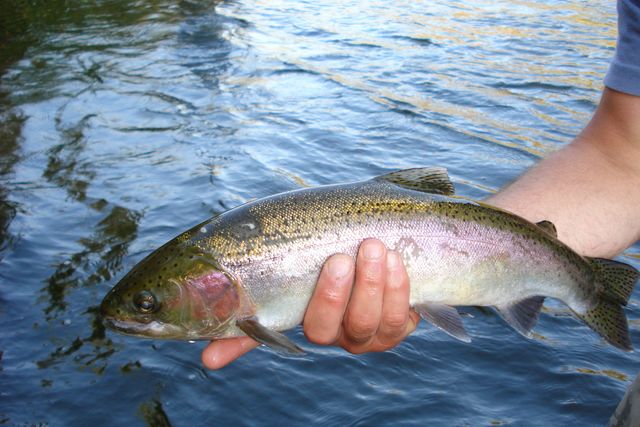 ---
Nice tatters on that one. I like seeing wild fish in the Klamath or Trinity Rivers.
---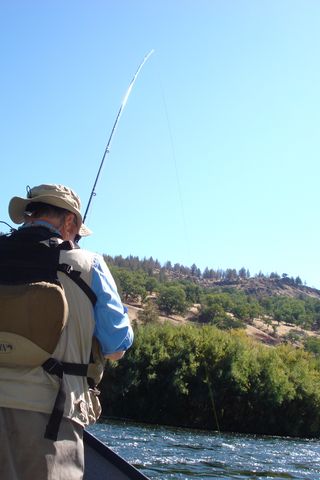 ---
Dr Rick from Susanville, has a trout on!
---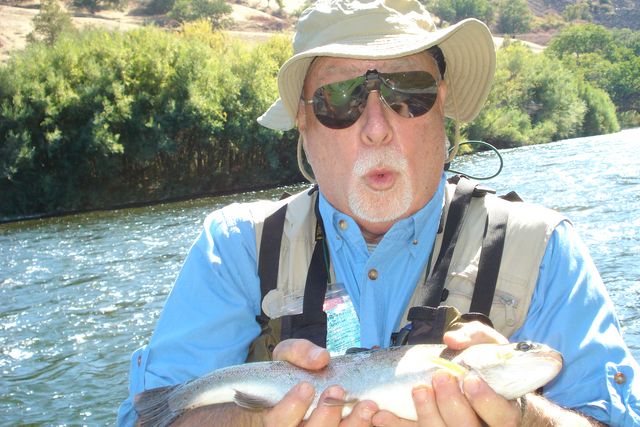 ---
Oh boy, that was a hoot!
---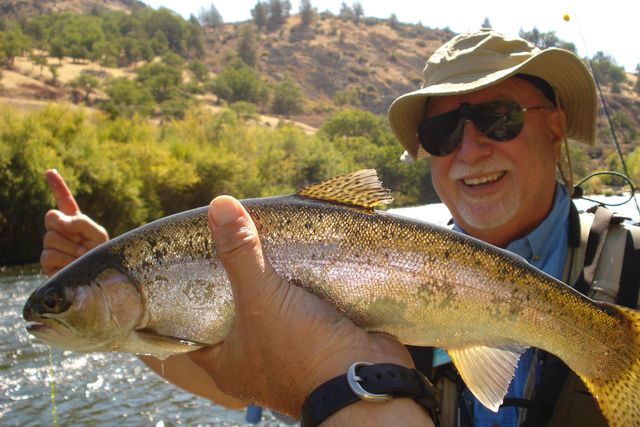 ---
We're number one! We can kick field goals!! We're number one..!
Thanks Doc, hope to see you again soon. jt
---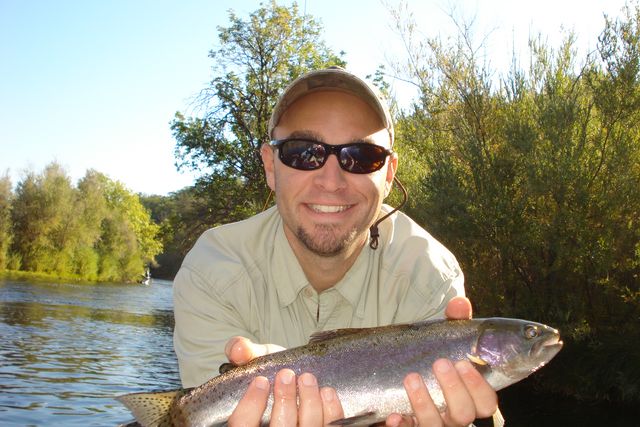 ---
Andrew came out from Allentown PA. He was personally referred by Greg and Alison Takata, who went fly fishing with me in Chile this past year. Little did he know the Klamath was on wild fire!!
---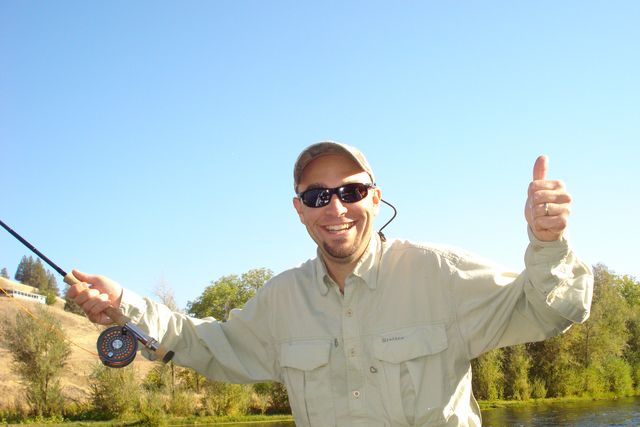 ---
That was great, but I'm just happy to be out here fishing!
Whoo Yoo!!
---
---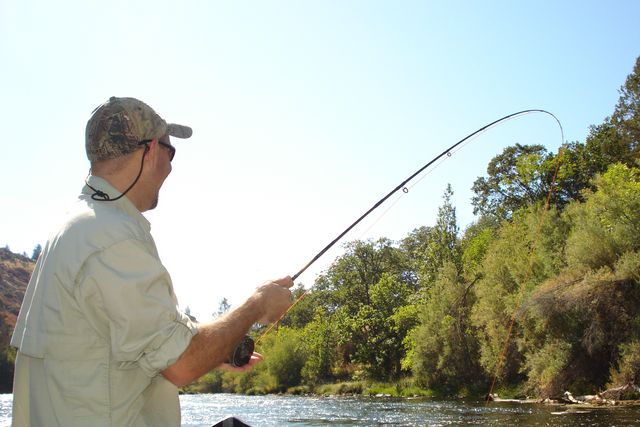 ---
And then he landed into a total lunker that took him down people!
---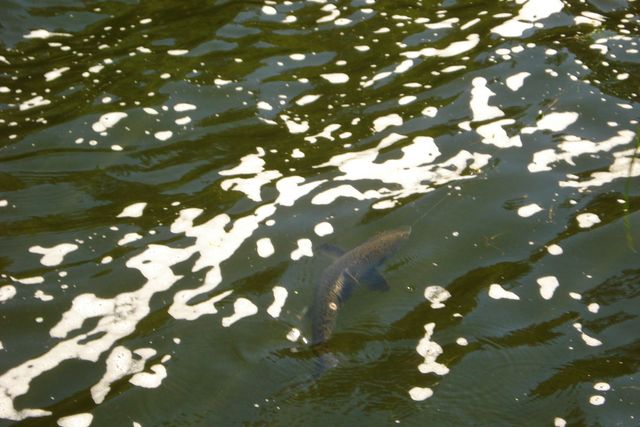 ---
Then I saw him pass near the surface and I could tell it was a Chinook Salmon (King) caught on a fly!
---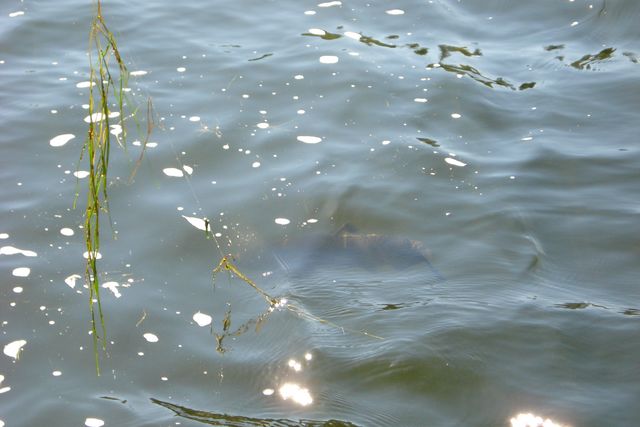 ---
He made another dive and another head shake and after about 20 minutes we finally landed the beast!
---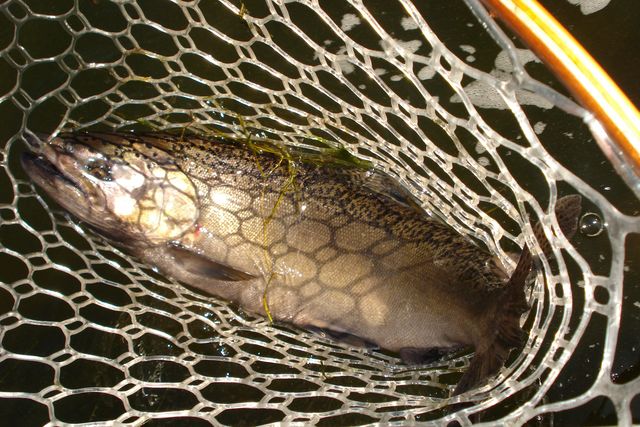 ---
Andrew's arm was about to fall off by then… What a freshy – fresh-fresh! A jack by all means, I say. Nice hook -up on a fly rod.
---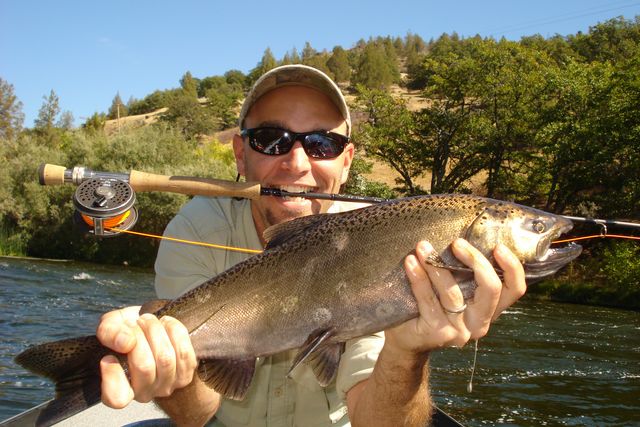 ---
Andrew Cirigliano – YOU'RE MY SIZZLER OF THE WEEK AWARD WINNER –
NOW GO OUT AND SOLVE THE BUDGET CRISIS AND BALANCE THE ECONOMY IN YOUR HEAD!
---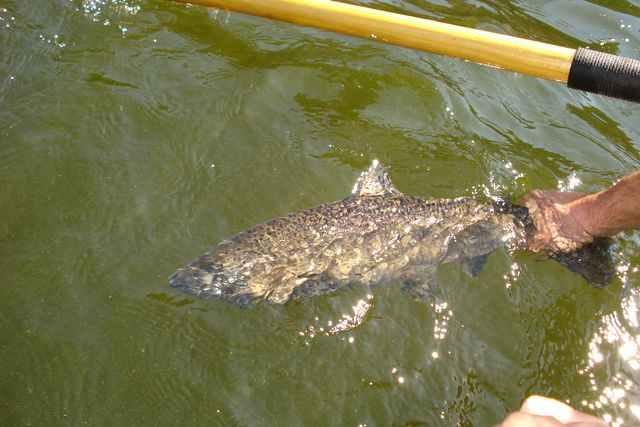 ---
Approx. 8 lb salmon plus or minus..
---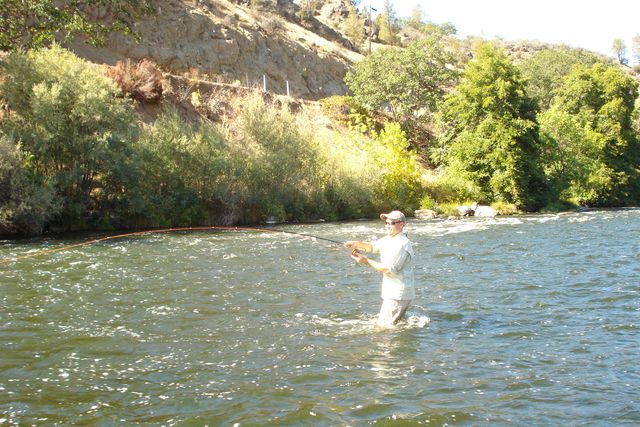 ---
That day the rod was constantly bent over at half mass and the sparks were flying!
---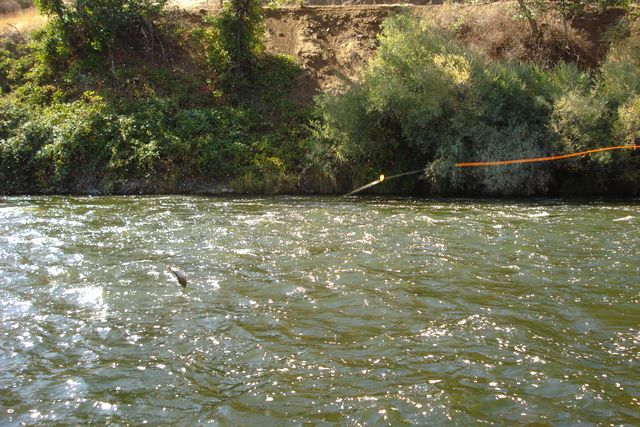 ---
(In an old pioneer accent)
Leaping lizards Clancy, he cleared it! So this is what they were talking about back in Omaha. Flowing rivers, jumping fishes and mighty neighborly weather if I don't mind me saying so….
---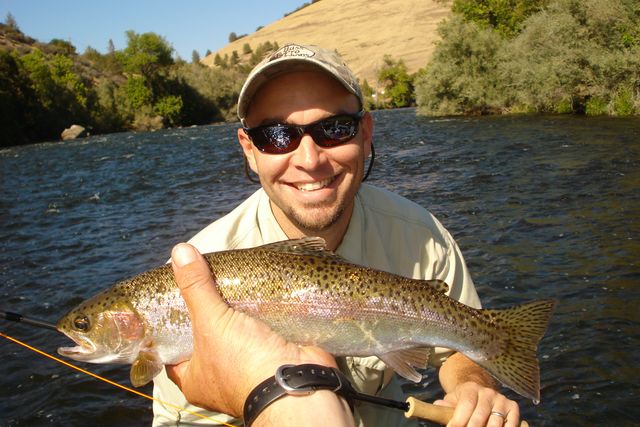 ---
Because the flows were maintained at 1000 CFS throughout the summer, the Klamath River is much more healthy this season. There is still an un-healthy bloom of Blue-Green Algae, but for the most part, keeping the flows up has proved to be a success this year. This was the first year in 7 years the flows were maintained all summer at higher flow levels, and I am seeing more healthy fish, that seem to be arriving here a little early.
That's a good thing when the Klamath River is healthy and fishing is good. The economy benefits as well as the reputation of the Klamath River and the entire eco system. But best of all the beloved salmon and steelhead are happy, soldiering their way up this very special tributary that flows west into the Pacific Ocean. It is finally raining, we have not had a significant rain storm since June 21st, 2008. The rain is warmly welcomed, I hope it rainsfor a week!
---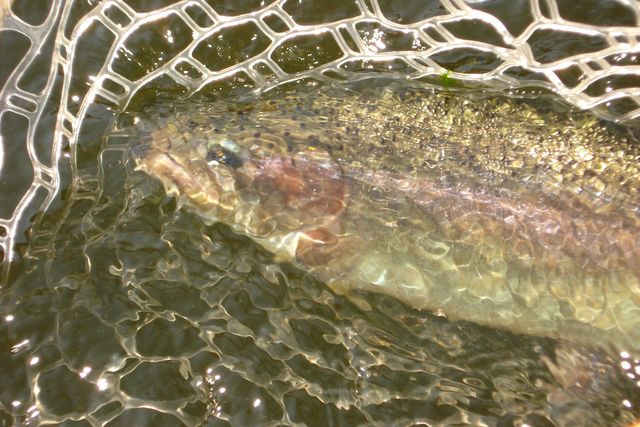 ---
Hydro-dynamic
*Steelhead have 3 times faster burst speed than a trout!
---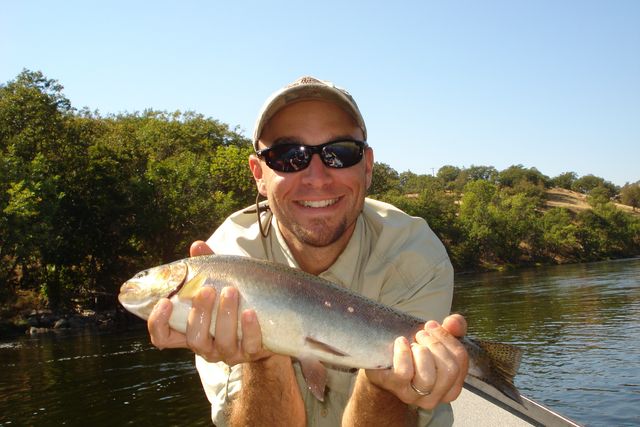 ---
Nice fatty, getting a little tired of this guy catching all these steelhead?
Call me 530-926-4540
---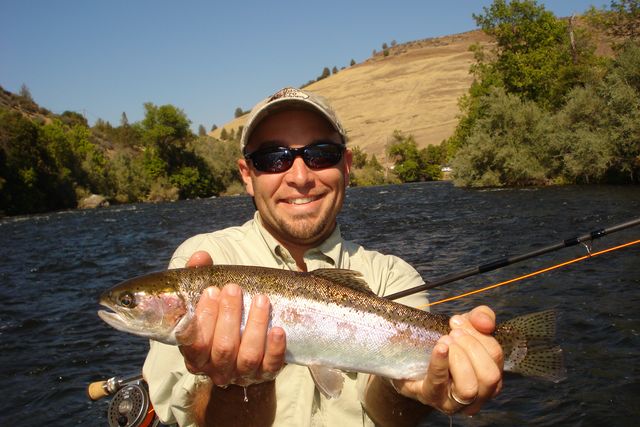 ---
Andrew, thanks again for coming to our area!!
Many Rivers to You, Jack Trout
---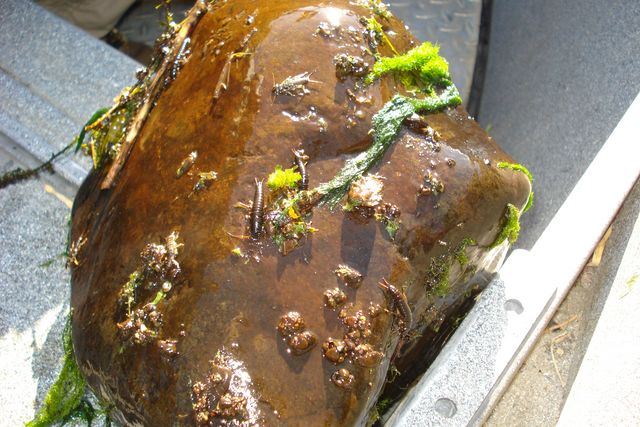 ---
No shortage of bugs in the Klamath River, well, I could do an seminar on insects right on the river! More bugs than the KGB….
---
---
Hola Mi Amor!!
Te amo siempre Carola!!
Un abrazo fuerte mi Novia – Novembre es Cerca.
Besos dulce, Jack Trucha Mi Paloma Chanchita!!
---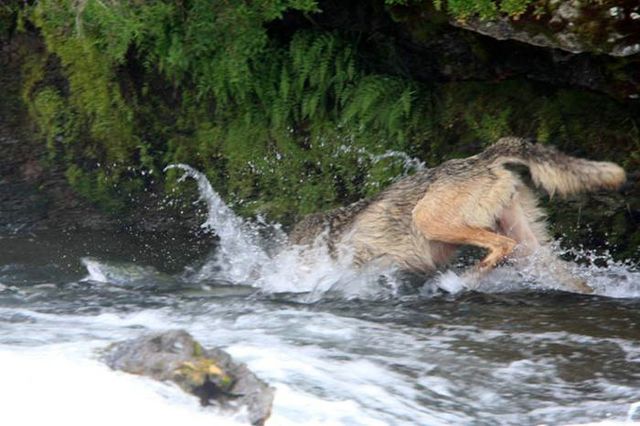 ---
Oh the wolf again!
---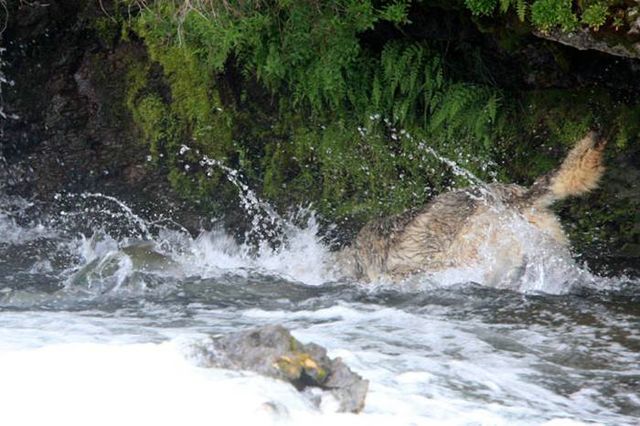 ---
Chasing his quarry, the wolf can be quick, cunning and sly.
---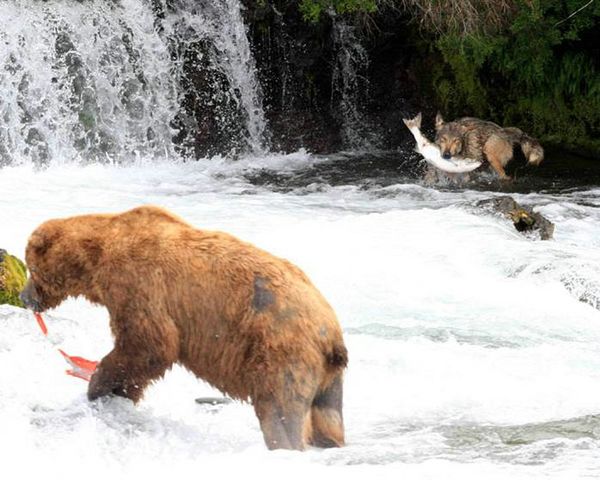 ---
The wolf is not easily distracted either. The Brown bear is not the only seasoned fisherman of the Pacific North West…
---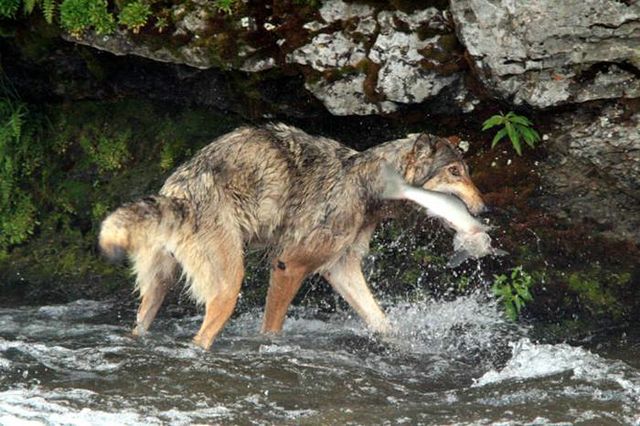 ---
The wolf can hold his own, and likes a good challenge from time to time.
---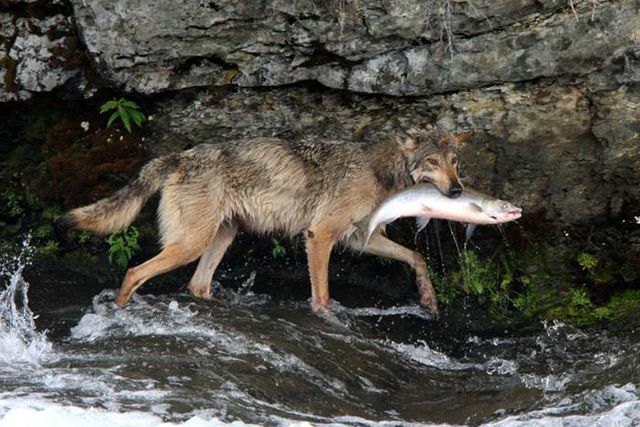 ---
The wolf lives on in North America –
May it always prosper in places where it thrives from the gifts of sweet Mother Earth.
---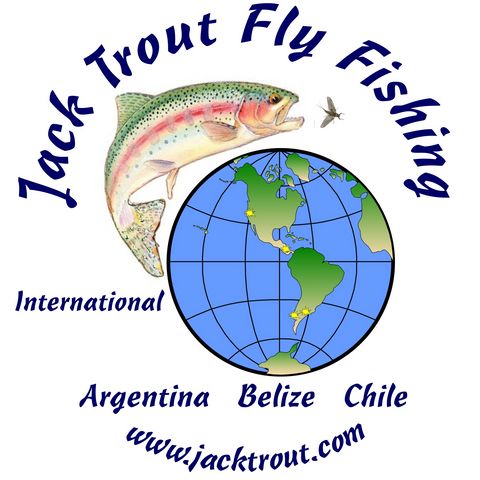 ---
EMAILS FROM YOU:
hey jACK you are welcome here with Mili and I anytime. Oh and Mahana too. We live In Higuera Blanca now, just a few miles from Mita. we are building a house and have about 50 fruit trees. Cant tell you how having a kid motivates you. the shows will be out in feb for Sportfishing mag tv on the Vs channel and in April ESPN, Wanna Go Fishing. Also Sportfishing Mag around Feb.our artifact collection has grown considerably still lots to find. keep in touch, maybe Ill get to flyfish with you someday. My parents just fished the Provo River in Utah and caught some nice browns. Happy Fishing Adios Ben
---
Jack,
Sorry I couldn't call you today. I was occupied all afternoon and could not access my emails until tonight.
I will be in my office tomorrow after 10:00 am.
The photos are great, but it is terrible to tempt someone who can't get away for another 2 weeks.
Looking forward to talking to you.
rod
---
OK Jack put me down for nov 1st. It will be just Riley and I fishing. Are we rafting or boating, will we have opportunities to wade?
Best Regards
Lloyd
---
Hello Jack,
Just wanted to make sure that you got my phone call at which time I left you with my credit card number for reserving 10/17. We are thinking about renting a house in Weed is that too far out of the area for what we have planned floating down the Klamath from Iron Gate Dam? What other areas could my son and I fish around Weed?
Thanks
Patrick Wolfe
---
Jack,
It was great to finally meet you and to get out on the water. I had a great time. Lots of opportunities and some great catches. I'll have to work on that quick upward line set.
I'll have to get my son out and we'll have some real fun. I'm sure David will enjoy you humor and personality.
When I was in dental school I had a professor who had a great philosophy on life. It was "Illegitimus Non Around" which is Latin for "Don't let the Bastards get you down!" Keep that in mind as we wind our way to the election. People will get their heads out of their asses and vote the bastards out of office.
I'm going to spend the off season tying flies and reading your blogs. That should get me through till Spring.
Enjoy your life with that fine women of yours. A good loving women is hard to find and we both have been blessed in that regard.
Rick
---
Jack: Thank you so much for the response. That would be very kind of you to give me a plug….If you wish to put a link to my web site and let your clients know that I may offer commissions to have their "trophies" or favorite fishing spots painted in oils, I would be so grateful. Perhaps with your permission, I could paint from your photos and even do one of the Andes' for you……all my best in your endeavors, also…….p.s. I recently moved here to Tucson, Az, from Redding, California, and had my work in McCloud…..I loved painting that river….Geri
---
Jack,
I was deeply, saddened to hear of your loss, and know life may
not always be fair, but embrace the fact you and Carola have each
other and with that your future will be bright ˙ã
Sincerely,
Jack Holliday
---
Hey Jack, Ben here down in Puerto Vallarta, all is good here. Sorry to hear about yuor daughter. I had the same happen here at 4 months of pregnancy but we did try again and on May 26 2008 we had a little girl, Sharon Mahana. She is 4 months old today and really the light of our lives. Try again for sure. Big smiles for daddy always and really funny. Fishing has been really good, I jumped up from the pangas and work on sportfishers now. We just did Sportfishing Magazine, Sportfishing MAgazine Television with Dean Travis Clarke and Wanna Go Fishing for ESPN. Look for us in the coming yr, we will also be in Marlin MAg and others. Keep in touch, maybe we will fish again together someday. adios Ben
---
`
I≠ve got Wall Street guys taking casting lessons in Central Park. Talk to me Goose, what≠s your schedule look like?
Ben Rees – Associate, Renewable Energy Markets
Evolution Markets Inc.
101 California Street Suite 2750 :: San Francisco, CA 94111-5802
P:   +1 415.963.9131   +1 415.963.9131
F: +1 415.963.9121 :: M: +1 415.690.0812
brees@evomarkets.com
The Intersection of Environment, Energy and Finance˙
---
Hey Jack,
Looking forward to our trip next weekend. How's the fishing?
Jeff
---
Jack,
So sorry to hear about Chailyn. My wife and I lost Jacob one day before his due date in 1995. I know first hand that nothing anybody says is going to make it easier for you and Carola right now, but I will tell you it does get better. This won't make any sense at all and may even sound a bit morbid (I'm sorry), but I wouldn't trade the experience for anything. In a painful and strange way, it was one of the most beautiful things I've ever experienced. Nancy and I drew closer, our eyes opened up to all the WONDERFUL people who surrounded us, and our son Levi was born two years later (he would not have been born if we hadn't lost Jacob as we'd decided two kids was our limit). God does work in ways none of us understand. I thank Him today for giving us Jacob the way he did, and for bringing Levi into the world.
My prayers are with you and Carola.
Charlie
---
10-4 Jack! We're definitely open to the Klamath…we'll go wherever the fishing looks best!
Frank
---
Thanks Jack,
Too short a notice to make this weekend √
Looking forward – what else might there beΣ?
Weekdays (Monday≠s or Wednesday≠s) could
possible work too-
Jack
---
According to it conersado, I send you details of the car for transportation of rowboat, according to design sent by you in photos so that be able it trasmitir to Jack 1 flat Car of 3,20 mts of long x 2,20 mts of wide and for 500 kgs of load, with chassis built in rectangular profiles 80-40-3, upper platform with teleras (crosspieces) in profile OR 80-40-3 lined in plate of wood mediate Marine of 12 mm apernado to the structure, driver's seat in V rectangular of 1,30 mts of long, hand of coupling for ball of 1 7/8″ mark Fulton (USES) and double chain of security in steel of 6 mm. A square tubular axis 50-50-4 with steel axis tips SAE 4340 rectified, masses melted with double conical running to polines, squads of neoprenne, grasera of lubrication, empaquetadura and cover. Springs of leaf in steel 44 x 8 of 3 leaves with bushings of tecnil, brackets and flanches.rolls hoop 13 with tubular tires 175-70-13. Complete wiring of regulation with rear foci triples, focus of patent, cables PRT 18 lined in spaguetti, connectors and enchufemcho (Hella) of seven poles norm Din (European) based on Painting ferrobet, imprimación gray and color of peacock blue termination enamel. It includes: 1 Wheel of complete replacement with tire 1 Polin tubular rear for Value embarkation ascent of the car $ 997.510.- + VAT delivery time: 7 payment Conditions days: 50% with the Order and balance to 30 days documented Without another individual, greets attentively you
---
Hi Jack
Do you have Nov 10&11 open for steelhead with you? It would be Pat Patterson and I.
Gary
---
Dear Jack:
Thanks for sending your emails.
One of these days, I hope to take you up on a fishing trip.
However, as you probably know, a tour bus ran over one of my feet, and I am finally learning how to walk unassisted.
Cheers,
Orville Magoon
---
Hi Jack,
First, I must extend my deep condolences for the loss of your unborn daughter. Your heart is too huge to be broken. Be happy!
Also, wolves on the Klamath? I did not think there was a wolf within 500 miles of California! Where did you get the pictures of the wolf and the bear salmon fishing? Was that the Klamath? I would hire you to simply show me the wolves, forget the Steelhead!
Check this out from: http://www.californiawolfcenter.org/why.htm
Wolves in California?
In discussing the history of wolves in the southwestern United States, Brown (1984) reported that despite an abundance of what appear to be suitable habitats; virtually no wolves have been seen in California. Schmidt (1991), however, came to a different conclusion based on his review of historical records. He found clear records from 1750 to 1850 indicating that wolves were present in the Coastal Range from San Diego to Sacramento when these areas were first being explored and settled. From 1850-1900, wolves were seen in Shasta County and in the central Sierra Nevada. By the middle of the 1920's wolves seem to have disappeared from California. One was trapped in San Bernardino County in 1922. Another, the last to be captured in the state, was trapped in Lassen County in 1924. Although the US Forest Service estimated that some 50 wolves existed in the Lassen, Tahoe, Eldorado, Stanislaus, Angeles, and Rouge River National Forests as recently as 1937, there was little evidence that any wolves were actually present. Schmidt concluded that all of the wolves trapped in recent years have been ones released from captivity.
In 1984, Schmidt noted that there were two important reasons for trying to determine the past distribution of wolves in California. First, the possibility of reintroducing wolves into the state has frequently been discussed, and information about their historical range could be useful in this debate. A feasibility study for the restoration of the wolf to the Klamath-Siskiyou region of north-central California is being funded by Defenders of Wildlife and conducted by the Conservation Biology Institute. Second, extirpation of the wolf may have had an important impact on the ecosystems from which they were eliminated, which might help to explain the current distribution of species such as elk, deer, and coyotes. Reintroduction of wolves might be expected to move those populations towards their historic levels.
Today, there is another reason for interest in the wolf's former range. Wolves from nearby Idaho have recently been seen in Oregon, suggesting a natural dispersal route that could extend into California, Nevada, and neighboring states. The current wolf reclassification plan proposed by the U.S. Fish and Wildlife Service would remove protection from wolves that enter California, and exclude the state from federal wolf recovery efforts. With the help of concerned citizens, we are hoping to bring the wolf back to the wild in several states across the country.
Best to you,
Lee
Lee Jester
The Craftsman Home
---
Hi all. See below update from PG&E on McCloud Powerhouse outage and estimate for return to base flows.
Also, CalTrout, River Exchange, Forest Service, UC Davis and others will be giving a Water Talk about various issues in the McCloud, Upper Sac and Shasta Rivers tonight at 6:00-8:00 pm at the Brown Trout Gallery in Dunsmuir. I know it conflicts with the debate but you can always check that out after!
Best,
Curtis
Curtis Knight, Mt. Shasta Program Manager
California Trout
701 S. Mt. Shasta Blvd. Mt. Shasta, CA 96067
w: (530)926-3755
c: (530)859-1872
www.caltrout.org
Please consider the environment before printing this e-mail
From: Efird, Carol [mailto:cefird@louisberger.com]
Sent: Thursday, October 02, 2008 9:53 AM
To: Nevares, Steven
Subject: McCloud-Pit – Update on Powerhouse Repairs
Dear Relicensing Participants,
Since James B. Black Powerhouse was shut down on September 19 due to a leak at the penstock, significant progress has been made toward repairing the problem and returning the powerhouse to operation. The repair plan is to weld a re-enforcing pipe section around the penstock in place of the cracked coupling that was leaking. Welding on the repair section began yesterday, October 1. If repairs go as planned the powerhouse should return to operation by next week.
Current flow in the Lower McCloud River at the Ah-Di-Na gage (MC-1) is approximately 700 cfs. A storm is currently forecast for Friday and Saturday. Depending on storm runoff, this flow could increase. Updates on the weather forecasts and river conditions are available from the California Nevada River Forecast Center at: http://www.cnrfc.noaa.gov/graphicalRVF.php?id=MSSC1
If the repairs go as planned and the powerhouse returns to operation next week, PG&E will begin ramping down the flow in the Lower McCloud River and the flow at Ah-Di-Na should return to the normal 200 cfs level by 10/10/08.
We will be providing additional updates on the situation on the McCloud-Pit Relicensing website at: http://www.mccloud-pitrelicensing.com/. If you have any questions you can contact me at (415)973-3174.
Steve Nevares
PG&E Sr. Project Manager
McCloud-Pit Relicensing Project Manager
---
Hi Jack,
As usual I≠m salivating looking at these pictures, and just
have to find way to get up there for a weekend fishing trip √
Please give me some weekend dates over the next two
months that you are available for two fisherman √ Looking
forward to your response-
Regards,
Jack Holliday
---
Jack,
Thank you for sending me the info. and pics.
I do want to reserve a float trip on the Klamath on Oct 17. Let me know what you need from me.
Rod
---
Great logo. Brandon's parents had a fantastic time. They loved the river. Let me know if you have open dates. Rick and Cindy will be in Mt Shasta on Oct 25 if you have an opening.
Richard Gebhart, DVM
---
Thanks for the followup, I'll try to rebook sometime in the near future.
David Wilson
Chief Financial Officer
WILSONWEST, Inc.
---
Good morning Bro! How are you? Can you get me Travis's email address? will appreciate that. hope to hear from you soon.
We look forward to guiding Travis and Lynn Oct 4th to 12th, here in Belize.
cheers!
Capt. Lloyd Nunez Jack Trout Fly Fishing International Belize –
---
Dear Jack & Carola,
Although we have never met, you have always been very patient, and returned my emails that have been coming your way for about 2 years. I am the mom always asking about fishing trips for my son. My family and I want you both to know that you are in our thoughts and prayers for the loss of your angel.
We wish you many happy years to come.
Sincerely,
The Carrillo Family, Andrea, Robby & Savanah
Red Bluff, Ca 96080
---
Hi Jack,
I am so sorry about Carola≠s miscarriage. Keep trying. When are you getting married? I am fo warding your latest newsletter to Alan Weeden , a friend of Doug Tompkins. Alan is our friend with the gorgeous house on the Futelafue river, right before the river enters the gorge. I hope all is well with you and that October fly fishing is great. I would fish the Klamath River but I got so cold last year with wet feet on the Trinity. Swapping boots with you really helped. Now all I need back is my wading stick I left in your boat. We'll be up to get it!
Have a good year. Cheers, Missy and Patrick.
---
A move to secede on California-Oregon border
Kevin Fagan, Chronicle Staff Writer
Sunday, October 5, 2008
——————————————————————————–
Print E-mail del.icio.us
Digg
Technorati
Reddit
Facebook Slashdot
Fark
Newsvine
Google Bookmarks
Yahoo! Buzz
Share Comments (167) Georgia (default)
Verdana
Times New Roman
ArialFont ¦ Size:
——————————————————————————–
(10-05) 04:00 PDT Yreka, Siskiyou County — Some folks around here think the economic sky is falling and state lawmakers in Sacramento and Salem are ignoring their constituents in the hinterlands.
——————————————————————————–
Images
View More Images
——————————————————————————–
More News
US mil: 11 Iraqis killed in Mosul raid 10.05.08
Mortgage forgiven for woman, 90, who shot herself 10.05.08
Medicine award kicks off Nobel Prize announcements 10.05.08
Salmonella sickens people in 12 states 10.05.08
——————————————————————————–
Guess the time is ripe to create a whole new state.
That's the thinking up here along the border between California and Oregon, where 12 sparsely populated, thickly forested counties in both states want to break away and generate the 51st star on the nation's flag – the state of Jefferson.
You can see the signs of discontent from Klamath Falls to Dunsmuir, where green double-X "Jefferson State" flags hang in scores of businesses. You can hear the talk of revolution at lunch counters and grocery lines, where people grumble that politicians to the north and south don't care.
You can even hear the dissent on the radio, where 21 area FM stations broadcast from Oregon into California under the banner of "Jefferson Public Radio."
"We have nothing in common with you people down south. Nothing," said Randy Bashaw, manager of the Jefferson State Forest Products lumber mill in the Trinity County hamlet of Hayfork. "The sooner we're done with all you people, the better."
Talking about secession has been a quasi-joking conversational saw since 1941, when five counties in the area started things by actually declaring themselves – briefly – to be the state of Jefferson. But now, with the economy in trouble and unemployment soaring, the idea of greater independence is getting its most serious consideration since World War II.
Locals complain that federal and state regulators have hampered the fishing and timber industries to protect forestlands and endangered species such as sucker fish and the spotted owl. Jobs are so scarce that the median income in the area is only two-thirds that of the rest of the state. Most water from the rainy Shasta region is shipped south, with little economic benefit to the area. Even the California sales tax draws sneers.
If they ran their own state, the reasoning goes, folks in Siskiyou, Modoc and the other potential Jefferson counties could whack the red tape from both federal and state officials and get rid of the sales tax.
Seeking signatures
The Grange Hall of Yreka, a farm-based service organization, is activating 51 of its brethren halls in the area to collect 1 million signatures to have a statehood advisory measure put on the California ballot. Tony Intiso, a runoff candidate in the Nov. 4 election for Siskiyou County Board of Supervisors, has pledged to force the issue and is running campaign ads calling for regional freedom. The number of registered users of a decade-old Web site advocating partition has suddenly shot from dozens to more than 900.
"Heck yeah, it's a darn good idea," said Richard Mitchell, manager of the Cooley & Pollard Hardware Store on Miner Street, the main drag in the blink-and-you-miss-it town of Yreka. "Those liberal people down south don't understand us at all, and if there was a vote today to form a new state, it would pass in a heartbeat.
"I would bet on it."
The window of Mitchell's store, where he tends the register in worn work boots and a camouflage hunting cap, displays T-shirts and flags sporting the state "seal" of Jefferson: Two X's denoting the double-crossing the area supposedly gets from the capitols of California and Oregon.
Movement began in 1941
Mitchell also posts a copy of the original declaration of Jefferson independence, drafted in 1941 by the angry miners and loggers who pushed for secession over the appalling condition of roads. That movement – the coverage of which earned Chronicle reporter Stanton Delaplane a Pulitzer Prize – lasted just two weeks before the Pearl Harbor attack, when the movement dissolved in the name of national unity.
But it was never forgotten.
"It started out as a big joke back then, but then some folks got real serious and before long they had elected a governor and all that," said Frances Wacker, 95, whose husband, the late George Wacker, was one of the 1941 Jefferson movement leaders.
"I think some folks have become serious again and think they have something going."
Sixty-seven years ago, Wacker recalled, locals were frustrated because they were ignored when they complained to lawmakers that they couldn't easily ship copper and timber south to ports and markets on the axle-cracking roads. The roads have improved since then – the same trip now takes four hours, not the eight of 1941 – but the unhappiness has not.
"It's not rocket science to see why it makes sense, and how we could do it," said Brian Petersen, a landscaper who runs the main online forum advocating statehood, www.jeffersonstate.com. "The capitols of California and Oregon ignore us. We want out.
"All we have to do is get an initiative on the ballot and vote to get things going."
Peterson has run his Web site for 10 years. For most of the time since, the site had a mailing list of about 100.
In the past year, though, as the Grange began its petition drive and unemployment throughout the region rose to about 10 percent – almost three points above the California average – the mailing list grew nearly 10 times in size.
"If you want any chance of fixing things, sometimes you have to break the system," said Leo Bergeron, master of Yreka's Greenhorn Grange Hall and past master of the statewide, agriculturally oriented Grange service club. "Now, we have to break the system."
For years, he said, locals have proudly claimed Jefferson is a "state of mind" born of living in an expanse of forestlands and hamlets that is roughly the size of Wales and has about the same population as San Francisco. Redding, with a population of 80,000, is the closest thing to a metropolis. And with 60,000 cattle, Siskiyou County has 15,000 more bovines than it does people. Along the way, tourist-minded locals have come up with the flags, an official state cow ("Moo-dona," a huge sculpture alongside Interstate 5) and an official beer (microbrewed in Etna). The legend of Big Foot is also big around here.
But Bergeron's not playing around.
"If you do it seriously, some people will think you're a kook," said Bergeron, who spearheads the Grange effort. "But 9 out of 10 people have an interest in this – and we need to reach the ones who are really serious."
Working toward '09 measure
Bergeron's first goal is to gather 1,200 signatures in Siskiyou County to put an advisory secession initiative on the county ballot in 2009. At the same time, he is urging the 51 Grange Halls in Jefferson territory, and those on the mailing list of www.jeffersonstate.com, to gear up for collecting 1 million signatures to take the advisory measure statewide.
"We'll need the approval of both states and the federal government, but it can be done," he said. "And even if we don't become a new state, we will have made a statement and can at least get some more independence in our own affairs."
Such a statement would be news to most in Sacramento.
"Never heard of Jefferson," said Aaron McLear, spokesman for Gov. Arnold Schwarzenegger. "We are going to decline comment."
Gail Fiorini-Jenner, co-author of two books on the state of Jefferson, said the almost 900,000 people who live in the territory aren't hicks. Just feisty. And that, she said, is not new: Since the 1850s, there have been similar attempts to create the states of Klamath and Shasta.
"Everyone thinks we're dumb rednecks, but we have the far left, the far right and a lot of the middle up here," she said. "Our only trouble is we have no political power. It's no wonder people want to change that."
E-mail Kevin Fagan at kfagan@sfchronicle.com.
This article appeared on page A – 1 of the San Francisco Chronicle
---
Oregon's Sandy River successfully reinvents itself after dam removal
Scientists are impressed how fast the river is digesting Marmot Dam sediment
Wednesday, July 30, 2008 MICHAEL MILSTEIN
The Oregonian Staff
SANDY — As dams go, Marmot Dam on the Sandy River wasn't huge. But now that it's gone, its impact is turning out to be enormous.
The removal of the nearly 50-foot-high dam by Portland General Electric in October gave scientists perhaps their best chance to watch as a river digested a vast amount of rocks, sand and gravel collected over many decades in a reservoir.
Some had worried that sediment piled behind the dam would suffocate salmon and block tributaries downstream. It did nothing of the sort. In fact, the river has since digested the equivalent of about 150 Olympic-size swimming pools full of sediment — without a hiccup.
"Never has this much sediment been released at once into such an active and hungry river," said Gordon Grant, a research hydrologist with the U.S. Forest Service's Pacific Northwest Research Station. He has studied the dam removal and given presentations on the results at conferences from Sacramento to Venice, Italy.
He was just invited to give his Marmot Dam talk in China.
"There's a global interest right now in river restoration," Grant said. "Marmot is certainly one of the best-documented and most spectacular examples of dam removal in the sense that the river was allowed to process the material itself."
The river has so far removed about half the material backed up behind the dam. It's difficult to tell that a dam once blocked the popular salmon stream. The river shoves and piles gravel and cuts into the shore the way a healthy river should.
Scientists were especially impressed with how rapidly the river scoured the sediment away. Some models predicted the river would need two to five years to carry off half the sediment pile, but it did so in months.
Though some officials had worried that the sediment would linger and pose an obstacle to fish, federally protected coho salmon were swimming upriver the day after the dam crumbled. Salmon spawned in the river as they always have.
"This was a grand experiment that came out just like people hoped it would," said John Esler, project manager in PGE's hydropower licensing division.
---