Chile Fly Fishing Going Great, Call Us For Your Adventure!
530-926-4540  – info@jacktrout.com    * Call me in Chile on my computer 530-918-8879
Jack & Carola Trout & Team Trout Guides * April Sign-Ups for Upper Sac & McCloud River Floats!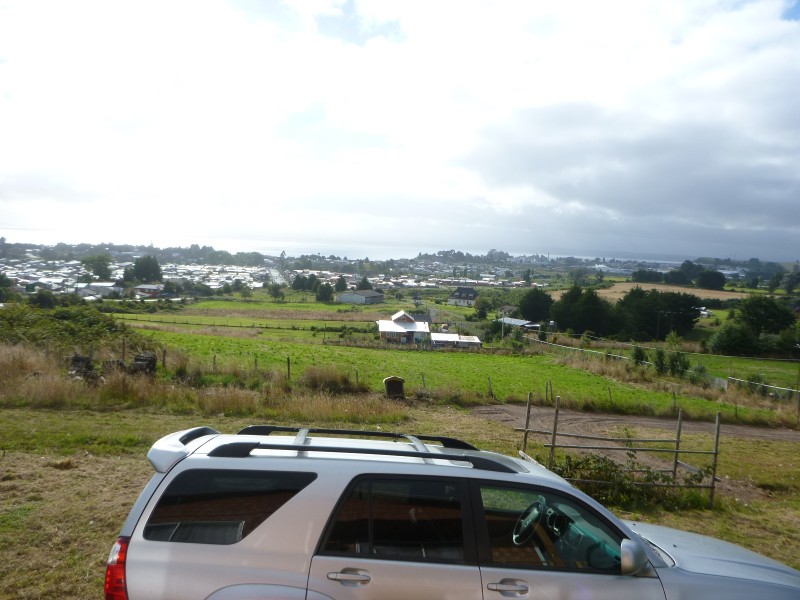 Howdy folks from Llanquihue Chile! What a great time of year to be in Chile as it is mid summer now and temps are perfect for lounging
around or taking that drive to a special place to fish around the Lakes District of Chile or the Rivers District of Chile. We decided to rent this new house on the side of a hill up from Chile's second biggest lake, Lago Llanquihue. What a marvelous view especially when the clouds subside and the massive Volcano Osorno appears across the lake.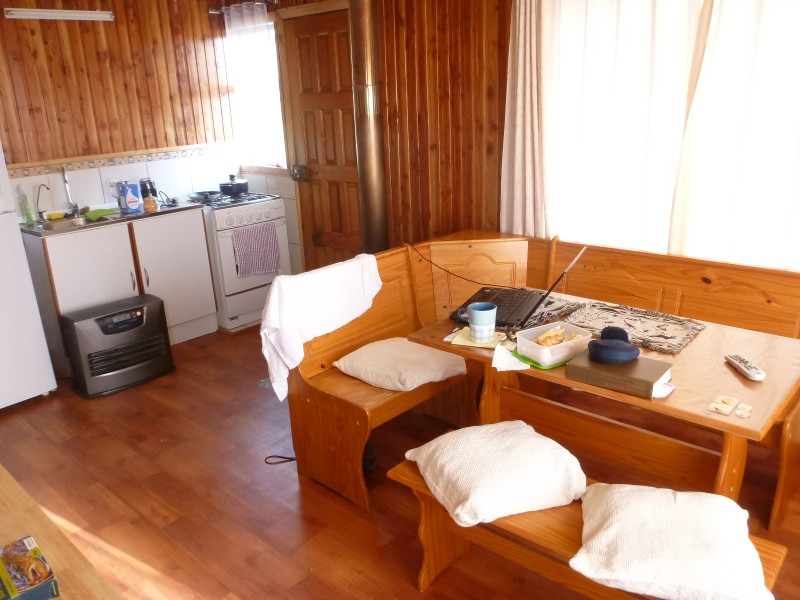 It's a cute place to hang out and you can't beat the price at $363 per month, we'd just stay if we didn't have the home in Shasta.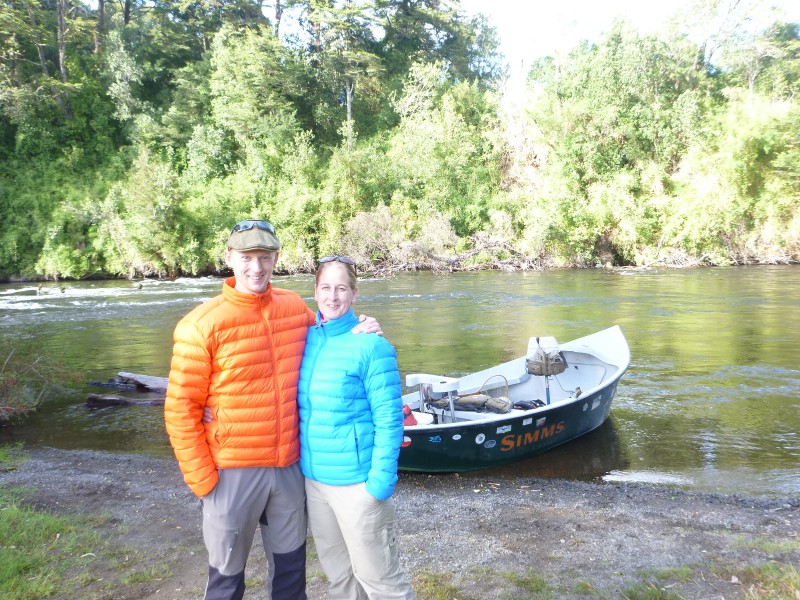 Then Filip & Christina showed up from Sweden to do a couple of days of fishing with us on the Rio Maullin and the Rio Petrohue.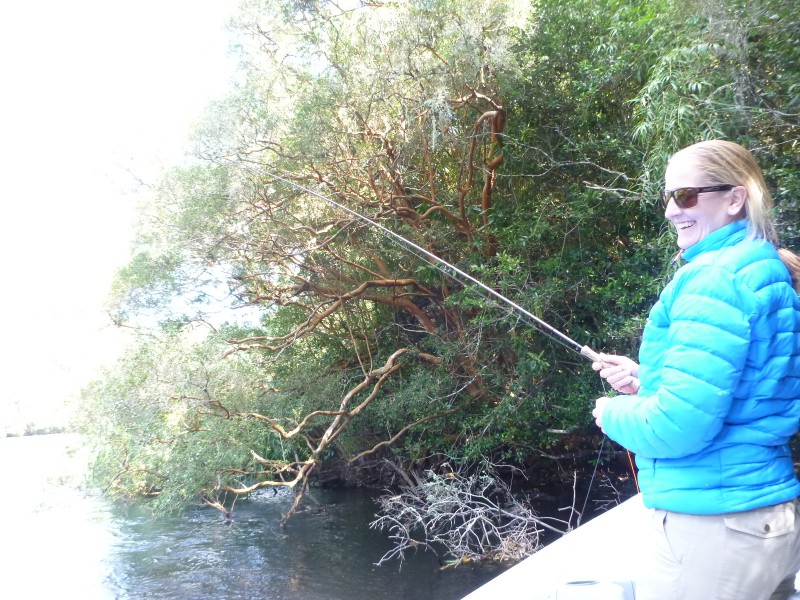 Christina enjoyed her first day ever fly fishing and caught a trout right away.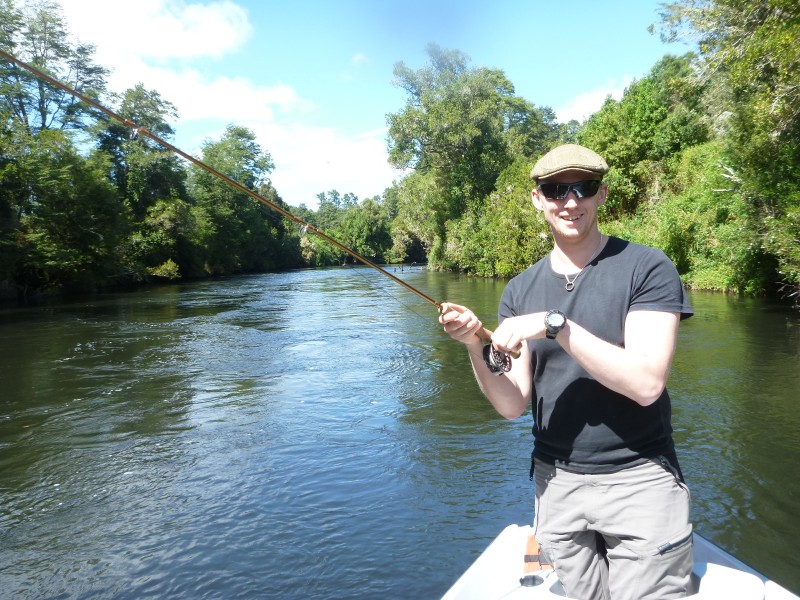 It was many small fish that day, like 22 small fish and one big one, but such is life fishing mid summer in Chile.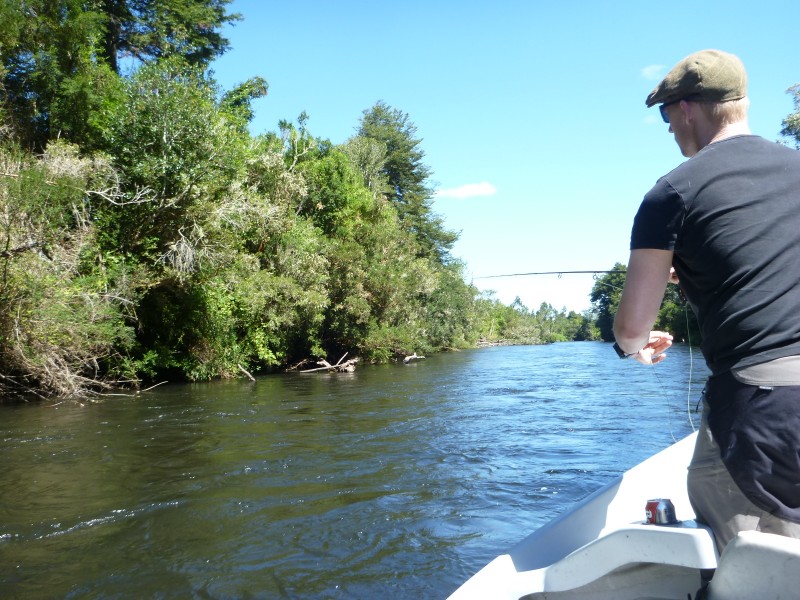 Being only 30 miles from the ocean anything can happen at anytime, some big ole Wally comes marching in, you'd better be ready folks!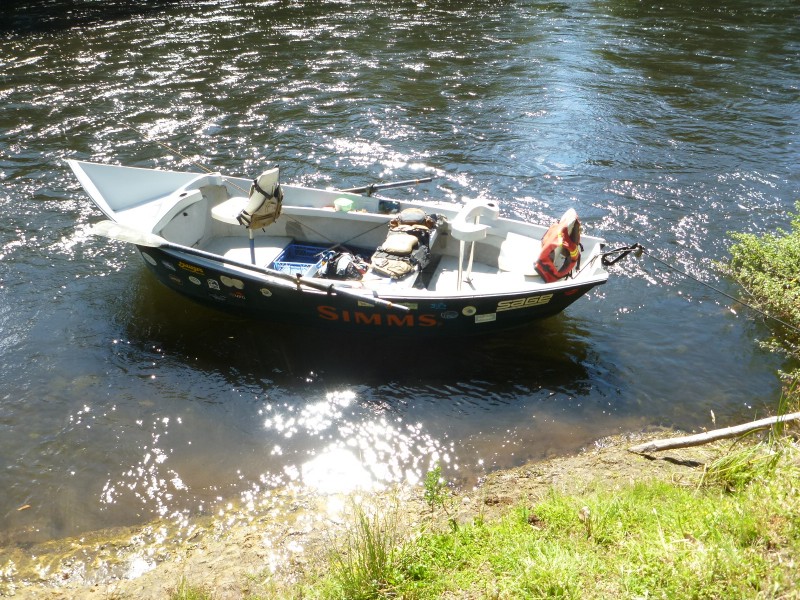 The drift boat is doing fine and looking great in her old age, kind of like a good Carmenere better with time.
Lunch is always an epic experience here in Chile, we like bringing it on people! Besides, living large on the banks of a lovely Chilean river is where it's at.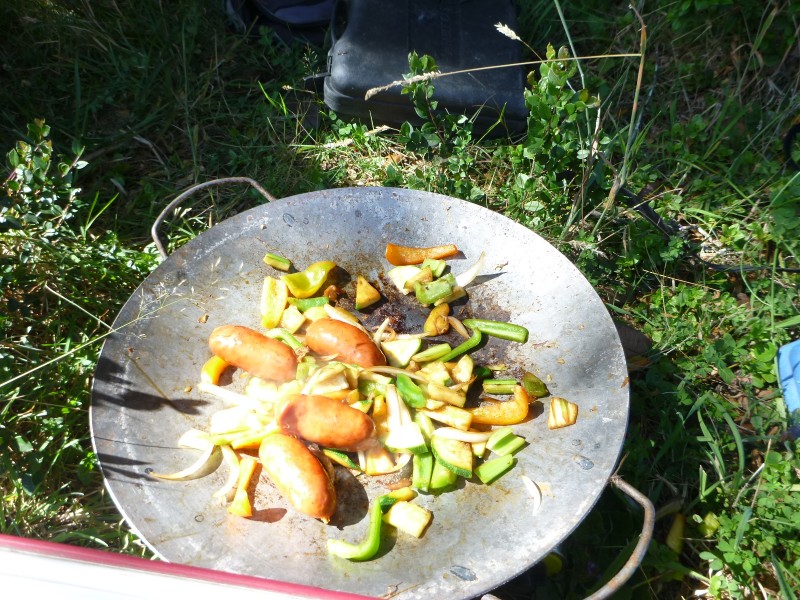 They have this metal dish they call a disco and we can cook just about anything on. Of course I never really liked the disco scene in the 70's so this is a welcomed change in dialect.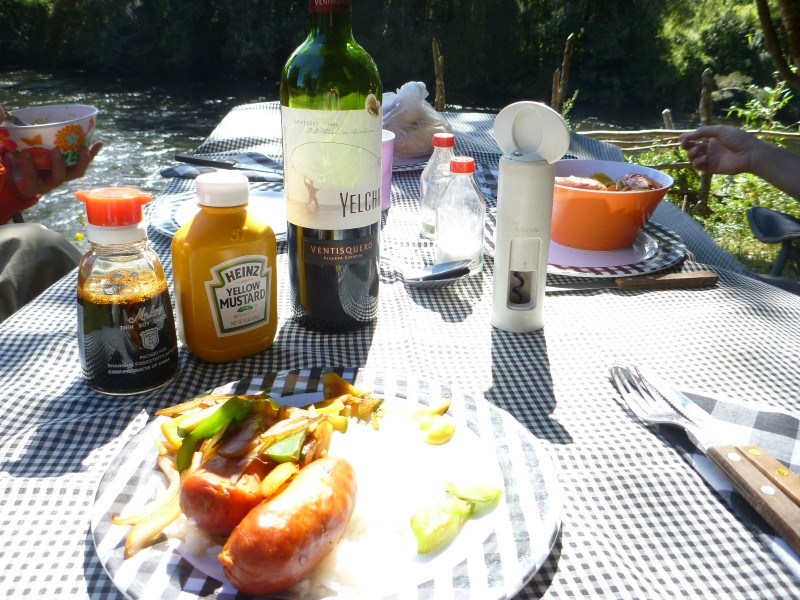 If you come to Chile try the Carmanere vino and get a bottle of Ventisquero, you won't be disappointed folks.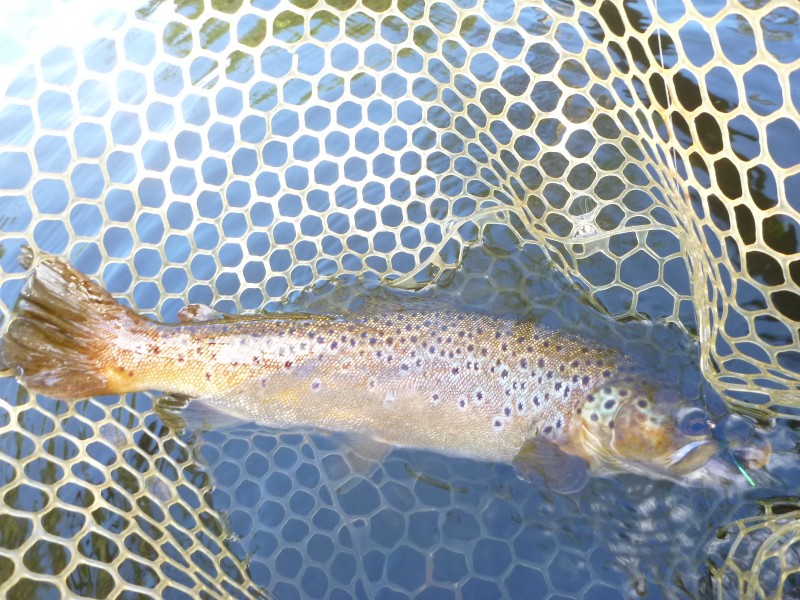 After lunch we finally picked up a real trout as we caught a lot before but nothing worth bragging about. This awesome hot 90 degree weather and low water is killing the fishing right now. I am looking forward to March rains and cooler fall weather which will get the bigger fish feeding. If it was up to me I would just fish Chile in March/April the best months to come here and fly fish. Some years November and 1st week of December can be great but that depends on what kind of winter snow pack and the flows as it can be a blow out also. You just never know folks, these crazy changes in the weather are effecting everyone and are happening all over the world go figure.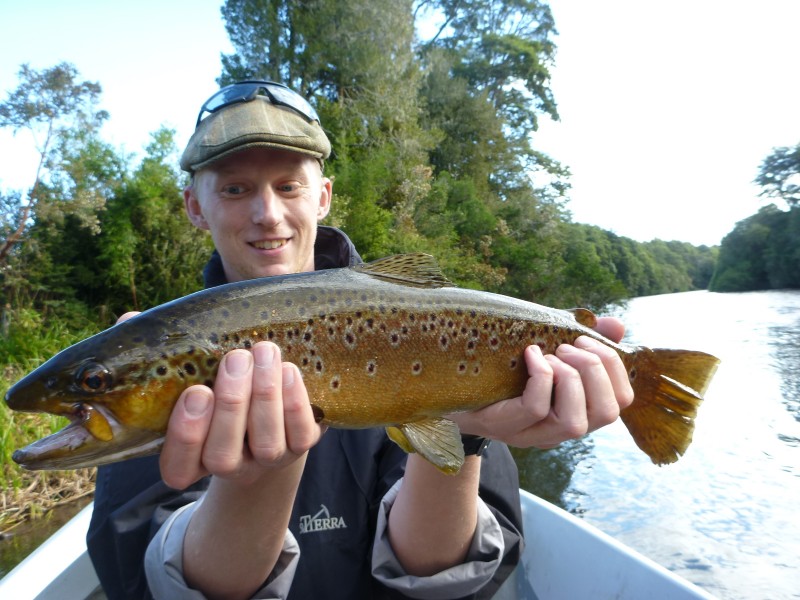 Ah, the reward, a nice brown trout from Germany can make anyone's day. It reminds me of those people who found 1427 gold coins on their property in the Sierra Foothills of California, it's all like living a dream here in Chile. Sure would love to see that 1866 S with no "In God We Trust" on the back of the coin. That one coin is worth a million dollars alone as it was rated MS66 by PCGS. Wow like a huge trout that's hard to find some days but worth it in the end.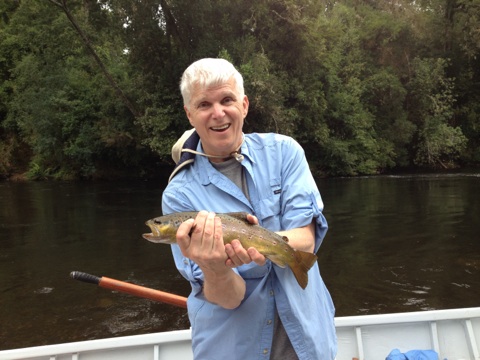 Client Tom Kalina out with Mattias on the Rio Maullin for a great adventure off the cruise ship in Puerto Montt, Chile.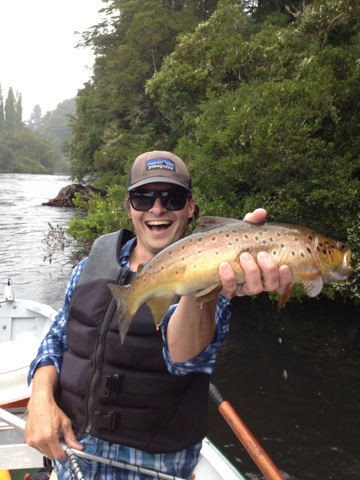 Our guide Mattias out on the river with Tom Kalina.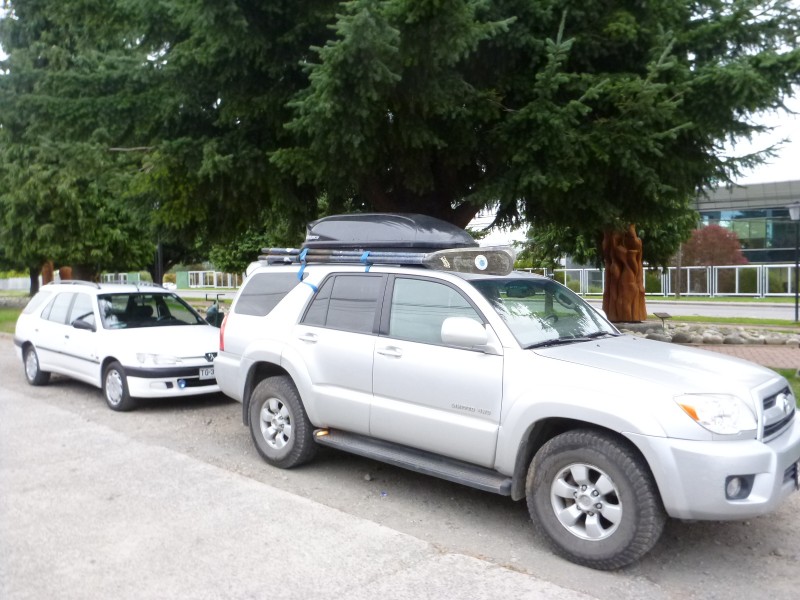 Here's our means of transpo here in Chile, our Toyota Limited for fly fishing and a Peugeot for tours.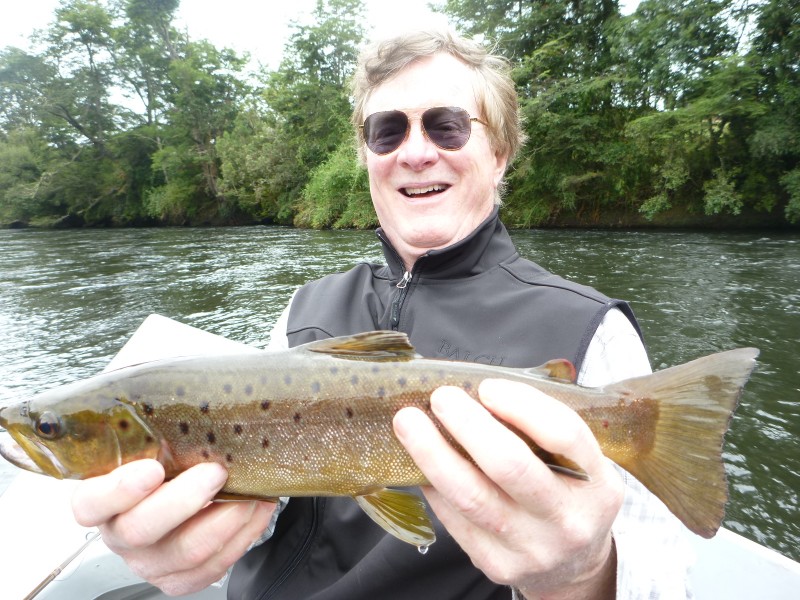 Right off the cruise ship in Puerto Montt, Bill Teegarten ladies and gentlemen.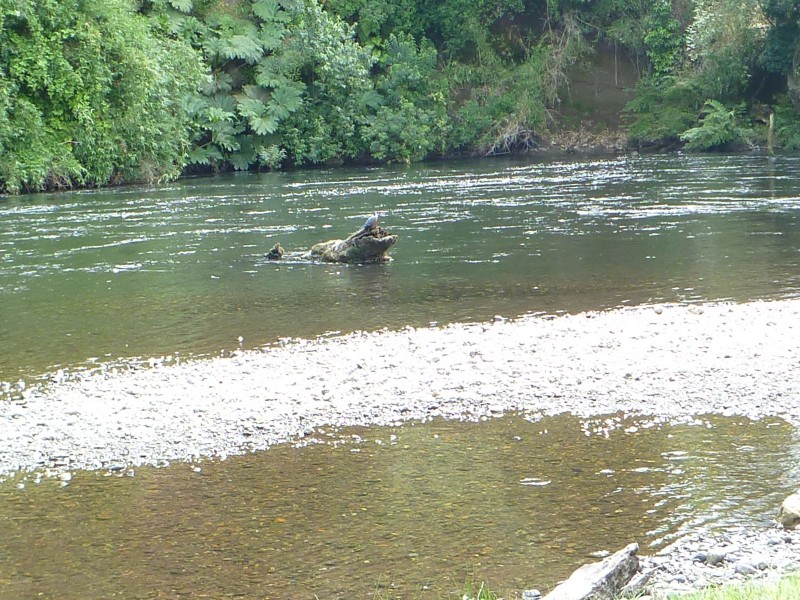 At lunch a Kingfisher watch our every move as it continued to follow us down the river that day.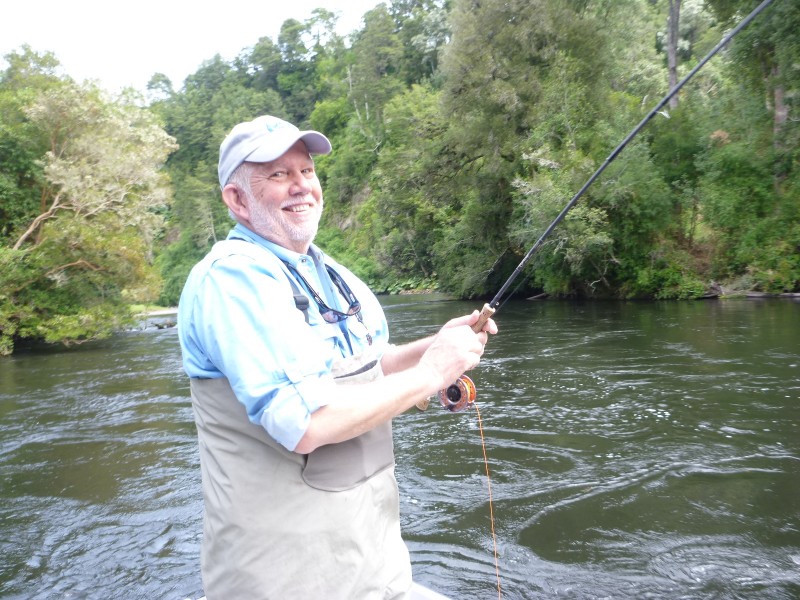 After lunch fishing picked up and we hooked several smaller fish that fought hard and amused us.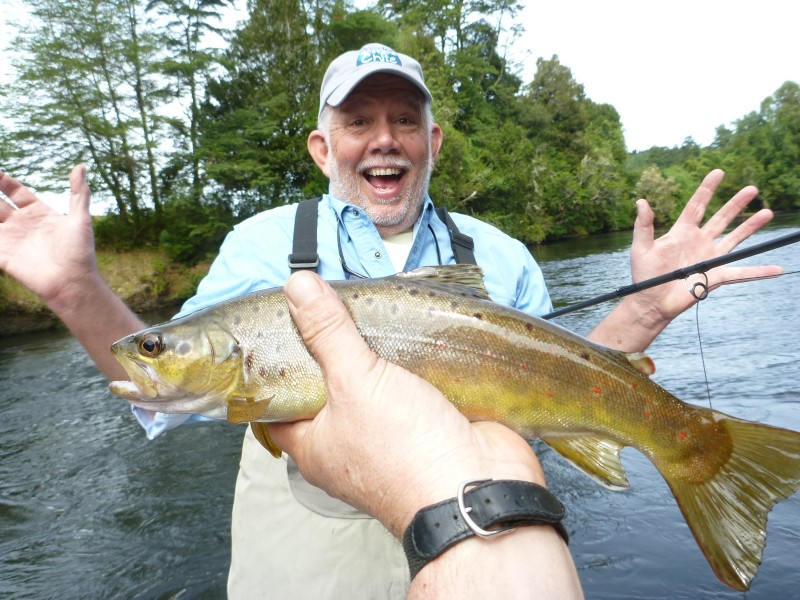 Wow, it's a fish! Hot weather is not a recipe for exceptional fly fishing, better stay out late tonight. Thanks again for coming down and checking it all out on the Rio Maullin.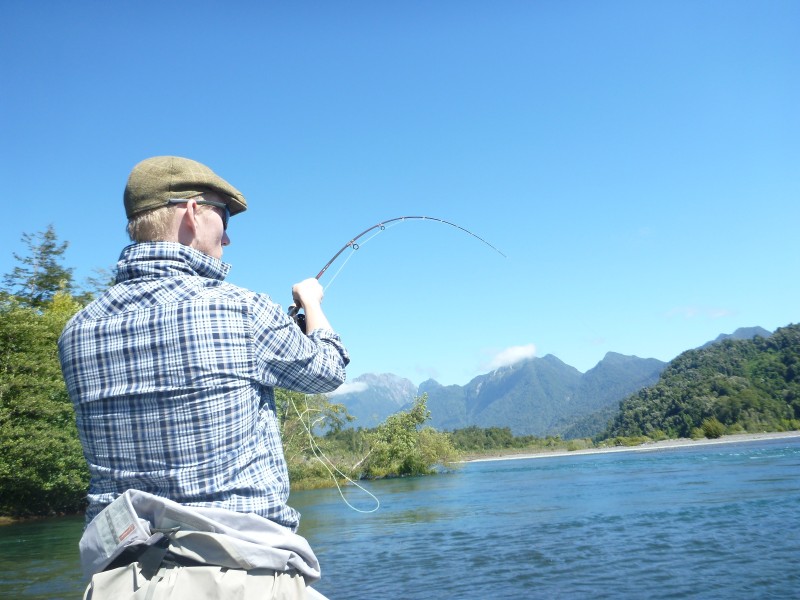 Back over on the Rio Petrohue a few days later Filip and Christina from Sweden are catching trout and seeing salmon jump every where as this is the time of season the big fall push occurs. Of course some rain could really help with the salmon bite on flies.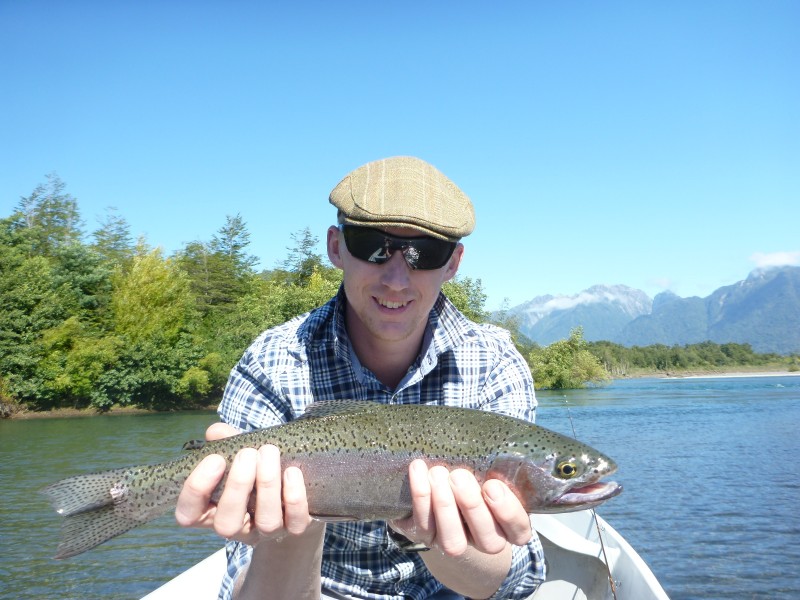 A nice trout caught scourging on some salmon redds, so we used the appropriate method to fool this trout. The incredible, edible – artificial egg.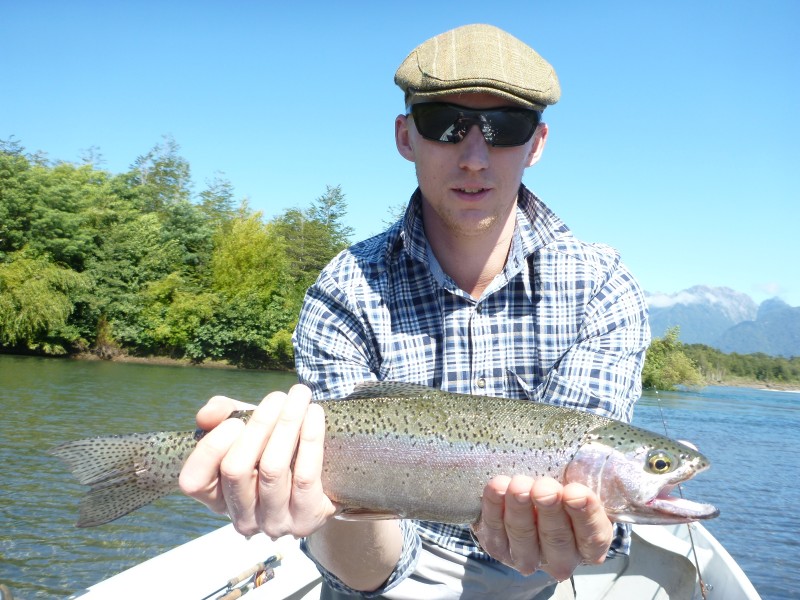 I think the fishing will approve every week as we head into March and April, so if your so inclined you might give me a call at 530-926-4540 – 530-918-8879  or info@jacktrout.com
A great place to fish, tour and retreat to in the Northern Hemisphere's winter months.
Thanks, jack & carola trout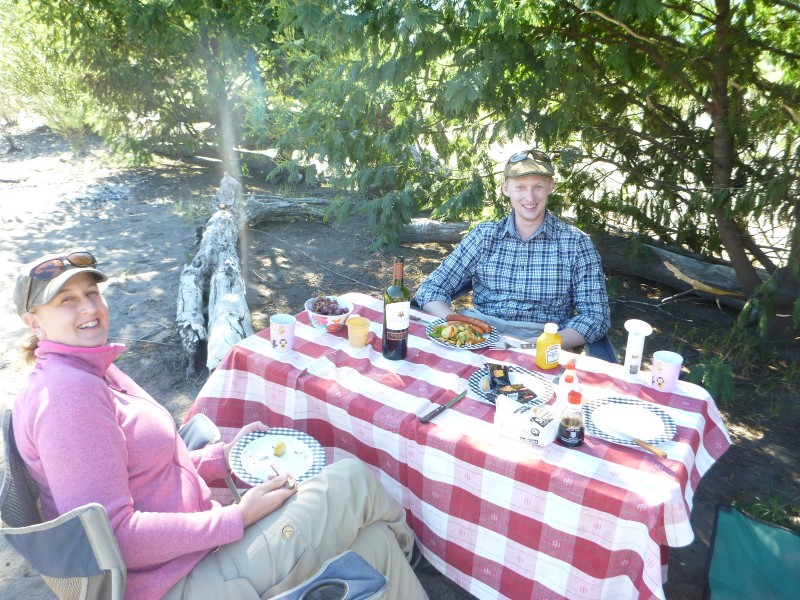 Lunch in the final frontier with water, not over rated folks.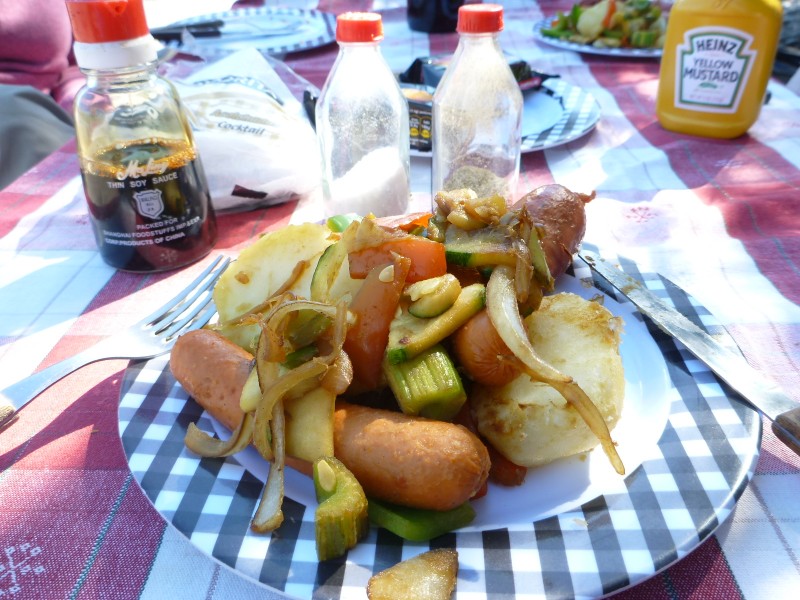 I love all these heart stopping German sausages down here, the food is really terrific here in the Lake's District of Chile.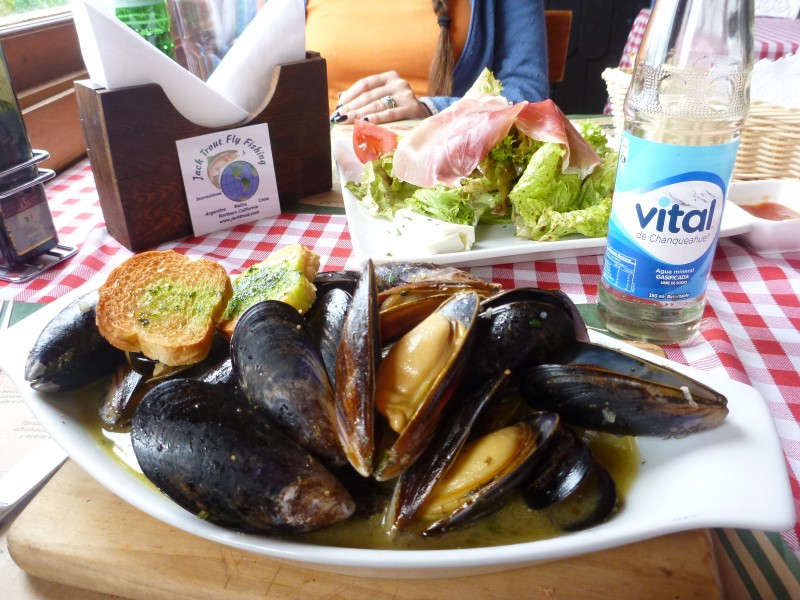 After work, at our favorite Italian restaurant in Puerto Varas, Chile the food is divine.
http://www.tripadvisor.ca/ShowUserReviews-g294299-d1096879-r123684942-Da_Alessandro_Pizza_Pasta-Puerto_Varas_Los_Lagos_Region.html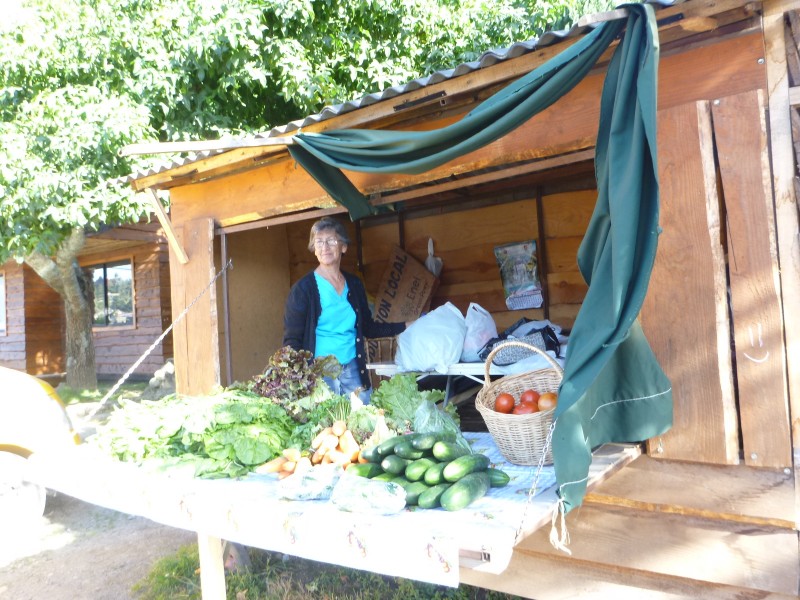 Over up in the River's District near the town of Panguipulli, Chile the fresh vegetables couldn't be fresher and the weather continues to be unusually hot for this area of Chile. Mountain peaks and volcanoes that I remembered that had glaciers on them less than 5 years ago are all melted and gone now. But that's not effecting the fresh fruit and vegetables here like it is in California, I hope it stays that way folks. It has always seemed apparent to me that Chile and California have similar weather cycles or there close by my hunch.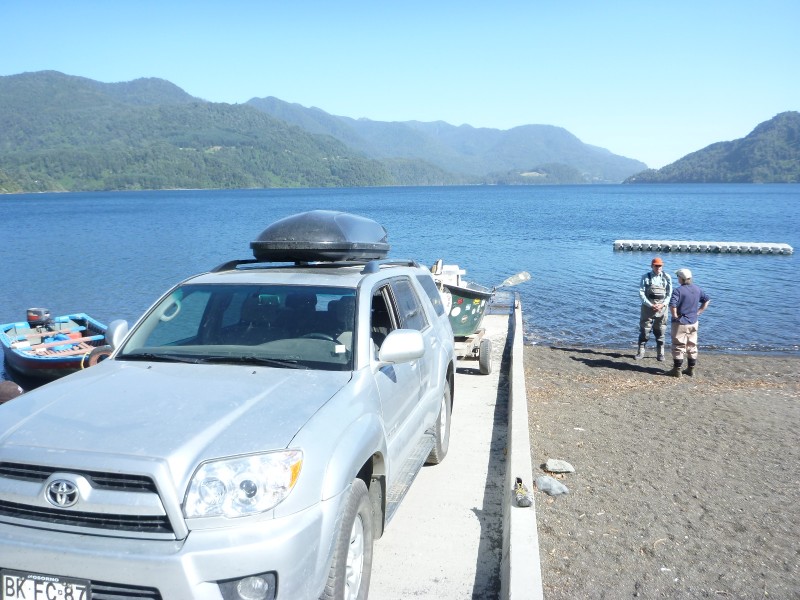 Ok, one of my own personal private trip is to fly fish the Rio Enco in Choshuenco, Chile. it's expensive just for the shuttle and boat ride to the location has doubled in cost to $100 USD. Ooouch! I think I'm going into the shuttle business, it pays more and little hard on the shoulders.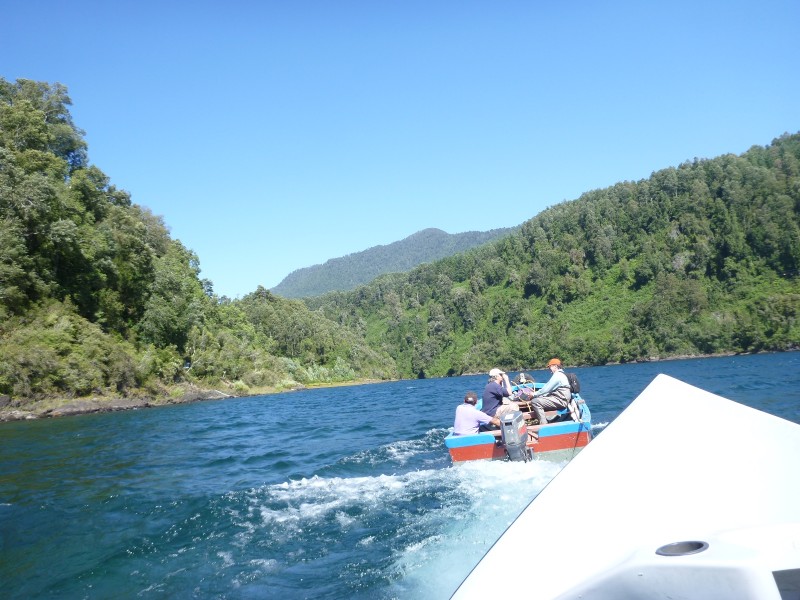 Here we go, what a thrilling ride it is!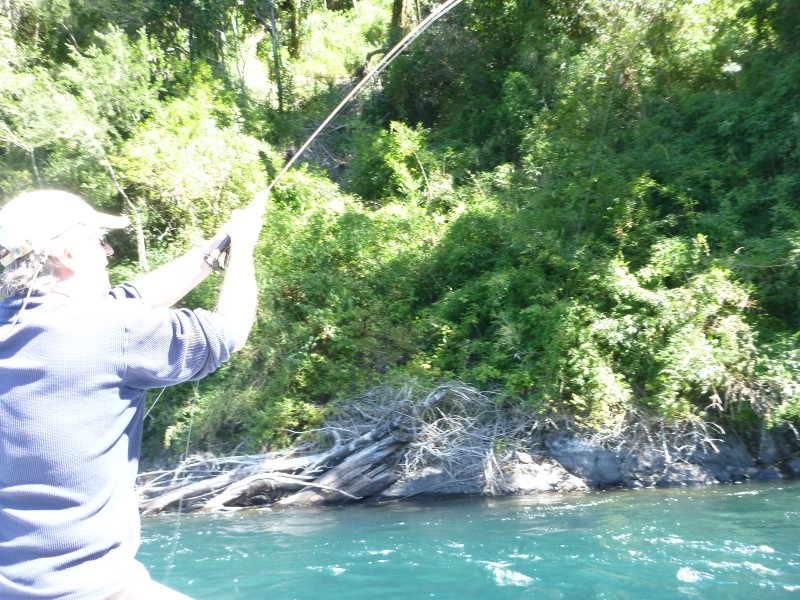 Once we arrive the river in between Lago Panguipulli & Lago Rinuhue called the Rio Enco is an incredible 4 miles of gods river, I make into a 10 hour experience.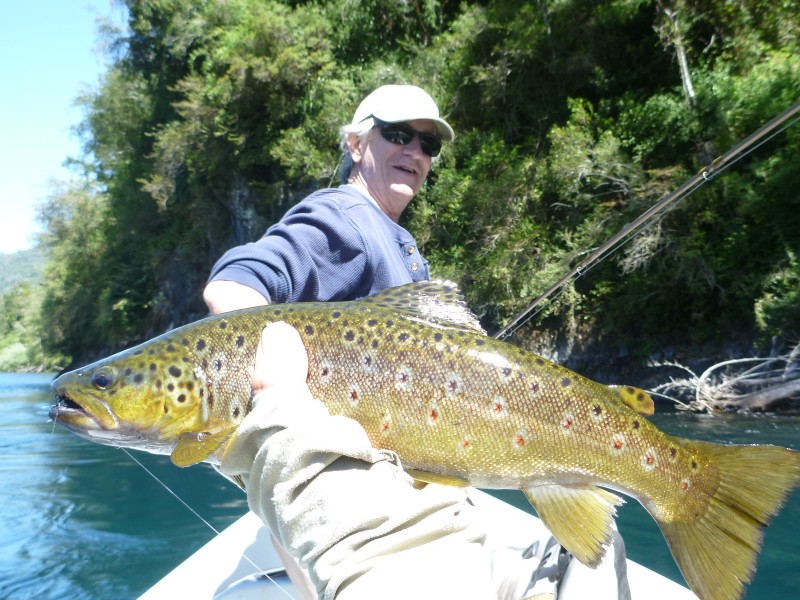 This is the place where Andy Swann caught that 13 lb rainbow trout in April 2012. We were back to maybe hook something half that size if possible…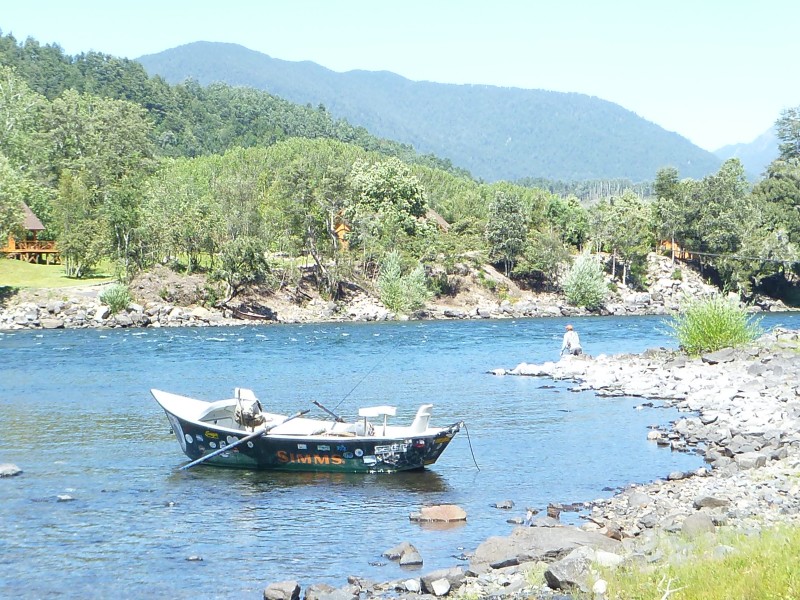 This has been a great drift boat Carola found for us back in 2009.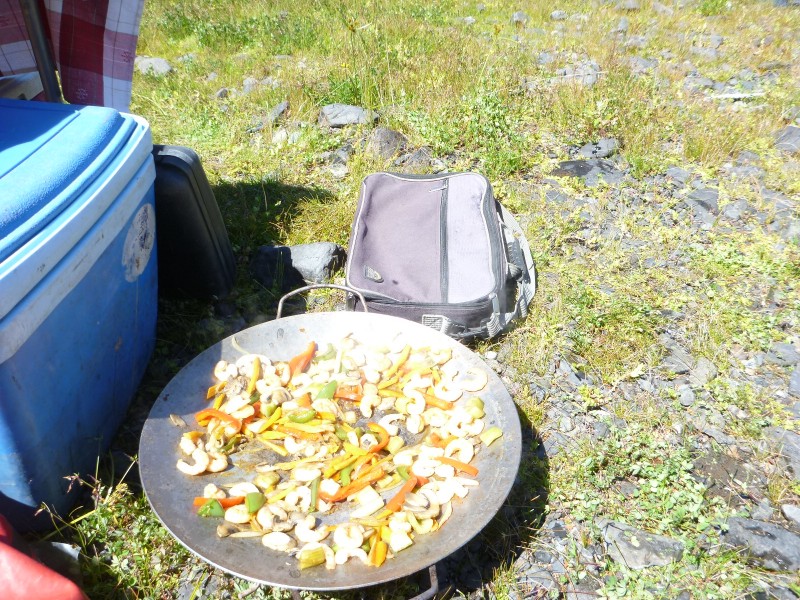 a little shrimp on the barbie anyone!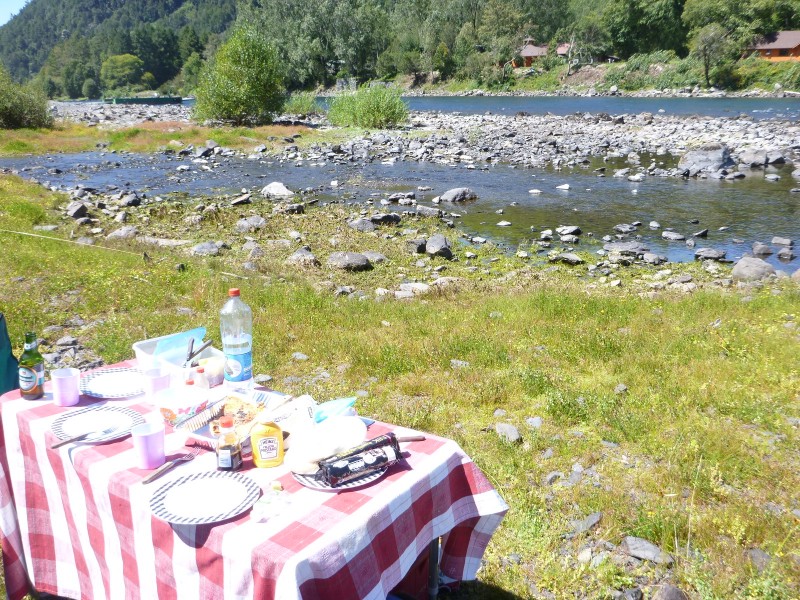 We got low flows folks, it's happening here to you know, but beautiful all the same..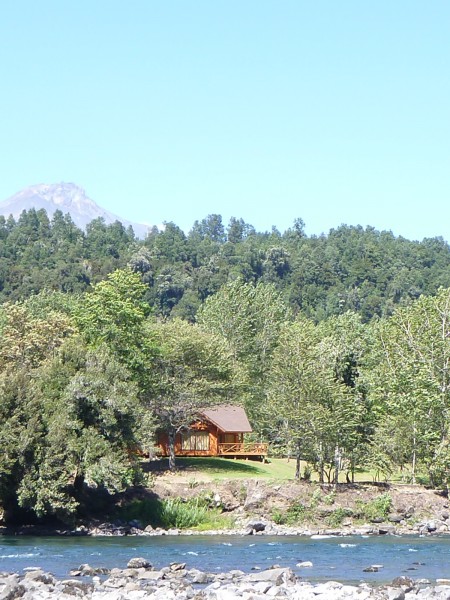 Chile is growing up in the world since I first arrived in the early 1990's, it has become a mature, robust country that offers more fresh water and potential, as long as they don't let it go to their heads, they should be fine heading into this next era of time. The gas prices of $8 per gallon and out of control inflation is the only thing that could hurt this place in the future. When it comes to those two things in comparison to the United States, I feel as though we don't have it all that bad right now. Just need to have these rich corps and people start spending some money and quit holding on for dear life.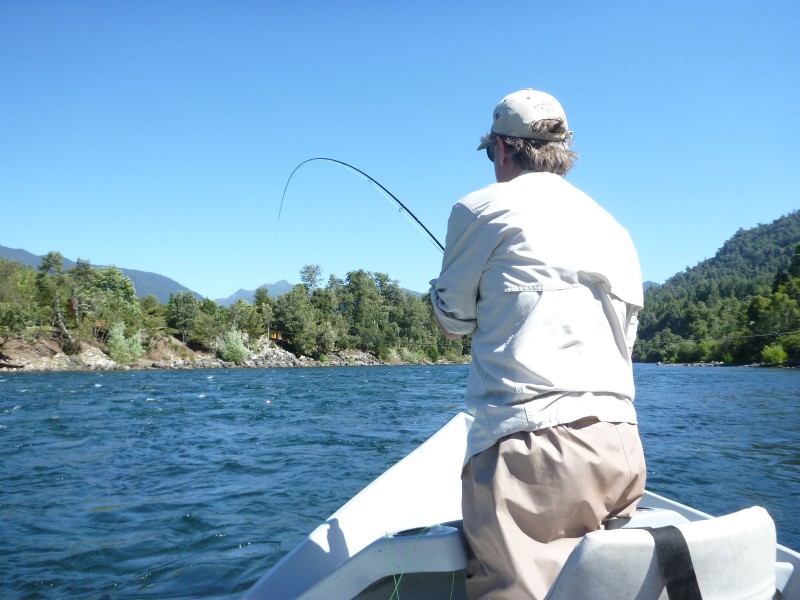 Meanwhile, Andy Swann my best client in Chile has been living life to the fullest and keeping me and my guides busy as usually, wish there were more people in the world like Andy, he helps the velocity of money exchange hands, it makes the world go around nicely.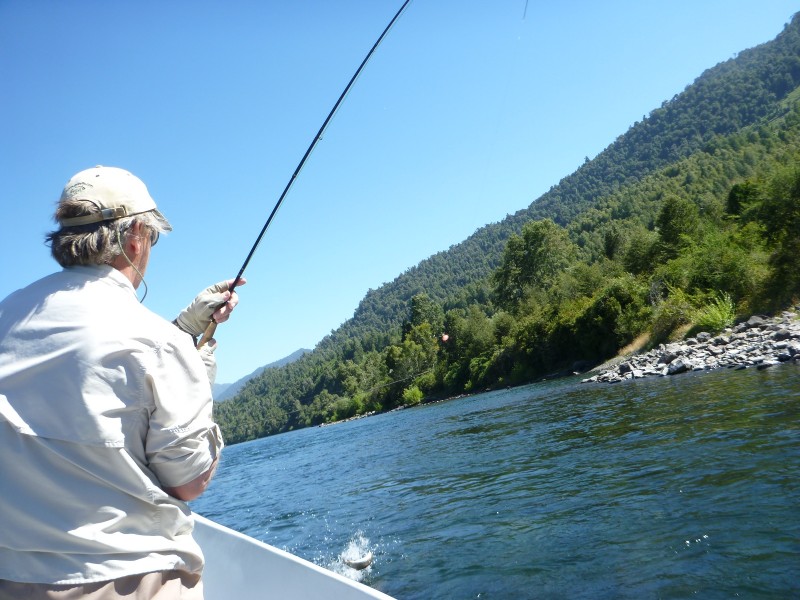 Alright a nice action shot people, that's what we came for.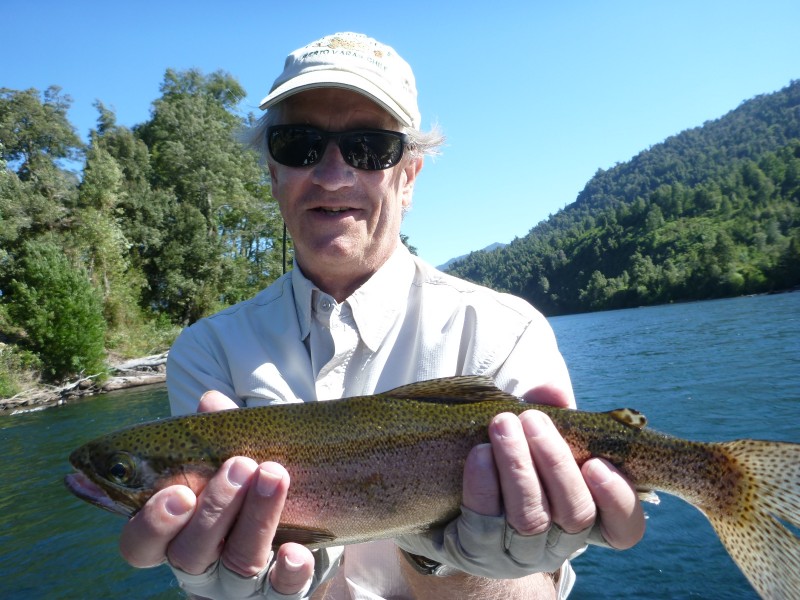 Trout originally from the McCloud river in Northern California is always a nice endeavor for our adventures.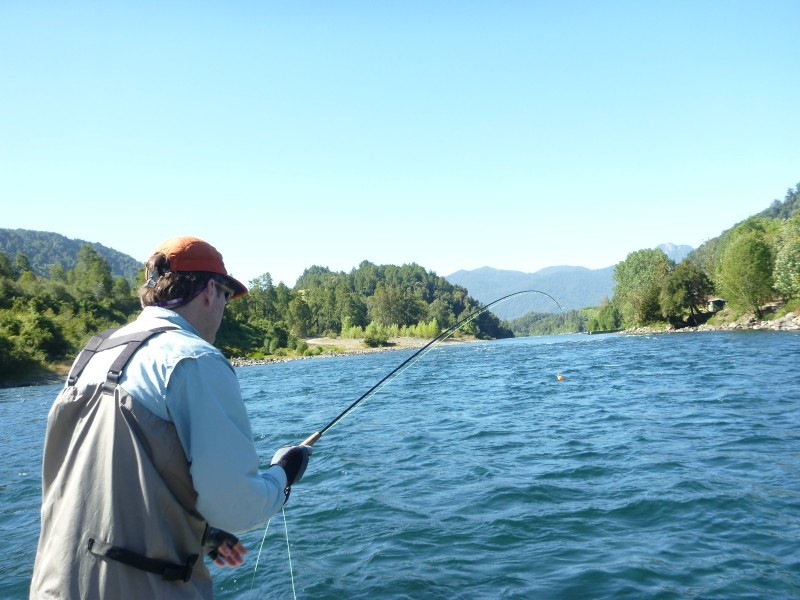 Tim Sullivan who is just learning how to fly fish is dialed in baby! I really like guiding these guys from San Antonio, Texas their a lot of fun out on the river.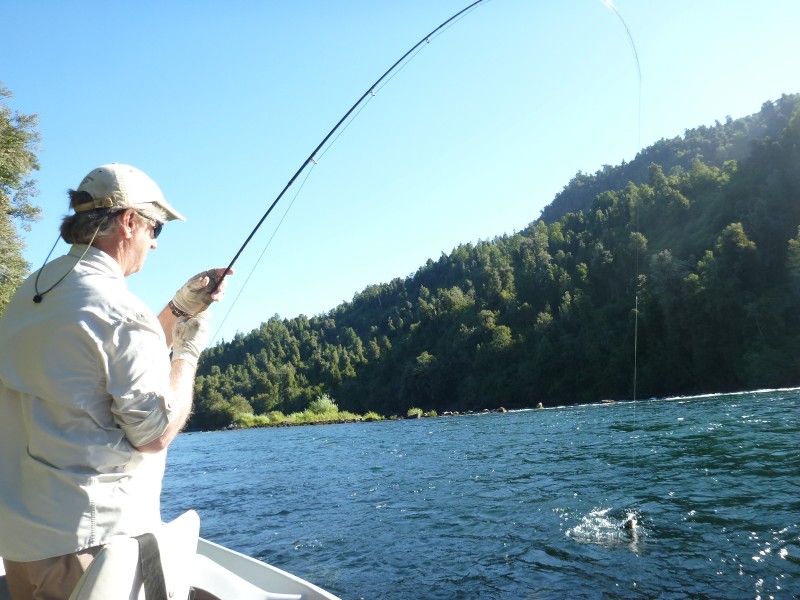 Just before the class 4 rapid in my drift boat, Andy hooked this wonderful sea run brown that gave him a nice battle. I stopped and thought this trout came from a long distance from the ocean. That's the wild card of Chile, at anytime you could catch anything huge or exotic, it just takes putting in the time and being patient with the waters around here. when you don't have dams, you don't have tail water fisheries like we're used to in the United States. You don't have normal and predictable hatches, you don't have predictable sizes, nothing is like what your used to back at home. You have get stealth and think out of the box, try to think like fish and look like a bug.
These fish are the epitome of Darwinism, they will survive when the odds are probably against them, they have survived volcano eruptions, earthquakes, tsunami's in the ocean. (Might be like a waterbed to them, I don't know.) Point being, if you come to fish Chile for one day to fish, try to have your game face on.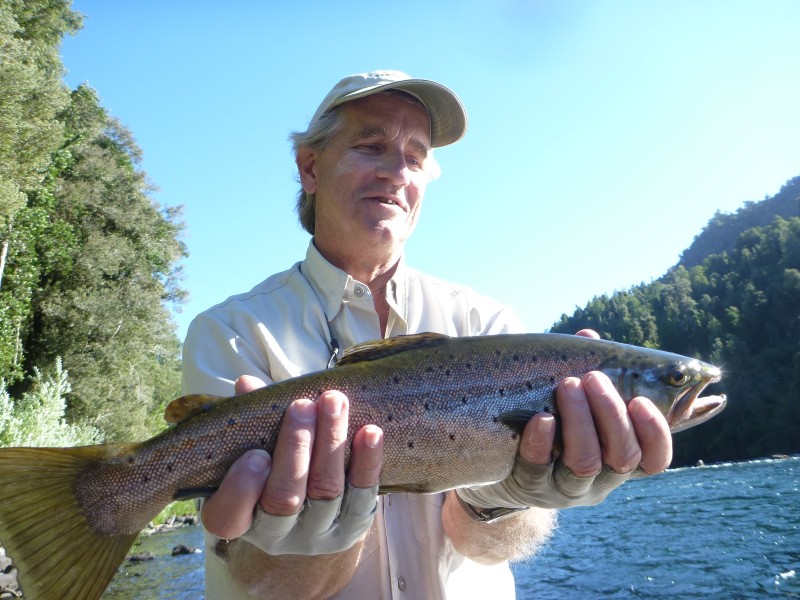 A real nice trout if you ask me, kind of like winning at the roulette table at a casino Stockholm Sweden, bet on 17, Rosemary, Andy's wife once said… The next rapid, I would not run unless you are in a raft or a cataraft. I am an expert oarsman of over 20 years and Lewis and Clark are my hero's, this is not a rapid to be taken lightly or in a drift boat, have life jackets on. Fair warning, jt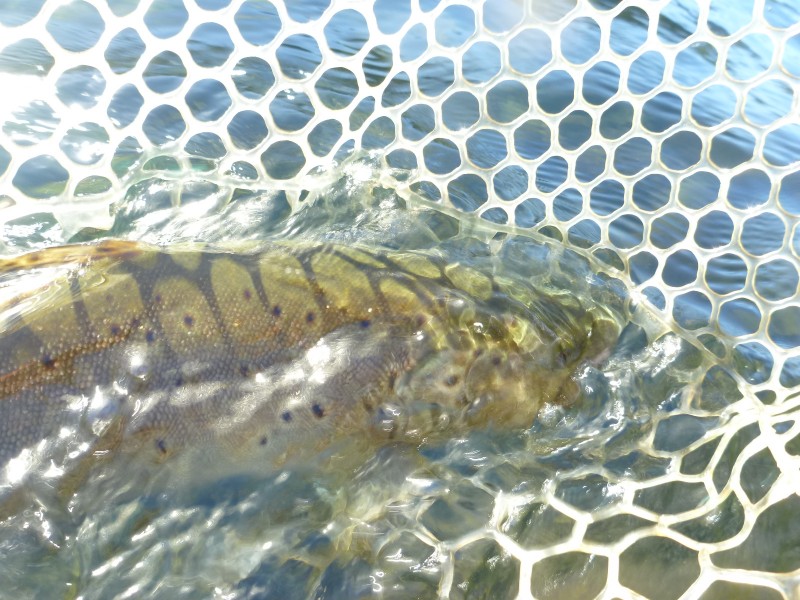 Those are racing colors I live by folks.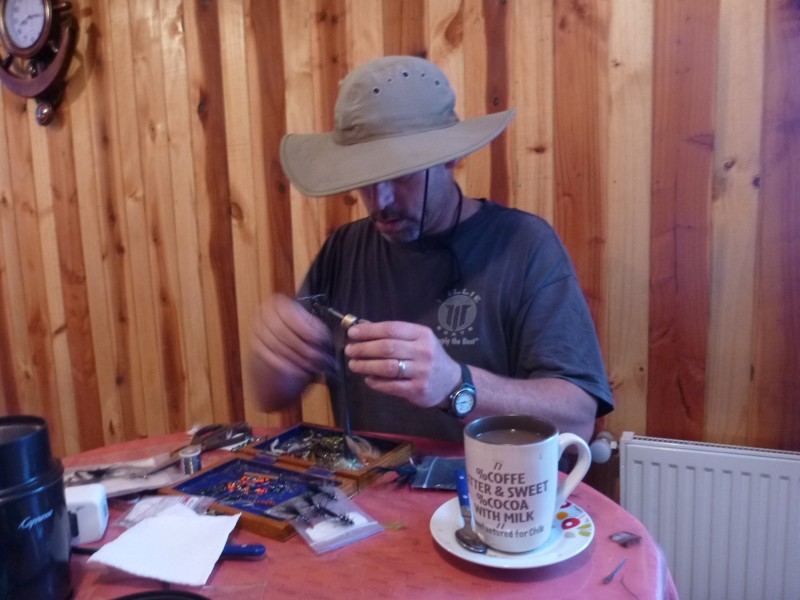 These rivers have lots of Pancora crabs, so I tie these black crystal buggers with legs size 8. Mid summer smaller patterns work best, then towards fall I start tying bigger stuff as the trout want to stuff their bellies.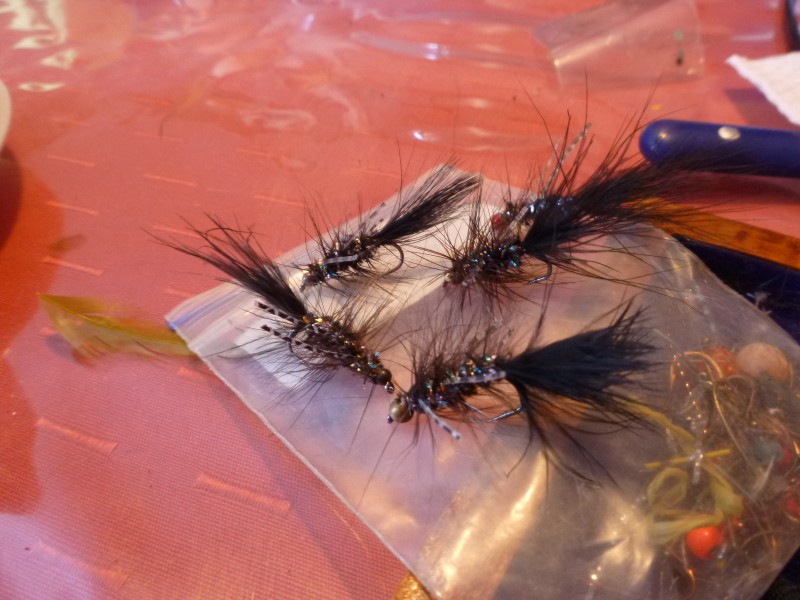 Mid summer go smaller on the streamer imitations sizes, it will serve you well my friends as clearer lower water makes visibility in favor of the trout and they can be snakey as we all know.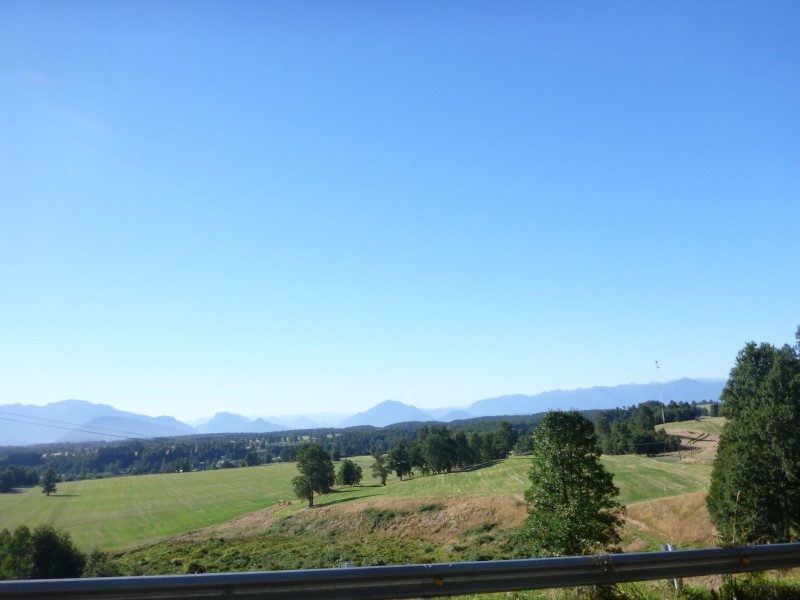 Now we head towards the Andes mountains, you can see it is very green and lush over towards Lago Ranco.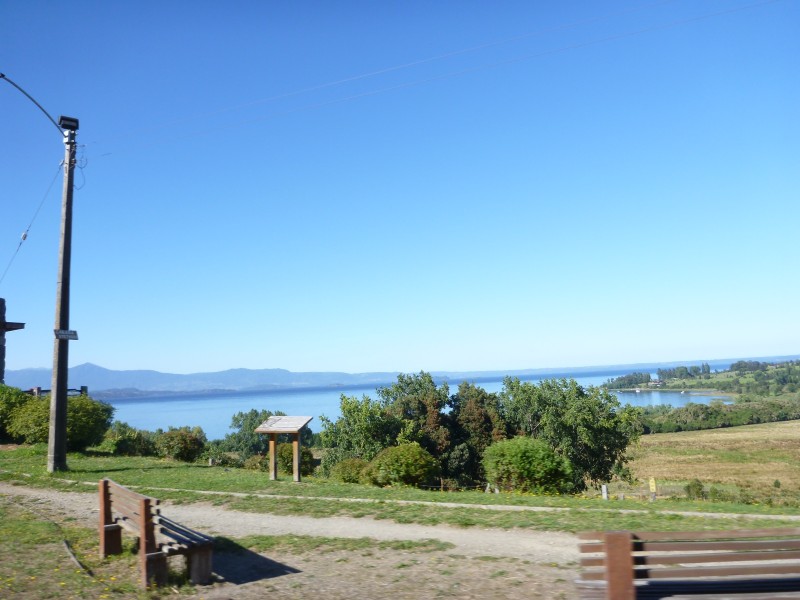 Lago Ranco, outside of the town of Futrono, Chile.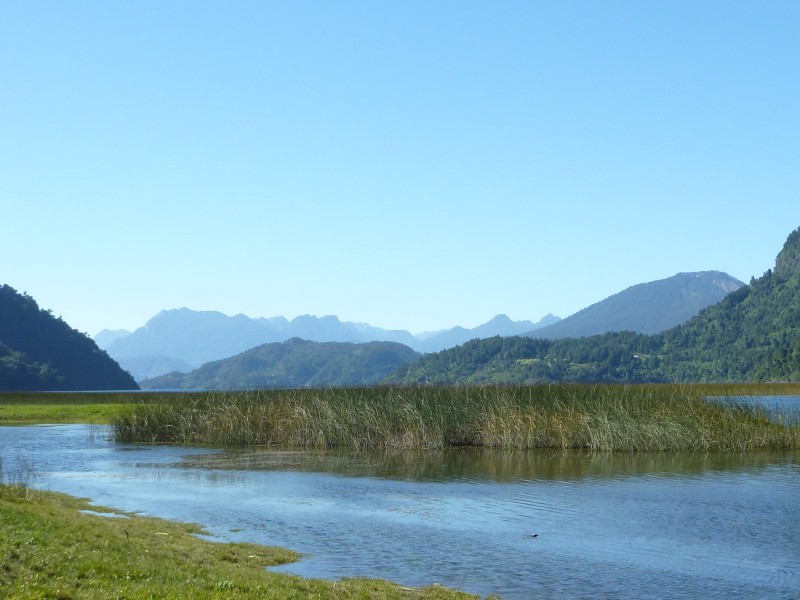 Lago Maihue where the Rio Calcurrupe (The witches route.) is born from the glacier melt in the incredible Andes mountains.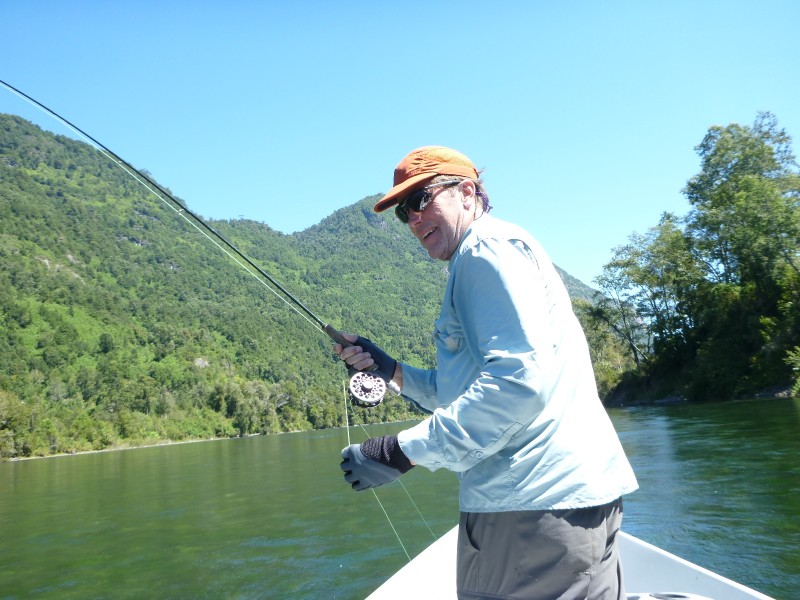 Tim Sullivan of the American Team hooks a nice rainbow that looked to be about 4 lbs, then it got off.
Rio Calcurrupe, lowest I have ever seen it, but still one of the most beautiful places I have been to in Chile.
The lunch break is something I always look forward to folks, hope you do too.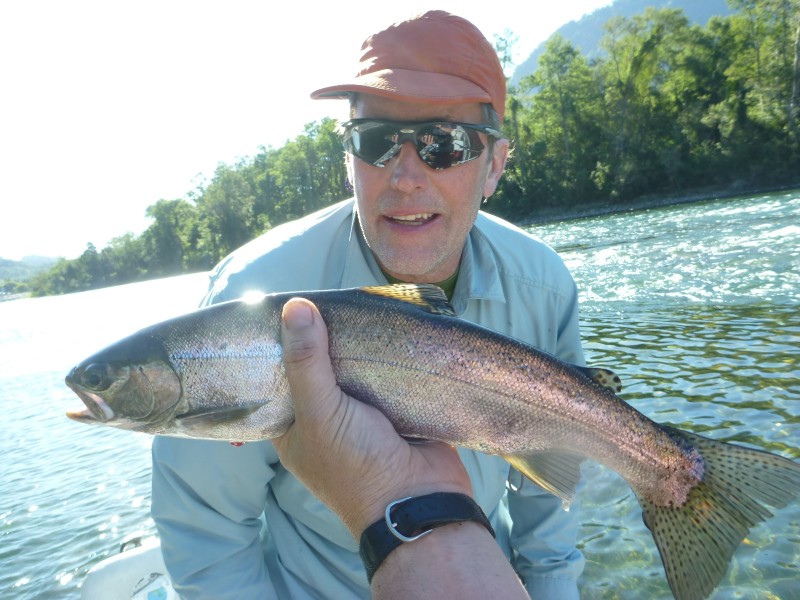 That day, lots and lots of smaller trout around 12 inches, but we kept trying and the numbers got padded large.
Thanks for watching our adventures in Chile over the past 22 seasons, we want to thank all of those who we have guided.
Many Rivers to You, Jack & Carola Trout
www.jacktrout.com  *  Jack Trout Fly Fishing Chile * Jack Trout Fly Fishing Argentina * Jack Trout Fishing Belize
THE REAL SHASTA TROUT 1994 to 2005 – RIP my faithful fly fishing companion!  I love you, Jack Trout
Anyone else is just a Copy Trout Guide Service.