STEELHEAD SIGN UPS FOR KLAMATH * TRINITY  & LOWER SAC                            
STILL HAVE SPACE IN SEPT * OCT * NOV 2015
530-918-8879 OUR INTERNATIONAL PHONE THAT RINGS ME ANY WHERE OR EMAIL AT INFO@JACKTROUT.COM
Need an up to the minute update? Check out our Facebook Page & Videos –   JACK TROUT FLY FISHING FACEBOOK PAGE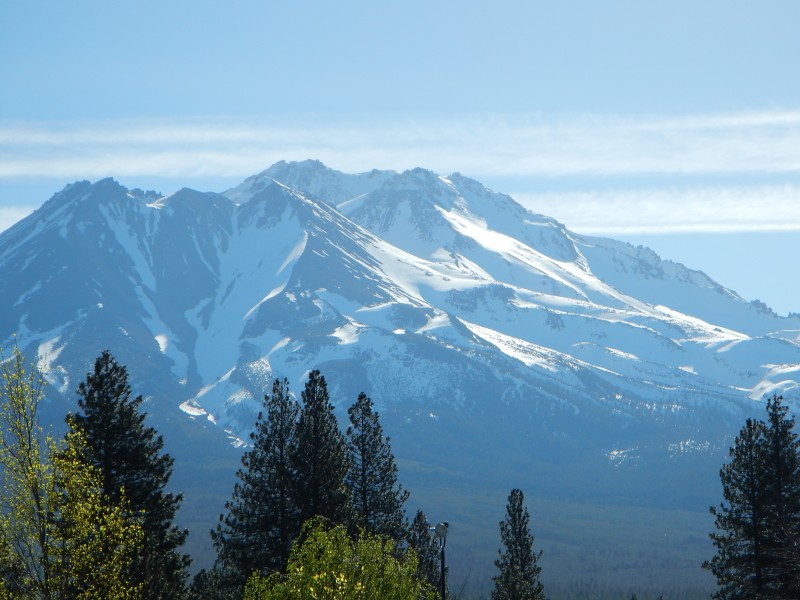 Mount Shasta the area of California with the most water in the year 2015. It's like living right next to a giant ice cube and we are happy about that! River levels up here are fine and with cooler temps now on the horizon, this is a great to come into our neck of the woods for some fly fishing and tours.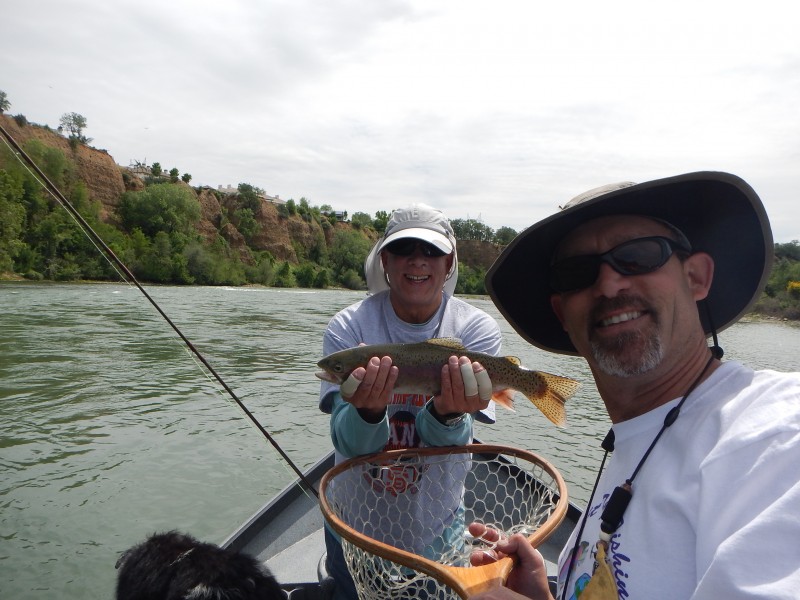 Down on the Lower Sac fishing has been slow on very hot days and very good on cooler 80 degree days. If it's going to be terrible hot, I suggest splitting up the day with a mid day break and heading back out after for 5 pm to dark.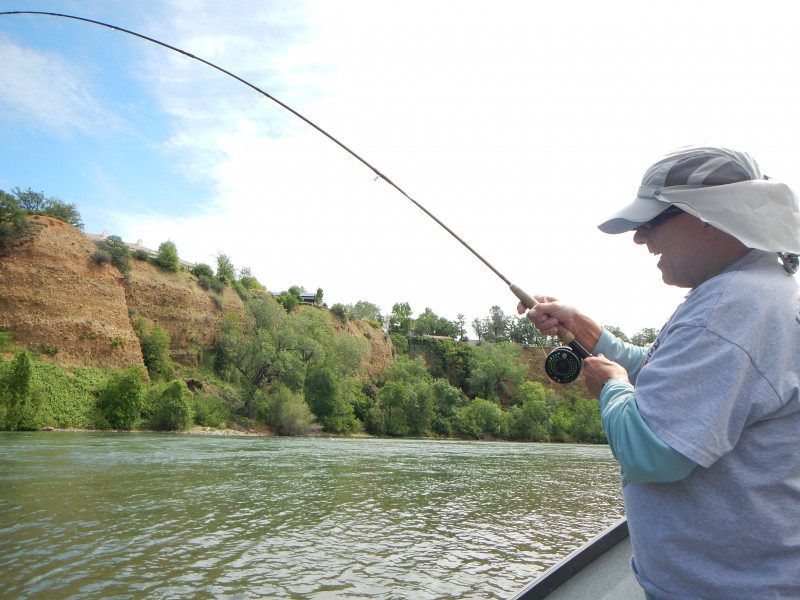 Hook -Ups are happening daily and we are looking forward to the Highway 44 section up being reopened soon.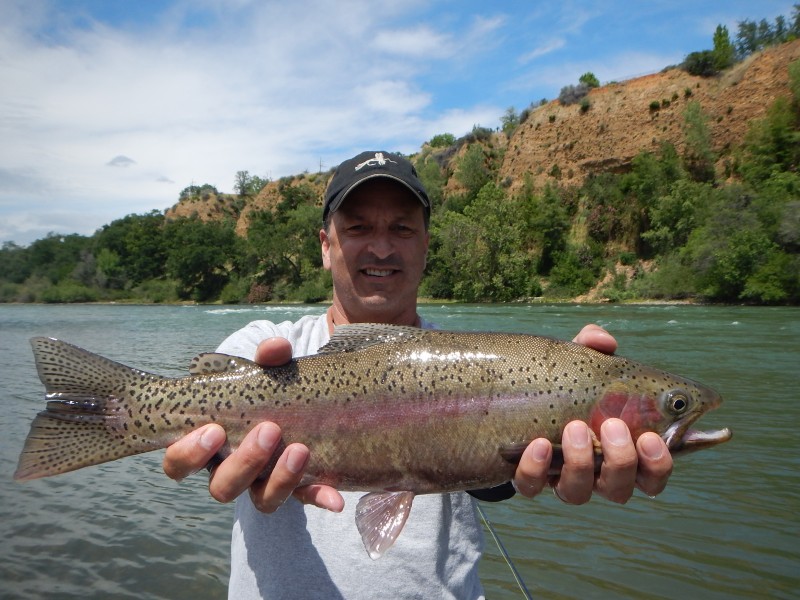 My friend and client John Rogers with a very nice lunker landed, this is a great place to fish right now, the Lower Sacramento River from Redding to Anderson, we'll be there a lot in July, August, September.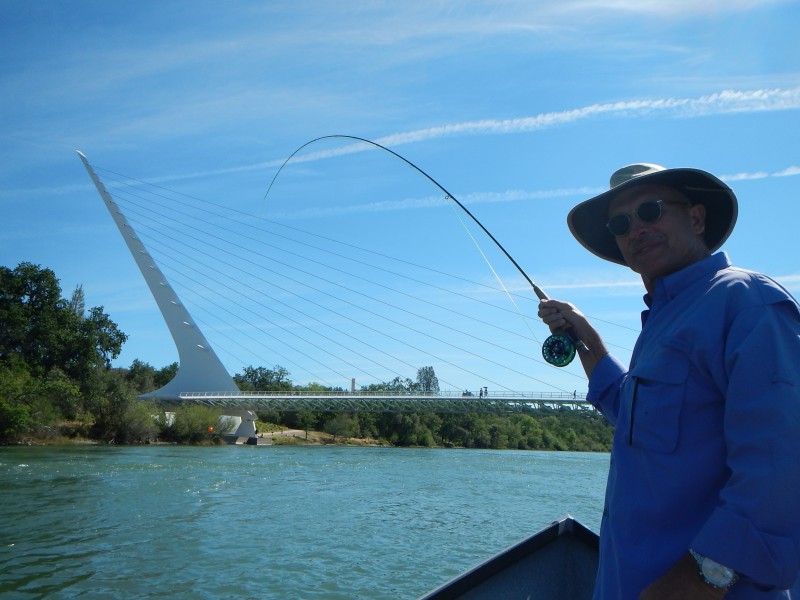 Fly Fishing around the Sun Dial Bridge in Redding is always a productive area, I look forward to fishing with you here after August 1st.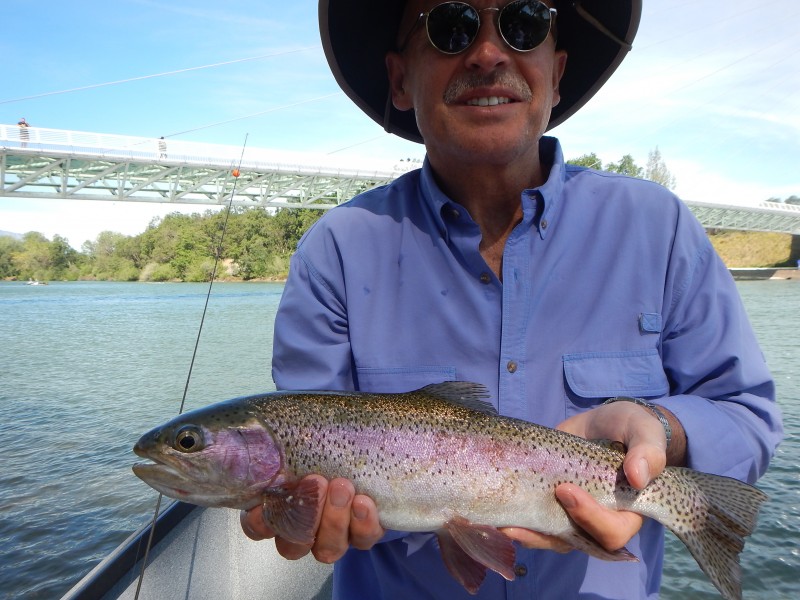 Many big healthy rainbows in this river that constantly maintains a river temp around 54 degrees.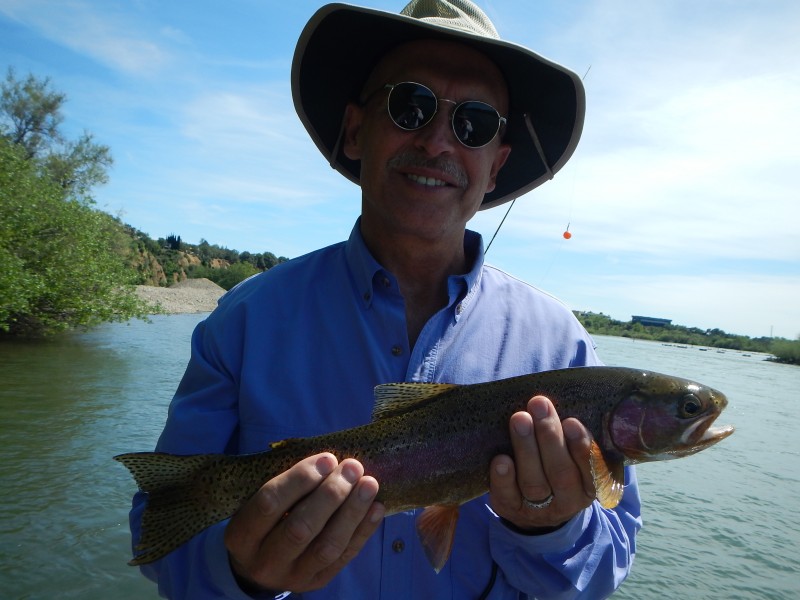 Down river a little further we caught more on several drifts we did that day and my client was completely satisfied.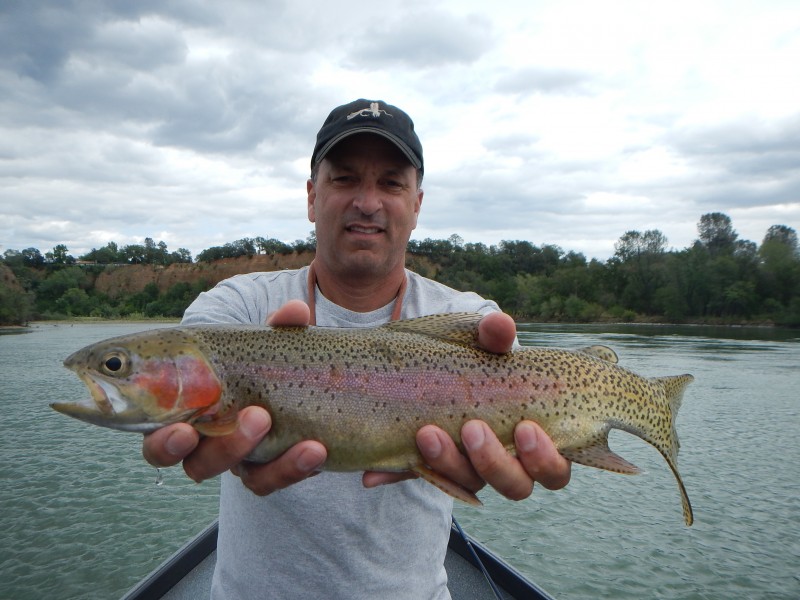 The next week the fishing was so good John came back up and brought an old friend Dean Souza.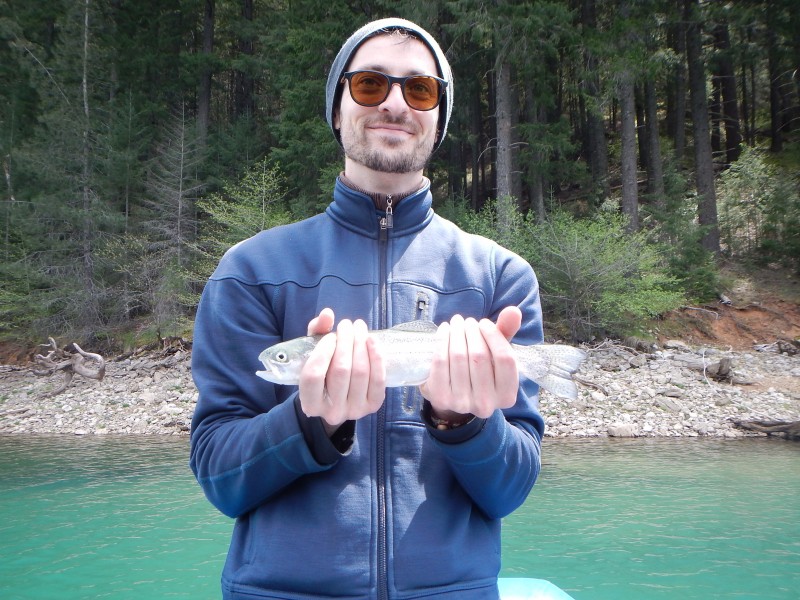 McCloud Lake has been a great option in the early mornings or late evenings for catching trout on dry flies, we like to bring out some music and cruise around looking for dry fly opts.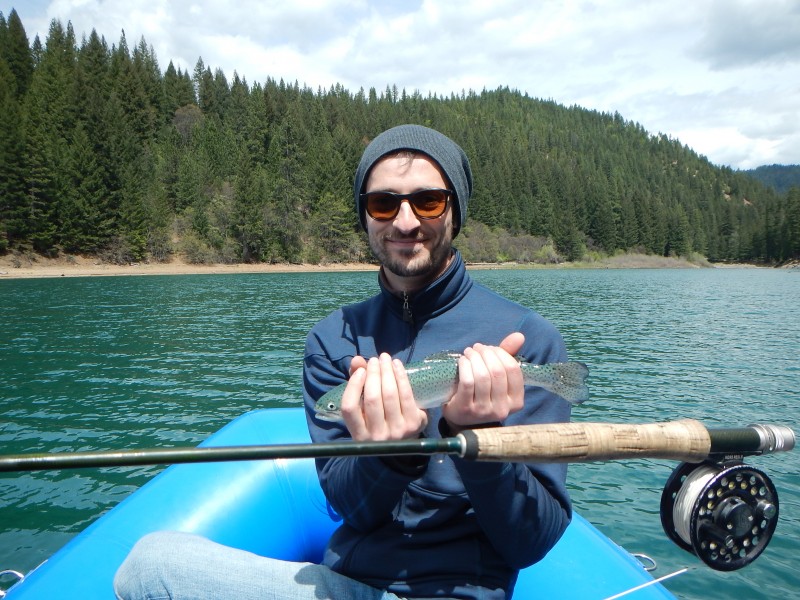 That day I had a beginner who caught many on the surface, it was a real hoot and the color of the McCloud Lake being turquoise makes it all that much better.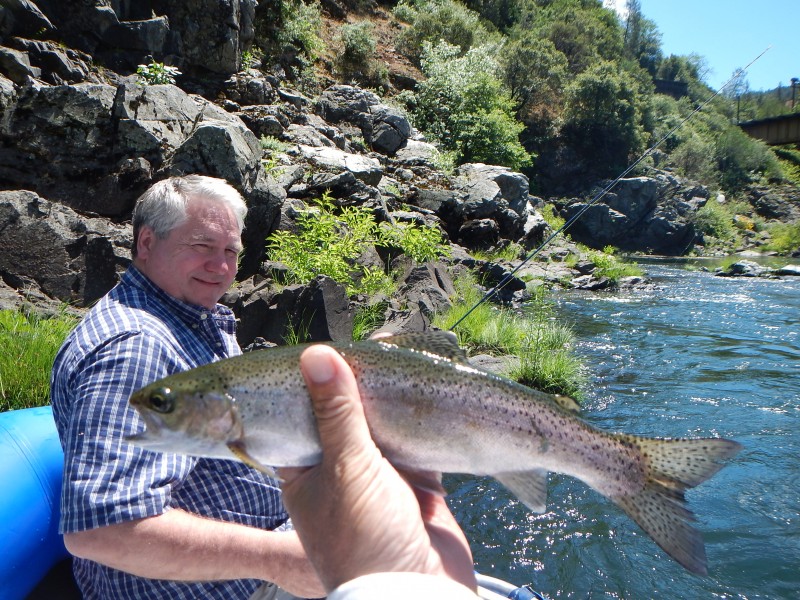 Floating down on the Upper Sac has been very productive, especially on the cooler 80 degree days the trout bite spikes.
My wife and I had a fantastic day with Jack and Beef, I caught my first wild Californian Rainbows (missed several takes also), this was a trip that was interesting for my non fishing wife with such wonderful river scenery to be seen from the raft, Jack certainly knows his trade and I will certainly arrange another day with him the next time we are in sunny California. I most definitely recommend a day's fly fishing with Jack and Beer (top guy and top dog) – unforgettable day – highlight of the holiday !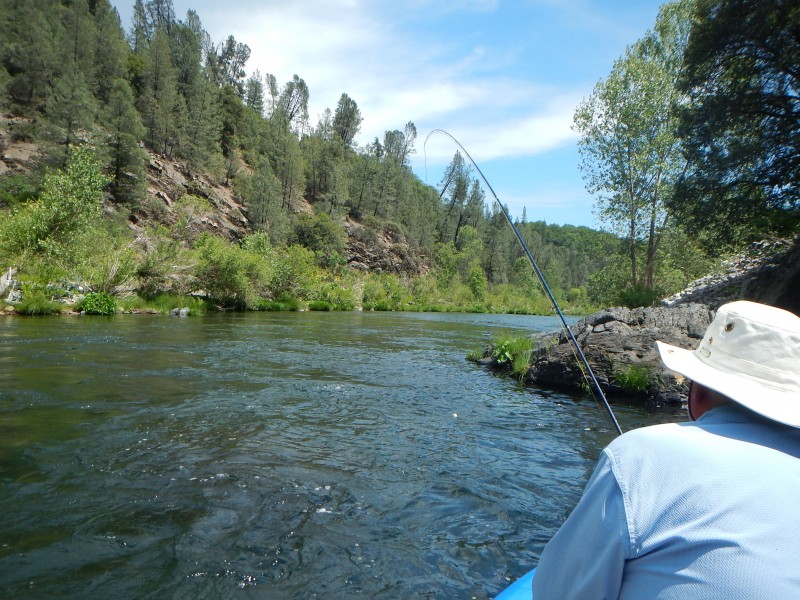 Powerful stuff!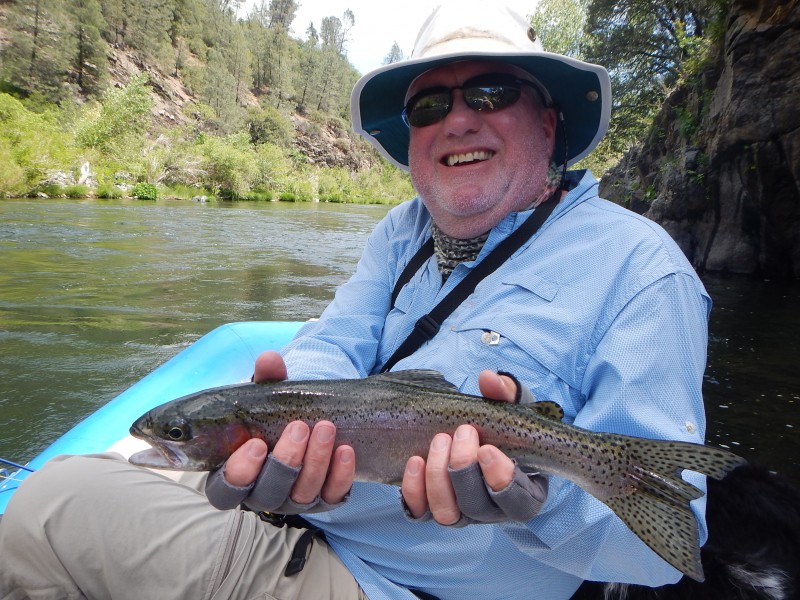 Another trout landed for Bill James, this is Bill's 20th year  of fishing with me! What a great guy, thanks for all the great memories Bill.
n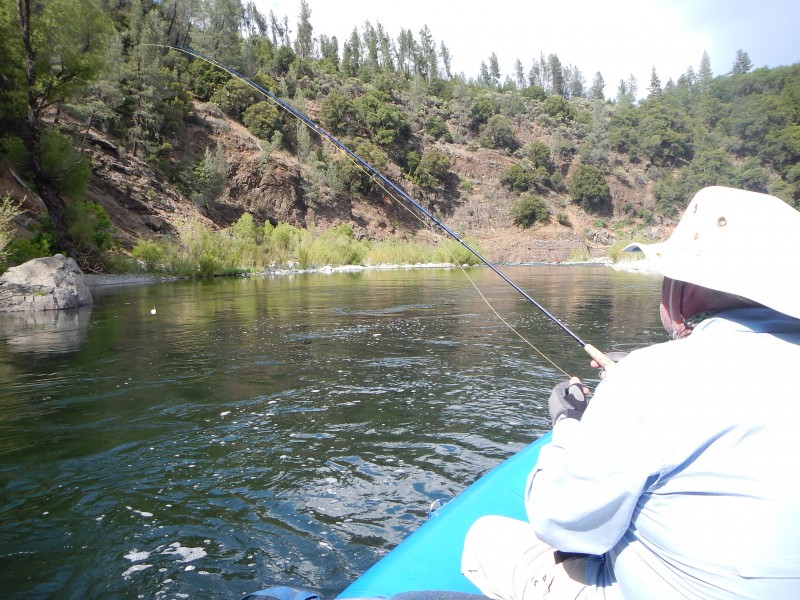 One more for the road folks, this is a great day!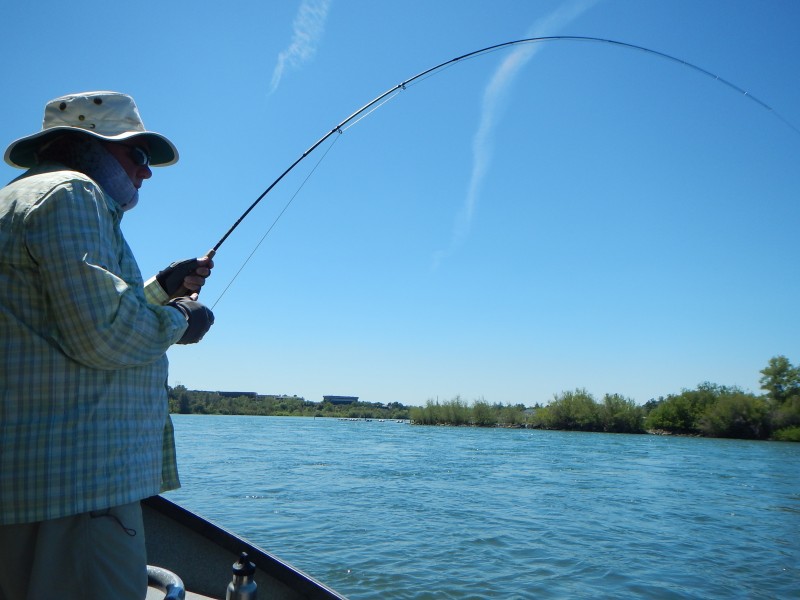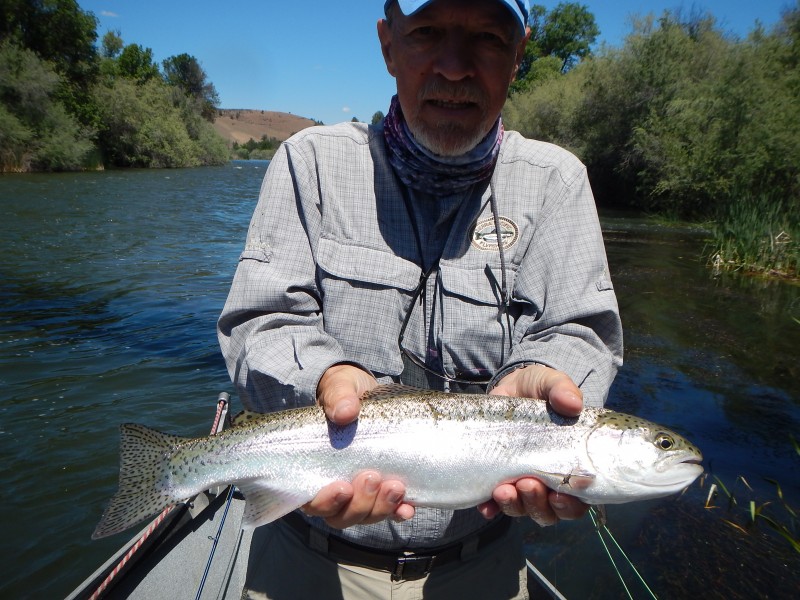 Up on the Klamath the Stone fly hatch this year wasn't that great, too much blue green algae and lack of rain has made this river unhealthy until we get significant rains in the month of September and October and like magic everything changes in a few days…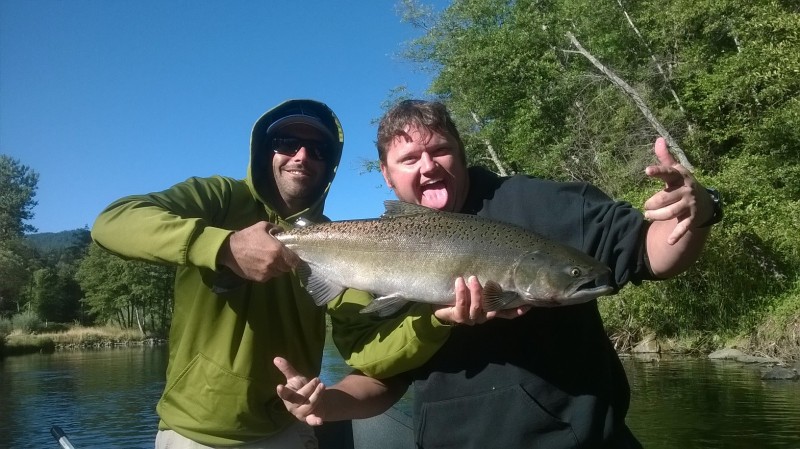 Over on the Trinity our guide Forrest says there's some salmon in the river but the temps are so hot, nearly 70 degrees that the fish in the river are suffering so thin about lower temps and lots of rain, this would really help.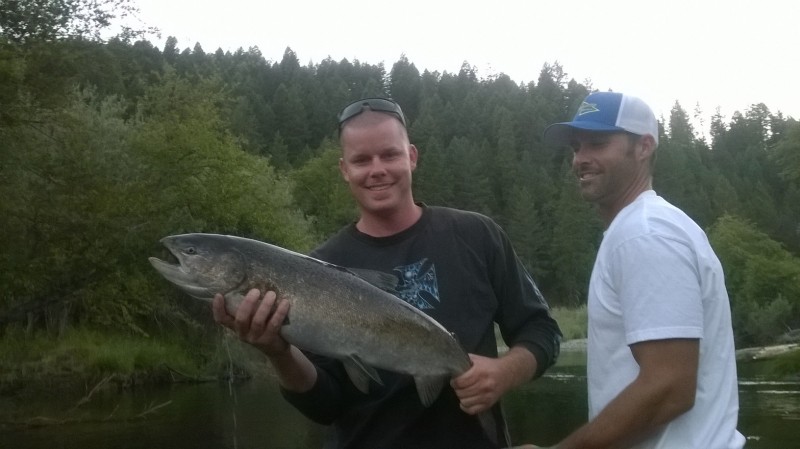 Bionic Salmon Steve Austin, the 6 Million Dollar Salmon! I don't why I wrote that, pretty dumb hah. Way to go Forrest, Run Forrest Run!
Looks like and air guitar competition! I know this winter is going to be a wet one so as soon as we get a little precept, it's all going to be a crazy steelhead year like last year awesome!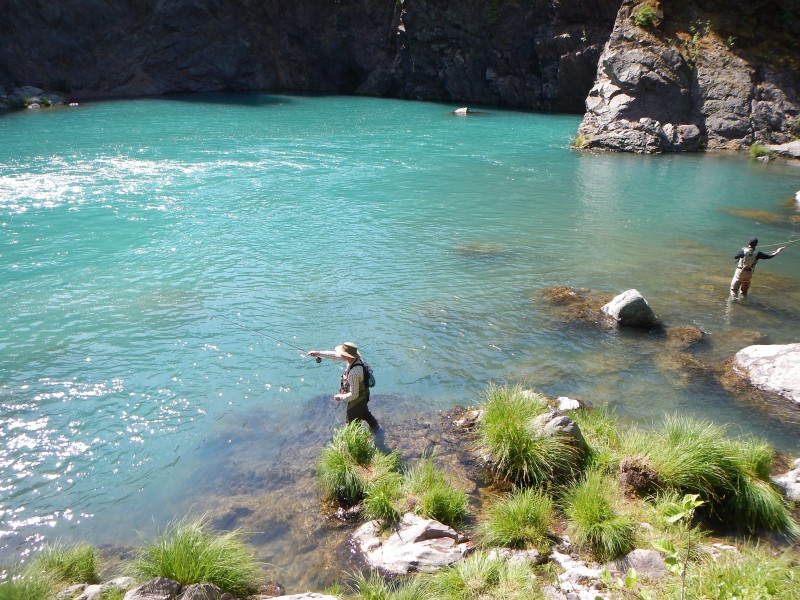 Over on the McCloud fishing was great until Mud Creek got flowing and blew everything out. I went to check on it this morning on July 29th, still mud coming out of the dam but McCloud reservoir is fine and turquoise.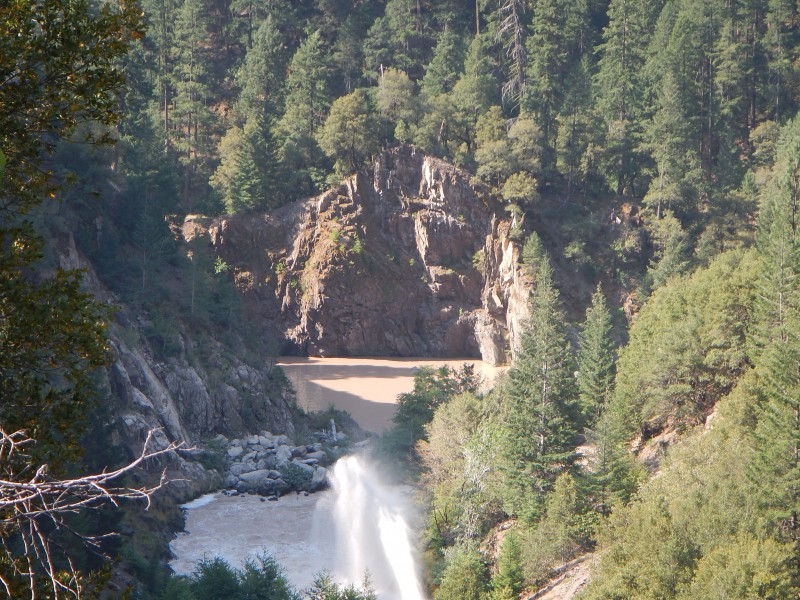 McCloud River as of – 07/29 2015  – Mud Mud Mud! 🙁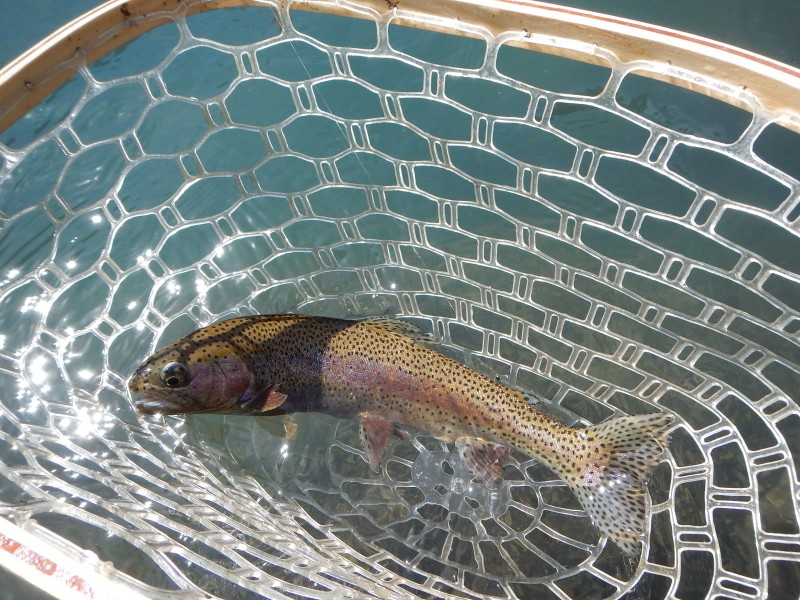 When it clears up great trout will be caught again like back in early and middle July, then one day I showed up and it was a latte mocha color.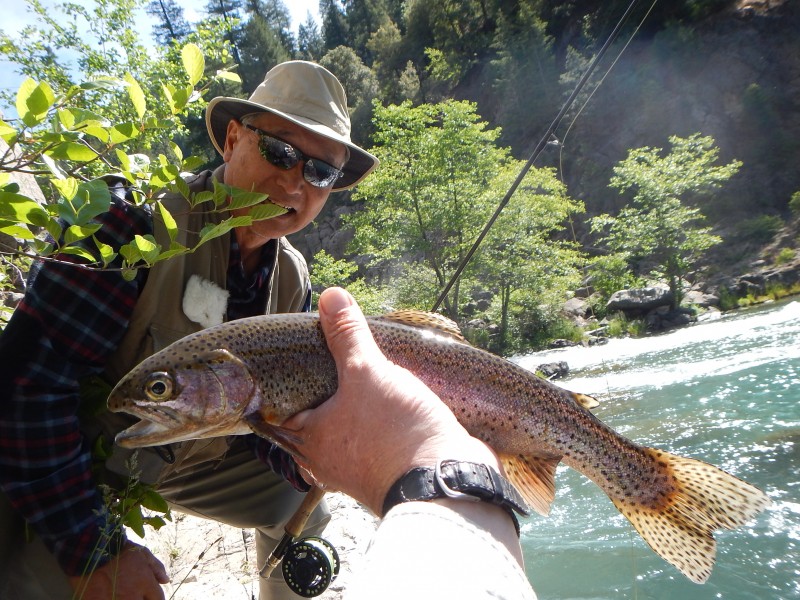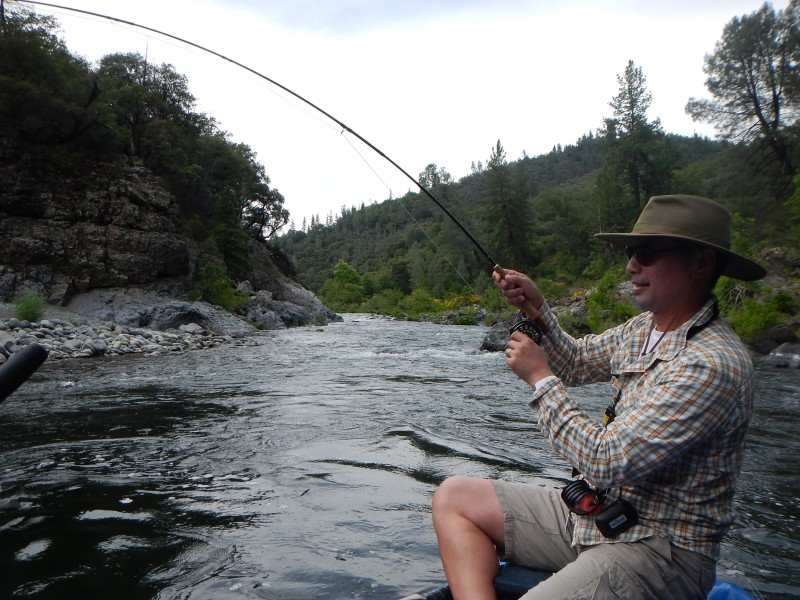 Back on the Sac, it's a good thing we have options around here like the Upper and Lower Sacramento Rivers as well as the Pit, Hat Creek, Fall River to save us.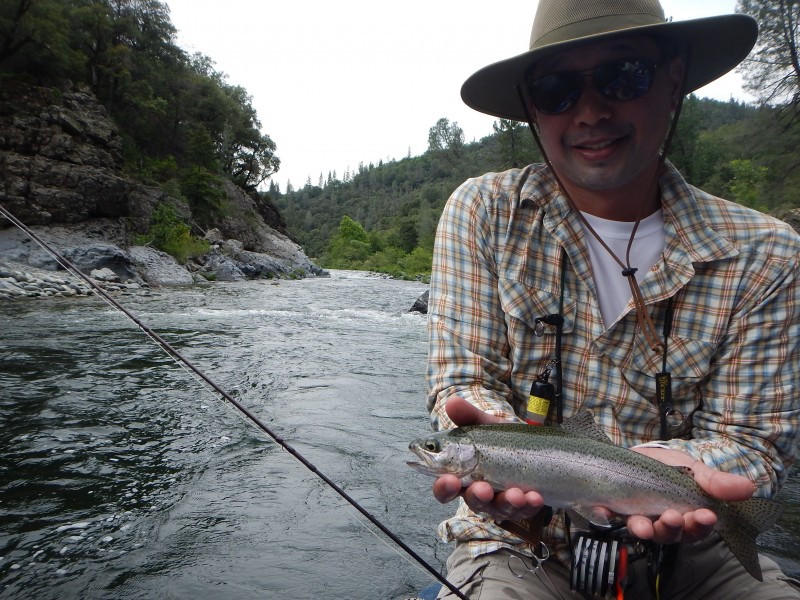 Nice trout!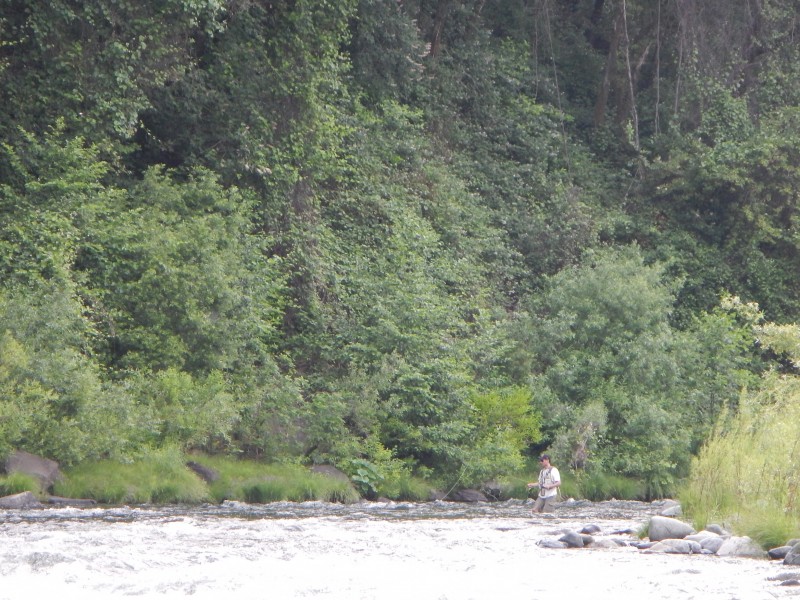 The Upper Sac offers an angler great opportunities being that it's 32 miles long and many accesses to get out and wade this river.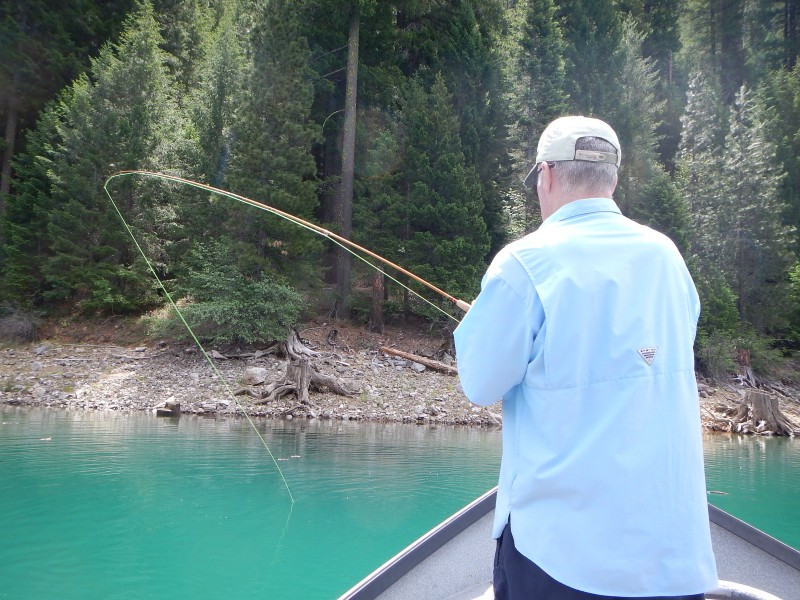 One morning with my client Jim Puglesi, we took my Dad's bamboo rood and caught some nice trout on dries, the Hardy reel screamed and it was a real hoot thinking back and all those times out fly fishing with Pops!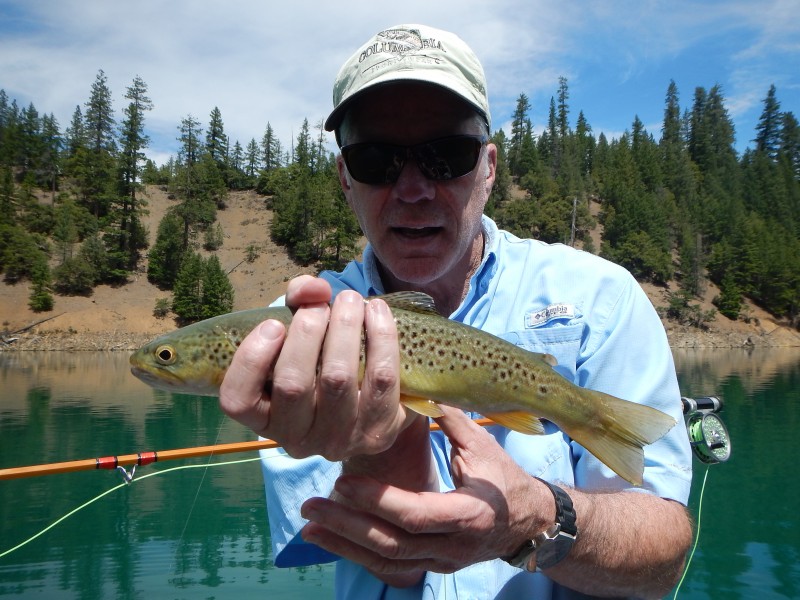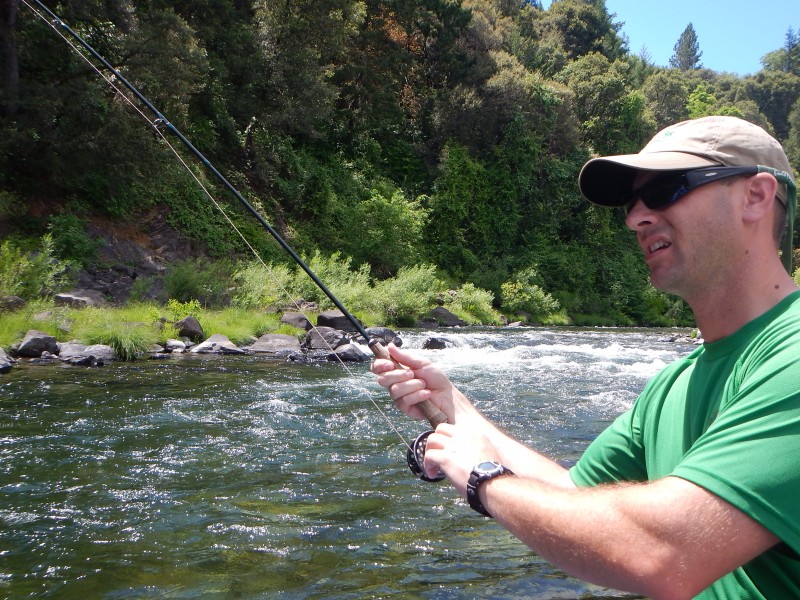 Dave & Rich Creeggan come about 4 days a year, two days in the spring for the Upper Sac Float and two days in October on the Klamath for steelhead.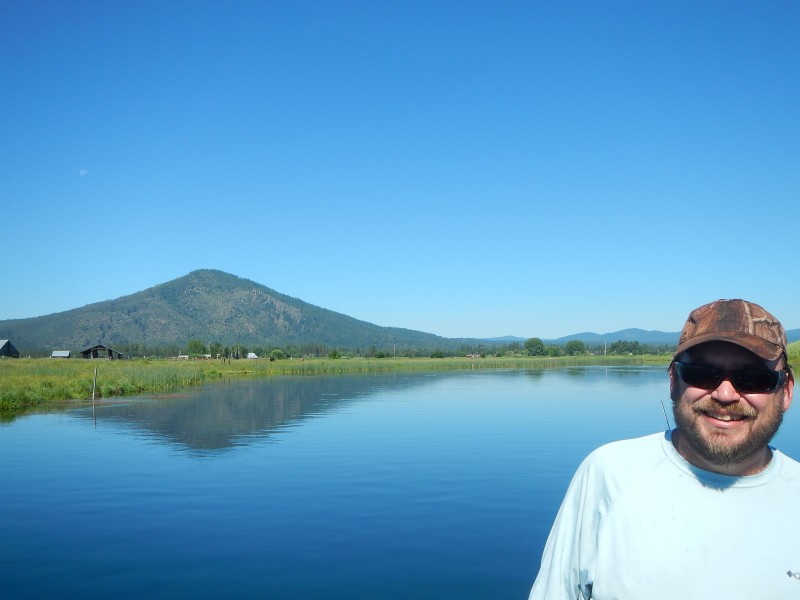 My guide Dale Langstaff can guide you on the Fall River for dry fly fishing, everyone loves Dale with his calm effortless fly fishing instruction and his kind gentle approach with beginners and kids. Might be time to visit Burney this season, plus we can guide you on Hat Creek, Baum Lake and the Pit River.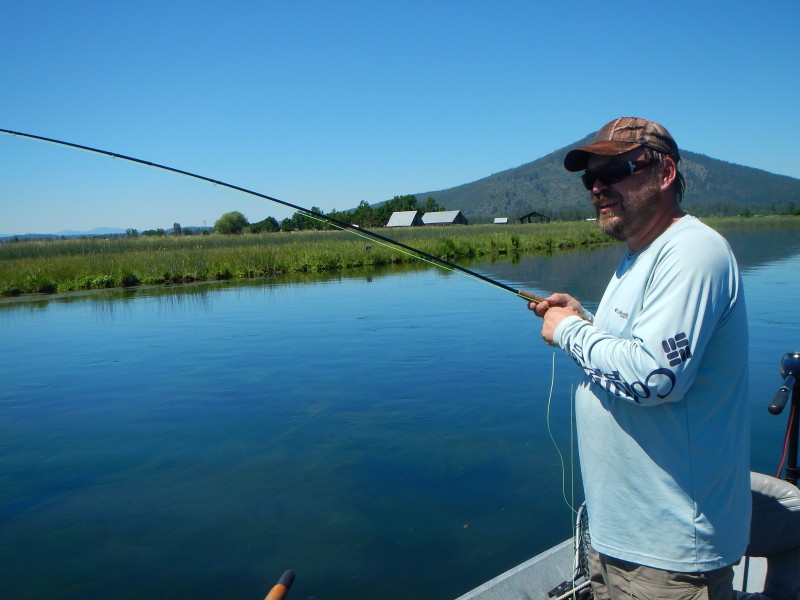 This past week a client from the East Coast landed a 20 incher on a dry fly with Dale and many others in an evening and morning float, the best way to fish the Burney area folks. Take a mid-day break!! Why bake your brains, with Dale living over there, we can offer the infamous split up-mid-day summer special for no extra charge! Evening and morning fishing only, take a mid day nap friends. 🙂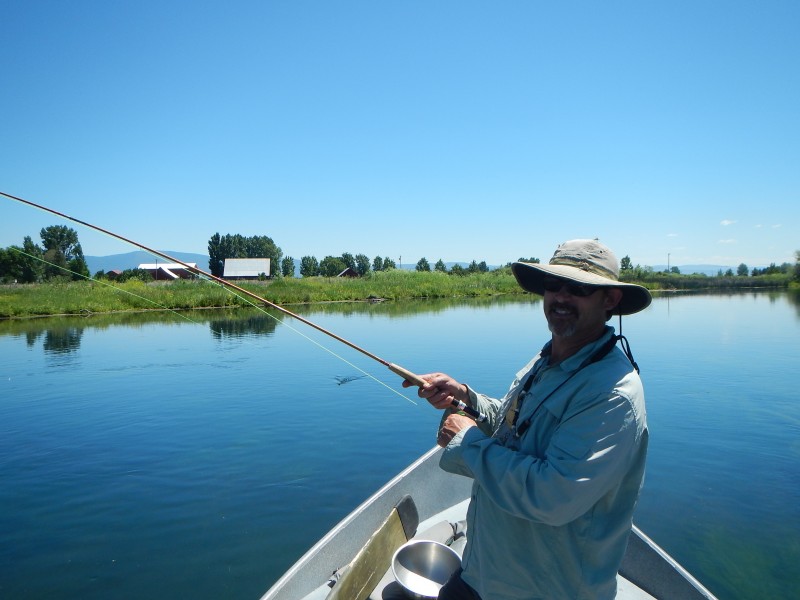 I had so much fun that day hooking trout on dries and the rare form acting like a client in an episode of the  twilight zone, I never wanted to end. Ground Hog Day, same day over and over…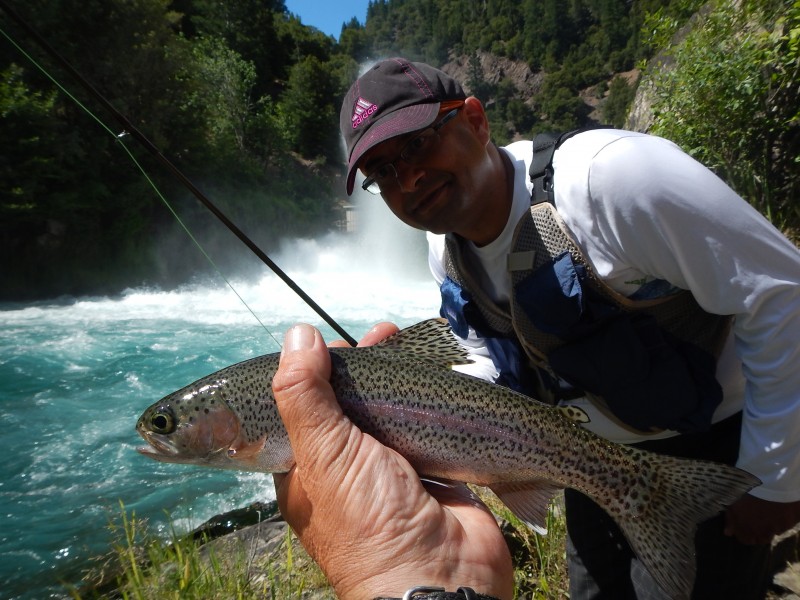 Down at Oceans Eleven, the fishing has been great like I said until the McCloud River blew out about a week ago 07/20.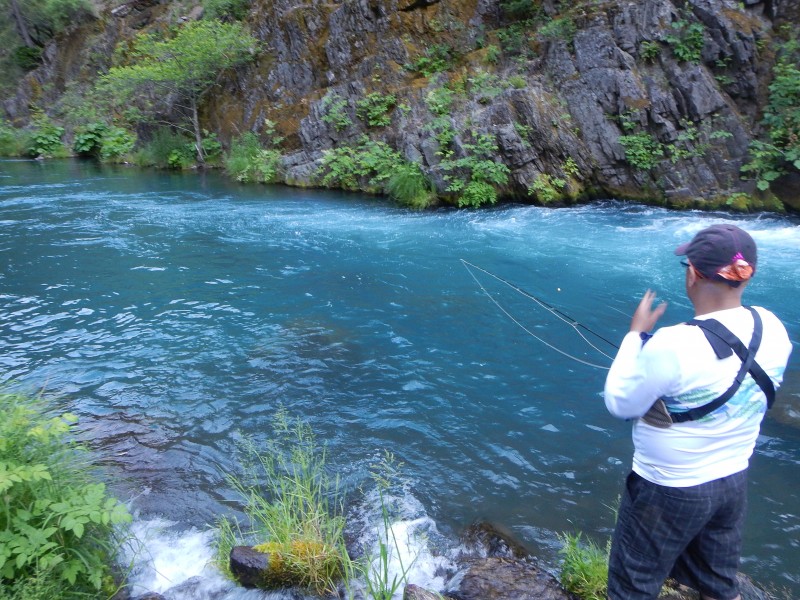 Edges of the white water is always a good place to start while nymphing any river in California.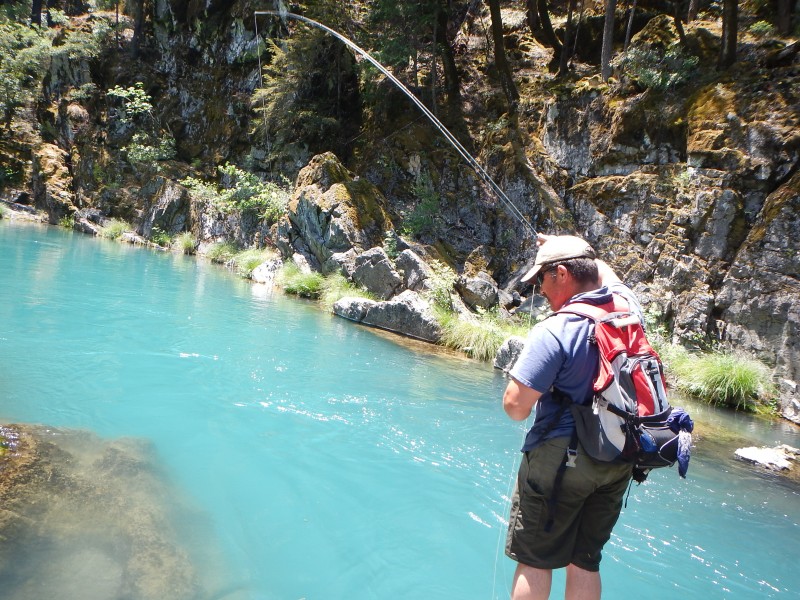 I prefer high sticking when fishing most of the rivers in the North State, just strip in all of your line and just cator on the only have the indicator on the water.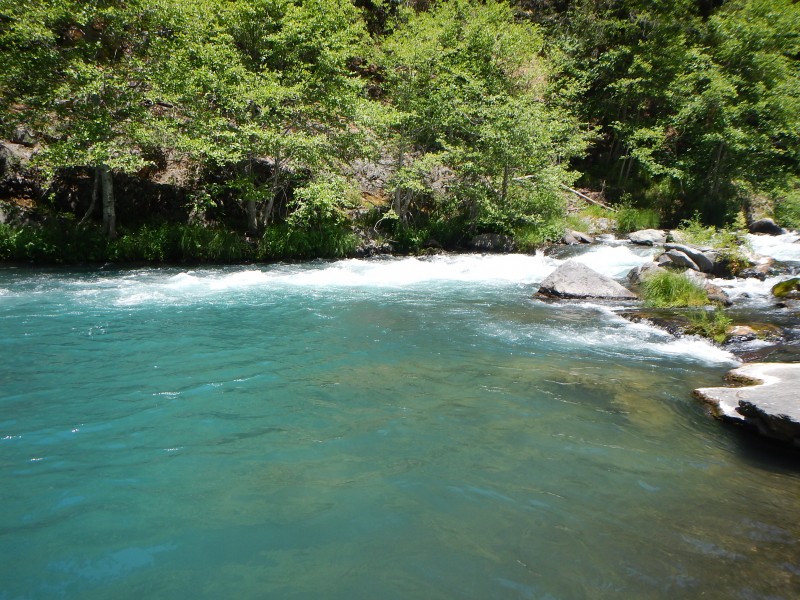 That's a trout hotel if you ask me.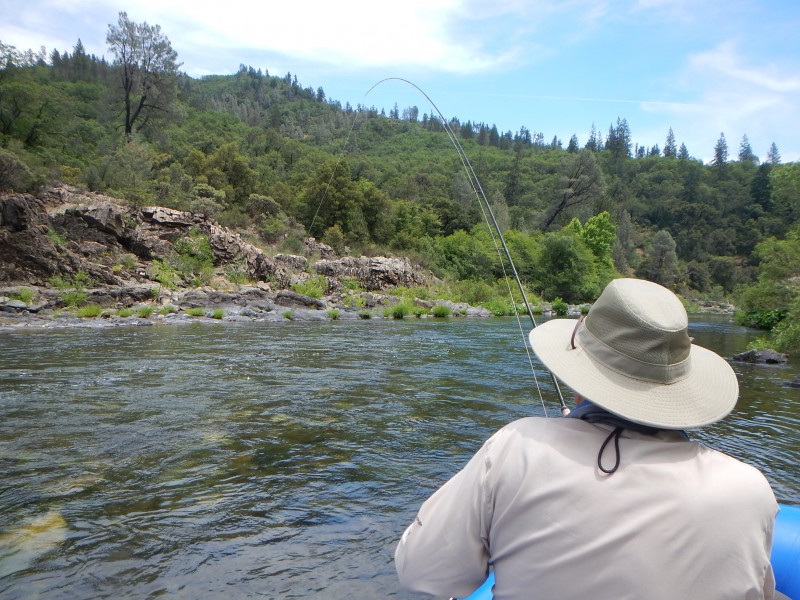 Fish on, it's another great day folks!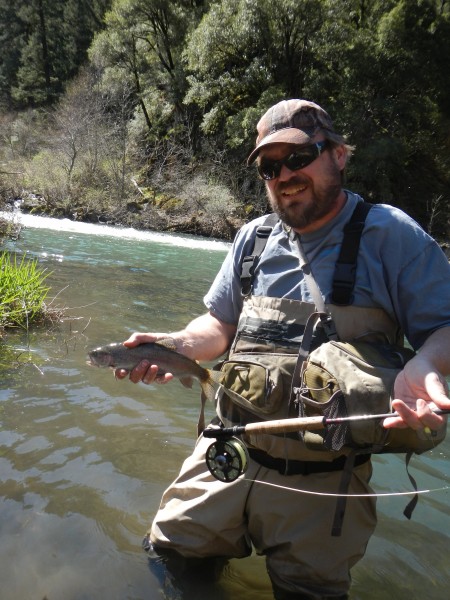 Over on the Pit River Dale Langstaff is catching nice trout nymphing and sometimes on dries when we get these rainstorm days.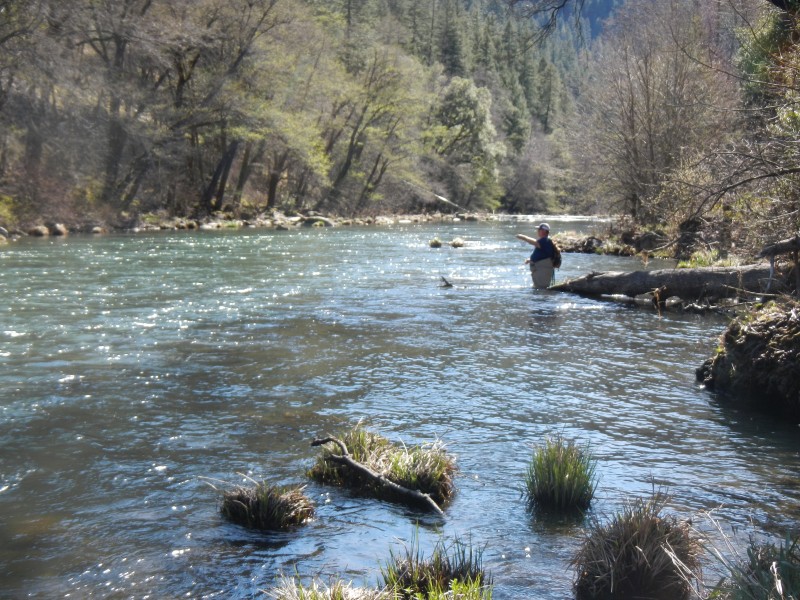 Clients have been doing well on the Pit river in 2015, this is a great place to go since a lot of rivers are too warm or too low.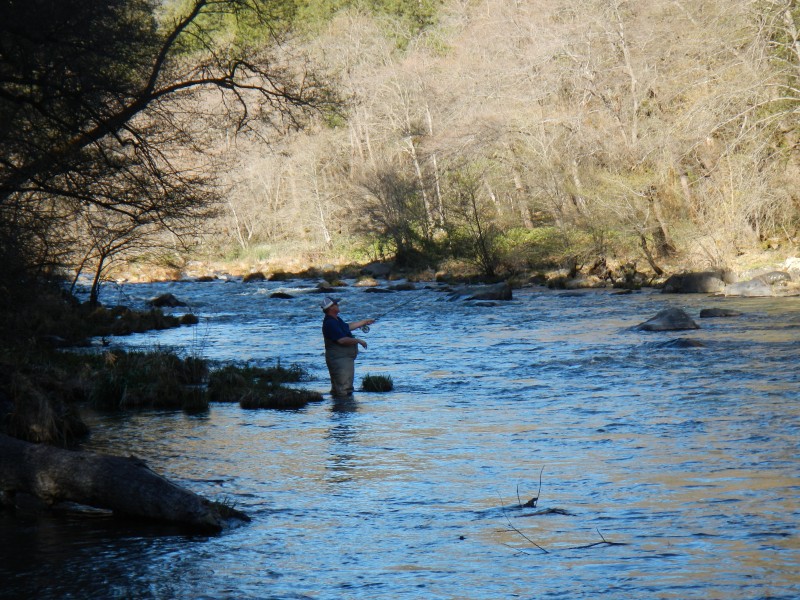 It's good to high stick on this river also, sometimes I don't use indicators, it just eats flies and you can still stay attached to your flies, just by high sticking.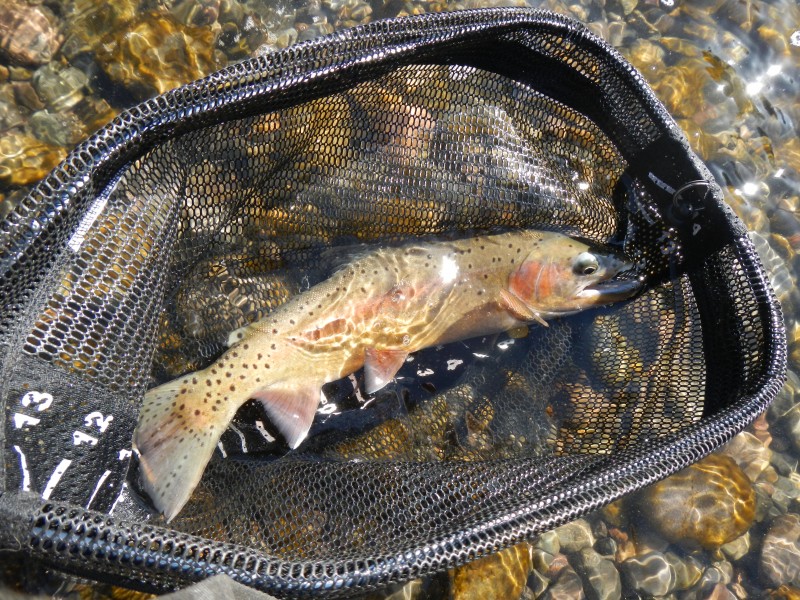 This Pit River truly has great looking hard two fisted fighting trout that take no prisoners.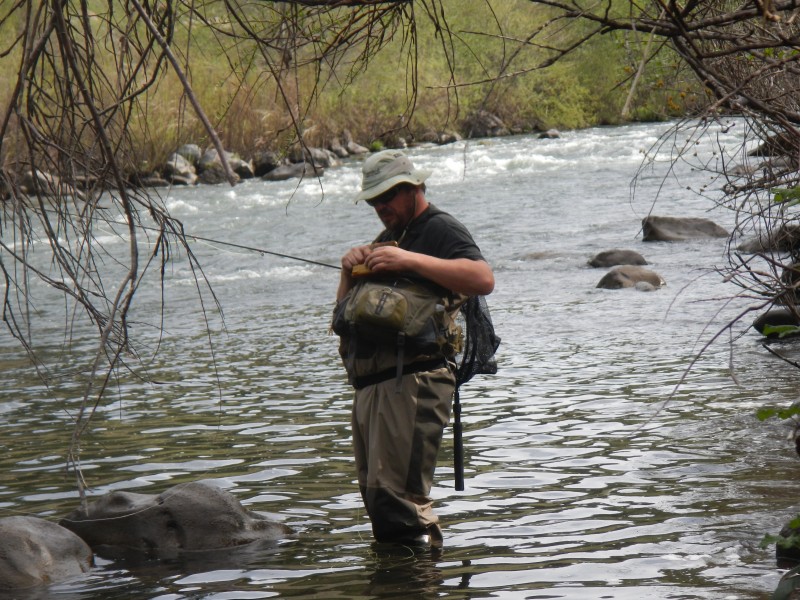 Dale has got this river dialed folks, give us a call if you want to fish the Burney area, either Dale, Forrest, Matt or me will guide you there.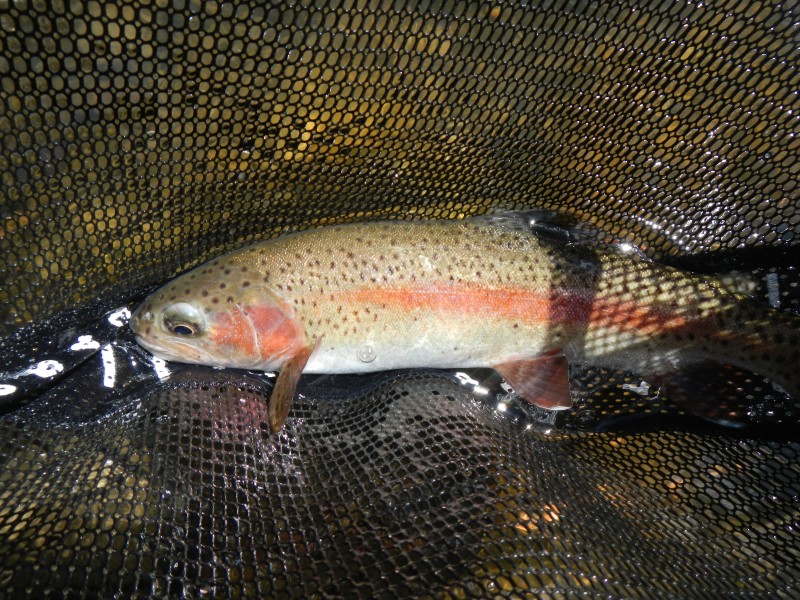 Love those racing stripes!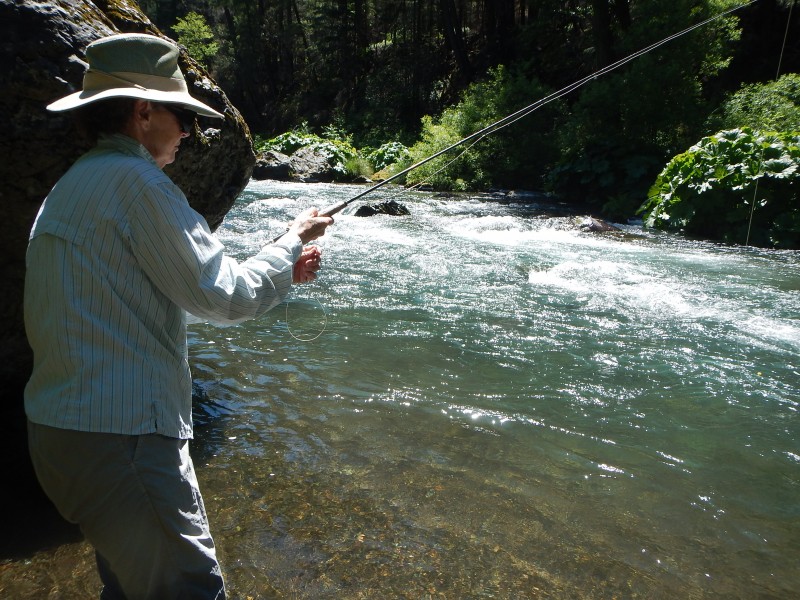 Down at the Nature Conservancy on the McCloud River the fishing was great and so were the views.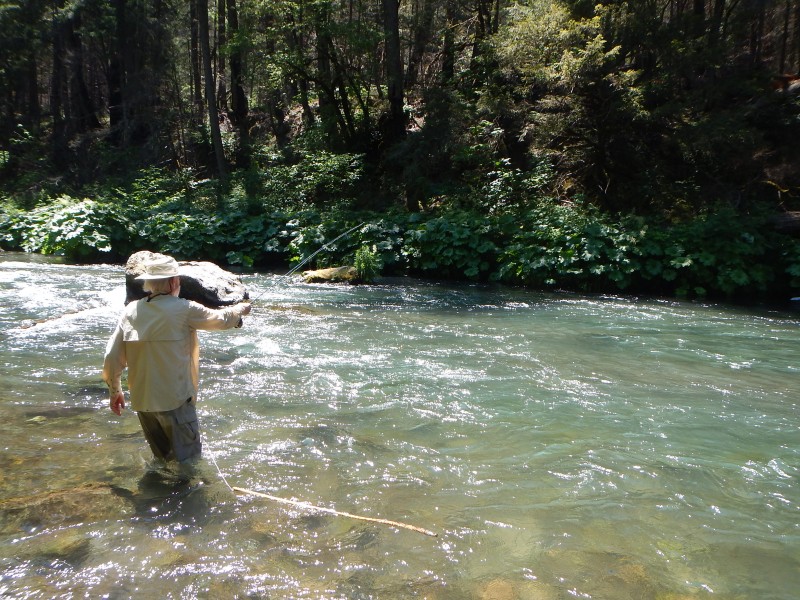 This sure is one special place on Earth.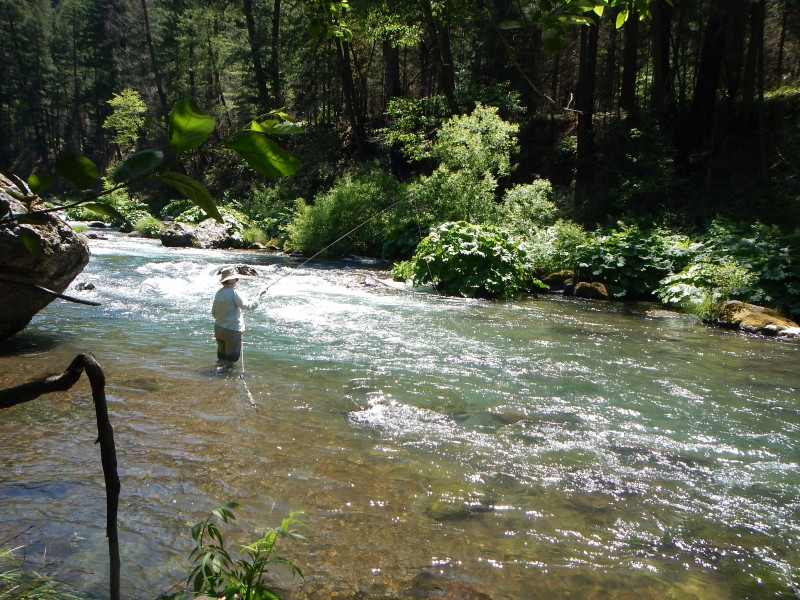 I like fishing this river from one side of the current then cast over to the other side of the current where the fish are holding in the slack current then by high sticking, you actually spoon feed your fly to the feeding trout.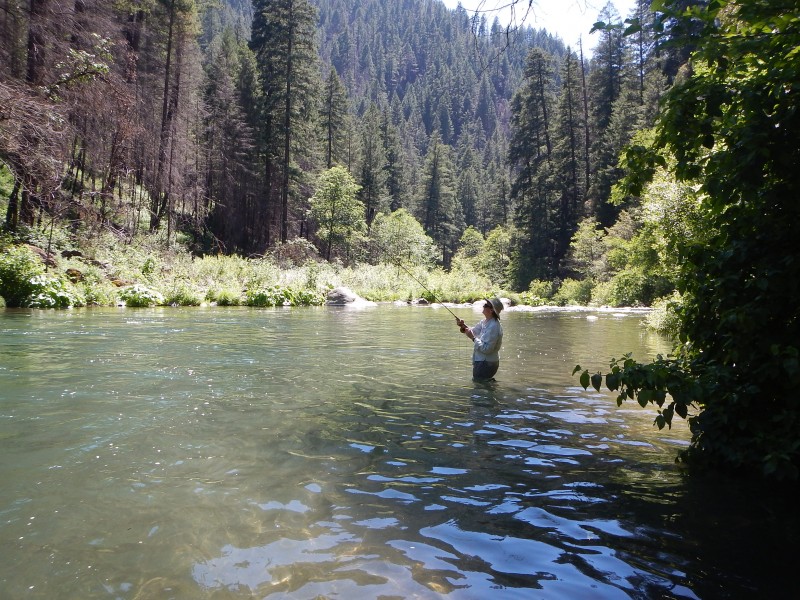 The middle of the pools in the afternoon provides some great fly fishing opportunities on the cooler or rainy days we have been seeing mor eof this 2015 season. Sure hope we get this El Nino everyone is talking about this fall/winter.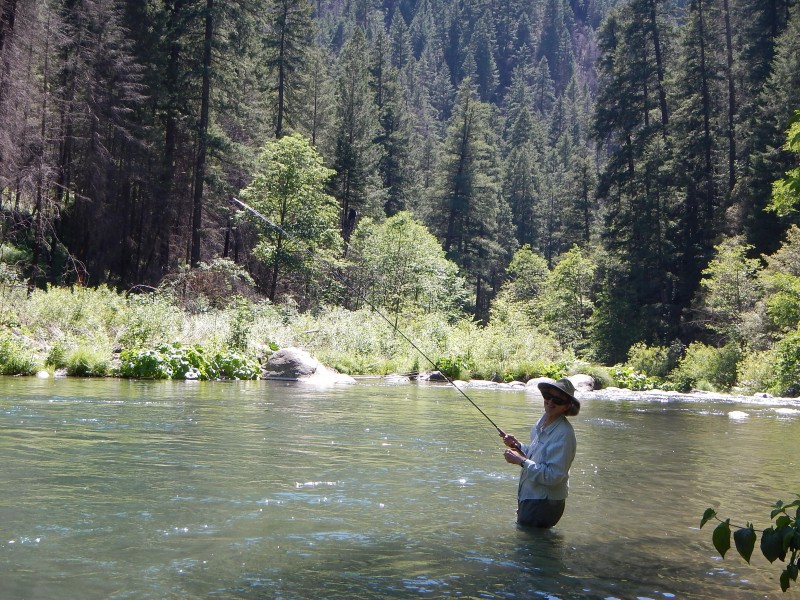 Dry fly fish on folks!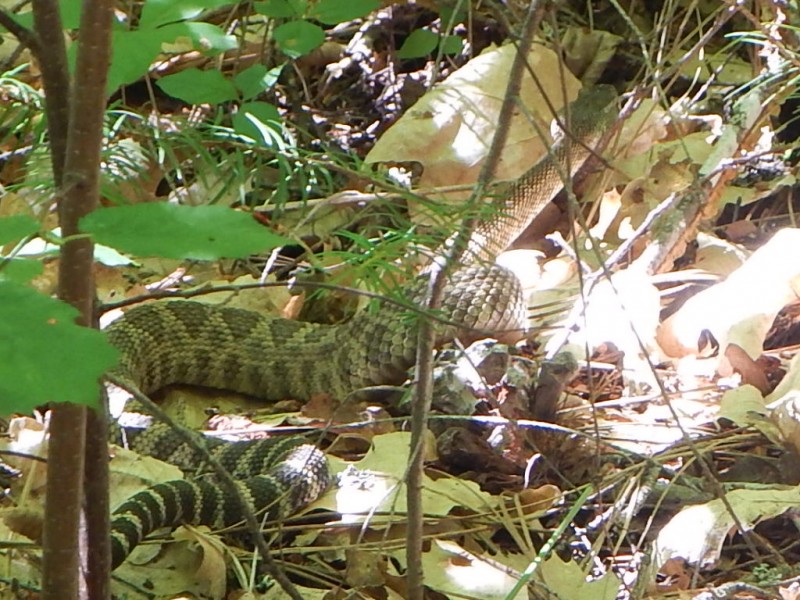 This is Rattle Snake time of year on all the rivers, they need to get some water with all this heat. Just walk through the woods looking down, i only hear about people getting bit when they step on the snakes. Please don't kill snakes, they help with rodents that carry diseases, the snakes will always try to run from you anyway it can.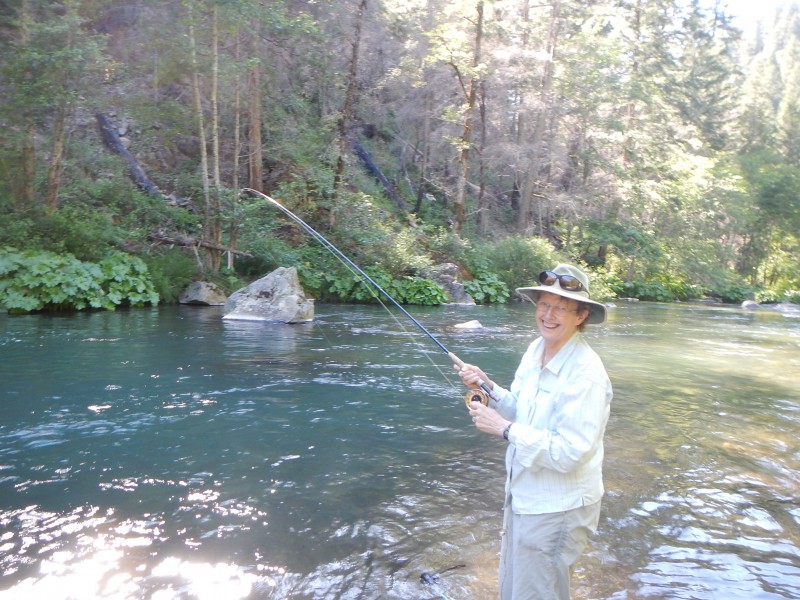 Dry fishing on the McCloud River is magic folks. When it finally clears up it will be great again, call me for updates.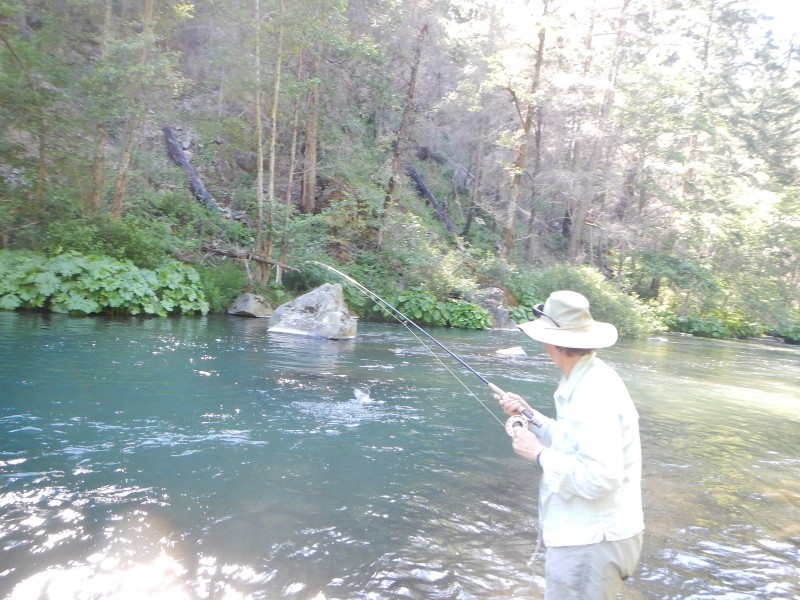 Yahooo Fish On Folks via dry fly!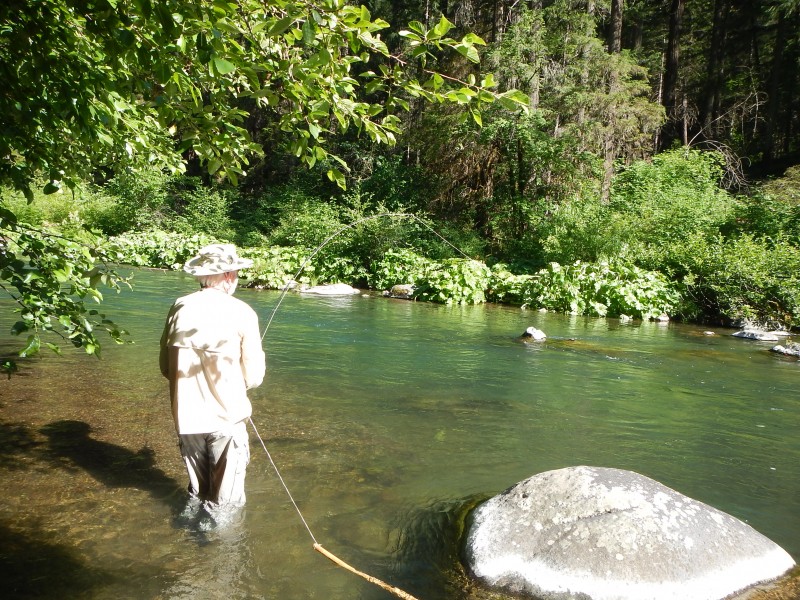 More of where that came from the McCloud River is one in a million.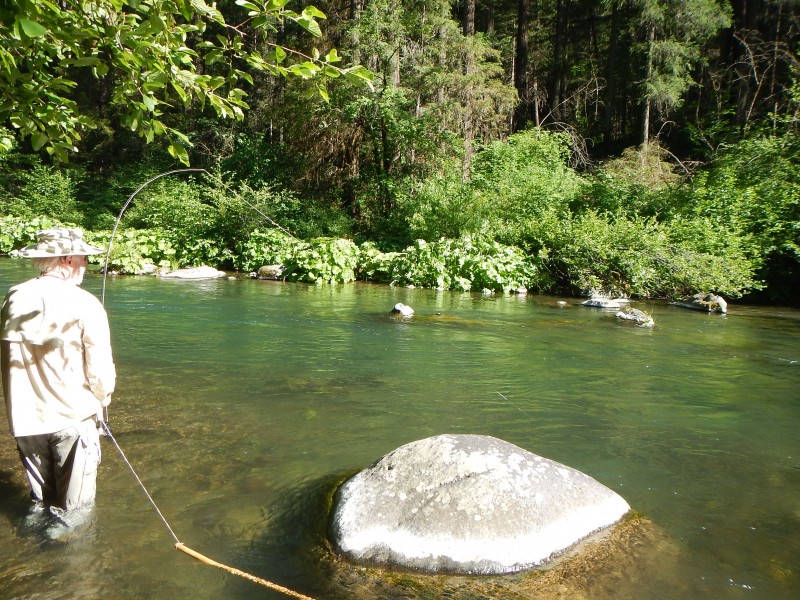 In for the land, way to go, this river always makes my day as a guide. i have been guiding on it since 1994 and fishing it since 1982.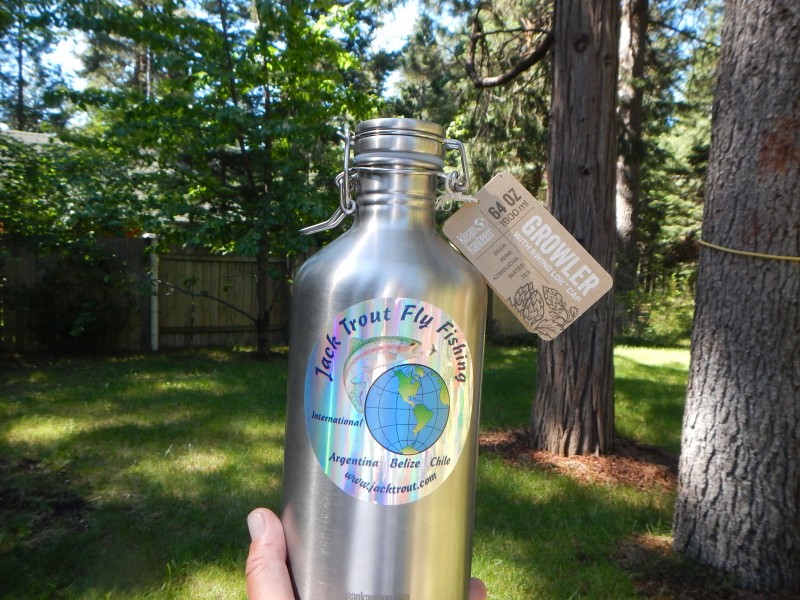 The new Jack Trout Growler, great for beer, water, beer and water…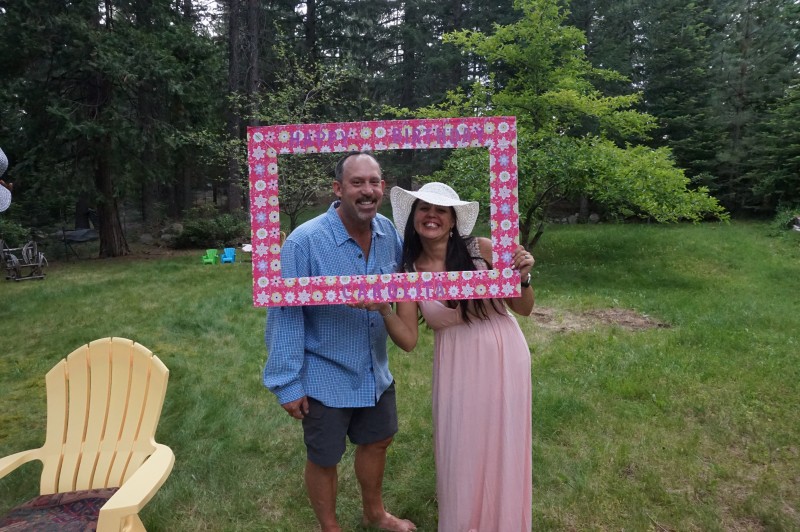 Happy Birthday Carola!! We had a great time at her birthday party..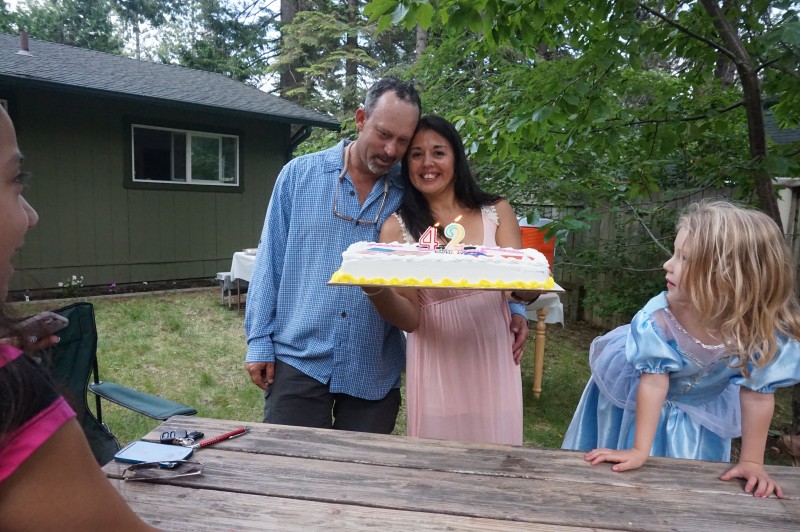 I thought she told me she was 24?? Just kidding, I'm an old crow at 48 this July 31st, 2015. Happy Birthday baby!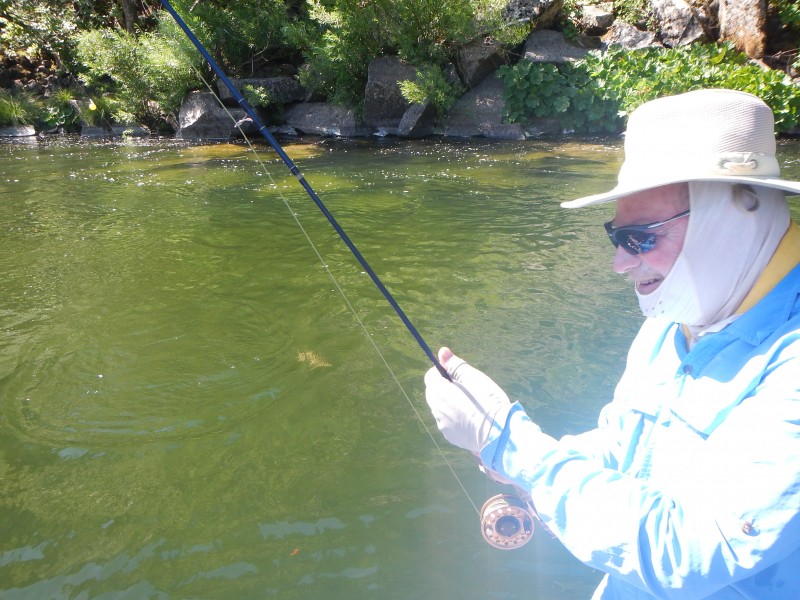 Even on the hot days we're catching something, just smart to cover up.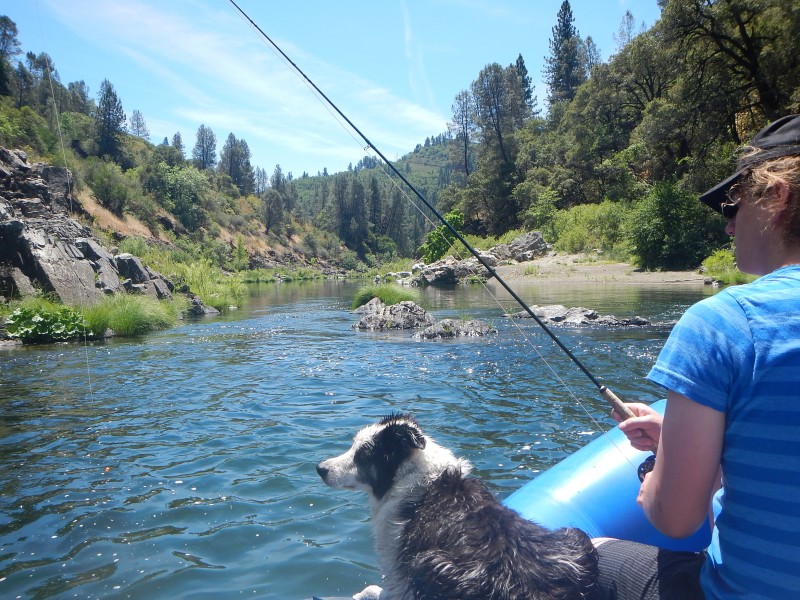 Beef always like a free ride down the river and cheer on your catches!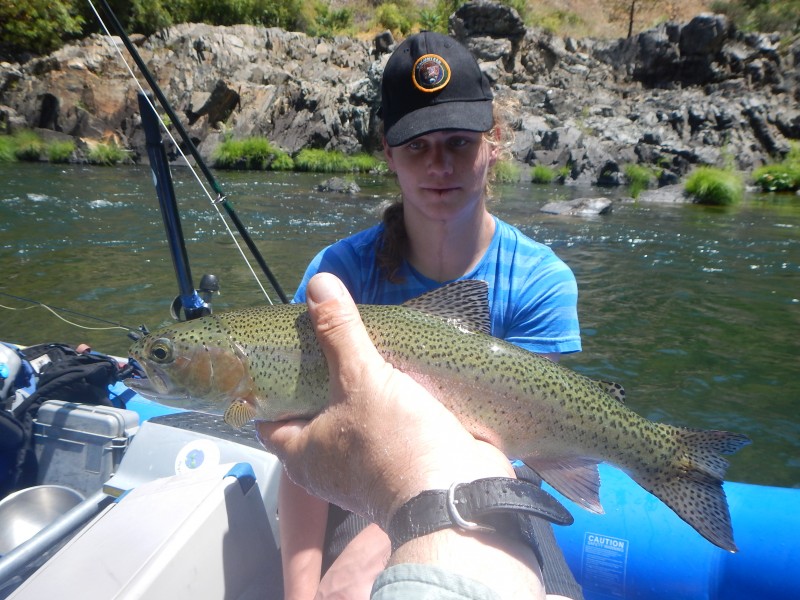 Nice trout Alex have a great school year and enjoy that Jack Trout T-Shirt.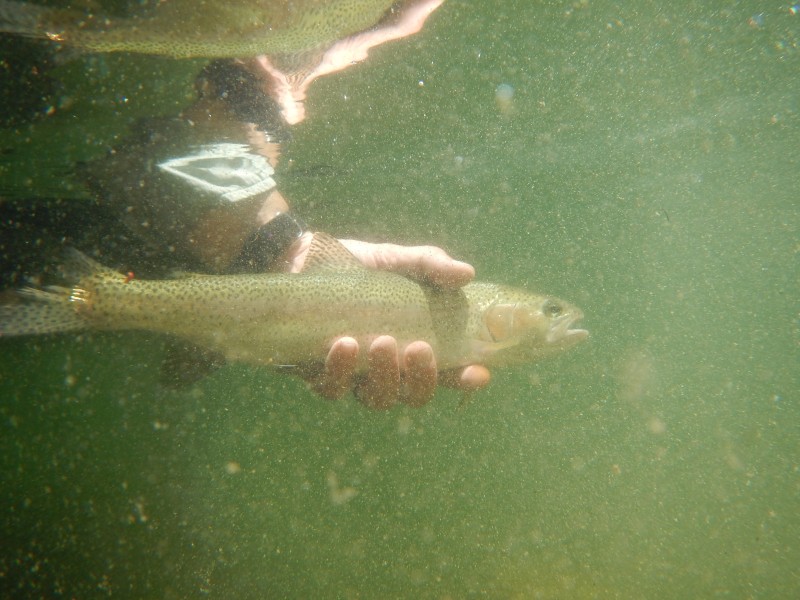 In his element folks.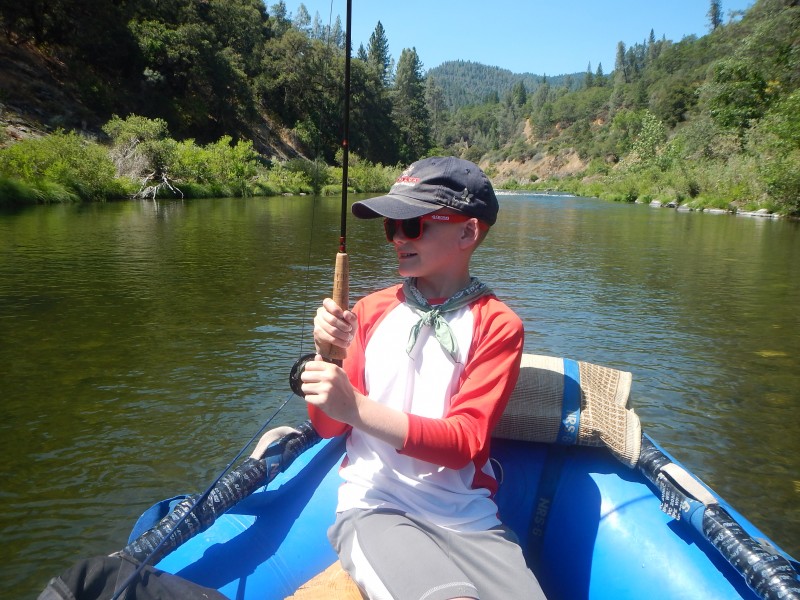 Jack ready for action folks on the Upper Sac!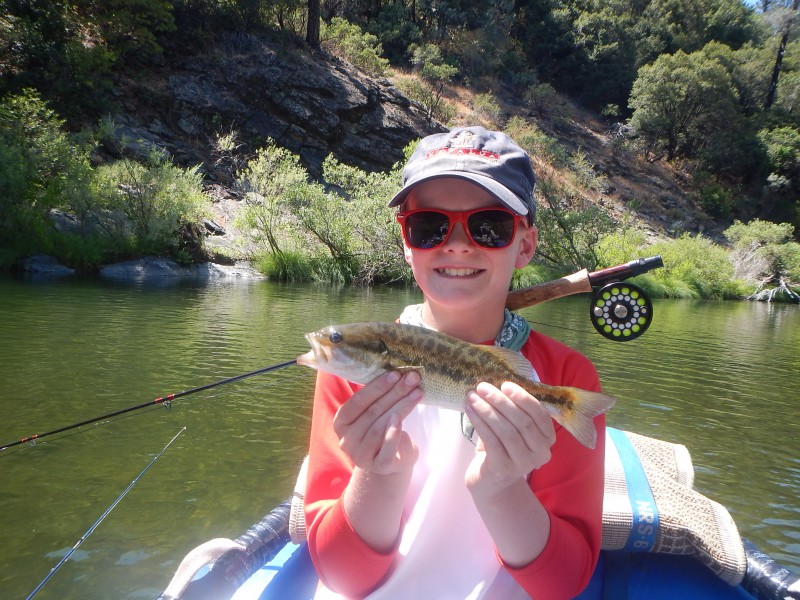 First a bass then a …..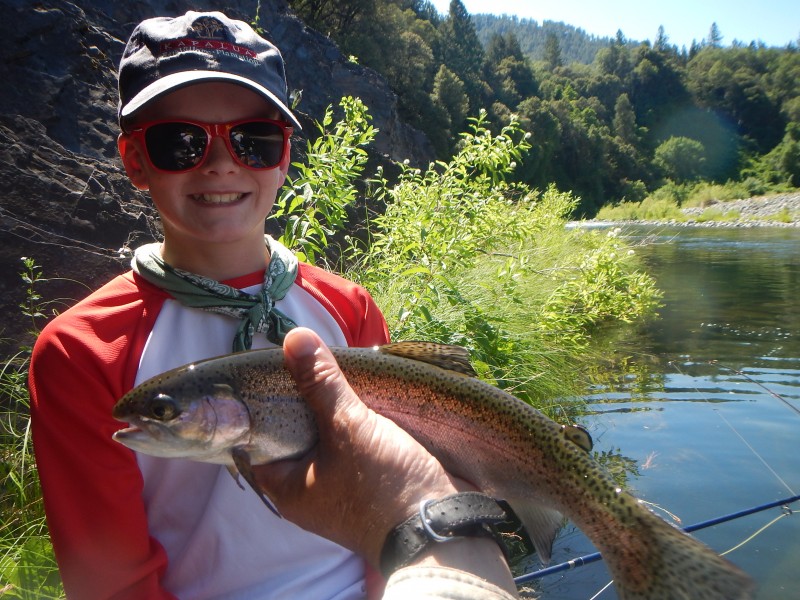 Nice trout, it was a real fine day indeed on Jack Hargrave's first fly fishing adventures!
.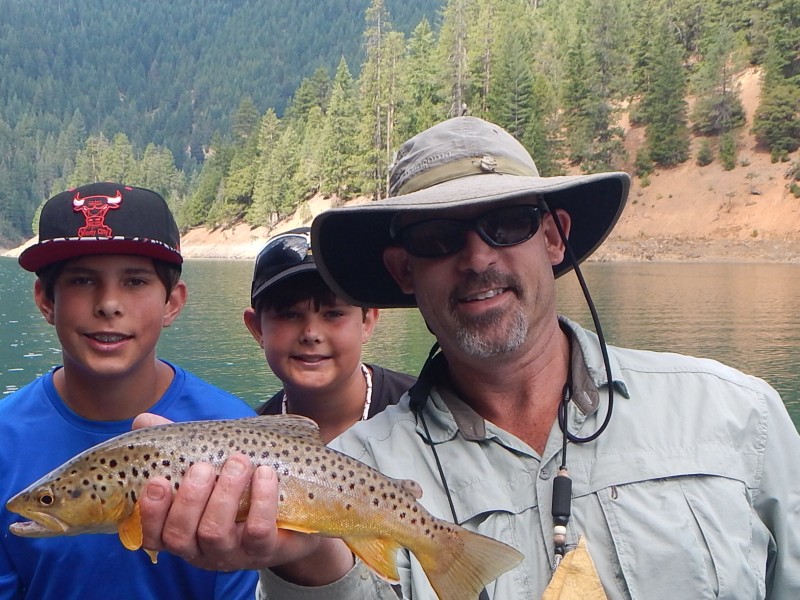 McCloud Lake has some really nice brown trout and they do take flies on the surface during the baetis hatches that occur daily.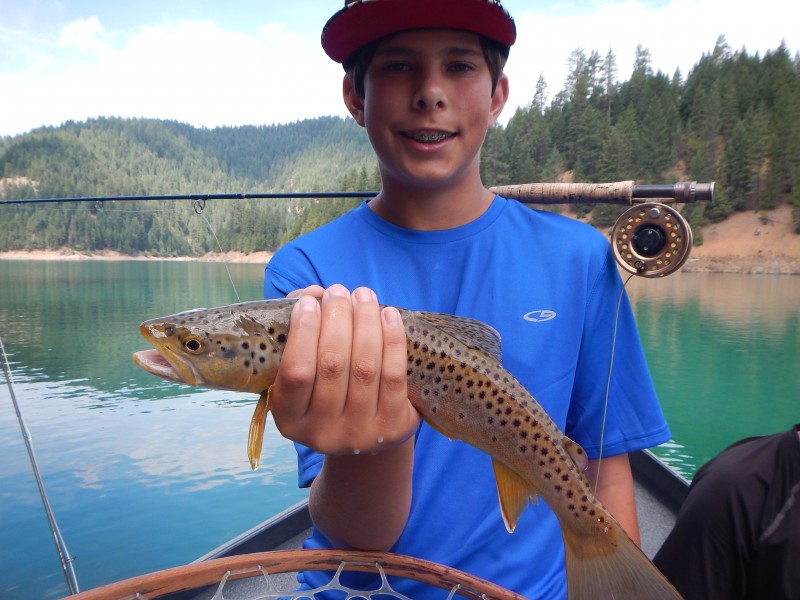 Your first trout on a fly rod is always a memorable experience especially when you're out with mom and your little brother.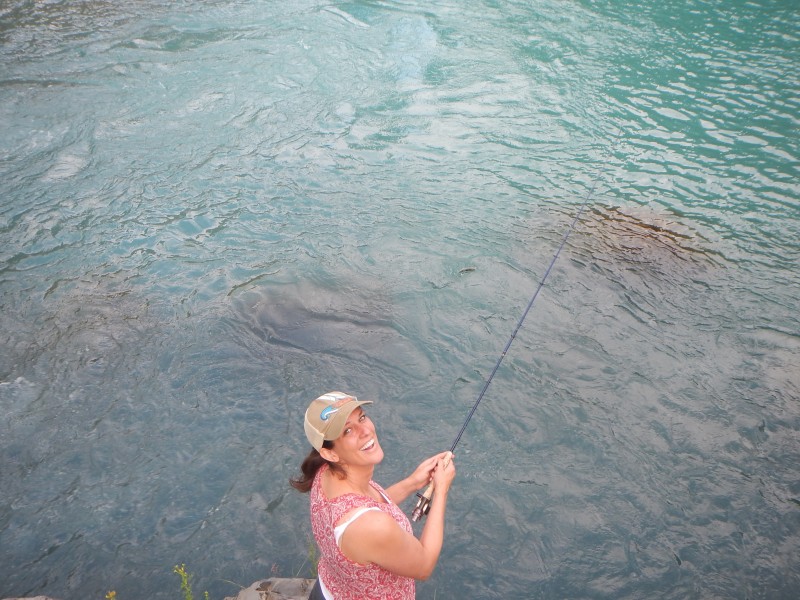 What a good mom, gets her sons out to learn fly fishing and catches a few herself. Thanks for coming Heather hope to see you and the boys up for fall steelhead fishing.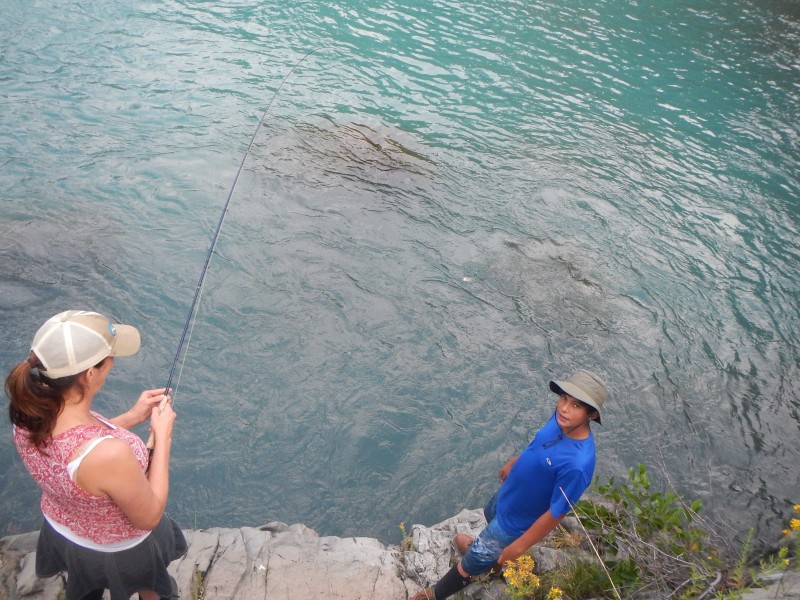 Fish on mom!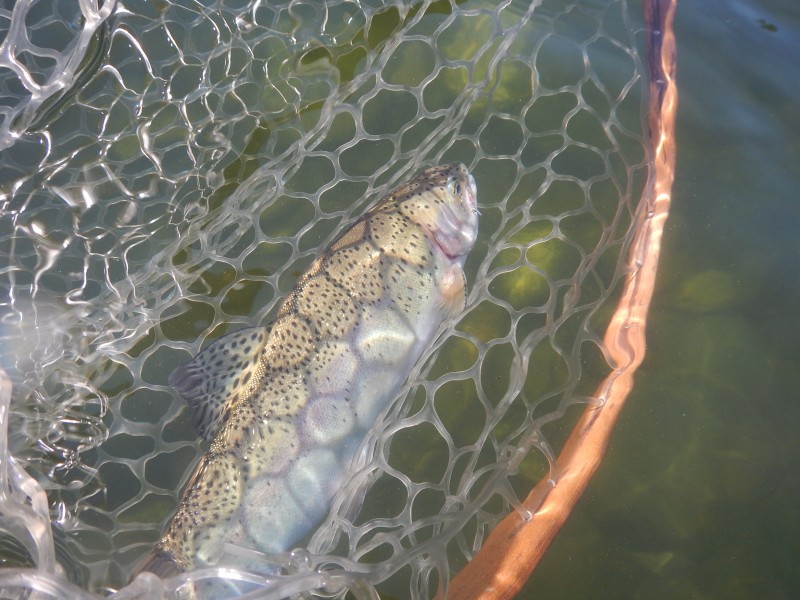 What a prize that's a great sized trout!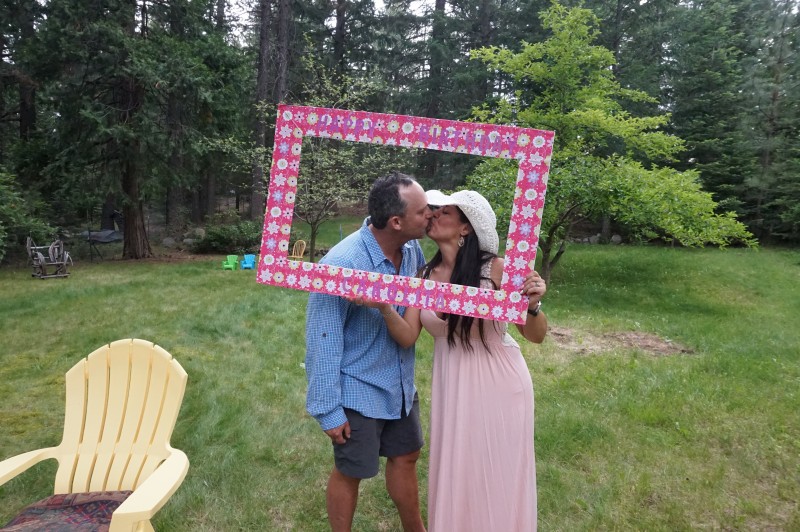 Love at first site folks. We got a great fly fishing plan in store for you call us for help in Northern California, Argentina, Belize or Chile. 530-926-4540 * info@jacktrout.com   * www.jacktrout.com *  www.tourmtshasta.com 
http://www.tripadvisor.com/Attraction_Review-g32755-d1641287-Reviews-Jack_Trout_Fly_Fishing-Mount_Shasta_California.html