HUGE TROUT STOCK  * CITY OF DUNSMUIR & DFG WILL BE STOCKING BIG TROUT IN UPPER SAC THIS THURSDAY ALL THROUGH THE TOWN OF DUNSMUIR!! GET TO DUNSMUIR FAST!
UPPER SACRAMENTO RIVER WILL DROP BELOW 1000 CFS THIS WEEK! THIS WILL MAKE THE RIVER SAFE TO WALK OR GET IN.
ALL NORTH STATE RIVERS ARE NOW COMING DOWN TO SAFE WADING LEVELS. KLAMATH STONE FLY HATCH HAPPENING! McCLOUD RIVER DRY FLY HATCHES MID DAY & LATE AFTERNOONS! I WILL CONTINUE TO FLOAT THE UPPER SAC ON THE 8 & 10 MILE PRIVATE FLOATS.
SUMMER TIME WEATHER PERFECT IN McCLOUD, DUNSMUIR & MOUNT SHASTA MID 80'S DAILY, COOL BREEZY EVENINGS. COME ON UP AND ENJOY OUR FRIENDLY ATMOSPHERE!
Well it finally looks like all the North State rivers are coming down in level and the start of the real California fly fishing season can now begin. I took this picture last week and as you see the hot temps of July are melting the 380% above normal snow pack up on Mount Shasta pretty fast, so I would say in the next month will be prime time for fly fishing on all North State rivers!!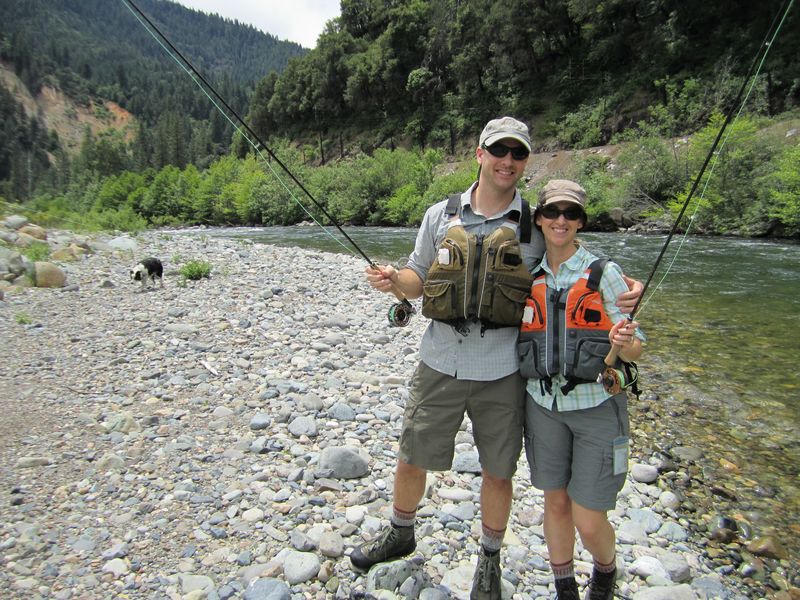 This lovely couple is David and Danielle Creeggan from Sacramento up on a holiday fly fishing trip on the Upper Sacramento River. Dave called me March wanting to go out but after we talked he sadly said…"I'll wait until spring ):"…Little did he know spring would be July this year… A long winter indeed.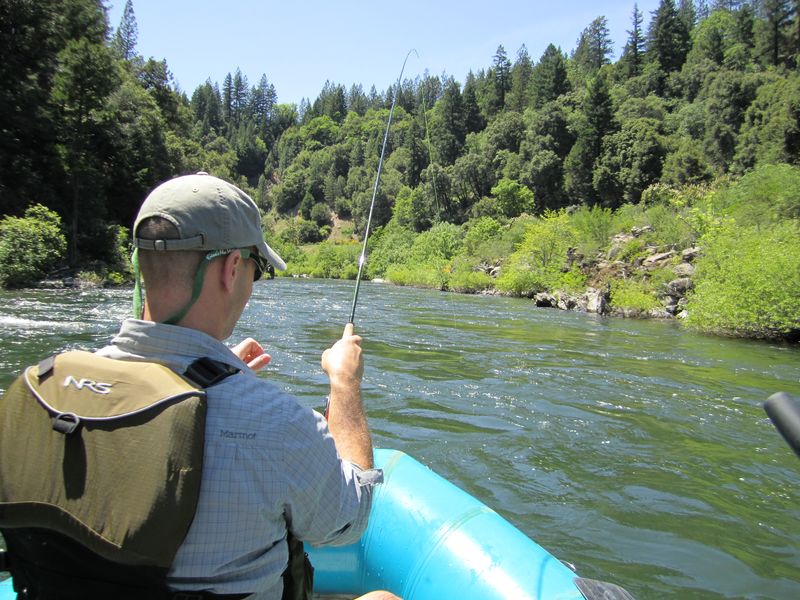 So many people waiting for the water to come down while many others just can't bare to let another day go by without drowning a fly!
Like our friend David Crosby once said in a song, "So Much Water Moving Underneath the Bridge, Let the Water Come and Carry Us Away!"
I think he was talking about getting out in a raft and getting some fly fishing in? So that's what we'll do!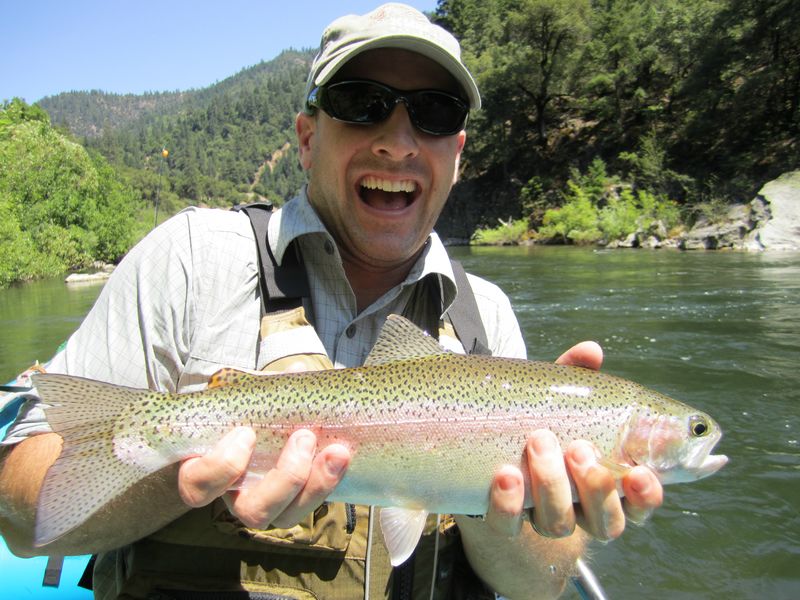 Folks you have a big surprise coming your way this year on the Upper Sacramento River, the average size trout has grown up! I have never caught so many big fish in the Upper Sacramento River. This is a banner size class year for trout in the Sac. Hope to see you out there or give us a call for a trip.  
530-926-4540 FLY FISHING FIX HOTLINE.
While I made lunch, David and Danielle practiced together on a perfect Upper Sac riffle. This is what makes for a great relationships, hobbies and interests you discover together as a couple. Fly fishing is a great sport because the best fly fishers are the ones who stick together and learn at the same pace.Plus the added bonus is where the sport takes you, which is usually deeper in love! With your spouse that is…!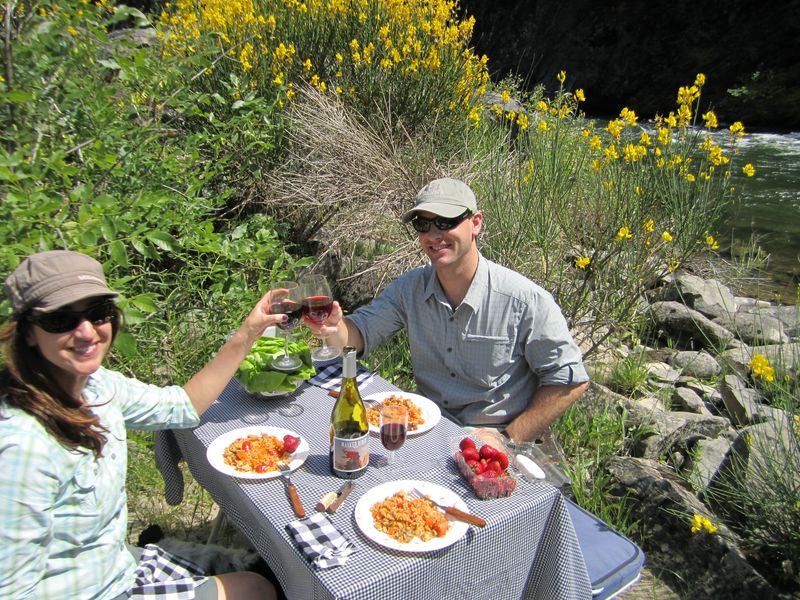 When was the last time you had a stream-side gourmet river lunch with your wife?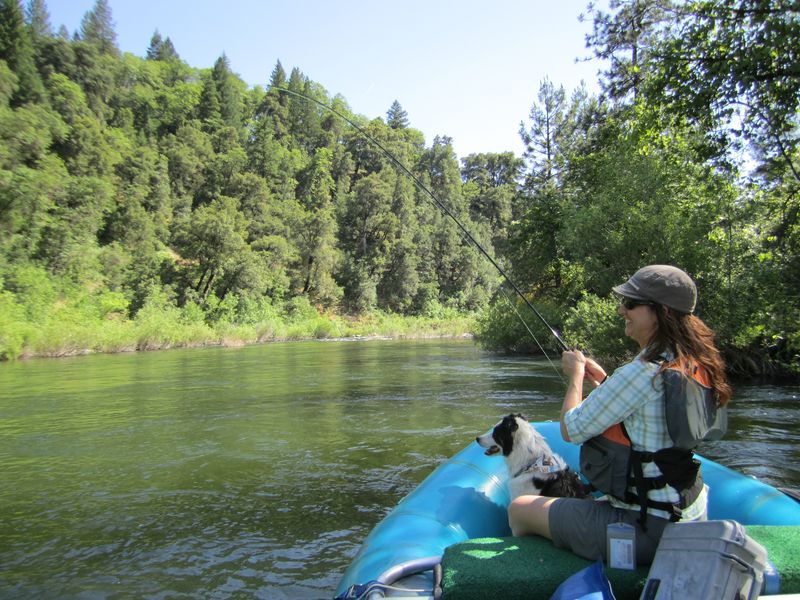 Danielle with a nice trout while Kobe Beef the fly fishing Guide Dog cheering her on..Quietly.
W
ay to go Dave!
Like Tom Petty once said up on stage, "The waiting, is the hardest part."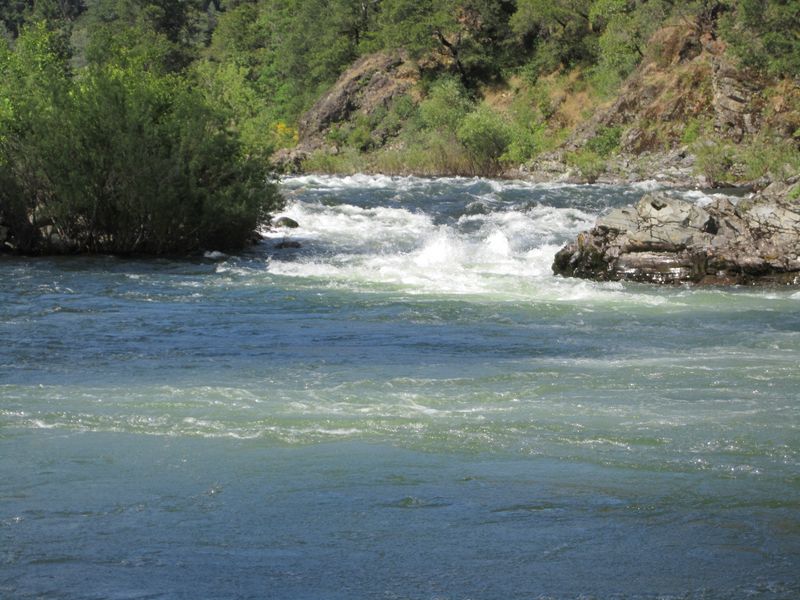 This is what gets my heart pumping in the morning! A beautiful rapid I call the Zipper, I highly suggest river right on this one folks, like way ahead of time.

Speaking of being on the right river.. Dave has another gorgeous Upper Sac trout on!

Some of the most healthiest trout you'll find any where in the world, are our native Shastian / McCloud Rainbow Trout that have been transported all over the world. These are a strain of trout all interconnected before Shasta Dam, when all four tribs flowing into what is now Shasta Lake at a place they called Baird,(Where the McCloud flowed into the Pit River) represented what I think would of been the greatest and longest series of free flowing trout streams in America. I don't think the River Runs Through It would of been filmed on the Blackfoot and Gallatin rivers in Montana as the lower rivers of the Pit, McCloud and Upper Sacramento Rivers would of been literally running the size of the Lower Sac right next to or near to each other all floatable in a drift boat. Could you imagine what it must of been like with a turquoise colored McCloud River with Lower Sacramento River type gravel bars that went on for miles full of trout, steelhead and salmon. This is another reason why I make my claim that countries like Chile are going to make a huge mistake by putting dams in and destroying the natural creation of the Patagonia. Trust me when I say, after the construction of Shasta Dam in 1947 there is no other similar area like Patagonia Chile left in the world.
Other than the massive protests going on over in Chile, I guess all we can do folks is try to fish these magical places before they pave a road, build a dam or a volcano erupts and takes it all away… (Chile & New Zealand are the two most amazing water countries I have seen in the world.)

This is one of my favorite rapids called Rhinocersaurus! Can you see the Rhino folks… Yahooo!

Danielle way to go, that looks like a lunker to me! The trout are feeding the most from 1:30 pm to 5 pm right now in the Upper Sac.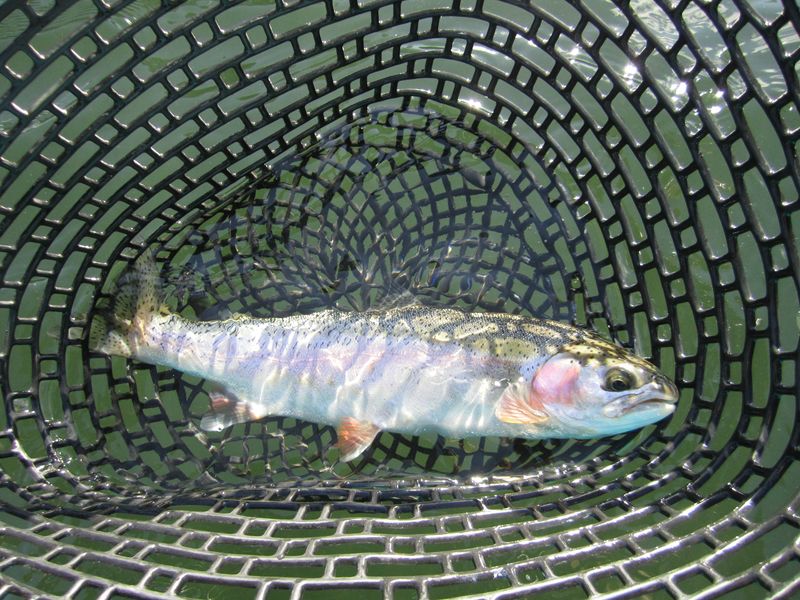 I have been impressed this year at the size class of trout in the Upper Sacramento River.

Danielle Creeggan ~ CONGRATULATIONS YOU ARE MY SIZZLER OF
THE WEEK AWARD WINNER!!

THIS IS THE MOLD FROM HOW NORTH STATE LEGENDS ARE MADE!  
MADE IN AMERICA!
CONGRATULATIONS ALL PRESENT AND FORMER SIZZLERS.
THINK LIKE A FISH ~ LOOK LIKE A BUG * SUMMER 2011!   JT & CT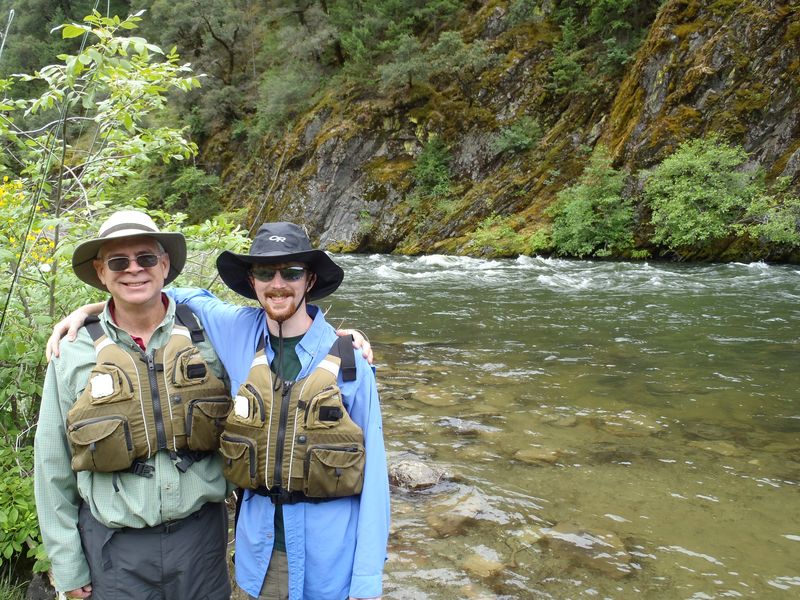 It's Jerry & Nathan Hansen out from North Carolina!!! What a bunch of fun these two guys were and I saw them afterwards a day later drinking beers and munching out on great burgers at the Goat on Mount Shasta Blvd. Thanks for choosing the Mount Shasta area and dropping a buck on our mountain town we sure appreciate it!! You know little mountain towns just can't exist without folks like this coming all the way from the other coast to visit McCloud, Mount Shasta or Dunsmuir, California. 

So this was Nathan's first time fly fishing and being out in a raft, He said he really enjoyed his trip.

Where's the beef?  Well he's right here in my raft watching you bring in another! Dear Animal Planet, if you are reading this after my email to you, this is my fly fishing guide dog Kobe Beef. He goes on most of my trips and love's watching clients catch trout out in my raft. This dog is fearless, he also snaps his teeth to get the trout biting and it has been proven to be 100% effective. He is especially appeasing to my clients because he never moves from his spot the entire day. He is 100% Boarder Collie and won't leave my raft even when we get back home, he prefers to sleep in the raft than his dog house. He told me one day last week he would like to be on the show America's Cutest Dogs, so I was wondering if you might want to come and hangout for free in Mount Shasta with your film crew and do a story on a real working dog that hit the lottery and lives in Mount Shasta California. I promise epic Animal Planet Adventure!
Thanks so much, Jack, Carola, Kobe Beef Trout
 (Loyal Fly Fishing Guide Dog)
Nathan with his first trout on a fly rod!

Jerry's turn to catch a few now! It was sure great to see folks from out of State genuinely loving the Mount Shasta area, it's always seems to be love at first site when people visit Mount Shasta for the first time.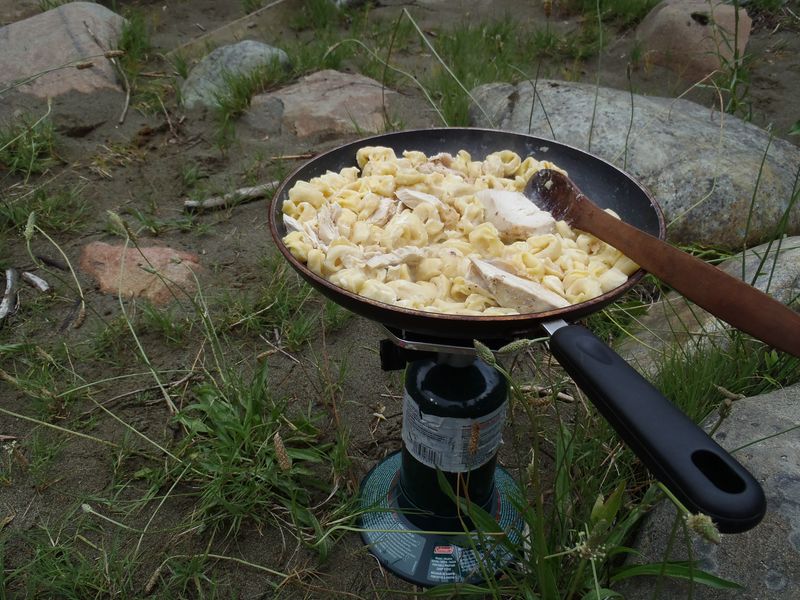 Time for lunch!

Hope you like Carola's fine gourmet cooking! Chicken Tortellini in a cream basil alfredo sauce. Yummy! 
Save a little room for dessert folks!

Fresh Parmesean cheese always makes life better!

Like promised in previous blogs, "When Carola gets here from Chile the food will be even better!" Strawberry Shortcake, on the river! OMG ~ Thanks Carola, the clients loved it!!  jt

OK, back to work!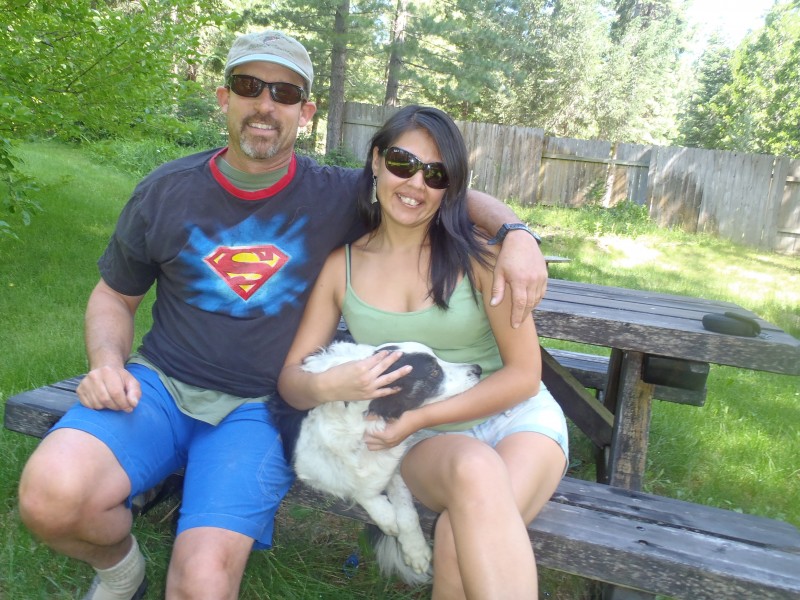 This guy looks like he hit Shasta Dam and came back up river…?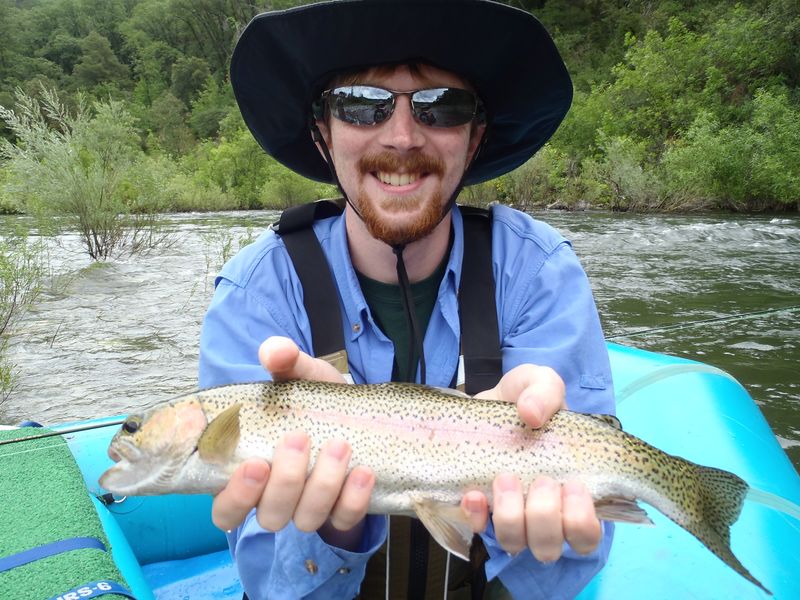 Nice fish Nathan, hope to see you and Pops back at it again sometime.

Racing stripes!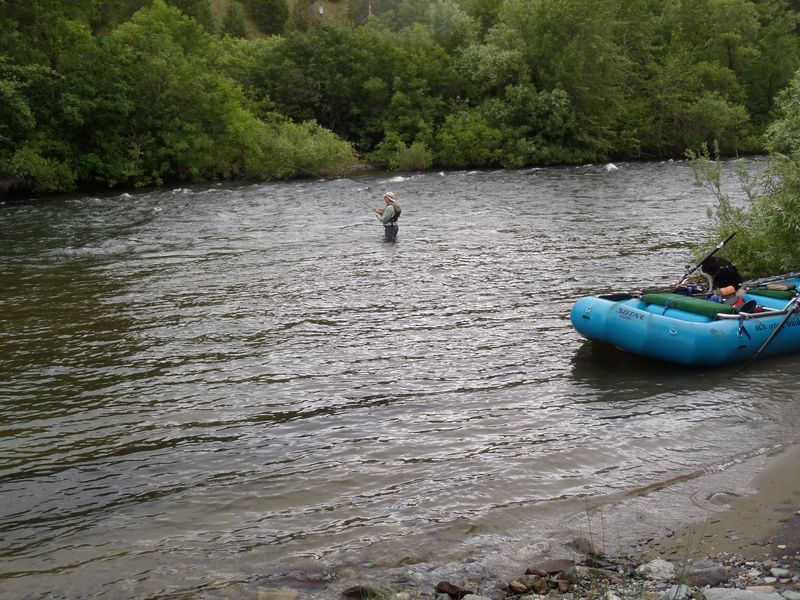 Shed that winter layer and get out on a North State river, the time is now.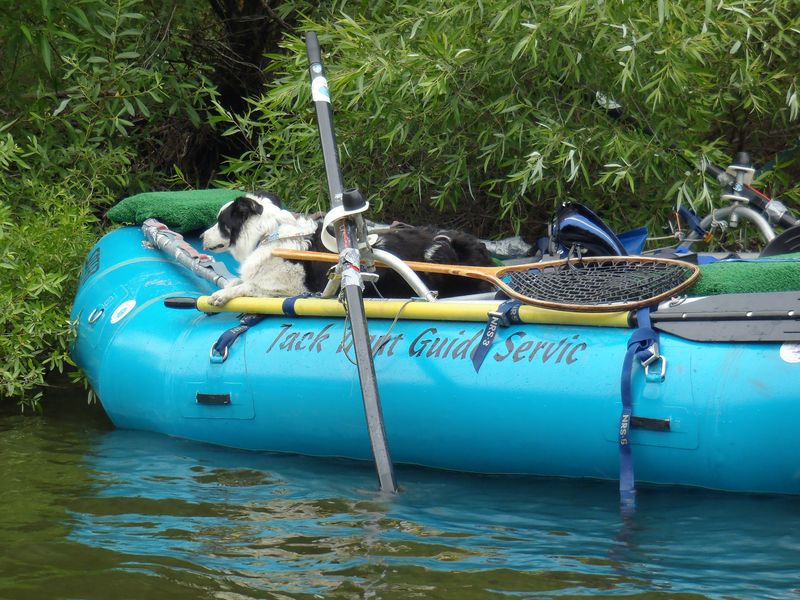 I'll wait here and guard the boat!

Fish on! What a great first day for Nathan, over 12 hook-ups and the biggest smile as he lands another.
 We saw this Bald Eagle as we floated down the river and he just stood there and watched us. 

Right on great trip, Nathan says…

If they could just see you back in Willmington, North Carolina! That is one great trout my friend!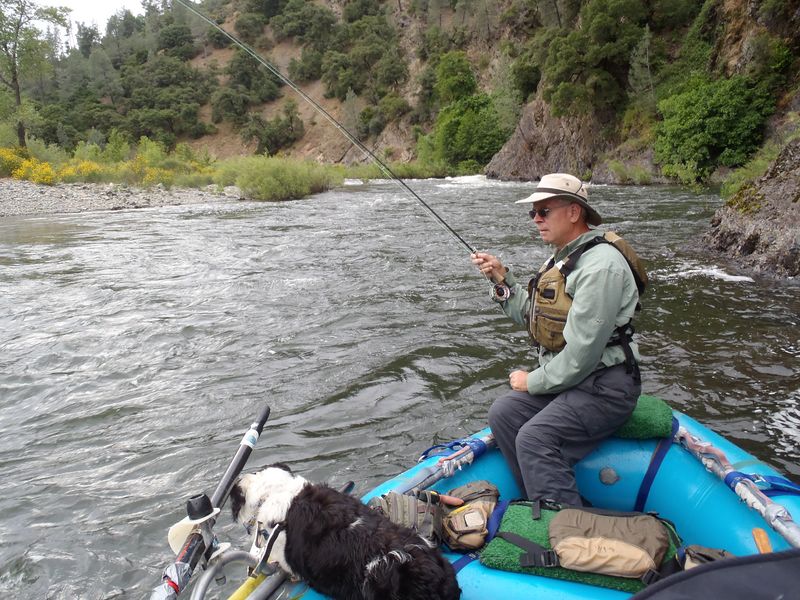 Jerry's turn again as he reels in a strong fighter, Kobe looks on as to give Jerry moral strength and the K9 nod of approval!
(He didn't move an inch..) Howard Nestell the McCloud is fishing!

Yahoo! Google! Pops success! I always like when the guy that books the trip catches a few nice trout too! I'm an equal opprotunity employer out on the rivers.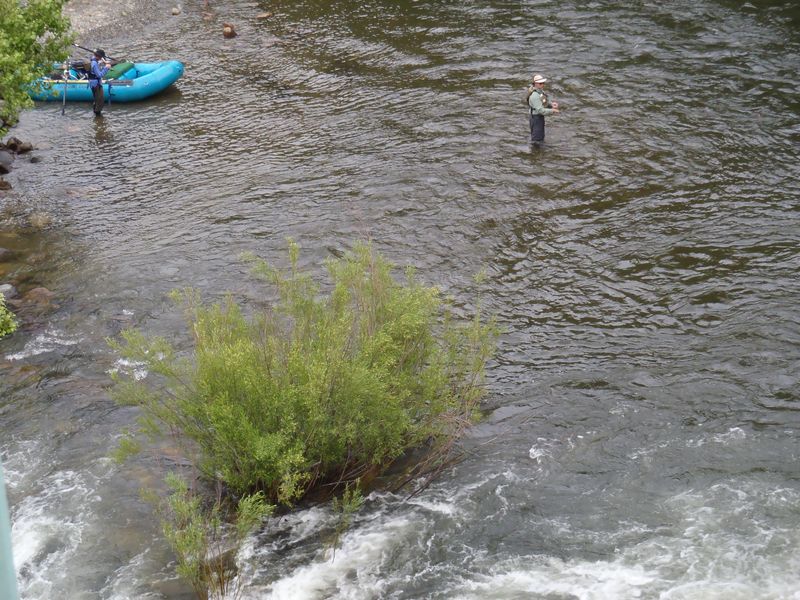 In my next life,  let me become a bird that flies over rivers and watches from above. Soaring to such heights and diving with ease, make me a wise old owl with a sense of trapeze. Let me live on a cliff with a view of all the places I've once loved or knew.  Fly I would fly, high every day and there by the river is where I would stay.  Jack Trout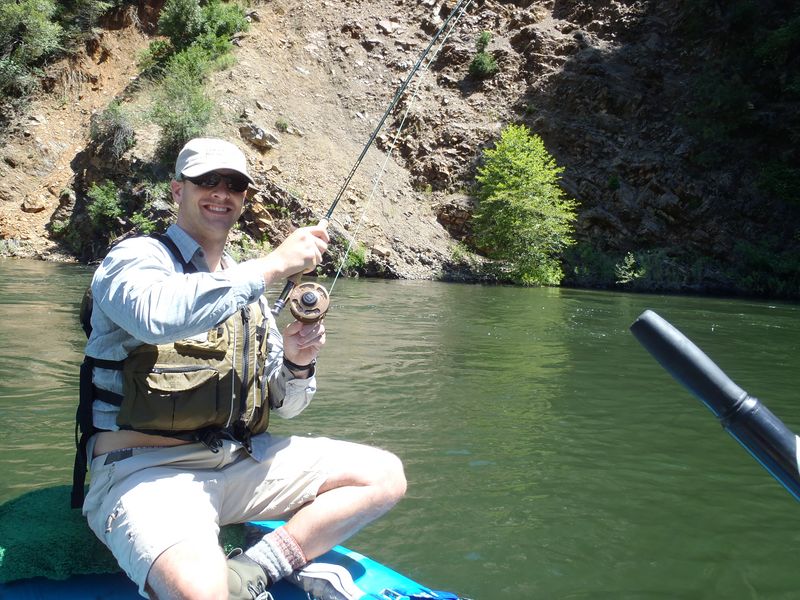 Dave Creeggan is back the following week with his dad Rich!

Like he couldn't get enough catching all those trout out with his wife Danielle the week before. Way to go David, you wanted to go out in March and April but you couldn't so you deserve it Sizzler!

Let's get out and wade here a little.

Rich hooked-up on a bank casting out on a nice edge.

Success! That's a real ripper as my friend Mitchell Barrett would say!

What a great guy loving his retirement out with his son a on great North State river.

Rich with another hook up down the Delta Riffle.

David with a lovely trout indeed. Worthy of a second trip trout qualification and happy camper award.
Dave, you have the All Pro Glow!
(Take care, always love fishing with the family ~ 15 years.)

Rich with one not too far from the take out…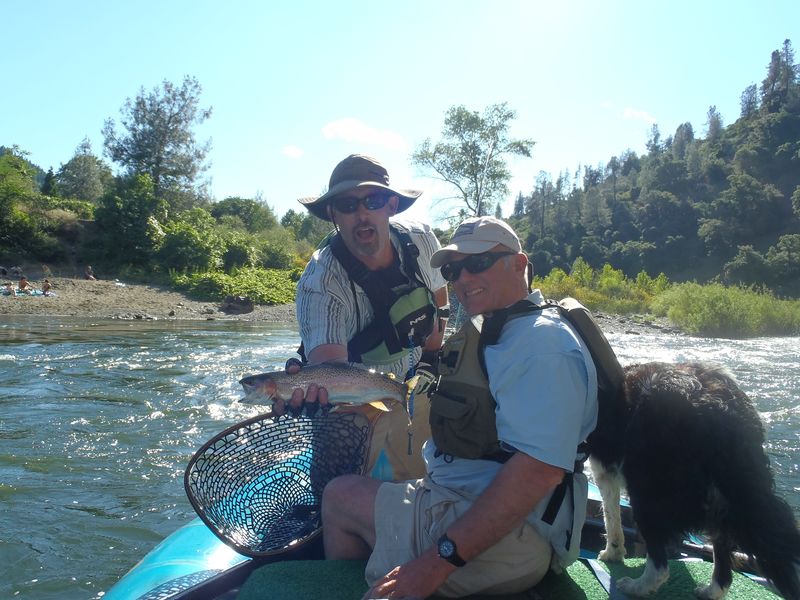 Rich, way to go my friend. I've guided you for many years and now your son is coming up to see me quite often. Over the years, we have fished from China Point to Indian Creek on the Klamath River, Iron Gate on the Upper Klamath back in the 90's and almost every river imaginable in the North State in between. All I have are great memories of you me and Jim, way back when on days when we all won. Jim's not with us anymore and that is our loss because he was the finest kind of man made on the face of the Earth. But those adventures will never be forgotten and now that the next generation is coming along, I guess all we can do is just continue to pass on the torch of knowledge and keep telling those stories that keeps the spirit and the memory alive. Sometimes it's o.k. for history to repeat itself. jt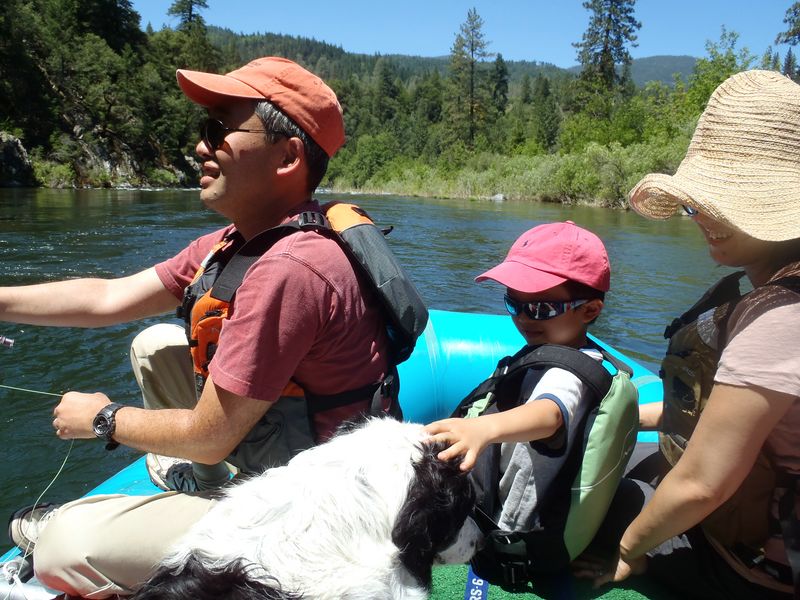 Ken came up with his family to fish on the Upper Sac and take the family on a scenic nature tour. 

Ken hooked up on a trout instantly and he was ready for more action. His son loved the raft so I took them on a short 4 hour 2 mile private run I do perfect for families looking for something to do around the Mount Shasta area. I have all the gear, life vests, food, drinks and more. This section I run is class 2 1/2 at the most.   info@jacktrout.com  
Family approved check out Trip Advisor Mt Shasta.

This was Ken's first trout on a fly rod. His son was so proud of daddy and that was great to see! I really like seeing great fathers on my trips, some of the best I know come up and fish and proudly take their sons. The fly fishing community is fun one, a bunch a great folks that love rivers and where fly fishing takes you.

Say Cheese!

Ok Kobe, let's get the trout bitting!

This dog is incredible….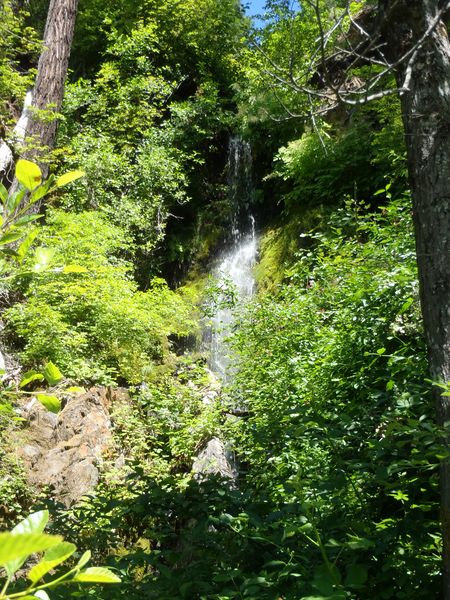 Pollard area waterfalls are so beautiful, we get right up near them in the raft.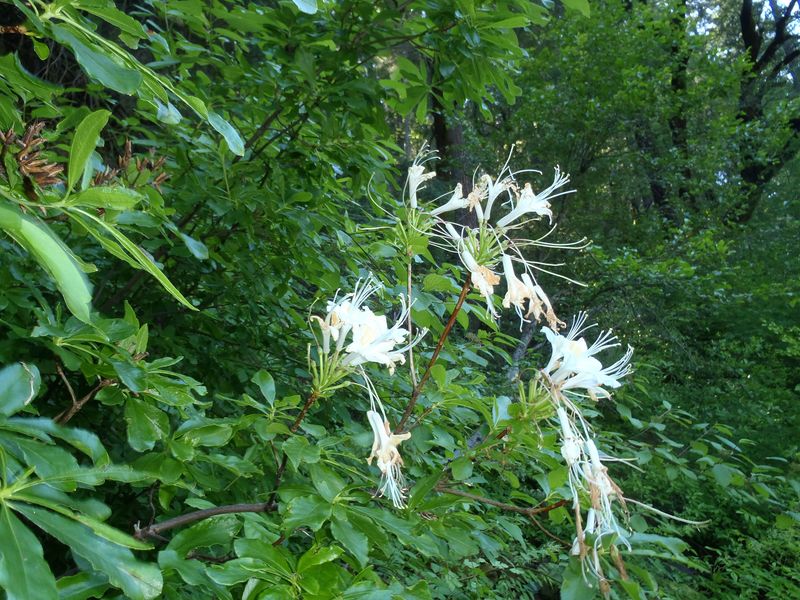 Wild Azelea are in full blow now, if you like Tiger Lillies, Wild Azelea, Shasta Wild Flowers and Wild Sweet Peas the next few weeks are YOU!

Over the 4th of July we camped out and floated the Upper Sac, what a great time we had as we enjoyed great food and mostly each other.
***********************************************************************
2011 / 2012 

CHILE ~ Argentina FLY FISHING  SEASON ~ We leave for Chile October 27th and start our season on Nov 1st, 2011 ~ Call us for Info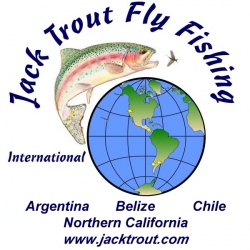 Thanks for watching our adventures! Jack & Carola Trout    
EMAILS FROM YOU