Thursday, March 14th, 2002 *****BACK IN MT SHASTA SIZZLERS!*****
---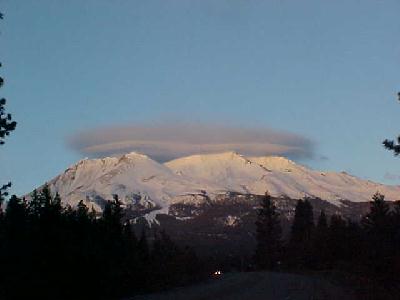 ---
Ok, Ok I'm back! Wow it's been such a great journey, this has diffently been my greatest trip ever to Chile or abroad for that fact. I just got back in time to shoot this great pic of Mt Shasta
brewing up a storm. The weather has been in the low 50's during the day time and night has been in the high 30's, quite a change from the 80's I was in, on the beaches of Vina Del Mar. It always feels great to get back home to where my roots are, I'm a California boy
born and raised in the town of Portola, near Quincy, California.
Same mountains as here, in fact Portola and the Sierra Buttes where I was born, are at the tail end of the Cascade Mountain Range that extends from British Columbia down to Northern California ( My Area). JT
---
---
Got a call to do a local tour for some folks that just moved in to the area from Carmel, California. Of course on the top of my list always is to take people by the Sugar Pine Candy Store in McCloud.
This place would make Willy Wonka jealous, and makes me remember to return with every delicious bite I take of their home made truffles and chocolates. I love this place and so do my customers on Scenic Tours!
---
---
Check out these wonderful chocolates available at the Sugar Pine Candy Store in McCloud, California. I can't ever go in without dropping some dough. Were very lucky to have this available to us here in Siskiyou County and get this, they're putting in a coffee area with specialty coffees!! Coming Soon
---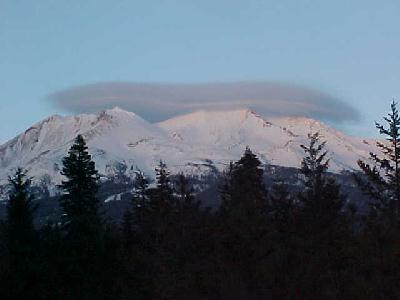 ---
A closer view of Shasta shows really what a mysterious and magical
mountain, with many hidden secrets still not explained by mankind.
That's Shasta Sizzlers, go figure!! jack trout
---
---
Here's Bee on her Candy Rampage! look out folks don't get in her way
she loves this stuff! I had a great tour with you and you husband yesterday and Luna too! Thanks for appreciating my area as much I as do. Good luck in your new home, and hope to see you again for your anniversary, this time we'll go fishing!! Jack
---
*******************************************************************
Well folks thats this story for this time, I'll be reporting from Mt Shasta area. Keep up the emails and I'll change the stories about every three days, until then…. Take Care Sizzlers, Jack Trout
---