---
---
*****CLICK HERE FOR FLY FISHING CHILE INFORMATION http://www.jacktrout.com/chilelake.html *****
---
---
*****GRANZELLA'S RE-OPENS JULY 21ST!!
LOOK FOR JACK TROUT's FISH – MOUNT DISPLAY
THIS FRIDAY JULY 18TH, 2008 JACK TROUT PARTY AT
GRANZELLA'S 11 AM TO 4PM – RADIO BROADCAST ON KBHK OUT OF SACRAMENTO- BOB SIMMS OUTDOOR SHOW SATURDAY*****
---
*****TRINITY RIVER STEELHEAD SIGN-UPS NOW START*****
---
---
KLAMATH MOUTH SIGN-UPS FOR AUGUST / SEPT NOW START*****
---
---
---
OUR AREA COULD REALLY USE YOUR TOURIST DOLLARS.
NO SMOKE IN MT SHASTA, DUNSMUIR, McCLOUD & WEED!!!
---
---
LOWER SAC – UPPER SAC – McCLOUD – PIT – KLAMATH MOUTH – TRINITY*
---
---
BELIZE PACKAGES FROM $1750 TO $2950 PER 8 DAYS
---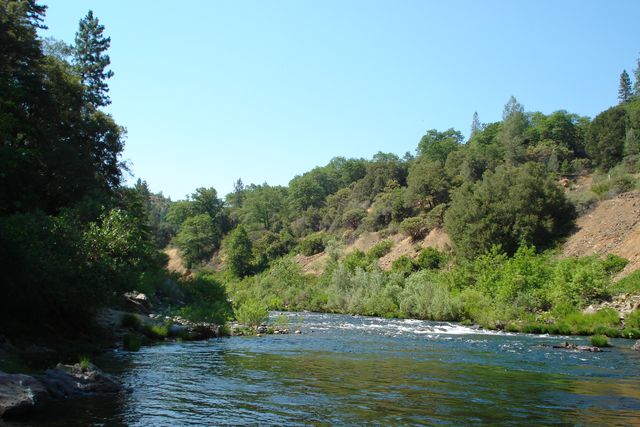 ---
The Summer Loven Gas is no problem PACKAGE!!
Now is the time to plan your summer trip to Mt Shasta. Book three days or more at the Mt Shasta Resort and three trips with Jack Trout Guide Service and we'll pay your gas from Bay Area to Mt Shasta!!
We don't believe in "staycations!"
(Sorry Dan, no RV"s) Jack Trout and the Mt Shasta Resort!!
Also check out the The Evergreen Spa at the Mt Shasta Resort~ A Massage & Spa Resort!!
---
---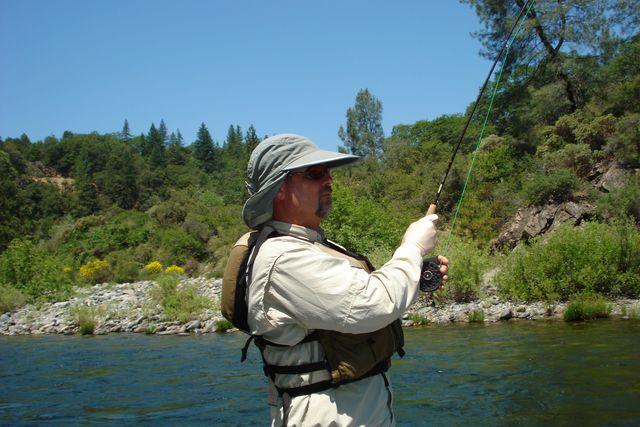 ---
Stand-up at attention!!
---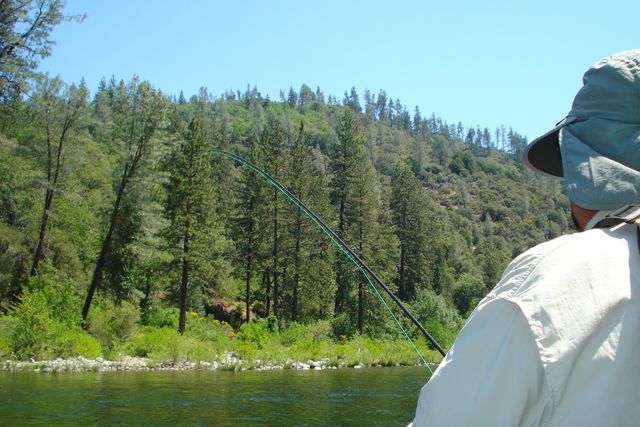 ---
Green Acres…
---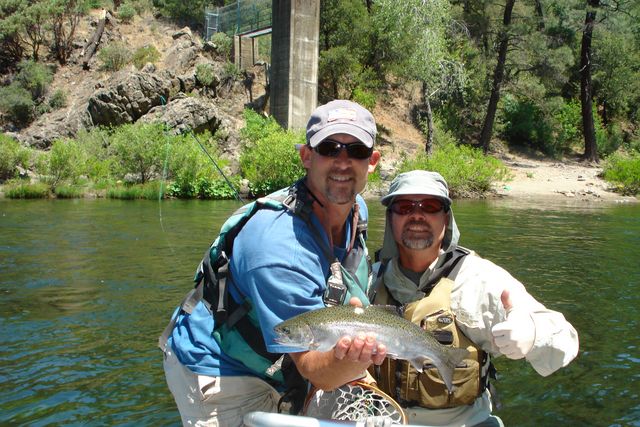 ---
Way to go Joe!
---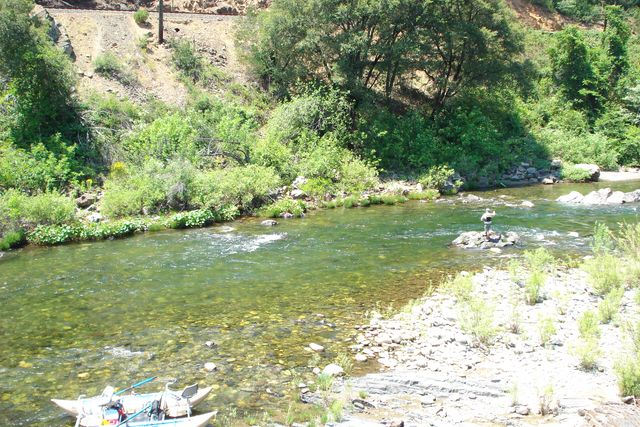 ---
Private oasis!
---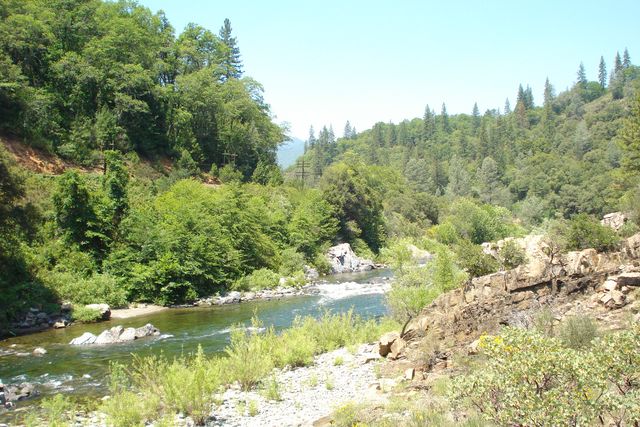 ---
unabated views with runs, riffles and pocket water.
---
---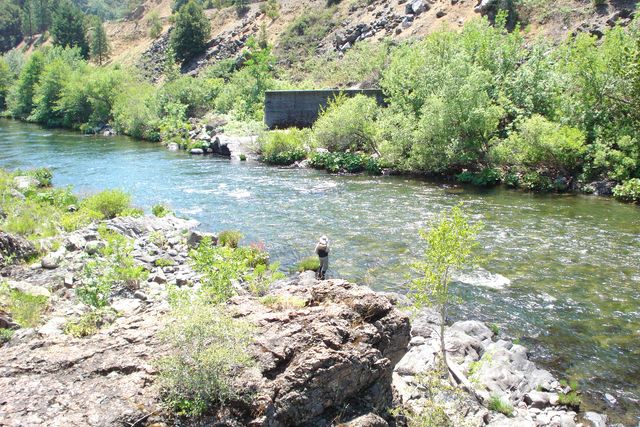 ---
(Read this one with an old pioneer accent)
Sweet riffle Yancy, let me pull back my hair and look out to witness scenic beauty!
---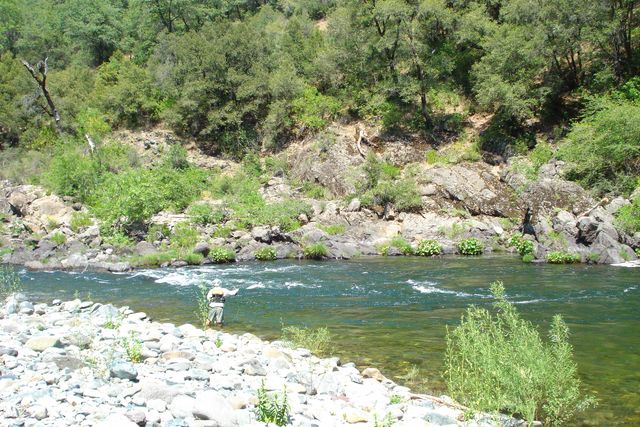 ---
Sign of the times.
---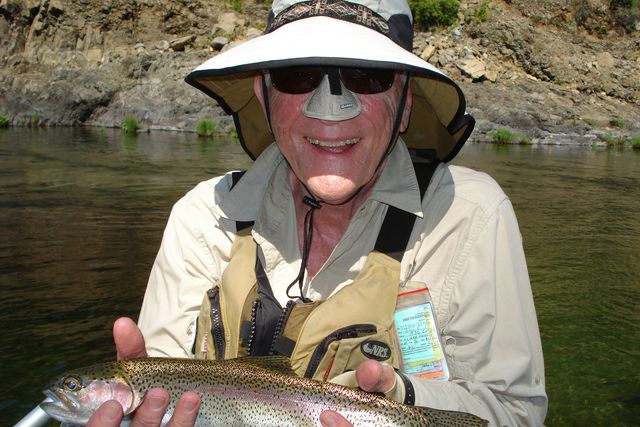 ---
A very happy camper, we'd all like to know…
---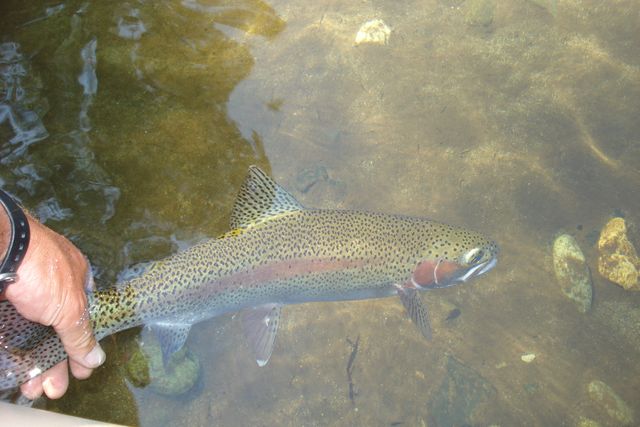 ---
Stars and stripes forever!
---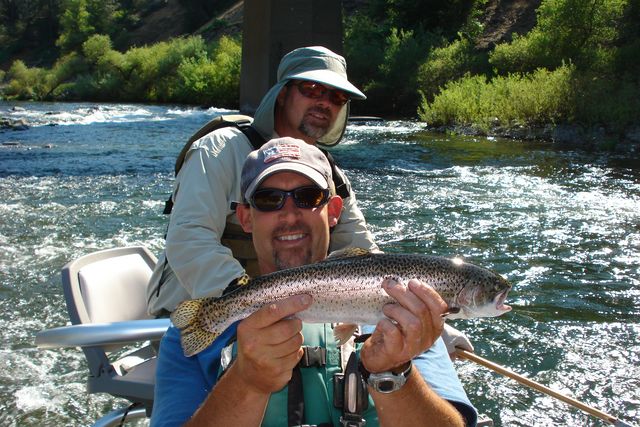 ---
Behind me, a man of distinct character and wit.
---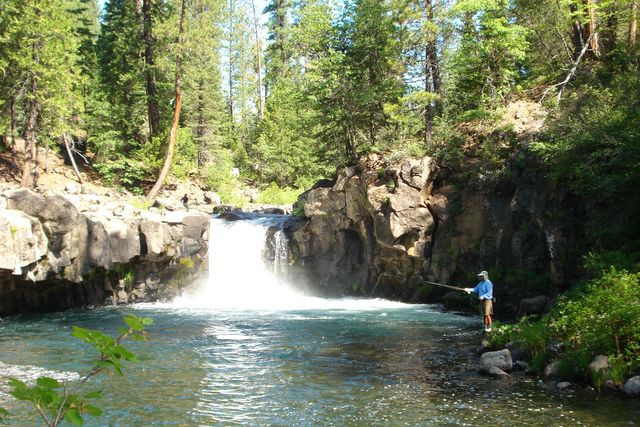 ---
Legend of the falls!
---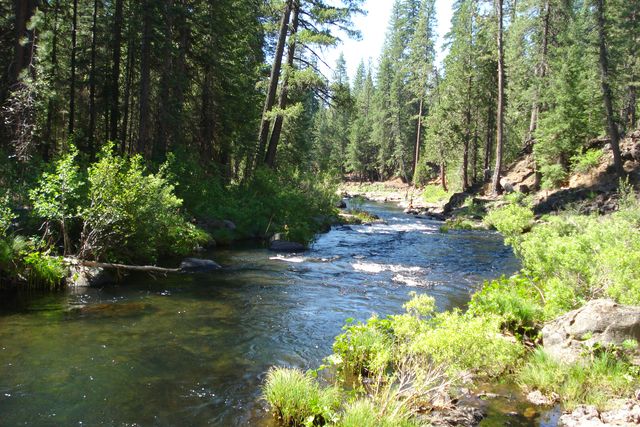 ---
A river runs through it, daily!
---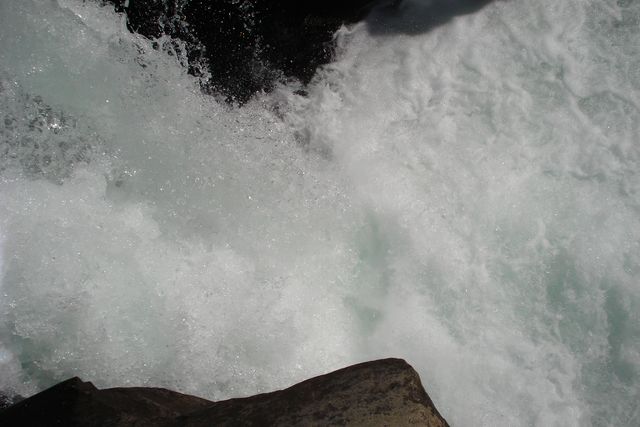 ---
The tubes which feeds the McCloud Falls comes some 20 miles or more from the center of Mt Shasta. Did you know that the McCloud River donates more water in the summer than the Upper Sac does to Shasta Lake?
Check out this chart and see what I mean.
http://cdec.water.ca.gov/river/upsacto1Stages.html
This is why it is so important not to allow Nestle water of North America to tap these lava tubes with unlimted access for a source that can only produce so much water.
The other deciding factor is the highway 89 corridor cannot handle
big truck traffic, it would be a disaster for the town of McCloud
from an astedic and tourist stand point. McCloud needs a different kind of tourism based economy, not breaker 10/4! You would agree right, the town is historically unique and looks like a little Norman Rockwell town.(Ginger bread town) The town should capitalized on this, not harmful area industry that extracts precious resources from an out of area corporation called Nestle, in a town that belongs in the Smithsonian…..
"I said; Hey-Hey – You-You > Get Off Of Our Cloud!
Nestle – Go hang around your loser crowd!"
---
Rolling Stones – Get off of my cloud > http://www.youtube.com/watch?v=Ss02sfQinxI
---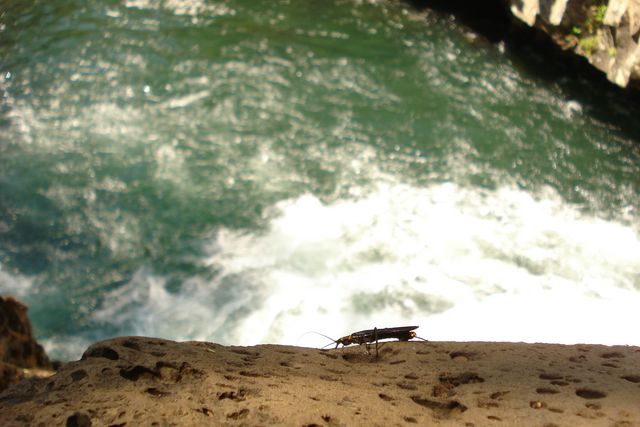 ---
"With this damn Nestle water deal and the McCloud River's future at stake, I'm holding on for my life!"
HOLDING ON – STEVE WINWOOD – http://www.youtube.com/watch?v=aSiVC2jW-FE
---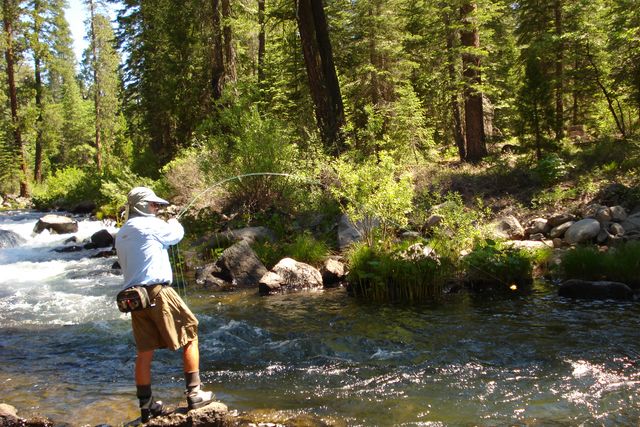 ---
I'm bent on this fly fishing!!
---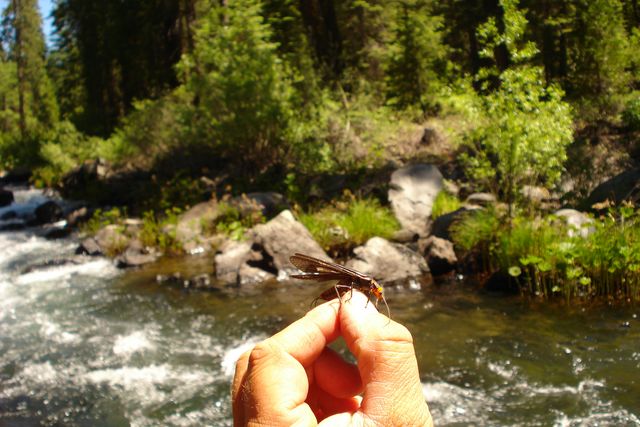 ---
I can do a balancing act, watch me! WahooOOOO – that tickles!!
---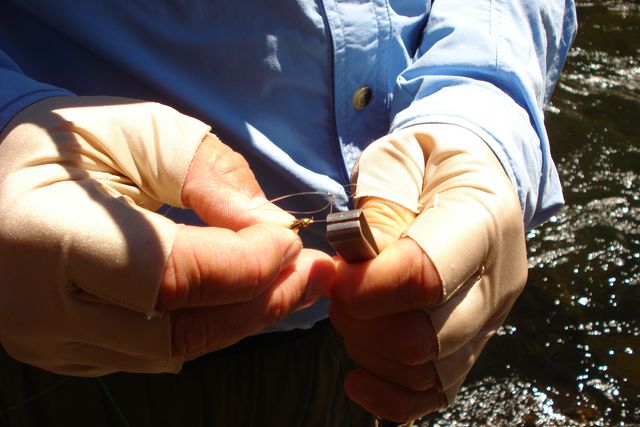 ---
Snip Happens Man! jt
---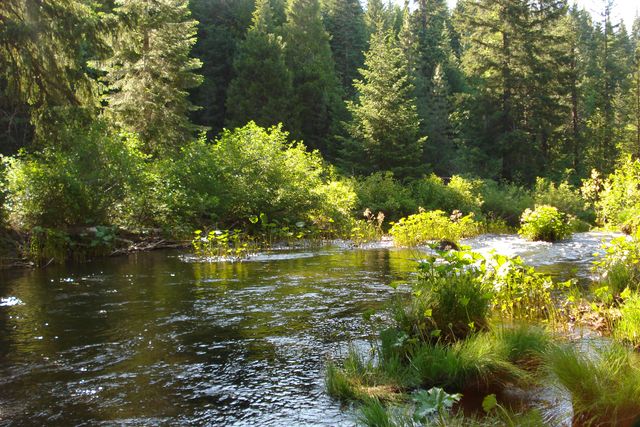 ---
Fly candy!
---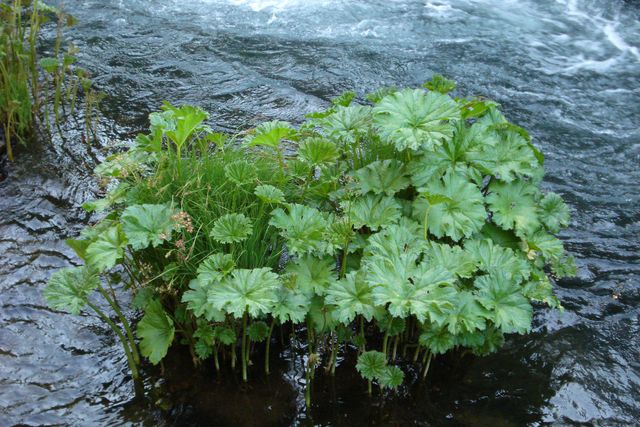 ---
Live in concert, The Elephant Ears! Now appearing on most North State Rivers…
---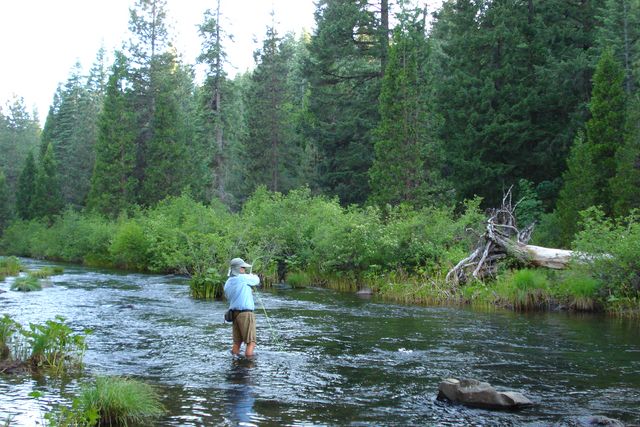 ---
A great place to visit.
---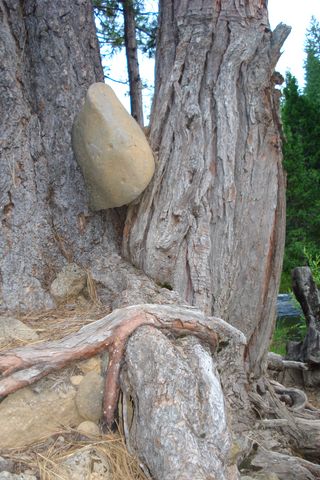 ---
A Ponderosa pine and a cedar mate for life as true love comes in many ways that only nature can explain. jt
---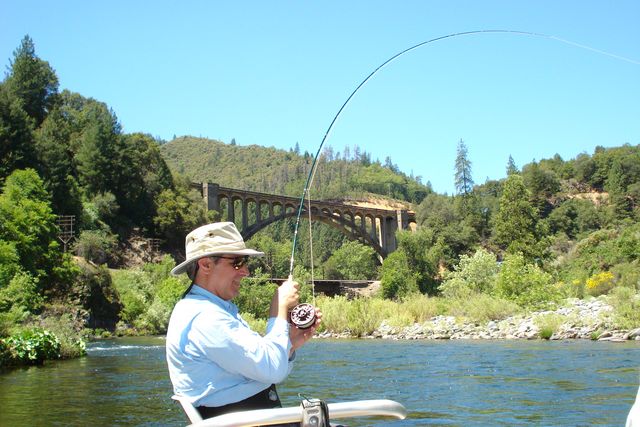 ---
Step right up!
---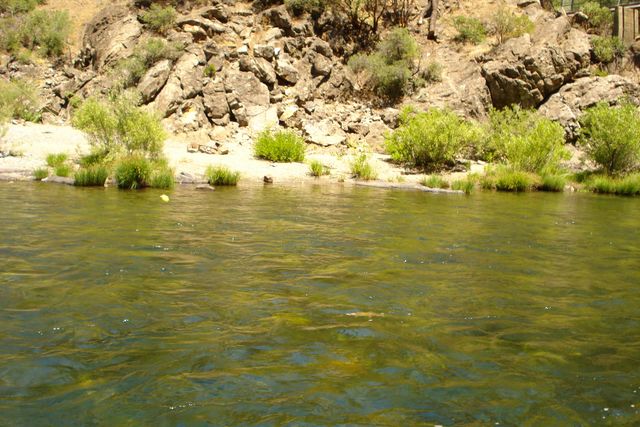 ---
Prize for your eyes!
---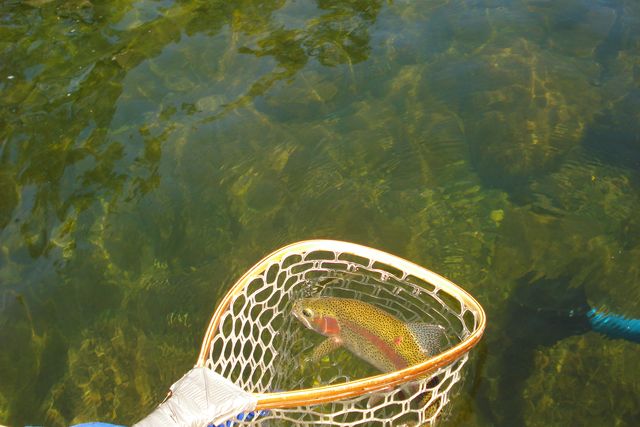 ---
Trout charmer…
---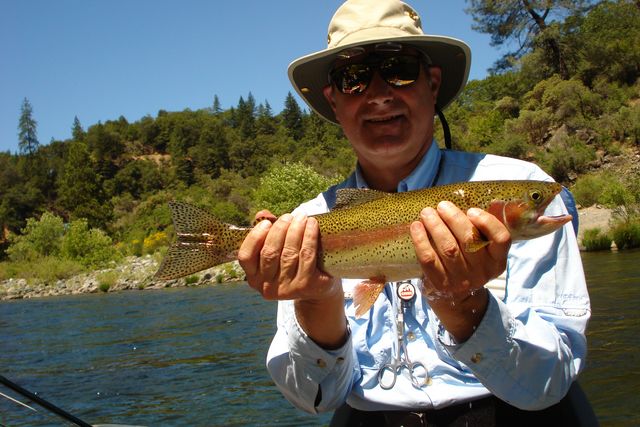 ---
Dazzling bella dona.
---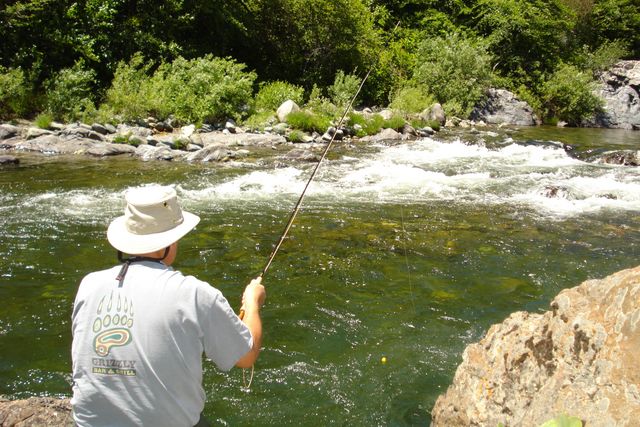 ---
Jedidiah Smith hole!
---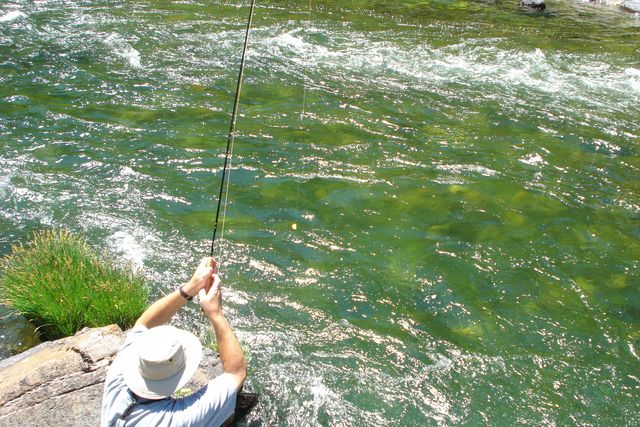 ---
Left quick!!!
---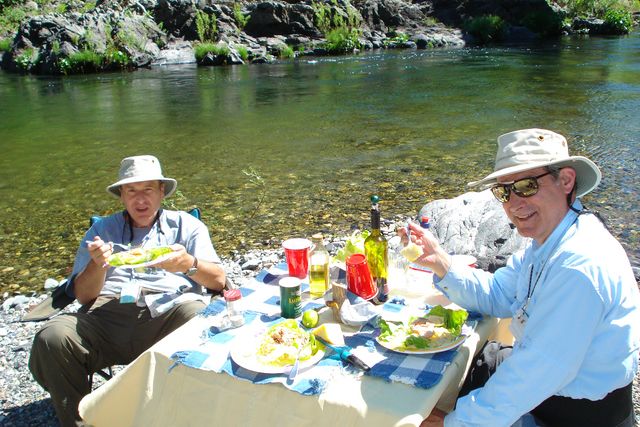 ---
Lunch'n in style.
---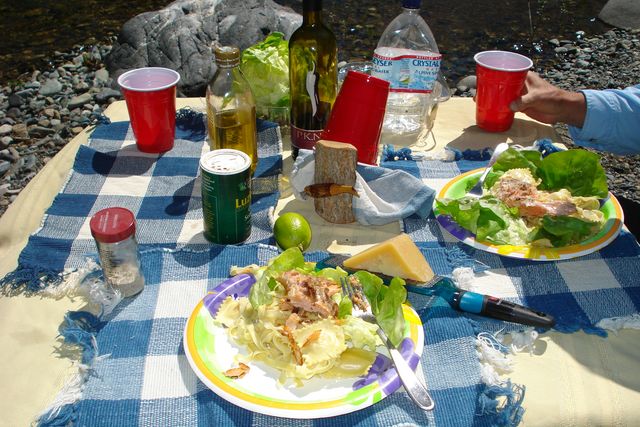 ---
Yummy.
---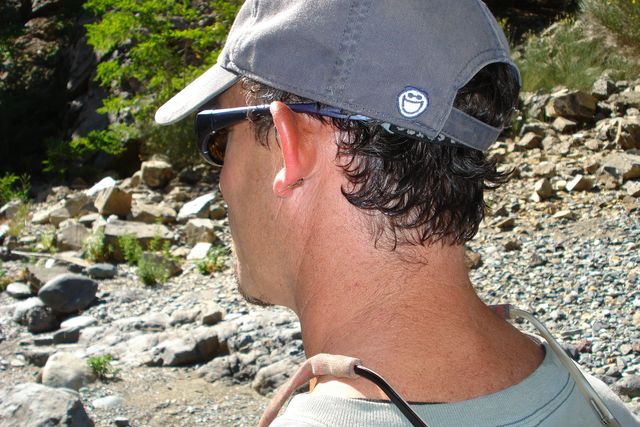 ---
My first ear ring! The guy on the hat thought it was funny, so I thought so too! I pulled it out about an hour later to make it come out easier.
---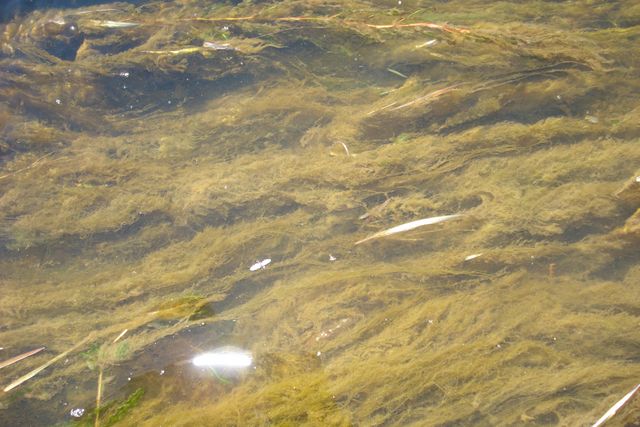 ---
Spinner fall on the Klamath River…
---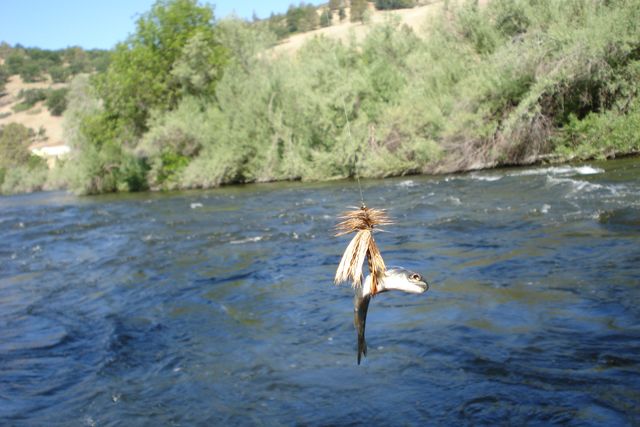 ---
Cruel and unusual punishment by the customer!
---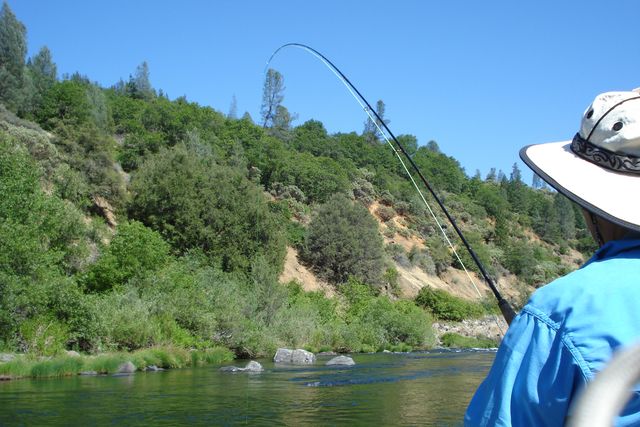 ---
The famous Pamela Anderson, Real Estate agent Sonoma Co….
---
---
On June 21st the skies were grey and the thunder and lightning was everywhere! Chuck Persyn, persynalized the trip by bringing up his daughter with him.
---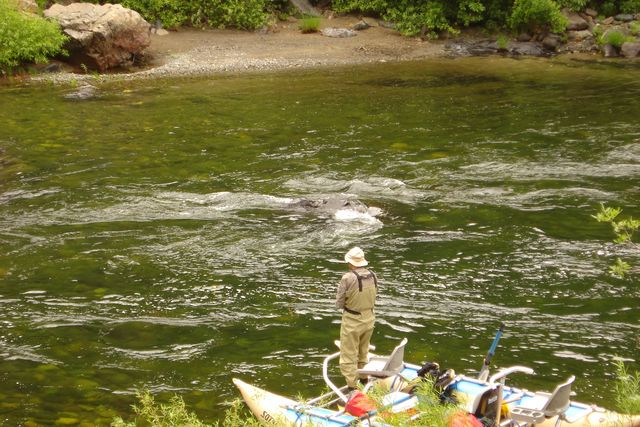 ---
Chuck gives the new cataraft, Live Your Passion the thumbs up!
---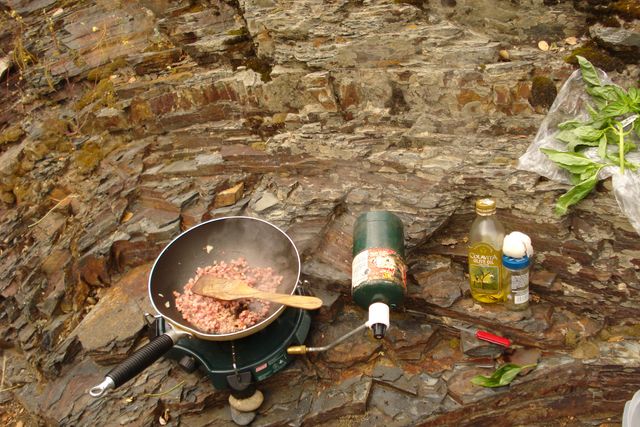 ---
Heaven's kitchen!
---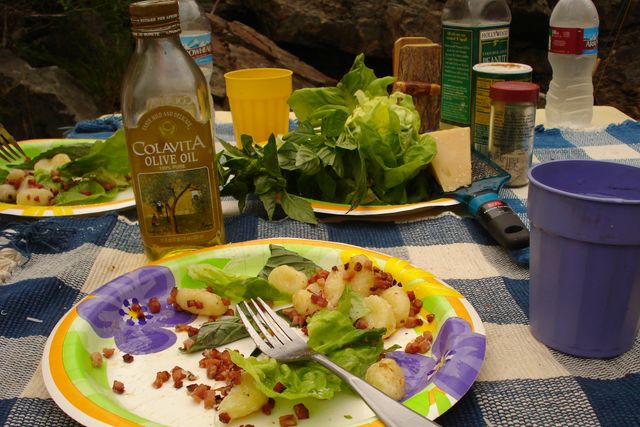 ---
Simple, prosciutto, butter lettuce and gnocchi.(parmesan cheese, fresh basil, olive oil). Have you ever had a gourmet river lunch? It's a great experince along with the fishing, views and everything else.
---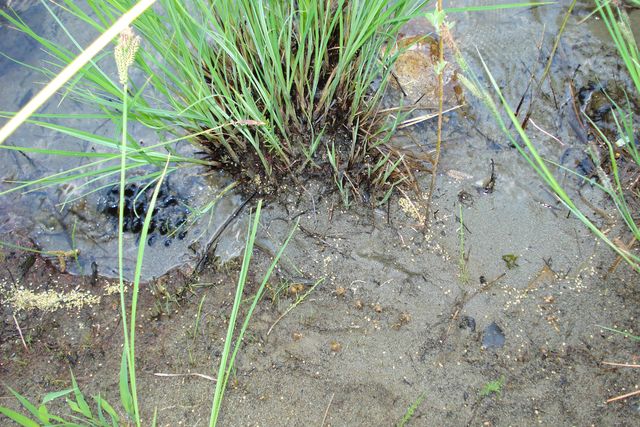 ---
What are the bees doing? They seemed to be burring themselves instead of getting a drink? That day we found thousands of dead bees….?
---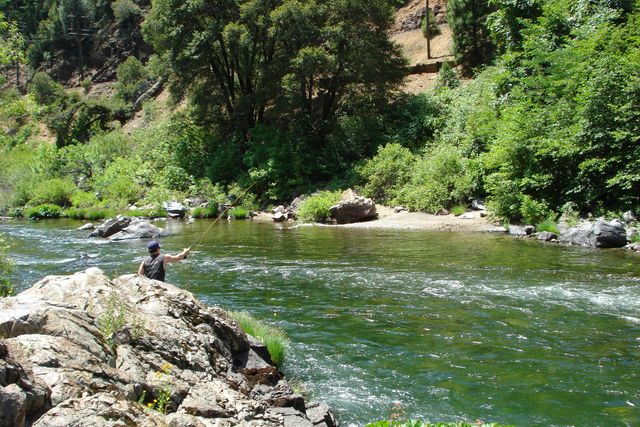 ---
Another great place we have in store for you.
---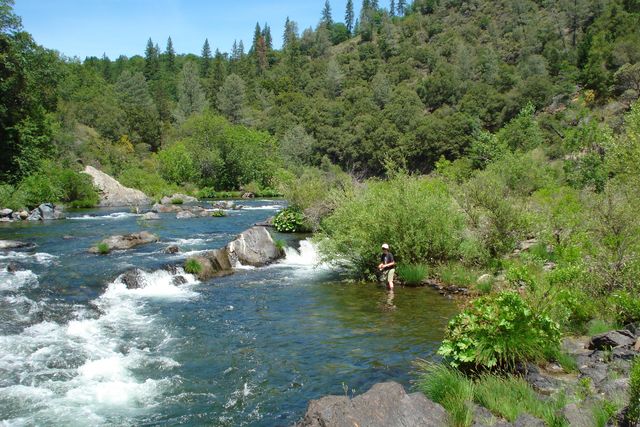 ---
Pocket water this time of year is your best bet, with small nymphs size 18 or smaller.
---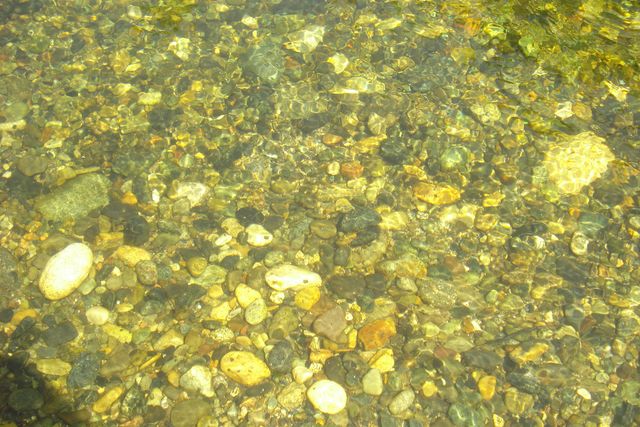 ---
I know why the salmon are dying, they can't get up to the pure mountian spring water they use to spawn and run to for thousands of centuries. Build a latter or and elevator like the Bonerville Dam on the Columbia to allow salmon to re-enter the waters they knew and loved like the Upper Sacramento or McCloud Rivers. "I'd die too if I was stopped in Redding, California. Another DamN story." jt
---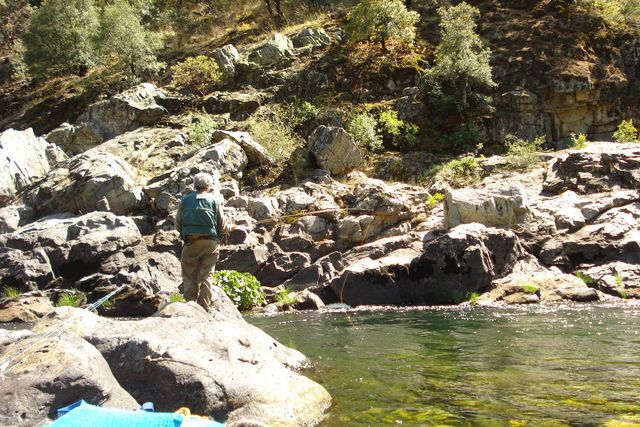 ---
Fishing on a lazy afternoon, In the summertime!
Kinks – Sunny afternoon. –
http://www.youtube.com/watch?v=1h1oRP7FfBw
---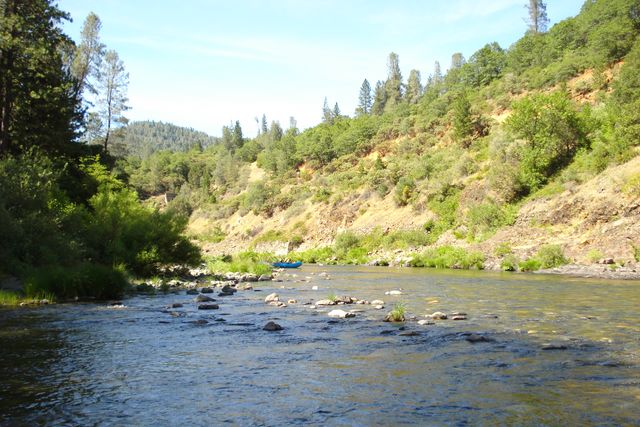 ---
If these river banks could talk, what tales would they tell?
---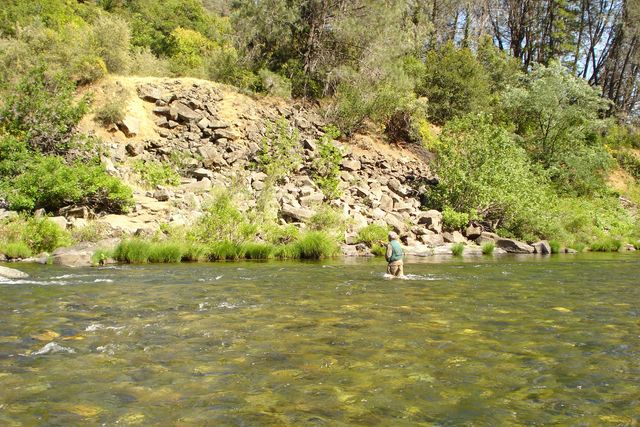 ---
The far current line..
---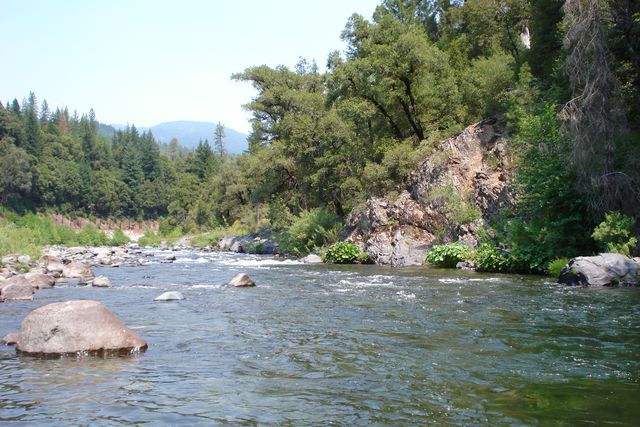 ---
Hot pocket.
---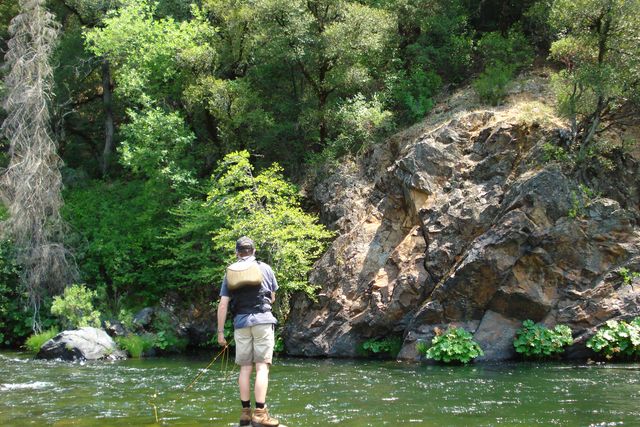 ---
A high nice place to hang your hat.
---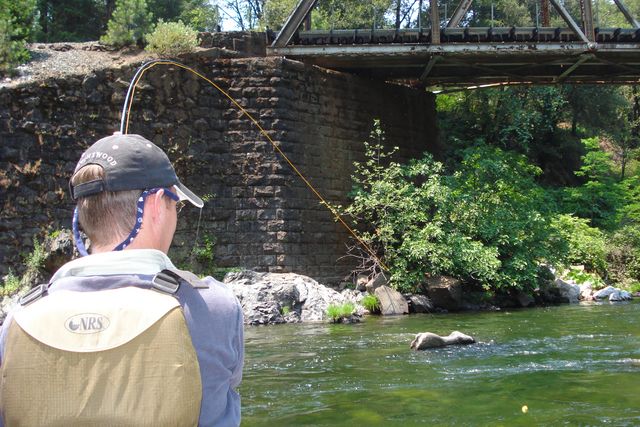 ---
Thanks again to all the folks that made April, May & June double 2007. We really appreciate all the guide trips, great emails and good vibes out there! If you haven't made it up, give me a call to get a trip on the books for 2008!! Have a great year! Jack & Carola.
---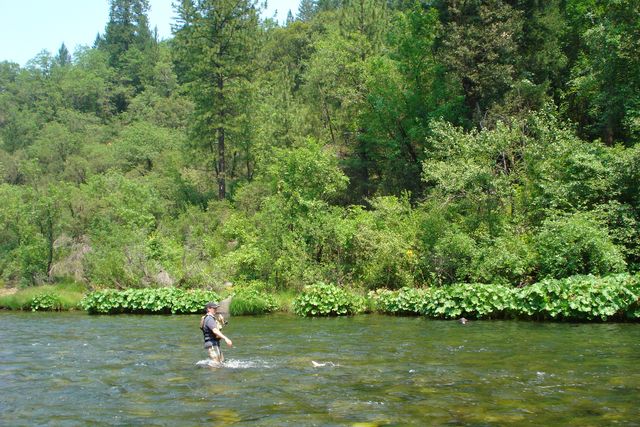 ---
Dries in the middle of the day near Lone Tree Cove…
---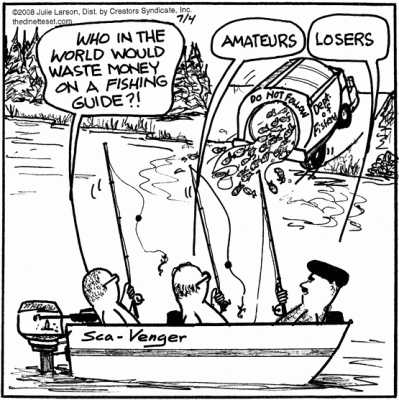 ---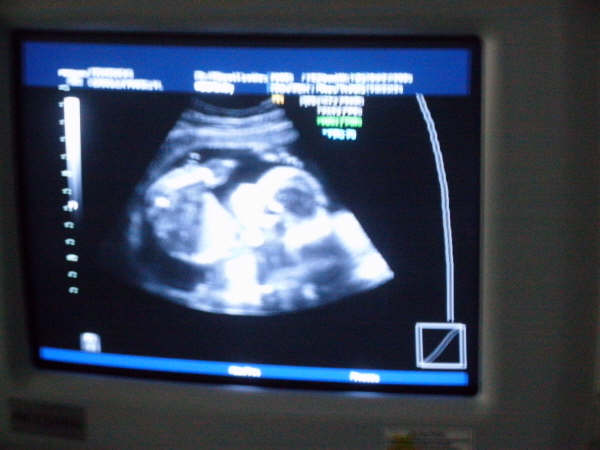 ---
Carola called me about 10 days ago and let me know the greatest news of my life. "We're having a baby!" She's due in December!!
(The doctor in Chile said, "Tell the Gringo he did good job!")
Look at that picture, you can tell folks that's my baby!! I think it's a boy…But a healthy baby is always most important to us!
How awesome is that!! A kid someday to hand the business off to and you know it's right when it's with the girl of your dreams, the mother of my child, Carola! I am heading down to Chile in August, to be with Carola and visit with the doctor. After our season in Chile 2009, we plan to return to USA with our babe! Our medical cost in Chile are practically nill because of Carola's good medical insurance in South America, under $1000 USD, and I think the medical facilities in Chile for delivering a baby is equal to our medicine and medical facilties, or close enough for us. In California, I'd have to sell my house to deliver a baby.(Sad fact)
I don't have medical insurance….? That's just life or a sign of the times. I'm a fishing guide, I don't make the "big-bucks" so we have to do the best we can and we will.
(We will continue to share our experiences as we raise our family and build our business together in both Chile and the United States!)
How exciting is that!!)
You can help by booking trips with us and maybe someday my boy or girl will be rowing you down the Upper Sac! Can't you imagine that!
I love life and the unexpected things that happen right around the corner are some of the best!
I think I am the happiest guide in the World!!
Also other great news!! The Rio Futaleufu, Yelcho and all the other rivers in the region I guide are fine!! So we plan to run our fly fishing trips and tours this season like always in Patagonia Chile
All my dreams are coming true >
1. Chilean Wife
2. Chilean / American Kid
3. Forever connected to Chile!!!
4. More Chilean / American Kids- guiding on all North State Rivers!!
What a shame it would of been if I didn't have the opportunity to raise a kid and pass on all the great things I've learned about loving life, the environment and rivers.
Amazing Grace – I was lost, but now I'm found – Thank you all.
I love you Carola! Jack Trout
---
---
EMAILS FROM YOU:
Hi Jack,
Judith and I were talking and when I described that your float trip was the best day of fishing I have ever had! She suggested that I send you a note. I have fished for roughly 50 years and I have seldom caught better fish with such great scenic beauty, anywhere. I continue to find other magical places, but this was one fine day to remember. Thanks for the pictures.
Peter Brown
---
I'm just waiting to hear from my son as to when he's coming up here. Should know in a few days. Fatherhood is great. Congrads.
Dr. Richard J. Schoen
Dental Director
Lassen Indian Health Center
"It's never too late to have a happy childhood!" Tom Robbins
---
Senor Jack,
Hey man. My girl and I are planning a wee mccloud trip this weekend. what can you tell me about the fire/smoke/campfire restrictions right now?
heartbreaking stuff about the volcano and then your girl not getting in to the states. some country we live in. some fucking time to be an american….
hope all is as good as could be expected for ya. you seem like you've been busy and i suppose that's good.
give me shout or e me back when you have a second re our beloved mccloud.
thanks, jack
g
Griff Marshall
GRIFF MARSHALL PHOTOGRAPHY
http://web.mac.com/griffmarshall
37 Sunset Way
San Rafael, CA 94901
---
Subject: Mensa
Here is the Washington Post's Mensa Invitational, which once again asked readers to take any word from the dictionary, alter it by adding, subtracting, or changing one letter, and supply a new definition.
Here are the winners:
1. Cashtration (n.): The act of buying a house, which renders the subject financially impotent for an indefinite period of time.
2. Ignoranus: A person who's both stupid and an asshole.
3. Intaxication: Euphoria at getting a tax refund, which lasts until you realize it was your money to start with. (my personal favorite)
4. Reintarnation: Coming back to life as a hillbilly. (with this as a close second)
5. Bozone (n.): The substance surrounding stupid people that stops bright ideas from penetrating. The bozone layer, unfortunately, shows little sign of breaking down in the near future.
6. Foreploy: Any misrepresentation about yourself for the purpose of getting laid.
7. Giraffiti: Vandalism spray-painted very, very high.
8. Sarchasm: The gulf between the author of sarcastic wit and the person who doesn't get it.
9. Inoculatte: To take coffee intravenously when you are running late.
10. Osteopornosis: A degenerate disease. (This one got extra credit.)
11. Karmageddon: It's like, when everybody is sending off all these really bad vibes, right? And then, like, the Earth explodes and it's, like, a serious bummer.
12. Decafalon (n.): The gruelling event of getting through the day consuming only things that are good for you.
13. Glibido: All talk and no action.
14. Dopeler Effect: The tendency of stupid ideas to seem smarter when they come at you rapidly.
15. Arachnoleptic Fit (n.): The frantic dance performed just after you've accidentally walked through a spider web.
16. Beelzebug (n.): Satan in the form of a mosquito that gets into your bedroom at three in the morning and cannot be cast out.
17. Caterpallor (n.): The color you turn after finding half a worm in the fruit you're eating.
The Washington Post has also published the winning submissions to its yearly contest, in which readers are asked to supply alternate meanings for common words. And the winners are:
1. coffee, n. the person upon whom one coughs.
2. flabbergasted, adj. appalled by discovering how much weight one has gained.
3. abdicate, v. to give up all hope of ever having a flat stomach.
4. esplanade, v. to attempt an explanation while drunk.
5. willy-nilly, adj. impotent.
6. negligent, adj. absentmindedly answering the door when wearing only a nightgown.
7. lymph, v.. to walk with a lisp.
8. gargoyle, n. olive-flavored mouthwash.
9. flatulence, n. emergency vehicle that picks up someone who has been run over by a steamroller.
10. balderdash, n.. a rapidly-receding hairline.
11. testicle, n.. a humorous question on an exam.
12. rectitude, n. the formal, dignified bearing adopted by proctologists.
13. pokemon, n.. a Rastafarian proctologist.
14. oyster, n. a person who sprinkles his conversation with Yiddishisms.
15. Frisbeetarianism, n. the belief that, after death, the soul flies up onto the roof and gets stuck there.
16. circumvent, n. an opening in the front of boxer shorts worn by Jewish men.
---
I just talked to Randy Rock God yesterday. Check out
www.eddiemoney.com
I will give you a call soon,
MW
---
Hello Jack!!
I am Karina the cousin of Carola. The motive of this mail is because I and my boyfriend Diego want to congratulate you because you are going to be a father of a girl or child (it is not known) ….
The whole family is very happy with this so beautiful news, specially Carola who meets precious with her paunch….
Another day we knew your baby in the video of the ultrasound scan, and one saw very pretty with (his,her) small head, (his, her) hands, (his,her) feet, (his, her) eyes …. one saw perfect….
Thank you very much Jack, for making Carola happy, because she loves you very much and is obvious…..
My boyfriend Diego and I order you many fondness and wait for you to know yourself in August….
Good-bye, that you are very nice…
Karina and Diego….
---
HEY JACK, WE ARE SO HAPPY YOU COME TO CHILE IN AUGUST, IS COOL, YOU AND CAROLA WILL GO TO PUERTO CHALUPA IN PUYEHUE…..WILL BE SO FUN, WE WILL HAVE DELICIOUS WINE, YOU WILL SEE AND TO VISIT RIVERS AND BEAUTIFUL PLACES….AND SO MUCH FOODS JAJAAJA( ASADO DE CORDERO, FRIJOLES, PIE OF CORN, ALL VERY CHILEAN FOOD)
CAROLA IS EXCITED AND SO HAPPY BECAUSE YOU CAME TO CHILE, MY FATHER TOLD ME, THERE ARE MANY PLACES FOR FLY FISHING FOR EXAMPLE:GOOD RIVER,LA BARRA ETC.
MY HUSBAND IS HAPPY TOO, BECAUSE YOU VISITE OUR FIELD IN PUYEHUE, YOU WILL SEE SO MUCH NATURE, FORREST, COWS ETC….JAVIER SAYME THAT YOU JEEP IS FANTASTIC, COOL AND BEAUTIFUL JAJAJJAA. HE LOVE IT!!!!!!
YOU, CAROLA AND BABY WILL GO MY PARENT S HOUSE FOR TO EAT PARRILLADA, ASADO OR MEAT TO DISCO….ONLY EAT JJAJJAJA.
VERY AFFECTION AND YOU TAKE CARE SO MUCH!!!
WE WAITING THE TIME HAPPEN SO FAST, YOU CAME TO CHILE, BECAUSE MY DARLING COUSIN CAROLA IS SO VERY VERY HAPPY FOR THIS…….
WILL SEE YOU SOON MY COUSIN JACK, WELCOME TO OUR FAMILY IN CHILE.
JAVIER, JAQUECLINE AND LITTLE SON JOAQUIN.
PD: Carola help to write the e-mail for you ….jajaja…
---
Hey Jack, como estas, I think happy for your baby, the baby is complete face, eyes, hand, every…..impresionante……I cry to the emotion look my cousine carola here in de camilla to de dr (My Doctor he control mi embarazo, lo conozco hace muchos años el es genial), Carola cry the happy and look the baby and me film and photography a carola y a baby….Carola here to osorno el 21 de Julio a look to the baby oficial when entregan informes and ecografia con every information the many kg, estatura, every ….Yo estoy Feliz junto a Javier mi esposo por ustedes your history is emotion and happy …my fathers estan happy for carola and you…..my father is a fanatic fly fisching and tell me you when chile my father can fischin for you a barra rio bueno and rio gol gol and el caulle many river to de fisching….
te enviare fotos de trout brown to the my father ….
wait you entiendas mi mail
muchos cariños para mi primo de california
cuidate mucho y espero conocerte pronto
Jaquy, Javier and Joaquin (collito), is my baby the 1 year and 3 month is beatifuly and love to carola ellos se rien mucho juntos con joaquin…..
---
Good to get the raft and hang out and even tie some green drakes- don't forget the patch kit and catalog- how long will an order take? Hoping to get stuff in time for the Salmon float.
Kloch
---
Real interesting article and pictures of Curt Rees! What is more interesting is that my name is Curt Rees and I have a son named Curt Rees
I live in South Dakota and my son lives in LaCrosse, WI.
Thanks
Curt Rees
Ft. Pierre, SD
---
Hi Jack,
I'm the Florida 30 lb. snook guy! I love reading and viewing your site. (all but the problems that you are having with your girl friend).
I may have some open time in September or October. What would you recommend. I need to fish only with you. I'm a fair fly rod person, better spinning person. Where would I fly into from Ft. Lauderdale, and what would I do then?
I would like to fish for three days. Give me your charges, lodging, and car rental if I need one to get there.
I would come either alone or with one other person.
Appreciatively,
Ronald Beck
---
Hi Jack,
I am really happy about your lady and baby. I read your web log carefully, but mostly enjoy hearing about your new family. I feel for the people in your area dependent on tourism. Take heart, I am certain that life will settle down and people will be returning to the soul saving power of Shasta. Remember also, a trip to Mt Shasta is a heckuva lot cheaper than a trip to Europe. People still need to restore their souls somewhere, Shasta is near and cheaper to get to than most places. Guys like you make it all very attractive. Keep up the great work and don≠t let the times get you down.
I would suggest you register at stores you like for your wedding and new baby. You have a lot of well heeled clients that might like to contribute. Please include me on that list. If you don≠t tell me what you want, you will get something from my store! By the way you could register at my place.
See ya,
Lee
---
Great stuff, Jack! Thanks for the heads up!
Dave Clark – KTVU news
---
Did I see more duct tape on one of your nets???
Best,
Chris Brodin
---
Hi Jack,
I'm a reader of your posts and I am still looking forward to coming up some time for a trip. I read on your recent blog posting that you are without health insurance. I don't sell insurance but want to urge you to check out some of the high deductible plans with a health savings account. You should be able to find something considerably under $100/month and all your contributions to your health savings account are deductible (non-taxable). I know it sounds like a cliche, but it's something you can't really afford not to have. Consider this…major medical problems (for uninsured or under-insured) make up 50% of bankruptcies in the US. By having a basic high deductible (cheap) health insurance plan, you'll be covered if anything catastrophic happens.
Lots of companies can offer high deductible HSA's (health savings accounts) policies in CA. I happen to like Blue Shield of CA.
www.blueshieldca.com
Here are a few links to articles about HSA's.
http://www.ustreas.gov/offices/public-affairs/hsa/
http://en.wikipedia.org/wiki/Health_savings_account
Just my 2 cents….take care,
Matt Conrad, CPA
Mission Viejo, CA
---
Jack,
Your photos are always a welcome distraction from
the daily grind, and to read you are going to be a father
is fantastic √ Congratulations!
Jack Holliday
---
Wow, congratulations, Dad to be!!!!!
Richard
---
Congratulations, Jack and Carola
You will be a Dad and Mom. I like your plans.
Louise
---
Congrats Jack on the baby! There is nothing like it! Cheers, jd
---
congrats on the news of the little one Jack! very exciting news
indeed. Hoping to get out with you again soon
best and all good things!
cameron baxter
---
HEY JACK!
Congratulations!
Wow! your life sure has changed since I met you!
Namaste,
Michael
---
Congratulations on being a dad man! Hopefully he or she will be born in the USA.
Your gnocchi and prosiutto look very tasty. Can't wait to try some!
Al
---
Jack
Out of curiosity what is the largest group u can handle
---
we would like to book a full day fishing trip for two, on one of the following dates: July 17th, 18th or 19th, 2008. I realize this is short notice, but hope you can fit the trip in. we just found one of your brochures.
Thanks Gary Mackelburg
---
Jack
Let us schedule Monday Sept 22nd to go fishing.
Let me know what we type of fishing we will look to do. Fly? Steelhead? I have all the gear for either.
Look forward to this.
Tom Andringa
---
Tickets have been purchased. RG
---
PAPA JACK!!!!!!
Congrats, my friend, that rocks. So I'm dying to know details. Are you moving down there? Can she get here? I suppose either way the kid will have duel citizenships… well, all my best.
So we are coming up there tomorrow morning. We can have a campfire at the campground so we'll be there. You're probably super busy, but it would be awesome to see you and catch up if you had time. You can call me anytime today or tomorrow until noon or so it you want to try to get together. I don't plan on fishing very hard core but we will take hikes up and down with the old dog. Again, if you have time it would be great to hang.
Let's talk soon.
G
ps "Papa Trout" and "Pa Trout" are trademarked! jk
pss what bugs on the McCloud?
---
July 20, 2008
Dear Neighbors of Weed and surrounding areas,
In the past 18 months I have learned much about air quality as it relates to human health and the motives of county politicians. Roseburg Forest Products is about to be allowed by the County of Siskiyou, to build a 15 Megawatt Superheater Wood Burning power plant. They have covered all the political bases. They are not considered part of Weed City limits, so the City of Weed has no jurisdiction. Our Planning Commissioner is an employee of Roseburg Forest Products (RFP) and doesn≠t live in Weed. Our County Supervisor doesn≠t live in Weed and refuses to assess current air quality issues. Our County Planner doesn≠t live in Weed and refuses to call for current health studies before adding emissions to an already devastated area. Weed is one of very few communities in California where such a flawed project could be considered.
RFP≠s plant manager, Steve Henson called this project ≥State of the Art≈ — which it is definitely not. A new superheater boiler system built in any other community would be required to have a Selective Catalytic Reduction (SCR) system that would reduce emissions by 90%. Instead, Roseburg initially offered us a system that would remove only 10%. He also stated ≥emissions from this project would be the same as from our wood stoves.≈ If every home (aprox. 850) in Weed burned wood for heat and used 5 cord a year we would burn 4,250 cord a year. RFP≠s Superheater will burn 250 cord a day, which is 91,250 cord a year √ Folks, this is more than 20 times what all the homes in the city of Weed would ever burn and not just in winter, but for 365 days a year. Even in summer, with the heat and smoke from fires like we are now experiencing √ the Superheater will burn, emitting heat and pollutants 24/7.
Our local climate is likely to change from all that extra heat released√ folks in Burney where they have a biomass plant complain about increased heat from the vast amount of constant burning and they are 2 miles from the plant.
The daily emissions from the 250 cord will contain: 1600 lbs of carbon dioxide which studies indicate cause reduced tolerance for exercise; impairment of lung and mental function; impairment of fetal development and death at high levels; 1006 lbs of nitrous oxide and 148 lbs of sulfuric oxide, which are chemical compounds that have been proven to cause asthma, emphysema, chronic bronchitis and impairs the immune system. A compromised immune system reduces the ability to fight bacterial infections, viral infections and cancers. Autoimmune diseases such as lupus, multiple sclerosis and fibromyalgia are also products of a compromised immune system. Remember, our schools are within Π mile of the proposed project. The combination of these emissions with the condensation from the constant steam plume created by the 660 gallons of water per minute used to cool the Superheater will create instant and continuous Acid Rain.
The Siskiyou County Air Pollution District, which is grossly understaffed and operates under outdated regulations, currently lists Weed as the worst air quality in the county. This isn≠t hard to believe considering 2 major highways dissect the town and we have the only remaining lumber operation within a city limit.
The current air quality with the addition of RFP≠s Superheater Boiler emissions should cause great concern for the Planning Commissioner, Pollution District Chief, County Planner and County Supervisor, but there are no alarms. They are willing to hide behind the curtain ≥it all appears legal now,≈ totally neglecting their responsibility to the future of our health.
The people of Weed have no representation. Most of our community leaders are completely ignorant to what is coming. They are concerned about jobs as I am, but they are willing to trade our future health for these unguaranteed jobs. I am not.
I believe the County is in a ≥conflict of interest≈ situation. Their interest in our health and safety is in conflict with filling county coffers. I make the charge that in no way would they agree to such a flawed project if it were within their own community. They are risking the health and futures of thousands of people.
RFP≠s veneer operation pales in comparison to their enormous timber exporting business. Siskiyou County timber is cut and exported to foreign saw mill ships off the Pacific Coast and to mills in Oregon. If the law changes, (which now requires RFP to own a lumber facility in California to harvest their timber and you can bet that some lobbyist is working on it), will the veneer plant be needed any longer?
I am not some ≥Treehugger≈ trying to stop industry. I was born and raised in McCloud, and have lived in Weed since 1970. Fact is, if I would have known this project was coming 3 years ago I would have moved and tried to convince my entire family (there are 18 of us living within 1/2 mile of this project) that it was time to go. I had known for some time that wood dust was a carcinogen and that the dust from RFP≠s new dryers at the veneer plant was much more dangerous than what International Paper emitted because it was so much finer.
RFP≠s existing emission control system is rumored to not be functioning since 1997. This, along with Weed≠s abnormally high cancer and auto-immune disease rates caused me great concern. Yet, fear of being ostracized from the community for saying something negative about RFP was motive enough to keep my mouth shut. Now I am stuck in the infamous Mortgage Crisis. (We can≠t afford to move). And my conscience will allow me to keep quiet no longer.
In the first meetings about this project in December 2006, I was astonished that I was the only person from Weed, except for 9 people from RFP. We all sat together. I naively thought that surely there would be some kind of study before such a project was added to what I already saw as semi-dangerous air quality situation. It was quickly decided that no review was necessary. I went home disappointed and concerned, but with the satisfaction that at least I tried.
A couple of days later I received a call from a Mt. Shasta real estate broker stating he and others didn≠t think the decision the county made was legal, and they were appealing the decision to let this project be built without any kind of environmental review. I knew very little about pollution and even less about the processes of City, County and State. I believed living in California with its environmental – loving reputation we would be safe from a substandard project. But apparently that wasn≠t what was happening in Weed. I suspected we were not being protected as we should be, so, with many mixed feelings, I signed the petition.
As things progressed it was quite evident that I was out of my league. RFP quickly tried to paint me as an environmentalist trying to stop business √ which is a ridiculous. Many people I had known for 30 to 40 years stopped talking to me. One person told me that I should be worried that I might end up with a bullet in my head.
Long story short, RFP and the County soon agreed that the law did require them to complete an environmental review and RFP was forced to offer an emissions reduction system that may reduce emissions by 40%. But remember this is Weed, where we have no real representation √ so having this review hasn≠t changed a thing. The data and facts have been ignored, our representatives turn their heads, and supposedly these 90,000 extra cords of wood being burned each year with only 40 % emissions reductions are going to be great for us all.
Folks I am here to tell you Weed is already an air quality ≥Hot Spot≈. The County Health Dept. at the very least needs to assess current respiratory diseases, autoimmune diseases and cancer rates. I expressed the need for a health review at the Environmental Impact Report scoping meeting, because in my neighborhood, in a 12 house cluster, 7 people have had, have or have died from cancer in the past 10 years. This is just one example of the high disease rates that are occurring in Weed with our current air quality conditions.
I worked with a consulting firm for 5 months, studying air quality and sound in different locations in Weed with some very expensive and accurate instruments. We found that major air quality issues exist currently, and on top of that, city and county sound ordinances were completely ignored. Jones and Stokes, the consultants hired by the County and RFP to do the EIR, have ignored all these baseline data findings and ignore the call for a public health review. They use the term, ≥Insignificant Risk≈ which translates into ≥they will not be studying current air quality or health issues.≈ I maintain that this project is a very significant risk to our health as it stands today.
RFP≠s Ford family, their so-called experts and our county public servants need to be held legally accountable now and in the future for pushing us over the threshold into a full-blown health crisis.
I predict within 10 years, if this project proceeds as now planned, Weed will not only be noted for having the worst air quality in the County but one the worst in the State. Asthma, Emphysema, Multiple Sclerosis, Lupus and Cancer rates will increase significantly enough that public schools will be moved and the elderly will be suffering severe respiratory consequences. Air quality will be a major issue related to property values and hand held air quality monitors will be common in most households. Lake Shastina and Mt. Shasta City will recognize that the smaller particulate matter carried from the Super Heater Site are much more dangerous than originally thought and their air quality will at best be listed as poor.
The City of Weed≠s infrastructure will be even worse, due to lack of revenues and will be providing only minimal services. There will be major issues between RFP and the city pertaining to water rights. (RFP believes they own the rights to our water supply.) The city≠s air quality will keep new businesses from coming in, even though property values will be the lowest in the county.
Most Weed residents are totally unaware of the long term health effects of this project and probably will not care enough to challenge it now, but in 10 years it will be quite evident, that we should have stopped it or at least required RFP to spend the money to ensure our safety. What I have encountered at the County level is a total lack of concern. I believe the residents of Weed have fallen through the cracks of ethical and moral county government.
This is not a question of having to choose jobs and business over a healthy environment. We can have both. You can be pro-Roseburg, and pro-health for your family and community at the same time. We need to speak up and let Roseburg and the County know that we deserve the advanced pollution control technology that is needed for this project, and not to ignore the facts and try to intimidate people just for wanting to protect their family≠s health.
If this project is going to proceed, RFP should at the very least call for a current health and air quality study; donate their enormous legal power to immediately volunteer to be annexed into the city of Weed; establish clearly defined water rights to the City of Weed. (Our city coffers certainly could use the income from lumber exporting and the sale of electricity to the city of Redding.) How about a break on our local power bills? Relocate the Super Heater Boiler to the edge of RFP≠s property which isn≠t surrounded by residences. Guarantee that the current number of jobs at RFP will continue to be here as long as the co-generation plant operates. We are the people who will be sacrificing our health and property values — those jobs should be Weed residents, first. Most importantly give us a true ≥State of the Art≈ Selective Catalytic Reduction System (90% emissions reduction with bag houses) which would be required for a project like this in any other California community.
Your speaking up is important and can make a difference to make this a cleaner project for Weed. Get involved, your family≠s health and your city≠s financial future is at stake. Talk to your family and friends about what is coming and study the motives of the project≠s supporters. And the Weed City Council should get involved in this too, to represent and protect their community. Ignorance is not an excuse, especially when it comes to health. If you≠ve lost that, you≠ve lost everything. And once you≠ve lost it, it≠s too late.
Now is the time to speak out, for business and for health and for Roseburg investing in the best technology to make this a project we can live with, and Weed a city we can still be proud to call our home.
Respectfully,
Bob Hall
Written comments will be accepted until 5 pm July 21, 2008, at Siskiyou County Planning, 806 South Main Street, Yreka, California, 96097, or e-mailed to planning@co.siskiyou.ca.us. The project number is UP-07-05. Our district Planning Commissioner is Michael McMahon, County Supervisor is Michael Kobseff, District Pollution Control is Eldon Beck, and our County Planner is Terry Barber. There will be a public hearing at a later date, but it is important to submit your comments and concerns early in the process of the environmental review. To be notified of the public hearing date call, 842-8200. Feel free to pass this letter on.