CHAITEN VOLCAN ERUPTS AND THE VILLAGE OF CHAITEN IS NOW A GHOST TOWN!
---
HELP ME PEOPLE!!
I AM GUIDING A LOT AND NEED HELP ORGANIZING THIS EFFORT.
WE NEED WARM RAIN JACKETS FOR CHAITEN DISASTER VICTIMS!! I NEED SOME COMPANY TO CALL ME AND SPONSOR THIS ENDEAVOR. IF SOME ONE SPONSORS OR DONATES LARGE AMOUNT OF $$ TO BUY JACKETS, I WILL MATCH IT BY SPONSORING GUIDE TRIPS IN CHILE.
I HAVE CALLED * PATAGONIA * MOUNTAIN HARDWEAR * SOLSTICE * ALFWEAR/ KUHL CLOTHING * ARC'TERYX * COLUMBIA
---
---
ALFWEAR/ KUHL CLOTHING CALLED ME BACK AND ARE SENDING CLOTHES FOR CHAITEN VICTIMS!!
THANK YOU ALFWEAR/ KUHL CLOTHING, FIRST TO STEP UP TO THE PLATE. JACK TROUT
---
MOUNTAIN HARDWARE JUST CALLED ME AND ARE DONATING JACKETS FOR CHAITEN CHILE RELIEF EFFORT!!
---
---
HOWDY MR. KYLE'S EARTH SCIENCE CLASSROOM, ENJOY YOUR VISIT TO MY WEB LOG AND REMEMBER, EXPLORE YOUR FOREST AND RIVERS! JACK TROUT
---
---
http://www.youtube.com/watch?v=eIyQNivsxs8
WATCH UPDATE ON FLOODS OF CHAITEN AND PET RESCURE EFFORTS MAY 14TH 2008- TAKE CURSER ARROW TO 140 ON NEWS CAST TAPE, IT'S AMAZING THEY FILMED ON OUR STREET, ALL MY FLY GEAR IS FLOATING IN THE OCEAN, POOR CAROLA LOST EVERYTHING!!
---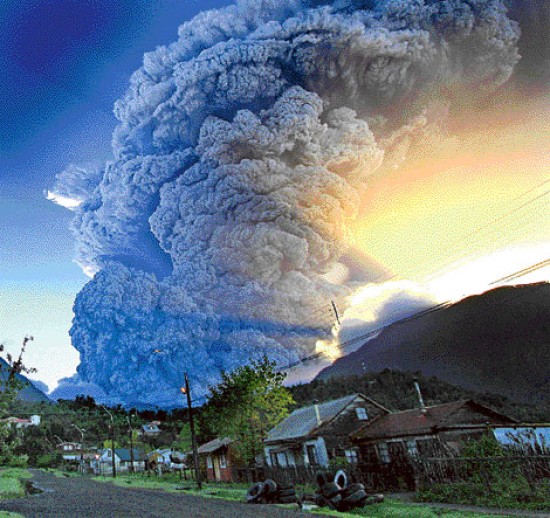 ---
Babyyyyyyyyyyyyyyyyyyyyyy!!!!
We are with "ALERTA ROJA" IN CHAITEN, MICHIMAHUIDA VOLCANO IS ACTIVO, VERY DANGEROUS, THE ROAD TO EL AMARILLO IS CLOSED, EVACUATE PEOPLE OF EL AMARILLO, CHANA AND EL NEGRO LAST NIGHT, I AM STRONG SWEETY, BUT IS DIFFICULT SO MUCH ASHES DESCENDING OF TH SKY, THE PLANES DON T ARRIVE TO CHAITEN, BECAUSE THE SKY NO CLEAR. ERUPTION……
I MISS YOU, I NEED YOU SUPPORT ME, BABY YOU CALLME TODAY PLEASE, I KNOW YOU WORK SO HARD, BUT IS IMPORTANT YOU STAY WITH ME IN THIS MOMENT, I DONT KNOW AND THE PEOPLE DON T KNOW THAT DO, WE ARE WAITING FOR MORE INFORMATION.
IS INCREDIBLE THIS SWEETY, IS POSSIBLE THAT ME HAVE TO GO OUT CHAITEN LIKE MANY PEOPLE.
IS HORRIBLE THE SITUATION CIELO, I DONT WANT TO BE HERE NOW……
YOU TRY CALLME ANY TIME PLEASE……..I NEED YOU MI AMOR….
YOU FIANCEE QUE TE AMA MUCHO Y SIEMPRE CAROLA.
---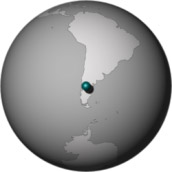 ---
Click on this watch video and come back. jt
http://news.sky.com/skynews/article/0,,30200-1314939,00.html
---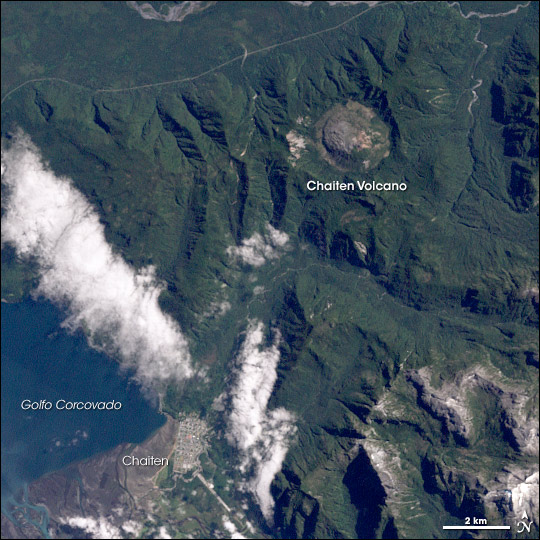 ---
I just got off the phone with Carola, she is fine with her parents and family in Llanquihue, Chile. (Near Puerto Montt). We are both very sad as the Rio Blanco has been transformed into a ash filled river flowing through the town of Chaiten. The river has over-flown its banks and has flooded the streets near the police station. The same with the Rio Futaleufu,
many fish have died as well as animal habitat. The damage is horrific
as well as appauling to witness. Our house is covered in 6 inches of ash and we won't know if we can ever get our personal things in the house as the moulton and lava levels have risen in the zone very near the surface. It is a very dangerous place to be right now. We both realize the animals are the most important thing at this point and wish there was something we could do? I will keep everyone updated. I think it would be great for the people of Chaiten and Futaleufu to have a message board to communicate on. Right now there is nothing like that organized. Also it is heading into winter an everyone we have talked to needed jackets for rain and cold.
Many left out of the area with little or nothing, just the clothes on their back. Some leaving the area for the first time. Anyone out there with any suggestions please email me. I NEED PHOTOS FROM CHAITEN.
Thank you Jack & Carola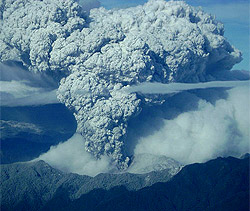 ---
I find it very mysterious how quickly the Chaiten Volcano armed itself and exploded! On April 30th, Carola starting mentioning that she was scared because of all the earthquakes she was feeling in Chaiten. As many as 60 in two days!!
Then on May 1st, it erupted and all hell broke loose!
Can you imagine trying to sleep, I couldn't with a 4.0 plus earthquake every 5 minutes.
What a brave girl, as well as the rest of our brothers and sisters in Chaiten. There was absolutely no sign of anything when I was there just two months before? This really shows that these eruptions can just happen anywhere at anytime. We know of course Chile is a little more active than most having 2006 volcanos in the country. But I wouldn't rule out Shasta or Lassen erupting at anytime. I'm still waiting to see what becomes of all the earthquakes in Reno Nevada?
Is it tied to Mt Lassen, Mt Rose or possible Yellow Stone?
I can tell you one thing, I have lived near and around volcanos all my life and now I am a believer after seeing Llaima this past January and now knowing the devastation that can be evoked after Volcan Chaiten.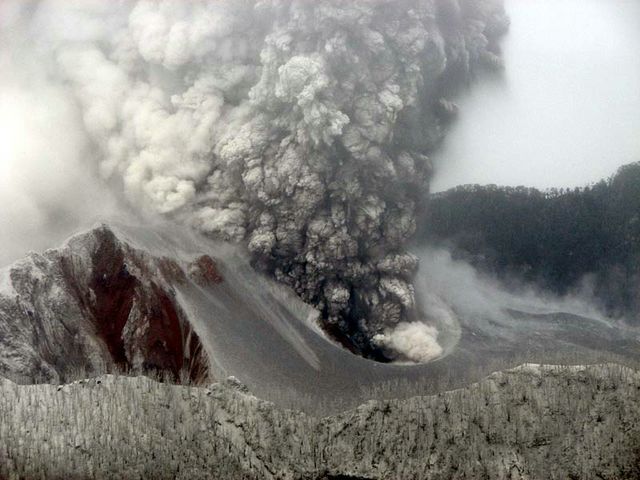 ---
May 12th, 2008 – AP
Chaiten, Chile Chilean authorities were evacuating the last of thousands of residents from the vicinity of a volcano in southern Chile yesterday, as it continued to spew fine ash for a second day after a surprise eruption.
Around 3,900 people have been evacuated from the Patagonian town of Chaiten and its surroundings since Friday, with another 500 waiting for boats to take them to the town of Castro on the island of Chiloe, slightly further north and Puerto Montt on the mainland.
Some are staying in guesthouses, while schools have been turned into makeshift shelters packed with stores of bottled water after the ash contaminated ground water supplies.
Technicians were dispatched to restore phone lines in and around Chaiten and ensure electricity supplies, while experts took water
samples.
"The volcanic activity is continuing, with fine ash falling in the area," the National Emergency Office, ONEMI, said in a statement.
It said visibility remained poor, with ash clouding the skies, and that the smell of sulfur hung heavy in the air in some places.
"Today another 500 people will be evacuated (by boat)," it added. "Once complete, the whole town of Chaiten will have been evacuated." Southern Chile is fragmented into hundreds of small islands and fjords.
Some residents wore white surgical facemasks to avoid inhaling the ash-which in some areas lay 6 inches (15 cm)deep.
Snow-capped Chaiten volcano, which is around 3,280 feet(1,000 meters) high and lies around 10 km from the town of the same name, erupted on Friday, triggering earth tremors and spewing a cloud of ash 3 km into the air.
Ash has caked the picturesque Patagonian town, which lies 760 miles (1,220 km) south of the capital Santiago. Schools were closed in the area on Friday, and hospitals treated people for irritated eyes and breathing difficulties.
Across the nearby border in Argentina, authorities in Chubut province on Friday asked residents to avoid rubbing their eyes and to wear glasses and long sleeves to avoid ash making contact with skin.
Chile's 2,000 volcanoes include two of Latin America's most active-Villarica and Llaima. Scientists say some 500 are potentially active.
Llaima, about 700 km south of Santiago, erupted on New Year's Day, spewing ash and molten lava and forcing dozens of tourists and staff to evacuate a wilderness park.
It also belched ash in February and lava crept down its slopes.
---
---
This one is a real head scratcher!! What is going to happen? How much will the Rio Yelcho be effected? One thing I know for sure the rainbow trout that were introduced in the late 1800's from the McCloud River in Northen California, to this region of Chile have always been able to adapt to changing conditions. That's what has always made the McCloud River Rainbows the most well traveled and heartiest trout ever to circumnavigate the globe. These trout will survive even if the entire region turns out to be a disaster. How you ask? These fish can swim out into the ocean and to other rivers like they have had to in the past when other areas of the Patagonia were changing and evolving like our Chaiten area is doing again now.
This is the benefit of no dams in the region, the trout will repropagate other rivers if signifigant volcanic pollution occurs.
Some trout will die of course, but these fish have inate inheret instincts to survive disasters just like this one. Not all the rivers were planted in Patagonia way back when, yet trout whom were not indigenous occupy rivers all over the region..? That's evolution, plain and simple, living things are made to adapt and survive.
I pray for the area and the people who have meant so much to my life.
---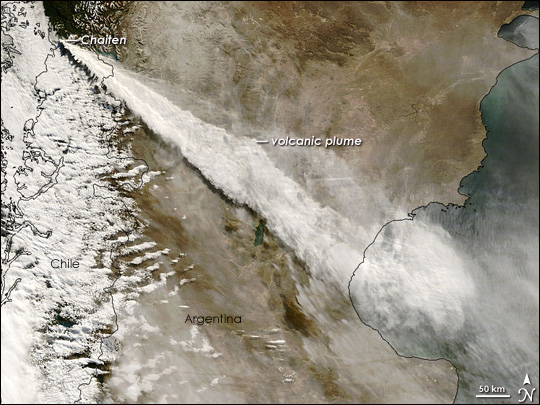 ---
As you can see the wind blowing in from the sea took the ash and blew it east into Futaleufu, Trevelin & Esquel Argentina. The ash will stay in these areas for a while because of the high desert climate. The plume blew all the way to the Atlantic Ocean! I remember when Mt Saint Helens blew in 1980, We saw ash in the town of Portola, California. It's going to take some time to heal this region.
---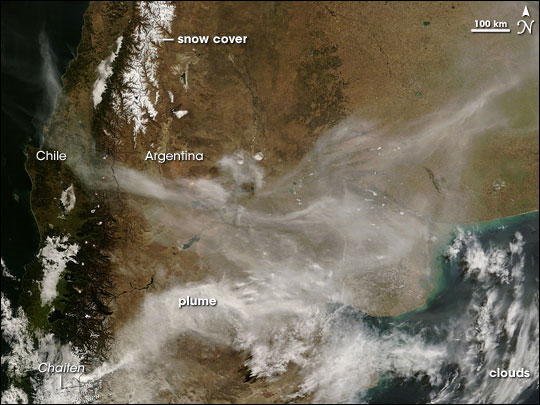 ---
Since the first days the plume has dissipated and is blowing all over. Ashes have been reported as far as Buenos Aires and Santiago.
---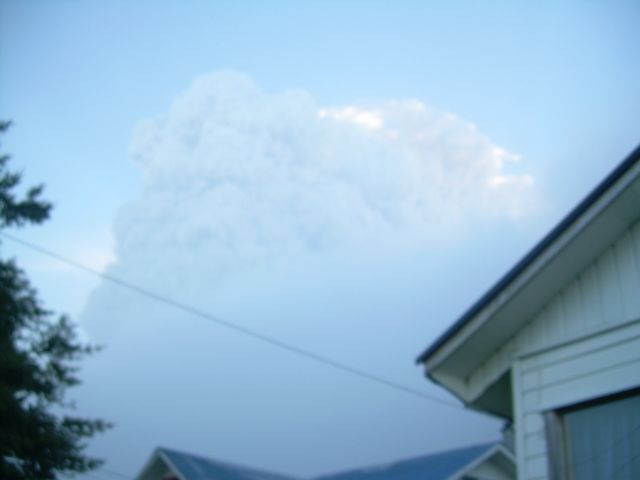 ---
Carola took this picture, you can see the eruption from our house in Chaiten as Carola grabbed from the house whatever she could,
moments later fleeing Chaiten.
(Left her bag of Peets Coffee and the gold filter, catastrophic mistake! I mailed you more, Love Trout)
---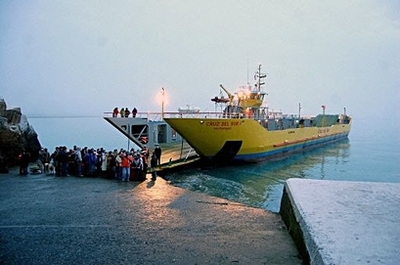 ---
Chaiten Evacuation must of been sad and scary.
---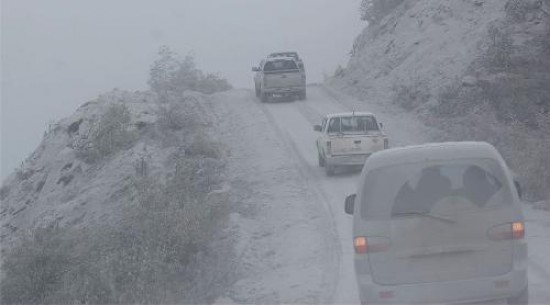 ---
From the Futaleufu side, many took the dirt roads out heading towards Esquel Argentina, right into the plume of ash…Horrible!
---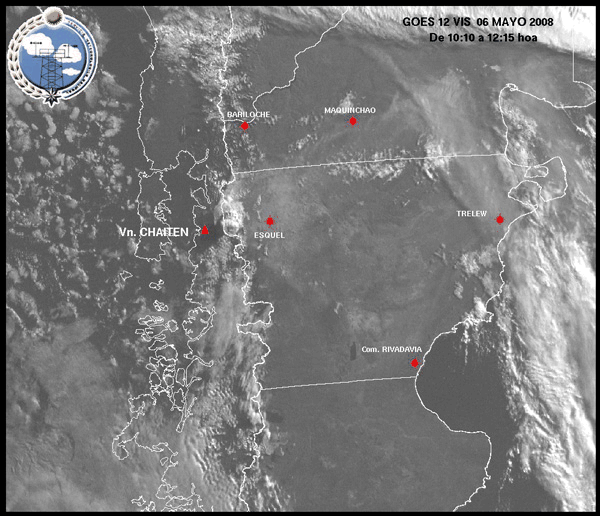 ---
You can see from satelite this is a very major event.
---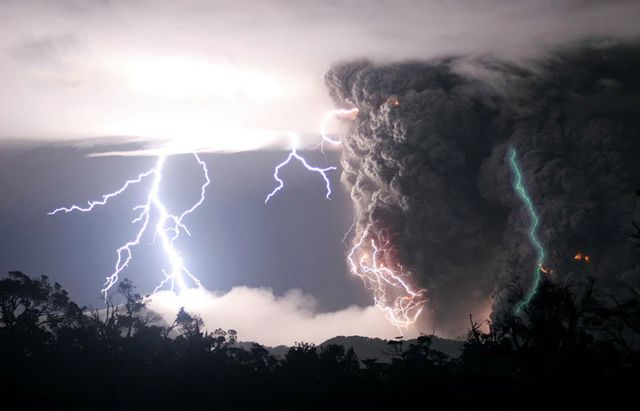 ---
Then the lightning show started.
---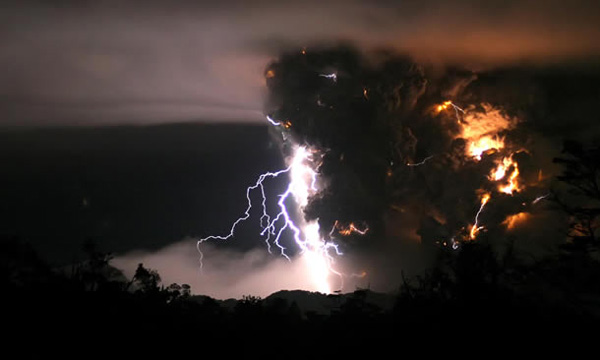 ---
The volcano was in state of literally transforming itself from a dormant beautiful mountain to a hell roaring, Lucifer lightning throwing spectacle!
---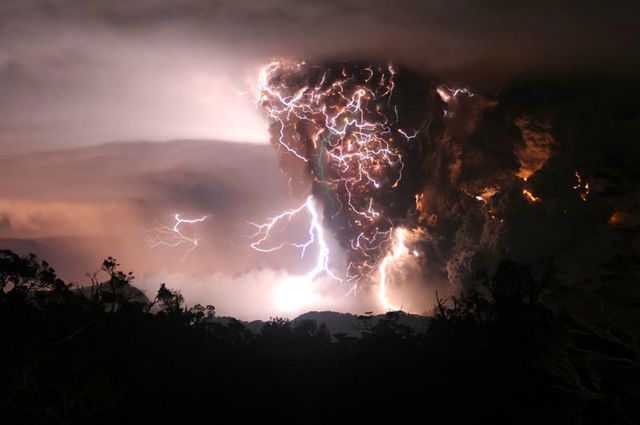 ---
That is flat out evil man if you ask me! That's a for sure ~
"Holy Moly!"
---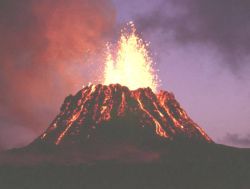 ---
The authorities are also evacuating a second town, Futaleufu. Some of Futaleufu's 1,000 or so residents had already crossed into neighbouring Argentina, where some areas have been showered with ash and where authorities last week closed schools and treated some for breathing problems.
The ash is more than six inches (15 cm) thick in places, and has contaminated water supplies.
Chile, which sits right on the Pacific's volcanic "ring of fire", has the world's second most active string of volcanoes behind Indonesia.
---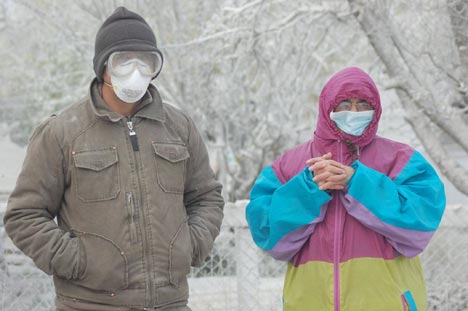 ---
---
---
DEDICATION TO THE PEOPLE OF CHAITEN & FUTALEUFU CHILE – MY PHOTOS FROM THE AREAS THIS PAST JANUARY, FEBRUARY & MARCH 2008
---
---
---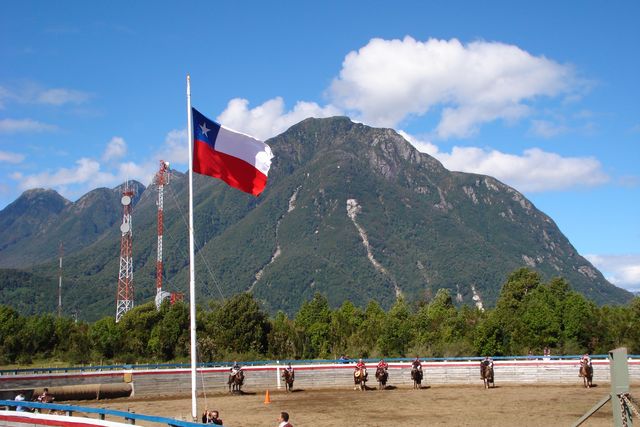 ---
The rodeo in Chaiten was so much fun! Another culture is always, "what the doctor ordered" for me! The weather was perfect and outside the empanadas was cookin. People were full of smiles
and you could feel the excitement of the summer season in the air. Chaiten was the place to be that day. The Chilean flag sailed high with pride
and behind it, Cerro Cruz stood proud, at attention with an exposed chest.
Yea, the cups were held at angles and the gentle breeze of the ocean brushed my face with delightful bliss. All was good
and will be remembered forever.
My day with Carola and the entire town of Chaiten, I keep replaying it my mind as to never let get too far away. jt
---
---
It was community I felt that day. Nothing too artsy or overdone. Just good people with good hearts. Normal folks, no drugs, gangs
or malice. Just people wanting to exist and live in a very beautiful
part of the planet. The basics are most important here, friendships and sharing.
Yea, you could say the people of Chaiten have touched my life. They would do the same to you also. The people of Chaiten are special and I hope all turns out good. I know the President has been talking about relocating the town. I hope this town will always be around because, I have always felt welcomed by locals.
Thank you for all your help and support always. Jack Trout
---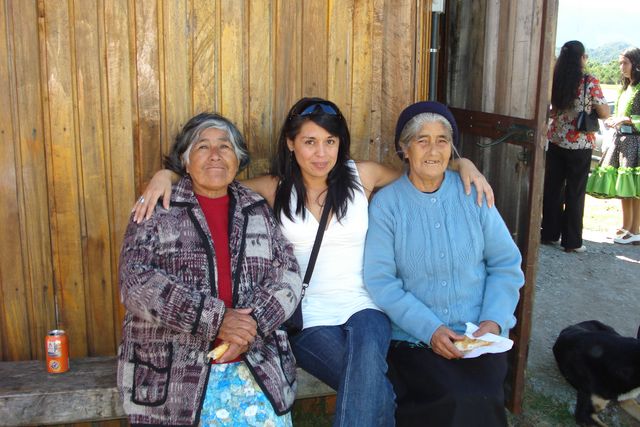 ---
3 of the most beautiful ladies in all of Chile. I love the one in the middle!
---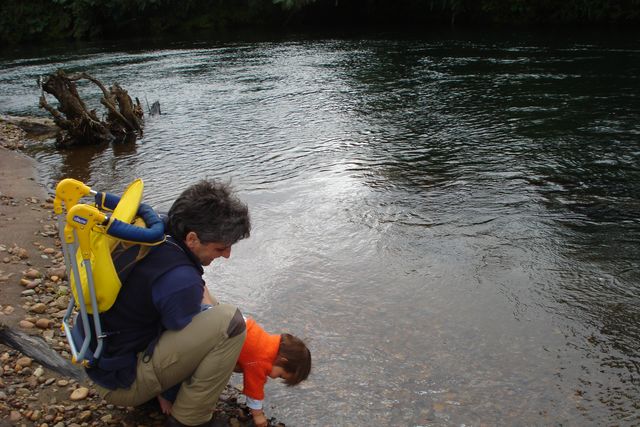 ---
Cesare my dear friend with his daughter Juliana. Carola and I are worried, we have not heard anything from you or your family? Please Cesare, let me and Carola know where you are and how you are.
Love, Jack & Carola
---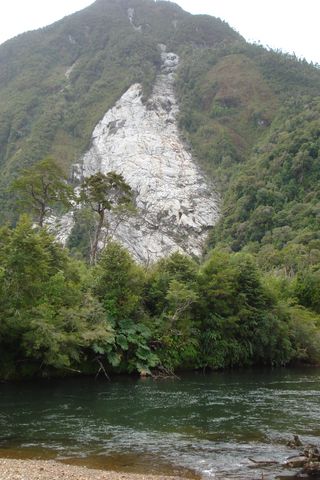 ---
Pure and pristine, what will become of the central Patagonia region rivers.
---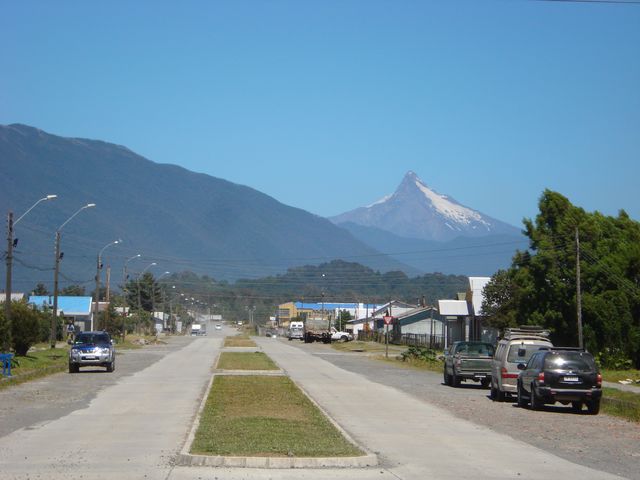 ---
Good ole downtown Chaiten! With that spectacular view of Volcan Corcovado, maybe so beautiful, it's dangerous!
---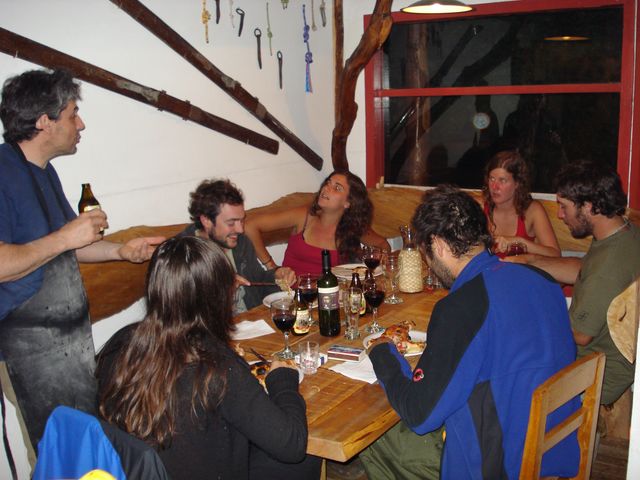 ---
Inside the Campo Base Pizzeria for a night of great food and fun with Cesare Fava (owner) and Gabriel and his group of characters!
The pizza made here was magic! The best times in Chaiten were spent
around a table with friends with pizza and beers at the Campo Base Pizzeria. No one that ate there will ever forget it.
A night to remember…
---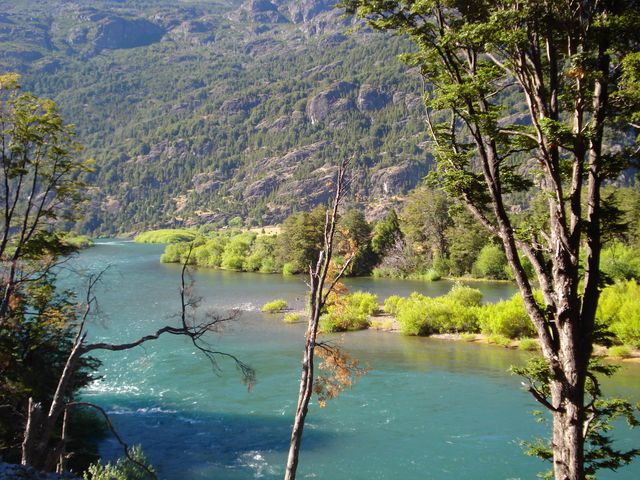 ---
The gorgeous Rio Futaleufu, taking the brunt of the ash from Volcan Chaiten.
---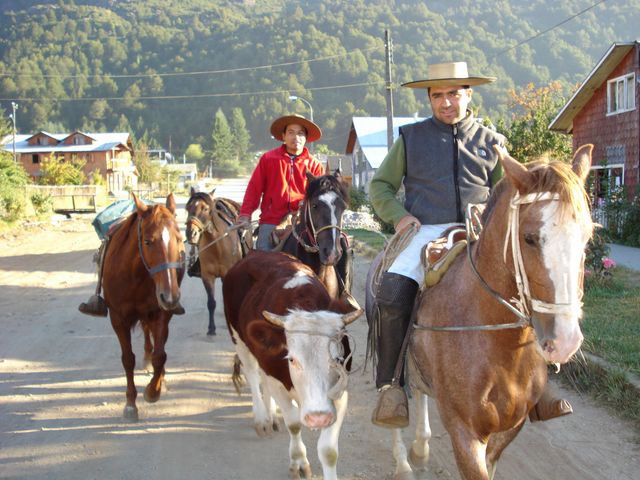 ---
Some nice Huaso I photographed this past February in Futaleufu.
---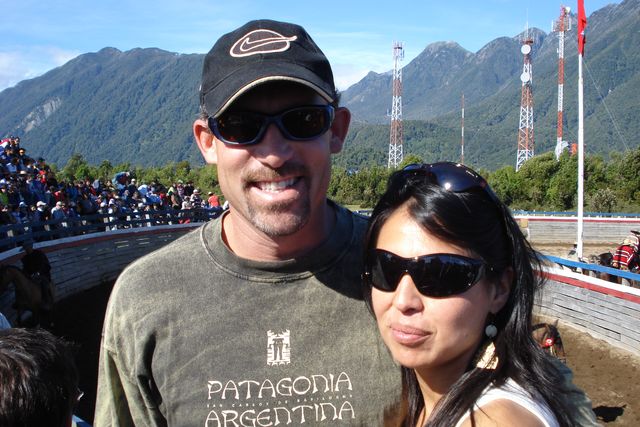 ---
A picture we took that day from the rodeo with the Volcan Chaiten lurking somewhere in the background……
---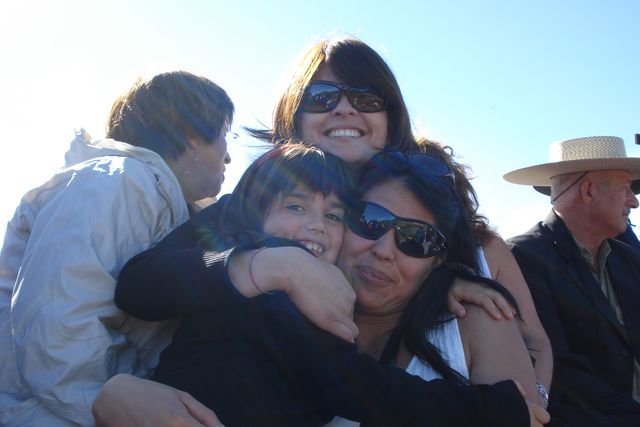 ---
Belen (Cesare's daughter), Carola and best friend, Karina at the Chaiten Rodeo.
---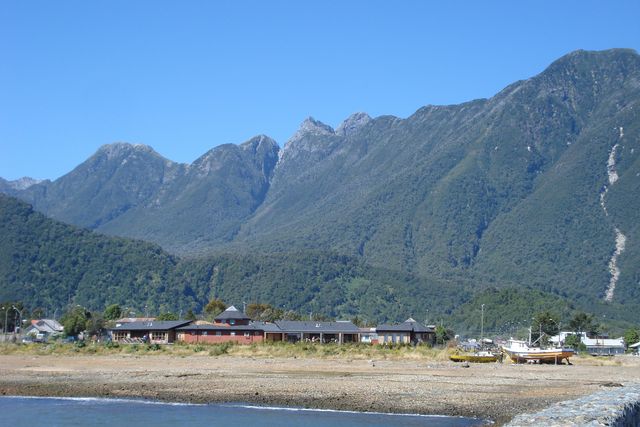 ---
New seafood restaurant Chaiten with Cerro Cruz behind.
---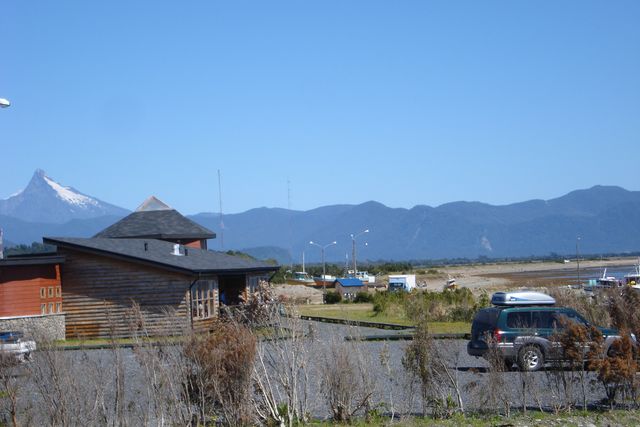 ---
Great new place….?
---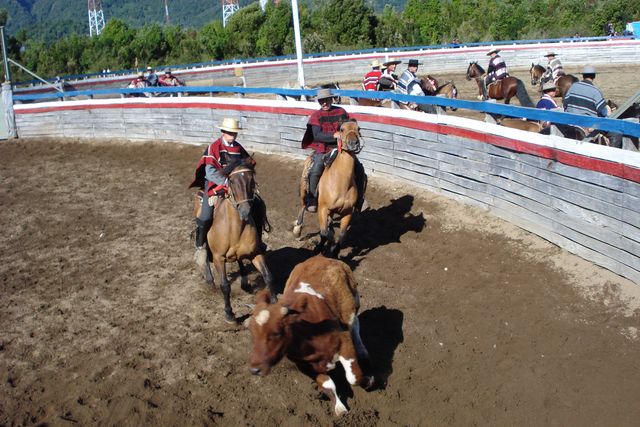 ---
This kid on the horse was the best that day. I don't think he was more than 14 years old.
---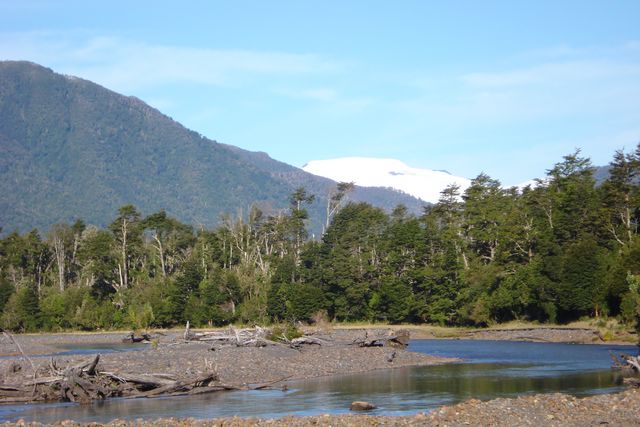 ---
Rio Blanco out near Chana with Volcan Michinmahuida in the background.
---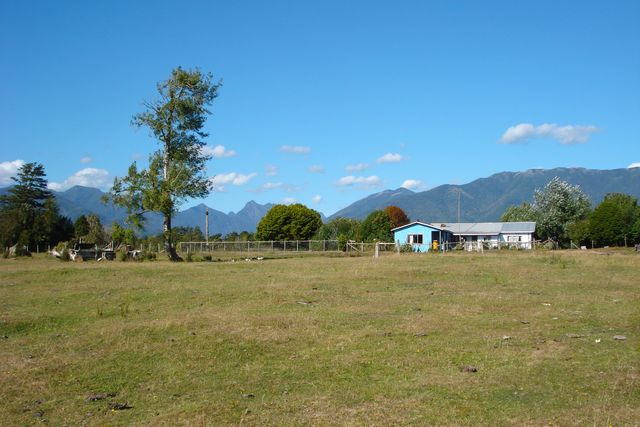 ---
This would be your view if you lived out near Chana. The volcano exploded right behind this house.
---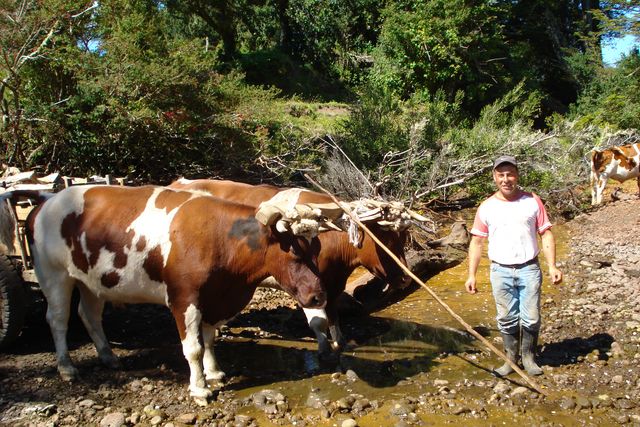 ---
This is a rancher I met over the summer, his last name was Maldonado.
This is all I can remember…
---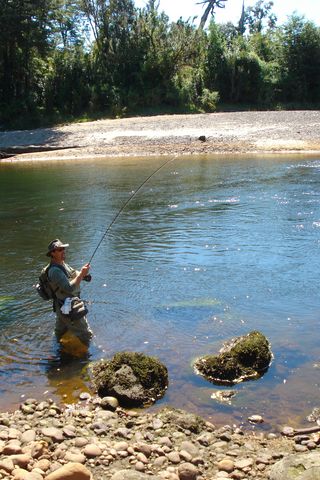 ---
Fishing the Rio Negro, caught one on my first cast!
---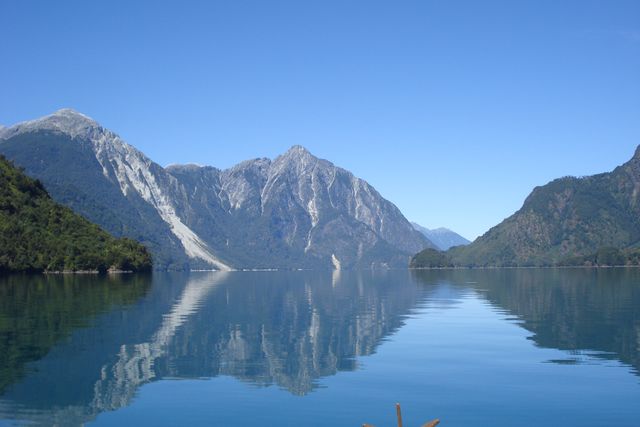 ---
Lago Yelcho, we pray for you.
---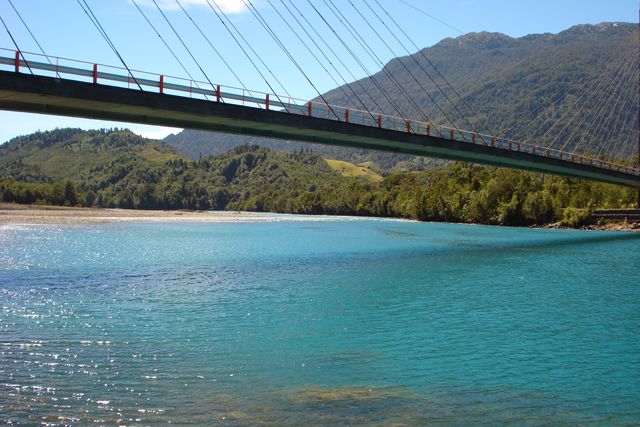 ---
The Rio Yelcho, the most productive Chilean river I've ever guided or fly fished, I hope your fate is a good one.
---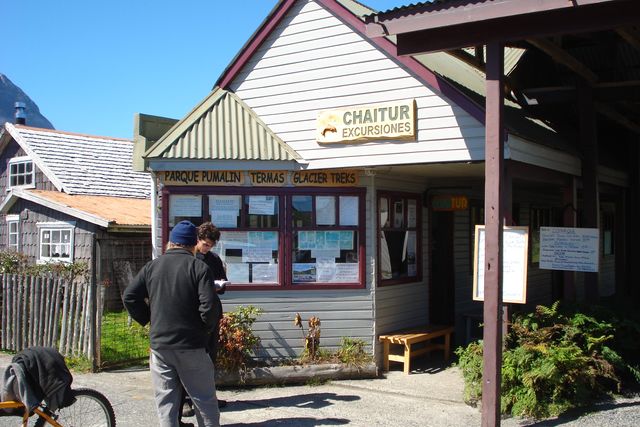 ---
Chaiturs was a successful and important business in Chaiten, all the best.
---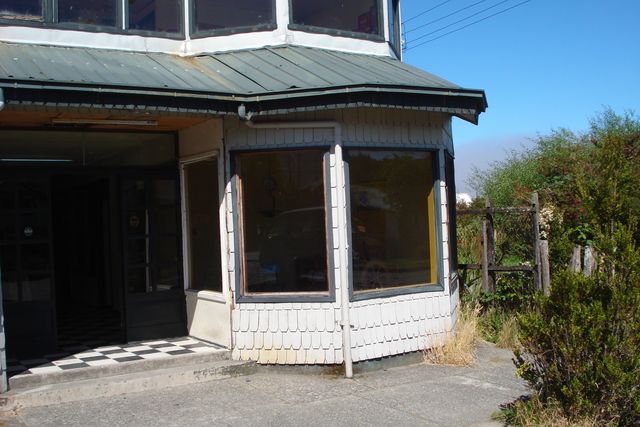 ---
This was the building I was going to rent for fly fishing and terminal tackle.. I guess we'll see?
---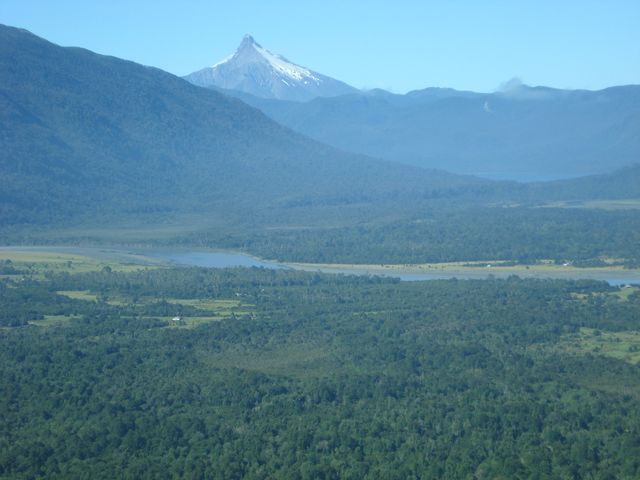 ---
The view from the plane was always best.
---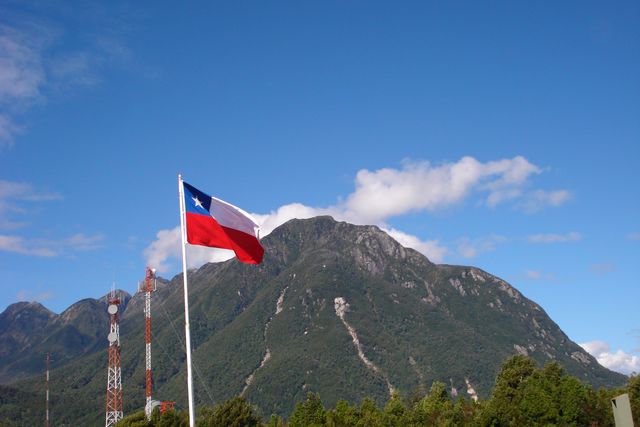 ---
Te amo Chile.
---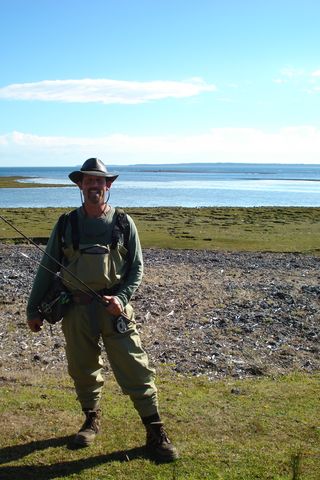 ---
I'm speechless, I am sad but realize that we have no control over Mother Nature. I just hope people and the animals get what they need and the volcano calms down and maybe goes back to sleep. In a perfect world, we live happily ever after. But I know better than that. I have faith that life is what it is. All I have is what I love and cherish in life. I realize things like this make you appreciate how precious life is and our ignorance towards realizing it, as we carry out our normal tasks in everyday life. Don't take it for granted, let the little things go, the big one could go and then you'd really be up ash-creek.
---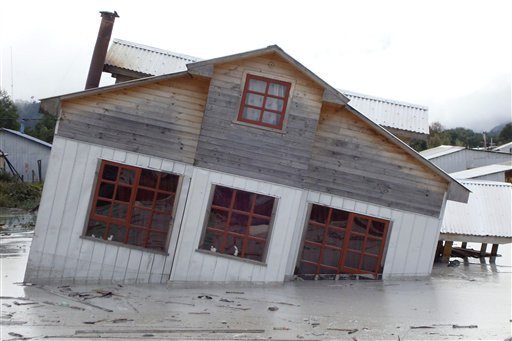 ---
Homes near the Chaiten volcano are flooded in Chaiten, Chile, Monday, May 12, 2008. Heavy rains caused the Blanco River, which runs near the village, to overflow its banks and flood part of the deserted town. The eruption by the Chaiten volcano, which started May 2, forced the evacuation of the entire population of 4,500 in Chaiten and hundreds from other villages and rural areas in the region.
---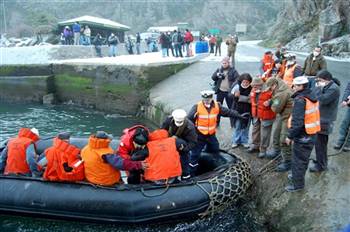 ---
In this photo released by Intendencia Regional de los Lagos, residents are evacuated by Navy officers from the area of Chaiten, in southern Chile, Saturday, May 3, 2008, after the Chaiten volcano erupted Friday. The Chaiten volcano continued to spew ash Saturday amid dozens of mild tremors, as the village of Chaiten, next to it, was virtually emptied in a massive evacuation of thousands of residents.
3:22 p.m. ET, 5/3/08
---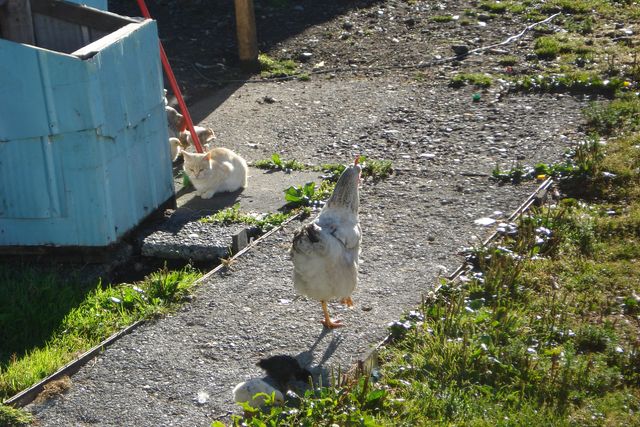 ---
Chile Abandons Pets in Town Stricken by Volcano, Drawing Ire
By Sebastian Boyd
May 9 (Bloomberg) — Chile's government abandoned hundreds of pet cats and dogs in Chaiten, angering animal-rights activists, after more than 4,000 residents near an erupting volcano were evacuated this week.
The country's emergency office "just told us to stop worrying about foolishness," said Alejandra Cassino, executive director of animal-protection coalition Cefu. "They said there are more important things to think about. We're very angry."
U.S. actress Daryl Hannah yesterday called on Chilean authorities to allow volunteers into the area to rescue the 600 animals, mostly horses, dogs and cats, in Chaiten, EFE reported. An additional 600 animals are in the village of Futaleufu, about 45 miles (72 kilometers) to the south of the volcano, where volunteers have brought in food.
Dogs in Chaiten have already started to form packs, attacking smaller animals and sheep, Cassino said.
"They are animals after all," she said. "It's the law of the jungle."
The U.S. Humane Society yesterday announced plans to send a team to Chaiten.
"After hearing local news reports calling Chaiten a `city taken by dogs' due to the large number of animals wandering the now-abandoned streets, I knew we had to move quickly in order to save these desperate animals," Scotlund Haisley, director of emergency services at the Washington-based group, said in an e- mailed statement.
Airplane Sought
The volcano started erupting on May 2 for the first time in 9,000 years, sending a plume of gas and debris as high as 19 miles into the sky.
Volunteers have asked for an airplane and permission to enter the area. Pets may start dying of hunger, poisoning from toxic ash and strokes, Cassino said. In a best-case scenario, domestic animals will start to reproduce more quickly than usual, she said. In the worst case, the volcano could kill every living thing in the area.
Chaiten, 10 kilometers from the volcano of the same name, was completely evacuated after the government obtained a court order allowing police to forcibly remove anyone found within 30 kilometers of the crater. Residents were evacuated by boat because the town has no road connection with the main body of Chile.
"Our priority was to save the lives of people," Mayor Jose Miguel Fritis said in a phone interview. The air force flew veterinarians to the town on May 7 to tend animals, he said.
Cattle and Sheep
The agriculture ministry has been moving animals from Futaleufu. There are 7,000 head of cattle in that village, 6,000 in Chaiten and an additional 10,000 in Palena, the ministry said. There are 28,000 sheep in the region.
Food for livestock destined for Chaiten was diverted to Futaleufu, the agriculture ministry said in a statement.
"Our most serious problem at the moment is the people we have in shelters," Fritis said. There are more than 4,000 evacuees in temporary shelters across the area where authorities are providing food, clothing and counseling, he said. People who want to help should donate food or clothing, he said.
Chile's geological service today warned that underground magma is rising toward the surface. The column of gas and ash shooting from the mouth of the volcano may collapse, "which could cause the destruction of the dome and generate pyroclastic flows radiating downwards from the volcano through the adjacent valleys," the geological service said on its Web site.
A pyroclastic flow is a mix of superheated rocks and gas that can move at speeds of more than 50 miles an hour, destroying almost everything in its path, according to the U.S. Geological Survey. Geologists believe small pyroclastic flows were responsible for steam seen rising from a valley near the volcano yesterday.
Ash started falling on the outskirts of Argentine capital Buenos Aires, almost 950 miles away, television channel C5N reported yesterday.
To contact the reporter on this story: Sebastian Boyd in Santiago at sboyd9@bloomberg.net
Last Updated: May 9, 2008 14:56 EDT
---
---
EMAILS FROM YOU:
Hi Jack, thank you for the great trip down the Sac,cant wait for our next trip in the near future.Hope you are doing well the news clips from Chile are intense i hope Carola and her family are safe and well,keep the faith .Cheers J.S.
P.S. if their is anything we can do to help with the situation in Chile let me know.
---
Thank you, I will. I just arrived in Chile this December, but I used to fish
for trout and salmon in England and Ireland with my father, so I'll look
forward to reading about your season. Perhaps we could talk tomorrow about
what's been going on in the last weeks.
Regards
Sebastian
Bloomberg News Room.
---
Hola Jack, you seem to be a Journalist, I forgot you are one for a important "Portal". Thanks for your good intention, I know you have it.
Just I ask you to write more about what people from Chaiten and Futa think. They wnat to go back home..and goberment didn't allows them to rescue pets, caws, lambs, and any thing they want to rescue and they feel that have big value. They want to go to save what they got after a life working hard, they are colonizers and just one govbermmet really was worried about their lifes, you know which one was.
I don't undesrtand why gobermment don't allows to the people go short time to save whichever they want to rescue. We have right to decide… same when you turn on the car's engine…you are responsible for your life.
The chilean journalist want to sell news…while worse disaster better for them but not for the local people they are suffering a lot with all this.
I think the problem with the volcano is serious but not as big as the gobermment says, they are looking for being the heroes of this movie invented by themselves and also to manage the evacuated people and for them better would be to have entire Chaiten on their hands.
I think is good to inform about this, I mean, to inform what people want, they don't wnat to be taken to other places, they prefer to wait, try to low the profile…don't work for the Chilean gobermment, they have had really horrible response after this disaster. Also they are trying to get politicians advantages using the hurt of the people..you know anywhere it is same.
Chaiten people need to be calmed, they also need econimic and spirit support now.
Saludos
Pancho
---
Hello Jack,
Our prayers are with you and your loved ones down in Chaiten.
Since my home in Pacifica was inundated in the great flood and landlslides of 1982, and we lost almost everything we owned, I can empathize with those unfortunate to be facing the end of life as they once knew it. But, time does go on, and the Earth heals herself, and the people manage to rebuild.
I have been actively monitoring the situation in Chaiten, as well as the local earthquakes, and I can pass on some new info: The link below is an authoritive source for some current information.
http://www.newsdaily.com/stories/n13379169-chile-volcano/
1. As of 5/13, the ash cloud has started to collapse. All the rocks, ash and gasses that have been held aloft in the atmosphere due to pressure from the eruption is feared to possibly engulf Chaiten and the surrounding area creating a lethal environment for anyone still in the area. Pyroclastic flows and lahars are also possible as the cloud descends along the flanks of the volcanoe, or new activity erupts.
2. Due to the slowing of the eruption, there is some optimism that the worst of the eruption may be over, however scientists are not in agreement. There is some concern about a core collapse, as apparently has occurred in the distant past, however the liklihood is not believed high.
3. If Chaiten follows a typical pattern for similar volcanoes in the area, there will be continued intermittant smaller eruptions with pyroclastic flows and ash being the main hazards as thick, sticky magma finally moves to the surface and lava starts flowing. While serious, this is a better scenario than a summit collapse and ensuing catastrophic explosion.
4. A second volcanoe is also erupting in northern Chile at the same time as Chaiten. Since the series of mega-quakes off the Chilean coast last year and early this year, I think there is reason to believe that those (subduction) thrust earthquakes have cracked the upper crust inland and also increased pressure below the volcanoes (more magma) which is now causing them to erupt. The lava currently erupting from Chaiten is high in Silica and low in Sulfur, which suggests the lava is somewhat young and originated higher up in the mantel.
5. As for linkage to other local events, the Reno quakes, while VERY unusual in their characteristics (highly localized at shallow depths and increasing intensity), there is zero evidence of any volcanic activity being involved. However, there is much debate about an apparent linkage between the Wells NV. 6.1 quake and the Reno sequence, as well as over a dozen other moderate earthquakes throughout Nevada in the weeks/months following the February Wells event. I think the recent 5.2 west of Weaverville is also interesting since it is roughly along similar latitudes as Reno and Wells events. The continuing quake swarm off the southern coast of Oregon also has volcanic characteristics, but the epicenters are far away from any known volcanic areas. Hydrophones lowered into the ocean can detect a loud humming noise at very low frequencies. Geologists are actively attempting to identify if a long period earthquake is in progress or if indeed new volcanic activity is being born.
Will keep you updated as I Iearn anything more.
All our best to you and your fiance.
Best Regards,
Craig Heden
CHeden@aol.com
---
Jack,
My heartfelt sympathy goes out to your loved-ones in Chile. We are constantly reminded how we are at the mercy of mother nature, especially with the disasters which have occurred in Myamar and China. We own property near Mt. Bachelor in Oregon and keep asking ourselves,"Could it happen here?"I hope that you and Carola are together soon.
Al
---
Hey Jack,
Thinking about you and your girl.
Hugs,
Michael
---
Hi Jack,
Hope things have settled down in Chile!
Can you provide some dates available for the Upper Sac float?
Thanks, Bob
---
wow. All the best to you and your new bride man. who took those pictures of the lightning? Thats the craziest shi I've ever seen.
---
Jack
We've got surplus baby clothes, jackets, etc.
Any clue where to send them?
Perhaps the Red Cross?
I'm fearing that the Chinese earthquake victims and the Burmese cyclone victims will get all the attention.
Chile is our friend, our supporter. We should support them first!
My prayers are with your fiancée and family.
David Rizzardo, PE
---
Vast Chile volcano ash cloud partially collapses
By Monica VargasPosted 3:05 pm EDT
PUERTO MONTT, Chile, May 13, 2008 (Reuters) ¢ A towering cloud of hot ash, gas and molten rock spewed miles into the air by a volcano in southern Chile has partially collapsed, raising fears it could smother surrounding villages, an expert said on Tuesday.
Luis Lara, a scientist with the government's geology and mining agency, said the column of ash, which had soared as high as 20 miles, was now about 4.5 miles.
The column of debris, kept aloft by the pressure of constant eruptions, could collapse entirely, smothering the ghost town of Chaiten 6 miles away with hot gas, ash and molten rocks.
"These small collapses which generate minor flows of pyroclastic material are normal, they are not that serious in that they affect a small area, the top part of the volcano," Lara said.
"But that doesn't make the worst case scenario disappear," he said. "As long as the eruptive column is high in the air, (a major collapse) is a possibility."
Thousands of people have been evacuated from within a 30-mile radius of Chaiten volcano, 760 miles south of the capital Santiago.
Chaiten began erupting on May 2 for the first time in thousands of years. The ash has turned turquoise lakes and fjords a dirty gray in the southern region of Patagonia — home to majestic peaks, log cabins and adventure tourism — and has coated animal fodder and vegetation.
Satellite images show a white stripe smeared across the southern part of South America, much of the ash carried into neighboring Argentina, where some towns have also been submerged in ash.
The government said on Tuesday it would pay out the equivalent of between $1,200 and $2,200 per month per family that has been left homeless by the volcano.
"The government will not allow anybody to be abandoned here," said chief government spokesman Francisco Vidal.
Thick ash has caked rooftops, settled on the backs of animals and also formed a sediment in a river near Chaiten, which overran its banks briefly on Monday due to heavy rains and flooded about 40 houses on the outskirts of Chaiten town.
Footage from the area showed a cluster of wooden houses at tilted angles in a river of gray ash.
President Michelle Bachelet's government was due on Tuesday to unveil a package of aid measures for around 7,000 evacuees, some of whom are staying in makeshift shelters set up in schools in the southern town of Puerto Montt.
Many are staying with family and friends but have lost their livelihoods for now, with no inkling of when or if they will be able to return to Chaiten.
Chile's chain of volcanoes, the second-largest in the world after Indonesia, includes some 2,000, and 500 of those are potentially active.
(Writing by Simon Gardner; Editing by Cynthia Osterman)
---
From: Tim Tatum
To: Jack Trout
Sent: Wednesday, May 14, 2008 1:00 PM
Subject: Re: www.mtshasta.com CHILE ERUPTS
Jesus Jack I am so sorry to see the devastation. It is incomprehensible. I've never seen pictures like those with the lightning. Just evil looking. Obviously good that your loved one(s) down there are safe, but the loss has got to be devastating for you and for them. Keep us posted on any relief needs. I will go back and review your post as I think you mentioned what is needed.
Are you going down (maybe you are there already)? If you are still guiding the upper sac in mid june let me know. I will come on up with my boys.
Tim Tatum
**********************************************************
The town of Chaiten is gone man. The river flooded our house and everything is 6 feet in ash water. We'll start over in Chile in a new area.
Open in June, pick June 7th or 8th.
J Trout
---
HELP ME PEOPLE!!
I AM GUIDING A LOT AND NEED HELP ORGANIZING THIS EFFORT.
WE NEED WARM RAIN JACKETS FOR CHAITEN DISASTER VICTIMS!! I NEED SOME COMPANY TO CALL ME AND SPONSER THIS ENDEAVOR. IF SOME ONE SPONSERS OR DONATES LARGE AMOUNT OF $$ TO BUY JACKETS, I WILL MATCH IT BY SPONSERING GUIDE TRIPS IN CHILE.
I HAVE CALLED * PATAGONIA * MOUNTAIN HARDWEAR * SOLSTICE * ALFWEAR *
ARC'TERYX * COLUMBIA
---
ALFWEAR CALLED ME BACK AND ARE SENDING CLOTHES FOR CHAITEN VICTIMS!!
THANK YUO ALFWEAR, FIRST TO STEP UP TO THE PLATE. JACK TROUT
---
---
Hi Jack,
We would be happy to help out by sending some jackets to help with the
volcano relief. Unfortunately, due to formalities, we can only send jackets
to a 501(c)(3) non-profit organization. If you belong to one and can send a
formal request we would be happy to send some jackets. If not, feel free to
have a non-profit that is working on the cause contact us and we can supply to them.
Thank you and good luck!
Julie
PR Coordinator & Sales Administrator
Solstice Outdoor, Inc.
2415 N Ross Avenue
Portland, OR 97227
  503.239.6991  503.239.6991 Ext. 204
---
Julie
That's understandable, I will be back in touch with non profit assistance.
Many Rivers & Oceans, Jack Trout
Jack Trout International Fly Fishing ~ Argentina * Belize * Chile
1004 S Mt Shasta Blvd. Mt Shasta, California 96067 www.jacktrout.com
www.mtshasta.com 530-926-4540 email: info@jacktrout.com
Chaiten Chile – Piloto Pardo 878
Cell – 011-56 9- 9467 1995
—– Original Message —–
From: "Julie Masin" <julie@solsticegear.com>
To: <info@jacktrout.com>
Sent: Wednesday, May 14, 2008 2:38 PM
Subject: Volcano Relief
---
Jim Alfwear/ Kuhl Clothing
Thank you very much for your generous donation to the People of Chaiten. My fiancée Carola Vanessa Paicil Enriquez is still in the Puerto Montt area and will be distributing the clothes you send to the proper and needy families.
Please visit: http://www.mtshasta.com
This site has all the info I even mentioned you at the top of my site!
This site receives 20,000 + hits per month mainly from the Bay Area (good target market)
I will down load your logo at http://www.kuhlcompany.com and put it on my web log http://www.mtshasta.com This will be clickable to your site direct. My customers are your clients! Let's network.
I promise a great win/win on this one! I will photograph the clothes being distributed for your web site. You can make a page on it if you'd like with the volcano photos from my site.
My fiancée Carola was the city administrator for the City of Chaiten she knows everyone in the town for years and will do good by our charitable efforts.
Thank you and many rivers, Jack Trout
Jack Trout International Fly Fishing ~ Argentina * Belize * Chile
1004 S Mt Shasta Blvd. Mt Shasta, California 96067 www.jacktrout.com www.mtshasta.com 530-926-4540
email: info@jacktrout.com
Chaiten Chile –
Piloto Pardo 878
Cell – 011-56 9- 9467 1995
---
My sweety, I understand you, I saw the news tonight in Chile 90% the houses lost for water, White river…….I know baby you very sad me too, but with mother nature we can t nothing…..
I am better, I cried enough, now I will think possitive, and to begin one more time, but this time with you, no alone……
I went to the notary the afternoon, I writing for the things inside the house….
The goverment gave the foods and other things, (poor girl)…
I am proud of you baby, I know you love Chaitén and people, they are very very sad…..
Is a great news for the help jacket, thanks baby……..raining all day and there is so cold
I need jacket too……
I think you send me the boxes to me ….. with my name, Tomorrow I will write the email with adress post office Pto. Montt, but is very near to place where give the foods, differents things for victims Chaitén, What do you think about this baby????
one thousand thanks baby, you are the best man of the world, I love you and I know my love that some day we will visit Chaitén again.
My family send very affection for you, my Mom very proud of you for you make for chilean people baby,me too…….
I pray for you baby always every nigth and for you family always…….
I am very tired and tonight I will sleep with my grandmother.
you fiancee and Paloma – Carola.
Sunday Morning sweety……
---