*****CHILE SIGN-UPS IN FULL SWING! TRINITY & KLAMATH STEELHEAD!! LOWER SAC IS RED HOT!!
McCLOUD & UPPER SAC DRY FLY~ WHICH WAY DO I GO GEORGE ~ WHICH WAY DO I GO? HAPPY HALLOWEEN SIZZLERS!!!*****
---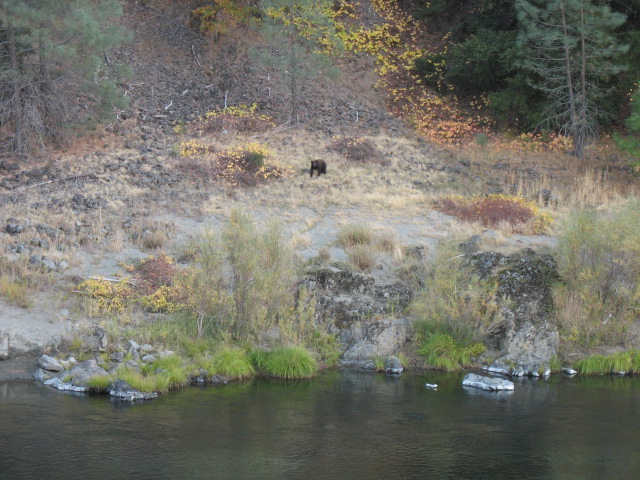 ---
After floating with Tom Shaddox on the Trinity River on October 26th, I pulled over to see this bear from highway 299 coming down for some early evening bourbon and water, on the rocks!
---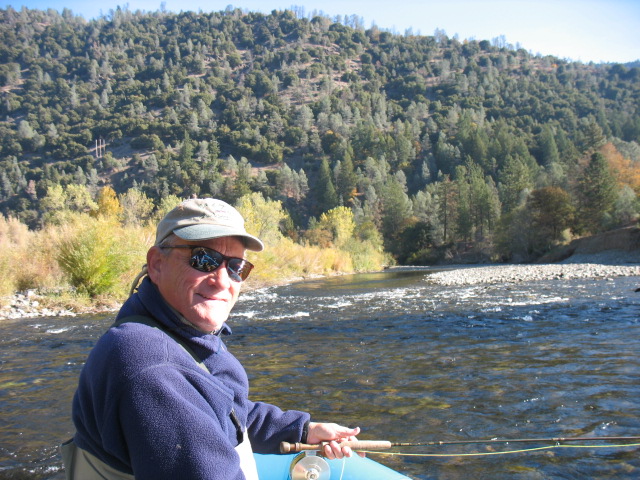 ---
Tom Shaddox called me and booked October 26th. When he called he said he was going to be staying at the Mt Shasta Resort in Mt Shasta. I talked him into fly fishing on the Trinity River. He would have to make a sacrafice, he had to get up at 5am and drive almost two hours to see me and he was concerned about taking his vehicle and leaving his wife without transportation…. So I left them the key to my Ford Explorer, so the wife would be happy and told Tom he would probably catch the biggest fish he's ever caught on his fly rod!!!
He was there Sizzlers!
---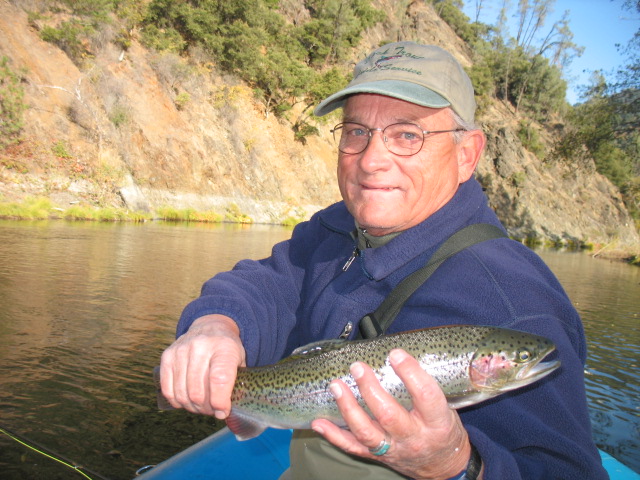 ---
We dropped into a nice run full of steelhead and Tom hooked into and landed this hatchery
trout, we were stoked cause we could see the big steelhead were also active and it was just a matter of time.Tom missed a big hit in this hole, but it didn't matter cause we all knew it was going to be a Jack Trout/Walt Disney Adventure!
---
---
He showed up wearing his lucky Jack Trout Hat.
We stopped off in a spot that Tom could wade, get out and stretch our legs a little and maybe catch something– if we were lucky!! I mean do you feel lucky, Tom?
---
---
Then it happen, the rod bent over and the steelhead was rolling around on the surface! A very dangerous position for the steelhead to be in, for the dead weight on the surface is a for sure line breaker!! You want to bow to the fish slightly to encourage the fish to take the tiny-bit-of-slack and go beneath the surface and swim, and run Forest run! Not roll!!! Then by getting the screaming trout on the reel and allowing your reel you payed so much for to do it's job and let out the perfect amoung of drag and line, thus completing the smooth landing and a successful unharmed steelhead caught and released.
---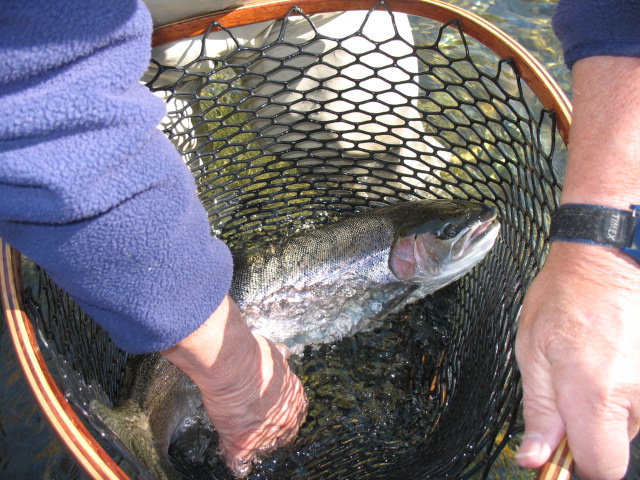 ---
Tom's biggest fish ever on a fly rod Sizzlers!! One that Walt Disney would be proud of!! More Ice Please!!!
---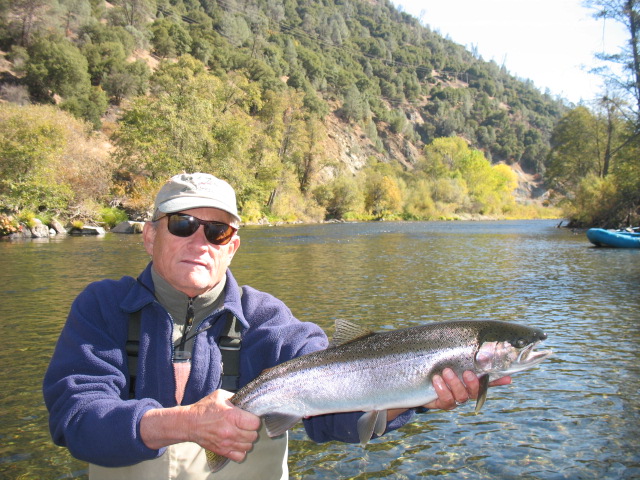 ---
Early bird gets the Fly!! Nice Steelhead Tom, isn't this Trinity a lot of fun!! Meanwhile, wife's cruising Mt Shasta in my Ford, armed with credit card! That's always good for the Mt Shasta Retailers, spend money in Mt Shasta, we all promise we'll put the money back into our businesses and make Mt Shasta the best place to visit!! TOURIST ALWAYS WELCOMED IN MT SHASTA!!
---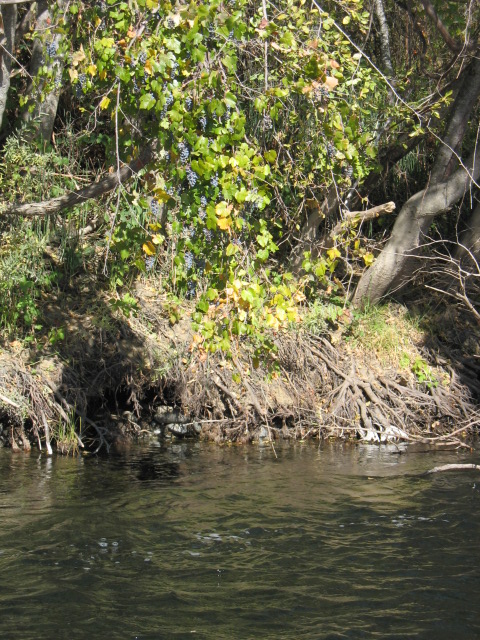 ---
Wild grapes growing wild along the river are a great Trinity treat!
---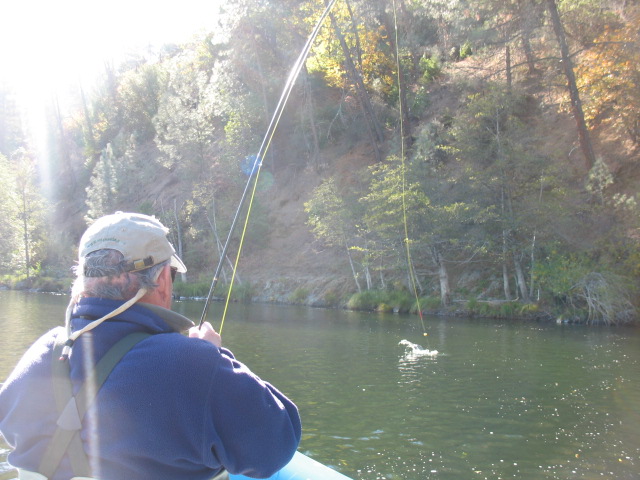 ---
We rounded a corner and I could see steelhead everywhere! And a second later Tom's rod bent over like a like a bunch yoga dolls at music fest! The steelhead fluttered on the surface, then dove into the depths and jumped high as if to say, "hello have you checked out the great food and lodging at the STRAW HOUSE RESORT IN BIG FLAT, ON THE TRINITY RIVER 530-623-1990
http://www.strawhousecoffee.com 15 miles down river from Weaverville"!! I highly recommend this place. Jack Trout
---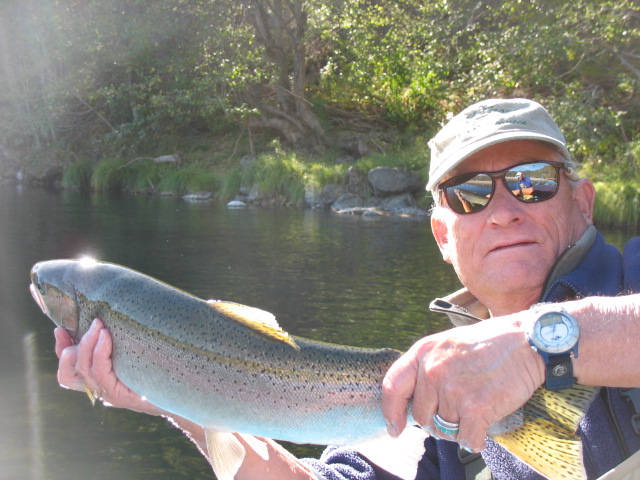 ---
Another beauty Tom!!
---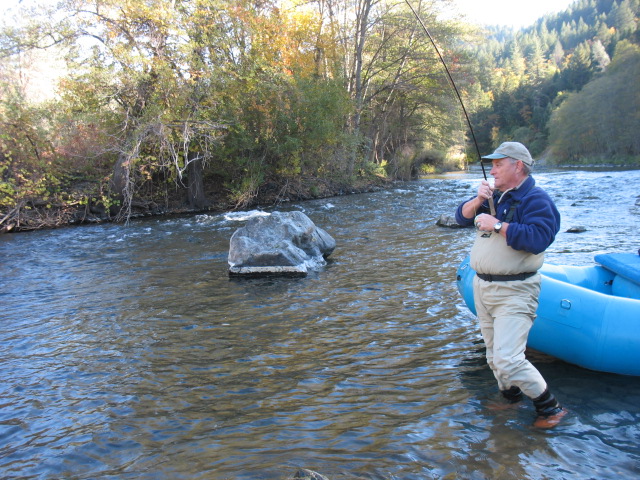 ---
A little further down stream, Tom hooked another steelhead but this one seemed bionic, like Steve Austin!!
---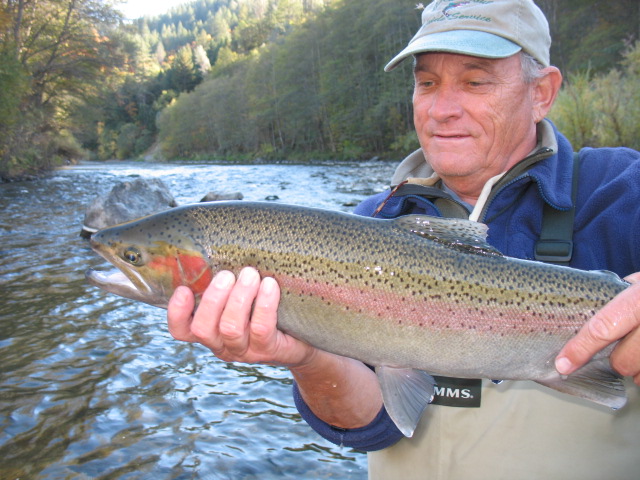 ---
That is one of the most beautiful steelhead my eye sockets has ever laid pupils on! Halloween Theme! Landing that Steelhead was a little scary!!!Way to go Tom what a great trip we had!!
---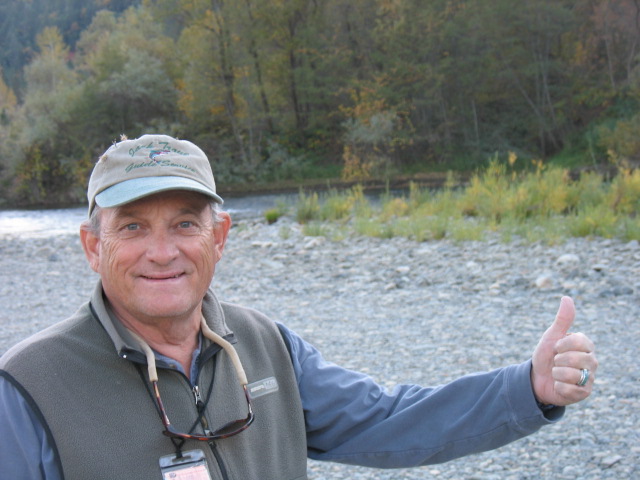 ---
So was it worth the drive?
---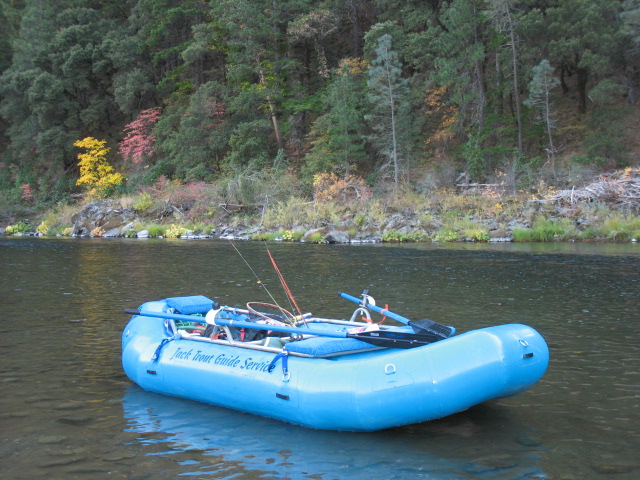 ---
We are offering guided trips on the Trinity and Middle Klamath on the DogOnIt Huckleberry Express! Departing daily by 7am~ Jack Trout
---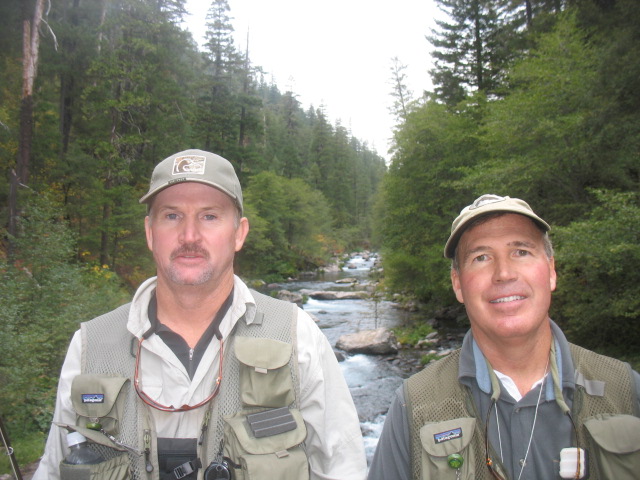 ---
When Jack and Dave came to the McCloud River, the King Fishers stood up and saluted!
---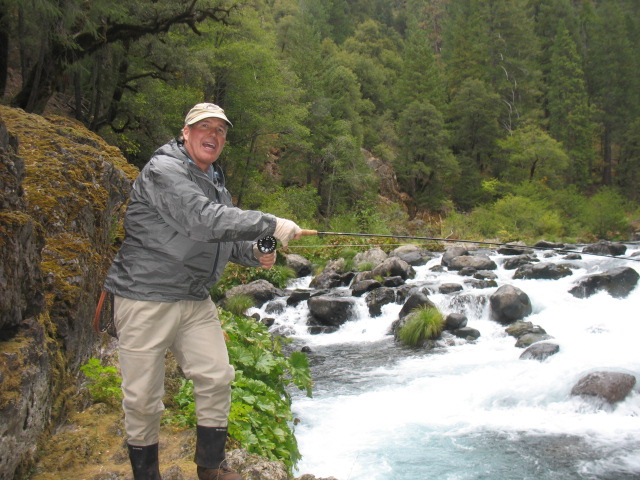 ---
Jack Taylor one of my favorite past customers, always full of life with a genuine love for the Mt Shasta area, Jack has newly purchased property in the Mt Shasta area and plans to fish everyday–someday. If you listen closely Sizzlers, you can hear him singing, "What a wonderful world".
---
---
Howdy Neighbor!
---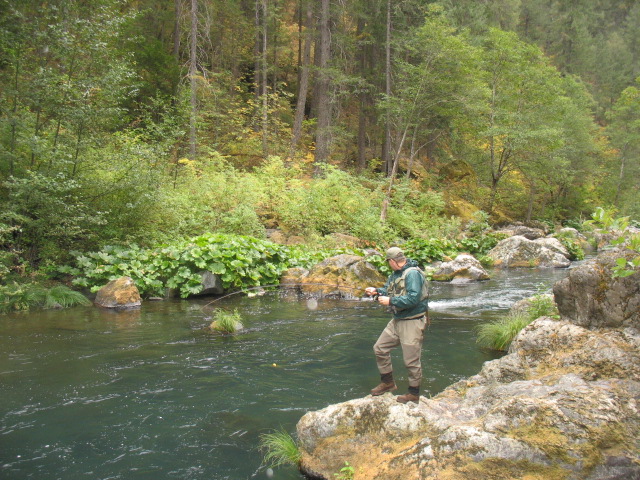 ---
Dave hooked up on a nice McCloud River Rainbow.
---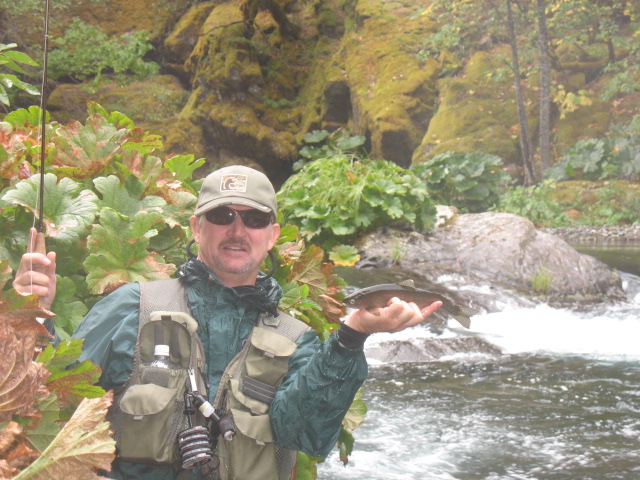 ---
Way to go Dave!! YOU'RE MY SIZZLER OF THE WEEK AWARD WINNER!! CONGRATULATIONS SIZZLER!!
---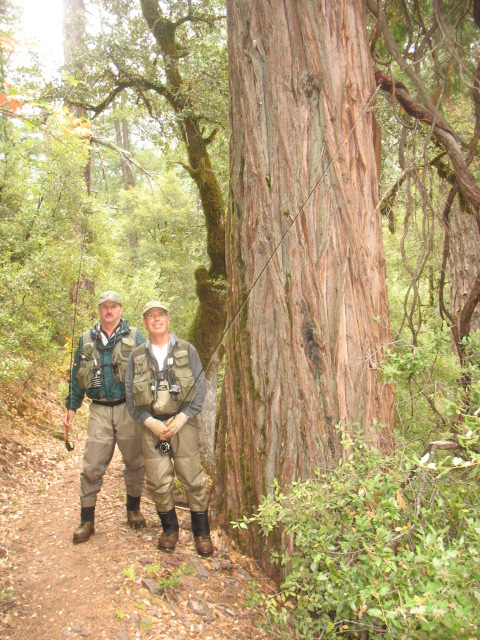 ---
What a great way to cap this two day adventure on the McCloud River! Thanks again for coming up guys!! Jack Trout
---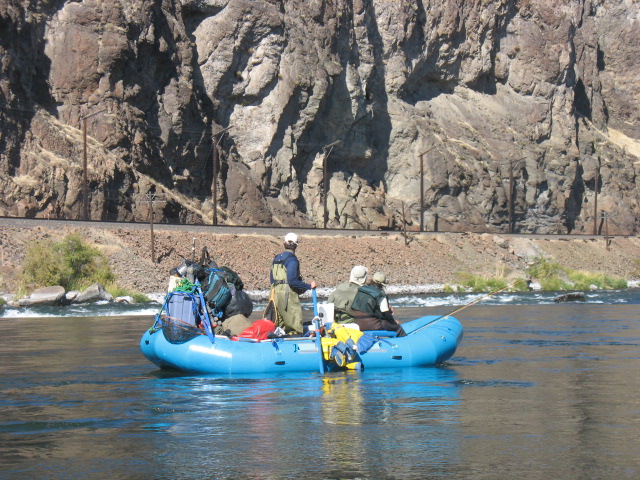 ---
I had a few days off in late September so I rounded up some friends and headed for the Deschutes in Oregon for a four day 38 mile fun float!
---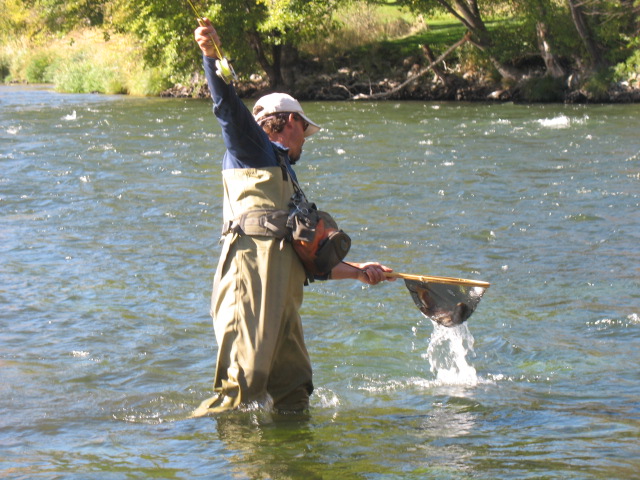 ---
We floated from Warm Springs to Maupin in two of my Sotar rafts. On the Deschutes, regulations require that you don't fish from the boat ever. So we just used the rafts for ferrying to our fly fishing wading destinations. I fished the Deschutes just like the way I fish the Lower Sac, a lot of weight and distance from the indicator. The dry fly fishing wasn't that great when we were there. So I used nymphs like; October Caddis, Red Copper Johns and Micro Mayflies. Sometimes around islands I would rig-up a Stimi-Dropper and put on two nymphs two feet apart, the top nymph being heavily weighted and 6 feet of total length. The trout were everywhere on the Deschutes River, so I would go to the bottom half of the islands and fish 6 inches to four feet of water and pick up trout left and right high-sticking. It was like you had to get this Obi-Wan Kenobi thing going and believe Luke, Believe.
---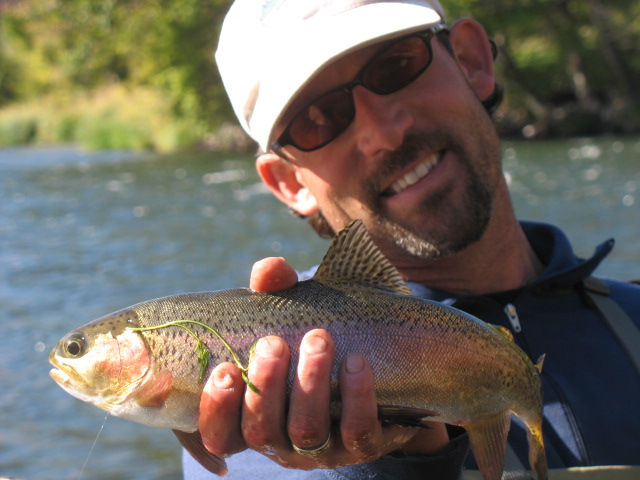 ---
Way cool! Redside Trout on the Deschutes River!!
---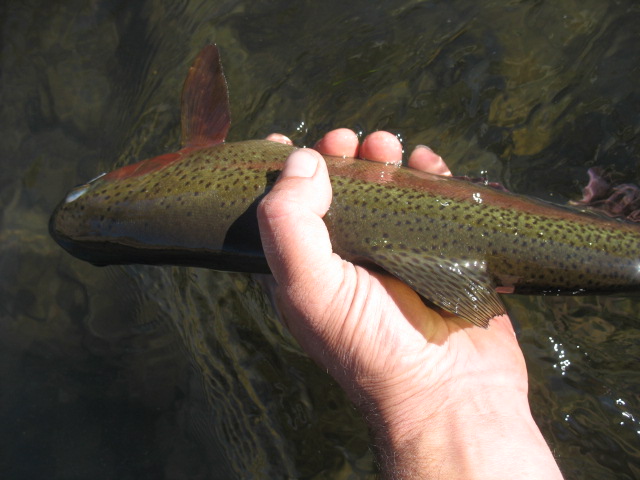 ---
Those reds are so colorful!
---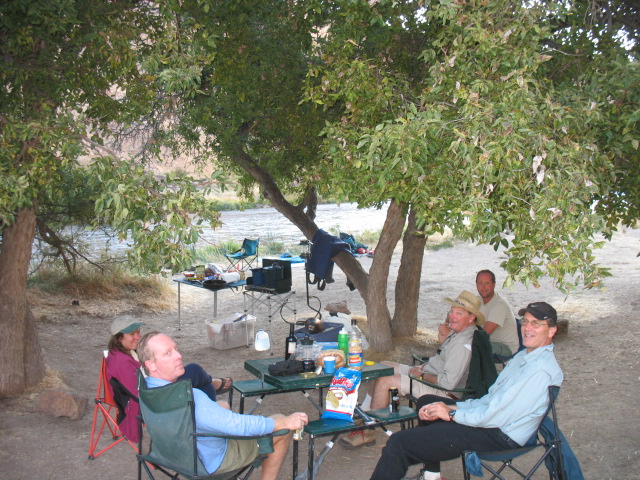 ---
Here's our home away from home! My good friend from high school in Portola, Scott Kehoe. Also Bill and his brother Henry and friend Matt and Robin Kohn from Mt Shasta.
---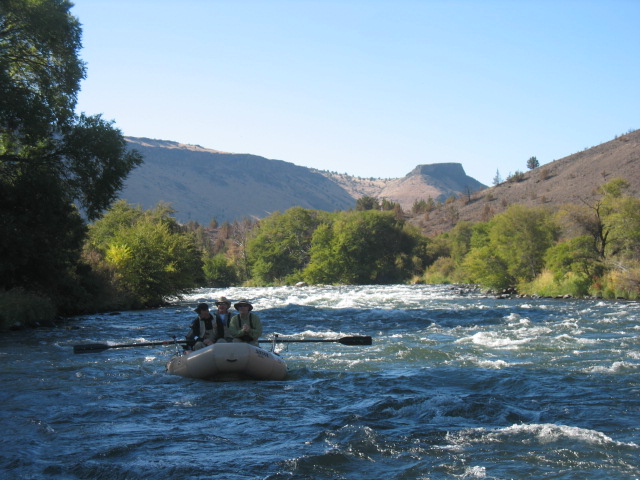 ---
Henry Hossfeld and his Brother Bill were a delight like always. They had fun using my raft, the Trucha Mocha for their transportation.
---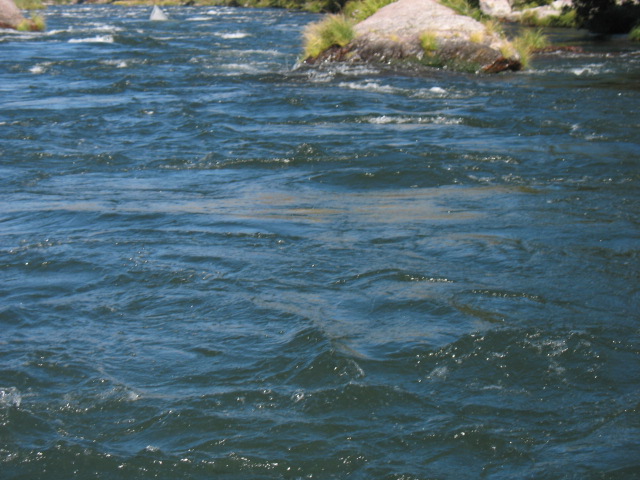 ---
A boat flipped that same in day in White Horse Rapid!! Don't use a drift boat through White Horse Rapid, use a raft so if you make a bad turn you bounce off the problem, instead of joining it! (See the tip of the once nice Fish Rite drift boat in the middle of the picture up high?) Later, we saw all 5 of the people in one drift boat further down the river. I think the most sobering moment for the flipper boat folks was probably seeing two rafts from California drift by after their carnage. I've said it before, I'll say it again; "there's places for drift boats, and places for rafts, but rafts can go through it all in the long-run"! JT
---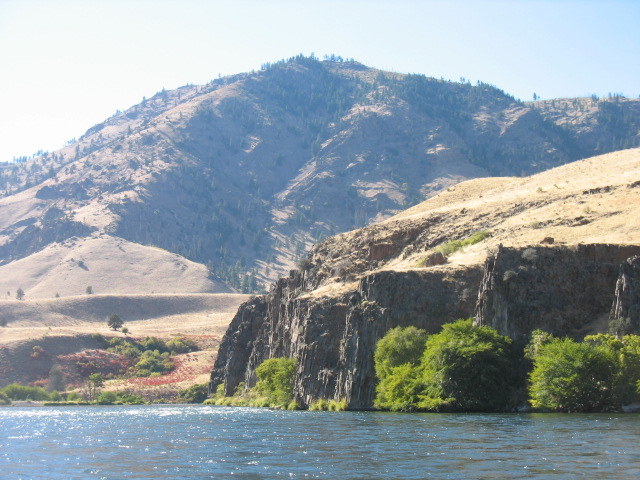 ---
We saw amazing views everyday, you wanted to fish everything but there wasn't enough time.
---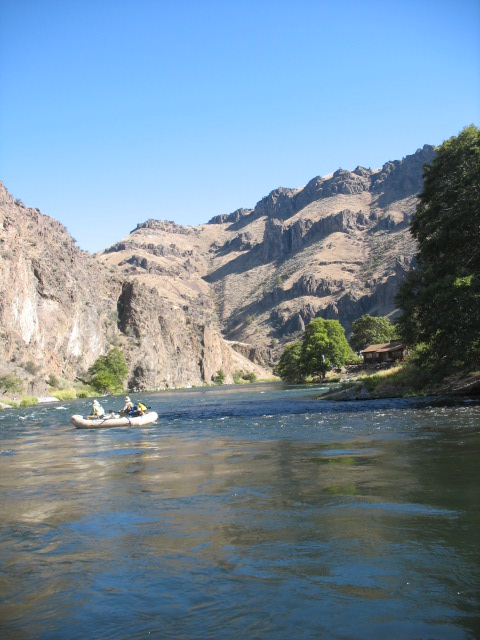 ---
Here's some helpful info if you want to boat the Deschutes in the future~
You need a boaters pass and a Tribal Permit to fish on the river left past Dry Creek.
This was really a 5 to 6 day trip pushed into 4 days, I suggest for anyone else in the future to put in at Trout Creek, near the town of Gateway, and go to Harpham Flat on a four day float . JT
Warm Springs Tribe (541) 553-2100 ~~
Affordable Shuttles
Diane
541-395-2809
$60 one vehicle
$55 each @2 vehicles
Warm Sprgs to Sandy Beach.
Linda's Shuttles 541-395-2488
$70
541-395-2778 Maupin Visitors (Tammie)~ BLM boaters pass 541-416-6700 ~
www.boaterpass.com
---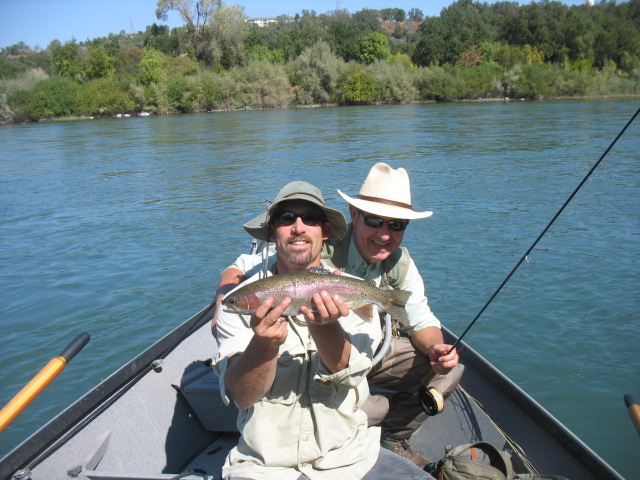 ---
After we took the rafts out at dusk in Maupin, Oregon. I drove all night to make it home by 12:30am just to get back up at 5 am to meet my next customers Frank Balog and Neil Koenig,
at the Black Bear Diner in Redding, on Cypress and Hilltop Drive. Within 15 minutes of the put-in Neil had a healthy Lower Sac rainbow to brag about! Frank was so happy cause he's the kind of guy that likes to see everybody win!
---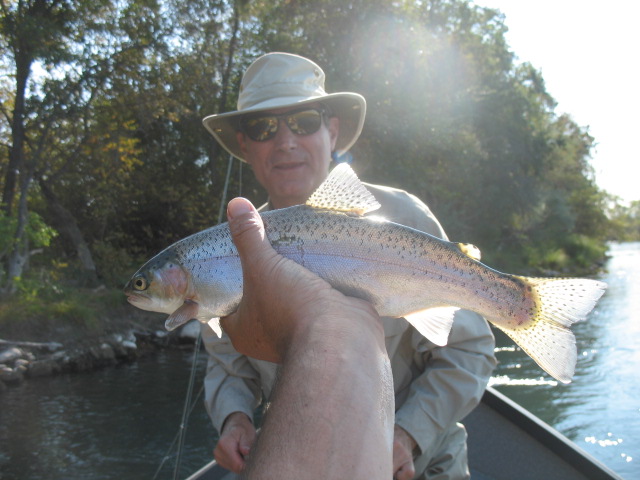 ---
Frank then hooked up also, they both had a lot trout that day mainly on caddis patterns.
Frank is so much fun to fish with, he gets excited and animated, makes for a great day out on the water!
---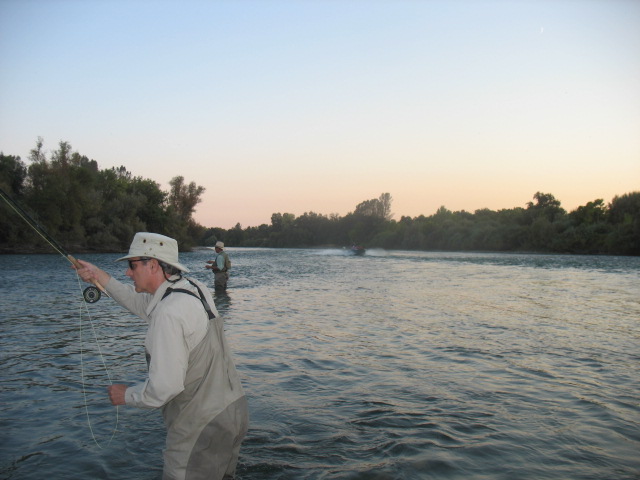 ---
We fished till dark that night for the dry fly fishing was going off! The day was a total success, Neil and Frank had a great time and little did they know where I had been just 24 hours before. But I didn't care, I wasn't tired. We were catching fish and the day was near end. I stopped in the middle of a an oar stoke and remembered a riffle I had fish the day before up on the Deschutes, a trout that took my fly and jumped high into the air, high enough so that I could see the tall basalt rocks that layed off into the distance like a matted photograph. I sighed, picked back up my oar, smiled as I thought to myself, Yahoo dude you pulled it off!! I love this life!
---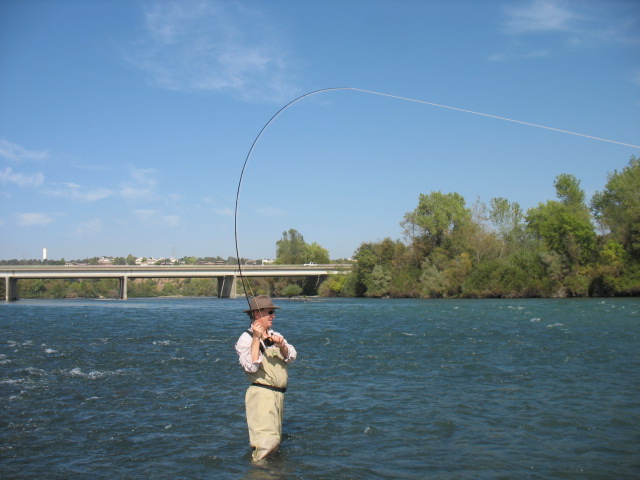 ---
On Oct 1st, Jim Mossop, fished the Lower Sac with me and had terrific dry fly fishing!
---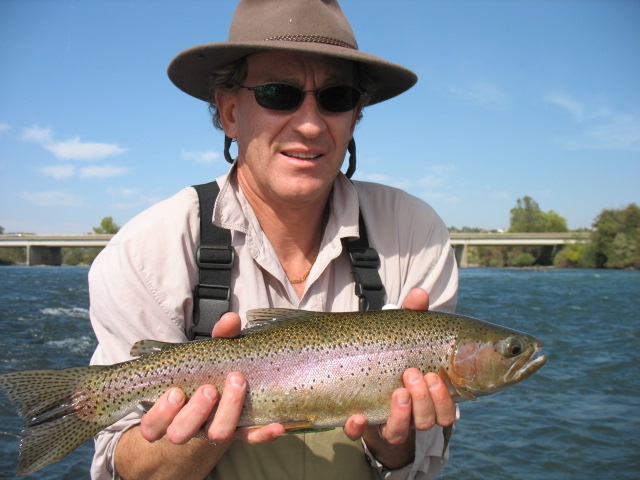 ---
Nice trout Jim! Any trout on a dry fly on the Lower Sac is a great catch, but when it's this size, that's exceptional!
---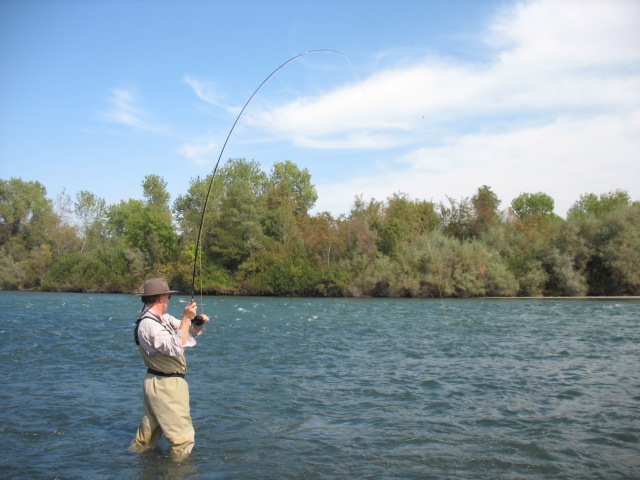 ---
And another!! We caught 4 or 5 here on dries!! Ya brother!
---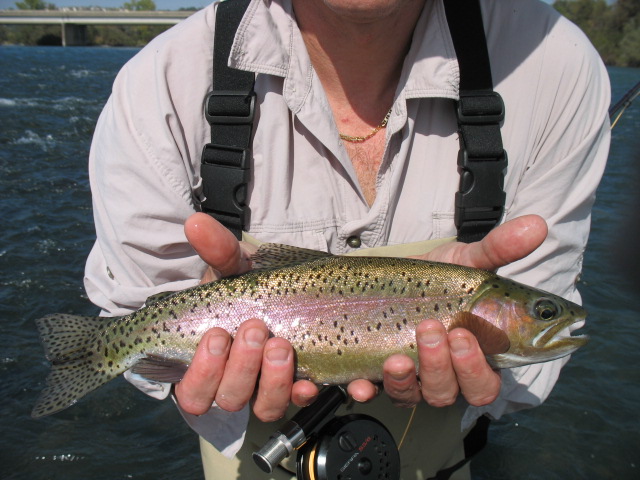 ---
Designer Award Winner!! Congratulations Trout!! Lower Sac is still on fire, call me if you'd like to fish!!
---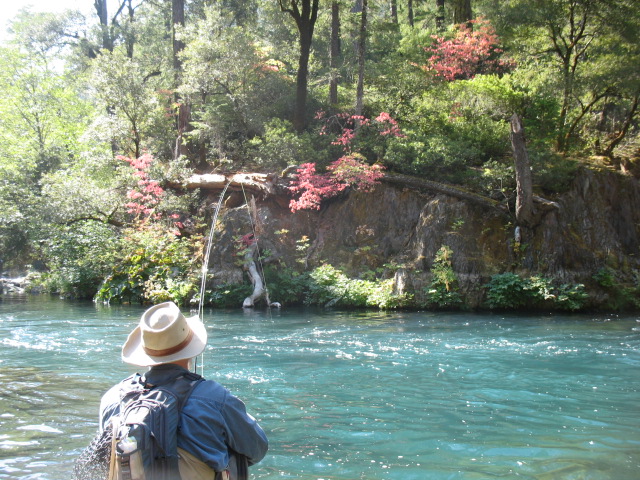 ---
Here's Dave Earl back up doing what he loves to do…Fly Fish!! Today Ladies and Gentlemen we are on the McCloud River, nice place to be in the fall.
---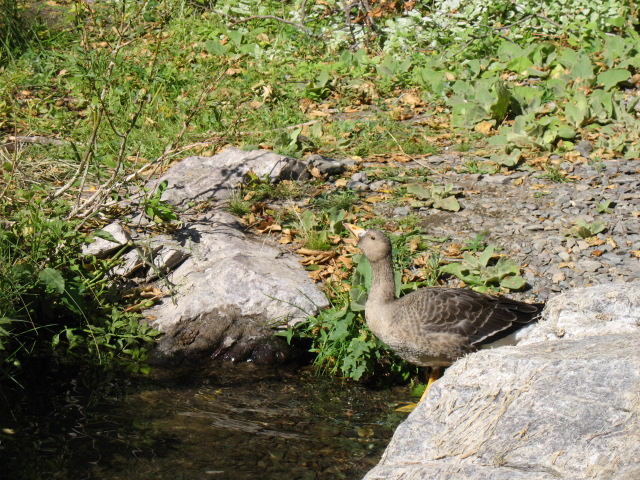 ---
There we were minding our own business, when a duck comes floating down the river and exits
the river right at our hole? He wasn't the least bit scared, infact he stood right next to me like an old friend from elementary school and drank a little of the best water on earth.
He watched Dave fly fish a little and went over to eat some grass.
---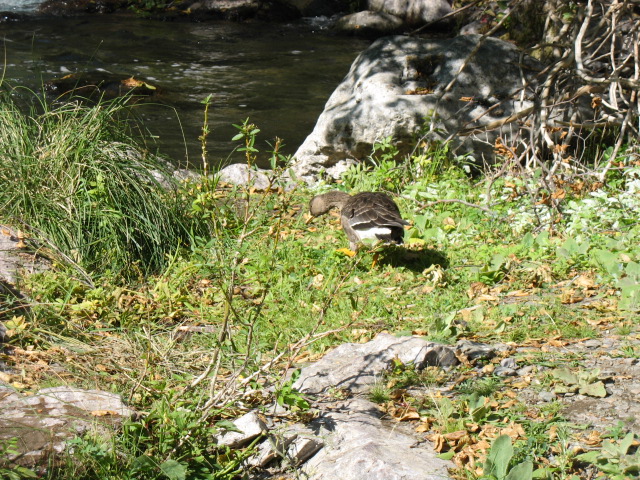 ---
Ya, this duck was welcome at our fishing spots, he seem to know his way around well. I named him Webby. So if you see Webby around the Lower McCloud, tell him Trout said hi!
I promise he won't screw-up your fish'in and he's quite entertaining.
---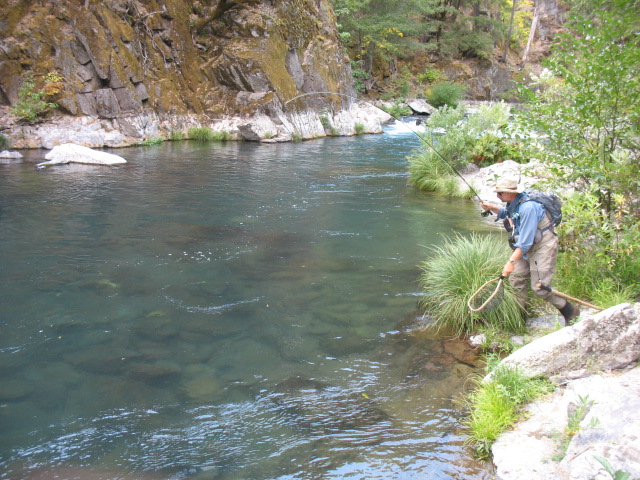 ---
Dave down the stairs folks!
---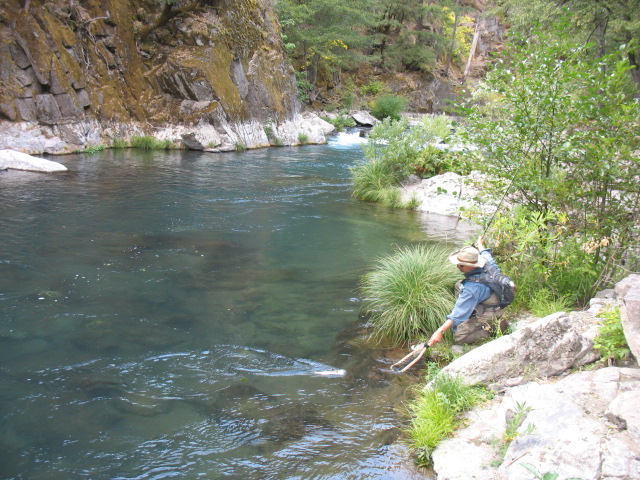 ---
The net! Nice form Dave!! That's the famed money shot they speak about…
---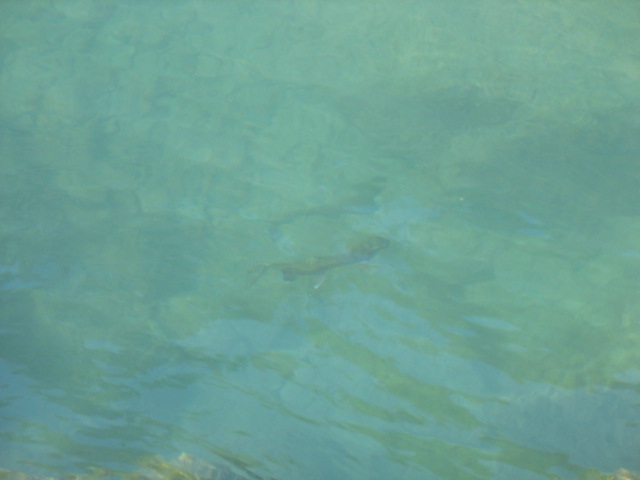 ---
Trout Hologram
---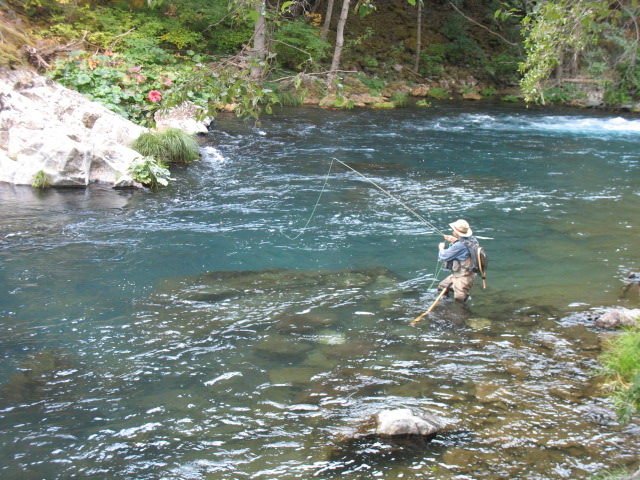 ---
BORN FREE!!!!!!!!!!!!!!!!!!!!
---
RIGHT ON SIZZLERS, THANKS FOR WATCHING ANOTHER SPINE TANGLING EPISODE OF TROUT MONSTERS ON A & E!! STAY TUNED AS WE FISH BOLLIBOKKA ON THE McCLOUD RIVER, CATCH SOME AMAZING STEELHEAD ON THE KLAMATH AND TRINITY RIVERS, AND A FEW JACK SALMON TO BOOT!!!
TAKE CARE AND HAPPY FLY FISHING FROM, JACK TROUT
---
---
http://www.jacktrout.com/trinity.html
---
http://www.jacktrout.com/.html
---
EMAILS FROM YOU:
Jack
By the way, he said "I think the person that had the most fun was Jack!". I think that speaks volumes as to your attitude and enthusiasm.
Eric De Rosa
---
Trout,
Some unbelievable photos. I am so jealous and can not wait for June to come for our next trip out to see you!
My uncle and I have been fishing pretty much every weekend and doing pretty well. We have been fishing for both trout and stripers in the sound.
PS How far out should we book our next outing with you? I know we all decided that the end of May is just too questionable weather wise, so I am thinking the first or second weekend in June? Let me know so we can get it on the books……how many more days to go, I can not wait to get back there soon enough!!!!!!!!
Cheers!
Todd
---
Jack, what happened to the pictures of Anne and I? Great time and she is hooked,
Thanks, Mark
---
Jack,
I'd like to get a steelhead day in in November or December. I'm pretty open on dates, what works for you?
I caught a 30″ steelhead in the Lower Sac a couple of weeks ago. I lost a couple other nice ones too. So I've got the steelhead fever now.
Drake Ferrari
---
JT, you have the best guide service. Your the only one I know of who shoots quality pictures and a lot of them with informative narratives. todd and I will see you 06/07. mike
---