*****STEELHEAD FISHING IS NEARING ON THE TRINITY AND KLAMATH – SIGN-UPS START NOW! CHILE
SEASON LOOKS TO BE THE GREATEST EVER!! JOIN ME NEXT WEEK AS WE SNORKLE THE NEW RIVER, A TRIBUTARY OF THE TRINITY TO DO A STEELHEAD SURVEY WITH THE YUROK INDIAN TRIBE-GREAT UNDERWATER PHOTOS OF MIGRATING STEELHEAD!! *****
---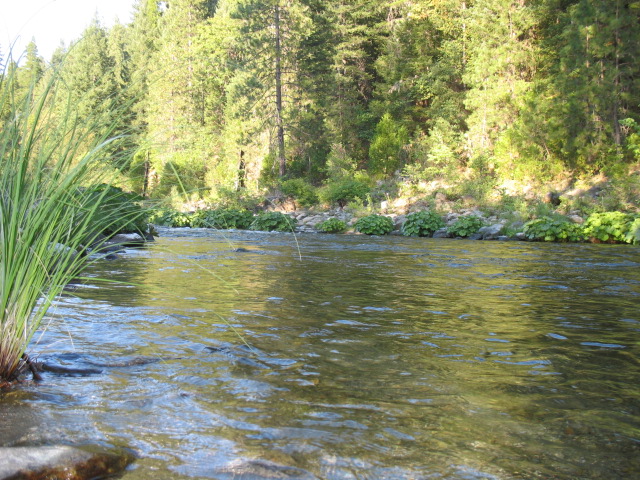 ---
Life on the Upper Sacramento River has been incredible! Early morning from 6am to 10am proves to be just as productive with dry fly fishing as 7pm till dark. The weather has been spectacular, serving up a moderate day-time average of 82 degrees over the past several weeks. I haven't seen a cloud in the sky for days now, and the rivers, lakes and streams are perfect for hiking up to and either fishing in or jumping in! Mercy-sakes alive!!!
Thank you Mt Shasta, and all of it's water!!! Jack Trout
---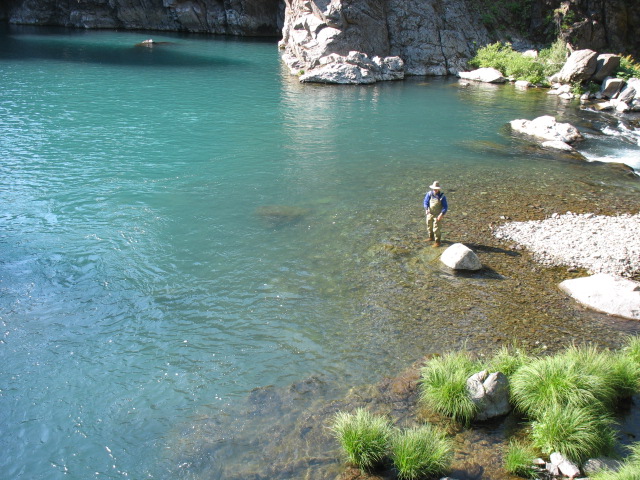 ---
Over on the McCloud River, David and Lynn Parish, had a wonderful time learning how to fly fish!
---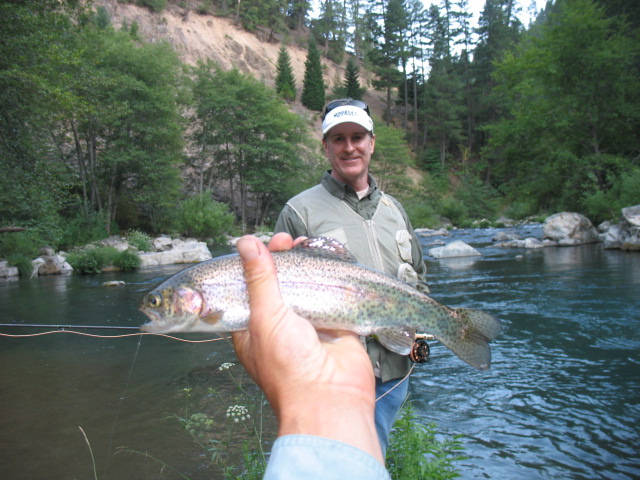 ---
We showed up around 7am to fish and the trout were rising everywhere!! David caught trout
on dry flies for the very first time and was so impressed with the sport and the Mt Shasta area, he plans to buy some real estate up here in Siskiyou County! Well howdy neighbor welcome to our area! (I think you better buy your piece fast, every customer is talking to me about buying real estate in Siskiyou County)!
---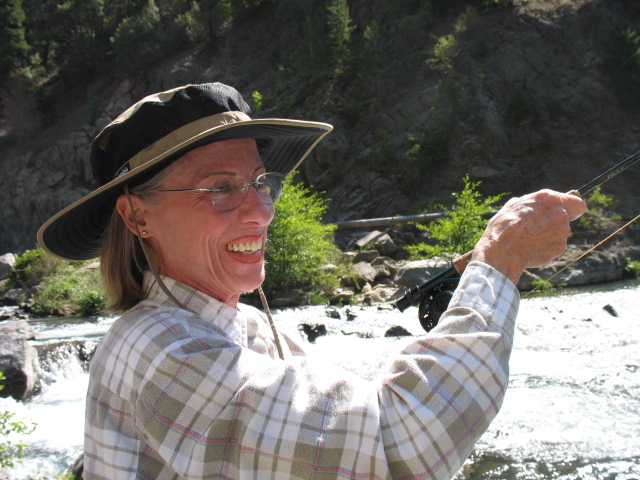 ---
Lynn his wife was a doll, believe it or not she used to be a real party girl!! That innocent face…I don't believe it!! Lynn, I had so much fun guiding you, you make people laugh!! Jack Trout
---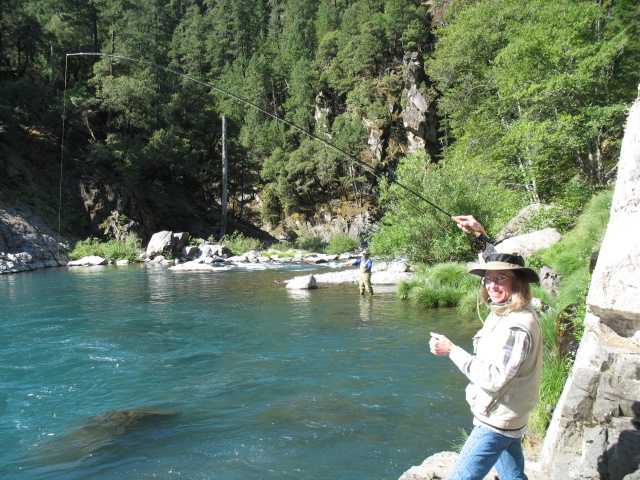 ---
Lynn hooking into another fun trout!
---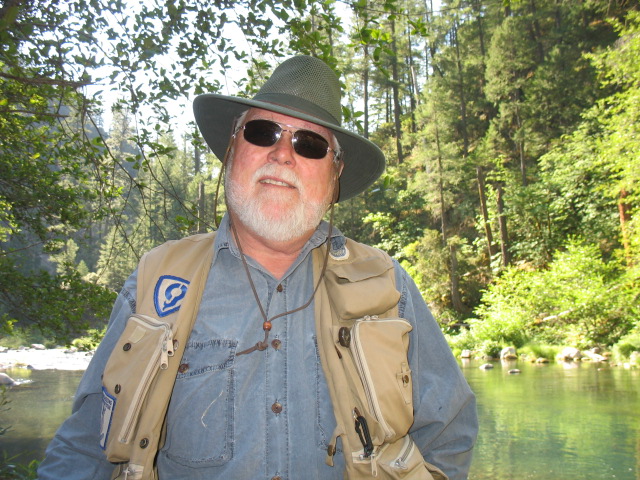 ---
Every once in a while in life you have an opportunity to meet a Mike Fong, Ed Rice, Tom Stienstra and a MIKE FOSTER. For those of you who know the first three names as legendary
outdoorsmen in fly fishing and writing, you should also know the last name Mike Foster. Because he is the last name in outdoorsmen, he is the last of a generation that did it right. His thrill for fly fishing starts at his fly tying bench where he learned fly fishing from his father, a skill that has served his passion for over 50 years! But his enthusiasm for the outdoors is what makes Mike so special. So much so, that not even a quadruple bypass operation a little over a year ago could keep this rock star in our fly fishing community away! I have many customers I guide fly fishing, none have more enthusiasm than Mike Foster. He has fly patterns never seen by the public that we use out on our trips that catch trout & steelhead! A great football coach, husband, father to his boys and a gran Human Being. For that and all you do and have done for fly fishing and people, we thank you!
---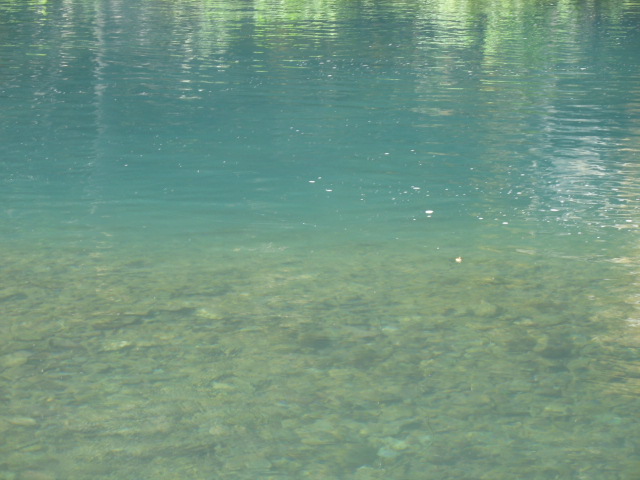 ---
I took Mike to this spot I knew on the McCloud River, where you could see the trout in a line-up! Look at this picture with polarlized glasses to see more trout!
---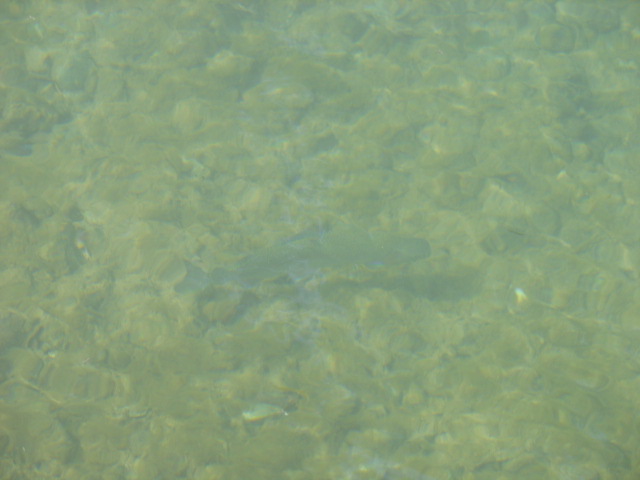 ---
Isn't spotting trout in the river the coolest! It's like a picture in a picture…
---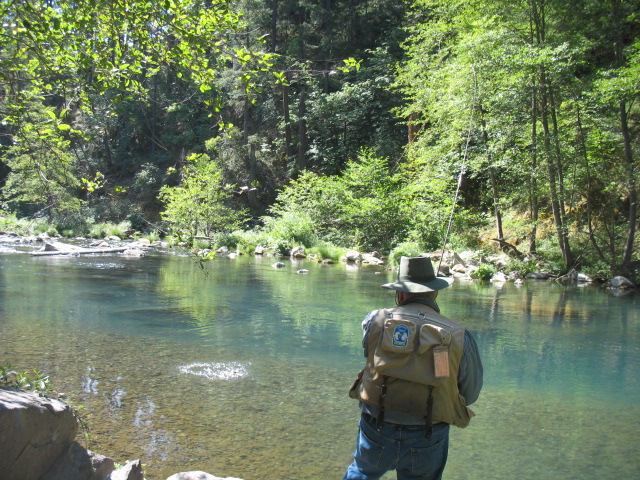 ---
Mike and I put on a stimi-dropper and caught almost dozen here! (size 18 micro-mayfly)
---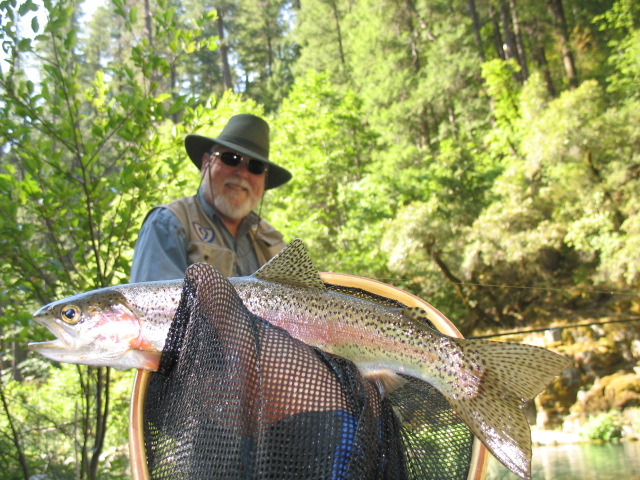 ---
Nice trout for a nice guy!
---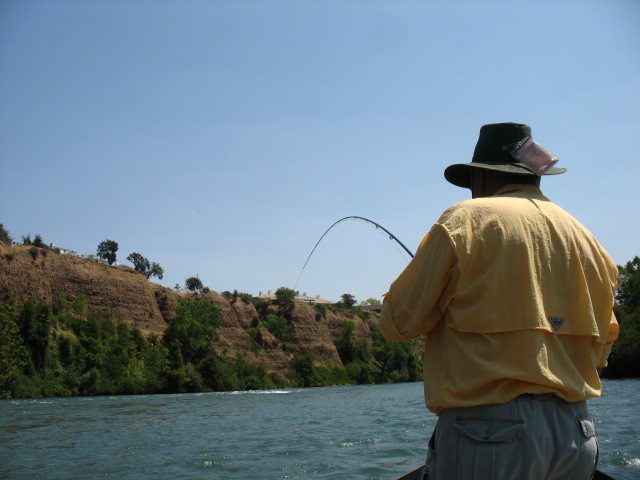 ---
The next day we headed for the Lower Sacramento River, also known as the Lower Sac located in Redding, California. You would think fly fishing a river in such a large metropolitan city would prove unproductive. But just the opposite was true, ever since the Keswick Dam was retrofitted with a temperature control valve 3 years ago that draws the water out from the bottom of it's gates at a perfect 52 degrees, the trout fishing has been off the charts!! The food is so plentiful for the trout and I've noticed more hatches than ever!!
now all they have to do is figure out how to get the steelhead and salmon back up to Dunsmuir…jt
---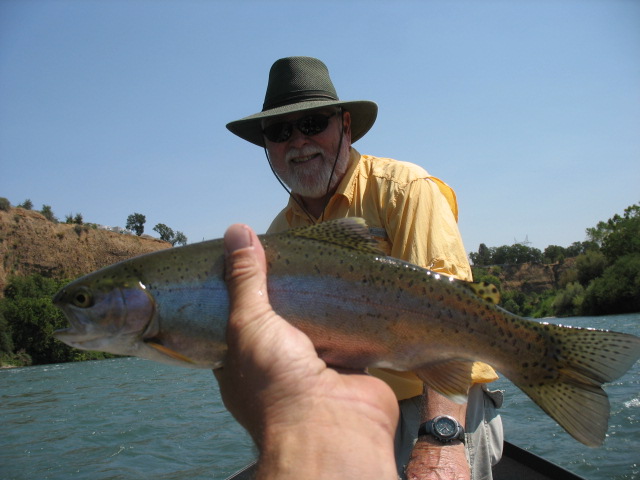 ---
Mike landed this trout after a huge 5lber came unbuttoned! The Lower Sac has huge trout to catch and lose, I've had so many customers in the last few weeks have large trout come un-done. We use such small flies, it stands to reason that some of the bigger ones don't get landed. But who really cares, it's the whole experience that really counts! Mike ended up catching three here anchored.
---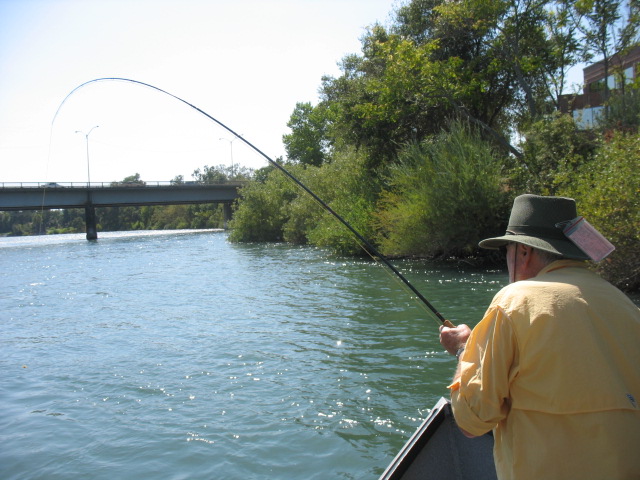 ---
We hooked trout all the way down the river, it was an epic day on the Lower Sacramento River!
---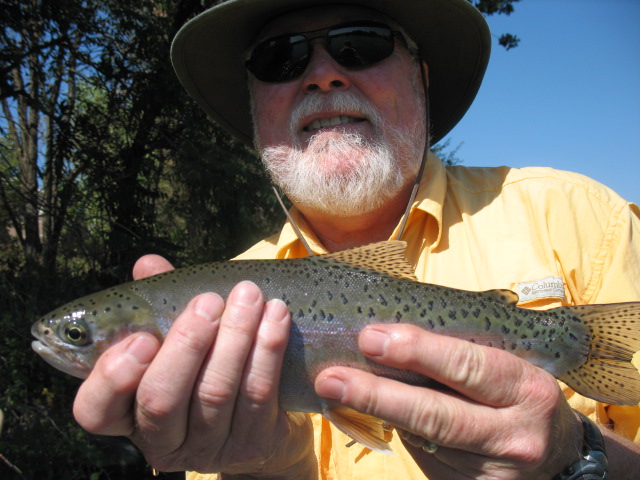 ---
Mike Foster, you're my SIZZLER OF THE WEEK AWARD WINNER!! CONGRATULATIONS SIZZLER!!
---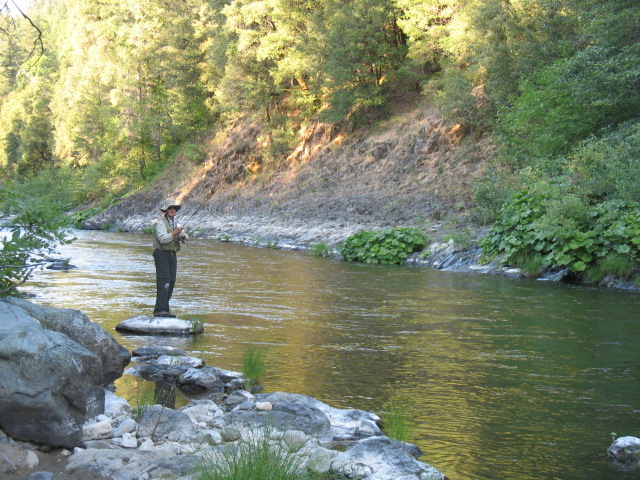 ---
Drew and Fred have been fly fishing with Jack Trout Guide Service before, just never with me! So I was happy to take the reservation and fly fish with two happy-go-lucky–loyal customers. The first day we went to a great spot on the Upper Sacramento River and the dry fly fishing was fantastic!
---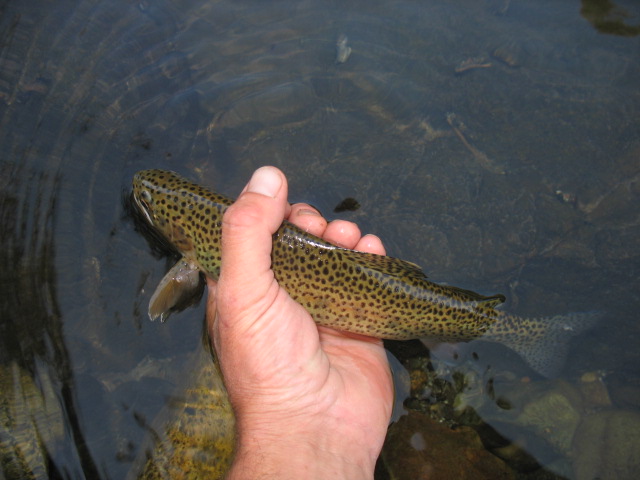 ---
The trout weren't huge but the numbers were! Trout look different on the Upper Sac, so do the rocks they live in….?
---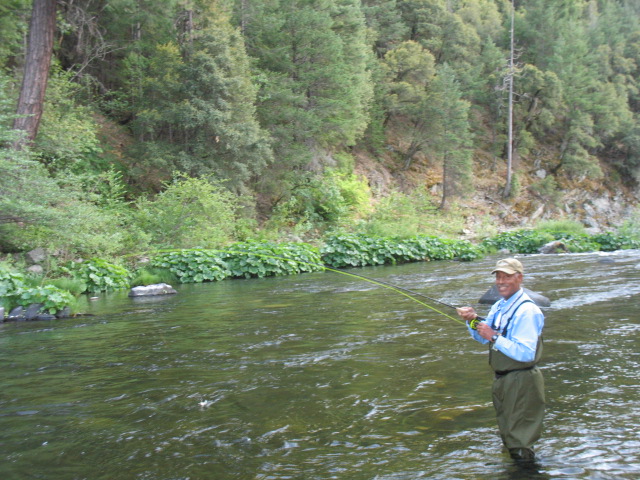 ---
Fred enjoyed his time out on the water and hooked plenty himself as dark grew nearer!
---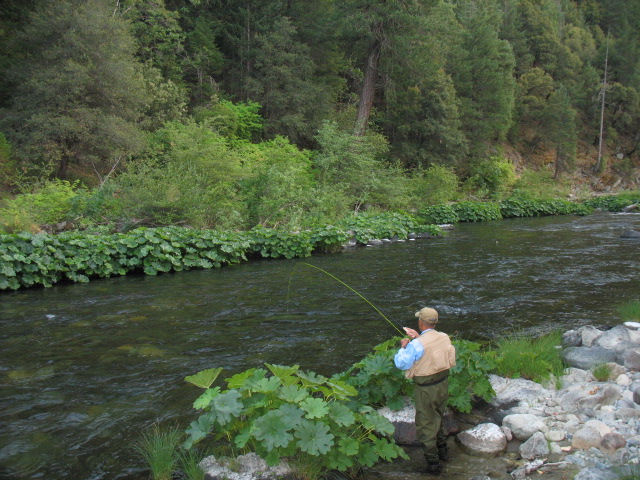 ---
As dark turned on, the river lit-up with hatches of mayflies and caddis, the larger trout began to rise, and we caught or had a hit on every cast! Some nights are better than others
and others have a different meaning. That night's metaphor was the sound of rising trout and we were getting hook-ups, when I heard a noise from behind a bush……
---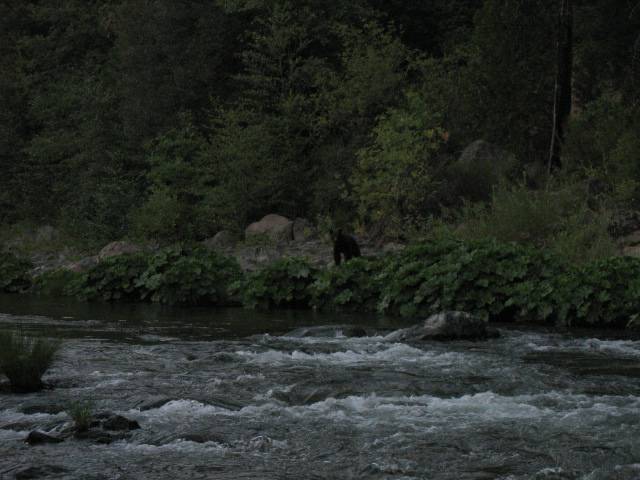 ---
As if the bear was to say, "Hey what's all this fishy smells?" "Would you please share some of your catch with me?" I was sure he was down the hill because of all the trout we had been catching, there was no doubt in my mind. This was a medium sized bear with no fear at all! Fred and I enjoyed this bear very much and then it left, and then it got too dark to see our flies anymore and we left!
---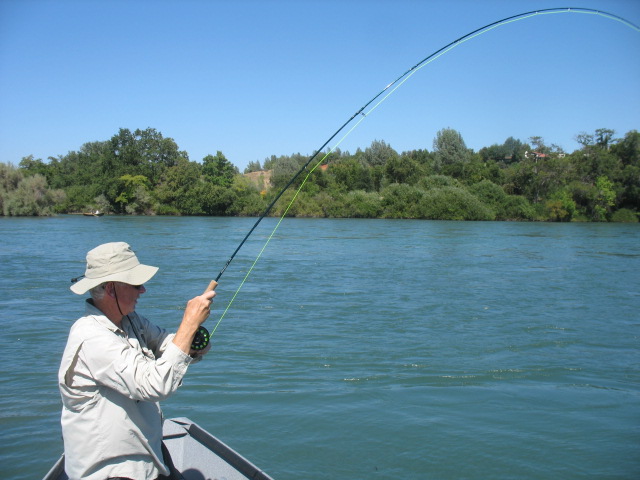 ---
The next day on the Lower Sacramento River, Drew hooked trout right from the get-go!
---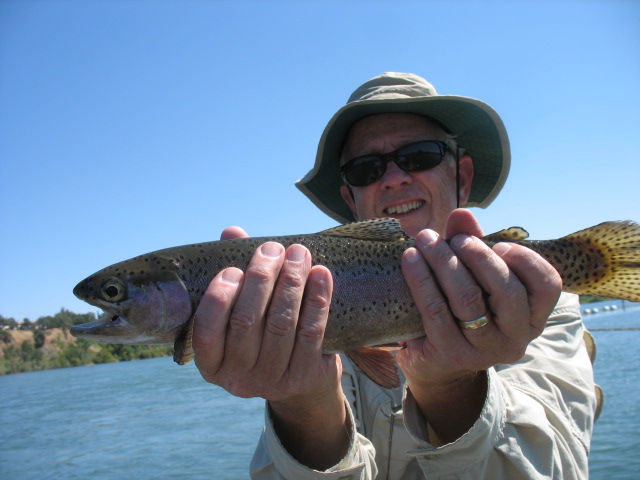 ---
Nice trout Drew, we love these large hard fighting trout from the lower sac!
---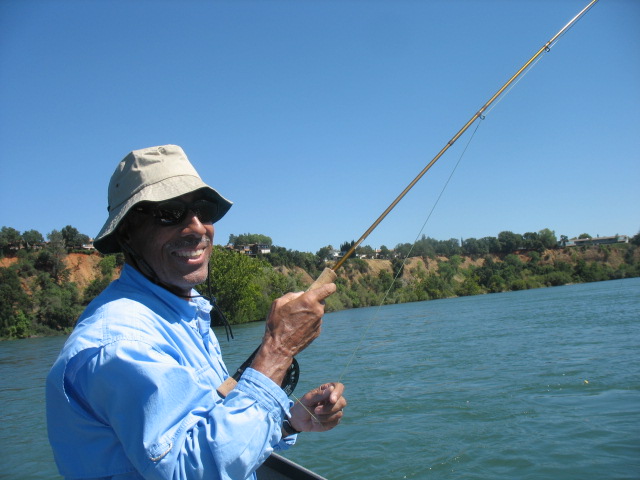 ---
Fred got into the action soon after.
---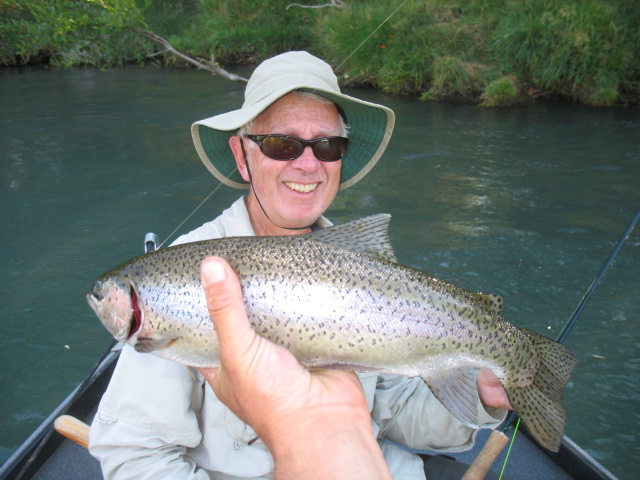 ---
Drew caught 4 trout over 3 lb range that day.
---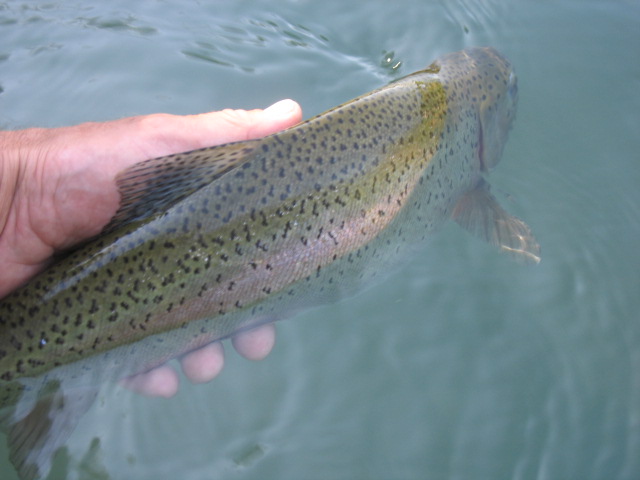 ---
Ah the release, what a good thing! This release assures us of a prosperous resource for many future generations to come, by releasing what you catch, your guaranteed that the future looks bright gotta wear shades!! CATCH AND RELEASE WILD TROUT AND WILD STEELHEAD.
WILD STEELHEAD YOU MUST RELEASE, IT IS THE LAW! DE-BARB YOUR HOOKS, USE SMALL SIZES IF POSSIBLE, WET YOUR HANDS FIRST, USE A NET, DON'T SQUEEZE THE TROUT, IF YOU HEAR IT'S AIR GO OUT OF HIM, PUT HIM BACK IN THE WATER, DON'T HOLD TROUT OUT OF THE WATER FOR MORE THAN 15 SECONDS FOR PHOTO. TAKE A LOOK AROUND THE WORLD AS THINGS GET WORSE, MAKE SOMETHING BETTER THAN IT WAS BEFORE, CHERISH YOUR NATURAL RESOURCES BEFORE THEY ARE GONE FOREVER! JT
---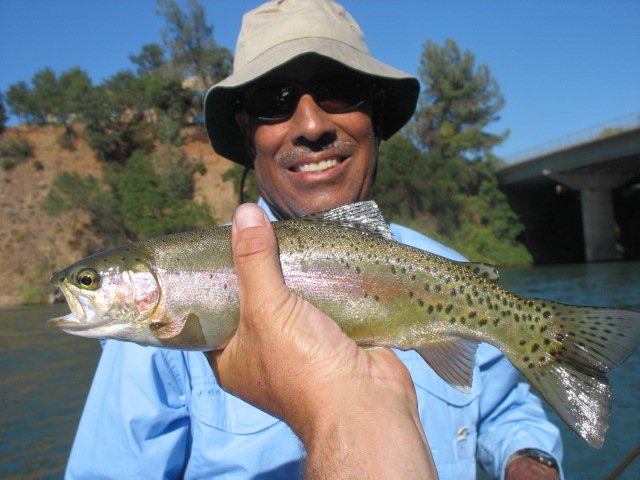 ---
Fred, you're so classic!! Hope to see you and Drew in the fall! I'm heading off to the Red Hot Chili Peppers Concert!!
---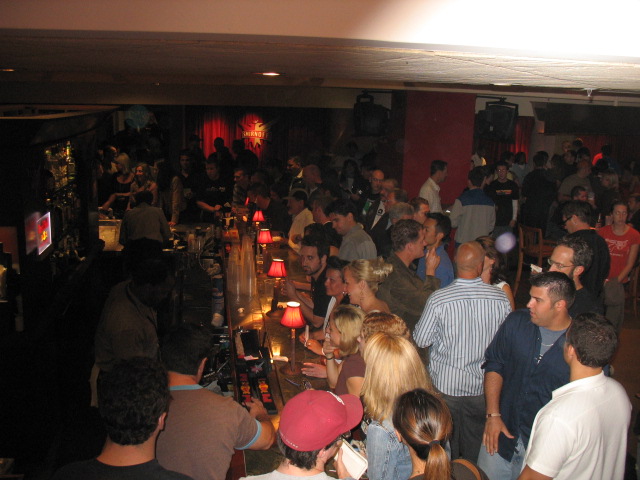 ---
Wow! I'm inside getting a drink before the show!! I got to go the VIP Club Oakland Coliseum how cool!
---
---
Red Hot Chili Peppers in Concert August 24th, 2006 AWESOME!
---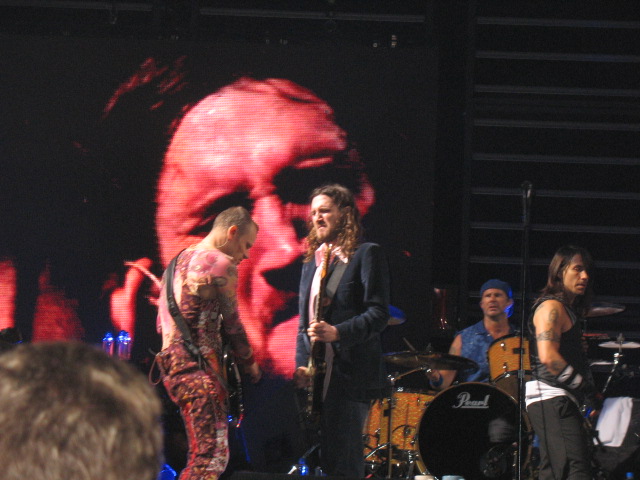 ---
Here's Flea, (bass) and John Frusciante (guitar). Some say that Flea is one of the best bass players in the world. All I know is, I really like their tunes and their music is always welcomed in my home and car. These guys represent good, and write songs about living in California, which is cool with me! They are another GREAT CALIFORNIA BAND!
---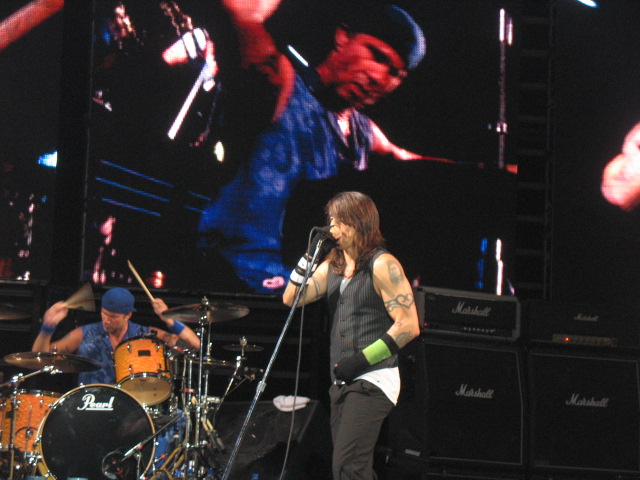 ---
This is for all the ladies out there!! For all the times I've had girls on my site. This ones for you! Anthony Kiedis gals!
---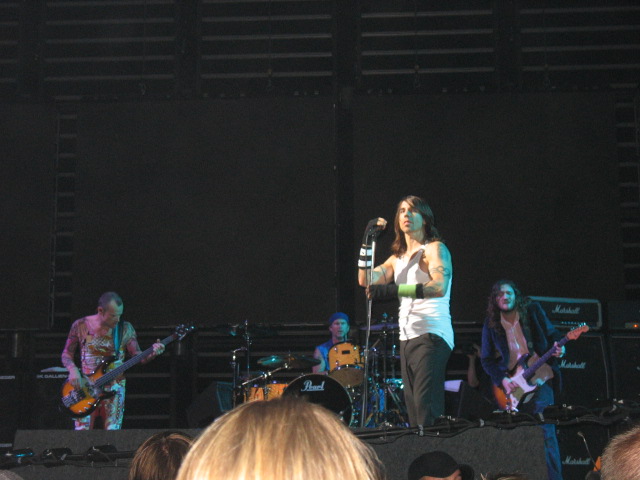 ---
Hey Anthony, ever rowed a driftboat?
---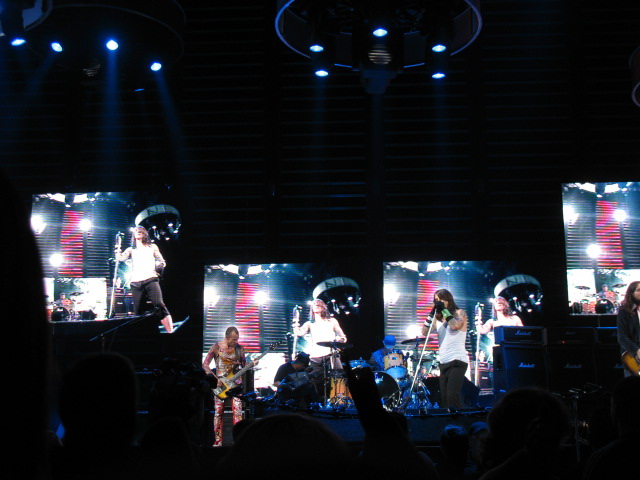 ---
This is a great show to see!(how'd da do dhat)? I would go see them again! Stay tune as I go behind the scenes
at the Sheryl Crow and John Maher concert in late Sept!!
---
*****THANKS FOR WATCHING, STAY TUNED AS
WE HEAD FOR THE NEW RIVER AND OLD RIVERS: TRINITY, UPPER SAC, MCCLOUD AND LOWER SAC!! JACK TROUT
---
EMAILS FROM YOU!:
---
Jack,
Just a note to say a continued thanks for the great photos and images of some great
fishing… I still dream about finding time to schedule a trip with you, and know it will only
be a matter of time… I hope in the not too distant future…
Also, I want to commend you on your contributions to the Public Television program on
the, Sacramento River… I mention it because I just happened to watch the video with my
dad, J.S.Holliday, who was also featured in the show as the historical expert… I might also
add I thought the fish biologist, Lisa Thompson(?) was quite informative and nice looking too !
Regards,
Jack Holliday
---
Hi Jack
Could you tell us why the water is so cloudy
it is a beautiful aqua blue but why not clear?
Thanks for your time, we love your site.
The minute we retire we are going to book you tour.
Thanks,
Bonnie
---
Hola mi Hermano, he visto tus fotos y estan realmente lindas, sabes, se me
acabo el cafe y el te, justo al termino del mes
aqui te mndo una foto de la instruccion con los alumnos en la cordillera..
un abrazo..
juan Ramos-Chile
---
Hi my dear friend, how you've been…
I've been watching your website all the time…
Francisco told me about a big group or something like that…
Here the things are very good. University goes very, very good with a lot of study but good califications…I'm working very hard because if I have good califications maybe I could finish the semester earlier…
I've seen that you are doing fine…
I change my cell phone and nobody knows really how to dial from foreign countries to the new dial method for cell phones…
If you want to call me you're gonna have to try both…
Here in Chile the cellphones has another 9 at the beginning…
Anything you need do not doubt to ask…
Your friend and guide
Nico Gonzalez L.
---
LAS FOTOS SON FANTASTICAS ,COMO SIEMPRE LOS PAISAJES SON MARAVILLOSOS.
SIGUE ASI ,DISFRUTANDO DE TAN GRATOS LUGARES .UN BESO…
SANDRA ¡¡¡ CUIDA
---
Hey Jack,
I want to book a trip for September 8th for my buddy and I. Where should we go and how many fish can you guarantee us!! We want to drift instead of wading so let me know my friend!
Charles Williams
---