*****UPPER SAC FLOODS AT 11,OOO CFS CHECK OUR RIVER CHART ON THE RIGHT THEN SCROLL DOWN*****

---
What a week of uncontrollable weather! Lots and lots of rain, wind, hail you name it, we've had it. I've watched every river blow out except the Mccloud, Pit River and Hat Creek.
Meanwhile, how can you complain? We've been in a drought for over 6 years and we are due for a normal winter and spring. These Silvery Lupin sure love all this rain. Its richness worth a second cup!
---

---
As you can see the river has swollen and gotten darn right mean out there! When we were floating it the other day I saw logs that were drifting alongside of us as the river made waves in places normally placid. Holes as big as my boat ate us for lunch and the river turned the same color as the dressing I put on my turkey and mashed potatoes last November? it was a different looking river on this day, May 5th 2005. 05/05/05
(I'm not floating on 06/06/06….. Think I'll stay home that day?)
---
---
Tom Stienstra came a calling one day and said he'd like to put me on his television show called, The Outdoor Show. We arranged a date for May 5th to fly fish the Upper Sac and as the day grew nearer the weather grew worse. The night before the trip I could hardly sleep, the rain poured like the English Isles and I knew we would start our adventure out in high water. This is a picture of Matt Hill (camera boat) Chester Kyle (other rafting boat) Lindsey Tiff and Sieve from the Outdoor Show.
---
---
When we arrived at Sims to put in, the water was muddy from
the run off creeks and every minute the river was getting higher, faster and more dangerous. But the show must go on as they say! Tom sat in my boat next to Lindsey with Chuck Volckhausen behind me, with the flows now at 3800 cfs the show became a rafting show and we put the fly rods back in the vehicles and tightened out belt one extra notch.
---
---
Matt worked hard that day with all the extra camera gear on his shoulders. The flows made a class 3 river into respectable 5's all the way down! Matt has rafted this river for over 10 years and is certified for class 5 rivers. Also seen in the boat are Selso the camera man, Sieve the Norwegian editing babe and Jim Schossler the producer all really cool cats.
---
---
Chester, with Dave and Lori Holst hitting every hole and wave possible, eddied out here to take a breather before heading back out into the abyss.
---
---
Tom Stienstra, the legend. This guy is an expert fly fisherman. He's the only guy I know in outdoor writing that talks the talk and walks the walk. Most of the others just stay tangled all day and dwell on the been there done it, wish I had a spin pole in my hand, knick-knack paddie whack give my dog a bone, this ole raft goes rolling home! When Tom Stienstra shows up, look out! You better be on top of your game cause he always is!! What an absolutely fascinating character; he's an aberration of time. He belongs aside Jedidiah Smith on the banks of the Upper Sac (Then called Buena Ventura) in 1826 trapping beaver pelts, sipping whiskey and telling mining lies. Yea, any true pioneer would have respected Tom Stienstra. He's kinda of our modern day version of Joaquin Miller.
---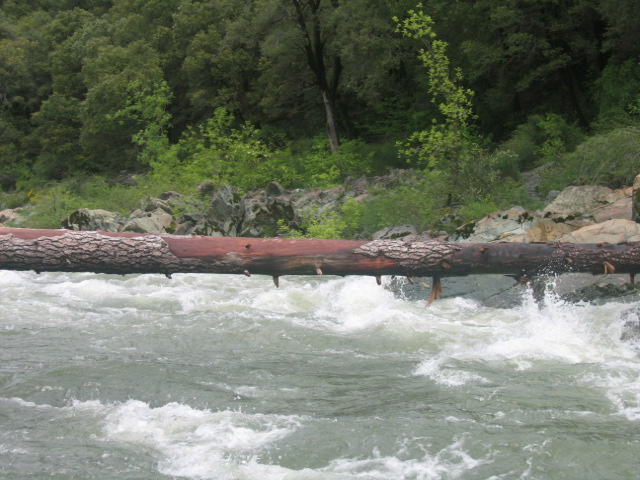 ---
Finally, the river rose so much that the log jam at Snaggle Tooth was impassable. It's what we call in rafting, class 6. We were very lucky we saw it way ahead of time. The river had doubled in size since we had started our ride. It went from 2700 cfs to 4800 cfs and we were stuck up above Snaggle Tooth wondering what in the hell to do? Of course, this is all on camera and I'm thinking, great! Now I can show the whole world on television how not to do it! That's when the camera crew, Tom and everybody involved got excited. We had one boat go to the other side and tied a rope to a tree as we tied together all the rafts and roped them across the river to safety one by one.
---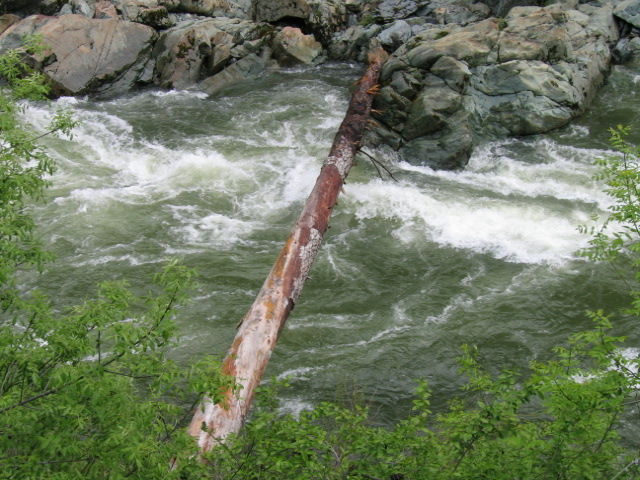 ---
From top you can see there's no way we can cross this border.
I think the show will be good to show folks what to do if this ever happens to you on the river. I was lucky to have Matt Hill and Chester Kyle with me as the other Oarsmen, between the three of us we have 47 years of rafting experience! This show will air this Sunday May 15th, on KBHK 44 UPN at 6:30 PM. And on some UPN channels, check your local listings. Let me know what you think. None of us would have ever dreamed the river could of rose high enough in a few hours to cover that log jam. Now that log jam is gone! It detached itself in this last barrage of storms that took the river flows up to 11, 000 cfs. I have to go on my next day off and look for the log. Hopefully it floated all the way to Shasta Lake. Stay tune to see where it is…….?
---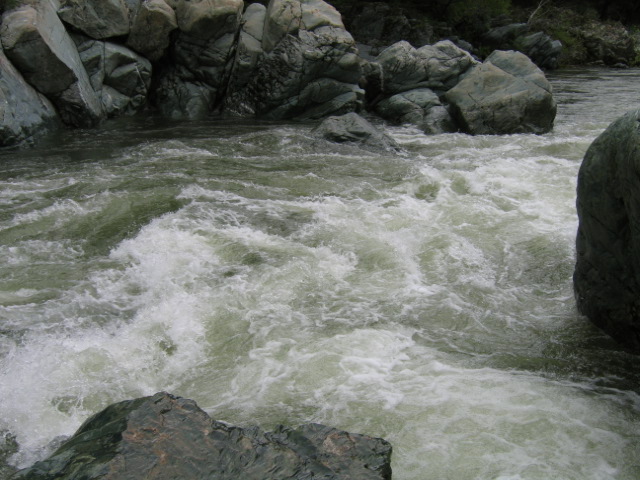 ---
We survived to tell the tale because we had 7 throw ropes between the three rafts, also a pulley cable to help pull the rafts up the steep bank. I was exceptionally happy that there was a trail near that took us right up on Gibson underpass road. Tom was elated with the whole event and seemed to think this would be his best show ever? He ended the show saying he was glad to be with very experienced guides that knew what to do in this situation of danger.
---
---
The next day we went back to witness the carnage. I knew from the first time I floated the Upper Sac this year on March 29th, three days after returning home from Chile, that this log would be my nemesis. But I think in a funny kind of Hollywood way, the story for TV just wouldn't be the same. People like hockey fights, people like seeing people living on the edge. People love sports athletes that jump into the stands, it's like watching the lottery wheel turn as you watch to see who's California's next millionare? A different kind of scratcher and you might not admit it but you watch it like I do. So watch my show this Sunday and tell what you think? And thanks JT
---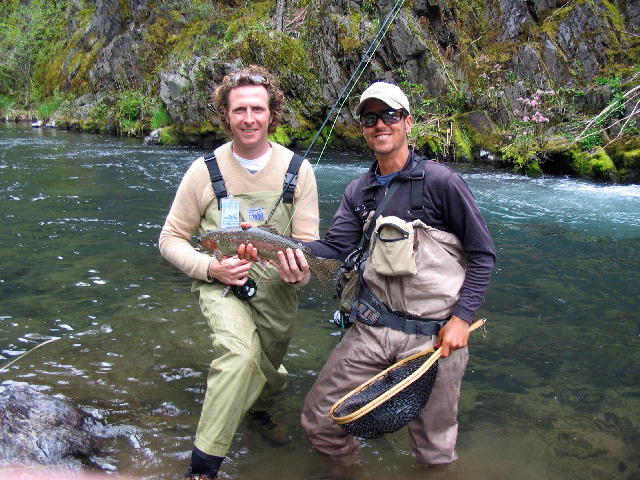 ---
Chuck and his customer from England, Alex, with a nice Mccloud River Rainbow. He's the only sane one out of all us to be over on the Mccloud during the weather we've experienced this past week!
---
*****THANK YOU FOR WATCHING UPPER SAC SHOULD BE READY BY THIS WEEKEND IF IT STOPS RAINING, BUT THEN AGAIN WE BITCHED ABOUT LITTLE RAINFALL FOR 6 YEARS BEFORE THIS GO FIGURE?!***** THANKS FOR WATCHING, JACK TROUT