*****HAPPY NEW YEAR EVERYBODY! FISHING IS OPEN ON ALL TRIBRUTARIES IN CALIFORNIA*****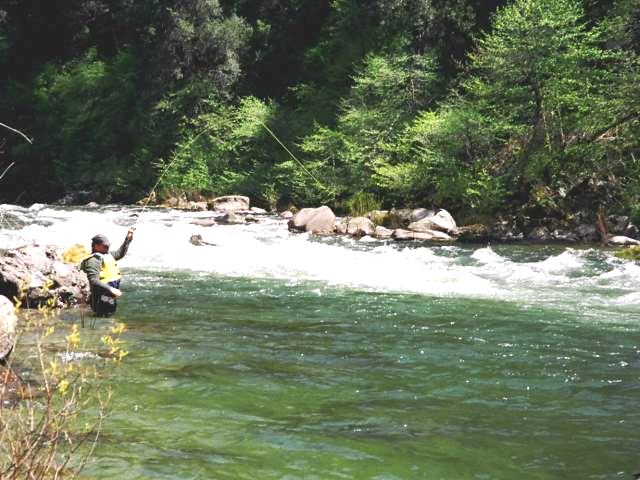 ---
Saturday kicked off the opening weekend for fishing California tributaries. Most reports were good to fantastic. Like always we were hit with cold weather and the daily ration of four seasons in one day. Frank here, elected to fish the Upper Sac out of my raft the week before the opener with great success! The water was high but we found several edges that held fish and after 11 am things started to heat up including Frank's reel.
---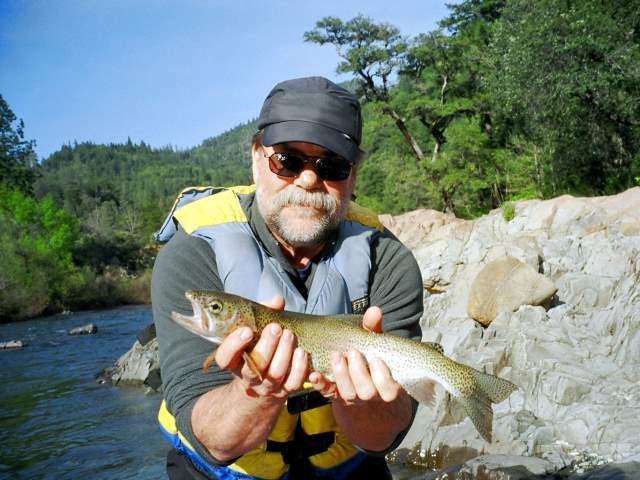 ---
We did best using Fox pupa size 16 and P.T.'s size 14, as well as Poxy Back Hairs Ears size 12. On a trip recently with Matt Hill and David Holst(my doctor), Matt caught 5 over 16″s using a Ted Faye Brown Bomber! We've noticed the average size trout are larger this year so it looks like Mike Dean at the DFG made a wise decision opening up the river year round. We're not catching any spawners Sizzlers!
---
---
What a great day Frank, Patrick, Shasta and I had when we floated the Upper Sac on April 22nd.
The flows couldn't have been better. Frank and Patrick were just glad to be on the river and not only have productive fishing, but also witness the unbelievable scenic beauty as we ventured down the 9 mile course.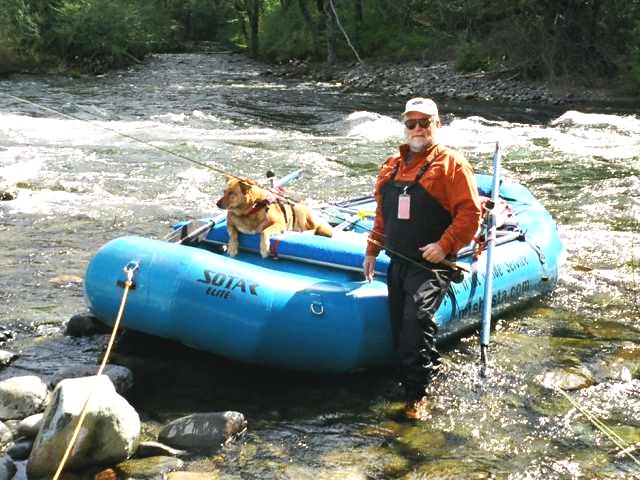 ---
Patrick was all fired up about his first adventure ever rafting. For Shasta, it was just another day at the grind!
---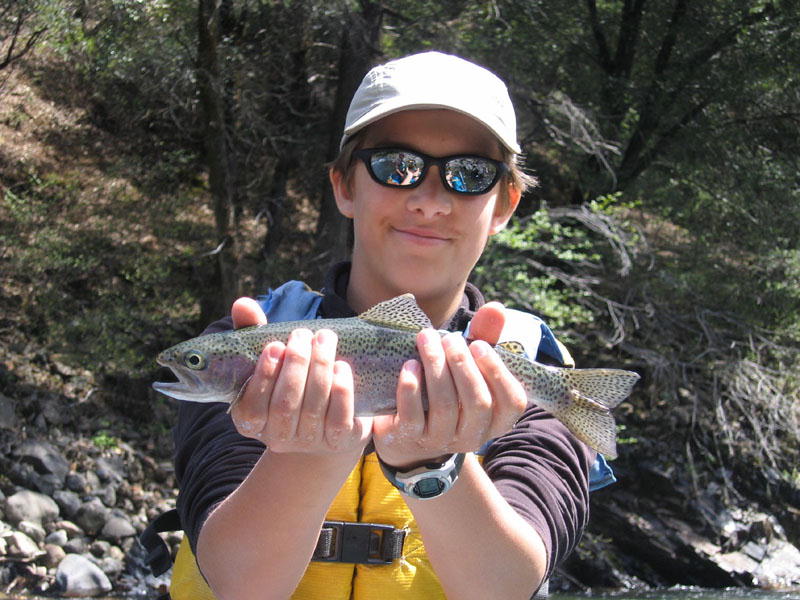 ---
Lorenz's first trout ever on a fly rod qualifies him for Sizzler of the Week! Congratulations Sizzler, See you in the Fall on the Klamath! jt
---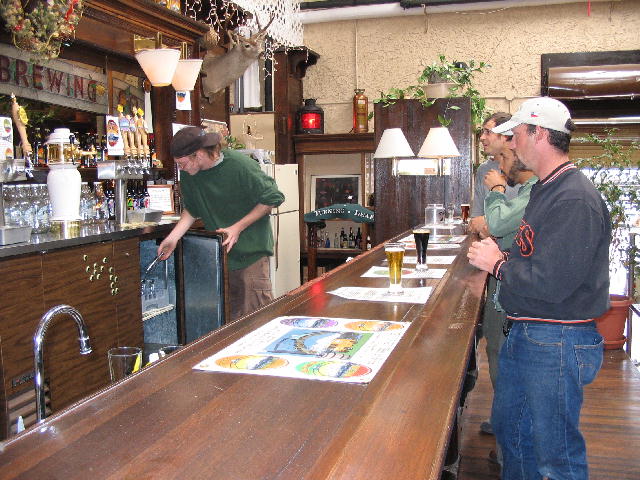 ---
Just the other day my friends and I went on a road trip to check out the new Shasta Brewery over in the great town of Weed. Not only do they have their distribution in stores all over California as well as the best lables for their beers, but they also have very unique and distinguished tasting ales, porters and lagers. Vaune, the owner, and Gregory, the brew master, gave us a mtshasta.com V.I.P.
tour of the place! So I invited 4 of my friends (Motley Crue)
and we sampled some of the best beers I've ever tasted. I suggest highly suggest looking for these beers in the stores and for sure check out their web site at www.weedales.com. Remember, "A friend in Weed is a friend indeed"!
(That's their logo! Kinda like this Buds for you!)
You can go there and try their samples or leave with a growler for $15
bucks with their classic logo on this antique collectable
style bottle. Refills for this 1/2 gallon jug of delight
are only $7 for any of their 6 labels they have on location. Call them at 530-938-3386 and yes we do carry it at the Wine and Spirits Fly shop!
---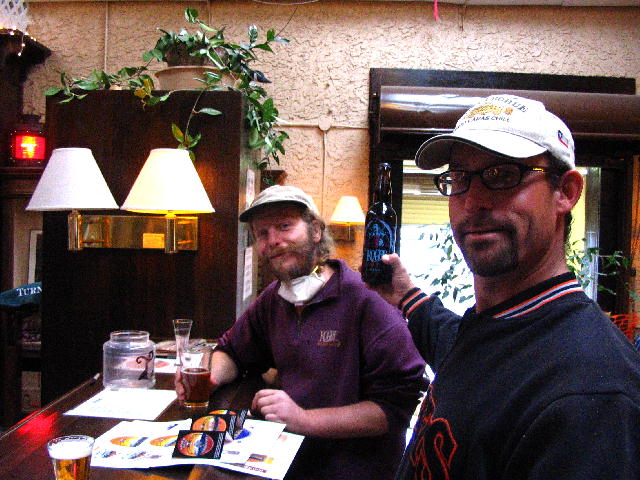 ---
Ladies and Gentlemen, This is Gregory Koebke the master brewer at Weed Ales/Mt Shasta Brewery! You might recognize him, he was the master chef previously at Rogue Ale in Oregon. You know the lables they have with the pirate on the front? That's Gregory's face on the front of that beer! Dr. Trout thought that was so cool and Greg looked the part of, ah shucks….
---
---
After we caught a buzz, they took us to the cylinder rooms
where Gregory mixes his special brew with real Mt Shasta spring water.
We actually stuck our heads in a larger cylinder and made all kinds of funny echoing noises. I tried my hand at
resurrecting the sounds from Pink Floyd, Dark Side of The Moon record with great success! My friend and guide Chuck Volckhausen left us to test the plumbing and meanwhile couldn't locate us, but kept hearing all these weird noises coming from who knows where, as he walked all over the brewery trying to find us to no avail….
---
---
These are my friends everybody! (From left to right)
Dan from Indiana, Tim Belton from Mt Shasta, (Shuttle Puppie for the raft trips) Chuck Volckhausen, (Guide Extraordinaire) Chester Kyle (Fly fishing rafting guide and mountain crizzler) and Yours Truly. Hey Chuck did you fall over something and tear those pants? Chuck replies, They're comfortable, PEACE! Thank you Mt Shasta Brewery/Weed Ales. You folks rock and your new Lemurian Label is the bomb. Thanks for thinking about us in Siskiyou County. It's only fitting that the best beer should come from the source with the best brew master in the western U.S. and Vaune's marketing how can you go wrong? Give them a try, Sizzlers, you'll thank me from the bottom of your growler! jt
---
---
Gene Weber loyal past customer sent us this photo and I wanted to share it with all of you. What a stunning photo of a huge Steelhead caught in a river in British Columbia. Email me to find out where he is. Gene, you're such a stud landing this once in a lifetime catch. I think I would be been nervous landing this Aunt Jemima!
---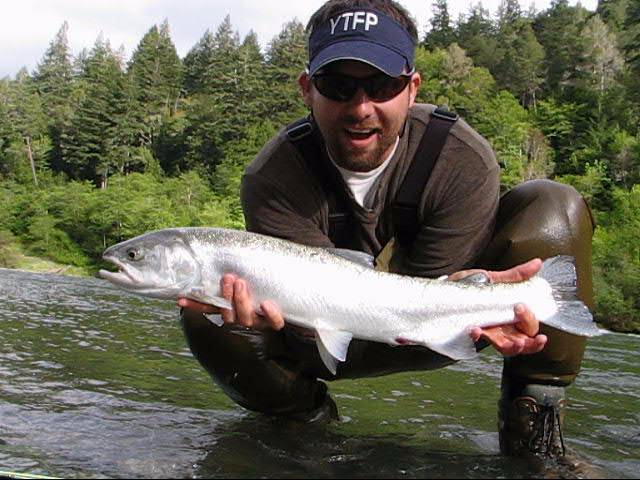 ---
My friend and field correspondent Aaron Martin landed this downer steely on the Lower Klamath this week. From time to time Aaron will be sharing photos of his adventures with his girlfriend Mandy on the Lower Trinity and Klamath, so stay tuned cause you never know when he's going to be on next, Sizzlers!
---
---
Scott Leary of Mill Valley and my ole buddy Griff Marshall took a road trip to Pyramid Lake, Nevada this past April and caught some mighty fine Lahontan Cutties on both small nymphs and streamers. Bring a ladder and stand proud as your view is the reason the lake bears it's name. The U.S. Fish and Wildlife Service has placed the Lahontan Cuttthroat trout on the Threatened Species List
---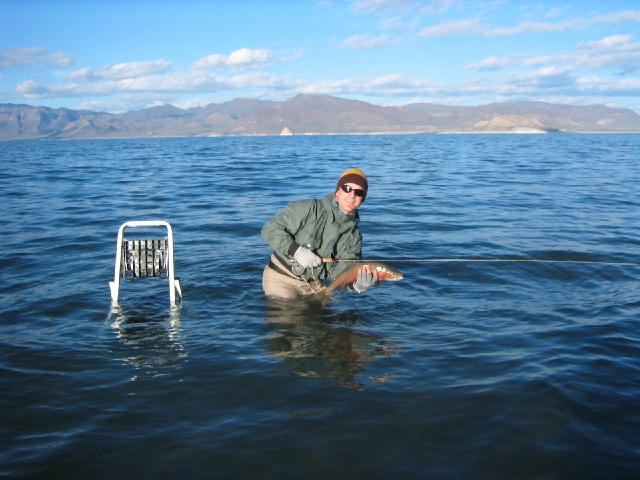 ---
Griff Marshall was stoked to catch many beautiful native Lahontan Cutthroats. I went over this past week before the streams open to visit my dad and see what was up with the lake only 1 hour and ten minutes from where I grew up in the town of Portola. I put my very large 12 foot ladder up and as I crawled up the tower to examine my surroundings I noticed about a 8 lber cruising right below me and I could see him clearly and as my heart pounded I noticed many others in sight! Go there, Sizzlers and call Andy Burk at the Reno Fly Shop for great information or maybe even a step ladder? What a trip back in Native American time, I caught 6 fish in three hours and headed back north on a dirt road out of the reservation northbound through Doyle, California. What a cool mini trip Sizzlers and I got to see my dad and take him out for dinner at the Log Cabin in Portola!
---
---
Back on the Upper Sac, Frank is getting closer to landing this trout. After our adventure Frank, Patrick and I had a 5 star meal at the Salt Water Cafe in Dunsmuir now re-opened for the season. I love that place and Frank and Patrick were so impressed they went again the following night! *****HOPE YOU LIKE THOSE ADVENTURES SIZZLERS, STAY TUNE AS WE RAFT THE UPPER SAC SOME MORE AND OTHER CUSTOMERS SEND IN PHOTOS FROM THEIR ADVENTURES THIS PAST WEEKEND OUT IN ABOUT IN PICTURESQUE NORTHERN CALIFORNIA. TAKE CARE EVERYBODY AND HAPPY FISH TRAILS TO YOU!*****
---