*****PRE-SEASON FLY FISHING REPORT ON All NORTH STATE RIVERS, MADNESS BEGINS SIZZLERS!*****
---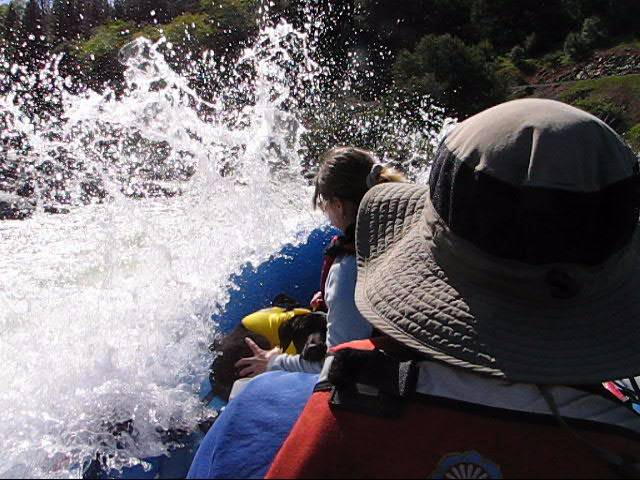 ---
The other day my friend Aaron Martin, a fisheries biologist with Yurok Native American Tribe, came up to visit from the Trinity River with his girlfriend Mandy. We fished part of the time, and rode the biggest rapids on the Upper Sac the rest of the day! This was right when you enter into Snaggle Tooth Run, one we don't run during our normal commercial rafting/fly fishing trips. Today was a fun day, my seventh in a row rafting, but nothing could be better and we were all in our element out enjoying everything the Upper Sac had to offer. jt
---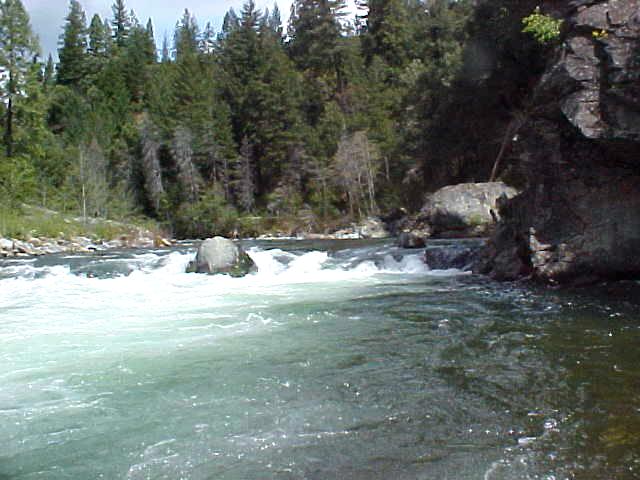 ---
I might mention I have April 27th, 28th and 29th available for Rafting Fly Fishing Trip, I'm reserving April 25th and 26th to see my sainted Pops over in Portola. I love my dad, he's one of the funniest guys I know, and he put up with me all those years, for this I'm indebted. Way to go Pops, see you soon. Did you know my father was a guide on the Feather River in the 60's and 70's ? He also guided and was a DFG warden on Lake Davis. Yeah Sizzlers, my dad's the bomb! A lot of the character and humor you read on this site is my father's influence and what a stud having me come along at 48 years old! (I think I was a mistake, something about a party in Reno, and then I appeared several months later?) My dad is 85 now, and is in great health and still talks fishing and the outdoors. Right on Pops, I love ya! Jack
---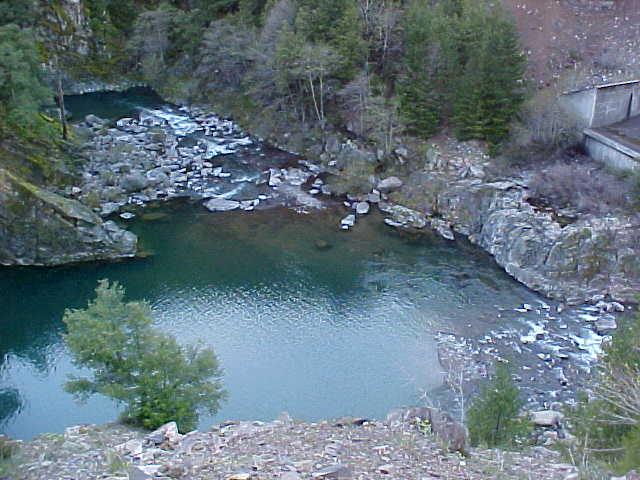 ---
Over on the McCloud River, things don't look that healthy for the opener. The water is very low, maybe the lowest I ever seen it for this time of year. I did notice the McCloud Reservoir was low also, so lets hope PG&E throws the river a bone when the May melt starts. It's a hard dilemma for PG&E,
they send 2/3's of the McCloud River to Iron Horse Reservoir, which enventually makes its way through 6 hydro dams on the Pit River. In PG&E's eyes the water drained into the McCloud River has no value, they have no hydro electric power on the McCloud and right now as little as 70 CFS is coming out of the dam because of this reason. If you call and try to discuss this with them, they will make claim that based on
flows at the bottom of the river things are OK. The truth is,
things aren't ok. Whoever approved that PG&E can allow the flows to go as low as 50 to 70 CFS out of the McCloud Dam, should have their heads examined and given a saliva test!
---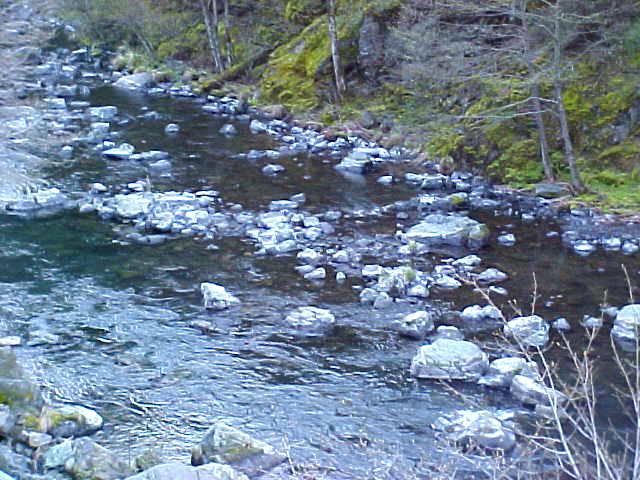 ---
Many trout spawn from the Nature Conservancy up and you can not just go off of what the Computer says down at the Bollibokka Club, when we are talking about a section that's over 20 miles away. PG&E won't even allow the flows to be posted on the California Department of Water Resources Board like all other rivers, due to not wanting the public and competition to know what they are doing with water and CFS flows. Hey PG&E, why don't you go and take a look at the flows between the dam and Lady Bug Creek. You'd probably get lost trying to find it, since you never look over your dam story. jt
---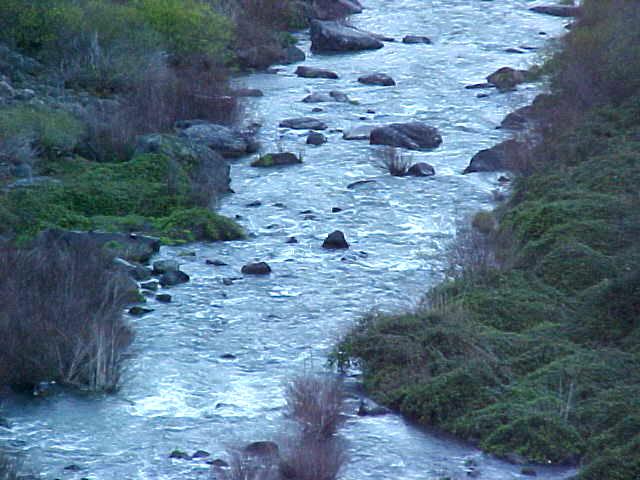 ---
Pit looks fine from the Dam to power house 3. The flows look good and they should since more than half of the water is coming from the McCloud River. From power house 3 to power house 4 the river is running high as far as this past week. I didn't see from power 5 down, but I've gotten reports it's high also.
---
---
The Indian Flats Run looks great, I like this section, lots of trout and semi-easy to access! Remember black nymphs always work great on the Pit River. I like Black Copper Johns size 16.
---
---
Back out on the Upper Sac this Salmon Fly landed in the boat to welcome us and lets us know that the Stone Fly Hatches are coming along early this year! The Upper Sac is in great shape for fly fishing, get up here!
---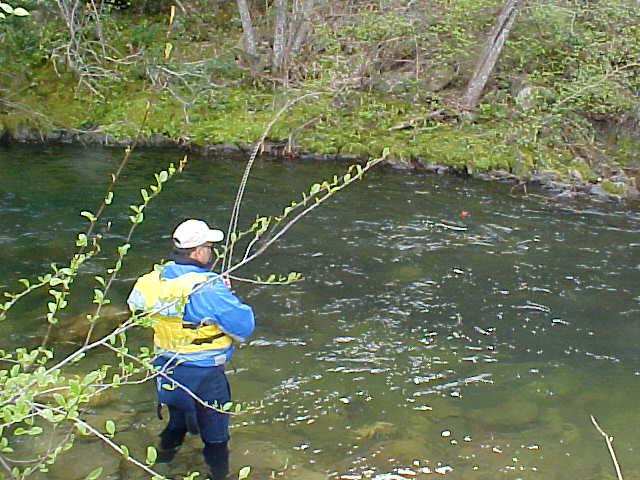 ---
One of the things I like about fly fishing and accessing the Upper Sac by raft is some of the places it can get us to! Rainbow Island is one of my secret spots that can only be accessed by raft. The magical island has a side channel that is like fishing a tropical island in some far off country like Chile! Dave here, enjoyed the intimacy and the spring creek sized casts needed to stay out of the trees that lined the banks. All at once his indicator shot down and in the shallows in-between the rocks appeared a nice sized bow!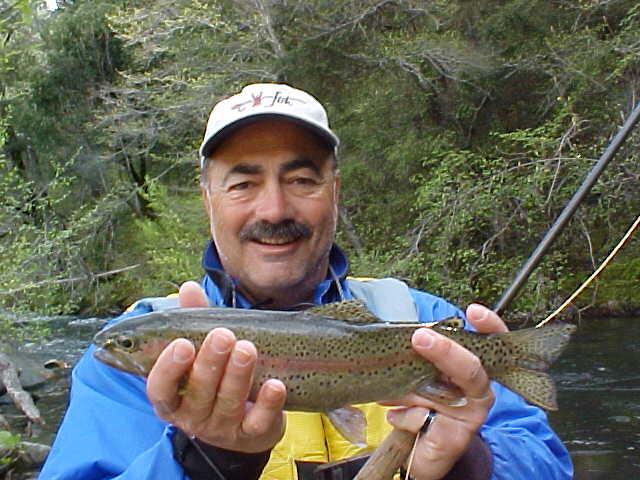 ---
Davebow! What a memorable catch, if you saw where he pulled this out of you'd have been amazed. We saw the whole thing Sizzlers!
---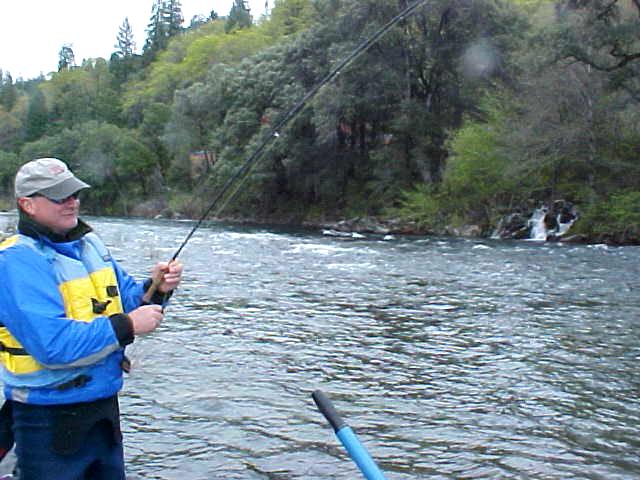 ---
Henry Hossfeld former Sizzler of the Week on the Trinity River last fall is back now for some high flying action on the Upper Sac.
---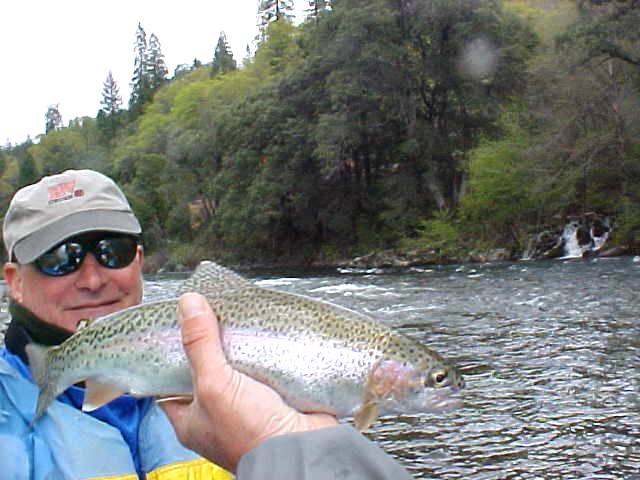 ---
Nice trout Henry!
---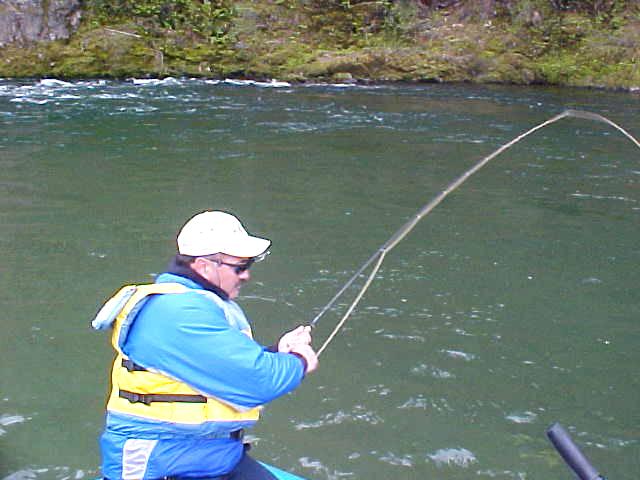 ---
Dave caught another trout out of the raft and this trout fought so hard it was hard to catch up to the little whipper- snapper!
---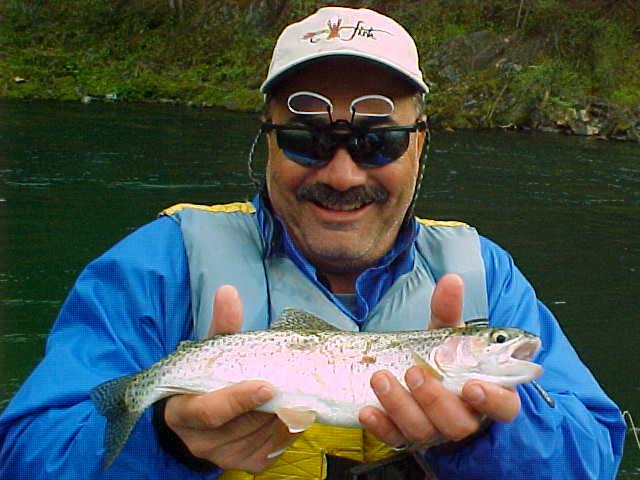 ---
Dave, what can we say? You had a marvelous day with multiple hook-ups and releases on the Upper Sacramento River!
---
---
Down at Pollard we hooked up on a nice bow that looked as though he would go 20″s! Henry Hossfeld one of most entertaining customers hooted and howled as this trout was busting line out like no tomorrow….
---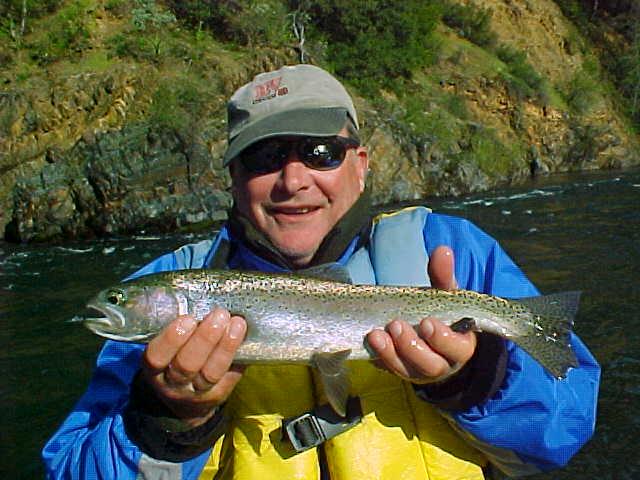 ---
Henry Hossfeld, Ladies and Gentlemen! This is the biggest trout hooked so far this season measured right at 20″s.
---
---
The day I had with Jack Taylor was nothing but epic! We caught so many beautiful trout in some of the most gorgeous places. Check out how you can see the golden trout as Jack reeled it in!
---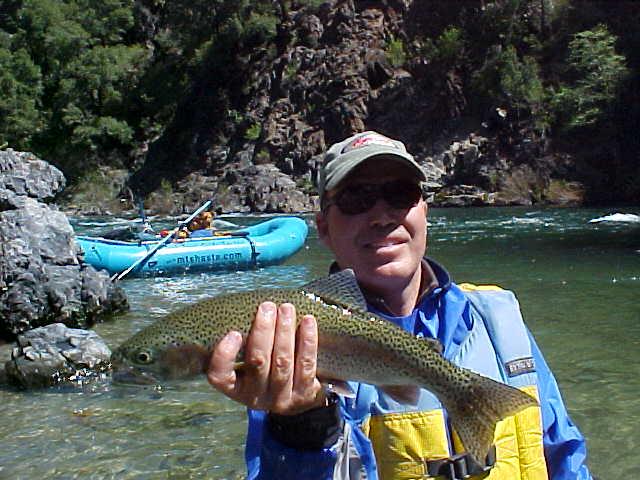 ---
This may be the most gorgeous trout I had ever laid eyes on in the Upper Sacramento River. The trout is the same color as the river's gin gold waters, and is almost transparent against the sandy, rocky bottom seen throughout the Upper Sacramento River.
---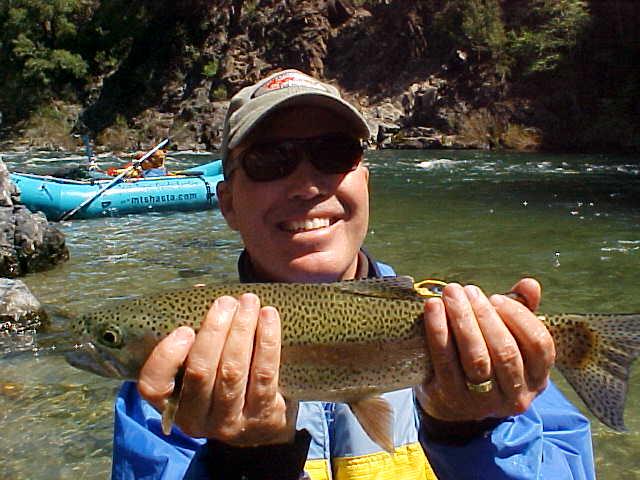 ---
Jack Taylor you're my Sizzler of the Week Award Winner! CONGRATULATIONS SIZZLER! WHAT A FANTASTIC DAY WE HAD TOGETHER!! JACK TROUT
---
---
Aaron's girlfriend Mandy casting a perfect line near Lamoine!
*****HOPE YOU ENJOYED THOSE CHRONICLES, CHECK OUT OUR NEW UPDATES ON WWW.JACKTROUT.COM WE HAVE NEW PICS AND INFO ON EVERYTHING WE DO! WHO KNOWS MAYBE THERE'S A NEW PICTURE UP OF YOU, A FRIEND OR A FAMILY MEMBER! CHECK IT OUT TO SEE.
MANY RIVERS TO YOU, JACK TROUT*****
---