FLY FISH CHILE FLY FISH CHILE FLY FISH CHILE FLY FISH CHILE FLY FISH CHILE FLY FISH CHILE FLY FISH
---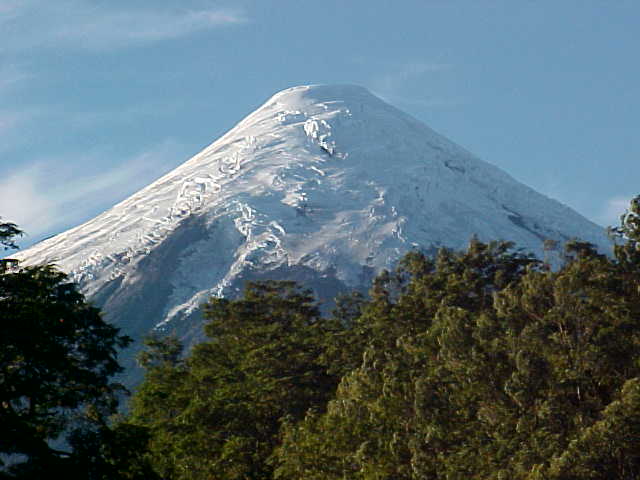 ---
How`s it going Sizzlers? I`m still here in Puerto Varas, Chile enjoying the scenes as we head into different directions daily to gather the sites, vistas and opportunities the country of Chile has to offer. Volcano Osorno and its ice capped peaks are only some of the dramatic views one witnesses while fly fishing on the Rio Petrohue. Former past customer Bob Quillin is this week's jolly rancher and being that it`s only one, I can come along and shoot pictures of his adventures in a place not too different from home.jt
---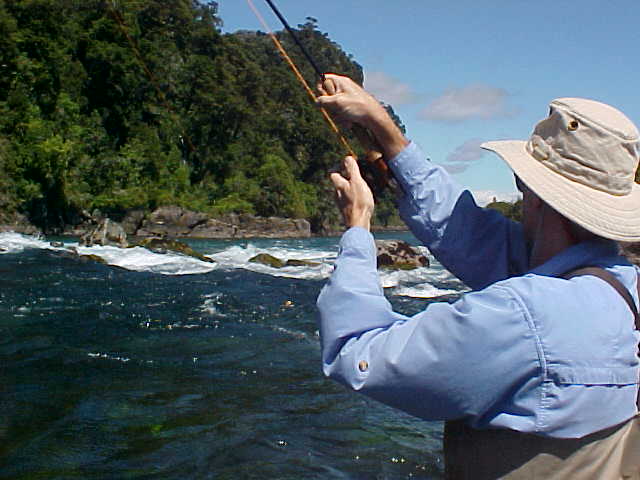 ---
We started Bob's trip out right by taking him on a wade trip to the Rio Petrohue where he caught over 30 fish in one day nymphing. The fish are so strong Sizzlers, I think an average 16 to 20 inch trout or steelhead could easy pull around a 5 lb trout in the Lower Sac. Truly these are remarkable strong trout in a river that is 60 degrees in temp due to the hot summer climate in Lago Todo Los Santos. It was the full moon week but nothing affected the fishing on the full moon day and Bob caught more in one day than he had ever caught any where before in his life!
---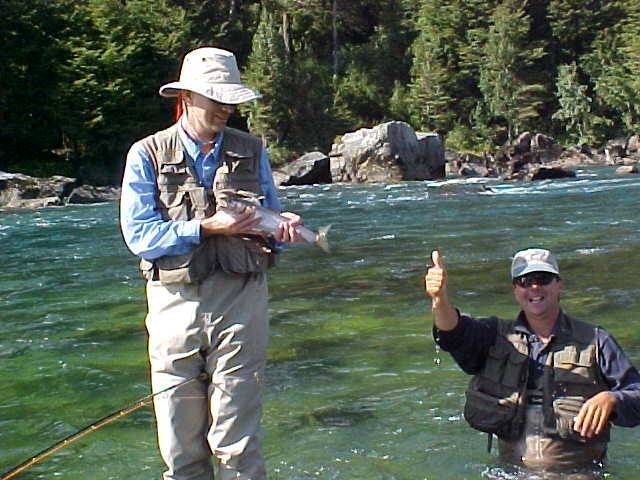 ---
After finally landing this steelhead Francisco gave the thumbs up and we were all a little giddy as the one spot produced fish after fish!
---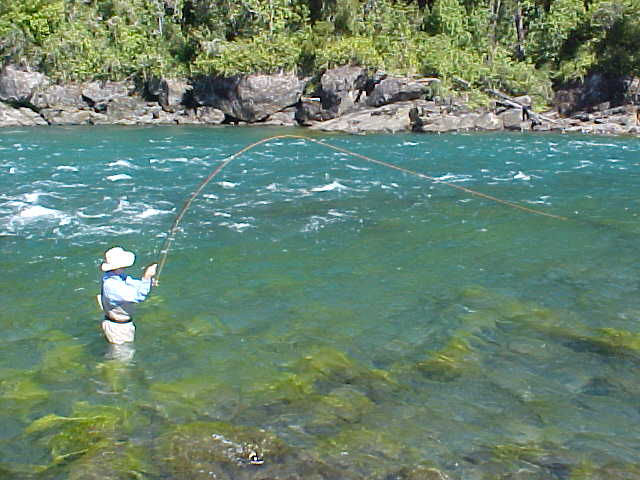 ---
All the fish took line out and before long we all realized again what a special place on earth the Rio Petrohue can be for any level of fly fisherman. The Roble Trees as well as the Coihue and Lengas that line the hillsides made a spectacular view for us. The glacial colors that inhabit the Rio Petrohue only added to the significance of this trip for Bob and all others who come here some day.
---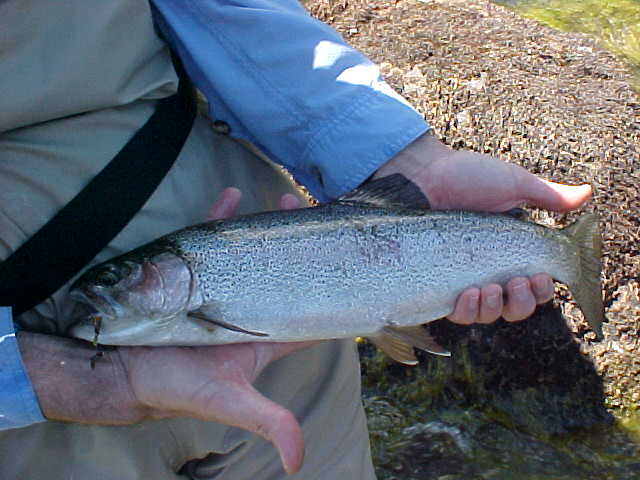 ---
Bob caught some really quality trout on his journeys down south and this McCloud River Rainbow was burned into the memory bank as one of his best fighters he ever had on his 5 weight. The weather was perfect, the wind was nil so we opted
to change locations after a great lunch under the trees. It was the end of February, so we ate a few blackberries on the way (the first time Bob Quillin of San Carlos had ever
plucked a vine ripened berry that time of year). He commented on sweet they were, drank some wine with his wonderful lunch and was ready to commence another session of fly fishing on a river that was formed 10,000 years ago after the Volcano Osorno blew and divided Lago LLanquihue from Lago Todo Los Santos.
---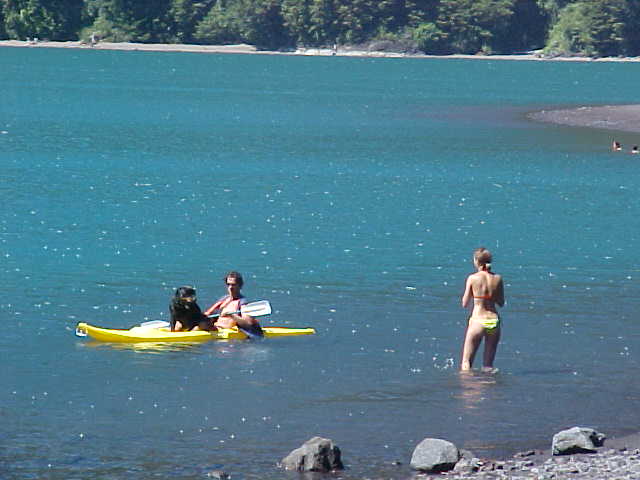 ---
At lunch we saw this tourist girl taking pictures of this guy and his dog out for a Sunday cruise on the lake. All I could think about was the fishing ahead of us!
---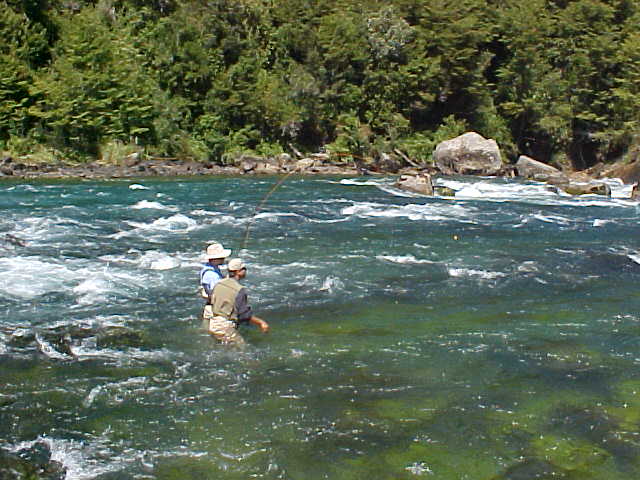 ---
Bob and Francisco had a ball in this one spot and Bob had long forgotten any responsibilities he may of had at home or at work, but isn't that what it's about Sizzlers! To our advantage, the river had dropped even more this week and exposed areas we hadn't fished all season.
---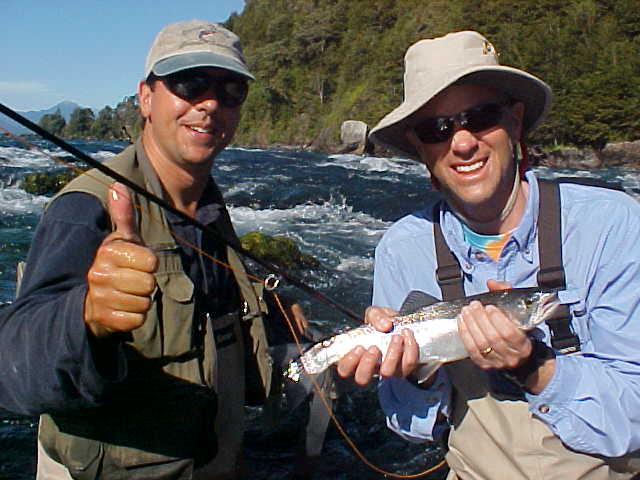 ---
What nice steelhead Bob and Francisco! Bob, you¥re my Sizzler of the Week! CONGRATULATIONS SIZZLER AND THANKS TO PATTY HIS WIFE FOR THE SURPRISE GIFT CERTIFICATE! WHAT A GREAT GIFT THAT KEEPS ON GIVING. jt
---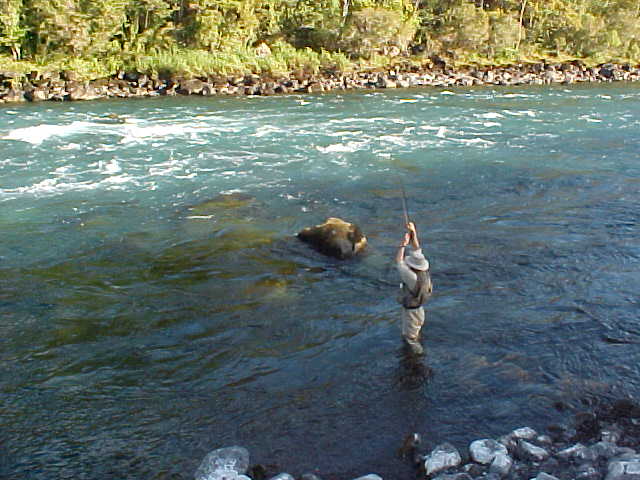 ---
We walked up upon this spot on the Rio Petrohue and saw two very large trout, two of them took a huge Chernoble Ant size 4 and the fight was on, but only for a second as one broke the line on the take and the other, well let¥s just say that trout doesn¥t always lose. You would think using 1X one could almost guarantee the fish could be brought in, but these fish are so strong they go by names like Steve Austin. Bionic aren`t they? This is a picture I took of a 19 incher Bob caught and released unharmed on a caddis dry fly size 16 on 1X tippet!
---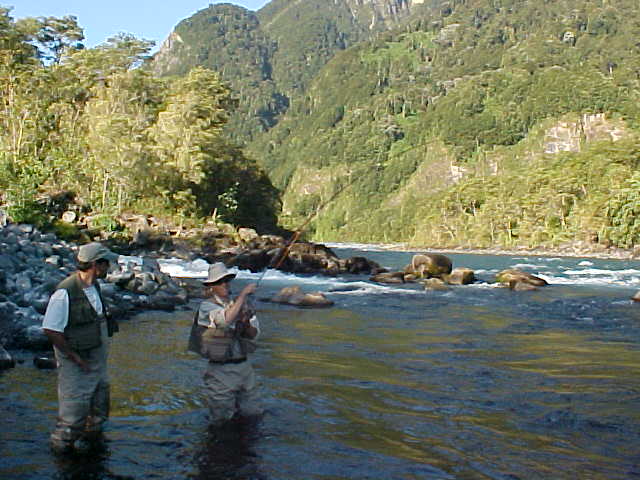 ---
Bob, Francisco and I enjoy our fun in the sun! What could be better than strong fighting trout on dry flies….?
---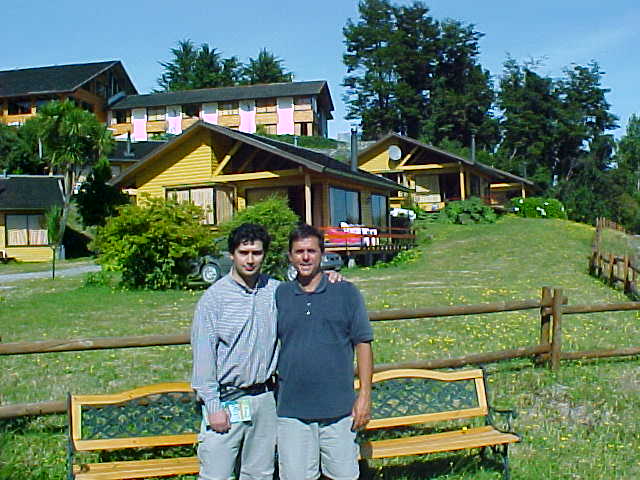 ---
Francisco Fish and Christian Congrio are two very good friends here in Chile. We switched lodges to have access and provide views of Lago LLanquihue as well the massive Volcano Osorno. We hope to see you down here next year! Christian is the owner and Francisco is my head guide down here where the elephant ear plants grow as big as volkswagons!
---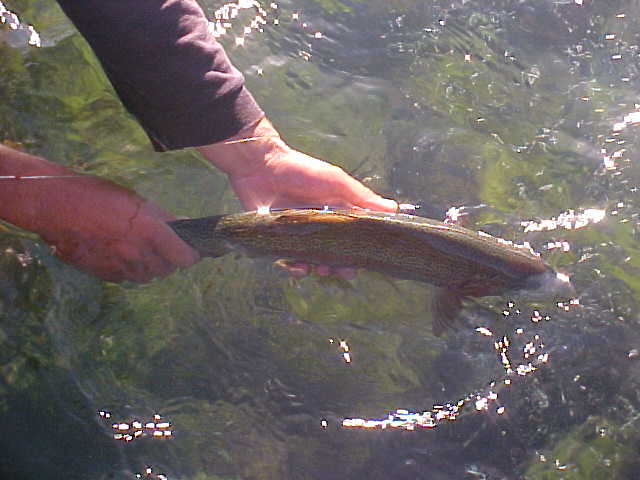 ---
Catch and release your trout to insure great fishing for future generations Sizzlers!
---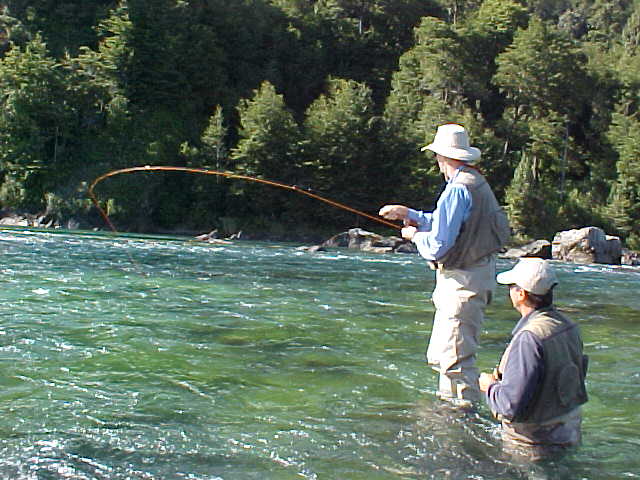 ---
Rods bent, smiles are bent, we're just all bent here in Chile! jt
---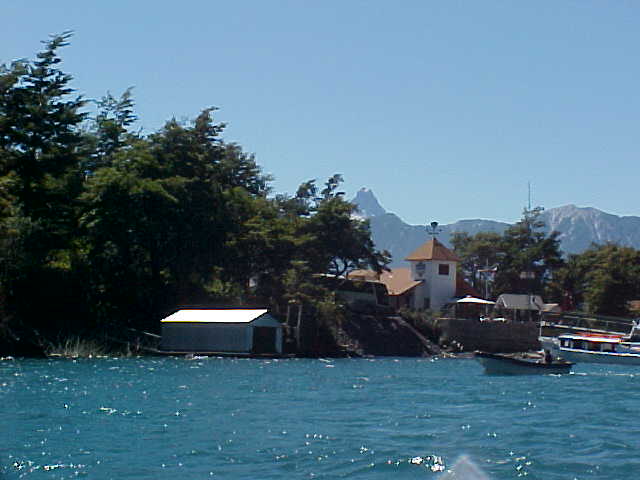 ---
*****STAY TUNED SIZZLERS AS WE GO WITH BOB, FRANCISCO, NICO AND ME ON A TWO DAY CAMP OUT ON THE RIO MAULLIN! THEN WE HEAD INTO THE SKY PILOT¥S LAND ON THE RIO CALCURRUPE AND SEE
AN AWESOME WATER FALL ON THE RIO NILAQUE, AN AWESOME LAMB BARBECUE ON TOP OF A MOUNTAIN ON LAGO RANCO (ASADO). THANKS TO ALL YOU SIZZLERS OUT THERE WRITING ME, I`LL KEEP THE STORIES COMING AND I PROMISE IN TWO STORIES OR LESS AN UPDATE ON OUR LITTLE PENGUIN FRIEND ALFONZO FROM THE ISLE OF CHILOE! MORE ADVENTURES TO COME!! JACK TROUT AND THE GUIDES FROM NORTHERN PATAGONIA LAKES DISTRICT. THANKS FOR WATCHING TAKE CARE.
---