**CHRISTMAS GIFT CERTIFICATES~HOLIDAY VACATION RENTALS****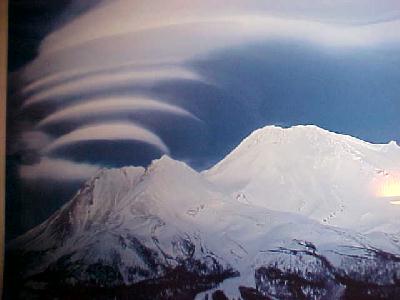 Did you know at the turn of the last century in 2000, famed photographer Kevin Lahey shot this photo of this truly amazing lenticular cloud approaching the Shastaina side of Mt Shasta. Kevin only printed 950 of these poster prints and has them available in his store on Mt Shasta Blvd. Maybe the mountain was ringing in it's own new millennium, with a phenomenon that occurs rarely, and even more amazing is catching it on film. Call Kevin at 530-926-3906 or check out his web site at www.kevinlahey.com. Everyone should have a print of Mt Shasta somewhere in the house, I have 9! It's so cool to live in Mt Shasta, you never know what the mountain is gonna come up with next…?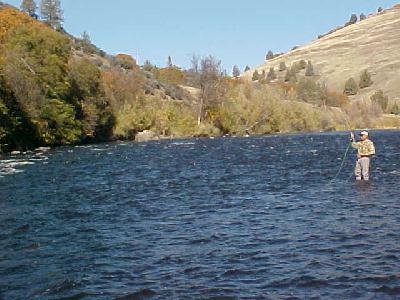 Big Pete! Peter Griffith of SF, with a hard fighting Klamath Steely on the line, taking it on the fly. November has been great out on the Klamath, with new and old customers, newborns to the sport, and the young at hearts with antiqued fly rods. It's really an exciting time right now with large steelhead runs on all the coastal tribs making their way up to entertain us sick puppies. After 12 seasons guiding fulltime, I can honestly say I get so excited I can't sleep!
I wake up every morning about 4 am wide awake waiting for the day to commence. Passion is something that is so wonderful and precious, embrace life, and make it great! jt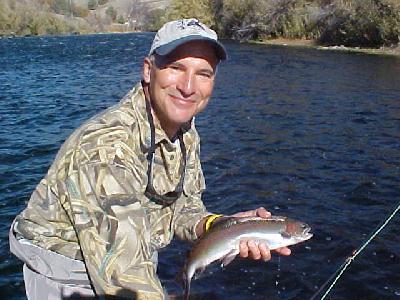 Pete is so fun to be out on the river with! He's like guiding Steve Martin, with a touch of Robin Williams in his light hearted zany slew of humor and comedy relief, witnessed daily on his fly fishing adventures. Basically, this guy is the bomb as my guide Chuck would say! I don't know what's more exercise, laughing at Pete or rowing my boat? As my guide Chuck would say "PEACE!"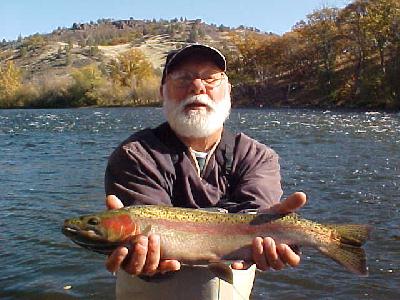 This is Santa Claus Jim! Every year in November, Santa Claus Jim and Jim Pett come up to harass each other, me, the fish, and any other living organisms within ten feet of the boat.
I guess mildly I would say, these two are a barrel laughs in between fish and casts. Santa Claus here with a nice reindeer like colored steelhead. Netting this Rudolph, was like receiving a stocking stuffed full of holiday treats.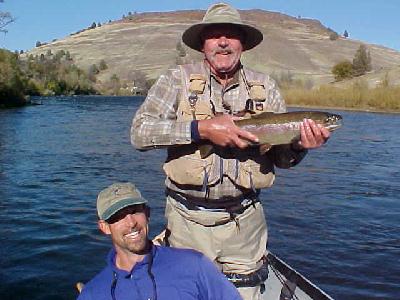 Jim Pett with a beauty, enjoying his retirement since June of this year! Jim said he would never retire from giving all of us a ration of ….! besides, how else would we know he liked us. Like most of my best customers know, river harassment is mandatory for keeping any trip light hearted and fun!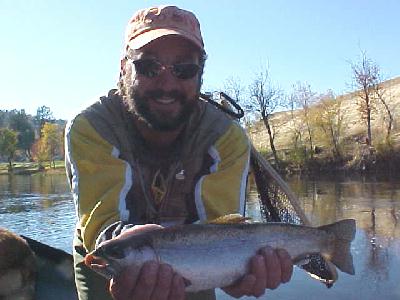 Mike Hale and his clan of others. Others being his co-worker
Kent and friend Ken. Now this group of friends is kind of like the TV show friends. These folks do a lot of things together, weekend parties, bbq's and the Yuba River. These Sizzlers came out to experience the Shasta area for the first time and see some rivers and catch some Steelhead Trout. What a great time we had over our two day period, having tremendous success on both the McCloud and Klamath Rivers. Nice fish Mike!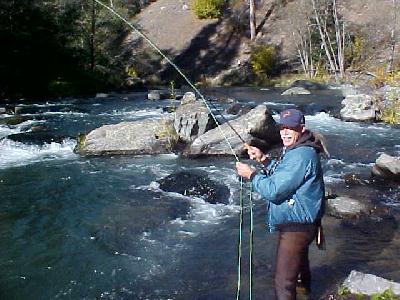 This was Ken's first time fly fishing! Guess who caught the first fish on the McCloud? KEN!!! Way to go Sizzler, desire
is the best teacher of all time. Success makes the things you were taught remembered. Stay attached to your flys, put the line under your index finger, strip out the slack and keep your tip up… and SET FAST SIZZLERS!!! We're talking fish that bite faster than an intern in the White House!!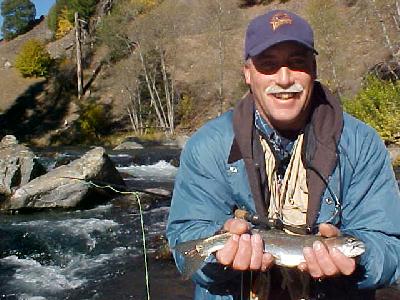 Ken with his first trout ever on a fly rod! This guy was so jazzed It was like the spark we needed to get things rolling stones and have a jolly rancher kind of day! Right on Ken
you did great, I think you had 7 trout that day….. I can't remember, who's counting anyway? jt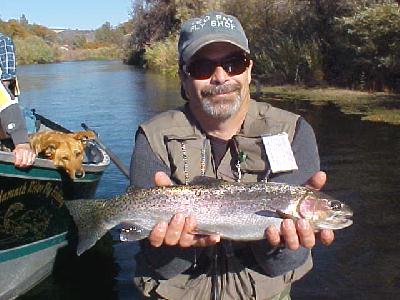 Poor Mike Hale, the torture he must be induring working with
Kent and having to hear about how much bigger his steelhead was on the Klamath River. Talk about harassment in the boat,
I think these two need to seek couseling… And Ken's no angel either, having a drift trip with these three characters
is very memorable. Great fish Kent, but Mike did catch more… I'm just trying to keep the peace, "I mean, can't we all just get along!" TRULY, marvelous trip Sizzlers, see you November 5th,6th, and 7th 2005. Thanks for rebooking early. jt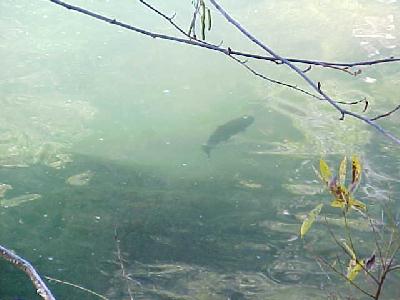 The trout window. Do you ever see trout when you fish? Three of the most important things I do when I'm guiding the McCloud is stop, slow down, and look. Being one with any river where you can visibly see the trout you're fishing to is the most effective way to experience fly fishing success. Idenify the hatch and the insects the trout are taking, whether it's subsurface or on the top. I find once located, fishing up to the trout on the McCloud River is your best approach not to spook the little munchers. Never walk up to a river and just start casting. Learn from the Great Blue Heron and take a methodical approach. "Use the force, Luke."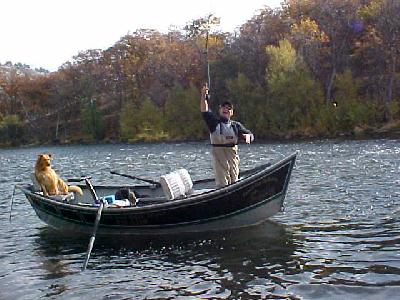 Bob Cadematori of Linden, California folks! Bob took a two years leave of absense after his 40 fish day with me two years prior, where he blew his elbow out fighting so many hard battling Klamath Steelies. No bull, I get this call at 6am we were suppose to go out the next day and he had to cancel due to fisherman's elbow. Classic! I think I did it to him again yesterday as we had a 30+ fish day!!! Does that mean I won't see you Bob for two more years??? Take care and ice that bruise for 72 hours then go to heat.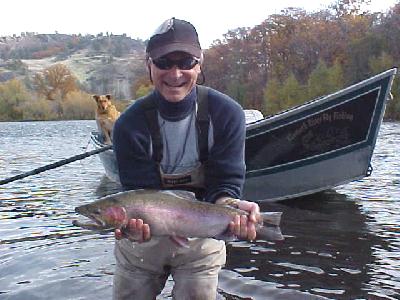 Bob I sympathize with your condition, 7 to 9lb steelhead are not easy. But guess what YOU'RE MY SIZZLER OF THE WEEK AWARD WINNER! CONGRATULATIONS SIZZLER!! 9 ADULTS IN ONE DAY IS AWESOME! Take two aspirin and call me in the morning.. Dr Trout*****HOPE YOU LIKED THAT ADVENTURE SIZZLERS, STAY TUNE AS WE HEAD DOWN THE KLAMATH CANYON TO BOLDLY GO! MANY RIVERS TO YOU, JACK TROUT AND THE GUIDES