***CHILE SIGN UPS START NOW! STEELHEAD FISHING ON FIRE!***


The weather has changed. Now the snow is falling and the fishing is getting better every week. Now is the time of year until Christmas to visit the Mt Shasta area and hook into a true trophy size trout! Mike Hibbard did all day long when Grant Cooke brought up his three brothers to introduce them to our little piece of paradise, the Klamath River!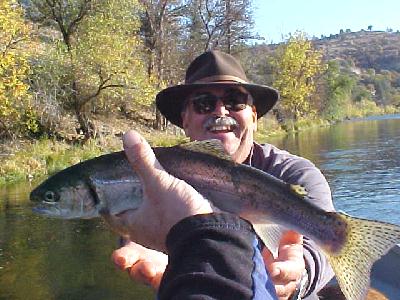 Grant and Stephen were in my boat and after the usual slow morning, things started to heat up for the two brothers. Before long we were seeing fish like this more, than less…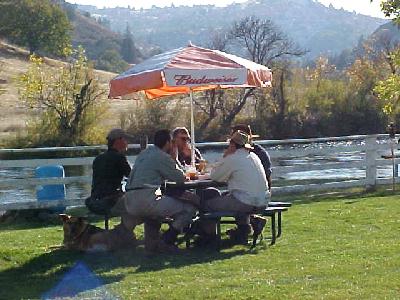 We had burgers and told lies at the Fish Hook Cafe, it was nice to see the four brothers out enjoying themselves, and finding time to catch up with each other's lives. It was rewarding to Hear the joy in their voices, for the Klamath provided them a magical day to remember!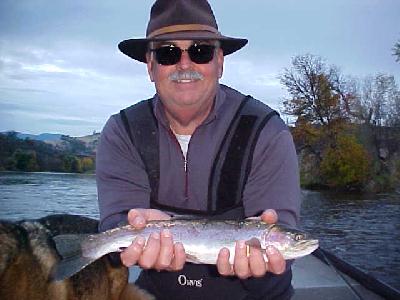 In all, the day was a total success! Everyone caught and laughed all day long!! Grant and the Cooke Family Clan was so
fired up that they reserved Oct 27th and 28th 2005, and he's staying in the Shasta Charmer vacation home again! Nice Steelhead Grant, way to make your last stand! Grant's Last Stand! See you next year! Jack Trout and Mike Hibbard


Jim Crawford, back at it again with his friend Rich, landed this fresh steelhead trout after a nice battle and a series of jumps!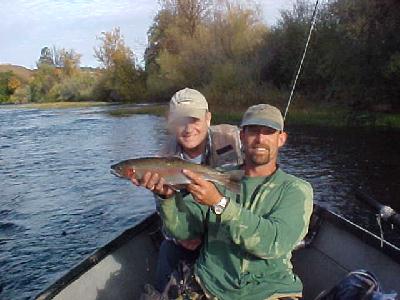 Rich landed this lovely steelhead with a huge red stripe. Sorry about the fog on the lens…..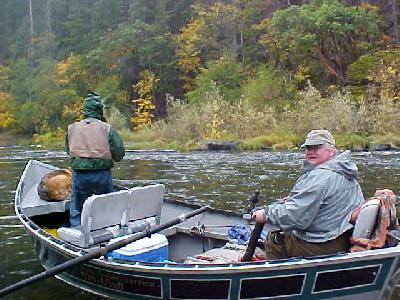 I love to drift the Happy Camp stretch of the Klamath River.
The second day Jim, Rich and I drove to Happy Camp and had terrific fishing. Rich hooked into an absolute lunker (I would estimate in the 10 lb range) that broke us off! But we caught several others, in a lush canyon with unsurpassed scenic beauty.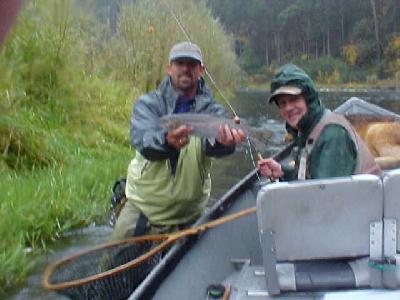 Rich, landed this hot steely after about 7 jumps in the air. The steelhead trout from Scott River down river are total cromers and fight like it too!! jt


Gary Cummings and Bob McEwan came to visit and Gary hooked into his first real steelhead!


Nice fish Gary!!! These guys are going to visit me in Chile in March of 2005, to be guided by me and my head guide Francisco. Really looking forward to that trip!! jt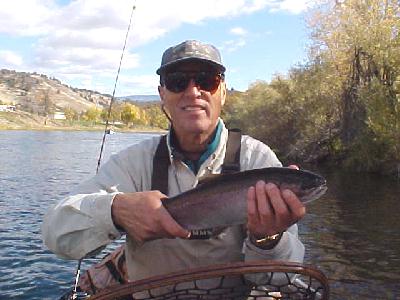 Bob with a nice lunker!! It was great to see you again Bob, see you in Chile next!! jt Francisco, these are our 1st week in March customers!!! Bob and Gary, we'll have fun with these guys.. jt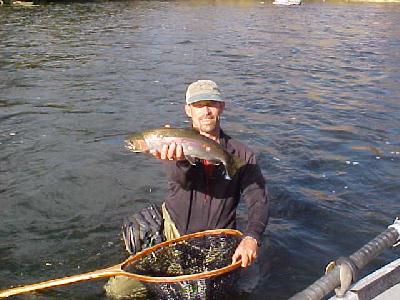 Here's another one that Gary caught that day!!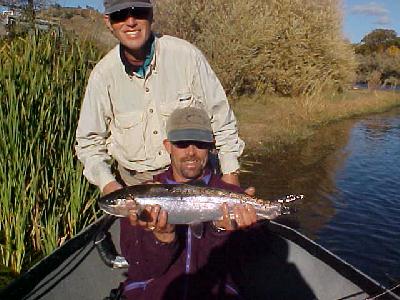 And last but certainly not least! Bob's big boy!! A true cromer that went over 7 lbs! Way to go Bob, YOU'RE MY SIZZLER OF THE WEEK AWARD WINNER!! MANY RIVERS TO YOU, JACK TROUT*** HOPE YOU LIKED THIS WEEK'S TALES, STAY TUNED AS WE EXPLORE NEW AREAS!!