****STEELHEAD TROUT NOW APPEARING IN A THEATRE NEAR YOU!****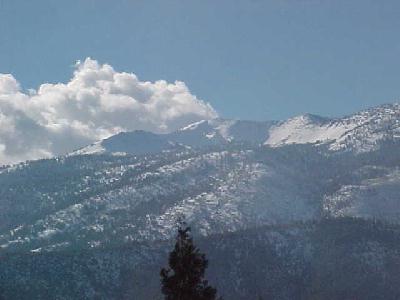 ---
Ahh, the winter has finally come! Here's a shot I took today of the Eddies Mountains. Snow piled thick again on Mt Shasta makes things normal once more. Our local rivers have been sent some rain and the fish that inhabit them benefit from the oxygen it creates. This reminds me of the winters I knew as child, growing up three hours east of here in the little town of Portola, California. Snow would be seen before Halloween. Maybe this year we'll finally receive a childhood winter! jt
---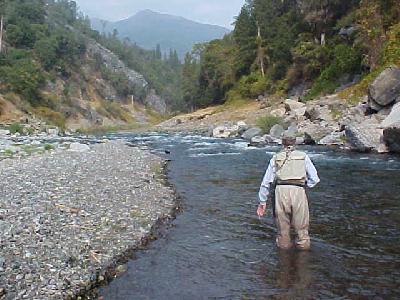 ---
Isn't it great being out on the McCloud River in October! Bob Colman and I had a productive day using a Stimulator with two droppers about four to five feet down from the dry fly. We caught fish on the surface and on the droppers. The
October Caddis are out in full force, so why not feed them what they're looking for? A little smorgasbord! I find it's best to
use this method and cast up to the fish at a 45 degree angle
then only high stick, staying attached to your flies at all times. Isn't Bald Mountain beautiful in the background…
---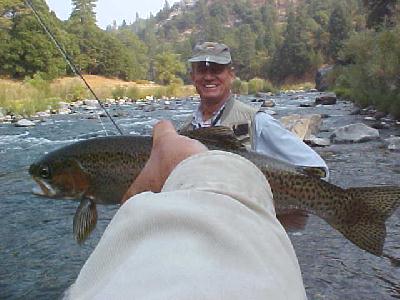 ---
Nice trout, Bob. We think this trout took his dry fly a couple cast before, but who knows? It's like Gameboy for adults! Look closely at this piece of water Sizzlers, cause these photos show an area of the McCloud that is in danger of being flooded by the expansion of Shasta Dam.. That's right. It's another "Dam* Story!" After all the rivers they
munched up damming for Shasta Lake, imagine floating on the Lower McCloud in my drift boat prior to 1946 where the McCloud meets the Pit!…… To the future generations that read this message, we love our McCloud River and don't want to lose anymore of it! jt
---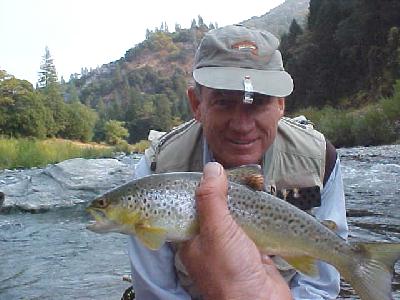 ---
Nice brown Bob! From all the guides from Jack Trout Guide Service, we had a great time with Gene Weber and his group. Thanks again, and hope to see you this winter.
---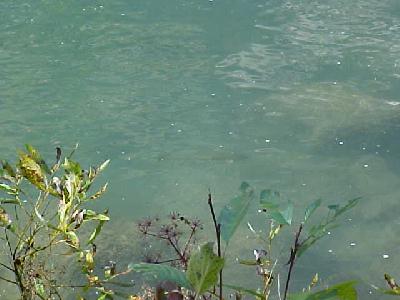 ---
Walking along the banks of the McCloud River can be exciting this time of year! Especially when you're
seeing McCloud River Rainbows 4 inches from the surface sipping mayflies in the
luke warm heat of the mid-day. We stopped and just watched
as the trout gracefully ate one mayfly after the next…
---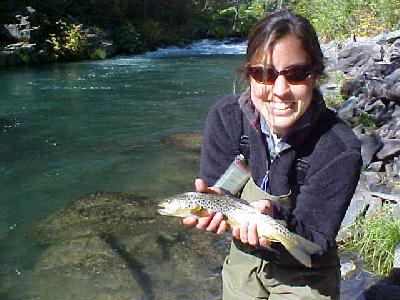 ---
And on a first trip out in a while, Yasmin caught over a dozen on dry flies on the McCloud River. The next day she caught even more on the Klamath River! Way to go Yasmin!!!
---
---
John with the Bob Brown Group, thanks for a great time out with a great bunch of guys! Jack Trout and the guides
---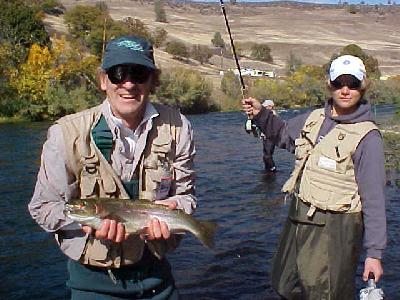 ---
Jim Mossop, out with his two boys Evan and Julian had an epic day on the Klamath this past week. Steelhead Trout are starting to show and even though the mornings are slow, the afternoons are very productive…
---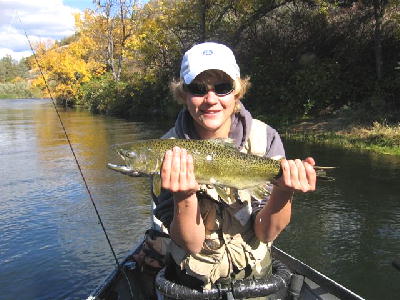 ---
Evan then hooked into this Jack Salmon on a Circus Caddis
available at the Wine and Spirits Fly Shop a great secret Klamath fly. (don't tell anyone) This kid is a hot fly fisher
and a pretty brainy student from what his Dad says about his advanced schooling. Awesome Evan, you go out and accomplish your goals and dreams, and you'll always have the rivers here waiting for you! I know when I got out of school and didn't have my football practices or track meets, I could always fall back on old faithful, my fly rod that leads
me where ever I go. It's not what catch, and it's not what I keep, for it's the places it takes me, that makes me complete. Jack Trout
---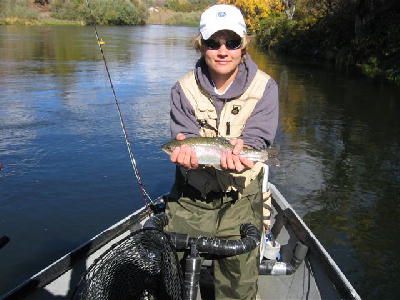 ---
Nobody likes a show off! He then caught another one in the same spot! Have a great year…..see you and Pops December! Klamath/Lower Sac…. jt
---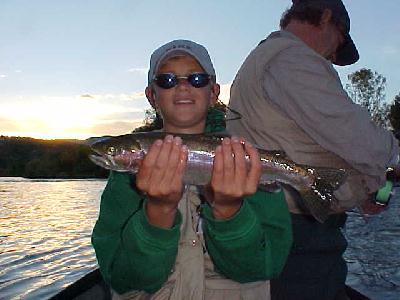 ---
Julian Mossop you're my, SIZZLER OF THE WEEK AWARD WINNER!
CONGRATULATIONS SIZZLER!! NICE WILD 4 LBER ON THE KLAMATH!
---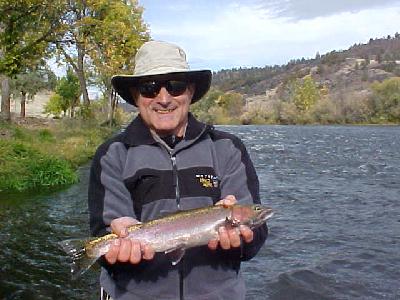 ---
I really enjoyed the coloring on this Steelhead Trout. Frank
and his buddy Ken Del Monte had 7 adults or more! But it was just being out there that Ken commented on.
---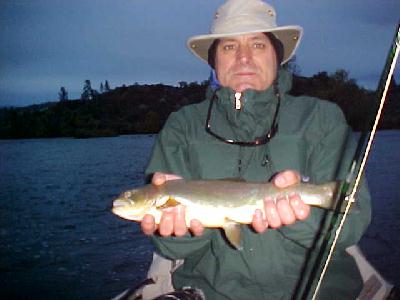 ---
Right on Frank! I kept you out 'til dark but it was worth it!
Look forward to seeing you later this year.
***HOPE YOU ENJOYED THOSE STORIES, TAKE CARE AND HAPPY THANKSGIVING!!! MANY RIVERS TO YOU, JACK TROUT
---