* LAKE DISTRICT ~ CHILE 2004 ~ HOLIDAY GIFT CERTIFICATES ~ *
*************SKI PARK OPENS FRIDAY DEC 12TH******************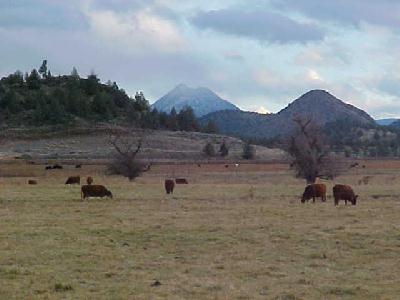 Black Butte seen here in the background from De Souza road out in the Shasta Valley. The snow is here just in time for the Holidays and the Mt Shasta Board and Ski Park that opens this Friday, December 12th. Have great skiing and stay warm! We made the top 100 list for fishing sites, thanks to all you that watch weekly! Jack Trout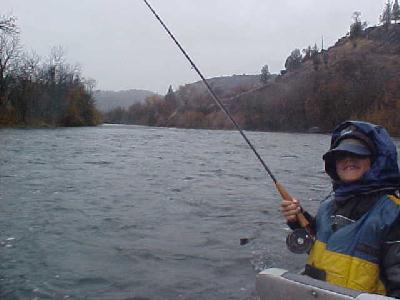 Curtis here with a nice Steelhead on! This kid can fish and enjoys being out with his Dad, Robert and his Brother, Chris doing so. The day we fished it was cold, rainy and wet. This didn't detour Curtis though, he savored every minute and ended up bringing in 5 or 6 that day. Not bad for 6 years old. (Catch your age while your still young enough!!)


Robert and Curtis with the evidence that the Meissner Fam had a great day! Way to go Curtis, Your the best beginner I've ever had under 10 years old!! He caught more than Dad..?
( Shasta Trout is looking for more trout for Curtis!)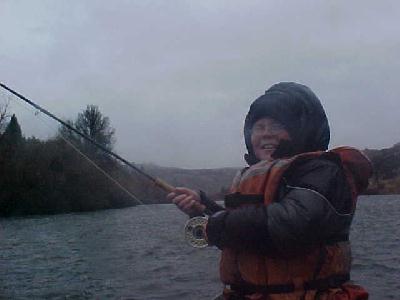 Chris with a nice trout on! He looks a little cold in the rain and all. We all didn't seem to mind though, it was great being out cruising down the Klamath River in far Northern California.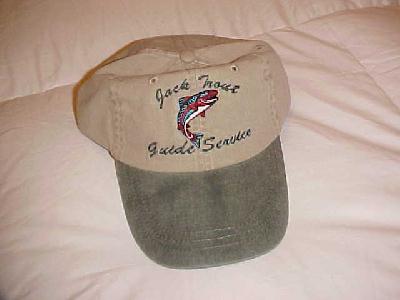 It's Here!! The Jack Trout Guide Service Cap. $15 for one $12.50 for two. This hat is good luck! Need I say more, you'll feel like a Sizzler everytime you fish! They make a great Holiday stocking stuffer for any fisherman. jt


After finishing my trip with the Meissner family, this 5 or 6 point buck walked right out in front of me while I was driving through Hornbrook. The picture isn't great but I thought you'd appreciate it anyway. I think it's great to see a buck this big, I'm just glad I didn't hit it.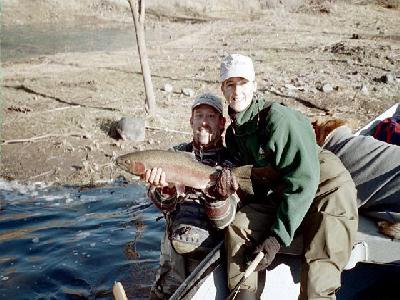 Teresa with a nice 5lb Steelhead! This gave her a great fight when she landed it with an audience of other boats watching! She said she always wanted to be in films!!
jt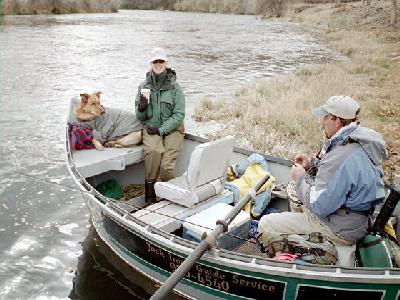 After catching a few more we stopped at the Fish Hook Restaurant for lunch. This a great place to stop off for a
cheese burger and fries. Teresa enjoyed her coffee and Shasta's company on a colder Klamath River day…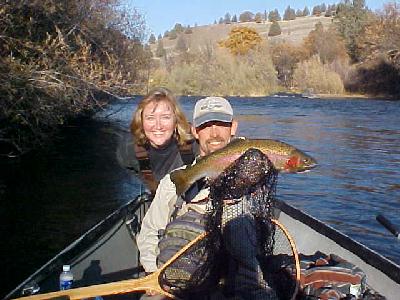 Beth Williams here with an awesome hook up and catch!! Beth way to go your my SIZZLER OF THE WEEK!!! You made my 2004 / 2005 brochure with this hookup, fight and landed Steelhead.
Of course all photo credit goes to one of my favorites customers, Beth's husband, Chuck!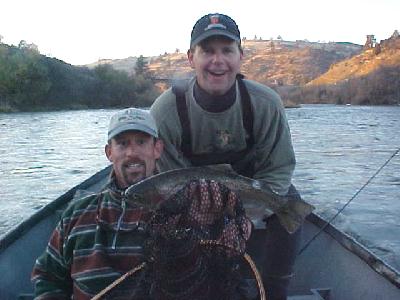 Beth's husband Chuck with a last minute hook up on this cromer steelie right before we took the boat out! Is it me, or does Chuck look a little bit like Dana Carvey from Waynes World???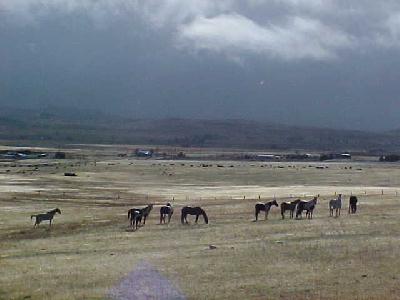 The storm covers Mt Shasta in the distance as horses in Shasta Valley play their rain storm games. TAKE CARE EVERYONE, HAVE A GREAT HOLIDAY SEASON! JOIN US NEXT WEEK AS WE REPORT FROM THE TRINTY RIVER WITH GUIDE MIKE HIBBARD**
MANY RIVERS TO YOU JACK TROUT