Upper Sacramento Fly Fishing Raft Trips Start This Week!!
June 20th, 2010 Upper Sacramento River Fly Fishing Raft Trip.  530-926-4540 Jack Trout Hotline. 
Happy father's day everyone and to all the good father's out there, we salute you!
It looks like summer is finally dropping by so make your summer plans to visit Mount Shasta, McCloud & Dunsmuir.
We look forward to you spending time in our area and welcome you to a special place on Earth.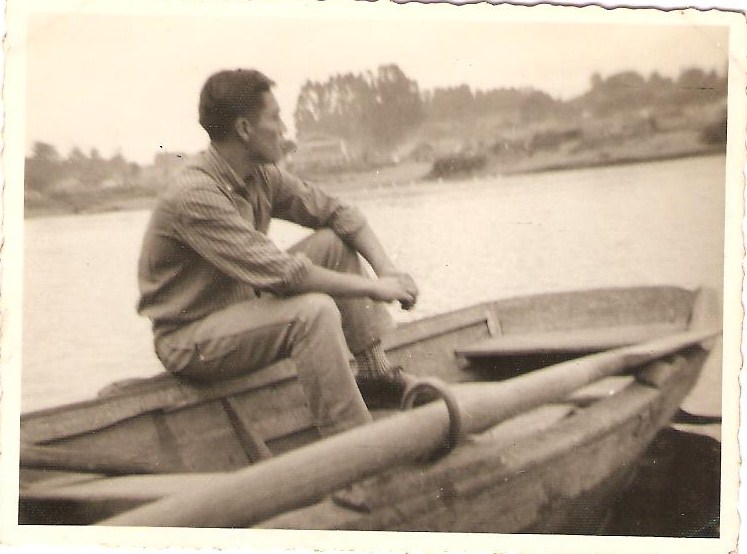 Carola's father Armando Paicil Ruiz was born in Osorno, Chile in 1942 as a kid he rowed people across the River Rahue before there was bridges. In high school, he was an athlete on almost every level growing up in Southern Chile he enjoyed javelin, soccer, swimming, in which all sports he broke records and went on to be recognized by his peers as a legend and a mentor. He first mastered all these sports in high school and then he went on to become a championship coach and finally a famous sports radio announcer beloved throughout the country of Chile for his commentaries. He told me once he loved fishing the Rio Rahue and Maullin with a big smile on his face.
In 1966 he moved to Llanquihue and met Irene (Carola's mom) He was 25 she was 18. They had five children and Armando was the manager of a huge sugar factory called Iansa. This was the company that most of the town relied on for employment. Carola remembers having a maid to help her mother, her father drove a car
and there was plans for the kids to go to college. He was well known for his participation in Union Workers and fighting for their rights. But after the coop of 1973 when Pinochet's regime shut everything down, Carola's father was taken from his home and accussed of things that were fabricated and he was tortured on a regular basis. He did nothing wrong, and was later compensated monthly by the Chilean Government for these humanitarian injustises. No one ever drove a car or even got a driver's license from that point on and the town of Llanquihue died and has never been the same. Unlike my father in the USA, Carola's father Armando had a much tougher life. It's sad when I think about what he and Carola's mom Irene endured in the early 1970's in Chile.
 (I think Carola's mom is a total babe, I see where Carola gets it from! Wow!)
 

The first time I saw Carola in Chaiten I stopped in my shoes, it was love at first site. She was the most beautiful girl I had ever seen and still melts my heart to this very day. It's great when you find the one you know was meant for you!
 Carola's dad Armando Paicil past away this last week exactly once month to the day after my dad past away. Almost too incredible to phathom but life has had a funny way lately of playing kind of tough with the two of us, I'm sure we're due for some good luck up ahead. Armando was a very loving father to all his children and we hope he rests in peace and hangs out with my pops Raymond and our little girl Chailyn. We love our fathers and on this special Father's Day coming up, we honor all fathers whether your here or there, we love ya and you'll be in our thoughts. You are loved always and will be remembered for all your efforts beyond the call of duty, for your sacrafices and playing second fiddle. For growing old ahead of me and sharing all your life long lessons or for just being a dad, we love you.
Happy Father's Day and to all the father's ever we honor you!   
Jack & Carola
 Out on the Klamath River the stone flies are starting to migrate to the shores and the trout and steelhead are on them!
We hooked up right form the get go and the fishing remained active all day.
A nice hatchery steelhead for Gordon Lasko. He sure had a great time out with his brother the wine maker John Lasko from Lodi, California. Ever hear of Gnarley Head Wine? It's good stuff that won't hit you hard in the billfold.
I highly suggest that everyone read the rules and regulations for any river you fish on. The California Department of Fish 

& Game is out on all rivers and I might add in ways I've never seen. Under cover boats, checking guides on and off the rivers, anglers asked for licenses, coolers inspected and vehicles. It is a really nice surprise since I hadn't seen them at all for the first 15 years guiding here in the North State. Kind of like there's been a fire lit under some bodies butt. It's a new era of DFG Wardens, young guys that seem to have a deep concern for the fisheries. I have seen these two guys many times now in the last 4 years and I can honestly say they are making a difference! They really care about the Klamath River and how the rules and regulations are honored, I think that's terrific. 
 That day many people including young adults received tickets for un-barbed hooks and licenses. Some felt bad but it's the anglers responsibility to know the regulations on every river. I just stayed back for a while caught trout right next to them and kept quiet and let them do their jobs. Sometimes the public can be hard on the Wardens for doing their job, but when you consider how much poaching was going on the Upper Klamath, all I can say is bravo amigos!
For the next few stories, I will be going over regulations on every North State river and sharing information on how to de-barbed hooks etc.

I really like seeing the DFG out on the rivers, there was a lot of guides out of Oregon coming down to guide on the Klamath River without guide licenses for years, so this has been a welcomed surprise. Besides if you pay the fees, you like to see the fisheries protected from weasels who take everything they catch.

 
This is a problem that really needs to be resolved on the Klamath River. These algae blooms that grow on the edges of the river where the flows are stagnant because the Bureau of Reclamation and Warren Buffet CEO of Pacific Power & Light won't release more water from Iron Gate Dam. Right now the flows are at 1050 cubic feet per second, this is too low for the summer season on the Upper Klamath. The flows should be set at 1600 CFS June 1st through October when the fall salmon arrive. There are some spring salmon in the river now that would spawn more often if the flows were higher. There are wild steelhead in the river right now that need more flows and the Bureau of Reclamation on a year where there is so much water seem to have their heads up their arshes. The river is no longer alluvial because the dam no longer allows the river to come crashing down on high water years changing gravel bars, river banks and making the river healthy again.
Instead the river is being literally strangled by the side bank vegetation and a hard like cement bottom that makes spawning for salmon and steelhead like making love on interstate 5 in the middle lane. This will eventually lead to less and less spawning of these ocean species like salmon and steelhead because the conditions from algae blooms and lack of flows are toxic when you add summer heat into the mix. Imagine this, salmon are one of the only species on Earth that go back to the exact place they were born. Amazedly, they know how to smell out the place they were created. The Klamath River is approximately 190 miles long from the mouth to Iron Gate Dam but the area where the salmon historically would do the most of their spawning is cut off. They make it through canyons or bowling alley's as I call them, then they make it to the flats where spawning came naturally easy and they are cut off only having a few good miles to spawn on. How would you feel if you were going to have some great time with your lady and you got cut off and stuck in Redding or Oroville or HORNBROOK, California. (Sorry for shouting). Get my point!
These salmon and steelhead are becoming depressed because they have no way to get up into the springs their ancestors

and hereditary genes are geared up to see and experience. I'd be bummed too if I got stuck in Oroville or Redding on my way up to see Hearst Castle and Big Springs. Dams basically suck after about 50 years and folks we're losing the salmon because of genetic de-coding. If these fish can't get back to where they are from, the family lines are slowly being lost and this is what I feel is happening now. Folks in layman terms, we're ending up with a bunch of salmon and steelhead that act and think like Jethro Bodean from the Beverly Hillbillies!
So this is what I propose, we need to get these salmon over these dams and create an ingress and egress for them to pass
in and out of all these dams. This can be done, they are doing it now on the Bonnerville Dam on the Colombia River.
Here's 2 stories you can read related to what I am talking about and the positive effects of salmon and steelhead migration through dam passages, fish detours and creative routes.
This project immplemented in 2003 helped the fishing on the Colombia River in 2008.
This can work people if we make this a priority, the salmon populations aren't getting any better and we need solutions soon. The only other alternative is too take all the dams out on the Klamath River or face losing our salmon populations. The Lower Sac we can run them thorugh like the Bonnerville Dam on the Colombia River.    Jack Trout

Ah the perfect drift from a boat..  The line is mended, the tip is pointed back at the indicator after he mended and his tip is low and ready to strike Sizzlers! I'm getting so excited, I think a hook-up is clear and imminent here… 

Butch Valco is out for his first time fly fishing from a drift boat. He says he really liked the action and the scenery was fantastic on the Klamath River in June.

 Stone fly migration is happening every night right know on the Klamath River, Hat Creek, Pit River and many other North State Rivers.
 Now we can munch out and enjoy the sounds of the river and good food.
 
 The hookage factor not over rated! I love to see all you folks out having a great time in my boat hooking fish with a big smile on your faces!
Enjoy this Youtube video.

 Wild steelhead are in the Klamath River right now, it would be good to see the flows increased to aid their cause and existence.
This was a great fish that deserves the best environment.

 This is always a prize when you laid a wild steelhead from Northern California. 

 You remember all those great lunches we do out on the rivers when we serve you Butter Lettuce. You can replant them if you have roots!
Thought I'd share that with you all. They grow back folks!

 This is my mom Patti, and my oldest brother Pete. My mom lives in Walnut Creek and has sold Real Estate in Rossmoor, since Abe Lincoln walked 6 miles to return her change and my brother Pete
works for the phone company in Reno, but has a sound company on the side where he provides karaoke, music for weddings, birthday parties, community events in the Portola, California area. 
I love my Mom and  my brother Pete, they are two very special people in mine and Carola's lives.
 (Sorry folks had a late one the night before, family shindig! As my dad would say; "Jack, your eyes are at half mass!"

 Jasper is back folks! Here we go for another adventure on the Lower Sacramento River.

 Trout the final frontier! 

 Right now the fishing is great on the Lower Sacramento River. Jasper sure enjoyed his day. 

 A riffle museum folks, makes the heart grow fond…

 A good lunch is always a great way to compliment your day!
Enjoy this video folks on the Lower Sacramento River. 

 She's a brick  – house!

 Way to go Jasper, You're my Sizzler of the Week Award Winner! Congratulations Sizzler!
Jack & Carola Trout

You go there girlfriend !

 Bill James hooking up in style!

 Now that's a catch there! I know some who deserves this fish, read below to find out.

Hey you suckers at BP, start sucking up your mess, pay your debts and get the hell out!

 Now here's a North State legend guide. Jim Pettis has been guiding fly fishing for 20 years! This guy has been around longer than me and is the inventor of the sliding indicator and the glass beaded nymphs. Some of the best guides ever are from the North State of California, maybe you know one you might call this summer season. I like guides like Jim Pettis, Ernie Dennison, George Duran, Ron Cox, Mike Hibbard, Wayne Eng, the old school boys. These guides and others you know could use your guide business, you might ask them for their best price and see how you do, mulitple days always helps us.
We all appreciate your support and you can rest assure we'll be on top of our game.

 My clients Eric and Stephanie wading a nice arm of the Lower Sacramento River.

 Eric hooks up on another.

 Stephanie hooks up on her first trout on her first day fly fishing.
 
 Great trout for your first hook up Steph!

I am the Trout Whisperer……
Thanks for watching our adventures! Jack & Carola Trout
                               
 We look forward to seeing you for the 2011 season in Chile and our 16th year of outfitting.
                               
 Affordable lodging, fantastic meals and friendly comfortable hospitality in Southern Chile.
                                                                                                      http://www.jacktrout.com/chile.html
Pick my book on Fly Fishing Chile & Argentina, 2nd release due out on book shelves on July 9th !!
                                        
                                                  
EMAILS FROM YOU:
Dear Friends of the Siskiyou Water Network,
  As the longest day, and summer approach, I hope this note finds you well.    I'm pleased to let you know that the 2009 Summary Report of the Mount Shasta Springs and Groundwater Study is now available on the Protect Our Waters website. You can find an article and link to the report below. In addition, a public meeting reporting on the Upper Sacramento Watershed Assessment hosted by the River Exchange will take place next Wednesday evening. Please find the press release in the body of the email.   Finally, as we enjoy our above average snowpack this year, please heed the Forest Services' warning to be cautious around creeks and rivers as the flows may rise rapidly during the heat of the day—and the water is cold!   Best Regards,   Meadow Barr California Trout Mount Shasta Area Coordinator     Mt. Shasta Spring Waters: from lore to science http://www.mtshastanews.com/features/x1311828657/Mt-Shasta-Spring-Waters-from-lore-to-science   The Mount Shasta Springs and Groundwater Study 2009 Summary Report can be found at: http://www.protectourwaters.org/science.htm   Upper Sacramento Watershed Assessment Public Meeting   A public meeting regarding the status of the Upper Sacramento River Watershed Assessment is scheduled for Wednesday, June 23, from 7:00 to 8:30 p.m. at Sisson Museum, 1 N. Old Stage Road, Mount Shasta.  River Exchange staff will update the public on what has been accomplished during this multi-year project, funded by a grant from the California Department of Water Resources and the CalFed Bay-Delta program.   The project worked to develop a Watershed Assessment and Management Strategy for the Upper Sacramento River Watershed.  Both the Assessment and Management Strategy were produced through a collaborative, stakeholder-based process led by a Steering Committee composed of the project partners – River Exchange, U.S. Forest Service, U.S. Fish and Wildlife Service, California Trout, and the Shasta Valley and Western Shasta RCDs – and other government agencies, regional tribes, natural resources and recreation interests, and private landowners.    The two-year project included compiling, analyzing, and interpreting existing watershed data, identifying data gaps, and completing an inventory of watershed conditions, functions and processes.  Additionally, Steering Committee participants developed a non-regulatory management strategy for the watershed.  We have gained a much better understanding of the overall health of the Upper Sacramento River Watershed and a shared vision regarding future stewardship priorities and opportunities.  For more information on the public meeting or the project, please contact sas@riverexchange.org.   
Contact: Dea Knox, Project Director                                                                                The River Exchange dea@riverexchange.org 530-235-2012  
******************************** 
Jack-
Lodging is taken care of.  Could we book this for August 4, 5, 6, or 7?
I'm at work today but if you want to call.
Thanks,
Grant Mohr
*****************************************************************
Hi Jack, how's it going? I have been meaning to get in touch with you. Burke and I want to do that upper sac trip with you this year. We had a great time with you last year. Let's set up a date. I will be out of town next week, but how about some where in July. By the way Bob still talks of his Jack Trout gaurantee you owe him from the Trinity. look foward to seeing you.
Tom in Oakland  
**********************************************************************************************
Jack,
I hope this message finds you doing great.
We met down in Patagonia in 2008.
Didn't know if you'd seen this story or not.
Be well,
Doug
————————————
Douglas Hackney
email: doug@hackneys.com
Blog: www.autopsis.com
Personal web: http://www.hackneystravel.com/  
Work web: www.egltd.com 
Twitter: http://twitter.com/dhackney
LinkedIn: http://www.linkedin.com/in/douglashackney
TungleMe: http://tungle.me/DouglasHackney
Book: www.howtheworldworks.com
Book Twitter: http://twitter.com/htww
From: Stephanie Hackney [mailto:sstant@egltd.com]
Sent: Thursday, June 17, 2010 1:23 PM
To: 'Douglas Hackney'; 'Jorge Valdes'
Subject: Futaleufu River Issues
| | | |
| --- | --- | --- |
| Invasive Algae Species Discovered In Chile's Patagonia Region | | |
Written by Lindsay Fendt   
Tuesday, 01 June 2010 06:51
Fly fishing industry imperiled, local government to meet Tuesday to discuss Didymo Sebastián Alvarez, Expediciones Chile

In February, Chris Spelius, owner of the adventure travel company Expediciones Chile, was standing out by the Futaleufu River in Southern Chile waiting for a client, when he looked into the normally clear water and noticed something unusual."I saw what looked like ground-up toilet paper in the water," Spelius recalled to the Santiago Times this week.  "I have been here for 24 years and I knew I had never seen this before."Initially Spelius attributed the object to the newly built sewage treatment plant upstream, but after a fecal microbe test initiated by the local government turned up negative, that explanation seemed unlikely. Finally a trip upriver from the plant debunked the idea all together.  Chemical analyses done by a variety of organizations finally concluded that what Spelius saw in the water was not waste, but rather an invasive biological species.

Didymosphenia, commonly known as "Didymo," "Rock Snot" or "The Toliet Paper Weed," has been discovered in New Zealand and North America and is now confirmed to have made its way into the Futaleufu River, in Chile's Patagonia Region.

According to Bill Horvath, the chemist who first began researching the appearance of the algae, Didymo is usually brought over from other parts of the world through tourists who carry it in their rafting, kayaking or fishing gear.  In 2007, the lack of regulations on this type of tourist activity prompted the United States' Environmental Protection Agency to issue a warning to Chile´s government regarding possible infestation if measures were not taken. 

"The desire for people to travel down here is not going to change," said Horvath, "but the mode in which they travel needs to change.  This may just mean people not bringing their own gear to use."

If left unregulated, the organism could have a devastating effect on the local ecosystems because it kills off bottom-dwelling insects that fish normally feed off of. 

"Patagonia has a world-wide reputation for fly fishing," Spelius said.  "The potential damage is awful."

In addition to the environmental damages, the potential economic costs to tourism and local businesses are huge.  According to estimates from areas affected in New Zealand, the Didymo invasion will end up costing the region between US$57 million and US$285 million by the year 2011.  

"Chile needs to respond nationally to this because it is not just a tourism blemish on Futaleufu, is a bigger issue," said Horvath. "It has implications for hydropower and other industries as well.  The costs just keep adding up."

Despite the potential damage, Spelius and Horvath say Chile´s government has shown little concern about curbing the problem and has to this point not taken any action. "We brought our concerns to the mayor and to the municipality," said Horvath.  "They seemed completely uninterested."

Horvath is set to meet with members of the local government today, Tuesday, to discuss the issue, but is unsure what will result from it.  He is hoping to begin discussing possible regulations, such as border controls, that could help prevent the spread of the algae to other parts of the region. 

If done correctly, rather than hurting the tourism industry, new regulations could open up new opportunities for rental businesses and other new business models, Horvath explained.  But, with regulation, the most important thing is still preserving the Patagonian wilderness.

"This place has been sort of overrun by civilization," said Horvath. "If you really want to preserve this, then you need to regulate it.  Looking at the world and the population there isn't going to be many pristine areas left if we just expand willy-nilly.  We need to get our act together because it will be Disney Land here before you know it."

By Lindsay Fendt ( editor@santiagotimes.cl This e-mail address is being protected from spambots. You need JavaScript enabled to view it )
Stephanie Hackney
*************************************************
Hi Jack,
My son and I (ages 50 and 70 respectively) have been savoring the idea of fishing the upper Sacremento. We live in New Hampshire but fish Idaho and Montana and have a dear friend who has a cabin on the upper Sac in Castela.  We're thinking of doing a couple of weeks in September and want to spend some time with a guide, do some floating, etc., But we're not fly fishermen. Can you put us in touch with an outfitter or guide service that would take us floating on the various streams up that way?
We'd greatly appreciate hearing form you, Jack.
Fred Gehrung
******************************************************
I hope that Carola and you are sorting through a difficult time, the death of a father.  been there, done that, and it ended up being an O.K. experience because i looked back on the great life that we led together.
I'm back and patiently waiting for your specific air and dates for my two person journey with the "Trouts" for trout!
You can email or call me at home 
************************************************
Good evening Jack,
Susan and I are getting excited about our trip to Lake Shasta at the end of the month!
Please send us a gear list so that we will know what to bring with us.
How has fishing been?
Cheers!
Duane Jacklin
***********************************************************
Jack,
Any dates available over the next couple of weeks?
Chris Clark