****Lalo's Halloween Masquerade Oct 31st, Reverend Vern
& Dead Hecklers 520 N Mt Shasta Blvd. Costume Discount 9pm****

---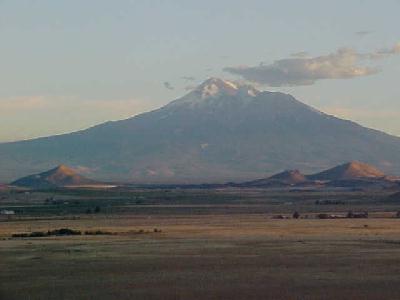 ---
The Mt Shasta view from the north is a great one! You can see the oldest part of the mountain in the middle. Did you know before many volcanic explosions, the Klamath River used to drain on the east side of Mt Shasta? After a series of eruptions the lava flows formed hills and valleys that redirected the river to its present day drainage west instead of south. I think the most amazing thing is after the Trinity River dumps into the Klamath, the Klamath then runs north to dump into the ocean. jt

---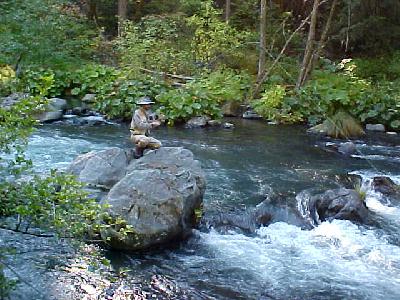 ---
The McCloud River is spectacular right now, with its Fall colors of red, yellows and oranges. Catching trout is the bonus!

---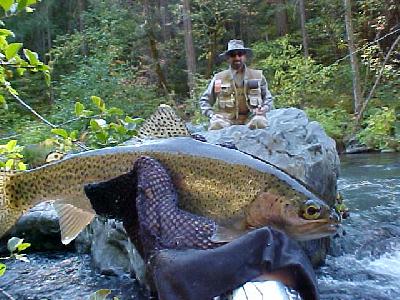 ---
Patrick Henry's first trout on the McCloud River, way to go Patrick you're my "Sizzler of the Week!" Congratulations JT

---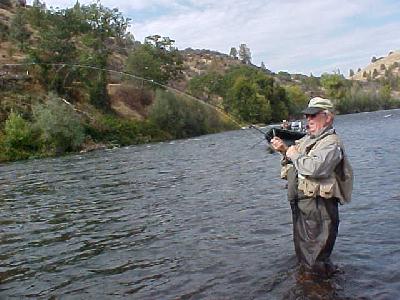 ---
Over on the Klamath things are starting to heat up! Bill Obrien sure thought so when he was faced with the fight of his life. 20 minutes or more this chunky monkey fought it's way up and down stream, but Bill handled the situation with ease and grace, with an occasional oh ….!

---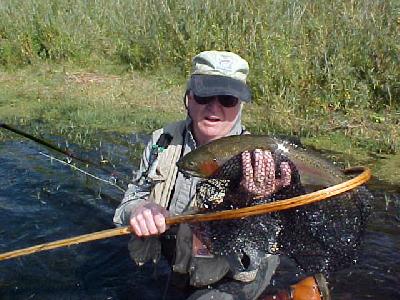 ---
Finally we got the beauty queen in only to be released for another day! Wow, what a truly awesome catch!!! Bill was in awe and kept saying what a wonderful fish that was….jt

---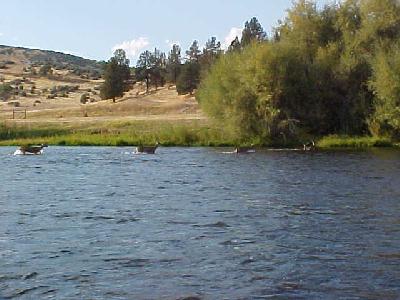 ---
As Fall comes amongst us the deer swim across the river to eat grains and get ready for our big Winter this year!

---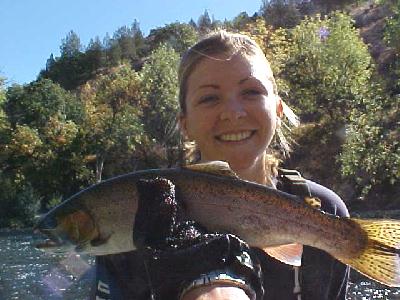 ---
Alexes Quinn here with her catch first time ever fly fishing! I think her smile says it all….jt (what a cutie!!!)

---
---
You know, it's just like Guide Mike Hibbard to get his customer into this 7lb Steelhead on the Lower Sac this past week!! They caught it on a size 20 nymph!!!! Mike is now taking our customers on the Trinity also!!!

---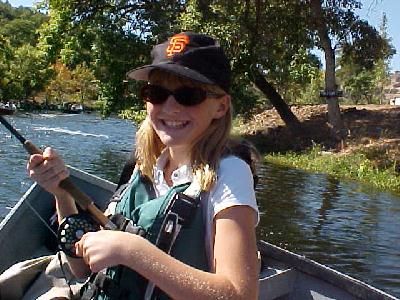 ---
Paige Weber had fun reeling in her first Steelhead trout!
It jumped and gave her a great fight she soon won't forget.

---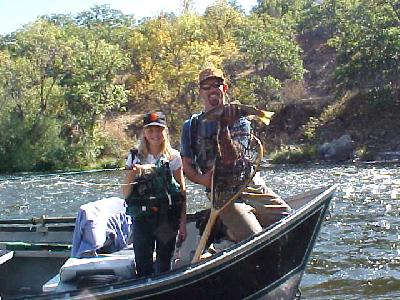 ---
What a great day Shasta and I had with Gene Weber and his daughter! She really did great catching this trout on her own!jt

---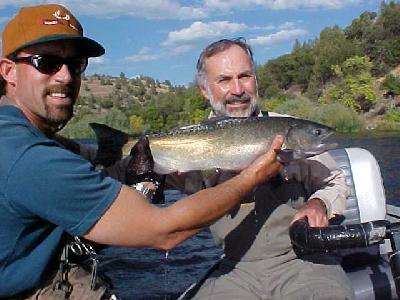 ---
And last but not least this Chinook Jack Salmon weighing in at 8lbs caught on a Stone Fly on the Klamath River this past week! I might add the Salmon was hooked in the mouth and was not easy to land, way to go Gene!!****WELL I HOPE YOU LIKED THAT SIZZLERS, SEE YOU NEXT WEEK FROM THE TRINITY RIVER*****
MANY RIVERS TO YOU JACK TROUT

---