Have a nice holiday with family and maybe talk about fly fishing or touring some favorite place on Earth.
Clear the head and reboot the Intel Pentium Processor in your brain!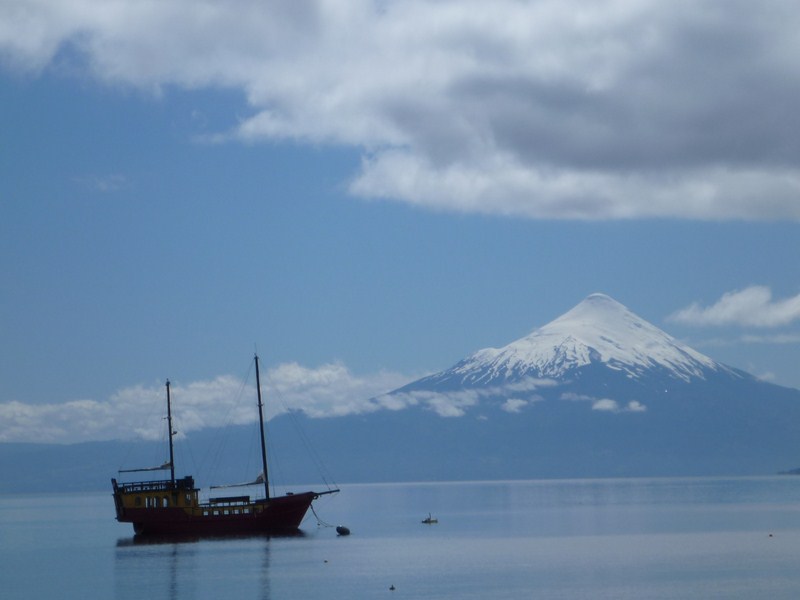 It's been sad being down in Chile this year and watching all the depressing news from the United States, I found it hard this time to write anything as my heart has been torn and my stomach tied in knots. Not even a Tums or a pair of clippers could help untangle the sadness that is felt all around the world on this holiday season. Numb helps describe my emotions and many questions that go through my mind in regards to Connecticut in the wee hours of the night and a politically divided USA, one without resolve and direction. As though I was a million miles away on a ship that was destined for no where, so is the country I was born, raised in and love. Stopped dead in it's tracks, anchored by sides that seem right at times and yet not right at all in others. Where is the color, where is the magic that so many other nations turn to us for? The other day for the first time in my life I felt so disgusted and embarrassed to be an North American in a foreign country, I just wanted to go run and hide and cry under some rock and throw my passport in the ocean. I wanted to the tell the left to quit being so damn left and tell the far right to go shove it, you all need to have your heads examined! It hurts looking from the outside – in and I love my country. But if you have read my blog for the last 12 years, I think you know me by now and I am for all the people who are good and want the USA to be the best country it can be. The low of the low is what I describe now as my United States of America as a lonely nation turns its eyes to bad leaders in all parties and offices, it's the division that will ruin us in the end as life at it's best is a compromise. The kids don't know any better and deserve better in the future, they deserve us to get our act together and start heading towards brighter holidays. I know some of you don't appreciate me writing this piece, but not every blog I write can be a Walt Disney fly fishing & tour type adventure, that isn't true to life. But if we can all realize that we are at ground zero right now as a nation and turn around what I think has to be the most depressing holiday season in my lifetime. Without resolve we have no future as a prosperous country and we will continue to go backwards.
From the heart, Jack Trout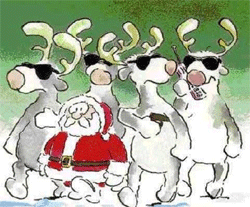 EMAILS FROM YOU:
Hey Jack,
I just read and viewed your latest Blog and feel bad for where your heart is at right now about our country.
Keep your chin up Buddy as there are still a whole lot of good, hardworking, positive people like you and Carola around to keep our country and world balanced. Lots of challenges ahead but the truth is that there always have been incredible challenges and we move through them and hopefully grow from them. I just saw the movie Lincoln and have been reading several books about different trying times in our human history and it has helped put into perspective that we will move forward.
I want to recommend a book – an easy read – that I and several members of my family just read that was very inspiring – Proof of Heaven – written by a renowned NueroSurgeon that went deep into death and back….not a typical but rather a profound Near Death Experience…that has an amazing impact – kind of puts into perspective the relatively small slice of evil in our existence and how its very presence confirms the absolute LOVE that is the basis for all existence. Order it on a Kindle or online if you can. It will strike a chord with you…I am sure.
Diane and I are happy and healthy and enjoying our family tremendously. We just got back from a family vacation with 11 of us in St. Martin that was wonderful. We're going to be in Palm Springs for a while before driving home to Mpls. and then coming down to be with you and Carola…which I'm soooo excited for.
Please enjoy a very Merry Christmas and Happy New Year with your Chilean family. We send our best wishes and love to you both and family. Take a deep breath and find your deeply embedded gratefulness that you have within….remember your dear father…take a good, long gaze at your beautiful wife….go catch a great big Jack Trout fish by yourself. You'll be refreshed. Our country, our world will be too!
We'll see you soon my friend. Stay healthy and well.
Your friend and admirer,
Jon
PS…..Loved all the great pictures and comments in your latest Blog!!
*******************************
Merry christmas trouts!…….your piece was well written and clearly "….from the heart….." hope you and carola have a wonderful christmas…..the beef says hi….he's doing great……stay in touch…..your friend, Howard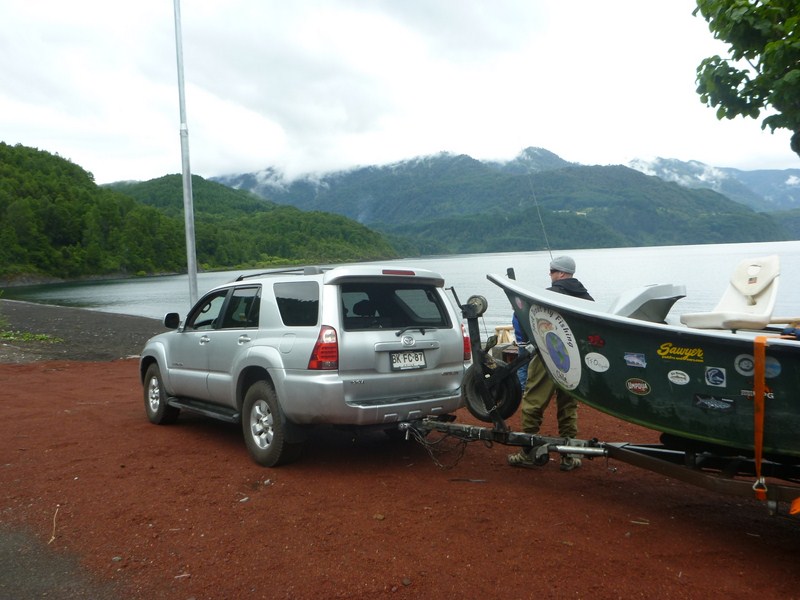 So I'm going to lift this chin and write something I hope you appreciate, maybe move forward and just hope that in the end we get it right, not for just us but the entire world.
Shane Mahoney came to Chile with his pops Mike this last week and we had a great time fly fishing very remote places around 2 regions of Chile. He said when he searched the internet, he wanted to be sure he fly fished in Chile with Jack Trout Fly Fishing International, we provided him with his lodging and meals also.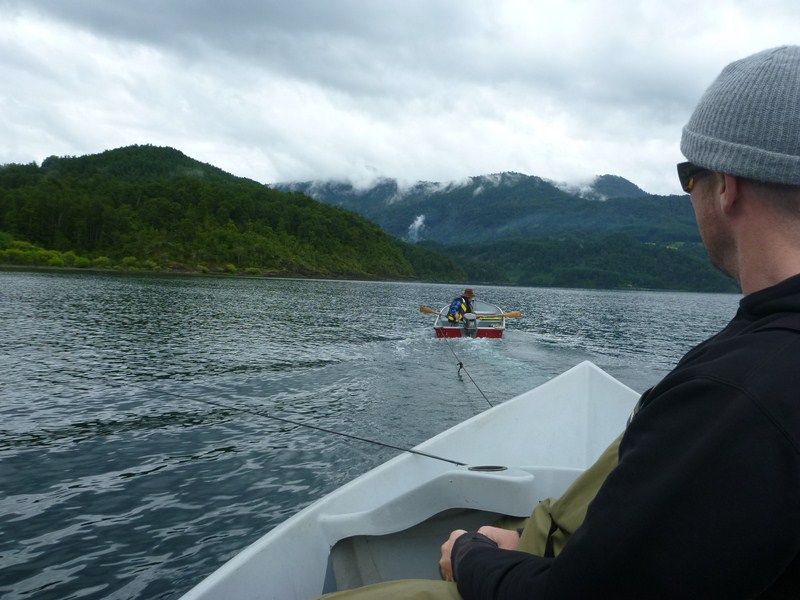 The first place we fished we had to be towed across a lake to where the lake emptied out into another river that flowed 5 miles to another lake. It was a marvelous ride, one in which we both won't forget. Unbelievable beauty and smooth sailing across a lake not too far from Argentina.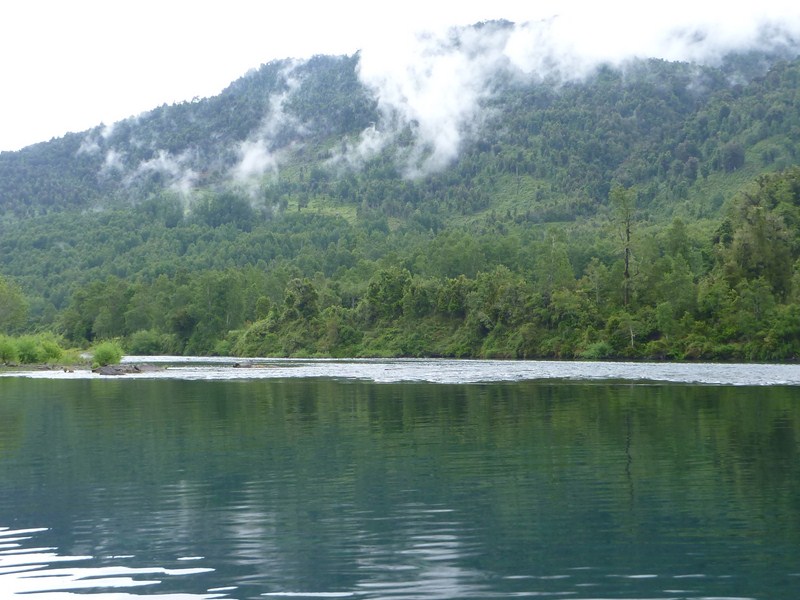 There it was, our destiny that day, a place where no one else really fly fishes and Shane had it all to himself. Shane was still learning how to fly fish, he wasn't that familiar with throwing streamers so I took special care in instructing him on how to get some distance in his cast. Here at Jack Trout Guide Service of Chile, we like beginners, I have always said; "The Oakland A's are always in first place because they have a strong farm team coming up the ranks!" If you don't like instructing beginners, then you shouldn't be a fly fishing guide.
As soon as a light rain started up we saw a nice rainbow hit Shane's streamer. The water is so clear you could easily see to the bottom of the river and the glacier silts made the water look like the Caribbean in some areas we drifted into.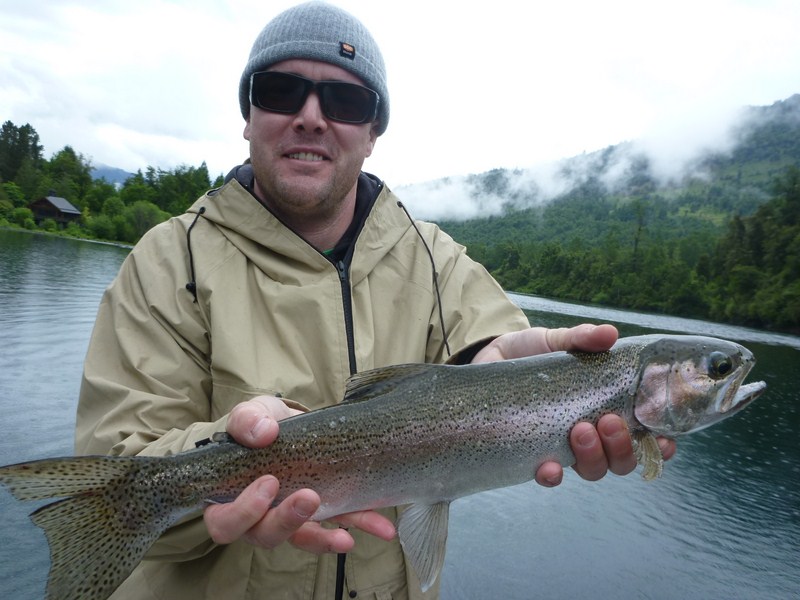 Nice rainbow Shane! This was a good way to start our trip out on and we continued down into areas that looked for sure to hold trout just waiting for an opportunity to advance their diets in streaming culinary cuisine.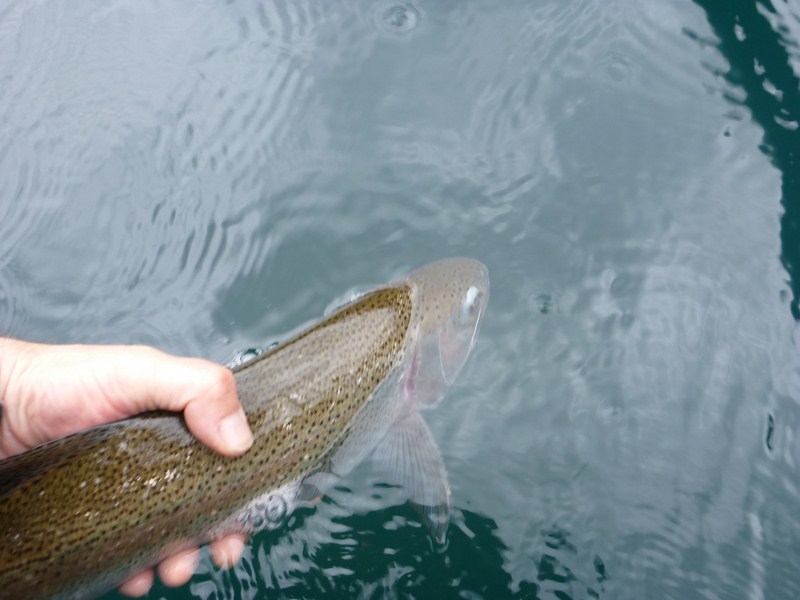 Quick picture and he was back home before curfew.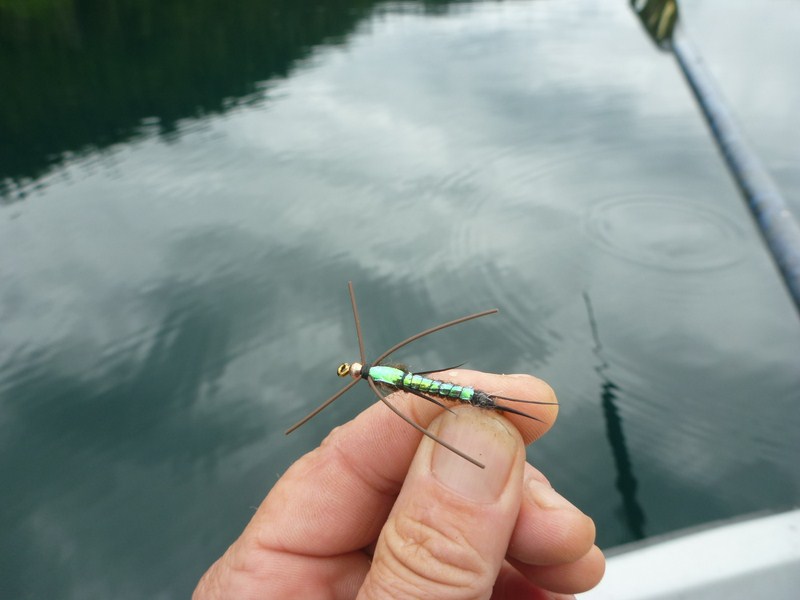 This was the hot fly that day, i like tying these flies as they use a lot of dubbing but are pretty effective to imitating the Pancora Crab.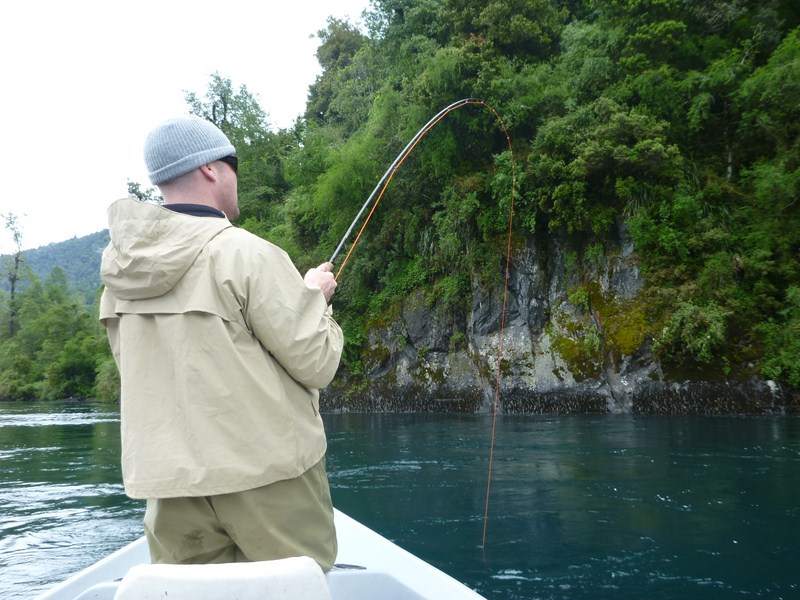 This trout got all bent out of shape when Shane hooked into him, so did his fly rod!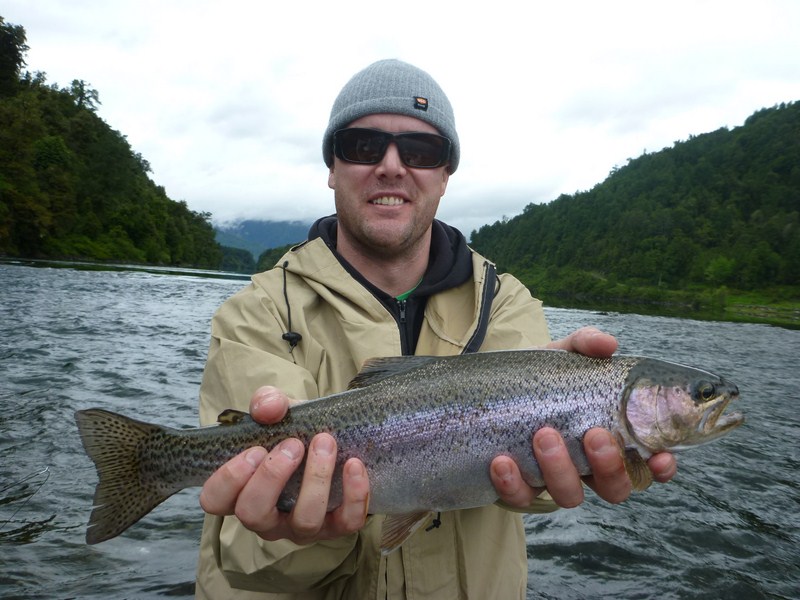 We caught a lot of very nice hard fighting trout that day and Shane was stoked about the prospects for the upcoming week he had planned in Chile.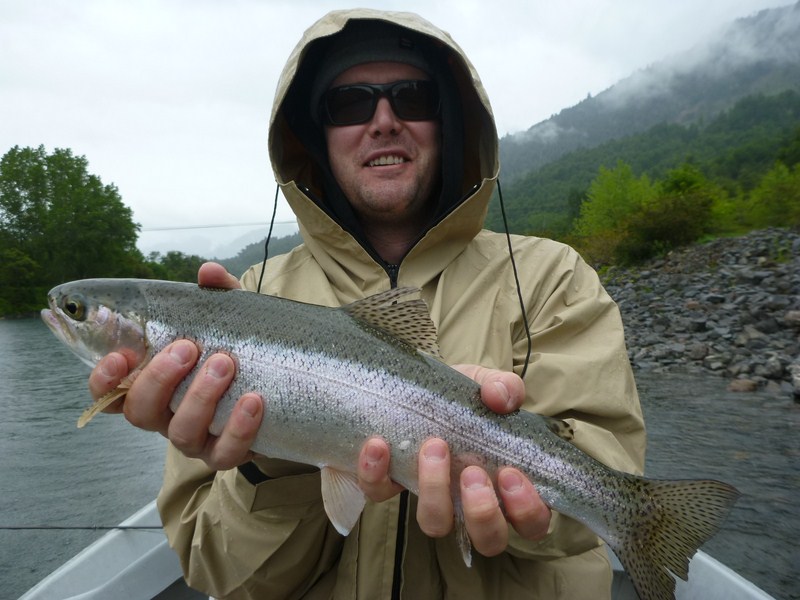 This river has some very healthy trout and later we had a hot shore lunch in the pouring rain, but the great Chilean wine made us forget about it. This is a rainy year so far in Chile, bring your Gortex rain jackets or borrow one of mine.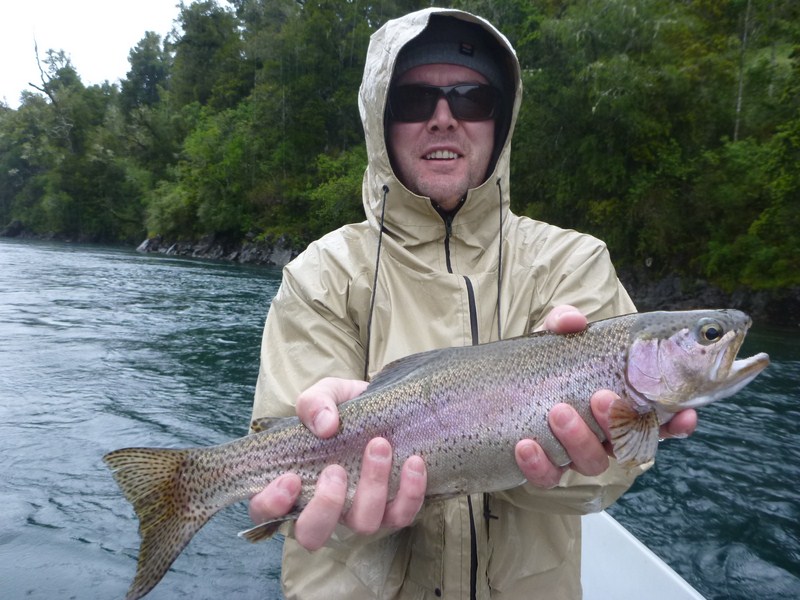 A dream trip like this one when you're on a river all alone can be a once in a lifetime event for someone. Know here at Jack Trout Fly Fishing International, myself and the Team Trout Guides know how special it can be and we will get it right for you too!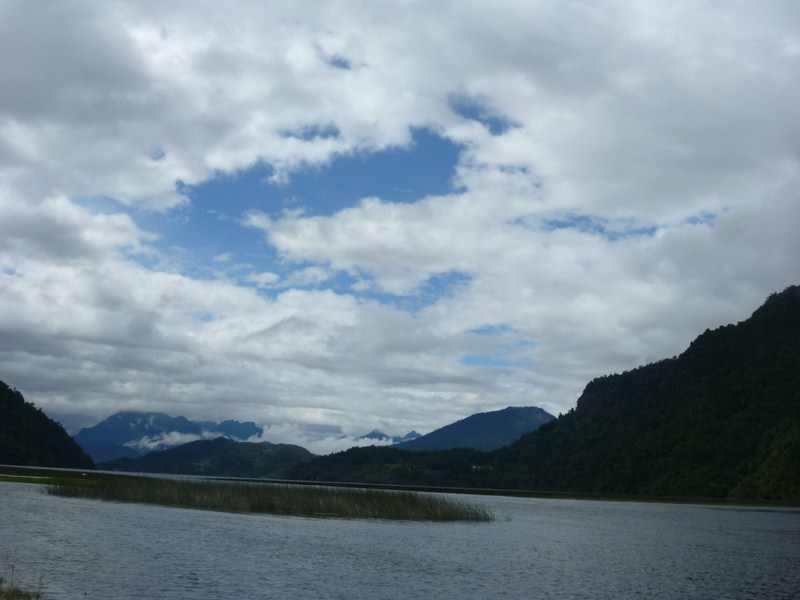 Another day, another river! Many of the lakes in Chile are un-dammed and run from lake to lake, this allows migrating trout and other species full reign to run from lake to river and back up into the lake for cover.
Kind of like how one would drive State to State without borders, fly fishing and touring through Chile is like a lot of other countries were fifty to hundred years ago before dams were invented.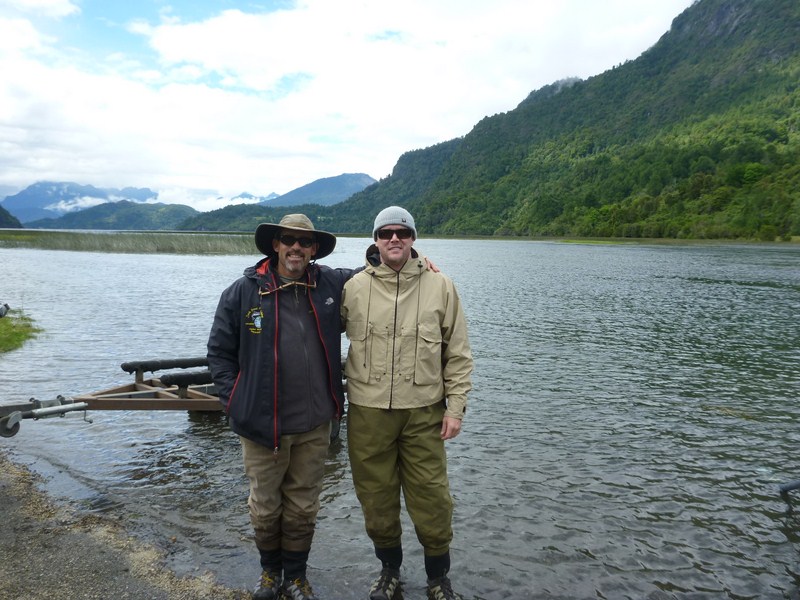 Shane was a good guy to hang out with and everyday was a learning experience we both took advantage of.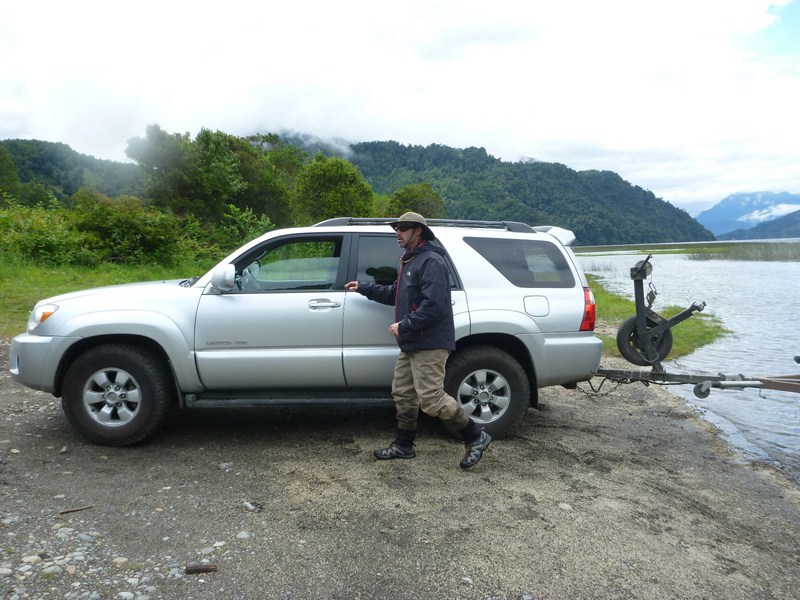 You might notice my wading shoes that were non-felt. It is important to not spread diseases from country to country, so it is mandatory you use our gear we provide. Please only bring BRAND NEW GEAR to any foreign country you wish to fish in or use the outfitters gear that remains in that country. Don't help spread biological diseases in rivers from country to country by using the same gear you use on the rivers in your home country. No anglers coming into Chile are allowed to use their own gear unless they are treated first with bleach or disinfectant for harmful river born diseases that can ruin fisheries.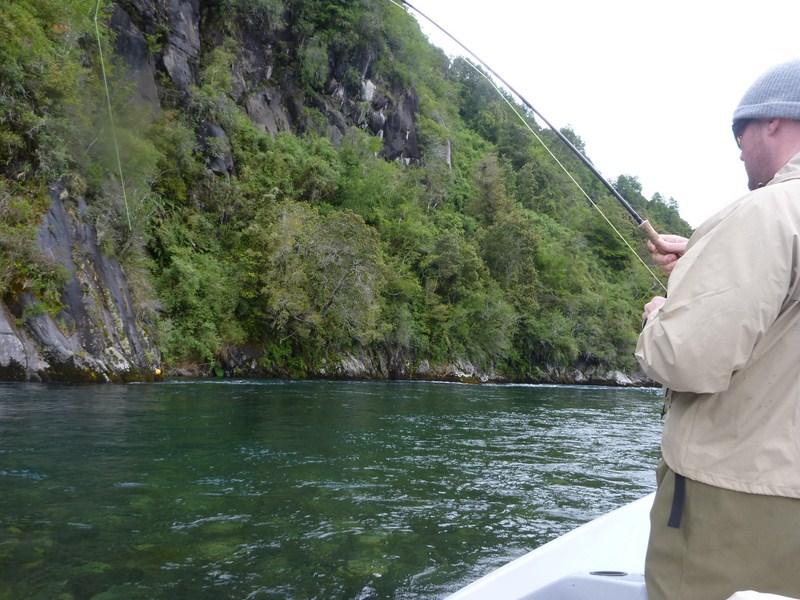 I taught Shane how to nymph with indicators and he caught plenty of trout and learned a new way to fly fish if the trout weren't feeding on the surface.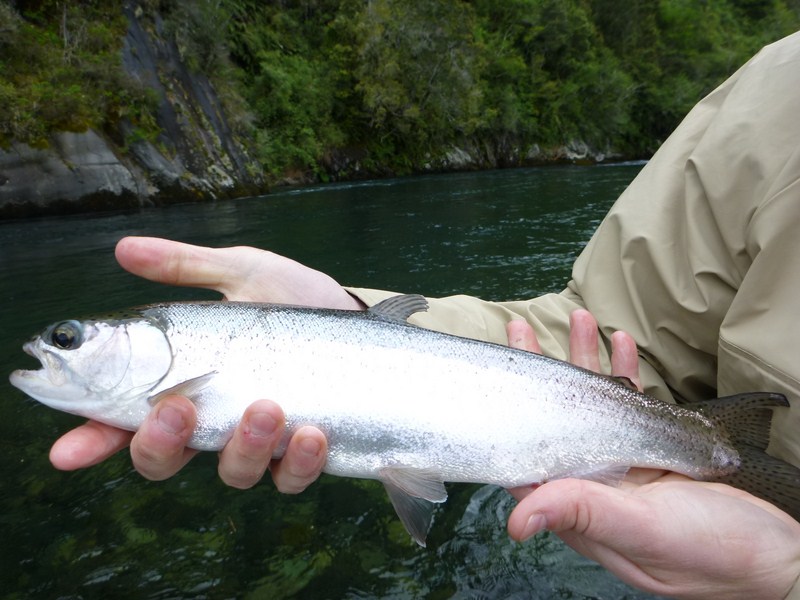 On his first  and it cast he caught this trout and it started our day out in the right direction. The rain came down hard later that day and pretty much put down the trout. We still caught double digits and continued down the river with smiles on our faces.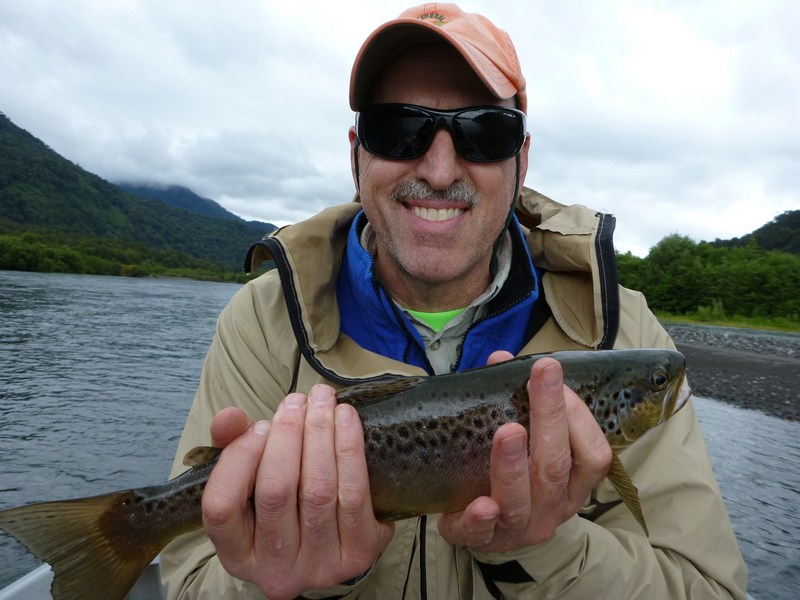 Frank's daughter teaches English in Santiago, so she ended her season of teaching and Frank was ready to get down to Chile after the storms hit his town in New Jersey and do a little fishing with me, then tour around Southern Chile with his daughter.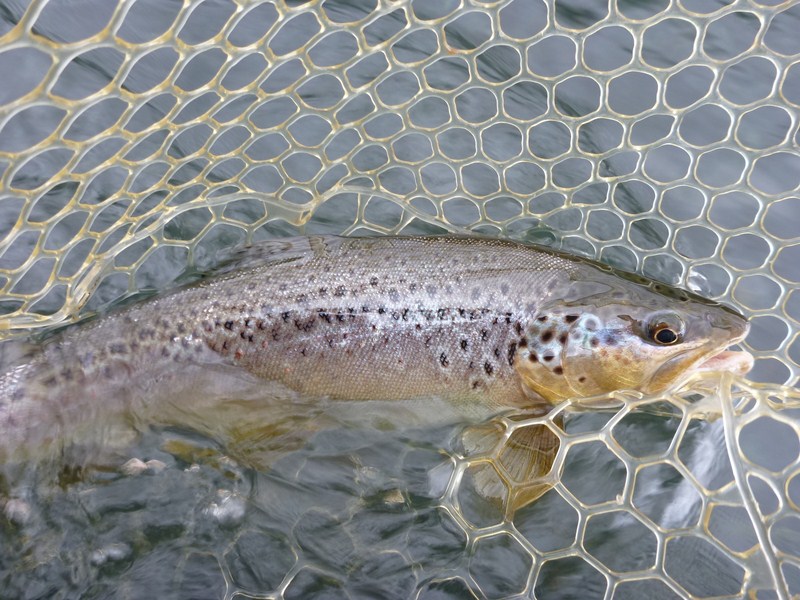 Many sea-run brown trout migrate up the Rio Petrohue and we catch them on various fly patterns I tie.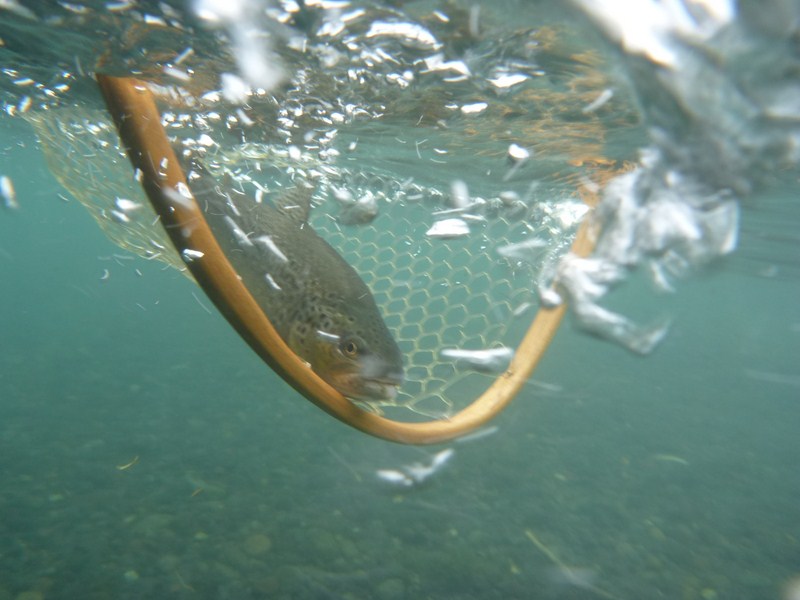 What a ham!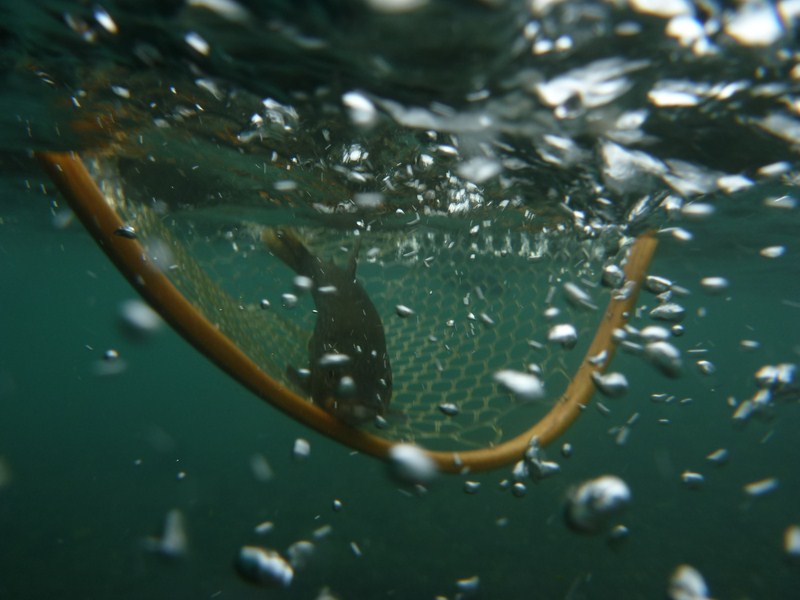 I sure like my Brodin nets, they help trout survive.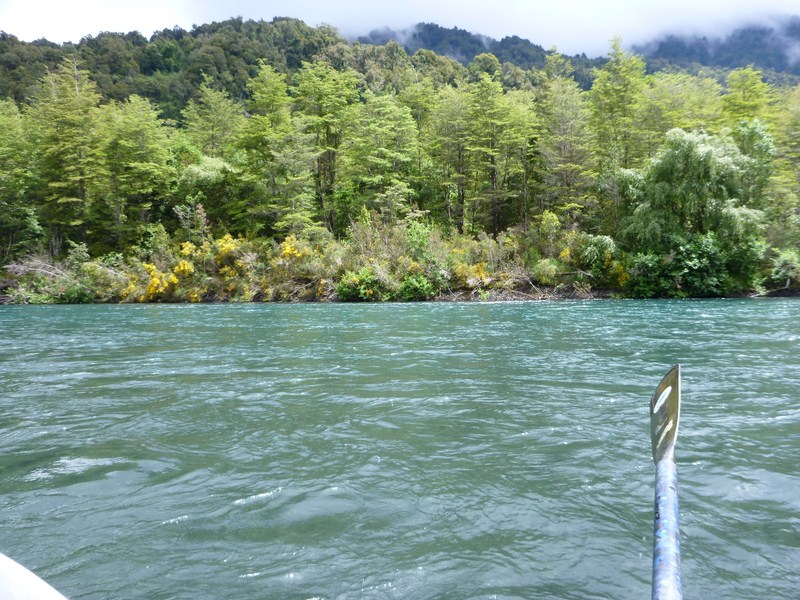 This is a wonderful large undammed river that flows to fjords and the Pacific Ocean about 30 miles from here.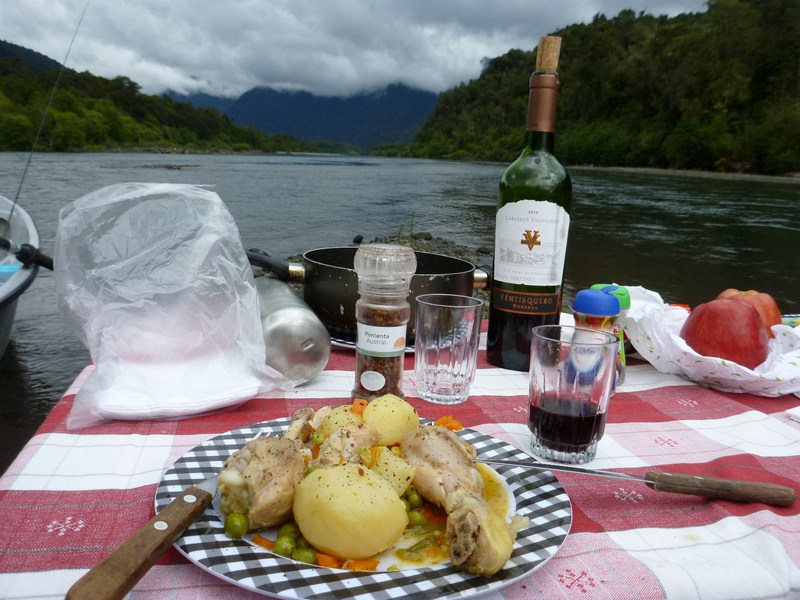 Our stream-side lunches are always awesome, perfect with a little Chilean Carmenere wine.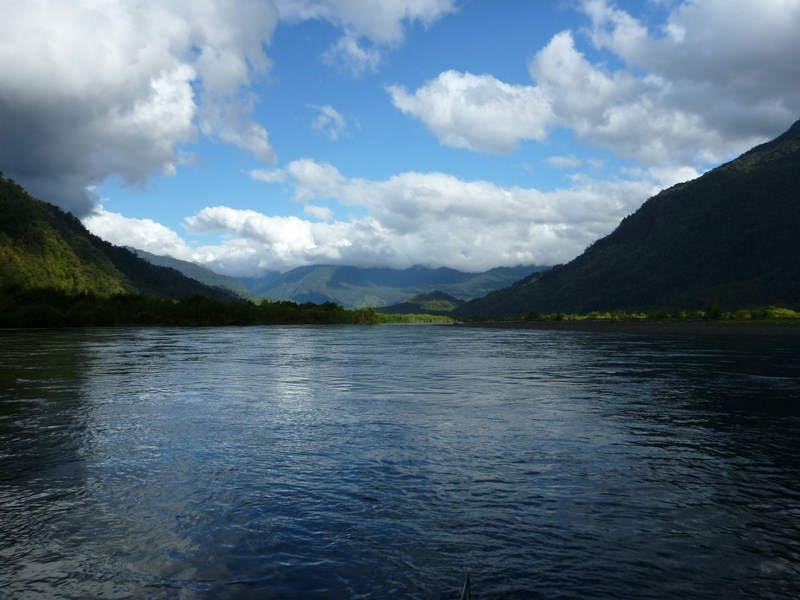 A truly amazing piece of water you should check out in your lifetime. If you look off in the distance the hills is where the river dead ends into and it is pretty close to where the fjords start in an area called Ralun in the Reloncavi drainage.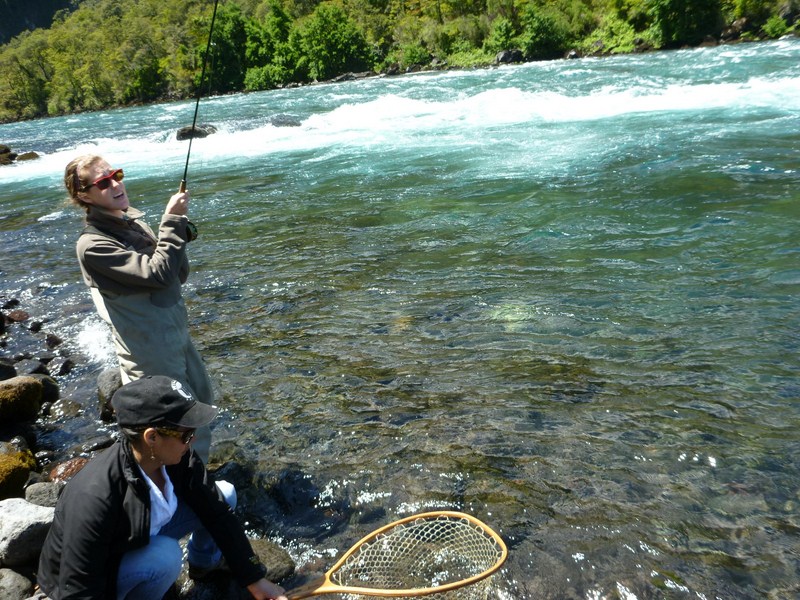 Frank's daughter Alexandra caught 8 trout here on her first day fly fishing, Carola was the guide netting her catches.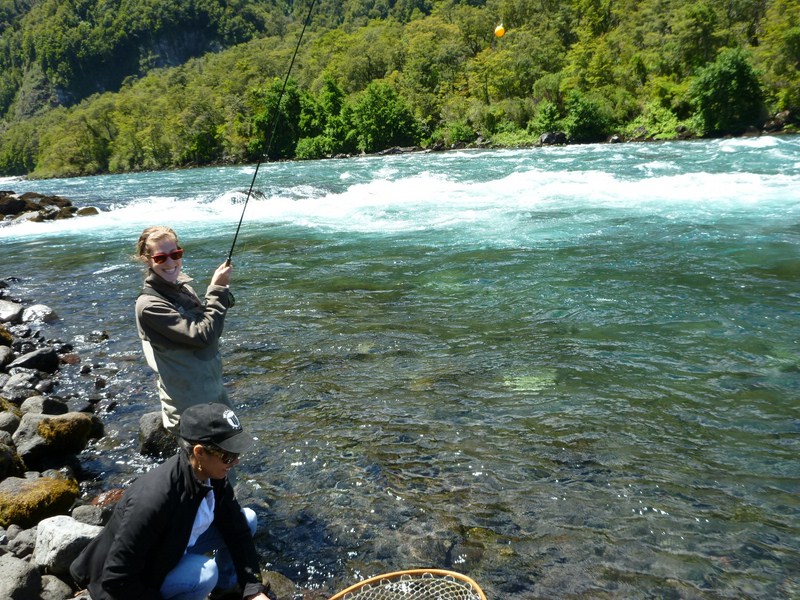 Success, as she caught a trout on her first cast.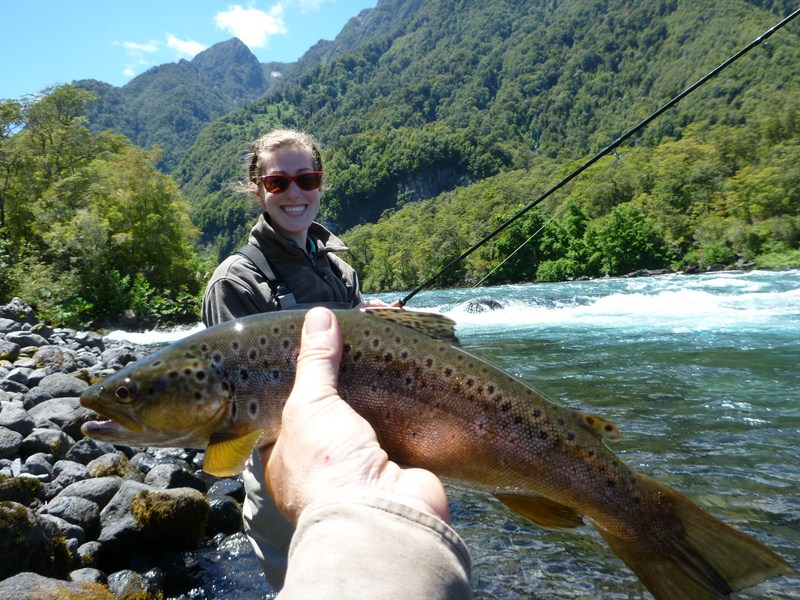 Nice brown trout, that's the first time I've ever seen a brown trout caught here.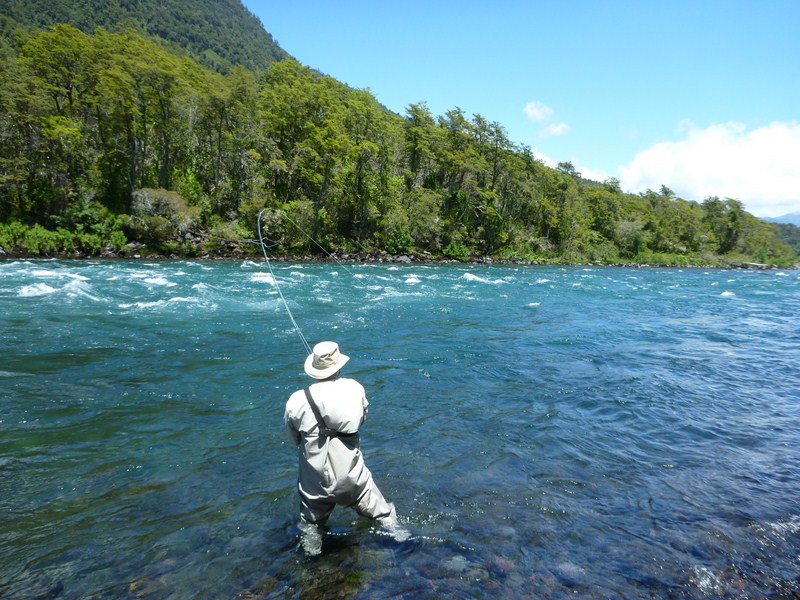 Then Frank hooked some really nice trout and one that got away that was a real lunker!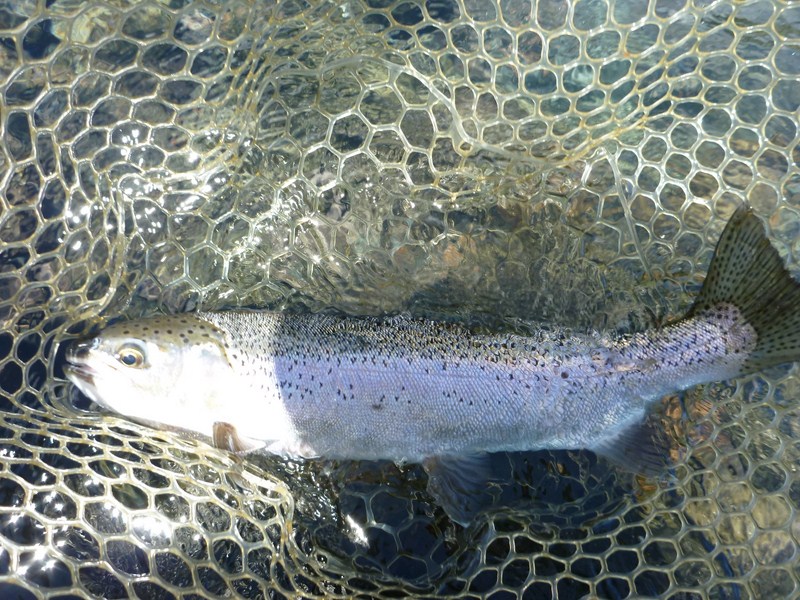 Nice catch Frank, thanks for coming down to Chile and fishing with me! Hope you and Alexandra had a good trip down near Torres del Paine after you left us. 🙂
Shane called and said he decided to fish the entire week with us and check out more rivers in 2 regions of Chile!
We caught browns, we caught Atlantic Salmon, it turned out to be a good decision Shane headed back for some more action.
Fish on bro!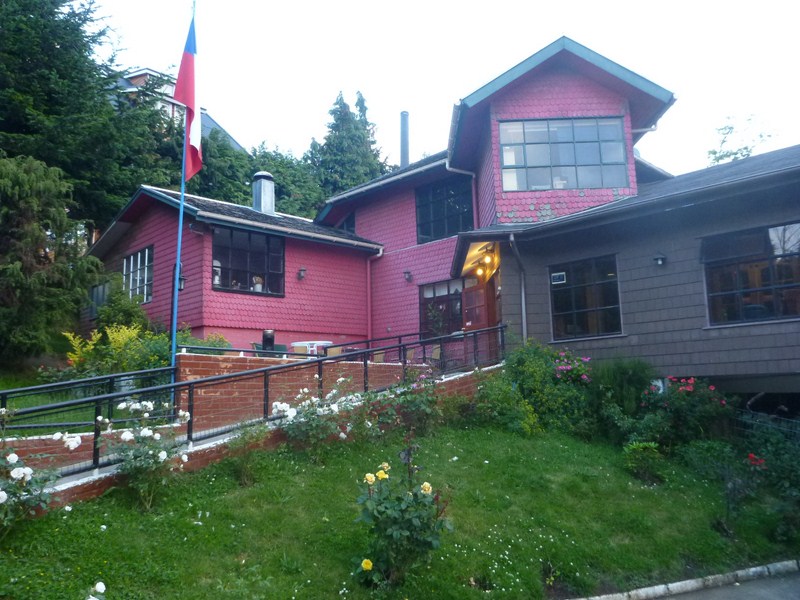 In Puerto Varas Chile, there is a seafood restaurant we have grown to love, it's called the La Olla.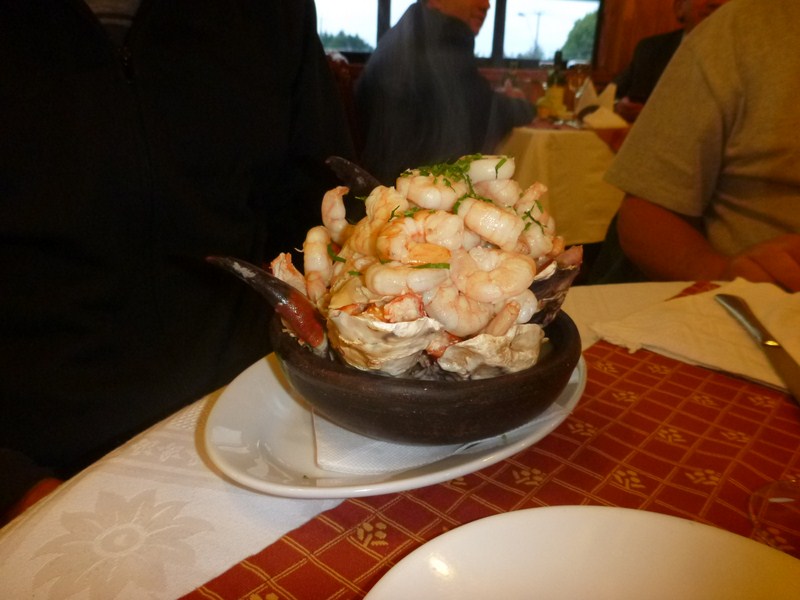 Fresh and delicious, when you come down to fish with us we'll take you there.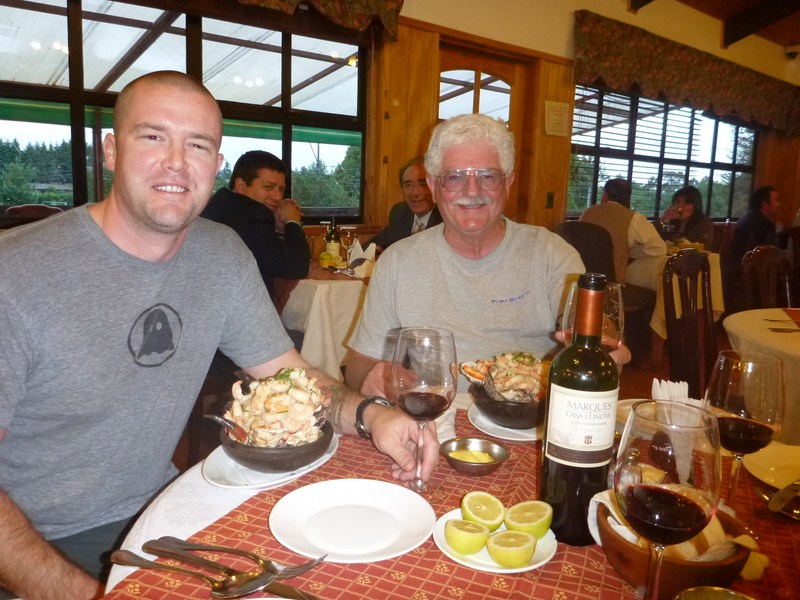 Mike and Shane sure  enjoyed their meal and the wine we selected.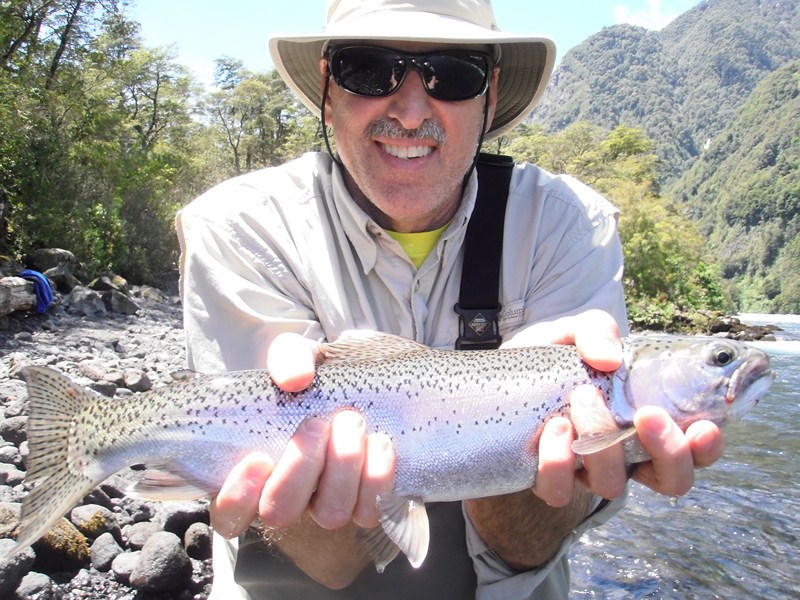 Frank & Alexdra happy holidays, thanks again for coming down to visit!

 Revive and survive to be caught on another day is what we're talking about.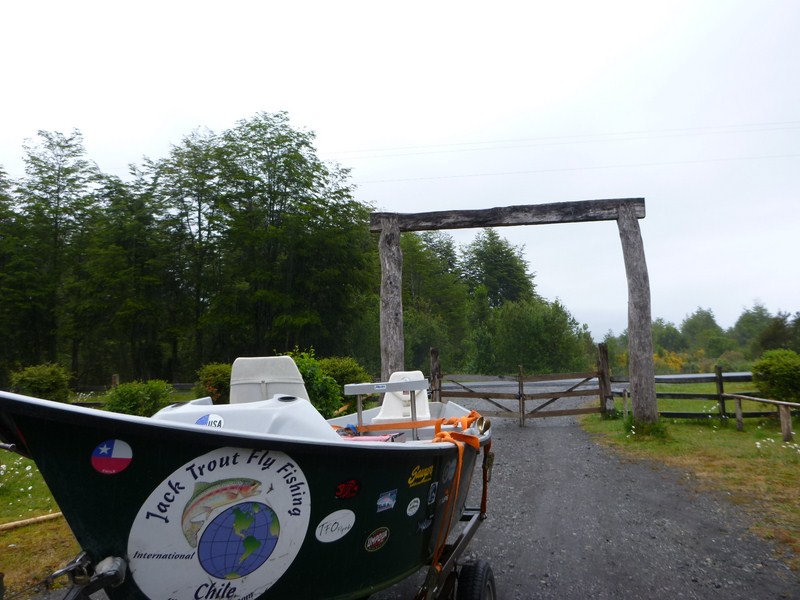 Most of the rivers we guide on here in Chile are private access, that guarantees you good fly fishing on catch and release only rivers.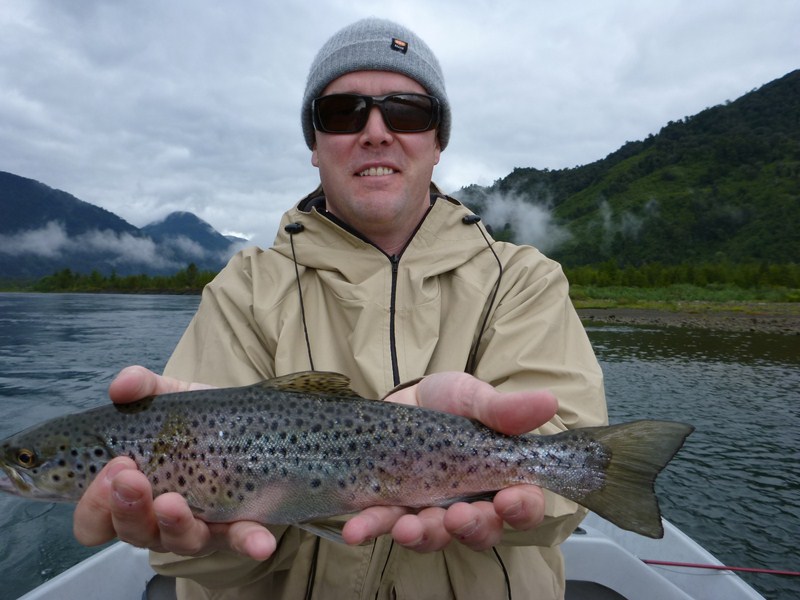 Frank & Shane on 2 separate guided trips never saw another fishermen the entire two weeks we fished together!!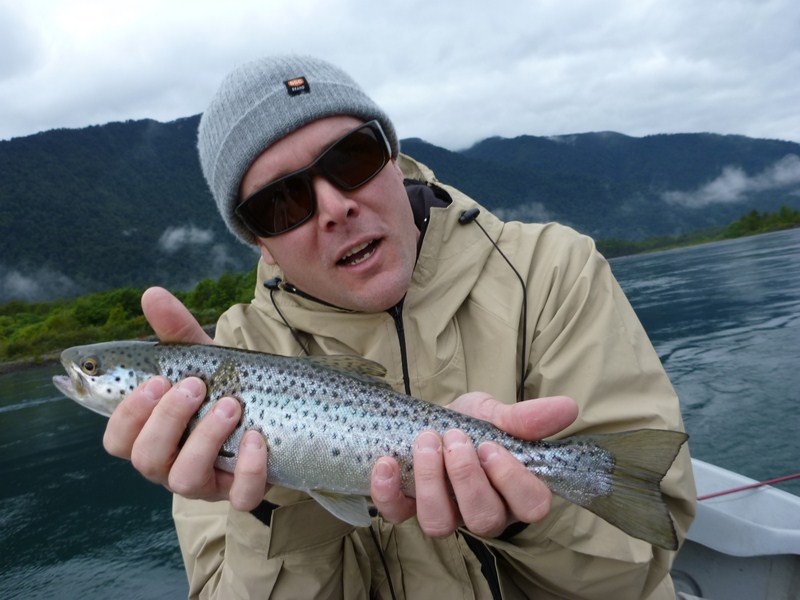 More ocean brown trout coming up from the ocean into the river system.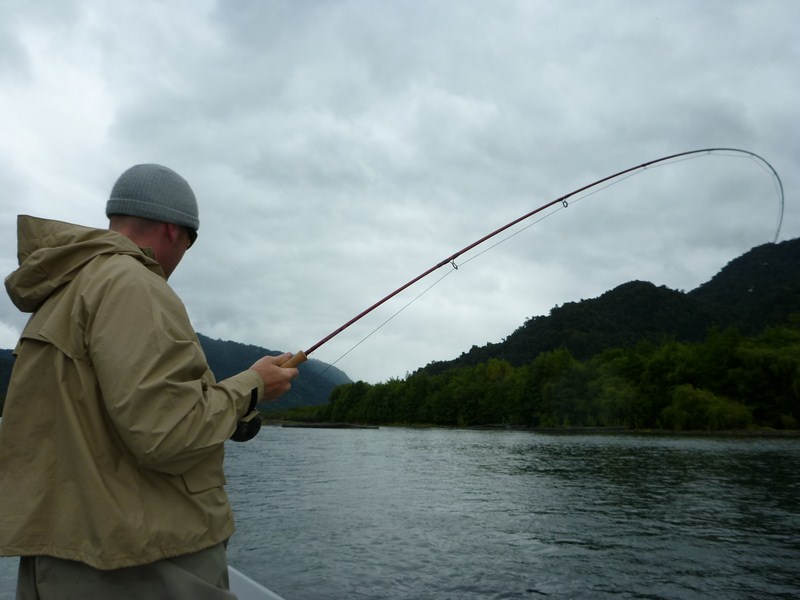 Everyday we went out the fishing was superb. The trout were smaller than usual for this time of year but the region has been receiving lots of rain and the river has been fluctuating up and down.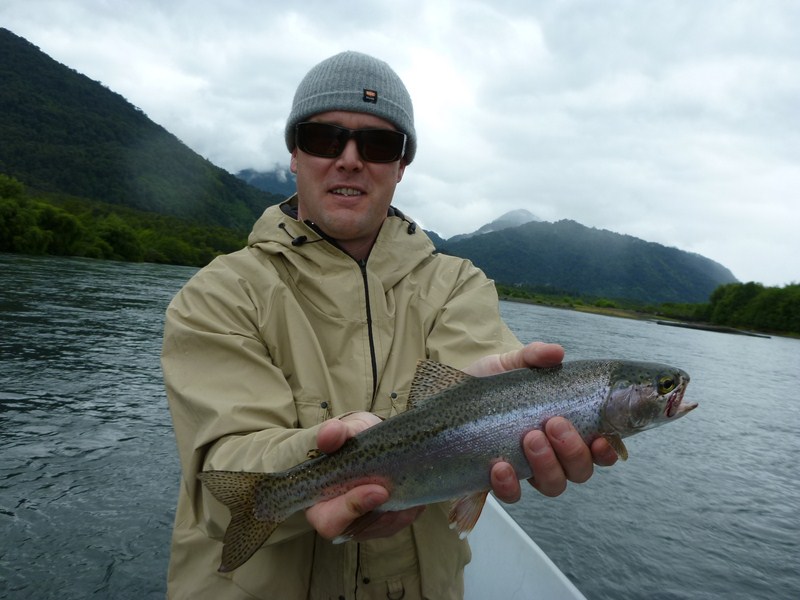 Shane had to fly fish in some pretty tough weather as this spring in Chile has been an rainy event, but still productive.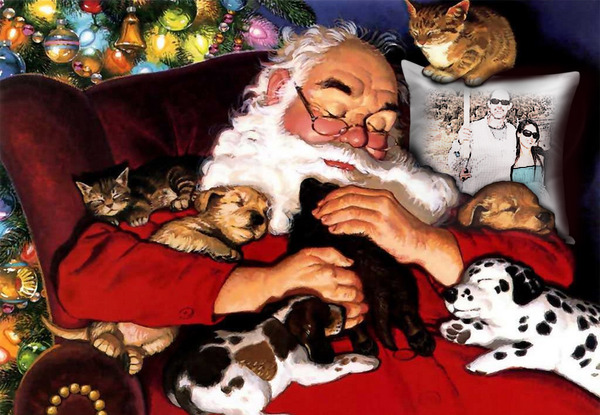 We hope you have many silent nights this holiday season.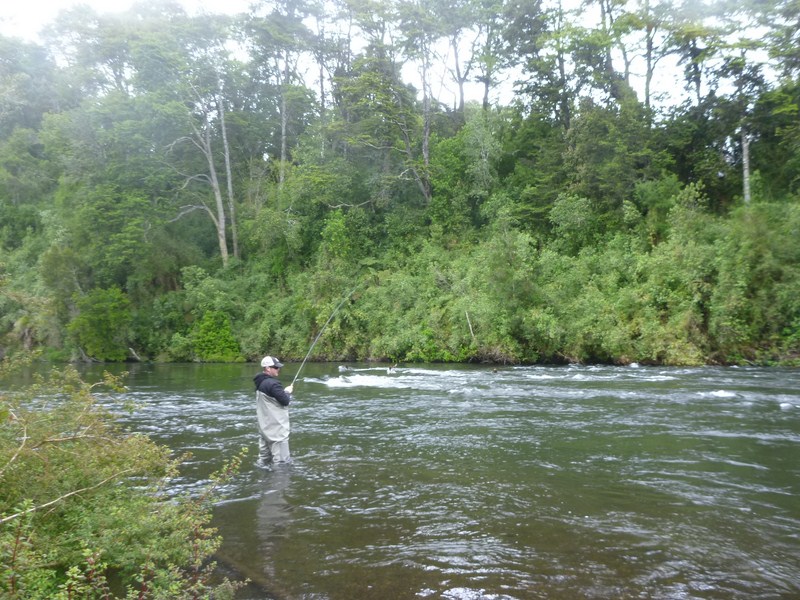 Next we took Shane to a private ranch we have access to on the Rio Maullin and while I was launching the boat he hooked into a nice trout.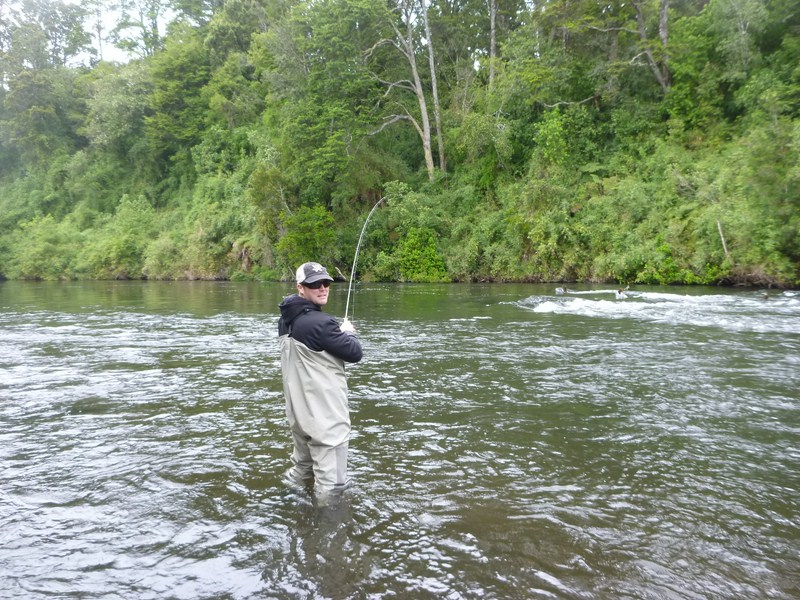 I always like starting the day off this way, it's a guides holiday gift!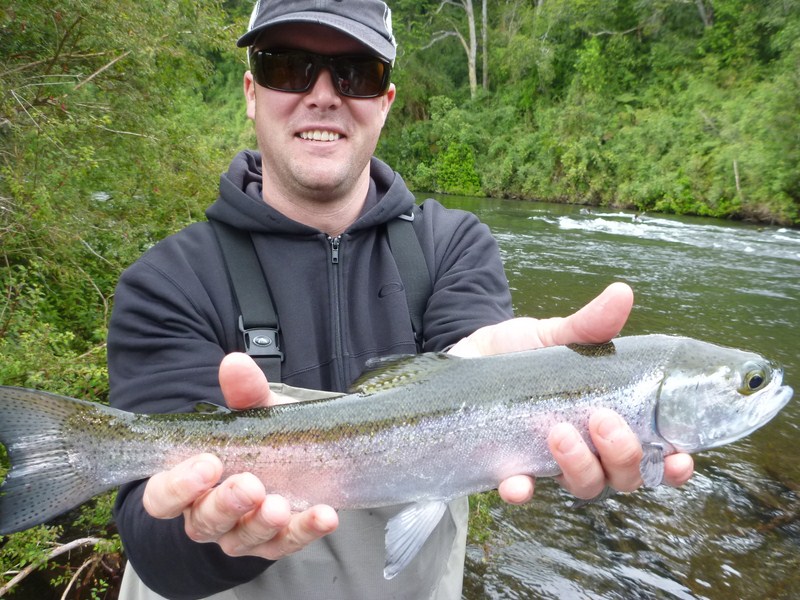 That's a nice catch right form the dock!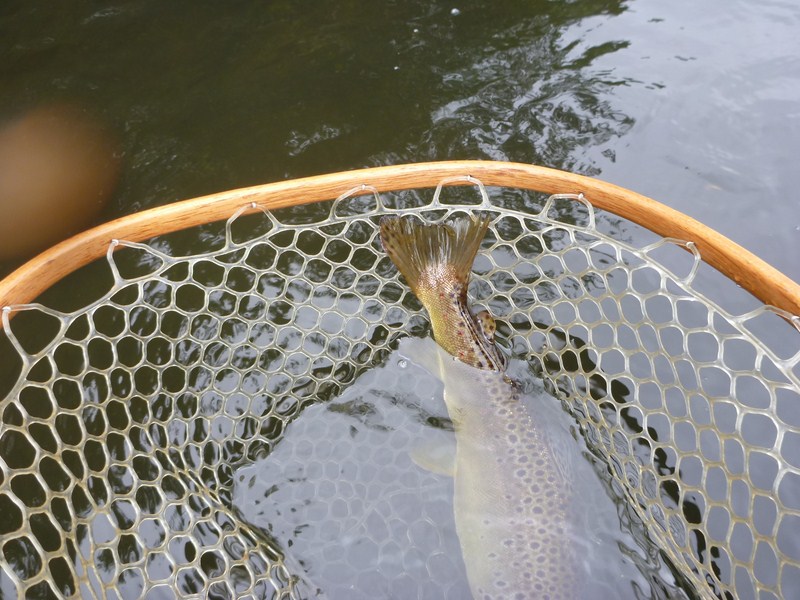 A little down further drifting we hooked up on this brown trout, can you say brownie points!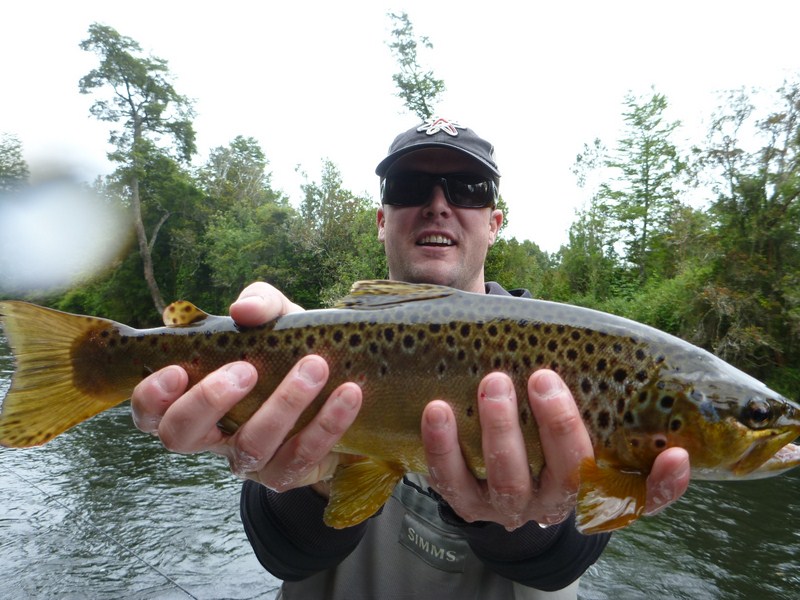 Amazing colors of gold and brown, that's what I like about guiding here in Chile, with no dams in order you never know what you're going to catch as we are only about 40 miles form the ocean.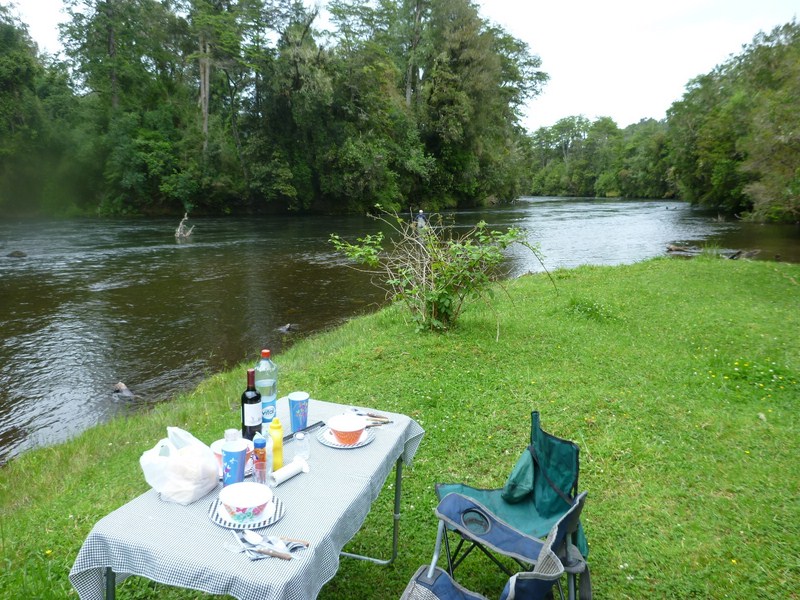 Ah the gourmet stream-side lunch, thanks to Carola the day gets better and better.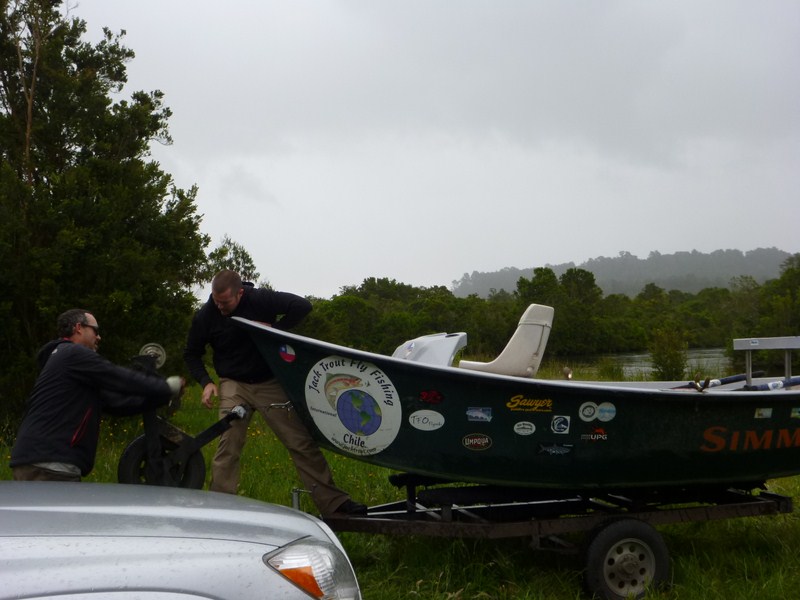 Take out is at our cabin on the banks of the Rio Maullin, we can float you to where you stay with us!
CALIFORNIA * TRINITY RIVER * CALIFORNIA * TRINITY RIVER * CALIFORNIA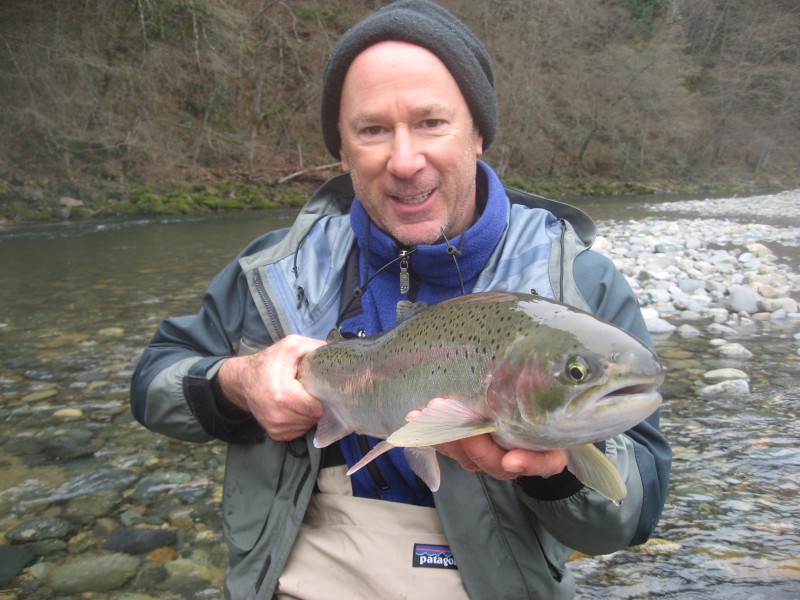 Out with Forrest on the Trinity River, Kevin hooks up and lands a wild steelhead this past week.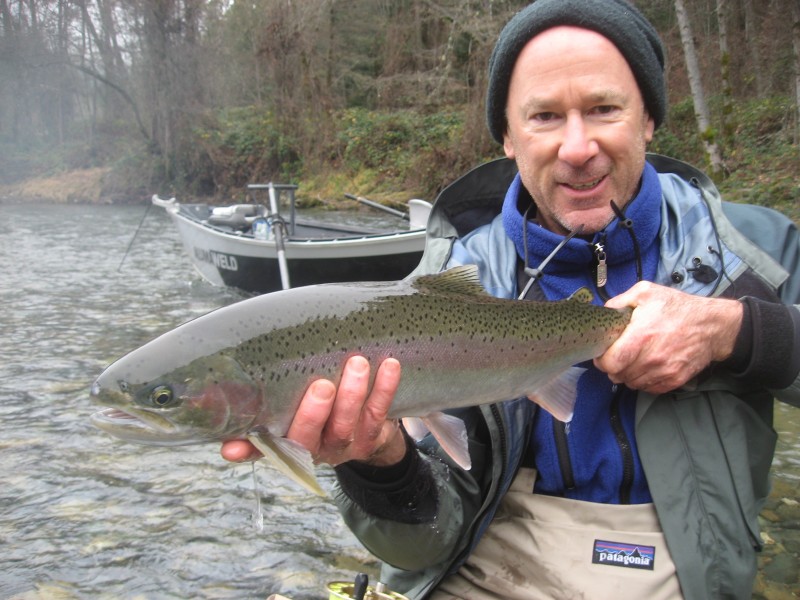 It's so nice to see how healthy the steelhead are in this river and wild is best always, as hatchery anything is what we call in the industry as welfare trout.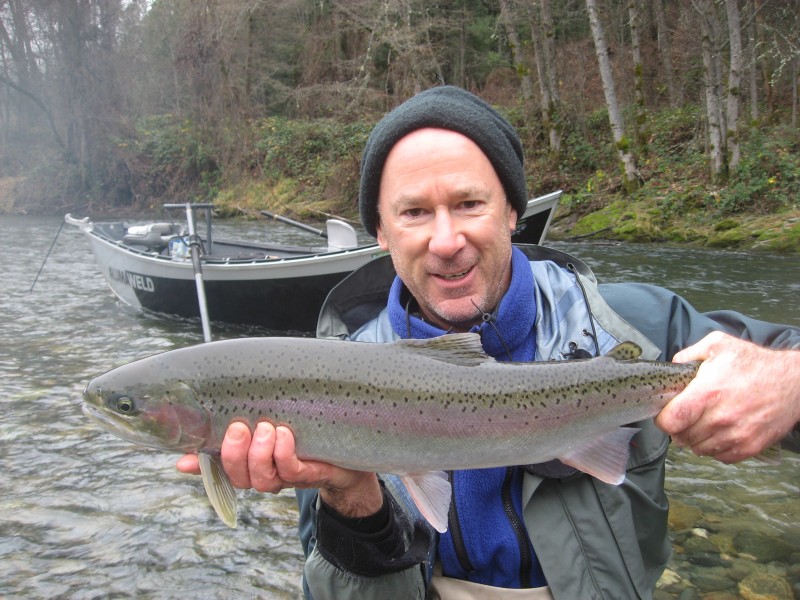 SEXY, isn't she!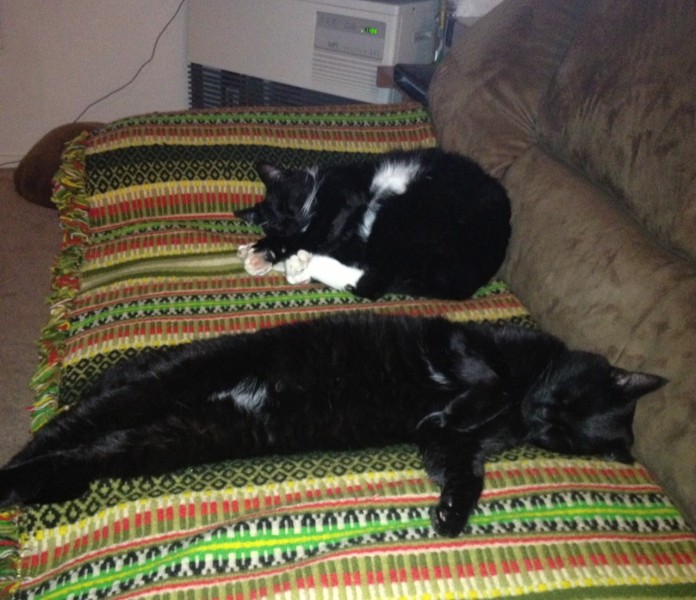 My cats back at home in Shasta, taking a cat nap! Thanks Casey on the home front.
Would like to thank, Christian Heilman for 20 years of helping me with my web sites from the State of  Washington. I do the photos and stories on www.mtshasta.com but he maintains everything else and has helped me so much with Jack Trout Fly Fishing International. Best to you always, Jack & Carola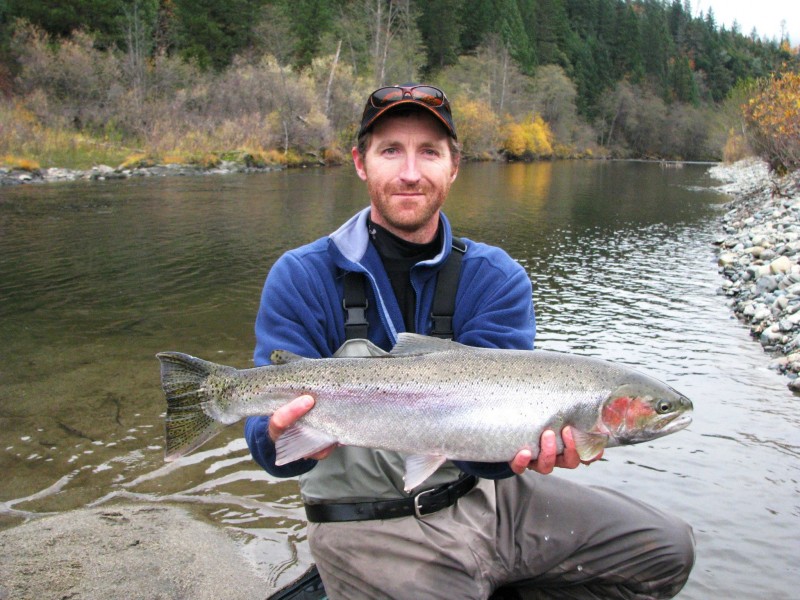 Jason Sinclare with a very nice steelhead this last week on the Trinity!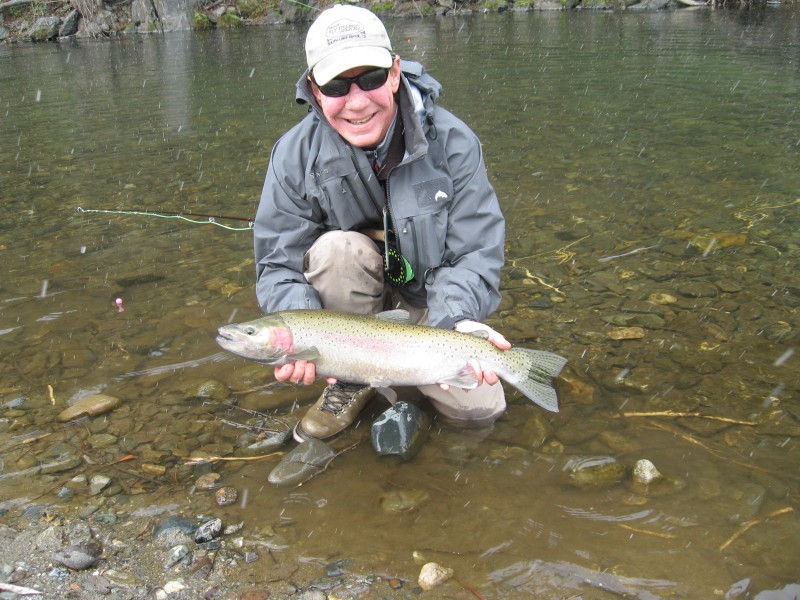 Guide Peter Santley with a wild steelhead, now guiding for Jack Trout Fly Fishing International.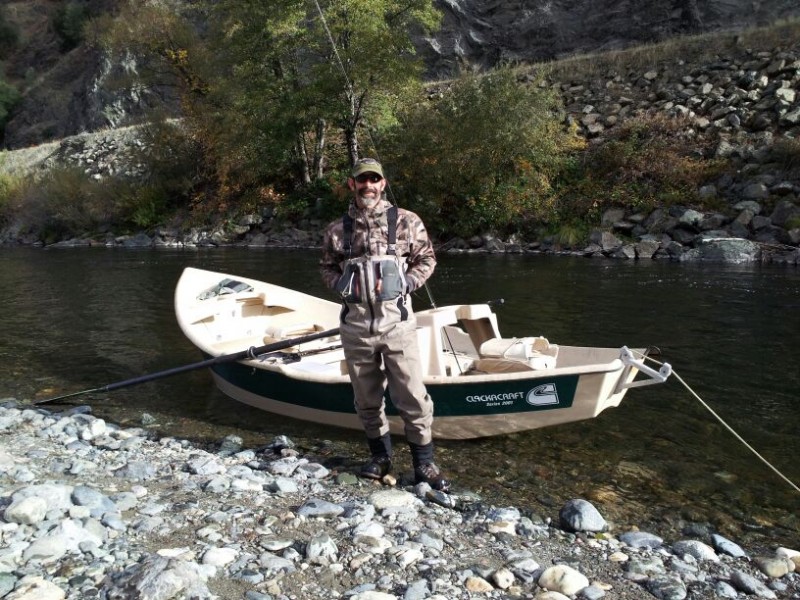 Scott Freeman ~ He guides for us in the North State in the winter months but also guides the Truckee/Tahoe area in the summer months, originally from Lakehead, Ca. He has great knowledge and know-how about where to take our clients and how to help you get on quality trout & a successful outing.
TEAM TROUT GUIDES INTERNATIONAL ~  http://www.jacktrout.com/teamtrout.html
******************************************************************************************************
| | | |
| --- | --- | --- |
| | | Favorited by |
---
 New CD for my friends Jerry Cantrell & Mike Inez at Alice in Chains in spring 2013 ~ http://aliceinchains.com/
Happy B-Day ~ Eddy Vedder 12/23/2012  from Trout, Carola & Jerry!
NY TIMES – Engineered Fish Moves a Step Closer to Approval
Published: December 21, 2012
Government regulators moved a big step closer on Friday to allowing the first genetically engineered animal — a fast-growing salmon — to enter the nation's food supply.
The Food and Drug Administration said it had concluded that the salmon would have "no significant impact" on the environment. The agency also said the salmon was "as safe as food from conventional Atlantic salmon." While the agency's draft environmental assessment will be open to public comment for 60 days, it seems likely that the salmon will be approved, though that could still be months away.
The environmental assessment is dated May 4. It is unclear why it took until now for it to be released, but supporters of the salmon say they believe it is because the Obama administration was afraid of an unfavorable consumer reaction before the election in November.
Environmental and consumer groups quickly criticized the federal agency's conclusions.
"The G.E. salmon has no socially redeeming value," Andrew Kimbrell, executive director of the Center for Food Safety, a Washington advocacy group opposed to farm biotechnology, said in a statement. "It's bad for the consumer, bad for the salmon industry and bad for the environment. F.D.A.'s decision is premature and misguided."
But the decision was long in coming. AquaBounty Technologies, the company that developed the salmon, has been trying to win approval for more than a decade.
"We're encouraged by this," Ronald Stotish, the chief executive of AquaBounty, said on Friday. However, he added, "We're not so foolish as to be wildly enthusiastic" that Friday's action will definitely lead to approval. Among other things, some members of Congress have tried to block the agency from approving the fish.
The AquAdvantage salmon, as it is called, is an Atlantic salmon that contains a growth hormone gene from the Chinook salmon and a genetic switch from the ocean pout, an eel-like creature. The switch keeps the gene on so that the salmon produces growth hormone year round, rather than only during warm weather. The fish reach market weight in about 18 months instead of three years.
The F.D.A. tentatively concluded in September 2010 that the salmon would be safe to eat and for the environment. A committee of outside advisers, while finding some shortcomings in the analysis, did not contradict those conclusions in general.
The agency then embarked on a more detailed environmental analysis that has now come to the same conclusions.
The main concern addressed was whether the genetically engineered salmon could escape and establish themselves in the wild, with detrimental environmental consequences. The larger salmon, for instance, could conceivably outcompete wild Atlantic salmon for food or mates.
The agency said the chance this would happen was "extremely remote." It said the salmon would be raised in inland tanks with multiple barriers to escape. Even if some fish did escape, the nearby bodies of water would be too hot or salty for their survival. And reproduction would be unlikely because the fish would be sterilized, though the sterilization technique is not foolproof.
The agency also said that approval of the salmon would have no effect on endangered species, including wild Atlantic salmon. The National Marine Fisheries Service and the Fish and Wildlife Service did not disagree.
AquaBounty produces its eggs at a facility in Prince Edward Island, Canada. The eggs are shipped to the highlands of Panama, where the fish are grown to market weight.
The federal agency said that other facilities for growing the salmon would require separate approvals. It also noted that it did not assess how the salmon would affect the environment in Panama and Canada, only in the United States.
Opponents said that the agency should do a more complete environmental impact statement. They also said that not enough samples were studied to conclude that the fish would be safe to eat.
Scientists and companies working on animal biotechnology had complained that the failure to approve the salmon was discouraging investment in the industry.
An article in Slate earlier this week said the White House had been delaying release of the environmental assessment for political reasons, violating the Obama administration's pledge to make decisions based on science. The environmental assessment was released soon afterward.
An agency spokesman declined to comment on the delay. He said it was not possible to predict when a final decision on the salmon would be made.
The F.D.A. is likely to take weeks or months to analyze the comments it receives. Even if it then affirms the conclusions released Friday, that would be a decision that a bigger environmental impact statement is not needed. The agency would still have to take a separate step to approve the salmon for introduction into the food supply, although it is thought there are no other important issues outstanding.
Mr. Stotish of AquaBounty said that if the approval came early next year, some salmon could reach American dinner plates late next year. But quantities would be limited by the small capacity in Panama. AquaBounty hopes to sell eggs to other fish farms that would grow larger quantities of salmon, but that is likely to take a few more years.
AquaBounty has argued that the faster growth of its fish makes it feasible to rear them in inland tanks rather than ocean pens, reducing the environmental impact. "That allows us not to disturb the oceans whatsoever," said Elliot Entis, the founder of AquaBounty.
Mr. Entis, who no longer works for the company, has formed a new company to rear the salmon in the United States.
AquaBounty, which is based in Maynard, Mass., nearly ran out of money waiting for the salmon to be approved.
Kakha Bendukidze, an investor from the nation of Georgia who owned nearly half the company's stock, sold his holdings in October to Intrexon, an American company. Intrexon, which is offering to buy the rest of AquaBounty, is providing it with a $500,000 loan.
Intrexon is working on synthetic biology, which is sort of a souped-up form of genetic engineering.