STEELHEAD MADNESS ON THE TRINITY AND KLAMATH RIVERS
GIVE US A CALL AND I'LL ARRANGE A GUIDE FOR YOU!
530-926-4540
*********************************************************************
CHILE FLY FISHING TRIPS  ARE OFF THE CHARTS AS WELL AS
 TOURS TO THE ISLE OF CHILOE TO SEE THE PENGUINS….
Hello from Chile and happy new year! The rivers here in Chile are a little higher than usual, but it's great when you know where to fish because in one area the fish could be schooled up. I sure love this new under water camera I'm using, you can really see the fish in their natural habitat. Things are great here on the Rio San Pedro and the fishing has been terrific. So join us as we lead you on a another adventure here Chile to the best areas to fish as most of the rivers in Patagonia are blown out due to unusal amounts of rain. We are traveling around the region to areas we know and love in search of the best fishing for you.
Saludos de Chile,  Jack & Carola Trout
Fly fishing the Rio San Pedro is my passion, it is a real live Patagonia type river, with huge riffles running freely into the Rio Calle – Calle and then into the ocean undammed and free flowing all the way. 
Whether your a beginner or advanced, there's a fish for you in this river.
 A classic river I love, and now right in my back yard.
Stoneflies, mayflies and caddis all live here.
 Immitating the insects is a must on any river in Chile or back at home in Northern California.
One day Carola and I went fishing and had a great day out in the sun.
We hooked fish of all sizes nymphing and on dries.
 This girl is really hooked on fly fishing.
Very strong fish live on this river and many others in the region.
This trout looked like he was targeted by a predator at one time in the past.
A fine trout indeed 
How cool is that!
Saludos de Chile, Jack & Carola Trout
Enjoy this video folks of one of most classic clients I've ever guided in Chile. People like Eish make guiding and life fun and I can't  remember the last time I ever laughed so hard out on the river…..
 Later we went to our favorite restaurant in Puerto Varas Chile, Alessandro's Italian Restaurante.
 Leave room for dessert!
 Boy can they make a great dessert!
Carola has a fashionable lunch at a favorite picnic local in Puerto Varas….
 Then we had a celebrational Asado BBQ at our new home on the Rio San Pedro, We're using it also to house our clients. Folks love it because we are right on the river and they save money on their trip costs.
 That night we had music, great food and great friends, guides and clients! It was a really hoot….
Jack & Carola Trout / Patricio Pacheco
The next day, a great family showed up from Texas and we used 3 boats and 3 guides on another great adventure on the Rio San Pedro.
 Ann Shea here bringing in her first trout on her first day ever fly fishing. She hooked 8 that day and brought in 4.
A real nice catch if I don't say so myself.
Ann, way to go! You were a great student that day and I know fly fishing is a sport you will continue to like as you get older.
That night we had another asado BBQ and cooked up a lamb and drank a few beers and great Chilean wine.
 The meal was fantastic! We can all thank Carola for her efforts behind the scenes, she works hard to make sure everything is just right on the meal-side!
I think we make an excellent team and always have your best interest at heart for an affordable price.
 George Shea here with a big steelhead that was so hard fighting, it eventually just broke off!!
 Later brother Austin landed this Sea-Run Brown.
Another classic riffle on the Rio San Pedro in Chile.
 The Jordan of fly fishing folks!
 Yahooo!! A great catch again!!
 After everyone left the guides and I fired up the BBQ and had another asado. This time with a nice cut of Chilean beef…
Can't have a BBQ without music!
Where's the beef – Here's the beef!
Things got a little crazy that night as we celebrated a perfect two weeks and we know that all the clients that visited us had great fishing and great memories. So we tied one on that night.
The bees were making honey behind me and I was kising my honey as I ate a delicious curri-pan sandwich.
Thanks for watching our adventures!!  Jack & Carola / TEAM TROUT GUIDES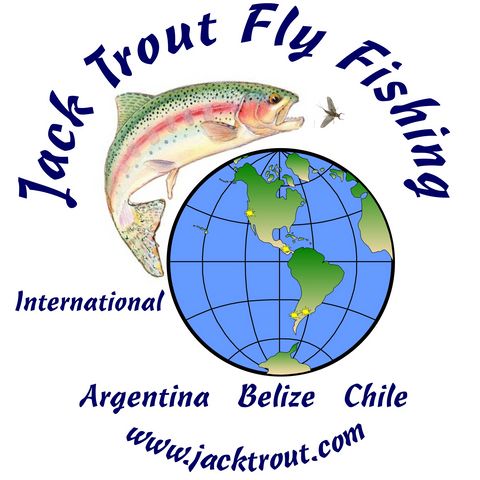 EMAILS FROM YOU: