We donated a 6 day 5 nights 3 days fly fishing & one day tour to see the penguins Isle De Chiloe Patagonia Chile package!  See you at the BIG EVENT in Chico !!  
Jack & Carola Trout
 Howdy Folks!    Trout here on a colder blustery day, makes me feel better that the rains are finally on the way after one of the hottest summers I can ever remember. This last wave of heat was so intense one day I was guiding last week in a tee-shirt and my skin felt like a skillet, that was with the 50 sun block. A nice big rain storm would be mostly appreciated by all I've talked too lately. So pray for the rains people we need it.
Jack & Carola Trout
 Now here's two folks about as nice as it gets – Bernice and Pat Patterson, these two fly fish all over the place  and enjoy sharing their travels together.
 Pat with a nice trout on looking for the handle!
Then it was Bernice's turn to hook a power train!
 Being the type of guide to do anything for my viewing audience I stuck my head under water and shot this photo for you inbetween an oar stroke!    (Water temp 60 degrees)
Jake from Colorado with a nice trout on!
 Trout out instructing Jake on how to high stick nymph using a Stimulator as the indicator and two nymphs underneath.
 Carola's gourmet lunches are the talk of the river!
 Carola's estofado de pollo con pure -Her recipe from Chile!
 Greg Daviage with a nice trout on! We can hear him hootin from up the canyon, we're on our way!
(Greg is Jim Daviage's of Mount Shasta brother out visiting with his son Jake from Colorado)
 I think it's there?
 Greg nice trout man!  Thanks to you and Jake for coming out to Cali for a hook-up!
 These scenes never get old with me either my friends…. Thanks again for watching!
 Dr. Schoen hooking up on the total lunker in the way deep water!
 Elephant ears are so cool this time of year.
 Hold on tight!
 This guy's even camo'ed -out for crayfish…..
 It looks like a brown trout…..?
 I would like to thank Carola for all her great help and efforts here and behind the scenes!

BESITOS MUCHOS! TRUCHA 
 Pocket water always on my mind – You were always on my mind.
 Can you see the size 14 Lime Copper John? With the light,  you can see  how the trout would see it under water. Maybe a black or pewter colored bead would most resemble the natural more often in nature….
 Lindsey with a nice trout on the Upper Sacramento River fly fishing with her 5 weight rod.
 Trout is right under the surface fighting hard!
 Lindsey  – YOU'RE MY SIZZLER OF THE WEEK AWARD WINNER!! 
CONGRATULATIONS SIZZLER!!     Jack & Carola Trout
 Lunch time folks at the Upper Sacramento River Grill!
 Catching all those trout gave me a huge appetite!
 Happy happy! Thanks for all this yummy healthy food Carola!
Ah how adorable, thanks for coming up and enjoying a great day on the river!
Thanks for watching our adventures!
Saludos,  Jack & Carola Trout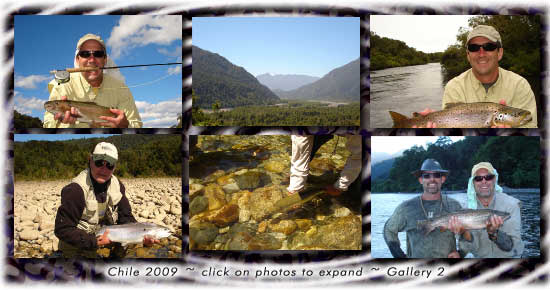 WE LOOK FORWARD TO GUIDING AND OUTFITING YOU THIS
2009 – 2010 SEASON IN PATAGONIA CHILE AND ARGENTINA.

Emails from you:
Hi Jack,I apologize for missing your call. We are heading out of town for a 
week, so I will call you around the middle of next week. I do want to 
ask you about fishing possibilities in Chile.Thanks,
Susan

 

Hi Jack,

 

Found you on the internet.  I'm down in LA but just found out that I had to go to Sacramento for the 4th.  Figure I may be able to work in landing in Redding tomorrow night or Wed night and maybe get two days of fishing in.  Was thinking about the upper and lower Sac or if you had a better idea if you are free.  I know last minute but…better then nothing.  So that means I may be able to make it.. Wed and Th or (Th and Friday).  On my own and then drive down to Sac on the weekend.

 

Still working it out as I type but I figured I'd start checking now.

 

Warm Regards,

Rusty

 

 hi jack….thanks for getting back to me….we're interested in   
fishing two [2] consecutive days, nov 10th and the  
11th…..perhaps  even doing one day on the trinity and one on the  
klamath depending on  where the fish are….does that work for  
you?…..should we stay in  redding or mt shasta?….let me know  
what you think….
 howard

 

Hi Jack

You forgot about transportation from Puerto Montt and back ,and tell me please if we fishing by the boats to? The drinks should buy guys?(win and beer).Till the end of October we take decision.

Regards

Dan

hi jack….thanks for getting back to me….we're interested in 
fishing two [2] consecutive days, nov 10th and the 11th…..perhaps 
even doing one day on the trinity and one on the klamath depending on 
where the fish are….does that work for you?…..should we stay in 
redding or mt shasta?….let me know what you think….
howard

See ya in a couple of weeks.

It'll be just me.

Boy am I ready for this!

 

Jim Gorman

 

P R E S S  R E L E A S E       

             

Karuk Tribe · Klamath Tribes of Oregon · Yurok Tribe · American Rivers · Trout Unlimited · California Trout · Pacific Coast Federation of Fishermen's Associations  Salmon River Restoration Council · Northern California Council of the Federation of Fly Fishers · National Center for Conservation Science and Policy · Sustainable · Natural Heritage Institute

 

FOR IMMEDIATE RELEASE

 

For more information:

 

Craig Tucker, Spokesman Karuk Tribe

   (916) 207-8294   (916) 207-8294

Troy Fletcher, Policy Analyst, Yurok Tribe

   (707) 498-8486   (707) 498-8486

Jeff Mitchell, Council member, Klamath Tribes,

  (541) 891-5971  (541) 891-5971

Curtis Knight, Spokesman, California Trout

 (530) 859-1872  (530) 859-1872

 

Glen Spain, Regional Director, Pacific Coast Federation of Fishermen's Associations,

 (541) 689-2000  (541) 689-2000

Steve Rothert, Spokesman, American Rivers,

 (530) 277-0448  (530) 277-0448

Chuck Bonham, Spokesman, Trout Unlimited,

  (510) 917-8572  (510) 917-8572

 

 

 

Klamath Dam Agreement Unveiled

 Agreement Represents Giant Leap forward for Largest River Restoration Effort in History

 

Portland, OR – Today the 29 parties that have been negotiating the fate of the Klamath River Dams released the highly anticipated Klamath Hydroelectric Settlement Agreement (KHSA). In coming weeks Klamath Basin Tribes, counties, conservation groups, fishing groups, and farming and ranching organizations will consider the pros and cons of the Agreement and decide whether or not to support it. Already, several groups appear eager to support the Agreement and move forward with resolving what many have thought was the America's most intractable water war.

"Klamath communities are redefining what is possible in terms of large scale ecosystem restoration. The key to success is an approach that supports all of the Klamath's diverse rural communities," said Chuck Bonham of Trout Unlimited.

 

The KHSA would be complemented by the implementation of a companion agreement, the Klamath Basin Restoration Agreement (KBRA). Whereas the KHSA focuses on the fate of PacifiCorp's lower four Klamath River Dams, the KBRA significantly increases water flows for fish, provides greater reliability of irrigation water delivery, undertakes Basin-scale habitat restoration, and makes critical economic investments to ensure the economic viability of Basin fishing and farming communities into the future.  

 

"This Agreement represents a major step toward restoring the health of the Klamath River. We look forward to working with all Tribal, agricultural, and fishing communities in the Klamath Basin on implementing these solutions," said Troy Fletcher, negotiator and Yurok Tribal member.

The KHSA provides a pathway that would lead to dam removal in 2020 following an analysis by the Secretary of the Interior to determine whether dam removal is indeed to the benefit of fisheries resources and in the public interest. In addition, the safety of dam removal must be scrutinized through a public environmental review process consistent with all applicable state and federal environmental laws.

 

"Of course we'd like to see the dams removed tomorrow, but the reality is we must make sure dam removal is as safe as preliminary assessments suggest and that it can be done cost effectively," said Steve Rothert, California Director for American Rivers. "For a restoration action that is simply unprecedented in scale and scope, this is actually a reasonable timeline."

 

The KHSA is based on the Agreement in Principle reached between PacifiCorp, Oregon, California, and the federal government in November of 2008.  It provides for funding up to $200 million in dam removal costs by collecting a surcharge from PacifiCorp's Oregon and California customers over the next 10 years. Earlier this year, the Oregon legislature authorized the customer surcharge.  If necessary, the State of California would provide up to $250 million more towards the cost of removal with the total project costs not to exceed $450 million.

 

Dam owner PacifiCorp appreciates the approach in the Agreement as well. PacifiCorp Chairman & CEO, Greg Able describes the agreement as a "balanced and reasonable outcome that best protects the interests of our customers, while achieving the policy objectives of the states and federal government, as well as helping to peacefully resolve numerous conflicts in the Klamath basin."  

 

The release of the proposed Agreement marks a significant shift in attitude for many in the basin. Over the past 20 years the Klamath has been marked by bitter and acrimonious debate. The various communities had targeted one another with lawsuits and protests, often marked by acts of civil disobedience, in a failure to truly resolve issues pertaining to water rights, river flows, and economic development.

 

"Once we decided to stop fighting and start talking, we realized the opportunities provided by collaboration and coalition building," said Jeff Mitchell, council member for the Klamath Tribes of Oregon. "We haven't seen salmon in our country for 90 years; this Agreement represents our best chance of finally bringing the salmon home to the Upper Basin."

 

In coming weeks, participating governments and organizations will be considering whether to formally sign on to the Agreement. If a critical mass can be reached, the groups hope to introduce legislation to implement the companion agreements by the end of the year.

 

# # #

 

Editor's note: for a copy of the Klamath Hydropower Agreement and an Executive Summary, go to www.edsheets.com

 

 
 

 

 

S. Craig Tucker, Ph.D.

Klamath Coordinator

Karuk Tribe

 916-207-8294  916-207-8294

 

 

 

 

 

Good morning Jack, I just wanted to thank you for all of your past emails.  It helps me keep in touch with a very special part of my past.  I was born in Dunsmuir in 1947.  In fact I was born at home on the kitchen table. Whenever asked I always say that "I was born in the shadow of majestic Mt. Shasta." My Dad was a Fireman on the SP and my Mother worked in the office of the gas company. I have such fond childhood memories and your emails help keep them close. Maybe I will come back and retire, on the other hand San Diego might be hard to leave.

Thank you again and I very much appreciate your efforts to keep that part of God's country as pristine as possible.

 

Patrick Felde