***RAINS THIS WEEK PUT MORE SNOW ON MT SHASTA AND EXTENDS RAFTING SEASON UNTIL JULY!***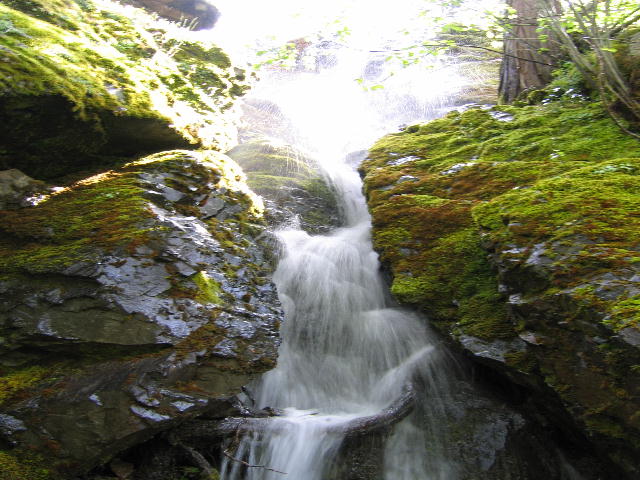 With all this rain in the past few weeks many rivers are high right now. The Lower Sac is over 28,000 cfs, the Klamath is at 4500 cfs and the Trinity is also at 4500 due to be lowered to 3000 cfs. All too high to even fish and maybe a little too dangerous to even be on? So where do
you go in high water? Well Dr. Trout, has all the answers this in this week's web log. Like this waterfall shot on the Mccloud River?


Over at Hat Creek things are fine, bugs are coming out after 11am and customers like Tom Shaddox enjoy fishing dry flies
as well as nymphs. The only bummer on Hat Creek is the lower section is all rocked off now from driving down to the river, so my elderly customers won't have it as easy walking and fly fishing down by the weir. It sure looks a lot better down there without all the tire tracks everywhere, besides we can all use the exercise.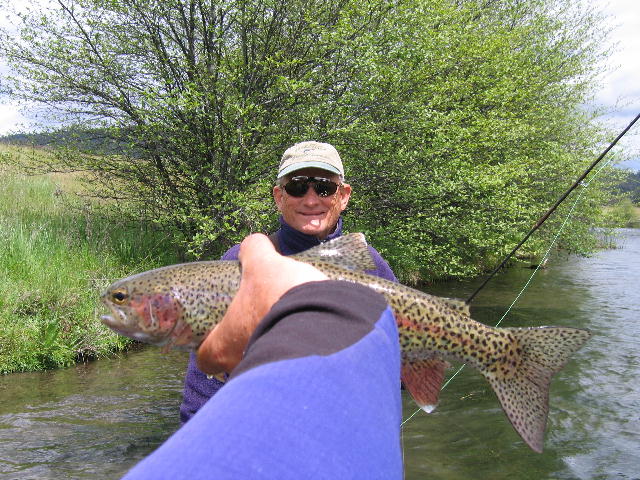 The trout are not always as big on Hat Creek, but remember you get to add 2 inches to the length if you catch it on a dry fly (guide rule #37) I highly suggest you skip the Fly Shop in Redding and go by the Trout Country Store in Johnson Park (next to Burney) Dave and Jan Brown have all the customed-tied flies for Hat Creek, Baum Lake and Fall River.
You can call them at 530-335-5304 or 530-335-4413 They are located right on HWY 299, you'll thank me. Don't show up on the rivers over there without the right dry flies, it's humbling. jt


The Rainbow Trout over on the Pit, Hat Creek, Fall River and Baum lake have different markings than any other trout I've ever seen on the planet. I call them Pepperbows, cause of the markings that looks like huge flakes of course ground pepper used as camoufladging amongst the lava rocks that bear the same colors. Especially unique is the trout having these flakes tattooed under their bellies, maybe it's so the crayfish won't grab them in the shallow depths?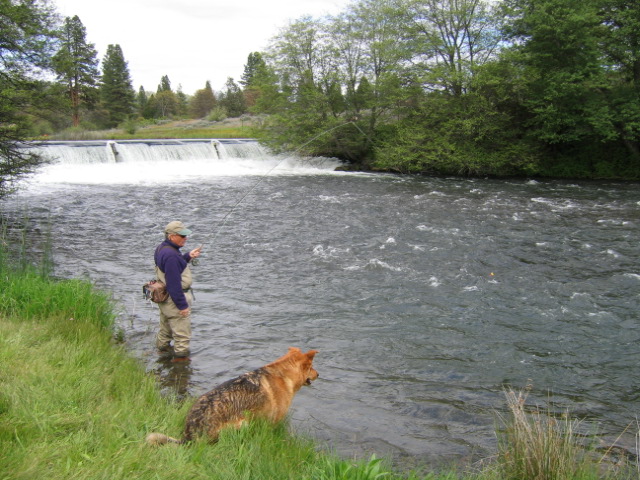 Down by the weir, Tom hooked a trout on his first cast nymphing. Shasta Trout dog looked on with excitement, Hat Creek is one of her favorite places to roam. Shasta Trout most favorite TV show is, "Dog the Bounty Hunter!" On A&E.


Ben from Turtle River, rafting the Salmon River. Call them at 530-926-3443, The Cal Salmon is a class 5 river.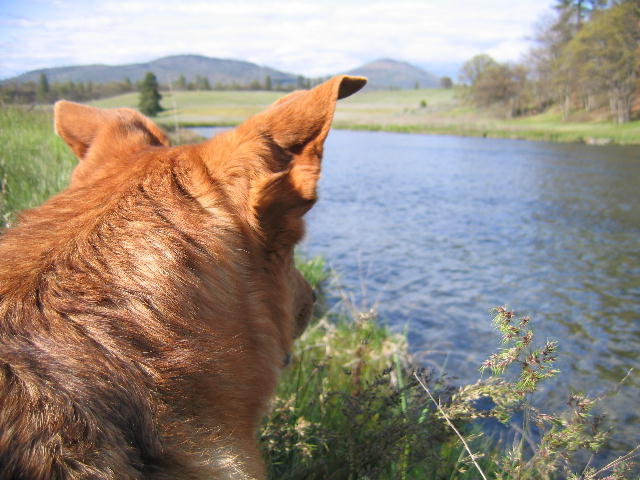 Shasta Trout watching trout rise and pointing, at Hat Creek Powerhouse 2 riffle.
That's the best dog ever for trout guiding with me on Hat Creek, Pit River, Klamath River and just about any place we guide together in Northern Calfornia. Shasta Trout is the famous dog of Jack Trout who has guided with him since 1994 in Mount Shasta, Dunsmuir and McCloud.


Tom hooked-up on trout on dry flies at Powerhouse 2 riffle. We are blessed to have so many places to choose from when fly fishing Northern California.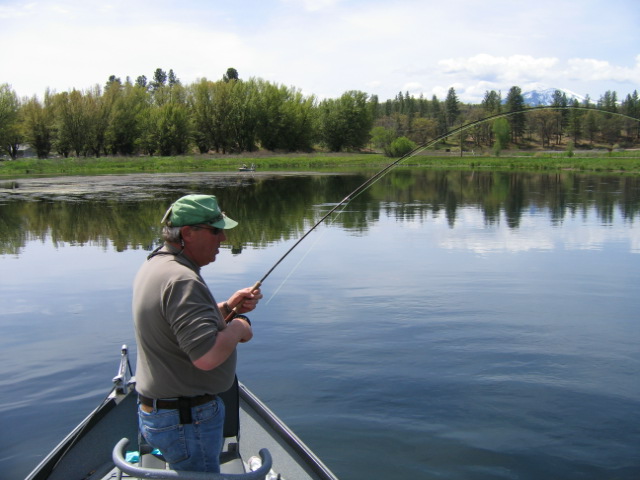 One day we guided Baum Lake and had great dry fly fishing.


George Coates in Mike Hibbard's boat landed a 4lb + Rainbow on a dry fly.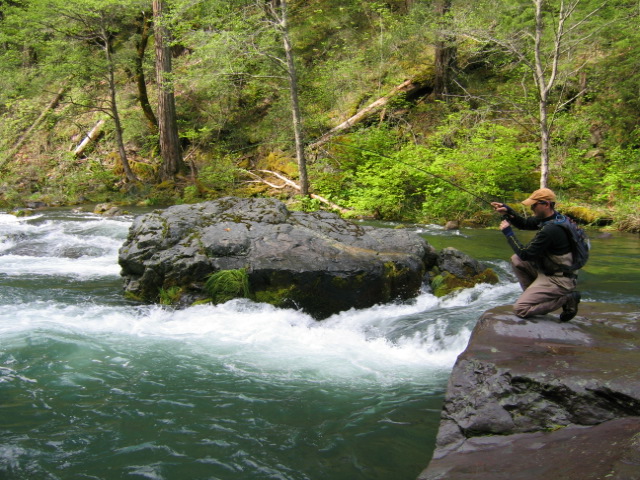 Todd Stenz a past customer from a few years back brought a friend out from New York to fly fish our area in-between storms and floods. You know when you plan something big and everything goes wrong and you feel bad. Well this is a story about two guys, Todd Stenz and Matt White, that planned a big trip (with the help of Matt's girlfriend buying a gift cert. Thanks! jt) and everything went right! The heavens
lifted the rains and lowered the flows just for their trips. Then once they left, the Sky Pilot started the weather right back up again. It was amazing to witness, and a little spooky. Must be that Bambino crap they bring out with them from the Big Apple, or could it be karma? Well kick-back and relax Sizzlers, cause I've got some stories to tell you! (it's Ok to insult New Yorkers, it's like a bonding thing to them)


Right off the bat, Todd hooked up and the trip was a success. The day appealed to all of our senses. Everywhere we looked was a beautiful snapshot. The rare air that breezed through the canyon from Shasta Lake warmed us. Add to that the sounds of rushing water, and you couldn't ask for a better 3-D picture of Mother Nature starring glittering, hungry trout. After 11:30 am we started seeing mayflies and caddis hatches. What a national treasure this trout was for Todd!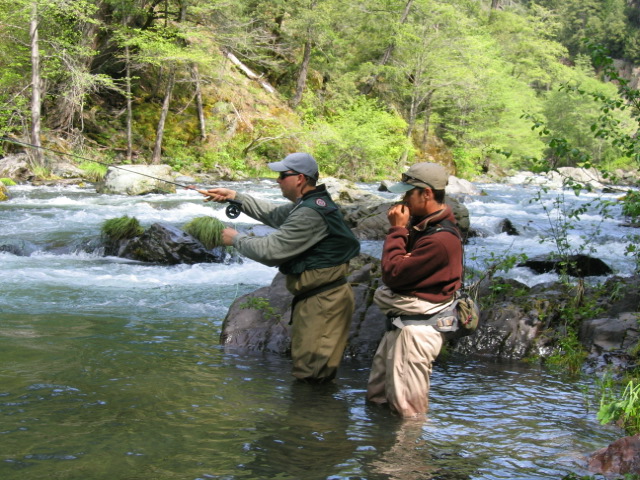 Matt and Chuck  together in some pocket water high stick nymphing. Like I said, with all this colder weather and higher flows, the mornings are slow until about noon, when insects come out of their egg cartons and the fish wake up to breakfast in bed.


The view from the top is always best! Matt hooked several trout here and even had an audience.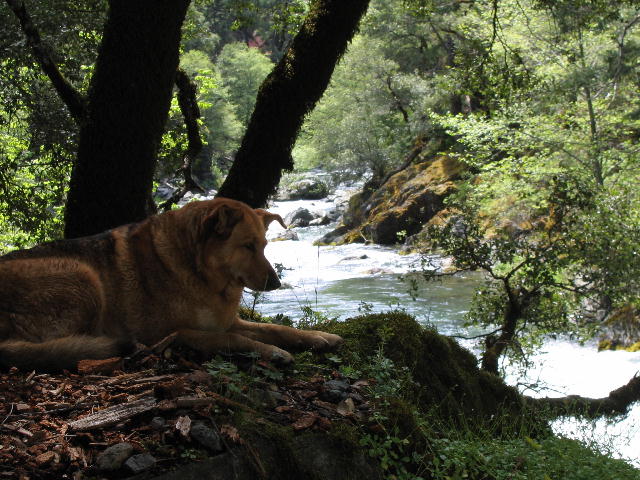 Shasta Trout looks on in delight as she watches like old father watching Brad Pitt, in A Rivers Runs Through It.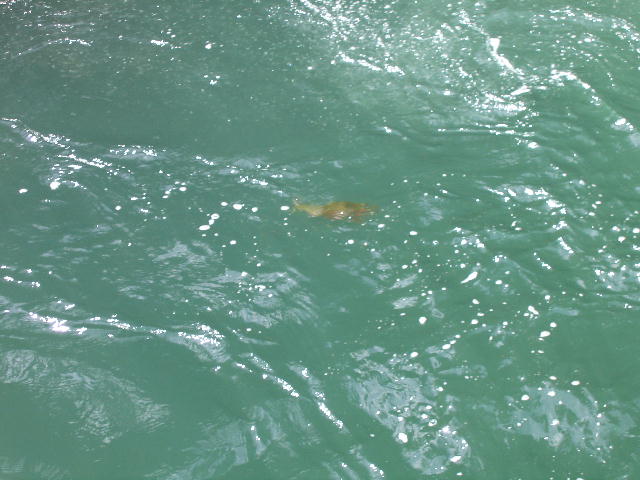 I think the average size trout this year in all of our local rivers are bigger than usual! We have been seeing an average size increase from 11″'s a few years back to more like 14″on the average. (that takes into account the exaggeration rate used by all guides)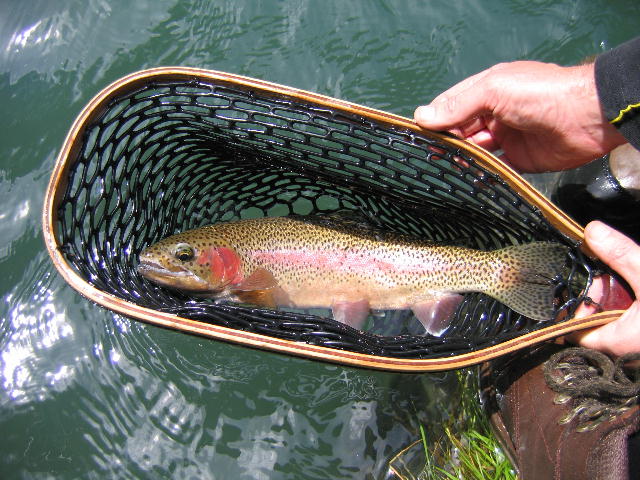 Wow! I love these McCloud Rainbows, fishing the McCloud has its rewards. Now the Mccloud is too high to fish, there really is no way to check the flows before driving all the way out there since PG&E doesn't cooperate with the California Department of Water Resources on posting these flows on the internet. They do post the flows down at the bottom of the Mccloud River but this doesn't help us now at high water driving below McCoud Dam. Let's hope that in the new licensing program who ever leases the dam will be required to post the flows. I feel sorry for folks who drive all the way up from the Bay Area playing roulette with the gas prices.


Babes On Boats, kinda like girls gone wild! Here's Meadow head guide (1st babe right) on this Upper Sac adventure for Turtle River.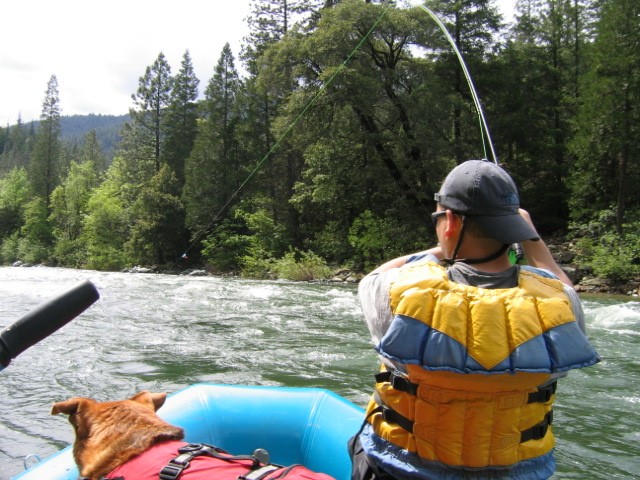 Back out on my raft, Matt has a hook up!
Shasta Trout Dog looks on as a another trout is caught out of my raft on the Upper Sacramento River. Shasta Trout my loyal dog and guide companion since 1994. There will be no other like Shasta Trout, any other dog is just a copy cat!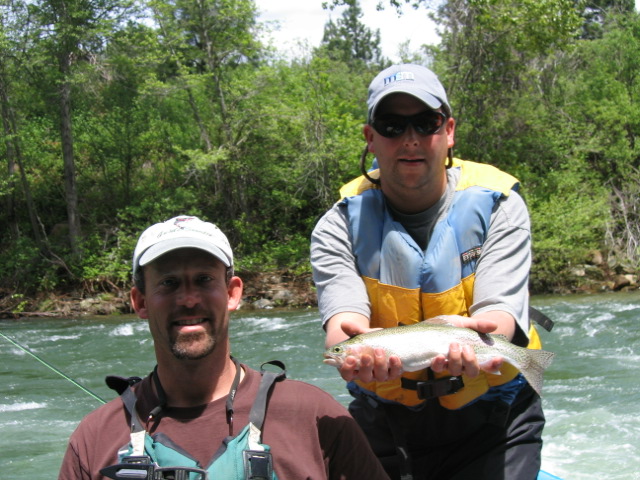 Matt congratulations, you're the SIZZLER OF THE WEEK! CONGRATULATIONS SIZZLER!!! YOU SHOULD GO OUT AND SALUTE THE STATUE OF LIBERTY TODAY AND THINK ABOUT ALL OF US OUT HERE IN CALIFORNIA WISHING WE WERE SIZZLER OF THE WEEK.


Did you know Mccloud has their Mushroom Festival this next weekend May 28th and 29th. I recently was out picking morel
mushrooms near the McCloud River, I have this port reduction sauce I cook them in that's terrific over a filet. Email; Mccloud Chamber
at http://www.mccloudchamber.com and a flea market also on Sat & Sun.


What a great couple of days for the boys from N.Y. Even at high water and the flows up at 3400 cfs we still had excellent fishing that day. In fact I had never had so many hits and hook-ups ever!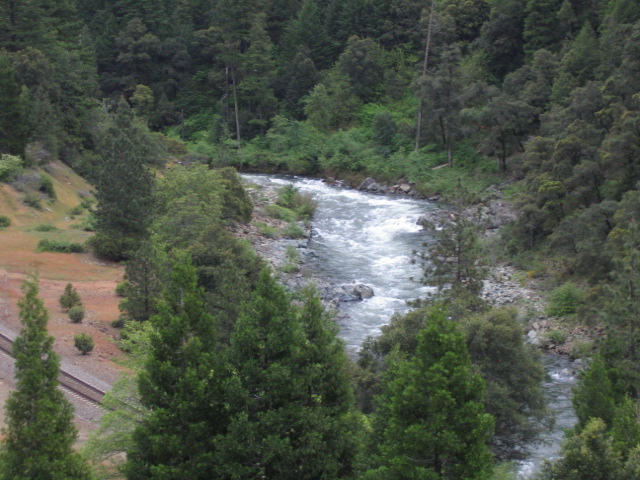 Hockey Shot Rapid! I thought it was amazing that the log down at Snaggle Tooth removed itself the next day and is now down on it's side posting no danger near Mosquito Creek.
It's fun to raft, boat, or drift when you know what's going on and stay safe! *****TAKE CARE FOLKS HOPE YOU HAVE A GREAT WEEK, HOPE THE SUN COMES OUT SOON!***** JACK TROUT &  Shasta Trout
http://en.wikipedia.org/w/index.php?title=Hat_Creek&action=edit&section=1