McCloud River is fishing good!
UPPER SACRAMENTO FLY FISHING RAFT TRIPS START NOW!
Good hatches on all North State Rivers especially between 2 pm and 6 pm.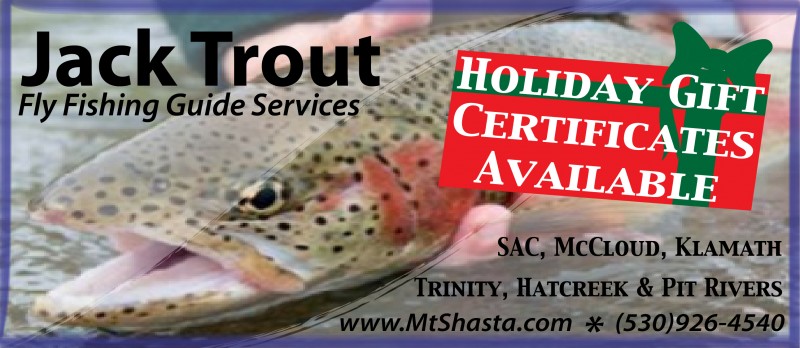 For a Gift Ceritifcate for Chile & Argentina or Northern California call us at 530-926-4540 or email info@jacktrout.com – We accept all major credit cards and take the hassle out of purchasing a holiday or a birthday gift for that fly fishing fanantic!
Jack & Carola Trout & the Team Trout Guides International.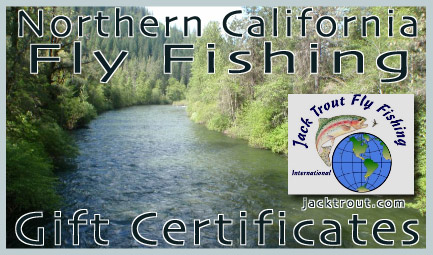 After a long winter in Northern California it's getting to be that time again where we head down the Upper Sacramento River in my magic raft. It don't matter how many times you've fly fished, whether you're a beginner or an expert, you're going to love this one of a kind fly fishing adventure where we float, fly fish and raft 3 different sections of the Upper Sac.
So won't you join me in my 15 th year of offering this special Northern
California Gem of a Guide Trip.
Cameron and his dad Robert really enjoyed their day with friend Gustav this past week.
The river is large from shore but out here when you put on big time weight and get down deep. Trout are hungry from the winter and the bugs  are coming out now in full force like they should, "It's mid June!"
The raft is a huge advantage but when you're learning to fly fish and you're young, it's fun to experience the thrill of class 3 rapids in between catching trout with pops on a nice Northern California type of day.
I see a few folks per season that show up with spin gear because they haven't really had a good experience fly fishing. Maybe it was the guide, the day, the trout weren't hitting before…Some how they just didn't connect with the sport on a previous outing.
I can always see it when we first start, the boys are usually around 10 years old, so it's easy for me to always leave dad's spin rod in the car he has no excuse, but out of politeness, I put the kid's spin rod in the boat even though I teach fly fishing, I always bite my tongue on that one.
But just like a long standing record you would admire in Baseball not a one has even casted the spin pole after hooking a trout with me on the fly. Not one client I have ever guided ever really preferred the spin pole over the fly rod in the end, it all came down to what they were familar with and they deep down just thought it was too technical and learned later on it wasn't.
I love what I do, teaching people about fly fishing and what revolves around the life of a trout, steelhead or a salmon and how the insects fit into the scheme. The catch and release of trout and steelhead are a must on my trips, we do not take any trout or steelhead ever. It's better to h
elp our local economy around Dunsmuir, McCloud and Mount Shasta by eating at a local restaurants and staying in a local hotels, everything you spend and do up in this neck of the woods really helps. Anyone that knows me knows I have a big heart for my clients, community and the trout in our rivers. The things I teach and practice on my guide trips are personal and are reflective of my environment and all its surroundings, I believe in putting everything back in our rivers. I think it's a good philosophy to teach our youth.
Thanks for your consideration,  JT & C

T
Oh That's a lunker for sure! Way to go Cameron!!
Now dad has one on and that one seems to be fighting too!
The silver philly! I would say the Upper Sac was high, but we still were getting hits and catching trout all the way down the river and in the rain, even seeing trout on the surface taking May flies.
I think this is modern kid lingo for "This trip is fat daddy!"
Nothing but net!
Then it was Gustav's turn to catch a few trout out of the back. Hope to see you again soon really enjoyed the company thanks! JT
Nice trout keep your tip up!
The Kodak Moment…. Sure love these new under water cameras they're making!
So you can see if you really want to catch a trout if you head up to Dunsmuir, McCloud or Mount Shasta, I promise you'll be rewarded.
Huckleberry Raft ~ We all salute the means by which we move down the Upper Sacramento River.
Proving that pioneering a private trip can be done if you have experience and the right equipment.
One for the road, Camloop up from Shasta lake.
Where is the love!
The perfect gift for that deserving fly fisher on this Father's Day.
~ Northern California Fly Fishing Gift Certificates ~  info@jacktrout.com  or   530-926-4540
OK, folks I'm talking total hilariously cool character here~ Name you ask?  JASPER!
Jasper is the Nephew of Bill James who I have been guiding since 1999. I dropped him off on the far side of the river
and he already has a trout on.
Taking out a lot of line especially in these high currents.
Ok, Bill that's a good start to the day right off the bat hooking and landing a nice wild trout.
Wow! Another trout on the next cast, I'll be back!
That's even a little bigger, I think this has the making of a fine day indeed.
In Western United States throughout the summer months we do a lot of wet wading, that's why I like these new Simms Moreno wool socks under my neoprene wading socks. They aren't cotton so they dry faster and keep my feet warm in the colder Northern California rivers. Hot sun – warm feet and fish on! That's why I use Simms Gear.
Jack & Carola Trout
http://www.simmsfishing.com


Well go figure, on this day we just couldn't keep the trout off. High flows and everything and we still are getting hits all the way down the river.
We love catching these hot wild rainbow trout from the Sacramento River.
We are so lucky to have these native wild trout in our backyard, that's why we also need to be protective.
We'll even make you a gourmet stream side lunch that you soon won't forget.
We really enjoy providing great guide memories & experiences for folks and wonderful river meals.
You can see the river is so high but on the edges on the far side of rivers where the river bends and the trout are lying on the edge in slower water is where we drift in my raft. It's fun you'll love it!
These trout are really hungry right now!
Edges Edges Edges ~ Location Location Location….
Jasper of SF ~ YOU ~ YOU MY FRIEND ARE THE
SIZZLER OF THE WEEK AWARD
WINNER!! CONGRATULATIONS SIZZLER!!
JACK & CAROLA TROUT
Poxy Back Golden Stone size 14 ~ Mike Mercer, created gold when the master nymph inventor spun his magic and created one of the most productive flies ever in the history of fly fishing. This fly works with trout, steelhead, bone fish, permit and a few other species that only Mike could ever dream up.
Bill James has a trout on in lunker alley!
Trout on again down at Vollmer's Beach Party.
What a great way to cap a great trip out with Jasper. Thanks so much for staying at the Mount Shasta Resort!!
http://www.mountshastaresort.com    530-926-3030
Bill James thanks for all the years you and Nancy have come and visited Mount Shasta, without people like you Mount Shasta would of folded a long time ago. Thanks to you and your family for all the years of visiting Mount Shasta and dropping a buck!  Your friend and guide, Jack & Carola Trout
Thanks for all the support from all of the great Bay Area people and all the people from all over who come and enjoy our beautiful area, we want to stop and thank you. The restaurants, guides, businesses, hotels and resorts also want you to know that we as a community are dedicated to your ultimate vacation experience. I know if you give us a try you will see the Mount Shasta area is a unique place in California. Folks are just flat out nice around here and we want to try hard to make sure your visit to our little humble pie is a memorable one.
That's why this summer ~ WE HOPE MOUNT SHASTA, DUNSMUIR, McCLOUD IS ON YOUR LIST OF CALIFORNIA DESTINATIONS, WE ARE A FULL SERVICE AREA JUST CALL ON US FOR ANY INFORMATION AND WELL MAKE IT REAL EASY ON YOU, JUST THE WAY IT SHOULD BE.
THE BEST TOWNS TO VISIT IN CALIFORNIA ARE MOUNT SHASTA, McCLOUD AND DUNSMUIR!
***************************************************************************************************
NORTHERN CALIFORNIA RIVER FLOWS