*****UPPER SAC & McCLOUD RIVER ARE BLOWN OUT – DON'T GO – May 5th, 2009 – Call me for more info (530)-926-4540*****
---
CHECK OUT SOME OUR GREAT FLY FISHING ADVENTURES FROM LAST SEASON!
---
---
*NORTHERN CAL**NORTHERN CAL**NORTHERN CAL**NORTHERN CAL*NORTHERN CAL*
*NORTHERN CAL*
---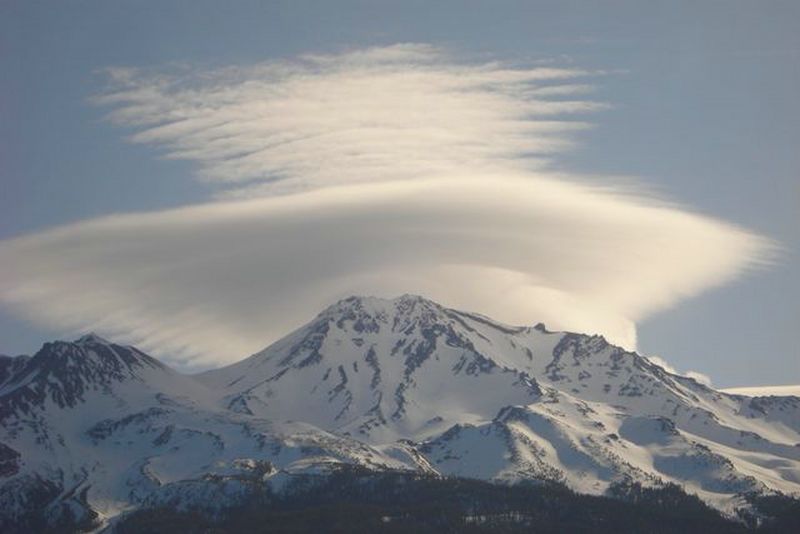 ---
When I returned to Mt Shasta from 4 months in Chile, I was welcomed by this massive lenticular cloud that told me to hold on to my hat a storm was on the way that would bring badly needed rains to fill a thirsty Shasta Lake and feed the ag lands of California once again.
For it all starts up high at the top of the food chain for water in California in a place we all know and love. A place that can be seen from hundreds of miles away on a clear sunny day. A place we call home. A place we call Mount Shasta, the tallest mountain profile
in North America.
Spring is officially here and we hope you make it up here soon, because the the amazing purple brush called Red Bud is blooming while the Silvery Lupine is starting to appear and I have it my mind to go out and look for Morel Mushrooms, my favorite mushroom on the planet
that appear every year at this time. This is one delicate delicacy
you can't mistake once you have seen this beauty.
Check it out: http://thegreatmorel.com
I make the best calzone with these mushrooms in a supporting role, nominated for a personal Oscar and the best part is, it's great exercise to go in the forest looking for them and it's free once to obtain your free permit from the USFS in McCloud, California. I also heard that they sell for as much as $80 per pound, so makes them taste even better……
Jack Trout
---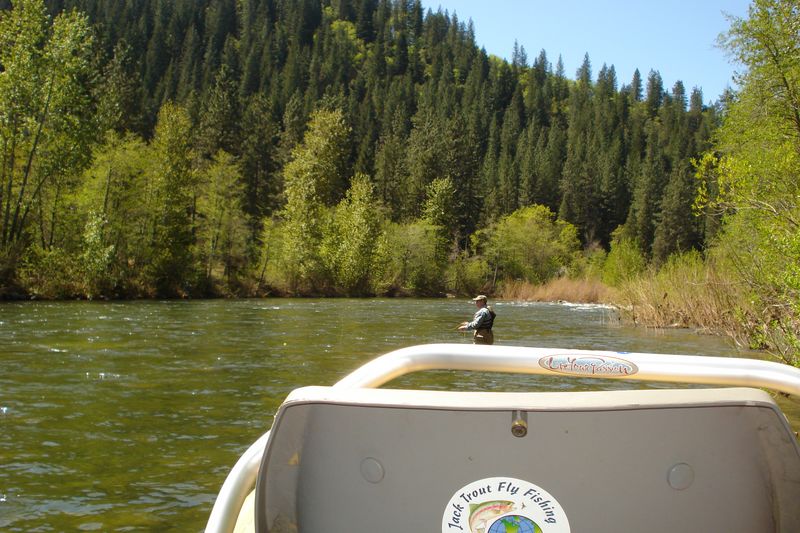 ---
Once back Mike & Todd Foster called and scheduled a trip to go out on the Upper Sac!
---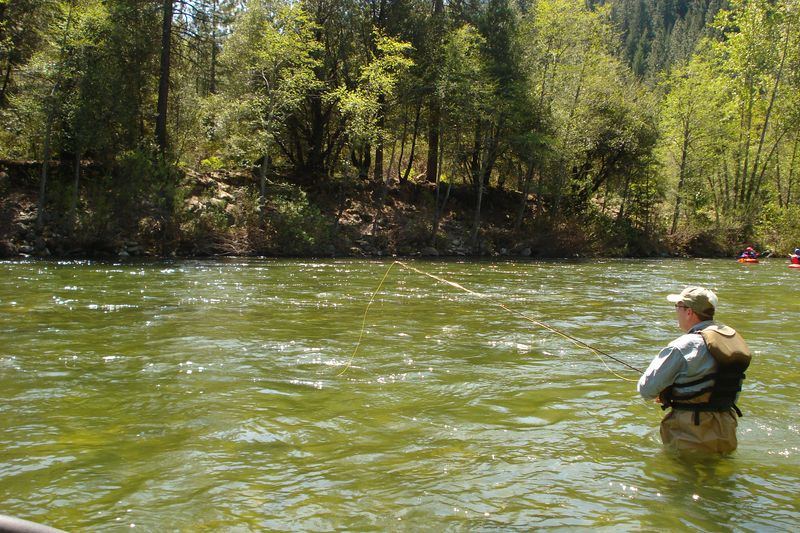 ---
Todd tried his luck wading near Sims Flat, but it was still a little early and the fish weren't biting yet…..
---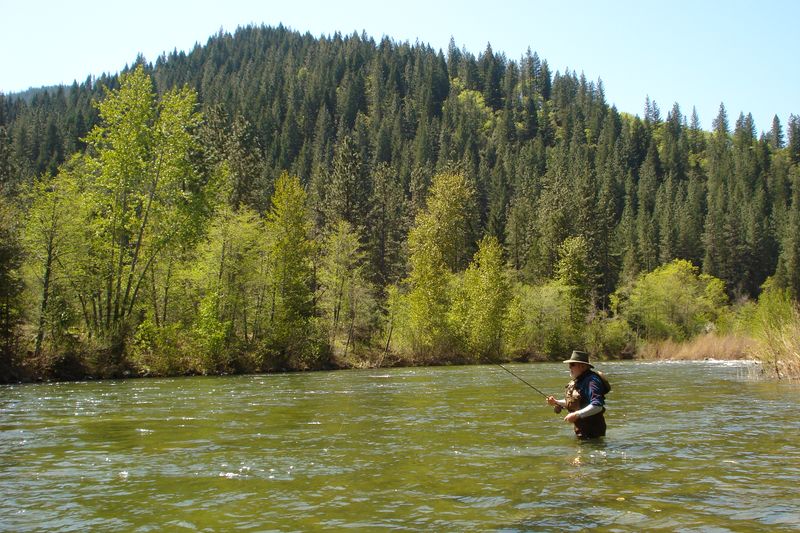 ---
Then Mike took a few cast and nothing…. It was just a typical spring day where the fish hadn't got interested in eating because the insects were still nice and cozy – tossing and turning in bed,
awaiting a little heat before they got up to go to work.
---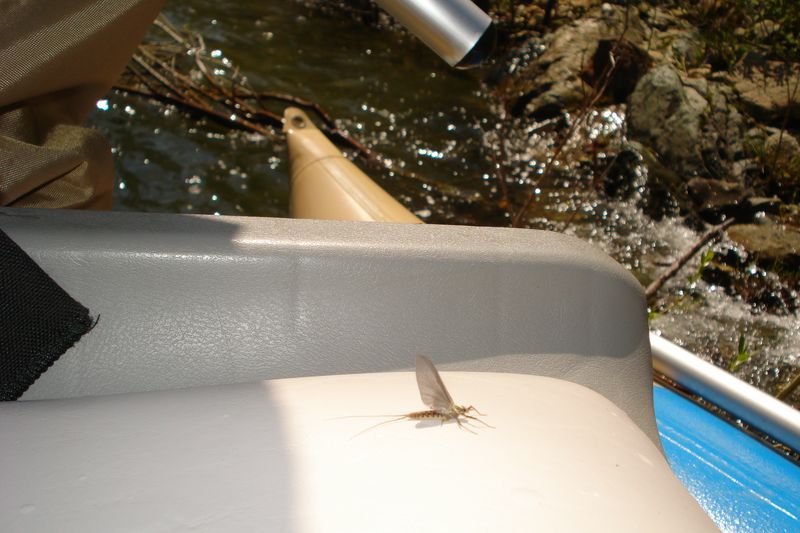 ---
Then a Green Drake mayfly appeared on my seat, the second largest mayfly standing bold and proud, glad that it made it through a long winter only to hatch, grown wings and fly away on this lovely spring day.
---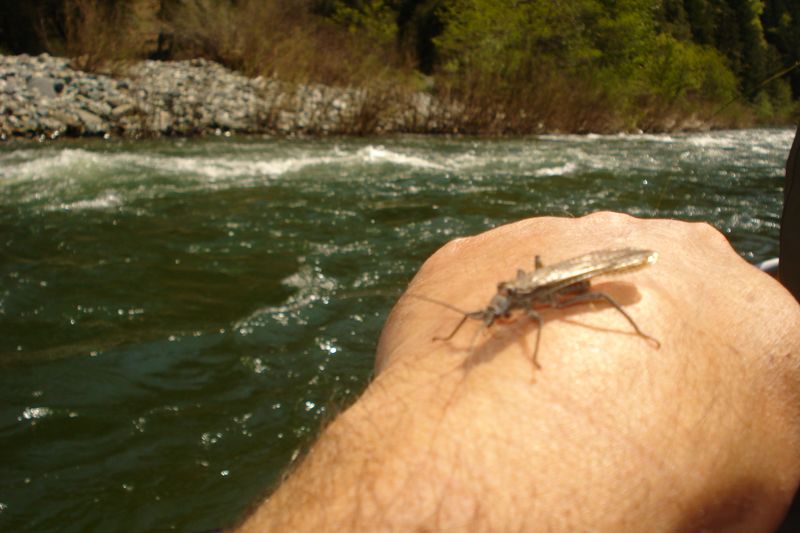 ---
A little further down we encountered this stone fly, a real protein
source for an under-nourished trout coming out of winter…..
---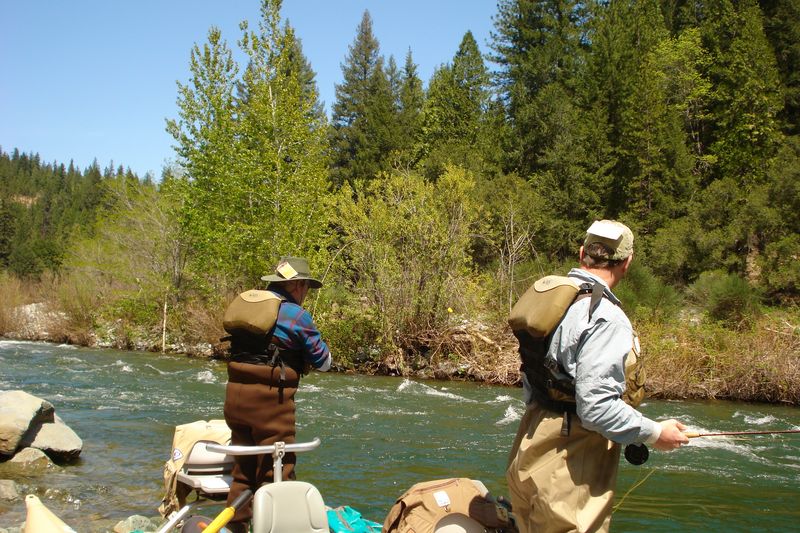 ---
Minutes later Mike hooked up on a trout and I knew the trout were on the bite!
---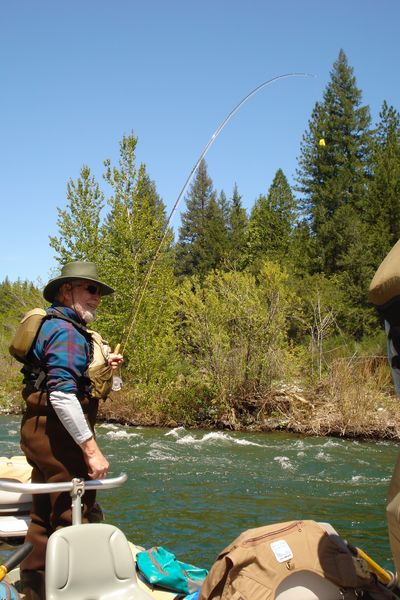 ---
All smiles, Mike Foster is a California legend when it comes to fly fishing. 50 years of fly fishing California rivers with some of the best known names ever to hold a rod and when your with him you would think it was his very first trip ever. So much excitement and enthusiasm for the trip, the day, the river.
Mike Foster – A legend in California Fly Fishing.
---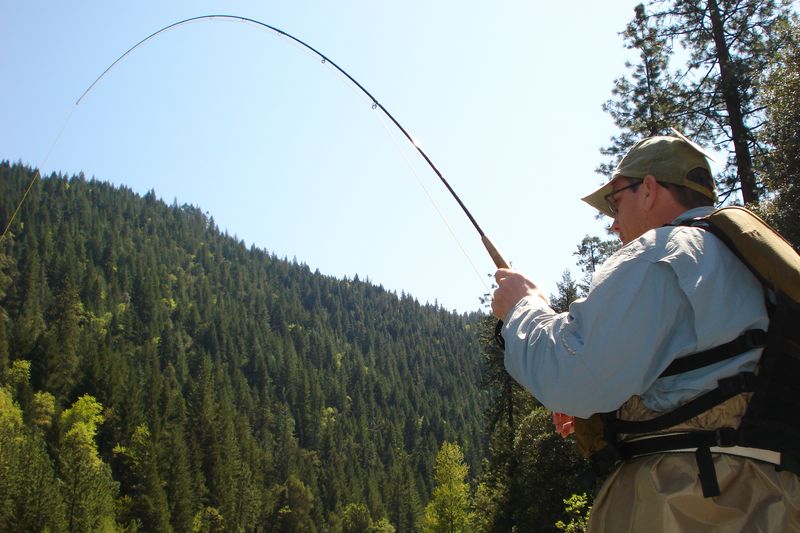 ---
Right then Todd his son, hooks up on a nice fighting Upper Sacramento Rainbow…
---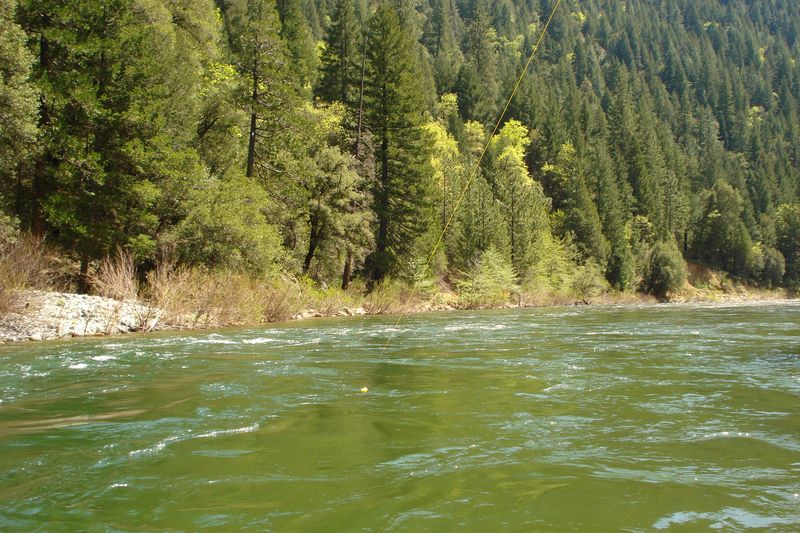 ---
It ran all over the place and giggles were heard as well as a happy papa in back cheering on his son!
---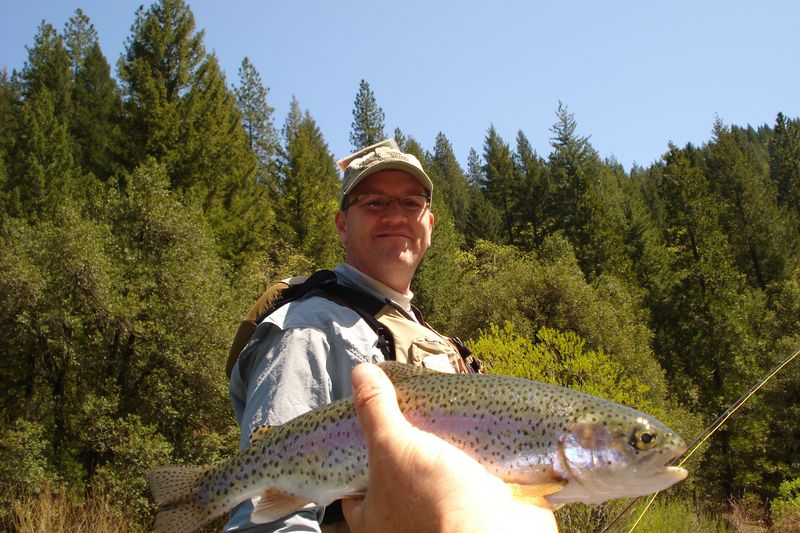 ---
Nice little guy, lets look for the bigger ones now.
---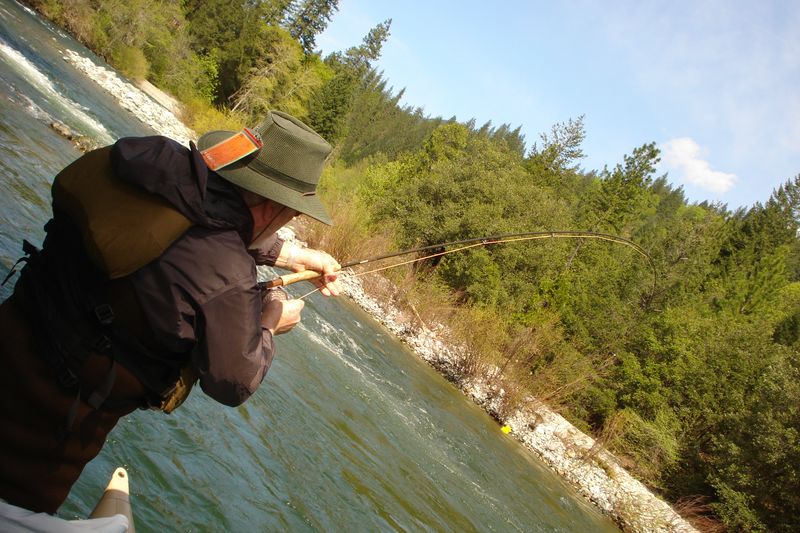 ---
Then the Legend hooks another and I knew we were in store for a classic fly fishing day on the Upper Sac!
---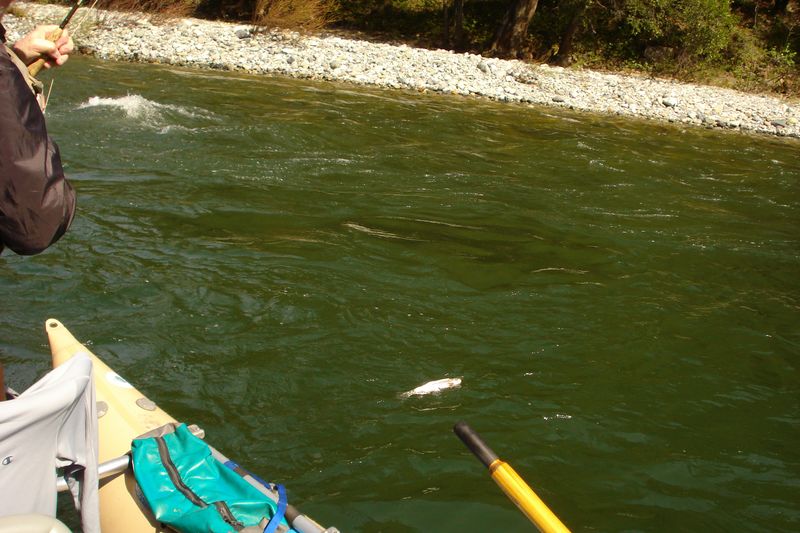 ---
The Silver Dollar Legacy, cool vibes were felt throughout the boat!
---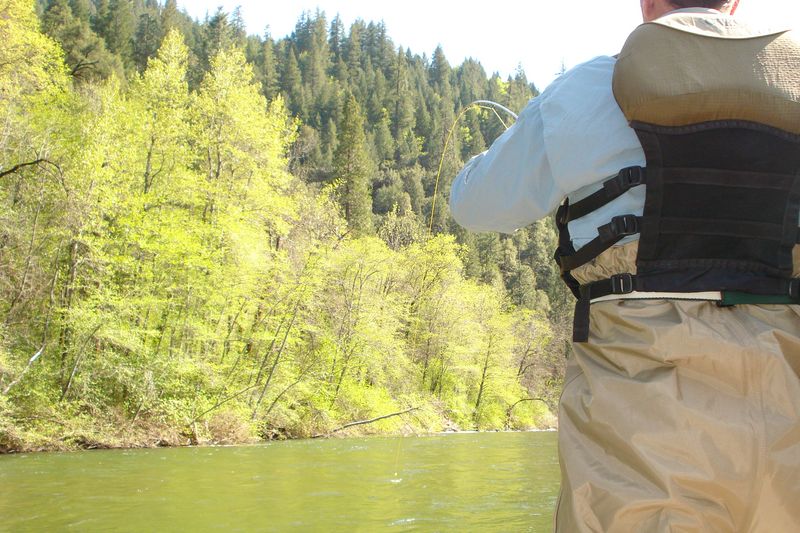 ---
Then Todd hooked another and I felt like a guitar pick in a version of Dueling Banjos!!
Dueling Banjos Live: http://www.youtube.com/watch?v=aT3JWnp8MsI
---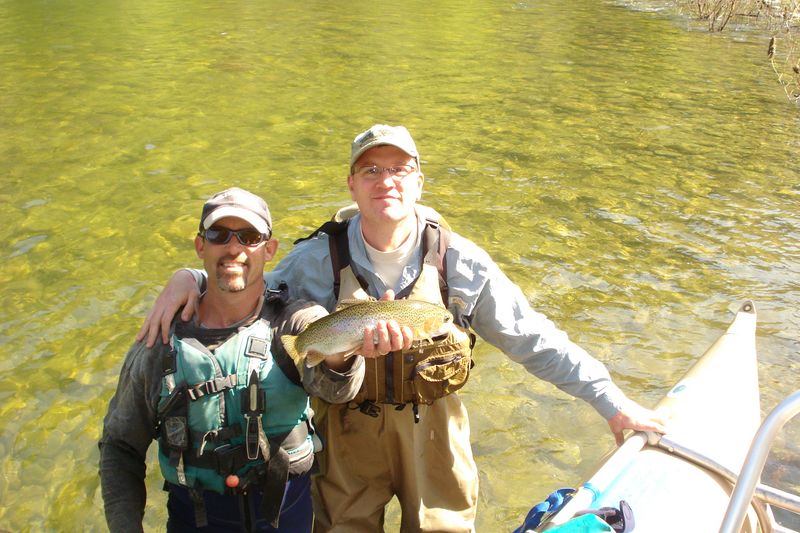 ---
WHICH QUALIFIED TODD FOSTER AS THE SIZZLER OF THE WEEK AWARD WINNER.
CONGRATULATIONS SIZZLER!!
FROM JACK & CAROLA TROUT
---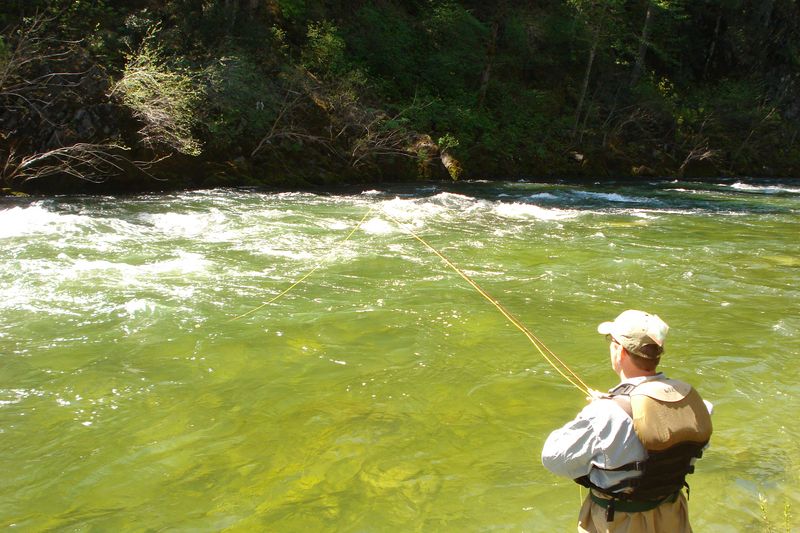 ---
Ah, The bodacious tatas agua!! Need I say more……?
---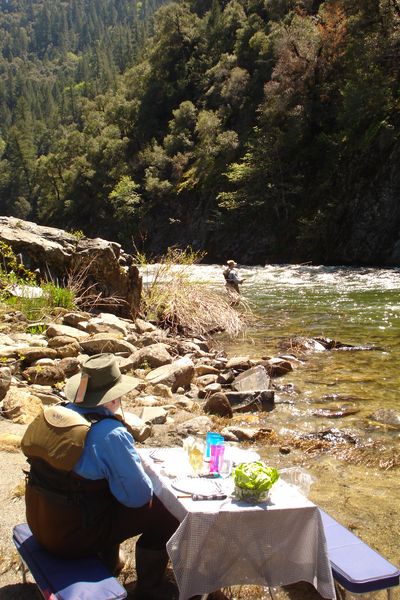 ---
With a proud father looking on.
---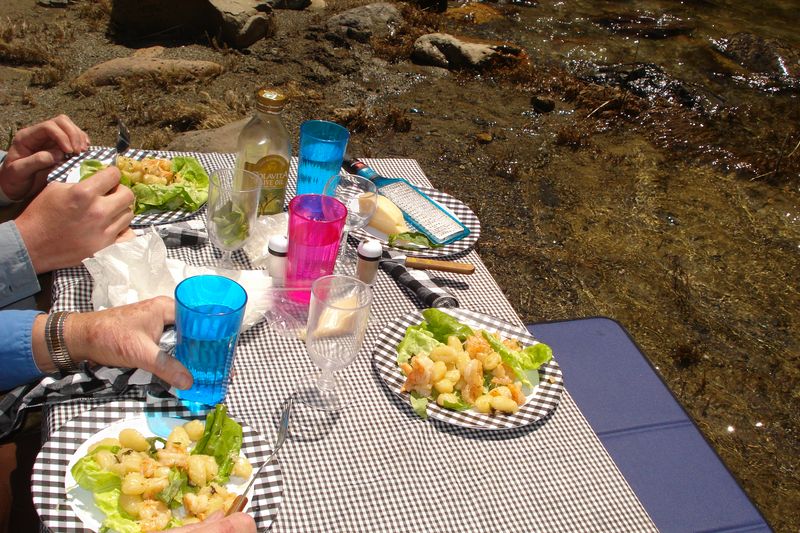 ---
Time to munch! Mike and Todd, thanks for another great outing.
Look forward to seeing you in the fall like always.
Saludos, Jack & Carola Trout
Now it's time to check out how our other clients are doing in the international places we offer.
---

http://www.jacktrout.com/chile.html
http://www.jacktrout.com/chilelake.html
http://www.jacktrout.com/belize/belize.html
http://www.jacktrout.com/argentina.html
---
*BELIZE**BELIZE**BELIZE**BELIZE**BELIZE**BELIZE**BELIZE**BELIZE**BELIZE*
---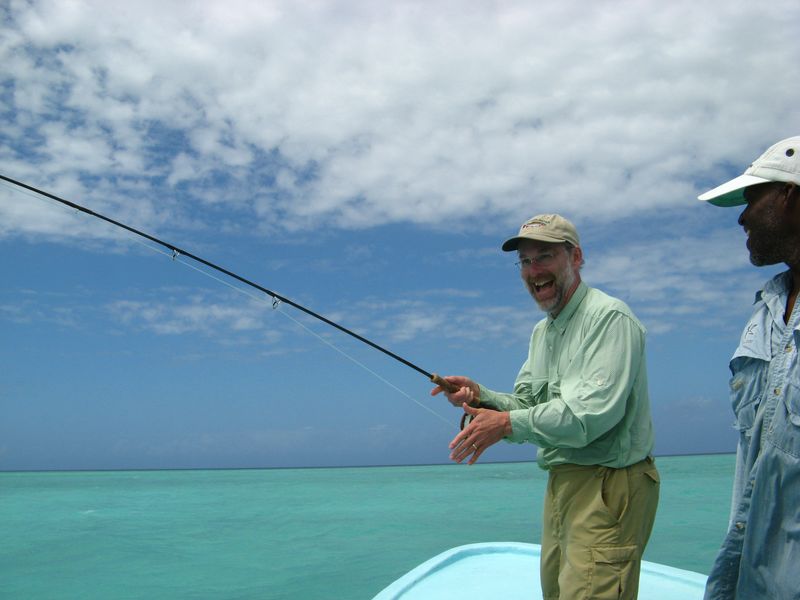 ---
Glen and Jacquie from Washington are out with Guide Lloyd and Glen's got a hot bonefish on!
Lloyd, with that contagious smile and funny laugh as Glen exclaims with glee!
Watch that reel Glen, it can be a real knuckler if you know what I mean.
Fly fishing in the ocean is an amazing experience, if you've never gone before.
---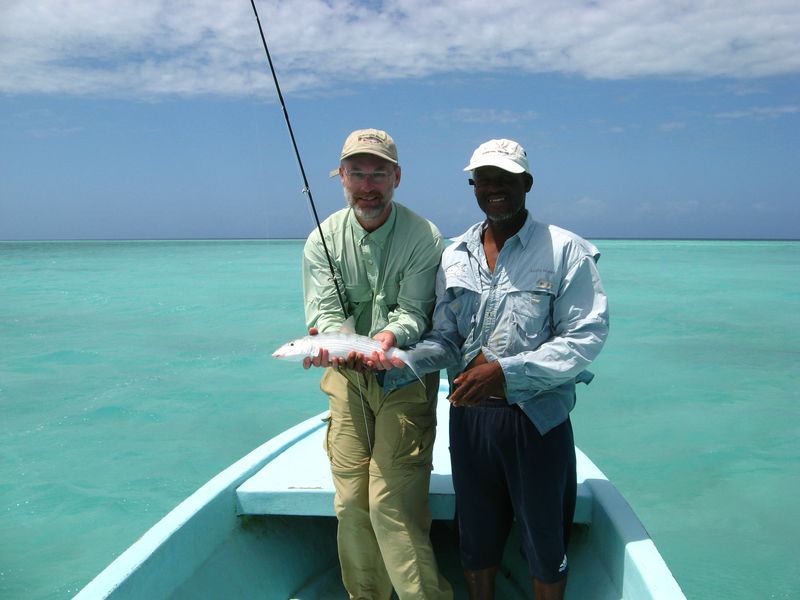 ---
A fine catch indeed! Way to go Lloyd and Glen, hope to be down before too long myself!
---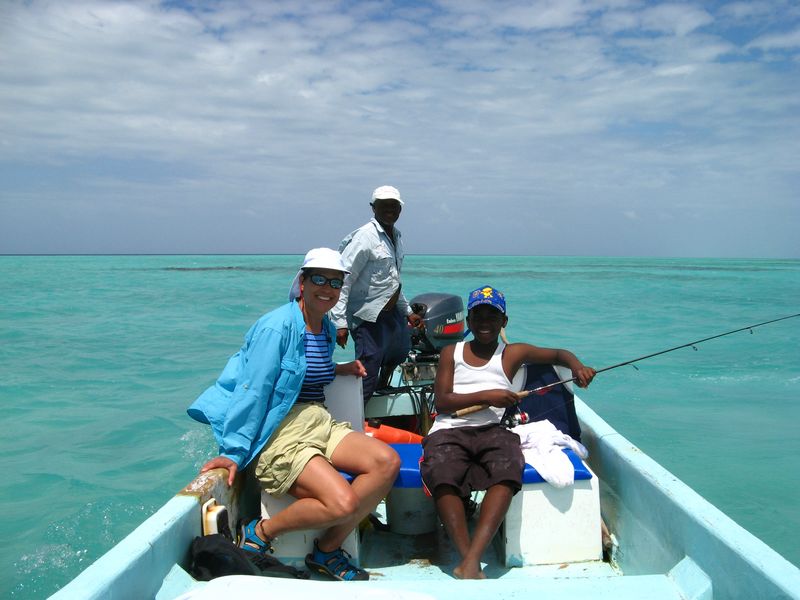 ---
Guide Lloyd, son Robbie and Jacquie on a fun day out and around Glover's Reef, Belize.
---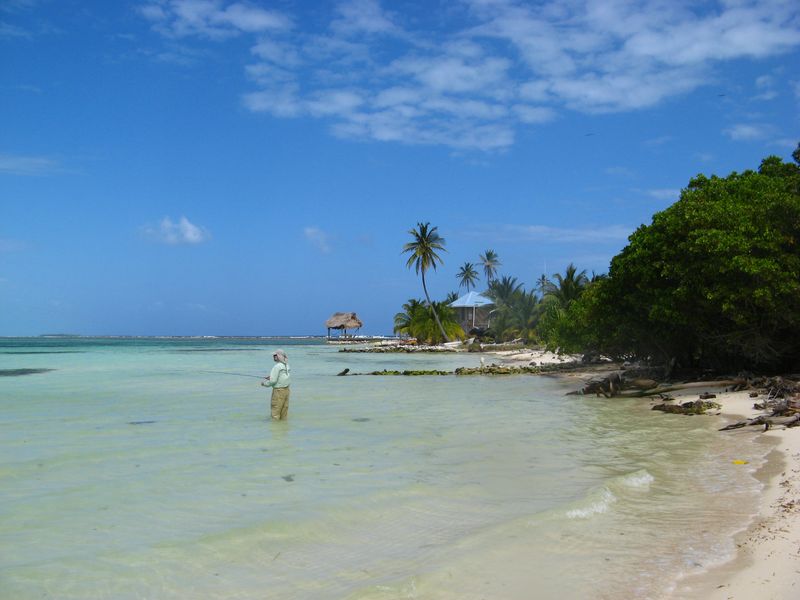 ---
If I was ship wreck here, I think I would refuse rescue…..
---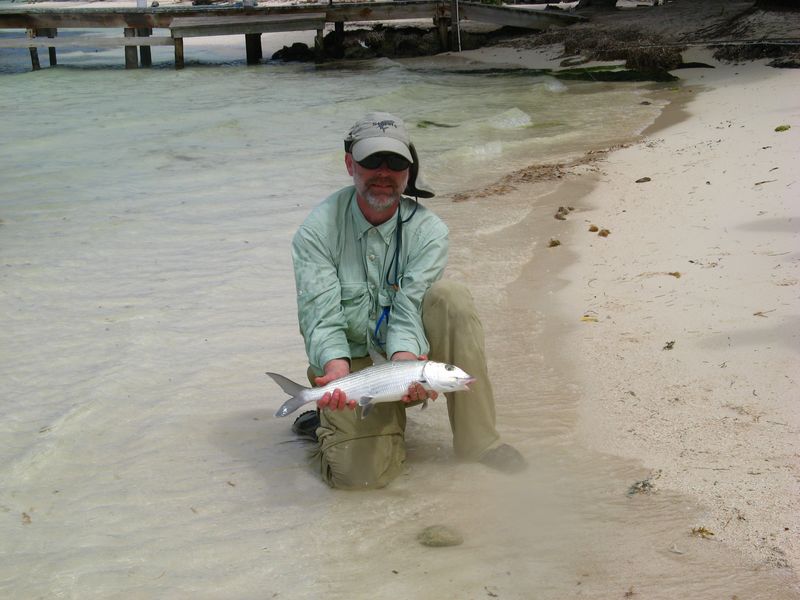 ---
Glen and Jacquie, thanks for calling on Jack Trout International Fly Fishing Belize. Lloyd and Robbie told me they had a great day with you two and hope you can make it back sometime!
We are also glad you enjoyed our vacation house we rented out to you!
Many Oceans and Rivers, Jack, Carola, Lloyd and Robbie
---
*CHILE**CHILE*
*CHILE*
*CHILE*
*CHILE*
*CHILE*
*CHILE*
---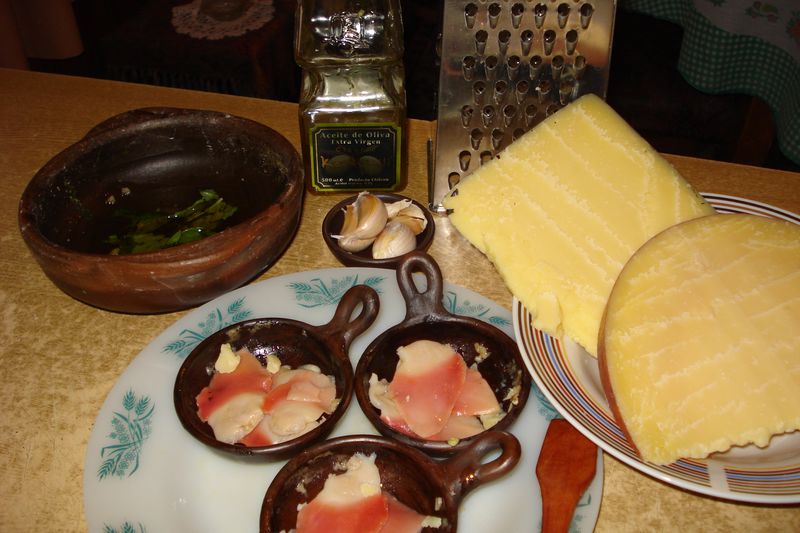 ---
One of my favorite things to eat in the world is this sea urchin from Chile called Machas.
If you like scallops, lobster and abalone, I guarantee you will love this scrumptious delight!
I love the great cheeses from Chile like; Reginatto, Parmesan and Gouda, and when you bake these Machas with minced garlic, olive oil,
fresh basil and these fine cheeses, you have an appetizer that would make a King stand up and and beg for more!
Maybe next year when your down, Carola and I can make some up for you.
---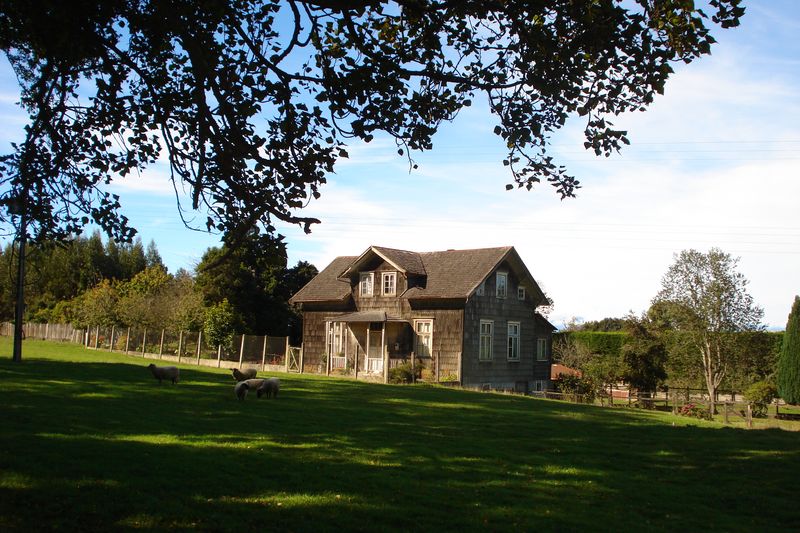 ---
In the early 1900′s the Chilean Government was having problems with dividing up their land with Argentina, so they encouraged German's to immigrate to Chile and they were told if they cleared the land and produced something, they could live there for free. So many Germans left their home country for a new horizon and a life for their future generations. Especially in the 10th region where we live, there are many German families that brought their construction, culture and beer to our neck of the woods. I love to take drives around Lago Llanquihue and check out the unique houses and take in the amazing countryside. We offer not only fly fishing, but scenic tours around Chile's second largest lake – Lago Llanquihue.
---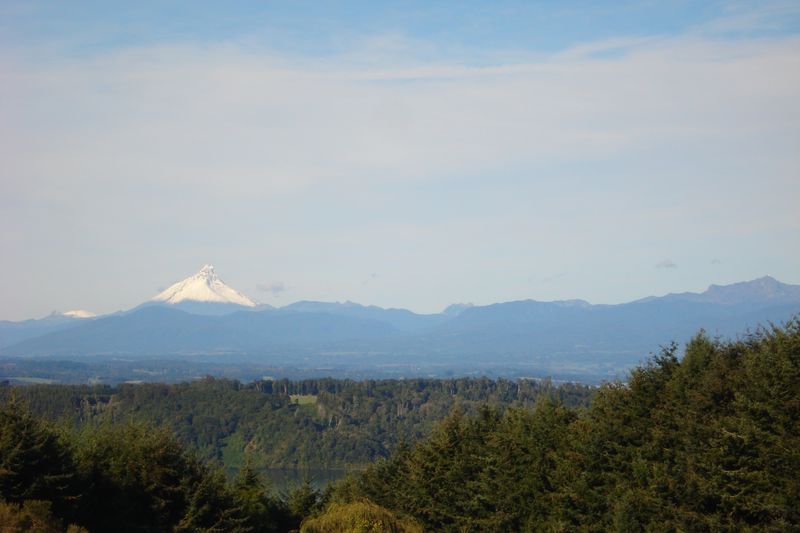 ---
On our tour you'll see the most amazing volcanoes any where! Also we'll tour a German beer factory named; Colonos Cerveza (Colonial Beer)
Something out of a Heidi Movie …..
---
---
Please do not build a golf course here!
---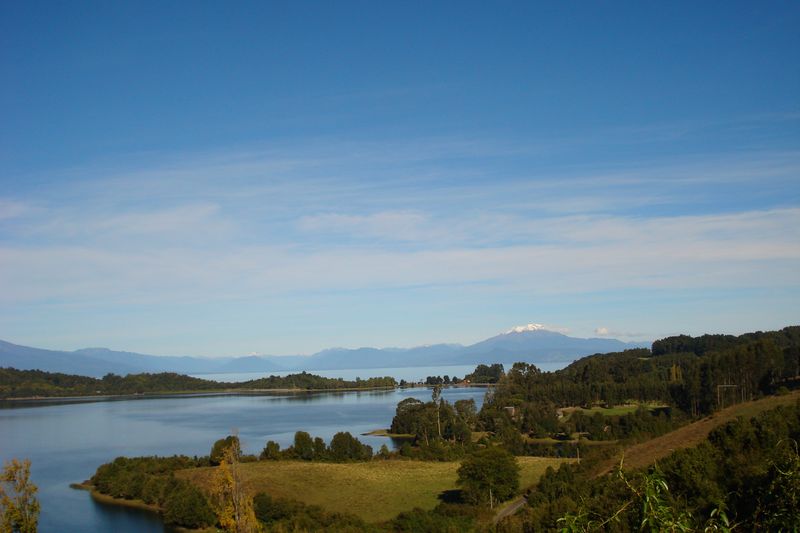 ---
Every where you look in all directions, volcanoes..
---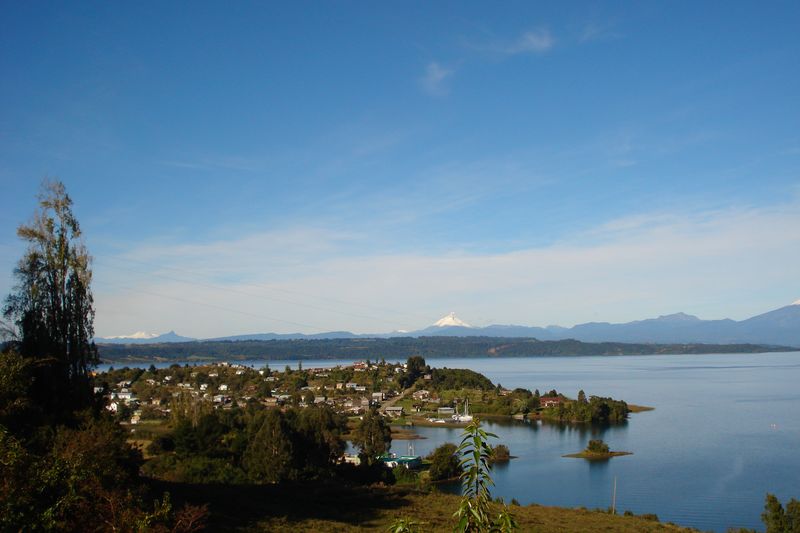 ---
The gem town of Puerto Octay, once the main port for Lago Lllanquihue
carrying needed supplies around to all areas of the lake being the closest town from the largest hub-supply city of Osorno. Like towns that once prospered in the USA, now depressed because the train doesn't run through Puerto Octay any more and Interstate 5 in Chile now detours traffic away from the once bustling community that was the talk of lake people back in the 1930′s, 40′s and 50′s.
---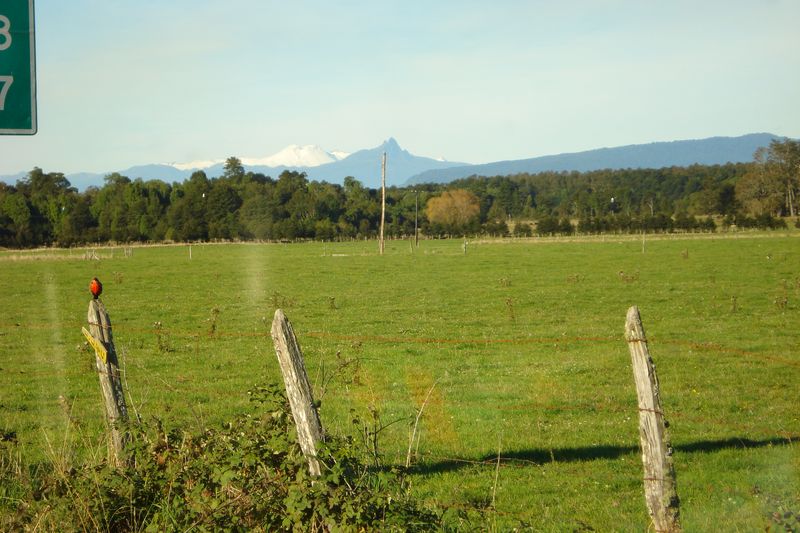 ---
Interstate 5 or the Pan American Highway starts in Blaine Washington and runs south through Mexico and Central America. Can anyone out there tell me where it finally ends….?
Answer: Quellon, Chile in the Isle de Chiloe.
---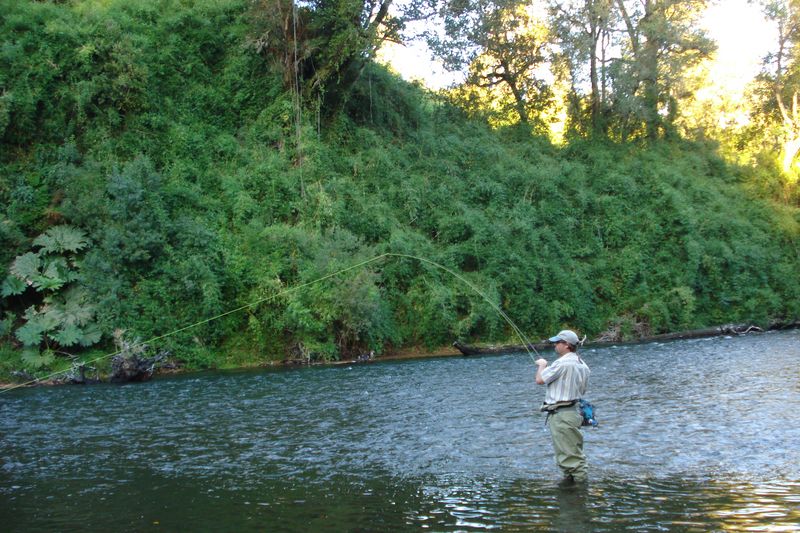 ---
Time for me and Carola to do a little fishing on a friends ranch!
First cast hook-up, I like that!!
---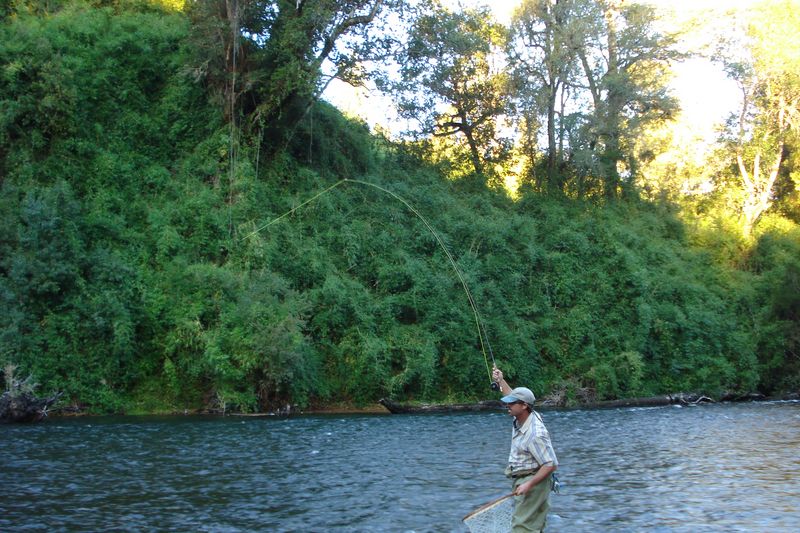 ---
Looks like a brown to me. Brownie Points!!
---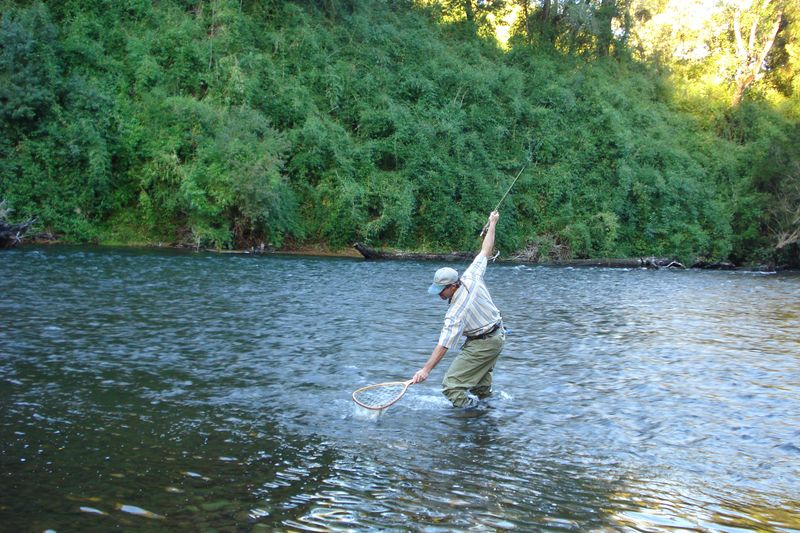 ---
Into the net please!
---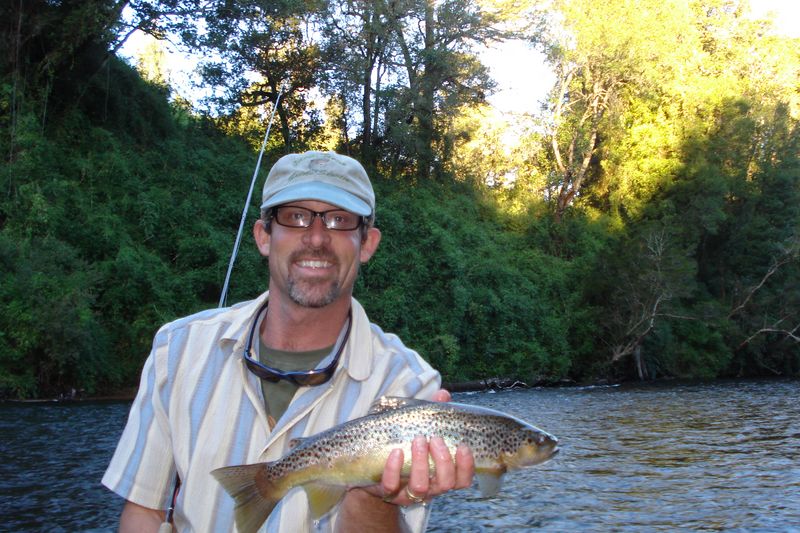 ---
Alright a nice brown.
---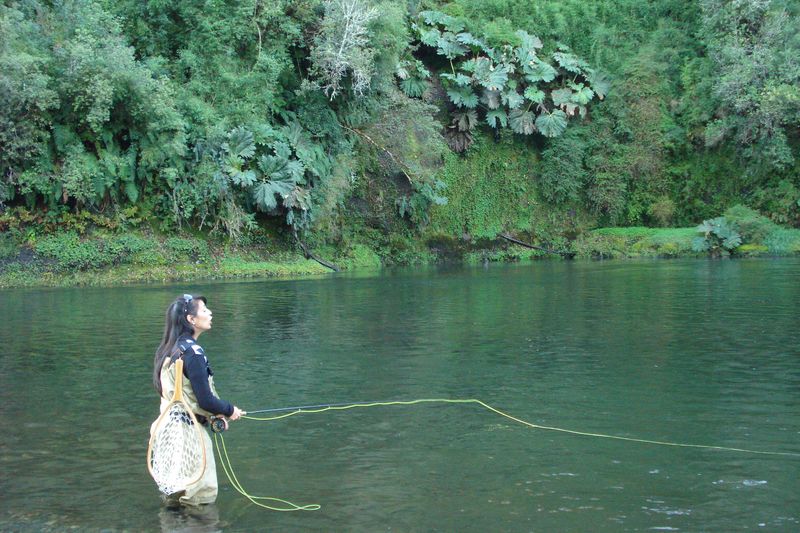 ---
Carola thinks by singing and talking to the trout, the trout will hear her and come running for her fly.
---
---
Wouldn't you know it, Carola's right again!! Like always folks, I love this girl!!
---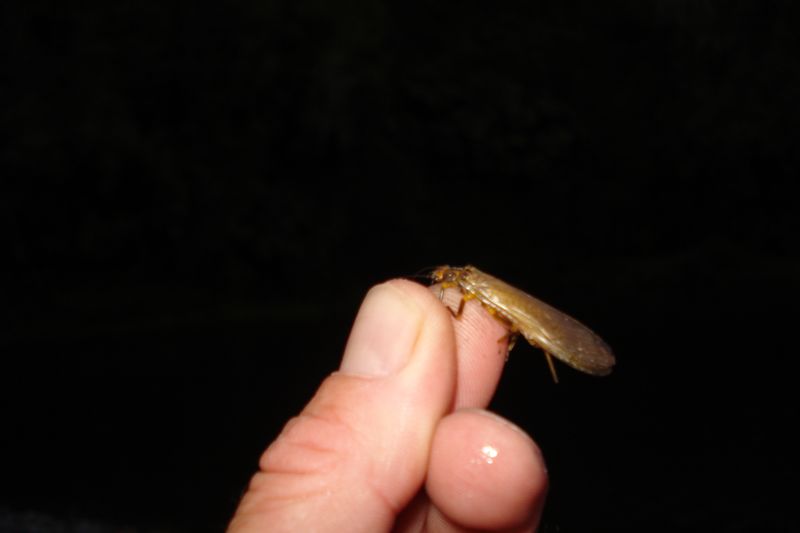 ---
Golden Stones in the fall in Chile…..That's strange for me?
We see them in April, May, June and July in California, but never in September/ October. Maybe something's are not opposite season in the Southern Hemisphere…?
---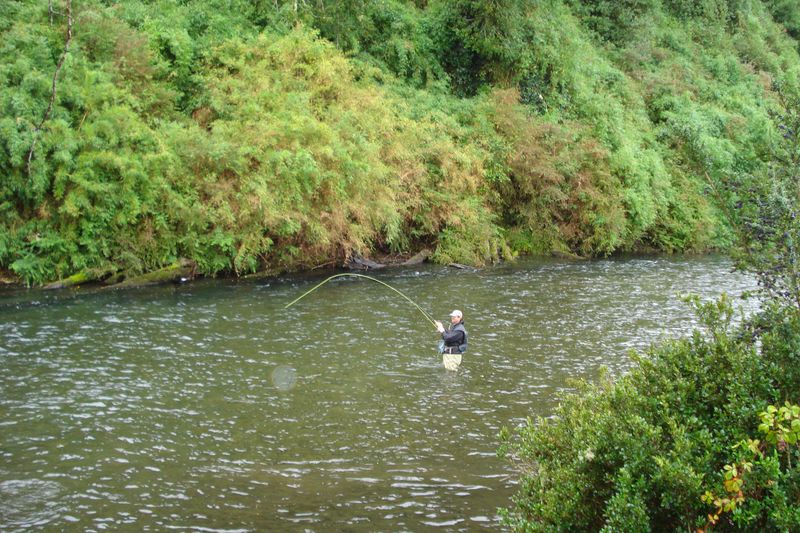 ---
Another section of the river and another hook-up on my first cast!
---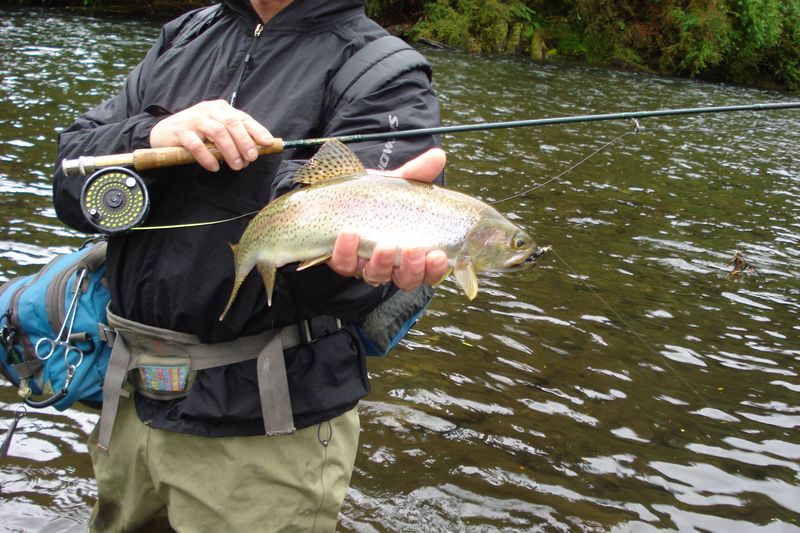 ---
Now it's a rainbow, how cool is that!
---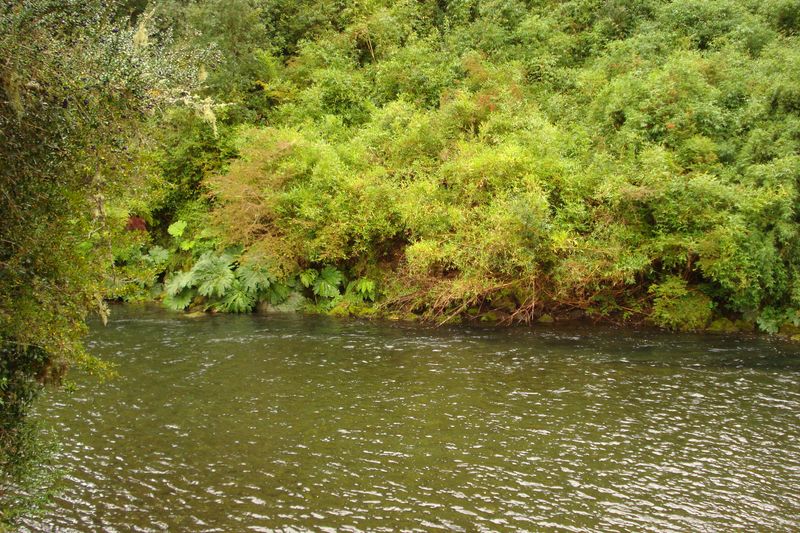 ---
Look at that bank, must be loaded with trout… I'd live at that address if I was a trout. Wait a minute, I am a Trout- Better get packing!! jt
---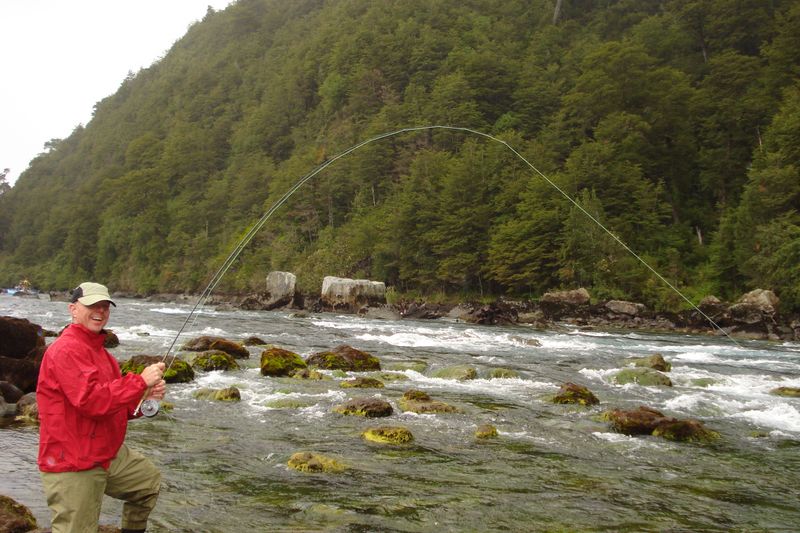 ---
More happy clients in Chile trying fly fishing for the first time!
---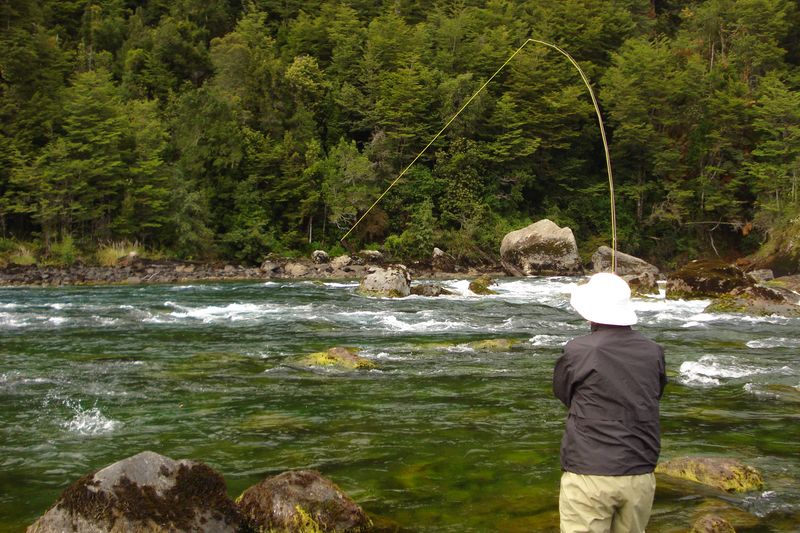 ---
Nice one, bring that Nessy in….
---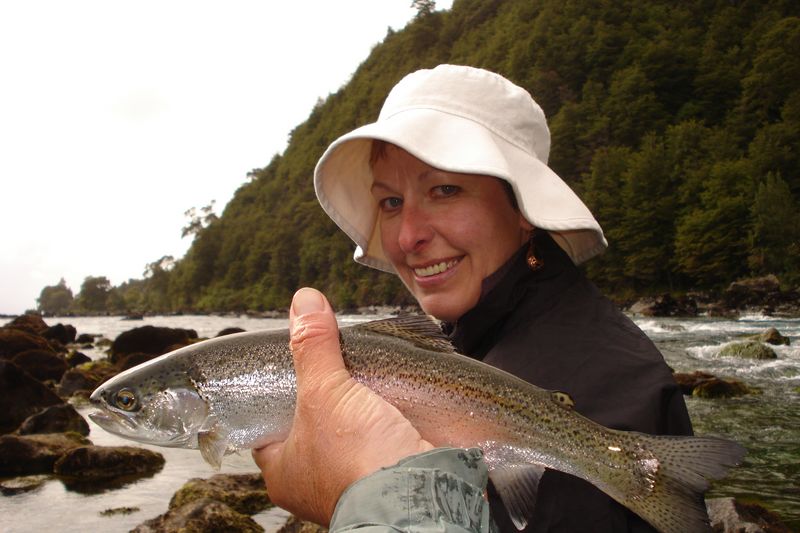 ---
Your mother and your father would be proud.
---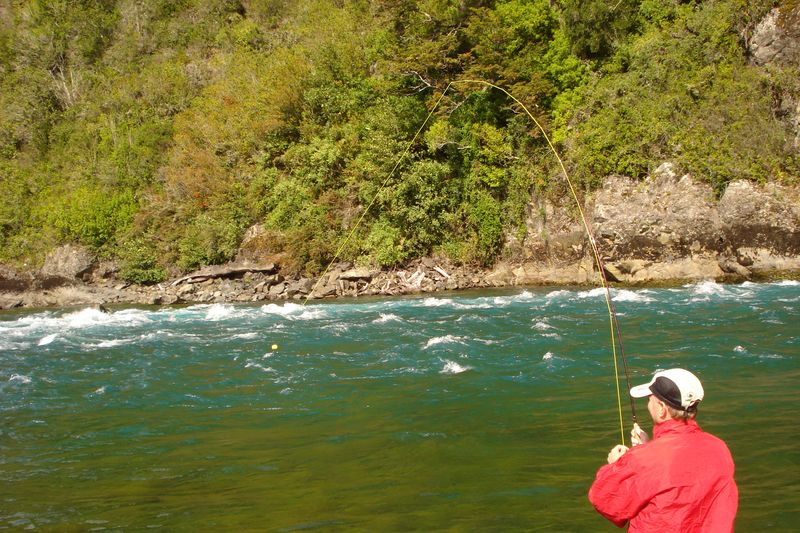 ---
Let's hook-up again sometime! Maybe this spring in California.
---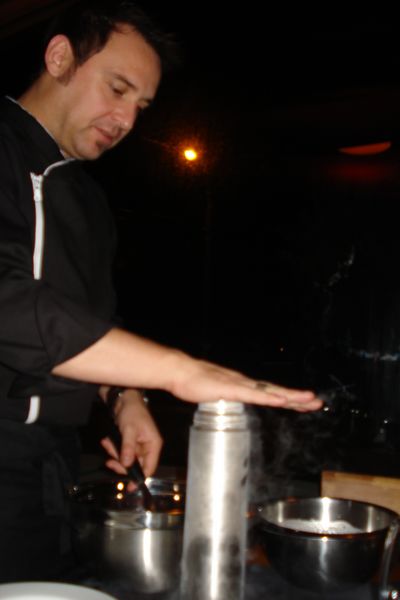 ---
A night on the town was sure over due for Carola and I. We heard about this great Restaurant in Puerto Varas in the Hotel Pueche that served home made ice cream at your table!! We had to try it out, with a Chavis Regal Whiskey of course.
---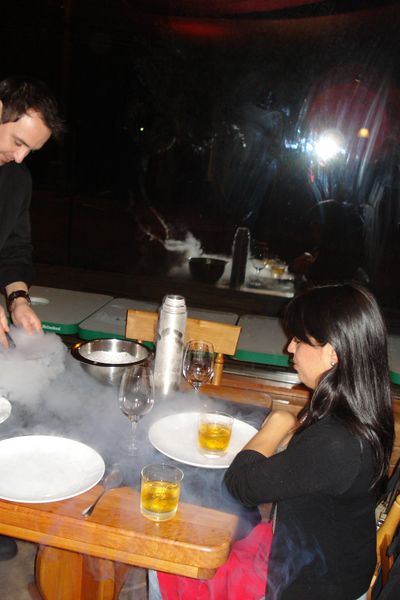 ---
Wow that's an incredible trick you got going there, you might want to head for Vegas!!
---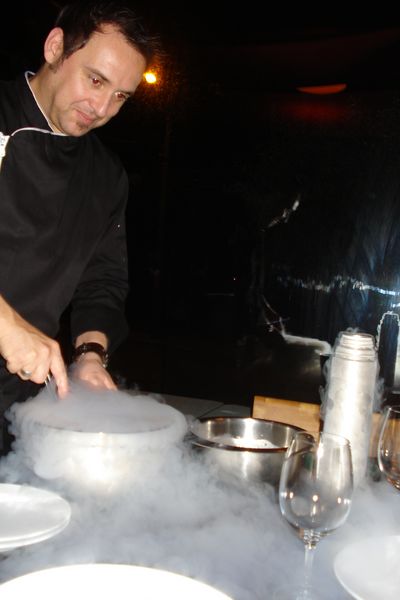 ---
Were you born here in Chile or in Transylvania? In any event this is supper cool, like Alfred Hitchcock cool – dude!
Reminds me of those old Creature Feature shows back in the 1970′s.
Bob Wilkins Creature Features – http://www.youtube.com/watch?v=_aZGN0VM2s8
Watch this absolute classic short clip, you'll laugh!!
---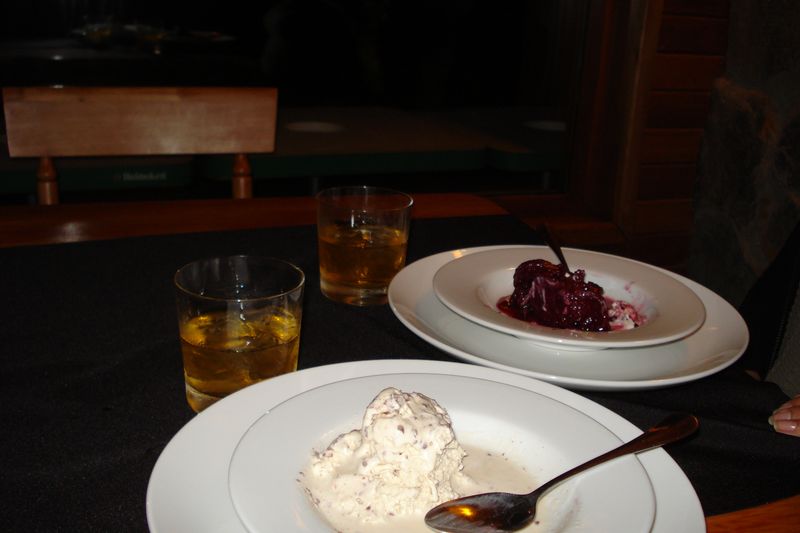 ---
Why that just looks marvelous! And it was folks!! Carola and I had a wonderful time out on our Chilean town of Puerto Varas.
---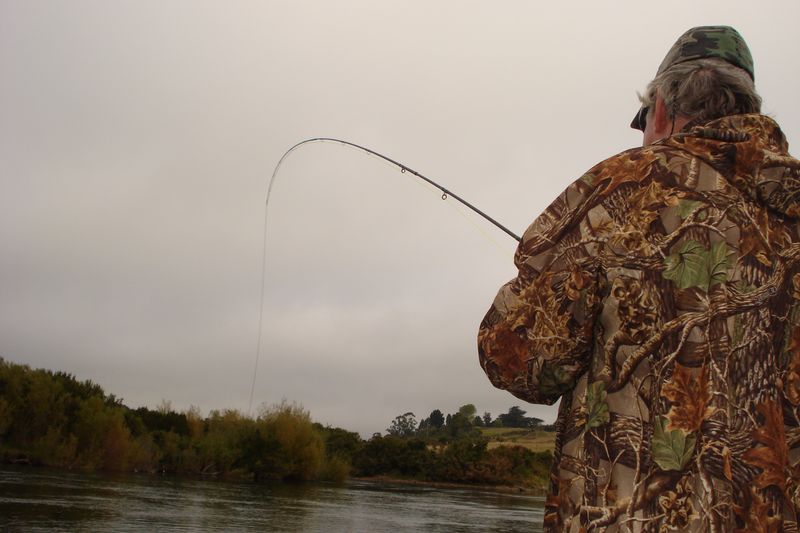 ---
A few days later JB came out fishing from Smyrna Beach Florida.
---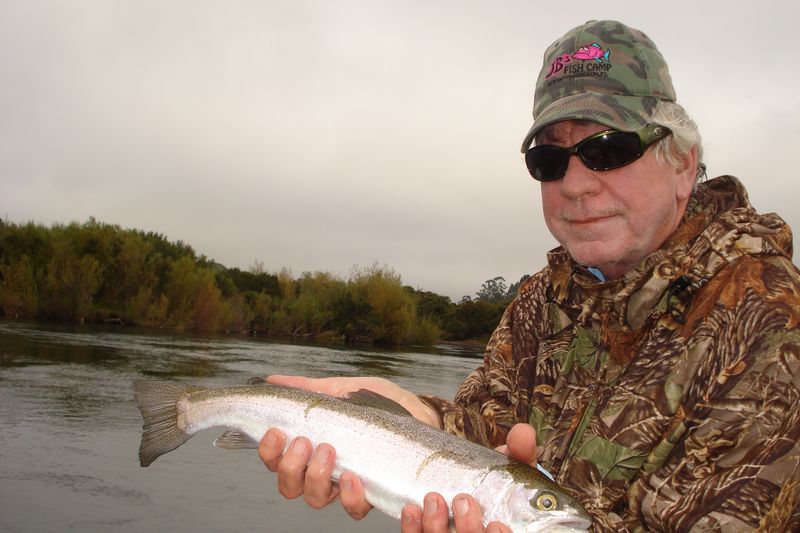 ---
That's a lot smaller than your used to I know, but it's always better on a fly rod…JB agreed!
---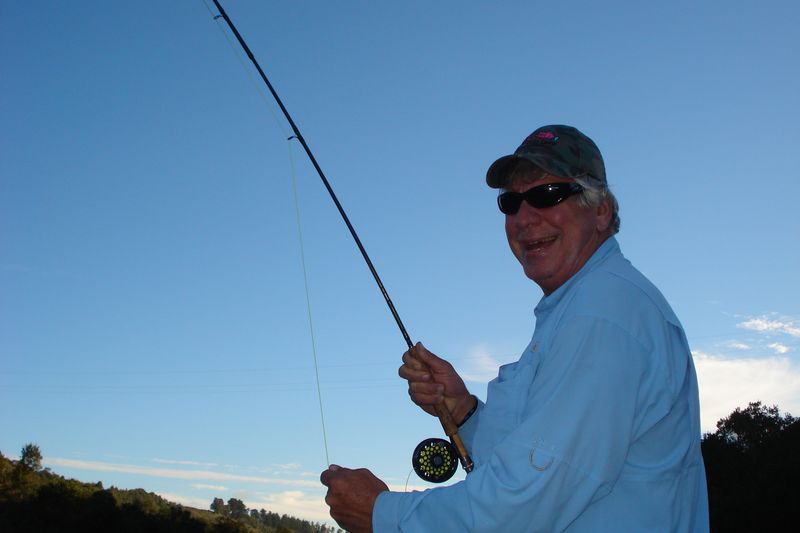 ---
What a great time we had together out fly fishing on the Rio Maullin.
Thanks JB from Jack & Carola Trout
---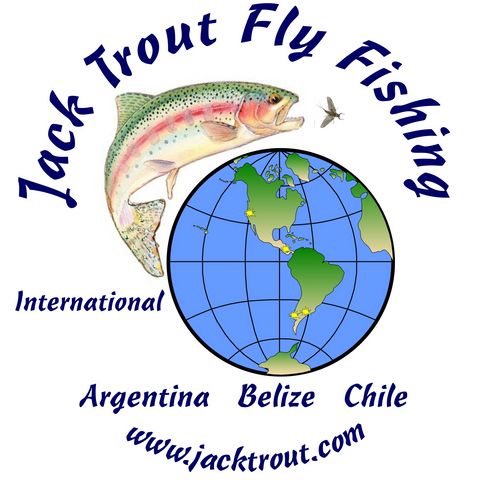 ---
To all of those out there that watch our web log Thanks! Hope to see you in 2009!
Many Rivers & Oceans to You, Jack & Carola Trout
(530) 926-4540
---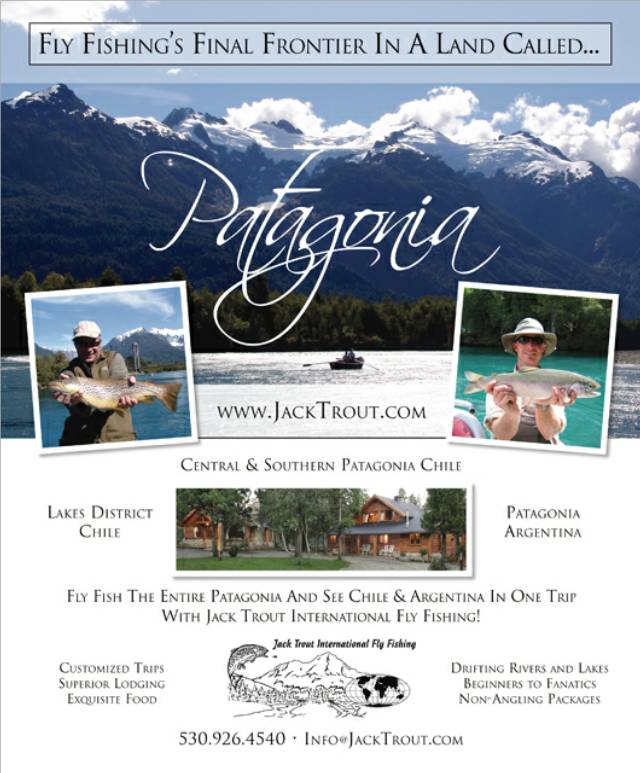 ---
---
EMAILS FROM YOU:
Why would anyone of sound mind and body wish to be removed from your mailing list!!
Between your narrative and photography, no one does it better!
Ronald Beck
---
Hi Jack,
I am attaching Fly Fisherman's media kit and hope you will consider using Fly Fisherman in your advertising plans for Jack Trout Fly Fishing. Our current audited circulation is 111,726 — more than double the circulation of any magazine on the market.
I look forward to hearing from you,
Linda Wood
Advertising Director, Fly Fisherman
717-695-8074
---
Just waiting to find out my son's schedule before I book. I'm coming back for those steelies in the Fall for sure.
Dr. Richard J. Schoen
Dental Director
Lassen Indian Health Center
---
Jumpin Jack Flash,
Well, I've got to ask, what could possibly be wrong with a dry fly blowup regardless of the venue? If you get a little slack, give me some more in depth on the Klamath as I'm not real particular about whether I'm pitching or hitting as long as I'm in the game. Fishing sooner is way better than fishing latter!
Great update and good on you,
Jim Pett
---