*****TRINITY RIVER STEELHEAD SIGN-UPS NOW START!!*****
---
---
---
OUR TOWN COULD REALLY USE YOUR TOURIST DOLLARS.
---
---
LOWER SAC – UPPER SAC – McCLOUD – PIT – KLAMATH MOUTH – TRINITY*
---
---
FOR SALE SOTAR RAFT AND FRAME $3500 NEW CONDITION
---
---
BELIZE PACKAGES FROM $1750 TO $2950 PER 8 DAYS
---
---
THANK YOU KUHL/ALWEAR CLOTHING FOR DONATION TO CHAITEN RELIEF IN THE PROCESS OF SHIPPING CLOTHES
---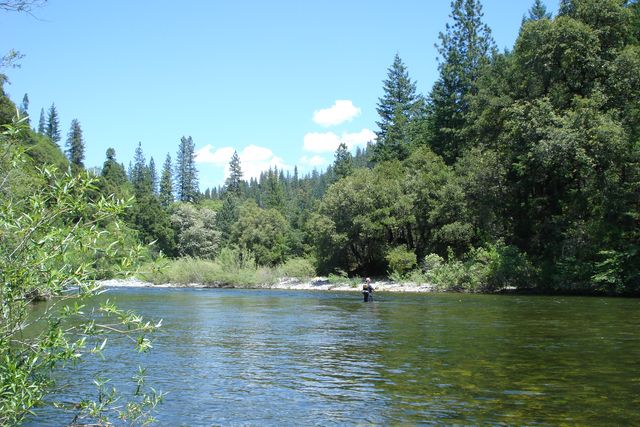 ---
The great outdoors people!
---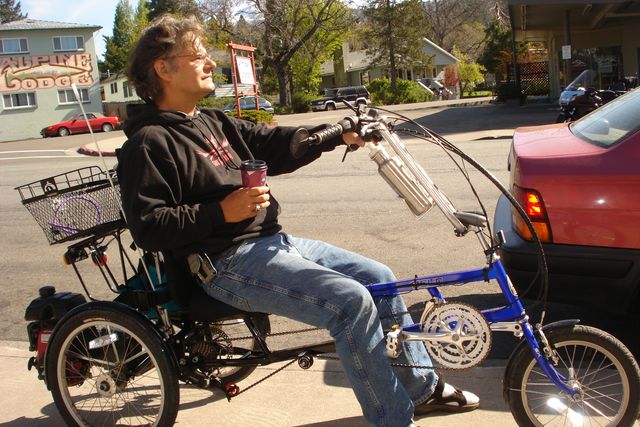 ---
OOOOOOOOOO'SS AND AHHHSSSSSSSS FROM THE AUDIENCE!!!!!
Over 150 miles to the gallon and maximum respect man! Bought at the Dunsmuir Third Wheel Bicycle Shop in historic Dunsmuir, California! TOP SPEEDS AT 30 MPH, THE NEW MAXIMUM SPEED LIMIT, FOR THOSE IN NO HURRY AT ALL!! Quiet Class…
http://www.motorizedbicycles.biz/
The Third Wheel bike shop can be reached at (530) 235-BIKE
or toll-free at 877-228-6432.
The mailing address for The Third Wheel is:
5826 Dunsmuir Avenue
Dunsmuir CA 96025
---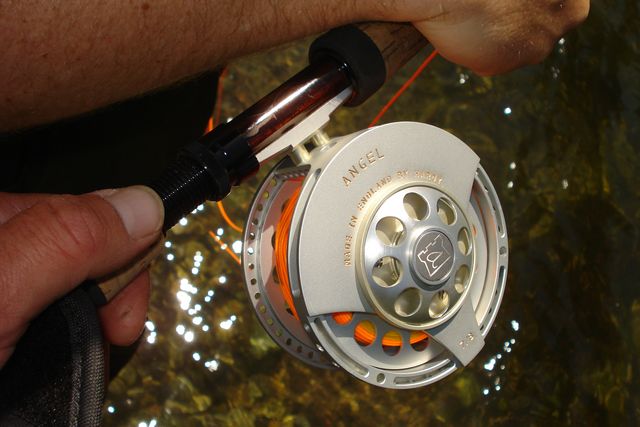 ---
Just call me Angel- of the morning!
---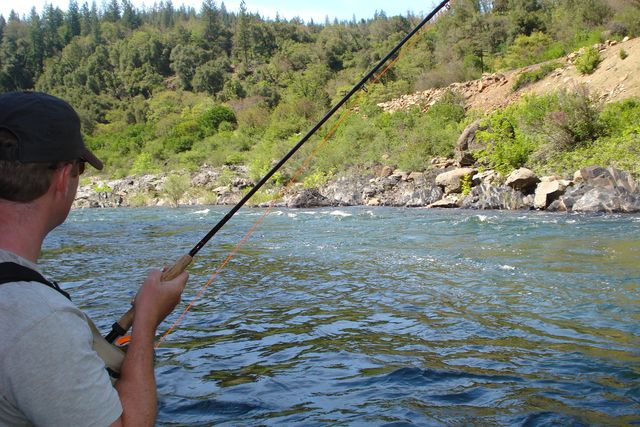 ---
Out and about in my raft on some of the lower sections of the Upper Sac can prove productive, with England native Jon Gillespie Brown
and a nice trout on his lovely Hardy reel.
---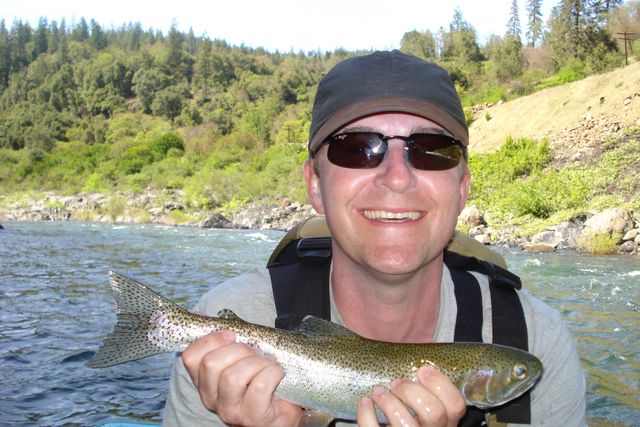 ---
This picture makes me smile!! It's hilarious Jon! When you go for interview or want to sell something, send this picture first is my suggestion…..
---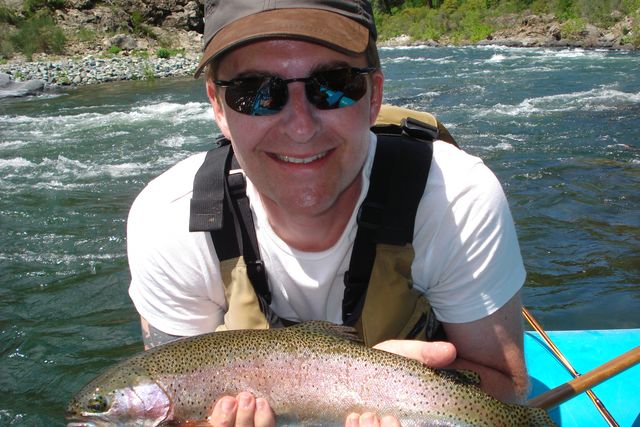 ---
This is no laughing matter here!!
---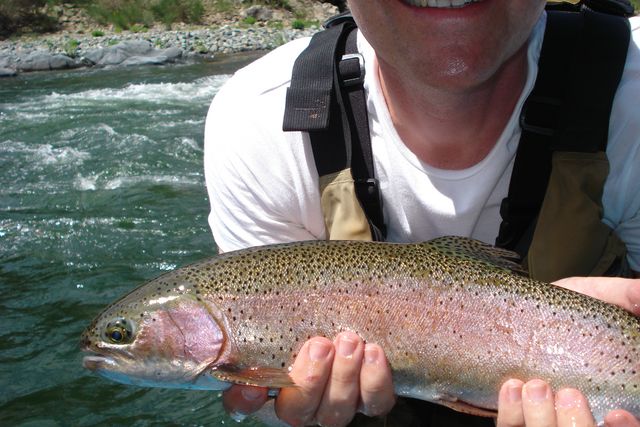 ---
This trout says; "I'm 40 and I'm in the best shape of my life with the Bow-Flex!" Way to go Jon!!! jt
---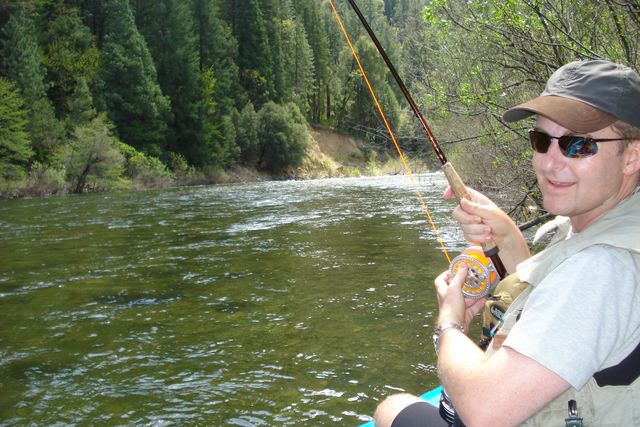 ---
Out in the raft with a trout on the line is the finest way we know how to enjoy our spring/summer.
---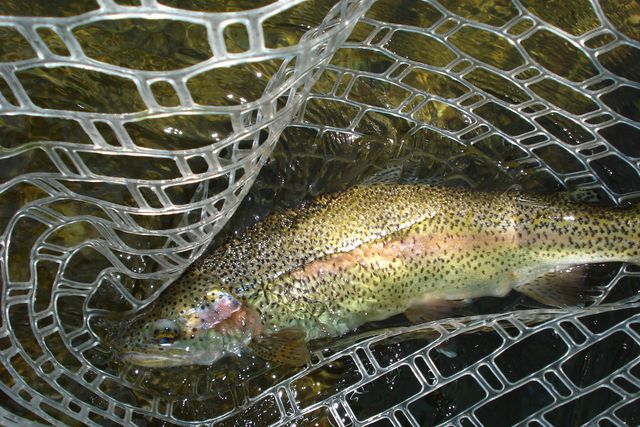 ---
Sweet!
Something so awesome as life itself! A perfect weather day, a bill that got paid or a friend that won.
Make life great and stay positive!!!
Don't let the "quick sand crowd" take you down!! Go on the offense people/guides- make it happen, the phones have stopped ringing if you just sit and wait for calls.
I think half is people's attitudes and I am certain we are going to be OK.
Hearing folks talking down at the Seven Suns Coffee House (Has Beans)
yesterday, you would of thought it was near end for all businesses.
I like to think a tree with deep roots to some water has the stronest trunk in later years.
I like thinking about Carola! She makes me smile and my heart gets to flutterin. I think it would be great to head over now to YOUTUBE
and check out Norah Jones singing; COME AWAY WITH ME.
This is for Carola> http://www.youtube.com/watch?v=aBKcKQHZXks&feature=related
---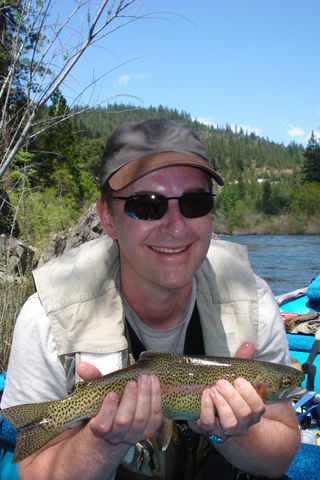 ---
Jon your shots out of my raft of that osprey were simply amazing! Take care and see you with the boys sometime! jt
---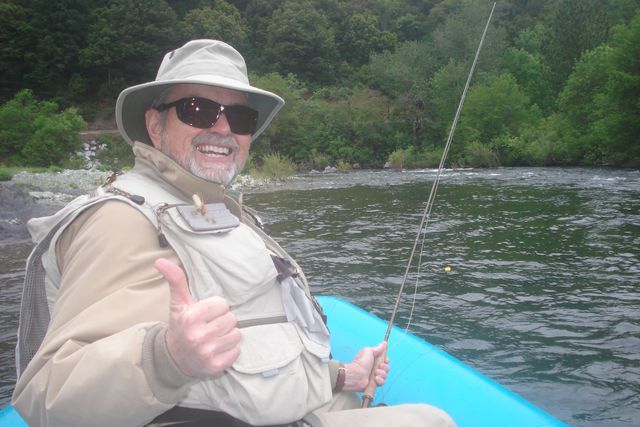 ---
Tony Ramsden people is all thumbs up!
---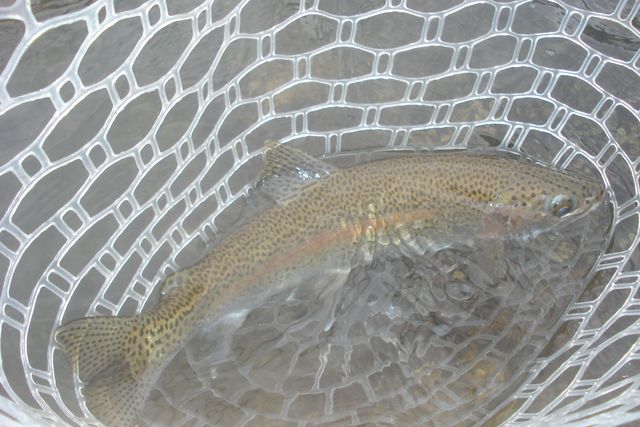 ---
Tony the Trout!
I would like to apologize, the next few pics are moist. Trout
---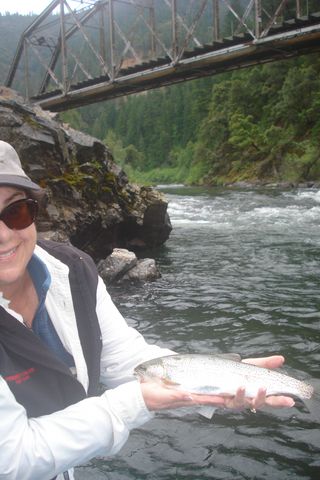 ---
Now is a great time to make your summer plans to visit Mt Shasta!!
---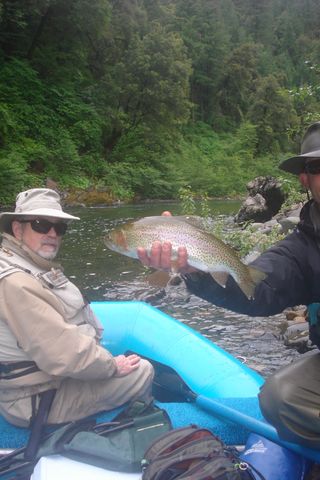 ---
Tony my boy!
---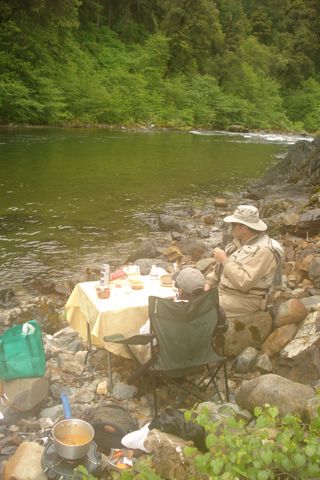 ---
Shall we dine you in the garden portion of our restaurant?
---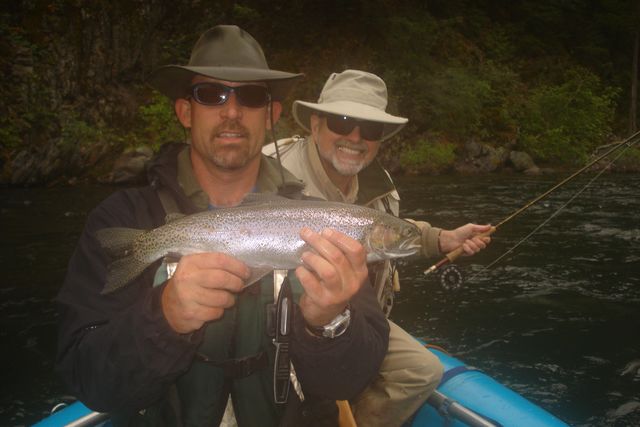 ---
The summer fishing starts now!
---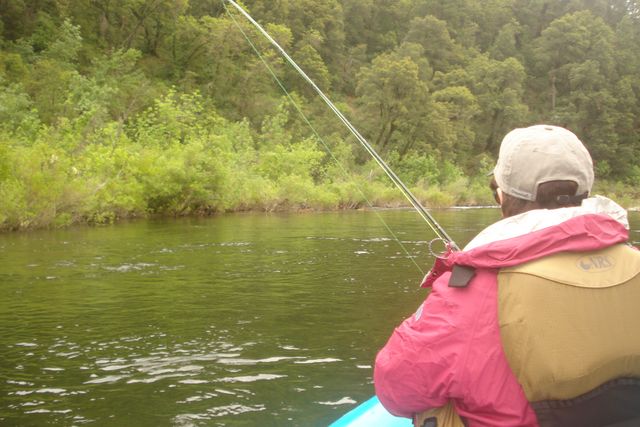 ---
Nice colors Naomi!
---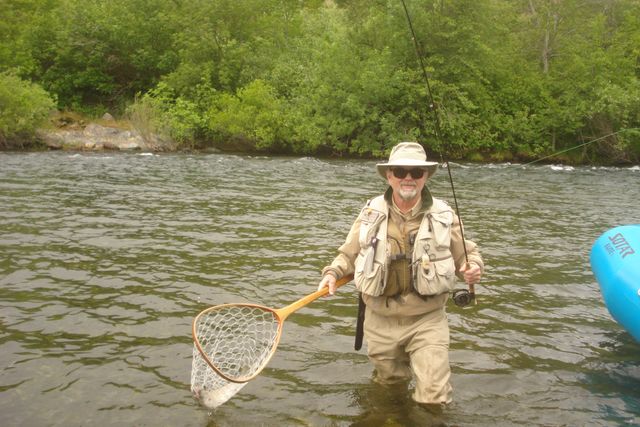 ---
Where's my guide?
---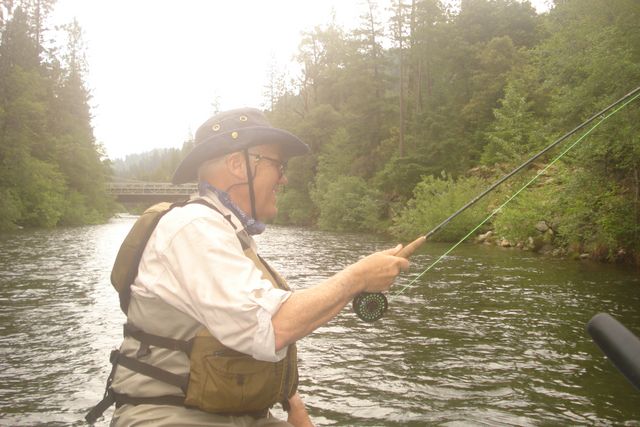 ---
Gary Cummings and Bob McEwan fished with me in Chile in 2005 and several times, every year there after! These two guys are so much fun to hang out with. It's like two funny uncles that you hold dear to your heart, and enjoy seeing them everytime they arrive or hook-up on another trout.
---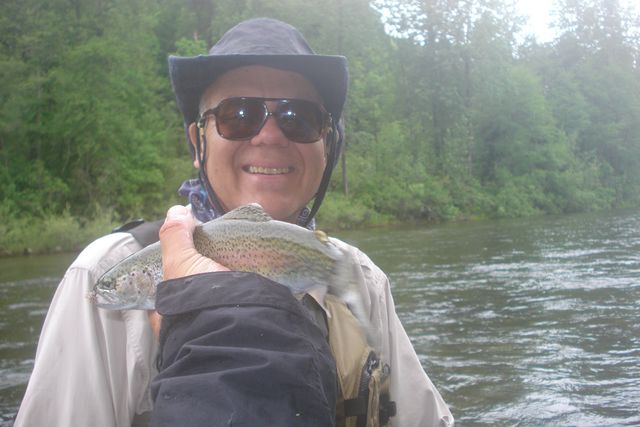 ---
Gary, not like the 10 lber you caught in Chile, but respectable…
---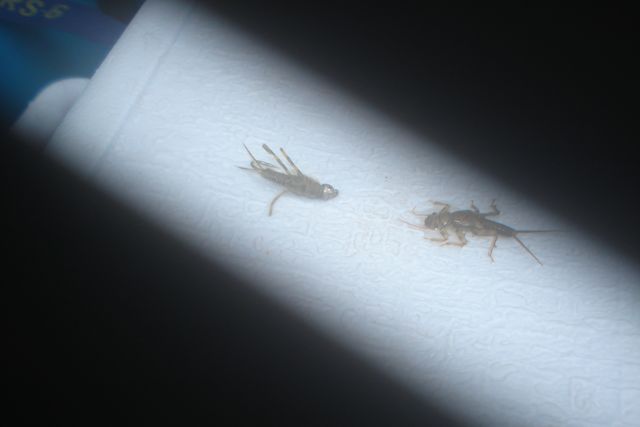 ---
Mike Mercer does it again!
Check out his opening day tactics! http://www.adventuresinflyfishing.com/vise2.htm
---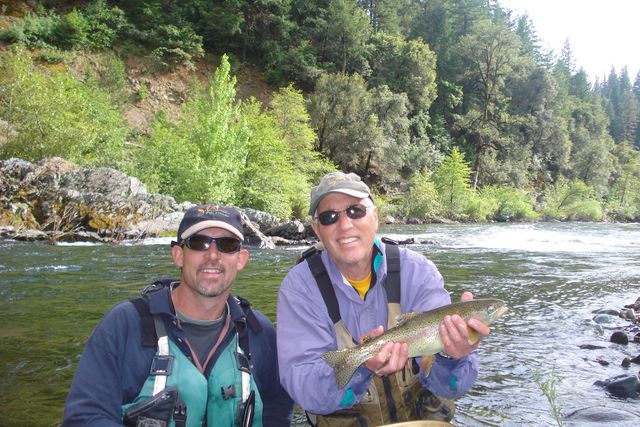 ---
Maybe this pictures signafies everything I stand for as a guide!
Bob, you and Gary are the greatest!! Look forward to seeing you & Gary, Pat Patterson, Gary D, Kit, Glenn, Mark, Bernice and the cast of other characters!! BILL??!!! That was for you GARY Cummings!!
Take care and thanks for your support always!! jt
---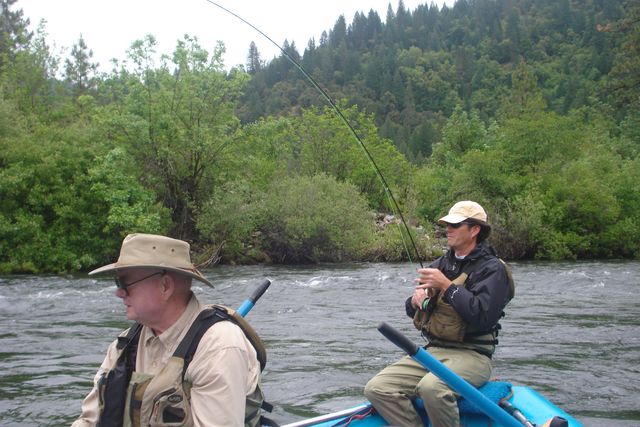 ---
Mike Warson, ladies and gentlemen!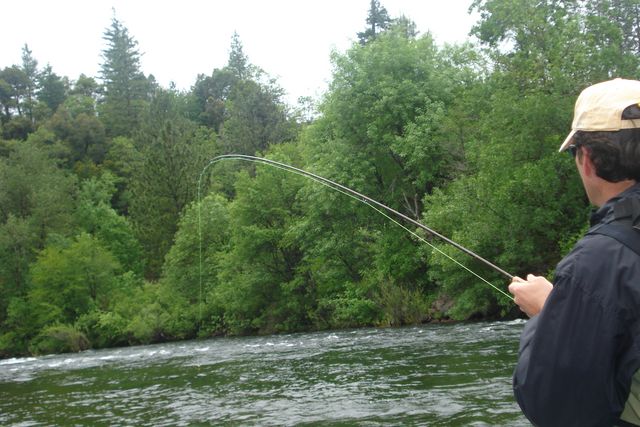 ---
Powertrain study by JD & Associates! Hold on Warson!!
---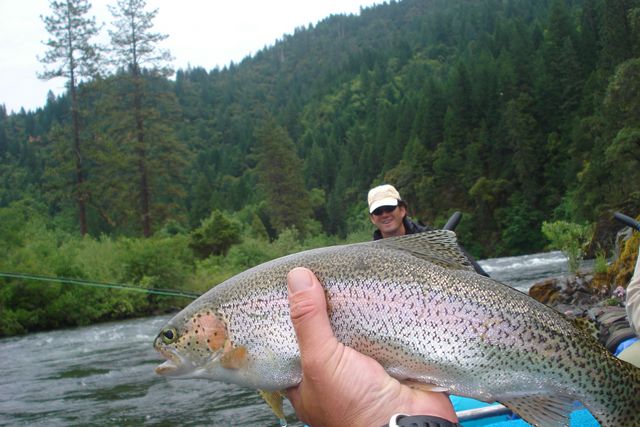 ---
The Apple of his mother's eye!
---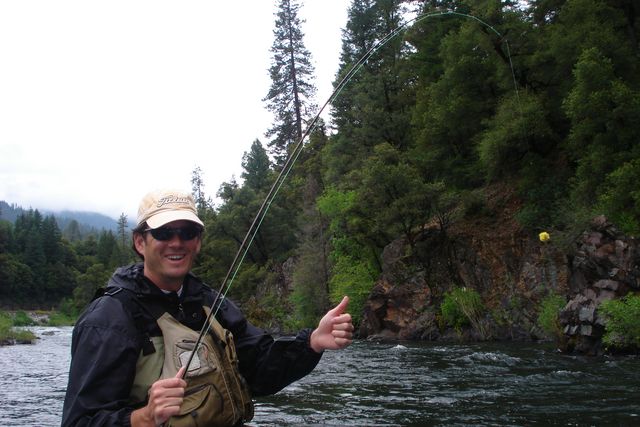 ---
"I just want to take the time to thank all my fans out there in and around San Rafael! It isn't easy hauling in all these trout with my dad in front. I'd just like to say hello to my two biggest fans out there; my mother of course, Chewy and Bobo!! I guess that's three…?"
---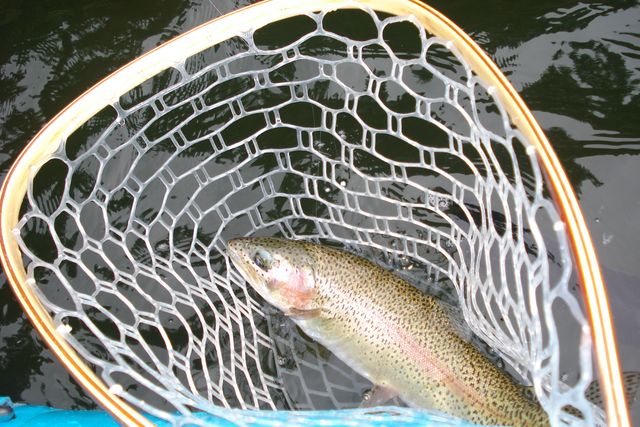 ---
Mouth of the Klamath trips start in August, give me a call.
---
---
What could be better than out with pops!
---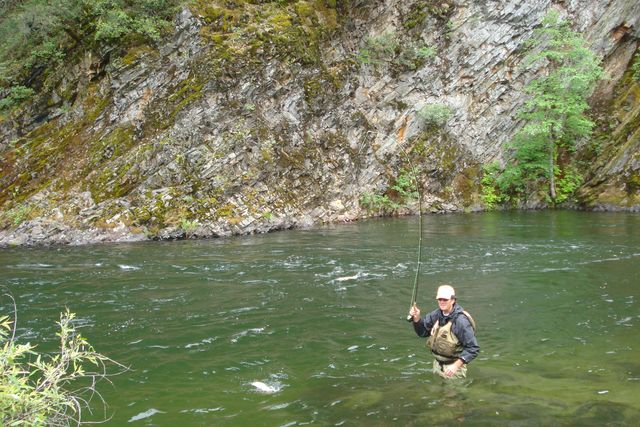 ---
Lone tree cove! A perfect place to hook Mike!
---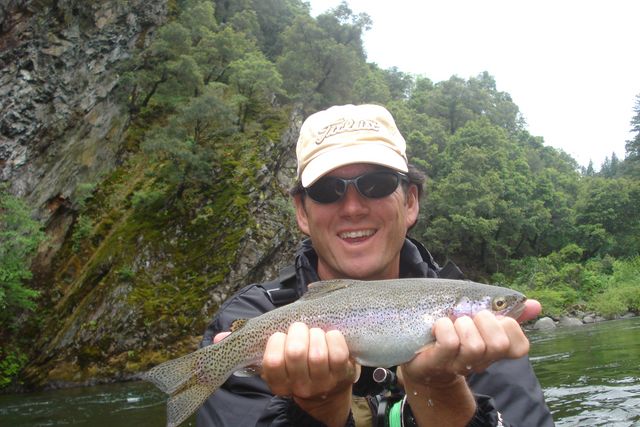 ---
Mike way to go Sizzler!
I need to get you a Jack Trout Guide Service Hat!
---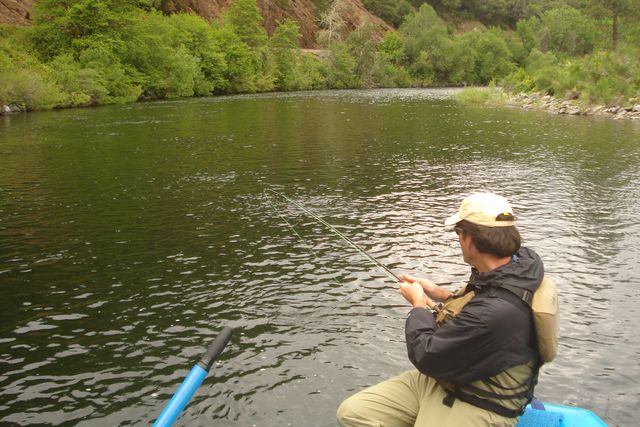 ---
It's good thing I velcro the seat!
---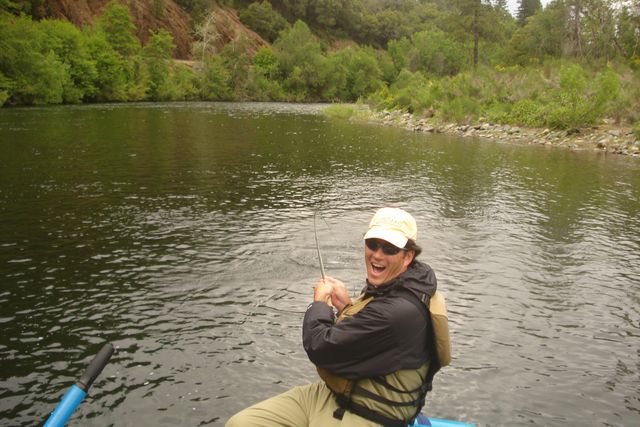 ---
Hardship case!
---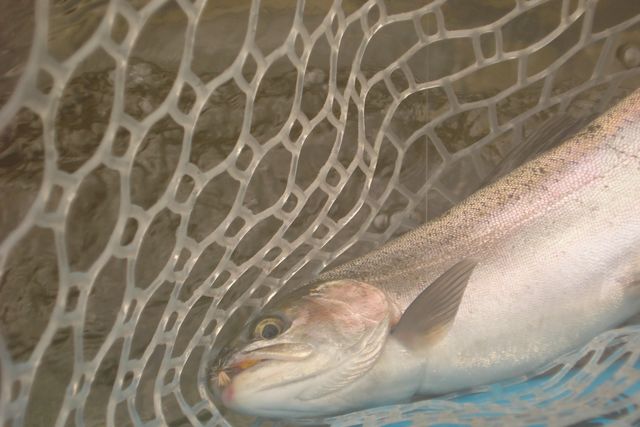 ---
Ed Cutter Caddis, muy efectivo en lo Rio Sacramento Arriba!
Visit Ed and Lisa's site at:
---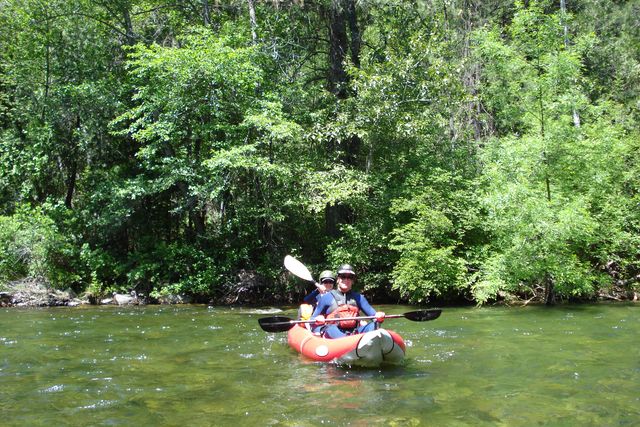 ---
My dear friend Chester Kyle    . The true legend of Mt Shasta, there is no one in the community that has more experience climbing Mt Shasta, rafting any river or just out hiking about on a day off. Chester Kyle knows the best places that are still undiscovered and also is one of the most sought after and respected elementary school teachers in our county.
He taught me how to raft the Upper Sac 15 years ago and I am grateful. Just like anyone he's ever taught. They go away with an education and a smile on their face! He makes learning fun and always has.
Yea, I guess when you talk about legend, you talk about a leader, a mentor, a person you can talk to and identify with and learn from. Chester Kyle is that man. He's da man of Shasta! I hope your surgery went well bro! Jack Trout
---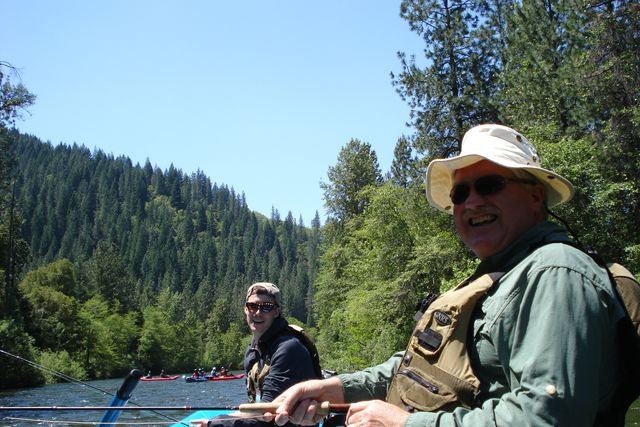 ---
Jasper and Bill James back again!
---
---
Now those are some cool shades bro! ZZ Top would certainly approve!
ZZ Top – Cheap Sunglasses –
http://www.youtube.com/watch?v=-cdN4f6x4J4
---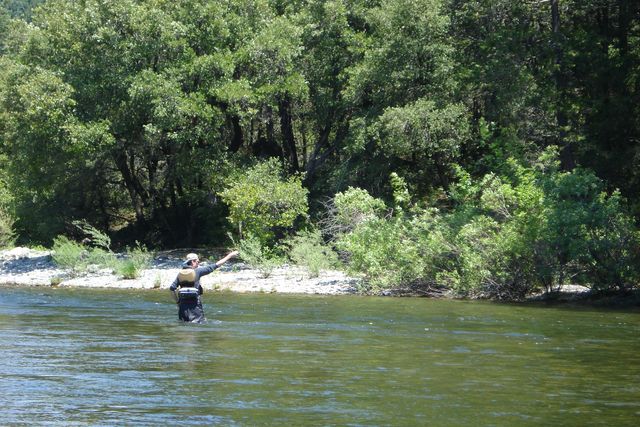 ---
Jasper caught a beauty, wading and nymping this section below Sims.
---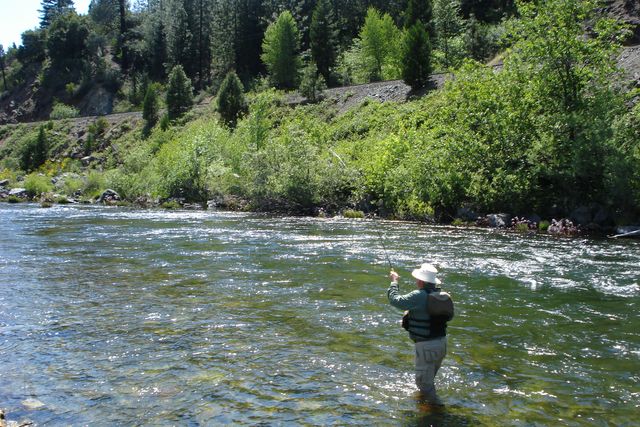 ---
Bill, head south quick!
---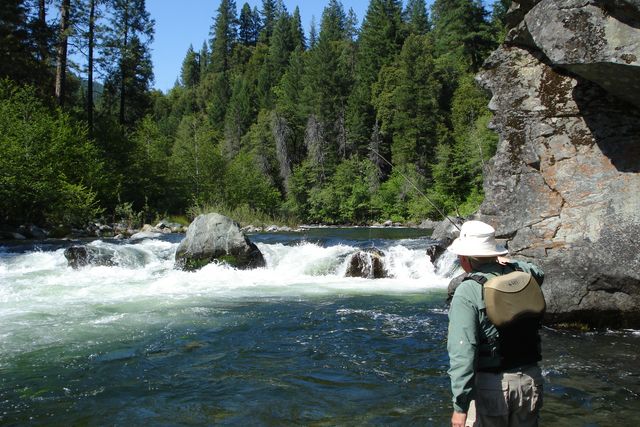 ---
Bill fishing Bottoms Out.
---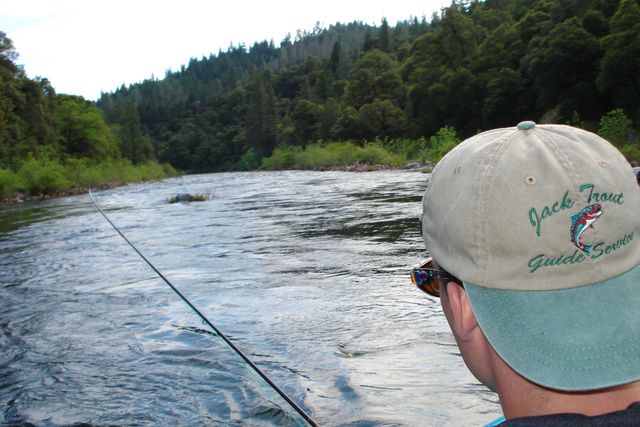 ---
Fish on Jasp!
---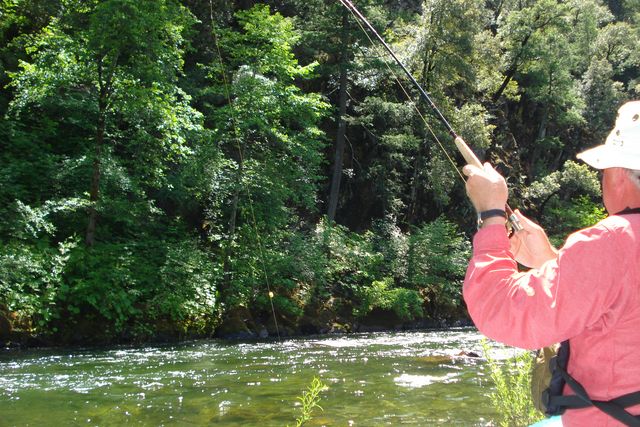 ---
Bill James, fish on and it's a beauty!
---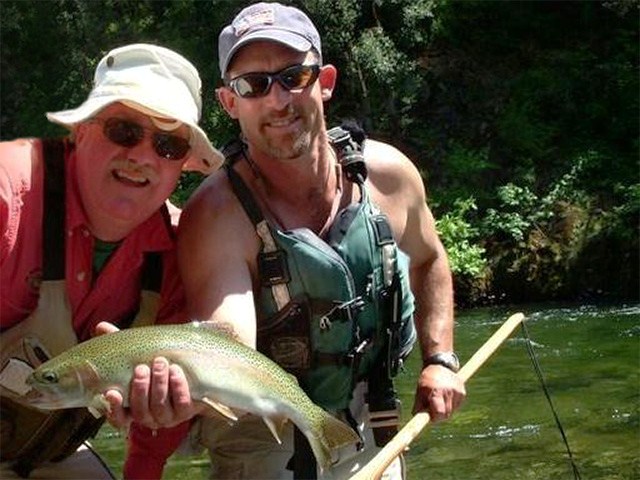 ---
The heat is on!
---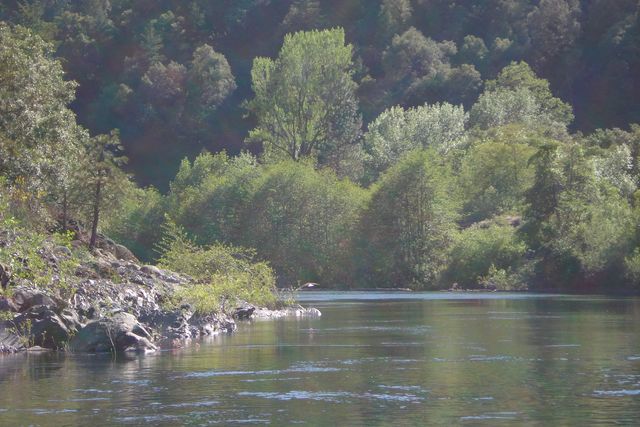 ---
Up ahead in the distance we saw a shimmering light.. No, we could see a bald eagle flying, it was so cool at water level.
Speaking of great American Icons, Jerry Hannan's new music video
SOCIETY from the INTO THE WILD, movie and sound track. This was a fine video, great sound and a suprise guest appearance from a local coyote that was intrigued by the music! Check this one out and come back folks.
http://www.youtube.com/watch?v=8PRmH8gZrzw&eurl=http://www.evite.com/pages/invite/viewInvite.jsp?event=WJNISJBDVLFJDZYTLBVH&inviteId=LQLRGIZKDITZGFHSYJTI&showPrevie
---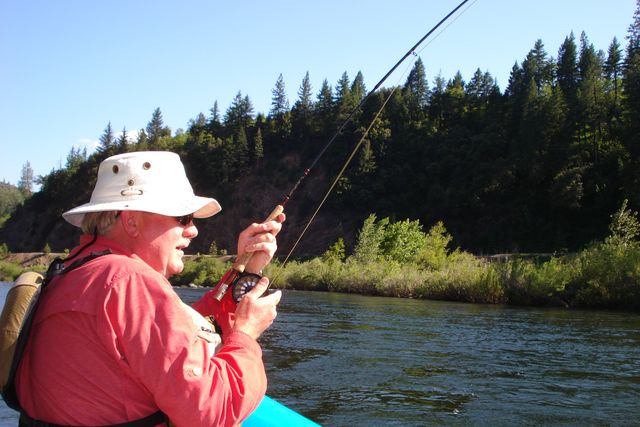 ---
Bill James, hooking another trout makes me think back to my childhood when I met Eddie Money and Jimmy Lyons at a party in the Bay Area. My brother had to take me along, See I was 8 years old then and I remember Eddie Money's real name was Eddie Mahoney and he was a former cop from New York. I remember vividly since I think I was the only sober person there that night. It was great and we all went on to love Eddie Money and his true sounds that he contributed to the Bay Area rock scene in the late 70's into the 90's. I remember at that party Eddie Money led me to a drum set
and I played like an 8 year old.
This song goes out to Carola – Eddie Money, Jimmy Lyons and Rock'n Randy in The Wish > http://www.youtube.com/watch?v=c-t8p9ScF_A
---
http://www.youtube.com/watch?v=c-t8p9ScF_A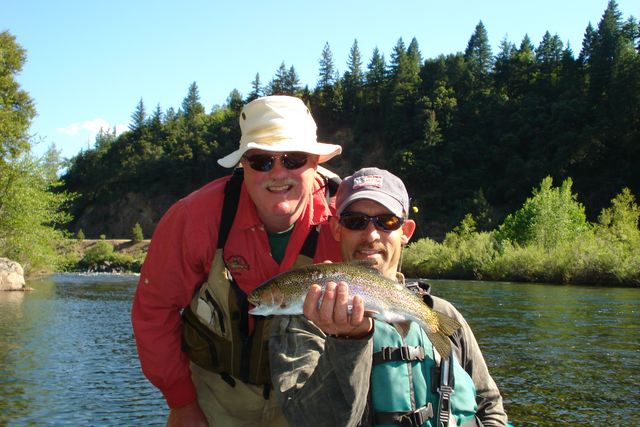 ---
---
CONGRATULATIONS BILL JAMES OF ORINDA, YOU ARE MY SIZZLER OF THE WEEK AWARD WINNER!! CONGRATULATIONS SIZZLER, WITH THAT NOW GO OUT AND SOLVE OUR RESOURCE PROBLEMS!! NO PRESSURE MAN!!
THANK YOU JASP AND BILL ~ THANK YOU ALL!!! JACK & CAROLA TROUT
---
CHAITEN CHILE UPDATE
---
---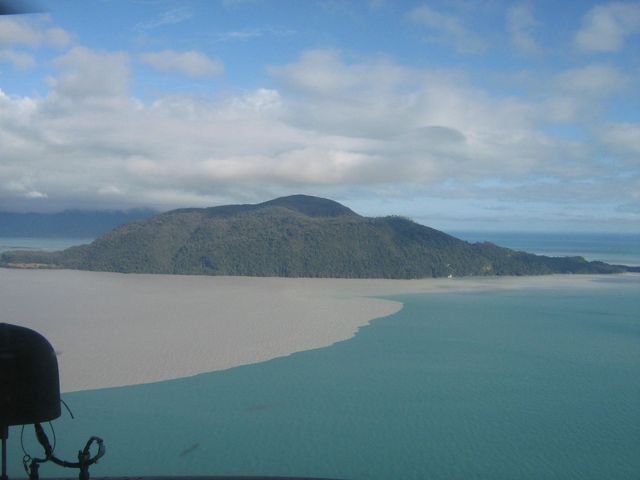 ---
Pics from Carola!
---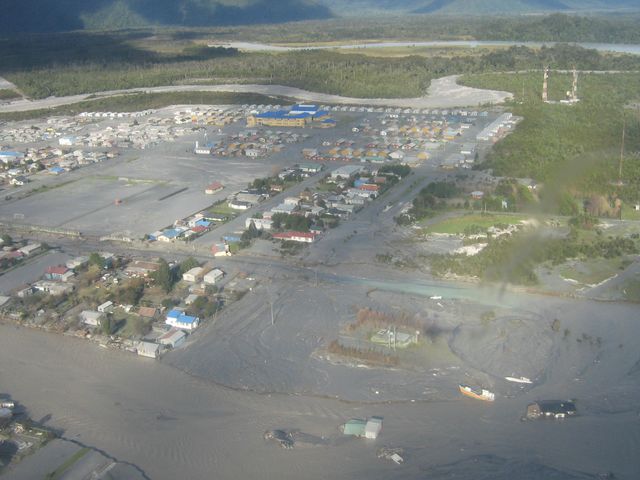 ---
We are in the process of figuring out how to get all these clothes we have shipped to Chile for Chaiten relief victims. We have to clear customs, so this next week I will be working with Chaiten Chilean Government for customs clearance and box size exemptions.
If anyone out there can help me, I would appreciate it. I having diificulty guiding 5 to 6 days per week and getting these badly needed clothing items shipped to Chile in the dead of winter. I figure I have 5000 peices of clothes!! HELP!!!!!!!!!!!!!!!
---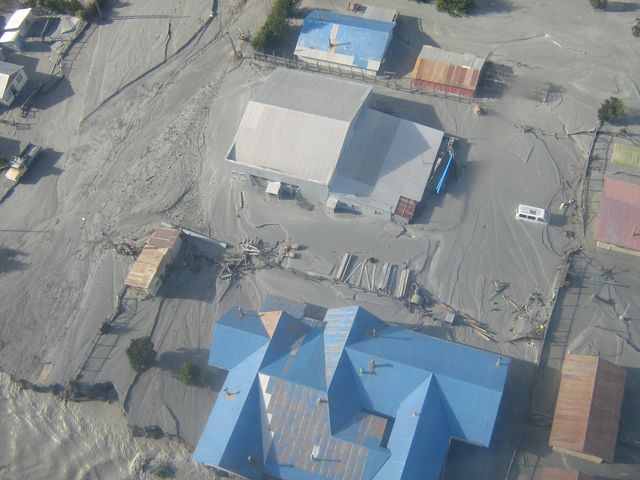 ---
June hasn't been much better than May, but people are being allowed now to return to Chaiten on a limited basis. The Rio Yelcho and Futaleufu are better!! Look for me to be working out of some area close to supplies and gas guiding on the Rio Futaleufu, Yelcho, Palena, Rooselott & Cisnes. I will be shipping two new boats down and have a new 4 x 4 truck for this season in Chile. January is almost all booked!!
---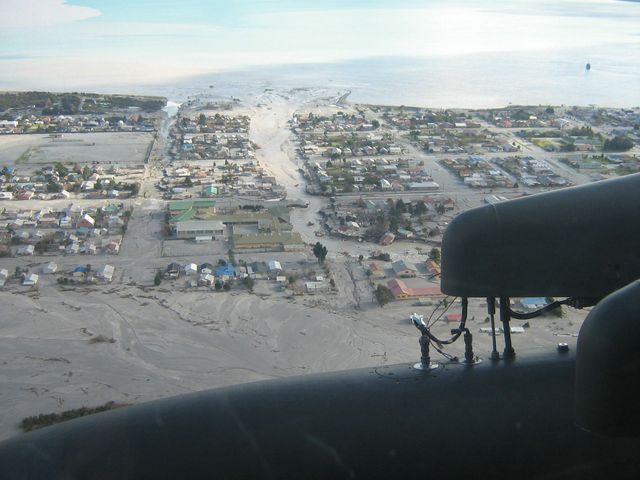 ---
I can see our house down there, the river tuned 5 houses before ours and headed for the ocean bay. I know many others who lost more than we did, I pray for them and hope the volcano goes back to sleep. That's all we really want now……. PLEASE!
---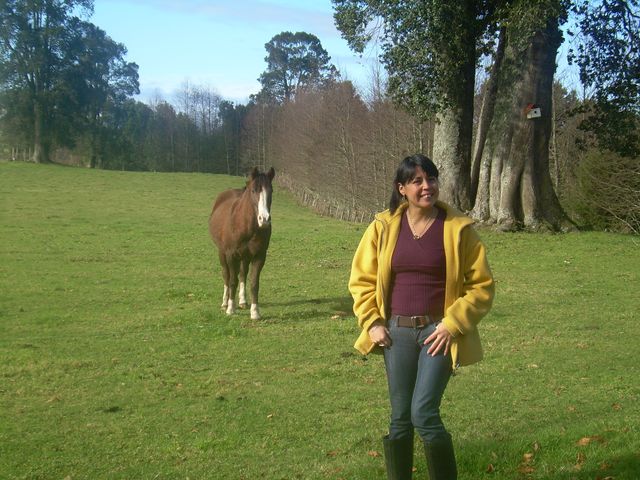 ---
Carola last week in Puyehue!! One more meeting with the US Embassy
in Santiago and she should be here!! I'm so excited, I plan to take off time and travel around with Carola when she arrives USA. I think
it will be just as fun for me to see the look on her face when she sees some of our amazing things we have here in California. Not to say I haven't been amazed and changed by Chile!! I love you Carola.
I WAIT FOR YOU NOW! Jack
---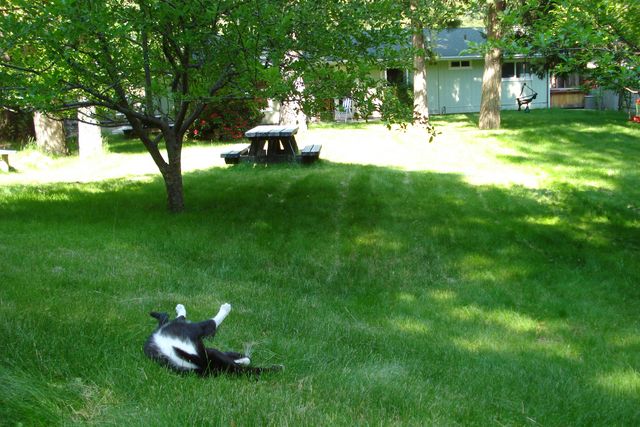 ---
Rest In Peace David Wait. We will never forget your grace on all of the North State Rivers. You are now one with all these rivers, in a place we will some day call home.
God bless you, Jack Trout
---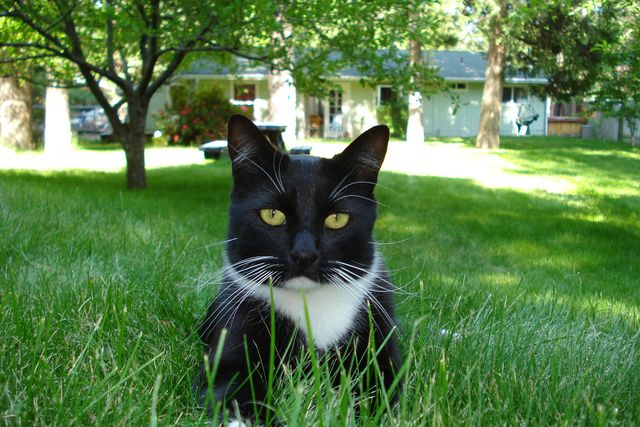 ---
You have to feed Ford Lincoln Mercury, my cat!
---
---
---
EMAILS FROM YOU:
Hey Jack:
Thanks for sending your e-mails. It makes life a lot easier down here in the flat lands. I swear to "something" that I'm going to fish with you again. Thanks for always being there.
Had a great few days with our mutual buddy Tom Stienstra     in Sonora. No fishing. We played golf. Can you believe it? He's got a damn good swing even if he spends a lot of time in the rough. Probably bec he knows that's where the big trout hide.
Recommend a few days mid week or weekend and I will book you. Make me send a check because that might make 'ol Browninski follow through.
Love ya Jack. Had a great time with you and your team in Chile.
Best to you,
Robert B. Brown
President & Publisher
—————————-
---
Hey Jack,
Chris and I are planning a trip to Oregon and Washington next month in July. We of course want to squeeze in some fishing.
We fished with a guide about 5 years ago named Jamie Briscoe through a shop called Country sport Limited. I can≠t seem to locate either.
Could you offer us a referral to a good guide or shop in that area? You are a great guide and we trust your recommendation.
BTW,, congratulation on the engagement. Chris and I continue to visit your website on a regular basis, because it makes us smile. We are thinking about planning a trip up that way again late this summer/early fall. When would you recommend would be a good time?
Thanks!
Sincerely,
Veronica Carloni
---
hi my name is abby and i would like to inquire about your scenic tour. i'm planning to surprise my fiance and he loves taking pictures. i've been reading your website about 12 best places to take photos. i'm wondering is this a hiking tour and how many hours is it. will it be a guided tour?
thank you Abbey
---
How big are the salmon and steelies? Where to fly into? How the hell
are you Jack!
Kris
---
Thanks Jack,
I hope I can find a weekend that will work this summer for the girls,
and if not I≠ll work on something for myself √ Where do you recommend
fishing in mid-July 11th √ 13th ?
Jack Holliday
---
Hi Jack
This is regarding our fishing excursion this July 4th weekend. We talked about the possibility of doing it on the morning of Friday, July 4th. Do you think that day will that work?
Also, what should we bring? I'm guessing susnscreen, bug spray, food, beverages, etc. Can you provide us with fishing gear if needed? I don't own a rod or anything.
Thanks!
Ricardo
---
Hello Jack
A friend and I fished with you on the Trinity River a year ago. We both had a blast. I am looking to take my father and possibly nephew on a fishing trip this summer. I was thinking maybe doing the Sac river for trout. I would like to schedule a trip with you because neither of them have been fly fishing before and are interested in giving it a try. And from my experience fishing with you is that your exceptional patience and knowledge is the best way to get someone hooked on the great adventure that is fly fishing.
Can you take 3 people fishing on your boat? If not I would probably just take my father.
Any dates open for a Saturday or Sunday in the next couple of months? And if you have a better suggestion for location to fish I am definitely open.
Thanks You
Greg Steindorf
---
Jack ….
I read about Carola's frustration with the authorities. What a load of crap!!! I sure hope you can get everything straightened out.
Do you know anything about PG&E raising the flow levels on the McCloud ???
I am planning to take some Boy Scouts from Stockton to Ah Di Na from June 16 to the 22nd. And I get conflicting reports on whether or not PG&E is going to blow out the Lower McCloud.
Any info would help …….
Wade Goertz
---
Would like to confirm for Sept 20-21. Two days. So far, I have just my brother and myself. My son is a possible third, but has not yet confirmed.
Excitedly …
Steve
---
are there any upper sac raft trips available in June? i would have an interest if there are, if not how about wading trips on the mcloud or upper sac?
thanks, chris clark
ps had a great time last trip, pics of the bear turned out great!! take care
---
Hi Jack. Just wanted to remind you to email me some of
the pictures you took of the inaugural float trip on
your new pontoon boat last Friday. I had a great time
and really enjoyed both the fishing and the river
running (and of course the spectacular natural
beauty). Hope you have had success in getting your
fiancee to the US. Best regards, Curt
---
JacK: AMIGO, SOY TAN FLOJO QUE SE ME HACE PESADO ESCRIBIRTE, CUENTAME
COMO TE HA IDO, AL PARECER BIEN
ESPERO QUE TENGAS TRABAJO EN TU PAIS, CAROLA SUPONGO QUE ESTA
CONTIGO.-COMO SABRAS, LAS COSAS EN CHAITEN CADA VEZ MAS MALAS, YO NO
HE PODIDO IR A BUSCAR COSAS A MI CASA.-ESPERO QUE CUANDO LOGRE LLEGAR
AUN LA ENCUENTRE PARADA, YO VIVO ACTUALMENTE EN CASA DE MI POLOLA EN
CASTRO, MI DIRECCION ES "PRESIDENTE IBAÑEZ 1236- CASTRO- CHILE.
AUN ME ACUERDO DEL RICO CAFE, DE MI AMIGO MUY BUEN AMIGO "GRINGO, ME
QUEDA UN POCO YA QUE LO TOMO EN
GOTAS, PORQUE ES MUY RIICOOOO, EN TODO CASO, EL FILTRO QUEDO EN
CHAITEN, ASI QUE USO EL "CALCETIN";SOLO TUVE TINO DE SACA UN PAQUETE Y
ME QUEDAN SOLO ALGUNAS TAZAS.-CUANDO VUELVA CAROLA, SI ESTA CONTIGO EN TU PAIS,TE ACUERDAS DE MANDAR CAFE.-
UN GRAN ABRAZO MY FRIEND.-
ERNESTO MONTAÑA LEIVA..-
---
Jack,
I≠m trying to give our clients information of the different organizations collecting donations for Chaiten victims.
What webpages/organizations can I direct them to?
Suerte amigo,
Justi
Justiniano F. Campa
Co-founder
jcampa@flyfishingpatagonia.com
---
Hello Jack.
This is pops, sorry we could not make it up there this summer.I enjoy seeing you trips on the upper Sac. Dave and I will be going up to the trinity this winter. We will be calling you to arrange another float. This time I will land my Steelhead OK!
Munchos rios e pescados para todos.
Pops Diaz
---
Don≠t you just hate when you trust someone and you try to do the right thing and they just burn you .Jack all things have a way of working them self out keep up the good work and in time that guy will get his just reward. Waders with a spilt seam in November on the Klamath river
Michael Fay
---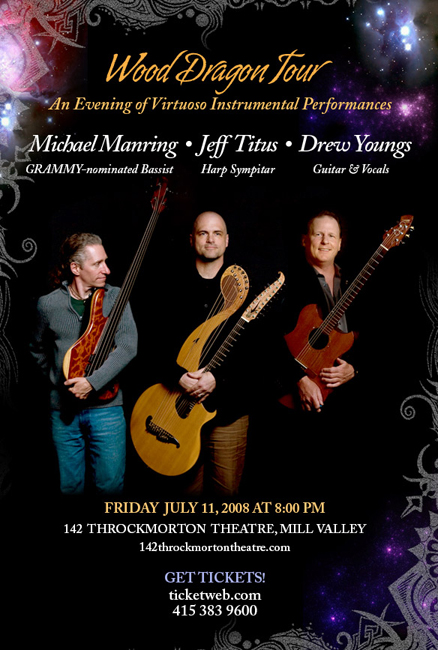 ---