*****UPPER SAC FLY FISHING – RAFT TRIPS IN FULL SWING UNTIL LATE JUNE!!*****
---
*****HAT CREEK – PIT RIVER – LOWER SAC – TRINITY – KLAMATH RIVERS*****
---
*****JUNE STONE FLY HATCH ON KLAMATH RIVER LOOKS TO BE GREAT!!*****
---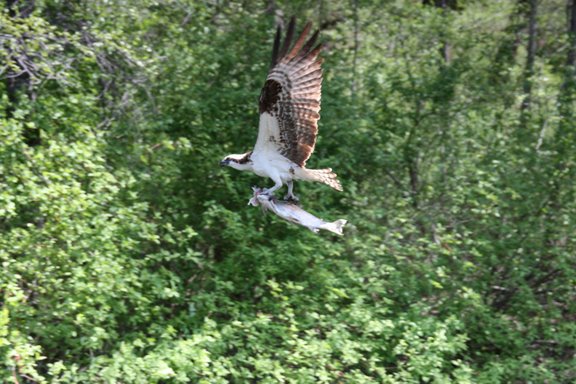 ---
Right out in front of the raft, this osprey was almost pulled down into the river when he first flew with this lovely Shastian Trout.
One of the most of amazing things we've ever witnessed on my raft/fly fishing trip on the Upper Sacramento River on May 4th, 2008. I could of petted him he was so close! Looks like he ate the insides on shore, and is now heading to the nest to feed the children…..
What a great week of badly needed rain! I am happy to announce this will prolong the rafting fly fishing trip past the 3rd week of June.
On this sunny beautiful day, now is the time to plan your trip up to the Mt Shasta area as summer is putting its blinker on, getting ready to make that right turn, providing us all with the last of the spring-time dry fly fishing we all know and love. jt
I have June 3rd, 4th 6th, 9th, 10, 11, 12, Open in June
all available for Upper Sac Raft/Fly Fishing Trip. My other guides have mixed dates open.
Jack Trout 530-926-4540 Thanks for making May such a busy month!
---
---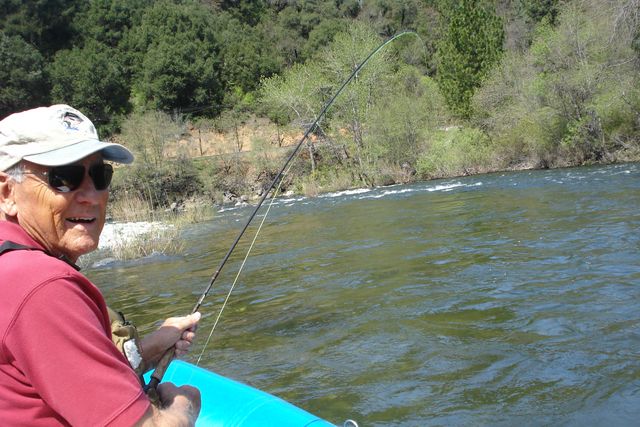 ---
Yea, Warren Heiman made it up to fly fish! This is a nice character to guide for a day!
---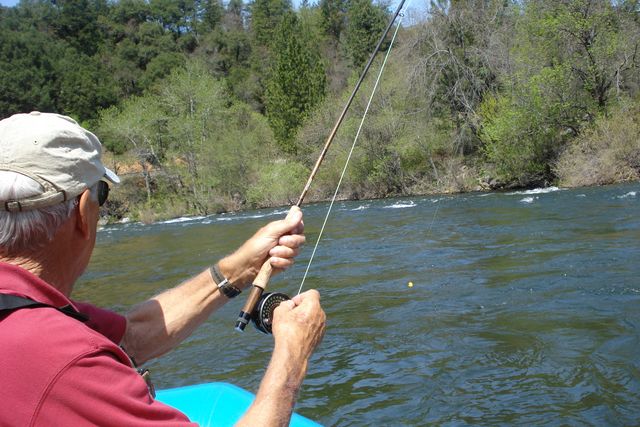 ---
Our first run we hooked a quality Upper Sacramento trout.
---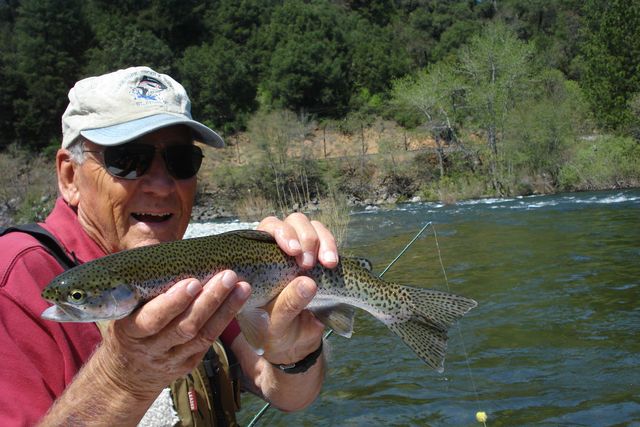 ---
That's what we're here for!
---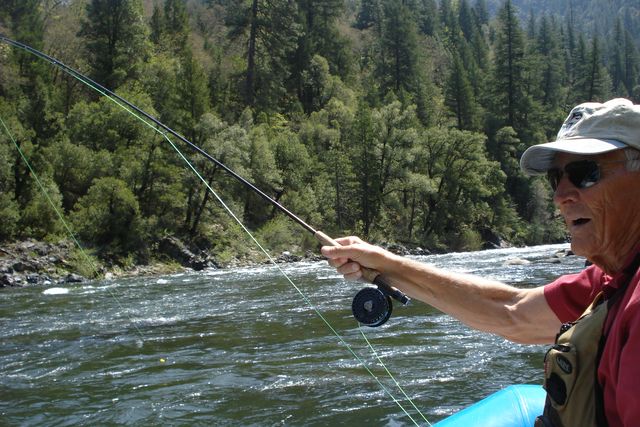 ---
Then around the corner from there, Warren hooks another trout in the California sun.
---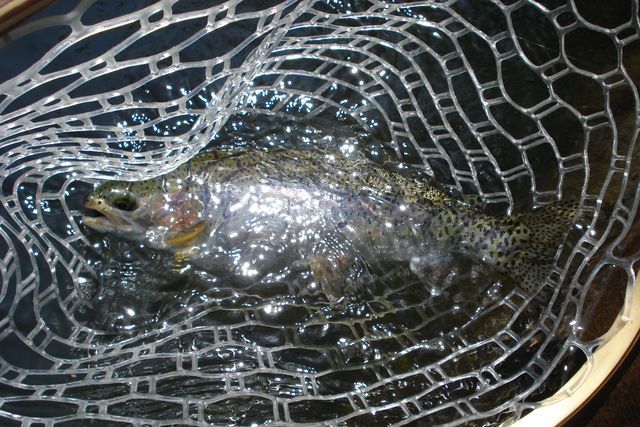 ---
It's always great when the customers are happy.
---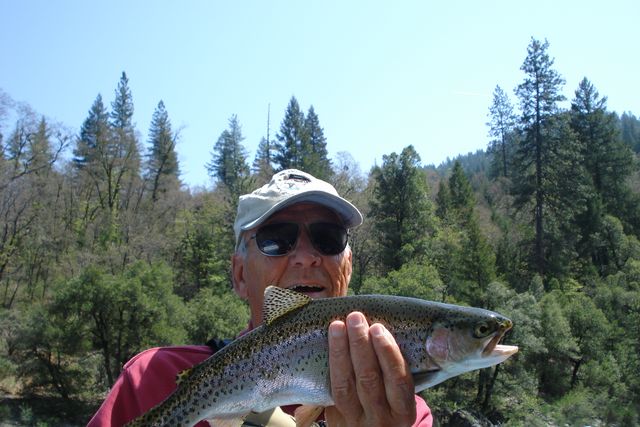 ---
Nice man!
---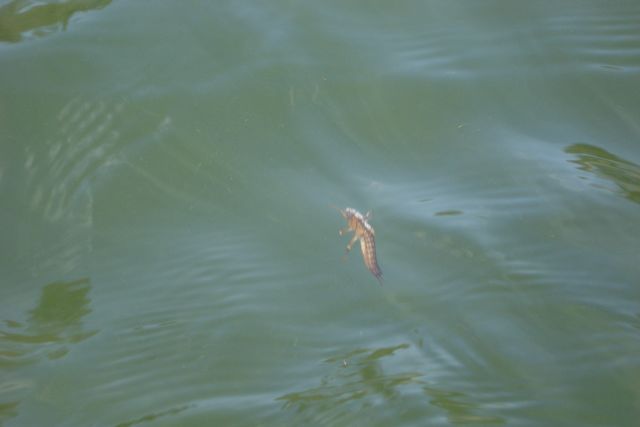 ---
Stone in supspended animation. Wouldn't it be great to be a trout, no extra charge for delivery.
---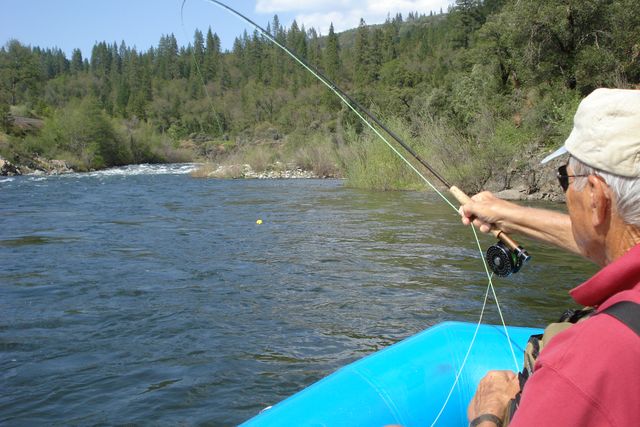 ---
Nice time Warren, thanks again for coming up.
---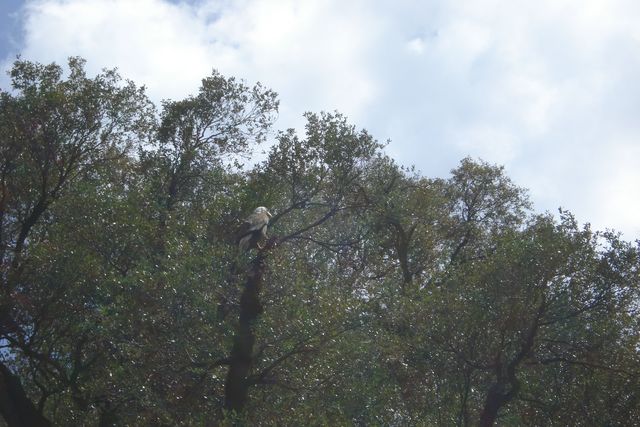 ---
Quite often on our travels we encounter bald eagles from a distance. There are a few bald eagles' nests that we can see off into the distance and the customers really enjoy seeing the eagles and usually their young sitting in a nest that looks to weigh over 100 lbs.
---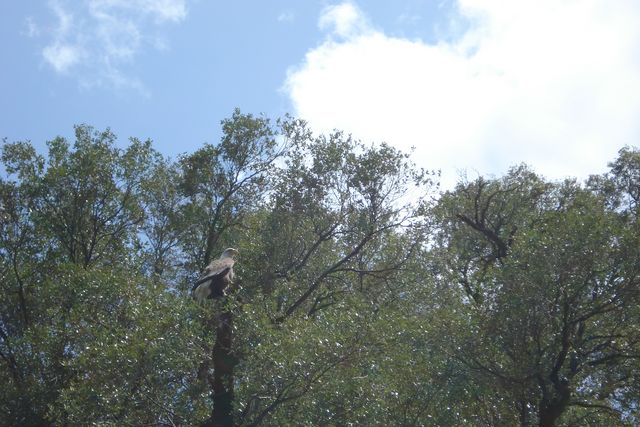 ---
On this day Warren and floated right underneath the eagle and he didn't move at all! It was like he knew me and was finally coming around to investigate us up close. It was a real treat to float under the bird I had seen on my trips for years.
---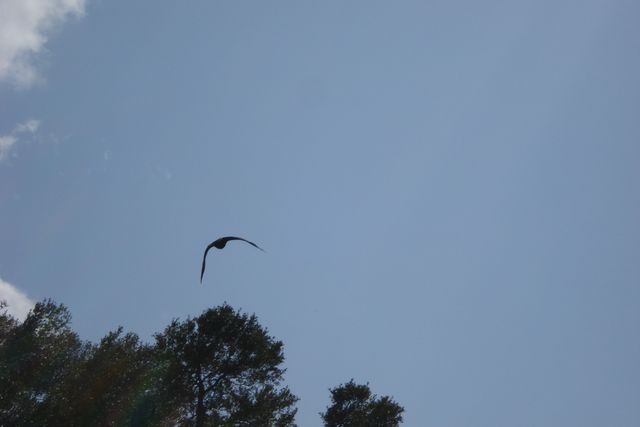 ---
He finally flew when we passed him……
---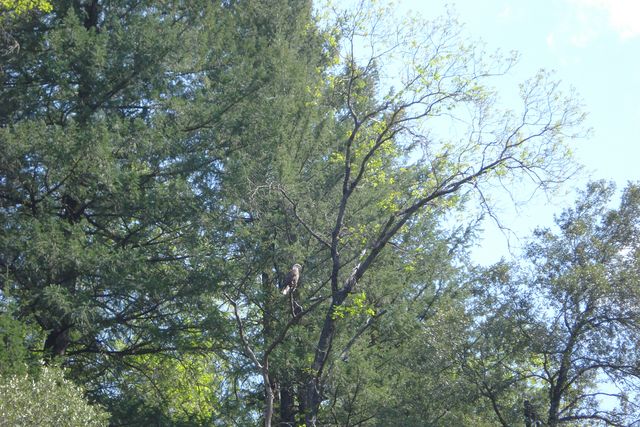 ---
Only to land on another branch a 100 yards down from where we were talking at him before.
---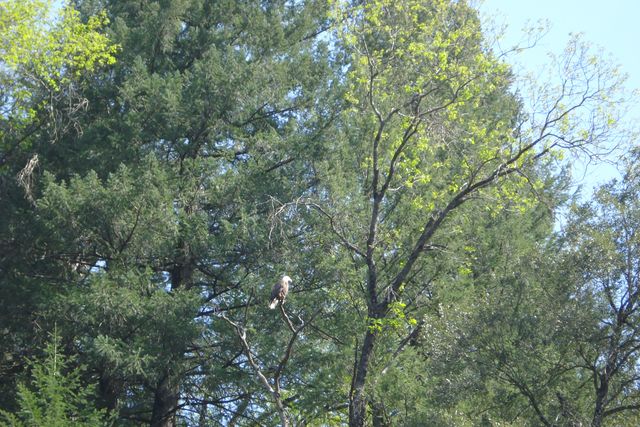 ---
They say bald is beautiful, I believe that statement to be true.
---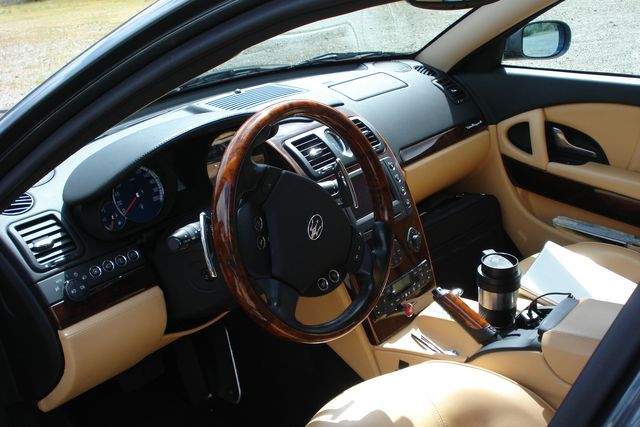 ---
I like when my customers show up in a Maserati, I start feeling like Ferris Bueller, and start trying to talk Cameron out of leaving it in the garage and taking it for a short ride! OH YA!!! OH YA!!
Classic Ferris Bueller Quote –
"What ever miles we put on Cameron, we'll take it off by driving backwards."
The same idea was suggested once also by a customer in lue of paying his float trip bill….(Jack G. of San Rafael friends of Bo Bo)
Watch this hilarious scene and come back:
http://www.youtube.com/watch?v=4MxPoxxt7n0&feature=related
Part #2 The two Car Attendants steel Cameron's Dad's Ferarri and go on a joy ride. REMEMBER SAVE FERRIS!!
http://www.youtube.com/watch?v=jK75HEcVs5k
---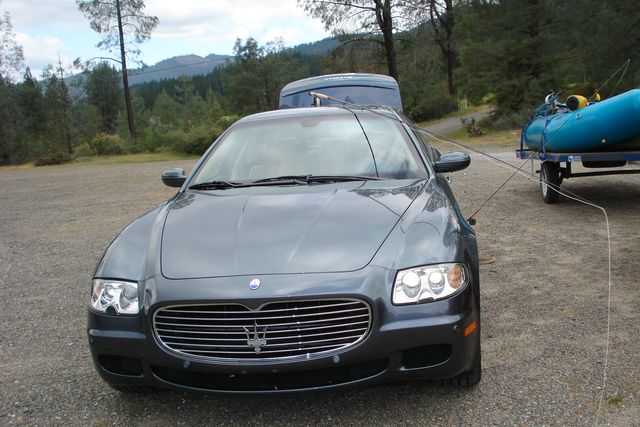 ---
Makes a great rod holder!
---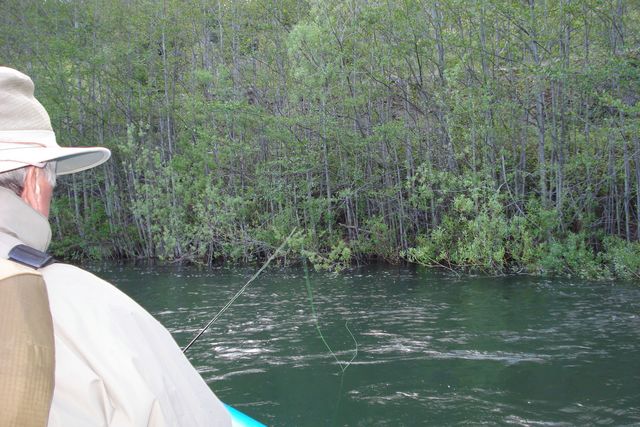 ---
Who is this guy? Looks like Nick Nolte from behind..?
---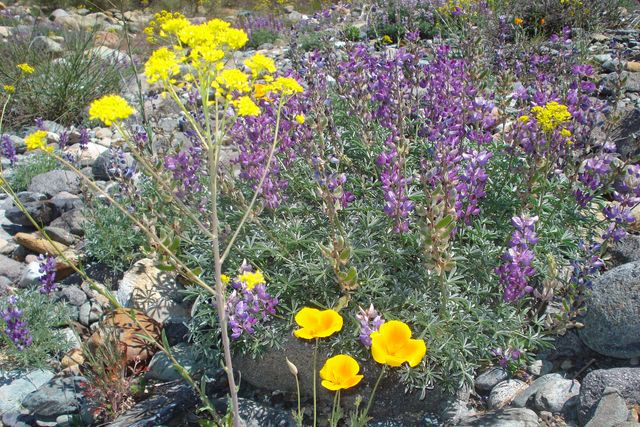 ---
How lush our countryside becomes when spring enters into full swing.
---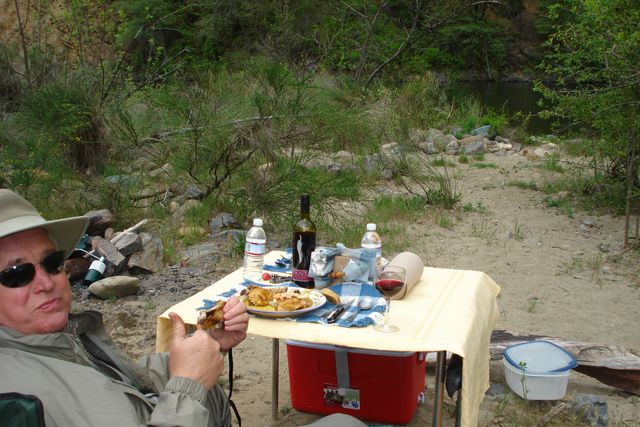 ---
We'll of course it's Pat Patterson, Past Sizzler of the Week Award winner and over all good guy to hang out with on just about any river. He asked if he could pay a little more and have a sit down meal with a table cloth. No problem, we always offer upgrades for special occasion type people. Some come out for a lot more than just the fishing, some come out and never eat their deli sandwich due to being looney for fly fishing.(It's like a disease people!) Let us know how we can make your trip customized or catered to your greatest delights in life. You deserve it folks, you work hard and we're here to take you away from all of that and re-boot that Intel Pentium Processor in your soul! When you leave us you'll be like brand new Maserati!
---
***** When Carola shows up in Late June, the lunches will become even more special. Promise! Jack & Carola*****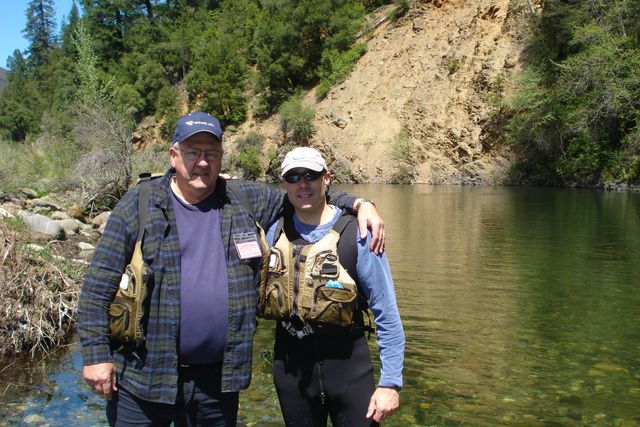 ---
Pops and Chris Clark from Oregon on a special father/son outing.
---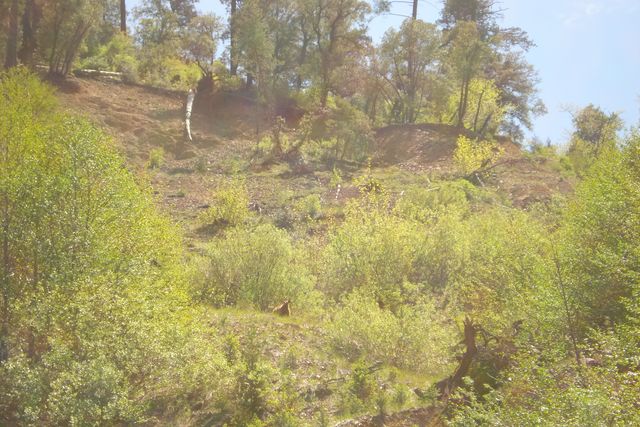 ---
Bear up on the Land Slide Hill near Pollard.
---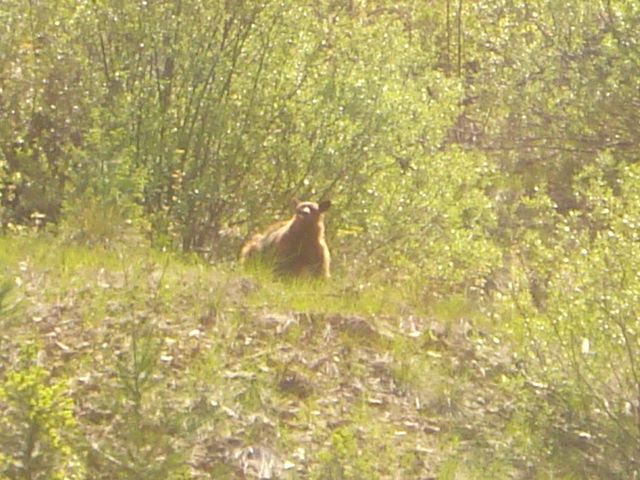 ---
Up close, this bear was huge!
---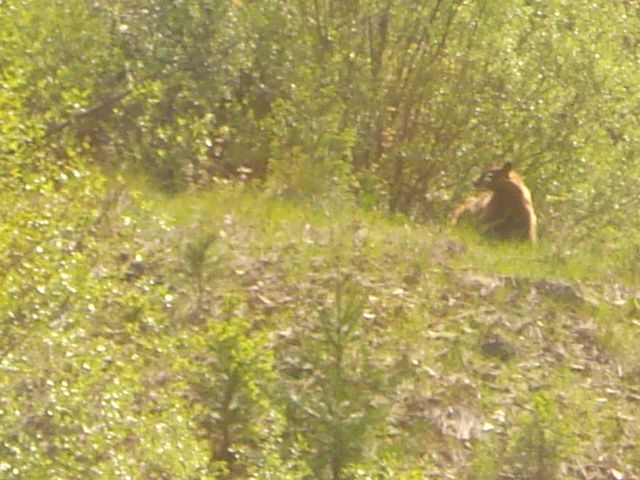 ---
Can you see the two cubs in the trees?
---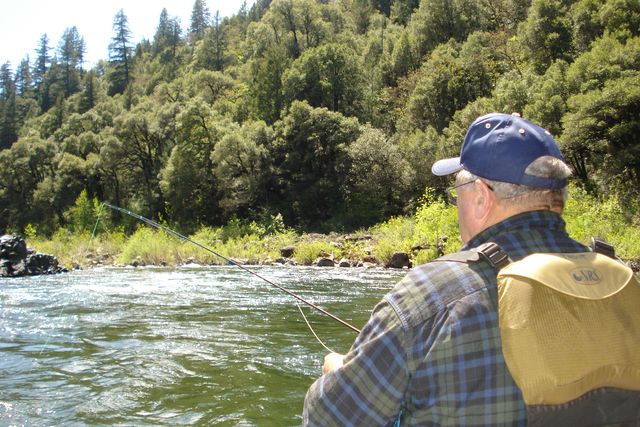 ---
Pops is on top of it!
---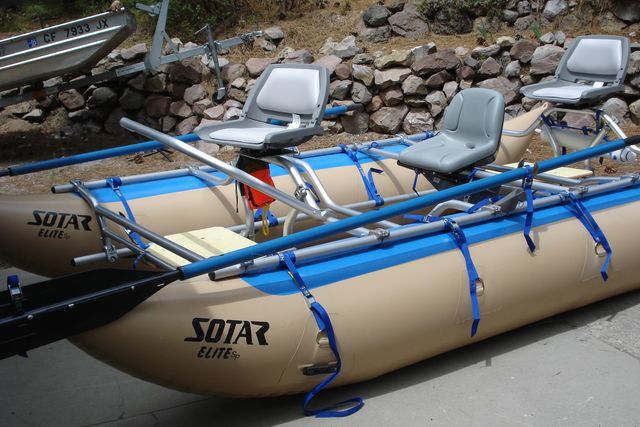 ---
New Ride for 2008! This cata-raft is a the perfect set up for the Trinity River. Now I can float you and you can stand up and fish and we can drift the river quietly and sly. I need to name her! Please submit your names to: info@jacktrout.com
---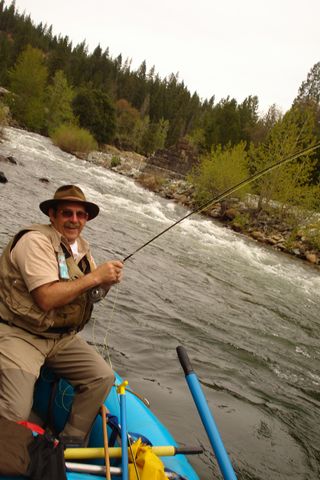 ---
Robert Ostrander, neighbor resident of Mt Shasta having a ball catching trout out in my raft.
---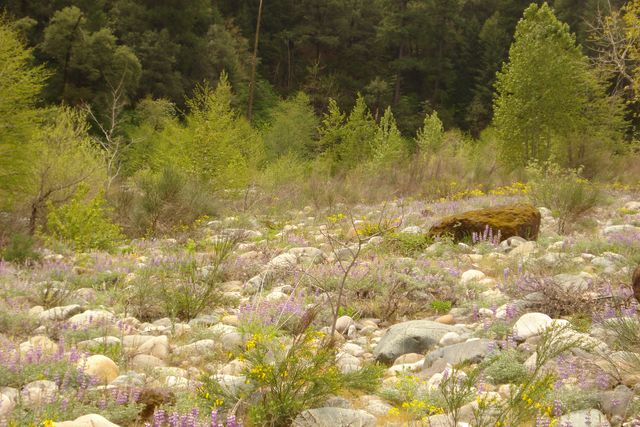 ---
Nice vibes.
---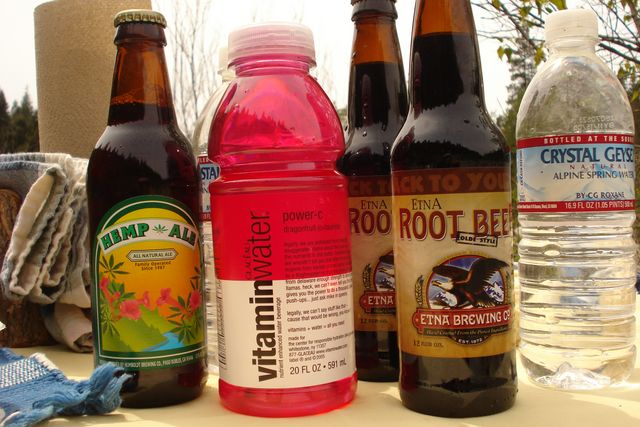 ---
Choose your poison…..Local drinks of N. Cal. and that Vita-water crap.
---
---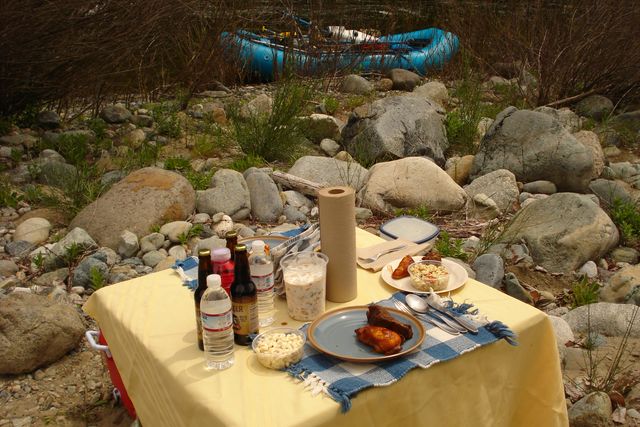 ---
Lunch is served!
---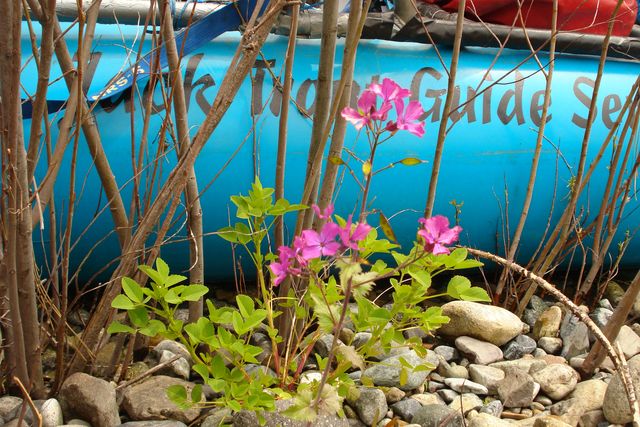 ---
Showy Phlox in the prime of its life.
---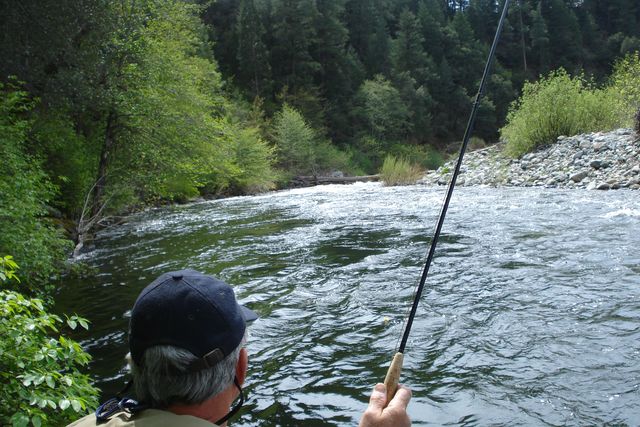 ---
Secret spot 007.
---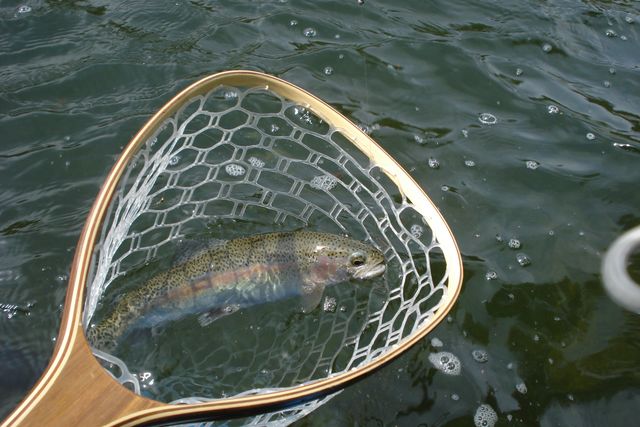 ---
Sunny afternoon.
---
---
"SHATNER!" That's when you "Boldly Go, Where No Man Has Gone Before!"Or at least this season. I can get you to the areas that are not accessible until late June or July. We call those prime fly fishing spots, "SHATNERS!!"
Trust me, the trout know them well and hold on the opposite side from fishing pressure. We sneak up on them and catch! At this time I would like to thank William Shatner, and his 5 year mission, it has really inspired me and my customers!!!. I would also like to invite William to choose his price and call me for a guide trip.
Jack Trout
---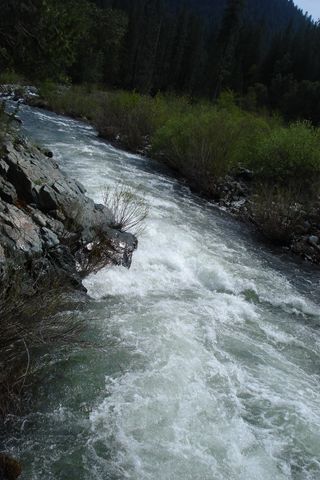 ---
Not for weekend warriors! Steve's wall will defeat you if you are not a certified rafter.
---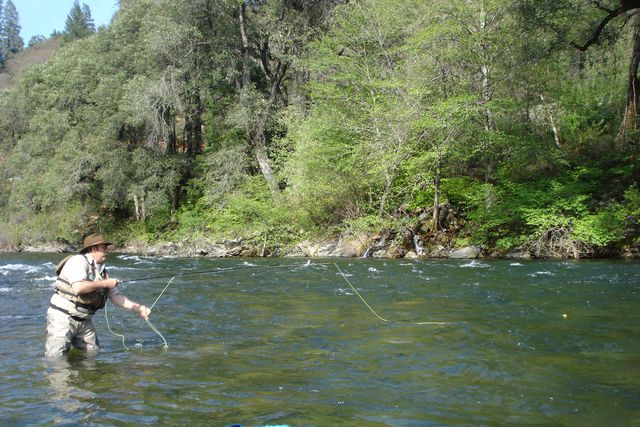 ---
Rob O at Water Stable nymphing to his hearts delight.
---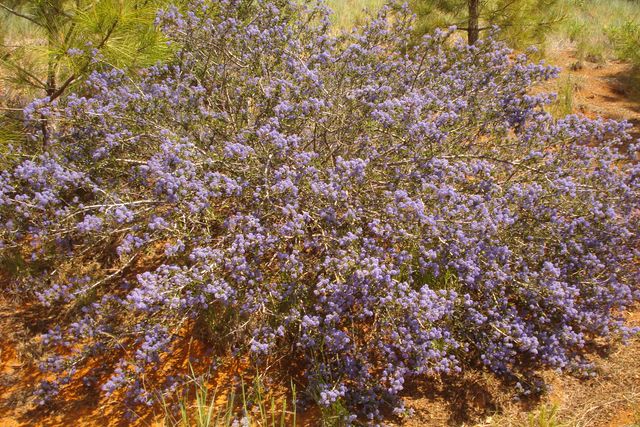 ---
Extremely purple is so lovely now.
---
---
One of the best dudes I know is John Stirling. He comes up about every year and fishes with me. This time he brought two other friends.
---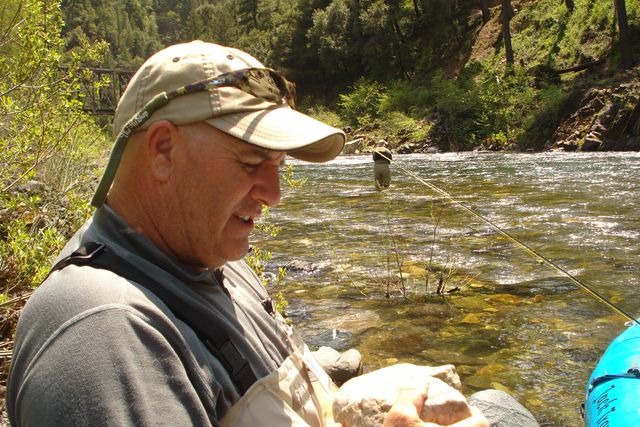 ---
I found a fossil in limestone near the shore and John was fascinated by its presence.
---
---
I find these in limestones all the time on the banks of the Upper Sac. These fossils are from the ocean floor millions of years ago
and are now exposed on the surface.
---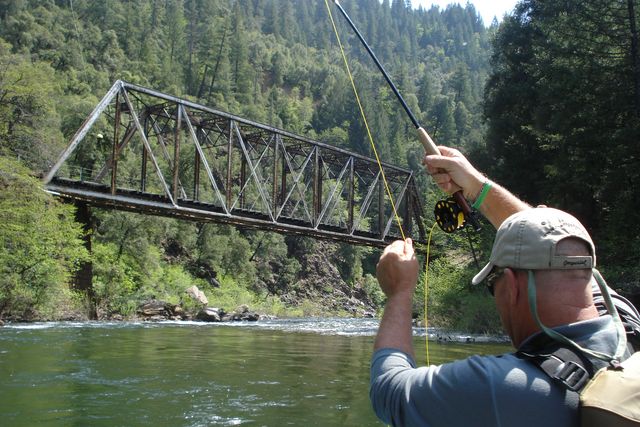 ---
Stirling Silver, Ladies and Gentlemen.
---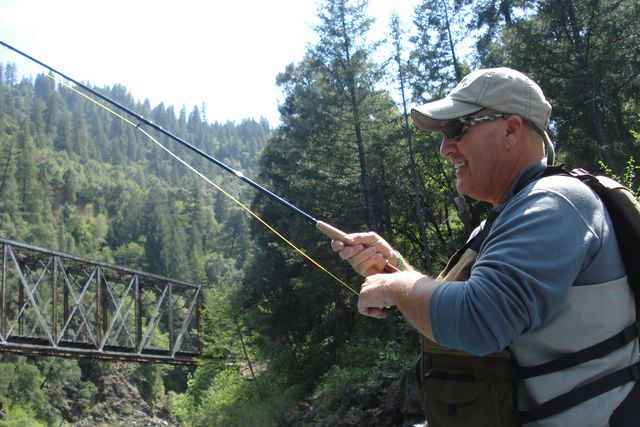 ---
John owns land near McCloud and visits the area often. What a good addition to our community!!
---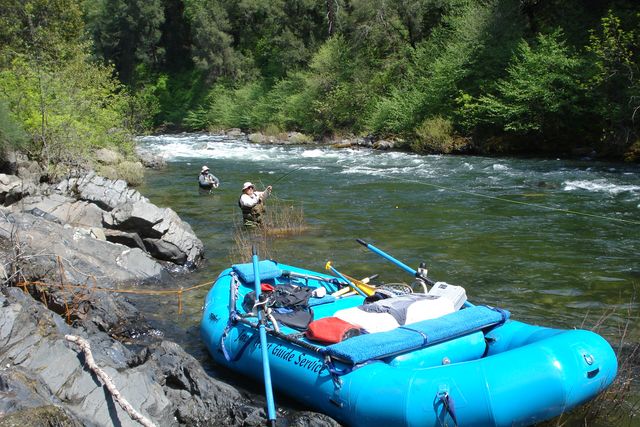 ---
Gone fishing folks!
---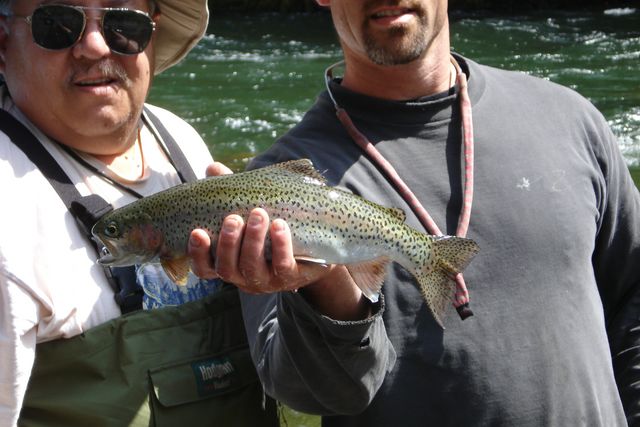 ---
Nice form man.
---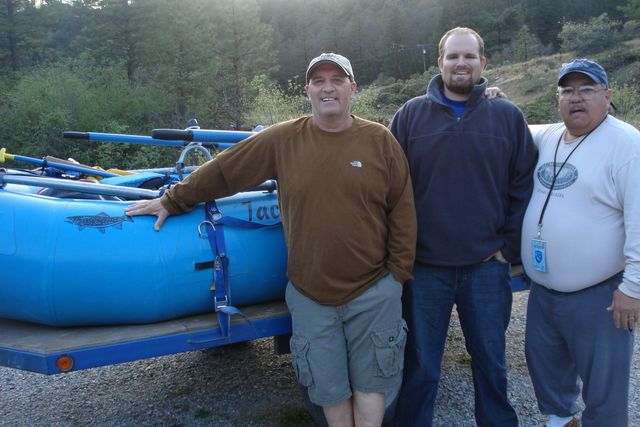 ---
John Stirling Group was a hoot!! No problem getting these yahoos down the river, it was a great bash. With trout, views, thrills and chills for everyone! Thanks so much for hiring me again John, take care and hope to see you soon.jt
---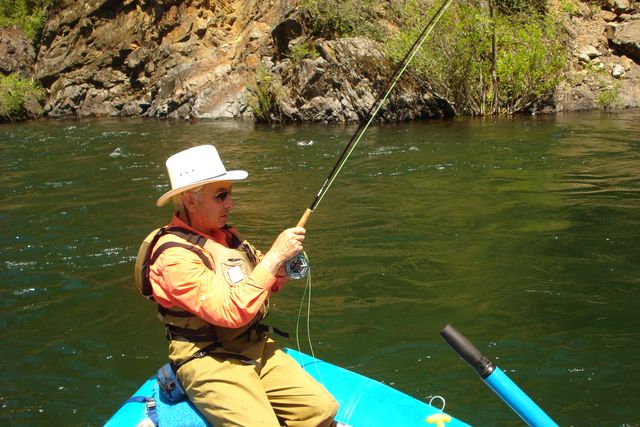 ---
Elden Dellanina came with a friend from the Santa Barbara Fly Fishers.
---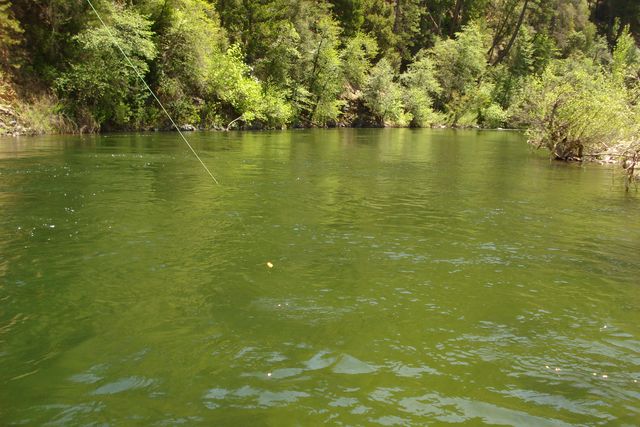 ---
Water World.
---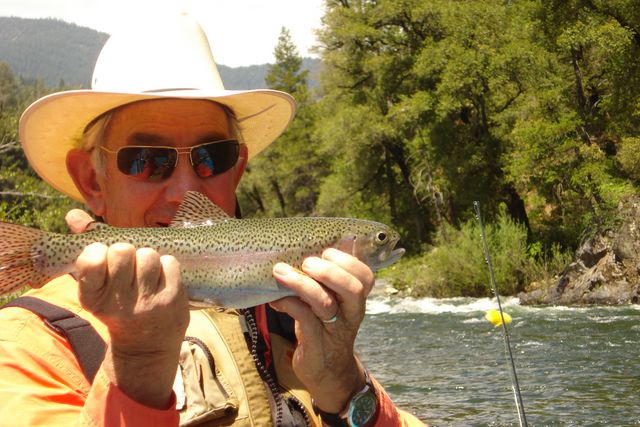 ---
Nice colors on that one.
---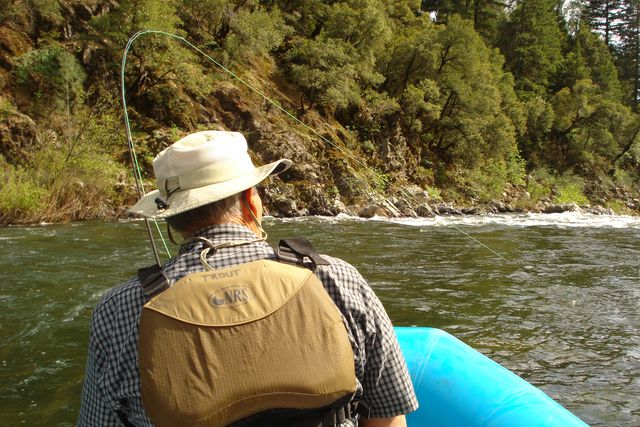 ---
Fish for fantasy.
---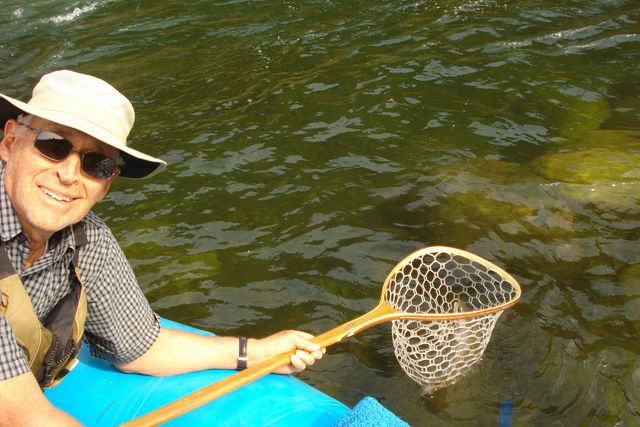 ---
In trout we trust.
---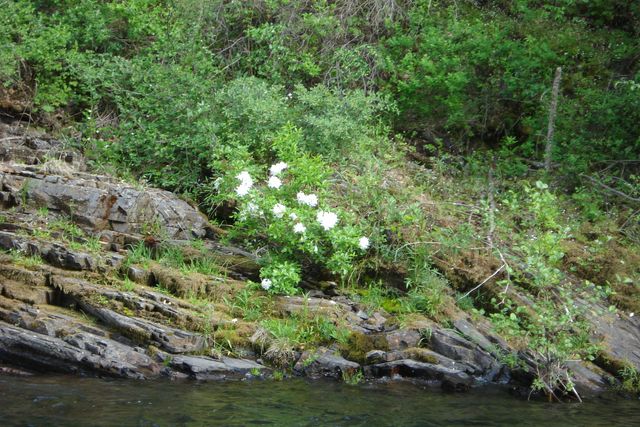 ---
Wild Azelea fills the air now as you float down the Upper Sacramento canyon.
---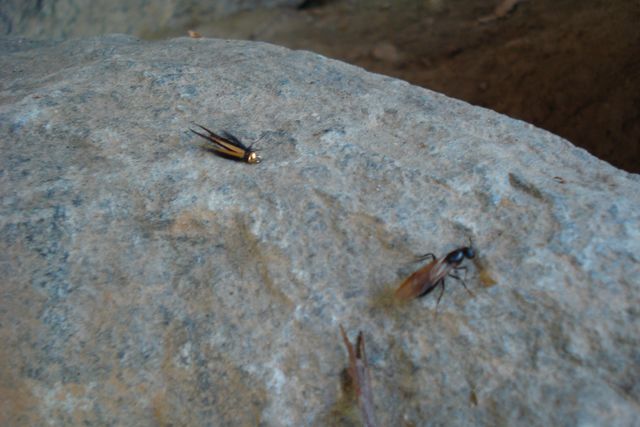 ---
Is this what that inventor/fly fishing guide Ron Hart thought when he spun his magic and tied his first Dark Lord?
http://www.snowcrest.net/ronhart/
---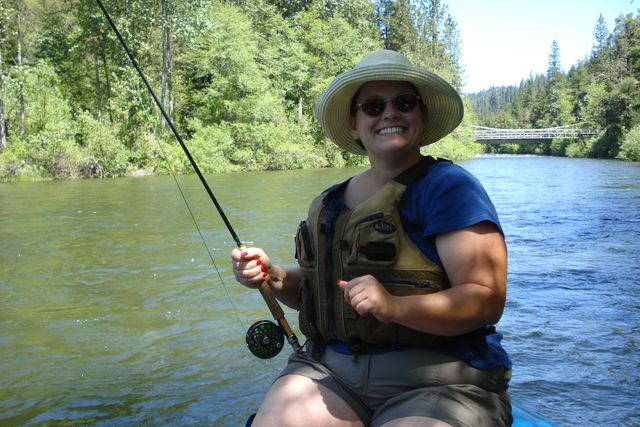 ---
What about Polly? She can catch fish on her very first fly fishing trip, is what!
---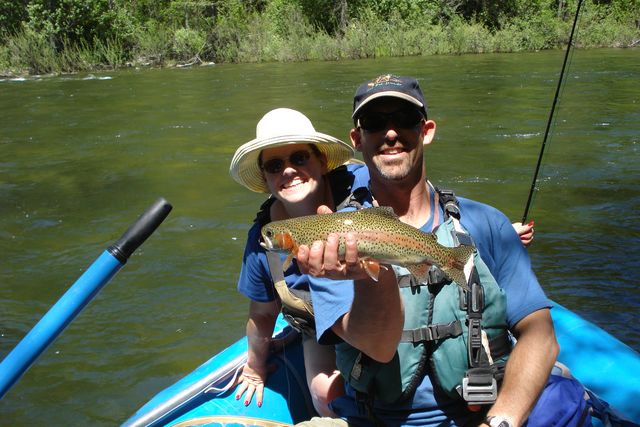 ---
Spectacular trout Polly!! CONGRATULATIONS – POLLY BISAGA IS THE SIZZLER OF THE WEEK AWARD WINNER!!!
NOW CONQUER ANYTHING!! JT
---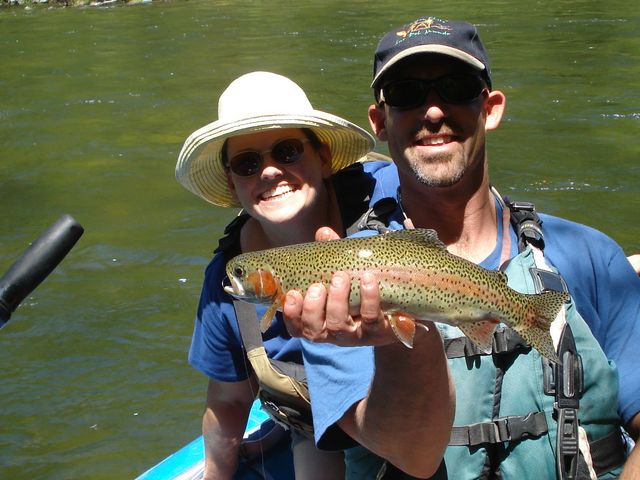 ---
That's my company colors, the ones in this trout! Take care Alea and Polly.
---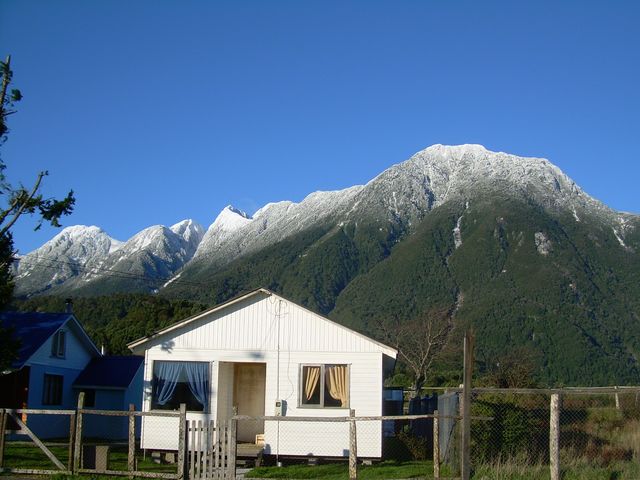 ---
Here's a last look at our house in Chaiten, with beautiful Cerro Cruz in the background. Chaiten and the area near are devestated, the rivers are ruined for now with ash, fish and wildlife fatalities. We're sad, we're at a loss but have realized that there was no way to know. No Humans died, but many animals were lost and this is disturbing for me and Carola. I'll never forget my summer of sun in Chaiten, The trips on the rivers or the spectacular views like no other area in Patagonia. At least I have these stories from Chaiten and Patagonia, the memories are priceless of course, but to look back on my weblog and see it in prints and text is a notch above for me and my deep seeded feelings for this region, all of Chile and its wonderful people. I have not seen hardly any coverage on news about 8000 people who are now without a town and region that extends over 200 miles in length. That would be like from Mt Shasta to Susanville, completely ruined, including rivers and everyone had no choice but to leave the area. After 17 years in Chile, obtaining my R.U.N and residency and guiding legally in Chile only to lose all my gear and equipment is a real slap in the face. I don't really know what to do about Chile right now, I'm just waiting for Carola to get here and we can make our plans. We might hang out in Belize this winter and guide you there. Possible another area of Chile, but no other area is equal. We had it all, dry fly, nymphs & streamers.
The Rio Futaleufu and Yelcho I hear are a mess. I don't know anything about the Rio Palena? We'll just have to wait a few months and see.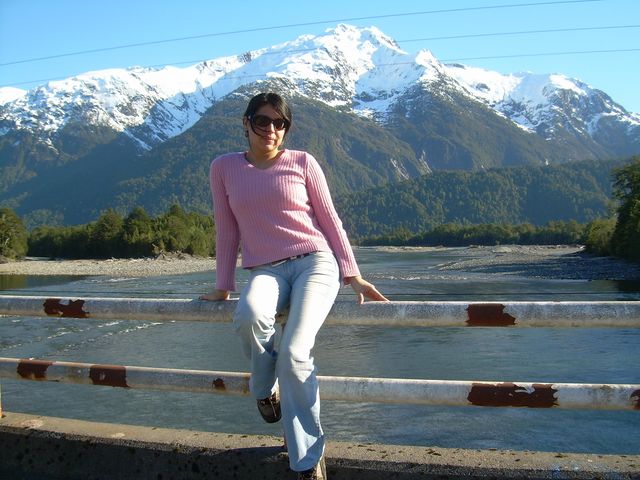 ---
The most beautiful girl in Chile is going to Santiago for the first time in her life to obtain her visa to come live with me. I can't wait, it's the most exciting thing in my life. "Have fun Carola in Santiago, go out on the town and have a nice dinner!!" XO Jack
Take care all – and thanks for watching my adventures!!
MANY RIVERS TO YOU, JACK TROUT & SOON CAROLA!!
---
EMAILS FROM YOU:
You've been waiting for them with bated breath, so without further ado here are the 2008 Darwin Awards.
Eighth Place
In Detroit , a 41-year-old man got stuck and drowned in two feet of water after squeezing head first through an 18-inch-wide sewer grate to retrieve his car keys.
Seventh Place
A 49-year-old San Francisco stockbroker, who 'totally zoned when he ran,' accidentally, jogged off a 100-foot high cliff on his daily run..
Sixth Place
While at the beach, Daniel Jones, 21, dug an 8 foot hole for protection from the wind and had been sitting in a beach chair at the bottom! When it collapsed, burying him beneath 5 feet of sand. People on the beach used their hands and shovels trying to get him out but could not reach him. It took rescue workers using heavy equipment almost an hour to free him. Jones was pronounced dead at a hospital.
Fifth Place
Santiago Alvarado, 24, was killed as he fell through the ceiling light of a bicycle shop he was burglarizing. Death was caused when the long flashlight he had placed in his mouth to keep his hands free rammed into the base of his skull as he hit the floor.
Fourth Place
Sylvester Briddell, Jr., 26, was killed as he won a bet with friends who said he would not put a revolver loaded with four bullets into his mouth and pull the trigger.
Third Place
After stepping around a marked police patrol car parked at the front door, a man walked into H&J Leather & Firearms intent on robbing the store. The shop was full of customers and a uniformed officer was standing at the counter. Upon seeing the officer, the would-be robber announced a hold-up!, and fired a few wild shots from a target pistol. The officer and a clerk promptly returned fire, and several customers also drew their guns and fired. The robber was pronounced dead at the scene by Paramedics. Crime scene investigators located 47 expended cartridge cases in the shop. The subsequent autopsy revealed 23 gunshot wounds. Ballistics identified rounds from 7 different weapons. No one else was hurt.
HONORABLE MENTION
Paul Stiller, 47, and his wife Bonnie were bored just driving around at 2 A.M. so they lit a quarter stick of dynamite to toss out the window to see what would happen. Apparently they failed to notice the window was closed.
RUNNER UP
Kerry Bingham had been drinking with several friends when one of them said they knew a person who had bungee-jumped from a local bridge in the middle of traffic. The conversation grew more heated and at least 10 men trooped along the walkway of the bridge at 4:30 AM. Upon arrival at the midpoint of the bridge they discovered that no one had brought a bungee rope. Bingham, who had continued drinking, volunteered and pointed out that a coil of lineman's cable, lay near by. They secured one end around Bingham's leg and then tied the other to the bridge. His fall lasted 40 feet before the cable tightened and tore his foot off at the ankle. He miraculously survived his fall into the icy water and was rescued by two nearby fishermen. Bingham's foot was never located.
AND THE WINNER IS. .
Zookeeper Friedrich Riesfeldt (Paderborn, Germany) fed his constipated elephant 22 doses of animal laxative and more than a bushel of berries, figs and prunes before the plugged-up pachyderm finally got relief. Investigators say ill-fated Friedrich, 46, was attempting to give the ailing elephant an olive oil enema when the relieved beast unloaded. The sheer force of the elephant's unexpected defecation knocked Mr. Riesfeldt to the ground where he struck his head on a rock as the elephant continued to evacuate 200 pounds of dung on top of him. It seems to be just one of those freak accidents that proves. . . "Shit happens".
IT ALWAYS SEEMS IMPORTANT TO THANK THESE PEOPLE FOR REMOVING THEMSELVES FROM THE GENE POOL
DAVID D.
---
PLEASE NOTE EMAILS RECEIVED DO NOT NECESSARY EXPRESS THE OPINIONS OF MTSHASTA.COM, THEY ARE JUST AN EXPRESSION OF WHAT PEOPLE ARE THINKING IN 2008 AND WE POST THEM FOR HISTORICAL SIGNIFICANCE. – MNGMT/MTSHASTA.COM.
---
Jack
The fearsome foursome of Dan, Jack, Bill and Kevin would like to come to northern California to do some steelhead fishing in November.
We are looking at Nov 17, 18 and 19. Are you available?
Bill will be calling you, but please feel free to work through me. You can e-mail me, or call me.
Congrats again on your nuptials. Can't wait to make the trip with you to Chile.
Peace and Love
Dan Mansfield
---
Hi Jack,
My wife, Jean, and I are looking forward to fishing with you on July 22nd and 23rd. Over the years I have had the opportunity to hear you speak at some of the fly fiishing shows; now I get a chance to fish with you.
FYI, I have been fly fishing for about forty years, off and on. Last year I attended the Master Fly Fisherman class at Clearwater Lodge. I have fished the Upper Sac, Fall River, Hat Creek, and the Pitt River; however, I have only fished the McCloud one time and that was when I took the class at Clearwater Lodge. My wife Jean started a few years ago; she enjoys being out in nature, bird watching and some fly fishing. We have our own tackle (5 wt.), waders, boots, etc.
If possible, we would like to fish the McCloud River.
Please let us know "what, when and where", with regards to meeting places, etc.
We look forward to spending a couple of days with you.
Harry Polley
---
Hi Jack,
Thanks for helping out at the last minute like this! Please shoot one good representative from each category (see below) against a white background. Also, use high resolution on your camera.
Art was wondering if you could send a couple of options for their configuration: a triangle (three on bottom, then two, then 1) or else two rows of three. Just shoot against a white paper packground.
Keep sizzlin
Adam
Here's the part of the anchor we're trying to illustrate:
Flies are divided up into similar categories in Chile and Argentina since South America has the same insects as we do in North America. Check and see what times each insect is hatching. Note their sizes and colors. You'll need both dry and nymph versions of the following:
May
1 Caddis
2 Stone flies
3 Terrestrials
4 Midges
5 Streamers- variety of sizes, colors and patterns
Adam Taplin
Fodor's Travel
1745 Broadway, MD 15-3
New York, NY 10019
---
Hey Jack,
I have a couple guys in back lined up to pick stuff for you early next week?
Would summer clothes or winter be best for our brothers and sisters in Chile or would you like a mix?
Cheers and talk to you soon,
Evan- Kuhl clothing
---
Hi Jack,
This is a backup message as the last one I sent bounced back at me. The possible date we are interested in are:
June 17 & 18
July 14, 15, 28, 29, 30
Any four days will work. It may make sense to have two, two day trips to save on travel (gasoline). I will call you on Friday as I go by Mt. Shasta City towing my newly purchased drift boat. Please copy Doc (Irv Saks) with your response.
Bob
---
Dear Friend
If you are worried about high gas prices now and in the future please take the time to analyze and hopefully sign the petition at the site below.
Its called drill here, drill now! I personally want to see us end our need for ANY oil from OPEC in the future. Please sign this and pass it on to all you know.
P.S. Please also become educated about Nuclear Power and how clean (90% less emissions then most other energy sources) it is for the ozone.
France is getting most of their energy from Nuc≠s and we can too. Lets all band together and tell OPEC to go pound sand!
We have suffered from lousy leadership on this issue since the freaking 70's and it is time we all stood up and said ENOUGH!
Do it for the kids and all on fixed incomes, get involved, lets move this issue forward.
I'm sick of sitting back watching the prices go through the roof and all sides blame each other.
Did you know that China and Cuba are about to drill right off the Florida coast and we get nothing from this!!!
Feel free to send me your thoughts and possible solutions for this. We Americans banded together in the 60≠s and sent a man to the moon lets do it again and solve this growing problem.
PASS IT ON, GET INVOLVED!
Tim Rhode
---
Here is the arroyo looking up stream from the bridge by the house. Joan – Arroyo Pescador, outside of Esquel, Argentina.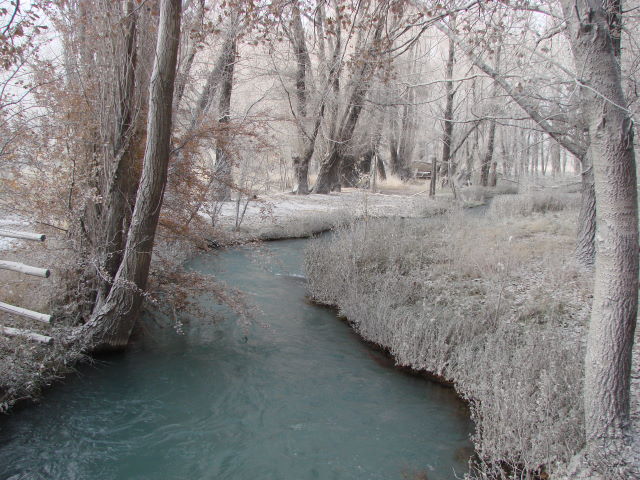 ---
Hi Jack,
Slight change of plans, we would like to fish the Trinity for only one day on October 27th Monday and will depart from the hotel on Tuesday morning the 28th. We still plan to check into the hotel the morning of the 26th as planned.
Thanks!
Stan Poitras    
---
Dear Lower McCloud River Recreationist,
The water spill condition at McCloud Dam ended late Saturday, 5/24. This is sooner than anticipated due to unseasonably cool weather this past weekend. However, future spill potential remains high due to PG&E's need to keep McCloud Reservoir water level high for the second series of instream flow studies scheduled to start 6/16. Unseasonably hot weather could trigger another spill event at McCloud Dam. With spill flows ending and instream flow releases being made from the base of McCloud Dam, turbidity could also be an issue in the Lower McCloud River as discussed in the attached emails below.
The most up to date information on the instream flow study is available at the Project web site: http://www.mccloud-pitrelicensing.com/
Steve Nevares
Relicensing Project Manager McCloud-Pit Project
(415) 973-3174
---
Hi Jack,
I was wondering about the Salmon Fly Hatch and the trout fishing on the upper Klamath. Anything going on right now?
Gail Miller
---
Jack, it's all good dude. I can definitely help you out on the guitar, it'll be fun. Good list of artists you sent, we can work on some of that stuff – or other… Harmonica's good too, versatile and you can carry it with you – hey you can add something extra to your float trips – musical entertainment!
And I can't wait to catch some trout. I haven't gotten out at all this year due to our new baby, so I'm itchy. I just can't wait to be up in the mountains either, I love it. My father-in-law, who lives in France now, just told me that he almost bought land in McCloud about 40 years ago – damn, woulda, coulda, shoulda!
How about you, have you been up there a long time?
BTW, congrats on your engagement – it is really sweet when you find the right one.
Larry
---
Good morning! We are the new owners of the Mountain Air Lodge, which we have renamed the Woodsman Hotel! We also are the new owners of the Strawberry Valley Inn. We were interested in updating your website with some new info if possible.
Please feel free to contact us at 530-926-3411 or reply to this email. Or, you are welcome to stop by!
Thanks,
-The Woodsman
1121 S. Mt. Shasta Blvd.
---
How are you? How is your lovely fiance? Franz – Belize
---
Mr. Trout,
I work for a non profit organization that offers housing for low income families her in Yreka, Ca. I was wondering do you offer group rates?
Please feel free to contact me either at 530-842-2739 or by emaill at ladypinecone@yahoo.com
Thank You for your time.
Andrea Fox
---
Jack,
Do you have contact info for John Klochak? I think I might know him
(old friend). If so, send him my contact info…
Allan Loken (fellow PSNS employee)
allanloken@hotmail.com
Thanks,
Allan –
---
OK. Let's go with Wed., June 18. and Thurs., June 19. We would like to do both the Klamath and your raft trip on the Upper Sac. if the Sac is not blown. We will need a place to stay overnite in the area. Also, you did not ans. question abbout if I can take my dog. If that is not possible, we would only do one day as will not board my dog for overnight stay. Any dog friendly motels?
Let me know the cost of the guiding, etc. Also flies for that time of season. I will send check to secure dates.
Jan Brown
---
I had talked to you about a step-on guide for a tour we are doing on Sep 6. We are looking for a guide to board the bus in Yreka after the train ride and travel back to the Mt. Shasta area (per your flyer) including the gold display, Fort Jones, Etna and the Brewery, Callahan and Gazelle – it was the last one on your flyer and indicated it would make a great fall tour. If that doesn't work maybe we could pick up the guide in the Mt. Shasta area and do part of the narration on the way to Yreka prior to boarding the train?? Please advise the cost for the guide and if available – we have a flyer coming out soon and want to get this tour on it. You can contact myself or Lori.
Thanks
Kathleen
---
Hey Jack: We are looking to book a guide day on the Klamath in June if the fishing that month is any good. Is there a stonefly hatch on the Klamath. Naturally, we would want you to be our guide.
It has been awhile since we have talked with you or seen you. I would want all of my fishing to be from the boat as I am pretty wobbly and do not want to wade. Is this possible? Also, would like to be able to take my dog. He is a quiet guy and very good on our boat.
Let me know if any of this is possible, or any sugguestions you may have.
Jan and Dave Brown
PS Here is a pic of me and my buddy on my pontoon boat. You can see he is not too big. Weighs 23 lbs. – Mini Australian Shepherd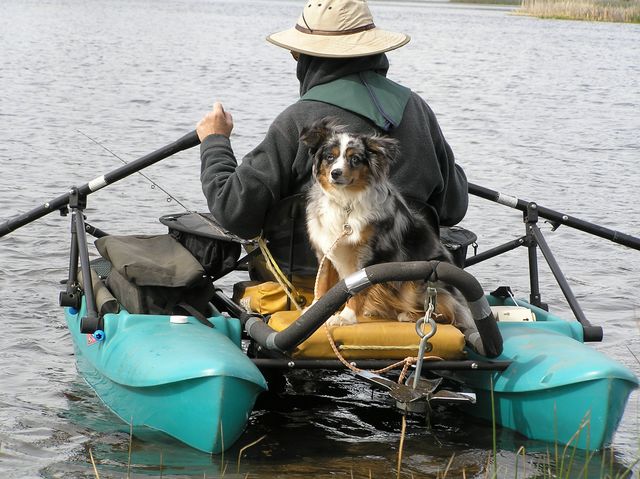 ---
we had a great time fishing-
just emailing to remind you to send the pictures you took to me-
thanks
polly bisaga
---
Hi Jack,
I'll be coming to the Upper Sac in late June, early July with my wife and son, to do some fishing.
Do you know of any guides who might want to barter some guiding for guitar instruction? I have a lot of experience and play a number of styles.
thanks a lot,
Larry
---
Jack I'm almost loosing my fiberglass, the rivers are overflowing the banks and my fiberglass is close to Michimahuida that's sure is going to be affected by this eruption. The govermment doesn't permit us to go for rescuing our things…I don't beleive it. Hard to understand something like this. I would have been able to rescue my boat in the first 10 days. Now I think is not possible. I can be in the place or in the shoes of most people who are loosing almost everything they have by these stupid decitions….hope is not late..or govermmet will have to spend a lot of many to restore everything they left to destroy.
There is no report of dead trout. Hope that's true, I'm not sure. However the region will not be same of what was in the pass, a lot of ash is on anything.
Maybe after some few years it will be a very productive lands by this same ash…and the rivers could be better, that's depend on the composition of the ash and the ability of the habitat to absorb it.
At the moment we just need to wait what the volcano will do in the next weeks…hope not months…please GOD.
Even with al this I kkep my spirit…it's still strong.
Pancho http//www.trespiedras.cl Francisco Castano is a Chilean guide in the Lake District of Chile.
---
ciao dear jack !!. we're all togheter in santiago , i just came back from italy, we met all here , and we are ready to go south !!
at least as far as puerto montt and see if we can "pick up the pick up " and stefano 's truck too!, and some clothes (you know,cecilia wants some under wear to put on , i try to convince her that is doesn't matter to me..but….)
anyway , thanks for the money you send , beleive me ,they were really usefull !! thanks a lot !.
we will keep in touch my friend ! and make planes for the next summer season !! Cesare Fava – Chaiten
---
Jack –
Gary Daniel and I are thinking of taking our respective grandsons up for a couple days of fishing and August seems to be the only time which we can do it. We want to be sure the kids (10 and 11) get into a lot of fish, size not material (although Rys Daniel caught a 27¡Ö bull trout last summer and may be spoiled for life). I seem to remember that there are a lot of half pounders between the hatchery and the steel bridge at Trinity/Lewiston. I once had a ball there doing exactly that, but I don¡Ùt recall when during the summer it was. What¡Ùs your thought?
Pat Patterson
President
MacKenzie Patterson Fuller, LP
---
Jack
New boat name suggestions:
1) The Swirling Eddy (partially named for the river currents, partially named for the mountain overlooking Mt Shasta City and the source of 2/3rds of the Sac River)
2) Sweet Carola (dun dun dun)
3) The Three Tee – Trout's Trinity Transit
Good luck! And Congrats!
Hope to see you on the river soon.
David Rizzardo
---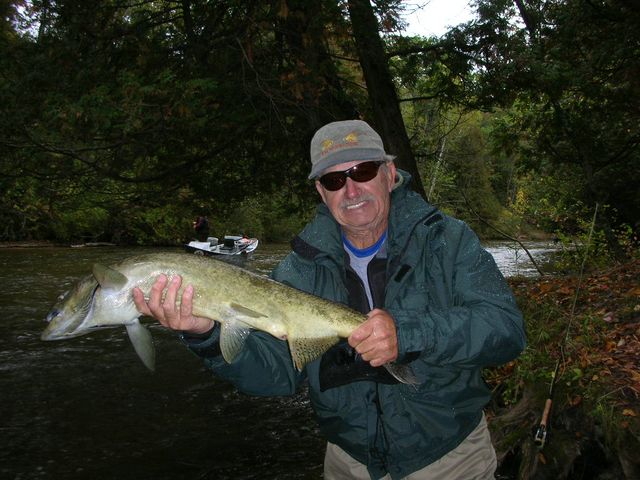 ---
Hi Jack,
I have been following our South American adventures, your new love life, et al……..
Looks like you are doing a great job all around.
I'm doing well….living 6 months in Michigan (catching a lot of trout, steelhead and salmon)…I am at my place in Mexico during the winter months.
Take care, I have good memories of our times together.
Ken Maxwell
---
What's happened with the volcano and your girl friend, Jack?
Louise
---
Cata-Raft Name – "Carola-I"
Gary Lipking- Santa Rosa
---
Dude! That osprey photo is incredible! May I use it on my personal websites (myspace.com/quantumlaughter or geocities.com/wyrdbyrd@sbcglobal.net/byrdsnest) I'll give you credit, of course.
Thanks,
Jeanne
---
I am about 40 miles below San Diego….on the Pacific Ocean. In Michigan, I am right on the Muskegon River but above the dam. There is a great river "pere marquette" wild trout undammed to lake Michigan. That's where I was getting the salmon….
I still use guides but do a lot of fishing (I bought a Hyde drift boat (but only 12 feet)…good for two guys…..I can get into smaller water with it…..I am having a great time.
I'll touch base with you when I return (although you are always en route ro South America about the time I get there….any way, we'll hook up one of these days…..maybe I'll make a trip down there with you.
Take care
Ken
---
Hi Jack: I haven't been able to get out to fish so thanks for the trip on the Sac. Wanda Welbourn
---
Trout–We would go fishing again any time with Aaron Gabriel. He is focused, enthusiastic, energetic and patient; a good mentor for novice and experienced fisherman alike. To quote Rokhand Collins, "He would continually change flies, depths and weight, and I got a hit on each fly he tied on!." Aaron is a first class guide. Mrs. Collins went on to say that the trip was perfect in every respect: the flows on the rapids, the conditions and the fishing. 11-year old Darius described the trip as "an exciting and fun adventure." Thanks for a great trip! See you again next year and hopefully, sooner.
---
Jack,
Thanks for the info on the Chaiten.
We've been wondering how things are going in Chaiten… we haven't been able to find much on the web… Have you heard from the others we'd met when we were there in March … Clara and her family, Cesear and family?
We're so grateful that the volcano didn't decide to erupt 2 months earlier!
Give our best to Carola and wishing her safe travel to the US.
–alison and greg
---
Thanks Jack.
We are polishing off the anchor today and tomorrow. It's going to look great!
Adam Taplin
Fodor's Travel
1745 Broadway, MD 15-3
New York, NY 10019
---
My yurt rental in Hammonds Ranch in Weed is now down to $595 √ such a deal! Here≠s the link to pictures and full details: http://www.fusso.com/littlefusi/index.html
Please put the word out, I would like to find a happy, self sufficient person or couple who≠d like to move in as soon as possible. For more information, please email or call me at 415.203.3407.
Thanks!
Andy
---