RAFT FLY FISHING UPPER SAC TRIP IN FULL SWING NOW
---
---
---
---
Lodging – Redding:
LOWER SAC FLY FISHING TRIPS!!!
La Quinta Inn, Redding 2180 Hilltop Drive Redding, CA 96002 0512 Phone: (530) 221-8200 Fax: (530)223-4727 ~
20 % OFF FOR JACK TROUT GUIDE SERVICE CUSTOMERS!!
http://www.lq.com/lq/properties/propertyProfile.do?ident=LQ912&propId=912
---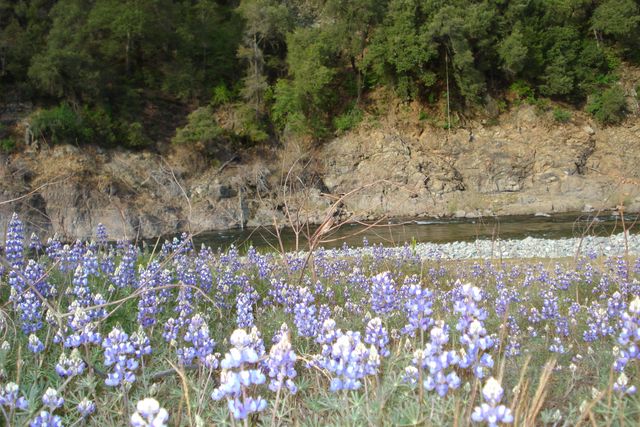 ---
When the Silvery Lupine start to bloom, the fly fishing awakens from hibernation as the insects infiltrate by the millions knowing it's their God given right to stake a claim and homestead on a leaf.
Rent is cheap and life is short but sweet, as you head out to the insect disco where all your friends and buddies are dancing to the music on the water. Don't miss the show, I have choice seats not available on Craig's list or Ebay. The trout never miss this show
seen twice daily. Rated G (All audiences) jt.
---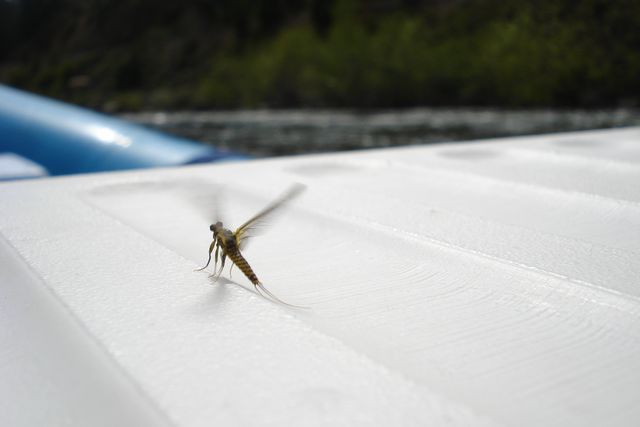 ---
Fly free little buddy!!! (Green Drake – Mayfly)
I've always noticed green bugs come out on the colder days-
Blue Wing Olives, Green Drakes & Caddis.
---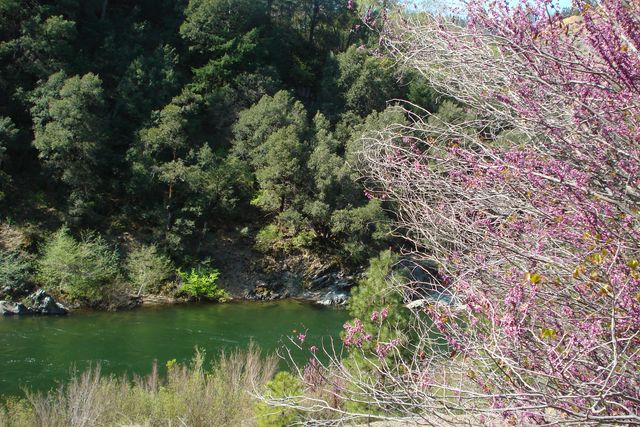 ---
Royal green its colors so pure and true. Like the gold that flows from Mt Shasta every year that brings colors to our eyes and renews spirits that winter is behind us now. The great California
historian author Jack Holliday, once said; "Without water, California would be Nevada." Simple put, we are living in an area that is unique in beauty not only in California, but in the world. Good ole Shasta, in all its triumph and glory, we all cherish everyday the mighty mother mountain shares another one of her glorious days with us. For with out her towering heights and crystal waters the state of California would be nothing but a desert.
---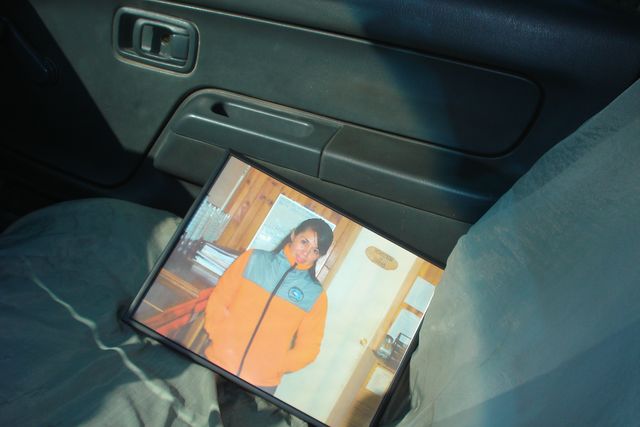 ---
All right another day out on the river, the flows look perfect today!
I sure miss my fiancée Carola! Guess I'll take her to work with me.
It sure is great when you finally find the person you click with!
Looks like she'll be coming in July!! I'm so busy right now, that time will go by quickly. I love this girl so much, my heart is full of honey. When she gets here, I can't wait to show her so many things in my world!!
That's just making it so exciting, can you imagine someone who has never really left the area they lived in and coming out to good Nor Cal!! Carola hadn't even tried peanut butter before I met her. (She had heard about it and wanted to try it). When she finally did she loved it. I want to take her around to see all the great things in life I've experienced over here. The prospects of growing a business and a family together puts a tap in my toes daily!! I can't remember the last time I've been this happy. Things are good in Chaiten and her work is going well.
Every day has been positive as we communicate by email and phone.
---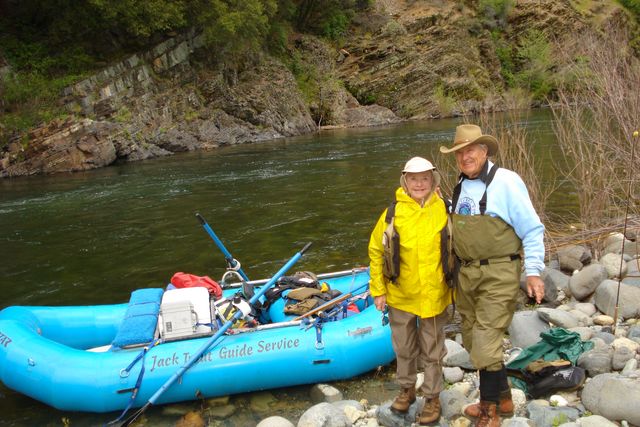 ---
Yea Missy and Patrick DeYoung are back!! You remember they went to Chile with me back in 1998 and have been coming up off and on since.
They both wanted to try the rafting fly fishing trip. The flows were perfect, the sun was out. What more could one wish for?
---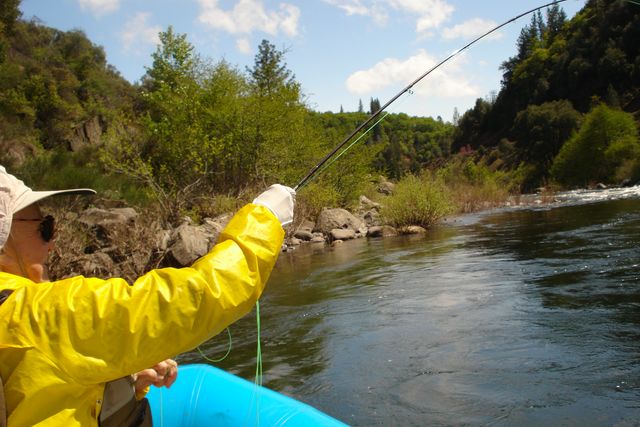 ---
Missy is the fly fisher in the family, as Patrick loves fishing, but photography is important too!
(Mainly photography of Missy! How sweet!)
Missy had her fly in the water for a short time before she hooked up!
---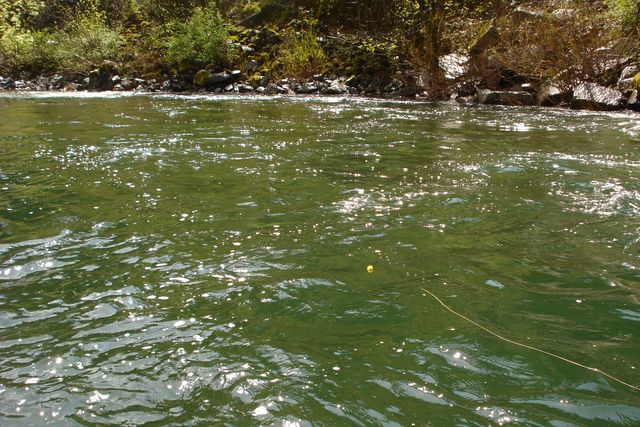 ---
I like this drift the indicator is leading the raft. We are almost 10 feet below the indicator/bobber. This is why this trip is also perfect for beginners and kids!!
---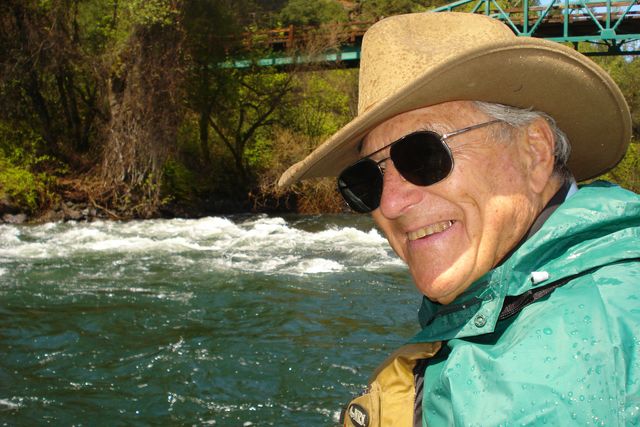 ---
Patrick DeYoung. This is a very intelligent man, well traveled and well read. I try to pick his brain when we go out on trips (hope he doesn't mind?) about the history of foreign countries, Argentina, US history and you name it. It would be like everyone who watches this site versus Patrick in Trivia Pursuit…. And me saying; "Can I be on Patrick's team?" I have so much fun with Patrick and Missy every time I guide them and learn a lot too.
---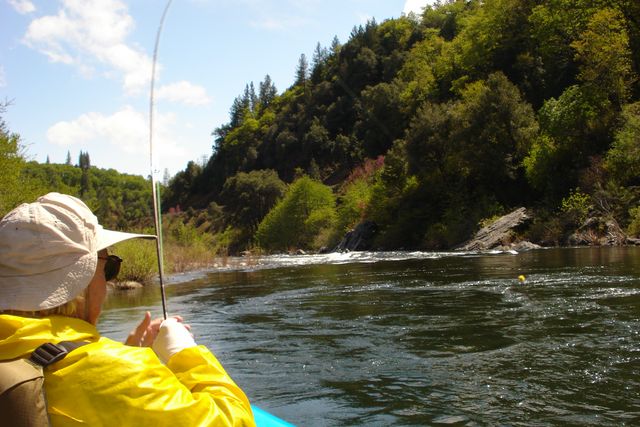 ---
Missy fish on 2008!!
---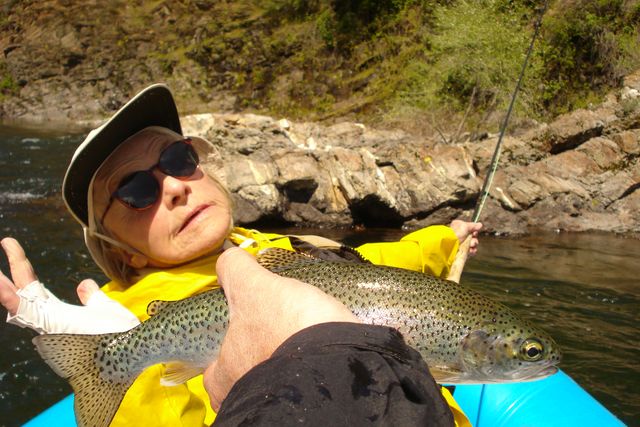 ---
Missy how come your so good at fly fishing? Missy, "My dad put a rifle in my hand at 10 years old and fly rod in my other hand at 13." Missy I like that Hollywood pose! jt
---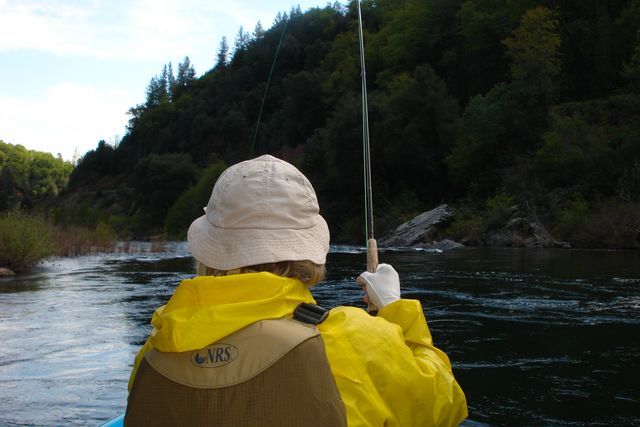 ---
two minutes later….Missy hooked another!
---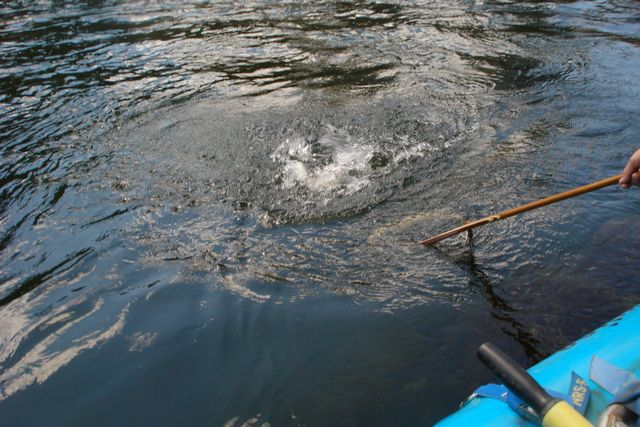 ---
Roll with it baby!
---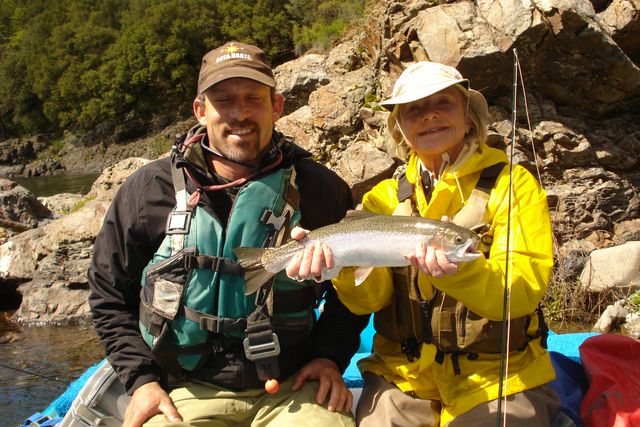 ---
Nice Fish Missy! Wow….I wonder what Carola is doing……? I think that's a great fish but I'm off on a day dream…….I wonder what Carola is doing..?
---
*******************************************************************
---
******************************************************************
---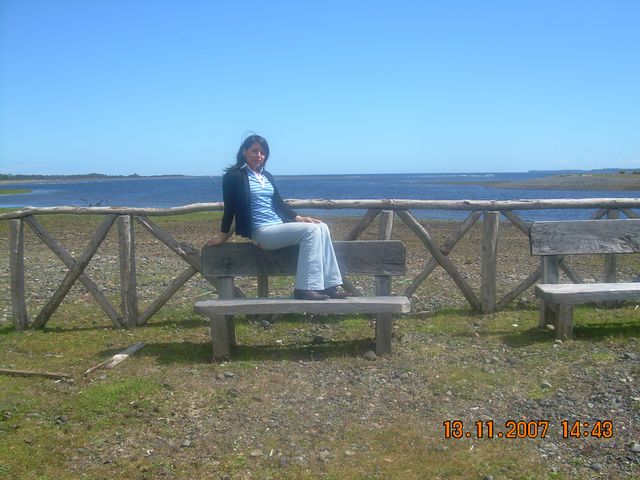 ---
Ah Carola! In front of where the Rio Negro dumps into the ocean in the Village of Chana, what a babe! Sure can't wait for July. I could stare at this picture all day…..JACK!! Are you going to help me with this trout? OHHH!!!
---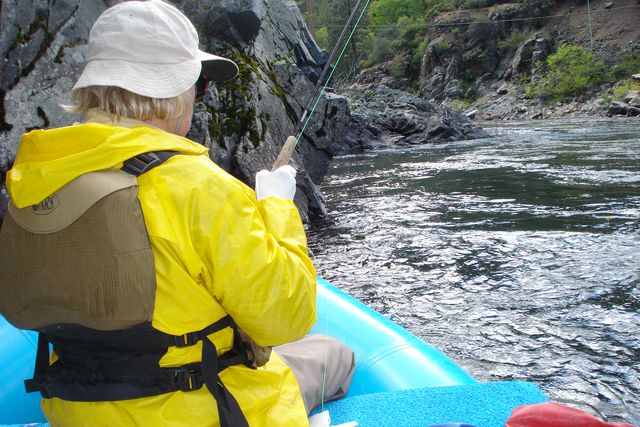 ---
Missy you are on a tear! Great day out with Patrick!
---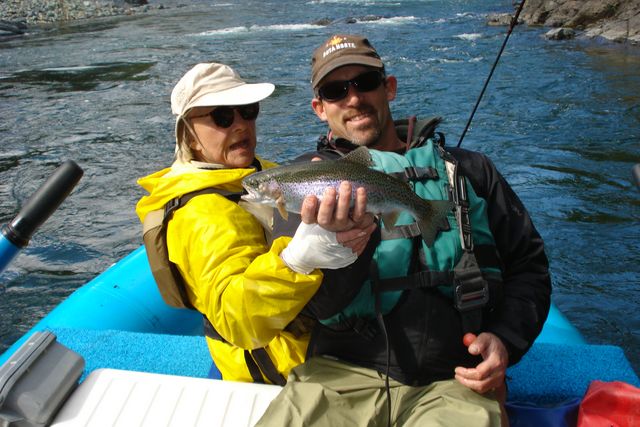 ---
Missy DeYoung!! YOU'RE MY SIZZLER OF THE WEEK AWARD WINNER!! CONGRATULATIONS SIZZLER JACK TROUT !!
---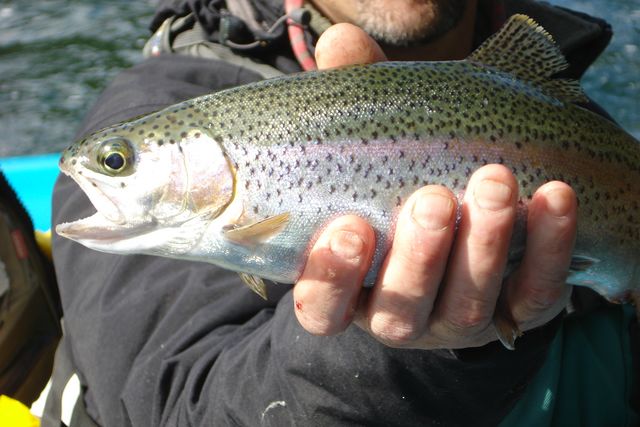 ---
Two tons of fun!
---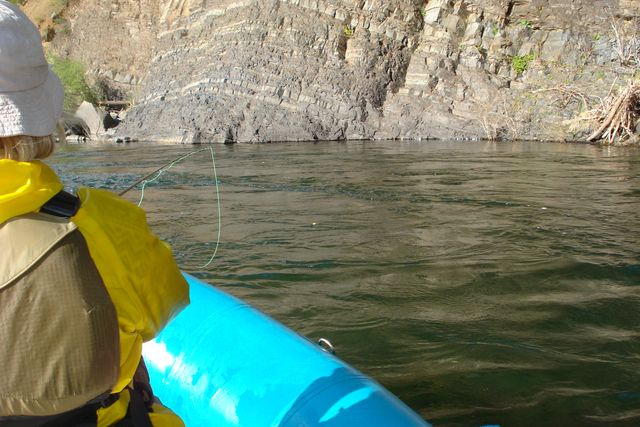 ---
Missy stop showing off!
---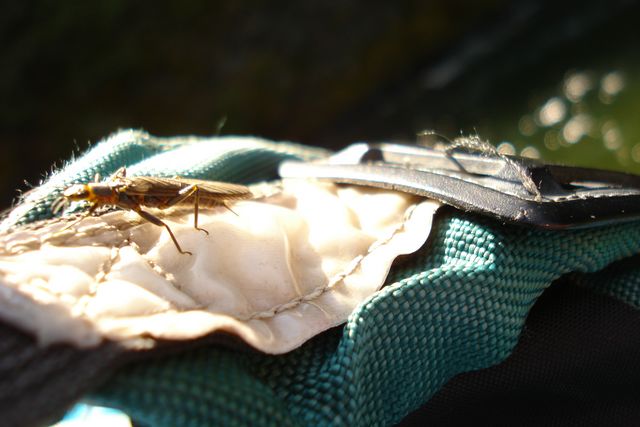 ---
A Golden Stone lands on my life jacket and I snap a shot and change the nymph on Patrick's line.
---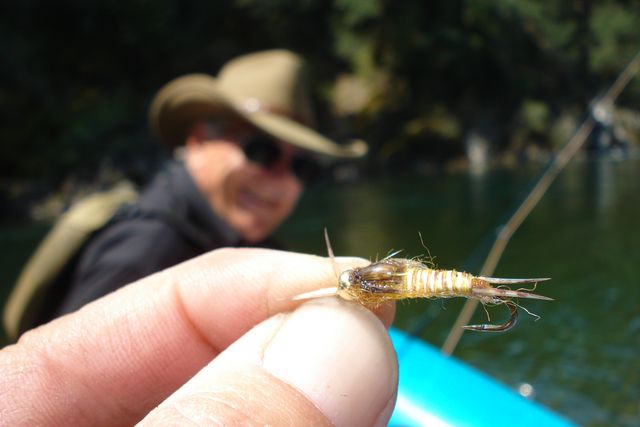 ---
A good fly as well as a good guide reflects on the customer's success, and in the end, the repeat and referral business you earn was because you always had them in mind in the background. jt
---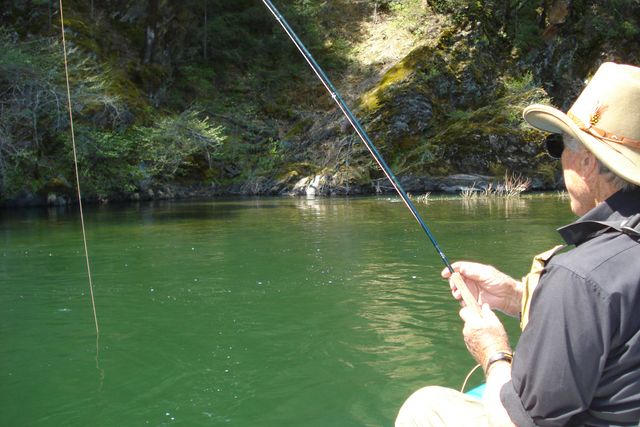 ---
Hook-ups in the tail-outs equates to larger trout usually!
---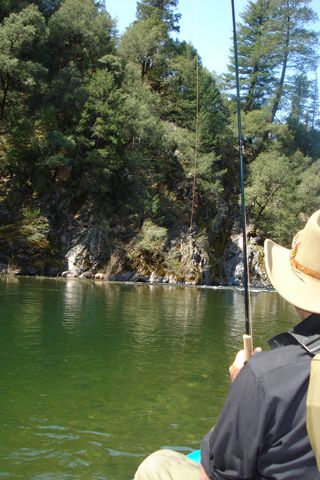 ---
What a nice piece of water to hook up on! I would qualify this as "Livin Large!"
---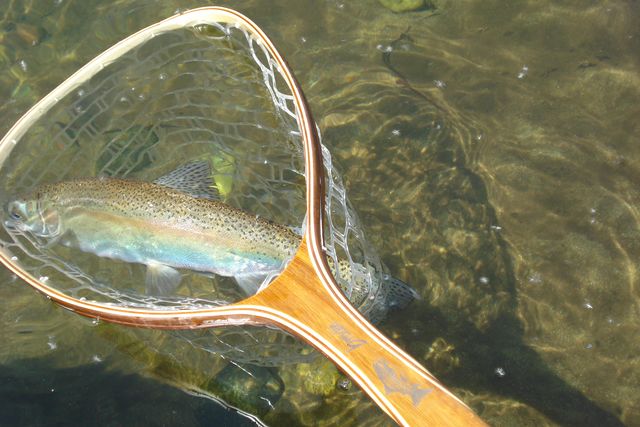 ---
Wow! Designer trout…SEXY!!!
---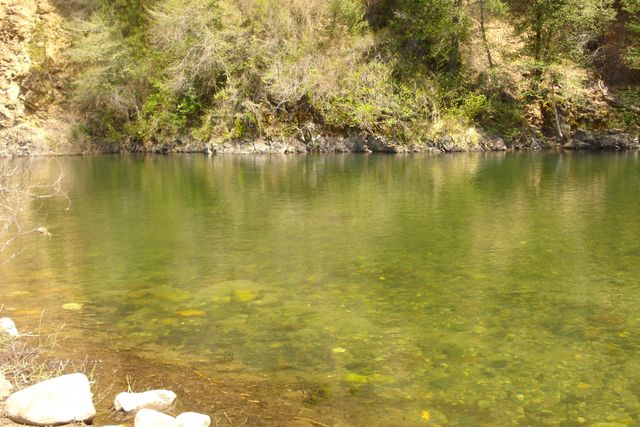 ---
Aquarium
---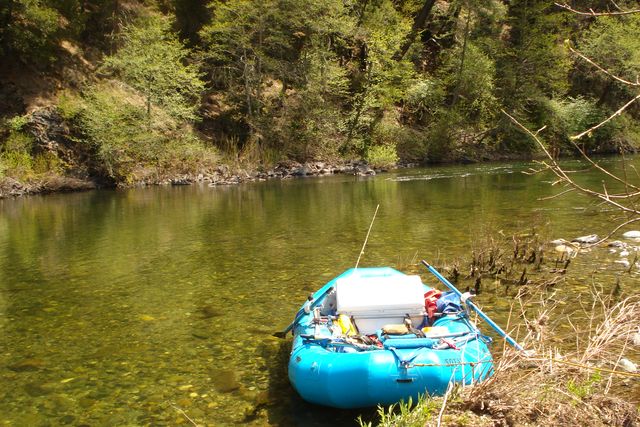 ---
Raft Rest.
---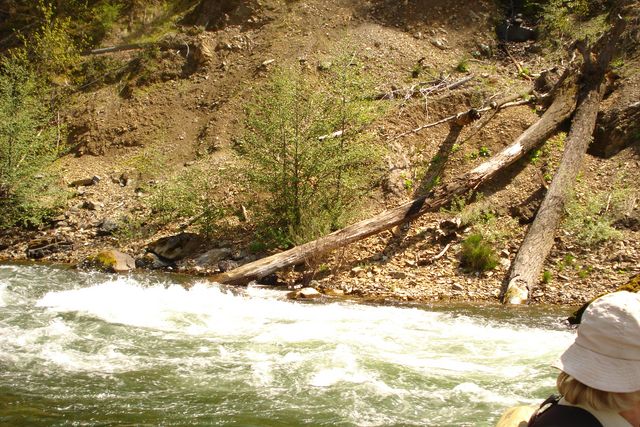 ---
This land slide near Pollard will eventually drop these logs into the river. We may have to contend with this in a future Jack Trout Adventure? Stay tuned…..
---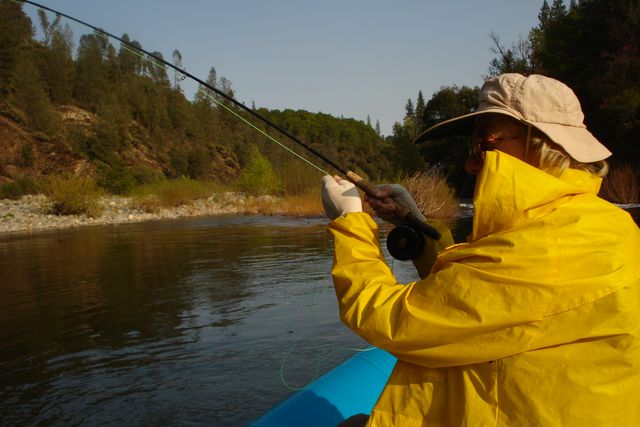 ---
Missy's having a great time hooking some very nice quality trout.
Did you know Missy and Patrick Deyoung are members of the Santa Barbara Fly Fishers. Check them out at http://www.sbflyfishers.com
---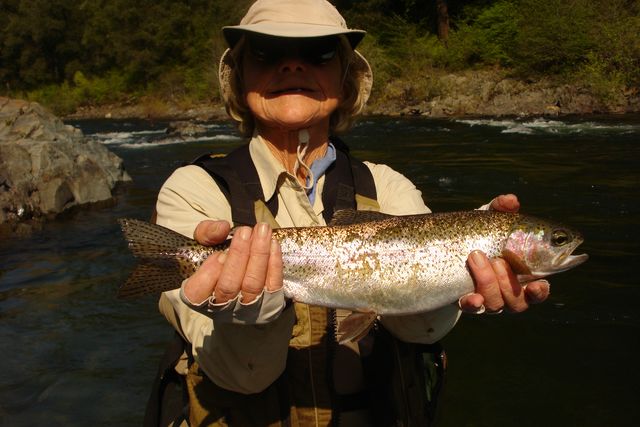 ---
A fine specimen indeed!
---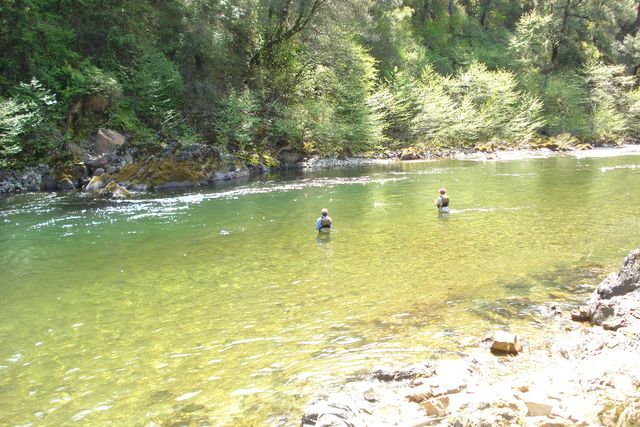 ---
The classic father and son….
---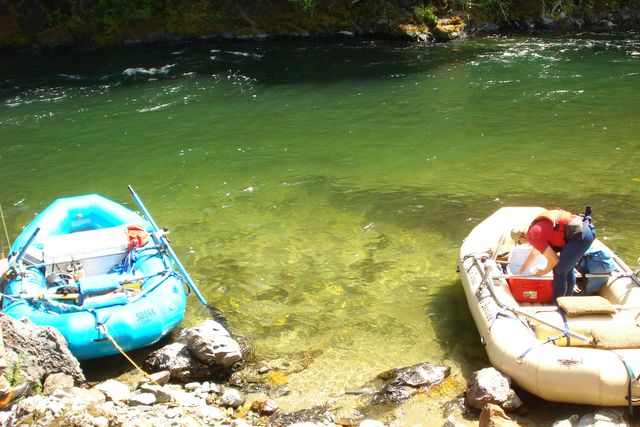 ---
Chew Double-Mint and double your pleasure!
---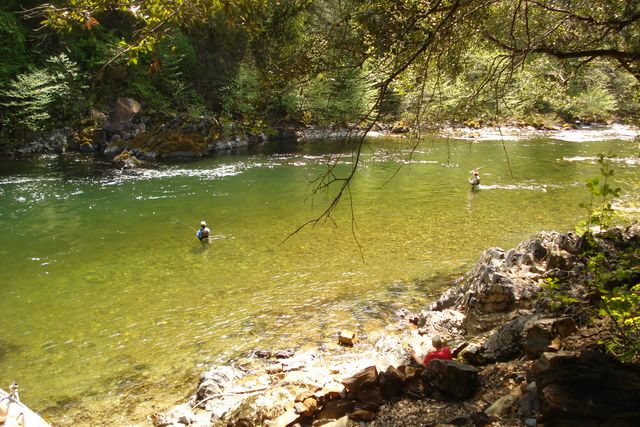 ---
Some of the last unknown trails left in California, enjoyed by a father and a son. I think the river is a very important classroom
that should be explored by every teenager and parent. Families are meant to run out in the forest together!
Happiness is only real when shared. CM.
---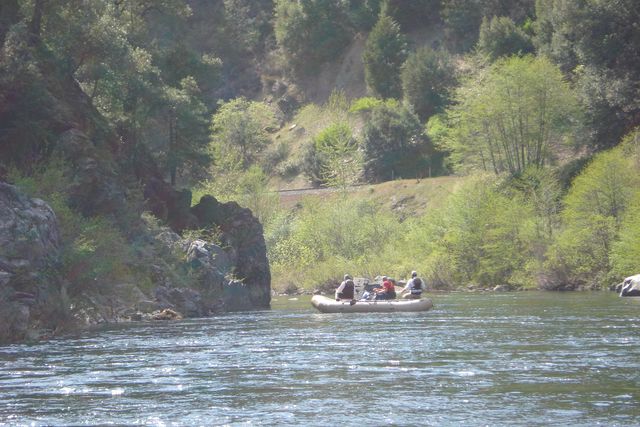 ---
A Sunday drift in the park.
---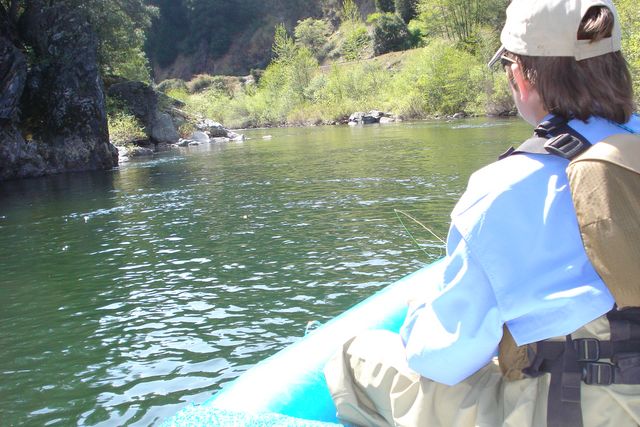 ---
Nice drift leading the raft.
---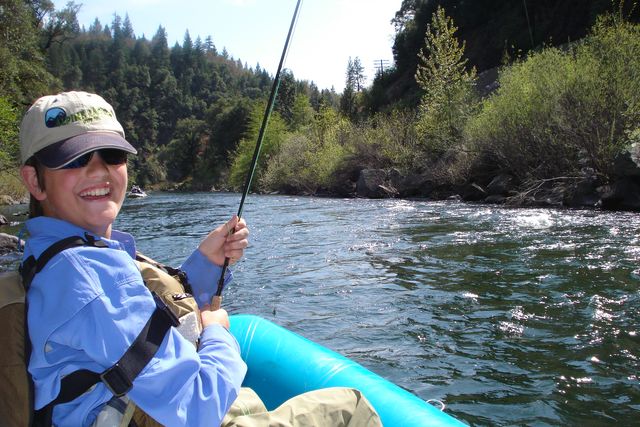 ---
Hook-up jr.!
---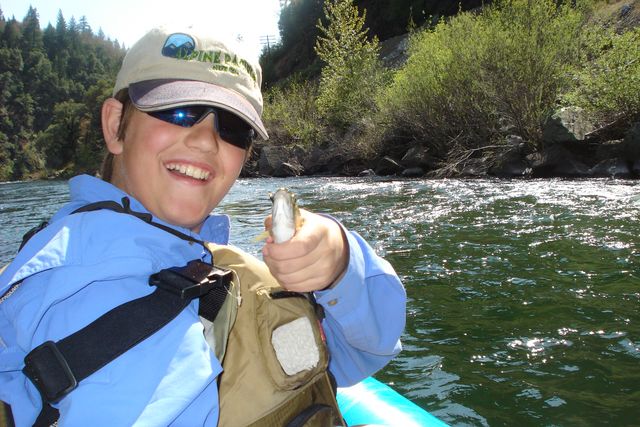 ---
Say Hello, now back in the water.
---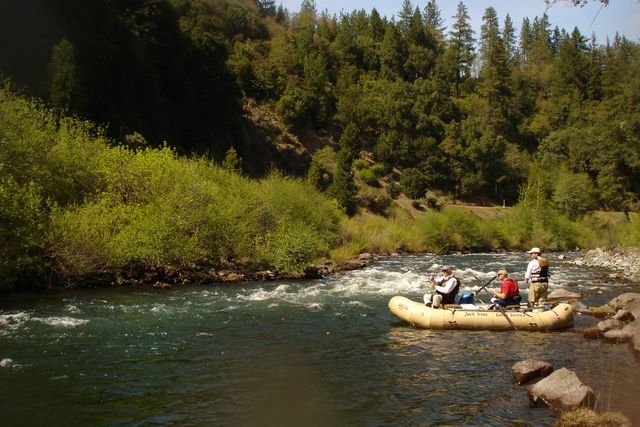 ---
The boys fishing some sweet H2O.
---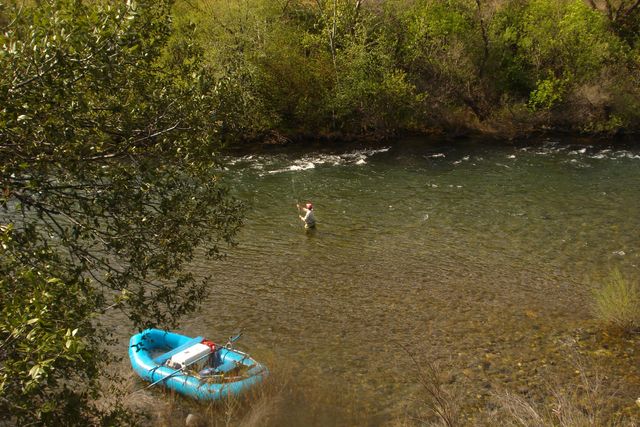 ---
Shot from the sky tower.
---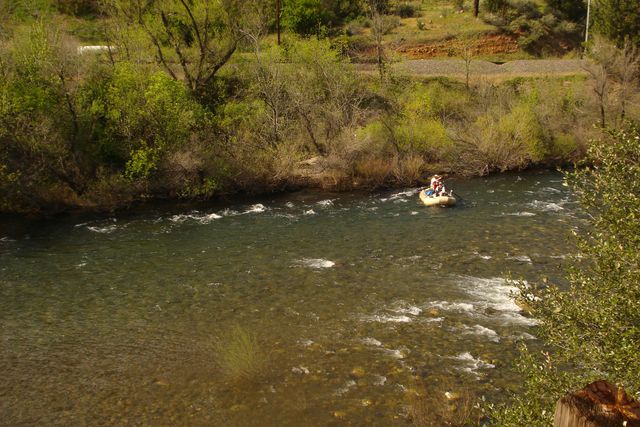 ---
Team Trucha Cafe (Brown Trout).
---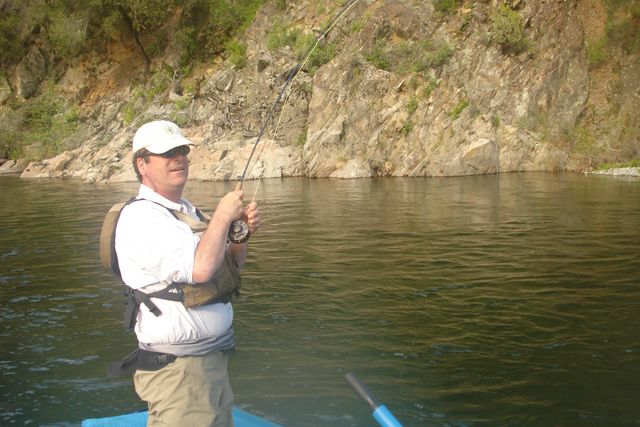 ---
Steve Starke is Starke raving mad ladies and gentlemen! That is, Mad for the Jack Trout Fly Fishing Raft Trip!
---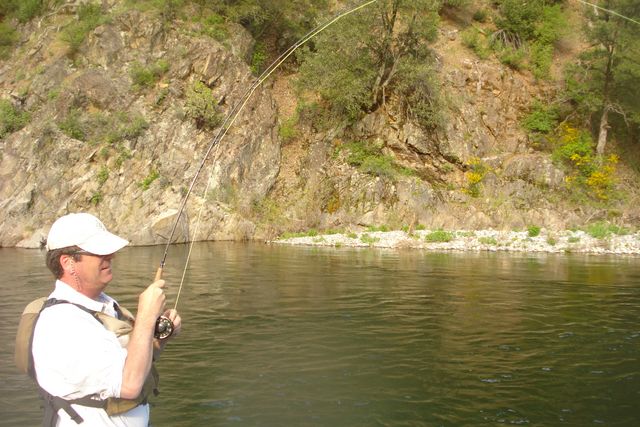 ---
Sweet!
---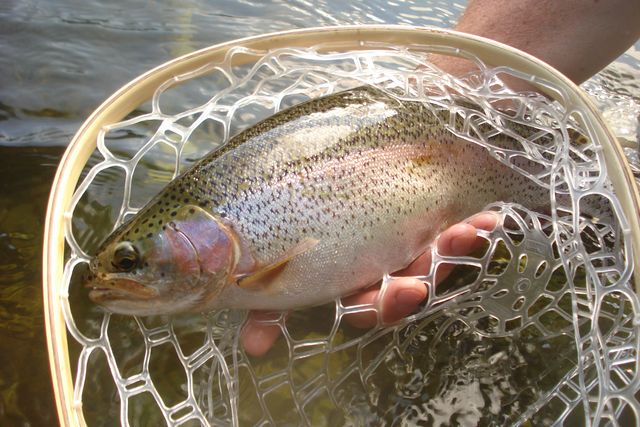 ---
If I had to name her? I name her Ursula!
---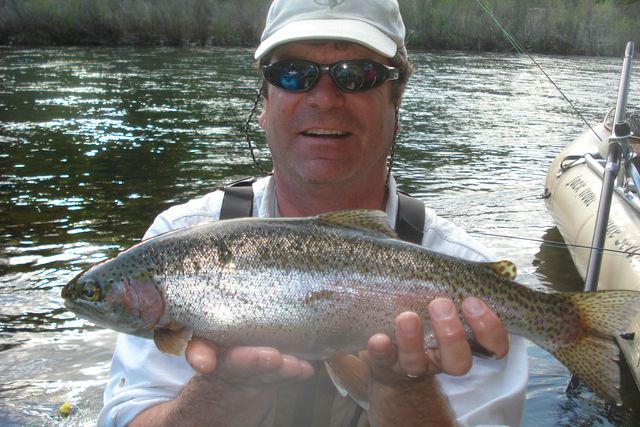 ---
Nice form Steve, thanks for bringing up the troops, flows should last through June. Trout
---
---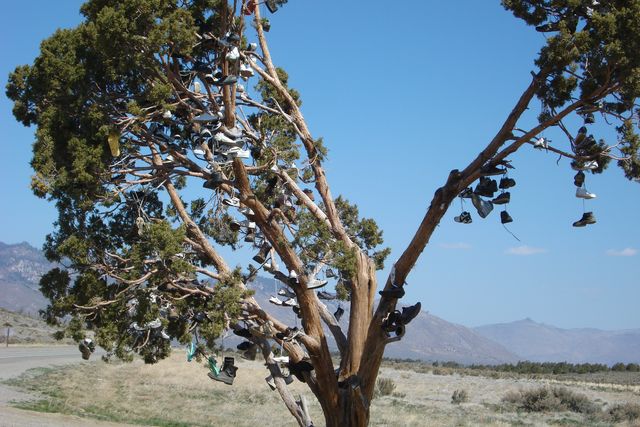 ---
The famous Shoe tree on Highway 395 California! Near Hallelujah
Junction, Highway 395 & Highway 70.
---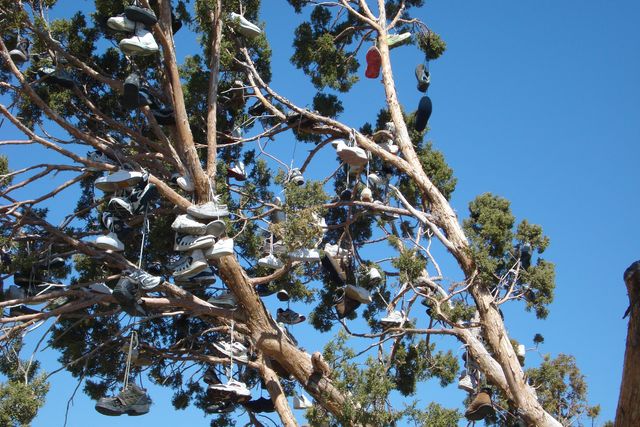 ---
I see a pair I threw up there a few years back. Is that incriminating? I only throw old wading boots that are too old for my customers to wear and I don't want them to get a strawberry on their
heel or worse yet, have to go out afterwards and buy some Dr. Scholls Gel soles and be "gellan". That's sounds pretty stupid to me….. So the next time your in the area, throw a line..Or should I say a lace.
---
THANKS FOR WATCHING MY ADVENTURES!!
MANY RIVERS TO YOU, JACK TROUT  530-926-4540  530-926-4540
---
EMAILS FROM YOU:
---
One Horse Power from: Ricard Lucas – http://www.shastavisions.com
---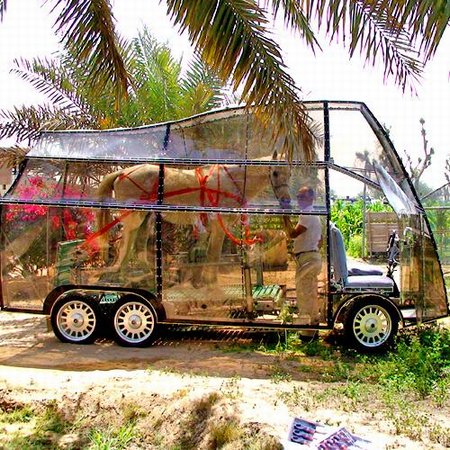 ---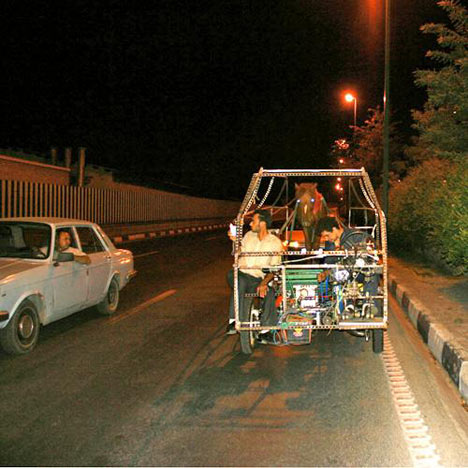 ---
Hey man, does that run on ethanol?
---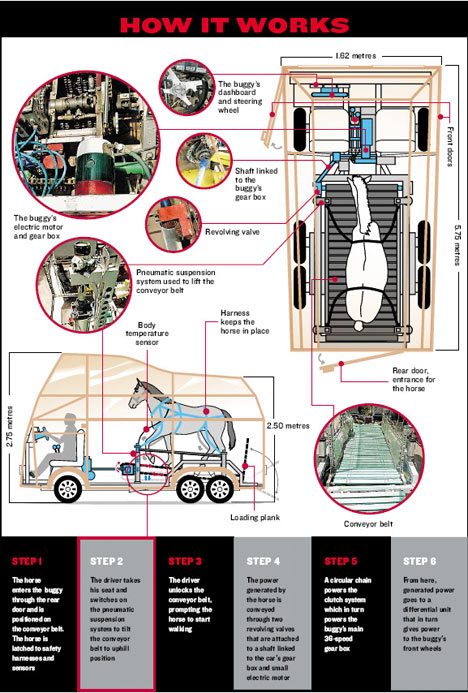 ---
Baby!!!! so great news, congratulations my love, I am proud of you, one more time.
I am in the internet center, is trembling now, we are in emergency state, i will be strong, so sorry for last night, because I discovery that so much fear the tembles sweety, no valiant, so sorry, tomorrow will come specialists people in trembles, all the people feel the same that me, all the night and all day trembling, f..k !! My family call me all the time ( Roberto, Rúben, Tere, Lore, Marce etc.) last night I didn t sleep little, more of 53 reply, the first epicenter was Chana to 15 kilometers of Chaitén, the other 63 Kilometers of Chaitén, near Argentina, in the mountain range today in the afternoon I feel a very very strong one, after the news in Chaitén say 4 to 4,2 degree.
I promess you, I will be fine, and valiant, I need you baby, and I love so much.
Oh my God!!! is trembling again……….I don t have fire in our house, and I put water in the bottles, for emergency cielo.
Well, I love you, and remember you always. Carola
---