*****TRINITY & KLAMATH RIVER STEELHEAD TRIPS!!! CHILE SIGN-UPS ~~ McCLOUD RIVER DRY FLY ~~
LOWER SAC IS TOTALLY ON FIRE!! HOLIDAY GIFT CERTIFICATES!!*****
---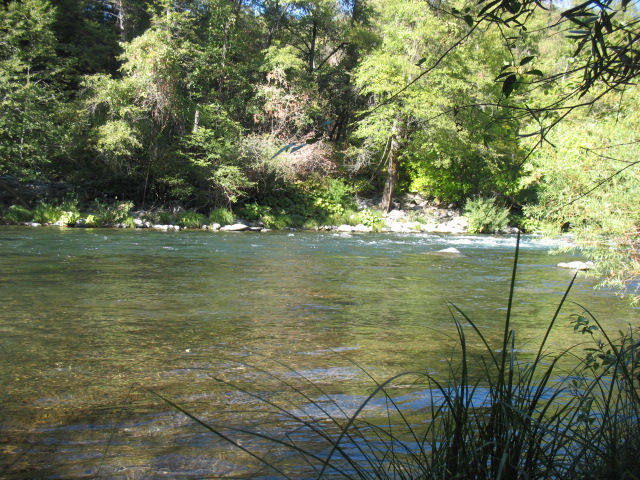 ---
In October Team Trout guided the Gene Weber Group at Bollibokka, on the McCloud River. The colors were perfect and the fish couldn't wait to jump on our lines! It was a different trip to for me to Bollibokka since knowing that the property could be sold in the near future, the slight thought that this might be the last guided adventure ever entered my mind. I thought about my times guiding members at the top of the property as well as the bottom where it dumps into Shasta Lake. I thought about all the great adventures with my loyal guide dog Shasta Trout, and how she and I knew every square inch of river. I looked up at the towering hillsides and smiled as I remembered a Wintu Indian girl once told me, that not much had changed since her family had lived on the McCloud River before Shasta Dam was built in 1946. So I stood there looking into the crystal ball in the sky and weighed fate as it looked me in the eyes. Should I feel naked about the possibility of losing a future guide opportunity, or be grateful for the experiences and live it while it last like my Wintu friends? All the members must feel the same as me, not knowing what could or will happen? I guess all we really have is the experiences we all shared together at the most special place by far on the McCloud River. Bob and John Fisher, the former owners of the GAP, bought the McCloud River Club above Bollibokka for 8 million, they have 4 miles of river. Bollibokka is listed for 30 million for 7 miles of river, with great accesss and trails, this is the Pebble Beach of fly fishing. With that in mind I was fired up about this trip, and to be with Gene Weber Group was the all the better!
---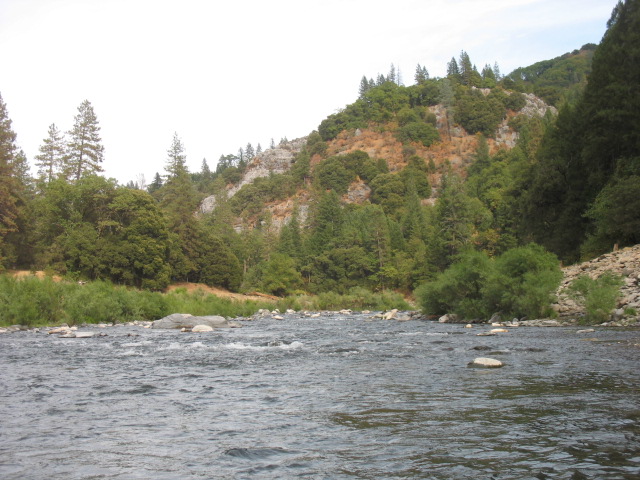 ---
When I was up there I ran into Tom Birmingham, from the Westlands Water District. I was so suprised to see him up there. (Darth Vadar to rivers in my opinion) He was there with his boss, and they said, they were looking at the possibility of purchasing the Bollibokka property for either Westlands Water District or something?? Haven't quite figured it out yet, but when I asked him if it would be for LA water, he got really angry voiced at me and said with a foolish smile, "We own all the water rights anyway"! What a Pecker-Myer, the last thing we need is those enviromental nuts from down south owning part of the McCloud River, might make it easier for future dam expansions. Well I say, bite my fly and go some place else you water weisels!!! Like Nestle Water, you are not Welcomed here Tom Birmingham and Westlands Water District. You do your water storage some place else! This part of the McCloud River in the picture you see could be under water if they raise the dam!!Wouldn't it of been fun for me to float you in my driftboat from Bollibokka on the McCloud River to where it flows into the Pit River? Well that's just a dream now isn't it!
---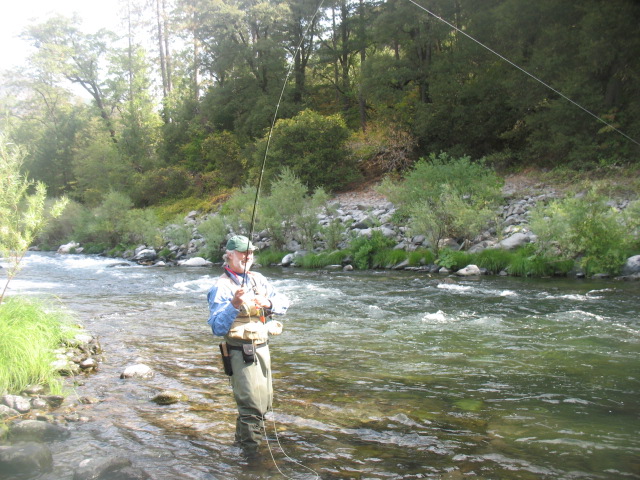 ---
I wish somebody like Gene Weber could buy Bollibokka, he's responsible and would keep it in it's natural state. We have already lost so many miles of river, not to mention the Native Americans who have lost so much already. There are many Wintu Indian ceremonial sites along the river, including Puberty Rock which would be flooded if Shasta Dam was raised someday. From the Wintu perspective, is it fair to flood the Vatican if the folks could still pray near the shoreline? I've heard what the Bureau of Reclamation says about it being too expensive not to raise Shasta Dam. I say if California needs more water build other water storage dams on the way down the state to serve each area it benefits. It's not as pretty as here, and how will you clean a dam in the future that is that large? This is the problem now being dealt with at Iron Gate on the Klamath River. Dams only live and serve a purpose for so long, you can't just keep adding on to it and not consider maintenance… More smaller dams that run down the state seems to be more feasable in the future when you consider the BIG picture. (That's all of us Westlands)
So lets establish here in my opinion, that someone very responsible needs to purchase Bollibokka and the Dam issue is one that we can't ignore. "Can you see the real me, Doctor"!!
---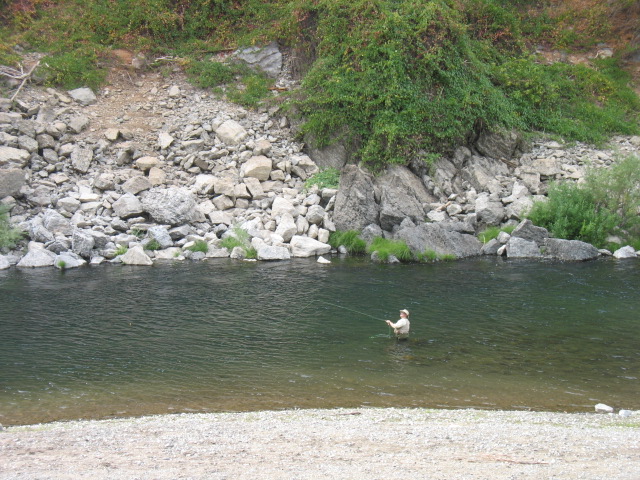 ---
Roger, fly fishing near bottom of the McCloud River hasn't a clue and rightly so! Fish-on brother!!
---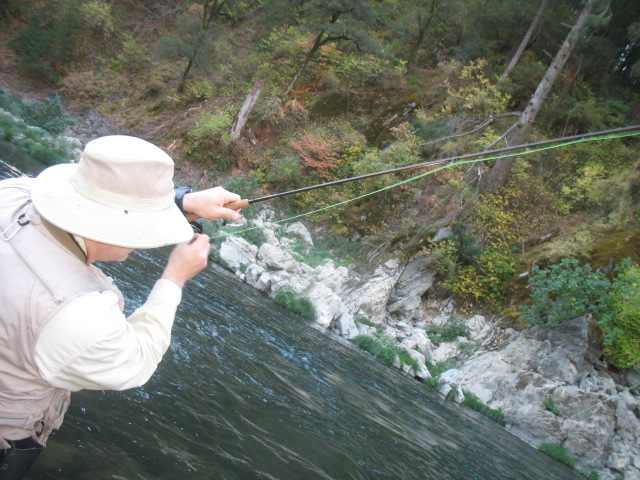 ---
Roger hooked-up at least 7 times in the Bolli-Hole, one of Rogers favorite places to fish.
---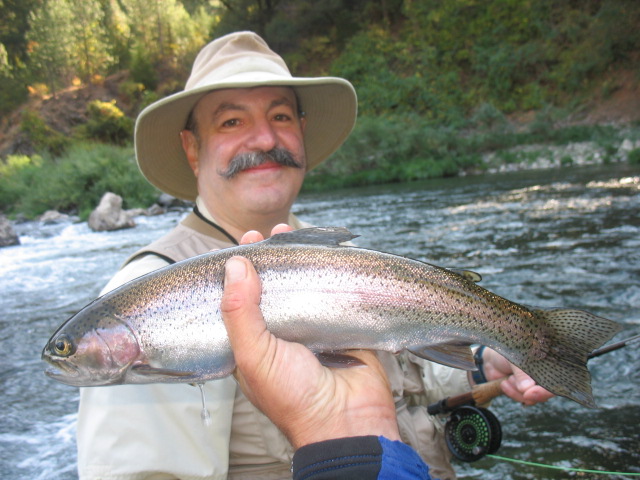 ---
Nice trout Roger!! Always great to fish with you! jt
---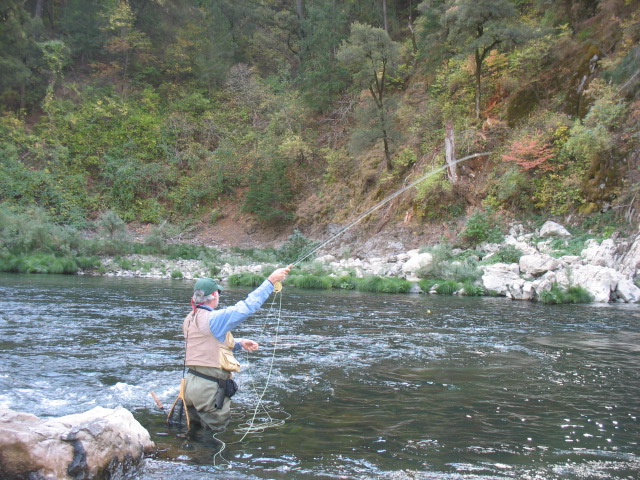 ---
Gene then hooked a few also in the bolli-Hole.
---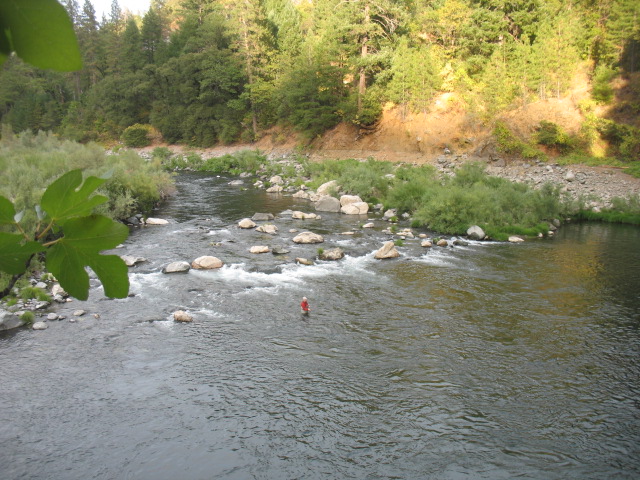 ---
I climbed up jump-rock to get a picture of John Seigler and eat some ripe figs that had grown from a mature fig tree! What a view!!
---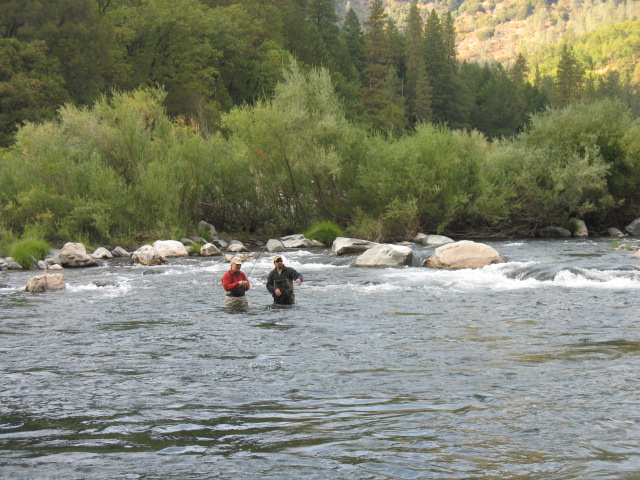 ---
Aaron helping John hook-up on a trout!
---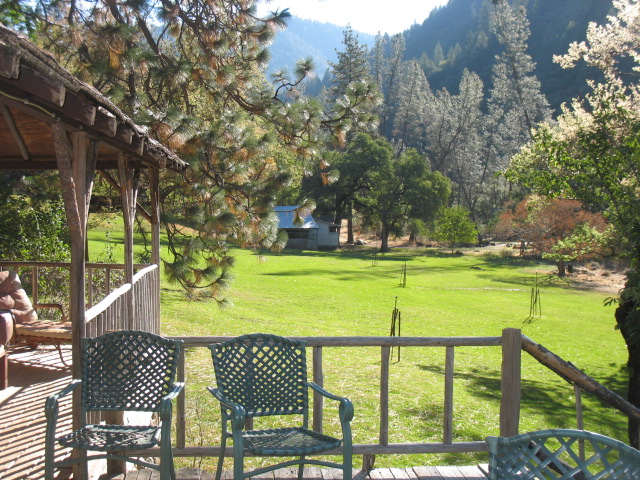 ---
The view off of the clubhouse deck is spectacular. It's fun to think about how many thousands of cigars and martinis have been enjoyed right here on this deck. The great stories and lies as well as the wonderful food of course.
---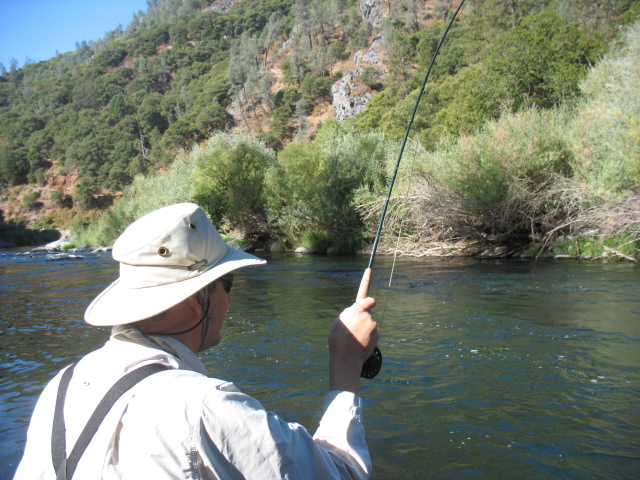 ---
One day I got to fish with Bob Sydow, he's a very likeable character to guide! He hooked-up within five minutes!
---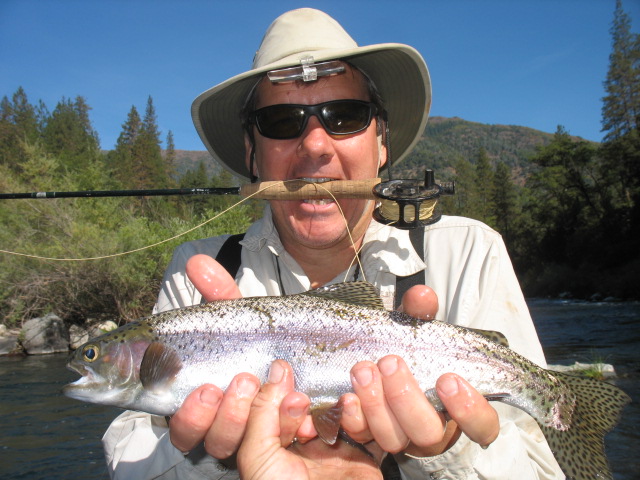 ---
Nice form!! Floss your tooth or lose it Mister!!
---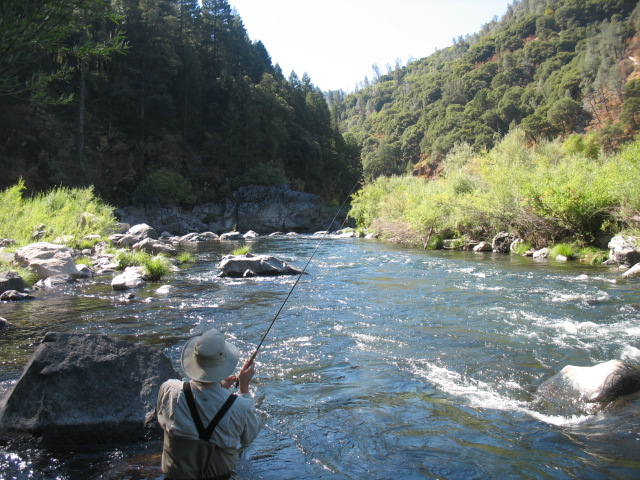 ---
Get on your bad motor scooter and ride!
---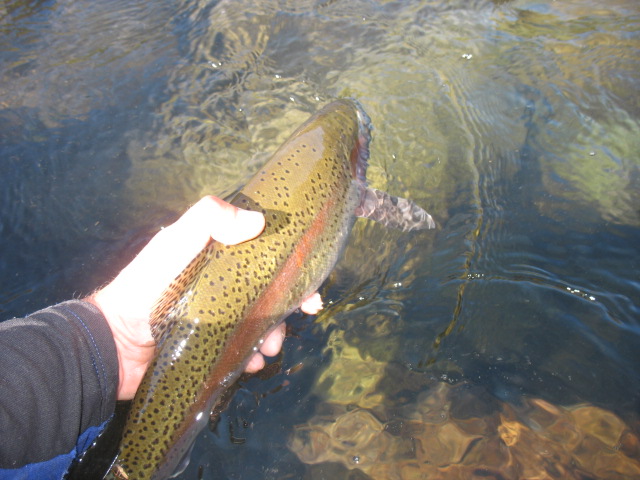 ---
Yo Adrian!
---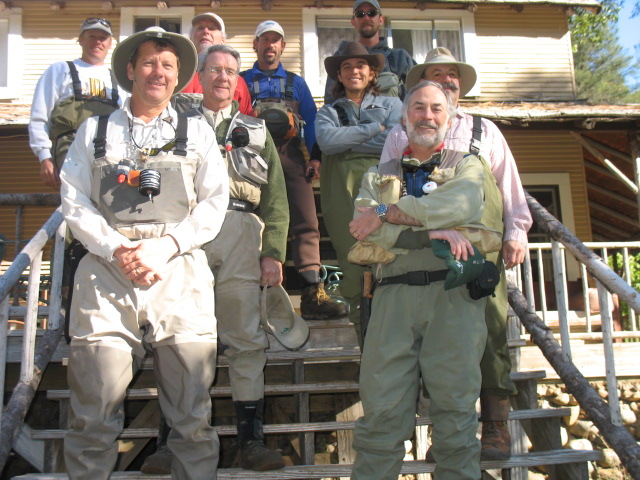 ---
Standing proud on October 7th, 2006 at Bollibokka. Gene Weber and the group, haunted by the waters of the McCloud River! Thank you so much for having us guide you!! Keep your tip up and fingers crossed!!
---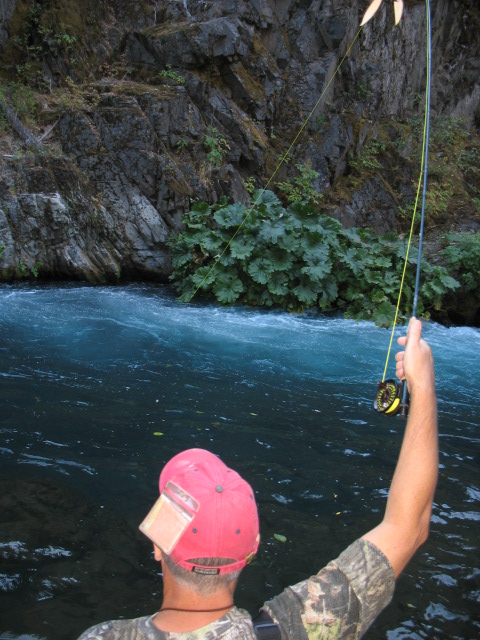 ---
Mark Engstrom, Ladies and Gentlemen with his first trout on a fly rod!!
---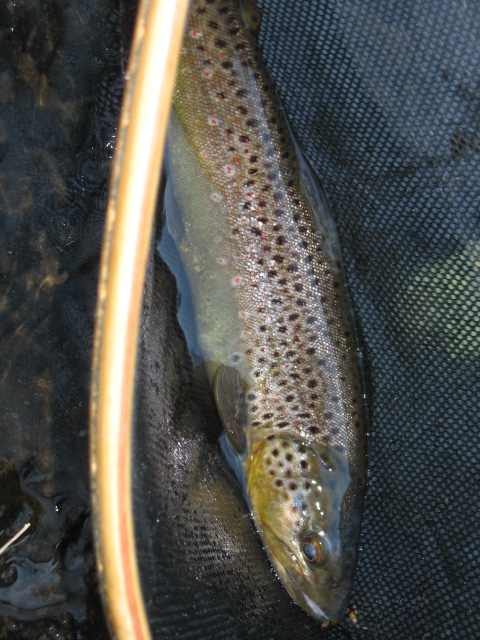 ---
Brown Sugar!! Even Mick and his lips would be impressed!
---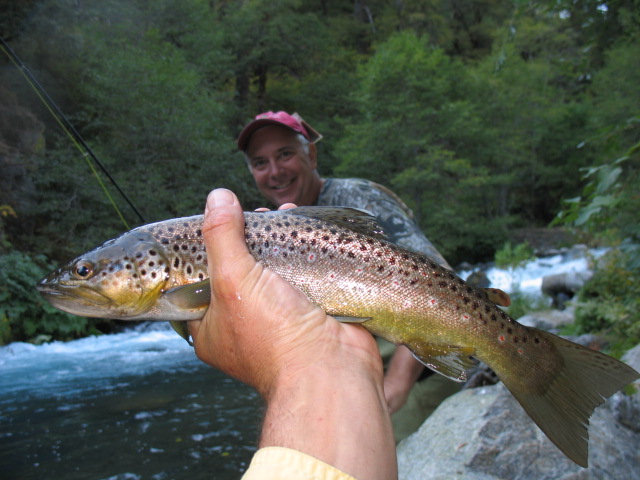 ---
Way to go Sizzler!! Nice 1st day out on the river!!
---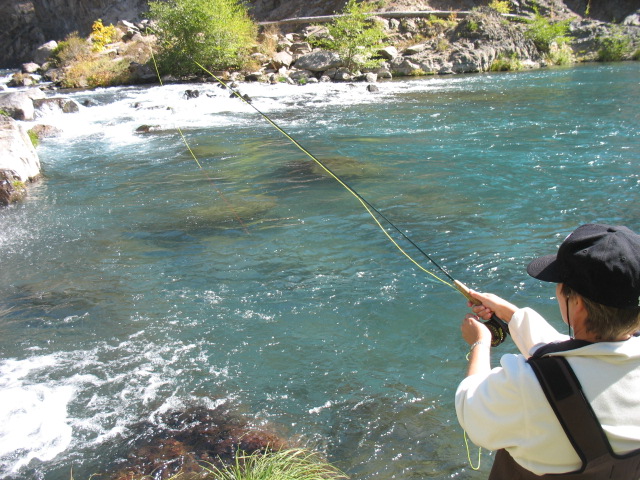 ---
Anne caught her first trout also on a fly rod that day!! Thanks again for coming up, look forward to seeing you in the Spring.
---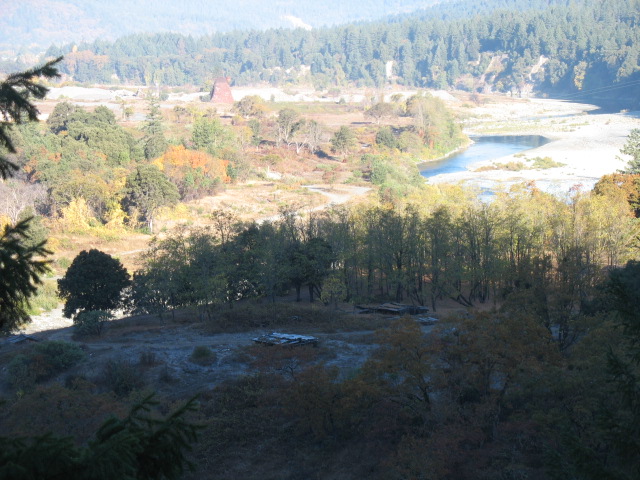 ---
Trinity River near a ancient/modern Hoopa Native American site in Hoopa Valley. Notice the homes are subterranean. jt
---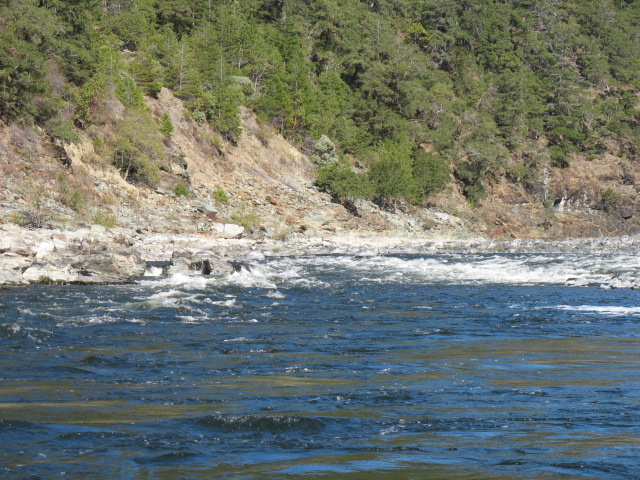 ---
I took a fun float the other day on the Klamath near Orleans, what a fun ride in a raft if you know what your doing!
---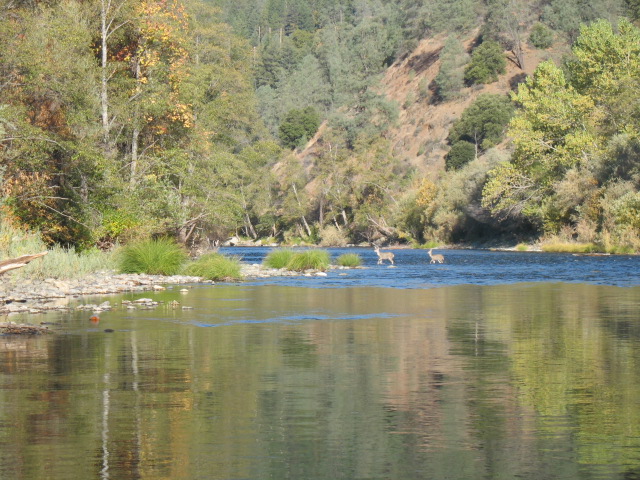 ---
It was great seeing deer on the Trinity the day I floated with Daniel Sedergren. You might remember Daniel when he came to Chile for week in 2003!
---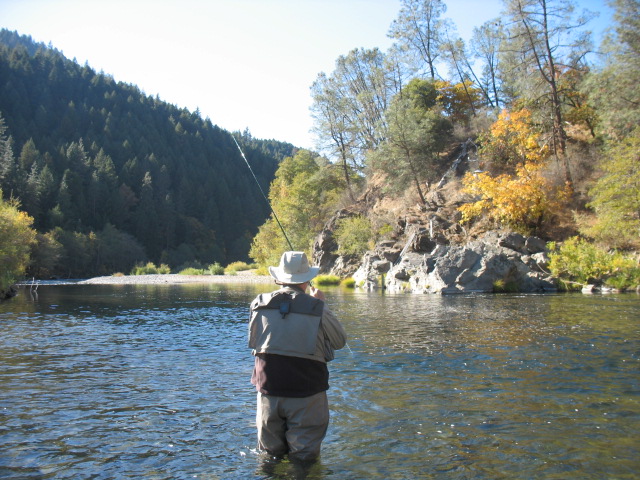 ---
So when Daniel hooked into a lunker that day life was great!!
---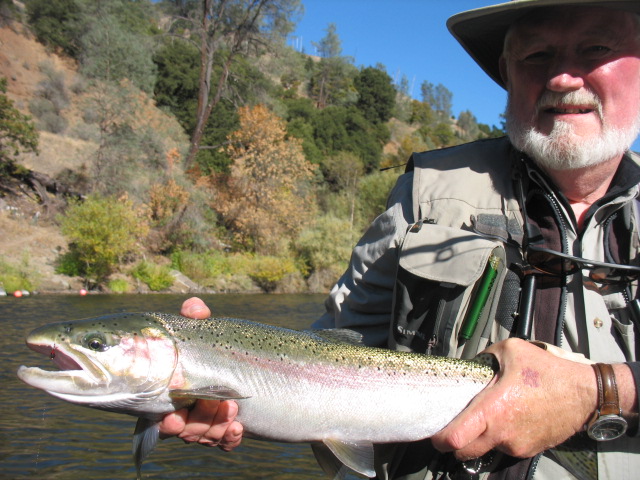 ---
Daniel likes fishing with bamboo and signed up for a rod building class with the Dunsmuir Rod Company. He plans to start on his new bamboo rod after he leaves me!! Sounds fun!! Nice fish also!!
---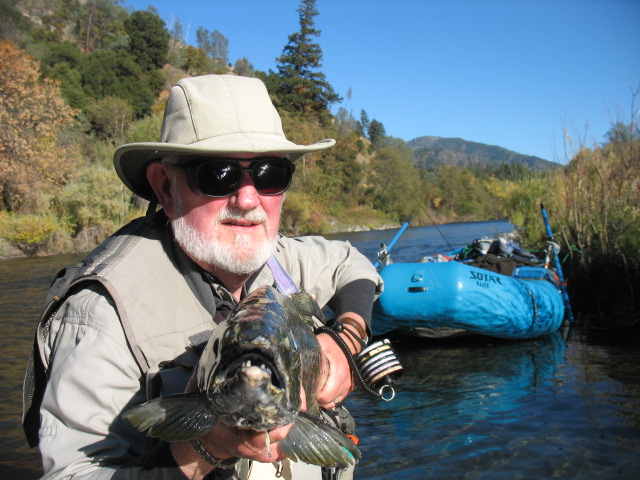 ---
What were you dressed up as for halloween? Here's my costume! Nice tooth honey!! (pick-up line in Trinity County)….
---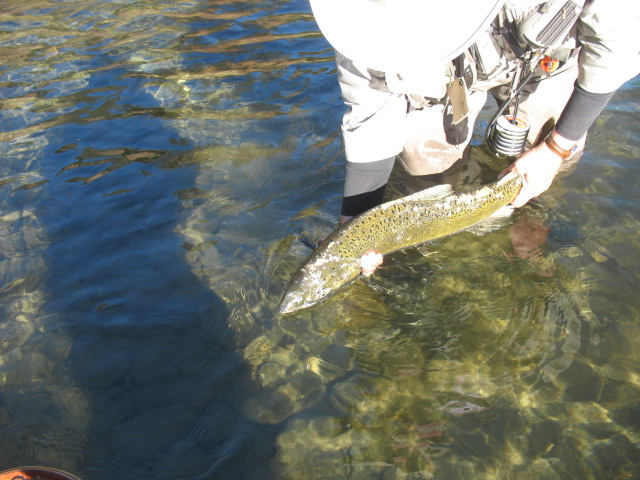 ---
Babies got back!!
---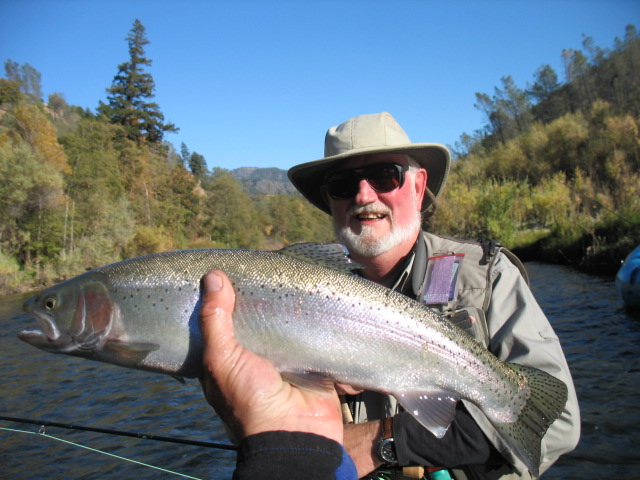 ---
Daniel thanks again for coming up to hang out with me on the Trinity River!
7 adult steelhead is a great day any day!!(Nice hatchery 1/2 lber in the picture)
Good luck with your new home in Gardnerville, NV. Trout
---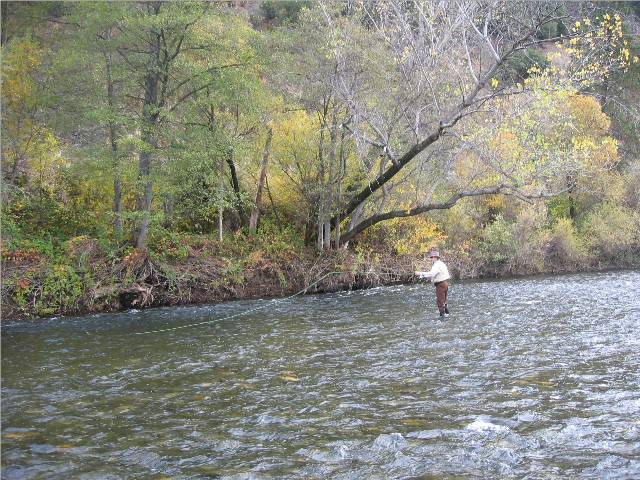 ---
Guess who's back? Jim Mossop who else? This guy is calling me weekly setting up trips for friends, kids and of course himself! He's the best marketing Jack Trout Guide Service has,
of course the on pace for 9 visits a year also helps!! (that's not including referrals)! "Jim your wife called me and is concerned your always talking about fly fishing, she thinks you might need a saliva test"? I say take two nymph droppers and call me in the morning! Your hooked pal!!
---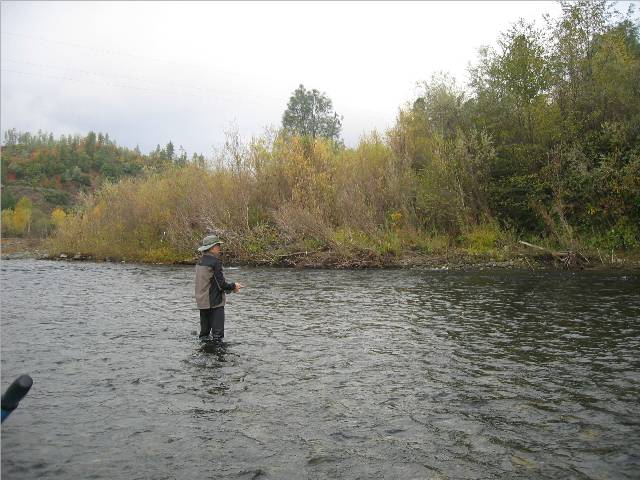 ---
You remember Rick Craig? He came up with his son last month for his first trip fly fishing and had a awesome outting on the Upper Sacraemnto River!! He's back Sizzlers!!! Most would say Rick doesn't have a chance against these hard fighting 6lb plus steelhead and his lack of experience. You know what I say? The same as Led Zepplin said in one of their songs, "Your time is gonna come"! Get up here!!. We love beginners on ANY river!! (Oakland A's philosphy: Good farm team, 1st place every year)!
---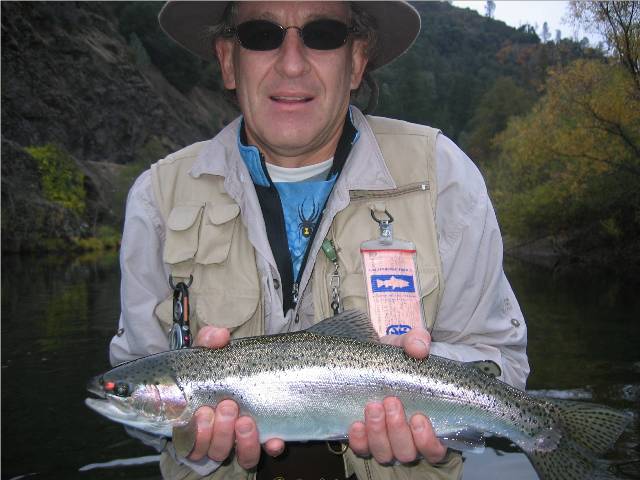 ---
Within 10 minutes Jim hooked and landed this pomegranate!
---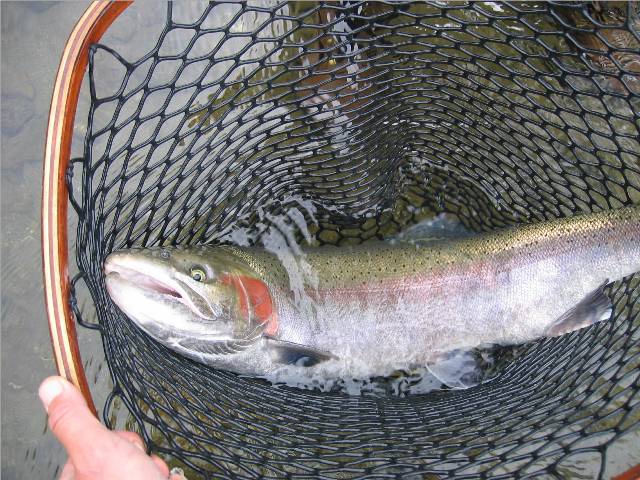 ---
Then it happen Rick hooked into lunker that looked like Walter Conkrite!
---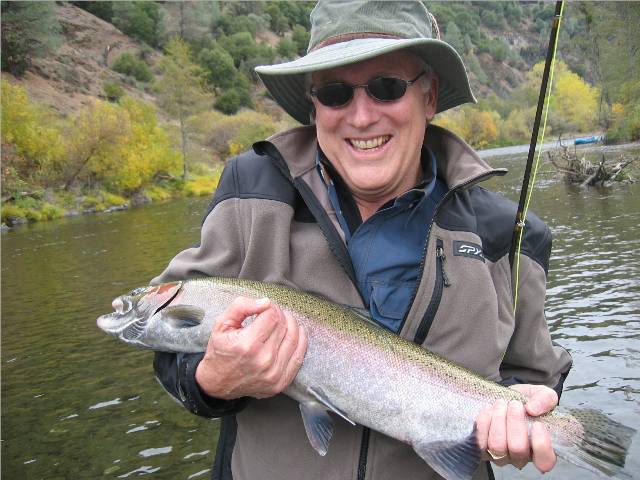 ---
This was certainly Rick's biggest fish on a fly rod! in fact it was only the second time he had ever held a fly rod!!! And to boot he was invited last minute cause Evan, Jim's son had an SAT test and couldn't make it. Ah bummer Rick!! This Sunday Jim Mossop and his son Evan are back on the Trinity scene… I don't know why?? Maybe the 10 adult steehead he and Rick caught that day…..?
---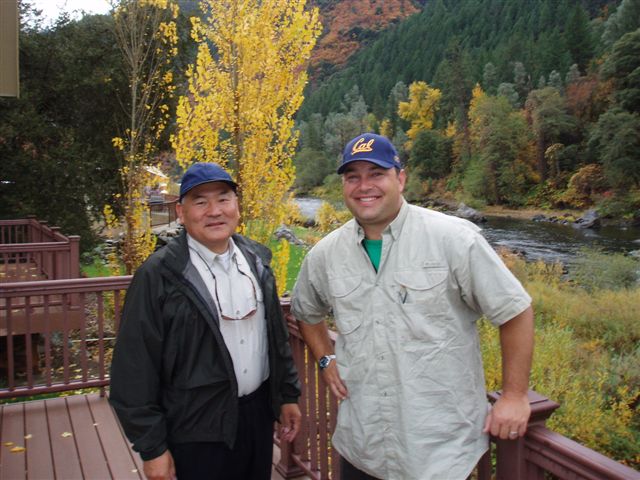 ---
Greg Livingood and Bill Nakata at the Strawhouse resort on the Trinity River! 530-623-1990 ask for Don or Lori for reservations.
---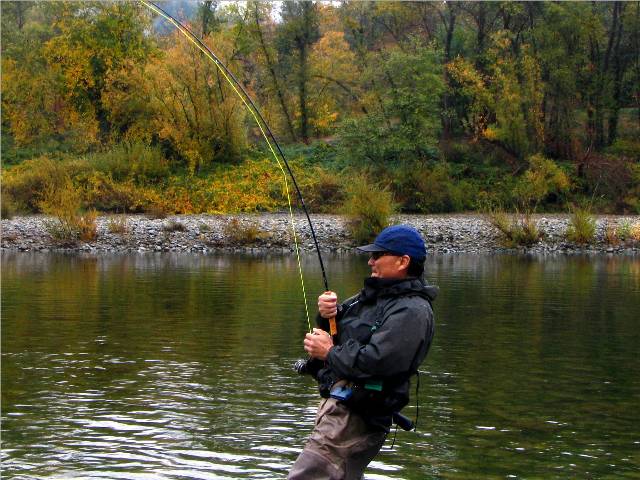 ---
Bill Nakata's first steelhead trip! We decided to take him way down river near Hoopa
---
---
Nice 1st steelhead Bill! CONGRATULATIONS YOU'RE MY SIZZLER OF THE WEEK AWARD WINNER!! CONGRATULATIONS SIZZLER!! (Some ask, how do you become Sizzler of the week? Look close at Bill, you can see he has Sizzler written all over his face! It's a style, it's a way of living your life. First out on the river, last to leave. The warm feeling you have in your heart everytime you think about water and rivers, that's what makes you a Sizzler.
Sizzler, is the sound the fly line makes when it passes over your head. A true Sizzler exists to be out on the water, and if he's not out on the water, he still is in body and mind!" A Sizzler, is a person who exemplifies true fly fishing spirit and encourages others to do the same! Bill Nakata is a Sizzler for sure!!
---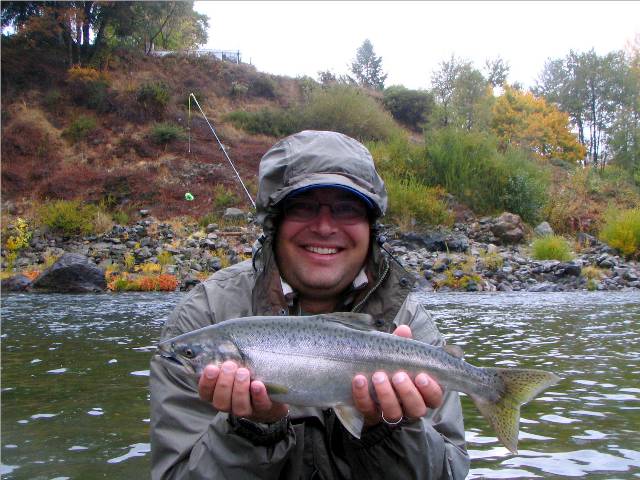 ---
Greg with a nice Jack Salmon! Almost Sizzler, but the hood thing…..
---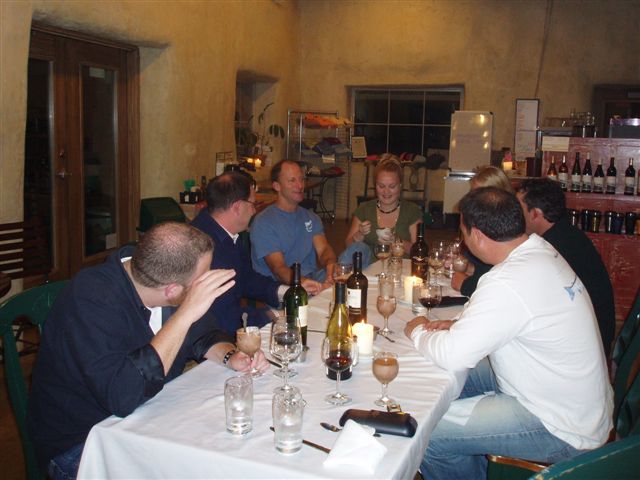 ---
Dinner at the Strawhouse was awesome as usual, with high marks for all the wine rated way over 90++ Espcially the Rutherford Ranch! Thanks Morgan and Chris and the Strawhouse.
---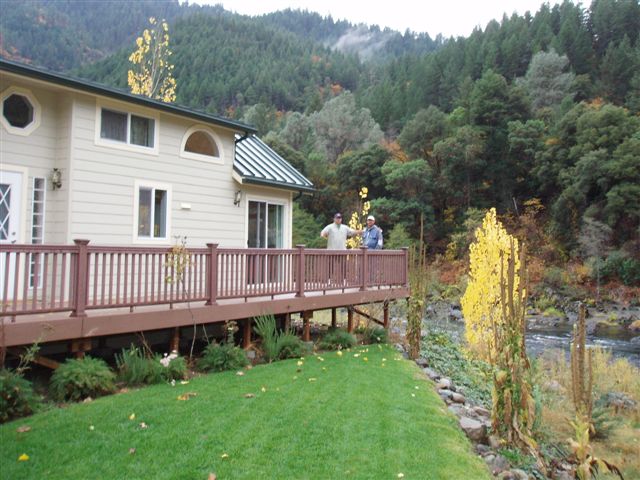 ---
Strawhouse Resort- Big Flat 530-623-1990 Houses right on the Trinity River!! Breakfast, lunch and dinner. Wow!! Awesome food!!
---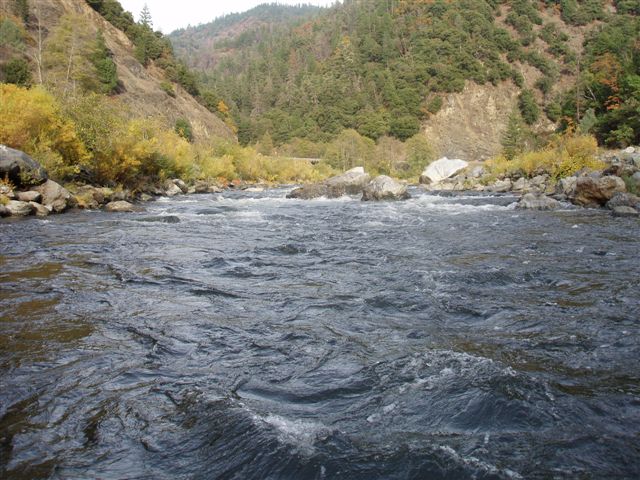 ---
Here some rapids near French Bar and Del Loma.
---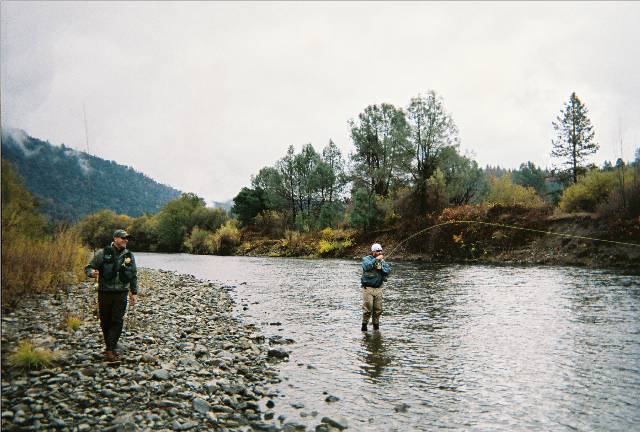 ---
My good friend Chris Welch from the Ciatti Company with a nice steelhead on as Morgan cheers him on!
---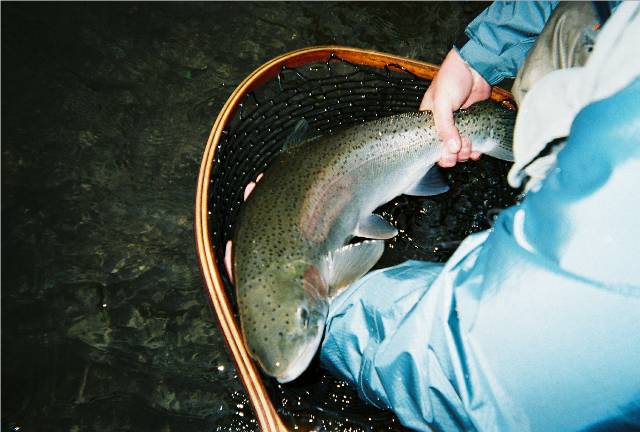 ---
Nice prize!
---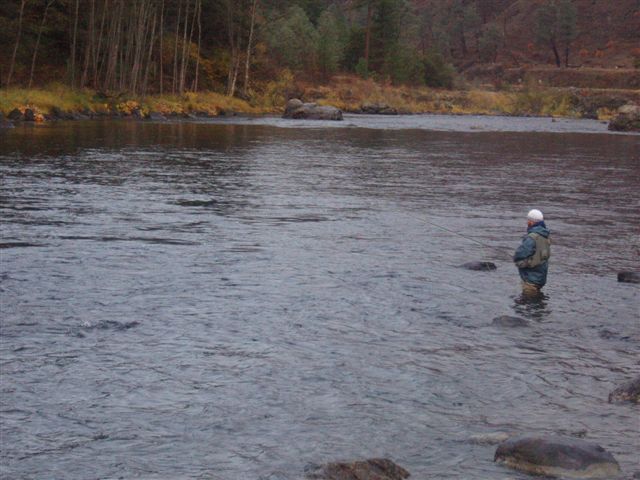 ---
For everyday you fly fish, you get an extra day of life! Chris working on overtime right now!
---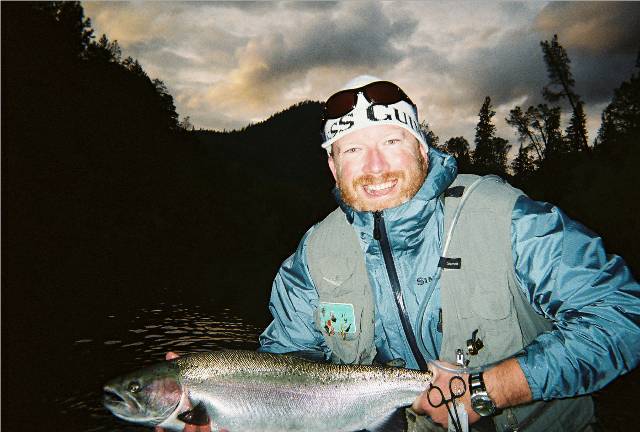 ---
Chris, what can we say, simply amazing! The Steelhead of the Trnity and Klamath Rivers are incredible. Call me for your steelhead trip this fall on the Trinity River or the Klamath.
We are making people dreams come true! Jack Trout and Team Trout Guides 530-926-4540.
---
---
http://www.jacktrout.com/trinity.html
---
http://www.jacktrout.com/klamath.html
---
http://www.jacktrout.com/lowersac.html
---
http://www.jacktrout.com/futa.html
---
---
EMAILS FROM YOU:
---
Jack-
I loved the tips about bowing to let the fish run deep instead of holding them high in the water and letting them flop and roll in the upper water column. I've lost a few weighty fish in the past month and it was nice to be reminded about what I was doing wrong. I landed this linebacker today on the lower sac because of your tip, thanks man! It ain't the biggest fish but it sure made me laugh. Is there a competition for the best football look alike?
Cheers, Blake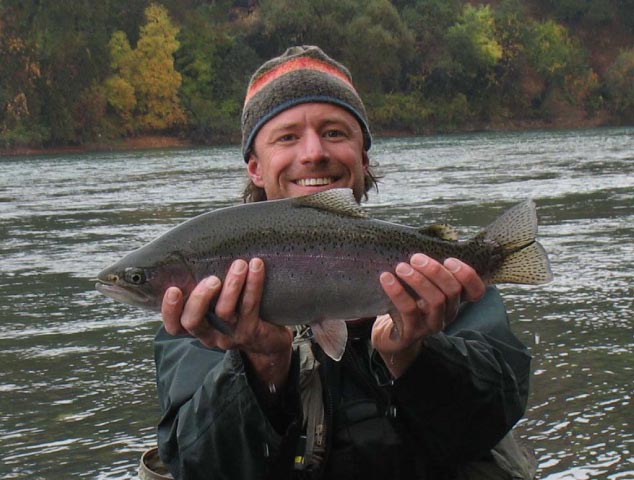 ---
Any open dates in November or December for steelehead fishing on Trinity or Lower Sac for 2?
Pete
---
Jack,
How are things looking around Thanksgiving? Any good lodging available for my wife, son and dog (Zoe the springer spaniel)? Quality place; room to hike around with a day on the river?
Thanks,
Terry Egan
---
Jack,
CONFIRMED we fish with you 16 and 17 of November. Keep an open mind on the location. Really our love is alot of fish in solitude. You have time to research, investigate, inquire, and begin the "hunt" for the greatest fish in the world, the steelhead. The Trinity, Klamath, mid, upper, lower. Do not sell the upper Klamath short.Ty only fishes once a year and I want it to be the wisest choice you and I can make. You know me well enough to know I'm not into sightseeing or looking at birds on the bank. But you are as good as I know, bar none. My faith is 100% in your best judgment. Look forward to being in the boat with you. I'll call a few days before.
Be ready!
Best,
Bob Cademartori
---
Jack,
Hope all is well! Long time, no see (& no fish for me). Haven't been
out fishing in quite a long time but thought I would see if I could
arrange a Lower Sac trip this Friday – 3 November.
Heard the Lower Sac is fishing pretty well now and I have never fished
it before – looks like my Friday is open so would like to see what we
can line up.
Let me know!
Talk to you soon…Bob Quillin
---
Jack,
I'm salivating beyond belief As much as I would first and foremost like to book a trip for myself and a friend, what is the realistic possibility to book an overnight Steelhead trip for my family (Wife and three small children 6, 9, 11) for some weekend in the next couple of months?
Regards,
Jack Holliday
---
Hey Jack
Been watching MtShasta.com so I thought I would pop you an email real quick.
I had a the chance to spend 7 days fishing the Babine a few weeks ago. Caught the biggest Steelie of my life 41.5 x 21.5 about 28 pounds. A honest to god "Super Tanker".
Gotta get out and fish the T soon.
Stay in touch
Dave Wallace
---
Jack,
Spectacular as always I also appreciate your views on river preservation and trying to avoid building dams at all costs Still working-out some bugs with the kids activities before I know for certain if the trip on the Klamath 12/9 is good for the family I'll know no later than Friday thanks for your patience
Jack Holliday
---
Jack,
Please immediately remove all the text and photos relating to Bollibokka from you website. Please also take down the "hidden" website www.mtshasta.com/bollibokka.
I can assure you you will be facing a very large lawsuit from Bollibokka if you do not comply by 5:00 p.m. 11/9. Please confirm right away that you intend to comply with our request.
Leighton Hills
16 Miller Ave., STE 202
Mill Valley, CA 94941
---
Leave well enough alone You're a powerful voice in the preservation of the river(s) and the great outdoors besides it's your website and your opinions
Sounds like for some dumb reason the Hill's feel threatened? And to me it sounds like they are VERY insecure and overly protective
Fight On!
Jack Holliday
---
Jack,
Thank you for the honor. It may only be for a week but it will last a lifetime. I am truly touched. It was magical trip made possible by the enthusiasm of you and Aaron. Warmest regards,
Bill Nakata
---
Jack, your latest discussion and images about Bollibokka being for
> > sale was very interesting, another major threat / challenge to the
> > McCloud. Is there no interest by the Nature Conservancy, the state
> > park system or other non-profit trusts to purchase and preserve the
> > property? Ideally the whole river from the damn down could be owned
> > by the conservancy as a preserve. Wasn't the Conservancy interested
> > in purchasing the Fischer property when it came up for sale? THey pay
> > $4 million for a couple acres back east. Is there any grass roots
> > group up there working on this?
> > In the least we should all be writing the Nature Conservancy to
> > encourage them to look into this. If not you might be just the man to
> > do it!!! I can see it now, as you take your grad children down to see
> > the McCloud for thje first time, they say "Isn't that a picture of
> > you grampa?" as the point to a plaque that say "Dedicated to Jack
> > Trout, without whose tireless efforts to preserve and unite this
> > river this preserve would not be here for future generations."…..
> >
> > Like the sound of that?
Alan Sonneman
---
>